40+ Best Calligraphy Fonts 2022
Calligraphy is one of the most accessible and visually appealing typography styles when it comes to choosing a font for a design or logo. They come in all kinds of styles and aesthetics, from pretty and elegant with long, elaborate swashes, to bold and chunky with textured vintage finishes.
There are literally thousands to choose from, so how can you possibly be sure to find the very best one for your next project without spending hours or even days trawling through pages of fonts?
That's where we come in – we've curated a list of the very best calligraphy and script style fonts for graphic design purposes, and laid them all out for you to choose from! Every single one has been professionally designed and comes with a range of customization options – and the best part is that they're all ready and waiting to go!
If you're looking for your next favorite calligraphy font, simply read on, choose your favorite, and then download with a single click!
Get every varied font and typeface you could ever need with one simple subscription. From just $16, get unlimited access to thousands of fonts, typefaces, graphics, templates, photos and illustrations.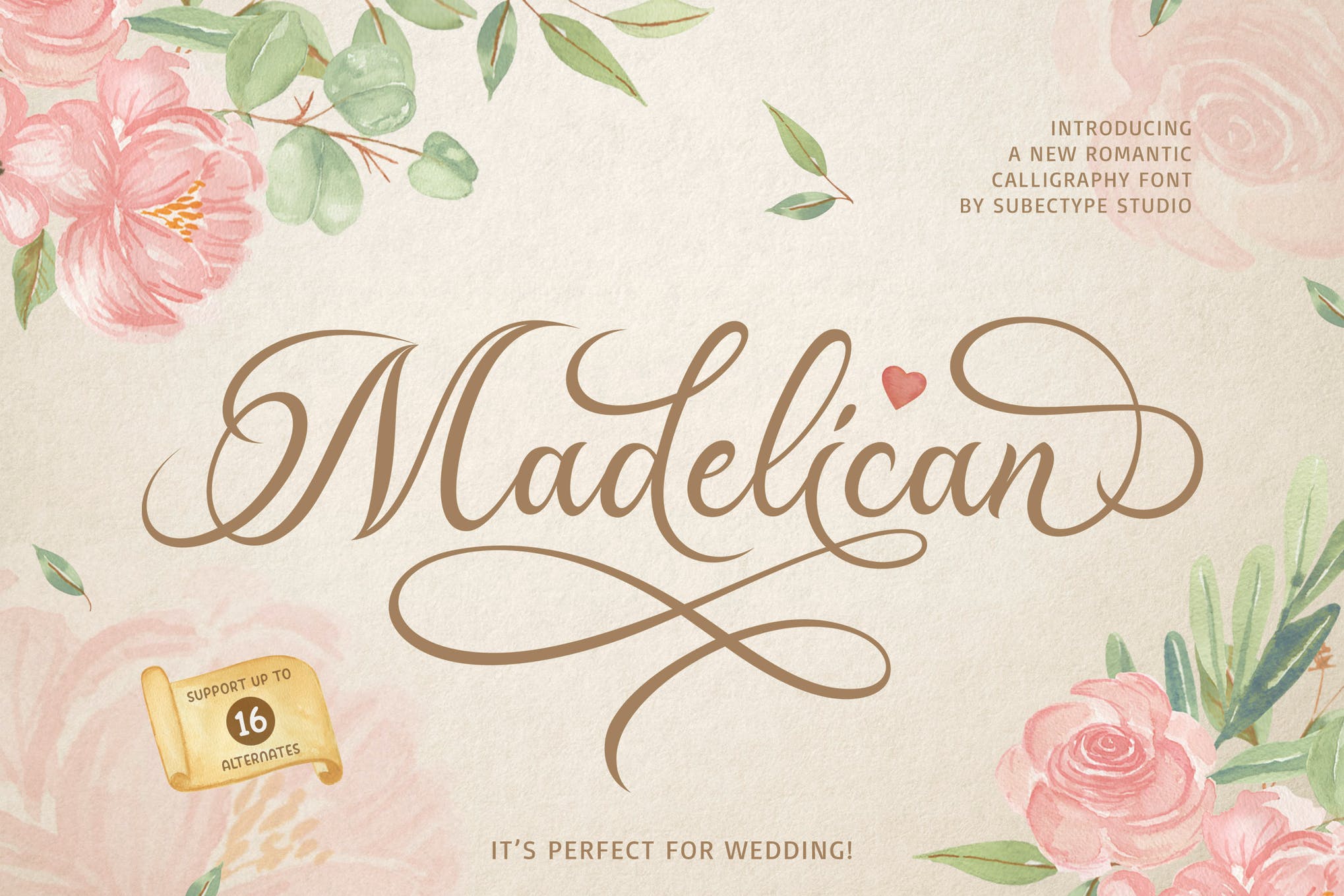 Madelican is a beautiful font that allows you to achieve a handwritten calligraphy look in the easiest way possible. Modeled after the ancient manuscripts, Madelican strikes a perfect balance between classical and modern calligraphy. When looking for the best calligraphy fonts, Madelican is one option you wouldn't want to miss out on.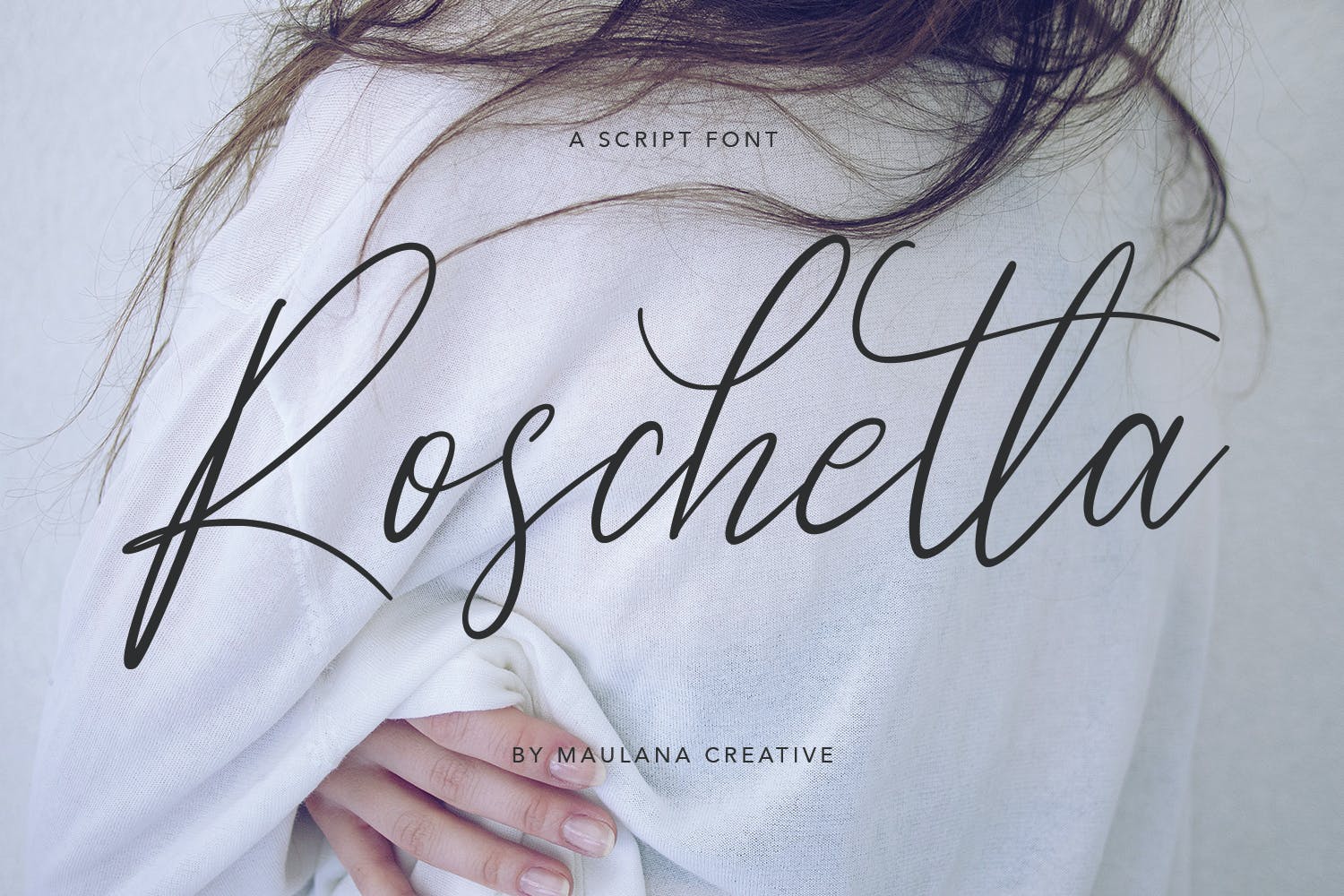 Roschetta is a handmade script font perfectly suited for projects that require an upscale, and chic look. If you're looking to hunt down the best calligraphy fonts out there, Roschetta must make it to your shortlist. Get your hands on it ASAP.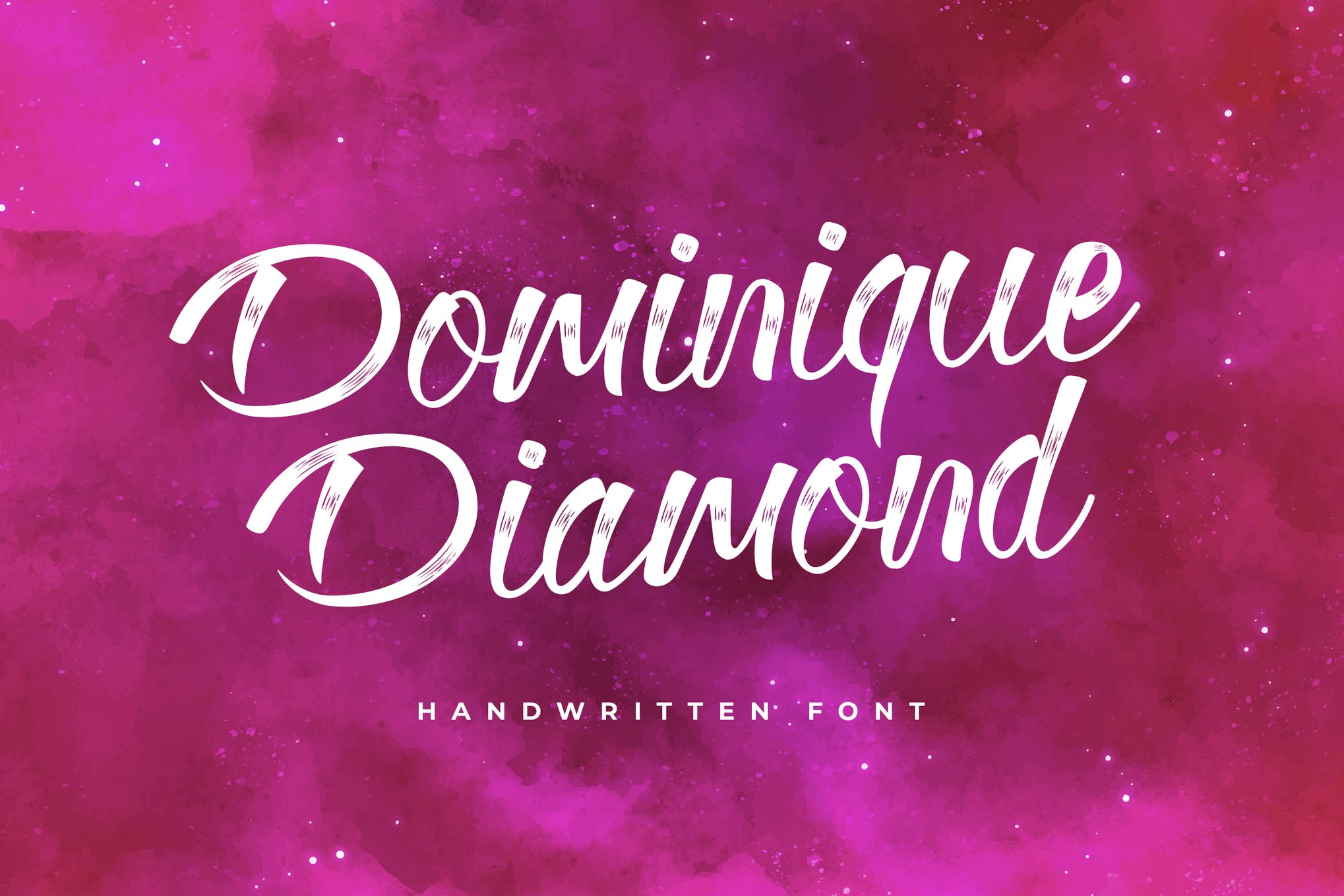 Dominique Diamond is an effortlessly stylish, and classy calligraphy font than can be used for a whole lot of projects thanks to its masculine, as well as feminine attributes. As excellent contender for your cash, Dominique Diamond is one of the most popular calligraphy fonts available on the market today.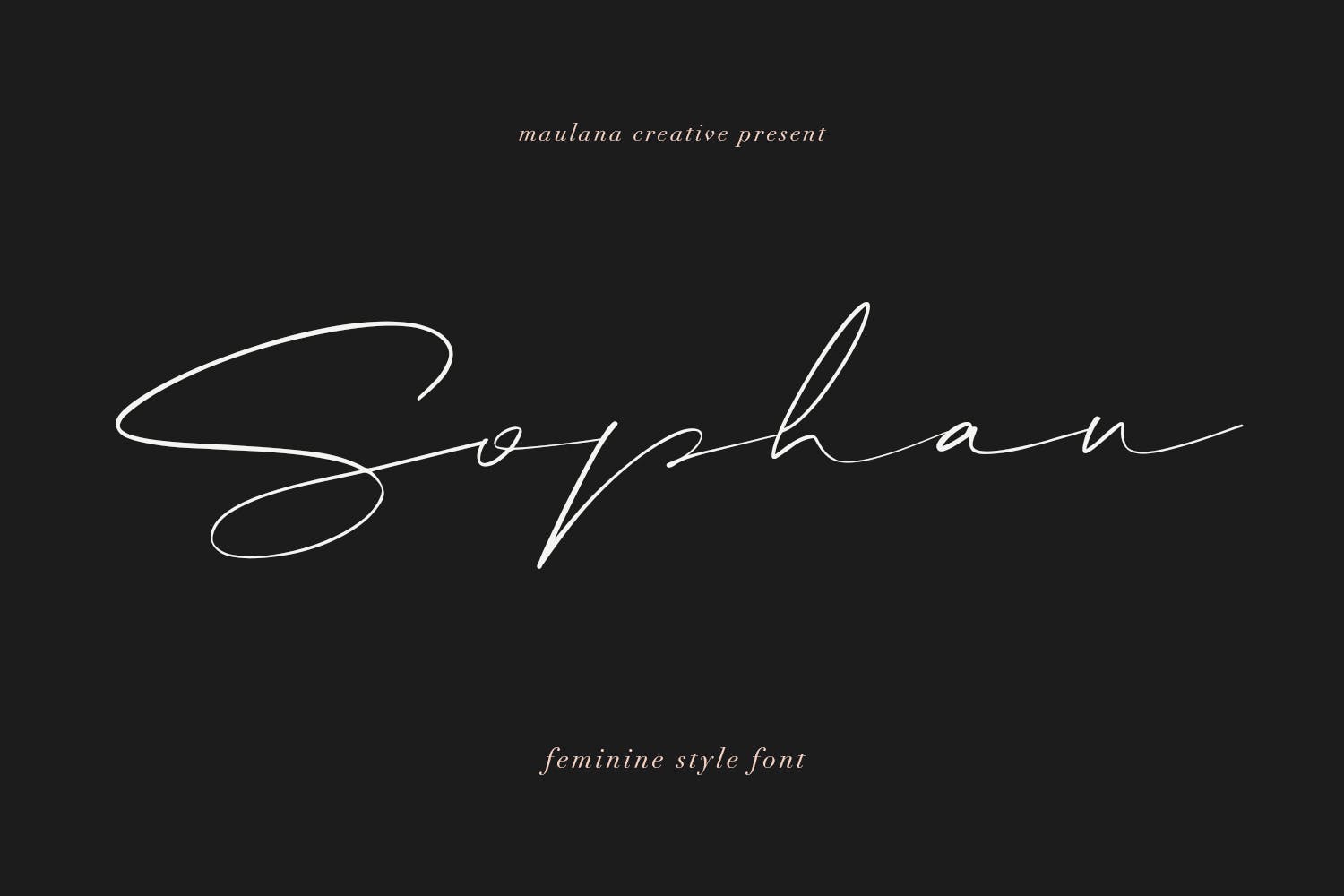 A solid choice for a multitude of feminine design projects, Sophan is a remarkably unique calligraphy font that comes with a full set of uppercase, and lowercase letters, numerals, punctuation, ligatures, and multilingual support. Check it out now.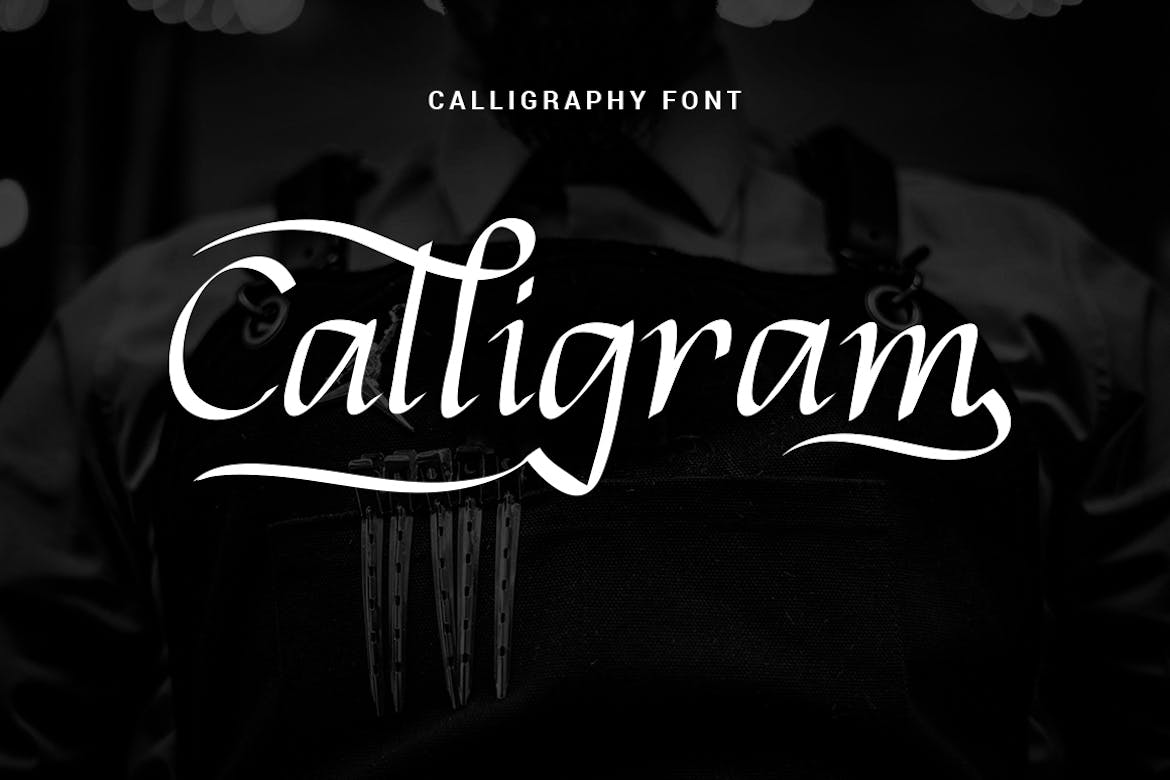 Calligram is a sophisticated and graceful modern calligraphy font that will look good on everything from wedding invitations and greeting cards, to posters, labels and anything that needs a beautiful handwritten touch. Easy to install, and use!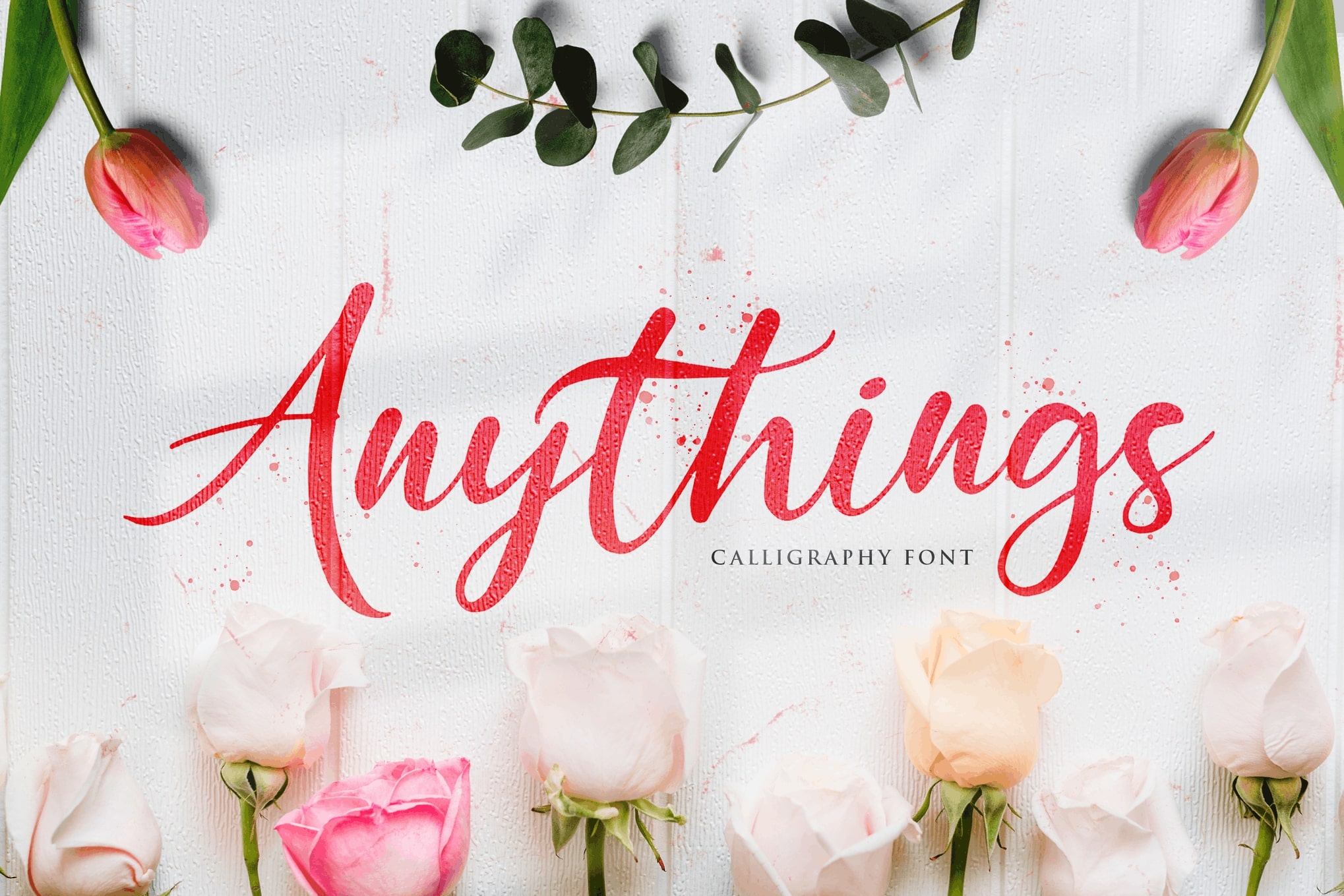 Anythings is a graceful typeface that you will surely fall in love with at first sight. It offers a modern, and fresh look, uppercase, and lowercase letters, ligatures, numbering, punctuation, and seamless multilingual support. It provides a simple installation, and works on both Mac and PC, making for one of the best calligraphy fonts out there.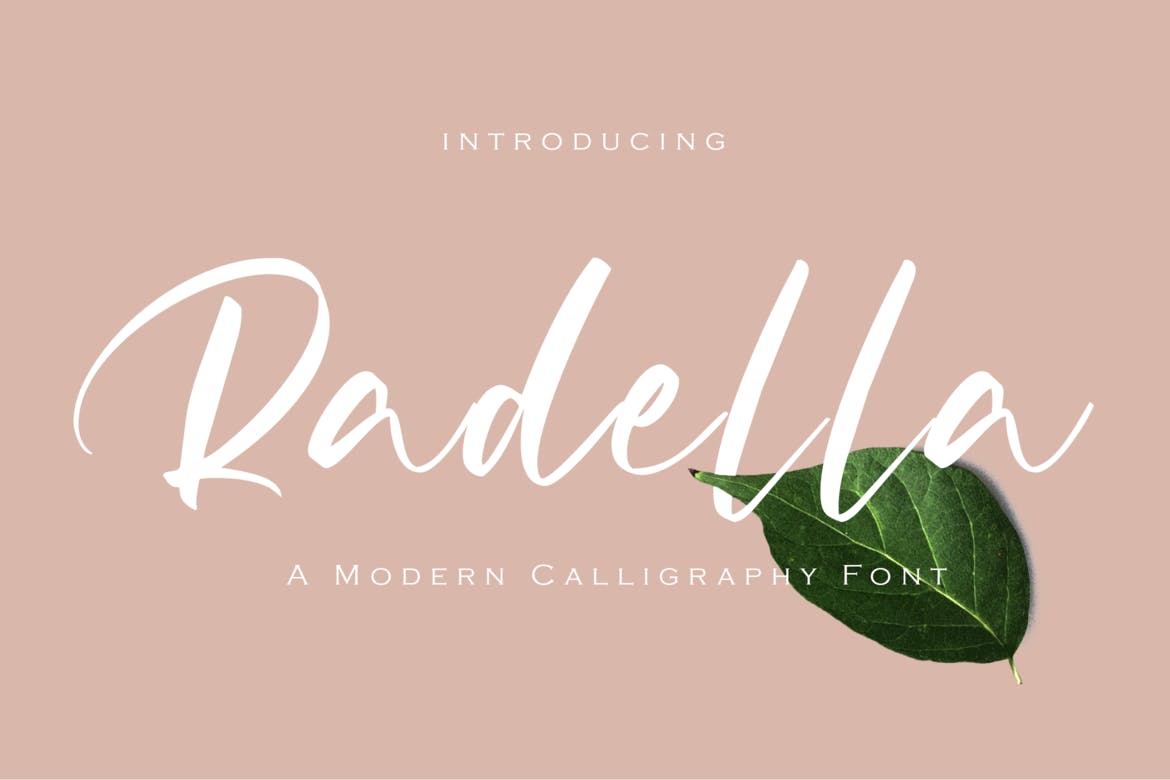 Radella is a sleek and modern calligraphy font that will fill your readers with positivity. Featuring a design that exudes elegance, and luxury, Radella is a cut above the rest, and guaranteed to stand out regardless of the design it's used on.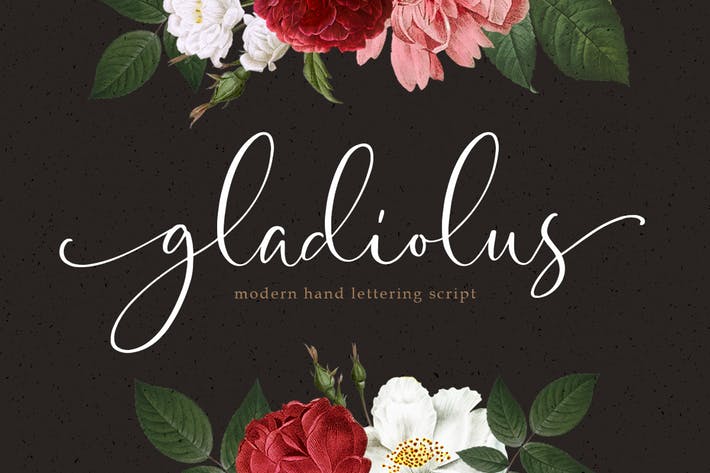 Next to be featured in our list of the best calligraphy fonts is Gladiolus, a beautiful modern calligraphy typeface featuring a range of swashes and swirls for a subtle feminine appeal. It's great as a logo or headline and for social media posts, magazine graphics, and stationery.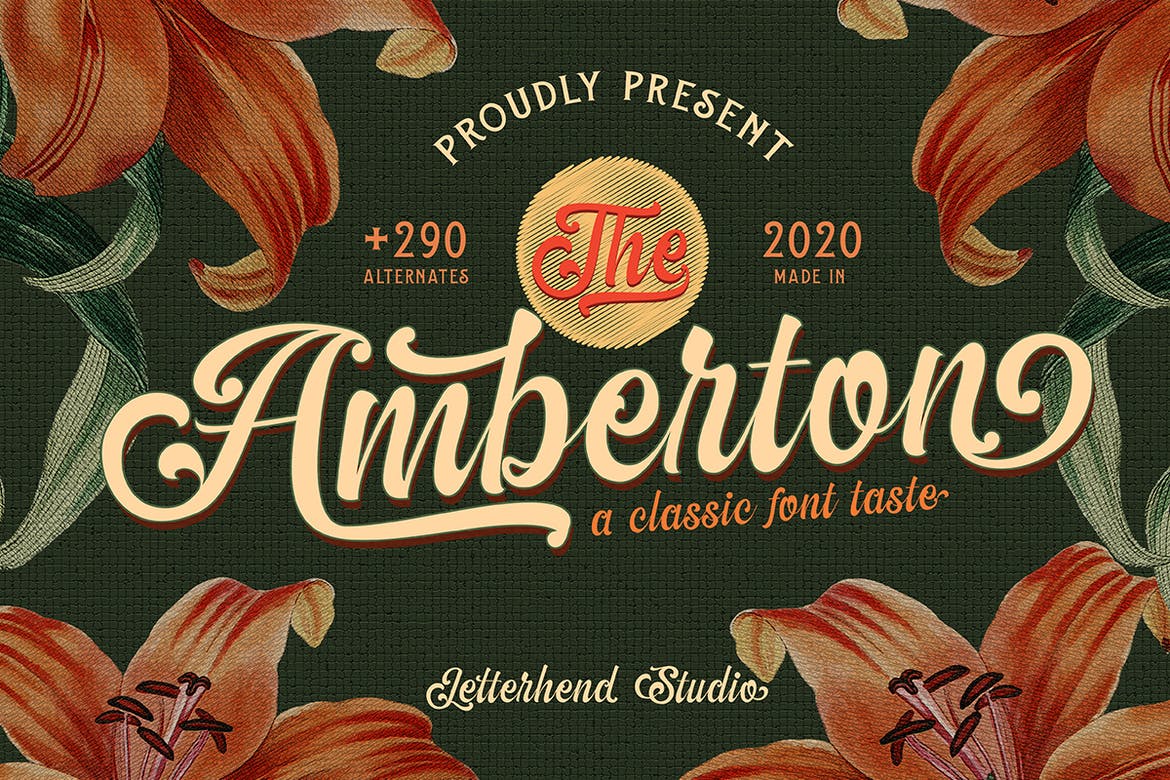 Let's take a look at the Amberton, a classic calligraphy script font with subtle floral elements, a beautiful vintage look, and almost 300 swashes and stylistic alternates for you to play around with! It comes fully PUA encoded for ease of use, and also supports multilingual functionality.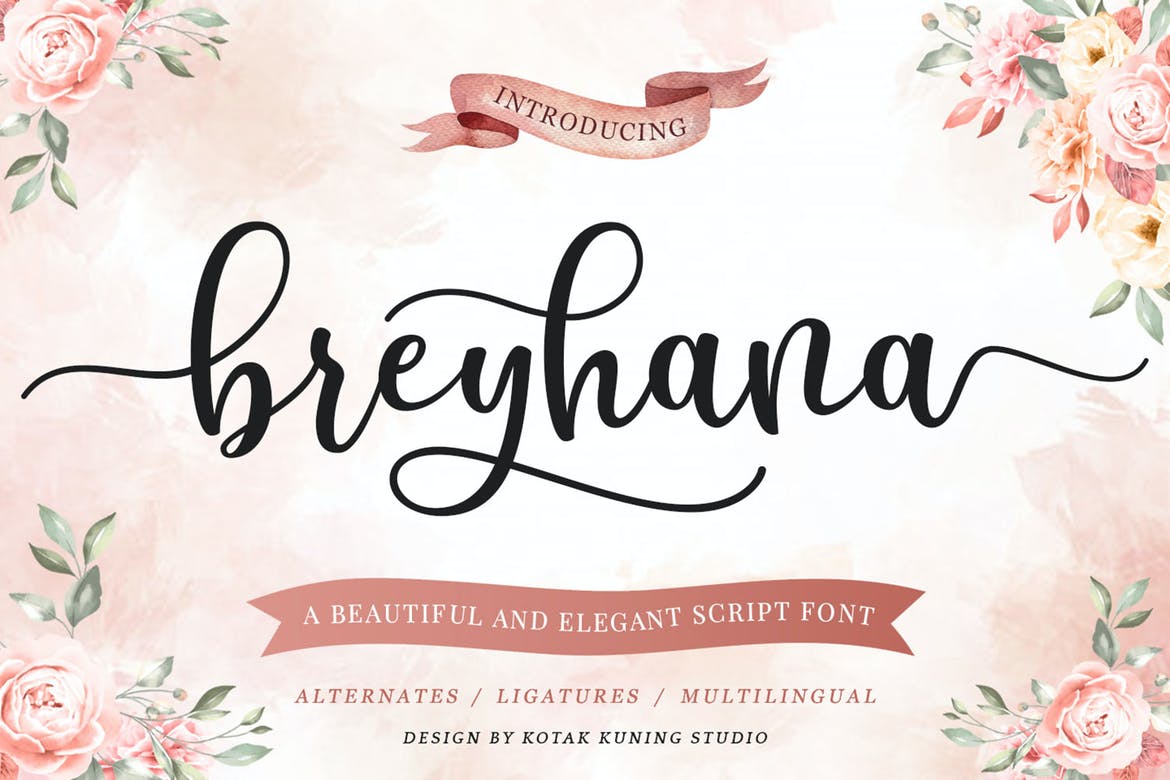 Next up we have Breyhana, a sweet and elegant script font that features a range of natural-looking ligatures and an organic, stylish flow for a natural handwritten look that makes it ideal for projects such as wedding invitations or fashion and beauty brands.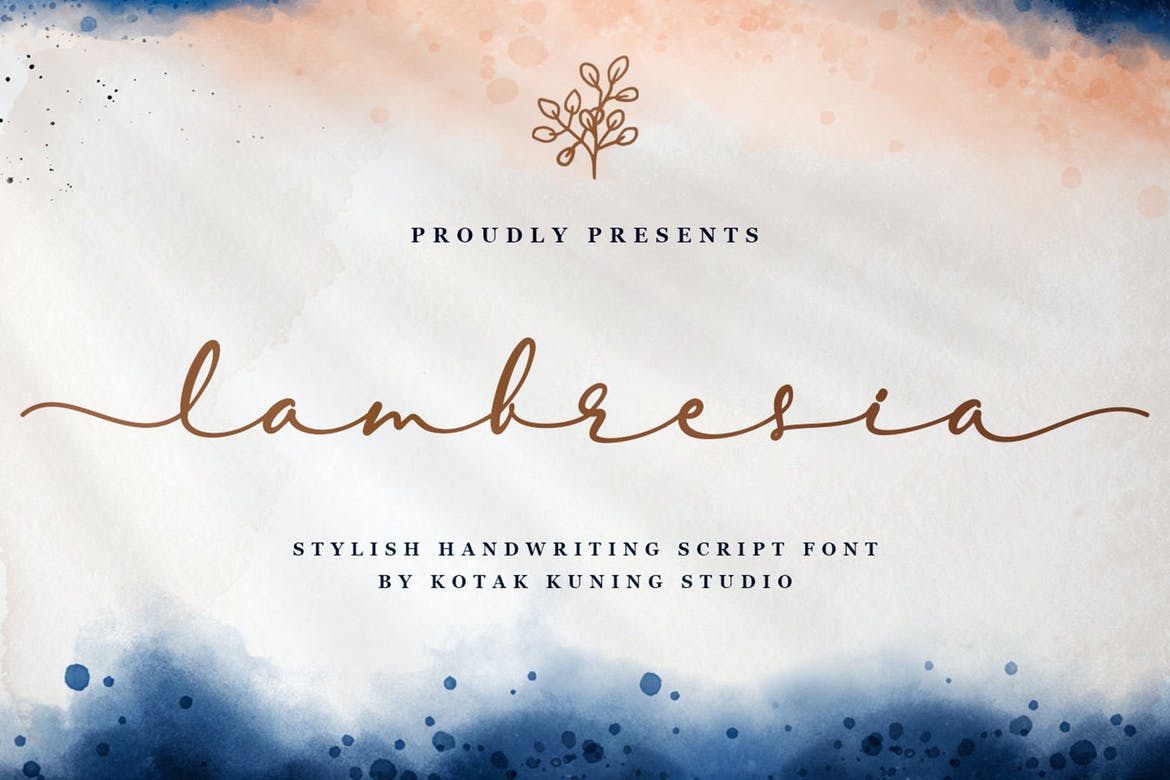 The Lambresia is one of the best calligraphy fonts to choose if you're looking for a typeface that emulates the style of a natural handwritten script or signature. Featuring a beautifully flowing set of ligatures and a full suite of upper and lowercase characters, it's ideal for business cards or creative print projects.
Next in our lineup of the best calligraphy fonts is Langit Merah, a lovely elegant script font that features a hand lettering style and an authentic brush stroke quality that makes it perfect if you're searching for an easy alternative to classic pen and ink calligraphy writing.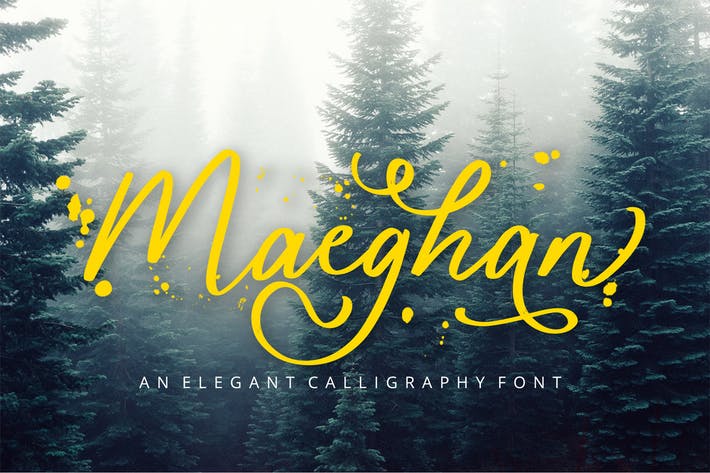 Maeghan is a unique, ethereal script that will give your design project an elegant and luxurious feel! It's perfect for branding, logos, wedding themed designs, social media posts, and other creative uses. A range of ligatures are included, and it's compatible with both PC and Mac.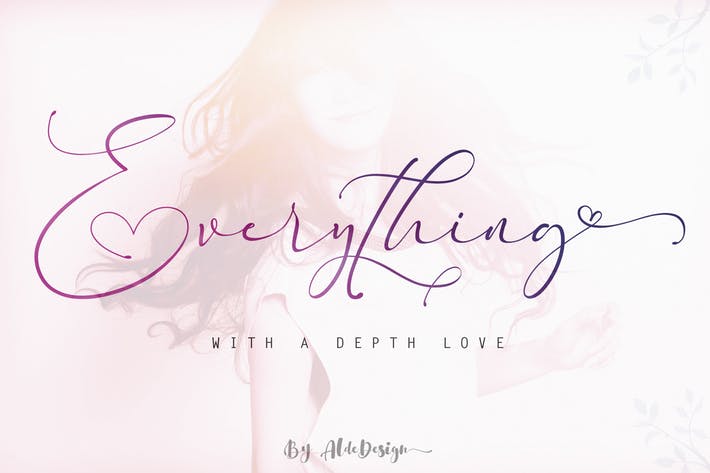 Stylish and romantic, the beautiful Everything calligraphy font features a varying baseline, smooth lines, and a chic, modern finish. It's PUA encoded and includes a range of stylistic elements, from swashes and titling to ligatures and alternate characters, all in a pretty, handwritten style.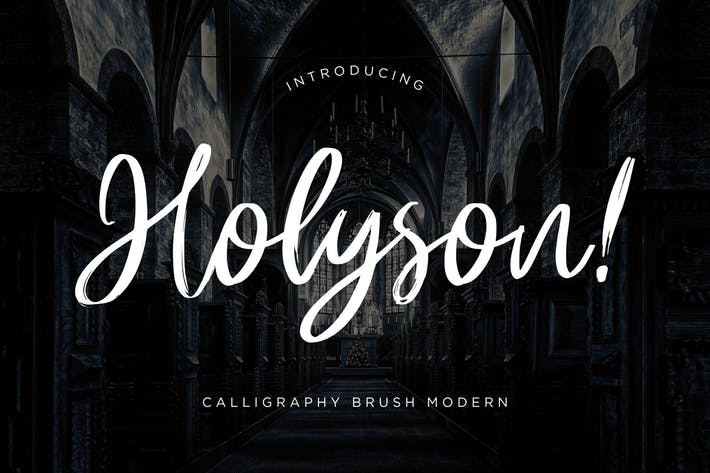 Holyson is a modern handwritten calligraphy font with a rough brush stroke style to give a textured, authentic feel. For a realistic looking handwritten script without too many swirls, this is a great option – it looks brilliant on posters, or as a logo or heading, and can also be effective as part of a branding toolkit.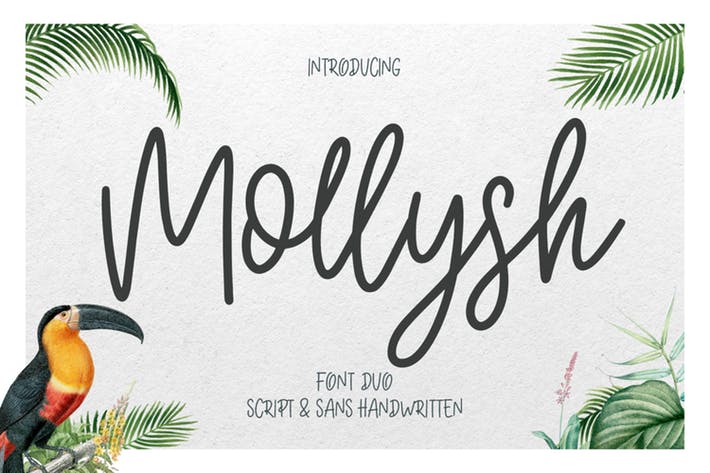 A great choice for online stores or social media posts to incorporate as a brand font, Mollysh is a clean, handcrafted script that comes with a sans typeface to perfectly complement it. It includes a web font and full supporting documentation and looks good in any size.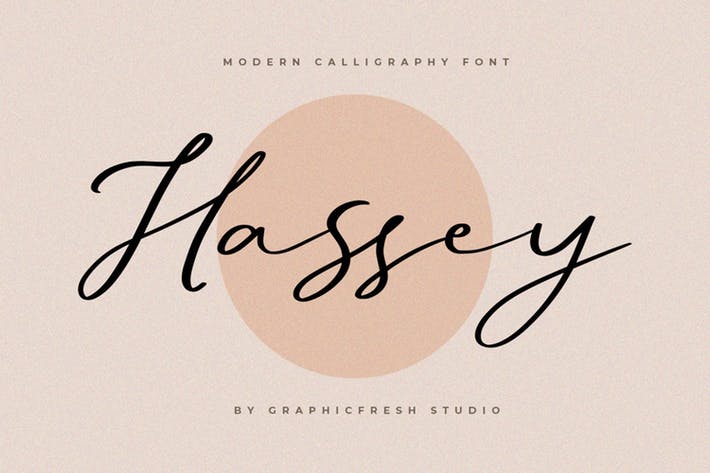 Hassey features an authentic brush drawn look, a varying baseline, and a smooth, feminine feel, and includes full international language support, as well as a complete suite of upper and lowercase letters, numerals, and punctuation marks.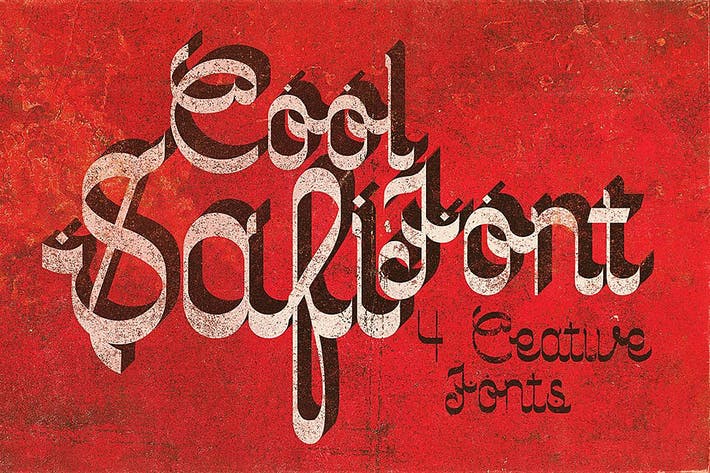 For a unique and creative calligraphy font, consider Safi – this rough, vintage typeface features elements of grunge and looks great on a poster or large display. It includes four stylistic variations which are designed to complement each other perfectly.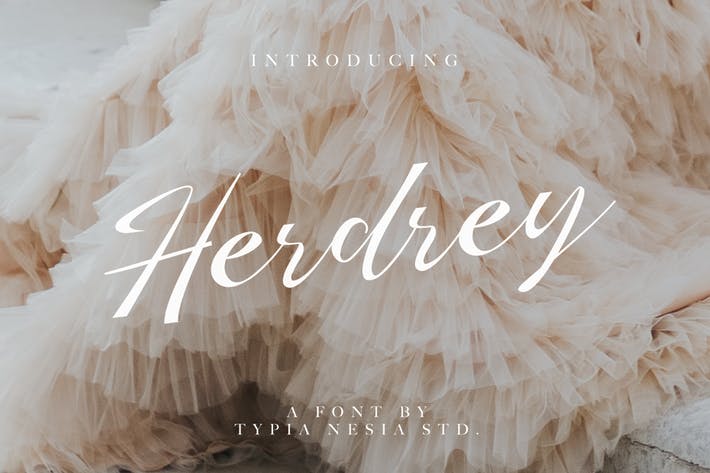 Elegant and slightly edgy, the Herdrey typeface is a modern take on a classic calligraphy style. Featuring clean, crisp lines, dramatic angles, delicate ligatures, and contrasting line weights, it's a wonderfully unique font to use as part of a wedding design or home decor project.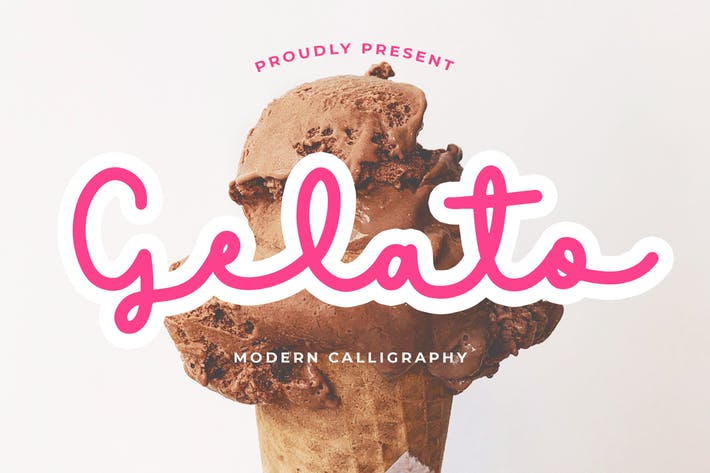 As the name suggests, this cute calligraphy font looks good enough to eat! Featuring a monoline style and clean, handcrafted lines, the gorgeous Gelato script typeface is ideal for logos, boutique business branding, and any creative projects where a fun and modern script typeface is needed!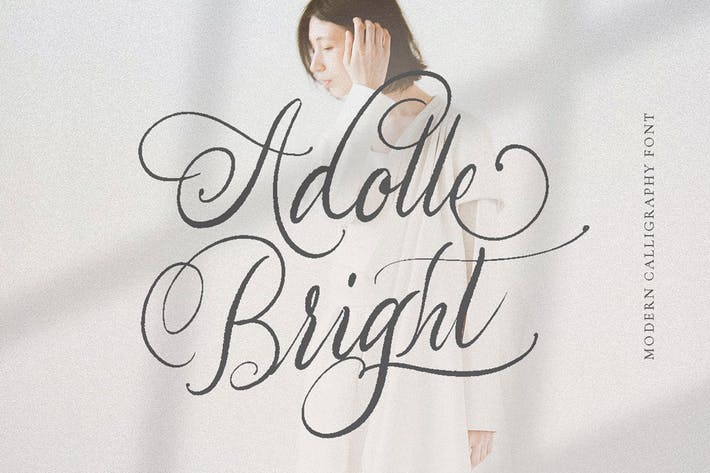 Adolle Bright is a fresh, modern script with extravagant swashes, subtly textured brush-style lines, and a dancing baseline, for a soft, romantic and classical yet contemporary look. It includes a range of alternatives and ligatures, as well as OpenType features and PUA encoding for ultimate customization and editing.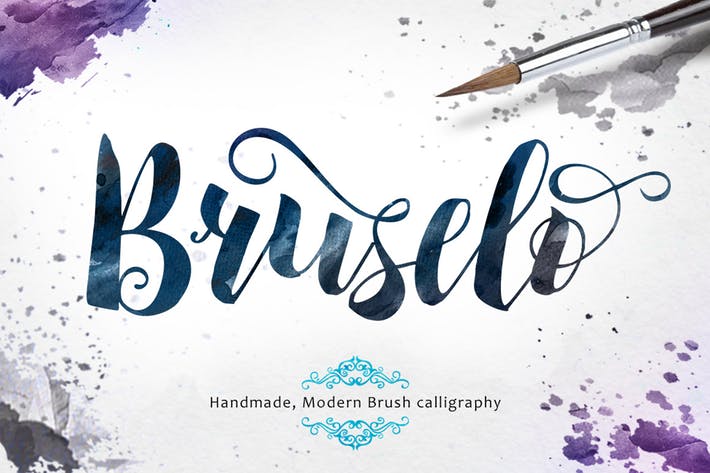 For a realistic, ink-drawn script, look no further than the Bruselo calligraphy typeface! One of the best calligraphy fonts if you want to emulate the look of a classic calligraphy pen and ink. This stunning font comes with a host of alternates, ligatures and stylistic sets, as well as a range of foreign language characters.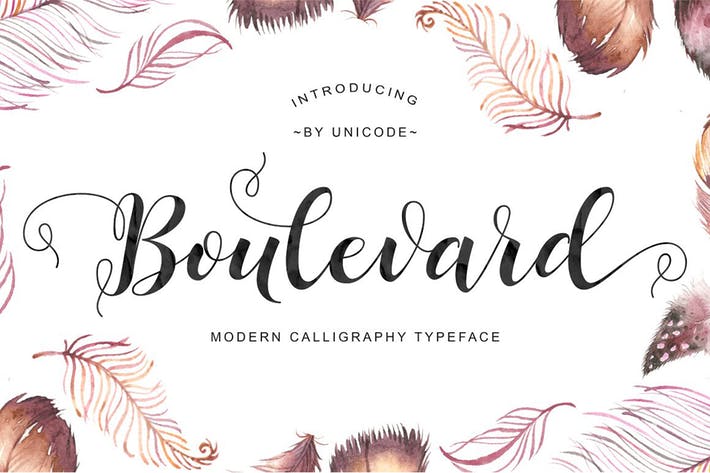 Featuring long, swirling swashes and decorative characters, the Boulevard calligraphy font is another example of a font that imitates a handcrafted calligraphy script, from the ink-like texture to the varying weight of each stroke. This package includes a total of 450 glyphs, as well as a range of OpenType features.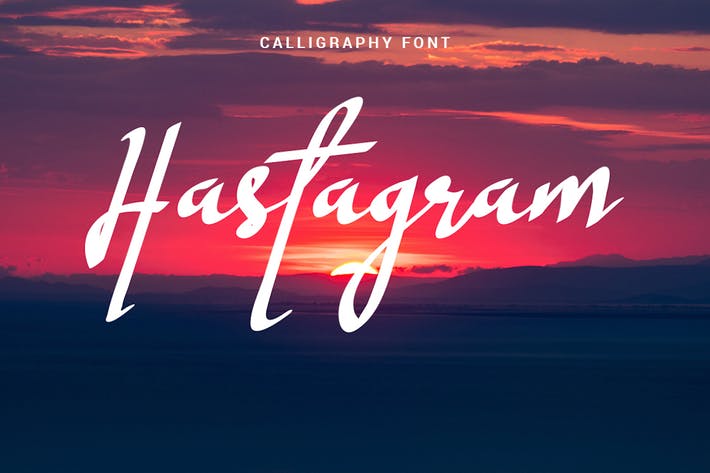 Hastagram is a unique, modern calligraphy font with a subtle eastern influence, and comes with a range of alternate characters for your own personal touch. It's great for creative projects such as photography portfolios and watermarks, as well as stationery designs, social media posts, and wedding invitations.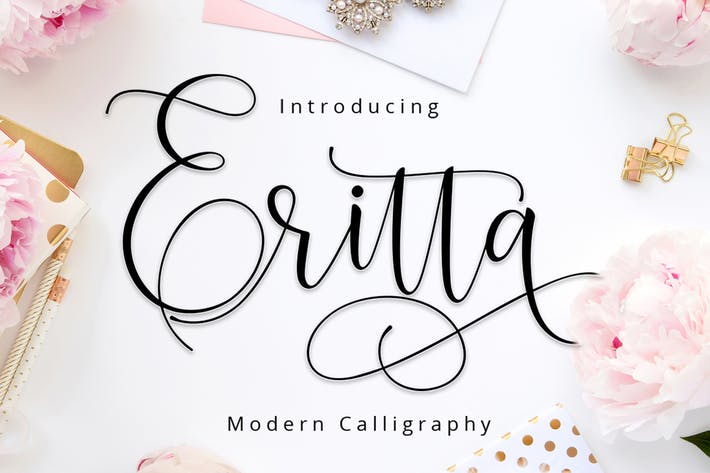 This gorgeous script typeface is a hugely popular choice for anything romance or wedding related, from invites and cards to posters and quotes. Featuring expanded letter spacing and foreign language support, the lovely Eritta font includes over 560 glyphs, as well as extensive stylistic alternates, swashes, and OpenType features, making it incredibly easy to customize.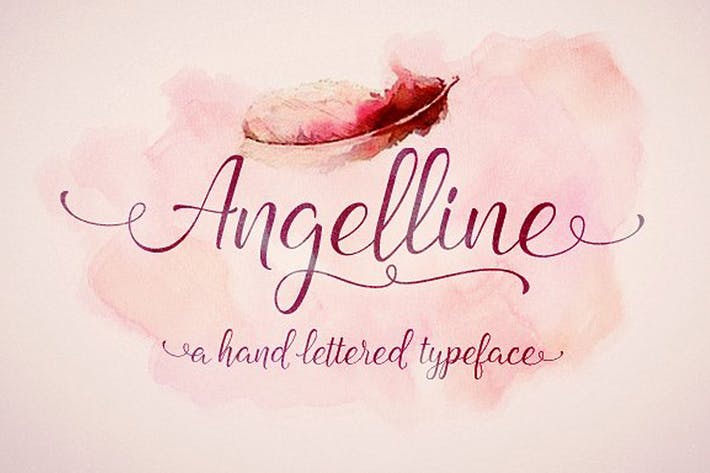 The Angelline font is a perfect choice for a vintage-inspired project and looks incredible against watercolor themed design elements and floral patterns for an ultra feminine finish. This elegant typeface includes various ligatures, swashes, and alternates for extra creative control.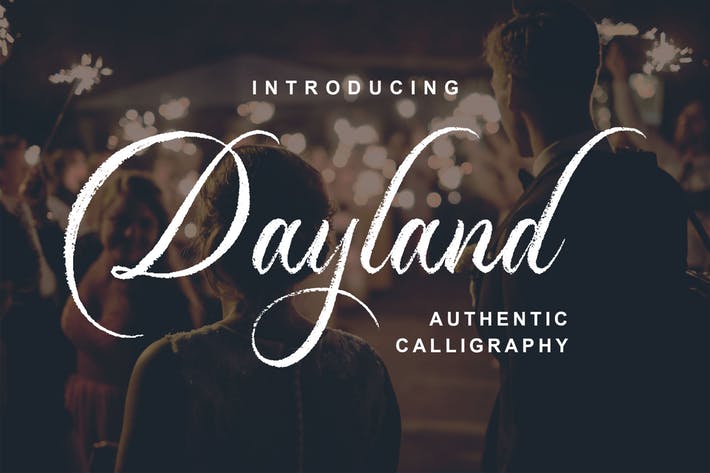 Great for logos, signatures, wedding designs, romantic quotes, posters, and social media applications, the Dayland font is an authentic calligraphy typeface with an authentic brush stroke appearance, elaborate swashes, and a clean, balanced baseline, for a tidy yet creative script font.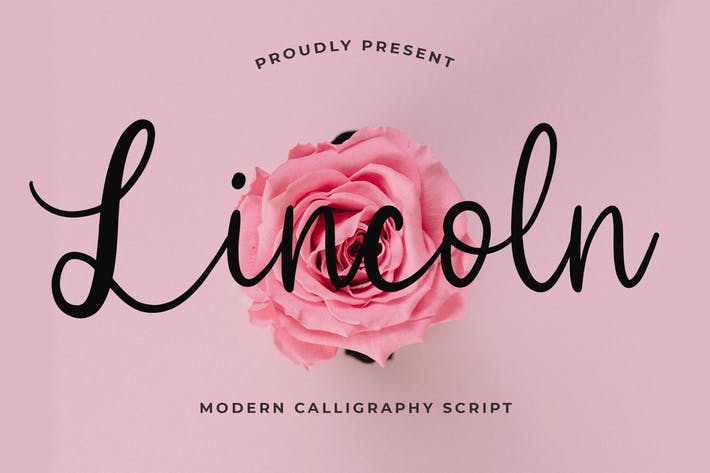 Elegant, luxurious, and modern, Lincoln is a beautiful calligraphy font that's ideal for a fashion or cosmetics business, boutique agency or start-up, beauty blogger, or creative professional. The clean, smooth lines and relaxed, feminine lettering will give your text a soft, romantic feel.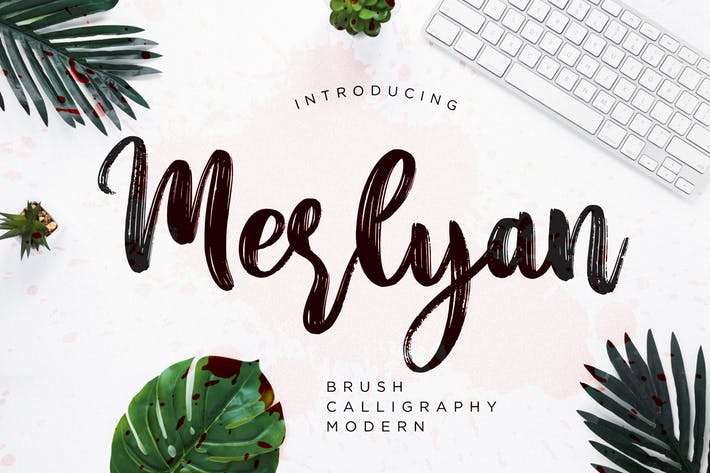 One of the best calligraphy fonts if you're looking for a realistic paint brush effect, Merlyan is a modern script with a dramatic, rough texture and thick brushed lines, ideal for adding a touch of rustic, handcrafted charm to your next creative design project.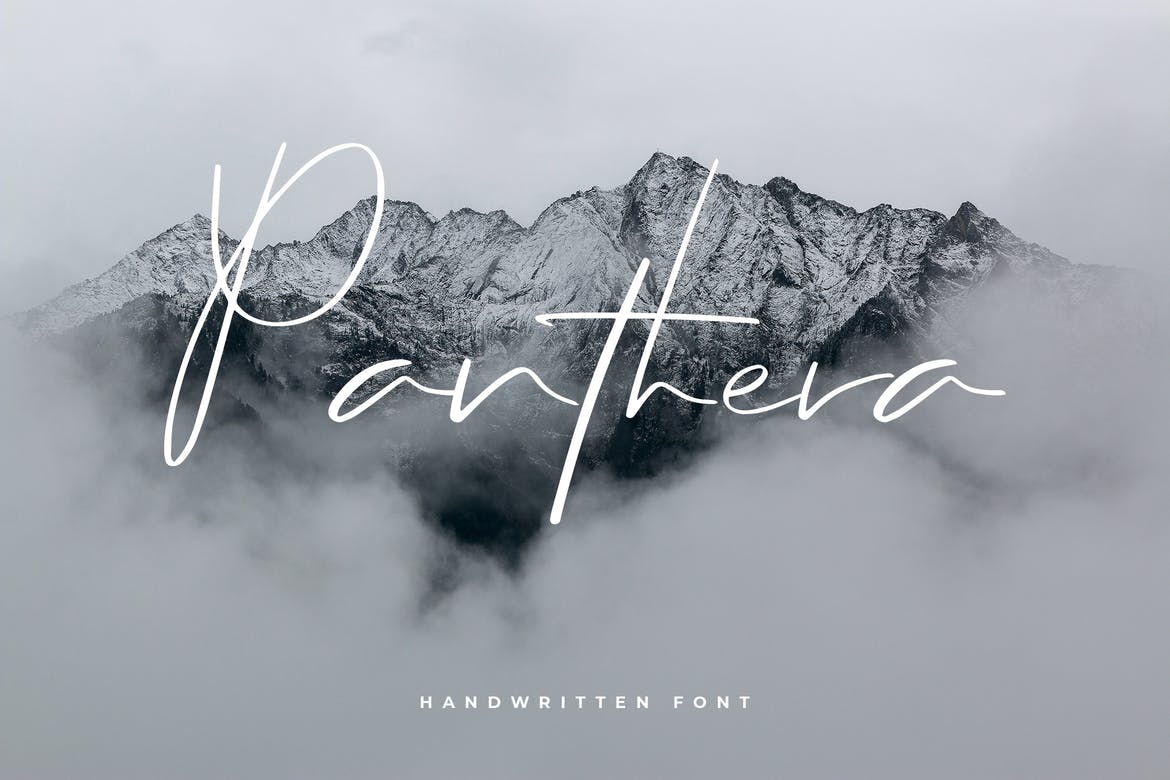 Panthera is a moody, handwritten calligraphy font that's brilliant for a wide range of purposes and aesthetics, from logos and branding to media and entertainment adverts. It includes a full suite of upper and lower case characters, plus punctuation and numerals.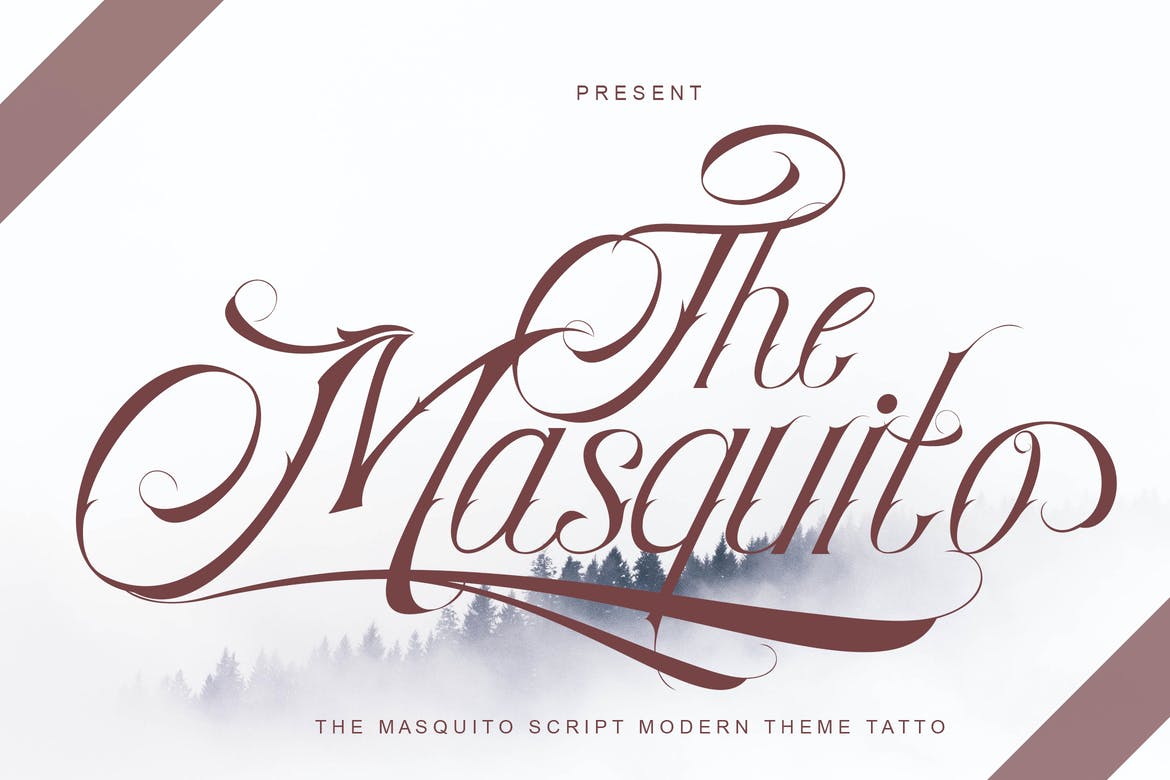 Funky and intricate, the Masquito calligraphy font is a unique take on a handwritten script typeface, and offers a natural and elegant aesthetic with a subtle retro vibe, and several alternate characters for you to choose from. It's great for tattoo and apparel designs.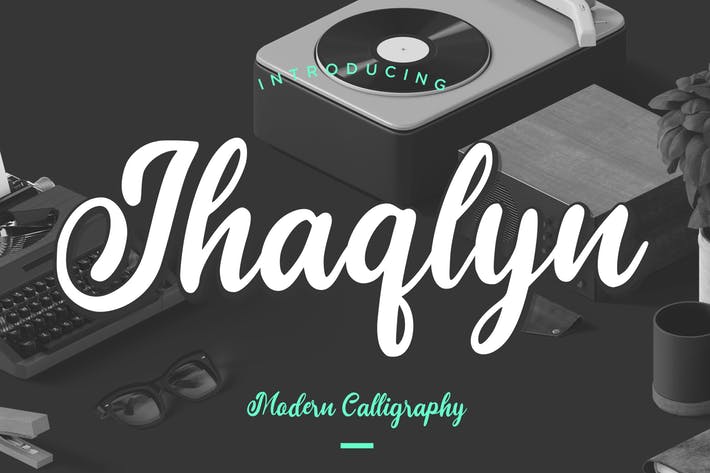 Retro meets modern in this bold, elegant calligraphy font that's brilliant for a logo or headline across a wide range of aesthetics and purposes. It features crisp lines, balanced letter structure and subtle swashes for a classic, professional look, and includes ligatures and web fonts.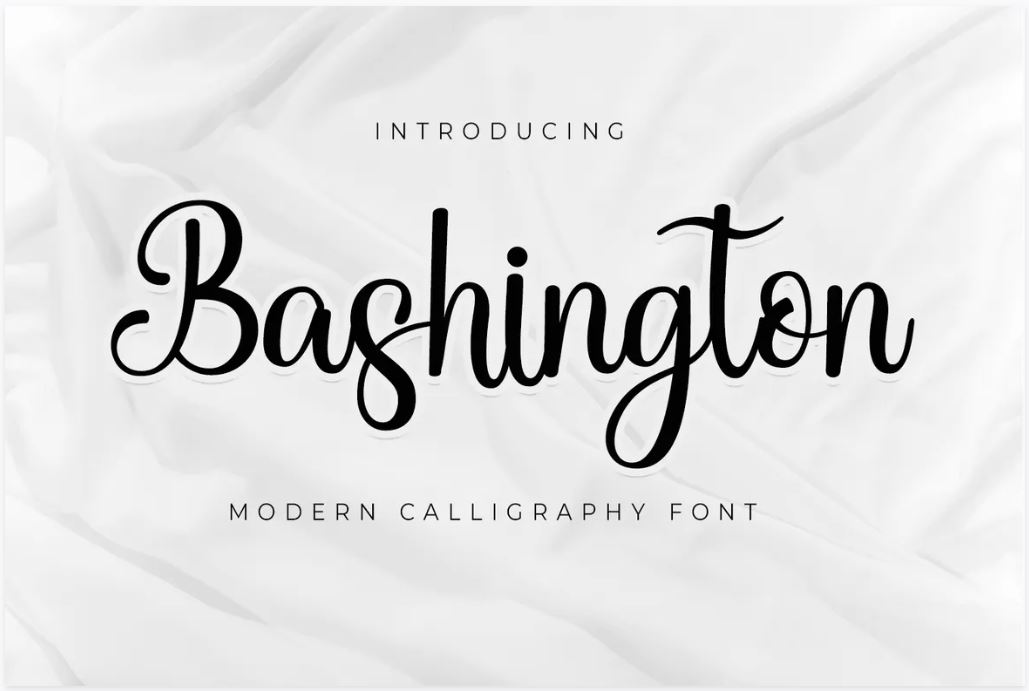 Bashington is a sweet, modern calligraphy font. Its playful yet elegant aesthetic is great for wedding-themed projects, fashion and beauty boutique branding, or any other business that requires a fun and feminine appeal. It comes with upper and lower case letters, as well as numerals, punctuation marks, and a range of ligatures and foreign characters.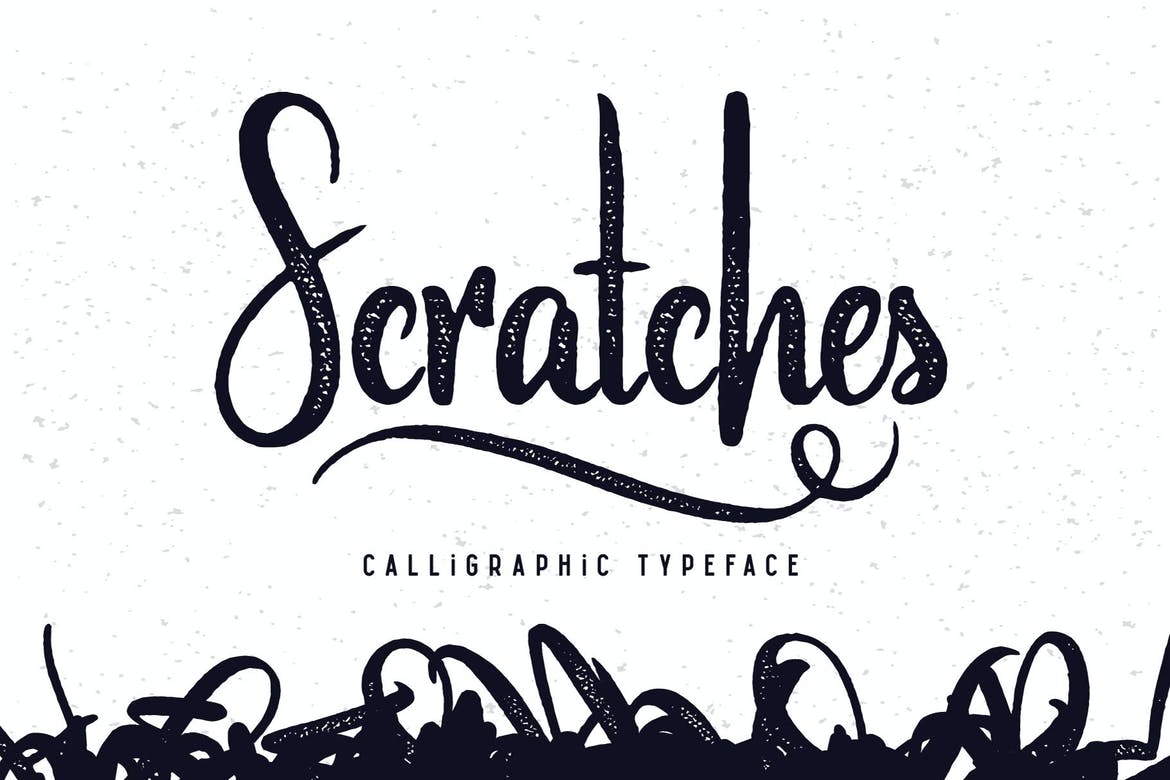 Next in our selection of the best calligraphy fonts is Scratches, an edgy, textured option featuring an authentic, handcrafted look with a wide array of additional characters and swashes, to help you add your own personalised touch. It looks particularly effective in larger sizes, and makes a great display font.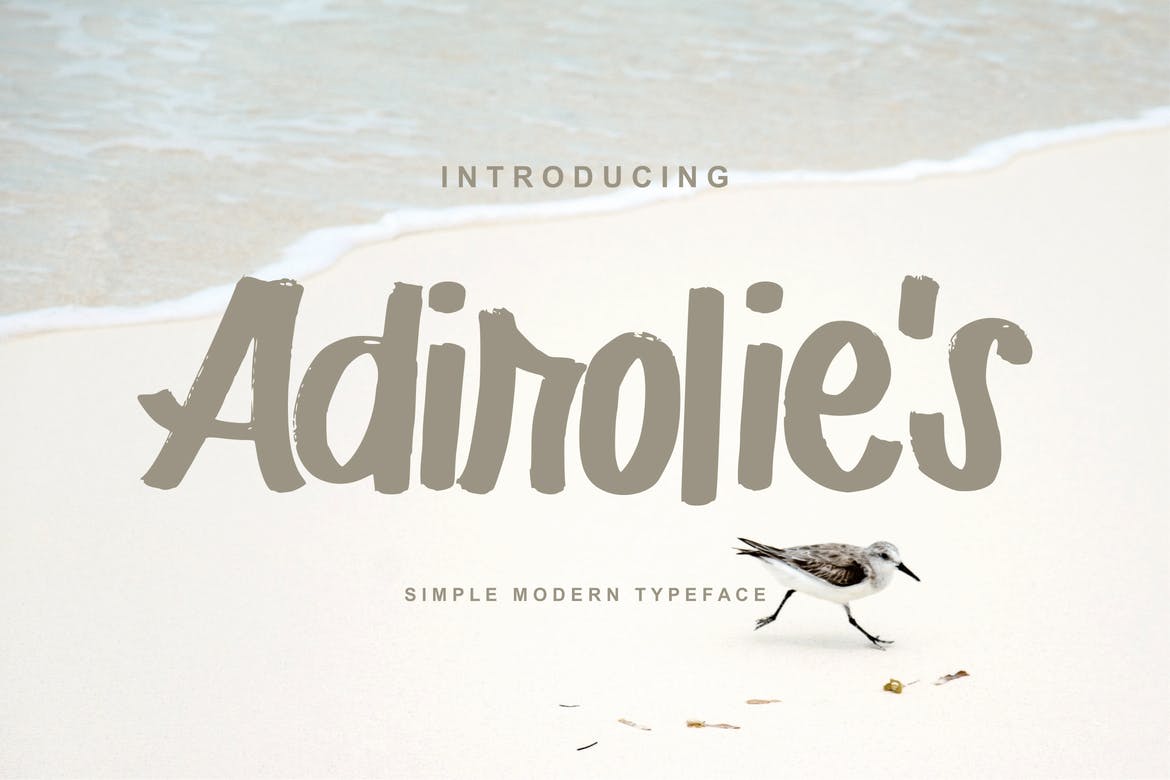 Here we have a simple, brush stroke style calligraphy font with thick, hand drawn lines and a fresh, modern feel. Adirolie is fully PUA encoded, and comes complete with a range of alternative characters such as stylistic sets and alternates, swashes and ligatures, as well as punctuation and multilingual support.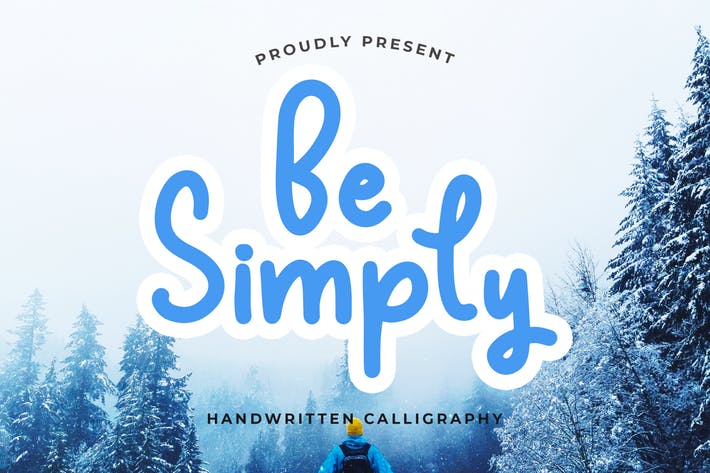 The next in our list of the best calligraphy fonts is Be Simply, a lovely monoline script in a playful, handwritten style, featuring clean lines and balanced strokes, ideal for adding a touch of light-heartedness and fun to a logo or graphic design.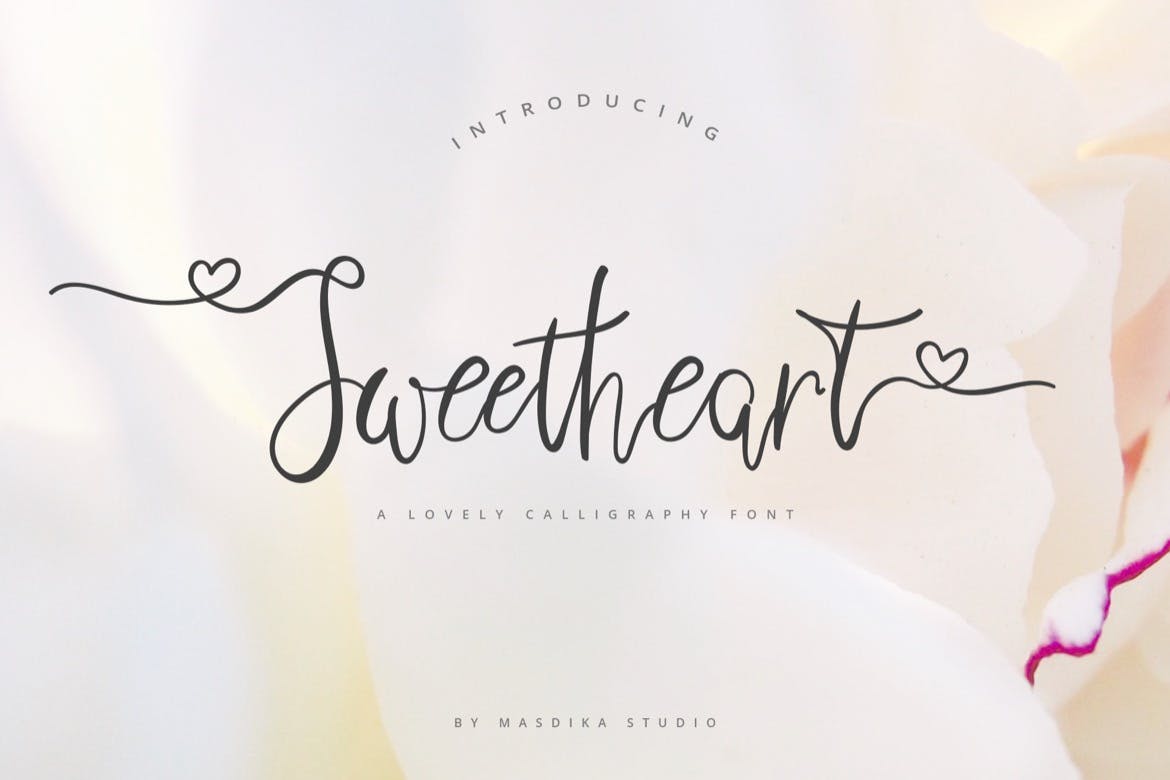 We'll round out our collection of calligraphy fonts with Sweetheart, a cute and playful script that features sophisticated flows and decorative hearts, plus a wide range of fun ligatures, elegant swashes, and a versatile set of characters including upper and lowercase letters, numbers, and punctuation.
And there you have it, a carefully crafted selection of the best calligraphy style typefaces available. These beautiful fonts range from bold and grungy to delicate and feminine, and every single one of them has been professionally designed to help you create a stunning design – now the hard part is picking your favorite!