Best 2-Factor Auth WordPress Plugins Compared
So, you've installed a firewall on your WordPress website and started using a super secure password. Do you think your website is safe from hackers? Not even close! And we'll tell you why.
One of the most aggressive brute force attacks on WordPress platform happened in December 2017. This attack saw more than 14.1 million attacks per hour targeting up to 190,000 WordPress websites.
In brute force attacks, hackers use tools to try and guess your website's password using a trial and error method. Even if you're using a strong password, there's a chance for an advanced hacking tool to guess your password.
The best way to protect your website from such attacks is to add an extra layer of security to your website. This is where 2-Factor authentication comes to help.
What Is 2-Factor Authentication?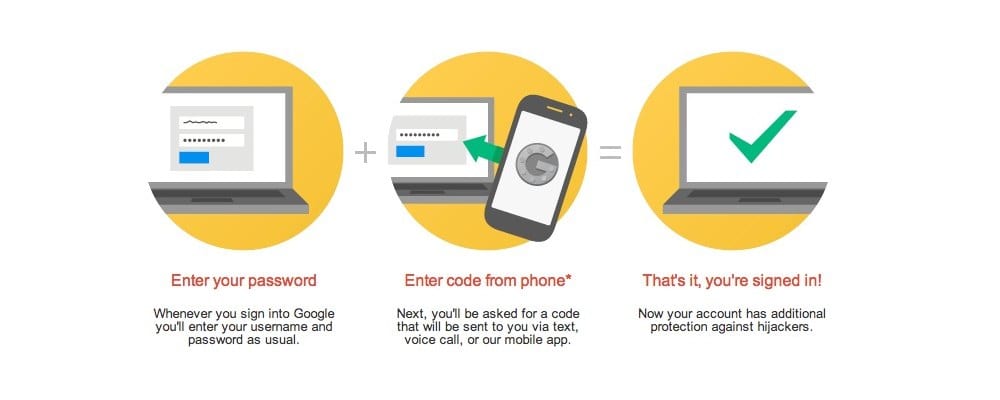 2-factor authentication is a technology used by many online services and websites, including Facebook, Google, Dropbox, and many more. This technology adds an extra security step to your website login process to protect it from hackers.
For example, when 2-factor authentication is enabled on your website, it will ask you for an additional secret code after entering your password. Only you can enter this secret code because it can only be generated from the authenticator app on your phone.
WordPress still doesn't have this technology built into its core. You have to install a third-party plugin to enable 2-factor authentication for your website.
In this post, we take a closer look at some of the best 2-factor authentication plugins available today to help you find the best option for securing your own website.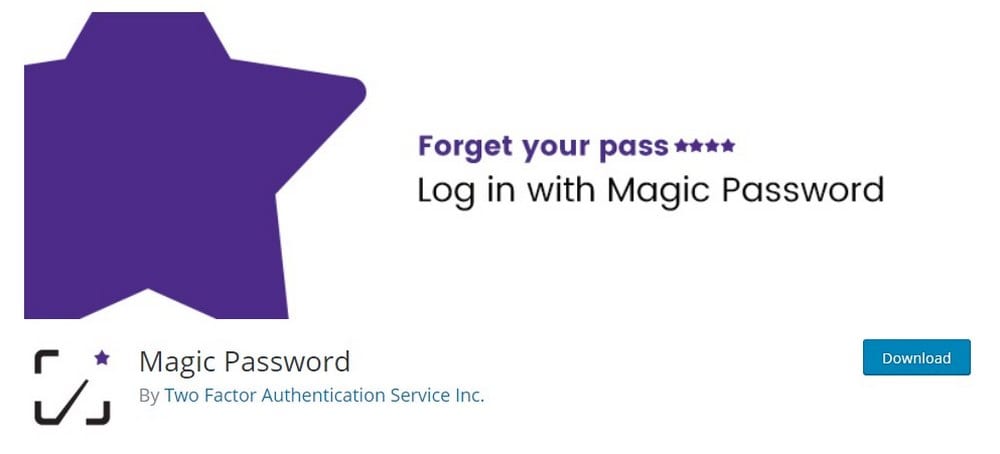 Best For: Beginners
Works With: Magic Password app
Magic Password is a unique 2-factor authentication app that allows you to completely forget about your username and password. You don't even need to generate a code to log in. When using the Magic Password app, you can easily scan a QR code to instantly log in to your WordPress website without passwords, usernames, or code.
Main Features
Makes your WordPress login process completely passwordless
No need to generate secret codes
Simple login by scanning QR code
Process secured by state-of-the-art hash-based message authentication codes
Uses end-to-end (e2e) encryption for better protection
How It Works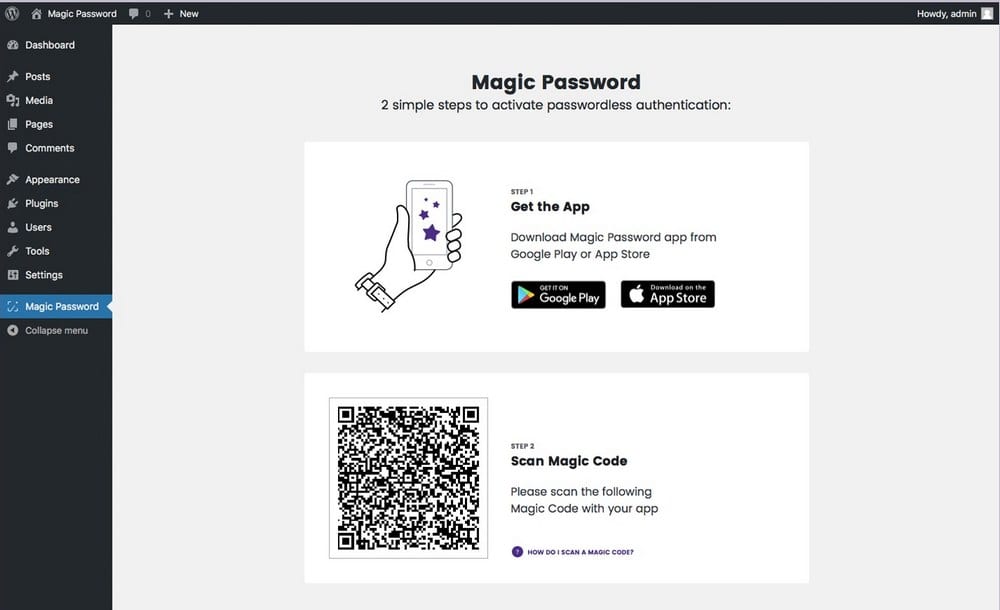 Magic Password uses a cryptographic hash system which combines a secret key and the current timestamp to allow users to securely log in to their website without having to use a password.
Once you install the Magic Password free WordPress plugin, you can download the dedicated iOS or Android app to scan the QR code when logging in to your website.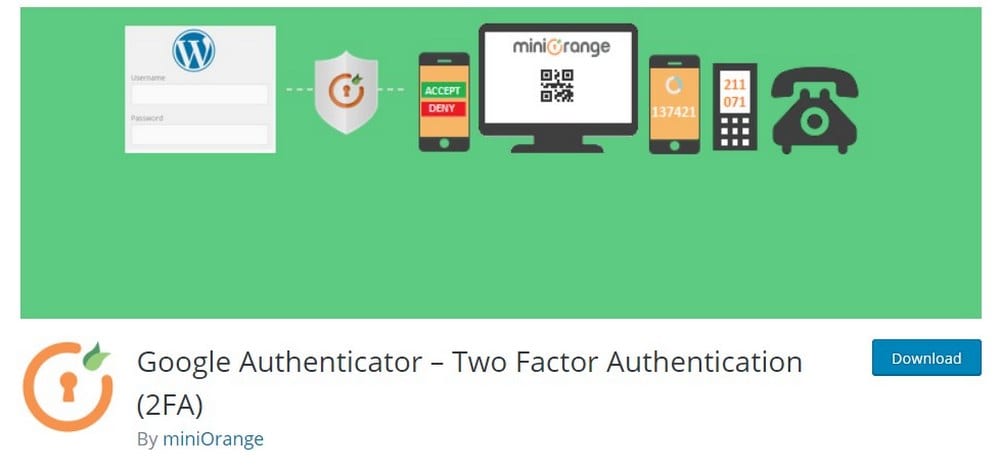 Best For: Beginners & advanced users
Works With: Google Authenticator app, MiniOrange app
MiniOrange is a popular 2-factor authentication plugin that gets powered by Google Authenticator app. A great feature of this plugin is that it allows you to setup backup systems such as OTP Over Email and Security Questions for in case you lose your phone.
Main Features
The ability to replace the password with 2-factor authentication
Enable 2-factor authentication based on user role
Supports soft token, QR code authentication, and push notification
Email verification and security questions for backup login
How It Works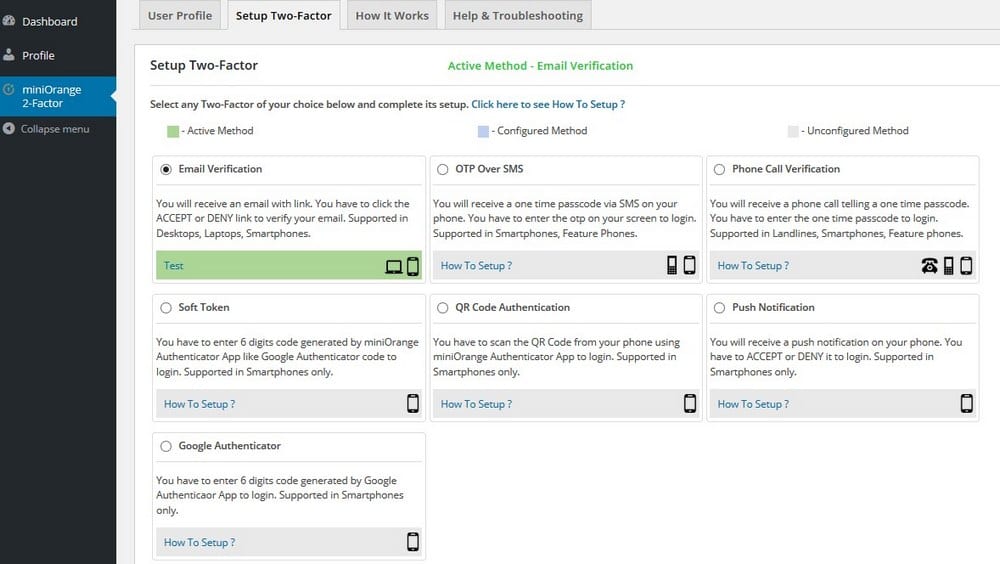 The plugin allows you to secure your WordPress website by either adding the 2-factor authentication on top of your password or use the 2-factor code to replace your password. After installing the plugin, you can activate it using the Google Authenticator app or the MiniOrange authenticator app.
MiniOrange also has an OTP verification plugin which allows you to setup email, SMS, and mobile verifications on your website. This is especially useful for membership websites and online stores.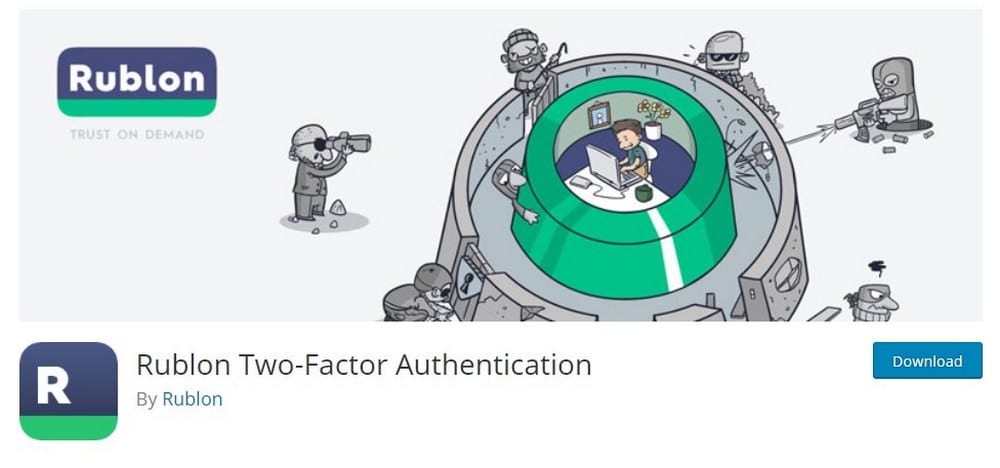 Best For: Beginners
Works With: Rublon app, email, SMS
Another simple and easy-to-install 2-factor authentication plugin for protecting your website with an extra layer of security. The best feature of this plugin is that it allows you to choose from several different 2-factor methods to log in to your website, including email verification, SMS code, or scan QR code using the Rublon app.
Main Features
Easy 1-click activation process
The ability to choose from email, SMS, and QR code authentication
Mobile app optional
Logout from a device remotely
How It Works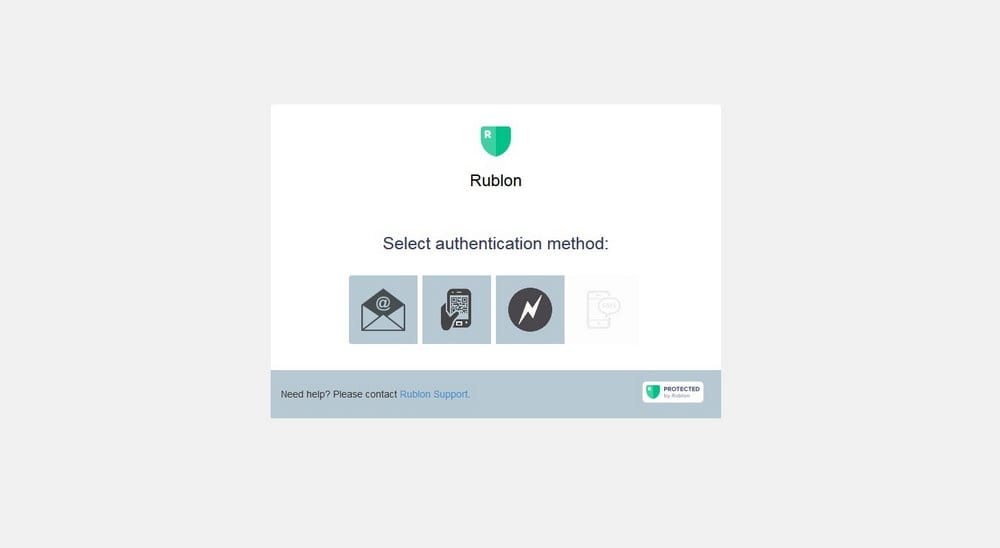 Rublon comes with a beautiful and a modern user interface that's perfect for beginners. And you can easily install and set it up within a few minutes.
The only downside is that it only adds 2-factor authentication for a single user for free. For adding more users, it will cost $1 per user per month.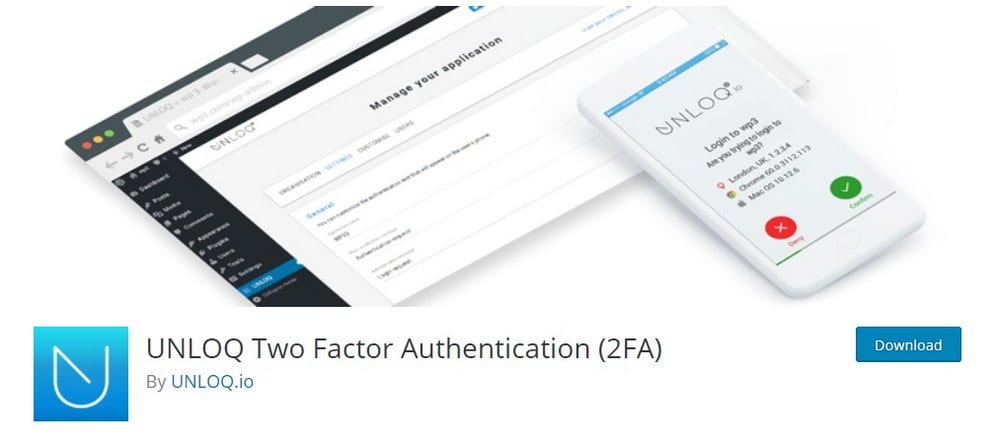 Best For: Beginners & advanced users
Works With: Unloq app
Similar to MiniOrange, Unloq is a 2-factor authenticator plugin that allows you to either add a 2-factor code on top of your password or replace the password with a code. The plugin also features a simple 60-second setup process for easily installing the plugin and adding 2-factor authentication to your website.
Main Features
Ability to choose from different 2-factor authentication methods
Supports email, push notification, time-based one time passwords
Uses a distributed system to protect user data (data is not stored in servers)
Keeps phone data secure with AES-256-CBC encryption and SSL
How It Works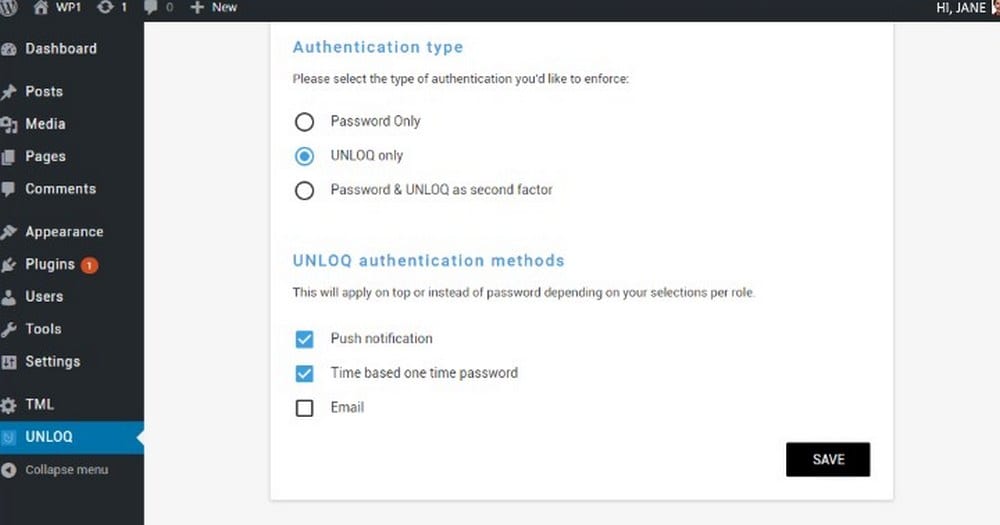 Unloq is free to use for up to 100 users. It will require you to install the Unloq iOS or Android app to log into your website.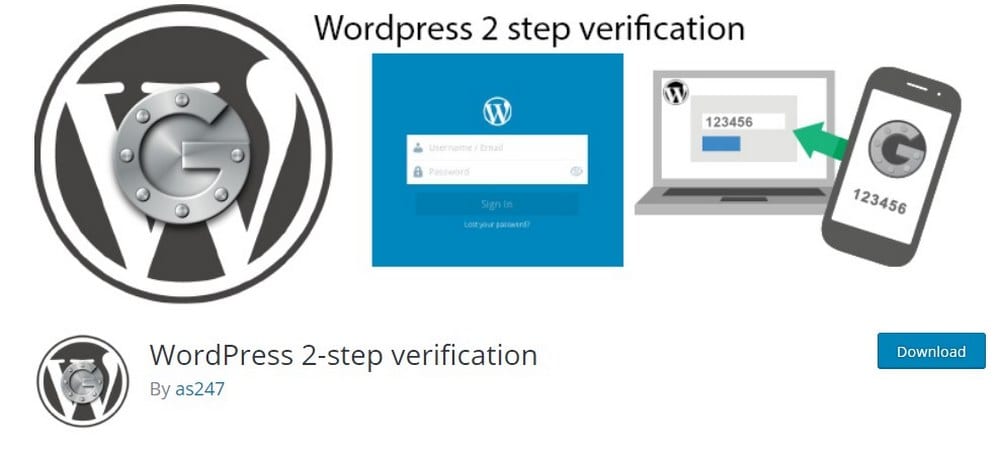 Best For: Advanced users
Works With: Google Authenticator app
This one is a simple and free 2-factor authenticator plugin that uses the Google Authenticator app to make your websites extra secure. Since the plugin is created by an independent developer, it features a slightly outdated user interface. So it's ideal for advanced users who prefer not to trust companies to protect their websites.
Main Features
Works with Google Authenticator
Supports multi-sites
Supports email verification (uses WordPress built-in email function)
Ability to generate backup codes
How It Works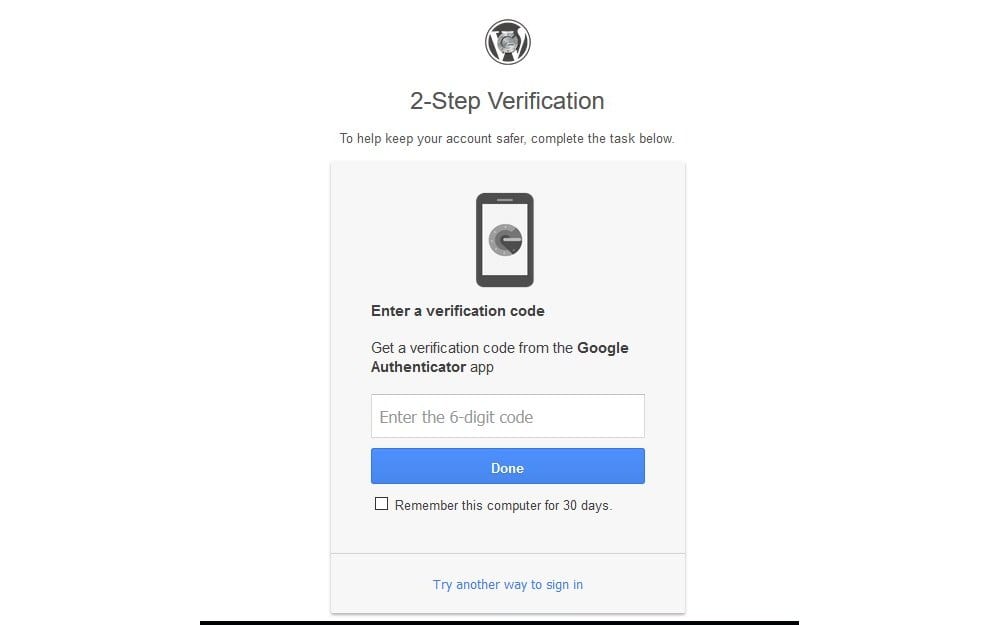 You can install the plugin for free and activate it using the Google Authenticator app. The plugin also allows you to generate backup codes to use in case your device gets lost or stolen.
Which Plugin Should You Use?
Magic Password would be the best choice for complete beginners and websites with fewer user accounts. The installation process of the plugin is very beginner-friendly and the ability to completely get rid of passwords makes it much more secure.
If you're managing a website with multiple user roles and membership accounts, MiniOrange 2-Factor authenticator plugin would be the best choice. It allows you to easily enable 2-Factor authentication for your entire userbase and it works with Google Authenticator app.
However, don't take our word for it. Be sure to test drive these plugins yourself and find a plugin that fits your needs and comfort.