How to Build a Subscription Website with WordPress
There are many ways to make money with a WordPress website. One of the most effective website monetization methods is to build a members-only website with access to exclusive content. In this guide, we'll show you how to create your own subscription website with WordPress in a few simple steps.
There are several types of subscription websites you can build with WordPress. You can create a paid platform with access to premium content, or a community platform with exclusive content, and much more.
Thanks to WordPress, you can actually build it all by yourself without any help from developers or experts. But first, let's figure out why making a membership website can be beneficial to you.
Get everything you need to build your next website with one simple subscription. From $16 per month, get unlimited access to nearly 2 million WordPress themes, web templates, fonts, graphics, and photos.
Why Make A Subscription Website?
Maybe you've already built a successful blog and looking to expand your business or you've established yourself as an authority figure and planning on building a learning platform for your followers. Whichever type of a business model you want, a subscription website is a way to do it.
A subscription or a membership website can be used to generate leads for your business or monetize with premium content. You can also use such a platform to grow your blog by creating a network of authors or offer consulting services, like giving people advice on diet plans and fitness plans.
Different Types Of Subscription Websites
A membership website can be used to your advantage to grow sales and generate leads as well.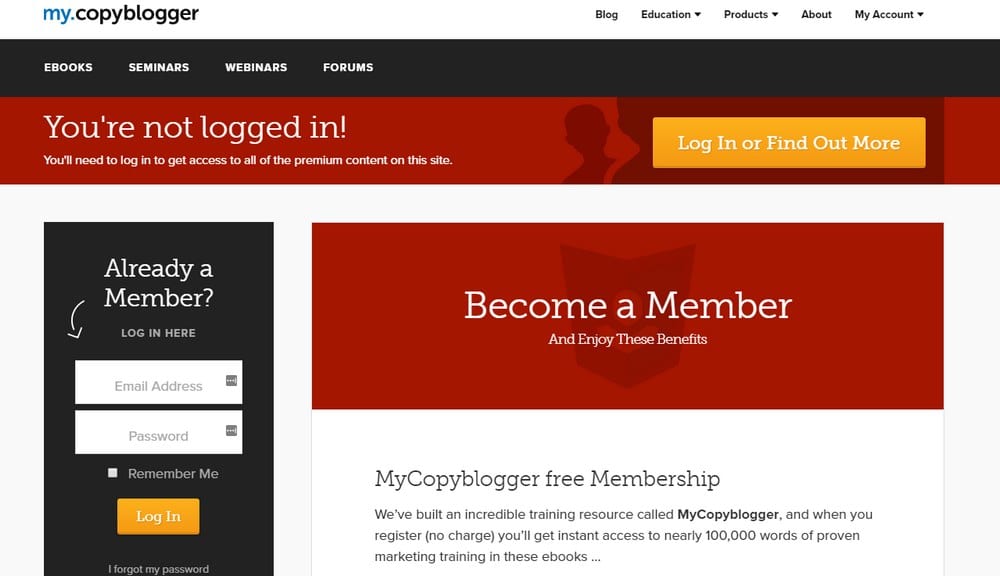 CopyBlogger is a popular blog that uses a membership area to offers exclusive content to its registered members. The platform offers registration for free and uses the information provided by the users to promote their other premium products.
You can also use a subscription website to release a premium online course to share your knowledge. Or build a community-based content website like Buzzfeed and allow users to both submit their content and give access to exclusive content.
Here are a few other types of subscription websites you can build with WordPress:
Online learning platforms.
Forums and customer support sections.
User-generated content blogs.
Dating websites.
Consulting and mentoring programs.
Directory websites.
Main Features Of A Subscription Website
Subscription websites are different from normal websites in many ways. Since you're promoting a subscription, you need a website design that makes this process easier.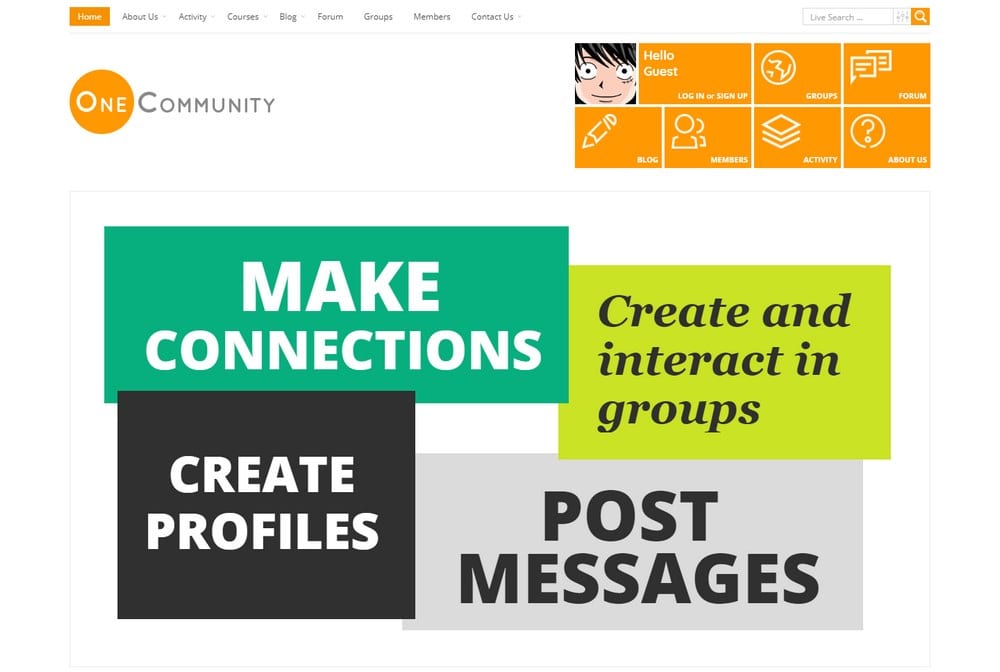 (Example: OneCommunity WordPress theme)
It's important that you choose a theme that supports subscription sites and membership plugins. To find the right membership or subscription WordPress theme, look for these features in the design:
A homepage design that promotes your subscription platform
A blog to promote your platform
Support for membership plugins
Product page designs
Login/ Registration pages
Checkout systems and payment gateways.
How To Setup The Website
Choosing WordPress to build your subscription website is a great choice. WordPress not only makes it so easy to build a subscription website but it also supports many types of third-party membership plugins for building any type of a membership website you want.
You can also set up the website in a few easy steps. Here's how it's done.
Step 1: Buy A Domain And Hosting
The first step is to buy a domain name and hosting for your new subscription website. If you're looking to only add a subscription section to your already existing website, then you can skip this step. Otherwise, follow the instructions.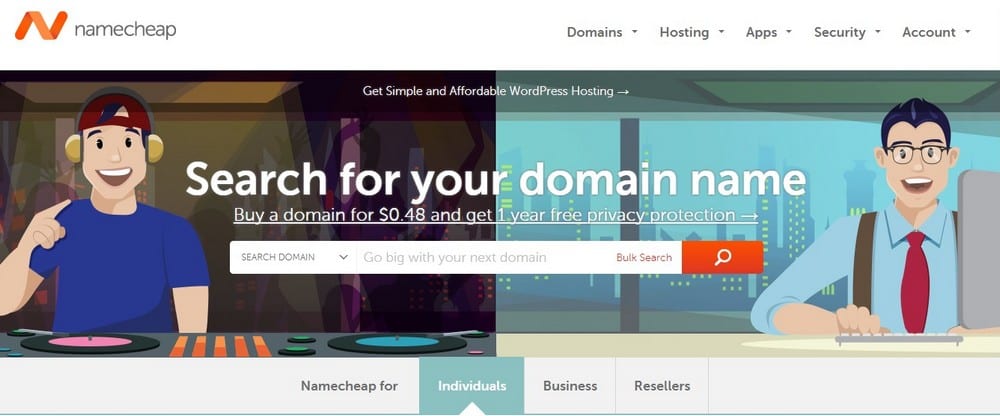 Buying a domain name is an important step that you can't reverse. So make sure you find the right domain for your website. Come up with a unique name to make your subscription website stand out from the crowd. Once you've decided on a domain name, you can purchase it from a site like NameCheap. It will cost you less than $10 per year.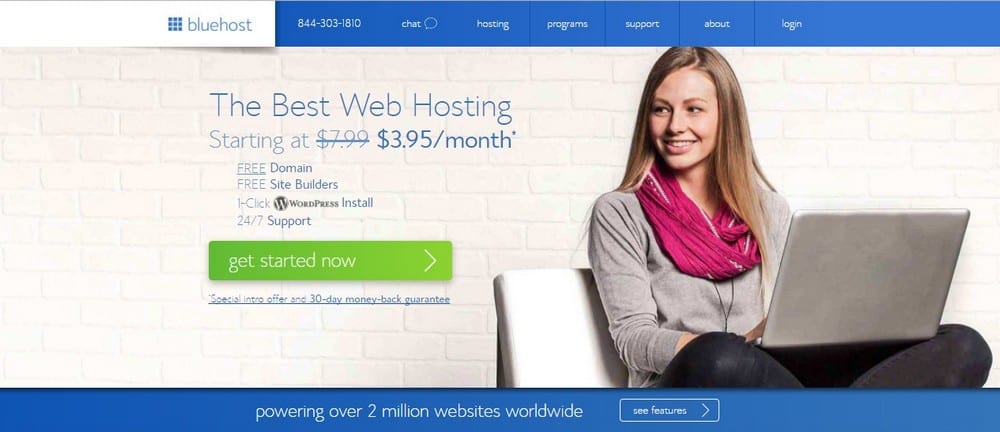 Next, you need to find a web host to install WordPress and start building your website. Bluehost offers affordable and beginner-friendly hosting plans for building all types of WordPress websites for as low as $3.95 per month.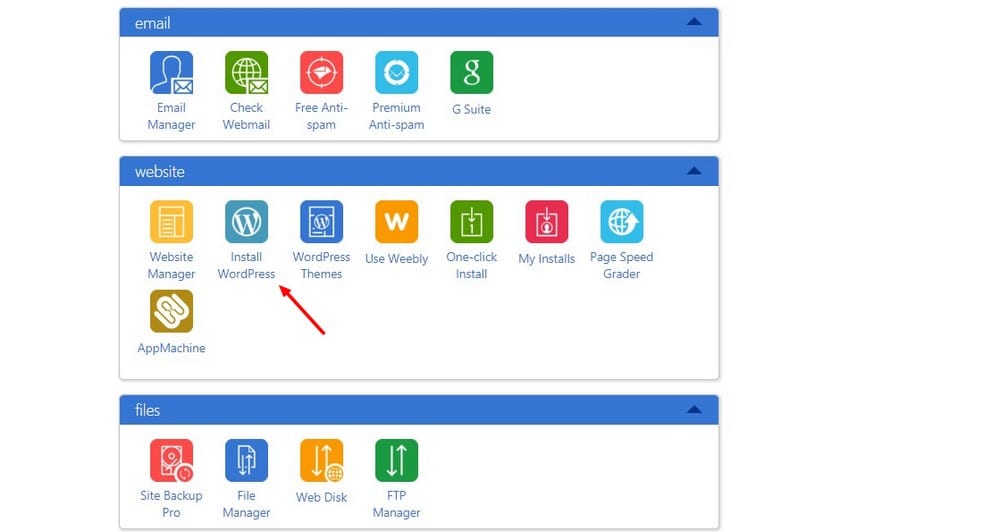 Choose a plan that fits your business and then you can install WordPress with just one-click via the user account CPanel area.
Step 2: Choose The Right Theme
After installing WordPress, you can start customizing your website and design. You'll need to find a great looking theme before getting started.
If you want to give a professional look to your subscription website, avoid using free themes. Those free themes are already being used by thousands of websites and using such a theme will only hurt your reputation.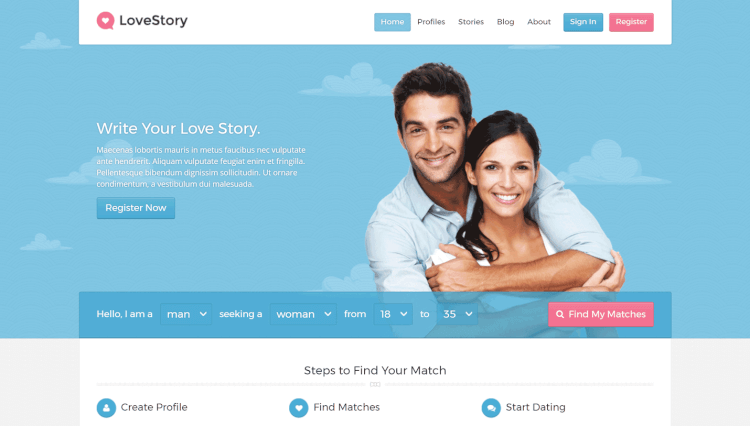 (Example: LoveStory WordPress theme)
Invest in a professionally designed premium theme. If you don't know where to look, start by checking out our handpicked collection of subscription WordPress themes. Also, make sure the theme supports the membership plugin you're going to use to build your subscription website.
Step 3: Best Membership Plugins
WordPress doesn't include all the necessary features you need to build a professional subscription or a membership website like member areas, user registration, user profiles, payment gateways, and subscription systems.
To add these features to your website, you'll have to install a third-party membership plugin. These plugins come with everything you need to build a subscription website.
Some subscription themes include built-in support for certain membership plugins. Or you can install one separately. Here are a few of the best membership plugins you can use for that job.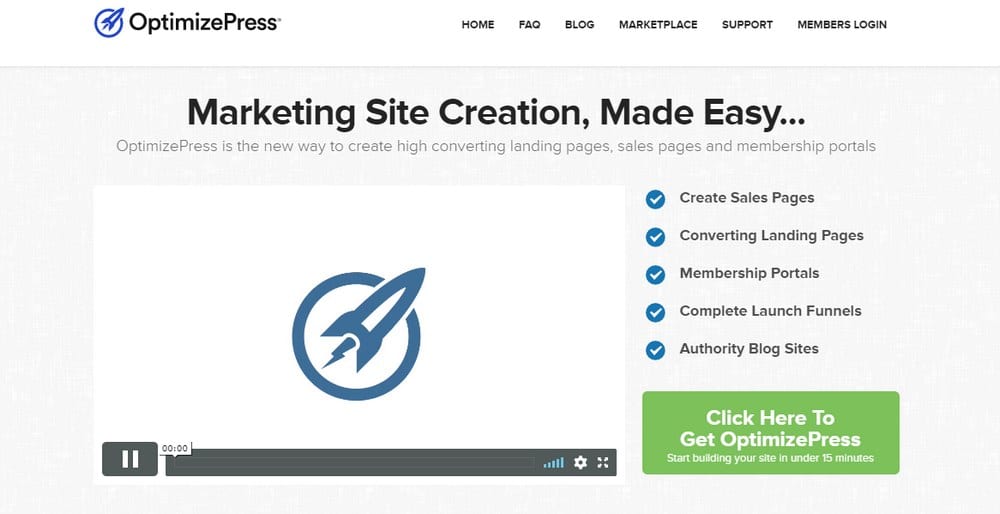 OptimizePress is an all-in-one plugin that includes a landing page builder and a membership portal. This makes your job easier for building both your membership area content and the landing pages to promote your subscription site at the same time. Also, the plugin comes with a single price and doesn't require a yearly subscription.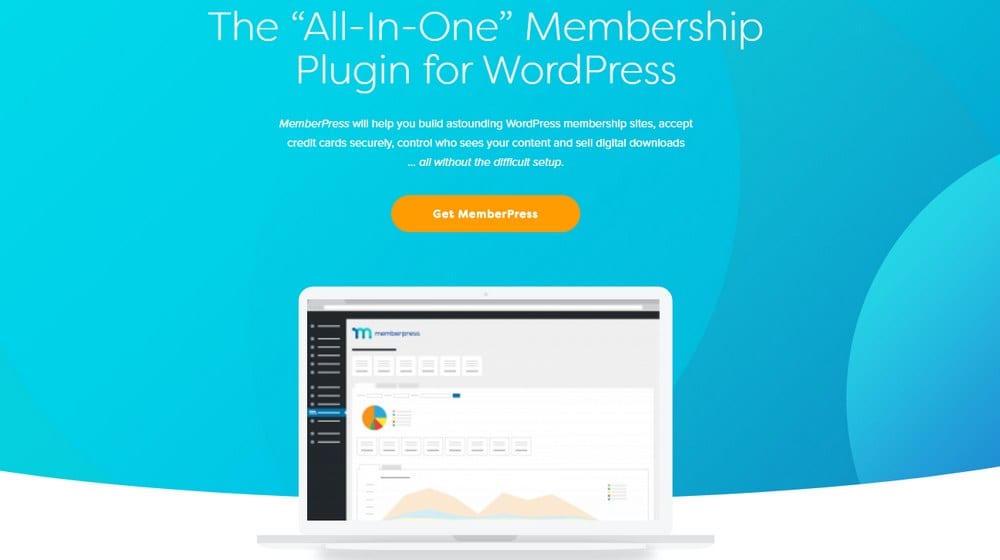 MemberPress is a powerful plugin that's mostly suitable for building advanced subscription websites. It also supports a number of third-party services and plugins, such as AWeber, Stripe, HelpScout, and more for adding more features to your platform.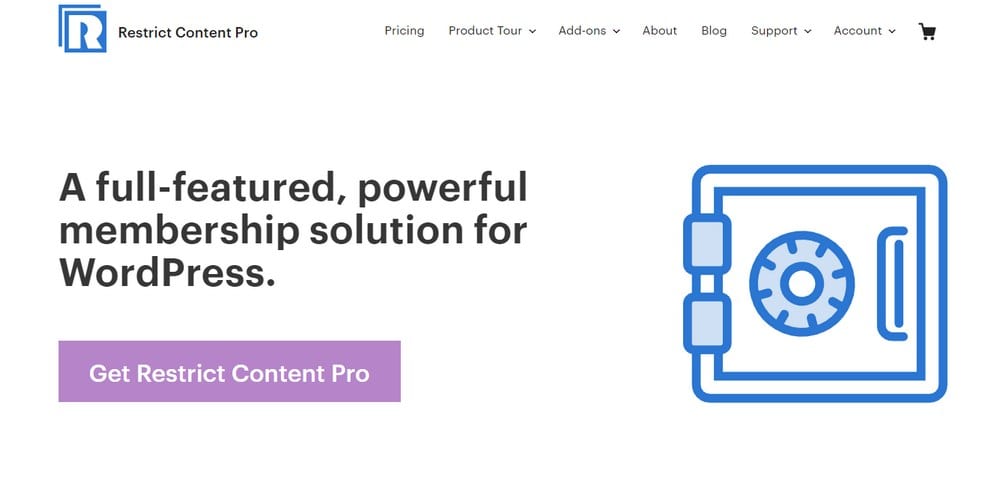 Restrict Content Pro is perfect for building a small to medium subscription website, especially for offering services and mentorship programs. It's easy to setup and the plugin is supported by many WordPress themes.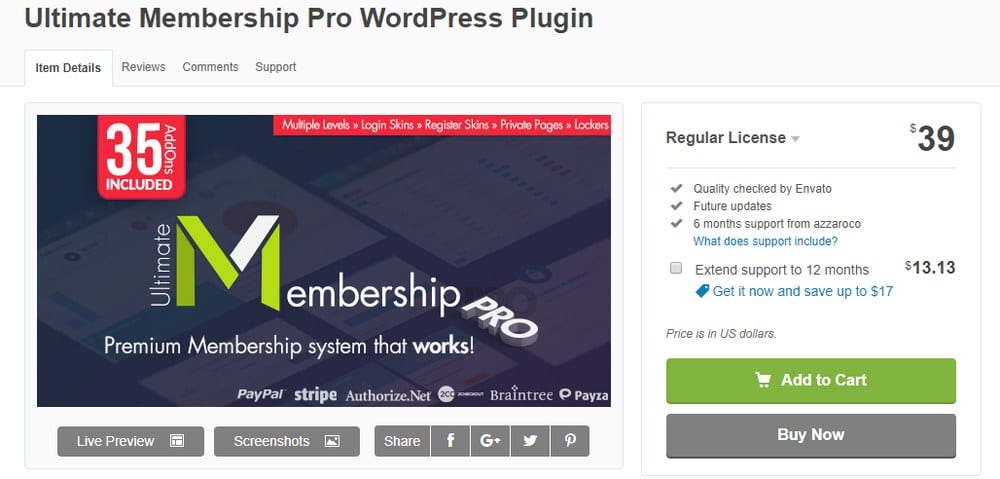 If you're on a tight budget and can't afford to spend a lot of money on expensive plugins, this membership plugin could save you a lot of money. Even at the affordable price, Ultimate Membership plugin offers advanced features such as recurring payment options and support for third-party payment processors such as PayPal, Stripe, and 2Checkout.
Once you pick a suitable membership plugin, install it on your website. Different plugins have different customization options, which we cannot describe in detail here. So, follow the tutorials provided by the plugin websites to set it up.
Step 4: Create The Membership Area
Your subscription website is now almost ready. You've set up WordPress, installed a theme, and a membership plugin. All you have to do now is to set up the member area of your subscription site and create the pages for your products.
You can do all this using the membership plugin you've installed. For example, plugins such as OptimizePress allows you to create online courses and recurring subscription systems directly from the WordPress dashboard to create mentorship programs or design your own streamlined online courses that take your members through classes and projects.
Summary
Building a membership or subscription site is a great way to start and expand a business. It offers a better and a more effective way to monetize your website as well.
What are you waiting for, now go get started and build your new subscription website!