25+ Best Arts + Artistic PowerPoint (PPT) Templates 2022
When you're preparing a presentation for a creative project, the design you choose for the slideshow plays a very important role. Mainly, it's what helps set the tone and the mood for your entire presentation.
Whether it's a presentation for an art exhibition, a portfolio showcase, or even to present your creative agency, using a PowerPoint template with an artistic design will go a long way to make your presentation a success.
To help you find the right PowerPoint design, we handpicked some of the best arts PowerPoint templates with stunningly creative designs. See if you can find a PPT template for your project from the collection below.
Get everything you need to give the perfect presentation. From just $16, get unlimited access to thousands of PowerPoint presentation templates, graphics, fonts, and photos.
arts powerpoint templates, art powerpoint templates, arts ppt templates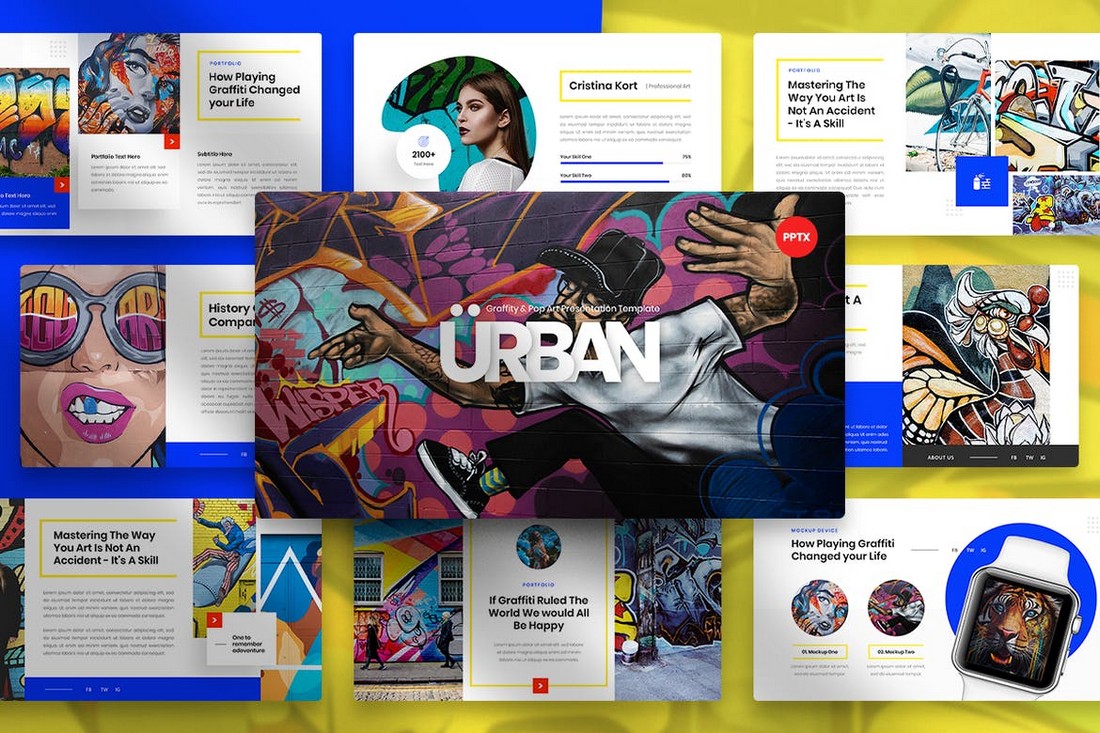 This PowerPoint template is designed with an urban pop art-style design to make it suitable for all modern creative presentations. You can use it to create a slideshow for showcasing various artistic projects. This arts PPT template includes 30 beautiful slide layouts with fully editable graphics and shapes.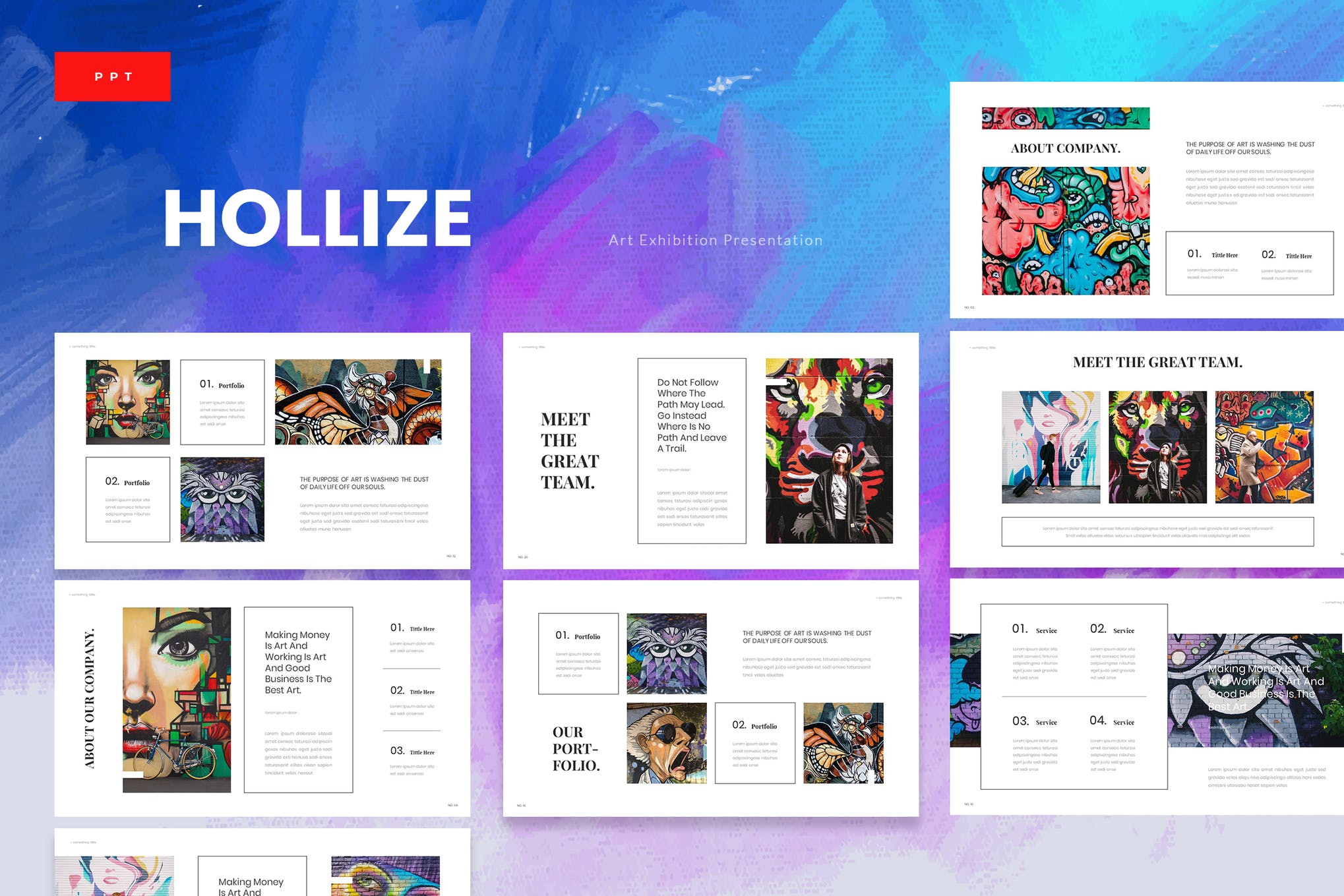 Hollize is a fantastic art exhibition PowerPoint template for those looking for more creative control over their presentation format. It provides you with tailored slides and extensive customization options, ensuring your presentation fits your very specific artistic direction.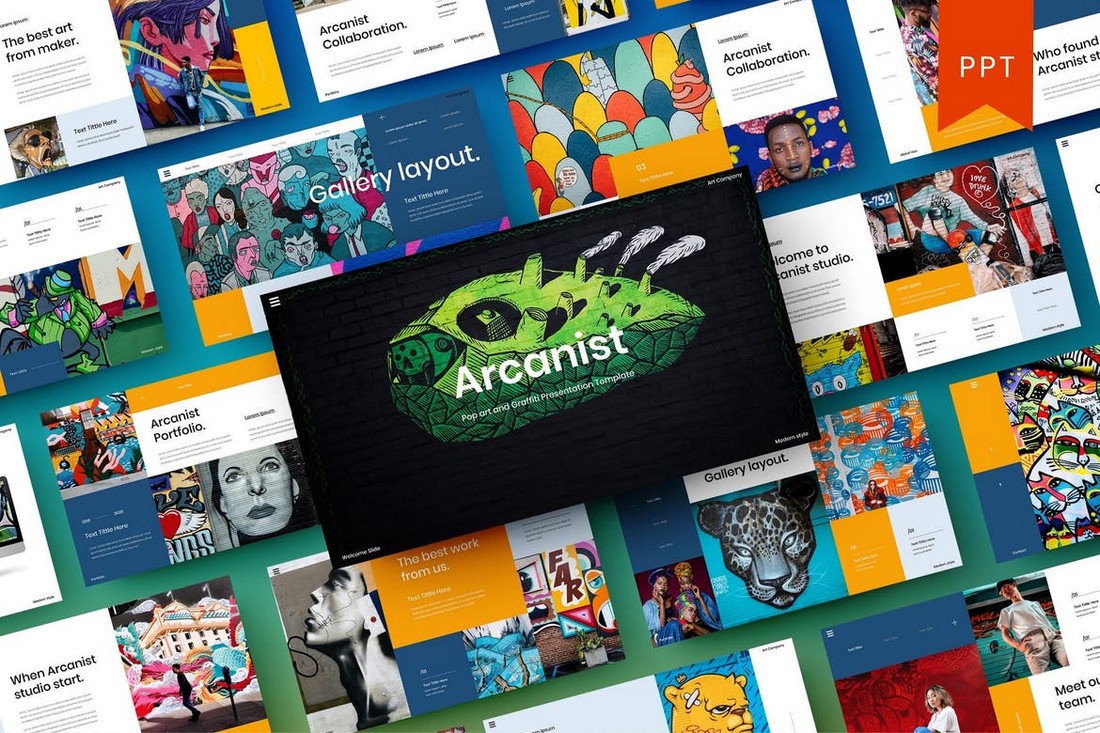 Looking for a template to present your art project in graffiti style? Then be sure to download this template. It includes 39 different slide designs featuring pop art and graffiti-themed layouts. You can mix and match different slides in this template to create an attractive presentation for your project.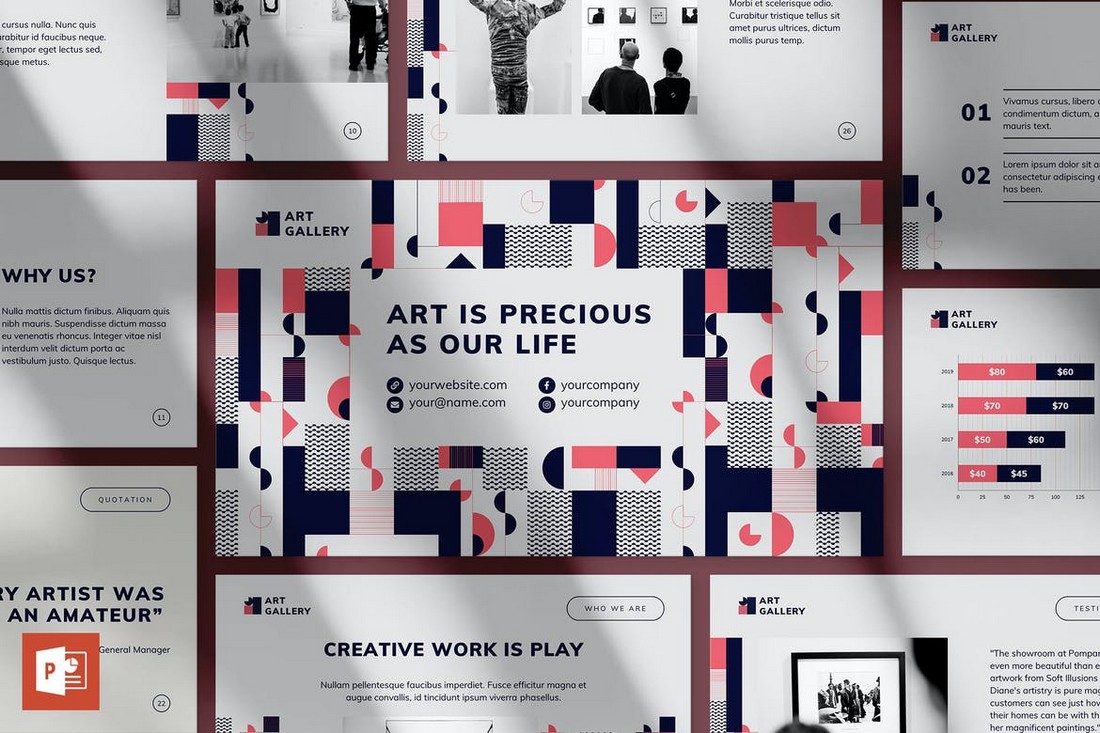 Just as the name suggests, this PowerPoint template is designed with art gallery and art exhibition presentations in mind. It features a minimal and clean slide design with a modern art look and feel. The template lets you choose from more than 50 different slide designs to create an artistic presentation.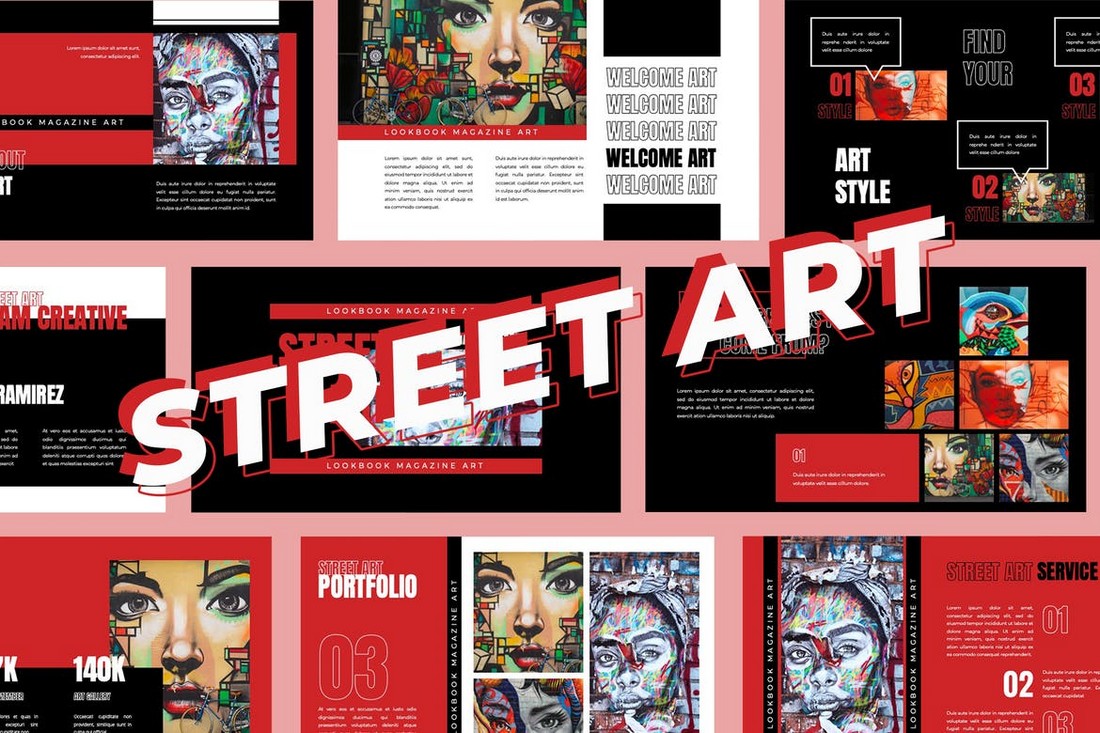 If you're a fan of street art, this PowerPoint template will help you design a street art-inspired presentation that looks trendy and attractive. It includes more than 40 unique slide layouts with fully customizable shapes, colors, and master slides. You can also easily drag and drop your images into the template using its image placeholders.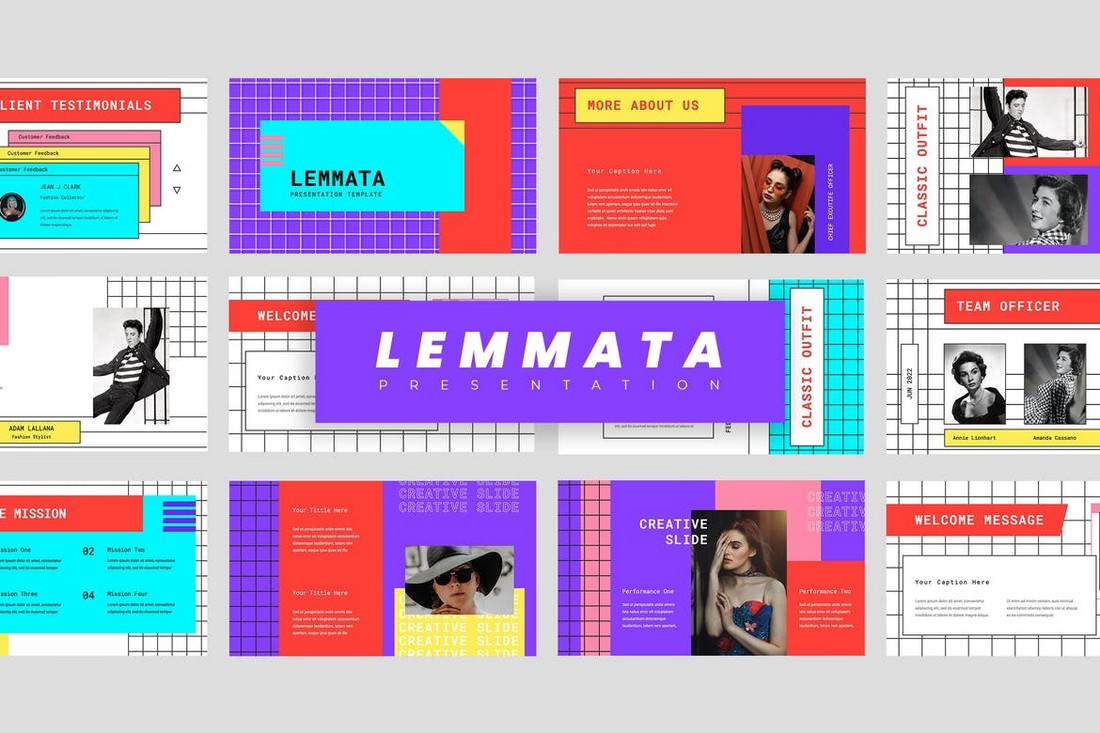 Mixing both modern art and pop art design elements, this PowerPoint template creates a unique look throughout its slides. It's perfect for creating presentations full of vibrant colors. The template features 30 different slide layouts with master slide layouts, vector icons, editable colors, and much more.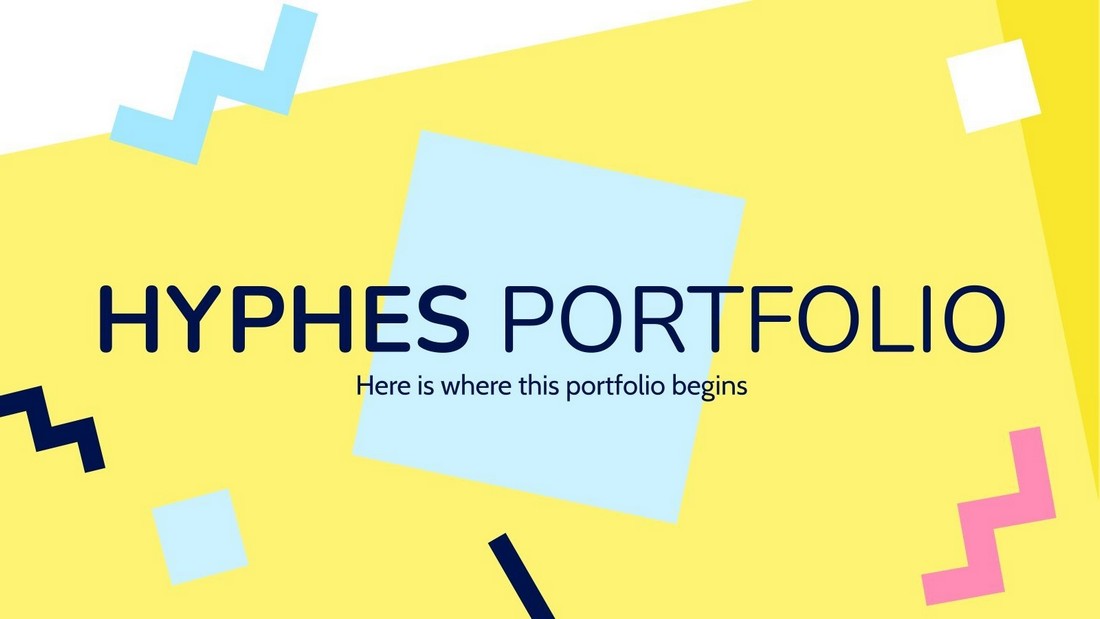 This is a free PowerPoint template that comes with 24 unique slides. Each slide features colorful designs with abstract shapes and layouts. You can use it to create all kinds of creative presentations.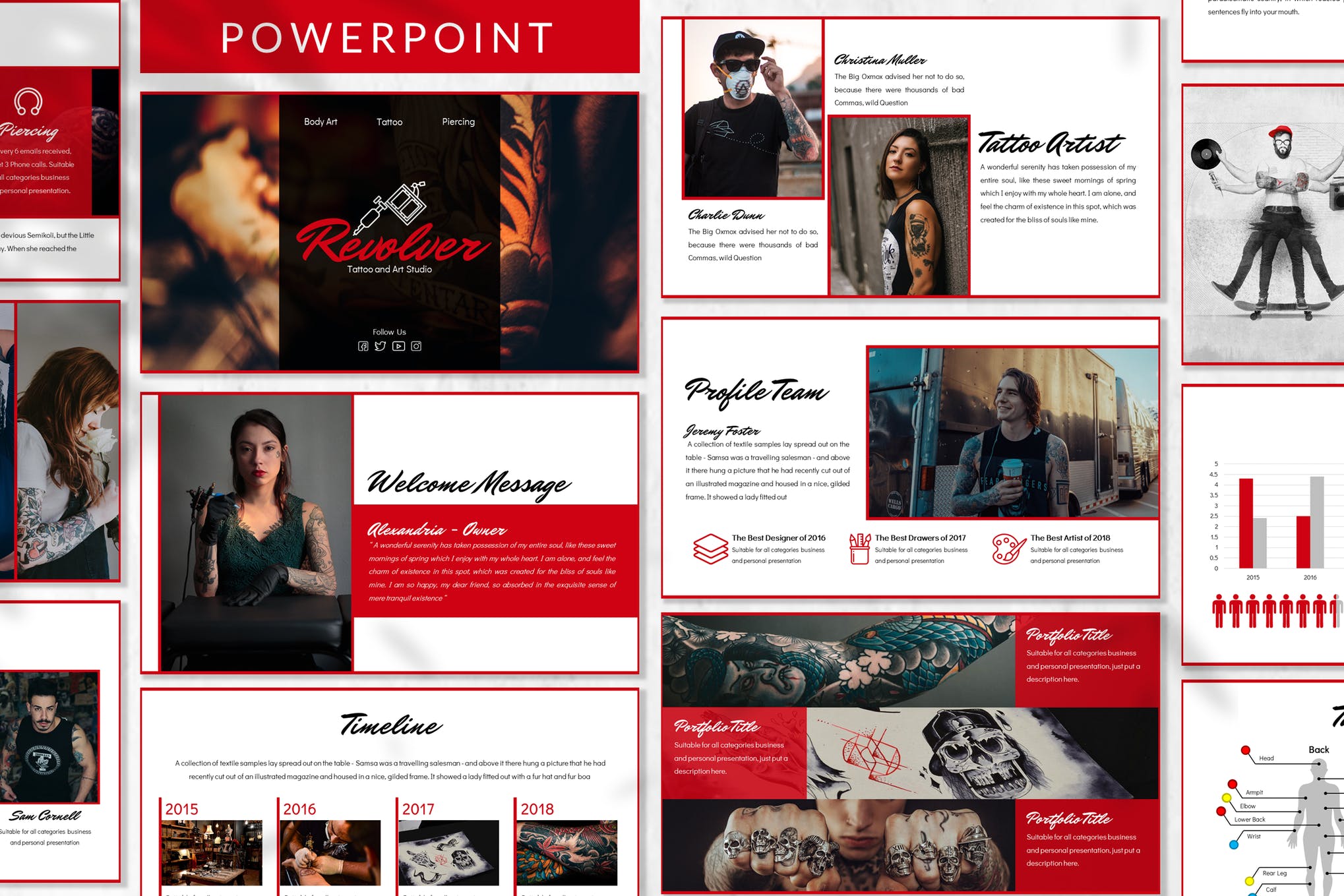 Create an amazing portfolio pitch piece with the Revolver PowerPoint template. It provides you with a minimalistic, yet business-efficient portfolio format presentation that will help you show off your work in a captivating fashion. One of the best arts PowerPoint templates out there.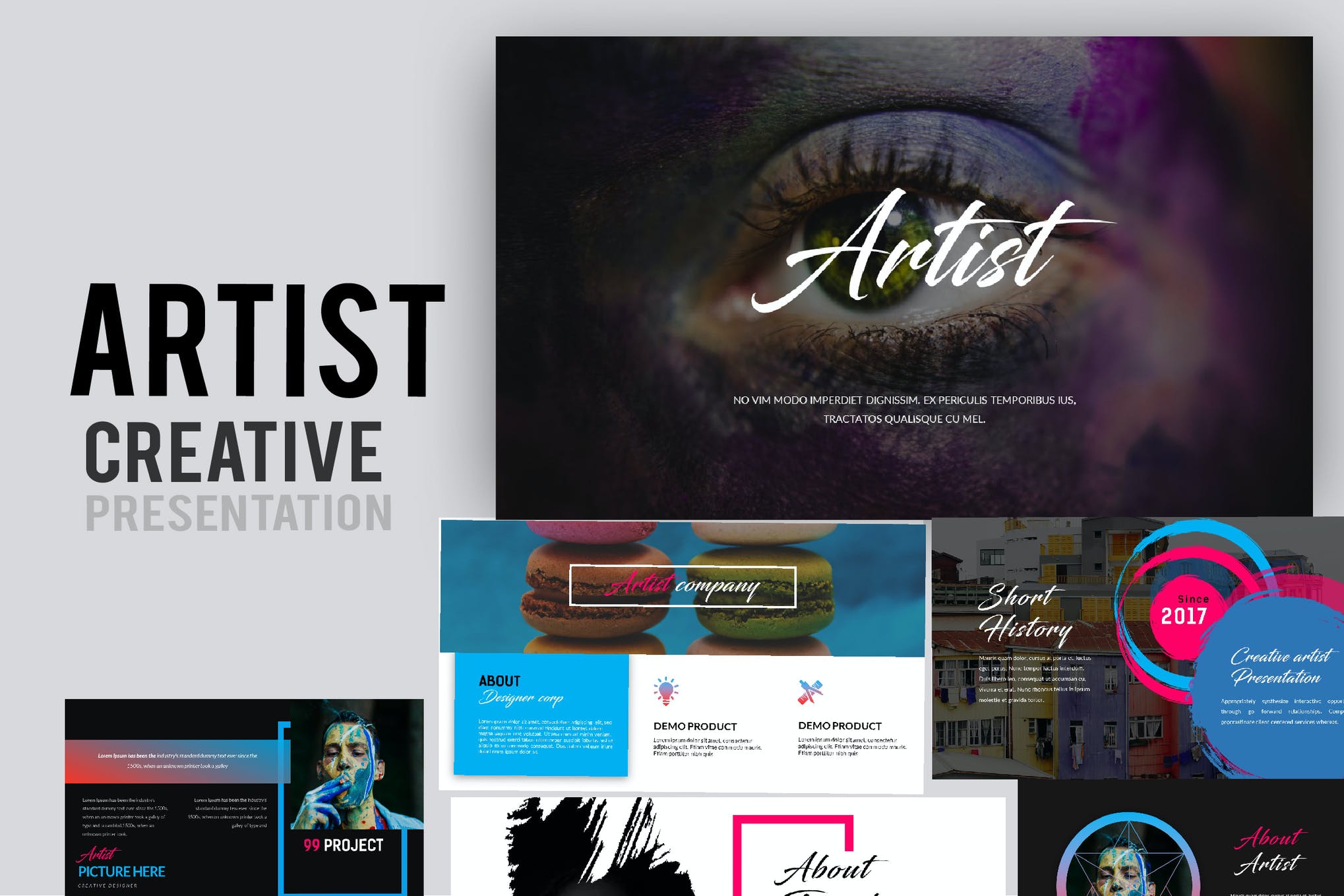 Bring a touch of artistic style to your portfolio presentation with this creative PowerPoint template. It's a beautifully crafted portfolio presentation format, providing you with a range of custom slides, master slides, image placeholders, font options, and more!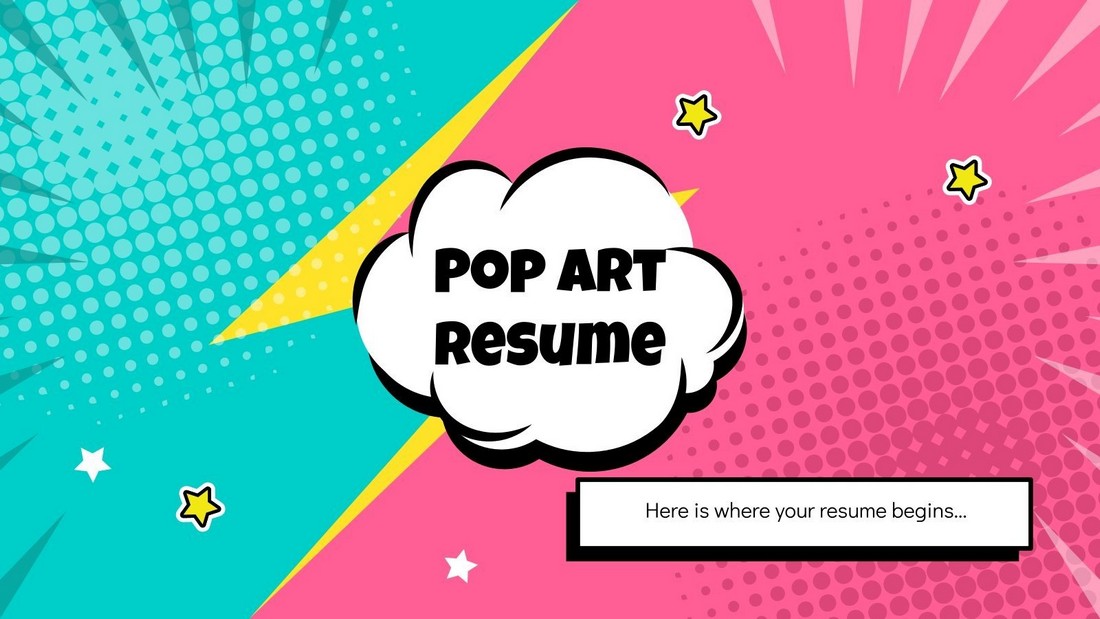 Another free PPT template for crafting resumes or portfolio presentations. The template includes 19 unique slides for effectively showcasing your skills and experience.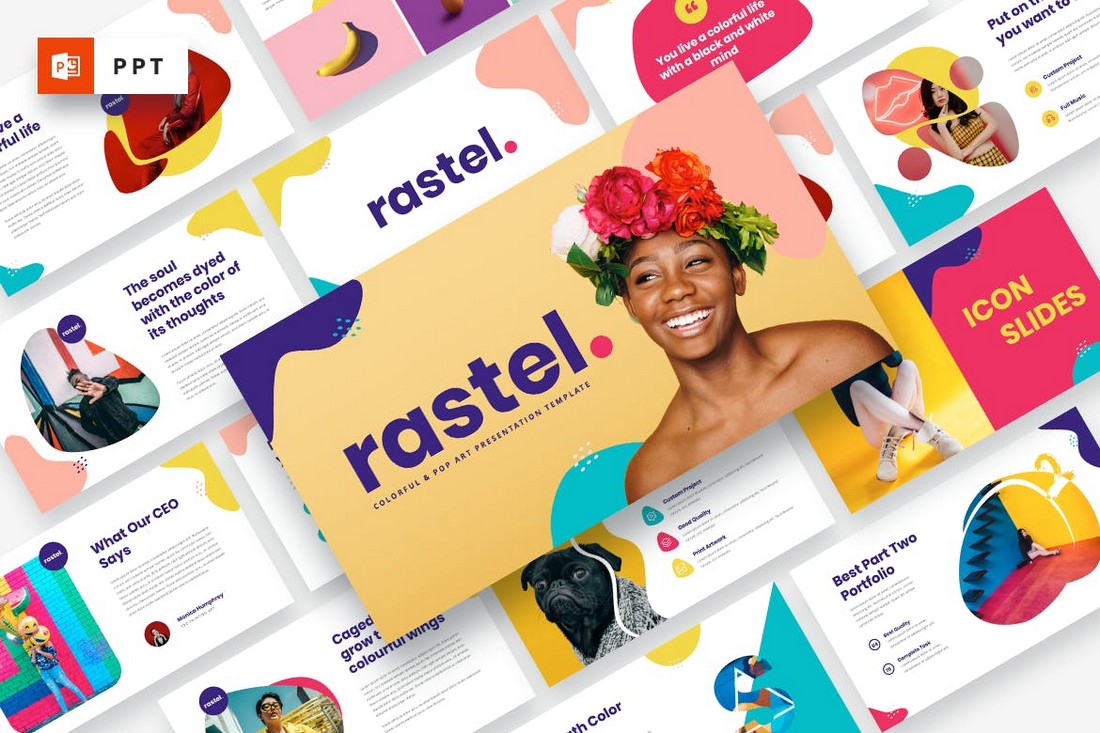 Rastel is a creative PowerPoint template featuring a modern and colorful collection of slide layouts. This template is ideal for creating presentations with a modern art look and feel. There are more than 40 slide layouts in this template featuring image placeholders, device mockups, editable charts, graphics, and so much more.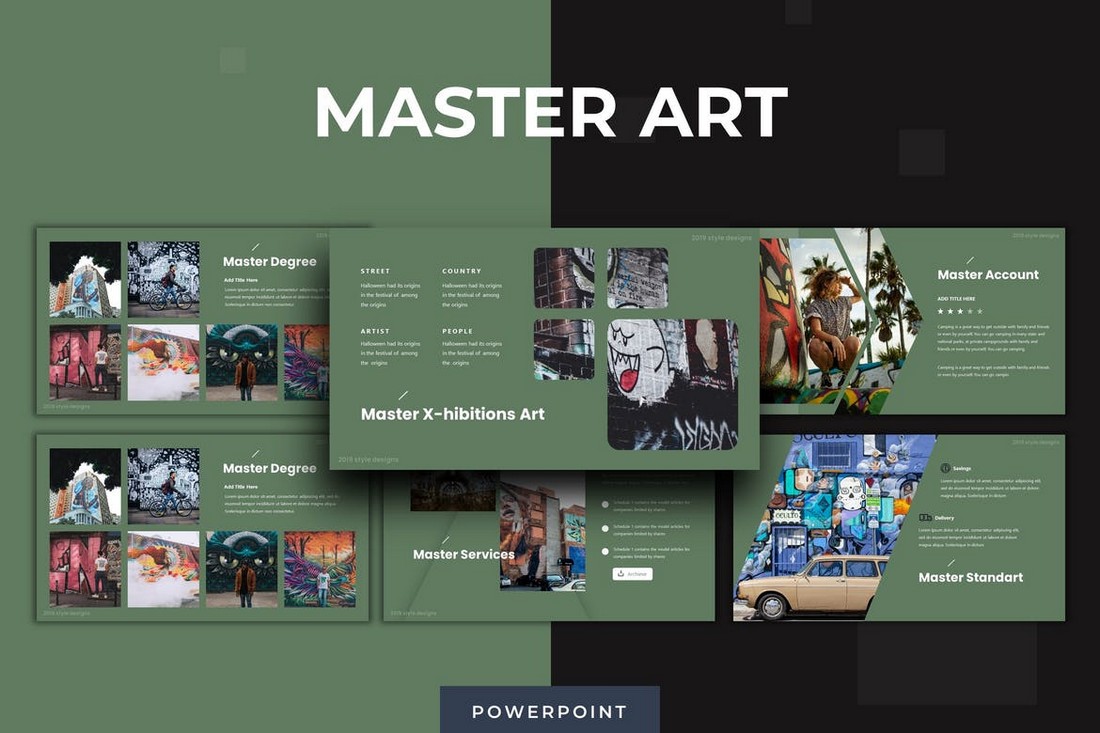 A great PowerPoint template for a modern art exhibition. This PPT template comes with a simple yet elegant slide design that fits perfectly for an art gallery. The template includes a total of 150 slide designs, featuring 30 unique slides in 5 different color schemes. You can easily edit each slide to your preference as well.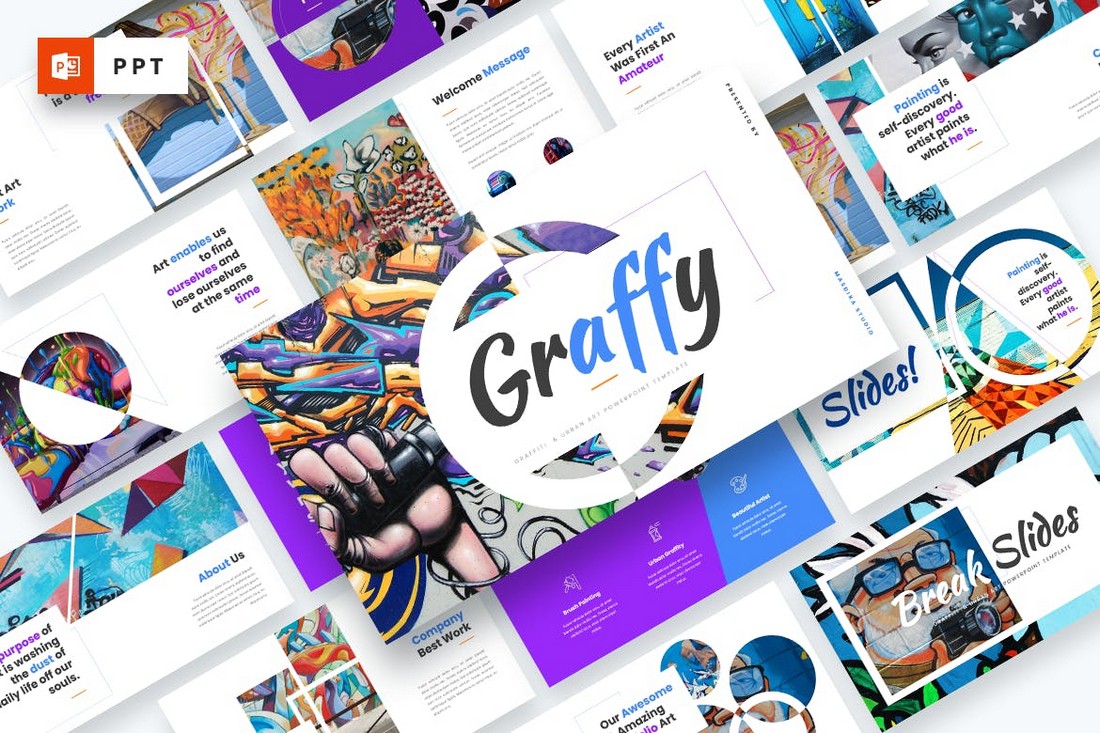 This PowerPoint template features an urban art-themed slide design that allows you to create slideshows for various art projects. The template also comes with multipurpose slide layouts, allowing you to use it for business and branding presentations as well. There are 40 unique slides in this template with fully editable layouts.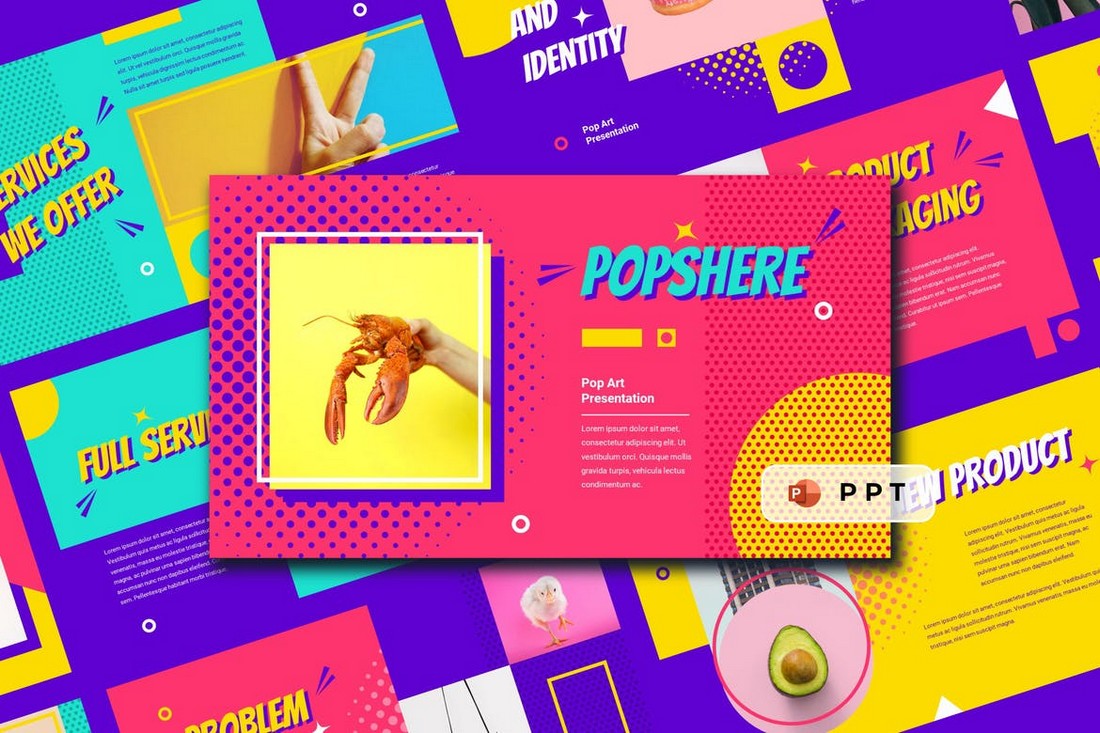 This presentation template comes filled with bright colors, abstract shapes, and overall a creative look and feel. It's the perfect choice for creating a pop art-themed slideshow for your art project presentations. The template includes 30 unique slide layouts that you can customize however you like.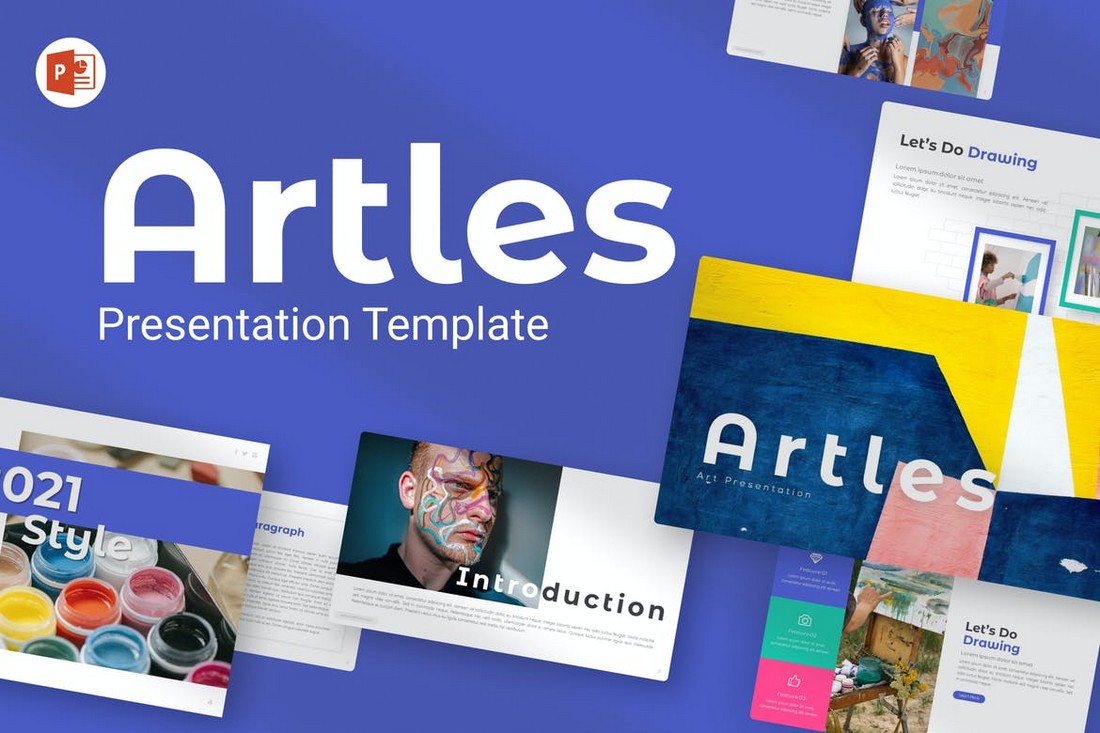 You can use this PowerPoint template to create a presentation with a modern art-inspired design. It features a simple slide layout with plenty of space for you to show off visuals as well as text content. There are 30 slides in this template with a custom-made infographic. You can edit them to your preference to change colors and layouts.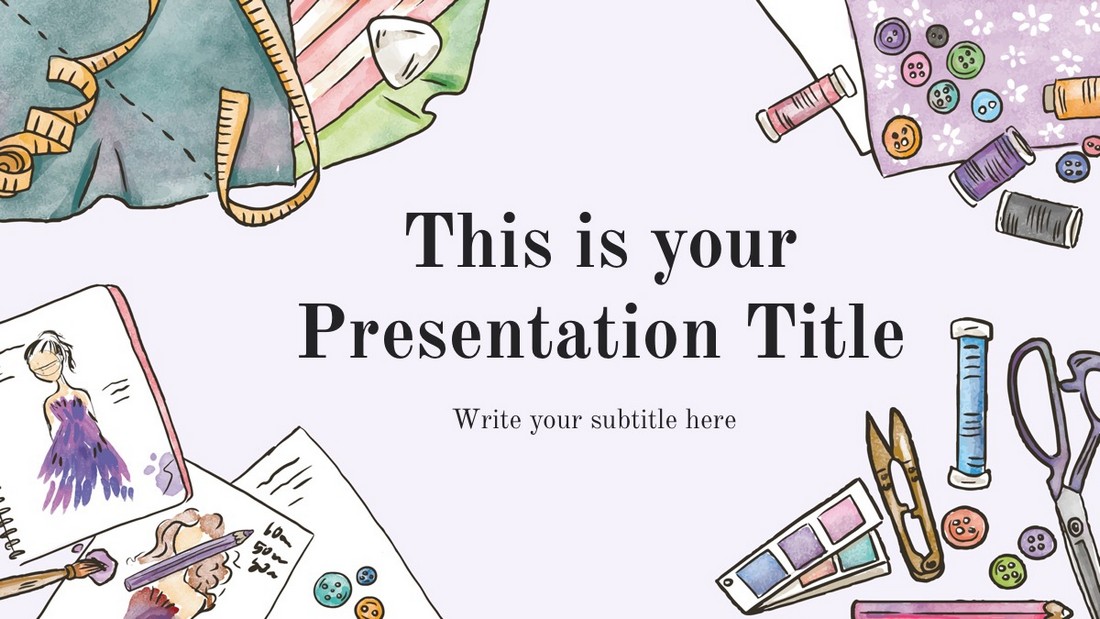 Elsie is a free PowerPoint template you can use to craft artistic presentations. It's ideal for both business, branding, and freelancing-related slideshows. The template design is also available in dark and light color themes.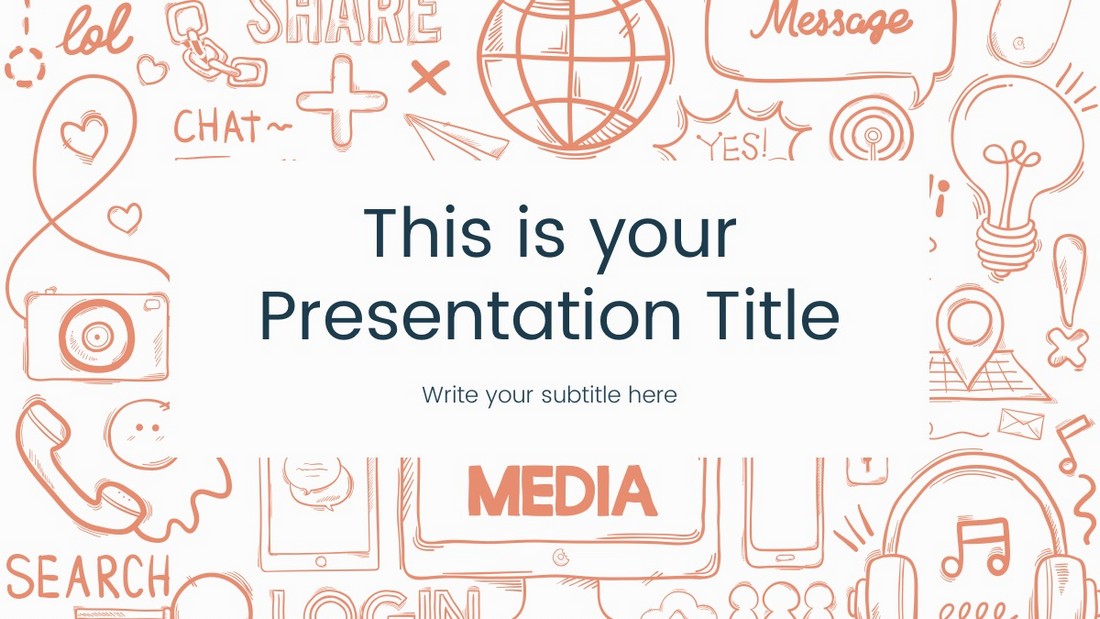 This creative presentation template is perfect for making slideshows for business presentations. It includes art-inspired slides for showcasing products and services. The template is free to use with your personal projects.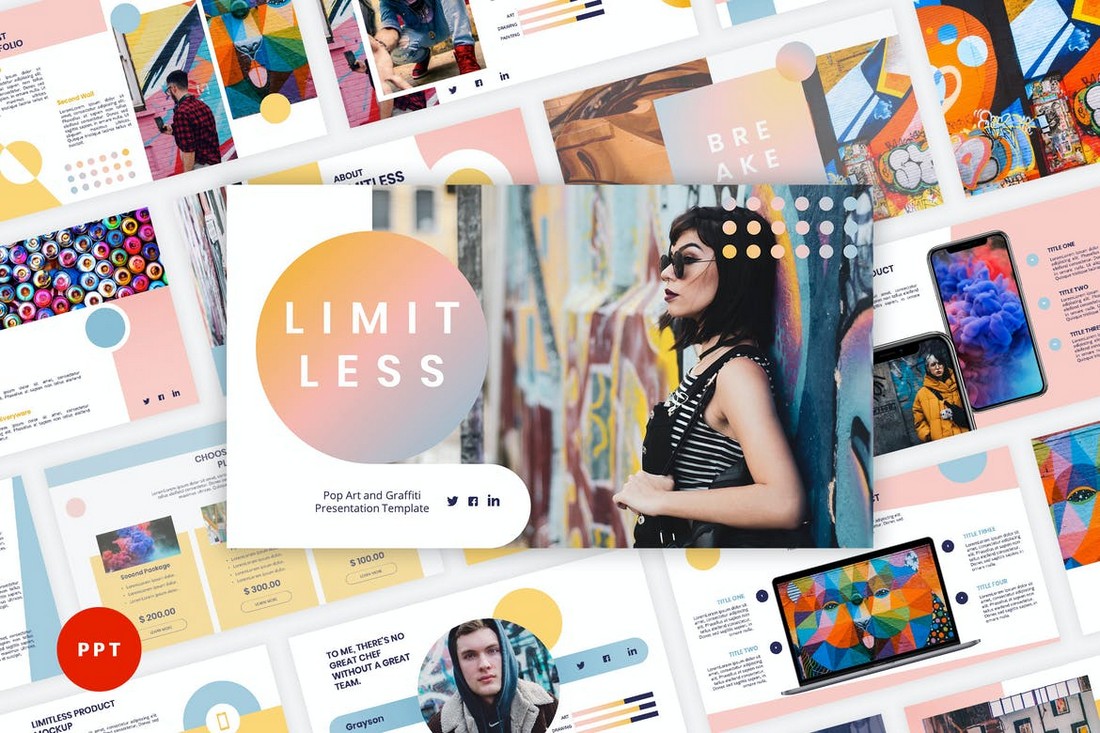 A colorful and creative PowerPoint template that works for both art and fashion presentations. This template includes creative shapes and a stylish art-themed slide layout that gives it a unique look and feel. The template includes a total of 36 slides. There are also master slides, image placeholders, and device mockups included with the template.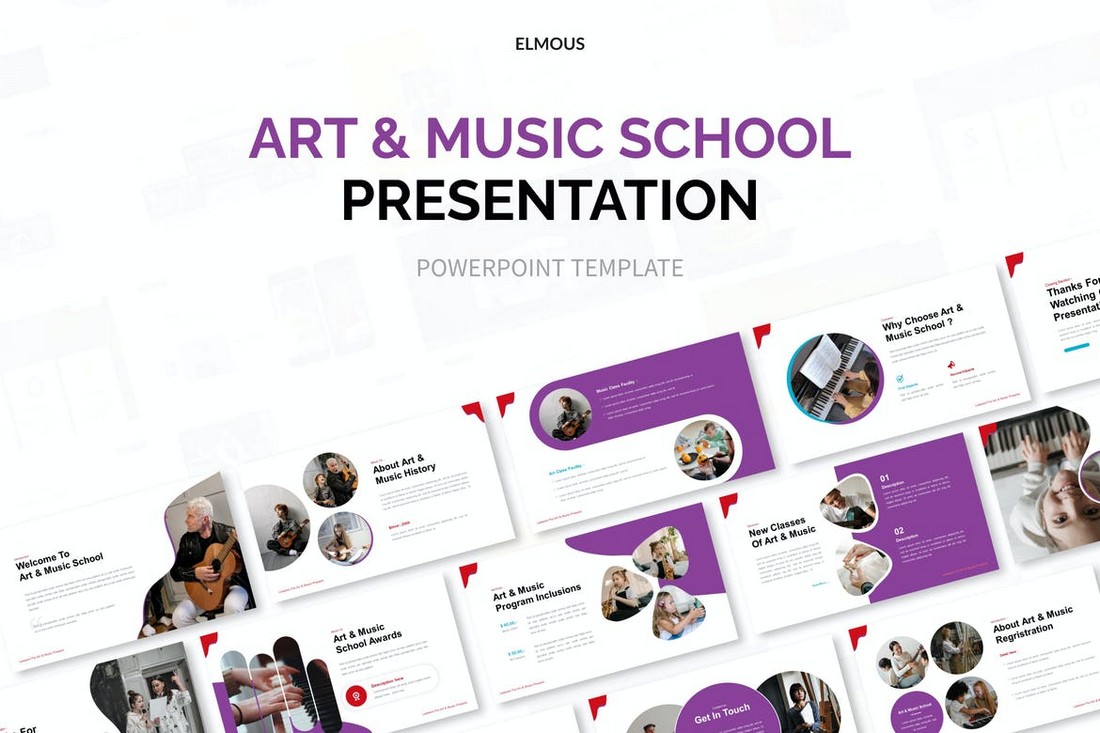 This PowerPoint template is made with art schools in mind. You can use it to promote various art programs or even create presentations for school exhibitions. The template lets you choose from 30 unique slide layouts and you can customize them to your preference as well.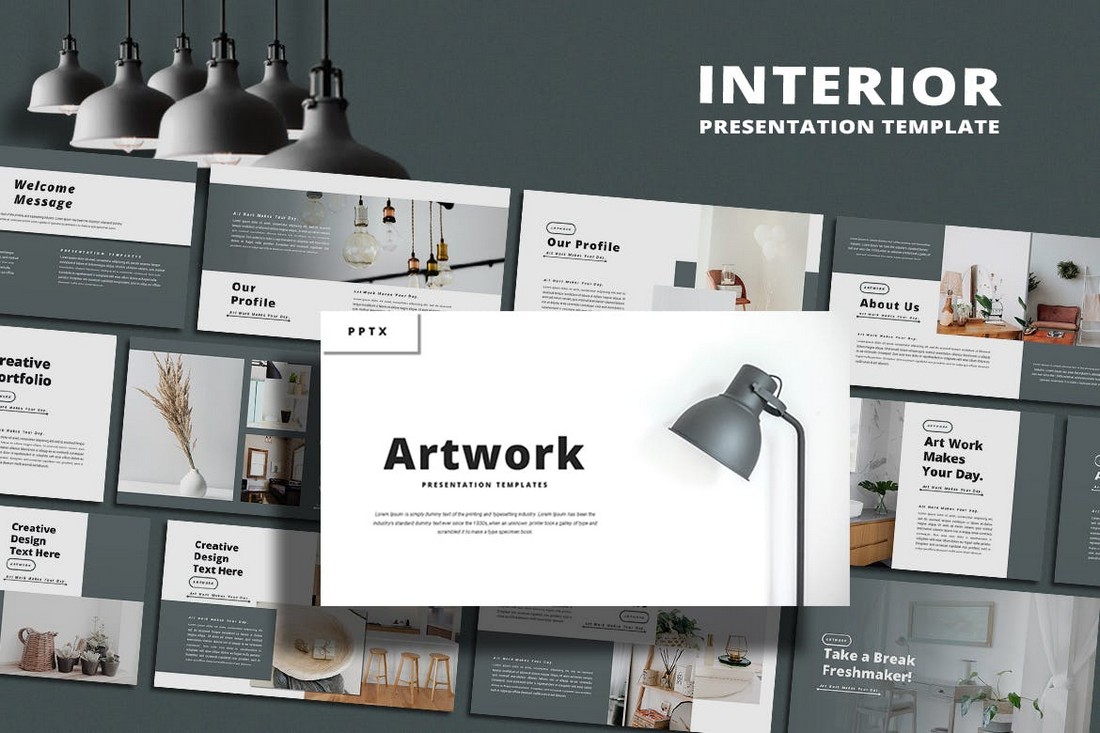 Interior design and furniture design can also be considered as art forms. They involve creative thinking and planning. That's why this aptly named PowerPoint template is perfect for promoting projects and businesses related to interior design. It includes 25 different slide layouts with elegant and clean designs.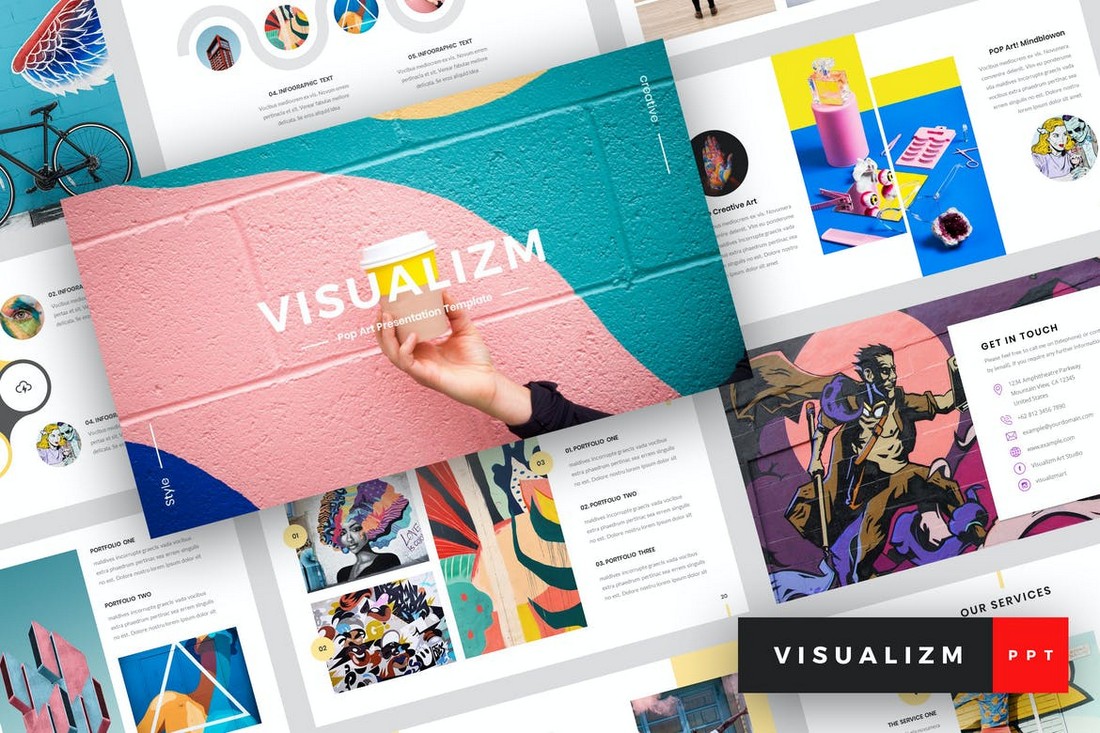 Another creative PowerPoint template featuring pop art-themed design. This template also comes filled with vibrant colors and stylish shapes. You can use it to make presentations for various art projects, showcasing portfolios, services, and more. The template lets you choose from 33 unique slide designs, which include 3 vector icon slides and editable graphics.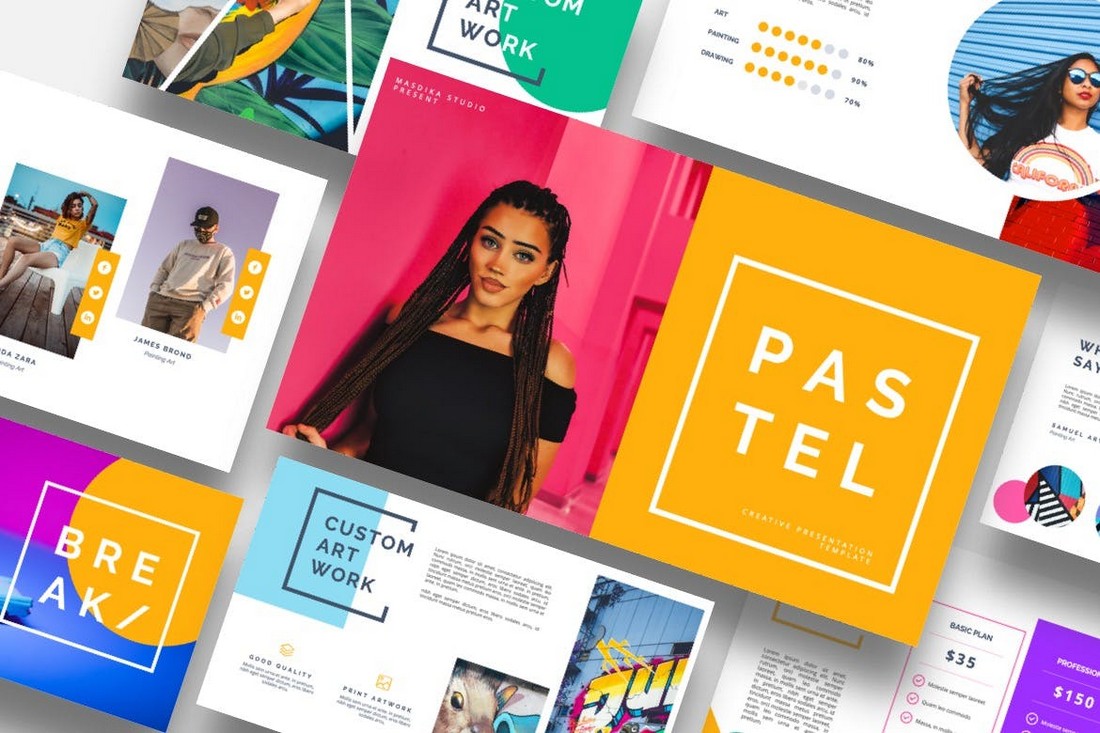 This PowerPoint template comes with more than 50 different slide layouts. Each slide in the template features pastel color-inspired designs along with lots of creative shapes and layouts. It also includes editable shapes, portfolio slides, device mockups, and more resources you'll need to make an artistic presentation.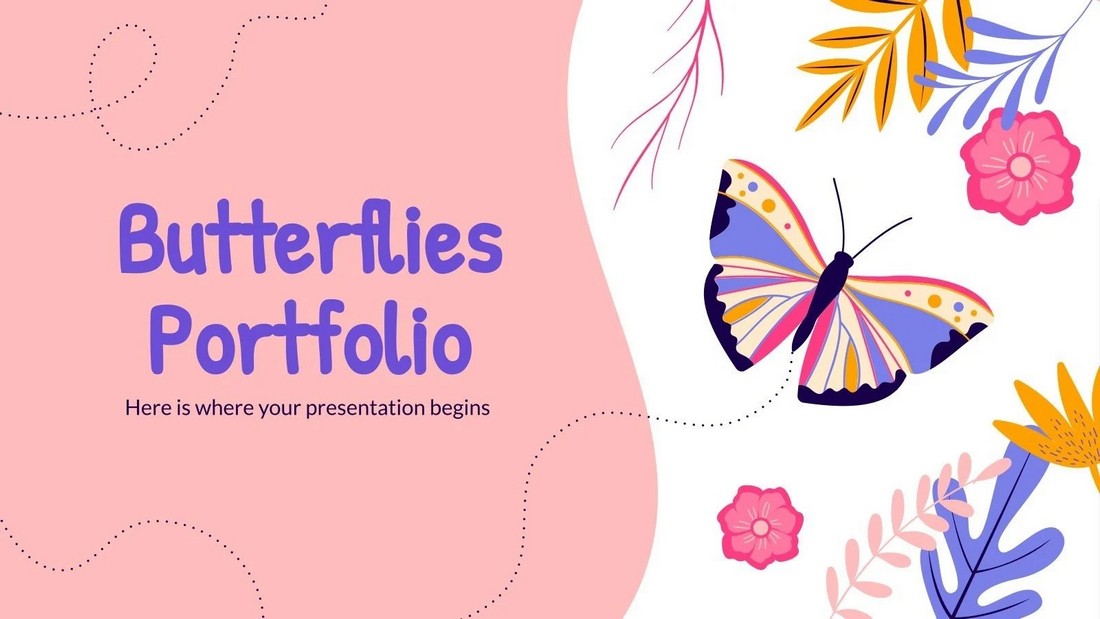 A beautifully designed PowerPoint template filled with colors and shapes. This PPT template is ideal for all kinds of creative slideshows. There are 25 unique slides you can use to make an attractive presentation for free.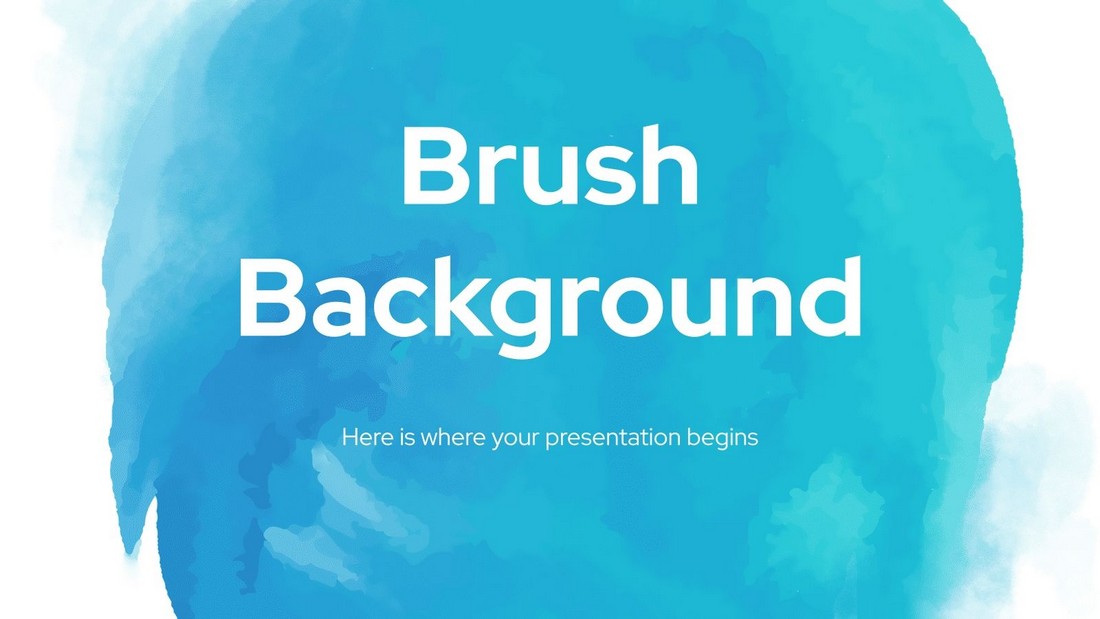 This free PowerPoint template features a unique design with watercolor-themed brush backgrounds. There are 33 unique slides in this template. And it comes in Google Slides format as well.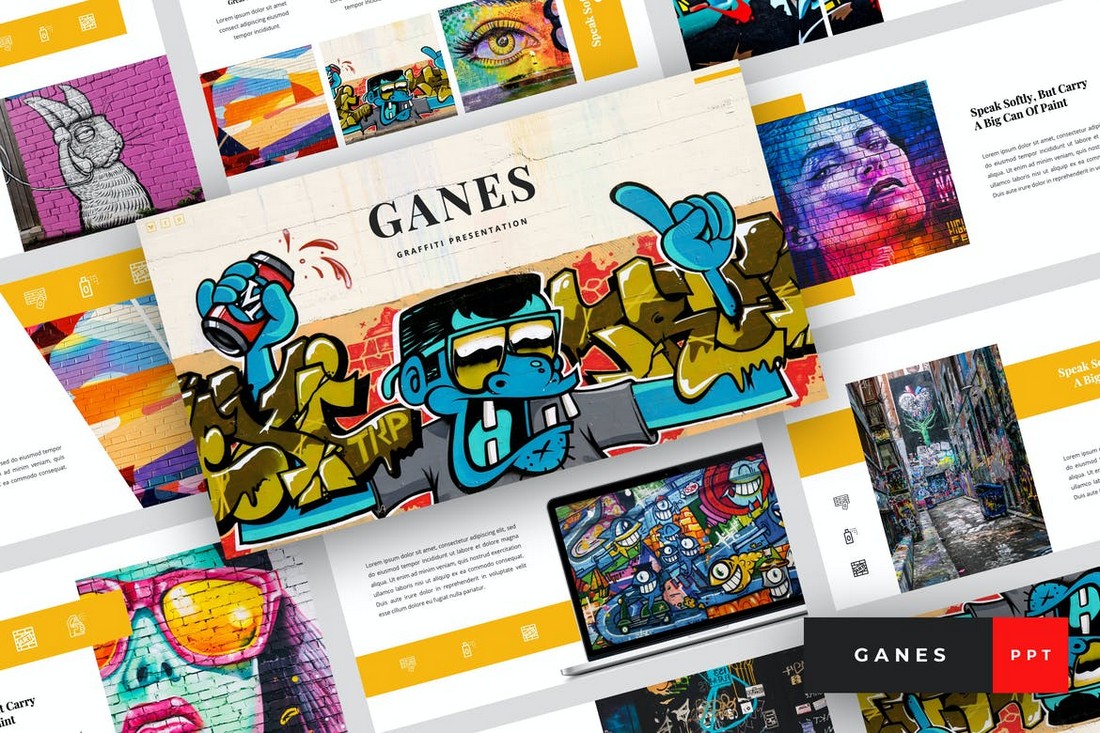 Ganes is a unique PowerPoint template that features a design inspired by urban graffiti art. It's suitable for various presentations, including urban fashion, art projects, and exhibitions. The template includes 36 different slide layouts with editable graphics and customizable designs.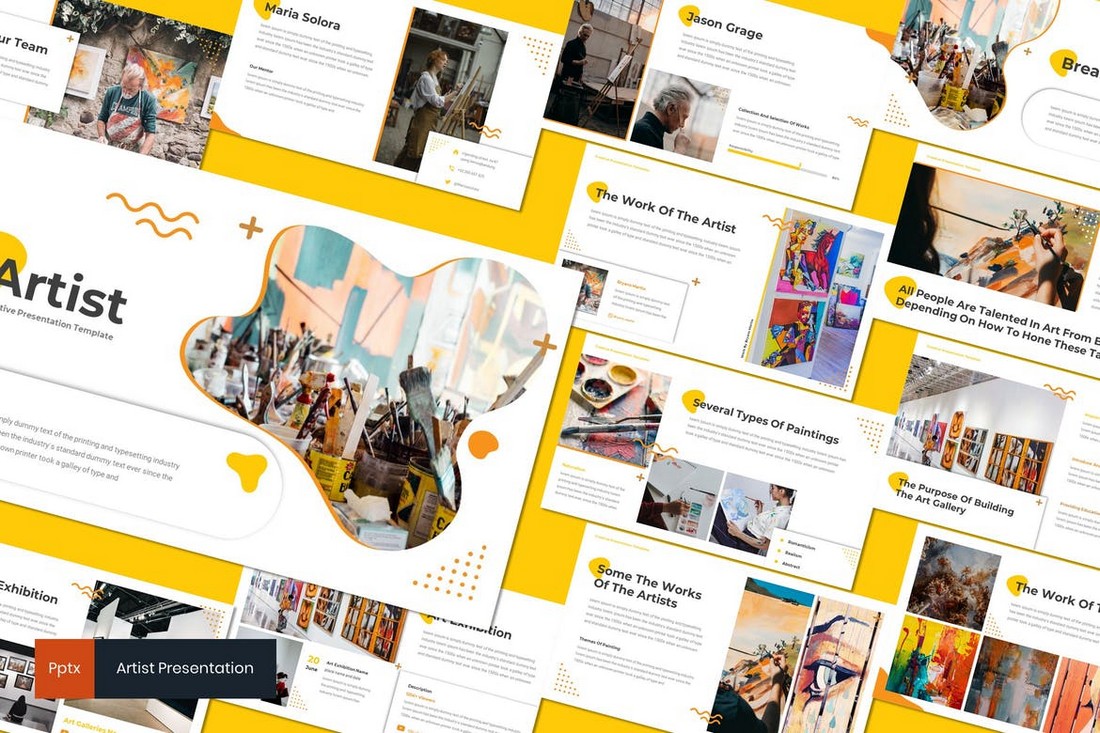 If you're a creative professional or an artist working on a presentation to showcase your art, this PPT template is made just for you. It features a set of beautiful slides you can use to present your portfolio in a creative way. There are 30 unique slide layouts in this template with 5 different color schemes to choose from.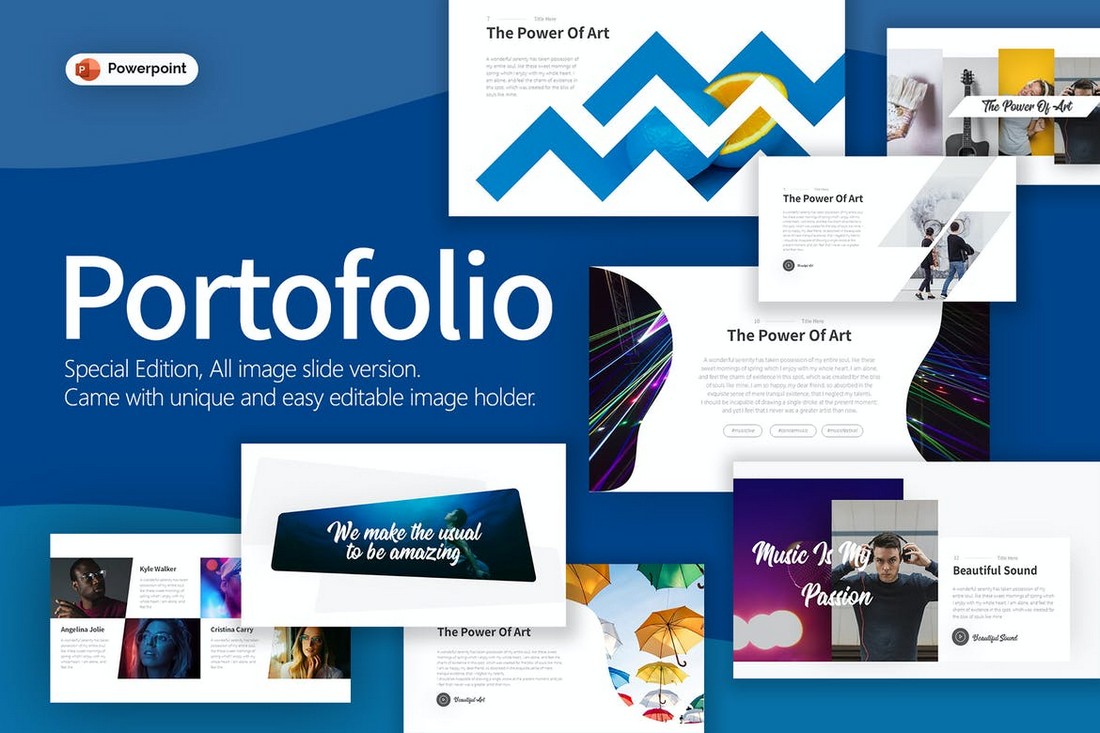 Another PowerPoint template for showcasing your art portfolios. This template, however, features a clean and modern layout, making it suitable for all types of creatives and freelancers. The template lets you choose from 30 different slides with fully customizable layouts.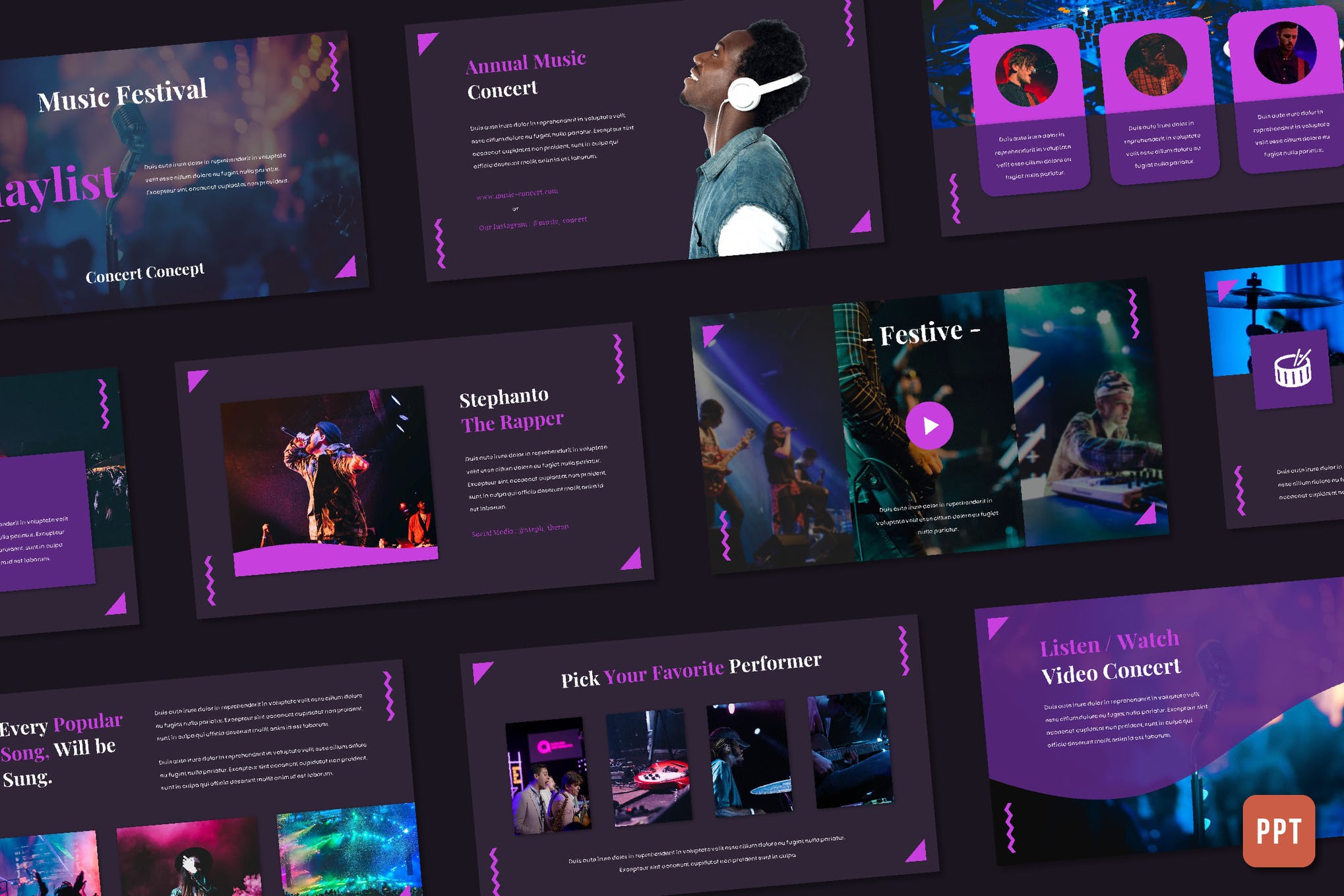 Show off your original music library with the Playlist PowerPoint template. It's a gorgeously designed modern music portfolio template, equipped with a range of smooth and trendy slide designs. A great choice for those looking to pitch their new album or music festival ideas.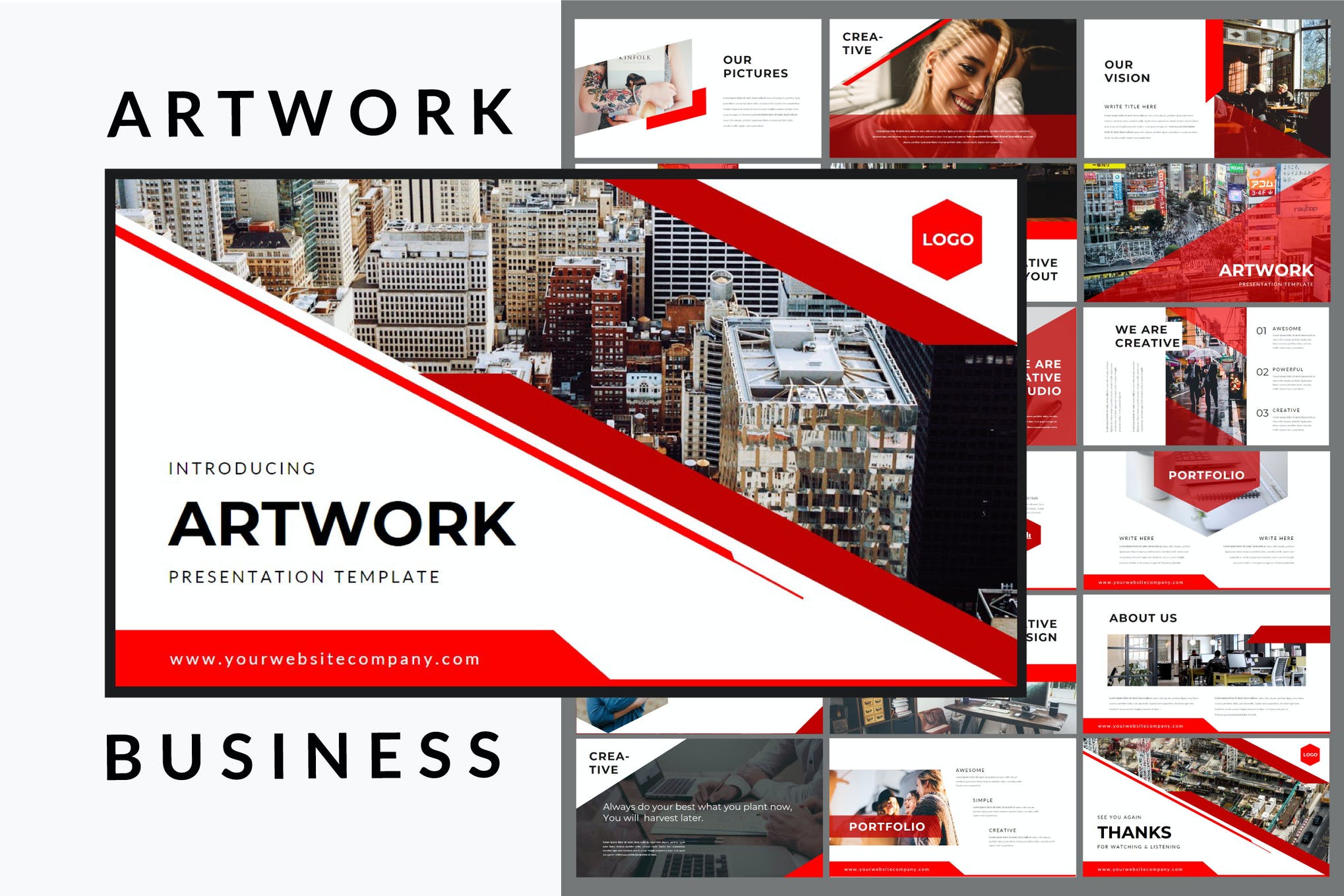 Make your artistic portfolio truly stand out with the Artwork Business PowerPoint template. This template is tailored towards pitch-styled presentations and uses a clean and modern slide aesthetic that exudes professionalism. The template consists of fifty unique slides, as well as a range of added features that will keep you customizing for hours.
For more great PPT designs, be sure to explore our best PowerPoint templates collection.