55+ Best Animated Keynote Templates 2023
Slideshows are a brilliant way to add interest and audience engagement to a speech or presentation, and if there are professional or personal gains at stake, you'll be wanting to do everything in your power to nail your time in the spotlight! But of course, creating professional-looking slides can take hours, even days of precious time that you could instead be using to perfect your content.
Instead, why not use one of these fantastic, pre-animated templates that are all professionally designed, super easy to customize – and ready for you to download and use for your next presentation. Read on for a list of the best-animated Keynote templates for you to choose from, and get ready to impress your audience in no time!
Get everything you need to give the perfect presentation. From just $16, get unlimited access to thousands of Keynote presentation templates, graphics, fonts, and photos.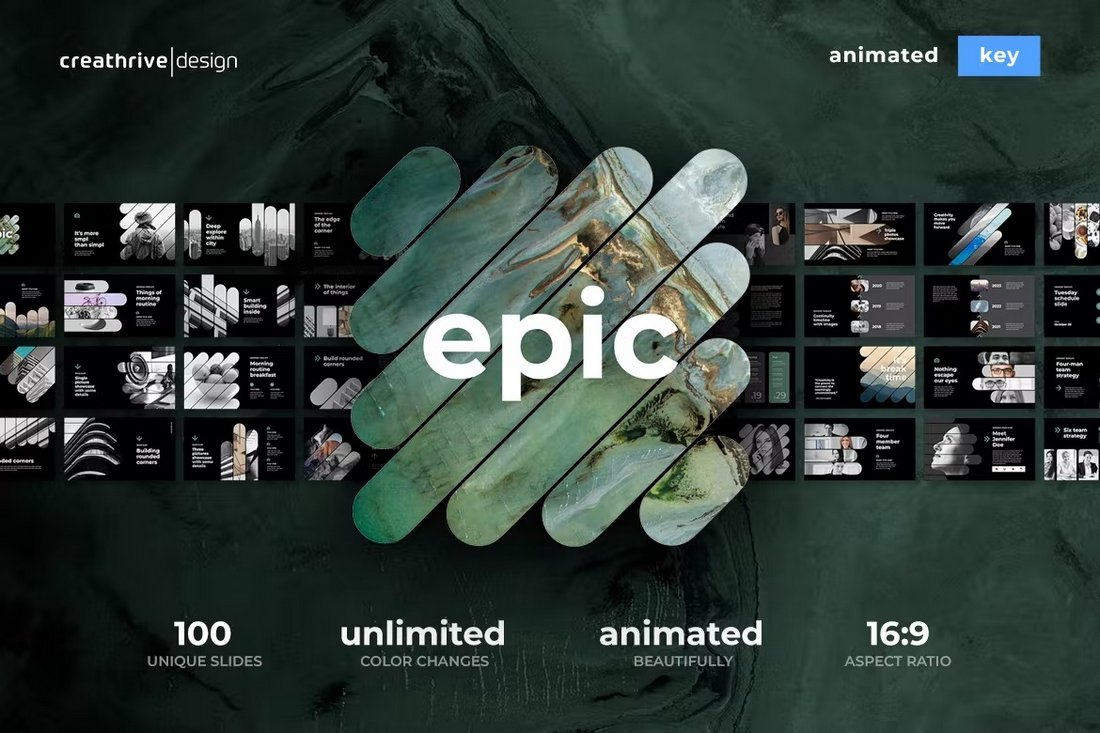 This is a Keynote template that truly lives up to its name. It comes bundled with 100 unique slide designs complete with animations and transitions. It also allows you to fully customize each slide to make presentations for all kinds of projects and events.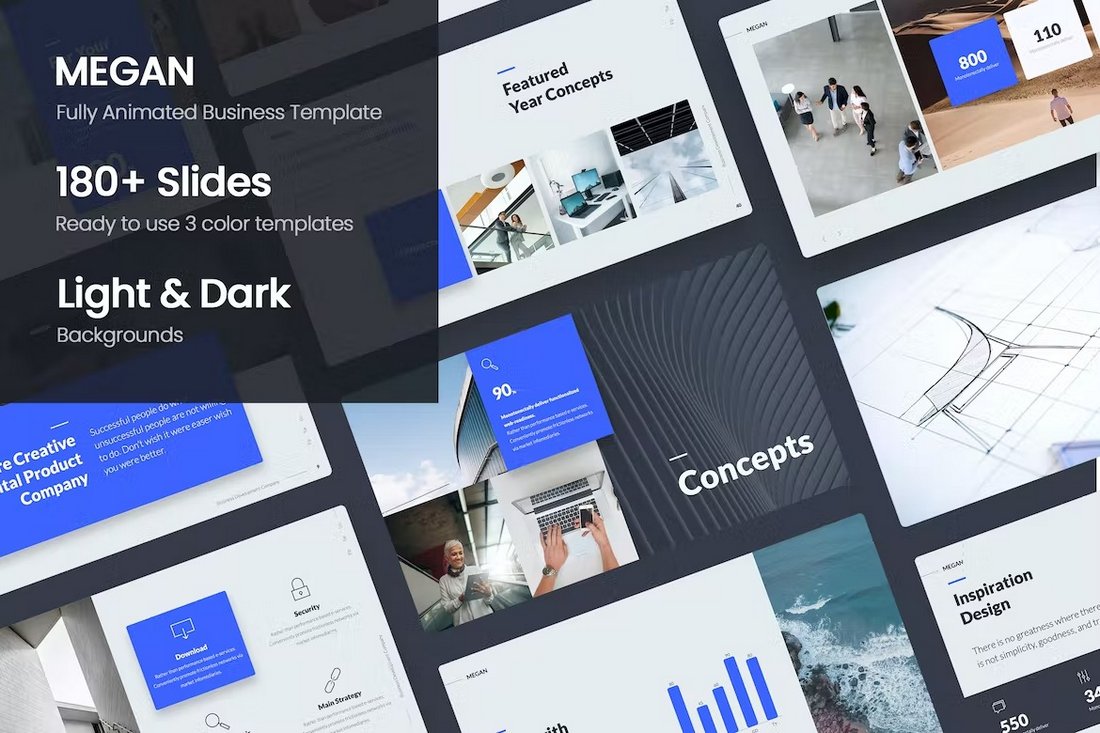 Megan is another professional Keynote template that includes a total of 180 slides. The presentation is available in 3 color styles as well as in light and dark themes. This template is perfect for modern agencies, startups, and corporate companies.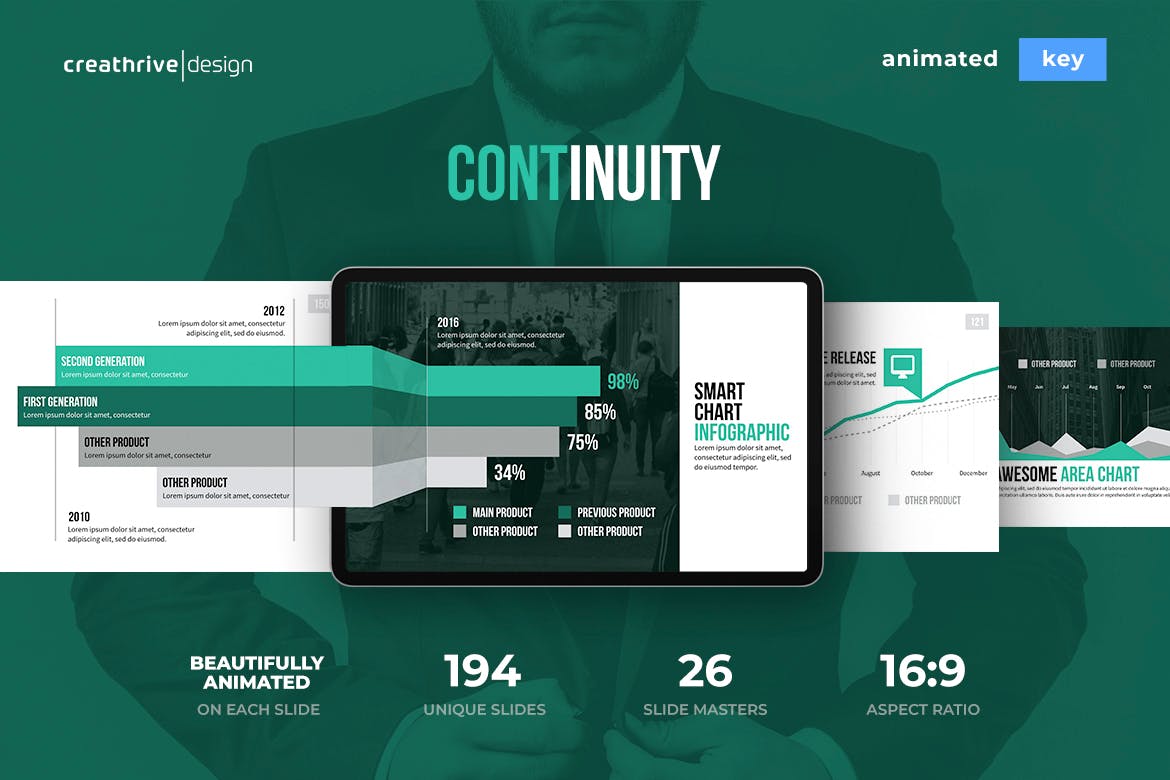 Continuity is a versatile Keynote template with beautifully animated slides, 16:9 full HD widescreen, pixel-perfect illustrations, free fonts, and drag and drop picture placeholder. When looking for the best animated Keynote templates, Continuity stands on the top of the league.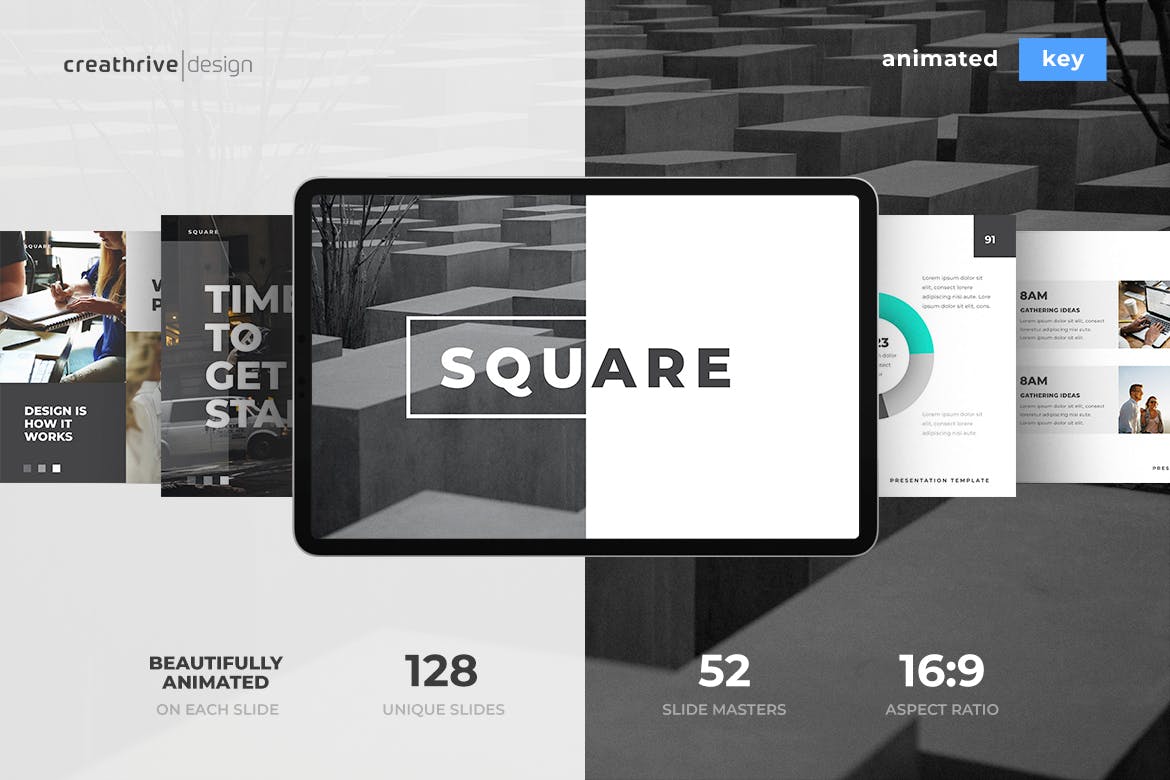 Elegant and versatile, Square is a Keynote template specially designed keeping in mind the needs of minimalists. It features fully animated slides, customizable to your heart's content, and ideal for modern-day business presentations.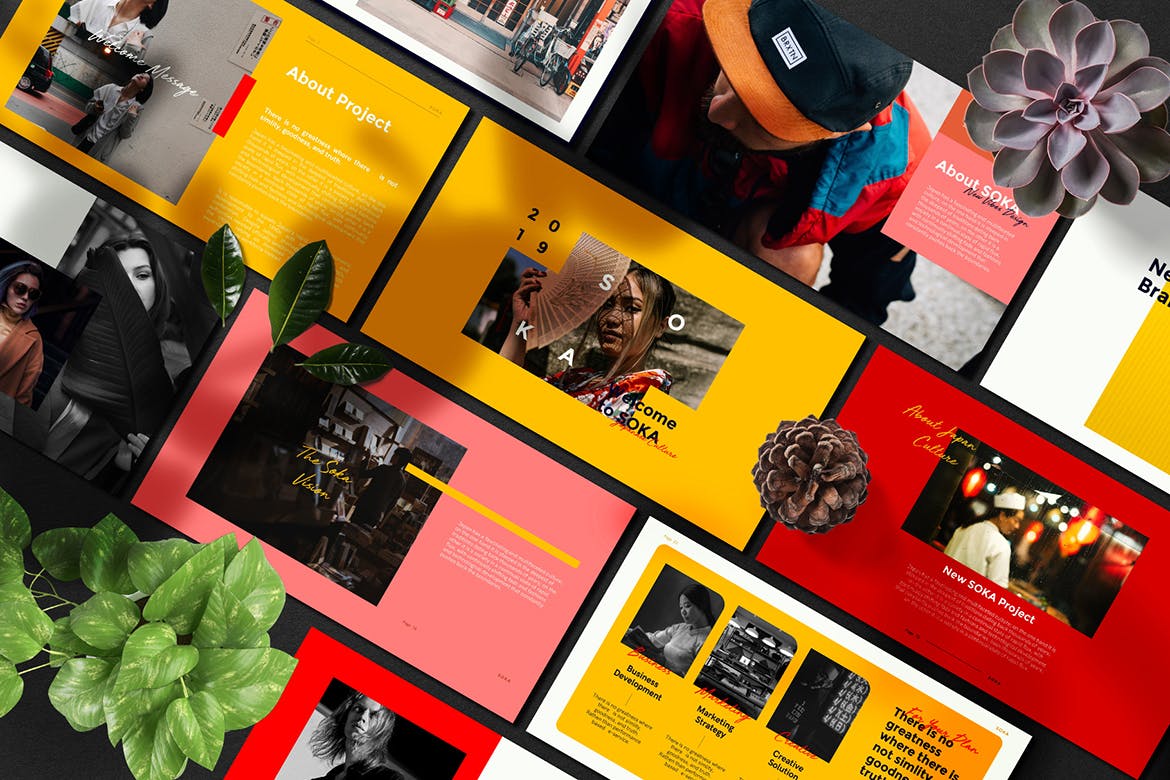 If you're looking for a colorful and trendy presentation, consider Soka, a fresh and modern template inspired by the Japanese culture. It offers more than 65 slide designs, animations, transition effects, and a range of amazing features for you to take advantage of.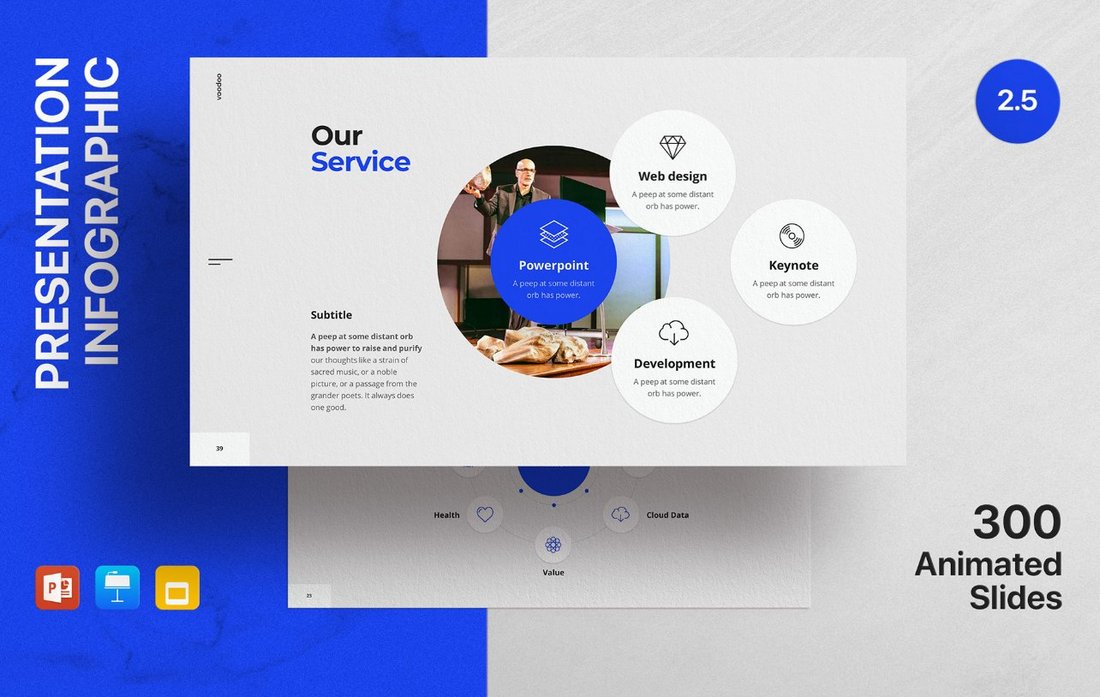 This is a free sample of a much bigger Keynote template. But it includes a few useful slide layouts you can add to your own presentations or craft basic slideshows. The template comes in multiple formats and has smooth animations.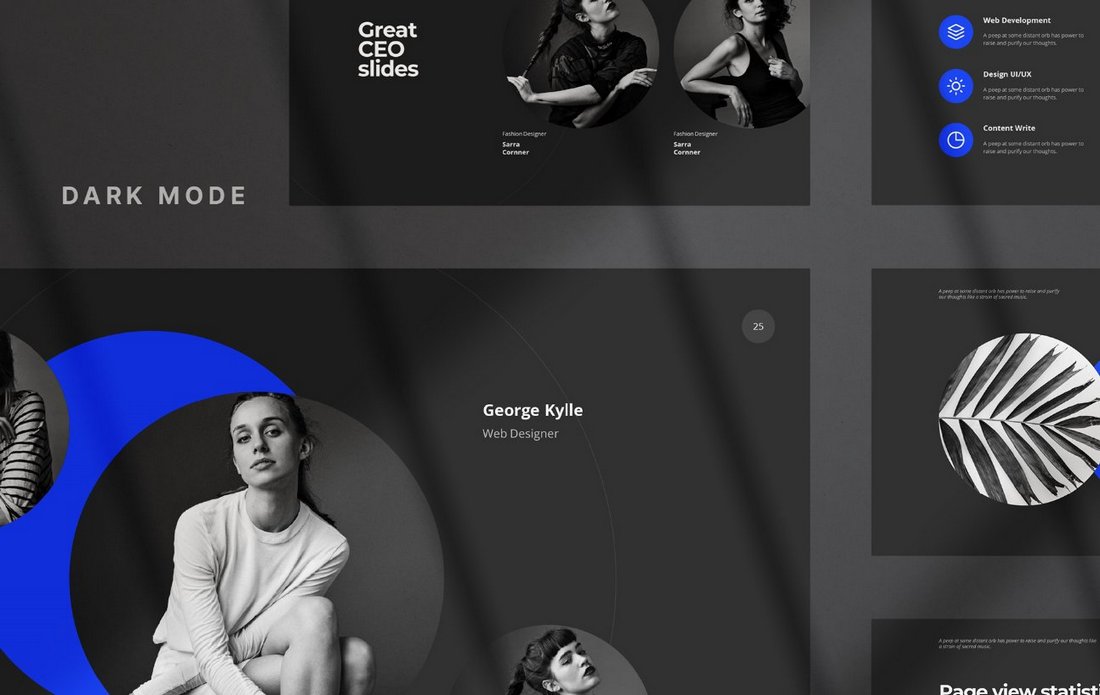 Ravi is another professional Keynote template that comes filled with animated slide layouts, editable colors, graphics, and more. The free version has several slide designs for your to choose from.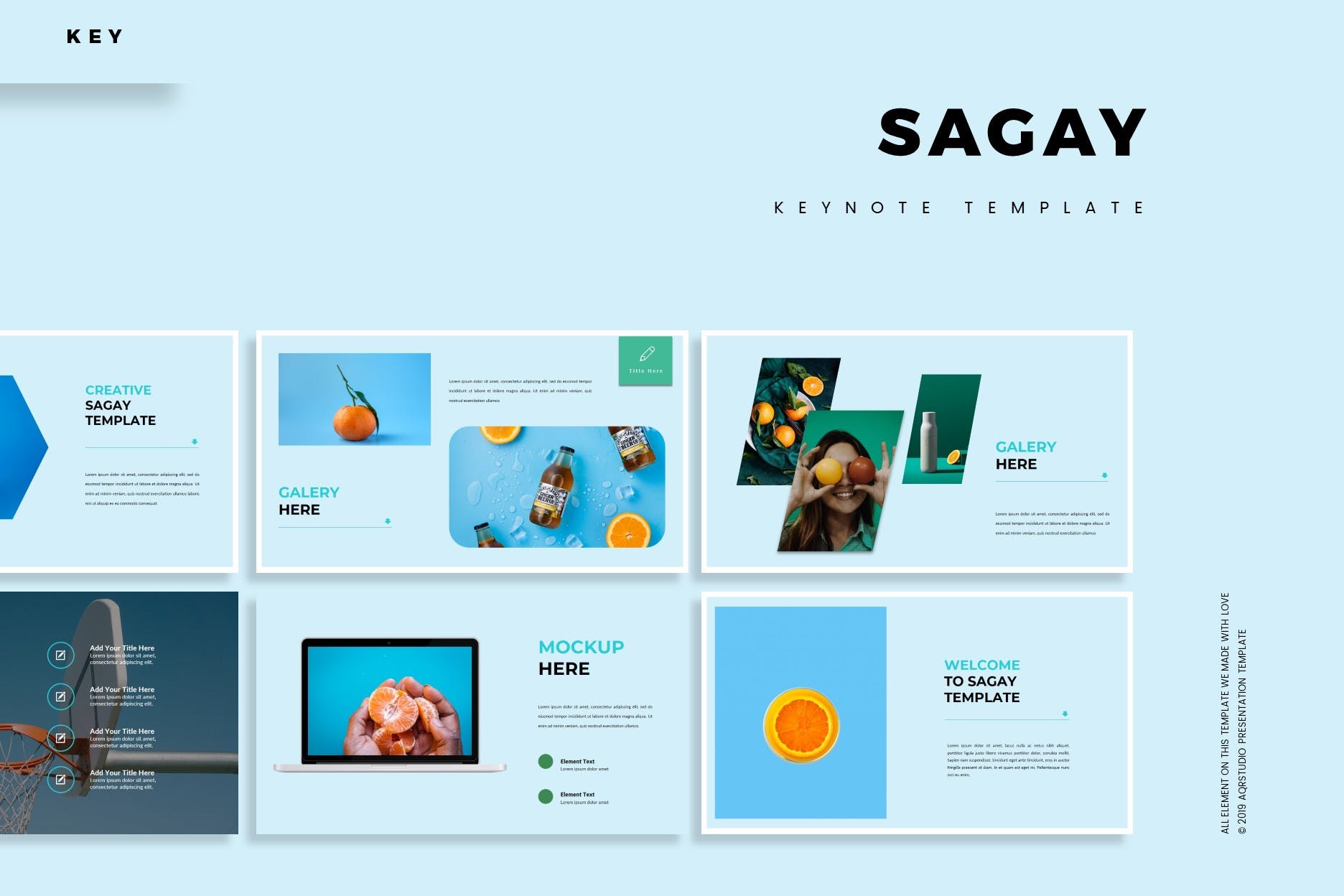 Sagay is a stunning animated Keynote template that you'll be hard-pressed to pass up. Featuring a beautifully-crafted design, slides that are an absolute piece of art, and text, fonts, and graphics that can be fully customized, Sagay is a product that will pay for itself many times over.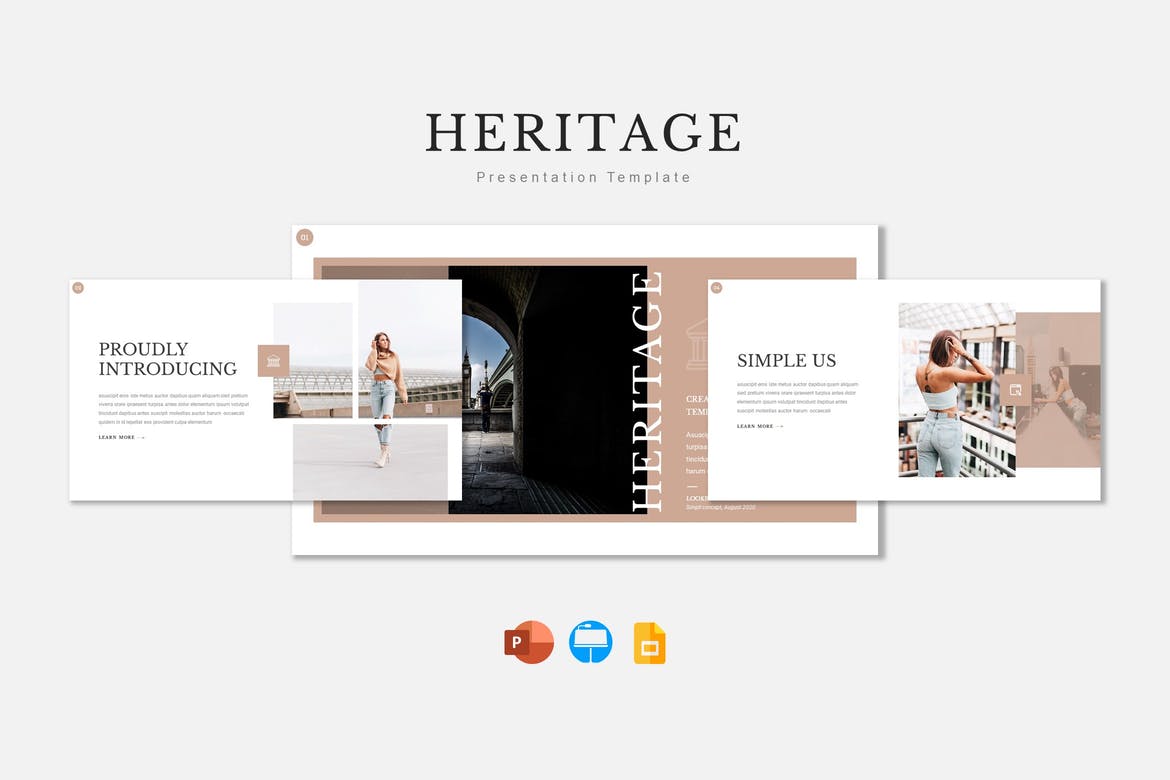 The Heritage animated presentation theme is a clean, multipurpose template for Keynote that offers 150 unique slide layouts across five premade color schemes, each of which includes a range of handcrafted infographics, pixel-perfect illustrations, and drag and drop functionality for quick and easy customization.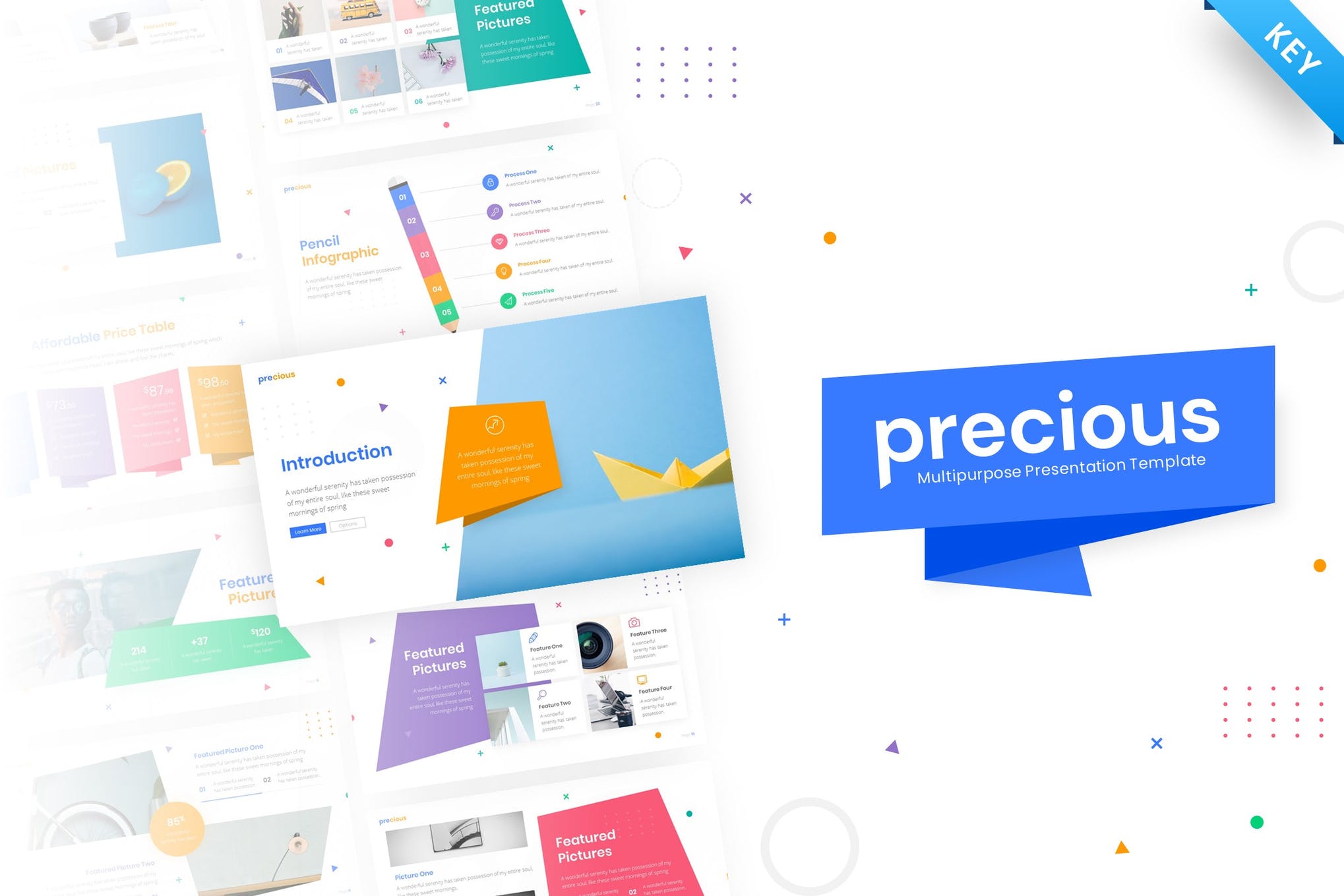 Precious is a vibrant Keynote presentation template with 64 animated slides, dark and light background option, and handmade infographics. Offering such snappy colors, and layout, this Keynote template is easily one of the best choices for a range of businesses, and industries.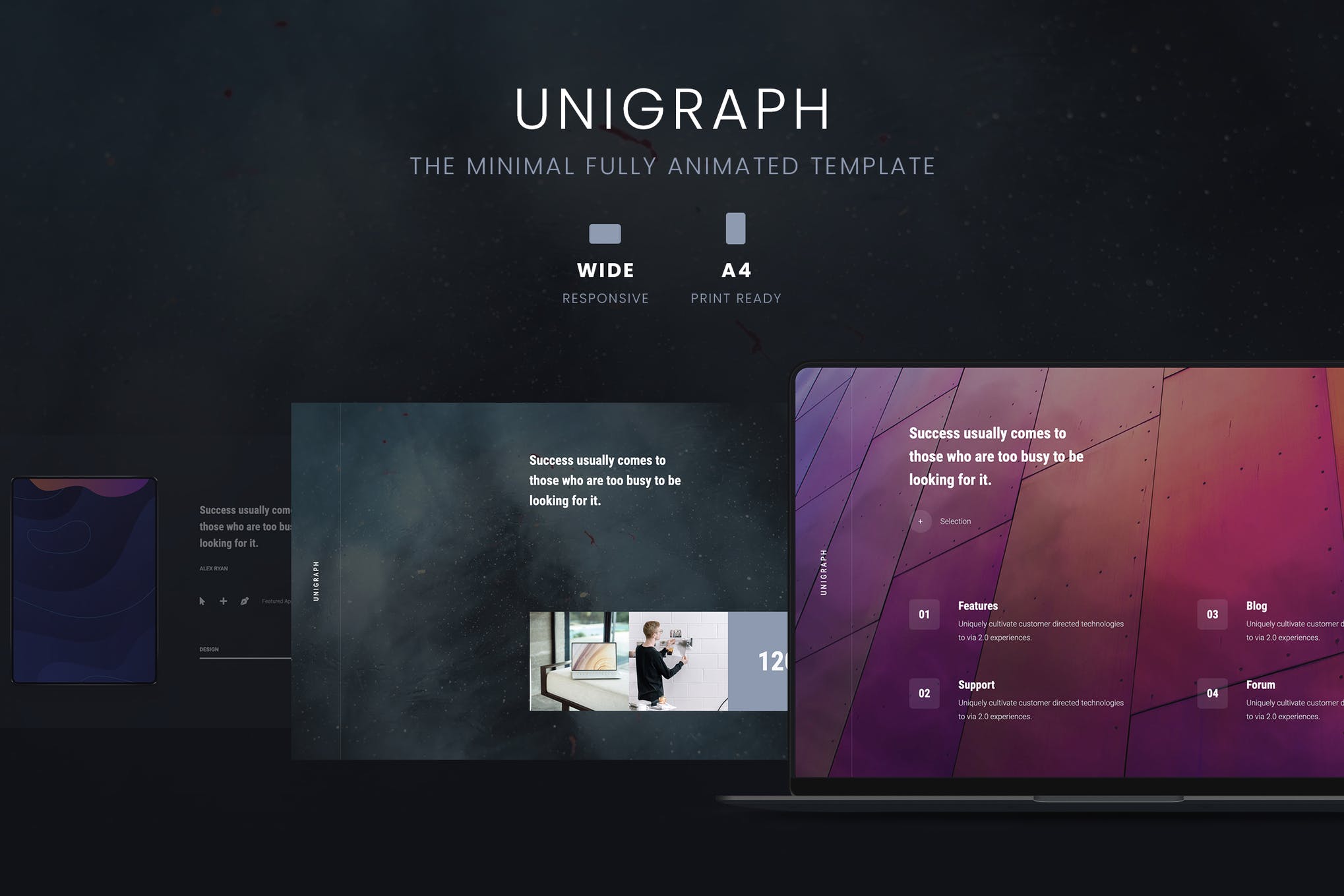 If you have an important presentation around the corner, you should consider Unigraph. It features a trendy design that instantly catches the eye, professional slides that highlights the key points, and fully animated elements that are visually appealing.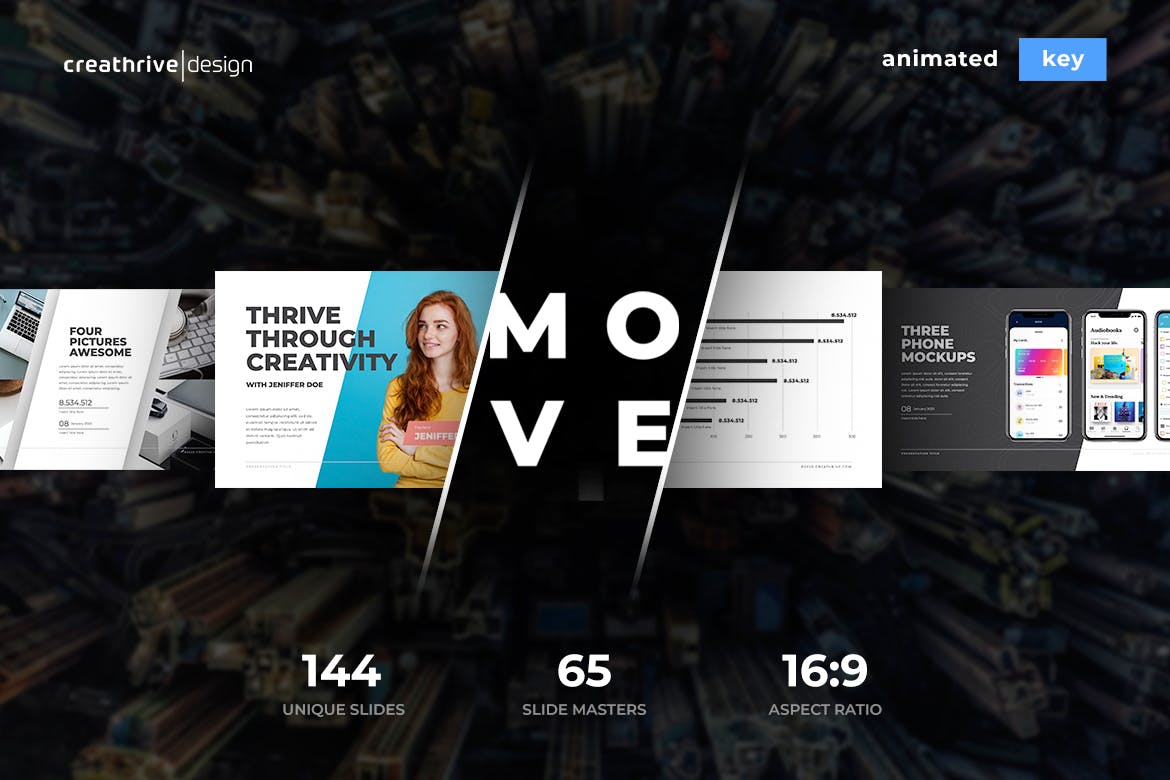 Demonstrating class and elegance, Move is a powerhouse of an animated Keynote template. It contains 144 unique slides, pixel-perfect illustrations, and can be put to use for virtually any purpose under the sun.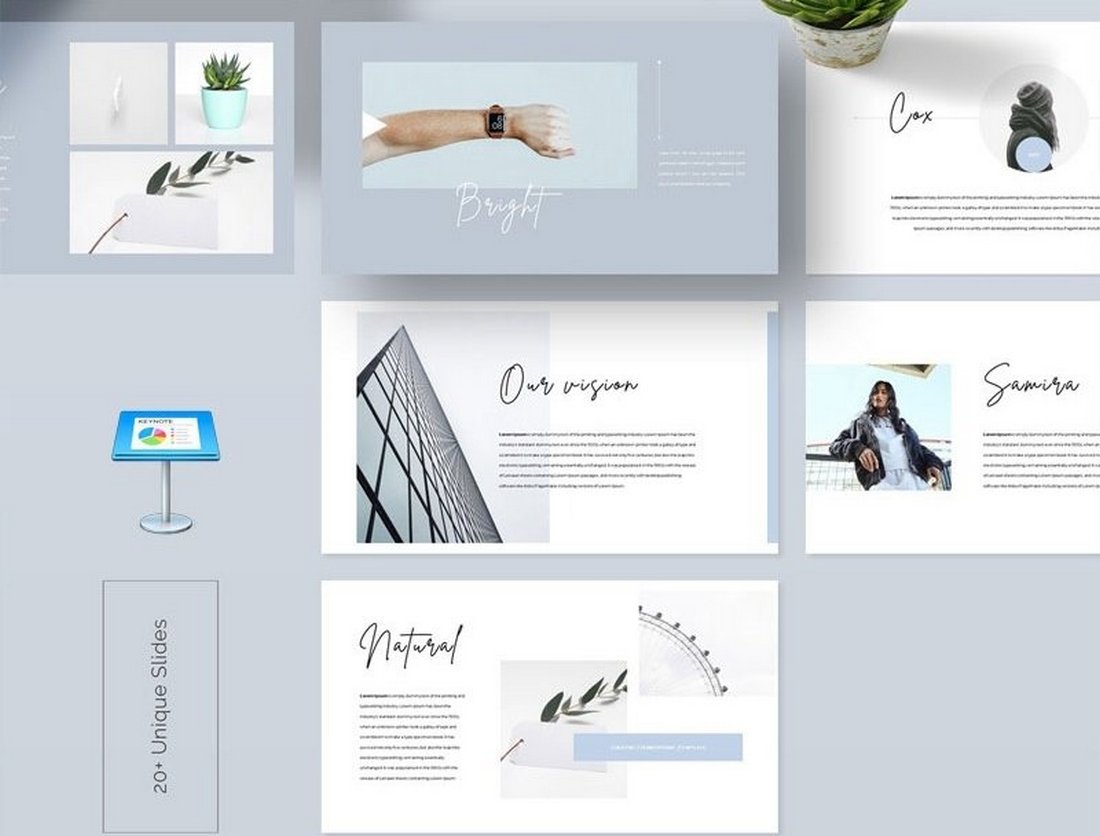 Just as the name suggests, this animated Keynote template is perfect for making beautiful look book presentations. It's especially suitable for design agencies. The template includes 20 slides and it's free to download.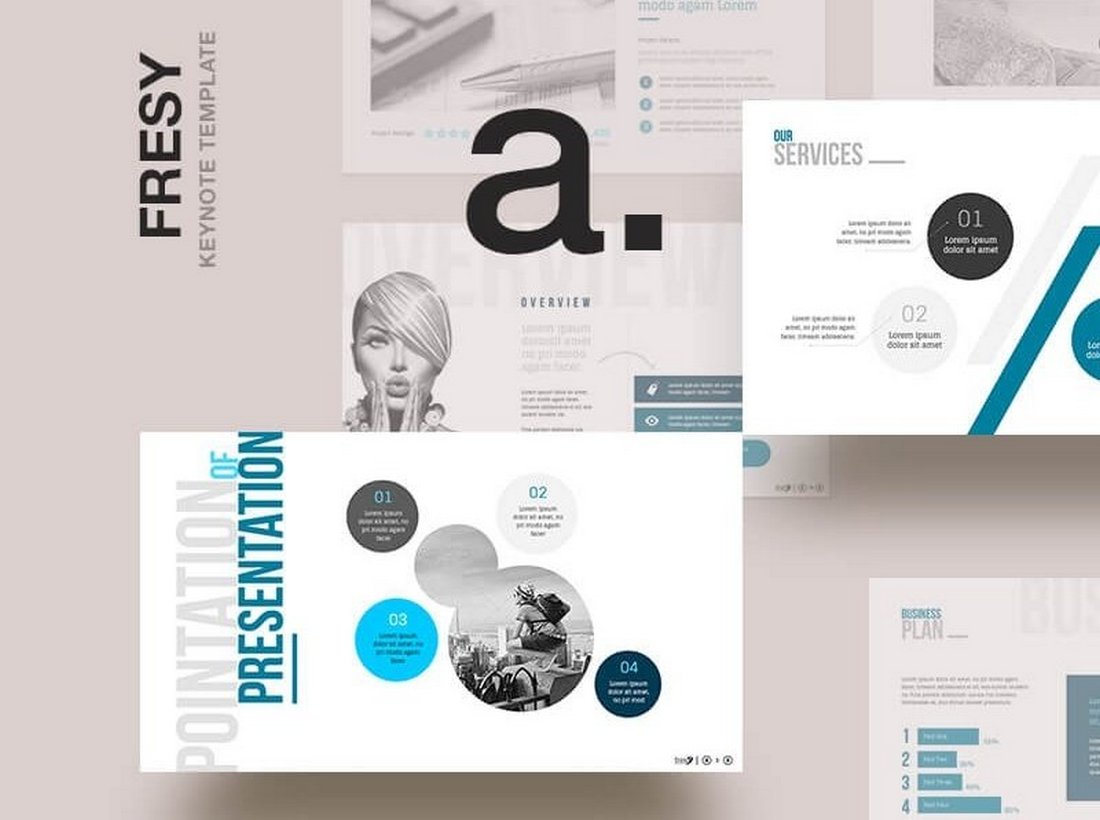 You can use this template to design a simple and animated slideshow for a fashion or lifestyle presentation. It comes with multiple slide layouts that are available in many different color themes.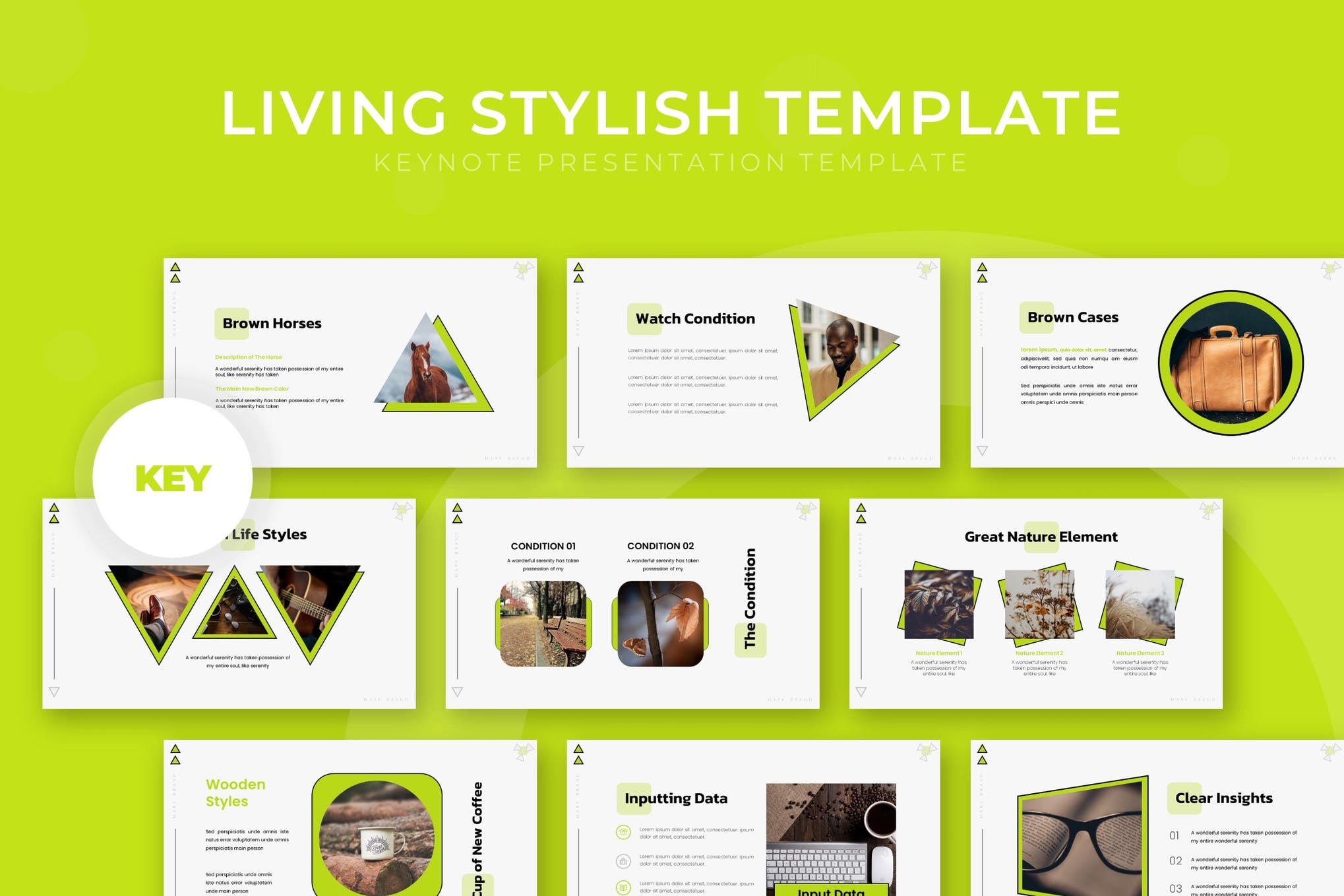 Check out this gorgeous Keynote presentation template that will surely help you make a solid first impression. It contains 150 slides across 5 templates and everything that you'd expect in a professional and great-looking template.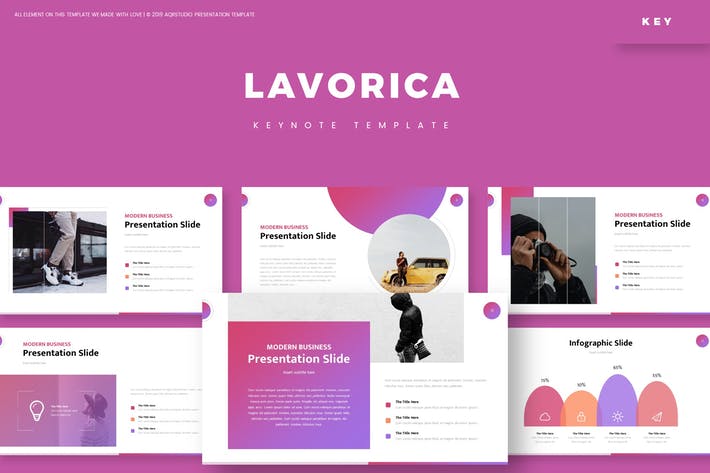 Featuring 5 premade color variations, 150 unique slides and drag and drop picture placeholder functionality, the Lavorica animated Keynote template is easy to customize and perfect for a wide range of presentations, both personal and professional! It includes a range of handcrafted infographics and specially designed gallery, portfolio and section break slides.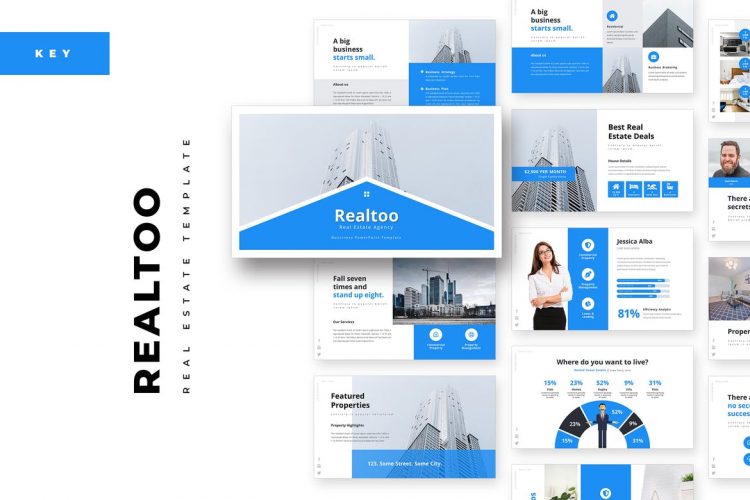 While this Keynote template is perfect for real estate businesses and professionals, it's also versatile enough to be used for virtually any corporate purpose. The color scheme gives the slides a cohesive, polished finish, and all of the graphics are fully editable.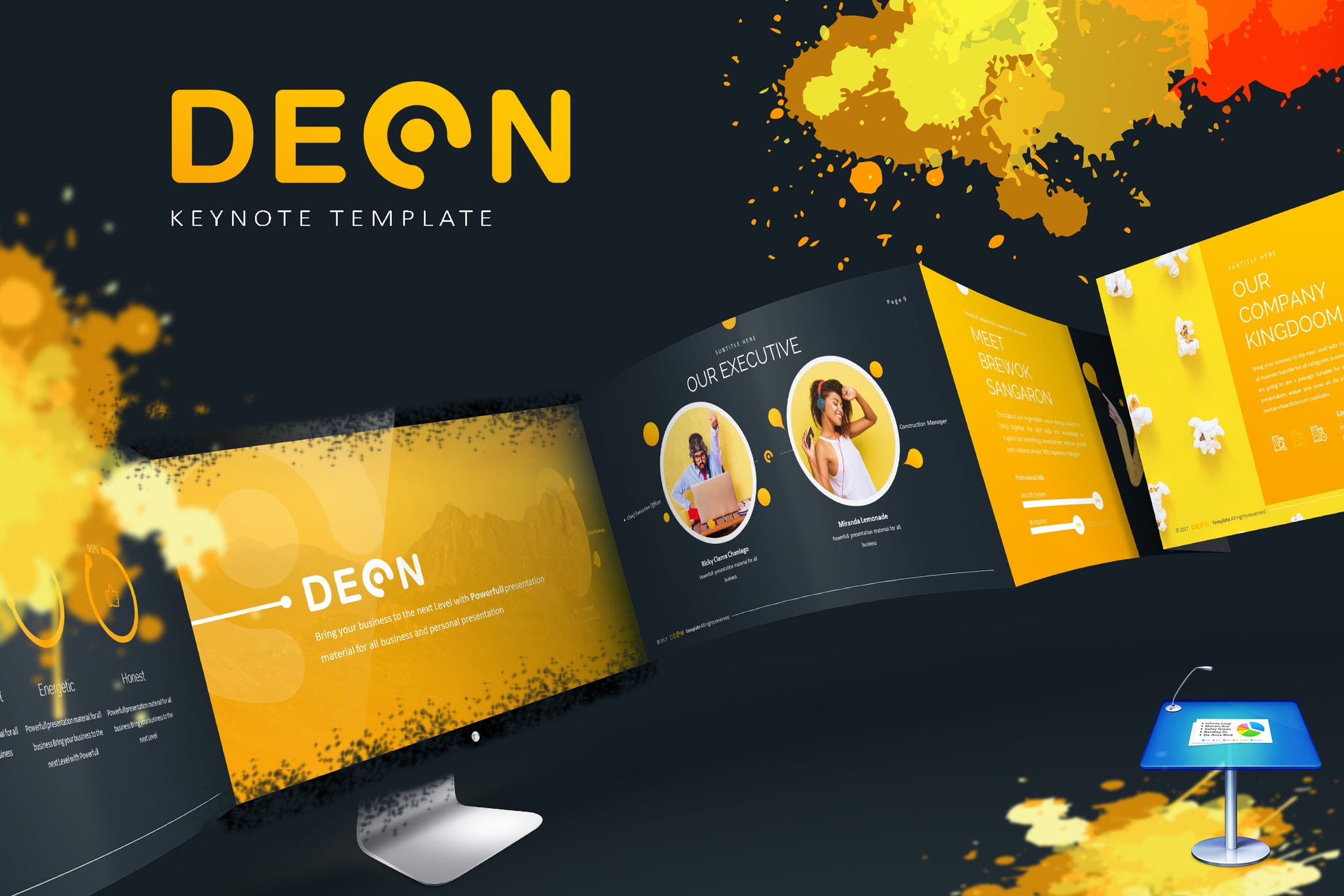 Deon is a dapper-looking animated Keynote presentation template that can be completely adjusted to suit your requirements. It comes in 5 color variations: Green, Yellow, Red, Blue, and Tosca, and features 50 beautiful slides, handcrafted infographics, and much more.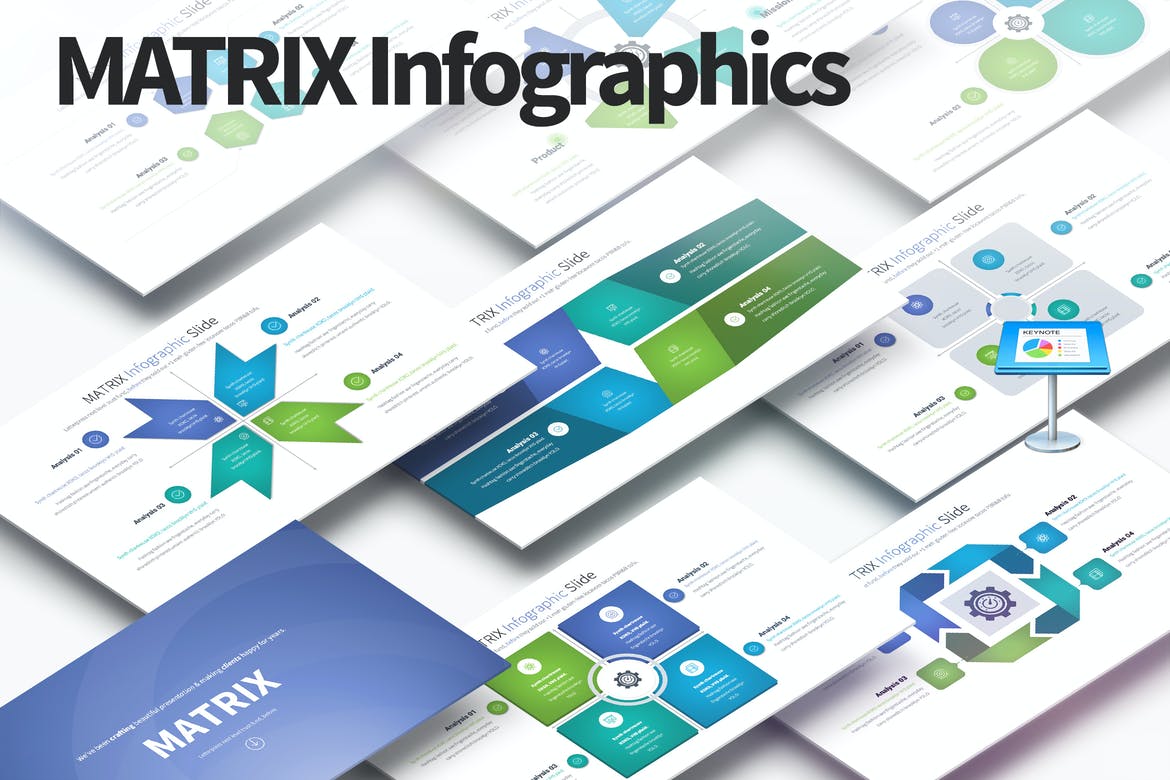 Next up we have the Matrix theme, one of the best-animated Keynote templates to choose if you're looking for a set of informative and professional-looking slides that's fully editable. Based on a set of master slides, it offers a full HD, 16:9 screen aspect ratio, as well as simple line vector icons and twelve color variations.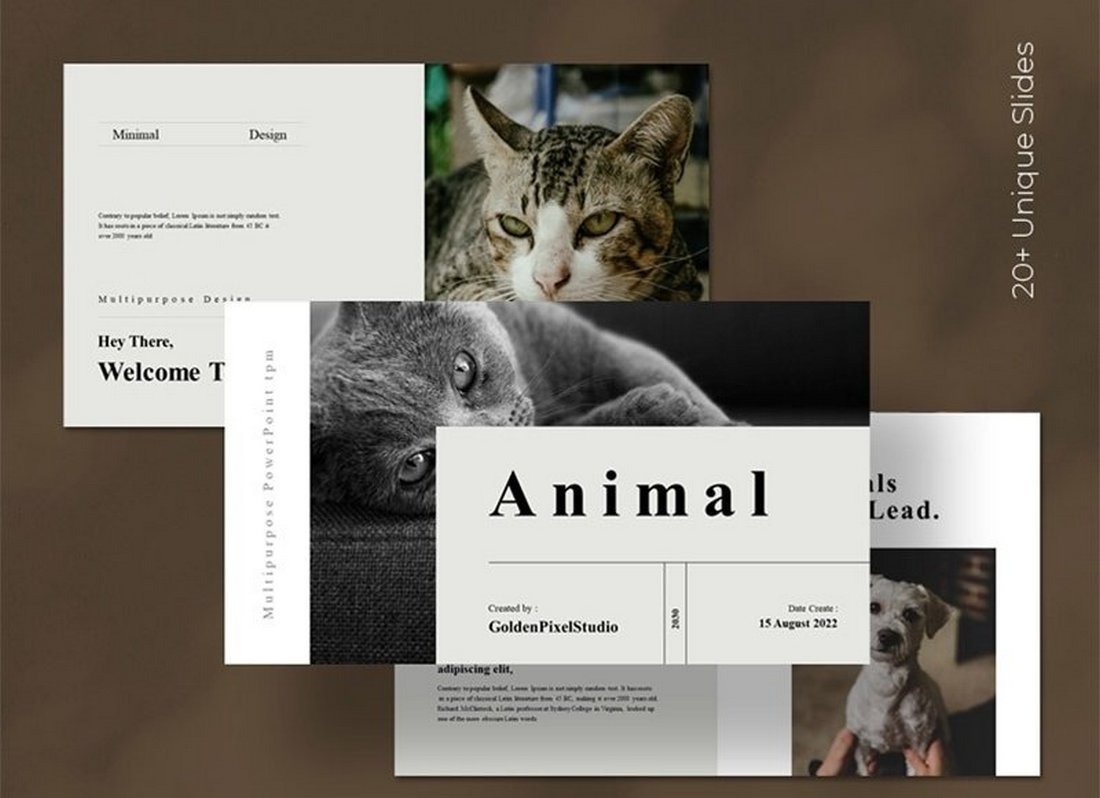 This Keynote template is perfect for designing presentations for photography studios and professionals. The template includes 20 unique slide layouts with animations and transitions. You can also customize it to your preference.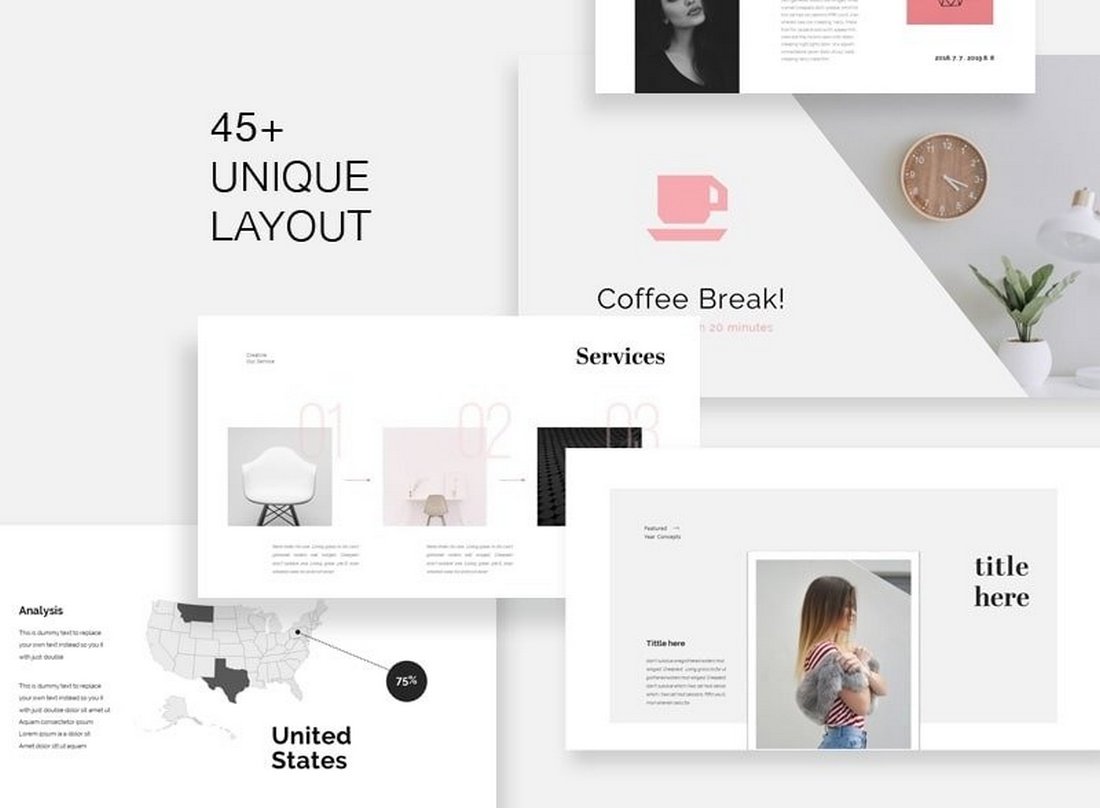 Another free animated Keynote template for professionals. This template includes 45 unique slides for making elegant portfolio presentations. It's ideal for showcasing your services and skills.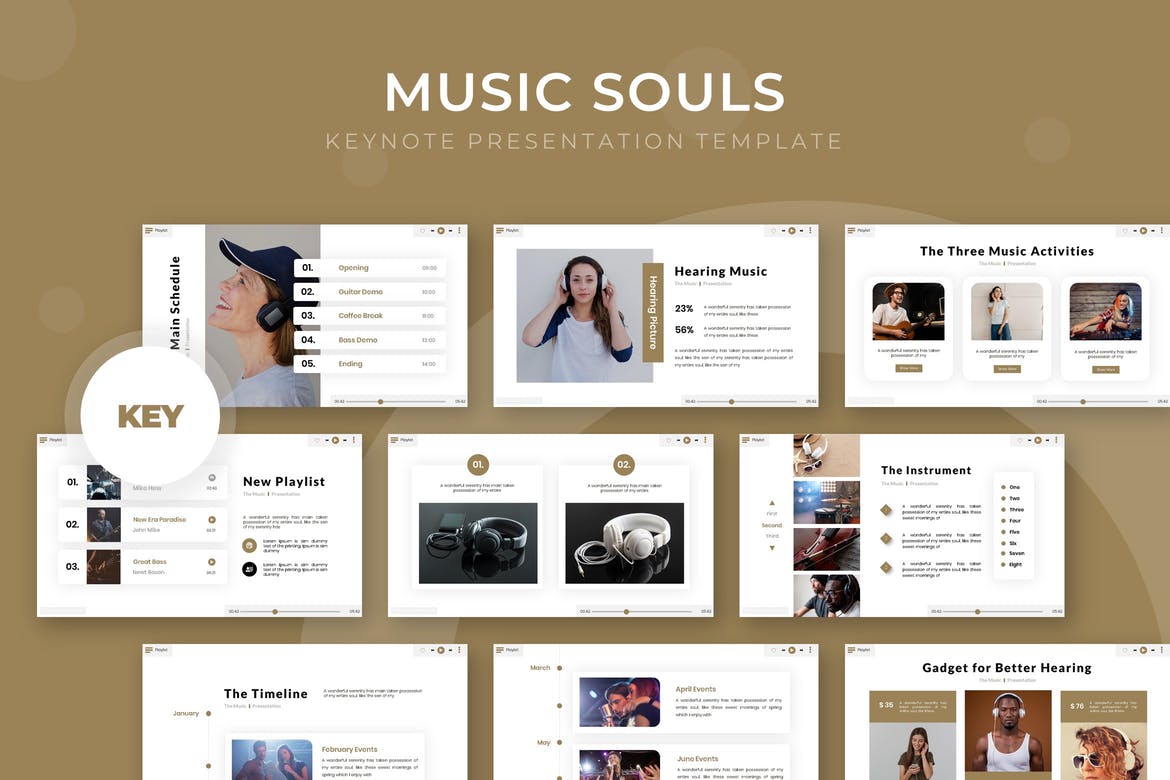 Looking for a beautifully crafted Keynote template that can be used for a creative project? The Music Souls theme features a total of 150 slides, including five color schemes to mix and match plus a range of professionally designed and animated slides with fully editable graphics.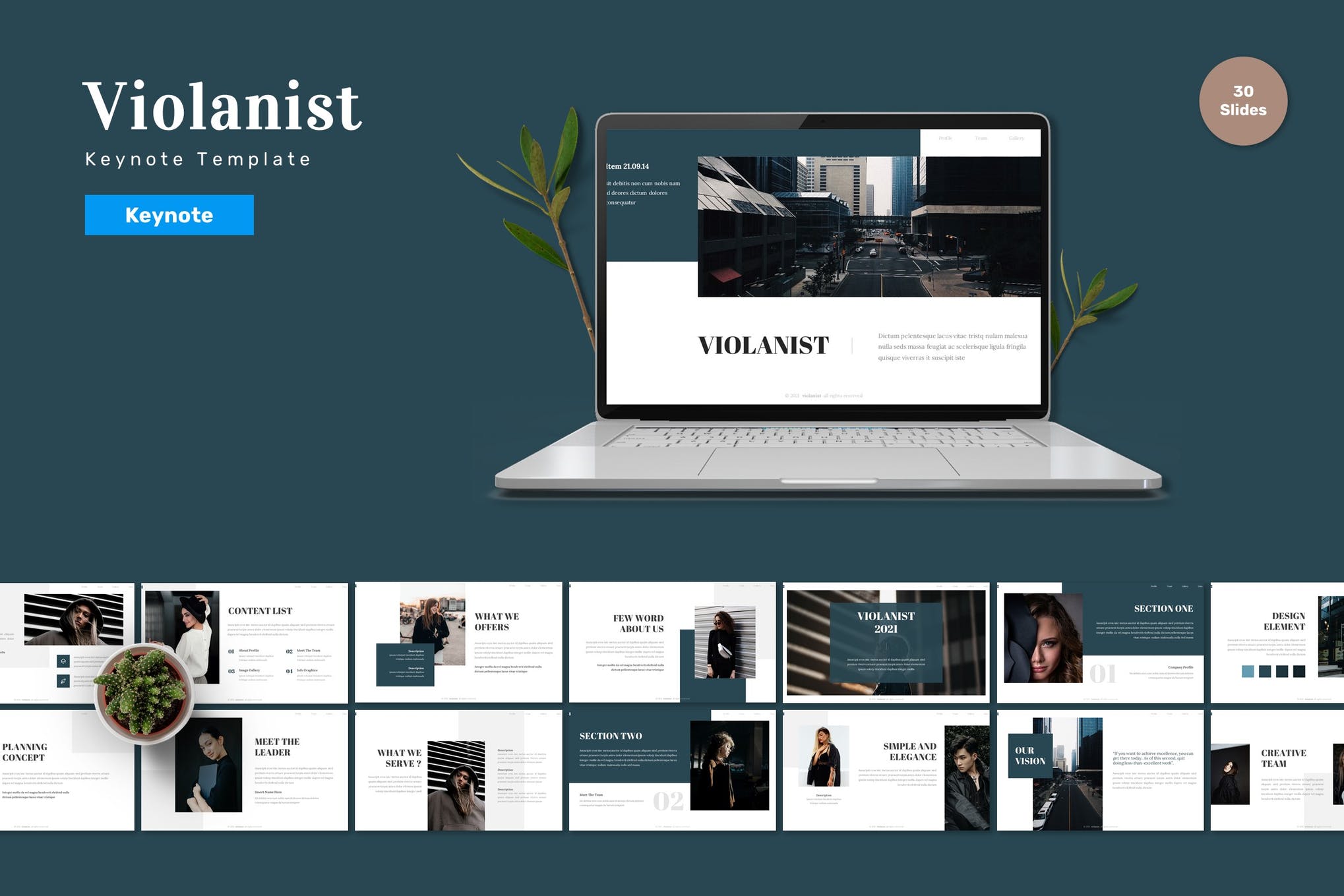 Here we have Violanist, a simple, sleek Keynote template for presentations that need an elegant touch. It comprises everything you might ever need to create an impressive pitch deck or portfolio presentation. No wonder it's one of our top recommendations when it comes to the best animated Keynote templates.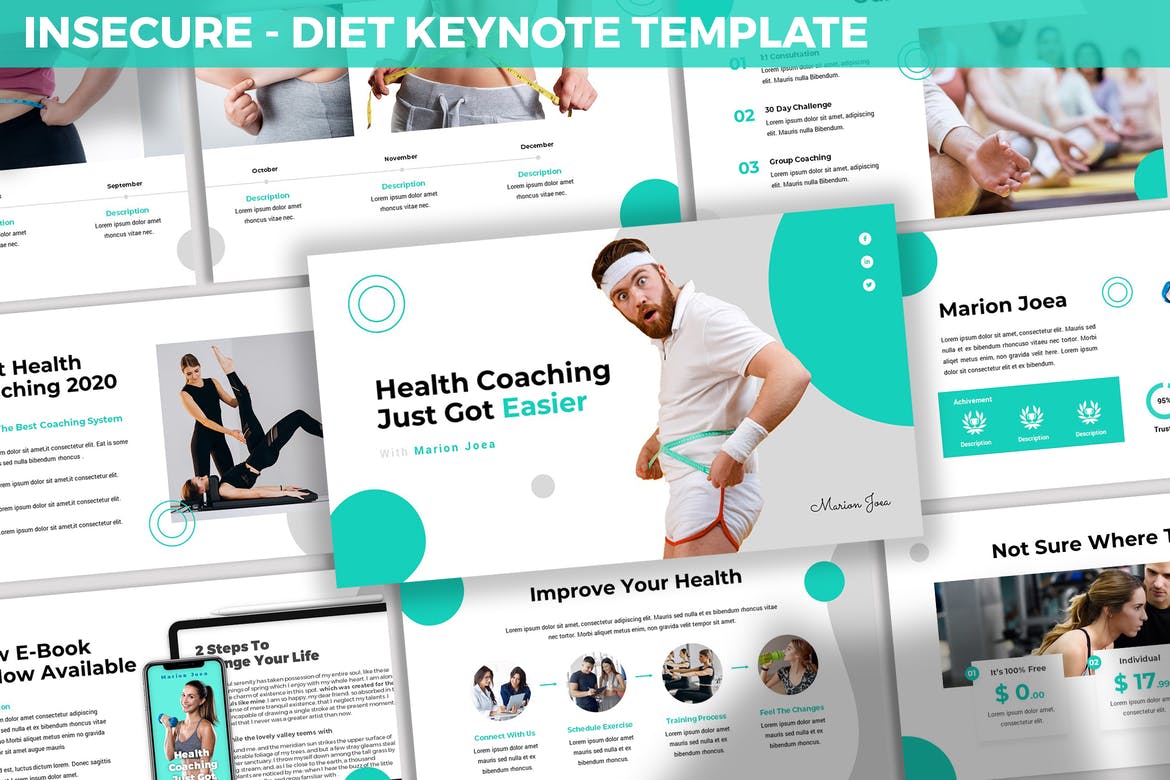 Insecure is a modern and innovative animated Keynote template that has been purpose-built for use as a diet, health plan, or weight loss presentation. The perfect choice for dieticians and health coaches, it offers 30 unique slide layouts with drag and drop placeholders and dark and light background options.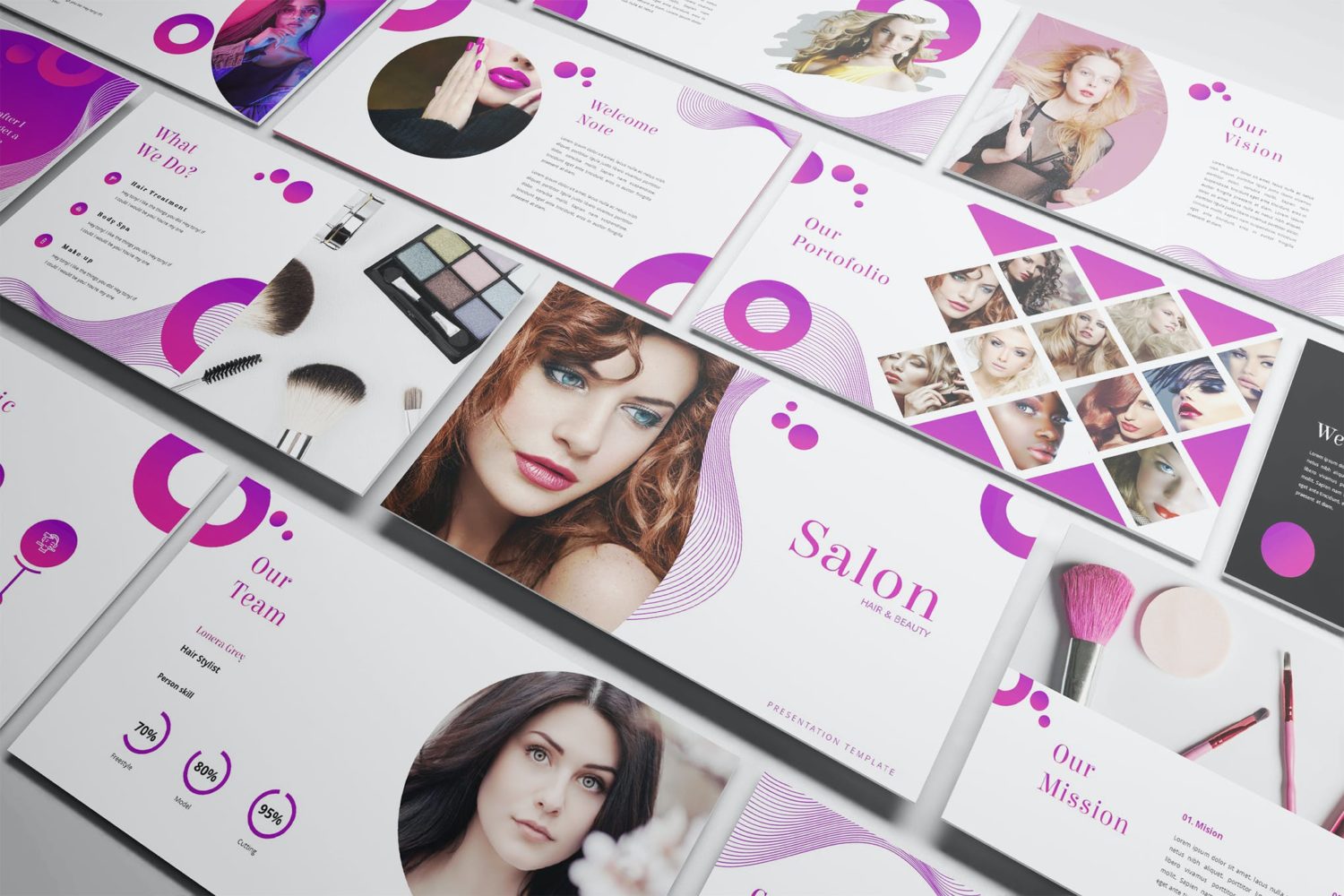 Here we have the Salon theme, a dynamic and eye-catching set of 50 unique slides that have been specifically designed for beauty and wellbeing businesses to use to promote their services. It comes with overlay picture effects, a choice of two screen size formats, and resizable vector elements.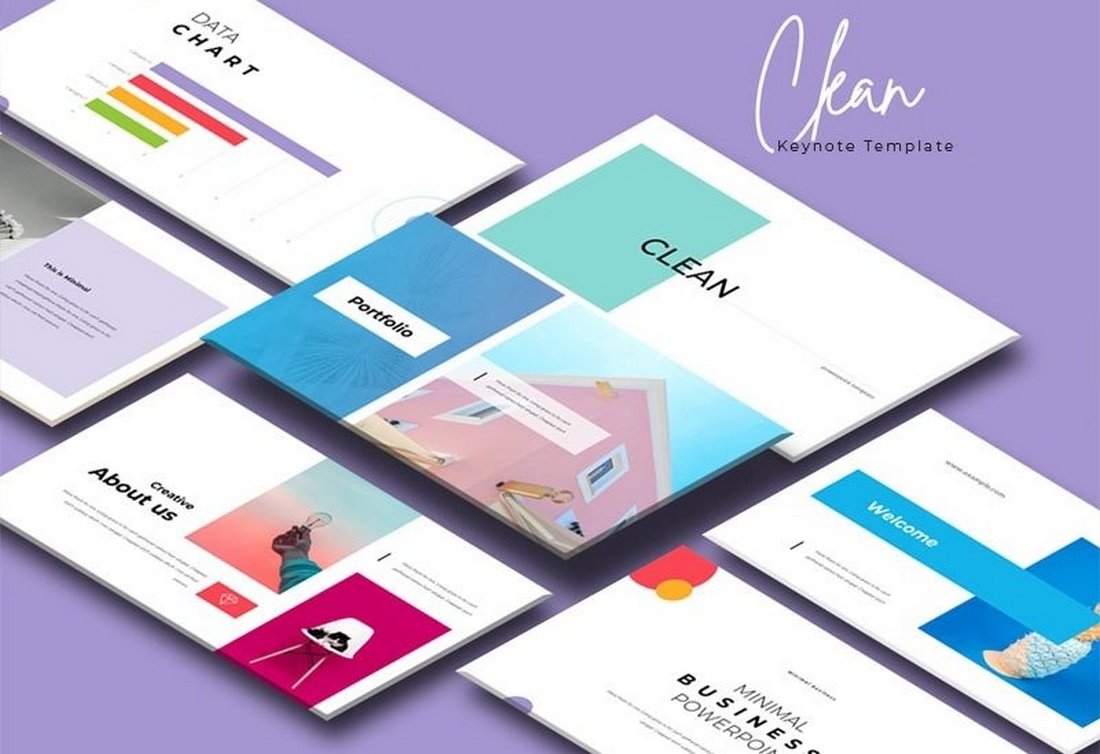 This is a simple Keynote template you can use for various types of presentations and projects. It includes minimal slide designs that you can also customize to your preference. There are 20 unique slides in the template.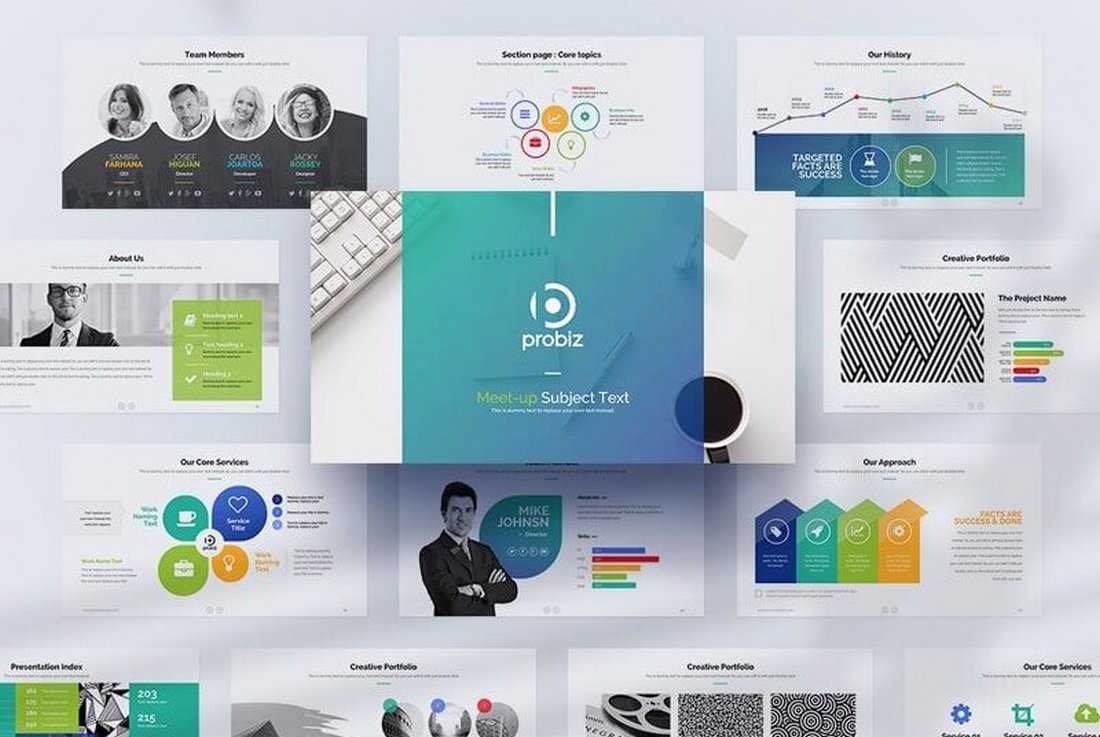 You can use this template to make professional-looking business profile presentations. The template includes many different slide designs with easily editable colors, fonts, and image placeholders.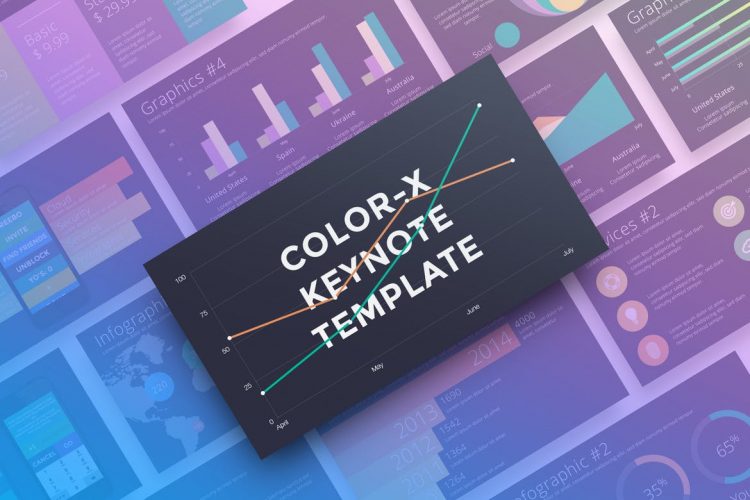 Next in our list of the best-animated Keynote templates is a clean, elegant set of colorful slides that emphasize graphics and charts to communicate key information. With over 40 premade slide layouts, it features fully editable color themes, shapes, and text fields and includes a wide range of icons for your use.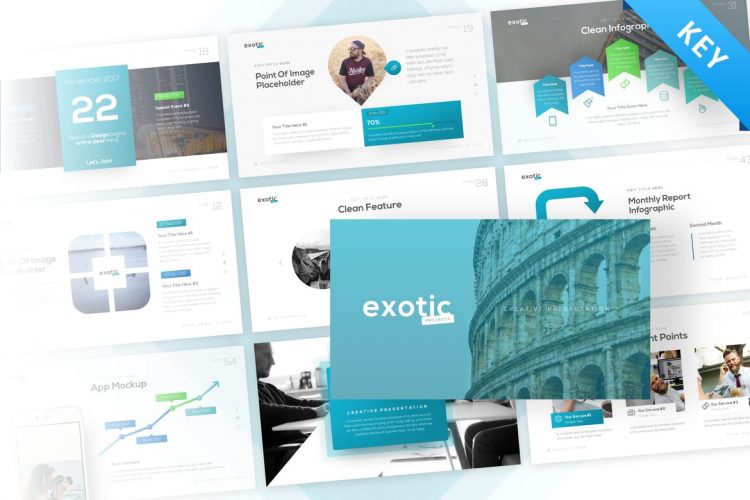 The Exotic Project template is a fresh, modern Keynote presentation with 60 unique slides that are suitable for both personal and professional purposes. It includes variations for both light and dark schemes, as well as widescreen and standard sizing. The handmade infographics included with the slides are a nice touch.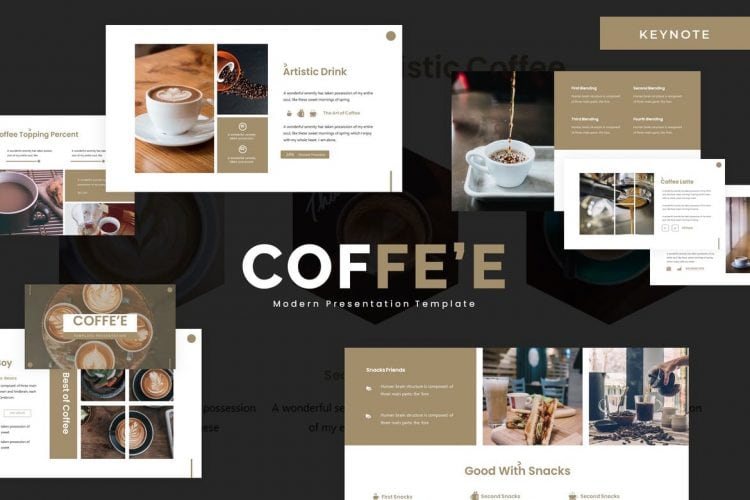 With five color variations and 30 slides included with each, the Coffee template is a multipurpose presentation with a clean, organized feel and gallery-style layouts. It features pixel-perfect graphics and picture placeholders with drag and drop functionality for instant customization.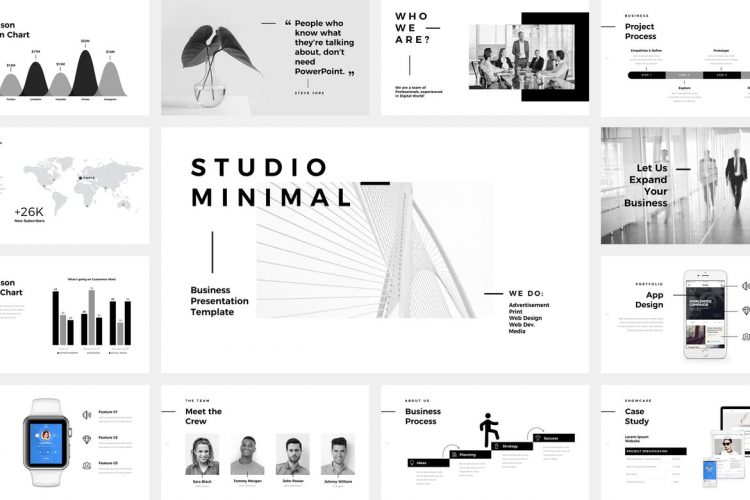 This option is a stunningly simple, grayscale set of 120 unique slides in 16:9 widescreen sizing, featuring high definition vector graphics and retina-ready quality for a truly professional feel. It's perfect for a small business that wants to make an impact on their potential investors.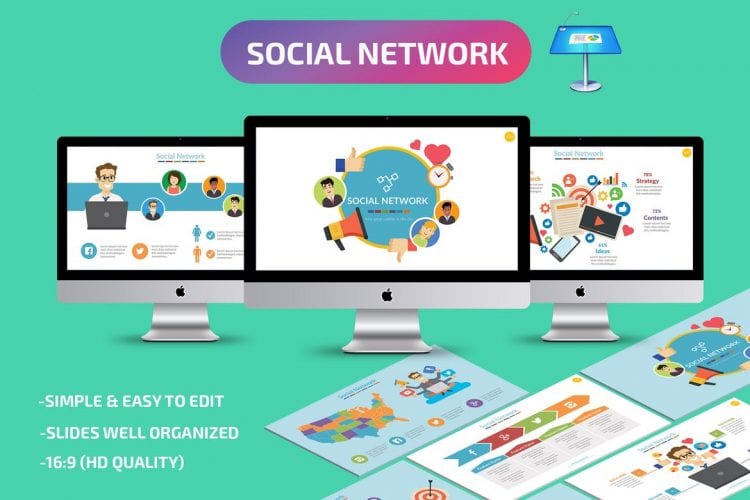 The Social presentation theme is one of the more playful animated Keynote templates we've seen – it uses brightly colored cartoons and clean, simple text graphics to keep content to a minimum, while still addressing each of the key points required. It's simple, well organized, and incredibly easy to customize.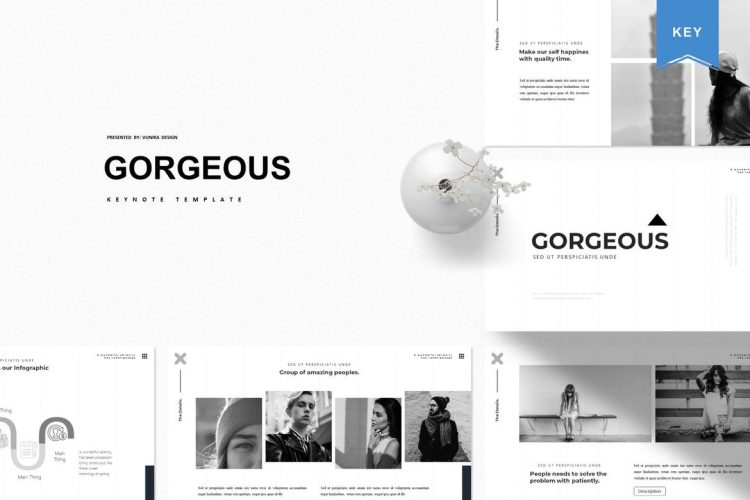 The Gorgeous Keynote template is an aptly-named minimal presentation theme with a monochromatic color theme and sharp, eye-catching graphics. It comes with five different color variations and 30 unique slides for each, including gallery and portfolio slides, and features customizable icons and infographics.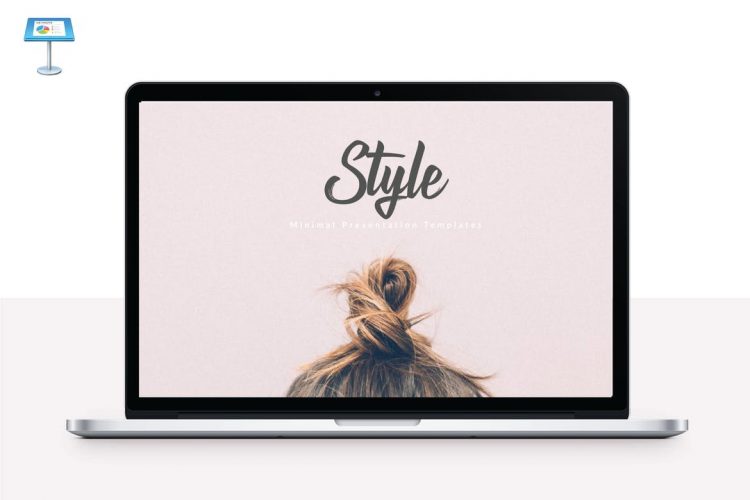 Perfect for a design or fashion business presentation, the Style Keynote template is a clean, modern set of 1,000 unique slides, consisting of 100 base slides, five color variations, and light and dark versions of each. It's elegant, understated, and can be easily customized to fit your personal aesthetic.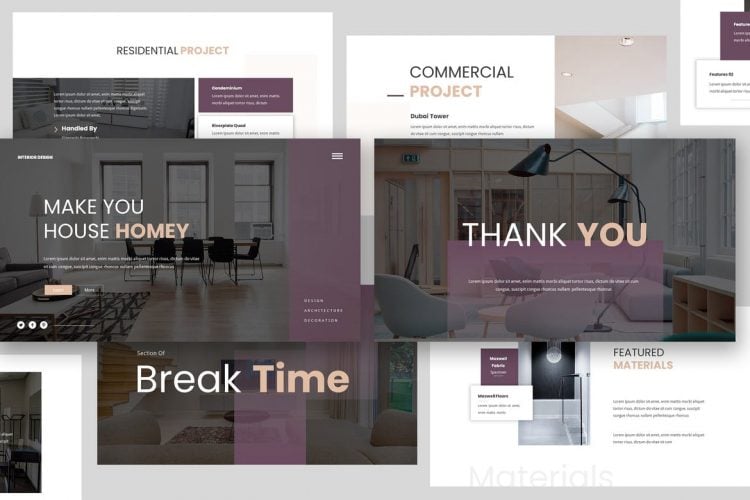 A stylish option for an interior design or another creative professional, this template includes both widescreen and standard variations and a surprising yet sophisticated color theme that adds a contemporary corporate element. The overlay image effects are particularly eye-catching, and all of the graphics can be edited with a few clicks.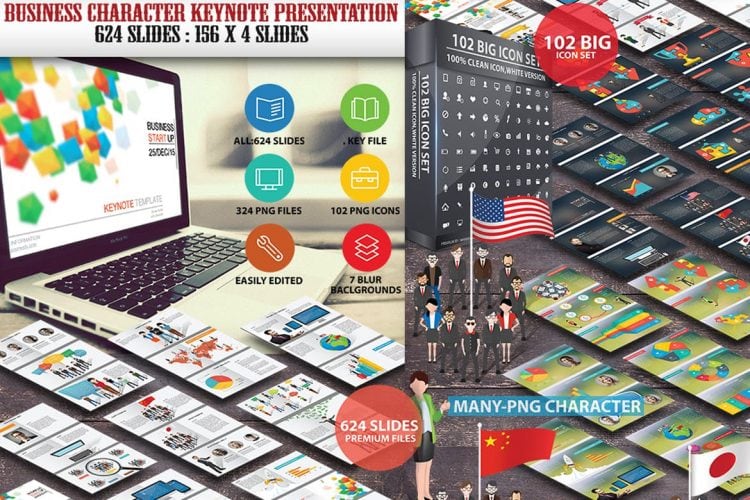 The Business Character presentation is one of the busier animated Keynote templates – there are a lot of different graphics and elements in each slide, not to mention the bright colors! It comes with 624 individual slides, including multiple backgrounds and hundreds of icons and graphics to customize your presentation with.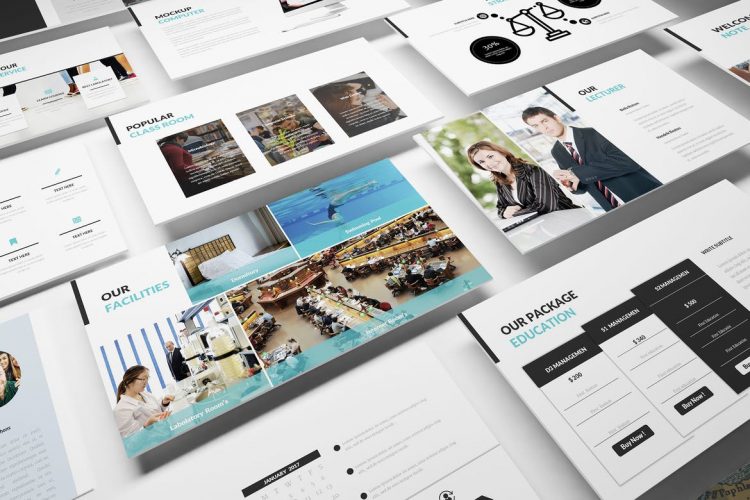 While the appropriately named University & Education template has been designed for educational purposes, it can easily be adapted to business and professional presentations. It offers 90 unique slides with a clean, modern, and minimalist design.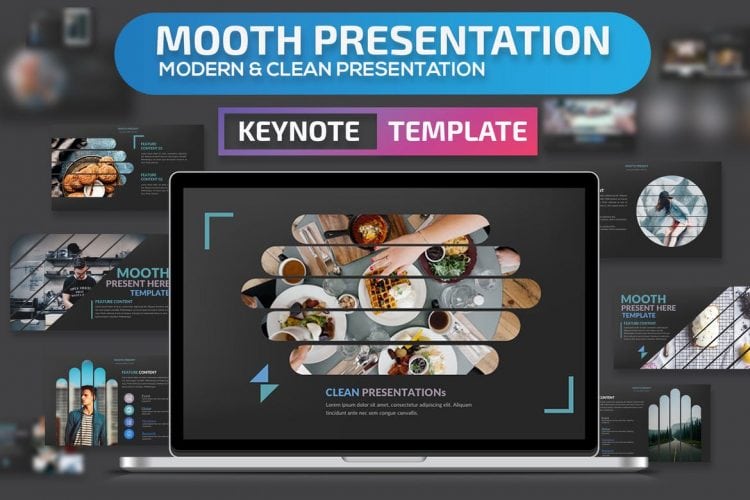 The Mooth template features creatively sculpted images and sharp, effective graphic icons to add a touch of quirkiness to what's otherwise a very straight-laced corporate design. It's great for business presentations in the finance, banking, and technology fields.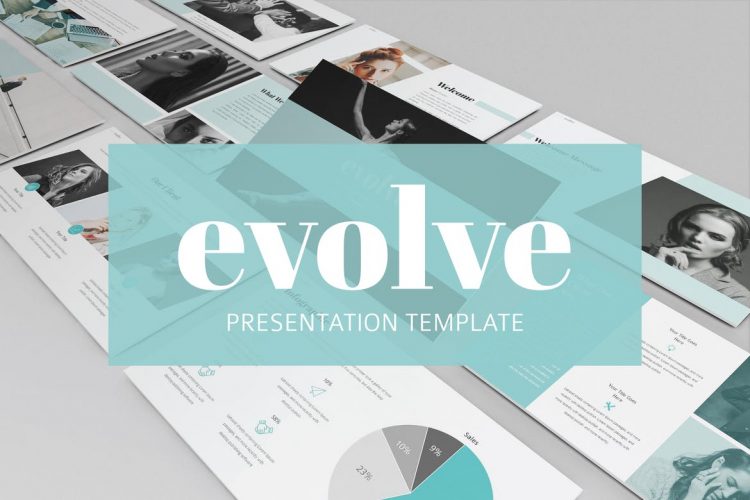 This gorgeous portfolio style template looks like it could have been pulled straight from the pages of a high-end fashion magazine. Its stunning muted color scheme and use of modern, minimalistic fonts and graphics make it a popular choice for photographers, designers, and other creative professionals.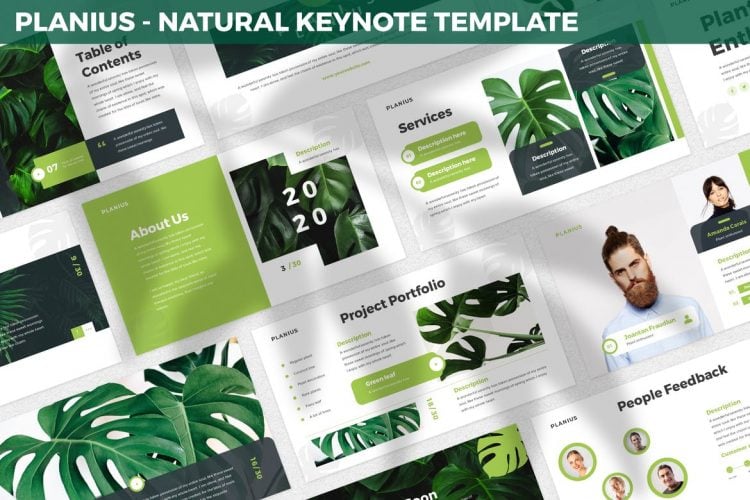 While the fresh, modern Planius template does come in three different color schemes, we think the original green is stunning, and makes for a perfect presentation theme for an environmentally conscious business, particularly as a marketing or promotional tool, or a product lookbook.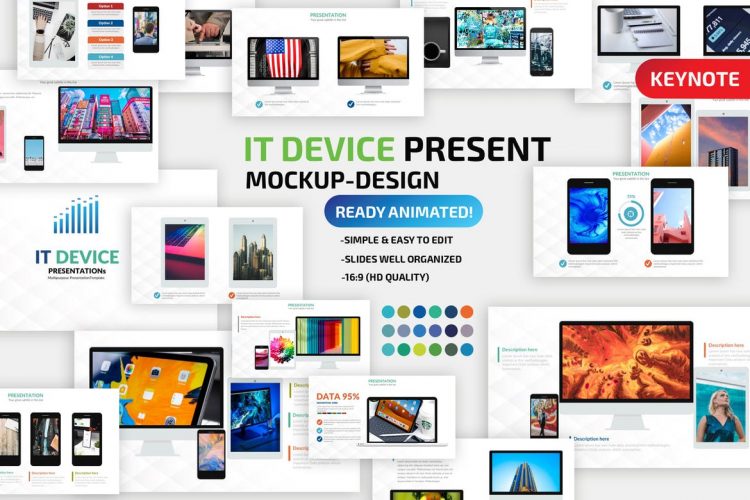 Ideal for IT and communications businesses, this template is a professional and traditional format for informative slideshows designed to deliver a big chunk of information in a short space of time! It features a RGB colorway and high definition widescreen slides so that the bold, colorful graphics render perfectly in both print and web media.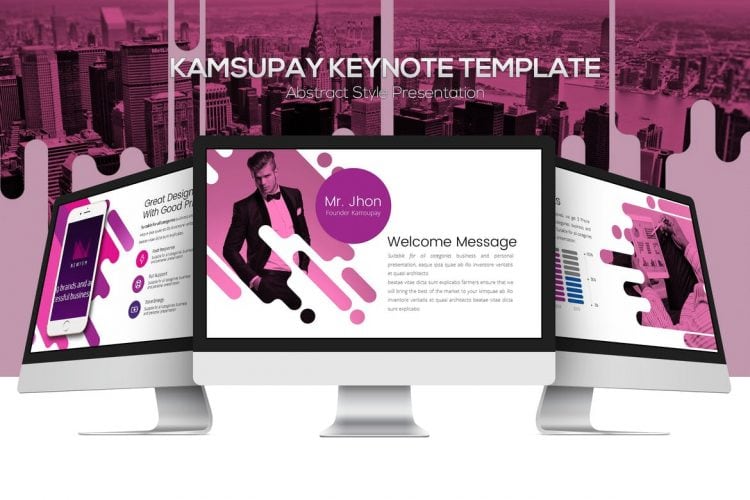 The Kamsupay presentation template is a cohesive and colorful corporate theme featuring a contemporary design and three stunning color schemes. The abstract, geometrically influenced graphics lend themself perfectly to a technology or communications business presentation.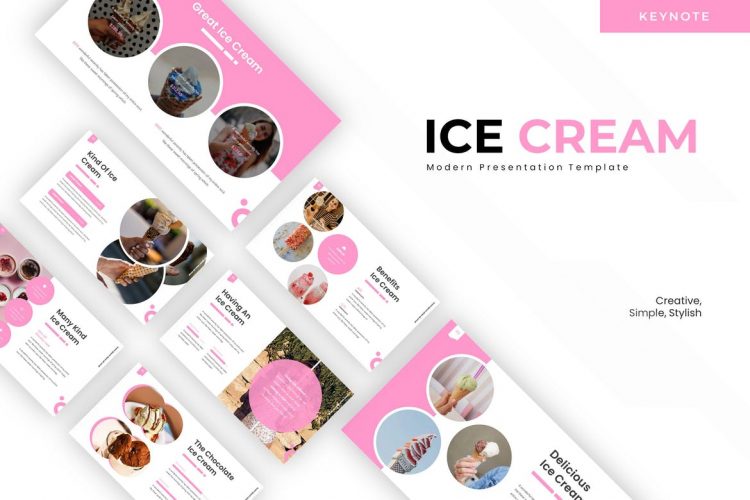 A playful, fun option for food-based enterprises, the Ice Cream theme is one of the most customizable animated Keynote templates. Creative, stylish, and modern, it includes five color schemes, drag, and drop image placeholders, fully editable graphics, and slides featuring gallery and portfolio formats.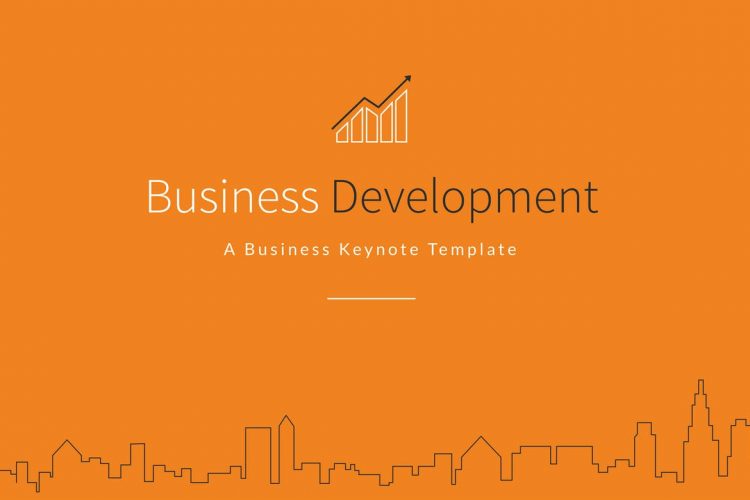 The most comprehensive option in our list of animated Keynote templates is the Business Development presentation, which includes over 4,000 unique slides, thousands of vector icons, and ten different color schemes. The design itself is a clean, contemporary, and professional option for any business or professional purposes.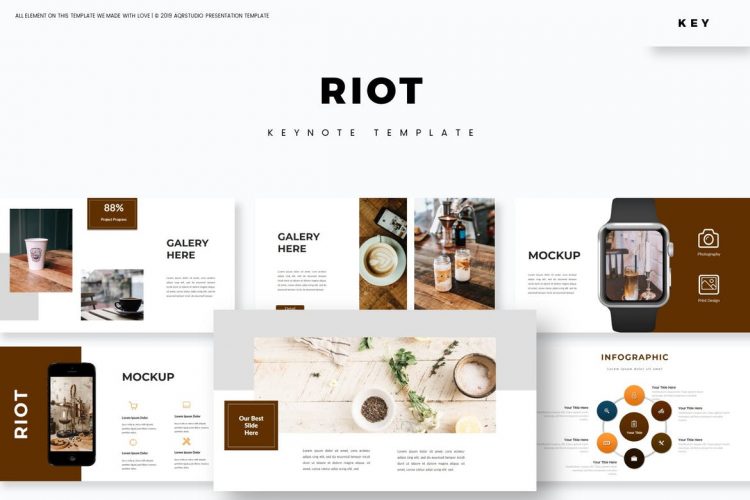 The Riot template comes with five different color options, each offering a modern, uncluttered design with gallery-style formats and fully editable graphics. It's great for a product description presentation or as a business marketing tool.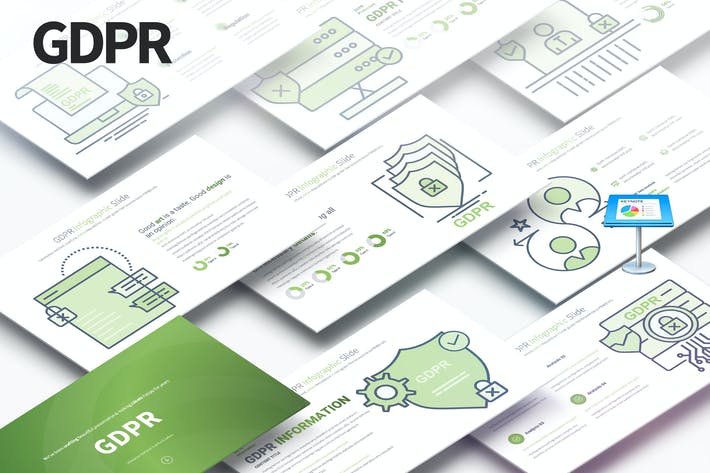 Based on the General Data Protection Regulation (GDPR), this animated Keynote template is a professional and modern option for your next corporate presentation. It offers 11 color variations to choose from, and includes editable vector icons, handmade infographics and a full high definition 16:9 screen aspect.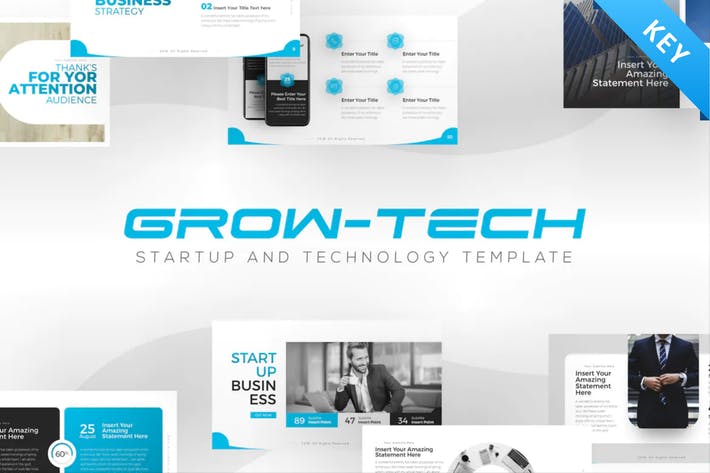 Perfect for a startup or technology organization to use for an investor pitch, product briefing or company introduction, the Grow-Tech animated Keynote template is ideal for a range of business purposes and can be customized effortlessly using the 50 multipurpose slide layouts included, as well as the 60 master slides with light and dark variations.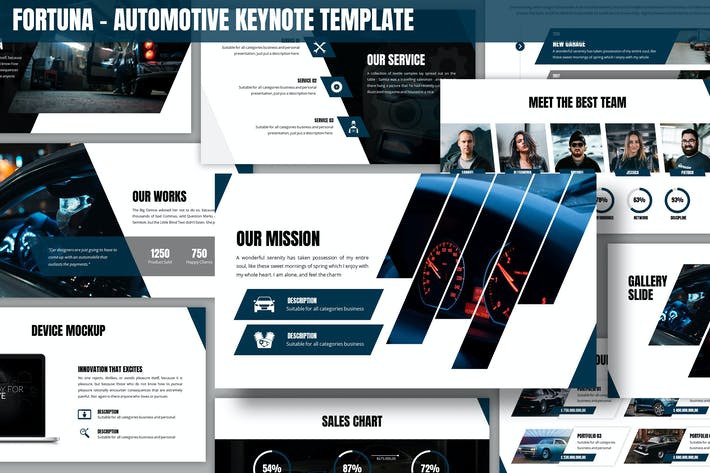 The Fortuna is an automotive-themed animated Keynote template with a bold, modern aesthetic, and can be adjusted to suit other industries and purposes as well – from the colors to the shapes and fonts, every element is fully editable. It comes with several prebuilt slide layouts and both widescreen and standard aspect ratios.
Inspired by a manufacturing-themed presentation, the Manufact animated Keynote template features modern and abstract graphic elements, three premade color themes, picture placeholders, and full documentation for seamless editing. It's fully animated and offers a choice of backgrounds and screen sizes.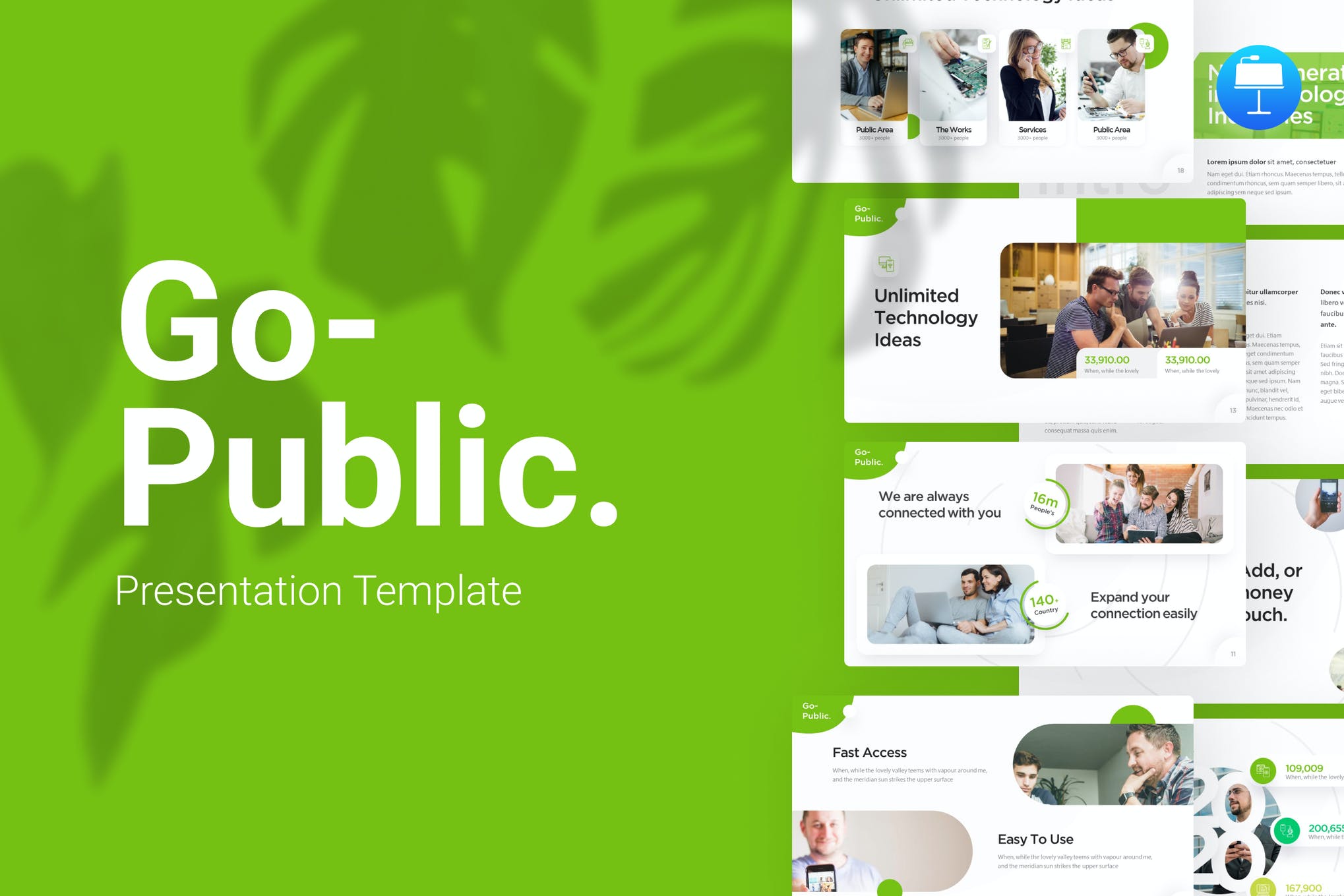 Go Public is the best technology and networking presentation template. With leaf-green as its main color, this item has more than 100 slides to enhance your pitch deck.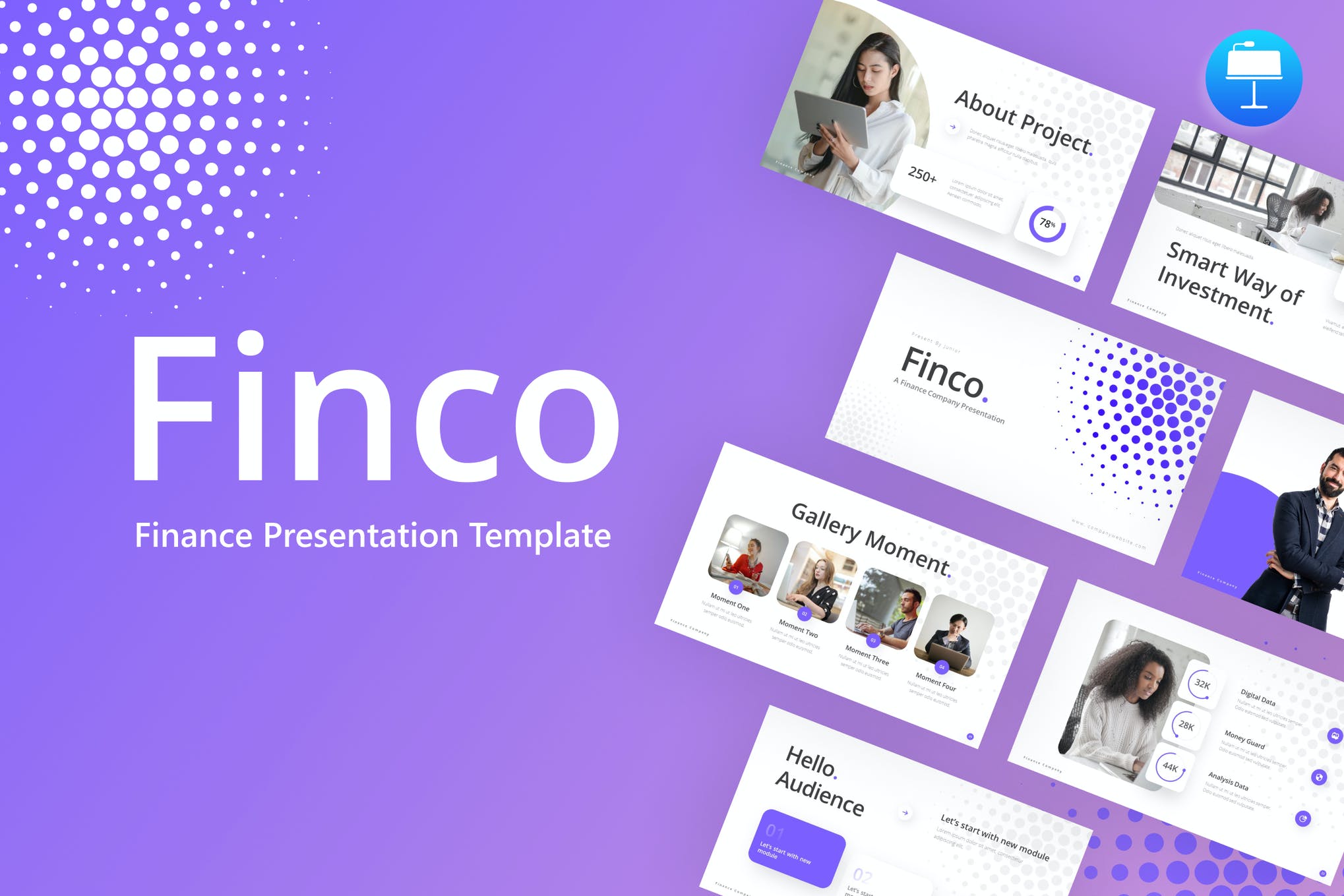 Finco Keynote Template is fully customizable and ready to use for you all. All you need to worry about is collecting all the information required to show. What is the best part? Yeah, you can redesign this presentation template quickly.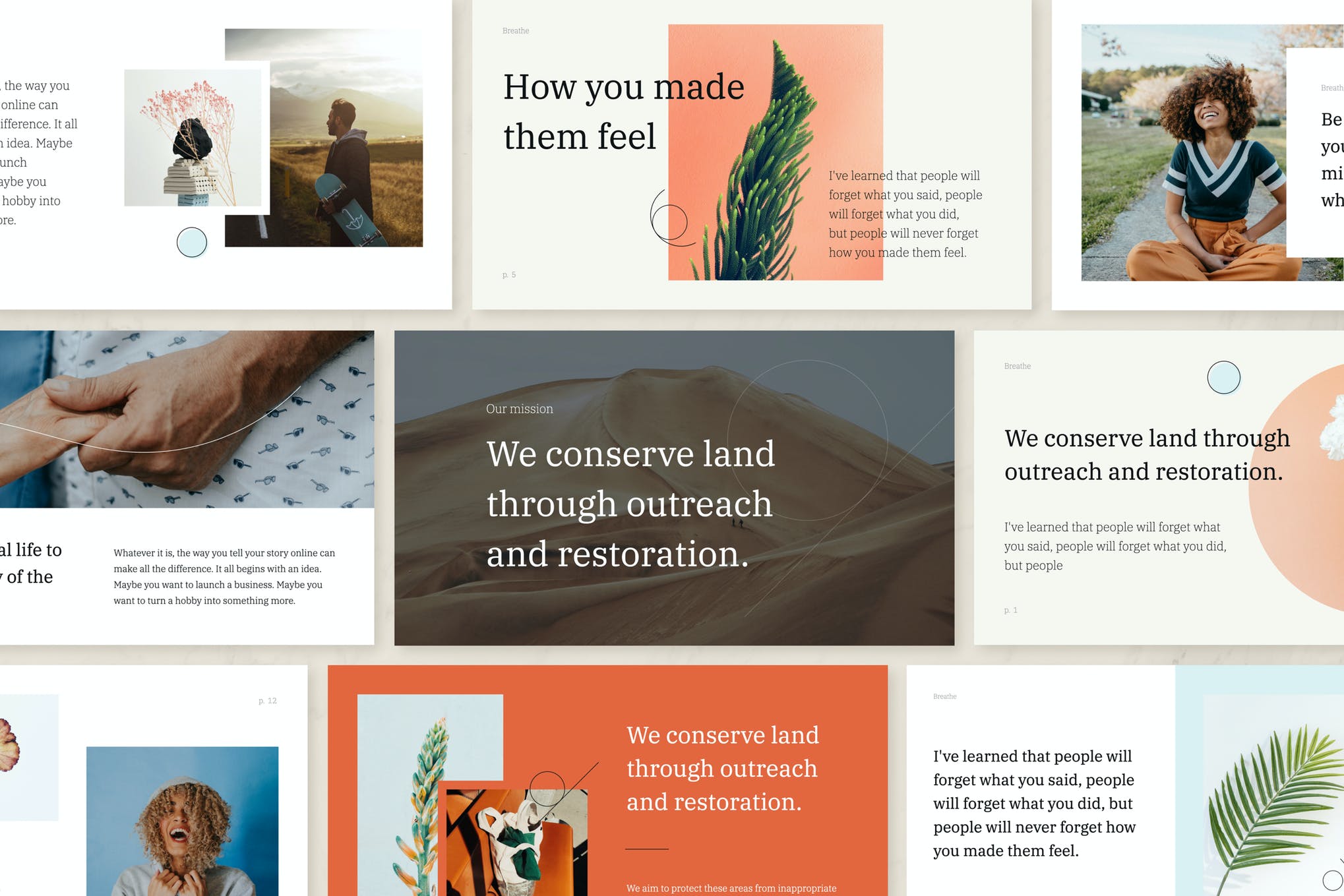 Create your own unique presentation for Keynote using 50+ stylish ready-made slides. You can use it as a promotional tool, to showcase your work or explain your services. Just paste your text and change images. Your presentation is ready!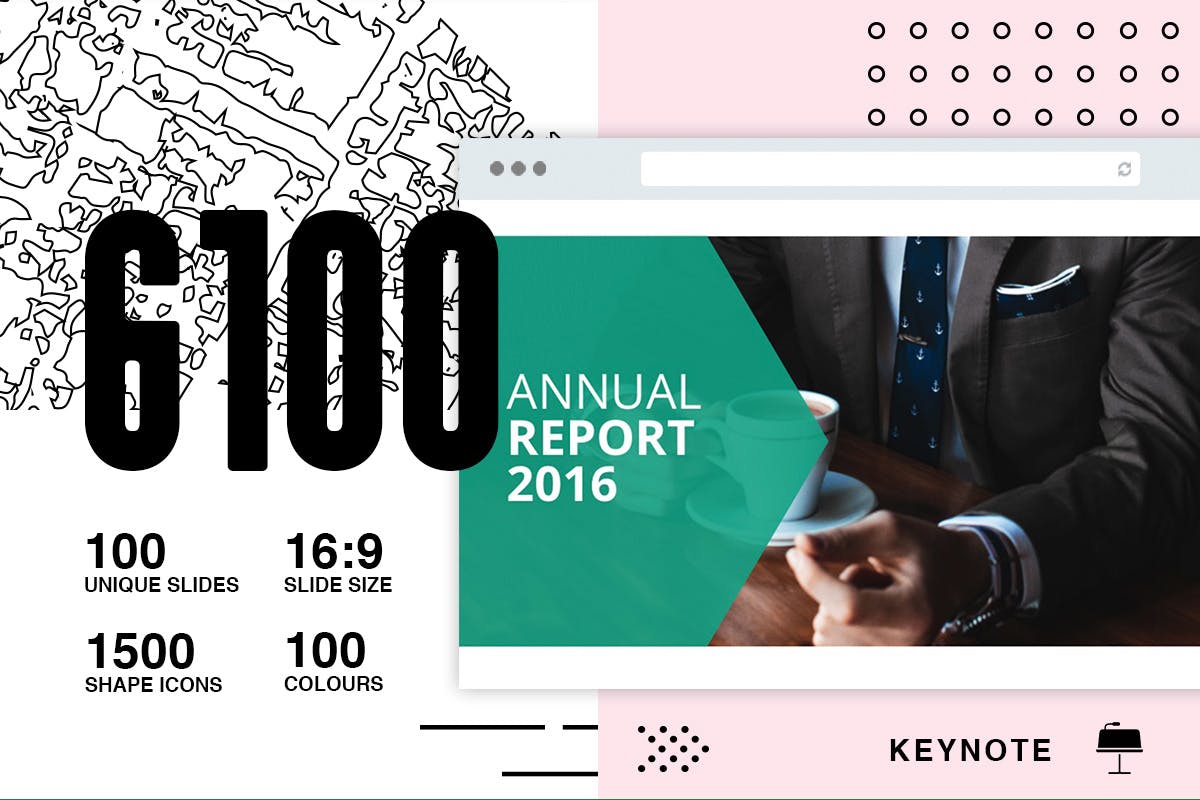 G100 is a powerful and modern keynote template that contains 100 total unique slides with custom and clean design for multipurpose presentation business or personal use, such a creative industry, technology, finance, etc.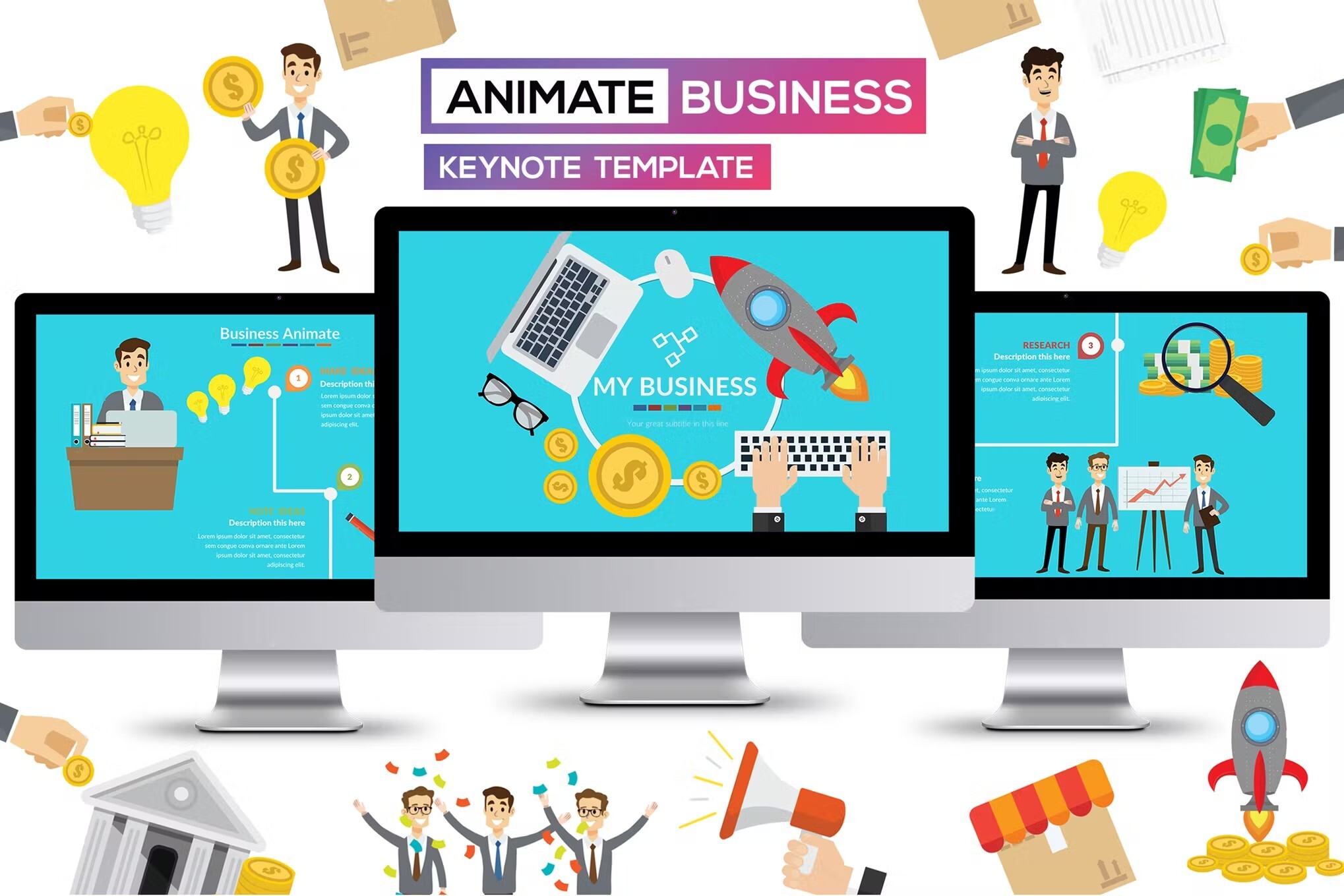 The Business Animated Keynote template is perfect for business-oriented presentations and even webinars. The template comes with more than 1000 custom icons paired with amazing animation in Keynote effects and transitions. These will help you introduce different sections of your presentation.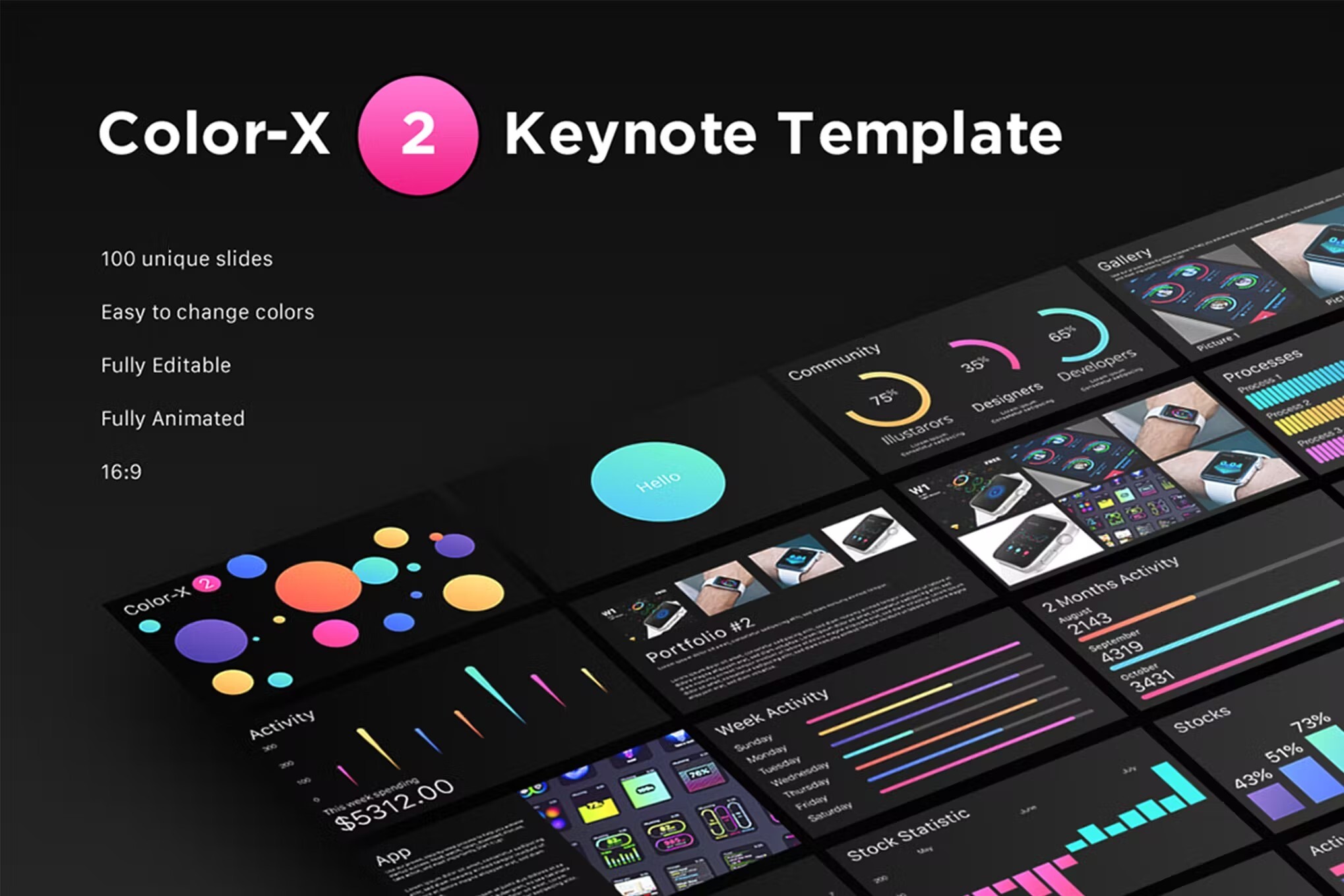 The Color X-2 is a colorful and versatile animated Keynote template. Use it for all kinds of presentations. The template comes with 100 unique slides and is fully animated. It's also easy to edit as all shapes, colors, and fonts are completely customizable.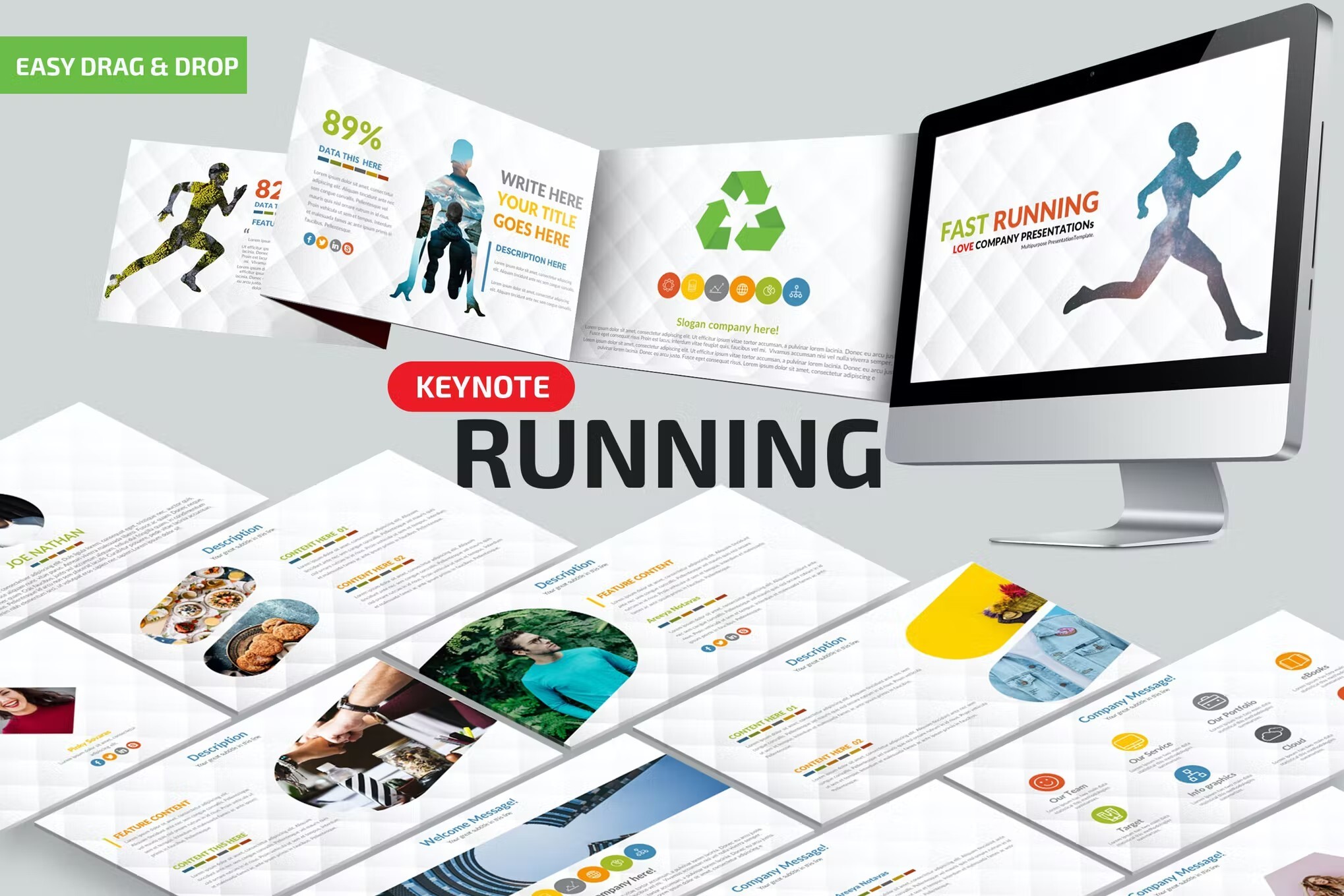 If need a sports-themed presentation, the Fast Running template is a great choice. The template is fully animated and includes more than 170 unique slide designs.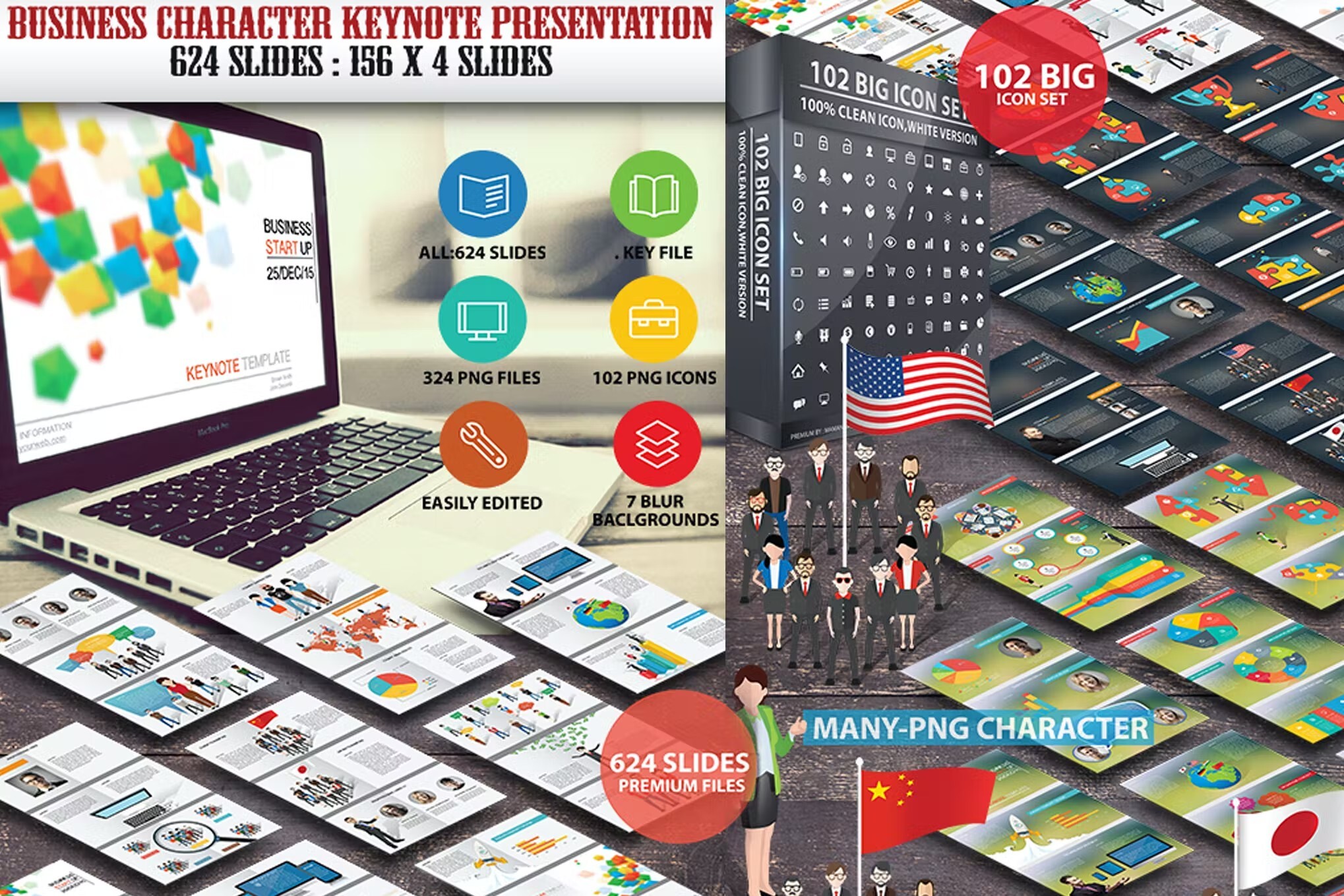 Try the Business Character Keynote animation template if you're looking for a business or corporate style template. This awesome animated Keynote presentation includes four pre-made color schemes.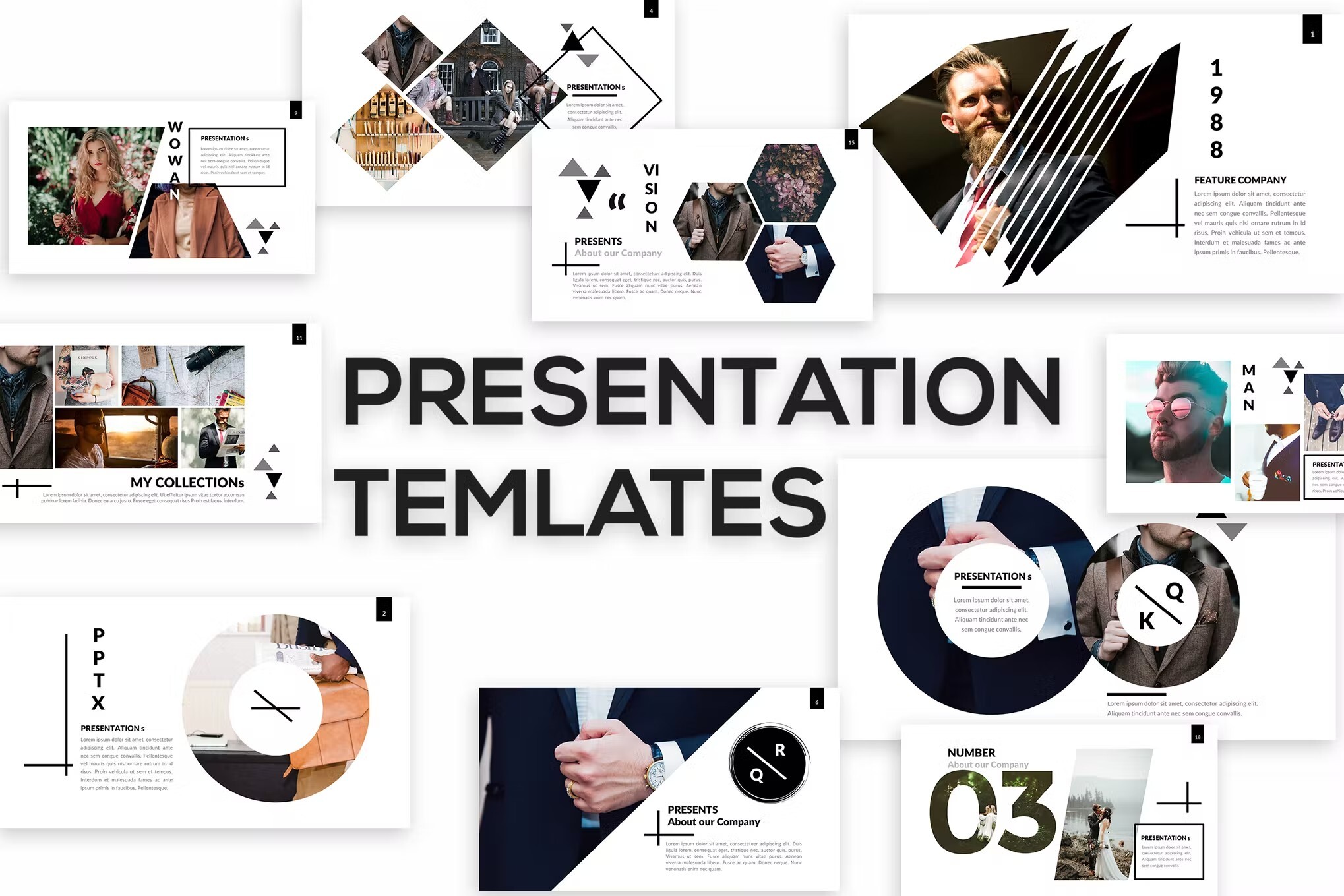 This template with animations in Keynote is designed in a timeless black and white design. This makes it perfect for any type of presentation.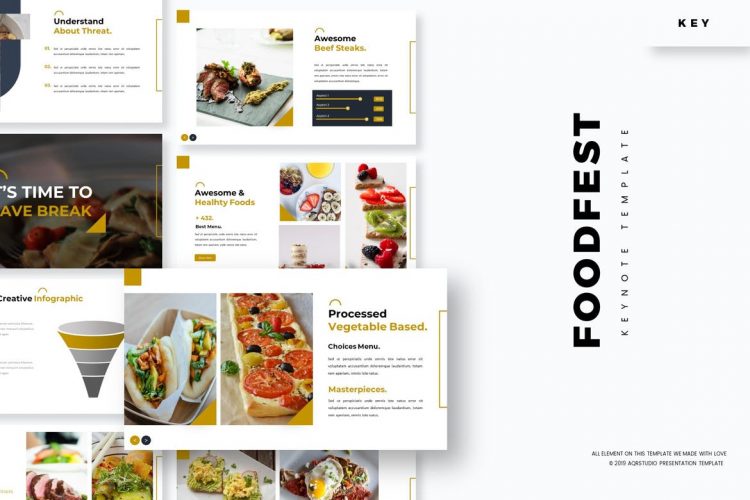 The last of our animated Keynote templates is the Foodfest theme, which has been designed specifically for food-based businesses but can be easily customized to suit other types of hospitality or retail industry purposes. It emphasizes high-quality images and cohesive color themes to give a contemporary and professional look.
These animated Keynote templates are the best options for an engaging and visually appealing presentation, and each set of slides features countless ways for you to customize and make them your own. Look no further for an easy and professional way to wow your audience at your next pitch or project presentation!