40+ Best Keynote Business Templates (For Corporate Presentations) 2023
Keynote is a widely used, and impressively extensive, presentation platform. It is the main program of choice for a wide range of industries. This means if you find yourself needing to craft a business presentation, you'll likely be using Keynote.
The easiest way to begin creating a fantastic business presentation, from simple weekly meetings, all the way up to internal pitch and strategy meetings, is to use a range of Keynote business templates. These templates take a lot of the backend work out and provide you with an expertly crafted foundation for you to begin working on.
It's for this reason that we decided to compile a list of the best Keynote business templates, sourced from both premium and free options, ensuring that there are options for everybody to get their hands on.
Read on to see our list of the best Keynote business templates out there right now!
Get everything you need to give the perfect presentation. From just $16, get unlimited access to thousands of Keynote presentation templates, graphics, fonts, and photos.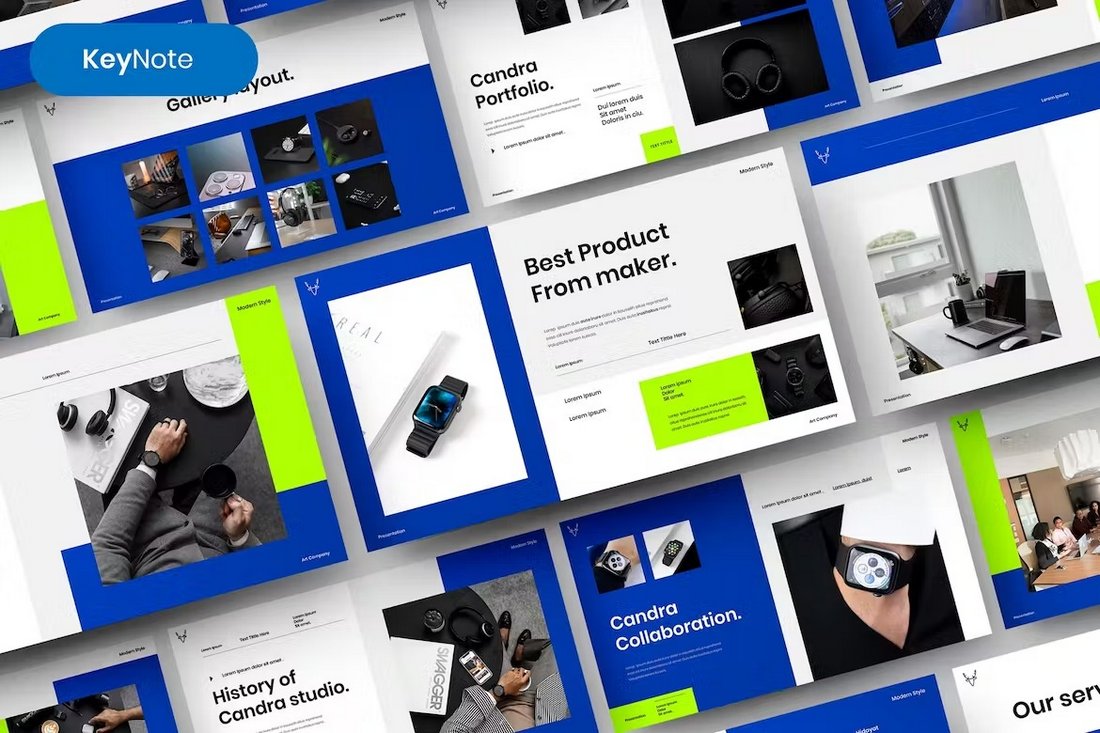 You can use this Keynote template to make more creative and bold presentations for your business projects and meetings. It includes a total of 39 different slides that you can customize to change colors, fonts, and icons.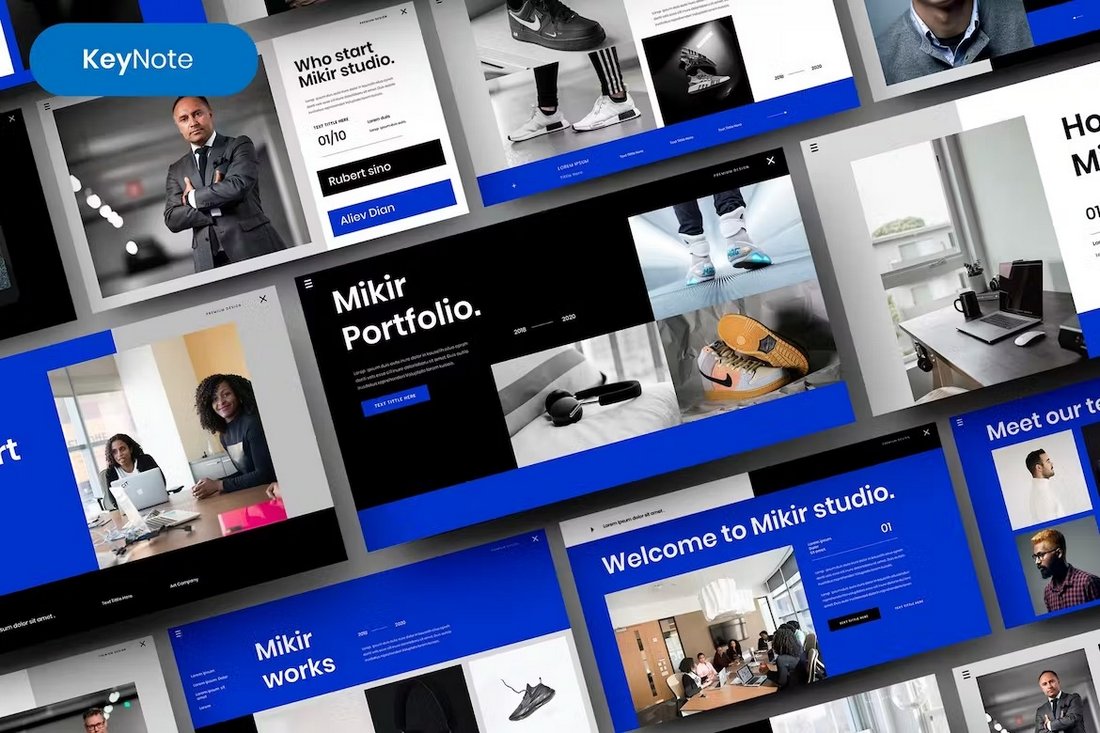 This Keynote template also features a very professional-looking design. It also features very modern-looking slide layouts with lots of space for images. The template includes editable vector graphics, icons, and master slides.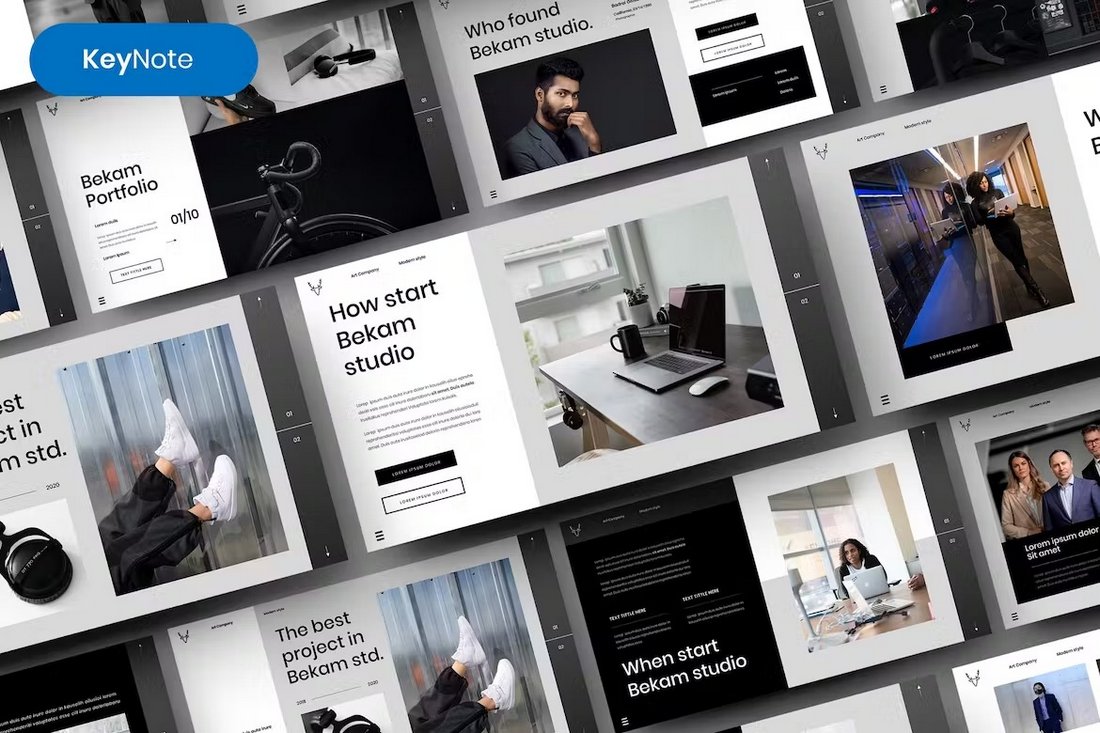 Bekam is a modern Keynote template with a bold design. It's especially suitable for agencies and freelancers for creating project proposals and portfolios. There are 39 unique slides in this template.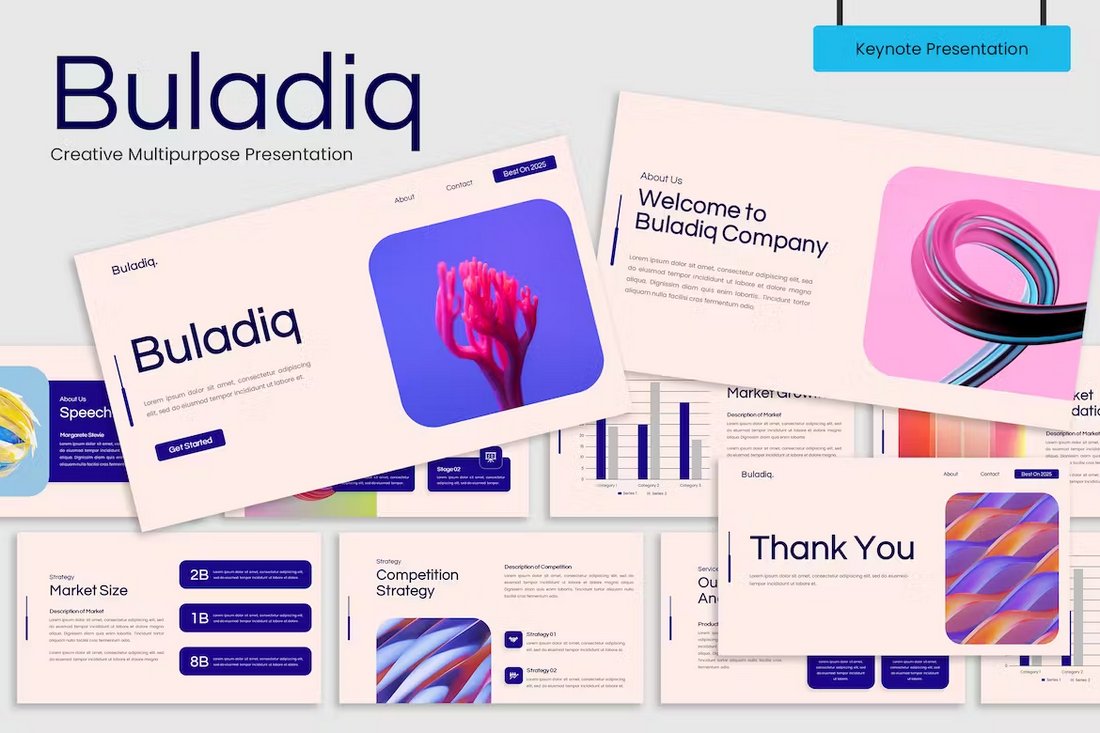 If you want to create more colorful and attractive slideshows for your business, this Keynote template is for you. It features a bright and creative slide design that will surely grab everyone's attention. You can create cool-looking marketing plans and portfolios with this template.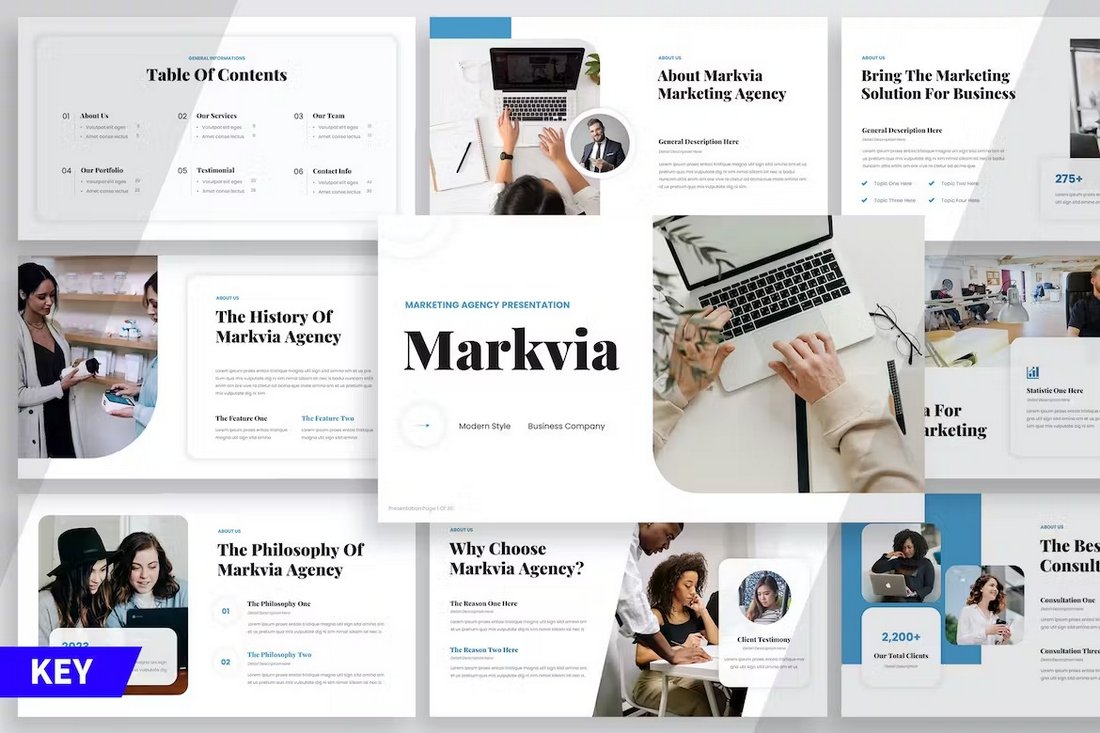 Markvia Keynote template is designed with marketing agencies and teams in mind. It features a clean and simple content layout that effectively highlights your content above all else. The template has 30 unique slides.
Modrik is another professional Keynote template you can use for your business presentations. This template includes over 30 unique slides with editable colors, free fonts, icon packs, and much more.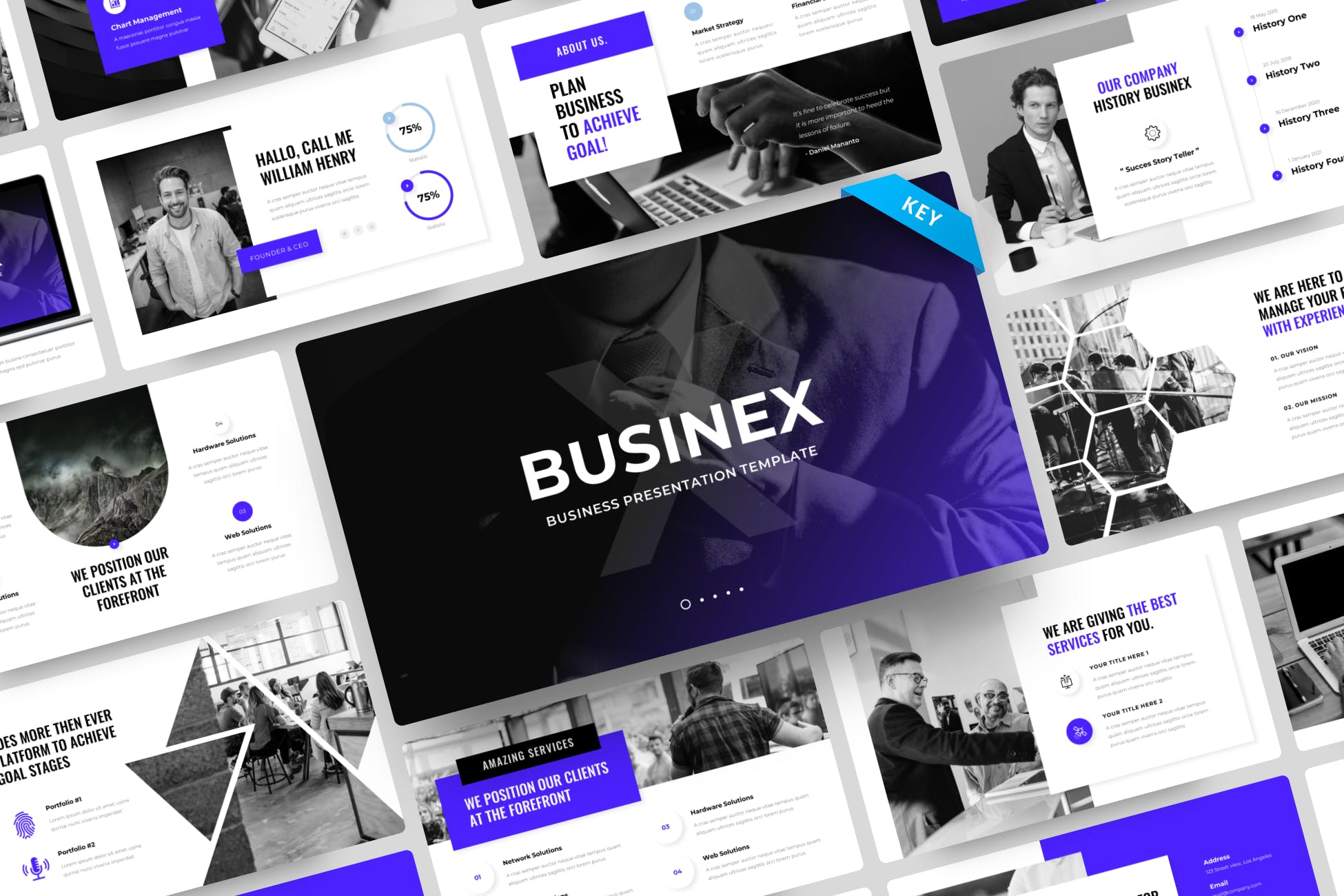 Businex is a clean, and professional Keynote template that can be used for nearly all kinds of businesses to deliver standout presentations. It consists of 20 slides that can be fully molded to suit your specific requirements, a drag and drop picture placeholder, free fonts, and more.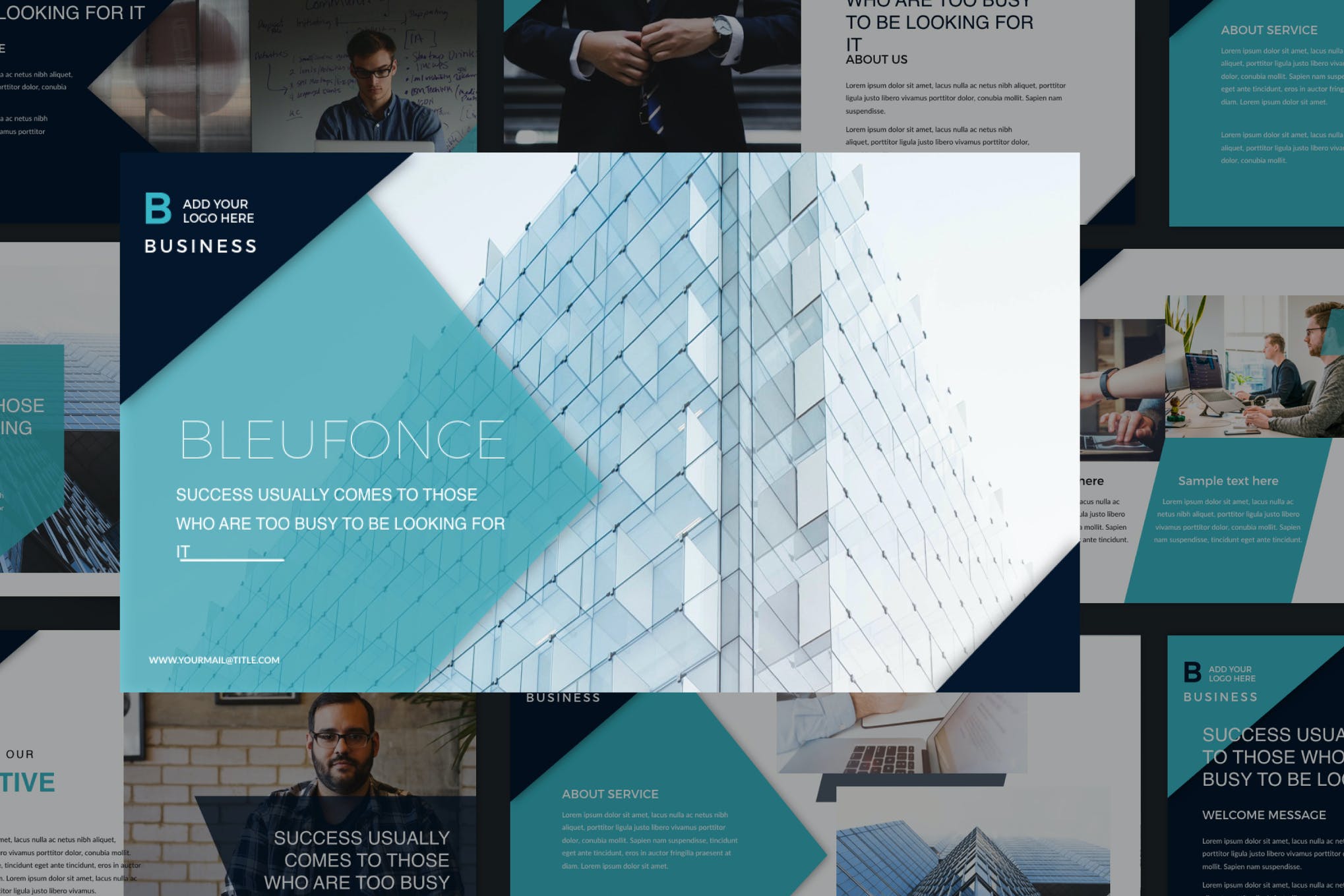 If you're looking for a minimal yet creative template that really separates your presentation from the crowd, Bleufonce is right up your alley. When it comes to the best Keynote corporate templates, Bleufonce stands at the top of the league.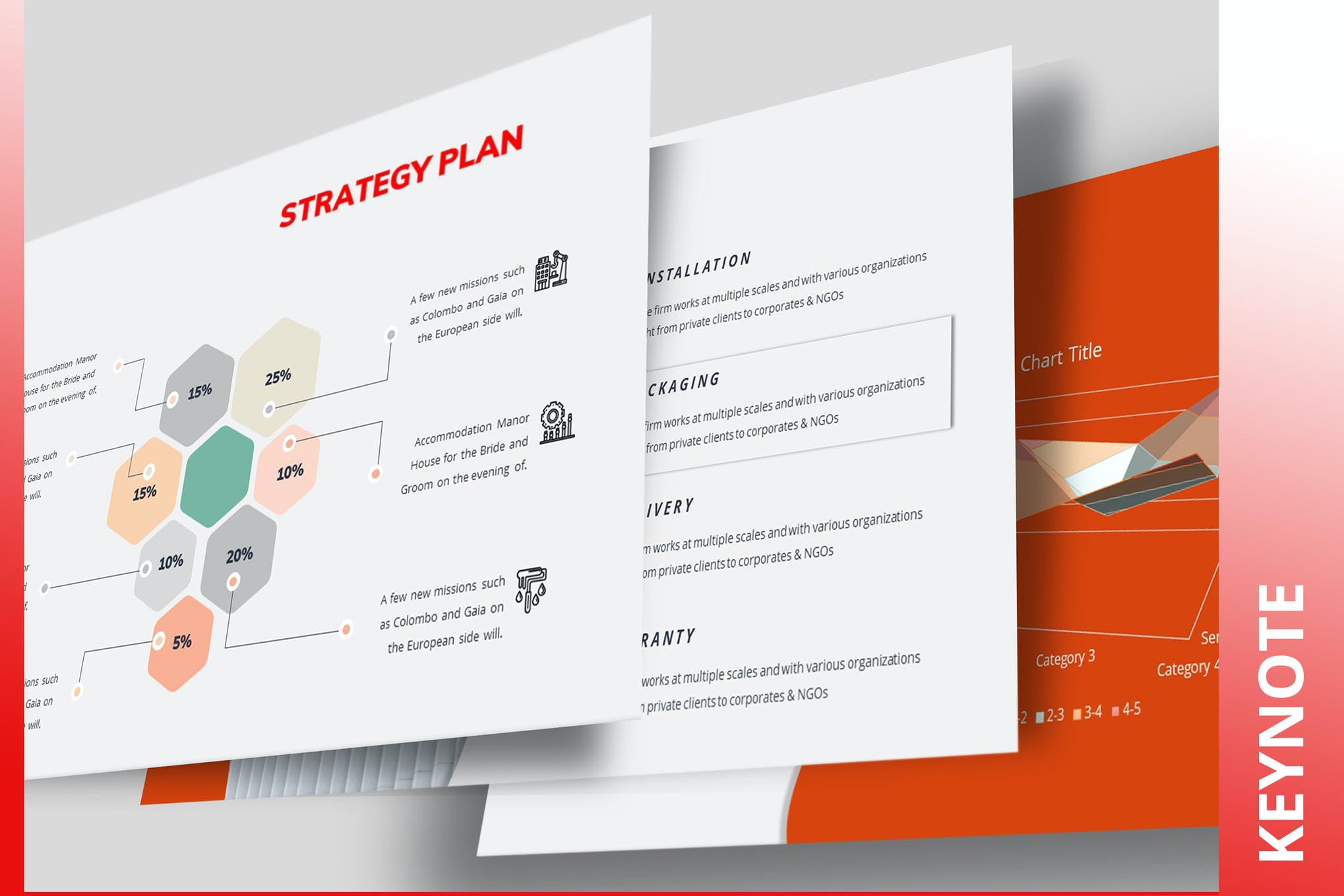 Obiza is a solid choice for anyone looking to deliver an impactful presentation, and leave a lasting impression on their clients. It has a strictly professional design that makes it suitable for virtually any business, or industry under the sun.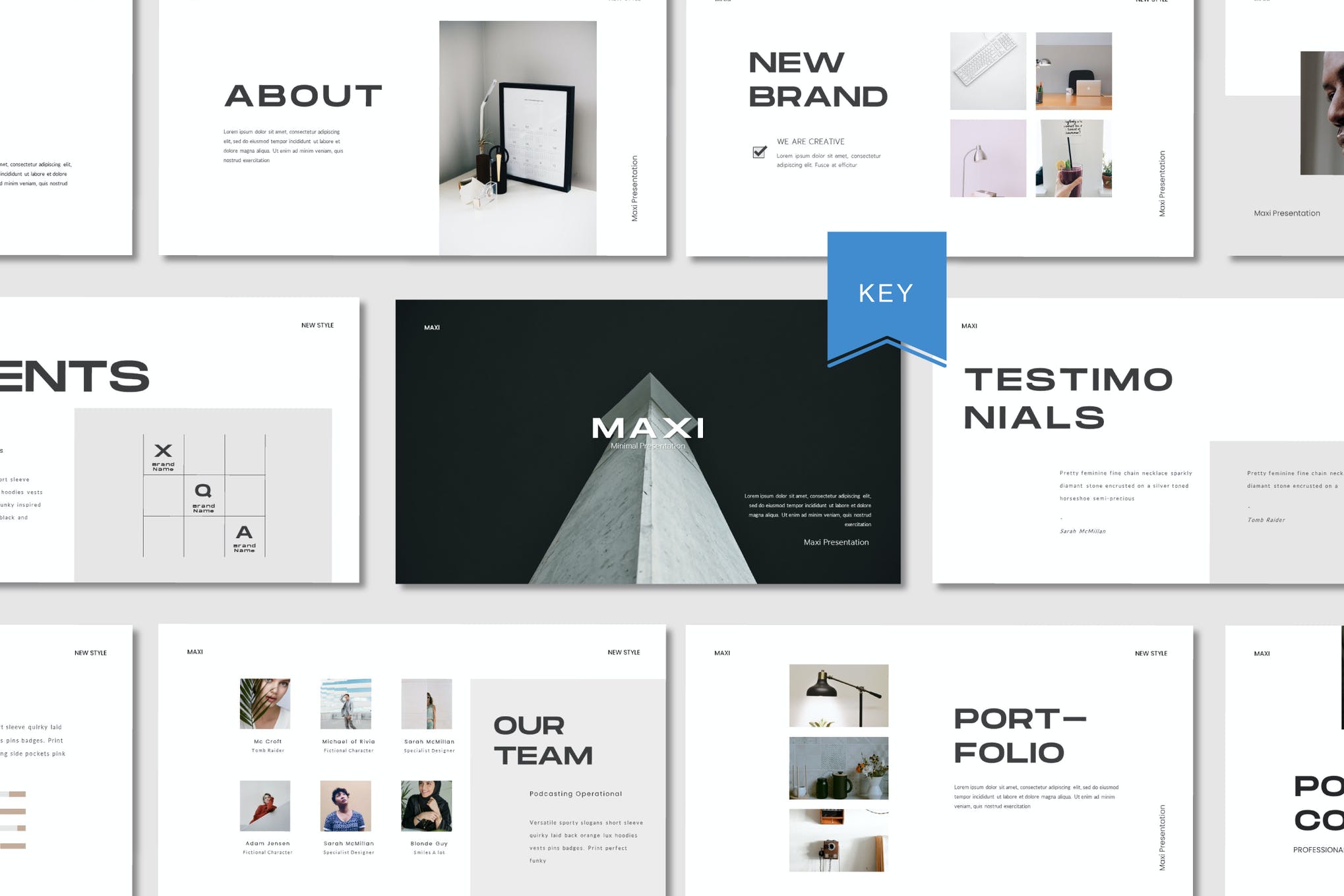 Maxi is a modern, and minimalist presentation template that can be fully customized to your specific requirements in Keynote. It's an excellent contender for your cash if you truly value standing out from the pack. Don't hesitate to take this incredibly remarkable template for a spin.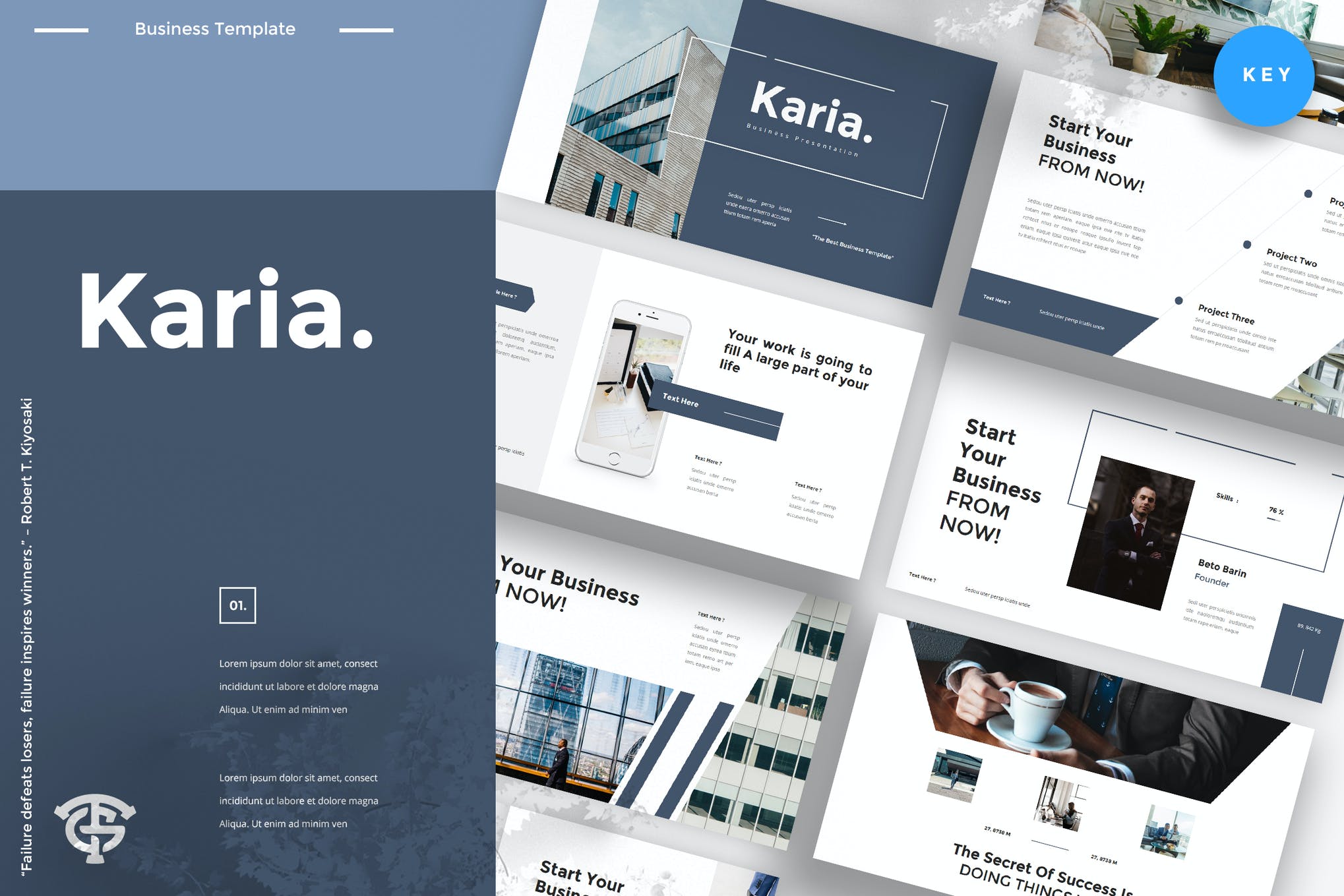 If you're looking to hunt down the best Keynote business templates available on the market today, Karia is well worth checking out. It offers 30 clean and creative slides, editable vector icons, and shapes, free fonts, and a lot more. Check it out!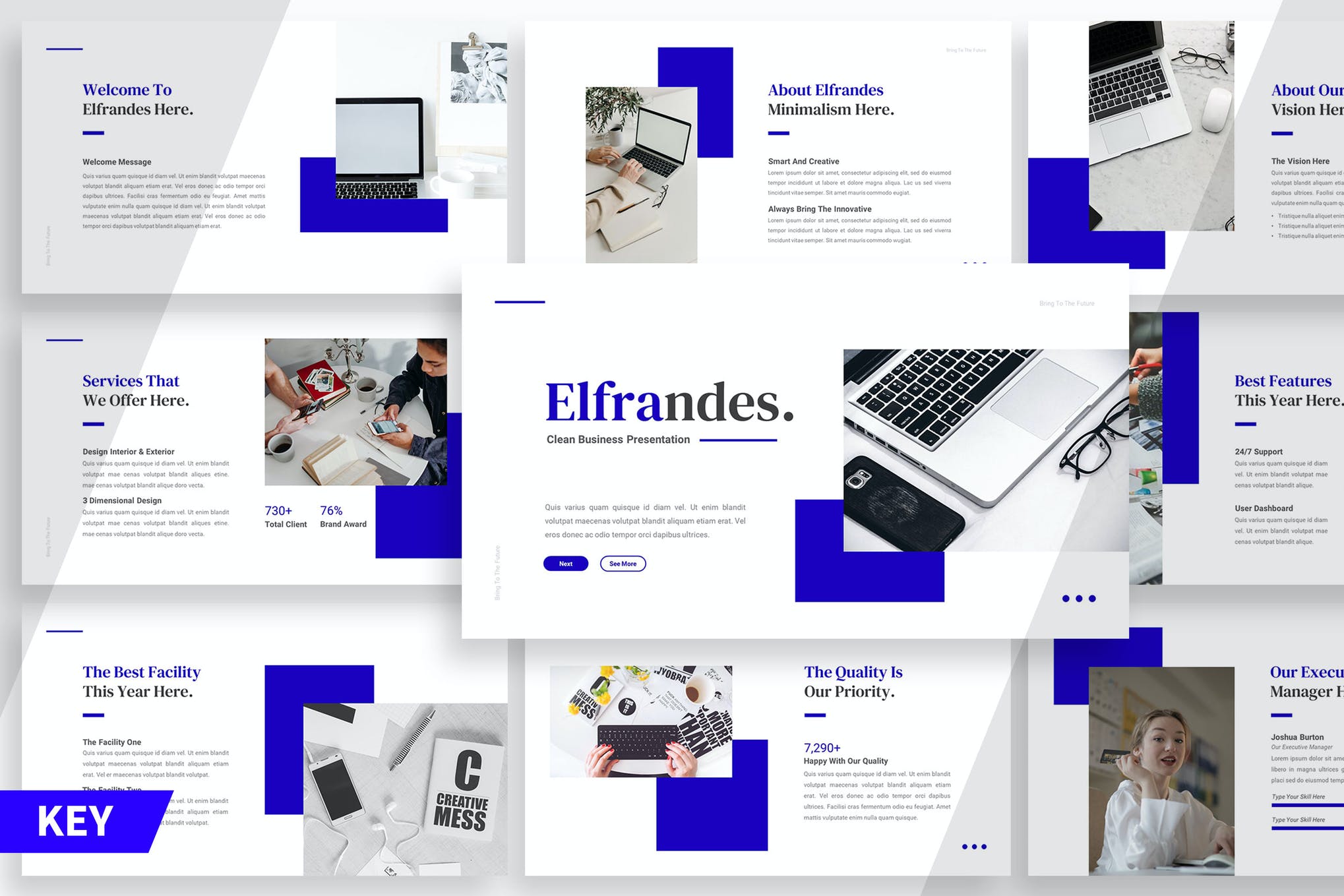 Elfrandes is a gorgeously designed template guaranteed to take your presentation to next level. It offers 36 slides, fully customizable to your heart's content. Whenever there's a list of the best Keynote business templates, Elfrandes can often be found within, regardless of the niche in question.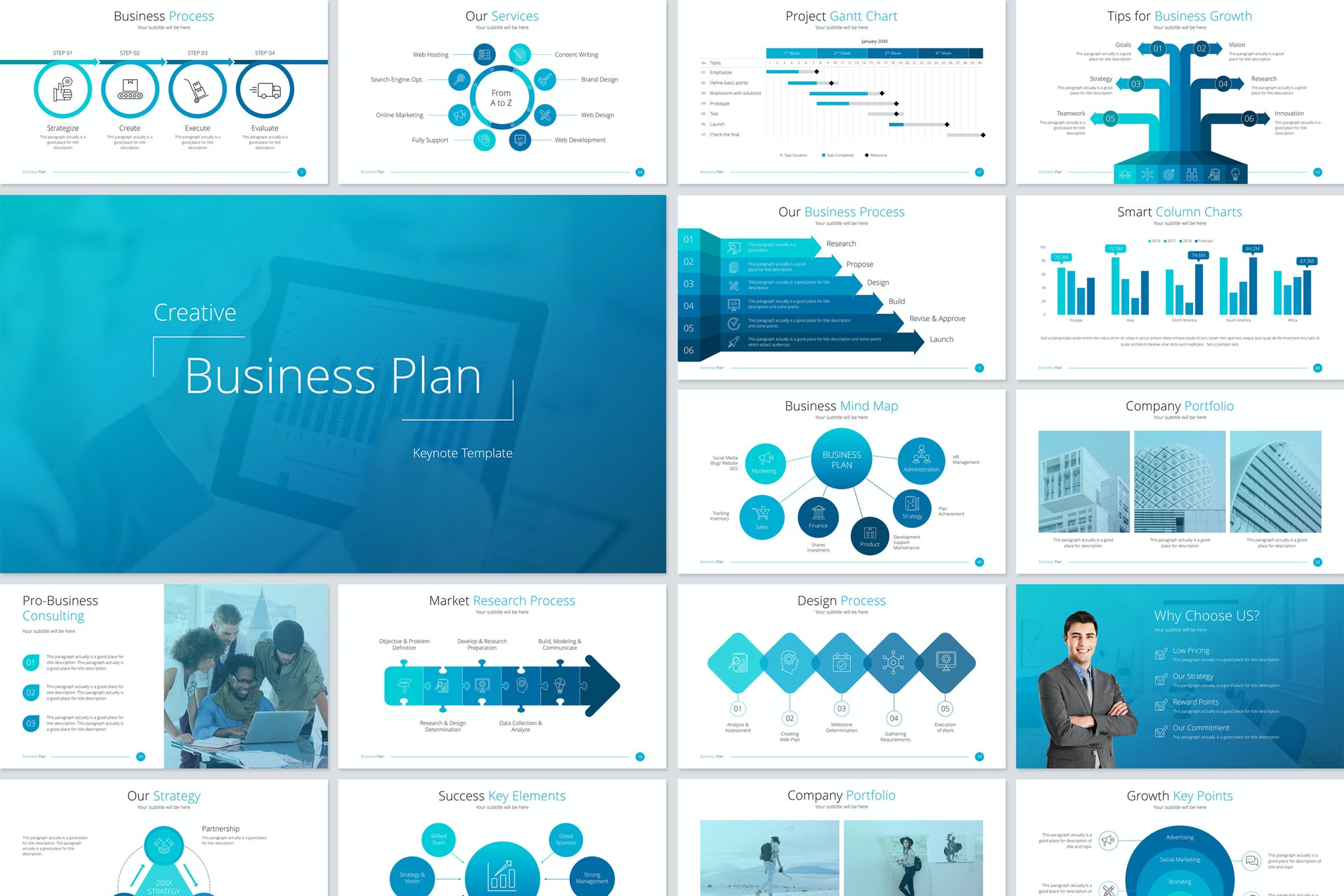 Here we have the perfect template for anyone looking for a go-to solution for creating a business plan presentation with minimal effort. It contains 70 unique slides, pixel-perfect illustrations, drag and drop picture placeholder, free fonts, and more.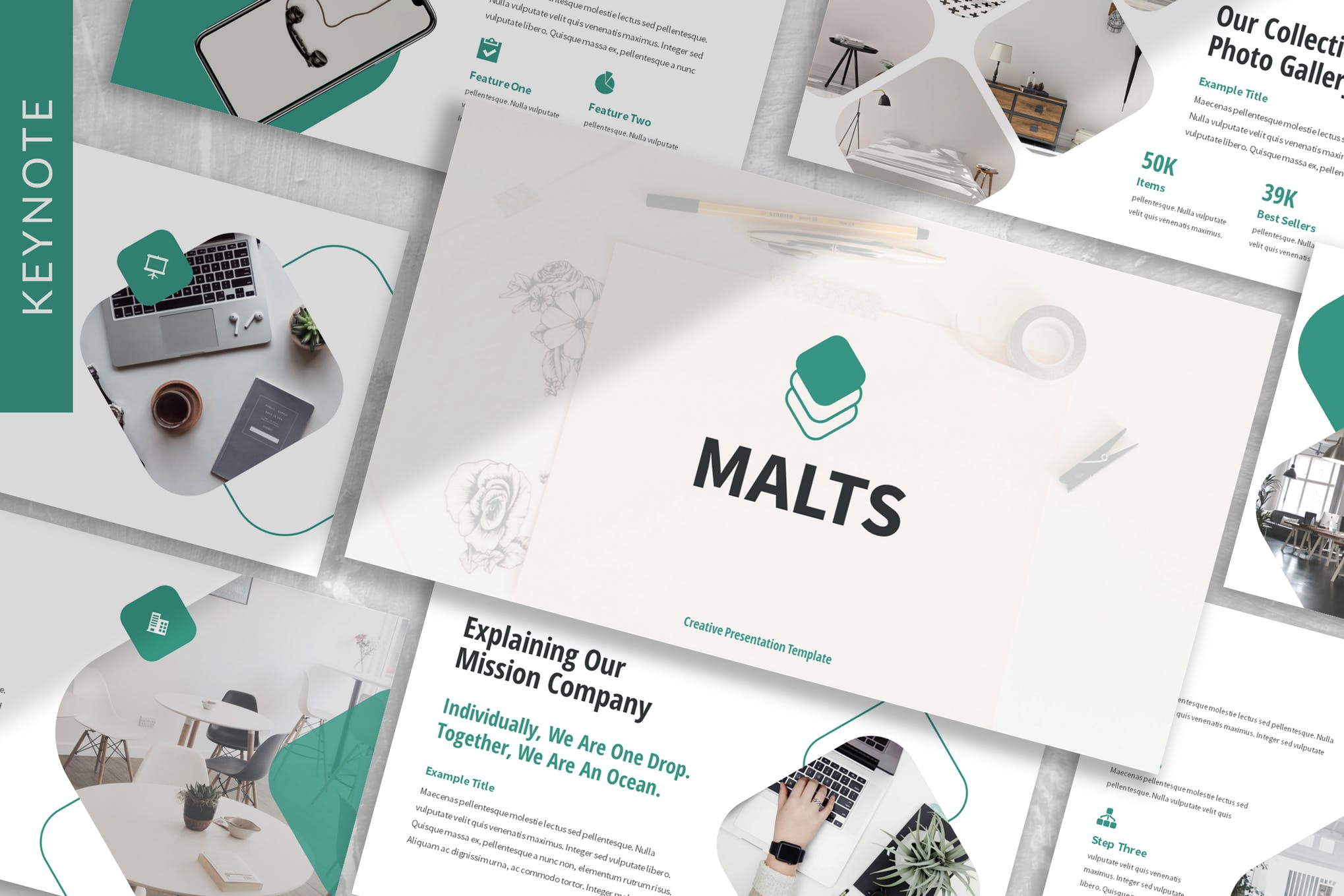 The Malts Keynote template uses a clean and modern aesthetic and strives to provide a clean slate for you to mold a wide range of business presentation styles. It's a fantastically versatile template that doesn't dress itself up too much, and provides you with a range of custom slides, light and dark themes, and much more!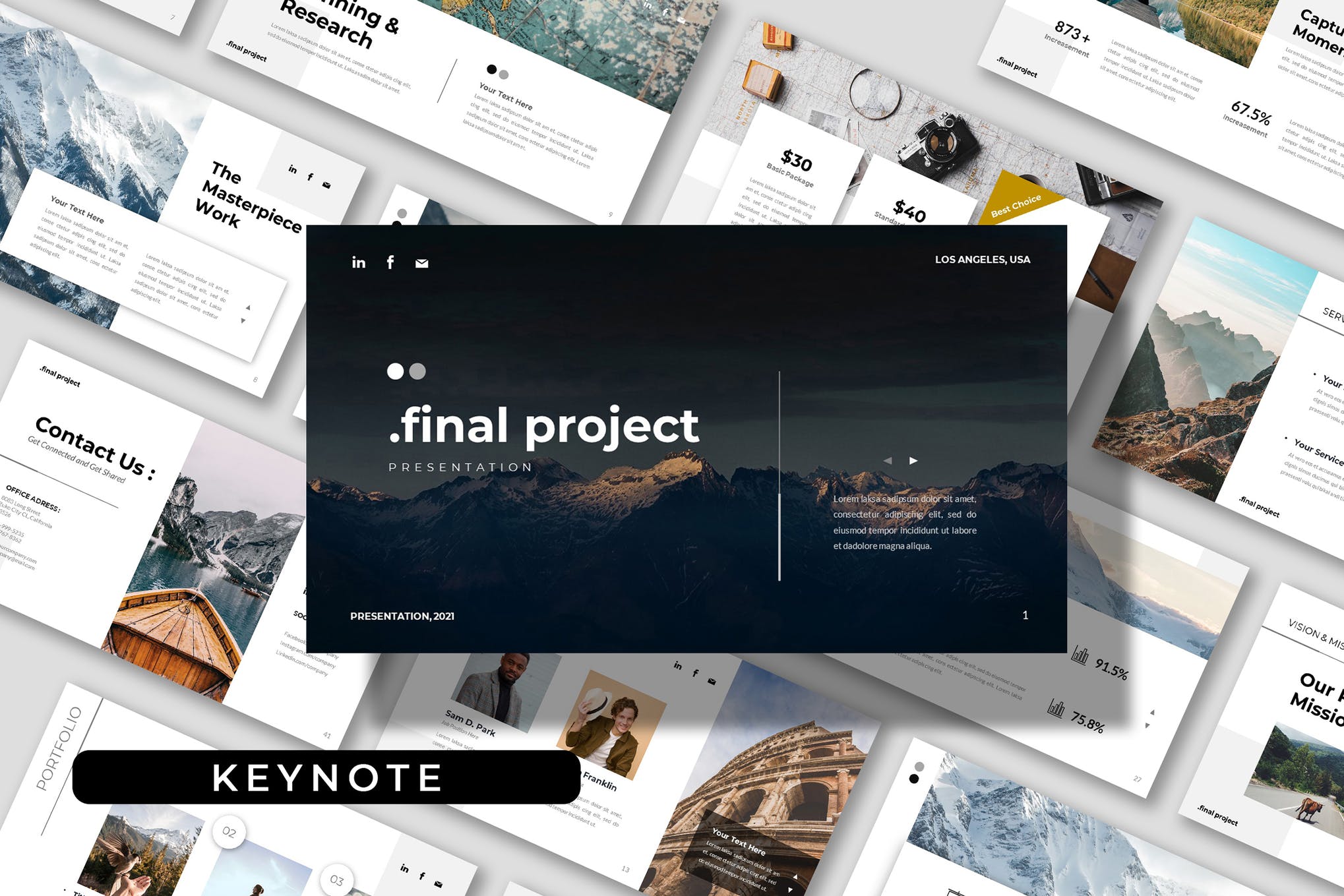 Final Project is a clean business-styled template, allowing you to draft up a comprehensive Keynote presentation with ease. The template consists of forty-two custom slides, multiple themes, a range of icons and master slides, and much more!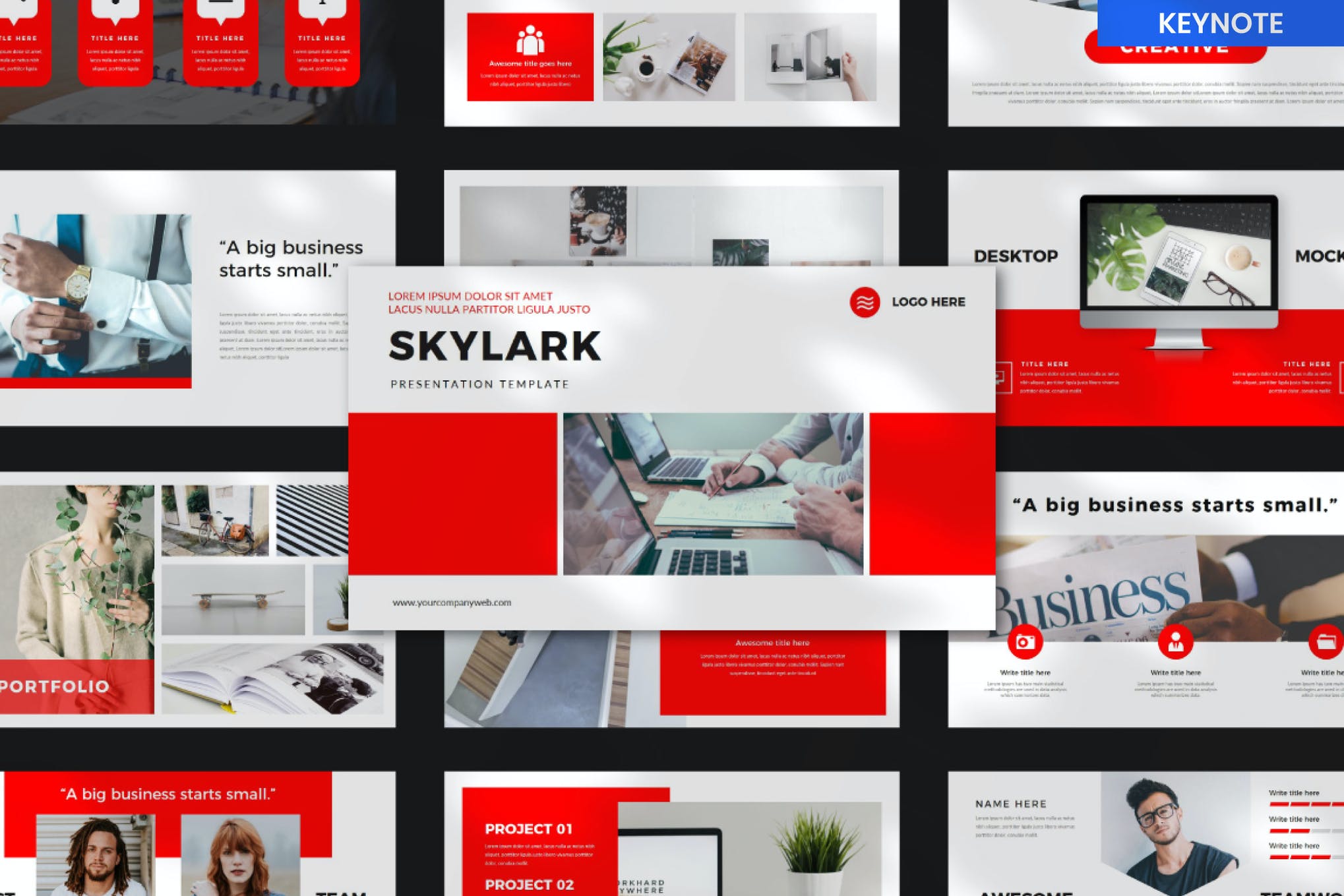 The Skylark Keynote template is a masterpiece in the world of business presentation formats. It uses a sleek and clean custom slide design and tailors itself for each slide to present information in a direct, and easy-to-digest fashion. A great template choice for a wide range of business presentation applications!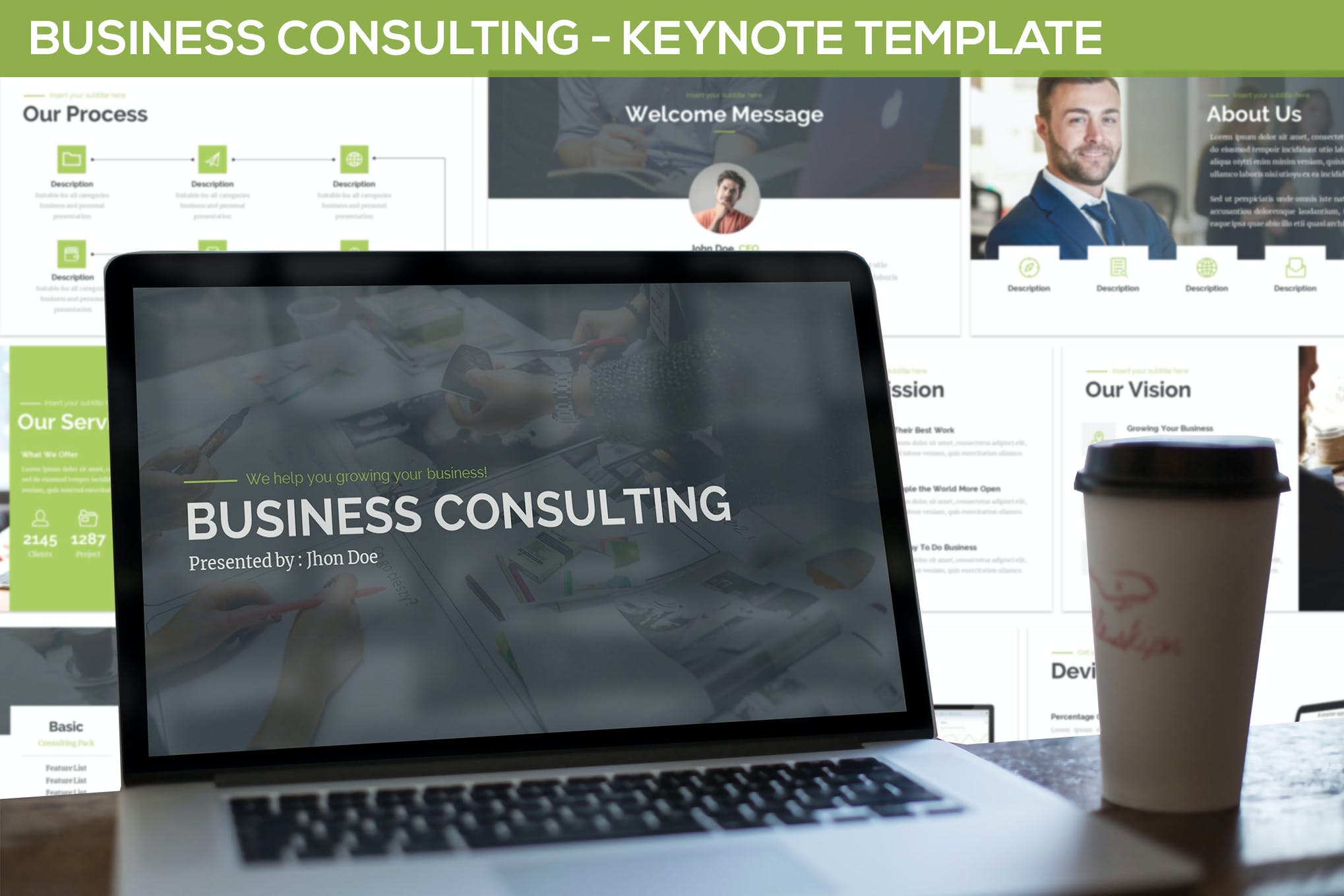 Provide your clients with the correct information using the Business Consulting Keynote Template. This template excels at consulting presentations and provides a range of custom slides that work to take out a lot of the back-end work for you.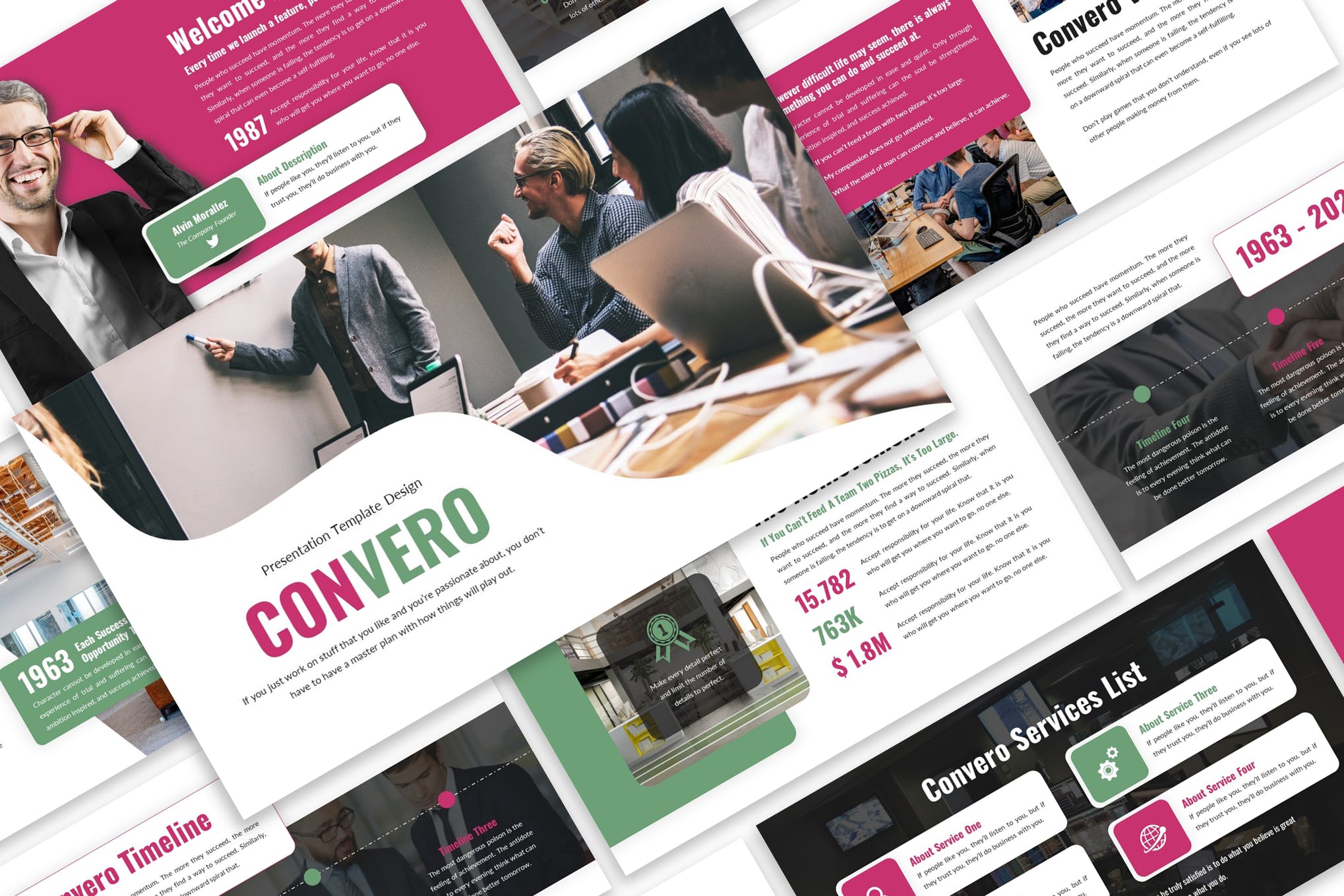 Add a dash of personality to your business presentation with the Convero Keynote template. This template uses a creative and captivating slide design and provides you with thirty custom slides for each of its five theme options.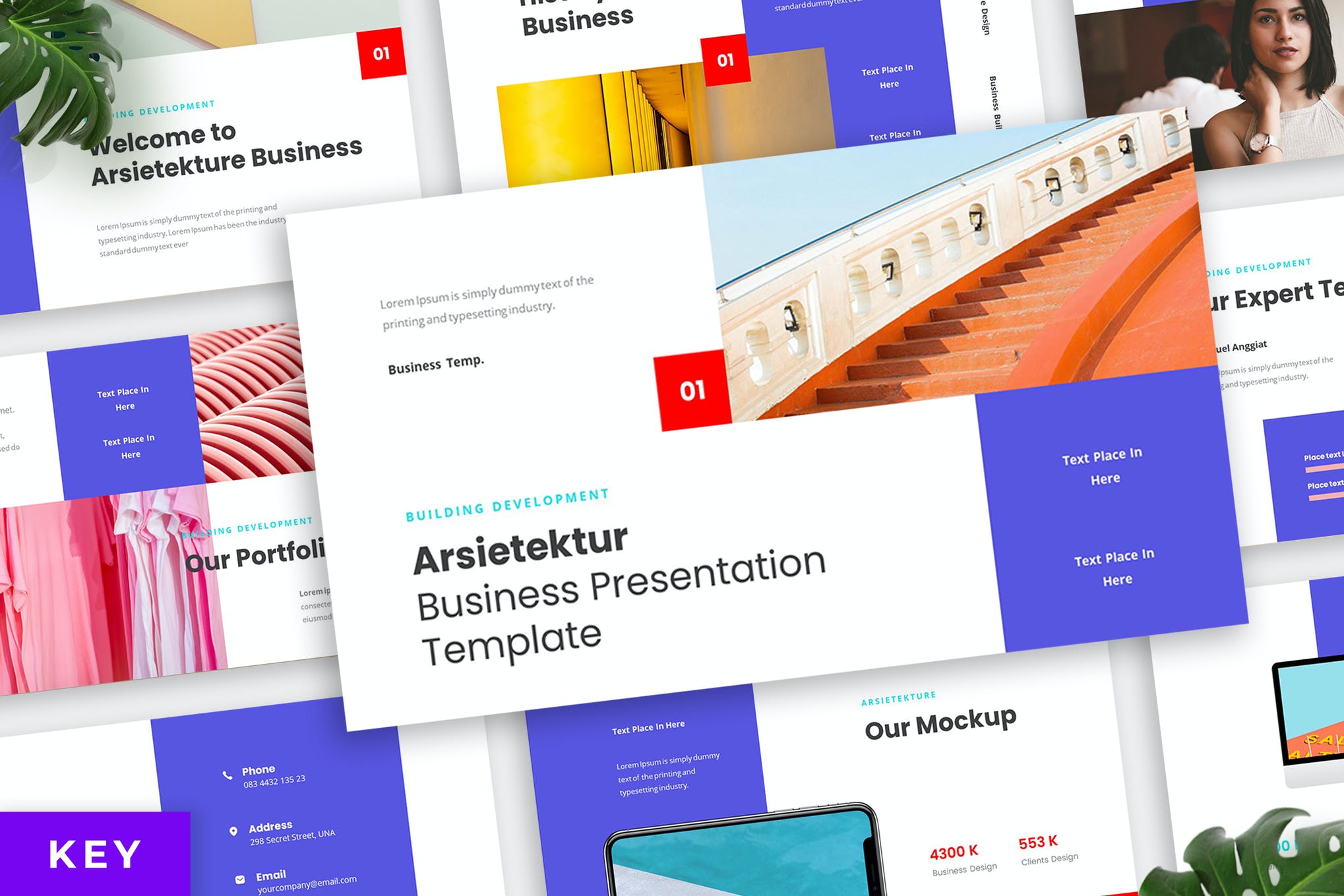 Whilst Arsietektur doesn't roll off the tongue too easily, it does provide a simple and effective business presentation foundation that is a breeze to use. If you're looking for a versatile Keynote business template, you can't go wrong with Arsietektur. The template consists of twenty-three custom slide designs for you to enjoy.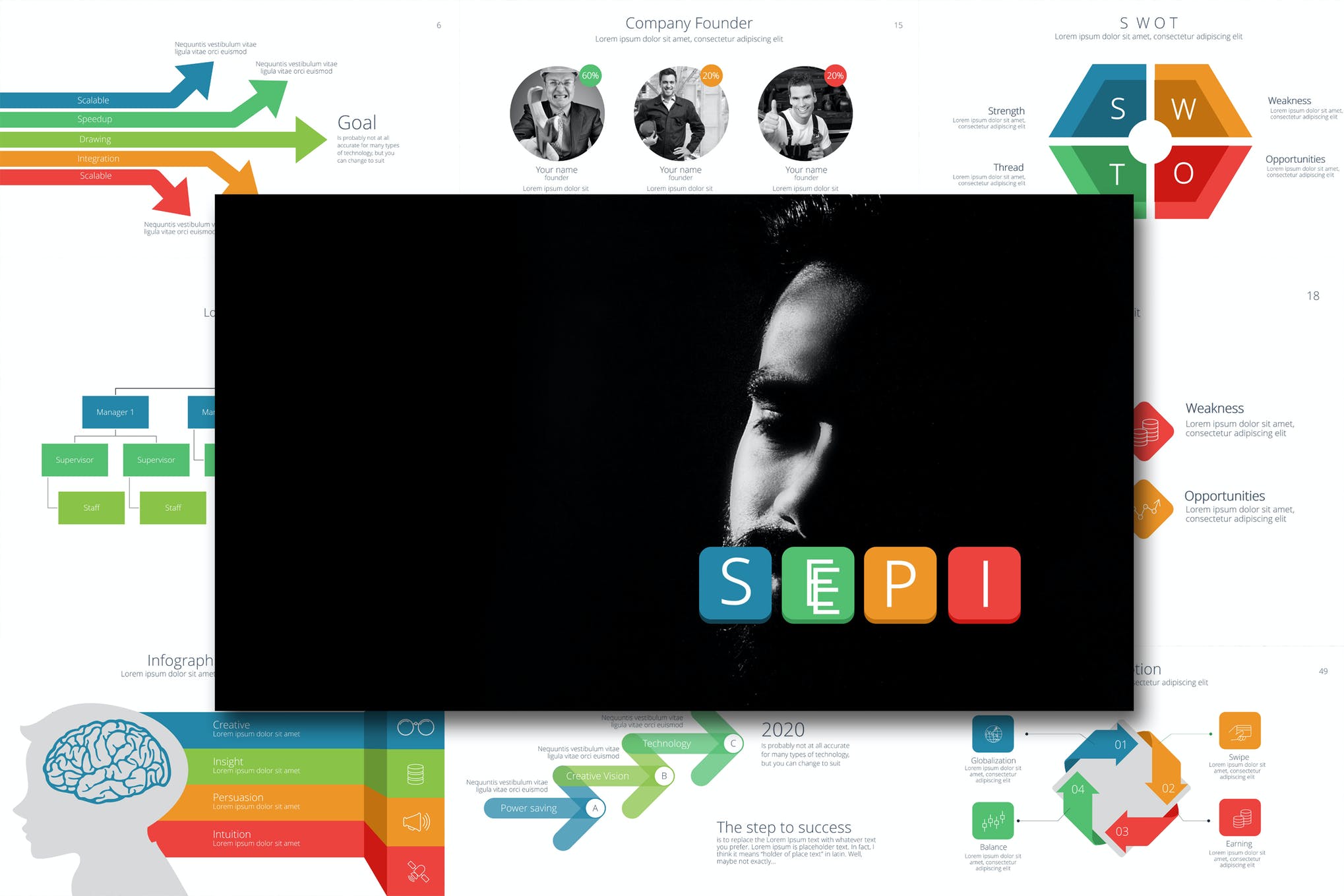 Express yourself in a concise and direct manner with the Sepi Business Keynote template. The slides inside Sepi have been molded to hit an interesting balance between infographic and strategy presentations. A highly versatile template that will fit right in with a wide range of business presentation applications!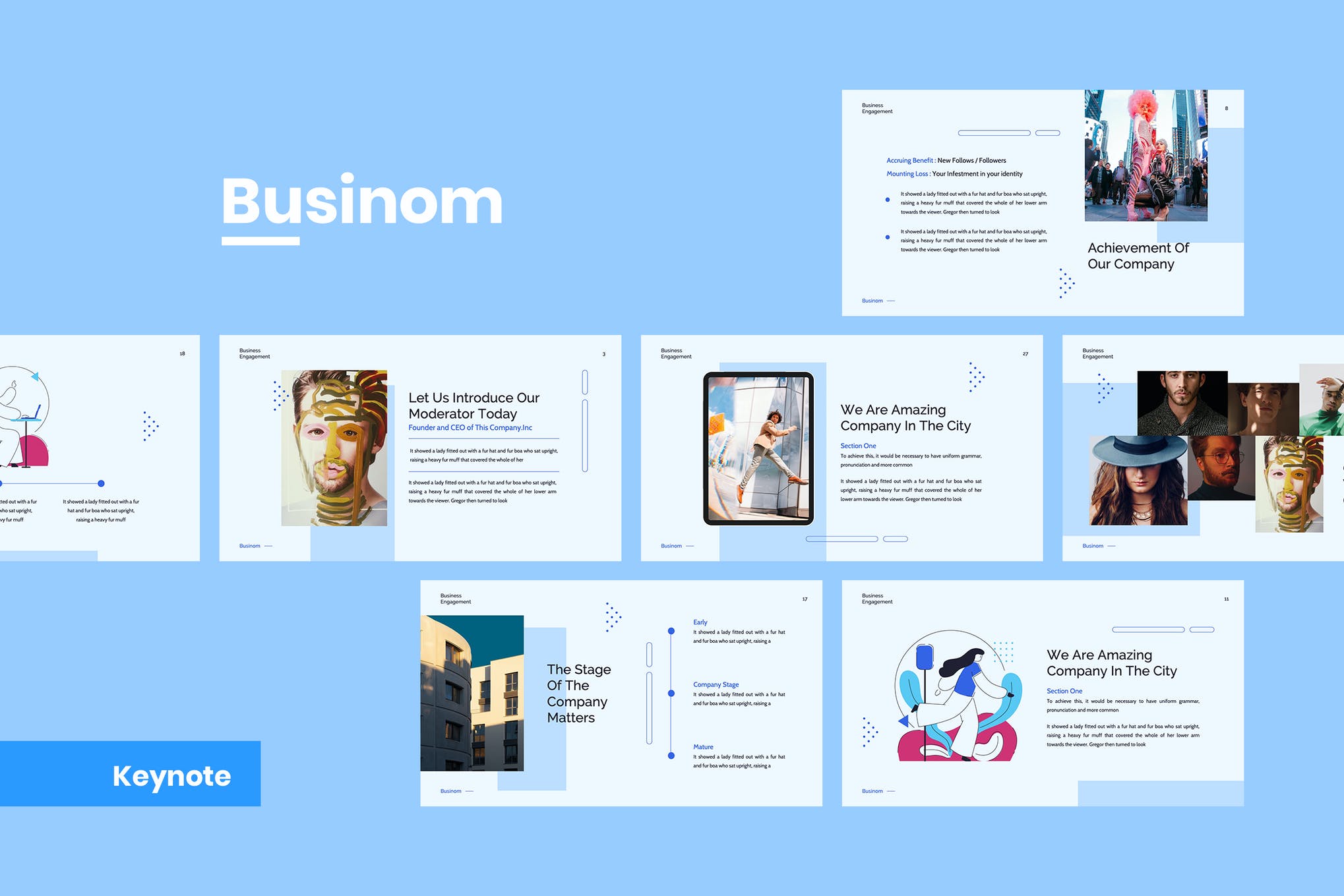 Businom is an interesting option. Designed around a balance of visual and text-based presentation applications, Businom manages to provide one of the most versatile presentation foundations on our list of the finest Keynote business templates.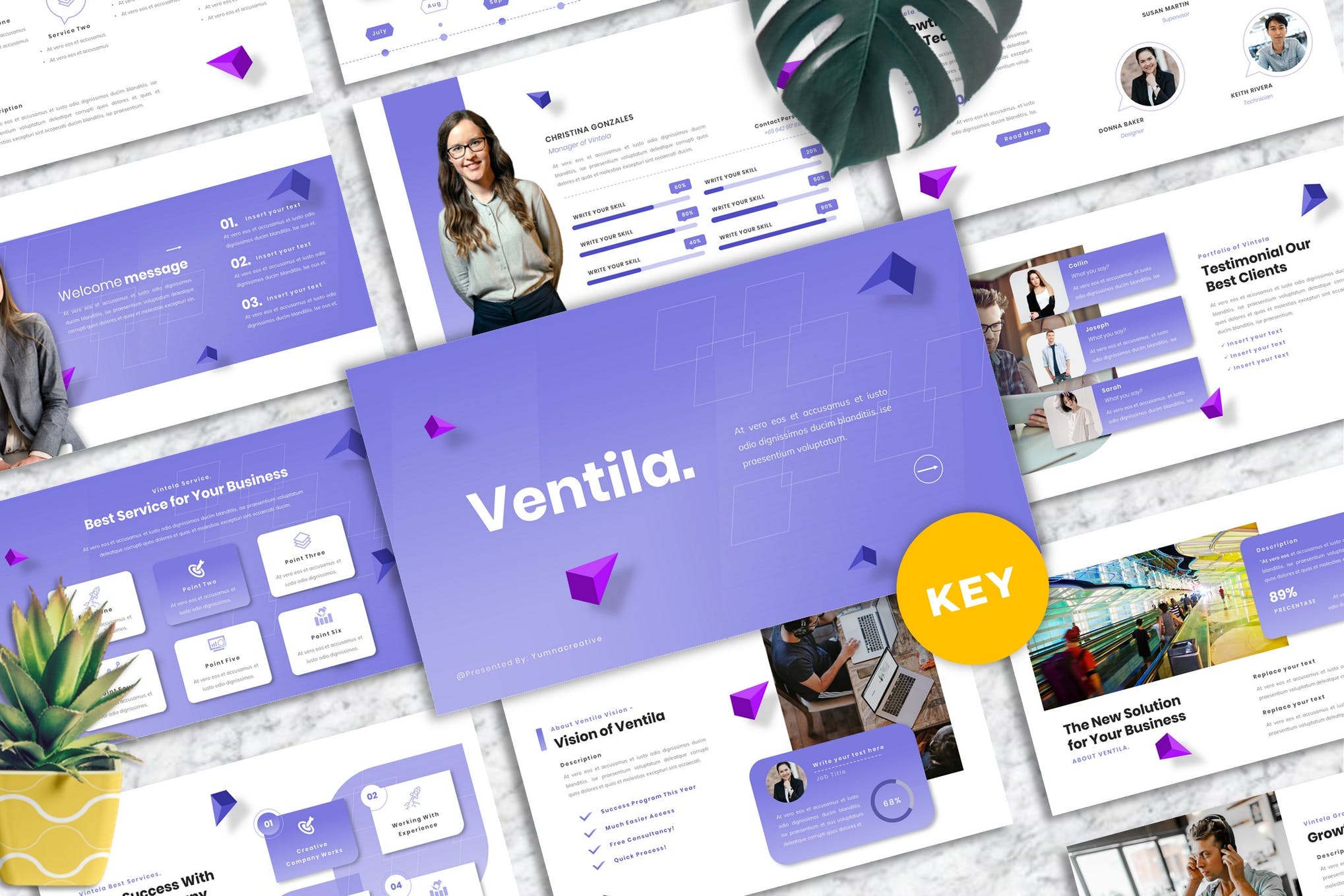 Mix in a dash of creative professional flair to your presentation with the Ventilla Business Keynote Template. This template uses a gorgeously tailored custom slide design and comes equipped with fifty master slides for you to edit to your heart's content.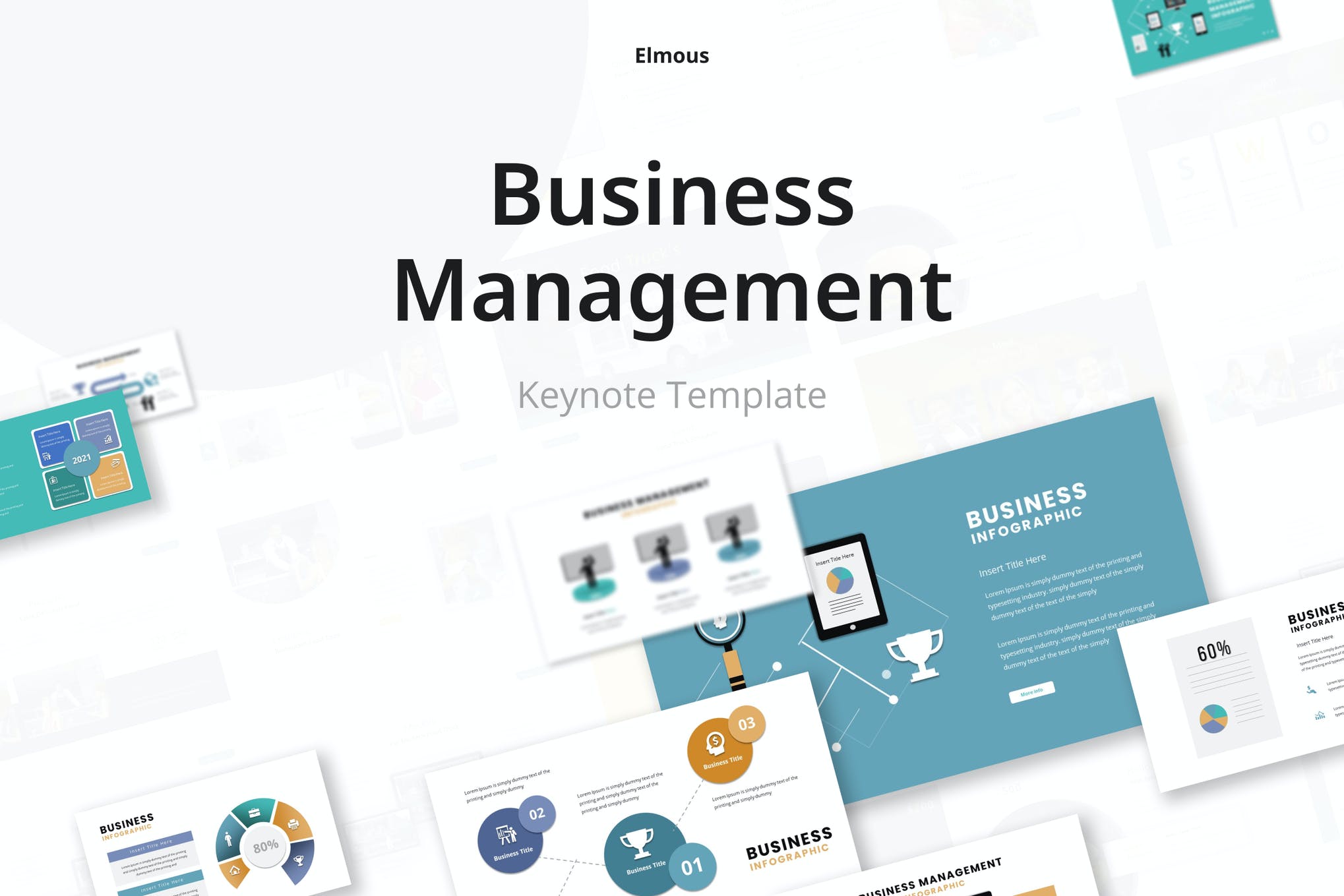 Need to convey some very specific and complex information, in an easy-to-digest fashion? Then you need the Business Management Keynote template. Inside you'll find a range of professionally designed infographics, each designed to help you convey complex data sets with ease. The template consists of thirty different slides for you to customize to your liking.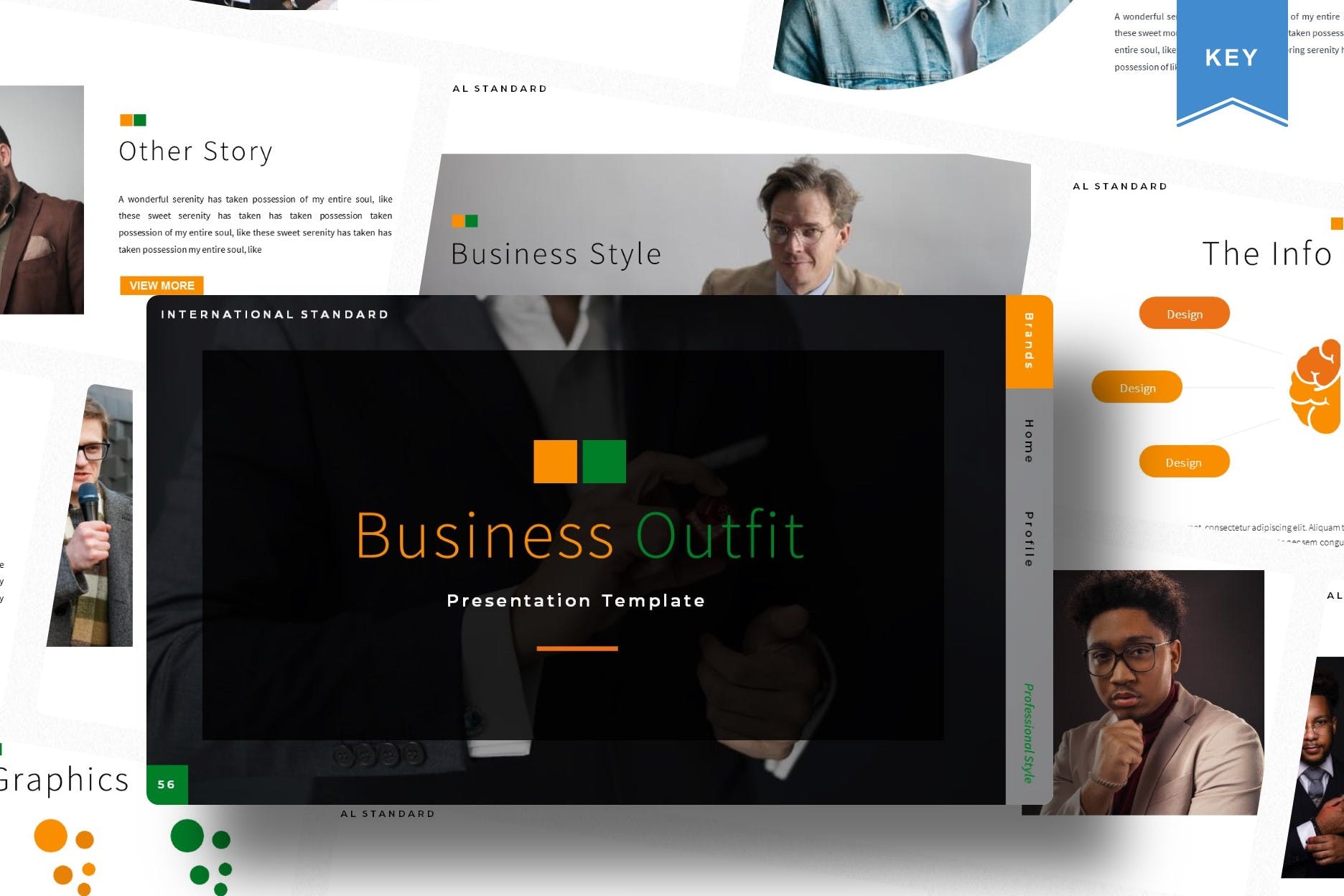 The Business Outfit Keynote template is designed for business pitch presentations and is tailored with a clean and ultra-modern aesthetic. It is an impressively extensive template, equipped with over one hundred and fifty slides, spread across five different theme options.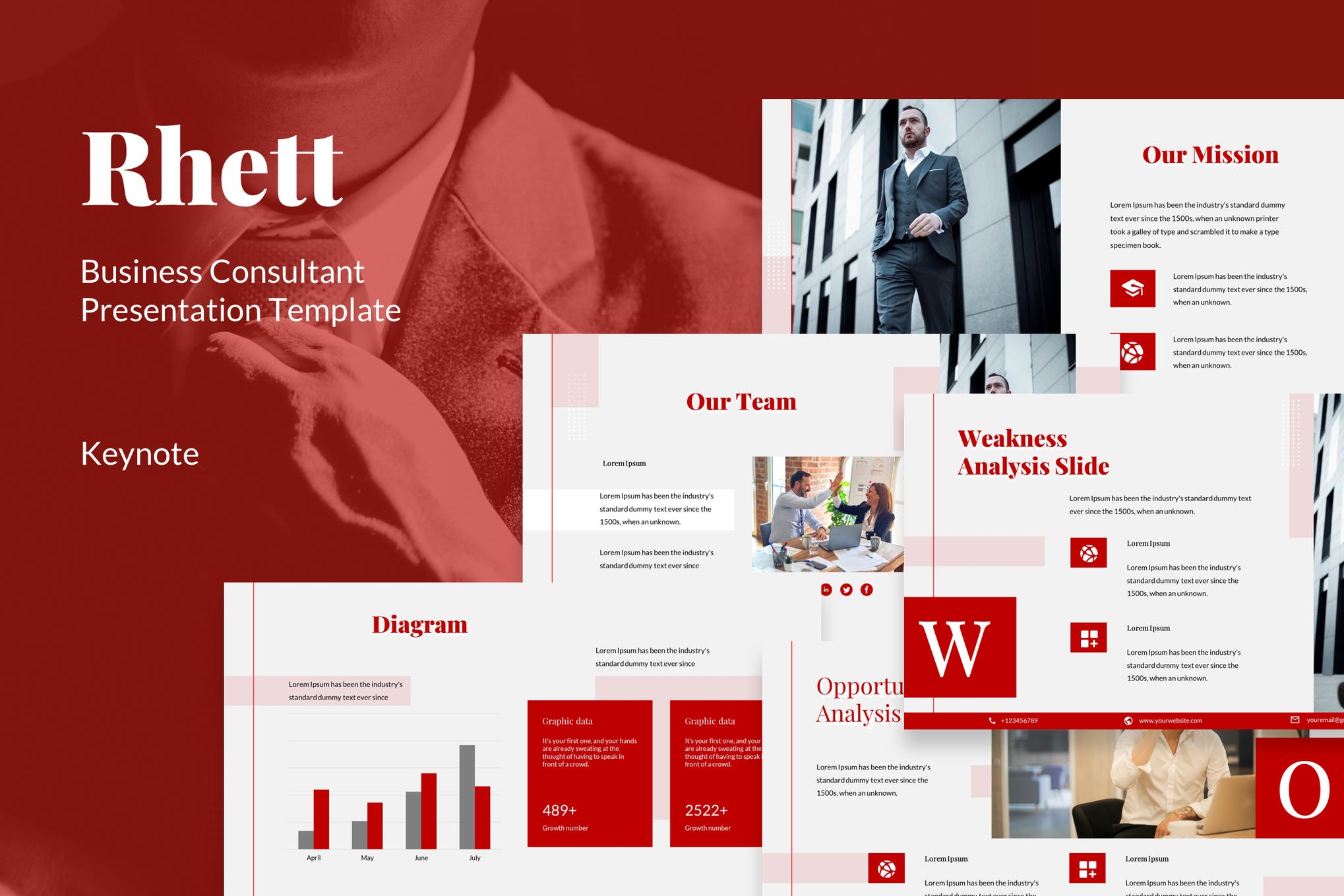 Guide your clients to success with the Business Consultant Keynote template that uses a modern and simple aesthetic, mixed with a range of professionally tailored custom slides that are designed to help you express a range of consultant knowledge with ease.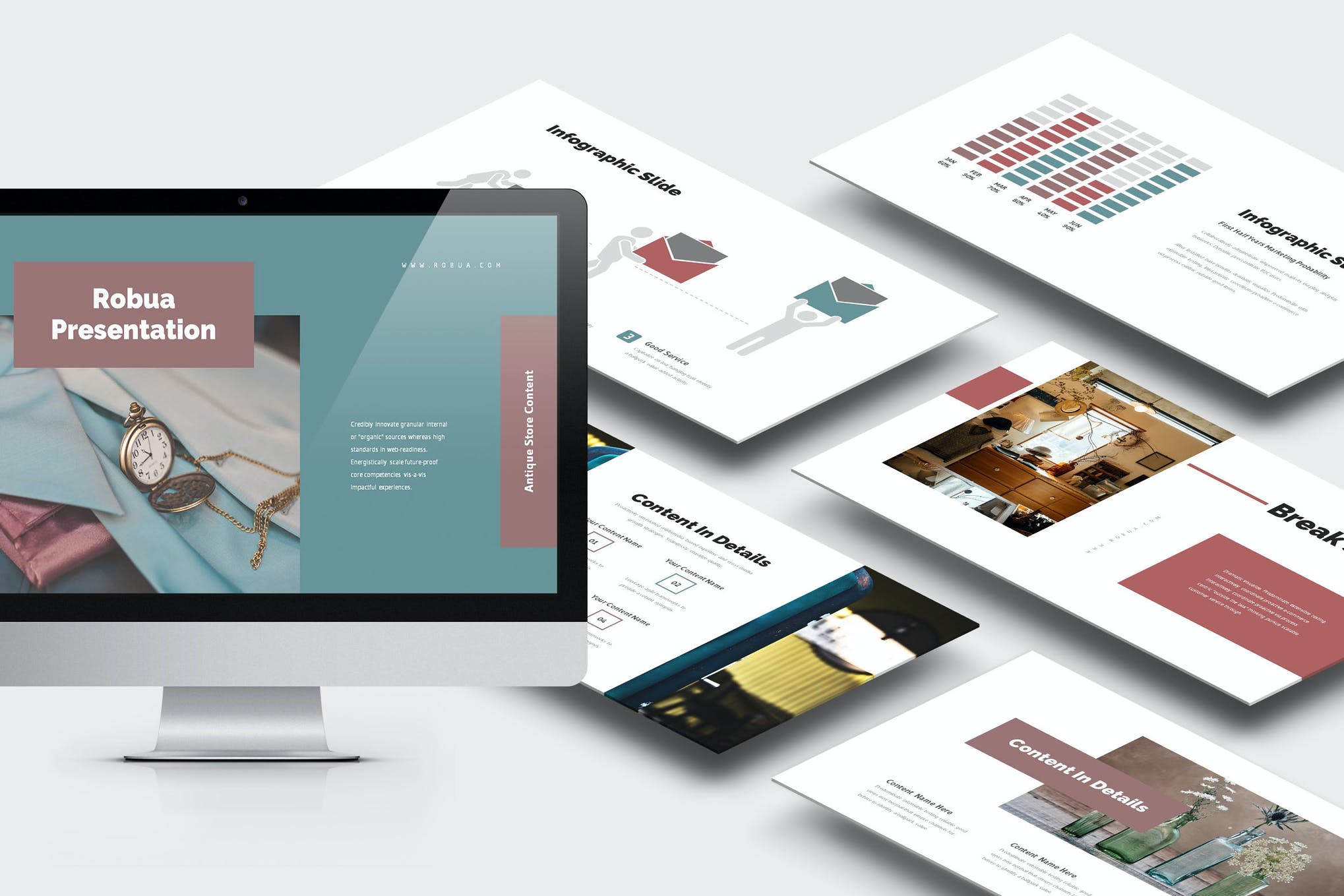 Add a subtle vintage touch to your business presentations with the Robua Keynote template that uses a range of soft and vintage color choices, mixed with professionally styled custom slides, to create an impressive aesthetic behind its design. The template consists of sixty custom slides, spread across its two theme options.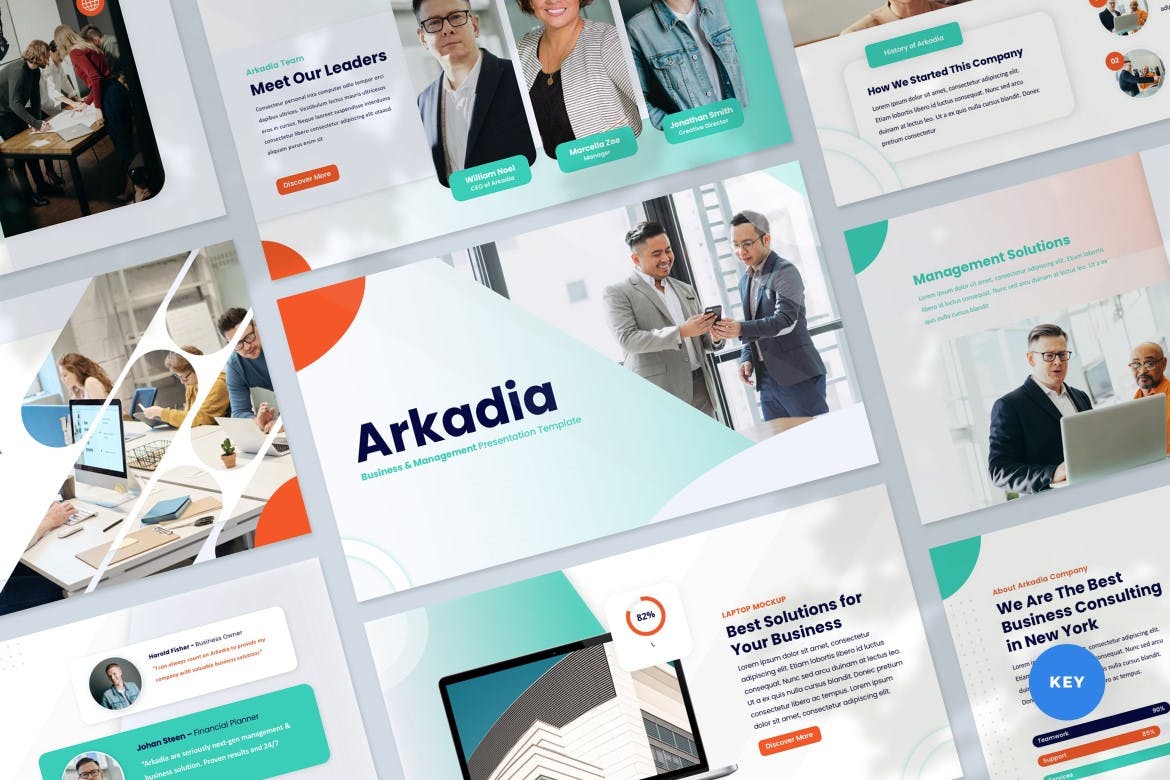 The Arkadia Keynote template is designed as a versatile foundation for a wide range of professional presentation needs. It comes with a clean and modern aesthetic and provides you with thirty Keynote custom slides that strive to cover all of your basic presentation requirements.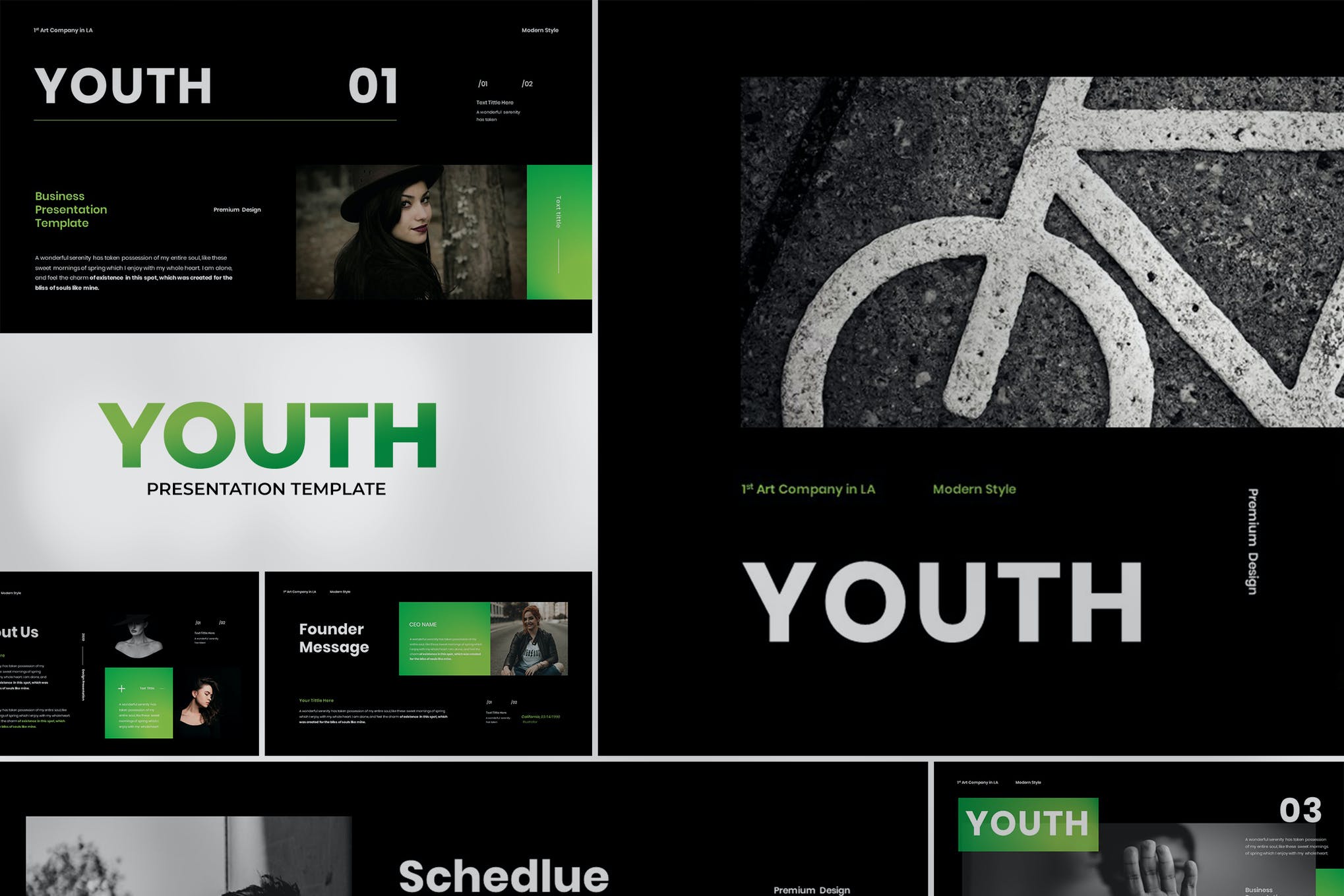 Youth is an interesting addition to our list of the best Keynote business templates. It uses a unique custom slide aesthetic and hits an interesting balance between professionalism and creative execution. Whilst not the best template choice for some presentation contexts, it will excel for those looking for a more innovative approach.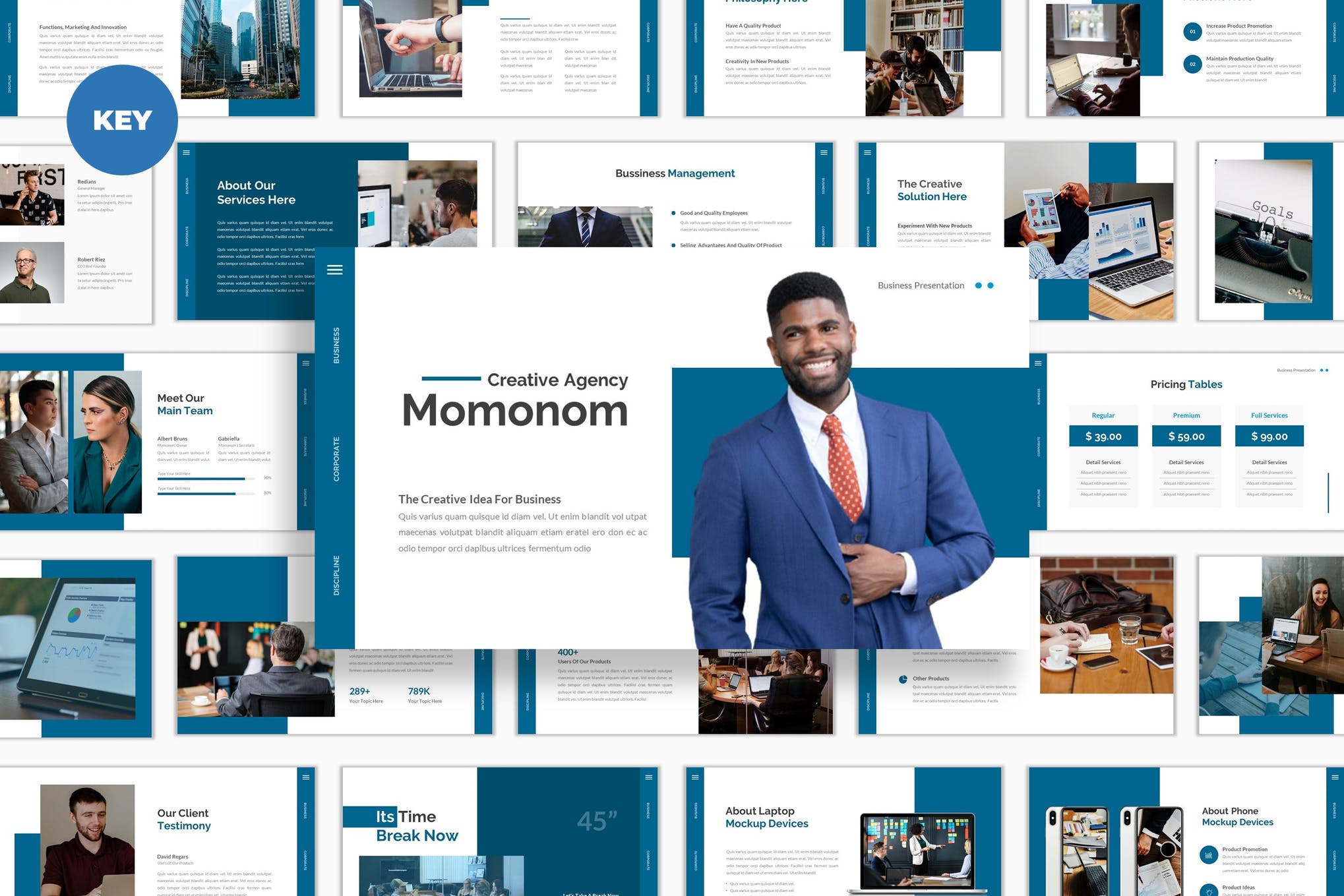 Mononom is a strait-laced business-styled Keynote template providing you with a simple blue-on-white custom slide aesthetic. Mononom is a perfect choice for those looking for a comprehensive presentation solution, without too much hyper-stylized design flare.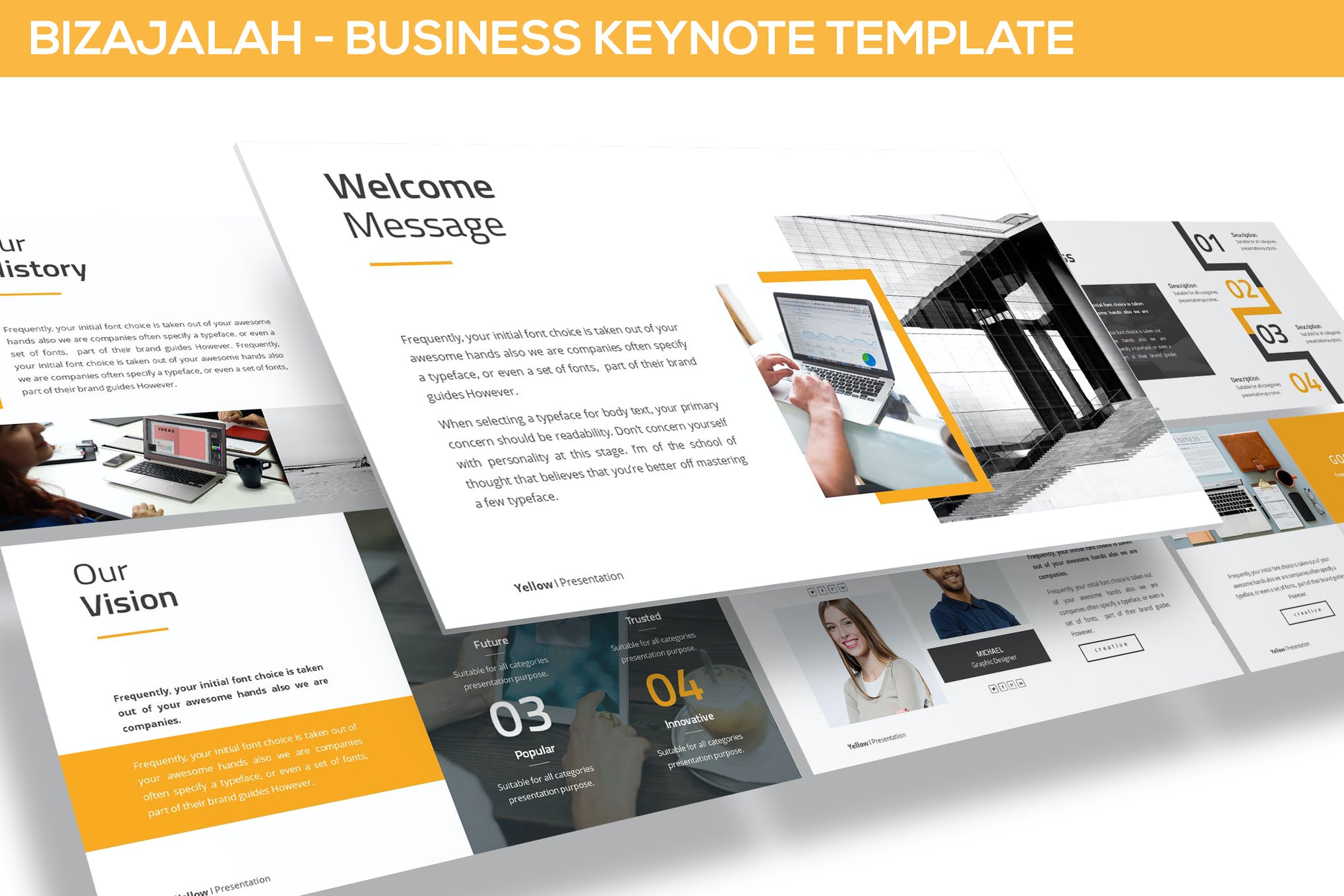 Bizajalah is a multipurpose business Keynote template, using a clean and professional design that manages to pull off a few stylish aesthetics along the way. The template provides thirty slide options and a range of themes for you to use.
Free Keynote Business Templates
You don't have to invest any money to get your hands on some great Keynote business templates. Let's take a look at some free options that are a cut above the rest.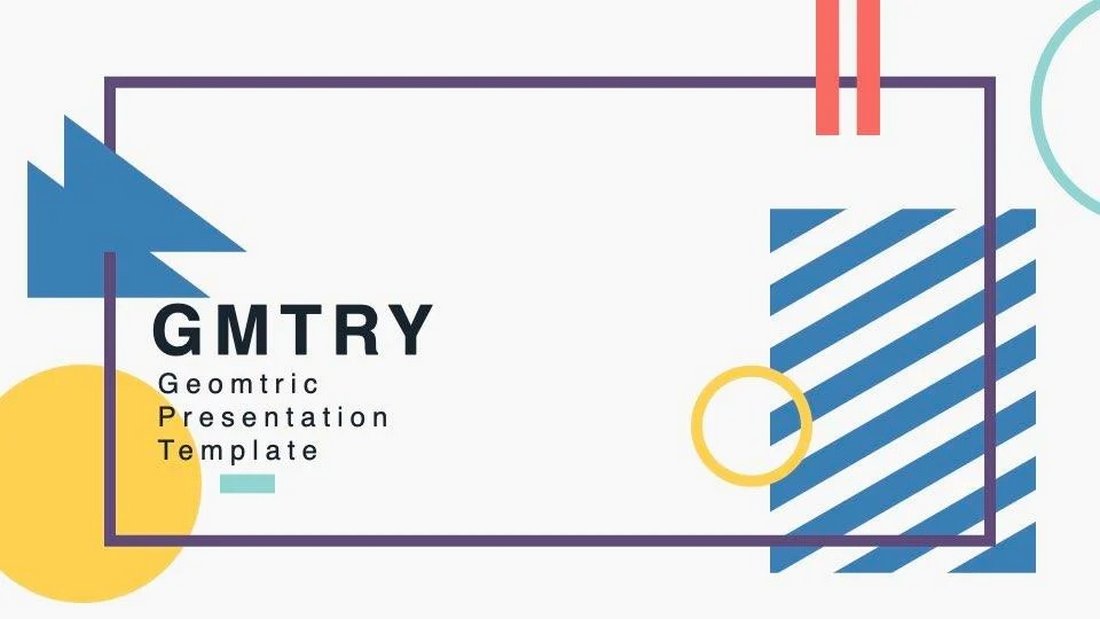 This free Keynote template includes 10 colorful slides you can use for creative business presentations. Each slide of this template has stylish geometric shapes as well as device mockups and a world map.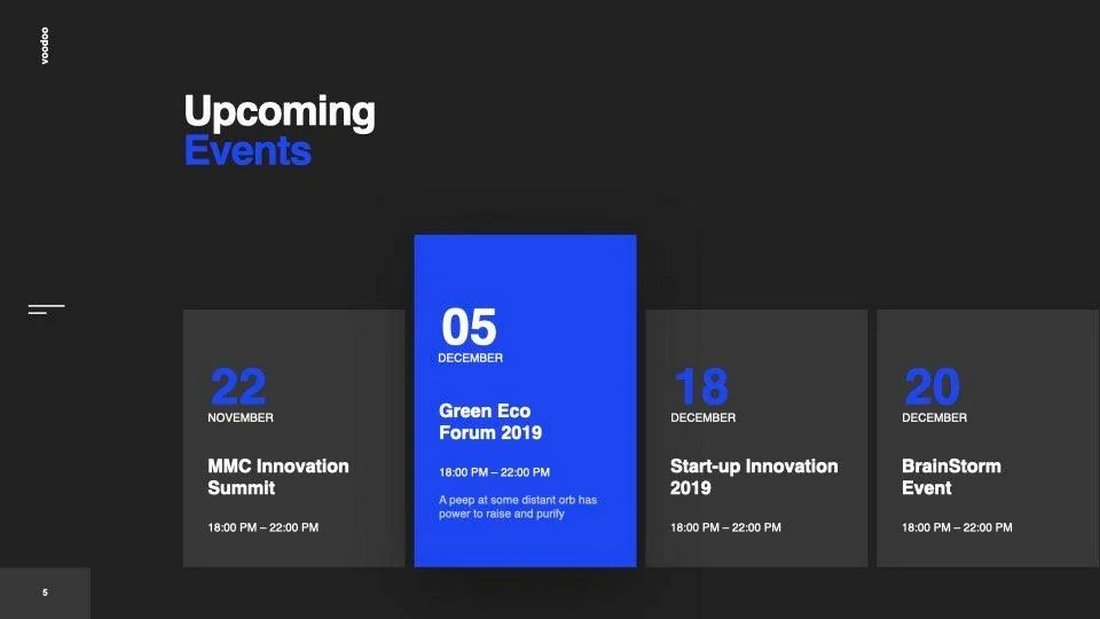 Voodoo is another free Keynote template for modern businesses and brands. It features a bold slide design full of charts, graphs, and editable graphics. The free version includes 10 different slides.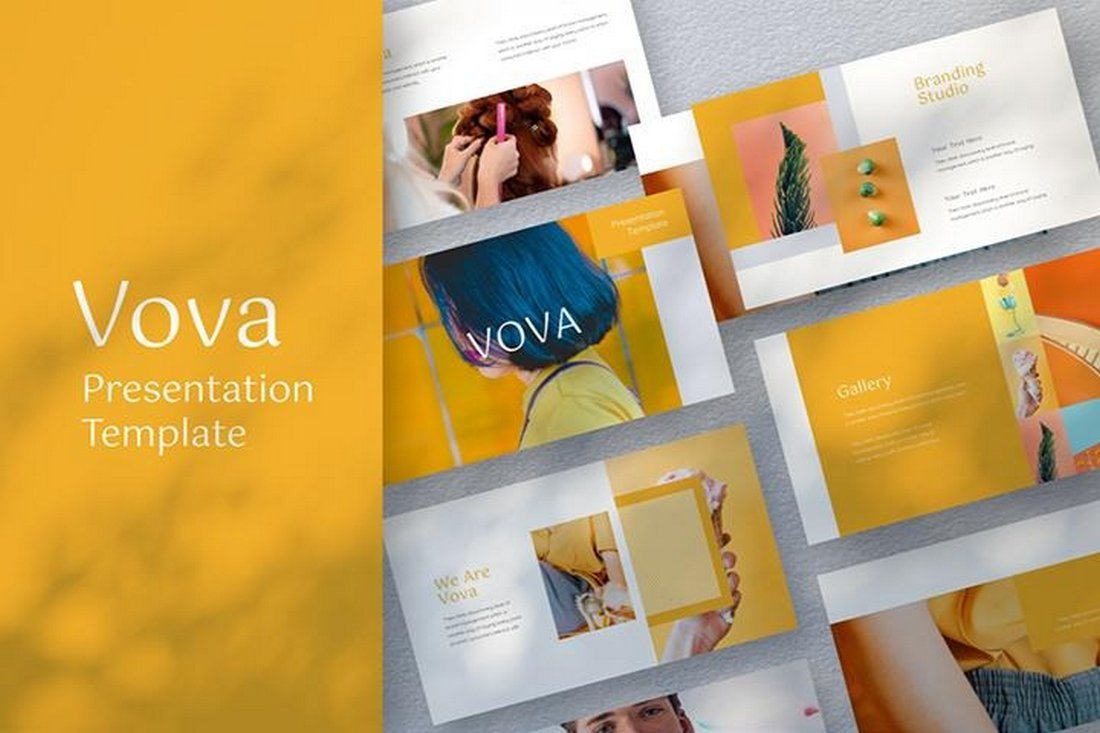 This is a free Keynote template you can use for branding-related presentations. It includes 12 unique slides you can download for free. They feature colorful layouts with fully customizable designs.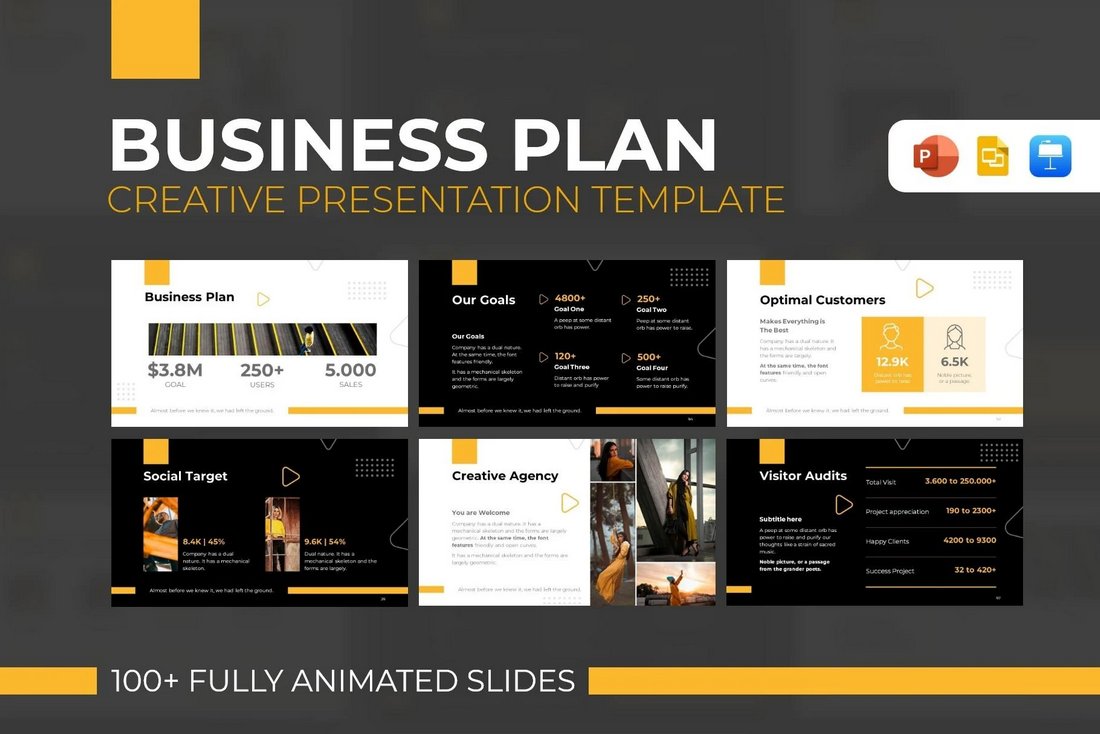 You'll get 10 free slides with this Keynote template. It's designed with modern businesses and brands in mind. You can use the slides to create your own unique presentations for various projects.
If you're putting together a finance-themed presentation that requires you to use a lot of charts, and graphs to present all your statistics in a very understandable manner, Comersa is well worth considering. It's one of the best Keynote business templates, and you should definitely add it to your shortlist.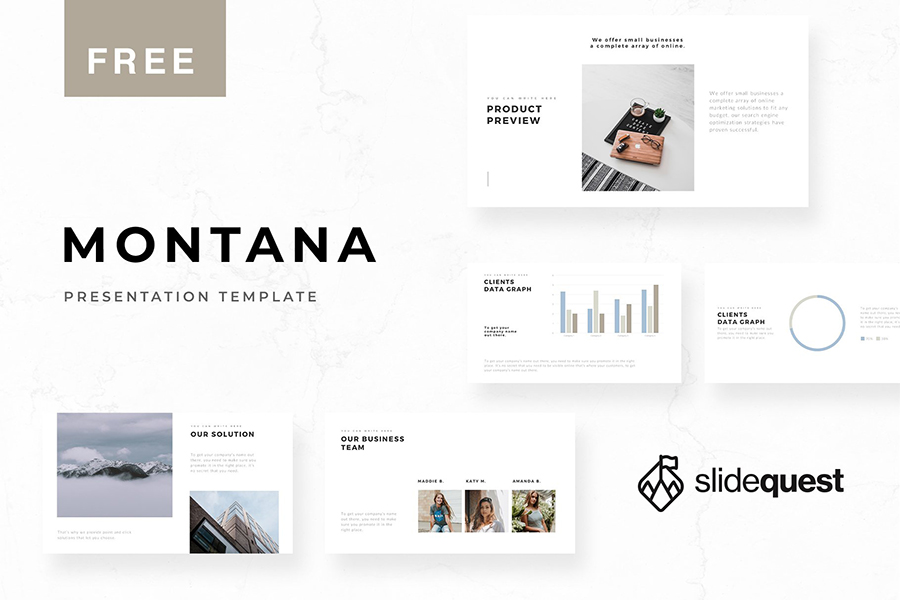 One of the most versatile free Keynote business templates out there, Montana offers a really easy-to-use set up allowing you to personalize it to your heart's content without any hassle. Get your hands on it today, and you'll not be disappointed.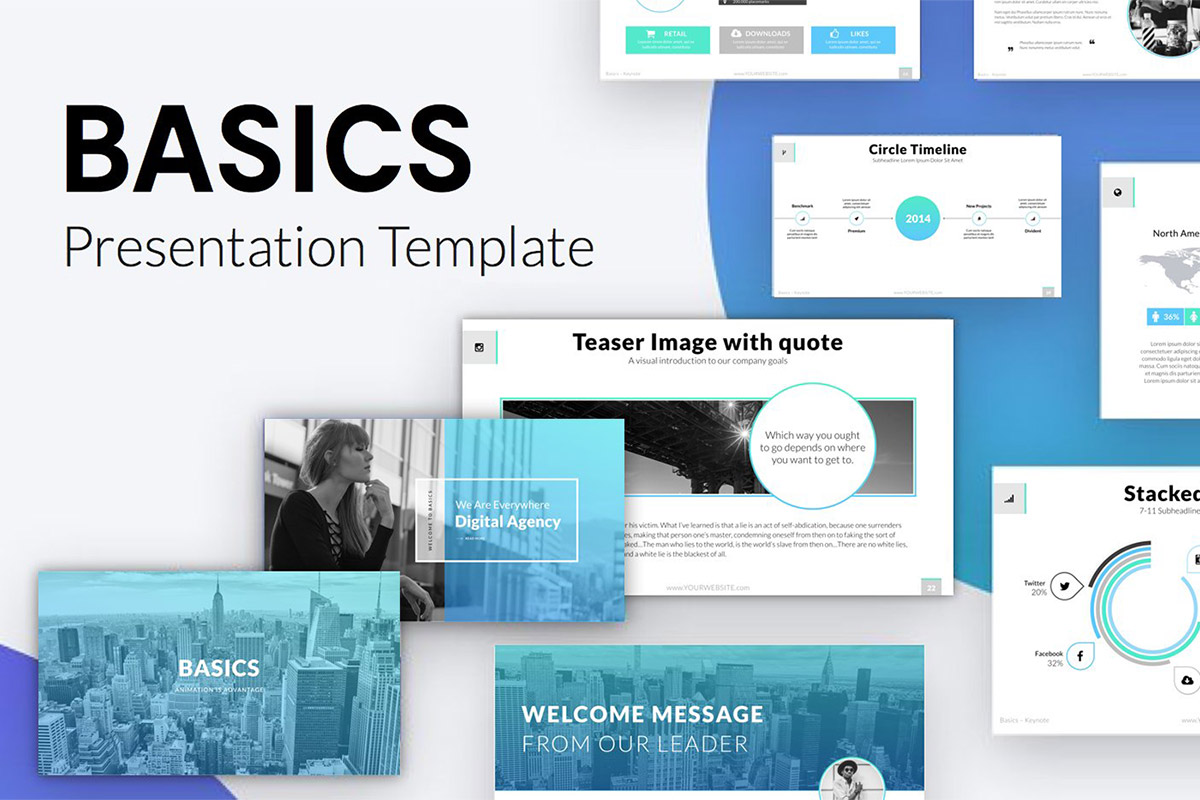 The Basics Keynote template package is an assortment of stunning slide designs, all centered around business applications. A fantastic resource that provides you with a range of aesthetic choices, and custom slide designs!
Whether you need to create a financial report or market research presentation, this free Keynote business template is right up your alley. It comprises a range of professional slides, diagrams, graphs, and tables, free fonts, and so much more.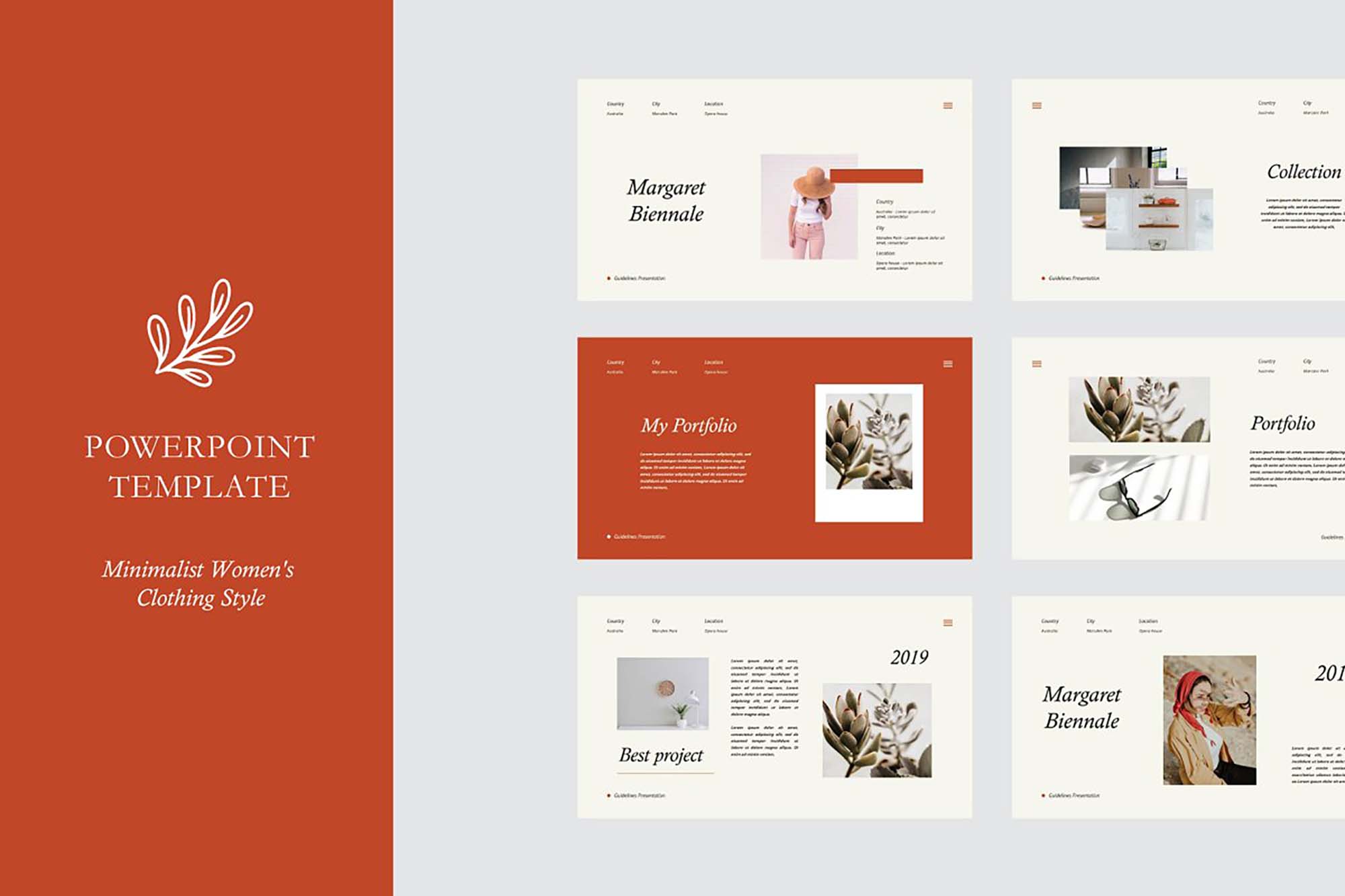 Create a charming business presentation with Tigwell, a template tailored in a trendy fashion and uses a range of image-centric slide designs. It's a perfect choice for business presentations that focus more on a portfolio slideshow, compared to traditional text-based presentations.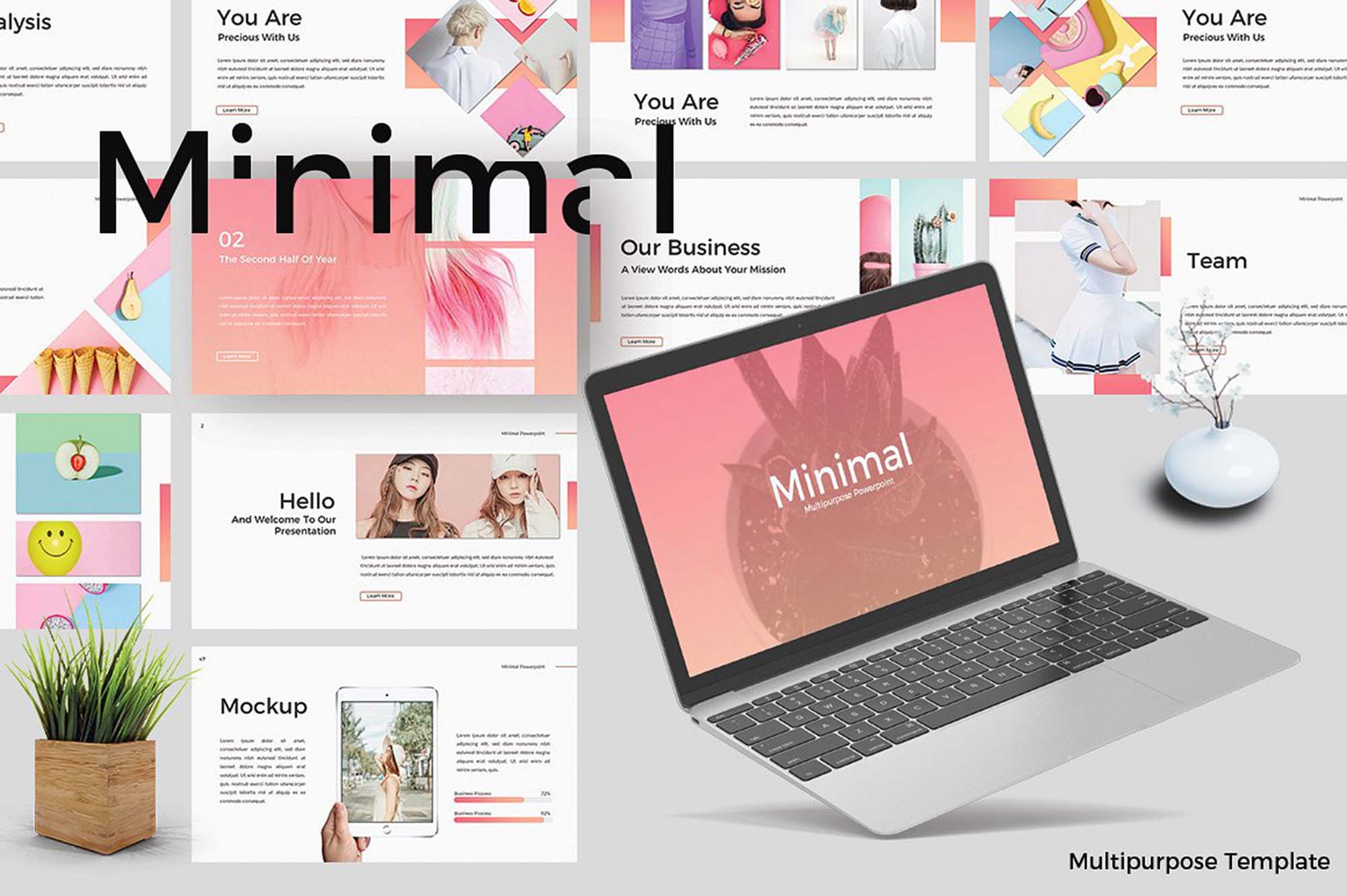 Minimal is an incredibly simple business-styled template and provides almost no stylistic flair in its slide designs. A perfect choice for those looking for a clean slate to mold into their own, or to use in a no-frills business environment!
Create an Amazing Business Presentation with These Templates Today!
It's never easy getting a business presentation together, but that doesn't mean finding great Keynote business templates has to be a struggle. With these templates under your belt, you have everything you need to draft up a successful business presentation with ease.