40+ Best Neon Photoshop Effects (Neon Text, Fonts, Light Effects & Neon Actions)
When it comes to creating photo editing, there is no better tool than Photoshop. Providing users with unparalleled flexibility, usability, and functionality, it has maintained its top spot in the visual design world.
We know the extensive nature of the third-party Photoshop resource world can often be daunting, especially for those looking for some captivating neon effects in Photoshop. You can often be trapped looking for hours for the right Photoshop neon glow filter only to get lost in the sea of substandard items floating around on the internet.
It's for this reason that we decided to compile a list of the best Photoshop neon effects. Sourced from both premium and free websites, these resources will provide everything you need to bring a cyberpunk vibe to your work with ease.
We've made sure to include a wide range of neon styles, including neon fonts, brushes, glow filters, as well as a range of other neon effects for Photoshop that you'll find useful.
Discover the best neon light designs for Photoshop with our list down below!
Get everything you need to supercharge your Photoshop workflow. From just $16, get unlimited access to thousands of Photoshop actions, Lightroom presets, templates, graphics, fonts and photos.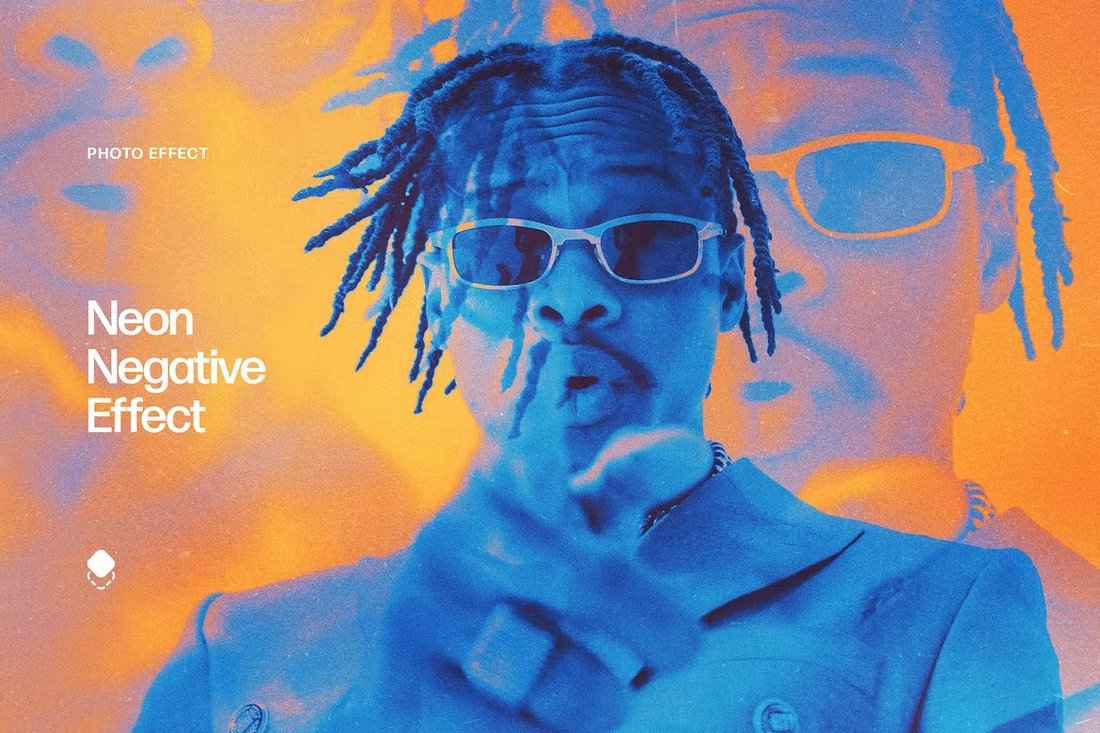 This is a unique Photoshop effect that will allow you to create trendy graphics and photo filters with a cool neon-negative design. This will fit in perfectly for your social media promo banners, poster designs, and even billboards. It lets you choose from 4 different color filters as well.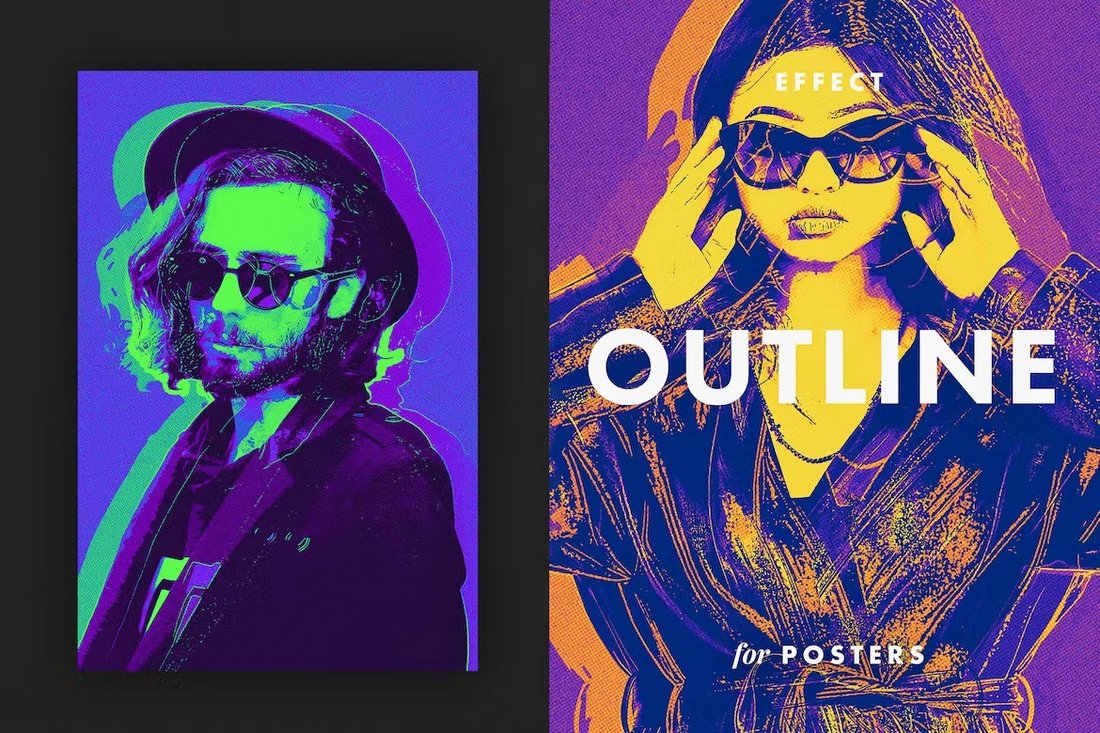 This Photoshop effect is designed for giving an edgy look to your posters. It adds a neon glowing outline to posters and portraits to create a bold new look. The effect comes with 3 color filters and it comes as a PSD template.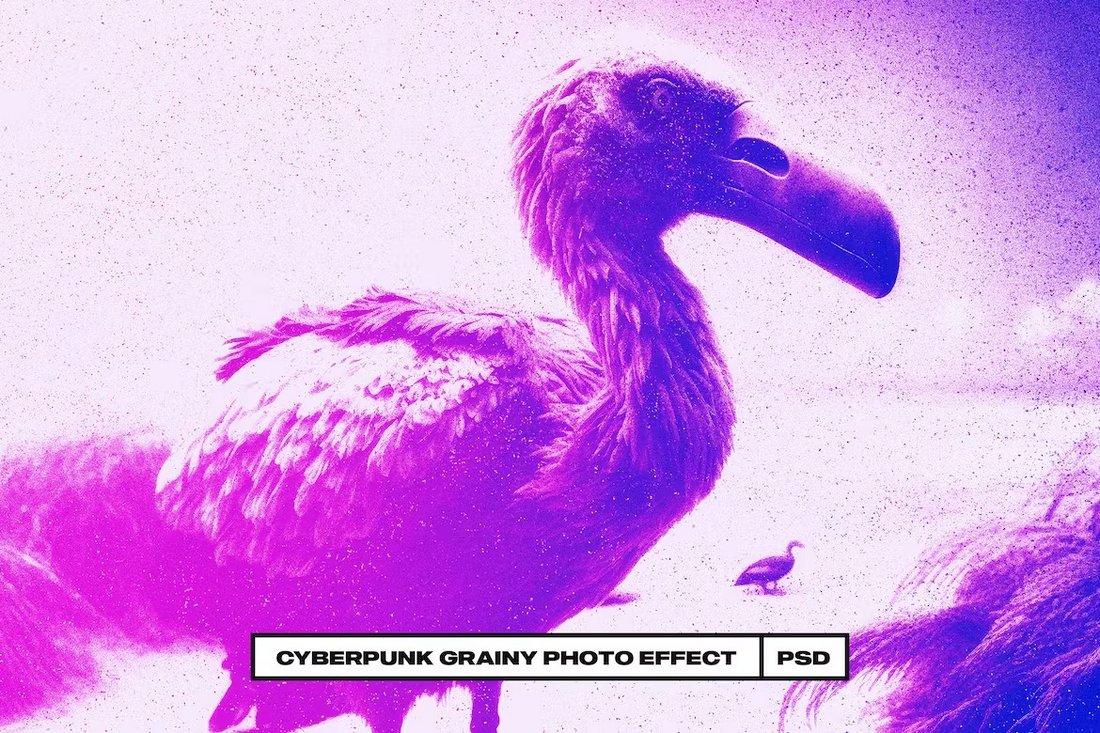 You can use this Photoshop template to create a cool cyberpunk-style neon effect for your photos. It features a grainy textured effect featuring subtle neon glowing colors. The effect works perfectly for portrait photos.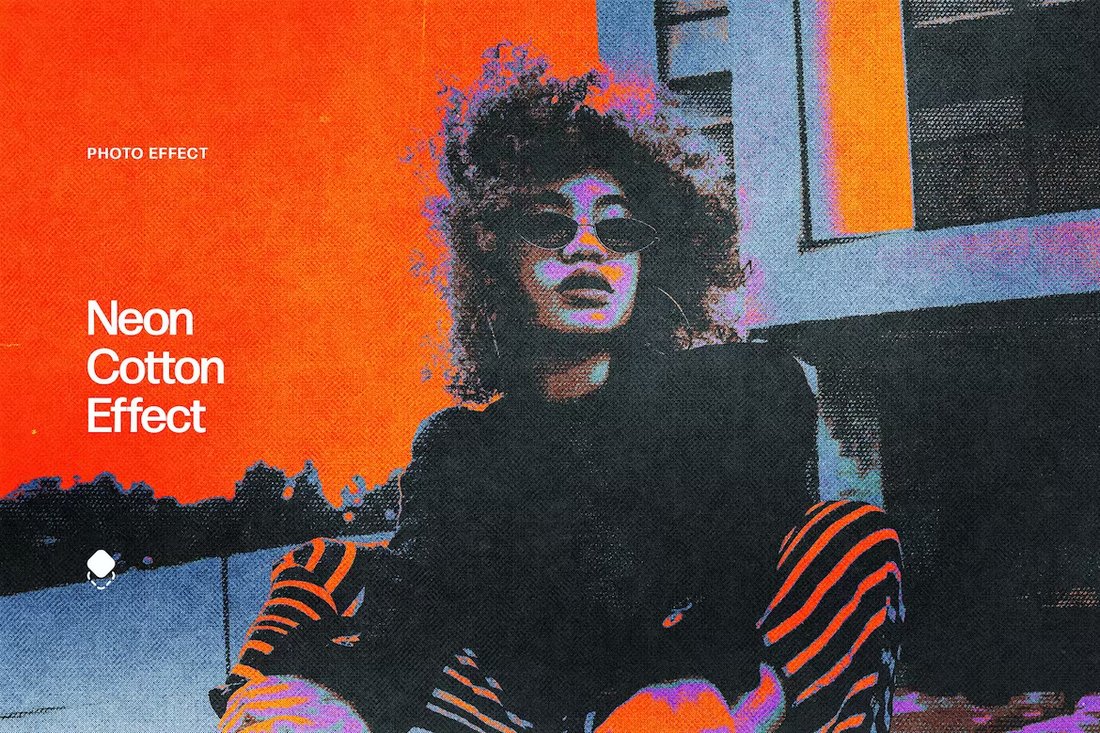 This neon effect will give a bold look to your photos and graphic designs. It features 3 color filters with smart objects to make it easier to apply the effect to your own photos. You can use it to craft cool graphics for posters and flyers.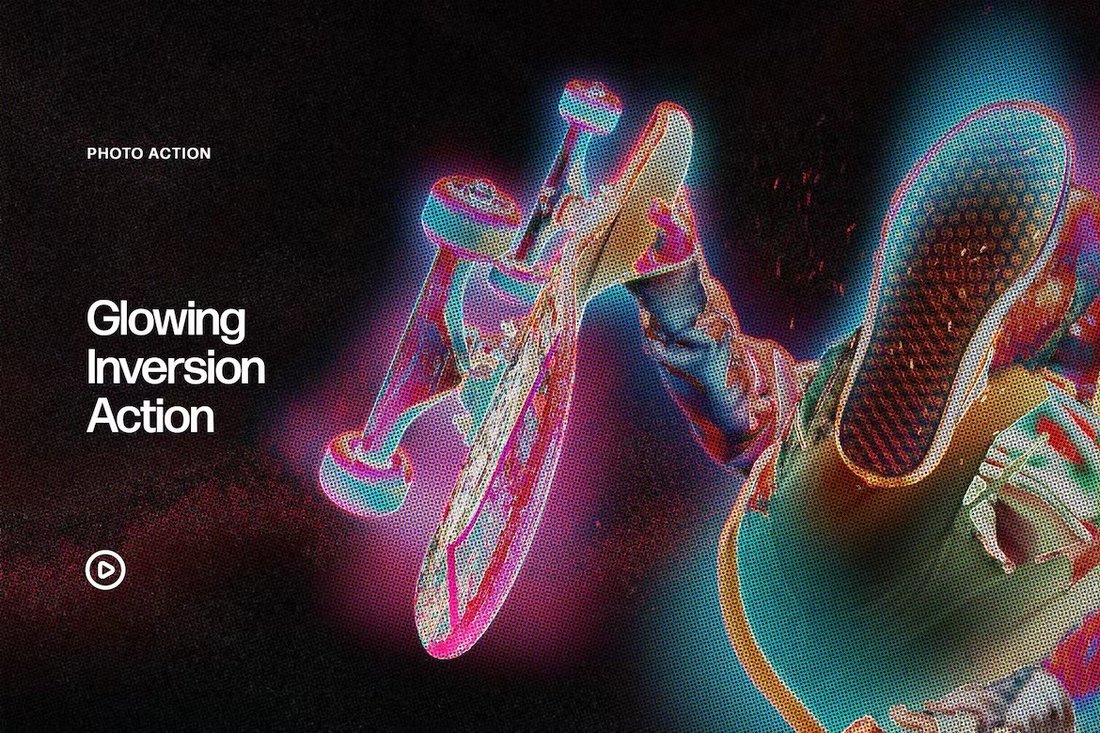 If you're looking for a different style of neon effect with a glowing look, this Photoshop action is perfect for you. It features a cool glowing neon design with an inverted look. The effect is most suitable for portraits.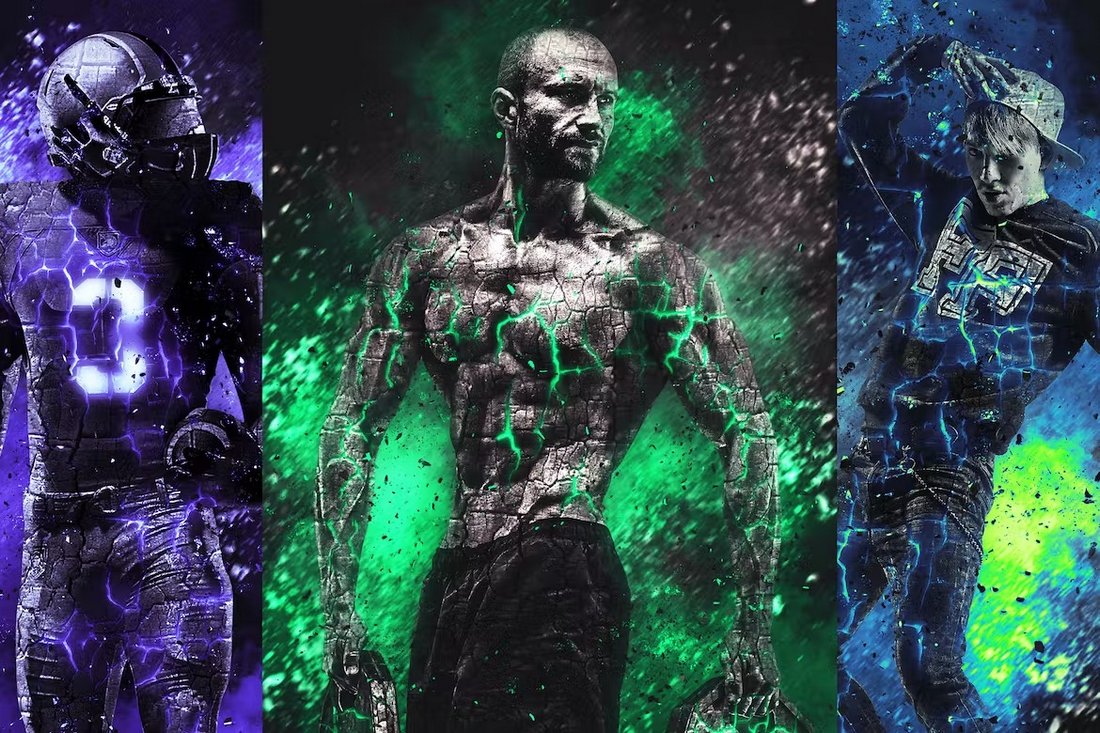 Turn your portrait photos into glowing burning designs using this Photoshop action. It has a customizable effect with a cool textured design. The effect comes with accompanying brushes and patterns too.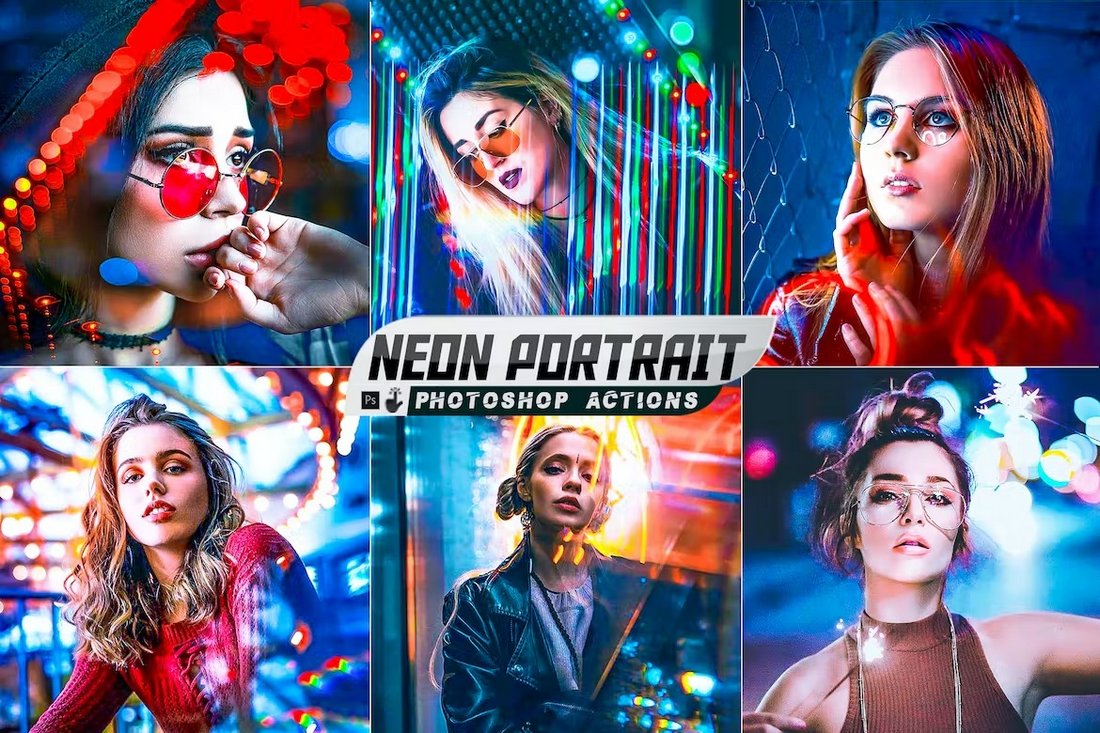 You can use this bundle of Photoshop actions to add cool neon looks to your portrait photos. It includes 5 different PS actions with subtle neon color looks. They are ideal for Instagram and social media photos.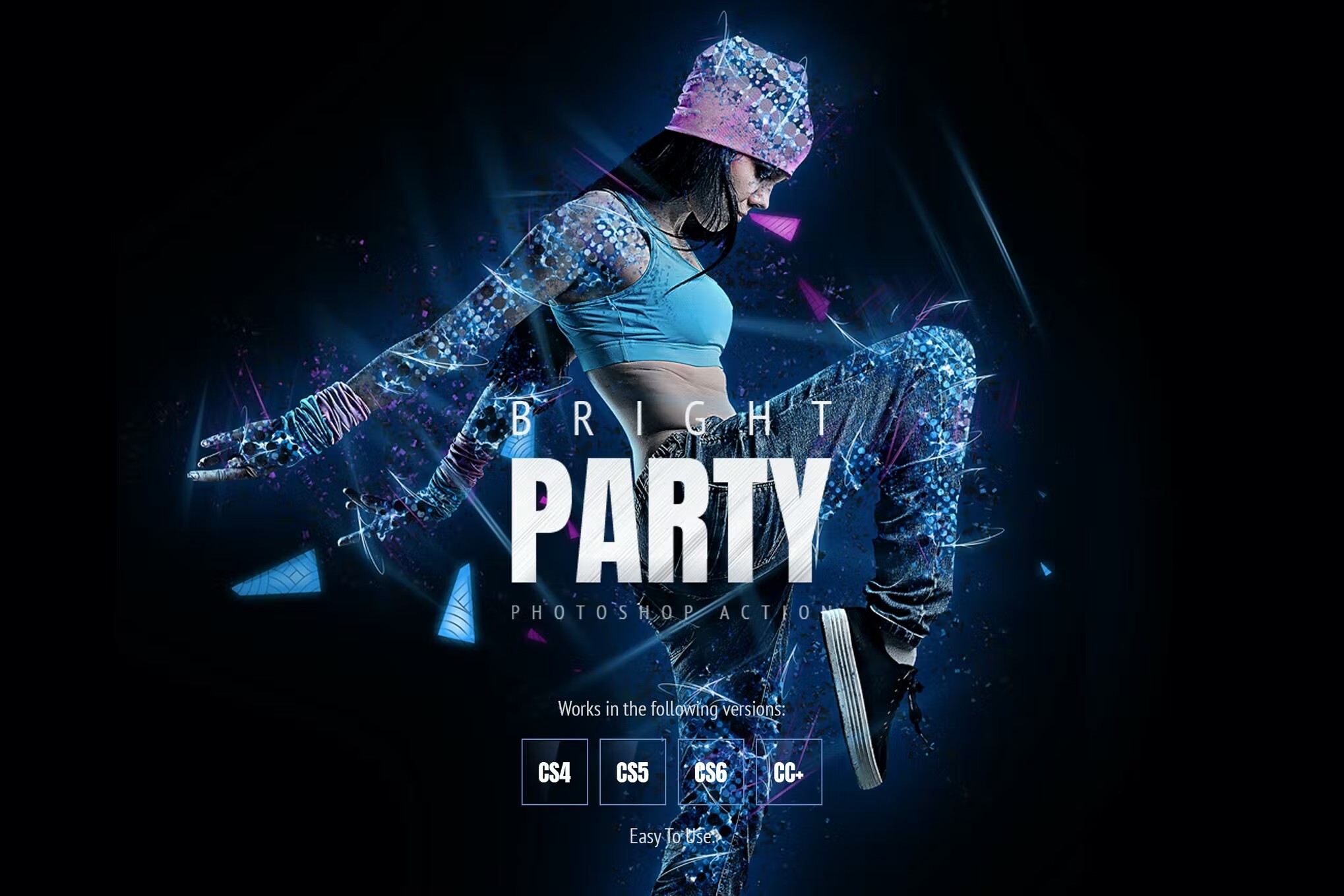 Bright Party is an excellent neon light effect Photoshop action that will give a vibrant, and cheerful look to your everyday photos. It's a non-destructive action with well-organized, and adjustable layers, and is compatible with CS4, CS5, CS6, CC+ versions of Photoshop.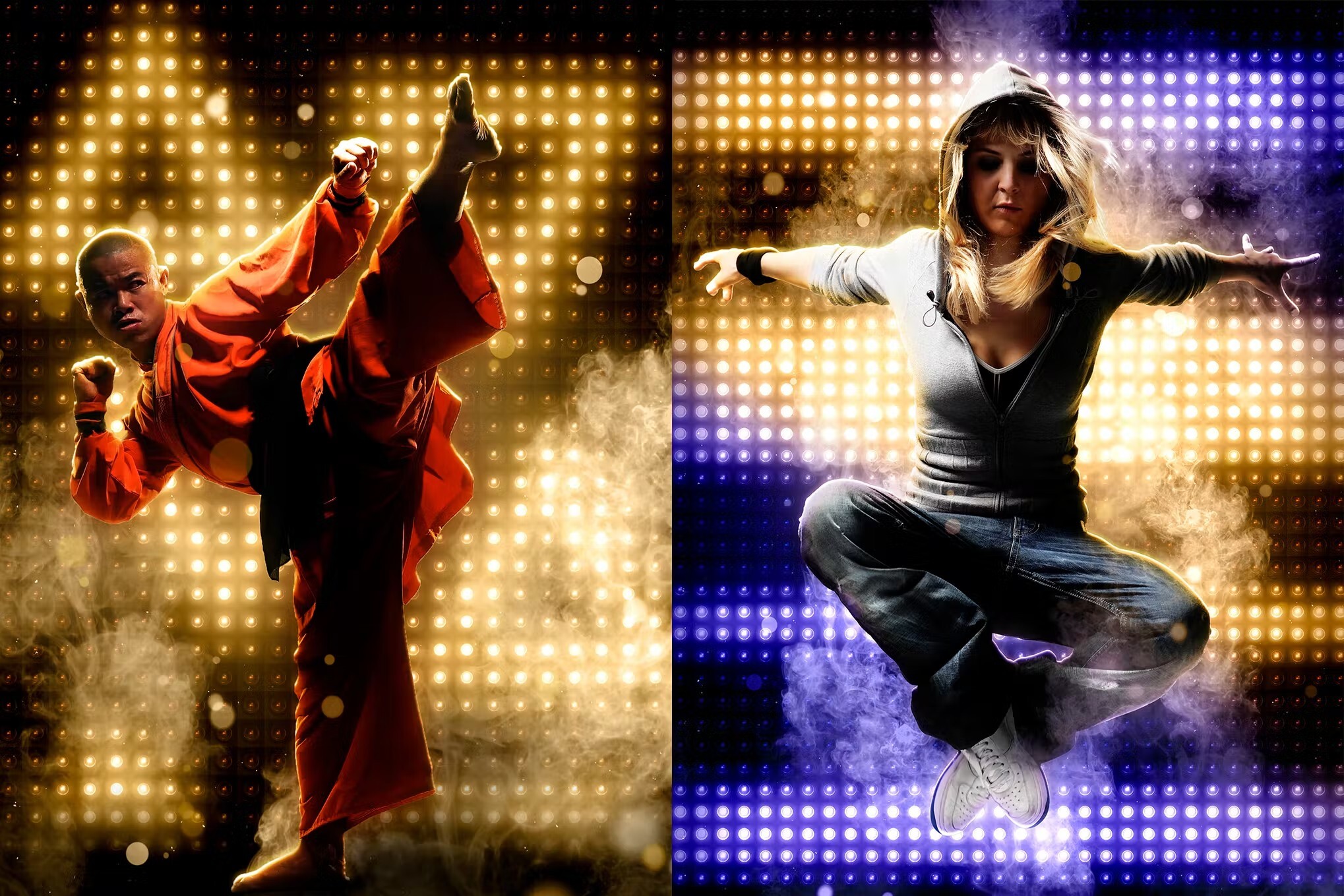 Here we have an incredibly unique and creative neon effect Photoshop action that deserves a spot in your photo editing toolkit. It creates an attention-grabbing light wall effect on your pictures, making them look absolutely surreal.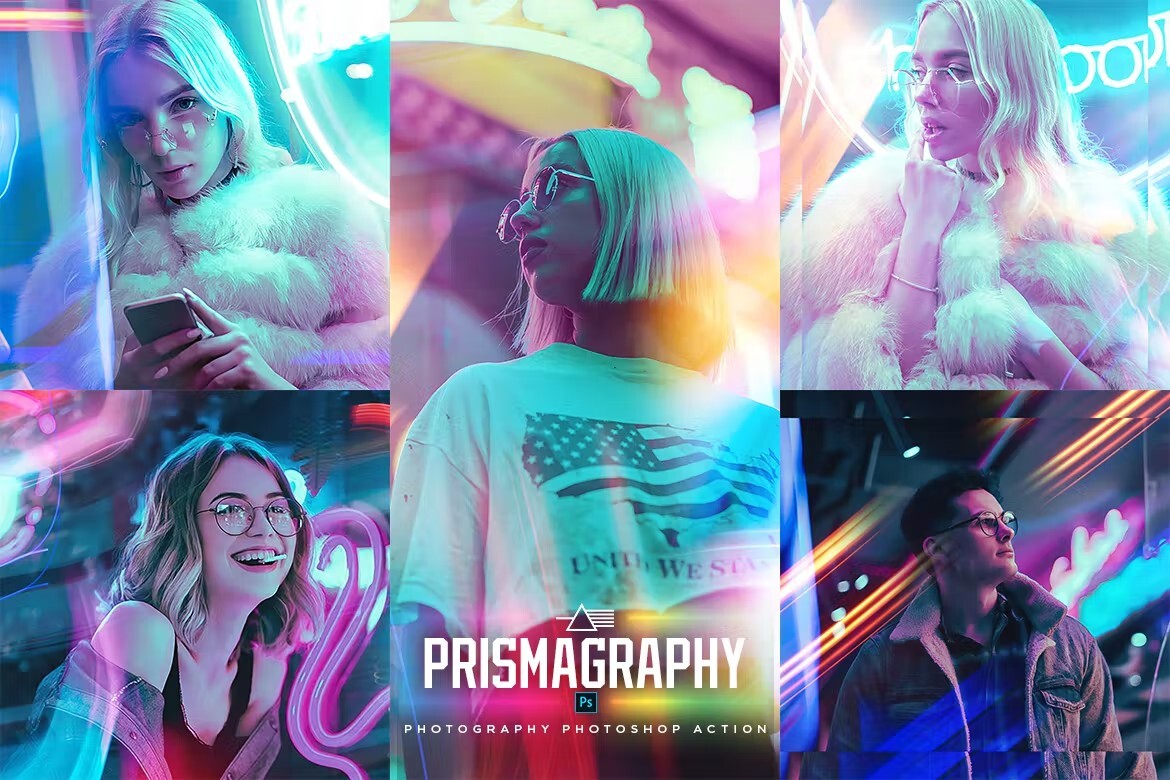 If you're looking to hunt down the best neon lights Photoshop plugins, the above-featured product is a solid contender for your cash. It consists of 10 effects that aim to give your images a beautiful prisma light look in just a few easy clicks.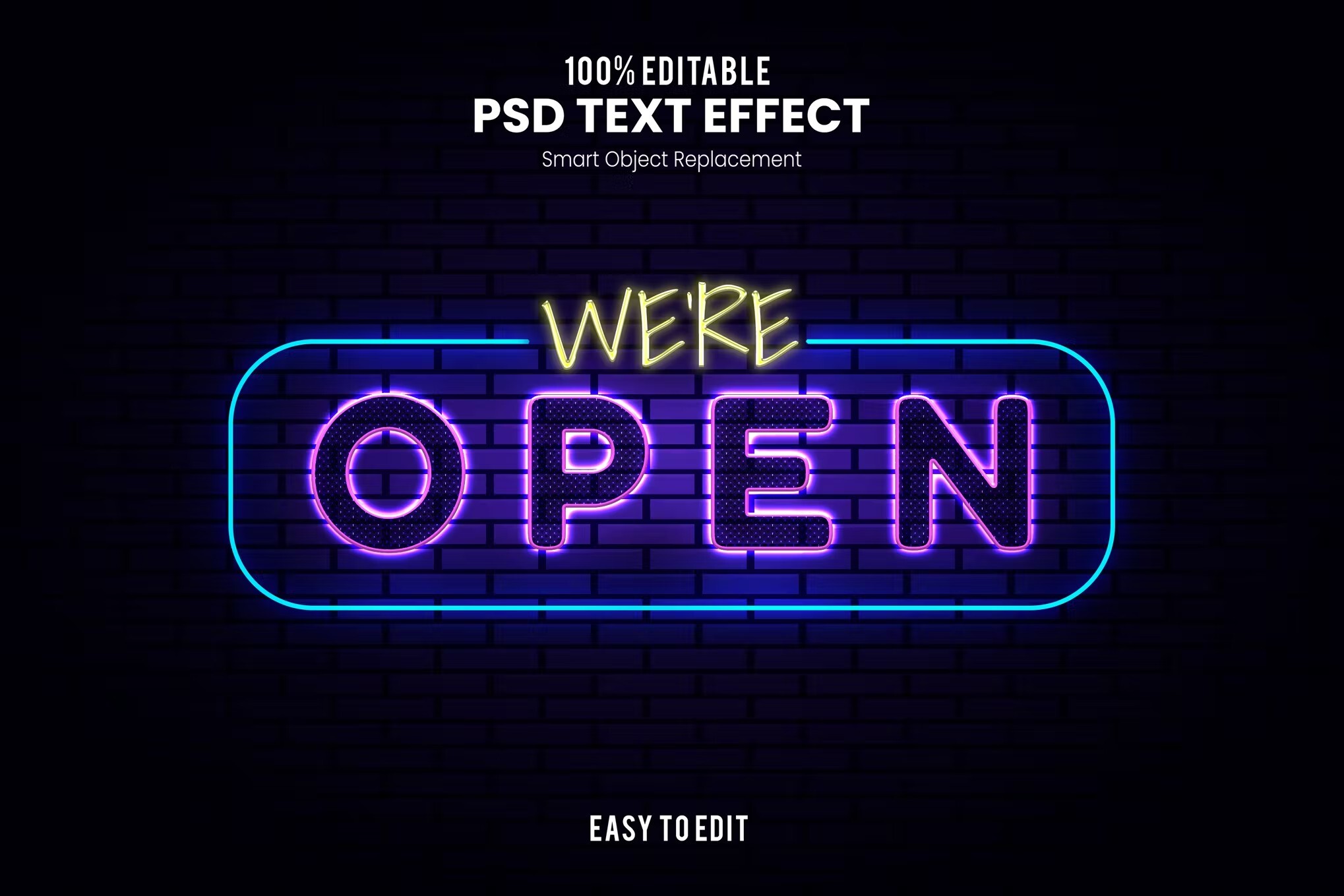 Wanting to get your hands on an awesome neon sign Photoshop effect to spruce up your design? This Photoshop neon glow filter is right up your alley. It can be fully customized to your branding and aesthetics; don't hesitate to take it for a spin.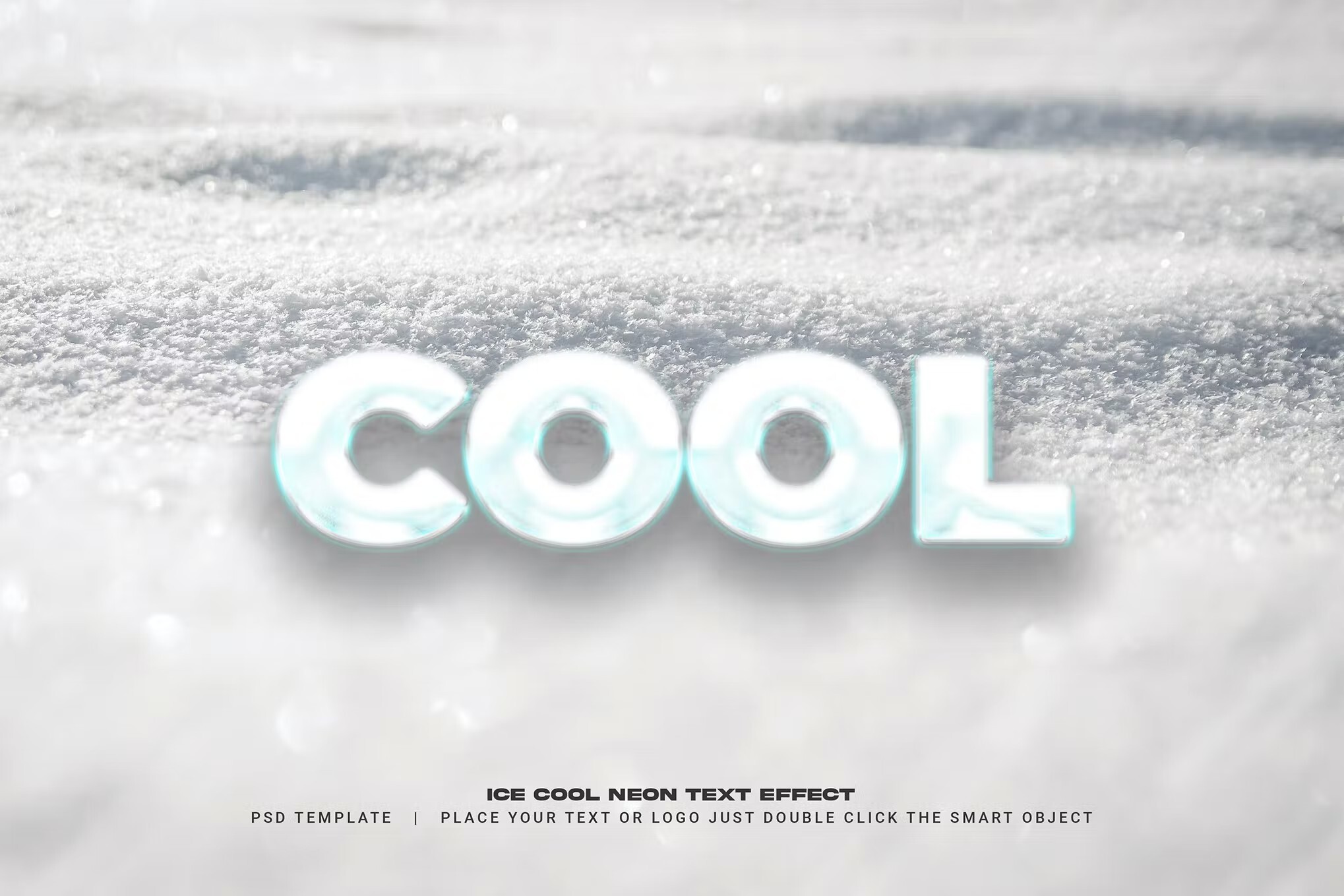 Give an icy cool look to your lettering and logo designs with this wonderfully designed neon font Photoshop action. An outstanding choice for winter-themed projects, this product is fully customizable in Photoshop via smart objects. Do check it out.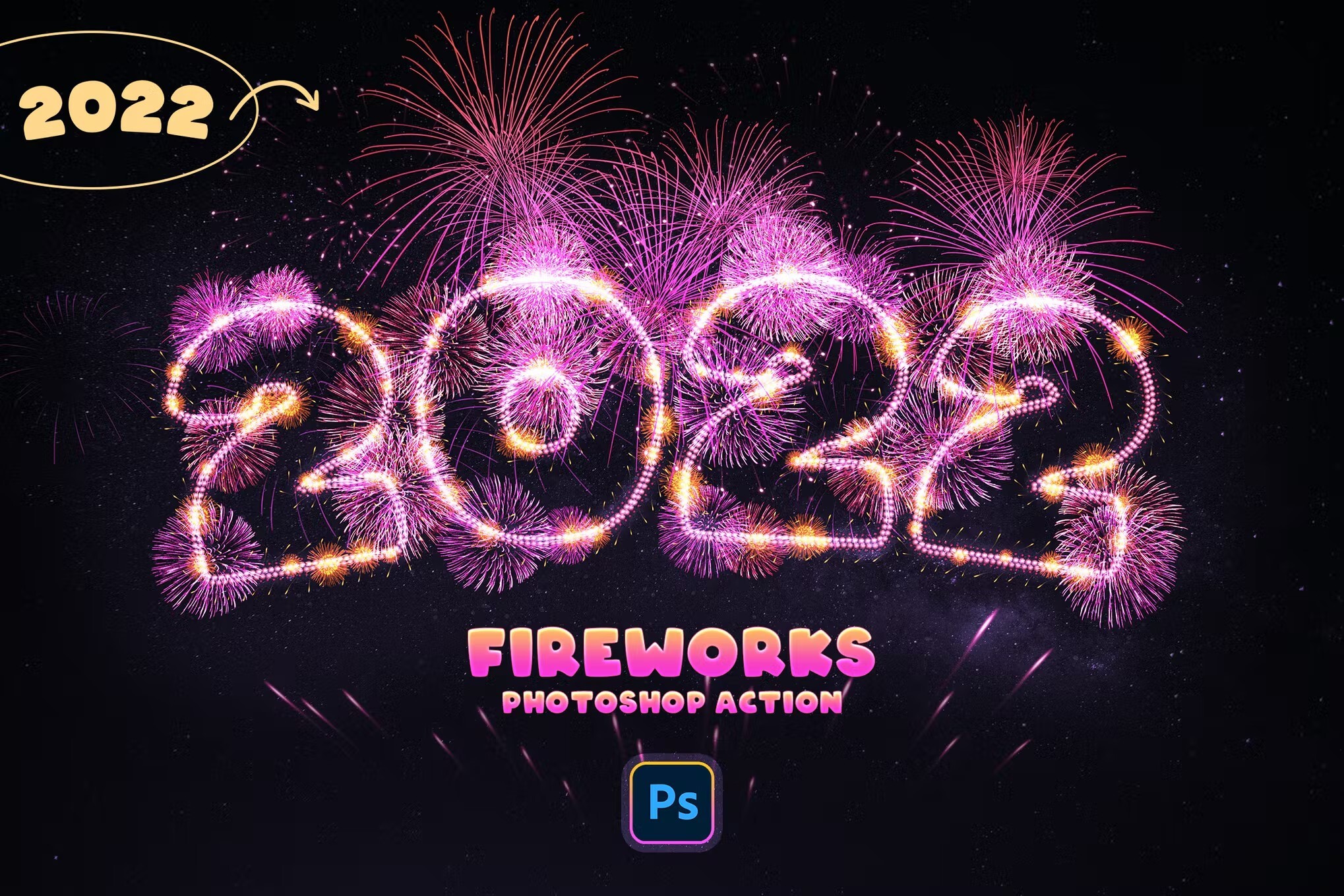 Beautify your texts, logos, vector shapes, and png images with this neon light Photoshop action. It helps you create fireworks in just a matter of seconds, and comes with a help file for your convenience. Download it today!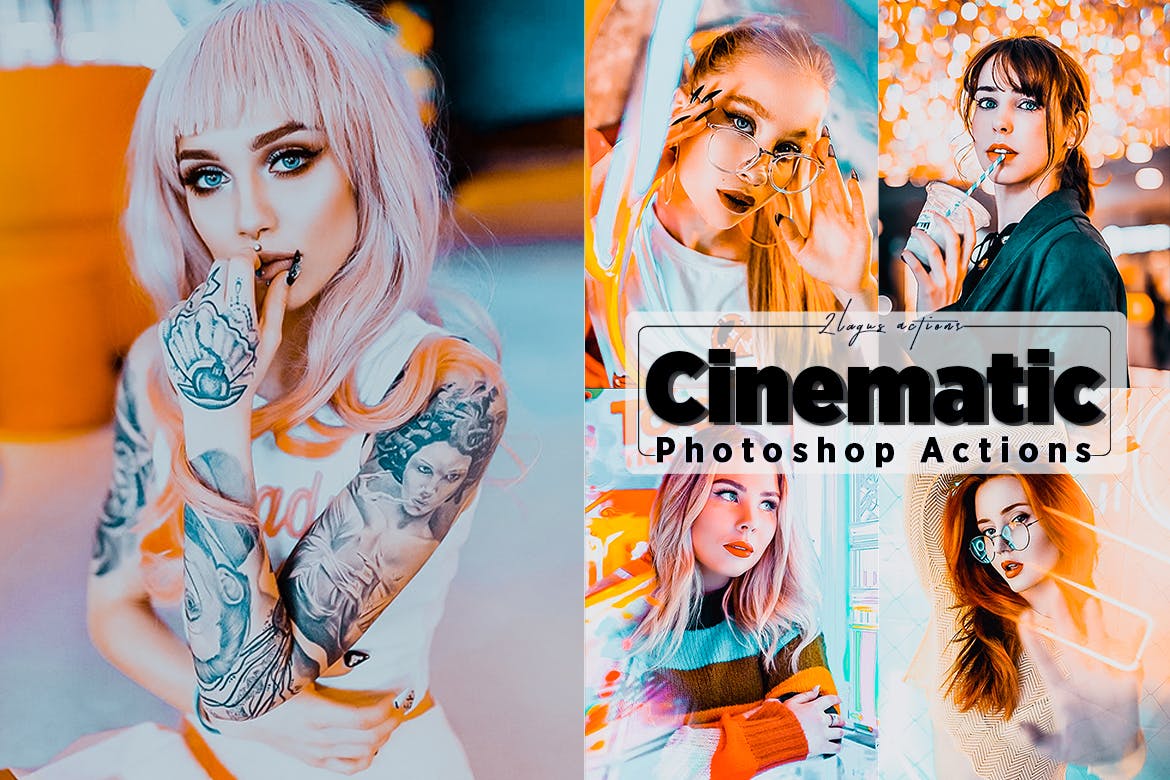 Emulate a mesmerizing cinematic neon style with this neon action Photoshop collection. Inside you'll find a wide range of modern and professional actions to choose from, each providing their own neon light Photoshop style.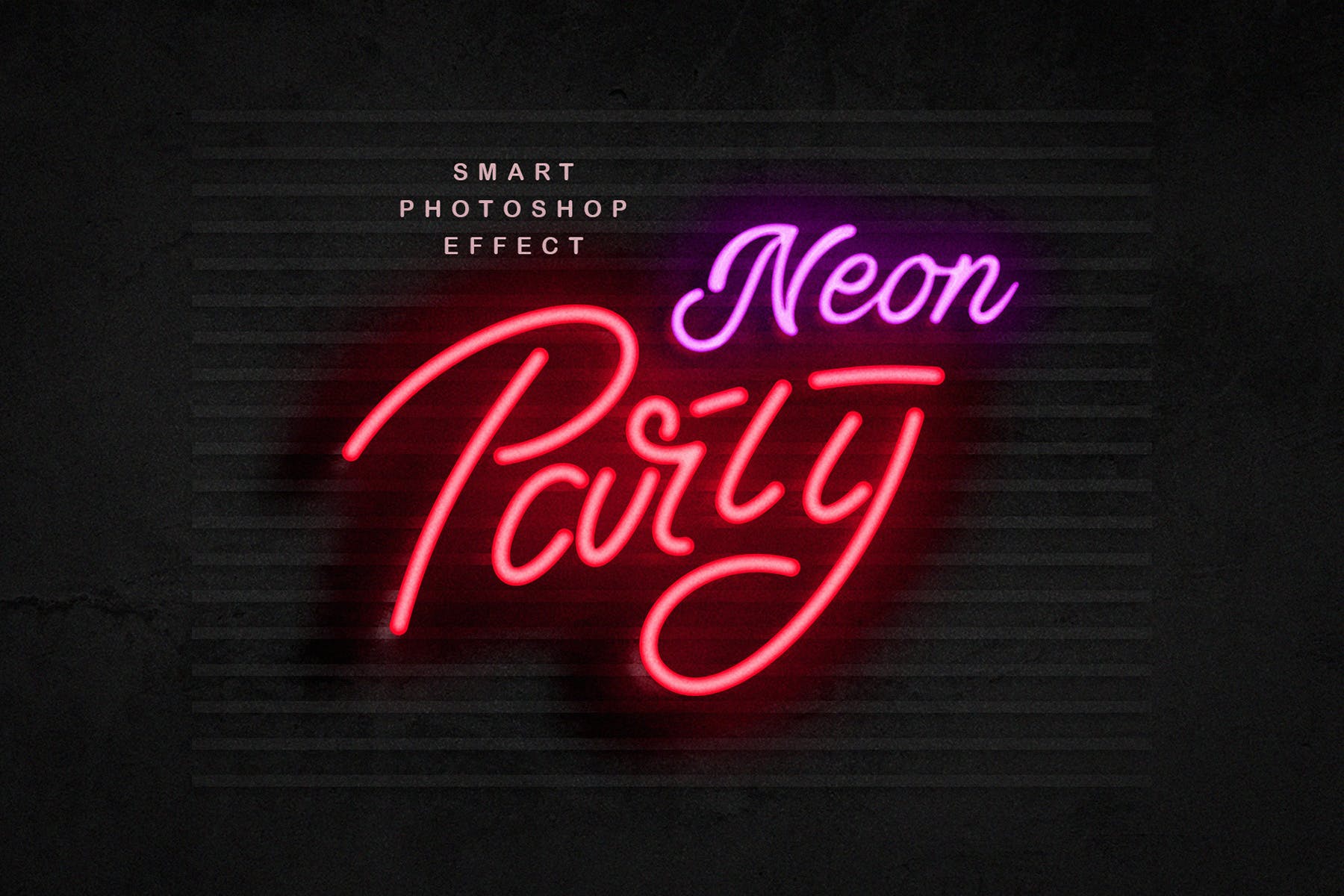 Looking to bring an energetic vibe to your typography? Then you need this neon sign Photoshop effect ideal for someone wanting to travel back in time to the bygone era. Inside you'll find a simple-to-use template that will have you crafting your very own neon sign effect in Photoshop in mere minutes!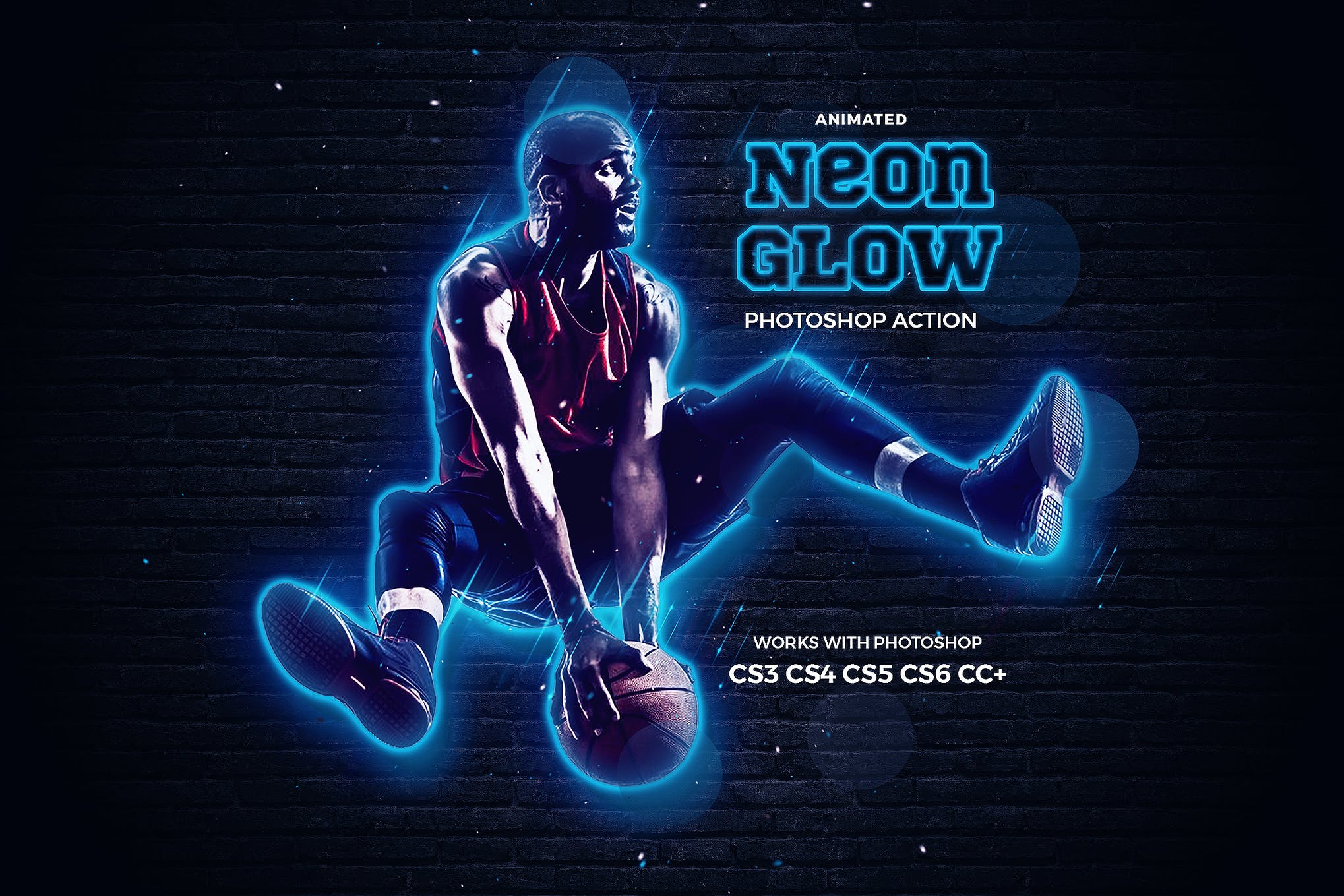 Trim every picture with an unforgettable light and shine with this neon glow Photoshop action that's designed to help make your pictures pop, whilst also providing you with the flexibility to fit a wide range of creative and professional project styles. An impressive Photoshop neon glow filter!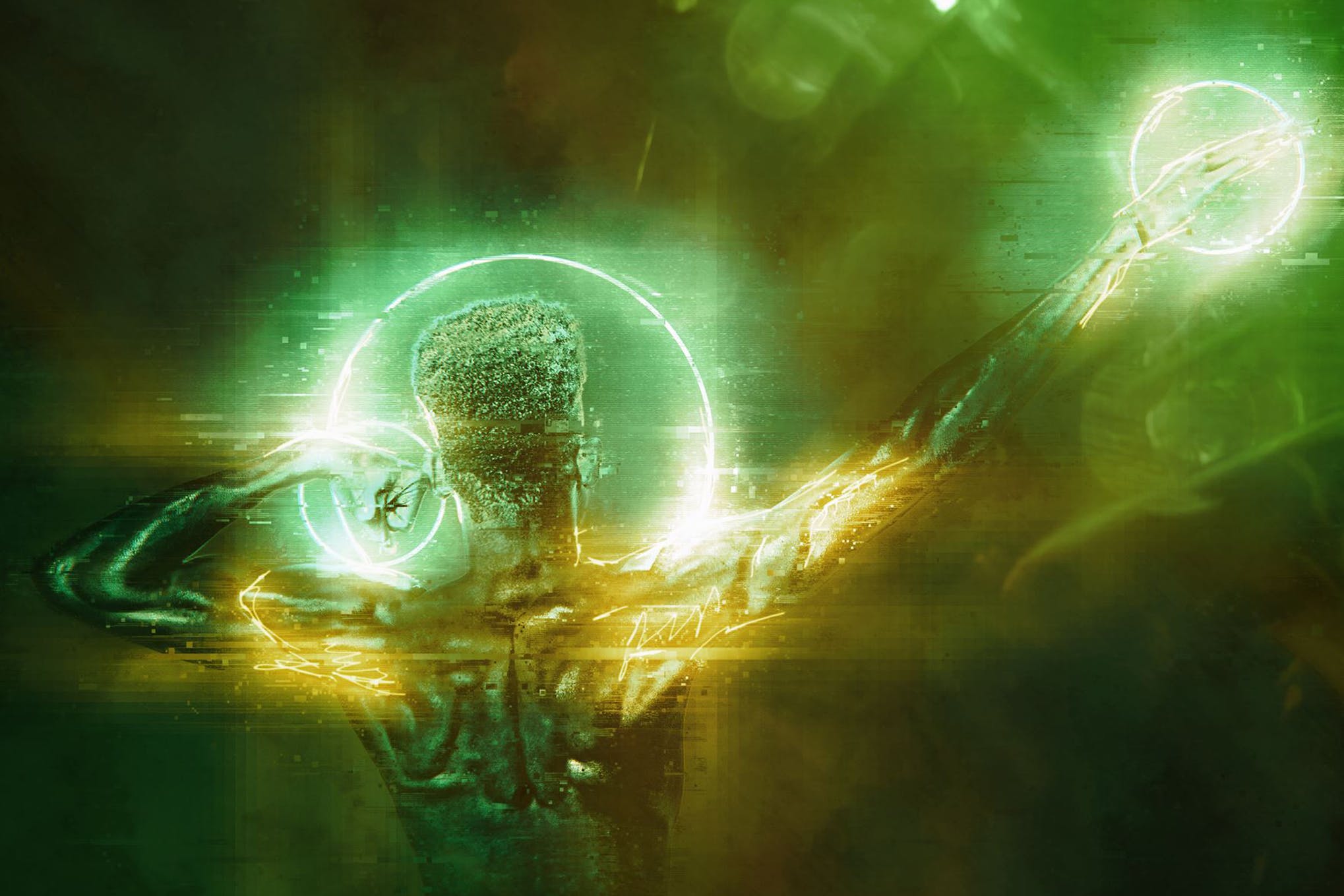 Make every photo truly stand out with this Photoshop plugin that combines the classic glitch effect and captivating neon aesthetic to create magic on the screen. It's an incredibly designed neon overlay that will seamlessly transform your pictures into a modern work of art. One of the best neon effects Photoshop actions on this list!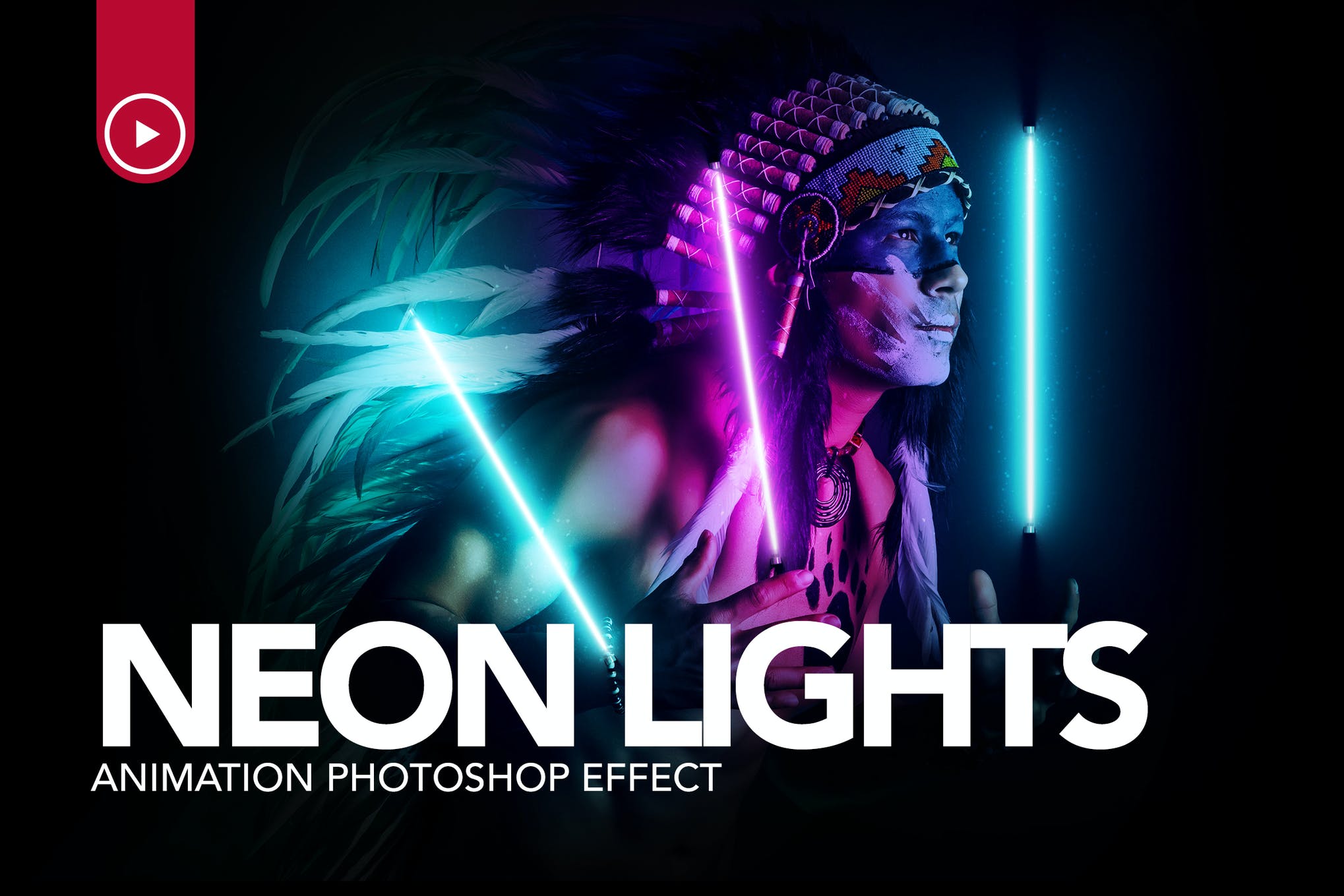 Bring a touch of animated glory to your visual design projects with this Gif neon light Photoshop action. Inside you'll find a range of animated elements you can attach to your pictures or footage with ease, and make a truly memorable design that's sure to impress.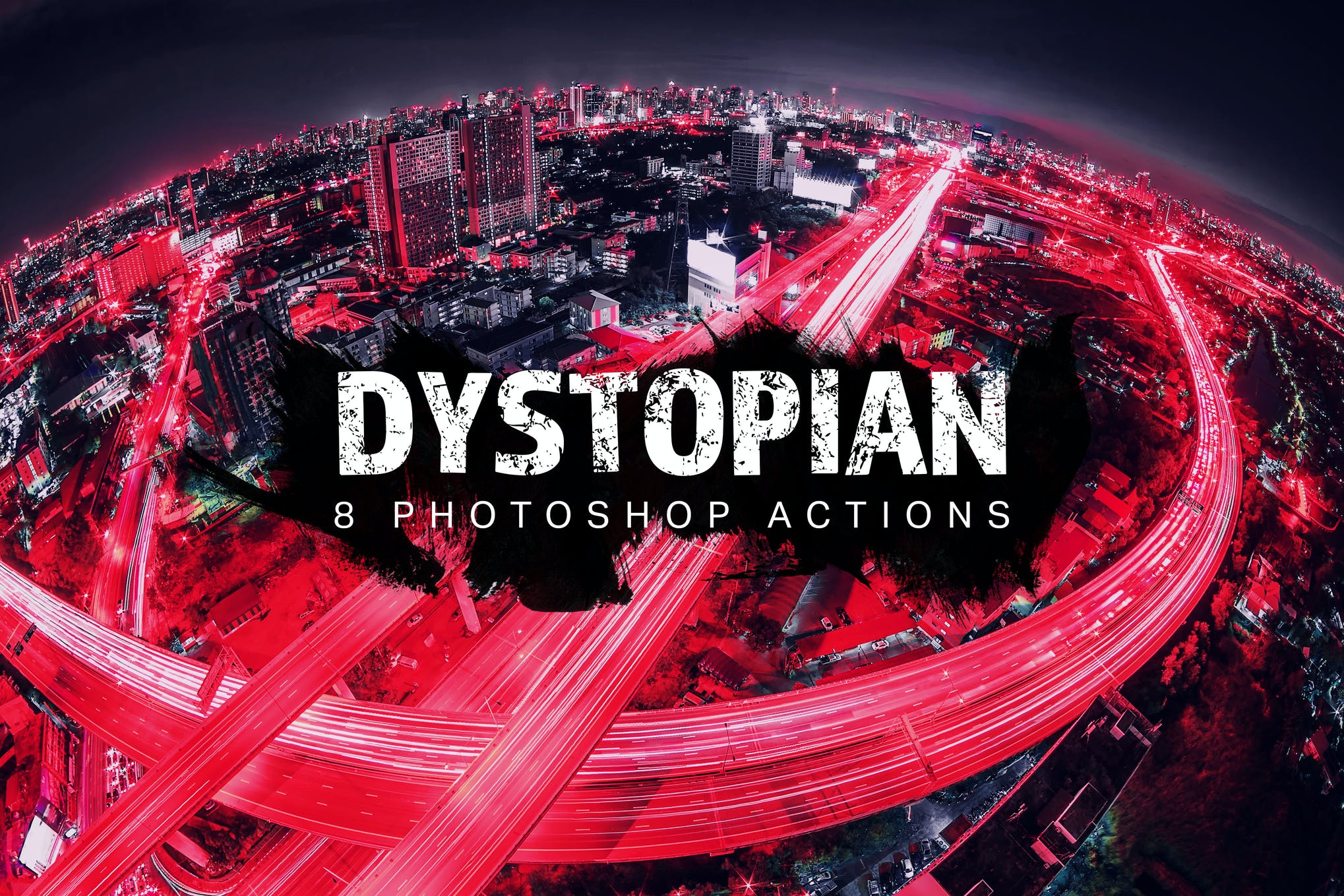 Purpose-built for nighttime cityscapes, Dystopian is a set of eight heavily stylized Photoshop actions that help to craft the perfect neon retrofuturistic look with minimal effort. One of the best neon effect Photoshop actions on the market right now!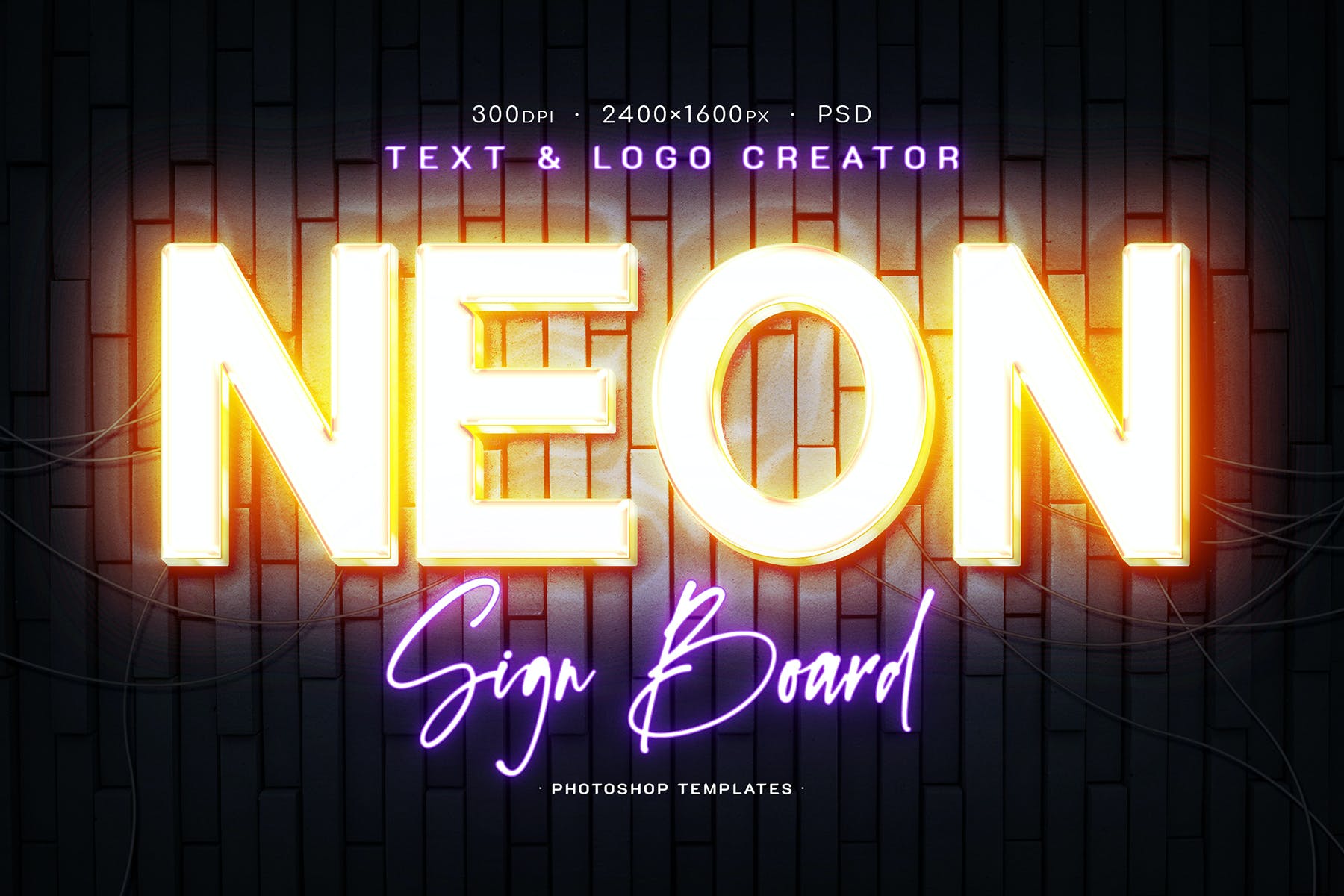 Create an attention-grabbing signboard design with this awesome template that provides you with everything you need in a neon sign effect for Photoshop, and equips you with enough customization options to allow you to mold the template exactly to your needs.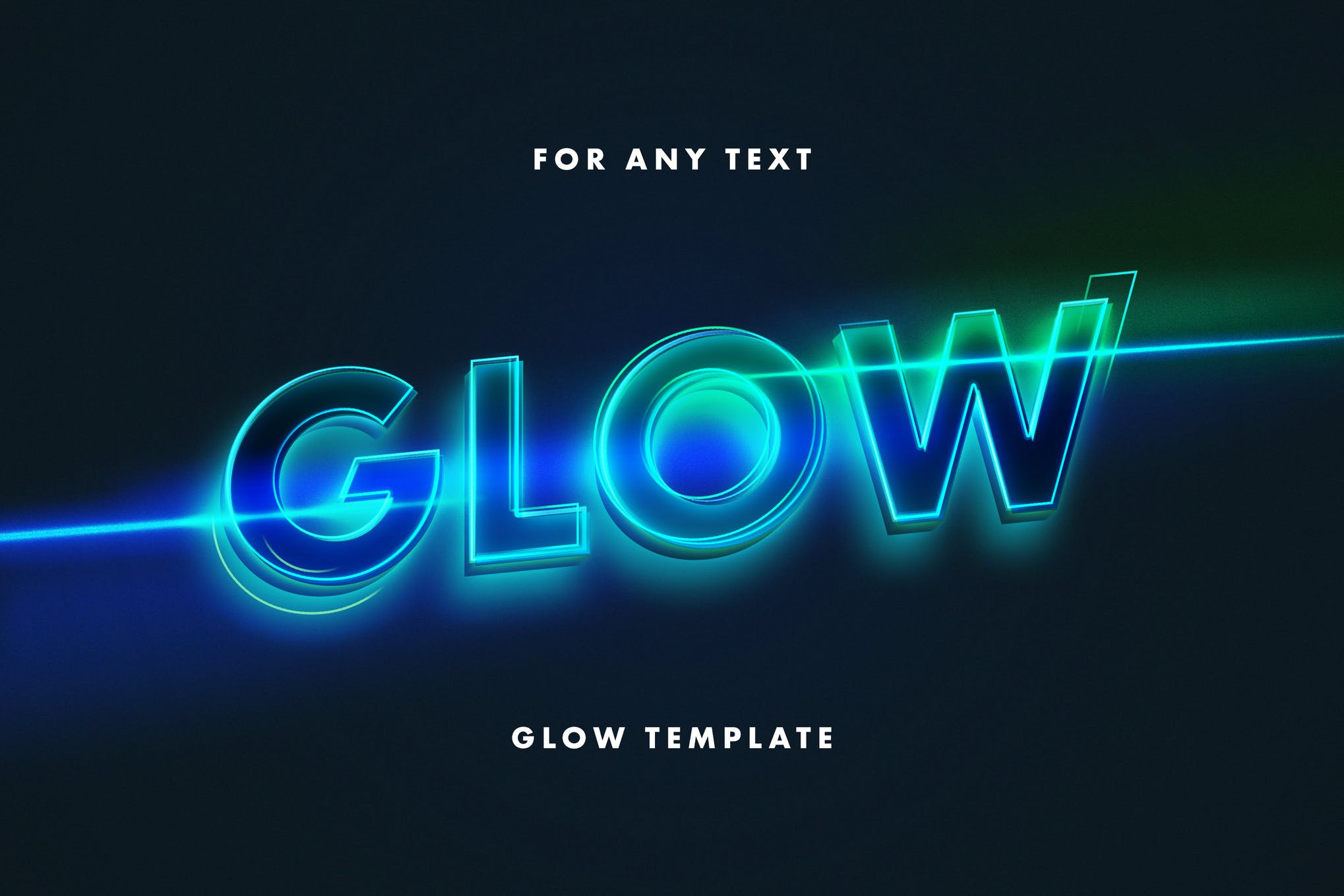 Want to bring a touch of neon personality to your text designs? Check out this neon text Photoshop filter providing you with unmatched freedom in how you apply the effect over your typeface designs, making it a great choice for any visual designer's toolkit.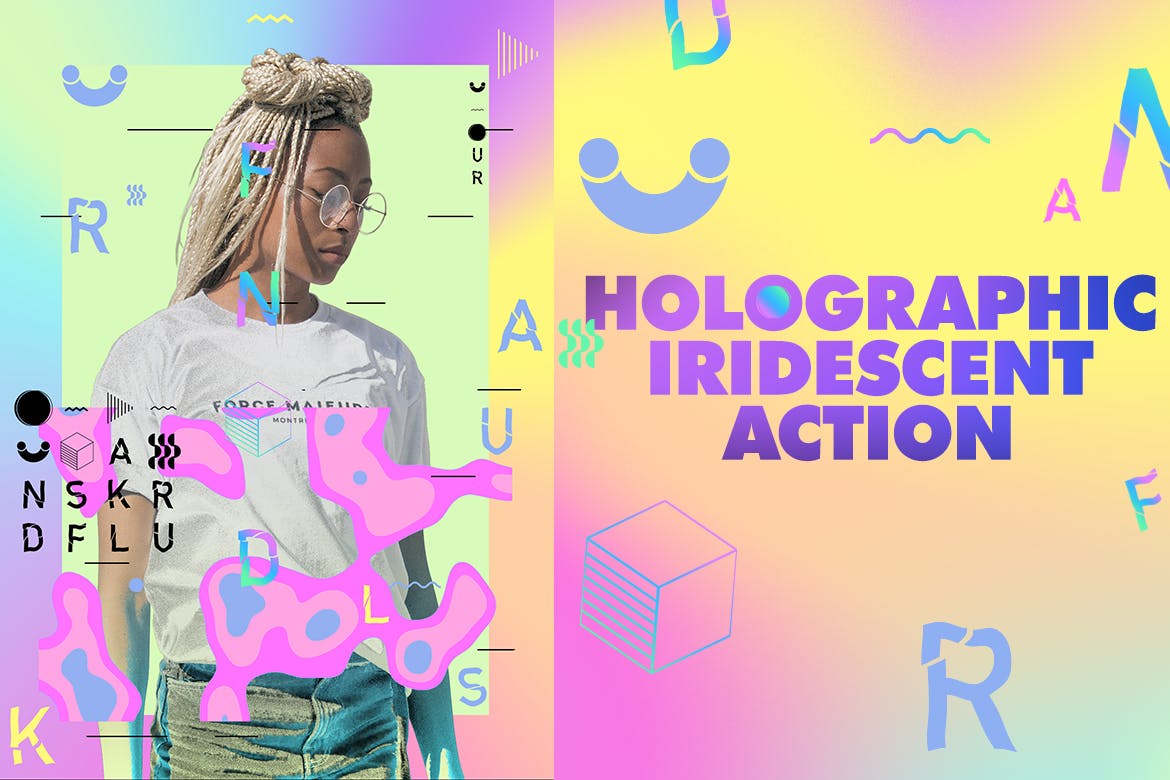 Not all neon resources have to use extreme lighting effects to catch your attention. With the Holographic Iridescent action, you can emulate the Photoshop neon glow filter style whilst sticking to a pastel color aesthetic. A great option for those looking to create a poster design, or edit their photos in a unique and captivating fashion!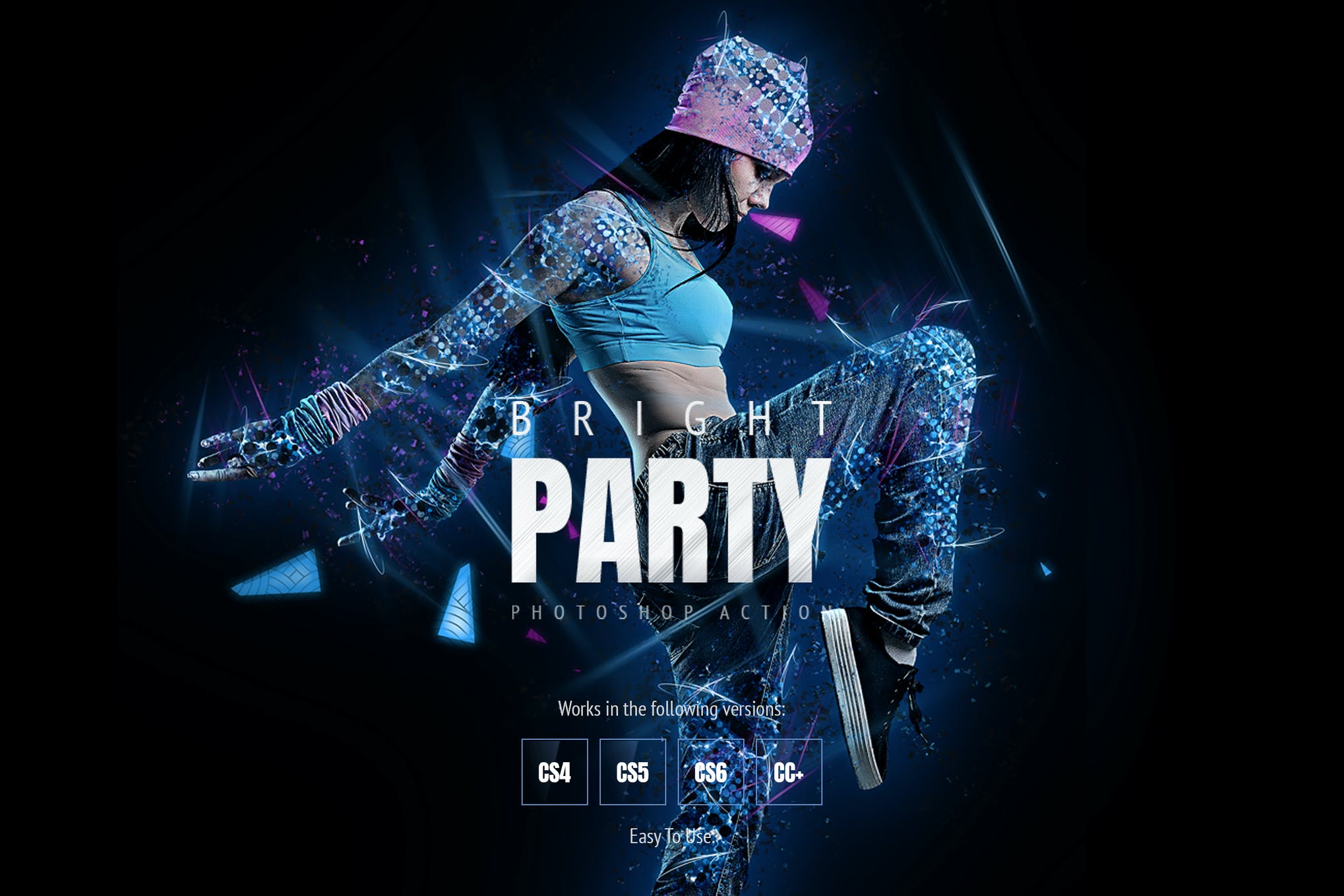 Make every corner of your photo twinkle with the Bright Party action, an incredible resource for adding captivating neon lights Photoshop effect to your pictures. The action provides you with several different pre-sets, a range of customization options, and much more!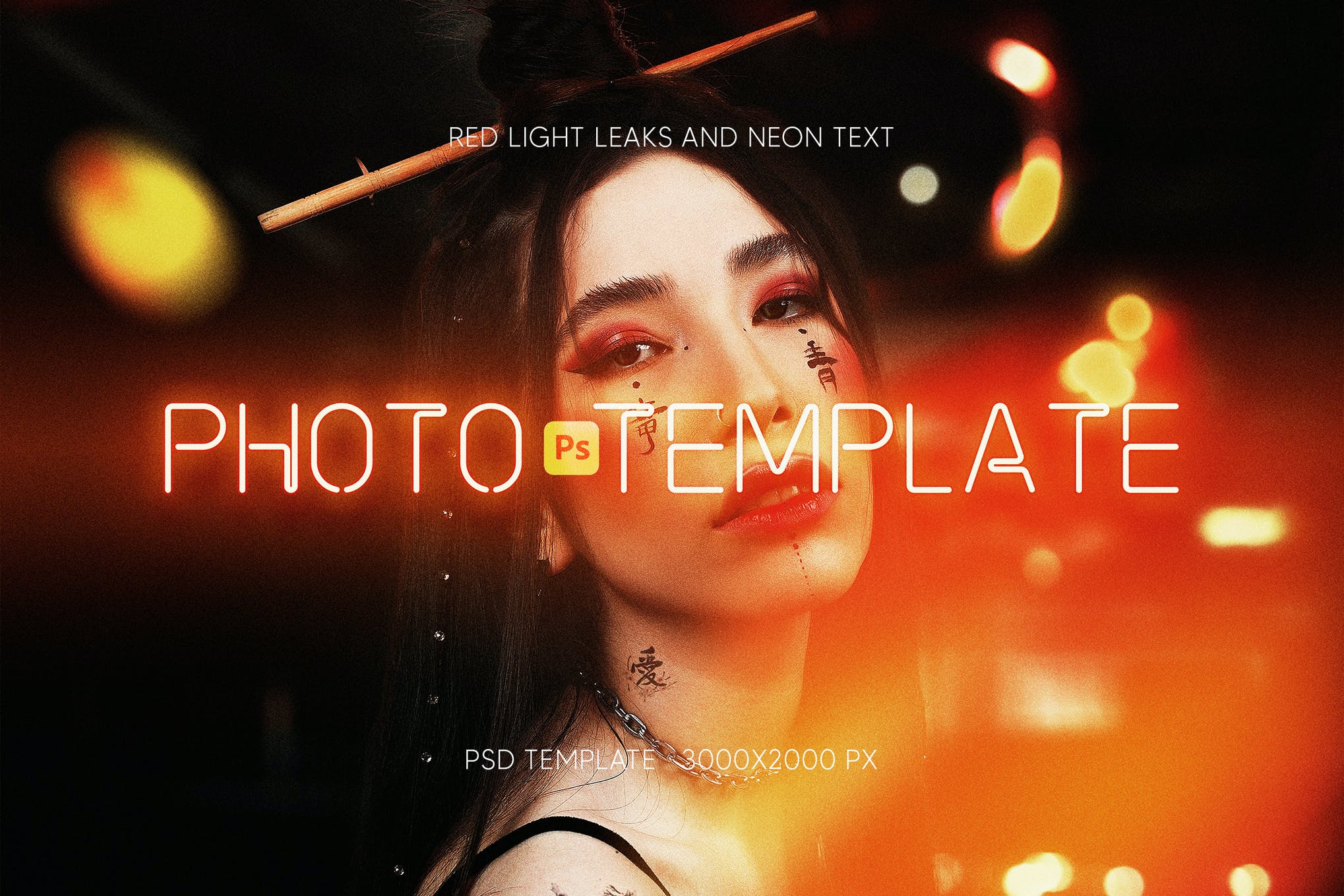 Next up is a remarkably unique take on the traditional neon aesthetic. The template uses a range of light leak effects and mixes them with neon fonts for Photoshop. The result is a truly creative design that you can take advantage of with only a few simple clicks of a button.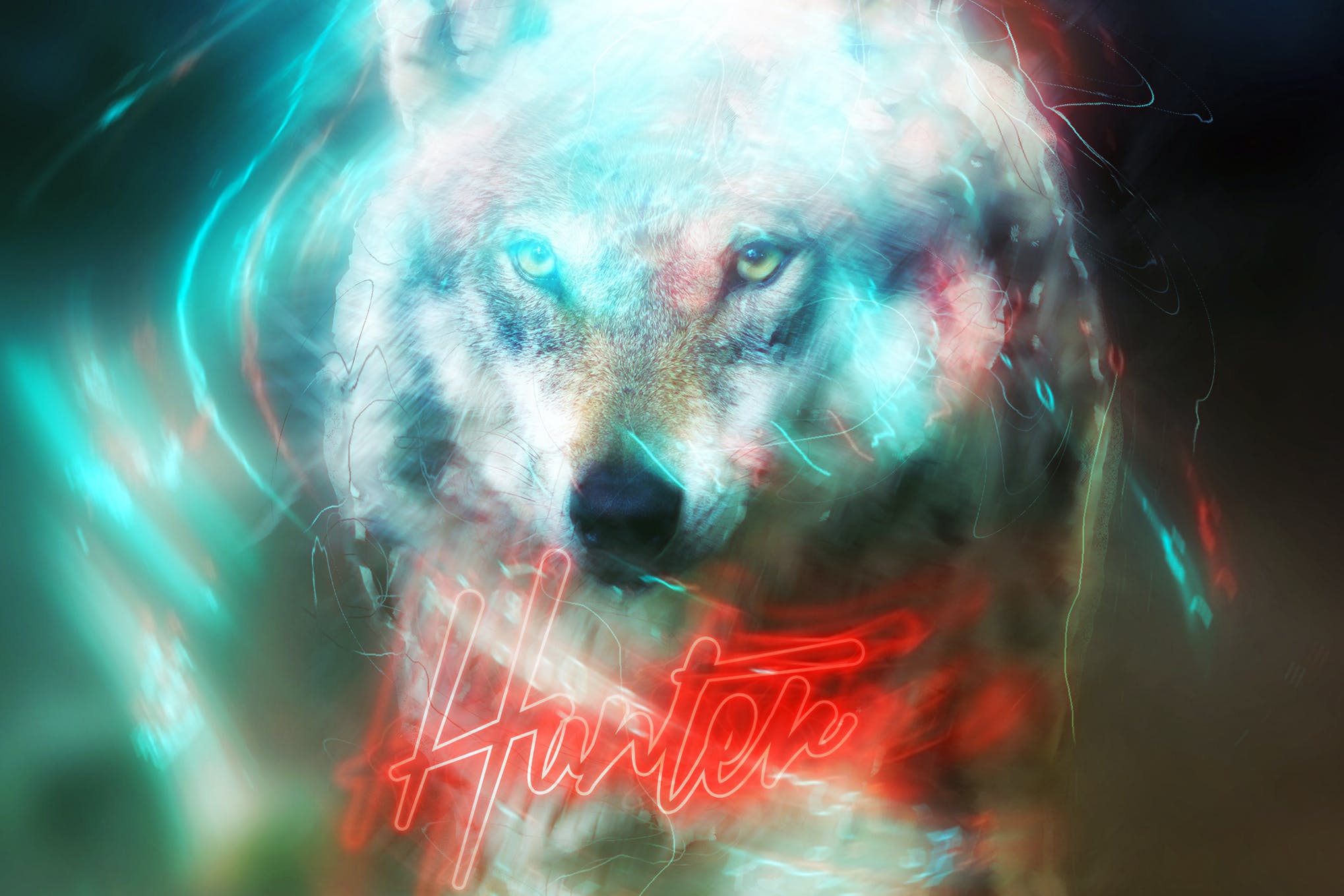 Bring a truly dream-like style to your pictures with the Lucent Photoshop Action. It's a captivating and mesmerizing aesthetic that uses a thick light leak brush style and mixes it with the bombastic pop of neon lights. A fantastic neon glow Photoshop action for those looking to create fantasy artworks!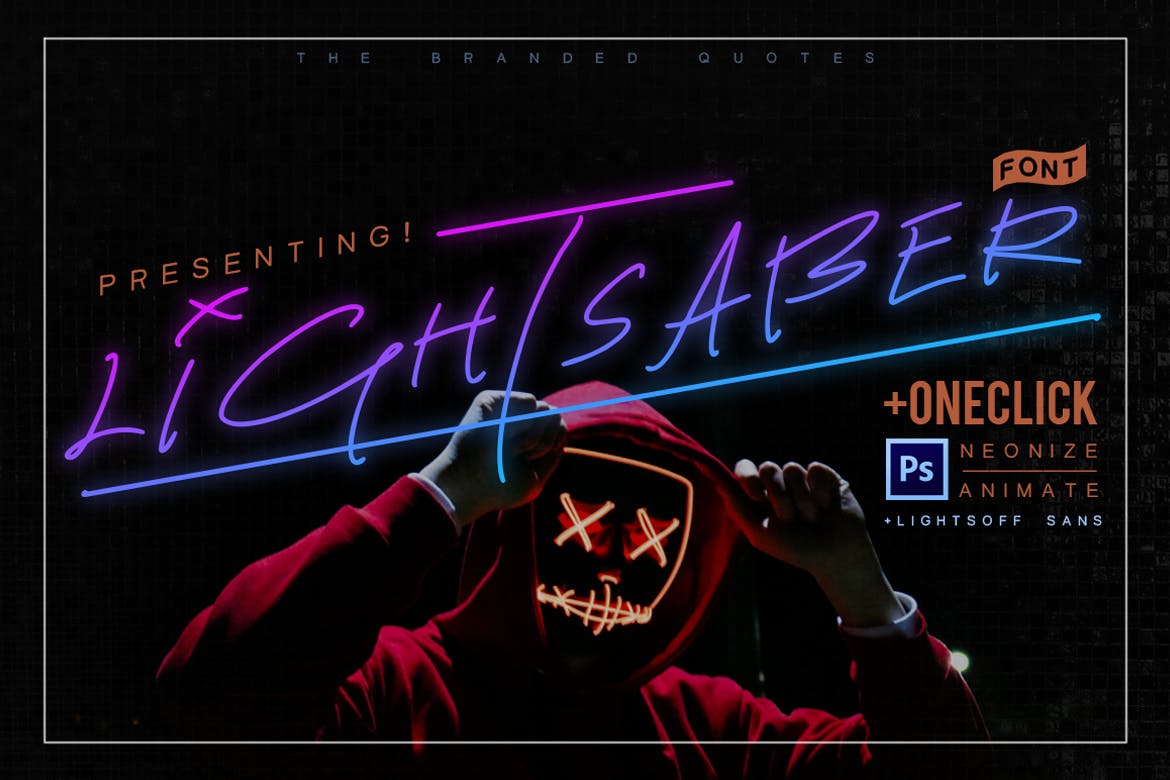 Sometimes we just need something simple for our text designs, and that's where Lightsaber comes into play. It allows you to neonize your test, logo, and shapes with ease. Inside you'll find all of the expected customization options, as well as a range of pre-sets to make using the neon font Photoshop effect a breeze.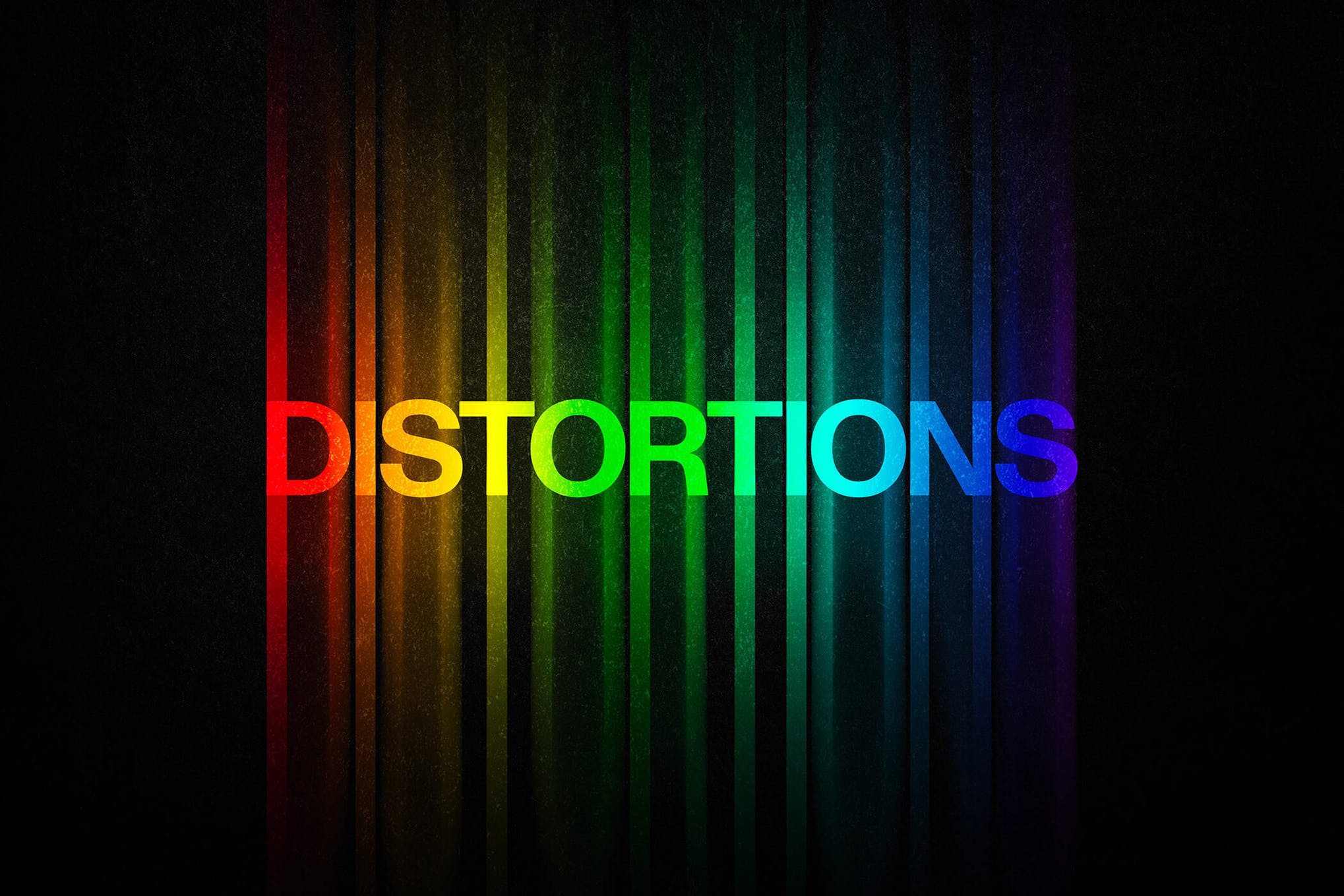 Enchant your audience with beautiful text designs employing the color distortion effect combined with the neon aesthetic. Although all the options shared on this list are worth trying out, if we have to choose our favorite, this neon font Photoshop effect definitely takes the cake.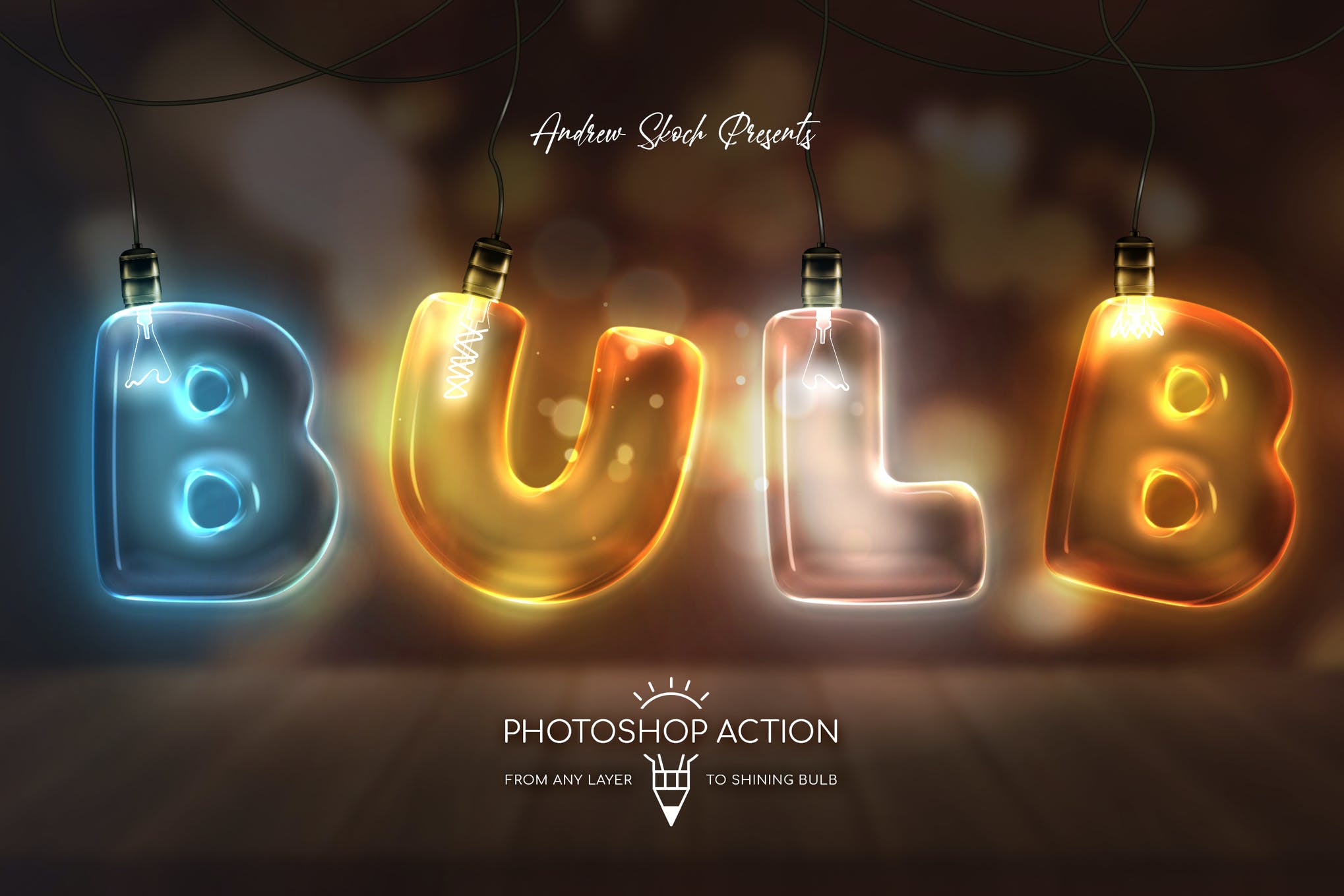 Not every neon design has to use flashy cyberpunk colors to execute that classic effect. With the Light Bulb Photoshop Action, you can transform your typeface designs into beautifully crafted neon beauties in just a couple of minutes. An awesome neon light effects Photoshop plugin!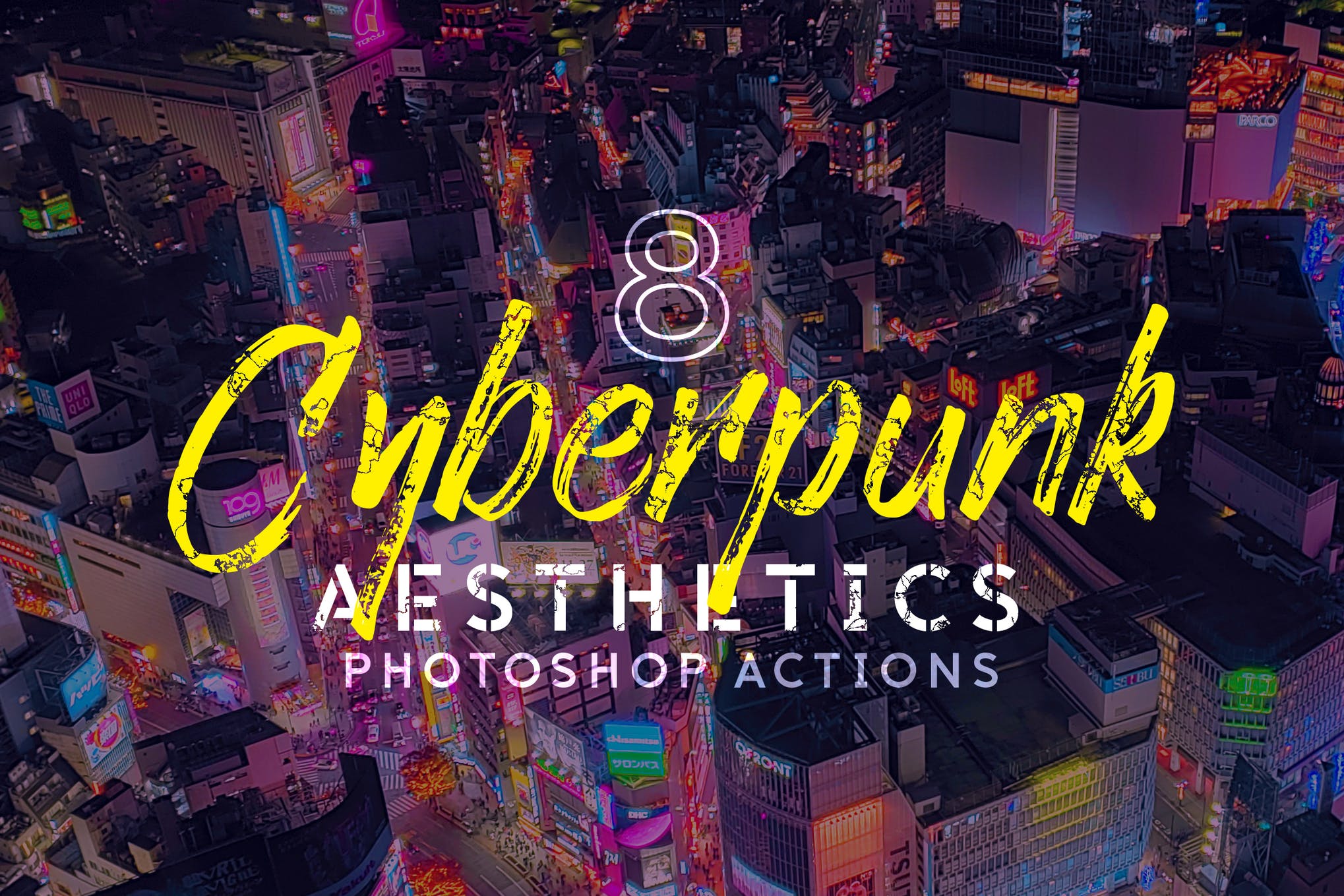 Perhaps you are looking to emulate that grunge cyberpunk look with your images, which means you need to drop everything and grab this fabulous neon Photoshop action right now. Inside the pack, you'll find eight easy-to-use options to bring your images to neon life with ease.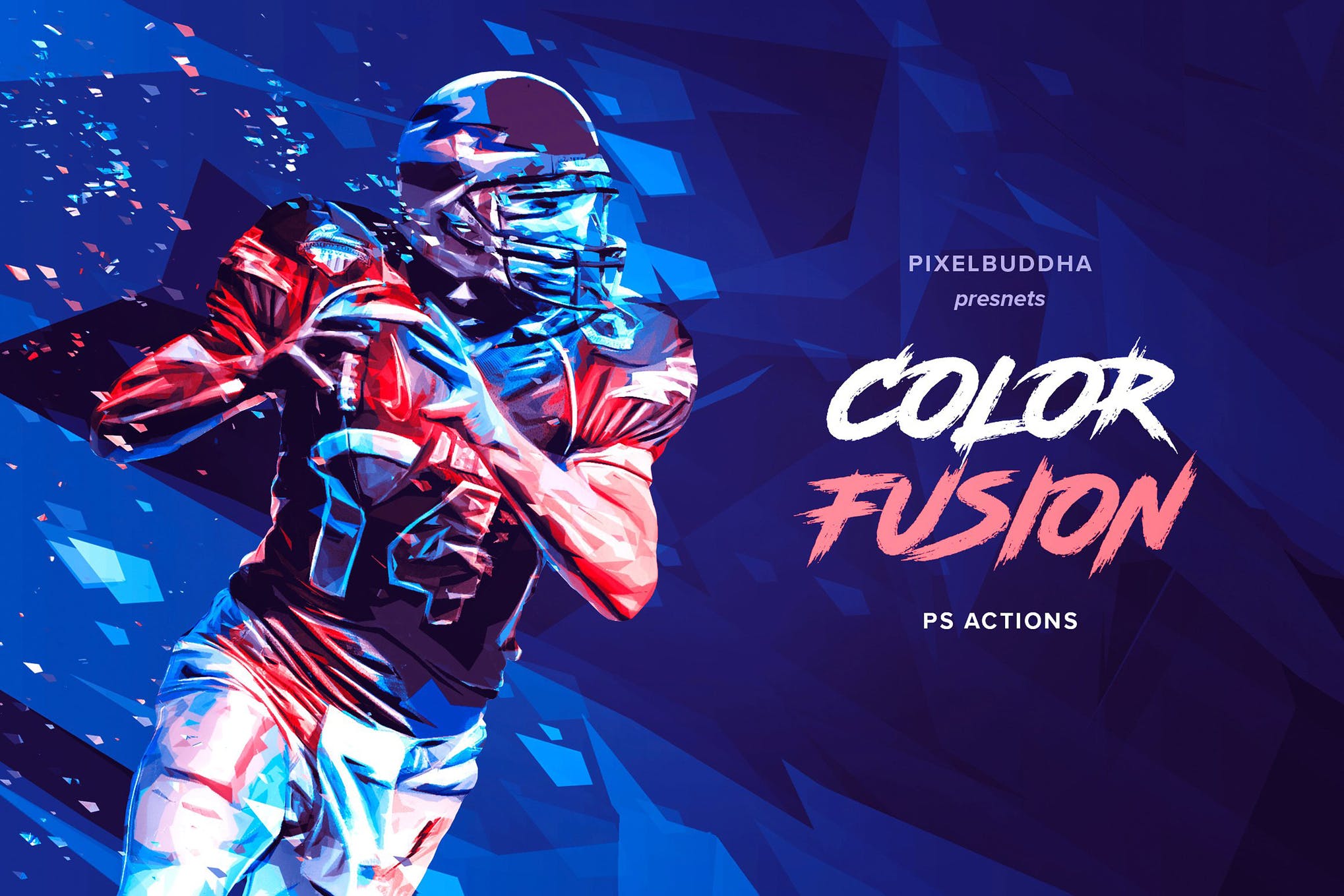 Forge an incredible neon light effect in Photoshop, without having to drown your visual design in light sources, with the Colour Fusion Photoshop actions collection. A beautifully crafted overlay that will make your work truly pop!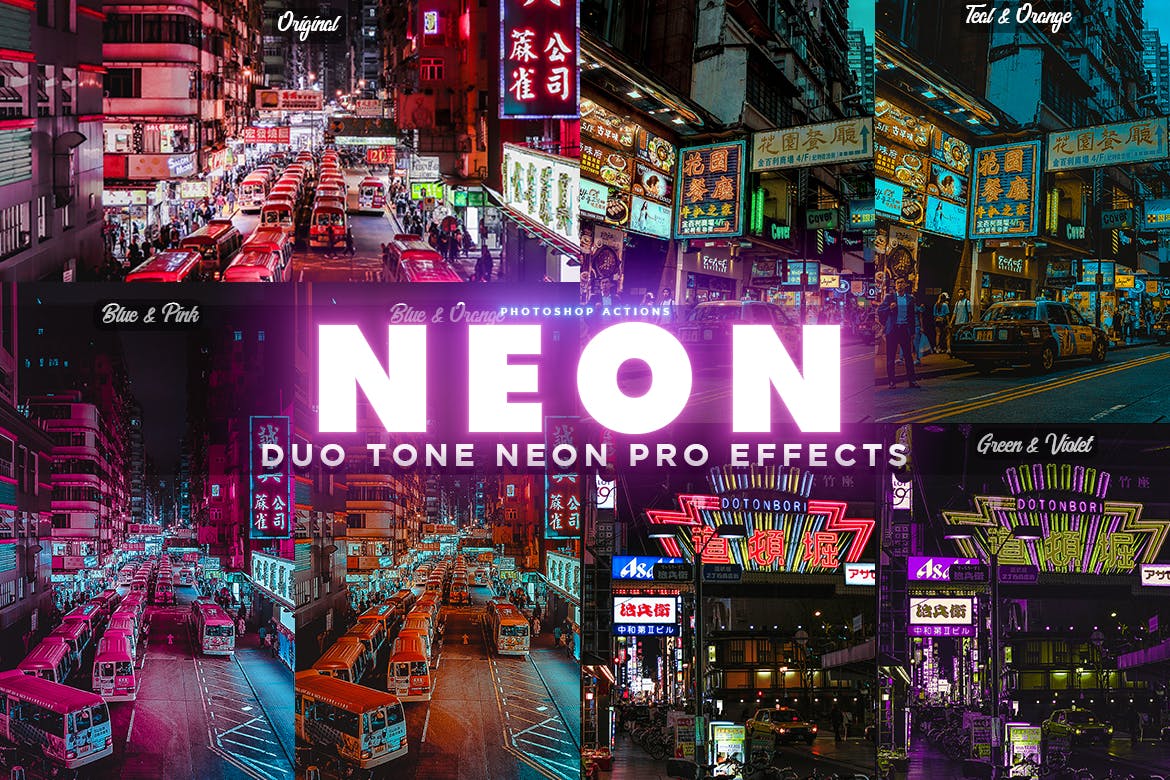 Make every picture appear as if it has been taken out of a cyberpunk future with the Pro collection of neon effect Photoshop actions. These actions are designed to bathe your pictures in unforgettable neon lights Photoshop effect. A great option for those heavily stylized visual design projects!
Free Neon Effect Photoshop Actions
You don't have to spend a pretty penny getting your hands on some great neon effects for Photoshop. Let's take a look at some free resources that manage to stand out, from text effects to neon sign designs for Photoshop.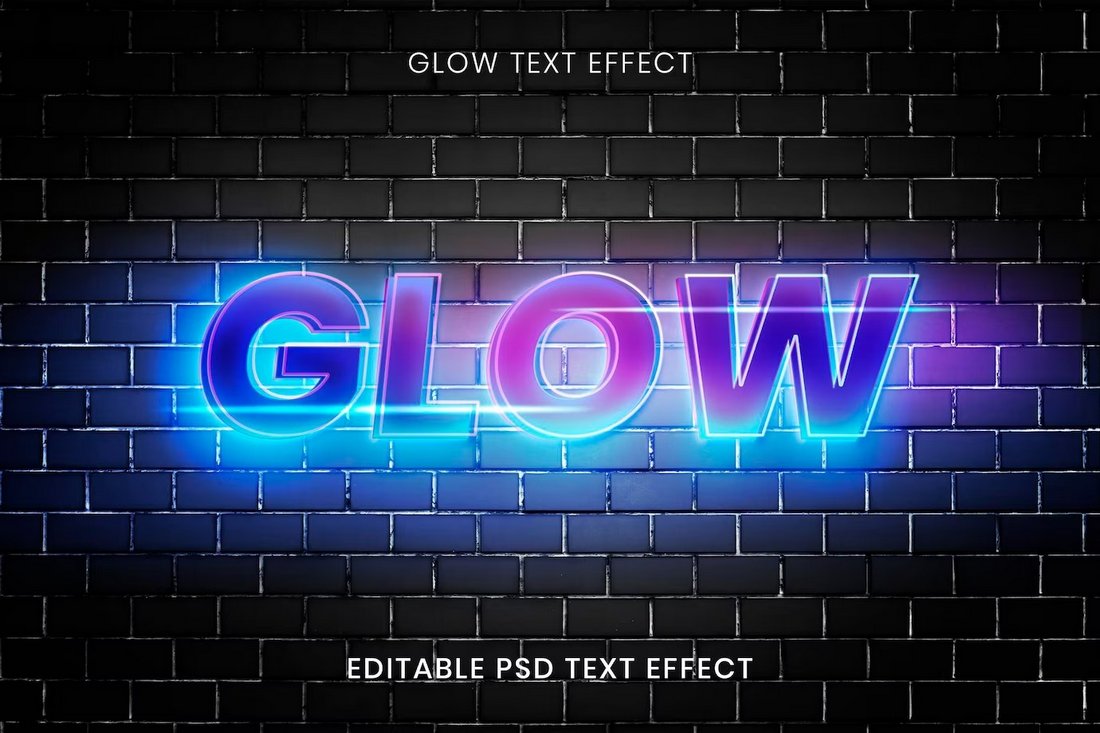 This is a free Photoshop text effect for designing cool titles with neon glowing effects. It features an easily editable design and you can add your own text with just a few clicks.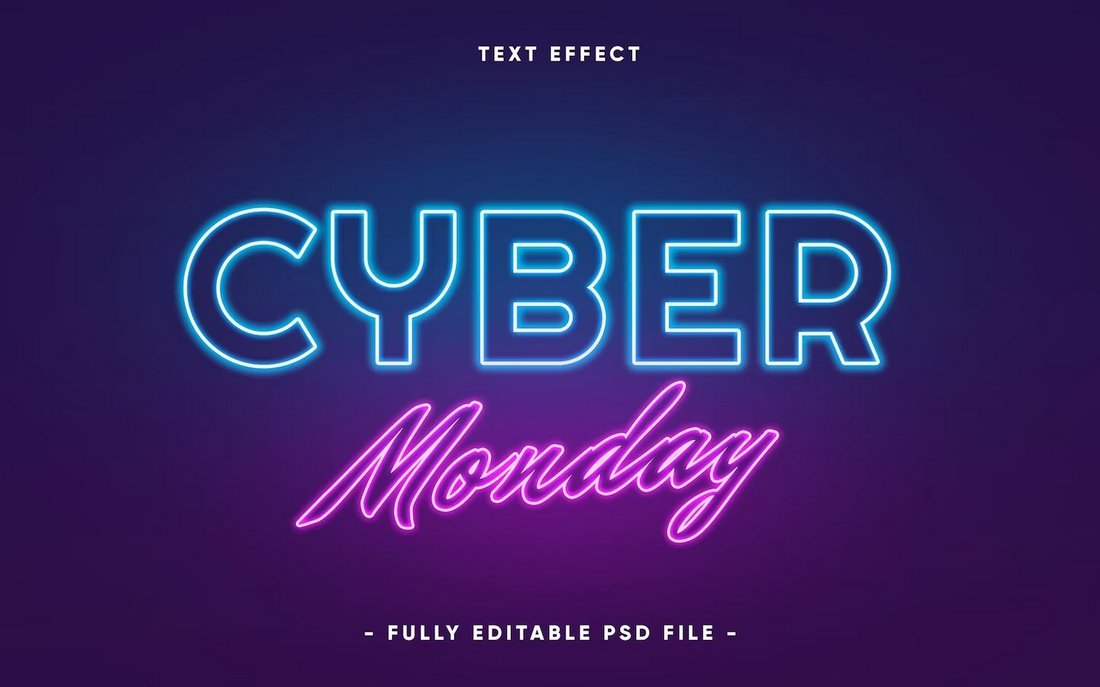 You can use this Photoshop text effect to create cool headings for your social media promos, sales, and special offers. It has a simple neon color text effect in PSD format. You can download it for free.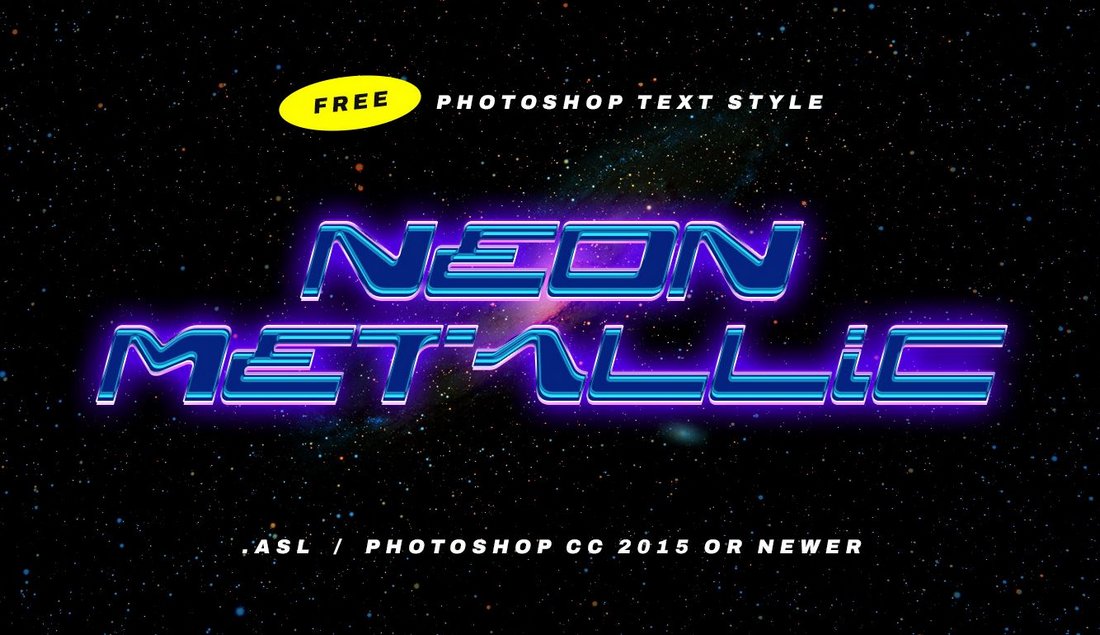 This Photoshop text effect blends a neon effect with a metallic look to create a bold new look for your typography. It's great for making title designs with a futuristic sci-fi vibe. You can use it completely free.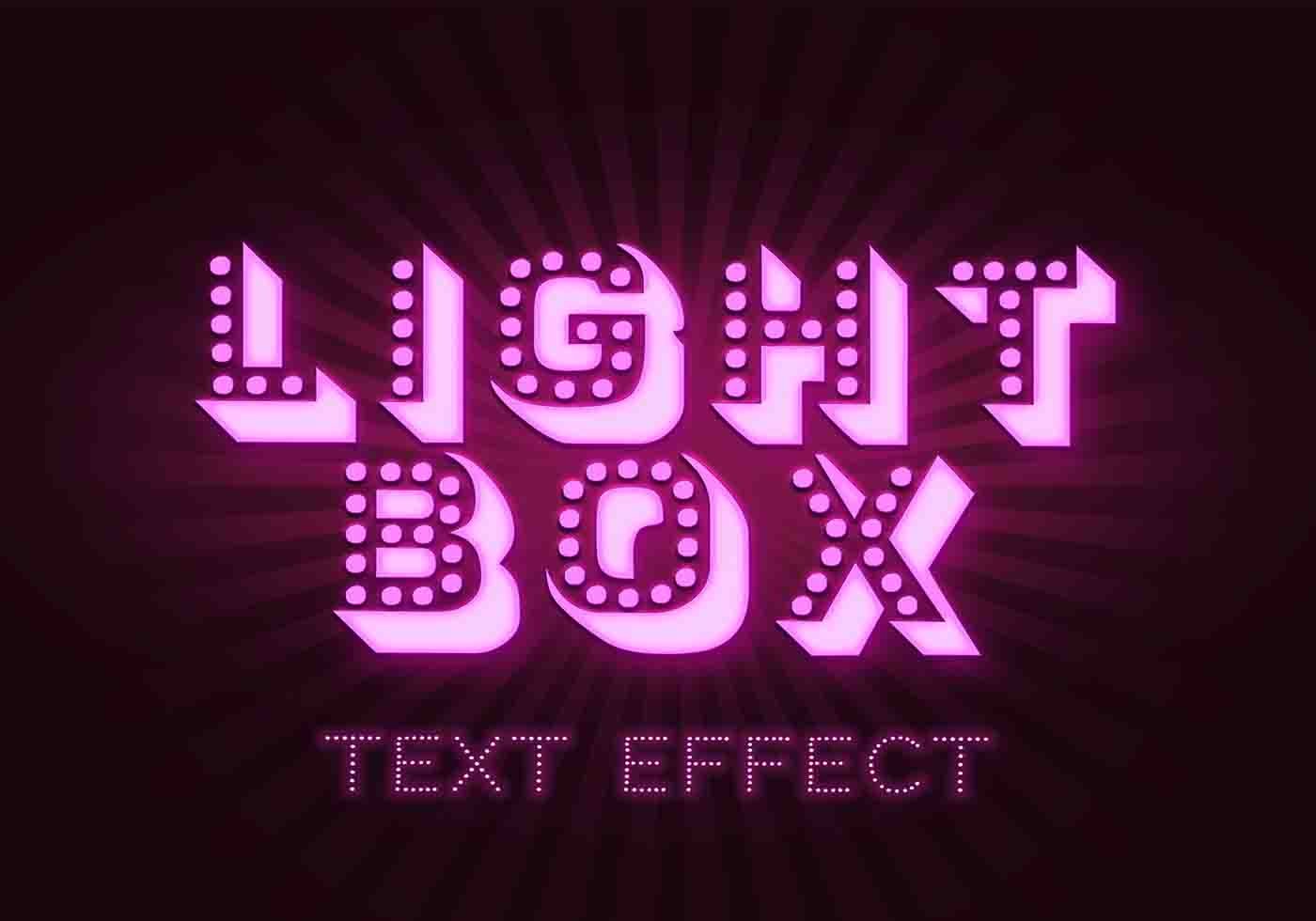 Use this amazing free neon font Photoshop effect to light up your lettering designs, and create stunning artworks. LightBox is a high-resolution 300 dpi Photoshop template that provides easy customizability, and well-organized layers.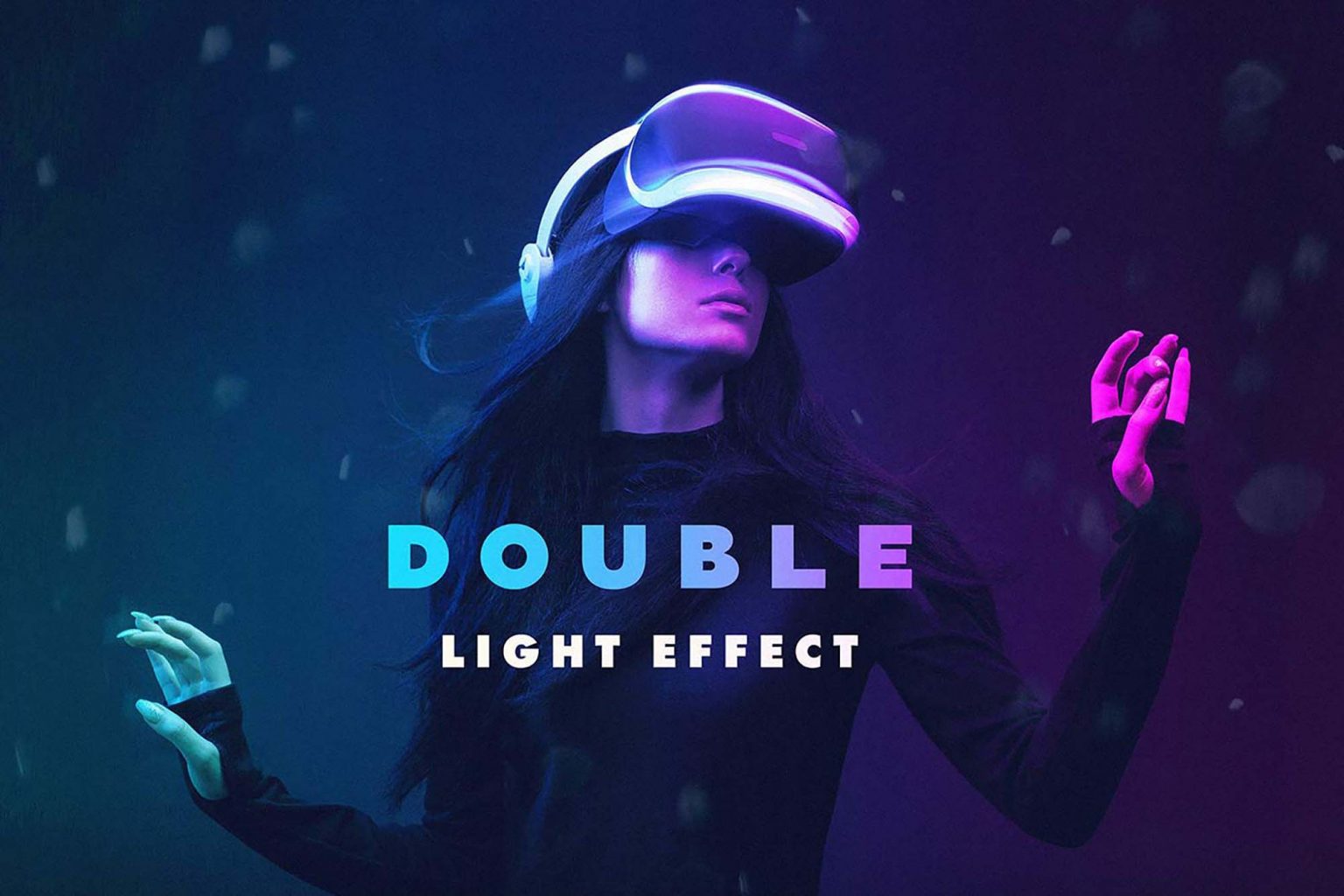 If you're looking to get your hands on a standout neon light Photoshop action without having to spend a single penny, this freebie is right up your alley. Free for personal and commercial purposes, this Photoshop double light effect is ideally suited for futuristic, and enigmatic projects.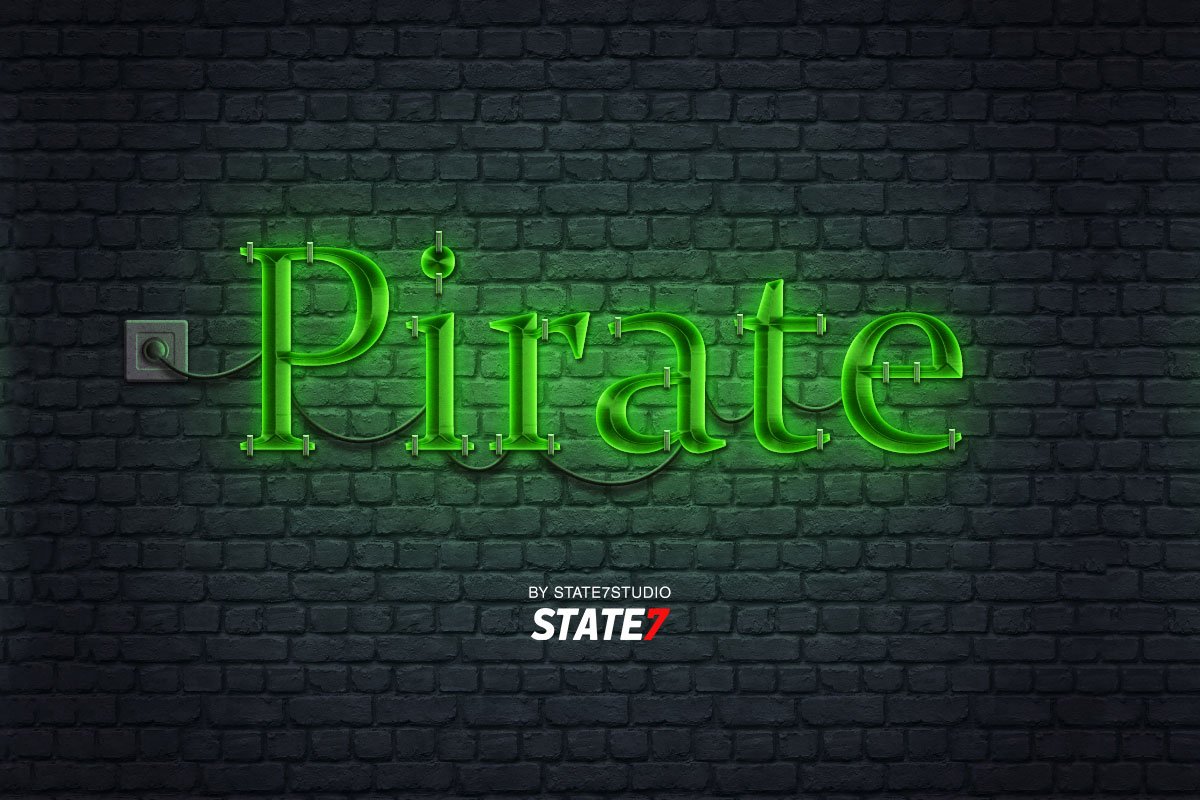 Bring a neon glow Photoshop effect to the table with this freebie tailored to make transforming your images into a neon dream a piece of cake. You can customize the colors to match your brand vision, and your personal taste and preferences.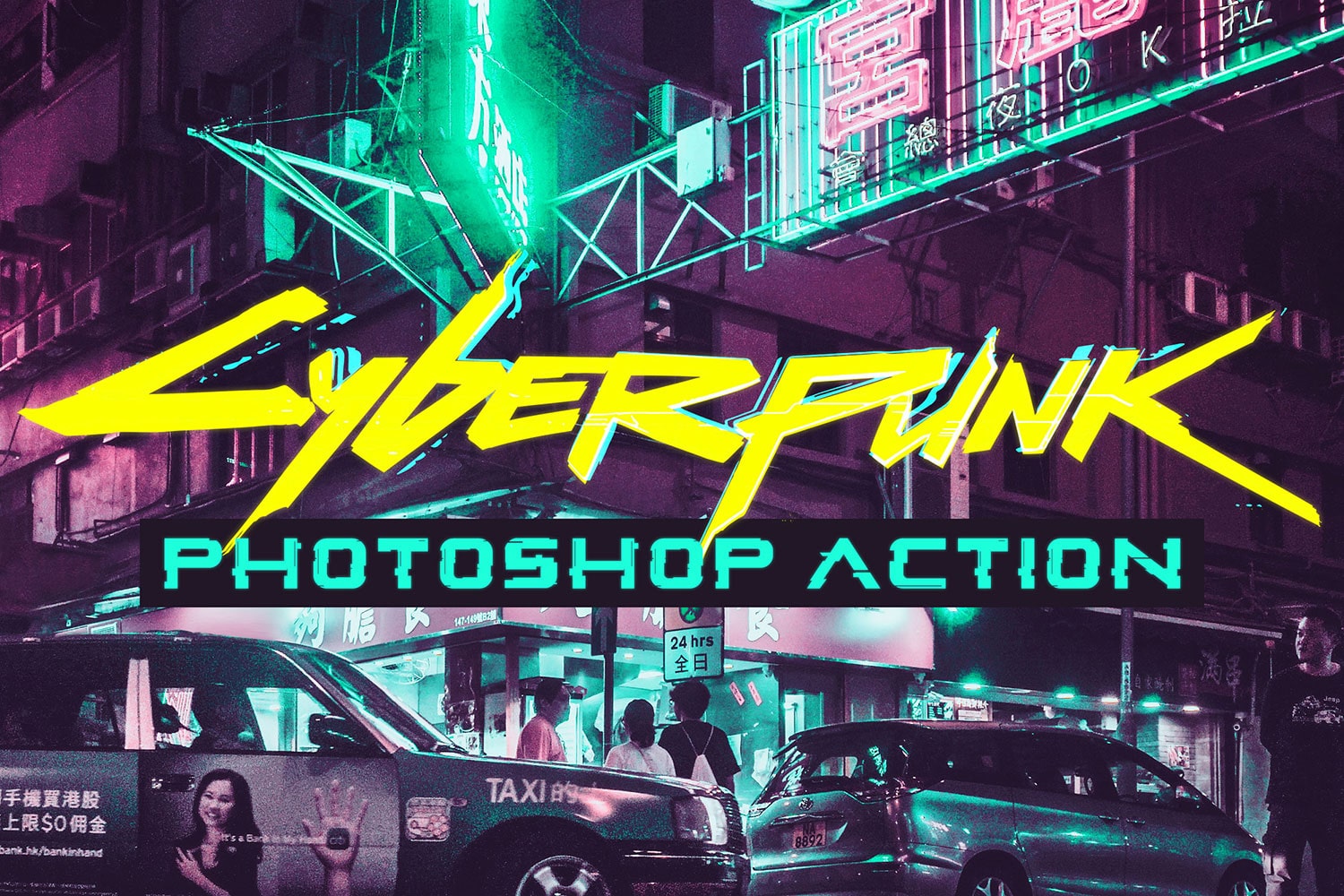 Here we have a simple and fun Photoshop action that allows you to paint neon colors into your work with ease. It's a flexible neon effect Photoshop action that will find itself at home in both creative and professional projects.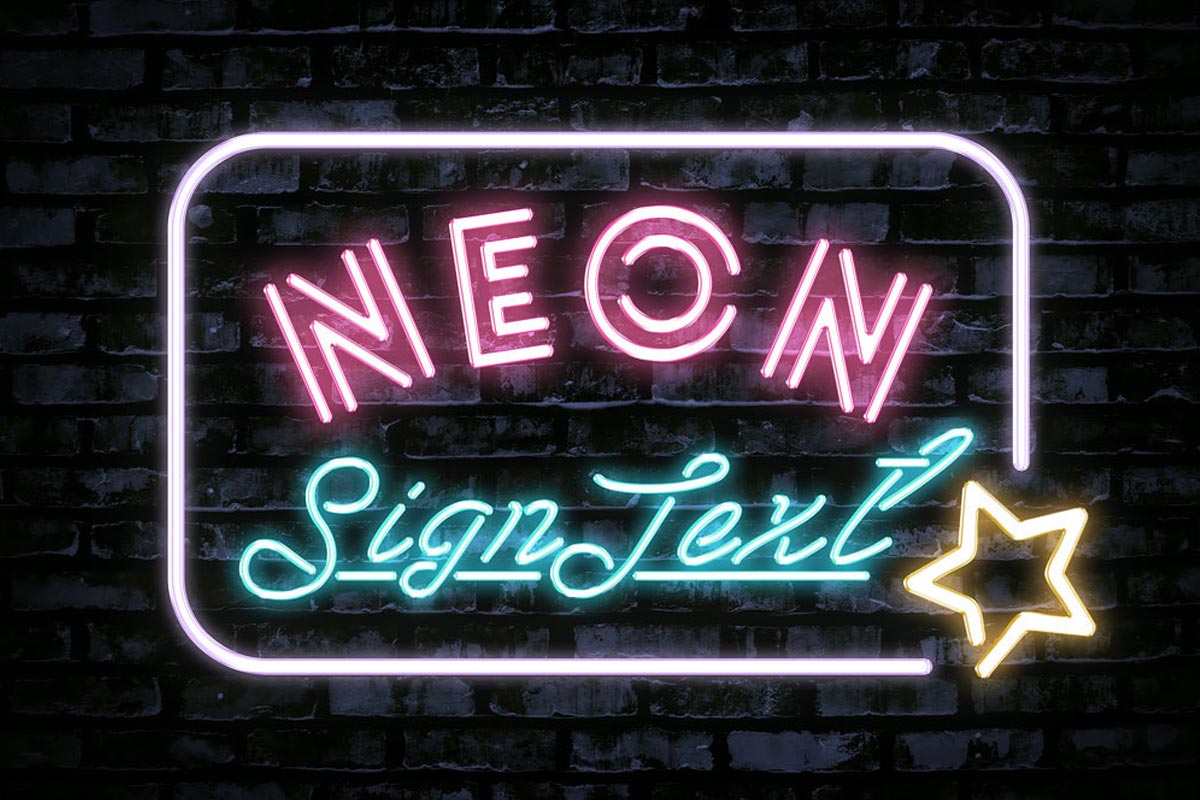 Looking to neonize your text, logo, or signboard? Then you need this neon sign effect Photoshop action available for free download! It's a simple and quick-to-set-up plugin that will have you tailoring your own neon sign in mere minutes.
Bring A Touch of Neon to Your Work with These Amazing Resources!
Never again will you find yourself lost within a sea of neon resources, trying desperately to find the one that works for you. With these neon effects for Photoshop in your toolkit, you have everything you need to craft from a cyberpunk poster to a neon signboard that's sure to catch people's attention.