7 Best WordPress GDPR & CCPA Compliance Plugins for 2021
If you have a website or a blog that collects user data and generates some sort of revenue, then you should be following the GDPR and CCPA regulations to ensure you don't get into trouble.
Making a website to promote products used to be simple. Today, you have to follow many regulations and rules to avoid lawsuits. It's actually a good thing. It gives people more control over how businesses handle their personal data.
GDPR and CCPA are two laws that help protect user privacy. They are now requirements for every website that collects user data. In this guide, we explain everything you need to know about making your WordPress website GDPR compliant.
What Is GDPR & CCPA Compliance?
General Data Protection Regulation (GDPR) is a law introduced by the European Union to protect the privacy and control how businesses collect the personal data of the people in the EU. Even though the law is created in the EU, it applies to every business and website in the world.
Simply put, if your website receives traffic from an EU country, you should be following the GDPR.
California Consumer Privacy Act (CCPA) works similarly to GDPR and it offers California residents more control over their personal data.
In order to make your website GDPR and CCPA compliant, you need to be more transparent about how you collect user data. As well as to give users more control over the data you collect.
Why It's Important
It doesn't matter if you have a small personal blog where you occasionally review products. Or a news website where you show a few AdSense ads. You're still required to follow the law.
Even though you don't directly collect user data, the tools and services you use do. For example, Google Analytics uses cookies to track your website visitors.
GDPR and CCPA compliance is mainly about informing your website visitors of how you collect data and allowing them to opt-out.
How To Make a WordPress Site GRPR Compliant
There are a few simple methods you can use to make your website GDPR and CCPA compliant.
Cookie Consent: GDPR requires that you ask for user consent before collecting their data. Like the use of cookies. You can use a popup notification to ask for consent
Privacy Policy: Write a detailed privacy policy outlining what type of services and tools you use as well as how you collect user data like emails
Affiliate Disclaimers: Every time you review or promote an affiliate product, write a disclaimer mentioning your affiliation
Let Users Control Their Data: Give users the option to delete or at least request to delete their data that you collect
Best WordPress GDPR & CCPA Plugins
You can use WordPress plugins to show cookie consent messages and allow users to control how data is collected. These are some of the best plugins you can use to achieve that goal.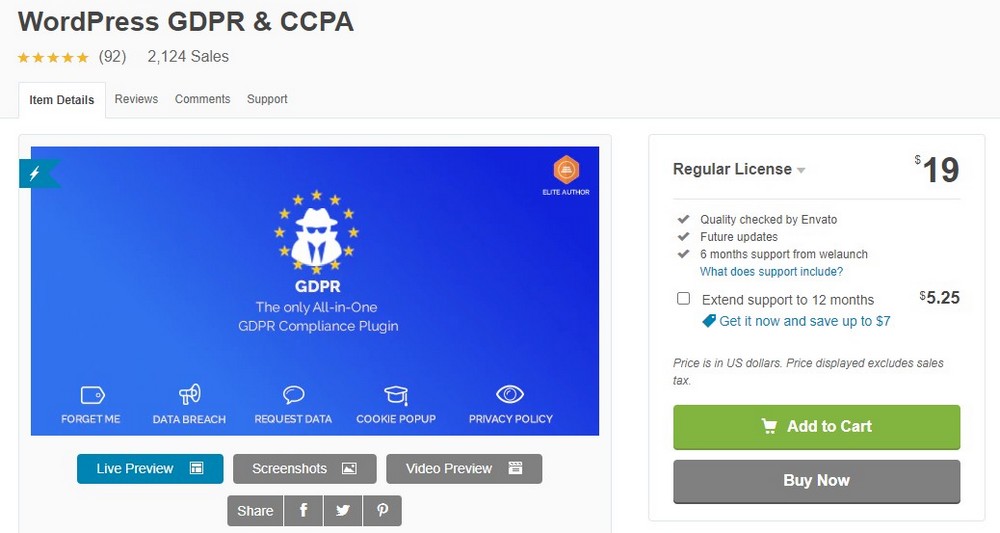 This is one of the best solutions you can find to make your website GDPR compliant. It's not just a plugin to show a cookie consent notification. It includes many other options to make data collection more flexible.
The plugin acts as a total solution where your users can customize the privacy settings, control which cookies to accept, as well as to delete their data. As a result, the plugin helps make your website compliant with both GDPR and CCPA.
Main Features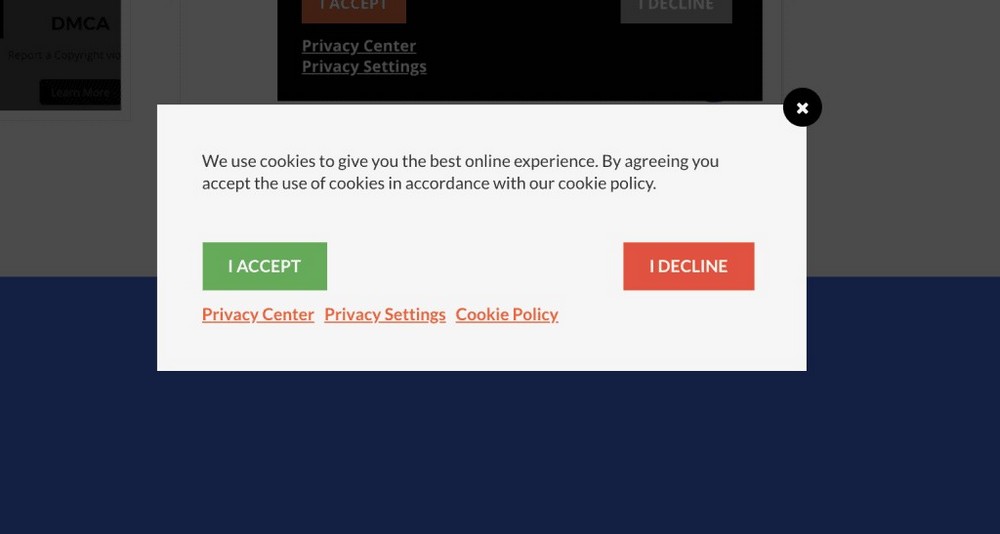 Setup cookie consent notification popups
Give users control over how their data is collected
Let users request data or delete them
Integrate with MailChimp and contact forms to add consent checkboxes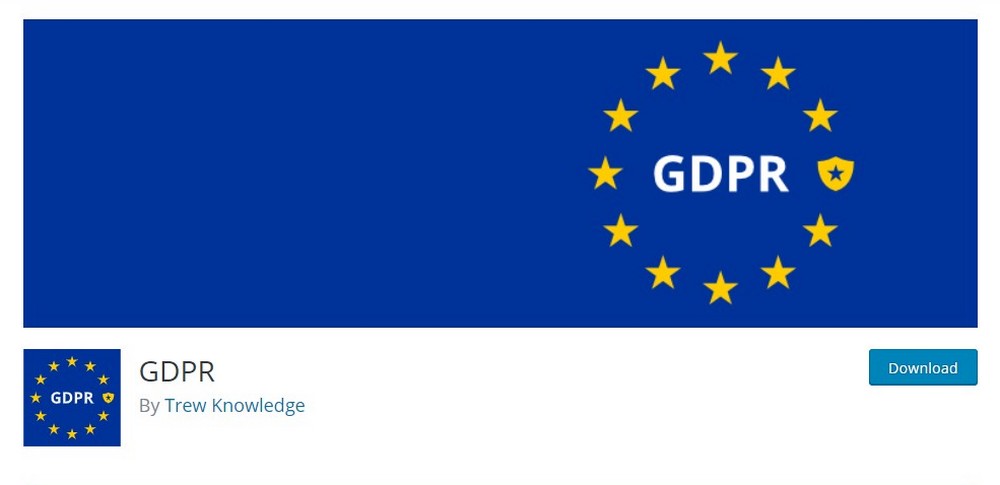 GDPR is a simple WordPress plugin you can use to add a cookie consent notification to your blog or website.
Even though this plugin doesn't offer a lot of options or customization features, for a free plugin, it does its job perfectly to help make your website GDPR compliant.
Main Features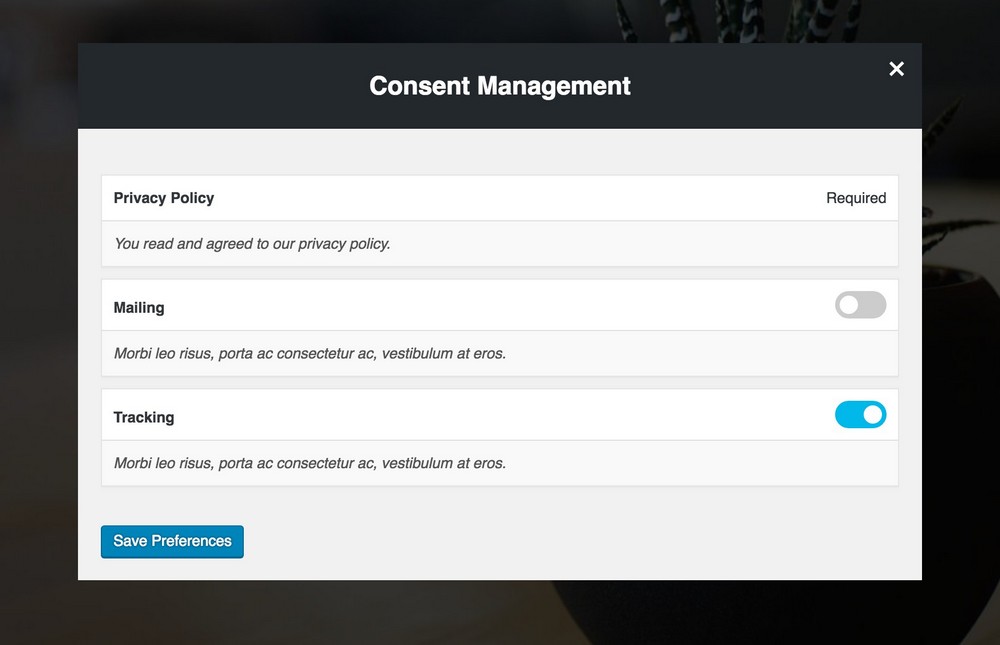 Add a custom cookie consent notification to your website
Includes basic options to let users customize how data is collected
Let users opt-out of specific data collecting options
Allow users to request for their data to be erased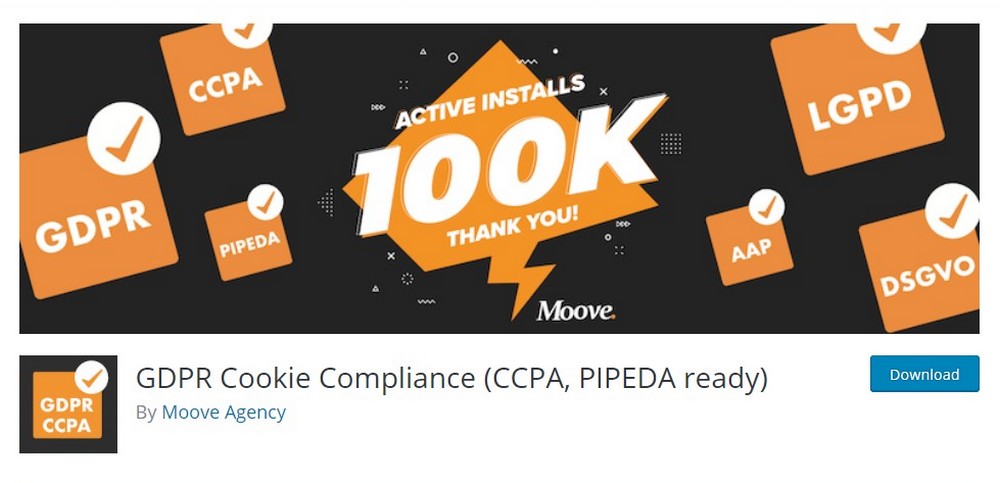 Another great free plugin you can use to add cookie compliance to your WordPress website. This plugin also comes with many useful options to further improve the way you handle user data.
The plugin lets you create a customized cookie consent form and allows users to choose their own preferences for cookies and data collection. The modern and beautiful design is another attractive feature of this plugin.
Main Features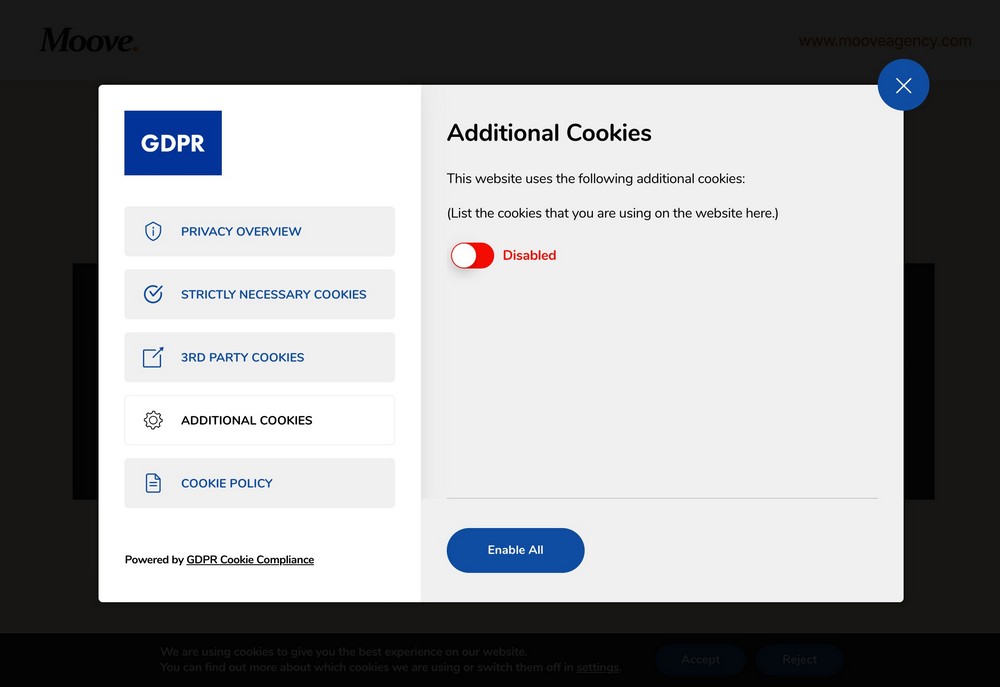 Design a custom cookie consent message with your branding
Give users the ability to accept or reject cookies
Let users customize cookie preferences
The plugin is also optimized for WCAG and ADA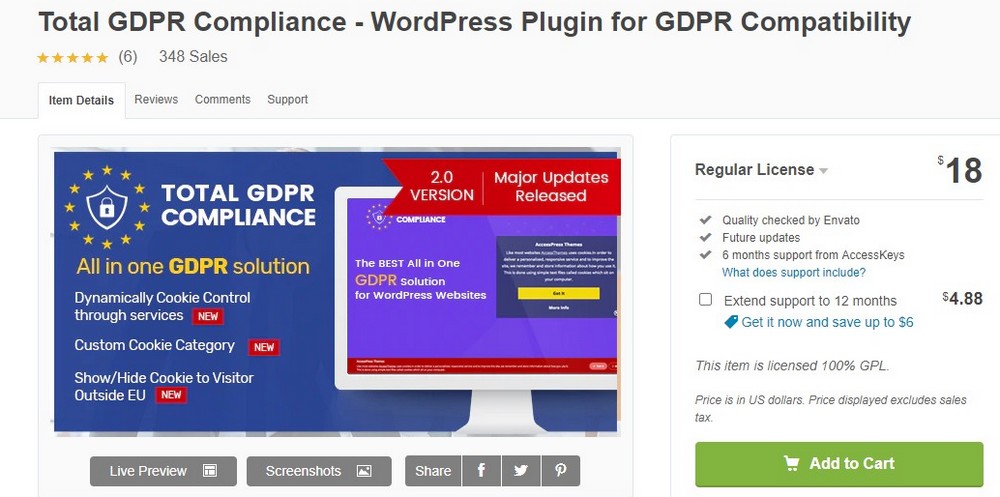 Total GDPR is an advanced GDPR compliance plugin that is most suitable for business and corporate websites to add a fully customized cookie consent system.
In addition to adding a cookie consent notification and giving users control, the plugin even allows you to add your own custom cookie categories to the preferences section.
Main Features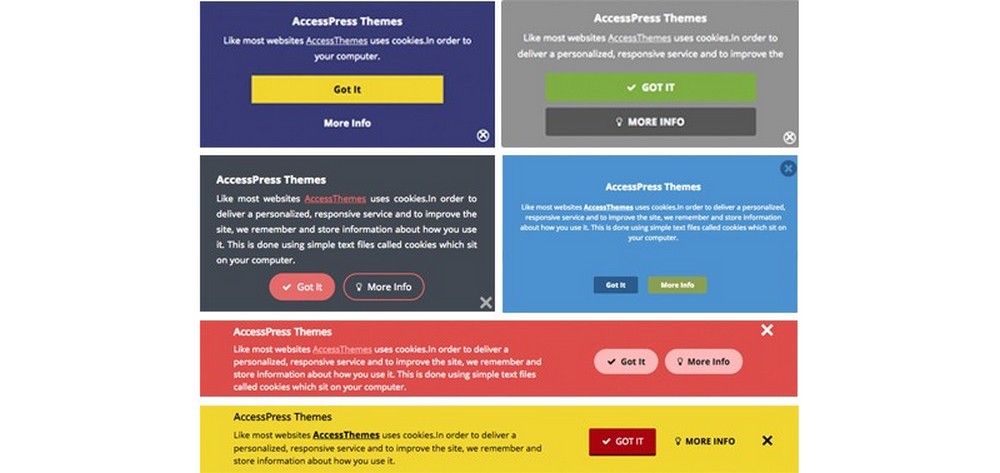 Setup a fully customized cookie consent notification
Choose from over 30 templates and 3 different layouts
Let users control their cookie preferences
Add your own custom cookie categories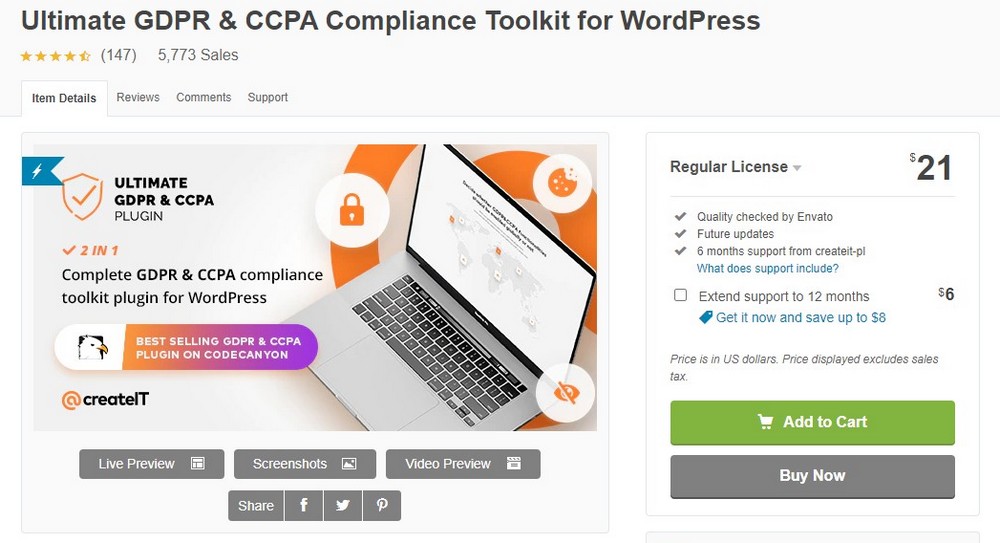 Ultimate GDPR is a two-in-one WordPress plugin that supports features to make your website both GDPR and CCPA compliant. This plugin also comes with many options for customization.
One of the most useful features of the plugin is that it's compatible and integrates with lots of third-party WordPress plugins, such as WooCommerce, BuddyPress, and Gravity Forms. Making it much easier to add compliance messages and tick boxes to your forms.
Main Features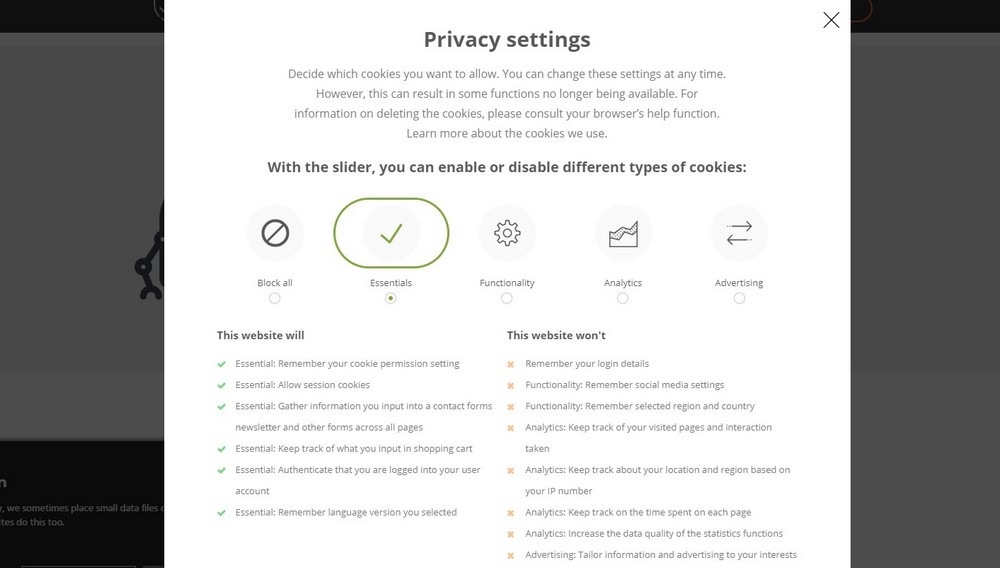 Easily add cookies consent and data access features to your website
Allow users to request to delete their data
Add age verification and geolocation-based notifications
Integration with third-party plugins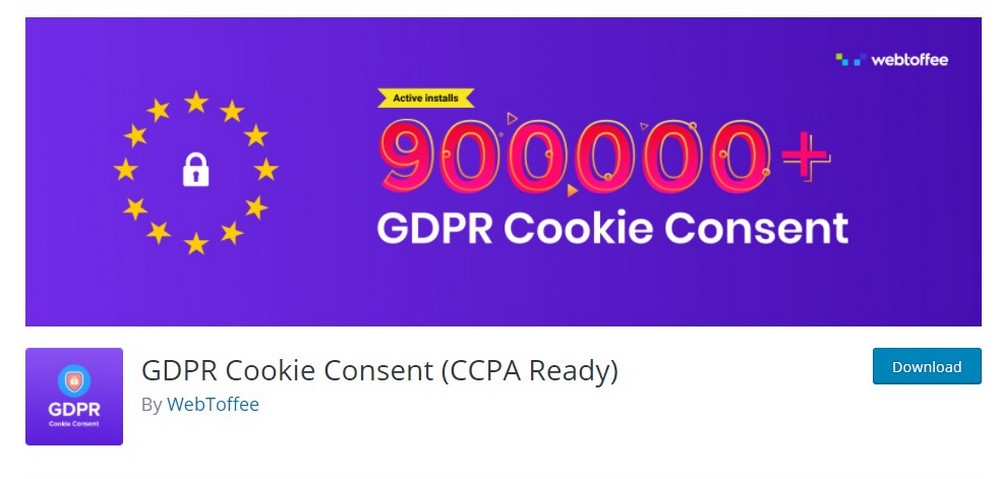 A simple and free WordPress plugin to make your website GDPR and CCPA compliant. This plugin offers many features and benefits over other free plugins, including the ability to let users choose their data preferences.
GDPR Cookie Consent is a plugin that specializes in cookie consent and it offers tools to make your cookie-based data collection more transparent and safer for the users.
Main Features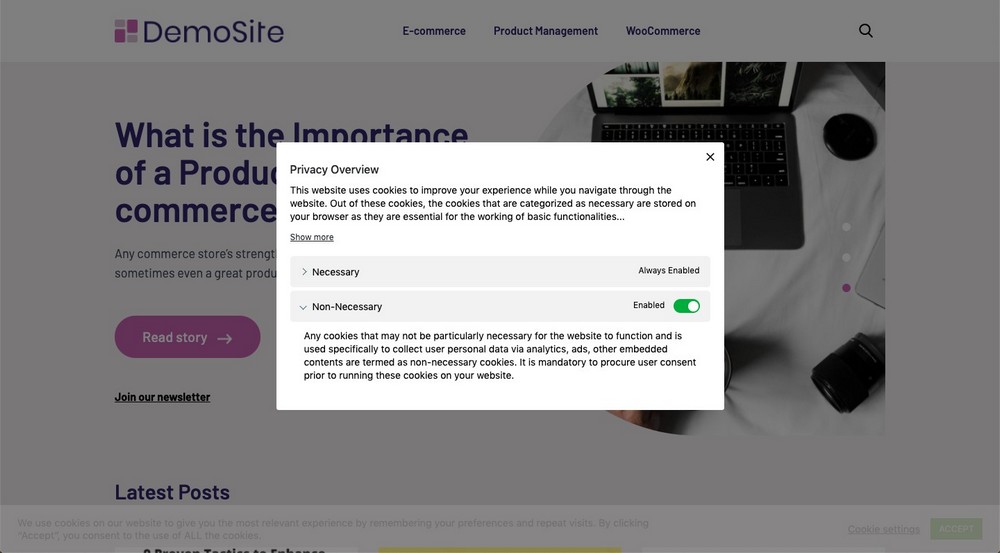 Add cookie consent notifications with accept and reject options
Design a custom notification with different colors and fonts
Ability to set the cookie notification to disappear on scroll
Compatible with WPML for adding translations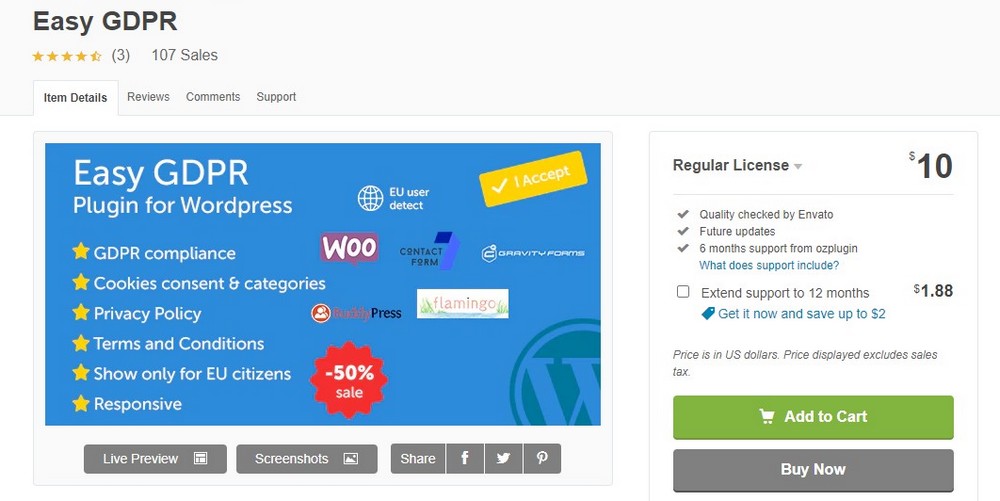 If you want to provide an easy, beginner-friendly, and less complicating system for users to choose their cookie preferences, this plugin will come in handy.
Just as the name suggests, Easy GDPR lets you setup a simplified portal where users can easily manage their data and cookie preferences from one place. The plugin is useful for making websites GDPR compliant but it has features to support CCPA compliance as well.
Main Features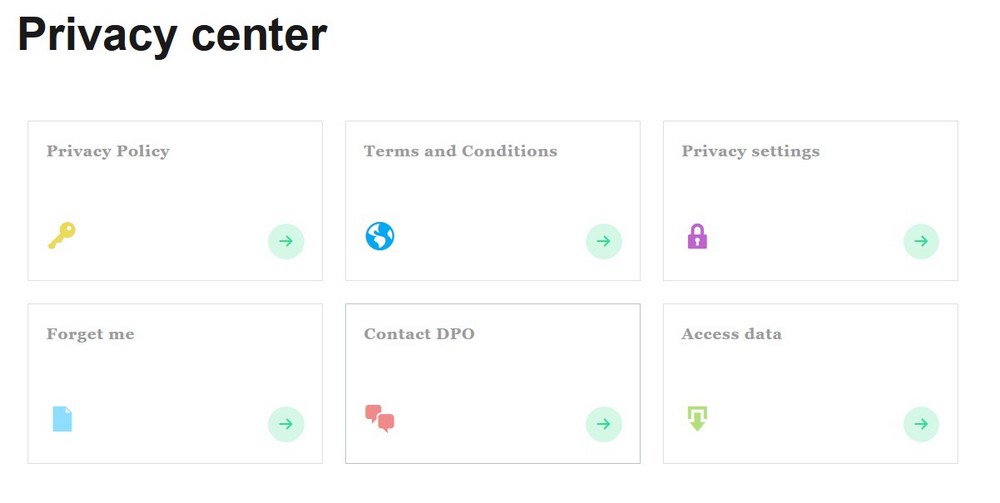 Design and add a customized cookie consent notification
Let users choose cookie categories and customize preferences
Allow users to request access and delete their data
Ability to block third-party cookies with shortcodes
Conclusion
Even though it can be annoying to have to follow these laws and regulations, it's all part of creating a better world wide web that respects privacy. And that's a cause we should all get behind.
Speaking of laws, you should also learn about website accessibility as well as WCAG and ADA Compliance. It will help you avoid unexpected lawsuits in the future.
Looking for WordPress hosting? We use Kinsta. They offer world-class WordPress hosting, built to keep your website fast, secure, and always online.