WordPress Full Site Editing: How It Changes The Way You Build Websites
WordPress is an ever-evolving software that keeps surprising its users and the web design community with big changes. The latest update brings another game-changing feature to the content management software.
When WordPress introduced the new Gutenberg block editor with WordPress 5.0 update, it received mixed reactions from the users. But little did they know that it was only the first step towards a much larger plan.
The next level for the Gutenberg block editor is WordPress full site editing. This comes to the CMS with the WordPress 5.9 update. With it, the software introduces the block-based editing system site-wide.
In short, full site editing makes WordPress much easier to use for building entire websites, much like using a website builder platform like Squarespace.
While this is great news for WordPress software development, it also brings up a few questions. What does this mean for the future of existing WordPress websites? Will you have to change your existing themes and design to function with full site editing?
Let's take a closer look at this update to find some answers.
Get everything you need to build your next website with one simple subscription. From $16 per month, get unlimited access to nearly 2 million WordPress themes, web templates, fonts, graphics, and photos.
What is WordPress Full Site Editing?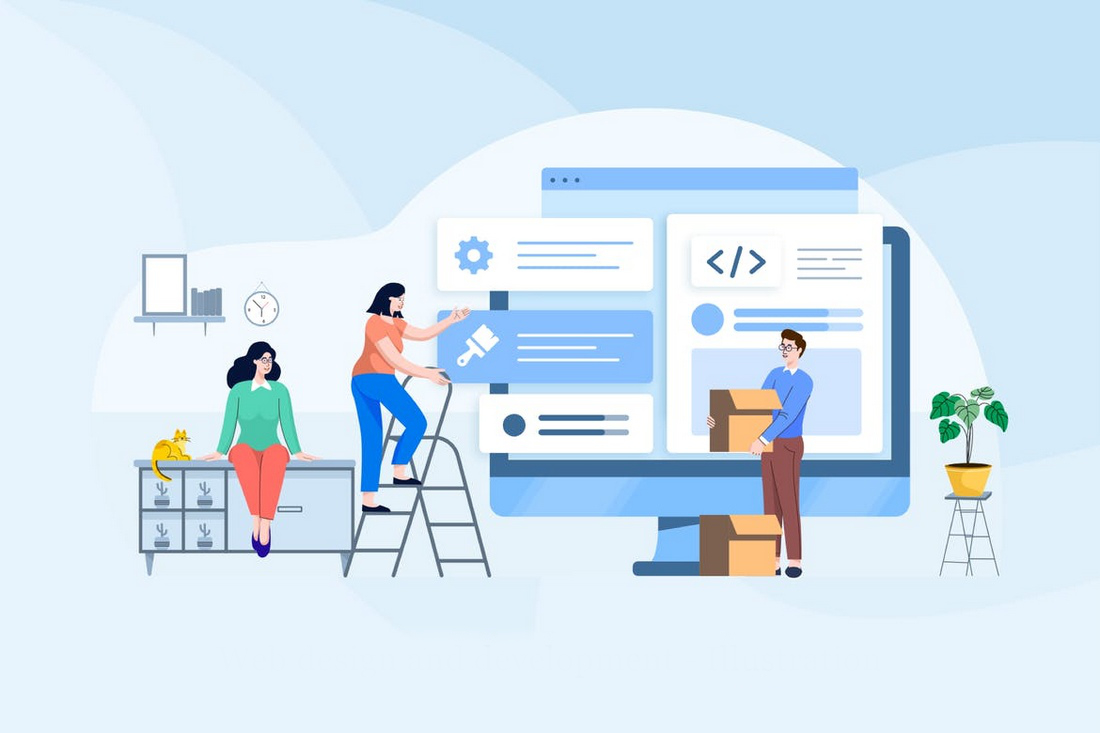 One of the main differences between website building platforms and WordPress is the ease of use. Most beginners choose platforms like Squarespace and Wix for the code-free live site editing features. WordPress is now slowly catching up.
With full site editing, WordPress takes a step towards offering a completely visual live website editor by bringing the block-based editing system beyond the posts and pages to the entire website. This completely transforms the way you edit a theme design and customize the design of a website in WordPress.
WordPress already had a live editor for editing a theme design but with limited options. With full site editing, you can customize your entire website, including global styles, header and footer, post and page layouts, and more using a visual editor.
This is actually not an entirely new concept. Page builder plugins, such as Elementor and WPBakery, have been utilizing visual editing for many years. But, this is the first time WordPress is allowing you to customize an entire website without the need for a third-party plugin. And it introduces a new Block-based ecosystem for theme designs as well.
Theme Blocks & Block Themes
In order for WordPress full site editing to function, you need to be using a theme that uses templates that are built with Blocks. These themes are called Block Themes. Yes, it sounds confusing but here's how it works.
WordPress is introducing a new theme configuration to allow theme developers to start making Block themes. Along with Theme Blocks, a set of new blocks specifically made for designing Block themes, like new blocks for navigation and author box.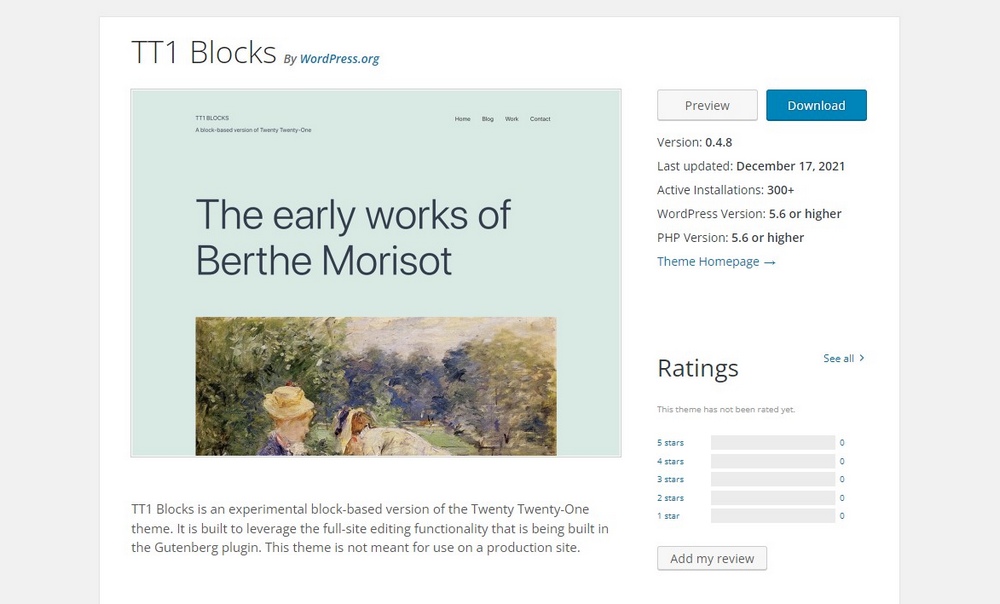 TT1 Blocks is one of the few Block themes available right now. You can install this theme for free to try out the new full site editor in WordPress. There are a few other themes that utilize the full site editing function as well.
So basically, a Block theme will be made of templates that are made of theme blocks. This is what makes the whole full site editor function.
What Full Site Editing Looks Like
Once you install a Block theme in WordPress, it will add a new Site Editor that allows you to access the full site editing feature.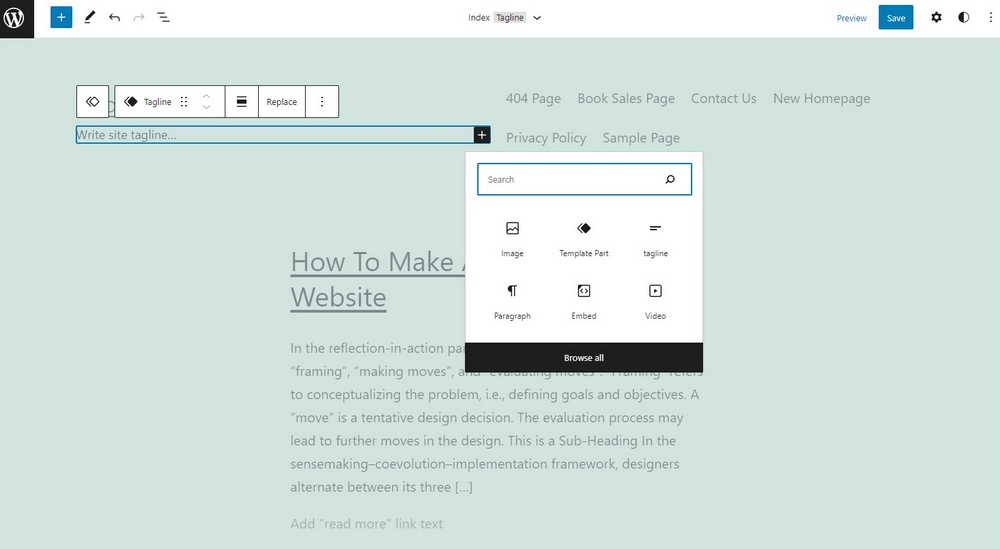 The Site Editor allows you to edit and customize everything in your theme design using, you guessed it, Blocks!
You can add blocks anywhere in the design, including the header and footer. If there are pre-made Theme Blocks, you can add them too. Want to move the blocks around to rearrange content? You can do that too!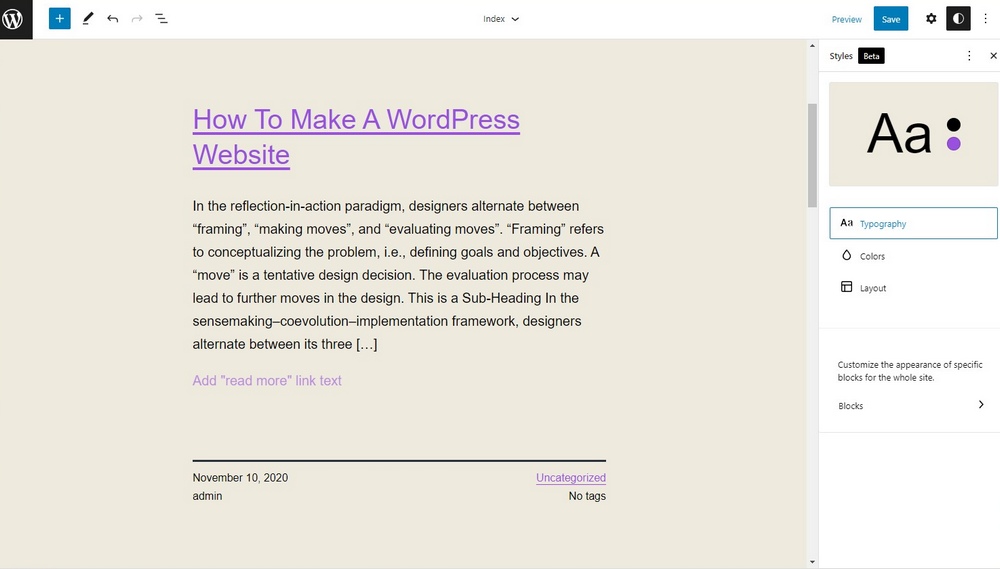 The new Site Editor also introduces a new feature called Styles, which lets you customize the look of the design by changing fonts and colors. Styles system allows you to customize local blocks, theme defaults, and make global modifications.
Benefits of Full Site Editing
It's an exciting time for WordPress as it will bring in more users to the platform, especially those who have been avoiding the software for its complex editor.
The new full site editor will bring many new benefits to the platform and the community, like:
Giving users the power to fully customize a theme design using a live site editor
Make it easier for anyone to build unique websites without having to use page builder plugins
Giving theme developers more opportunities to build new types of themes
Making WordPress much more beginner-friendly than it ever was
Downsides of Full Site Editing
Of course, there are a few downsides to the full site editing as well.
You will have to use specially made Block themes to access this feature
It will divide users between Block themes and regular WordPress themes
At some point in the future, current themes will become obsolete
Will You Have to Change Your Theme?
Now, you must be wondering the same question almost every WordPress user has right now. The good news is that you don't have to worry about changing your theme.
WordPress full site editing is only available with themes and plugins that use the new Block system. If you're using a theme that uses the regular site editor or a page builder, you will still be able to use the themes without any issue.
Unless you're using a theme that hasn't been updated in a few years, then we highly recommend that you upgrade your theme to a new one. Otherwise, you're safe from the full site editing update.
However, we can imagine that WordPress is on its way to changing the way we approach the process of building websites. Users already prefer themes built with page builders and Block themes will join forces to dominate the themes market soon.
Is WordPress Turning Into A Website Builder?
WordPress is, and always will be, a content management software first (at least we hope so). While WordPress introduces new features that make the platform easier to use, it will still remain the most powerful CMS at its core.
With full site editing, WordPress becomes an equal competitor to website building platforms. And, in fact, it will likely give one more reason for new users to choose WordPress over other restrictive website builder platforms.
In Conclusion
Full site editing is still a work in progress. It will continue to improve with new types of blocks and features in the coming months. And, it will likely make things much easier to customize themes made with page builders as well.
Whether you like it or not, WordPress is on a path towards making Blocks a universal system inside the software. And one thing is clear, there will be lots of surprises along the way for us in the near future.
Looking for WordPress hosting? We use Kinsta. They offer world-class WordPress hosting, built to keep your website fast, secure, and always online.