How To Create A WordPress CRM: Best CRM Plugins & Tips
Building a loyal customer base is one of the most important tasks of growing a successful business. And a good Customer Relationship Management (CRM) system plays a key role in that process.
Whether you're a corporate agency, SaaS startup, eCommerce store, or even a freelancer, you need to manage all the details related to your customers and clients in order to continue your relationship with them.
A CRM helps you keep all your customer details well organized in one place so you can build a loyal customer base and generate more sales.
In this guide, we explore why WordPress is the perfect platform to build your own CRM system and show you how to set it all up. Let's dive in.
What Is a WordPress CRM?
Customer relationship management is a complex process. There are many details and processes involved in creating a proper system where you can track, collect, and organize all the customer information. CRM systems make all that work much simpler.
The flexibility of WordPress allows you to setup a fully functional CRM directly inside your WordPress installation. You can then use it to collect and manage all your customer data directly from the WordPress dashboard.
You can setup a WordPress CRM using plugins and they are quite easy to setup as well.
Benefits of Using a WordPress CRM
While there are many desktop and cloud-based CRM software available today, WordPress offers the most benefits for small to medium businesses.
Save Additional Costs
CRM software are quite expensive. They could cost you somewhere between $25 to $300 per user per month. When using WordPress as a CRM, you only have to pay for your website hosting and the rest are completely free.
Add Unlimited Users and Contacts
Popular CRM systems like Salesforce and Zoho have limitations and charge additionally for each team member you bring to the CRM. With a WordPress CRM, you can bring in unlimited users and add unlimited contacts free of charge.
Integrate With WooCommerce
If you have a WordPress eCommerce website or an online store, you can easily integrate WooCommerce with the CRM plugin to manage all your customer details without an effort.
Ease of Use
If you're already familiar with the WordPress dashboard user interface, using a WordPress CRM won't be difficult. It integrates into your WordPress dashboard and you can learn to use it without any prior knowledge.
Best WordPress CRM Plugins
These are some of the best plugins for setting up a CRM system in WordPress. Most of them are completely free to use with optional premium add-ons.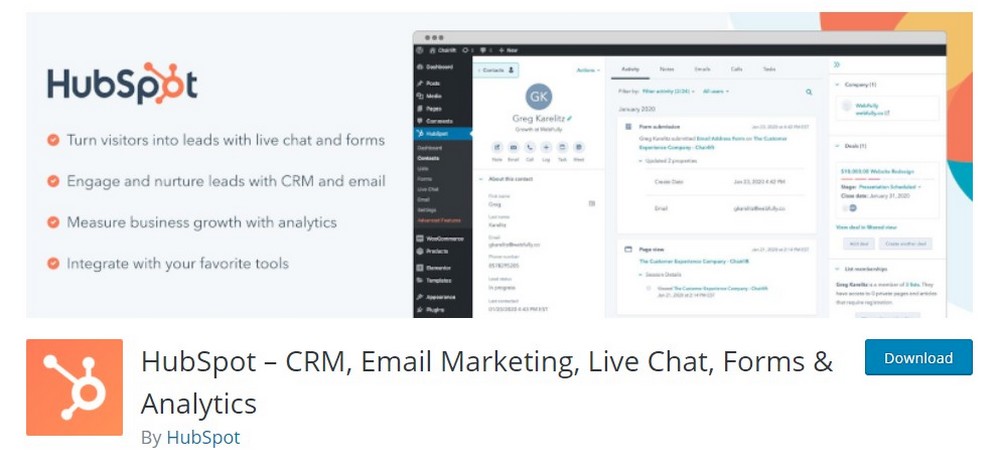 HubSpot CRM for WordPress is a complete customer management solution that offers more than just organizing your contacts. It even allows you to setup live chat systems with chatbots, send email newsletters, real-time analytics, as well as a CRM system for managing contacts.
The plugin integrates with the HubSpot CRM software to sync your website form submissions and live chat interactions. All of this is for free.
Main Features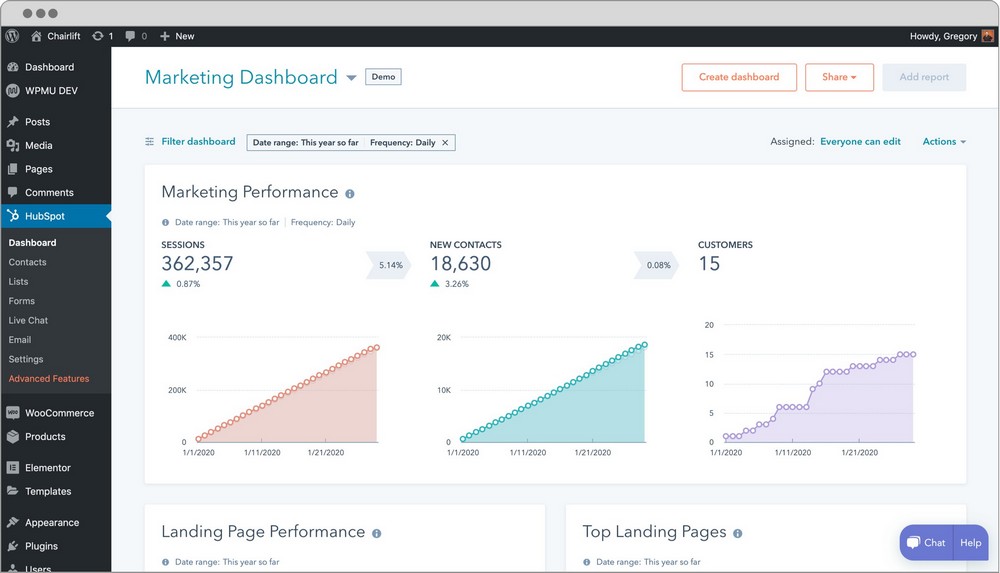 Manage all your contacts in a beautifully designed user interface
Add unlimited users and up to 1 million contacts
Create and send email newsletters to your contacts
Setup live chat with chatbots
Design beautiful forms and popup messages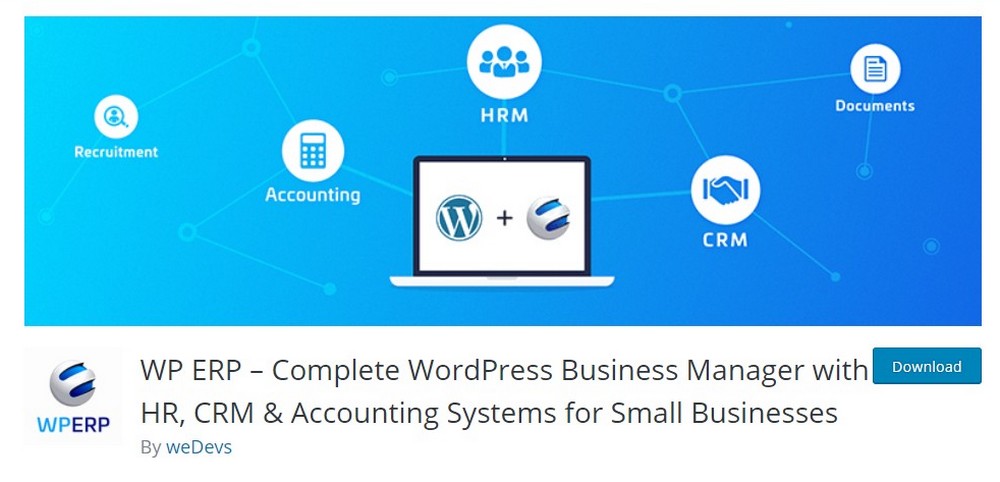 WP ERP is the perfect solution for setting up a WordPress CRM for a small business or agency as it comes complete with 3 modules covering HR, CRM, and Accounting.
This plugin is most suitable for creating a HR system for your employees to manage different teams and departments in one place. The CRM system offers many benefits as well. The Premium version costs $9.99 per month and gives you access to 9 extensions.
Main Features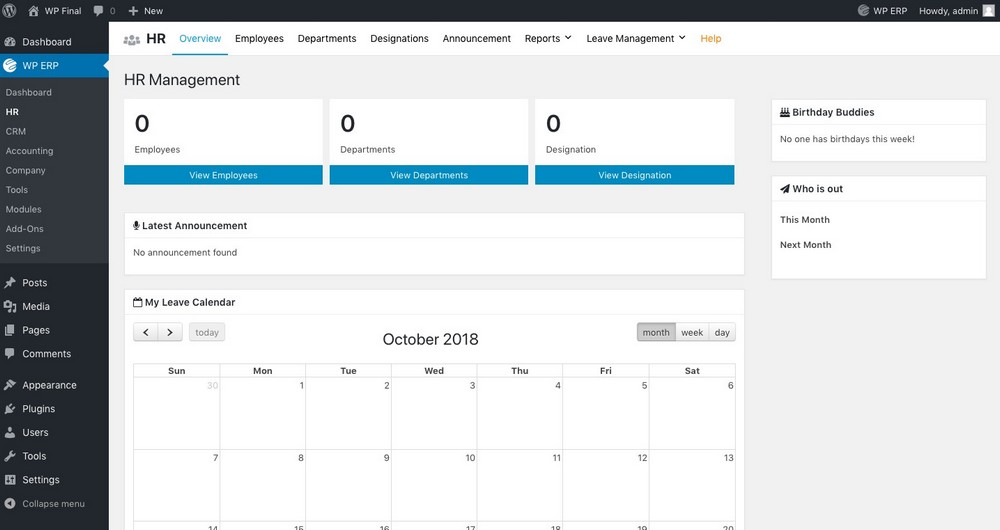 Manage contacts with life stages, activity logs, schedule meetings, and more
Manage your employees, departments, and employe details
Manage your business finances, sales, taxes, and more
Premium add-ons for additional features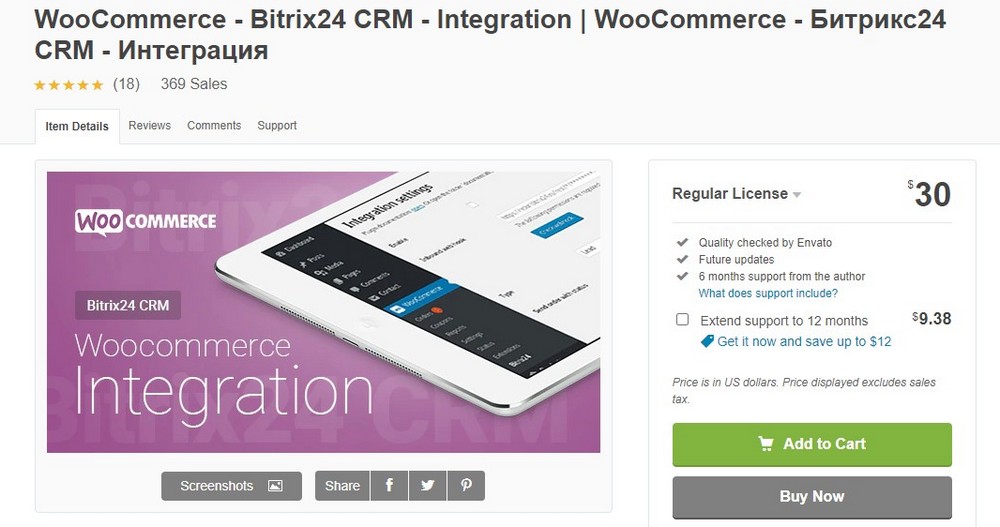 Bitrix24 is a popular CRM software that offers a very generous free plan. Even though the platform doesn't have an official WordPress plugin, this is the next best thing you'll find.
This plugin allows you to integrate your WooCommerce store with Bitrix24 to sync your customer data with the CRM software. The plugin comes with a one-time price and the Bitrix24 itself has a free plan as well.
Main Features

Easily integrate WooCommerce system with Bitrix24
Sync your WooCommerce sales and customer data with Bitrix24 CRM
Ability to create notifications in Bitrix24 CRM
Create multiple pipelines and bulk order sending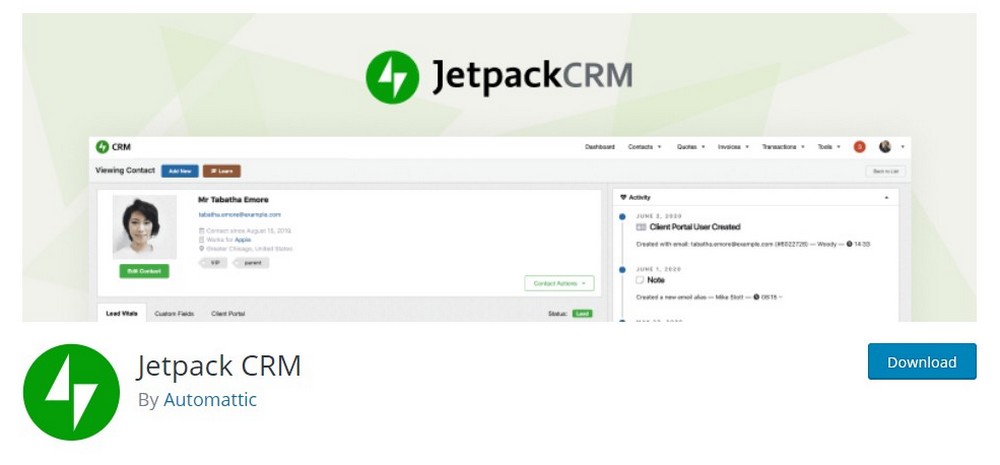 Jetpack CRM is a new WordPress CRM plugin that comes from Automattic, the same folks behind the WordPress software itself. This plugin comes as part of the Jetpack solution and it's completely free to use with optional extensions.
Jetpack CRM features a simplified CRM system that's suitable for small businesses and freelancers for managing contacts with basic information. It even allows you to create quotes and send invoices to your contacts.
Main Features

Manage all your leads, customers, and clients in one place
Schedule tasks to manage your calendar
Built-in quote and invoice builder
The client portal allows your clients to view your proposals and invoices in one place
Integrations with WooCommerce, PayPal, and Stripe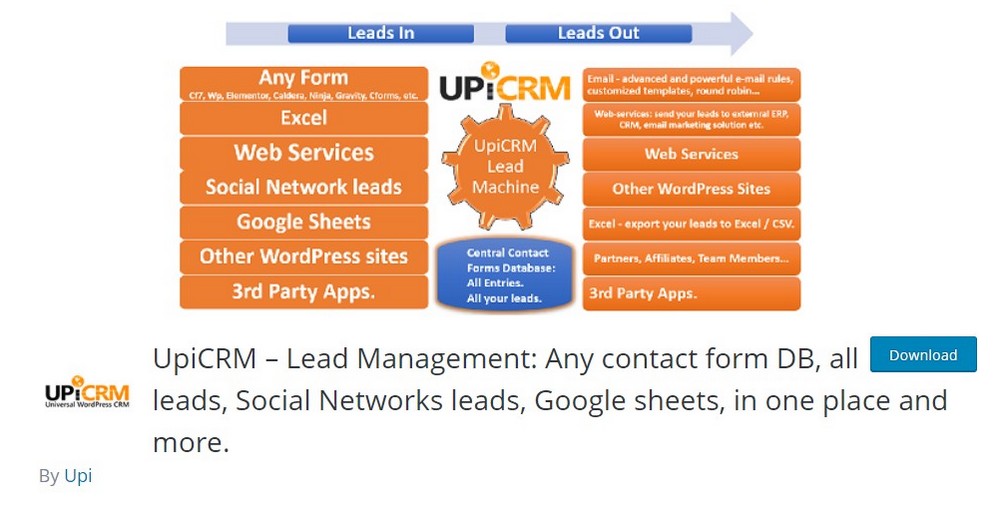 UpiCRM is an advanced WordPress CRM plugin that comes with many complex and useful features. This makes it a great choice for marketers and corporate brands.
The plugin acts as a database for your customer contacts. It gathers data from all contact forms such as Ninja Forms and Gravity Forms. And even has the ability to track lead campaigns from social networks. It's also free to use with paid add-ons.
Main Features

Ability to collect lead data from all contact forms
Gather data from Google Sheets and Excel sheets
Collect leads from social media ad campaigns
Tracking and analytics with URL UTM tags
How To Setup a WordPress CRM
You can setup a WordPress CRM with just a few clicks. We'll show you it works using the HubSpot CRM plugin.
We're using the HubSpot plugin for the demonstration because it's free and beginner-friendly. Feel free to use a different plugin depending on your needs.
Step 1: Install the HubSpot CRM Plugin
From your WordPress dashboard, go to Plugins and select Add New.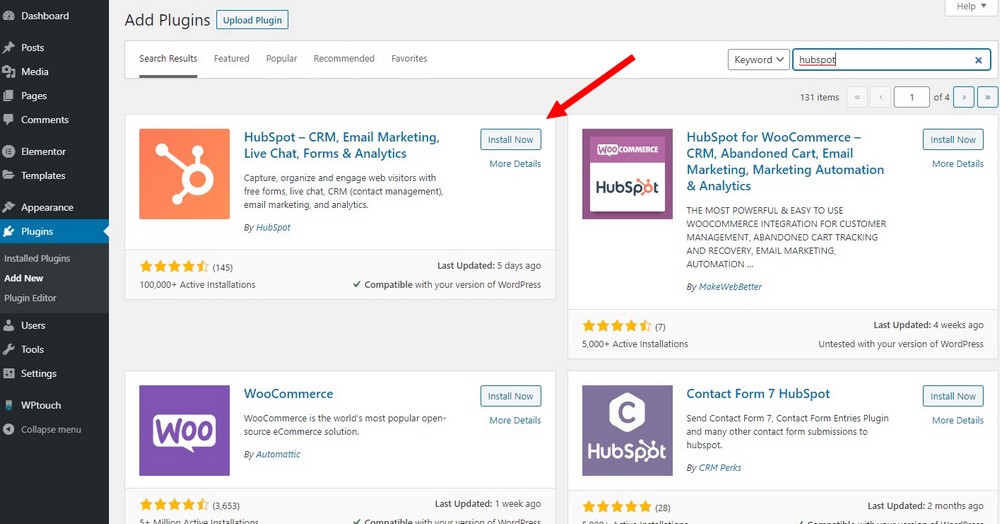 Search for the HubSpot plugin. Then click Install and Activate.
Step 2: Create a HubSpot account
After installing the plugin, it will prompt you to create a HubSpot account. It's free and it will only take a few minutes.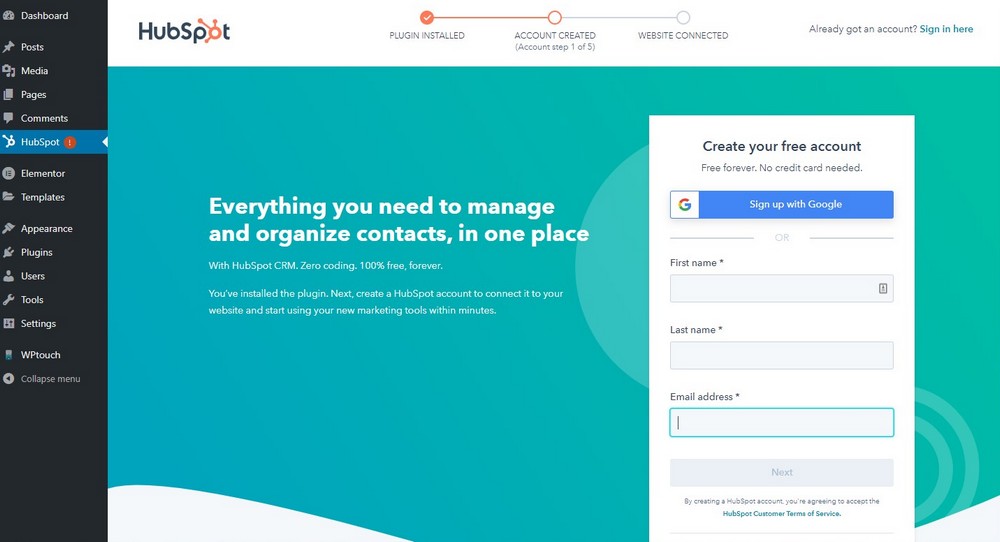 Create your HubSpot account and login to the account from the plugin. Then it will take you through a guided tour of all the features of what the plugin can do.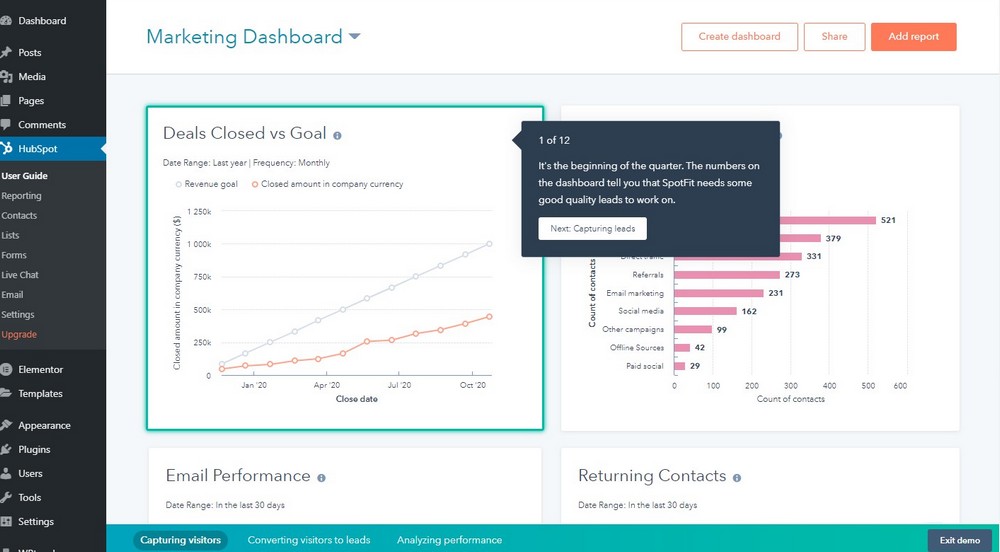 This tour will teach you how to use the CRM and how to gather customer data from forms, manage contacts, and much more. Be sure to follow it through.
Step 3: Setup Your First Form
Once you've completed the demo tour, you can set up your forms and gather data from your customers.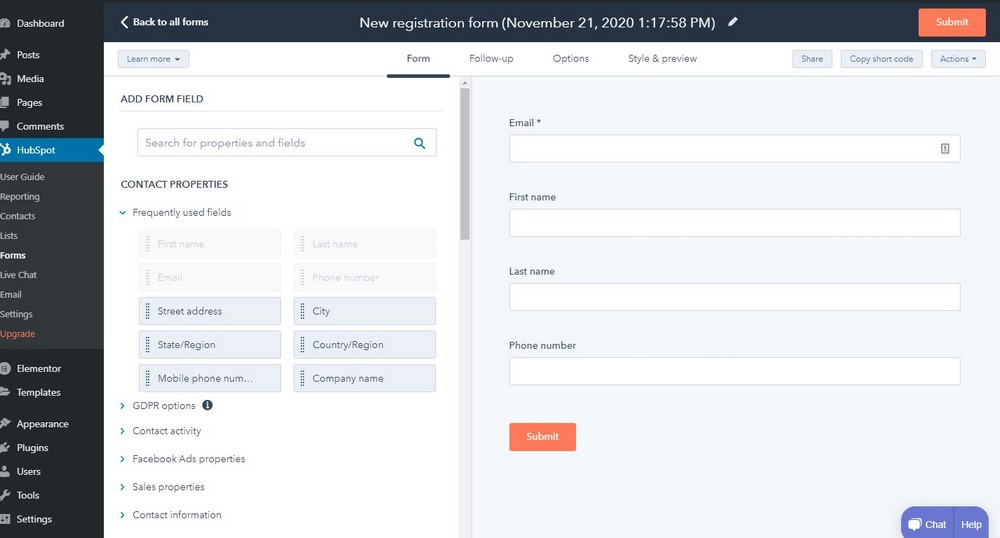 Start by creating a simple form. You can choose to integrate your existing form plugins, but HubSpot has a beautiful form editor you can use for this job. It lets you create both regular and popup forms.
After creating a form, you can embed it using a shortcode. Every time a user submits their info using the form, the data will be synced with your HubSpot CRM.
Step 4: Manage Contacts, Create Newsletters, & More
All your customer data will be organized into contacts and lists sections in HubSpot CRM.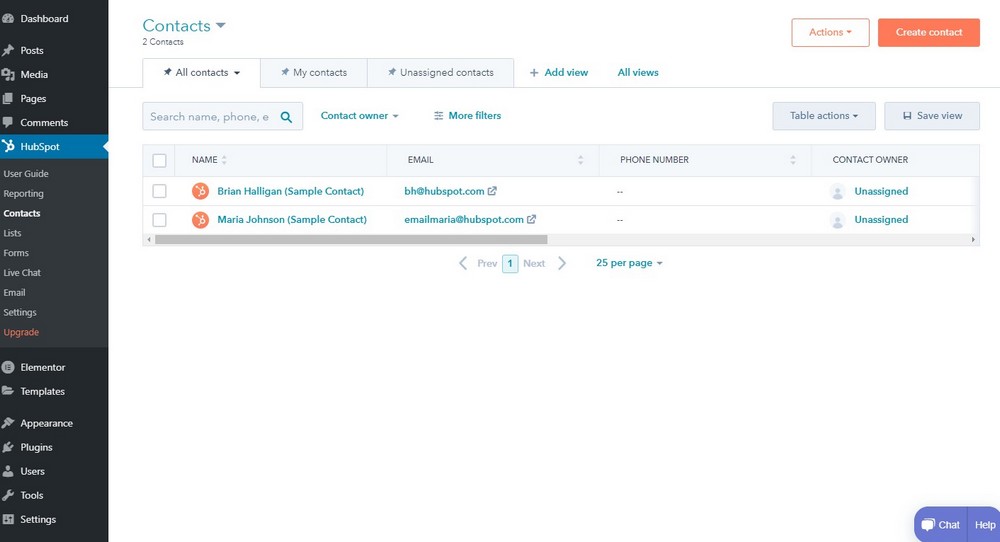 You can manage all your contacts, view details, and even manually add or import contacts using the Contacts section.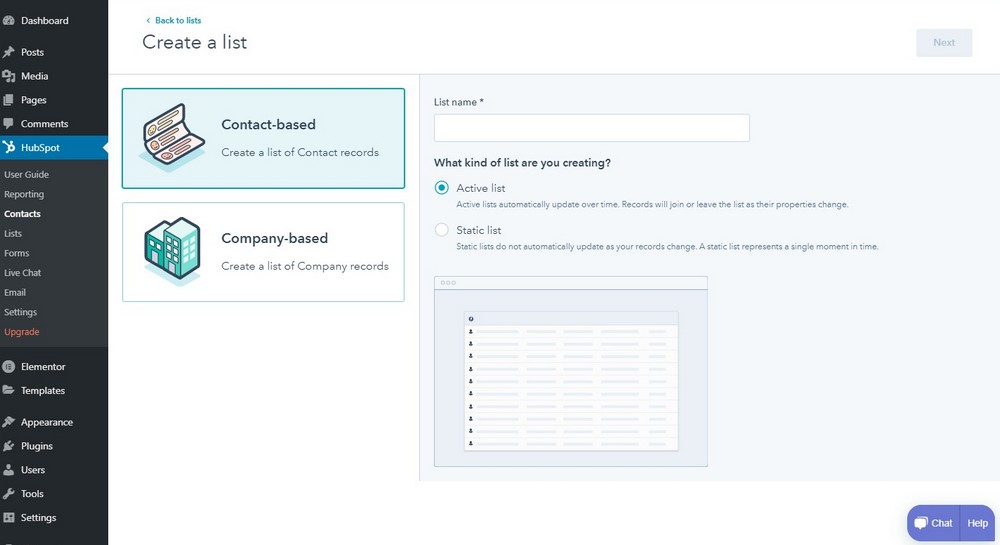 You can also create Lists to organize your customers and contacts.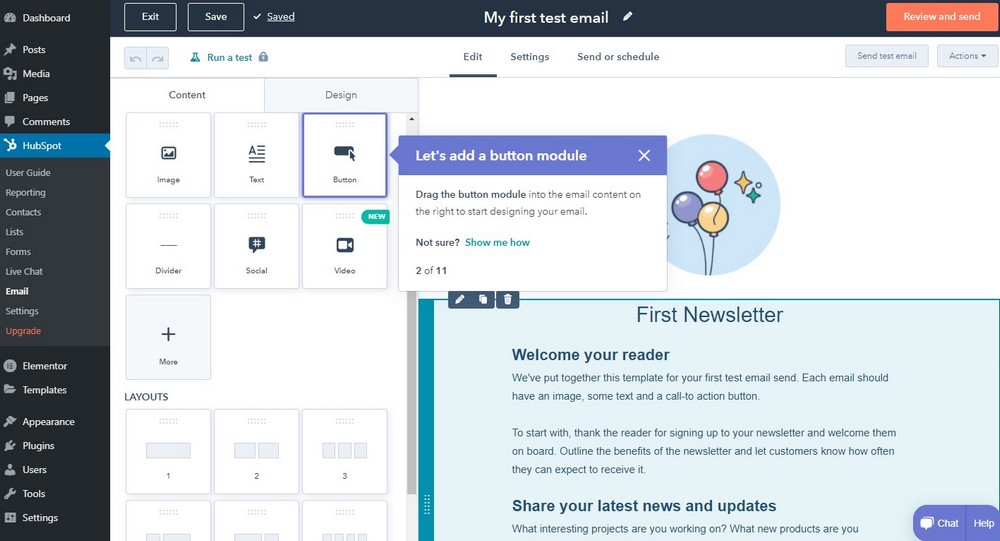 From the Email tab, you can create send emails to your contacts. You can send up to 2000 emails per month for free.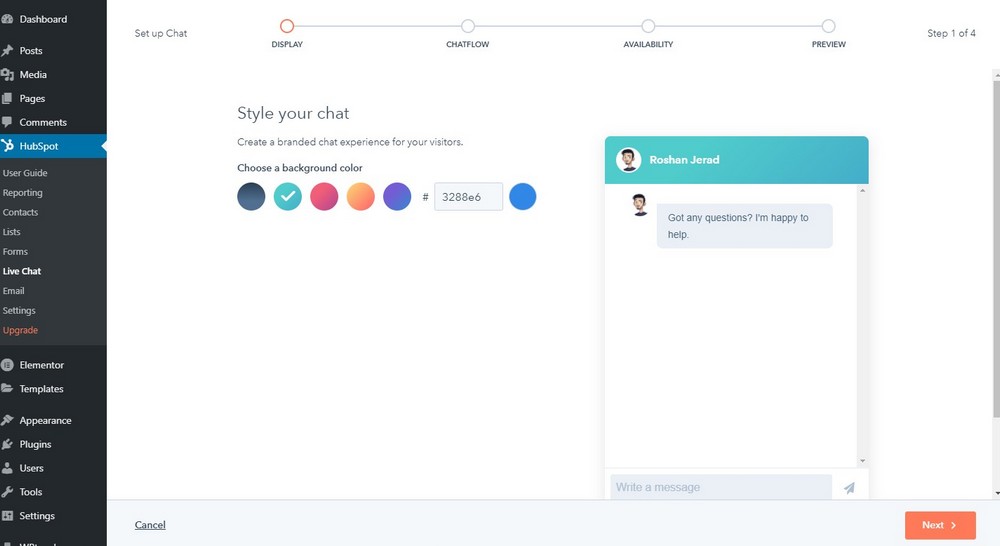 If you want to integrate a live chat system, you can create a workflow using the Live Chat tab or connect with Facebook Messenger.
The contact data you gather from live chat will also sync with the CRM as well.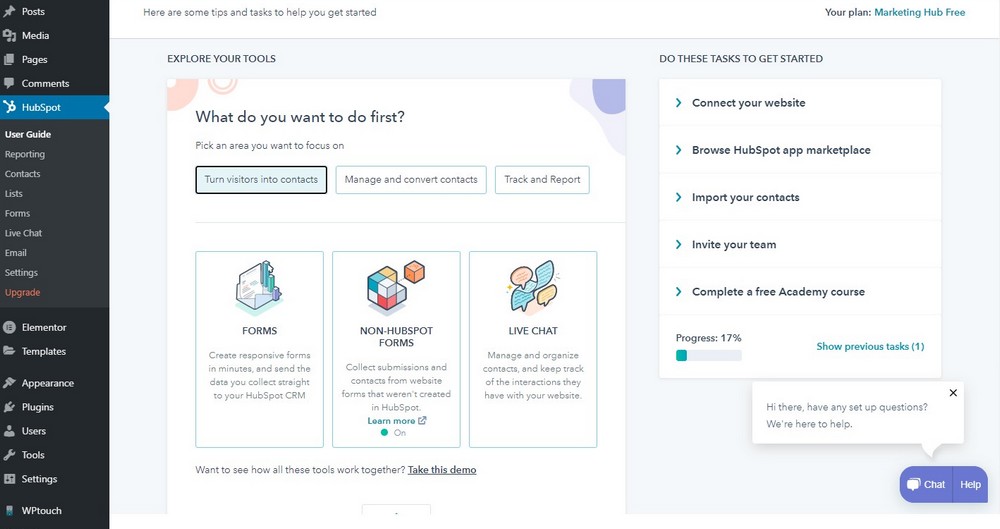 You can always use the User Guide for HubSpot CRM to learn more about how to use the system.
In Conclusion
We'll leave it up to you to choose the right WordPress CRM plugin for your business. Since most of the plugins are free, you can easily test them before committing to a solution.
Whichever plugin you end up using, you will likely be much happier with a WordPress CRM than using CRM software with a monthly subscription.
If you're looking for a good landing page design for your CRM website, check out our exclusive WordPress themes bundle. It includes over 60 premium themes for a very low price.
Looking for WordPress hosting? We use Kinsta. They offer world-class WordPress hosting, built to keep your website fast, secure, and always online.