10 Best WordPress Affiliate Plugins in 2021
Setting up an affiliate program is one of the most cost-efficient ways of promoting products and generating sales. Today, we showcase the best WordPress affiliate plugins you can use to setup your own affiliate program.
Affiliate marketing is a clever marketing strategy used by even the biggest players in the retail industry, including Amazon and eBay. Basically, you get other people to promote your products without spending a cent on advertising and let them earn a commission in the process. It's a win-win situation.
If you have an online store, a membership program, an online course, or a product you sell online, you can also leverage this strategy to generate more sales and income. All you need is a WordPress affiliate plugin to setup the affiliate program.
What is an Affiliate Plugin?
WordPress affiliate plugins help you setup an affiliate program alongside your online store or eCommerce website. Once installed, the plugin integrates with WooCommerce and allows people to register an account and start promoting your products.
The plugin takes care of the affiliate signup forms, referral link generation, coupons, payment processing, and everything related to running an affiliate program.
It's a very simple and affordable way to create an affiliate program directly on your WordPress website. The followings are some of the best affiliate plugins available on WordPress. Have a look.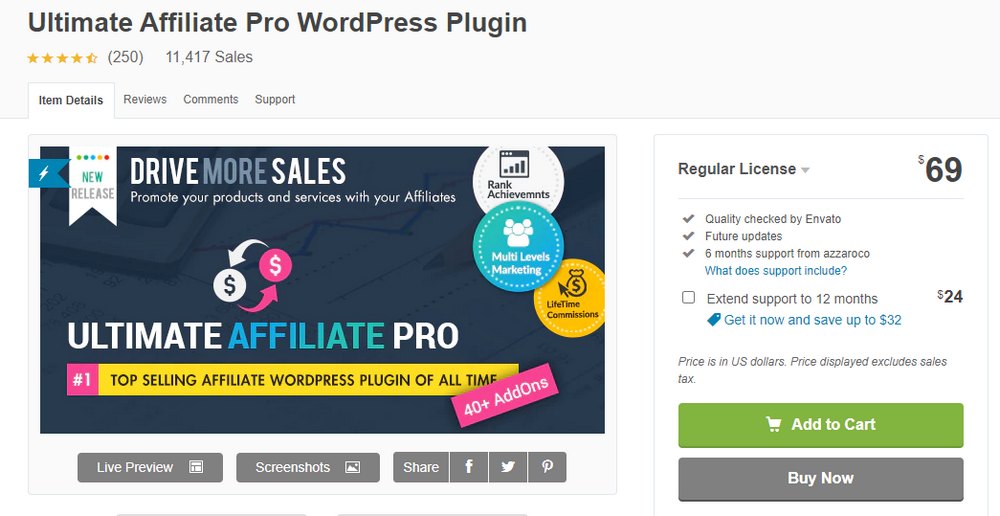 Ultimate Affiliate Pro is a plugin that certainly lives up to its name as the plugin offers a complete solution for setting up an affiliate program. It's one of the few affiliate plugins that support multiple eCommerce platforms as well as membership plugins.
The plugin integrates with WooCommerce, Easy Digital Downloads, and Ultimate Membership Pro plugins. Unlike most other WordPress affiliate plugins, this one costs a one-time price and lets you manage unlimited affiliates.
Main Features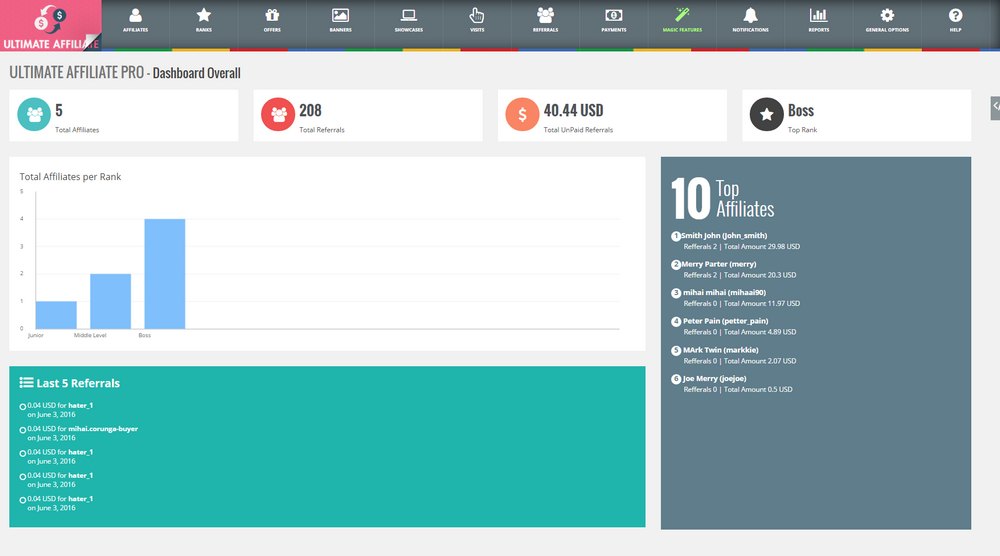 Features a rank system for assigning different amounts of commissions for high-performing affiliates
Multi-level marketing system lets affiliates promote your affiliate programs to recruit new leads
Let affiliates earn lifetime commissions from the customers they refer to your site
Give performance bonuses to encourage more referrals
Affiliate coupons, recurring commissions, landing commission, and more
Process affiliate payouts via Stripe and PayPal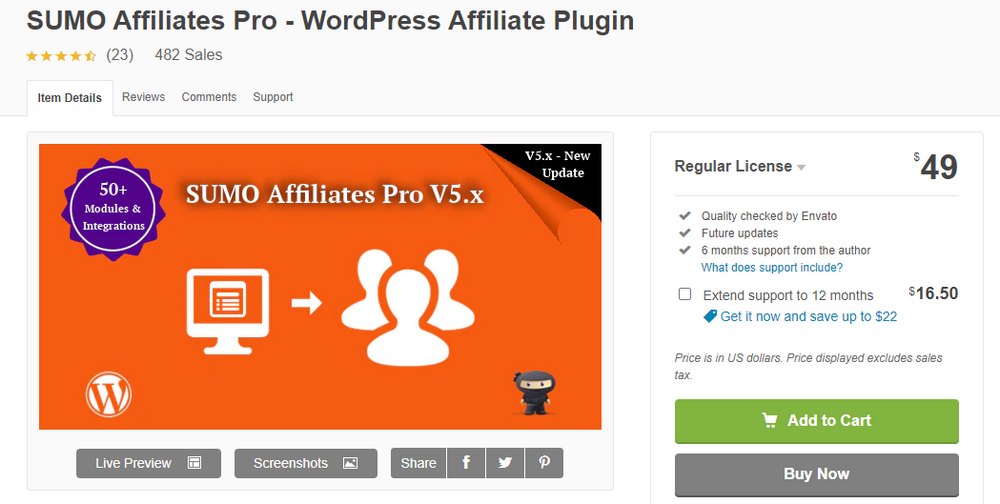 Sumo Affiliates is another WordPress affiliate plugin that offers a comprehensive solution for eCommerce businesses. It comes with more than 50 different modules for setting up an advanced affiliate program with various types of rewards and modifications.
The plugin only integrates with WooComerce. It also supports integration with SUMO Memberships, which you need to purchase separately, for adding an affiliate program to a membership site.
Main Features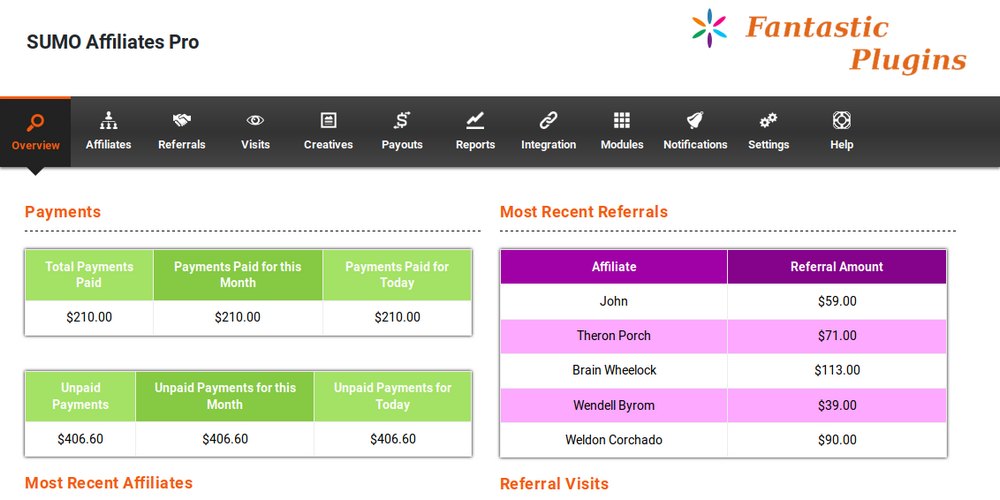 Integrates with WooCommerce, WPForms, and other SUMO add-on plugins
Generate pretty affiliate links, QR Codes, and supports multi-level marketing
Allow affiliates to earn a bonus for signing up with your program or charge a fee to join the program
Refer a friend system allows affiliates to earn a commission by bringing in more leads
Affiliates can request payouts and the payments are processed via PayPal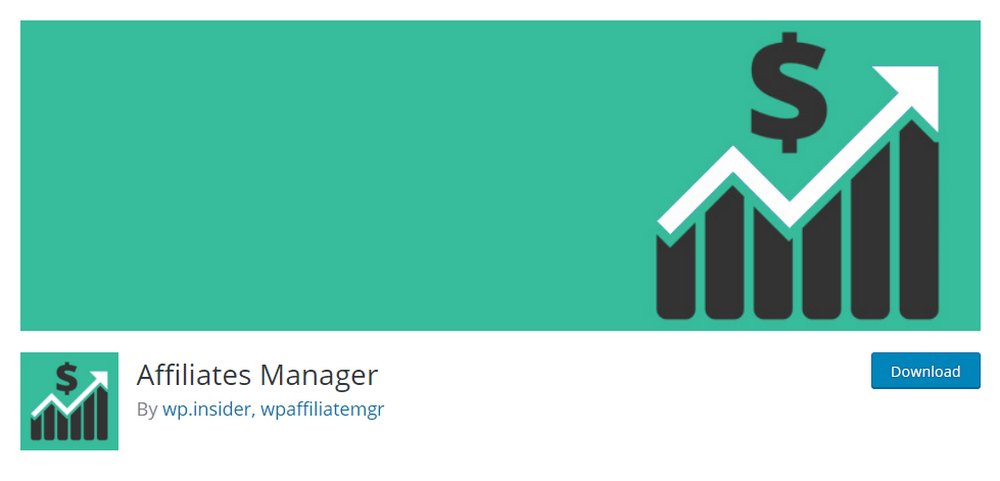 Affiliates Manager is arguably the best free affiliate plugin available on WordPress. This plugin offers its best features for free of charge and has premium add-ons for adding more advanced features.
The plugin is compatible with several popular eCommerce plugins, such as WooCommerce, Easy Digital Downloads, WP Ecommerce, Sell Digital Downloads, Paid Membership Pro, and more. All for free!
Main Features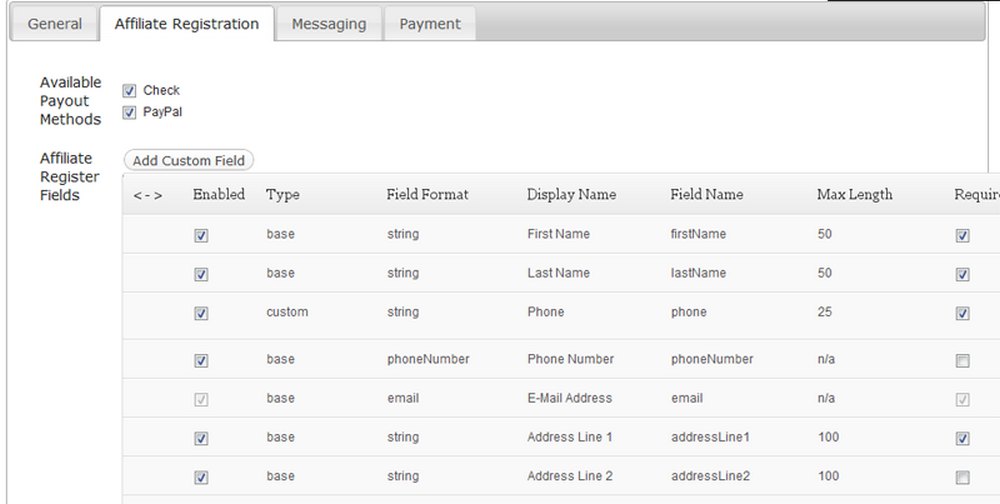 Manage unlimited affiliates and offer them flat rate or percentage-based commissions
Supports integration with MailChimp and MailPoet to signup affiliates to your email lists
Send payouts via PayPal or use the Stripe Payments plugin to process payouts via Stripe
Get more insights with ad impression tracking and real-time reporting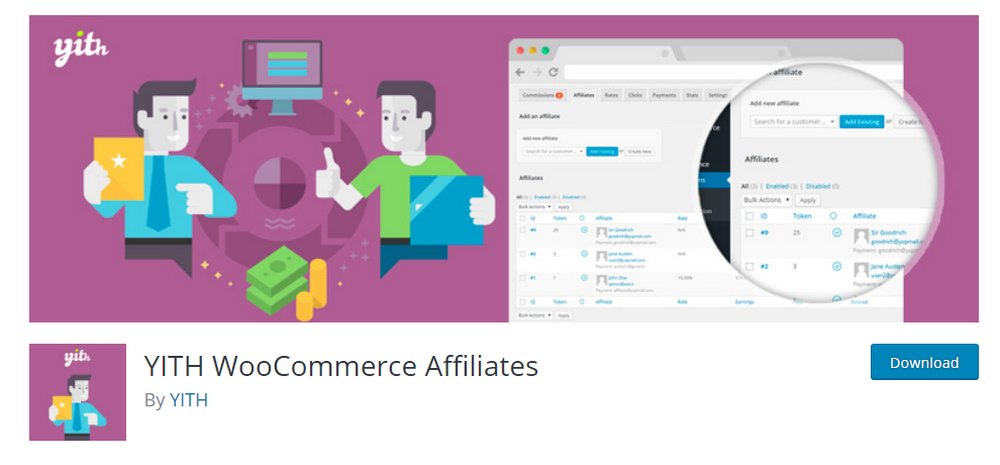 YITH WooCommerce Affiliates is another great free affiliate plugin that allows you to setup a basic affiliate program on your website without too many advanced features.
The plugin works well with WooCommerce but doesn't support other eCommerce plugins or membership plugins. But it provides more than enough features for a small online store or an online retail shop.
Main Features

Create a simple referral-based affiliate program that allows you to give affiliate status to already registered users
Track affiliate referrals using refer IDs which gets stored in a cookie for a custom period of time
Provides a personalized dashboard for affiliates to track their referrals
Supports integration with other popular YITH plugins for adding advanced features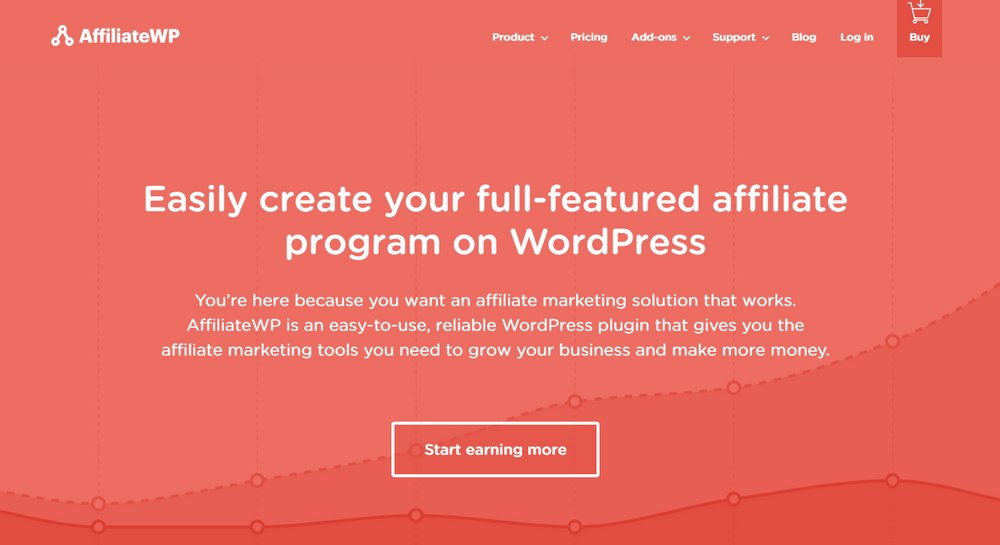 AffiliateWP is a popular premium affiliate plugin designed with beginners in mind. The plugin features a simpler setup process and an easy to use dashboard that you can use without any advanced knowledge about affiliate marketing.
However, the plugin comes with many advanced options for creating a complete affiliate program, including support for popular third-party plugins such as WooCommerce, Easy Digital Downloads, LifterLMS, PaidMembershipPro, Give, and many others.
Main Features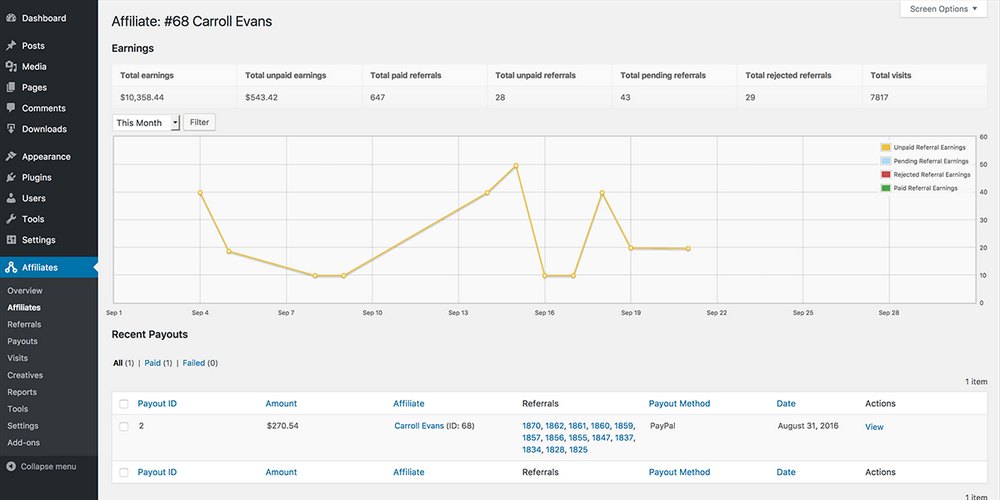 Very easy to setup and manage the affiliate system all by yourself
Supports all popular eCommerce and membership platforms
Ability to create affiliate status for everyone who registers as users on your website
Lets you manage unlimited affiliates, create coupons, generate referral links, and more
Process payouts using PayPal or WP Simple Pay plugins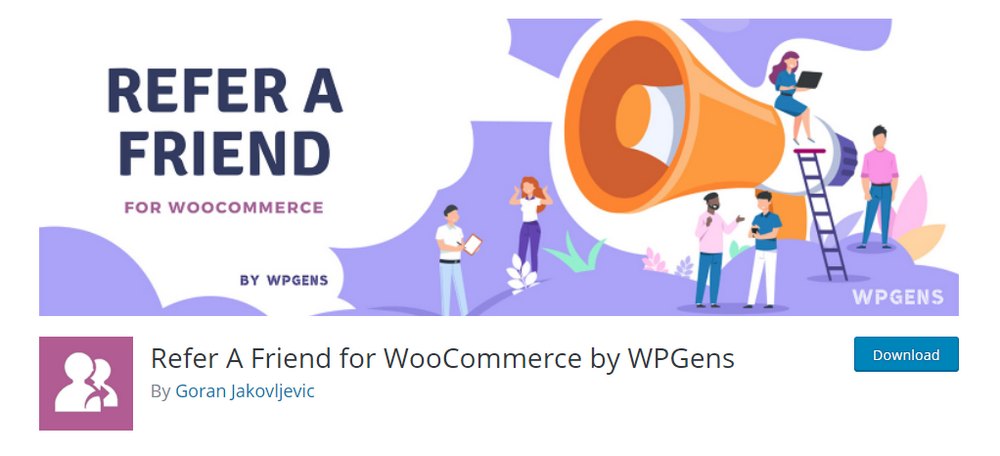 If you want to create a referral program for your eCommerce website instead of an affiliate program, Refer a Friend is a great free plugin that will help you get the job done.
When installed, the plugin allows users to refer friends to your website and you can reward them with discount coupons. It's plain and simple. There's no money or commissions involved.
Main Features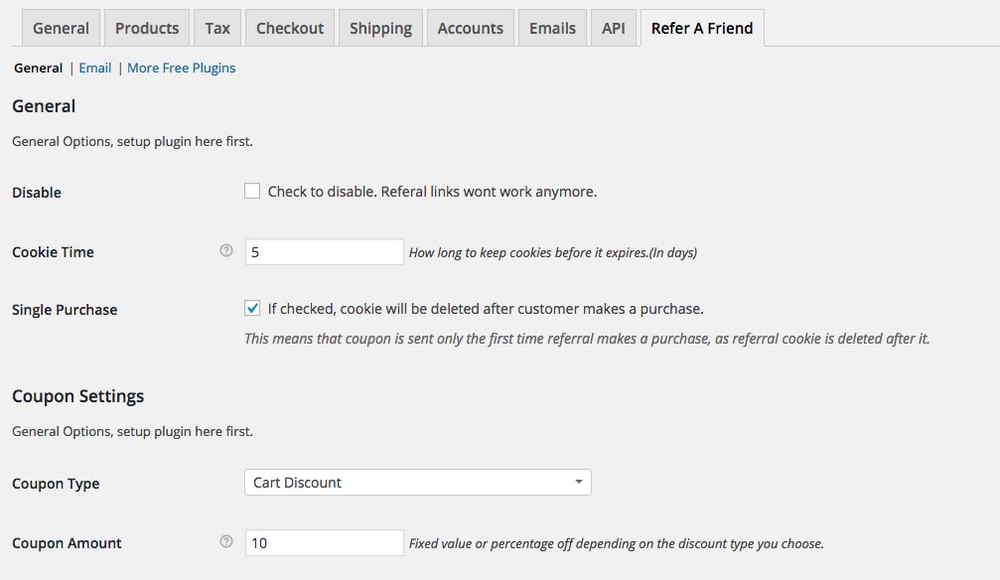 Setup a simple referral program for your eCommerce website
Create custom coupons with fixed values and different types to reward users
Creates a unique link for each user to use for referrals
Has a premium version ($47) with advanced features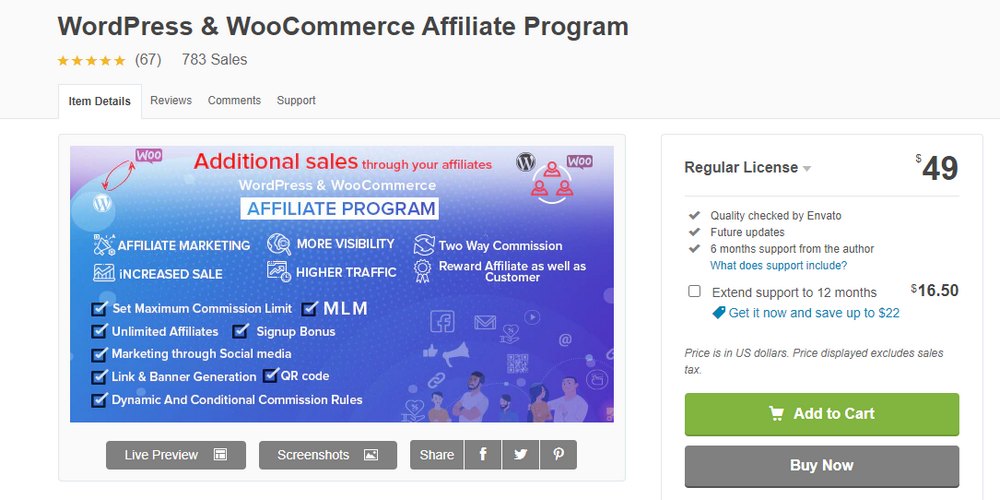 Another beginner-friendly WordPress affiliate plugin you can use to setup an affiliate program without any outside help. This plugin comes with a smooth user interface where you can easily manage your affiliates and reports.
This plugin also supports integration with both WooCommerce and Easy Digital Downloads. As well as multi-level marketing for growing your affiliate program.
Main Features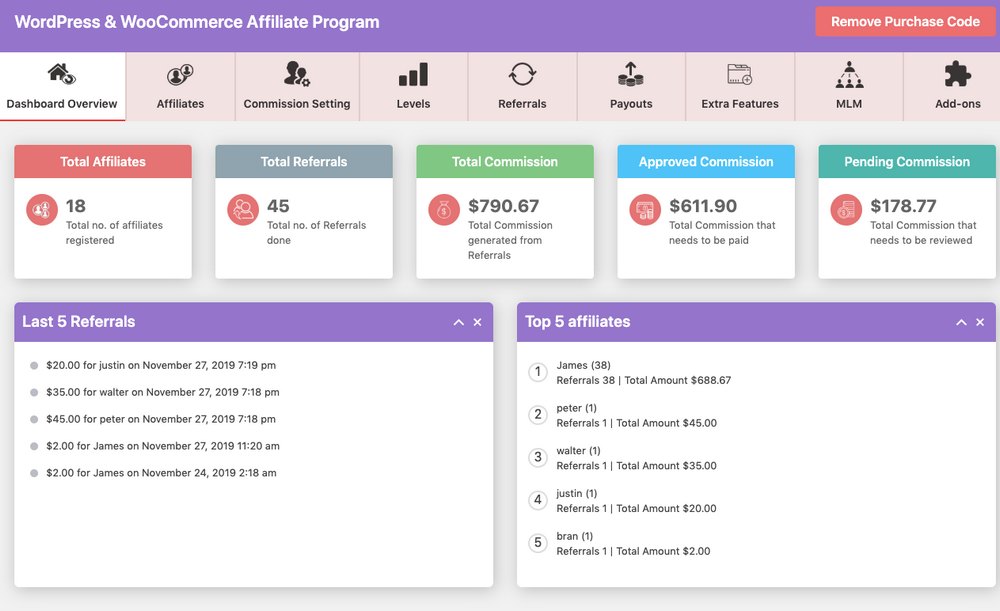 Simple and easy to use interface makes things easier to manage your affiliates
Reward affiliates with either commissions or discount coupons
Rewards affiliates with a signup bonus for referring friends
Choose from 3 different commission types including fixed and percentage
Process payouts with PayPal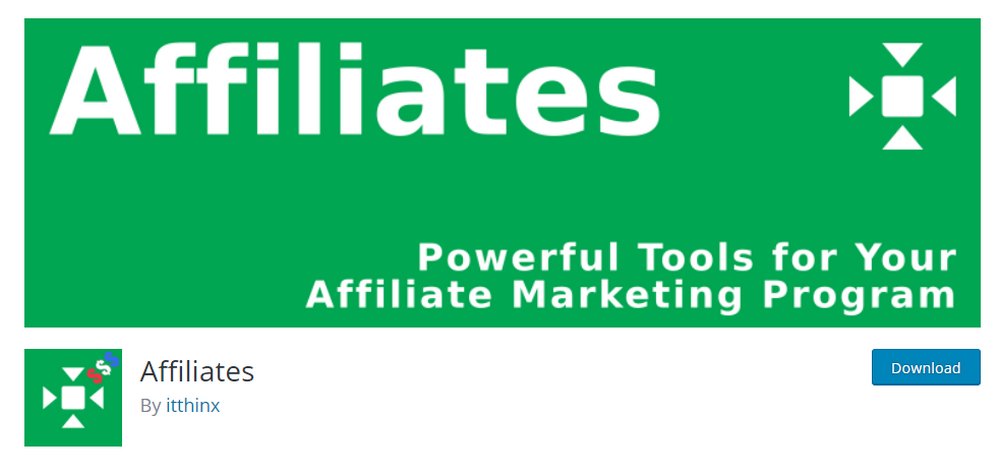 Affiliates is another free plugin you can use to setup a simple or advanced affiliate program for your eCommerce website.
The plugin provides you with lots of useful features and integrations free of charge, allowing you to create an advanced affiliate system with a combination of several WordPress plugins. Even the WooCommerce integration needs to be installed separately. This makes it a more suitable plugin for advanced users and developers.
Main Features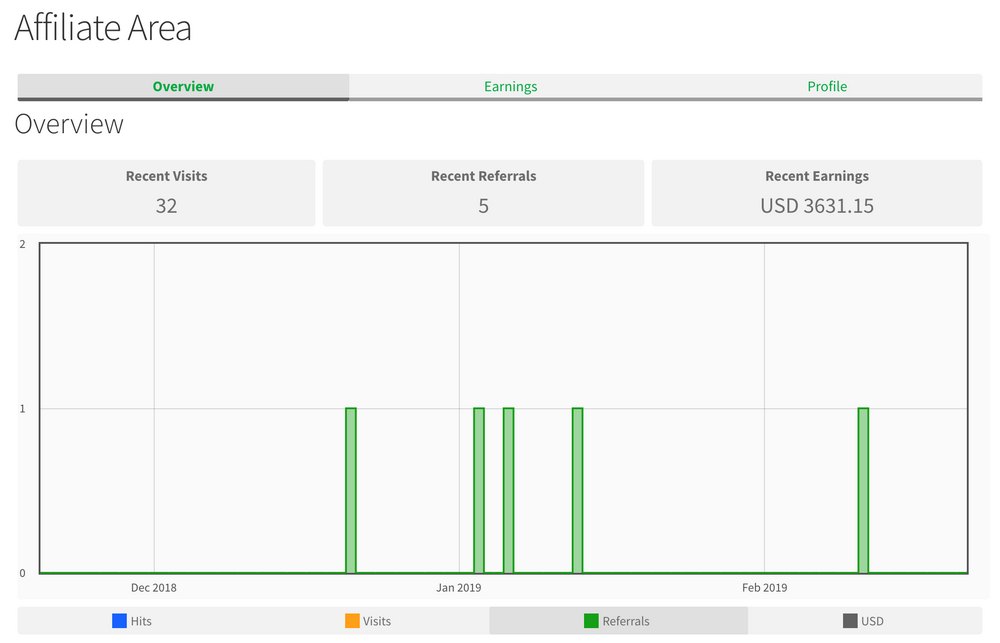 Setup an advanced affiliate system with referral links and tracking
Integrates with other free plugins for adding more useful features
Manage unlimited affiliates for free
Works as a better framework for developers for creating advanced eCommerce solutions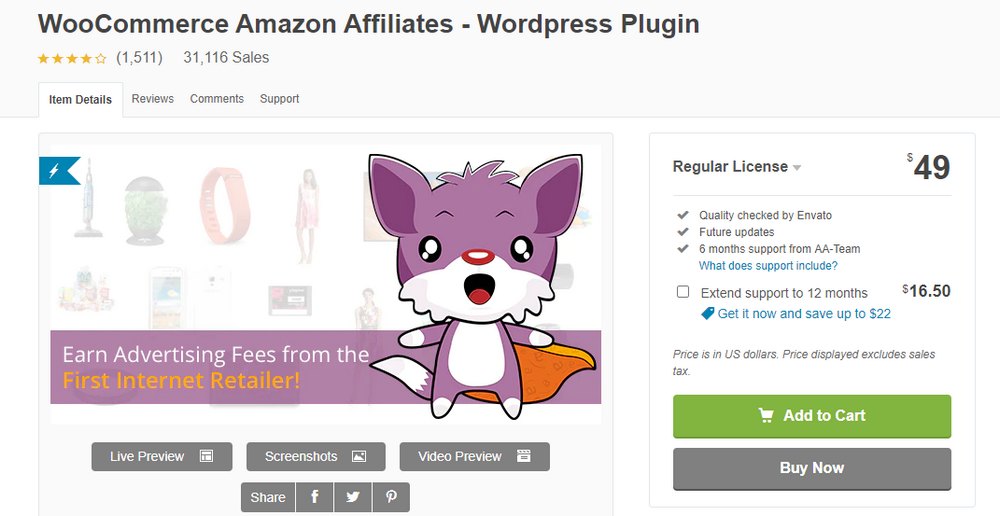 This is a plugin designed for affiliate marketers. Rather than creating an affiliate program, this plugin helps you promote affiliate products from popular marketplaces like Amazon and eBay.
WZone makes the entire process of importing affiliate products from Amazon and eBay a breeze. Using the plugin, you can import products in bulk with images, reviews, and descriptions attached. Not only that, it even lets you sync products to reflect price updates.
Main Features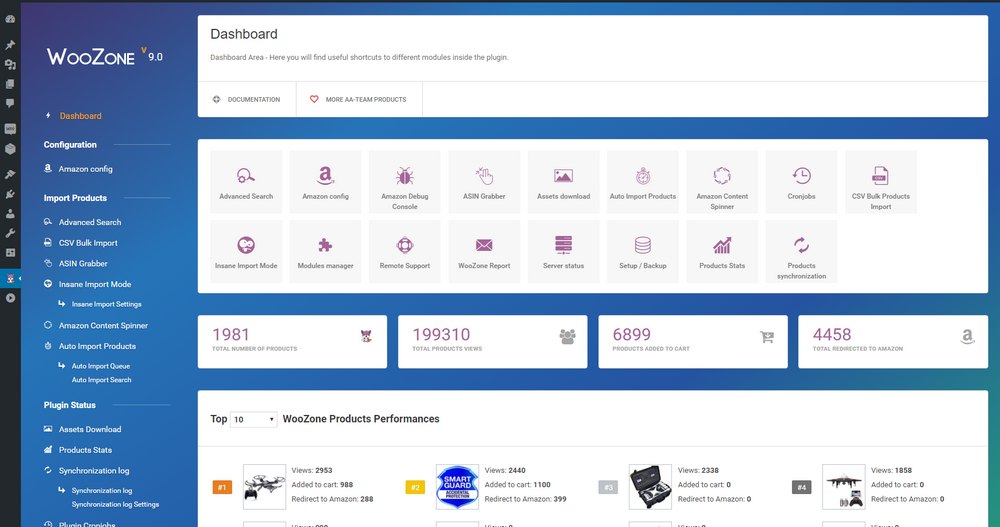 Easily import Amazon products in bulk with all details attached
Sync products with Amazon to easily update pricing
Get insights and detailed stats about imported products
Includes both onsite and direct checkout options for purchasing products
Upsell products with recommended and recently bought products suggestions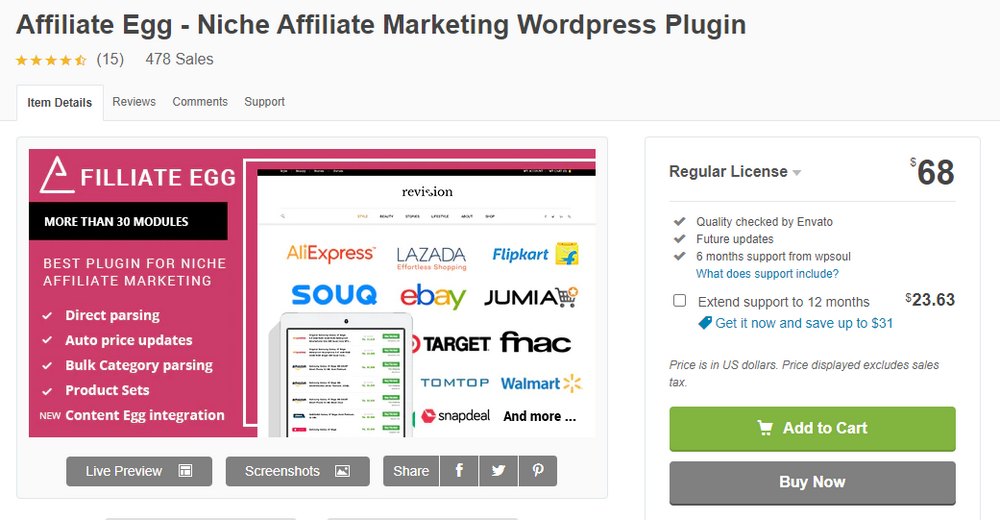 Affiliate Egg is another affiliate marketing plugin that works similarly to WZone. This plugin also allows you to easily manage your inventory of affiliate products.
However, unlike WZone, this plugin supports many different affiliate programs like AliExpress, eBay, Flipkart, Etsy, Walmart, and dozens of others. The only downside is that it doesn't support Amazon.
Main Features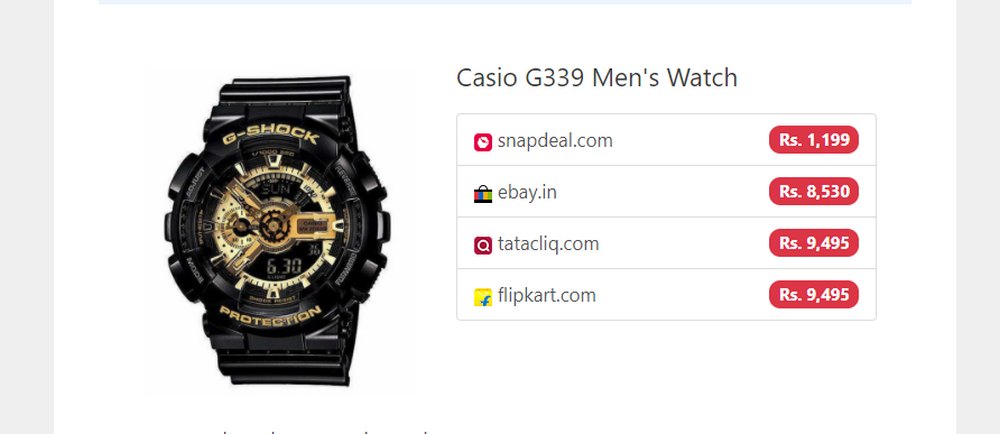 Integrate with more than 100 affiliate programs to earn higher revenue
Easy setup process without API or program approvals
Ability to offer product comparison to compare prices from different stores
Autoblog feature will create new posts from affiliate products links
Supports custom cookies, deep-links, and proxy
Conclusion
Starting an affiliate program is a great marketing strategy that you can implement while saving your marketing budget. With these plugins, you can easily create an affiliate program while avoiding the hefty platform fees for using third-party affiliate platforms.
If you're an affiliate marketer looking to setup a niche affiliate shop, be sure to check out our best Amazon affiliate WordPress themes collection.
Looking for WordPress hosting? We use Kinsta. They offer world-class WordPress hosting, built to keep your website fast, secure, and always online.