25+ Simple Business Plan Templates for Word for Startups + Funding 2024
Business plans are like road maps: it's possible to travel without one, but that will only increase the odds of getting lost along the way.
A business plan is a 20-30 page document that outlines how you will achieve your business objectives and includes information about your product, marketing strategies, and finances. You should create one when you're starting a new business and keep updating it as your business grows.
Sometimes, the prospect of cobbling together a business plan from scratch is daunting. That's why templates are the perfect solution in these cases. This roundup of the best Microsoft Word business plan templates gives you plenty of premium and free options to choose from. Read on.
Get everything you need to supercharge your Microsoft Word projects. From just $16, get unlimited access to thousands of Word templates and for stationery, reports, invoices, magazines, and so much more.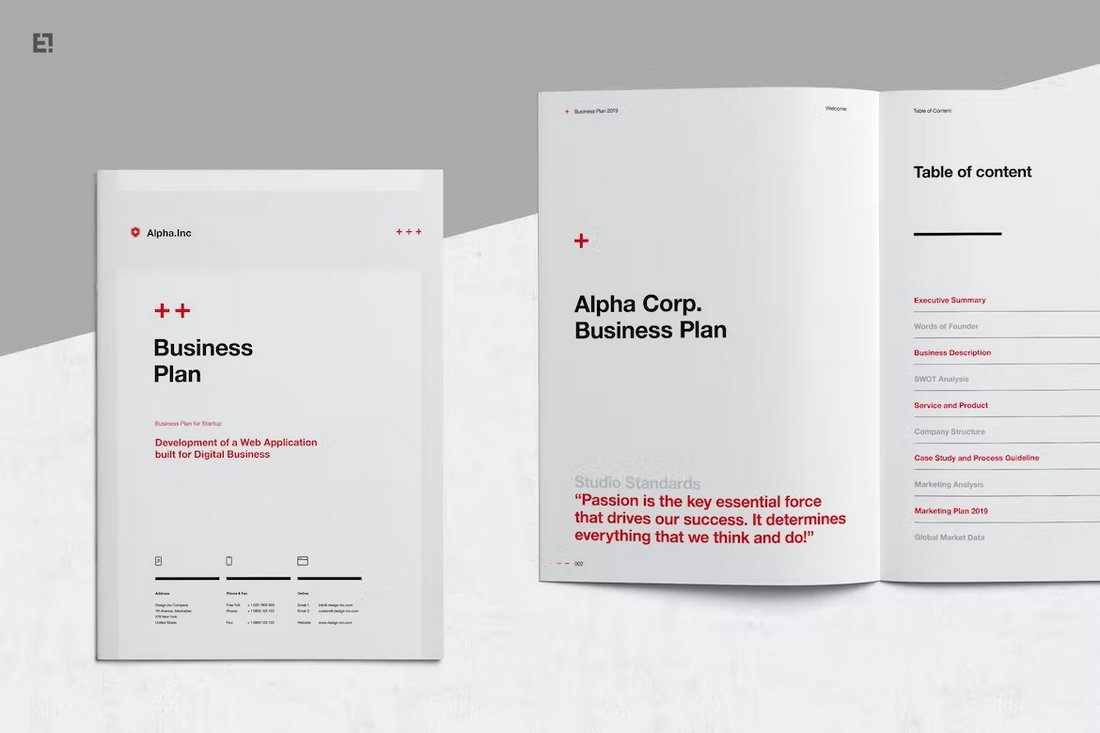 Minimalism is often considered a sign of professionalism and authority. With this business plan template, you can make sure to include both aspects in your brochure design. It comes with a clean yet stylish page design that suits all types of brands. There are 32 different page layouts included in the template.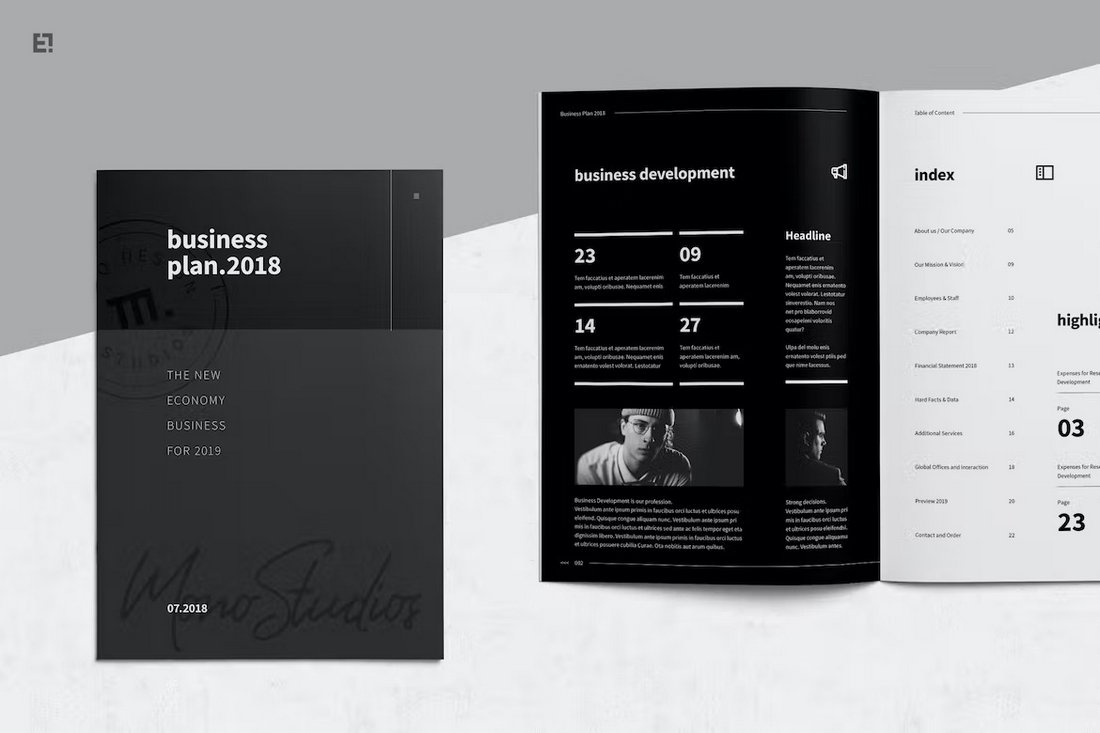 If you prefer to give a more dark and modern look to your business plan brochure, this Word template is perfect for your business. It includes 56 different page layouts with professionally crafted designs. The template is available in Word, InDesign, and Apple Pages formats.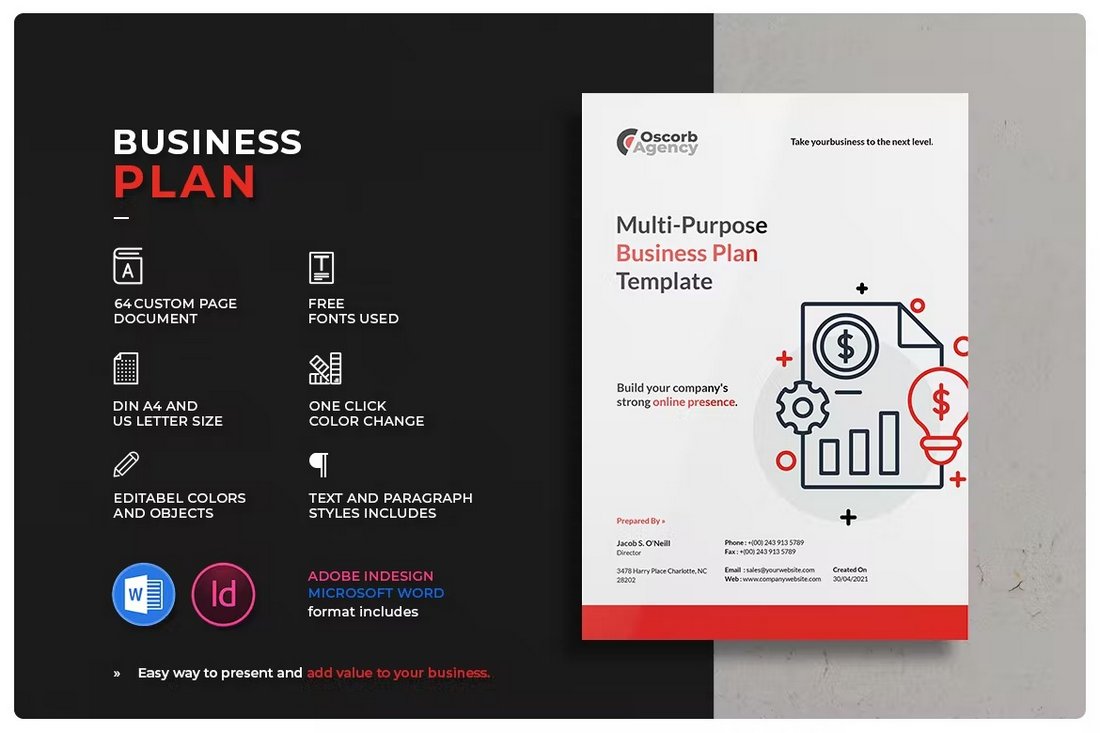 This Word business plan template features a creative design across all of its pages. There are 64 different pages for you to choose from. And it comes in A4 and US Letter sizes as well. You can easily edit the template using MS Word or InDesign.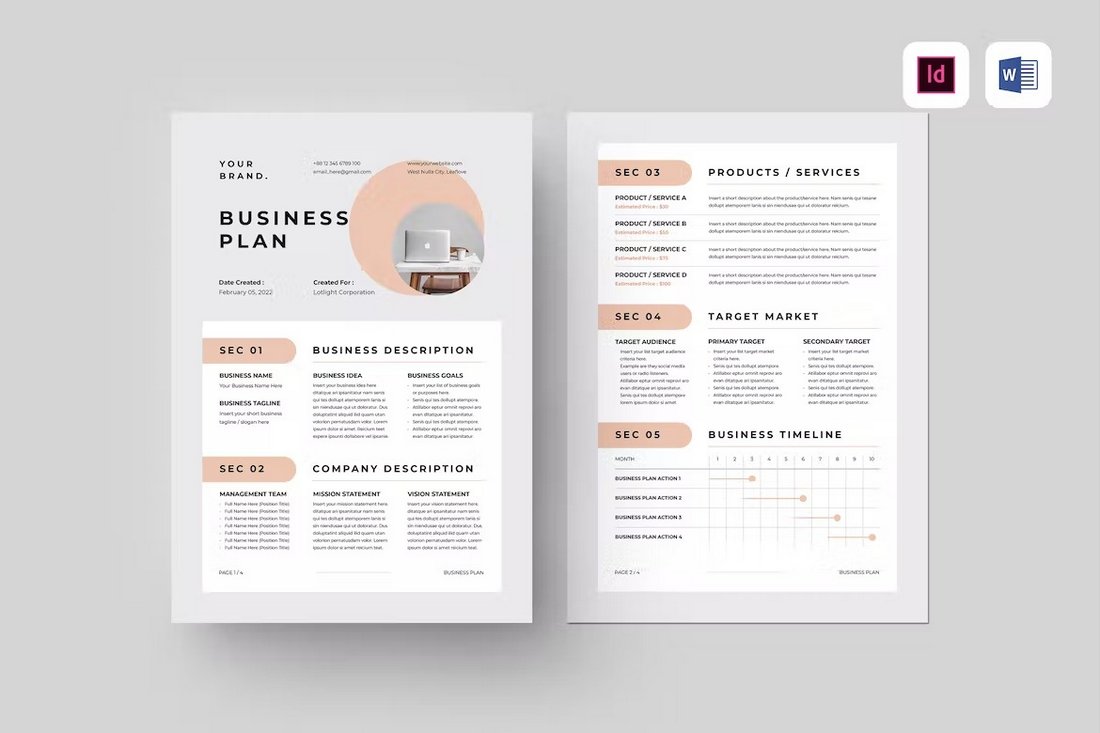 You can use this Word template to create a simple and basic business plan document with ease. It includes 4 different page layouts that allow you to create a short and concise business plan. It comes in InDesign and Word formats.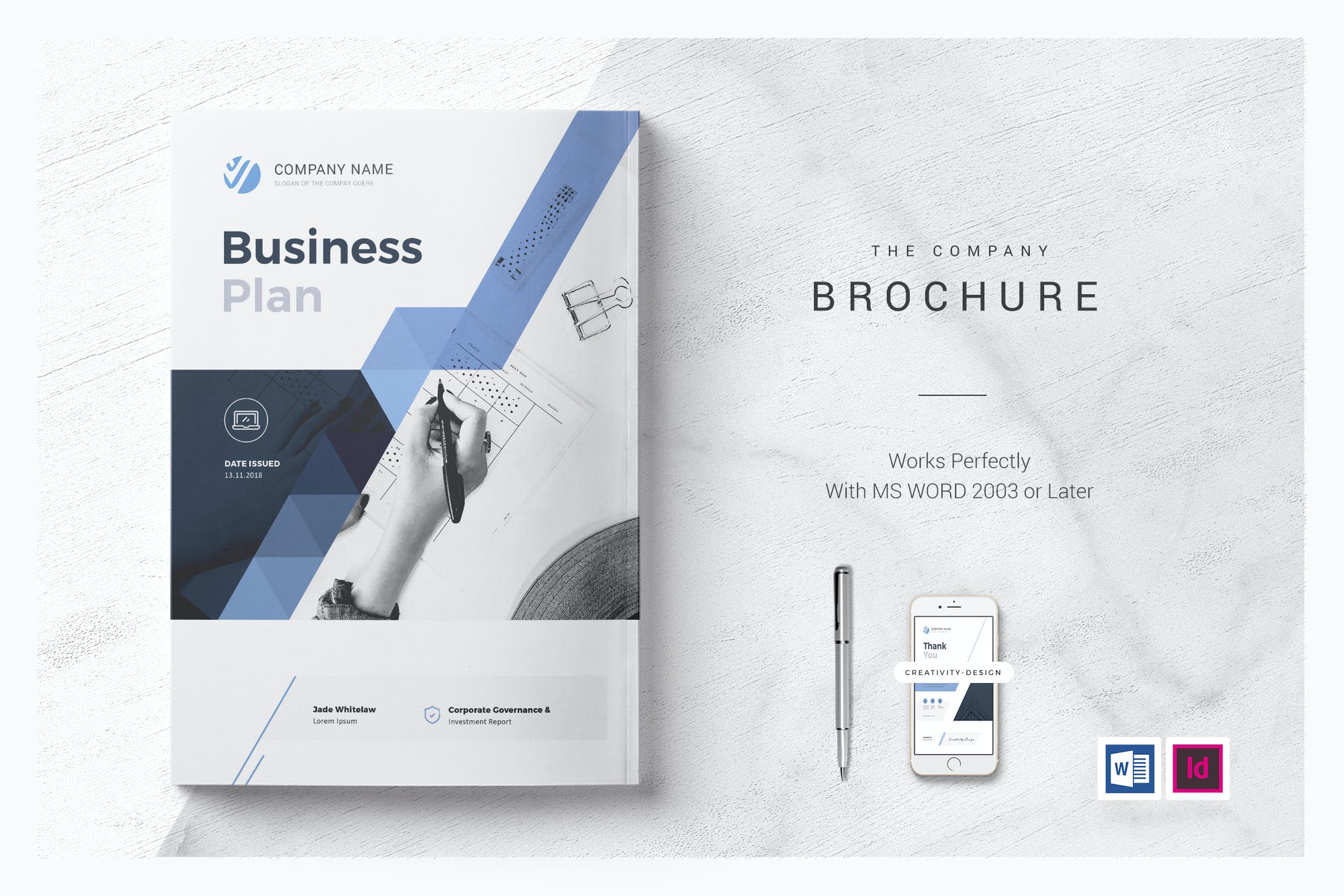 This template features a clean and modern design that's perfect for the business plan of a startup company. It offers 16 unique pages customizable in Microsoft Word and Adobe InDesign. This business plan template Word DOC works well for nearly all kinds of businesses.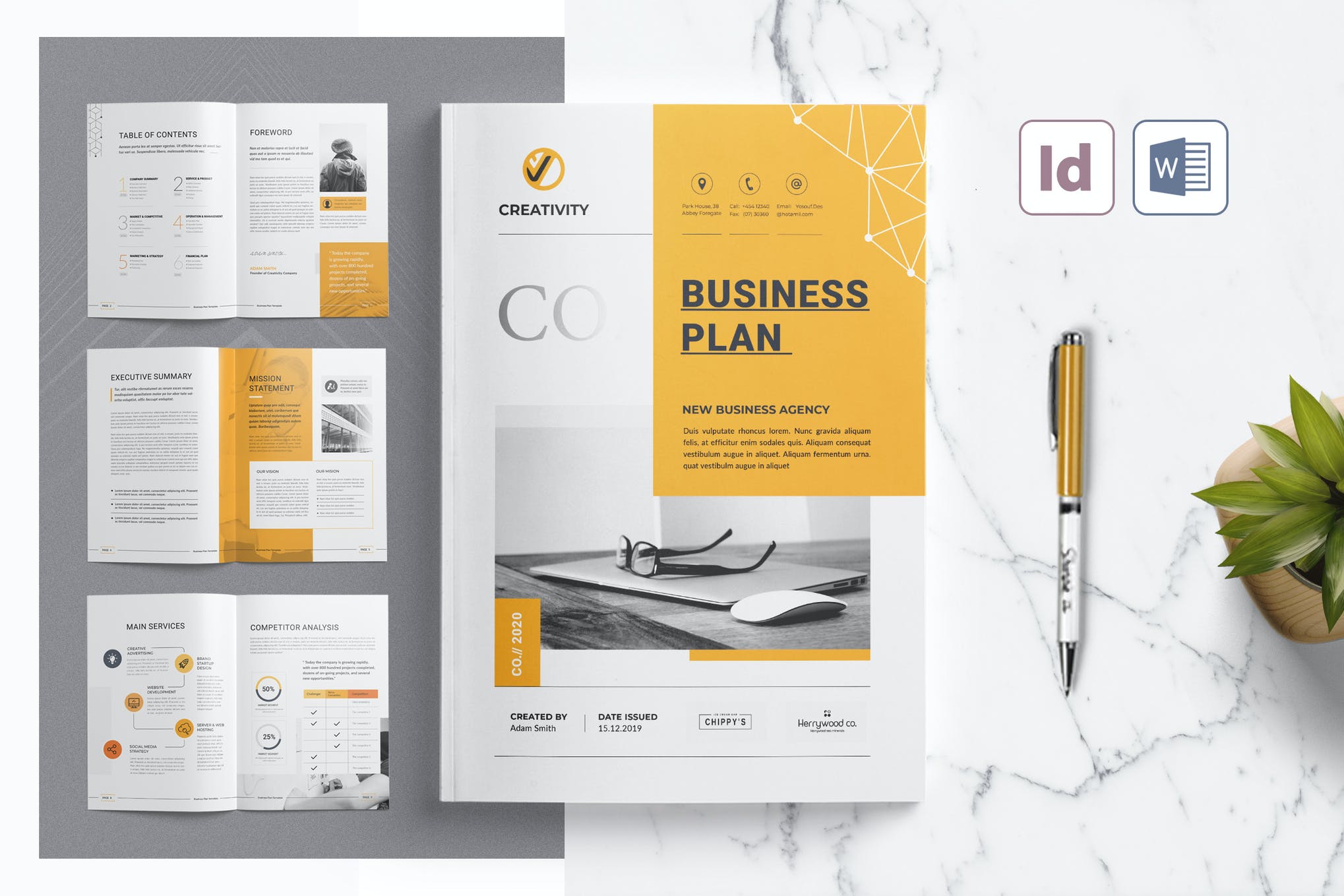 This is a solid choice for anyone looking to hunt down the best Microsoft Word business plan templates. It features 20 meticulously designed pages in A4 size, free fonts, and a help file. Use this template to create an impressive business plan.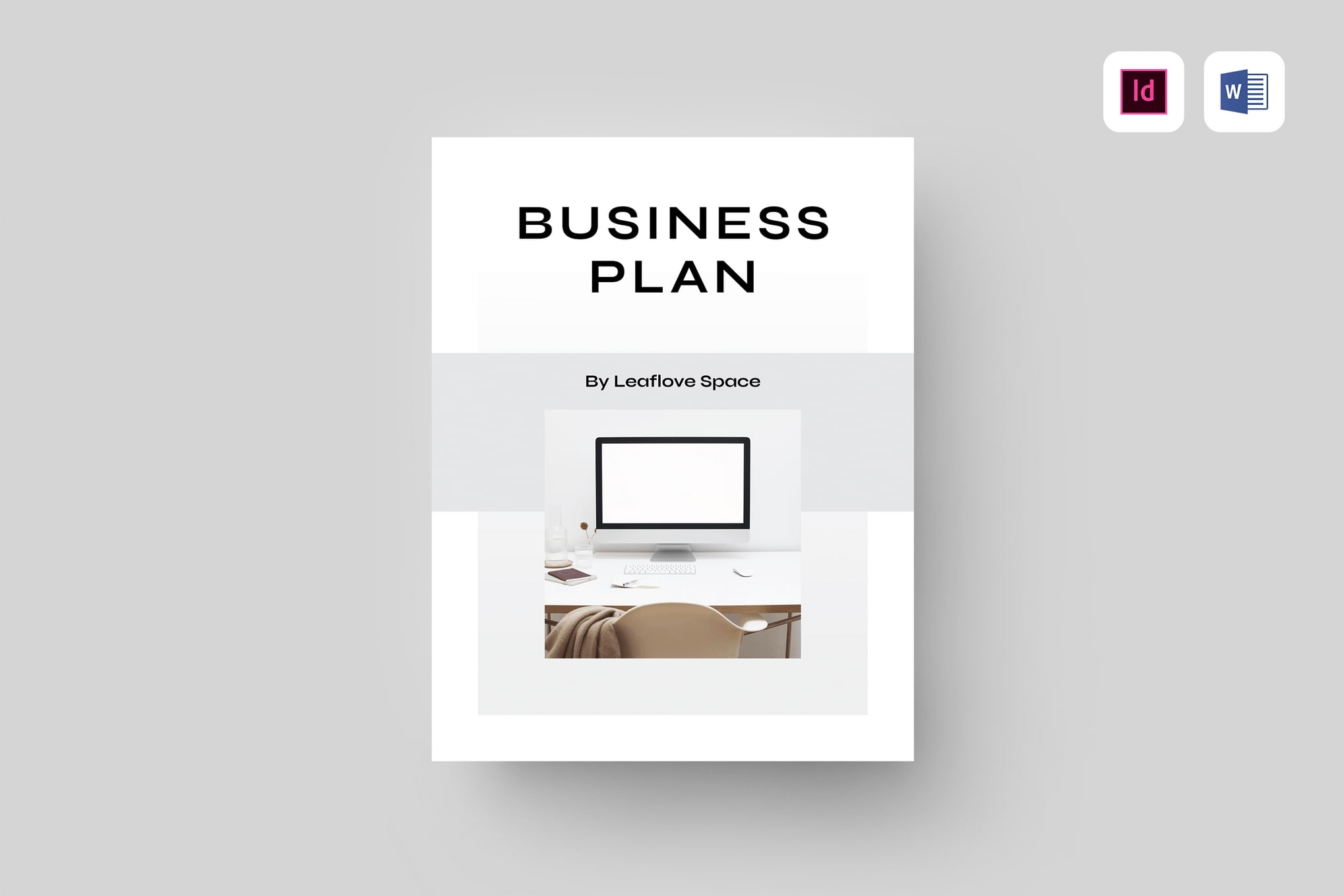 Print ready and fully customizable, this business plan template comes with 52 pages of remarkable design. This completely layered template is compatible with Microsoft Word and Adobe InDesign and will make you skate through the tedious task of editing.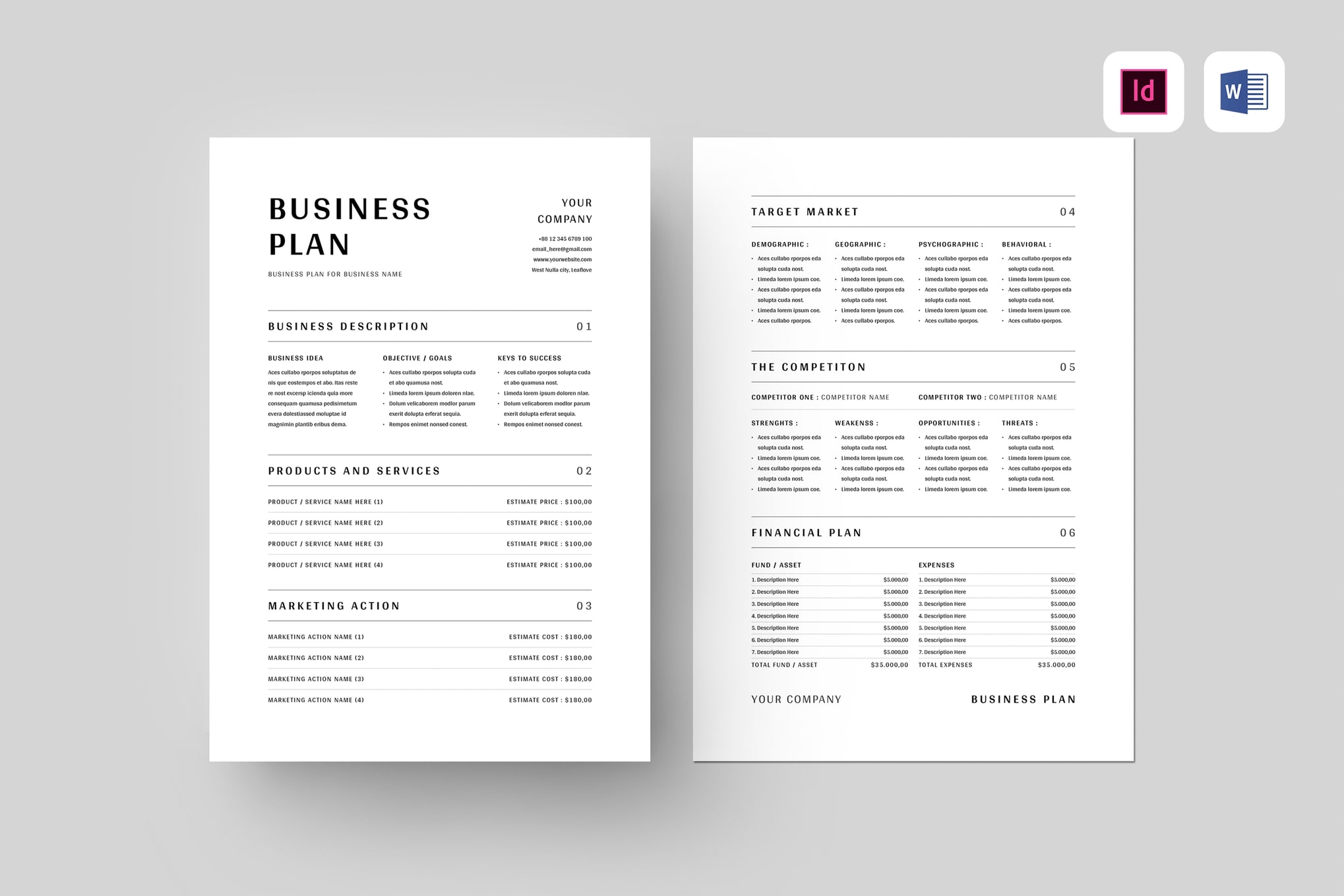 If you're looking for a minimal, and strictly professional business plan template for Word, the above-featured product is an excellent contender for your cash. It will help state your company's ambitions, strategies, timelines, and finances in the best way possible.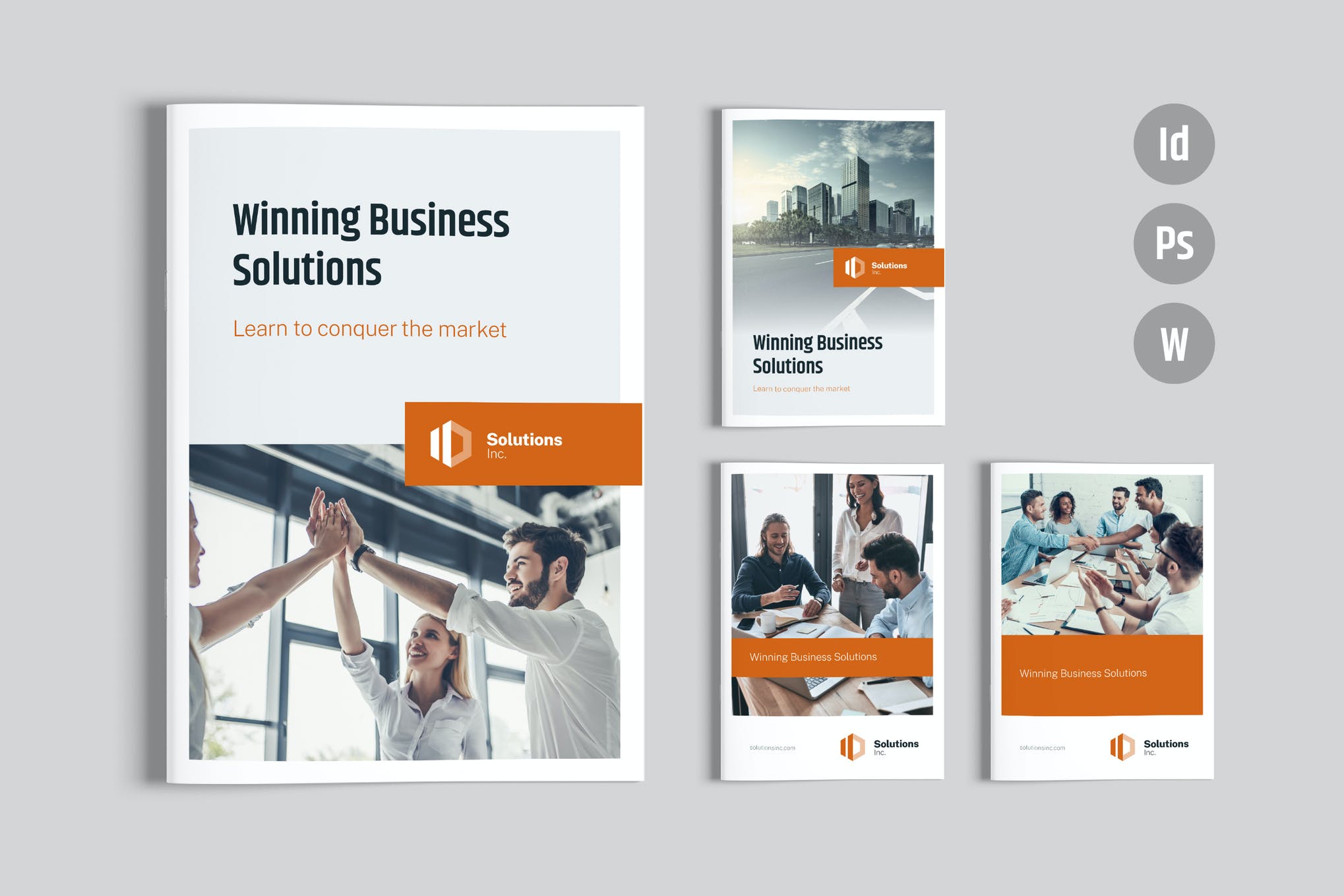 Print ready and fully editable, this brochure template includes 28 pages of extraordinary design. It's Microsoft Word-friendly and completely layered to make your work life a lot easier. So kick-start 2020 with this efficient corporate brochure template.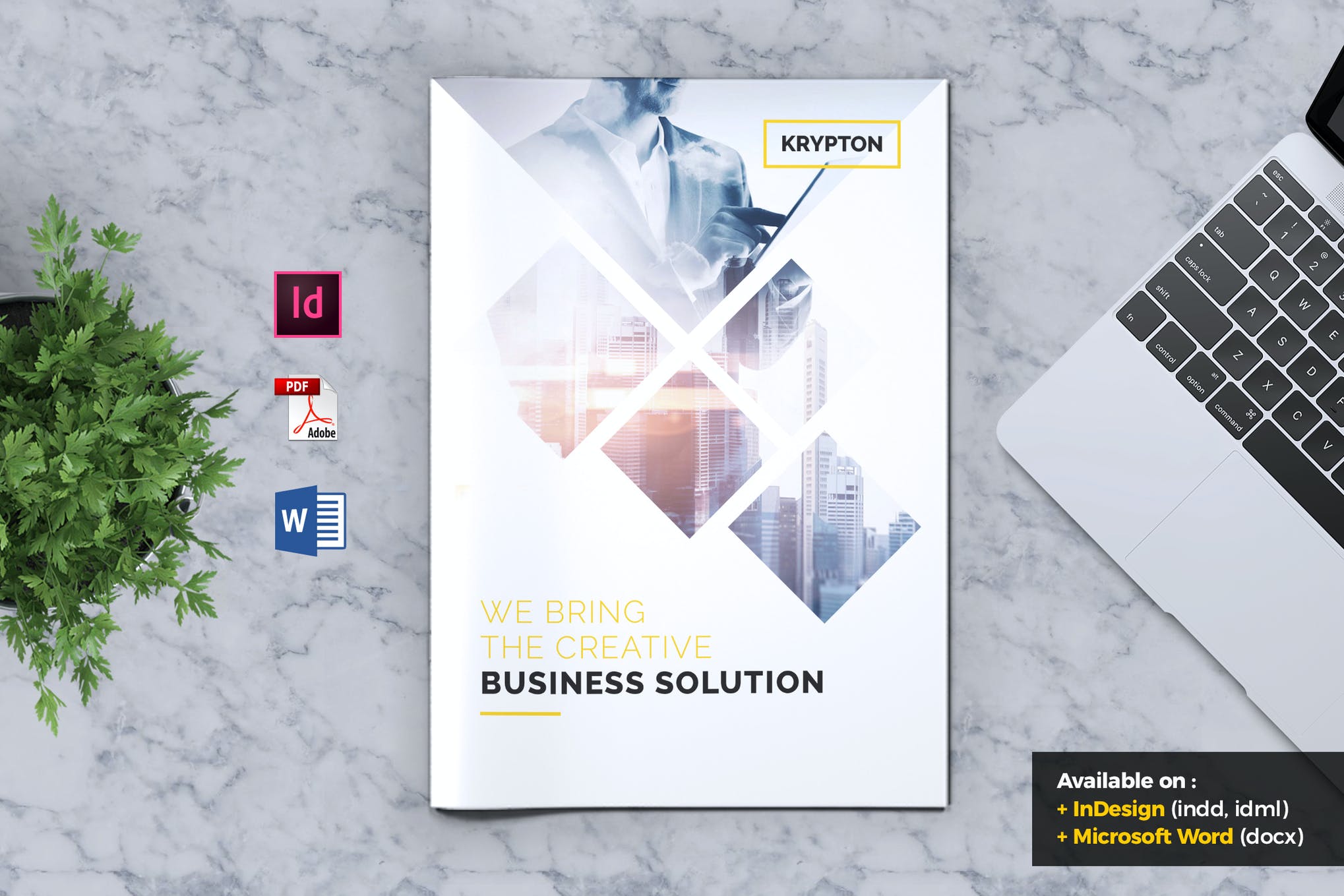 Create your own opportunities with this awesome business plan template. Originally designed with Adobe InDesign, this template also comes in the latest versions available for Microsoft Word.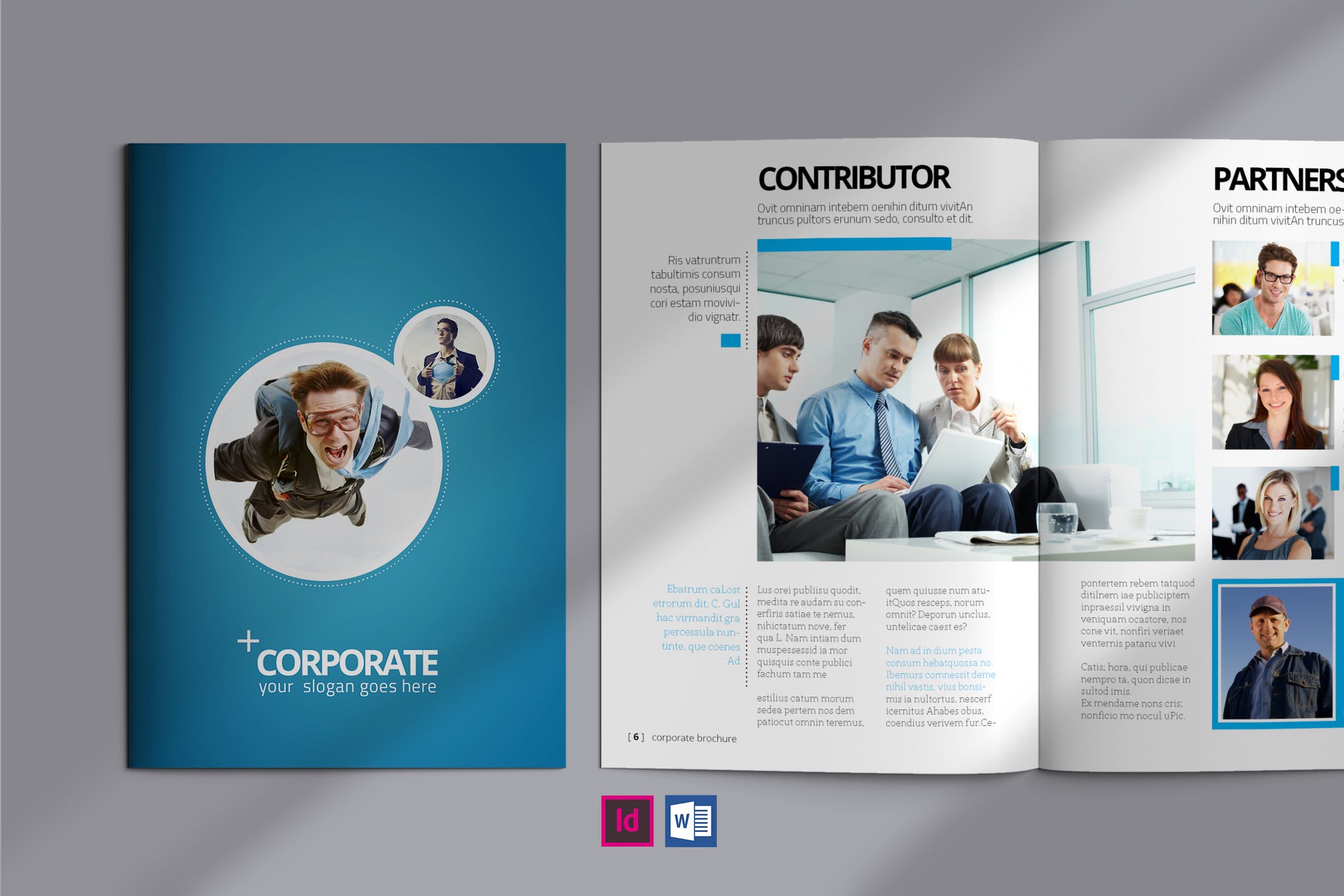 Need a creative corporate business plan template? Then check out this next print template created in Adobe InDesign. A special Microsoft Word file has also been included for quick updates. Get 36 custom pages and a premade cover layout.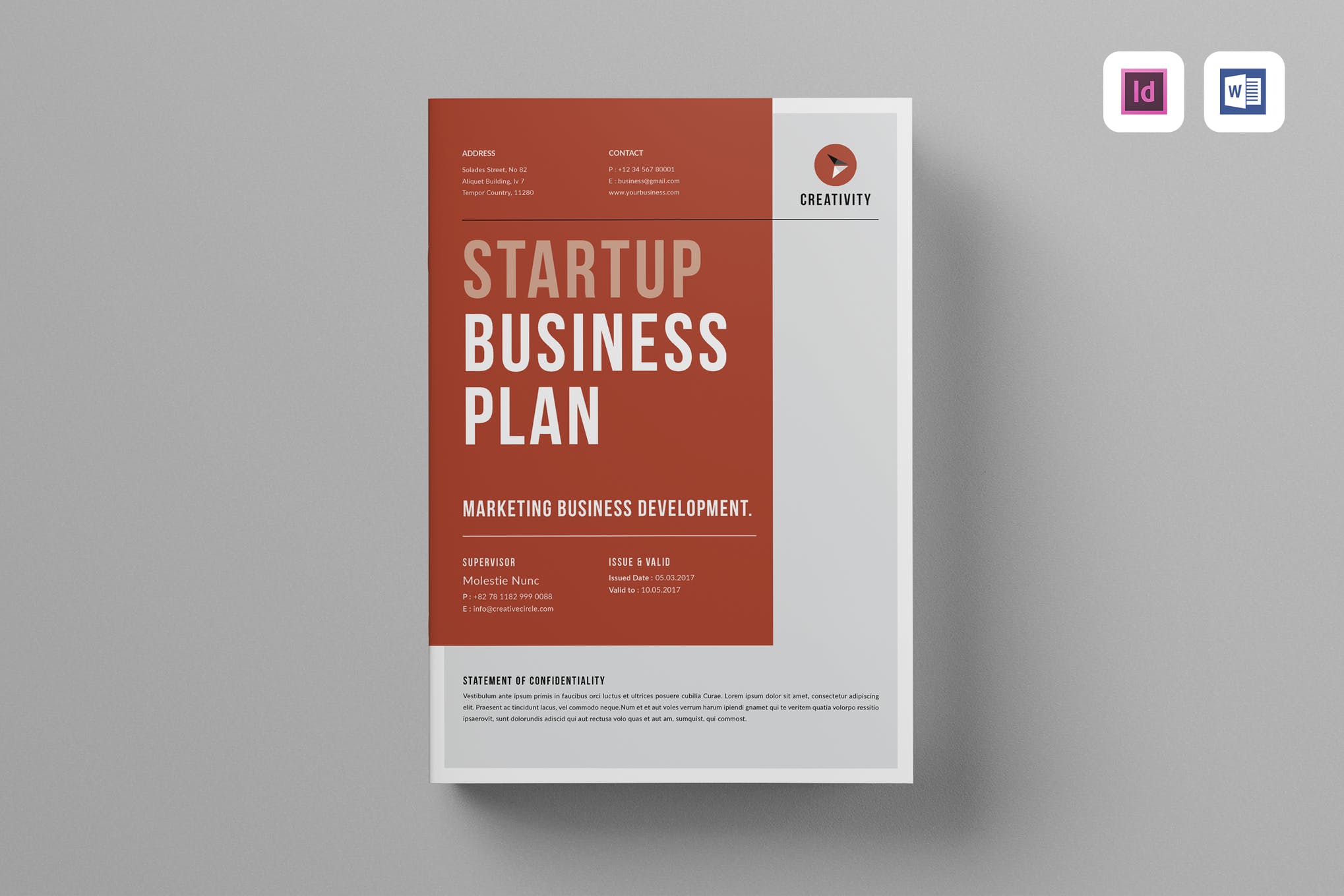 Use this template to prepare a detailed business plan for your startup and probably land funding. It features a modern, and eye-catching design that can be personalized to your branding and aesthetics. You'll have a difficult time finding free business plan templates for Word with quality this good.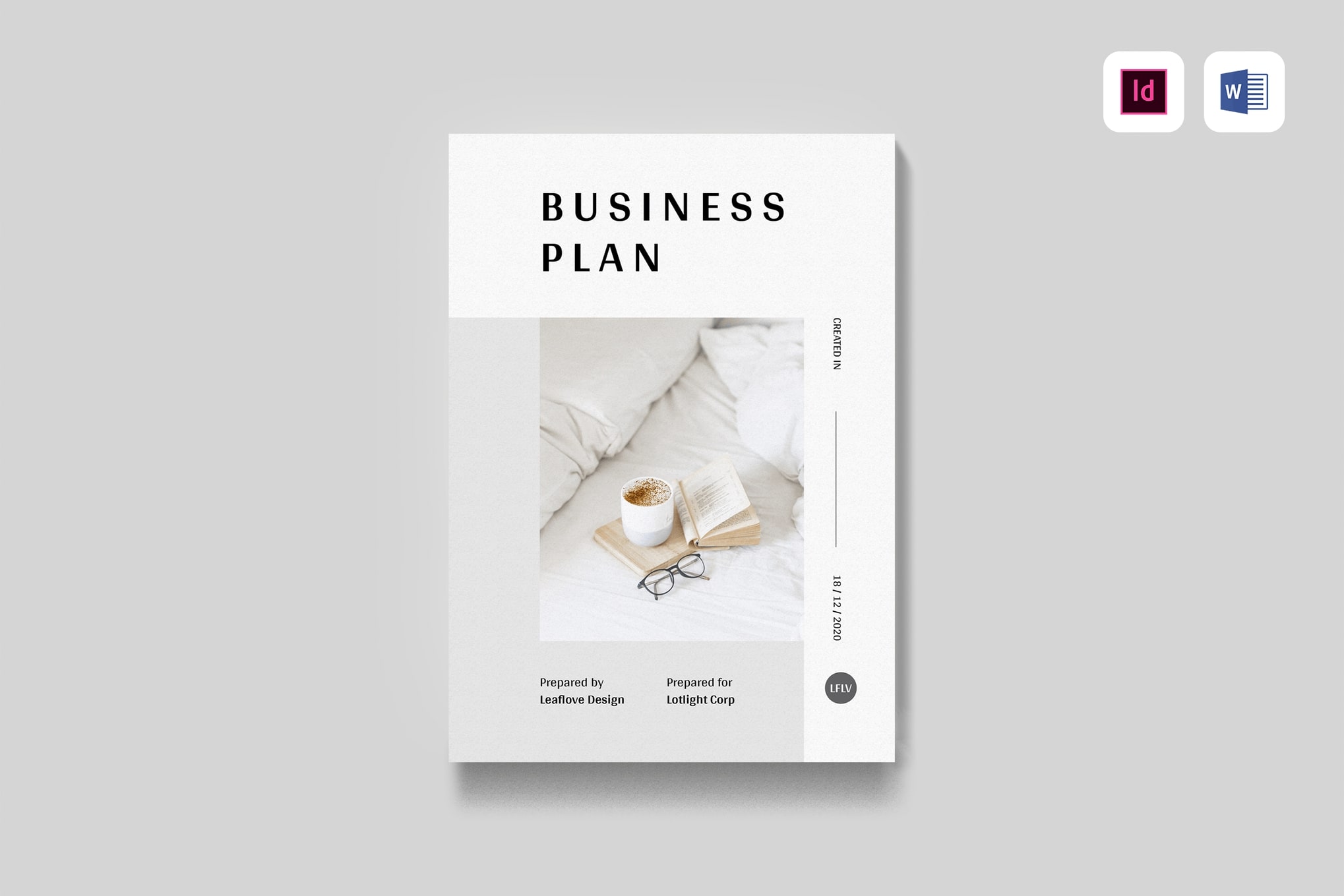 If you really want to make a good impression on potential investors, you should take a closer look at this MS Word business plan template. It offers 28 custom pages in A4 size, CMYL color space, free fonts, and more. Try it out, or add it to your shortlist at the very least.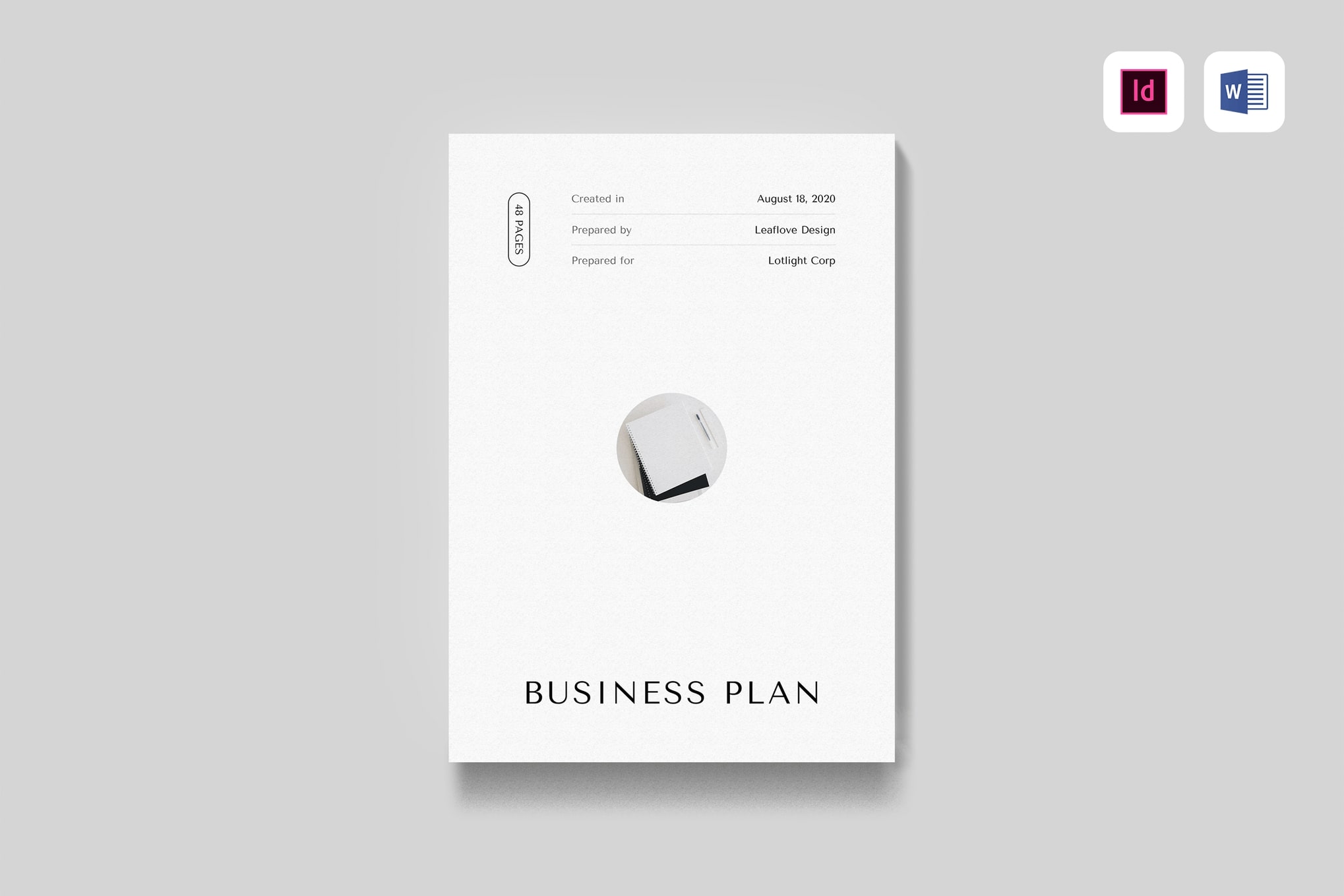 This clean, sophisticated design includes 36 pages for you to customize in any way you like. The creative business plan template also includes files for Microsoft Word, for your convenience.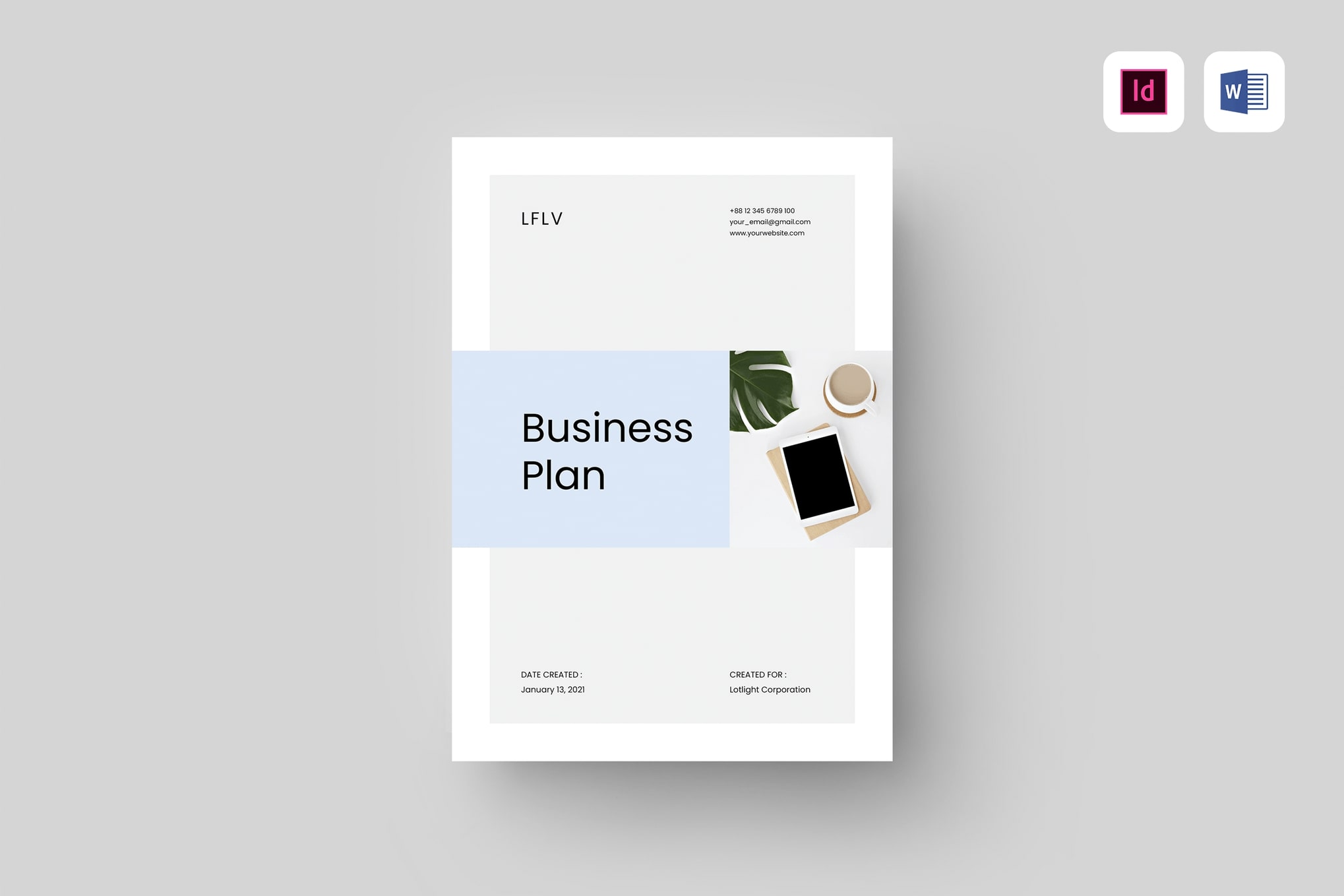 This clean and professional template will help you craft amazing opportunities for your business. Enjoy the stylish design which features a grid-based layout and only free fonts. Invoice and letterhead templates are also included for a well-rounded brand package.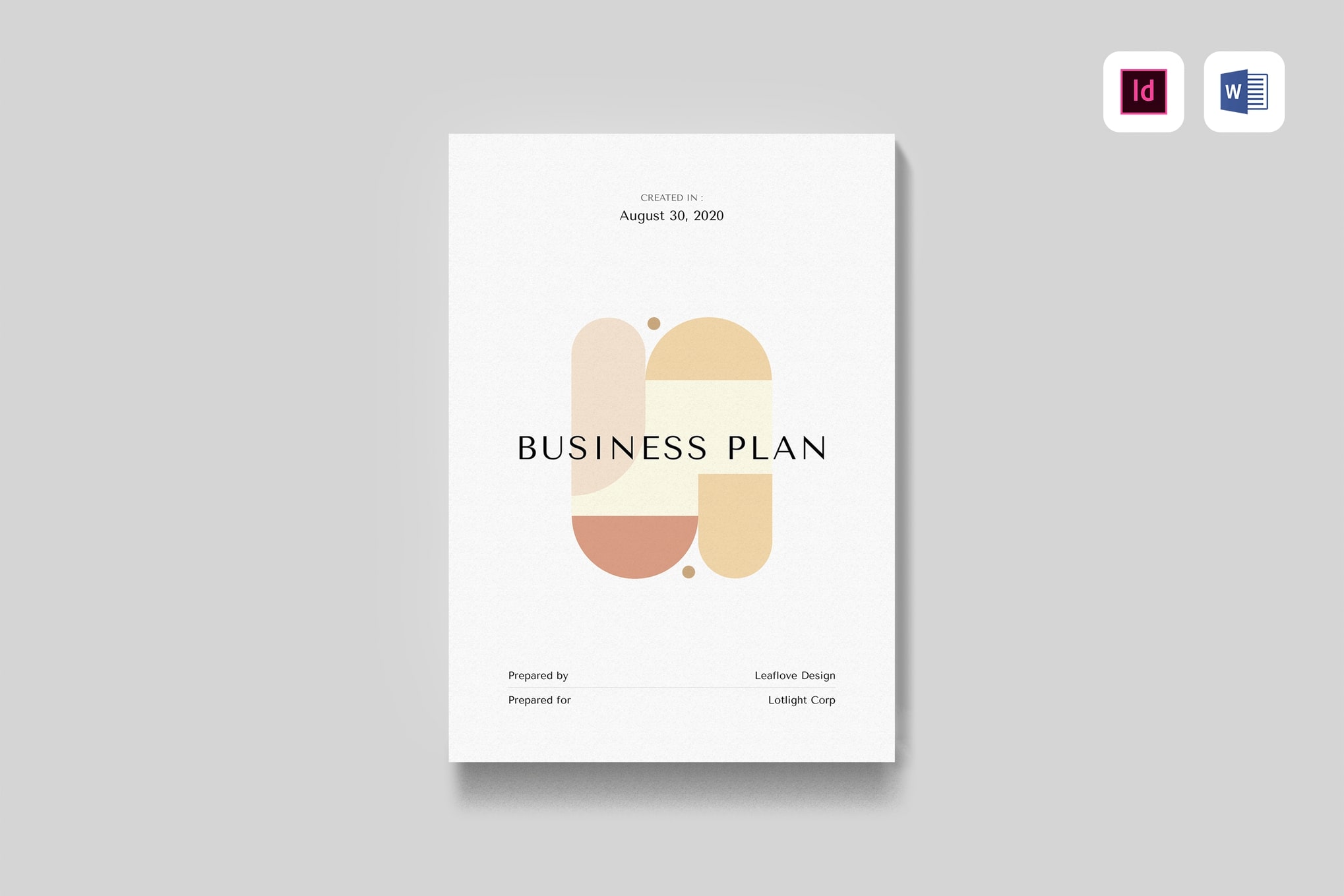 Take control of your business dreams with this professional business plan. Available in both Adobe InDesign and Microsoft Word formats, this brochure features A4 and US Letter sizes with 16 custom pages. Just drag and drop your photos and information to get started.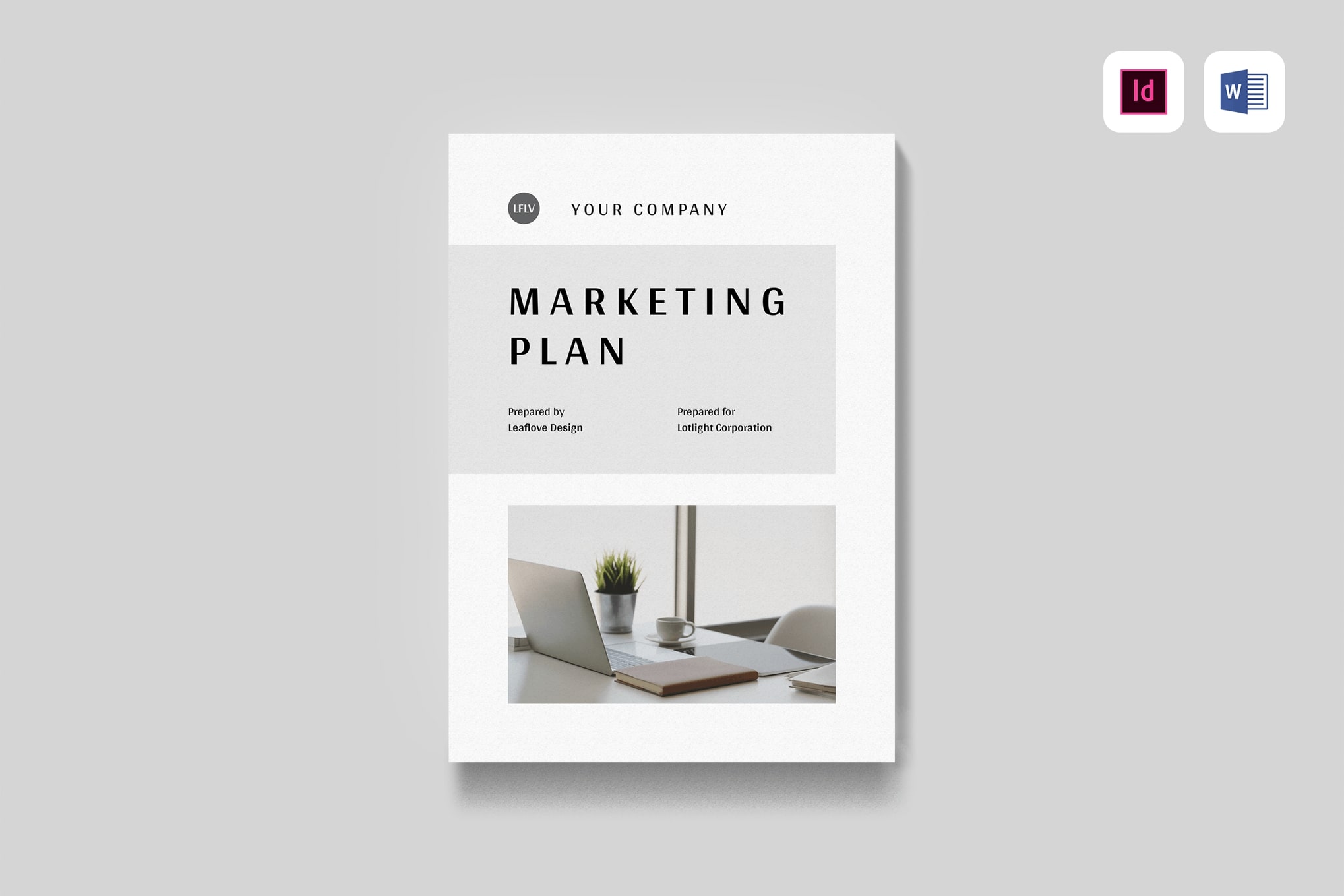 Enjoy three stunning yet simple color schemes with this next business plan template. This no-hassle design includes a minimalist theme perfect for beginners. Break down your expense reports, project descriptions and more with one helpful set.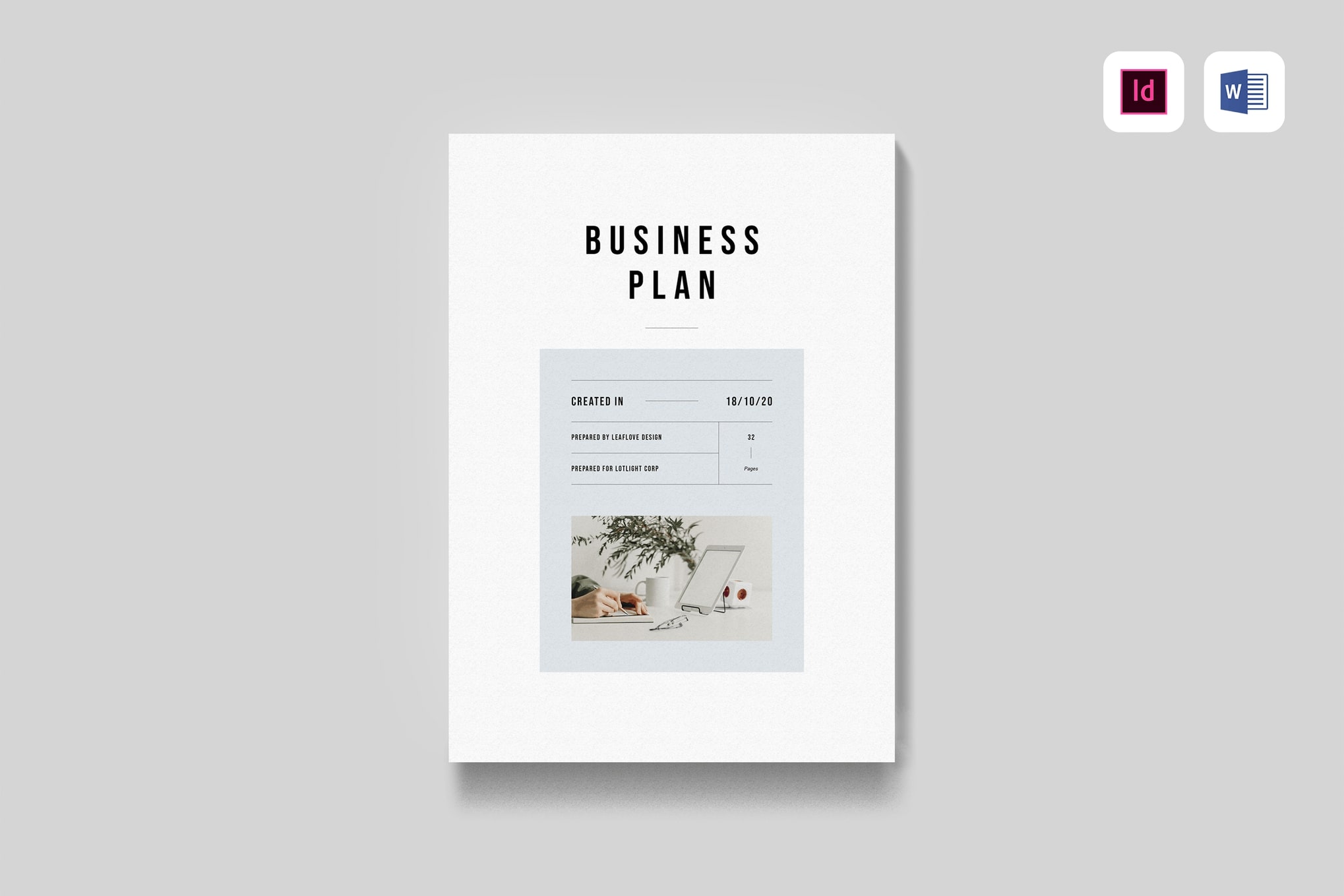 Writing your business plans takes up enough time and energy. So cut your worries in half with a professionally designed template you can customize to your needs. This helpful resource comes with fully layered documents and a custom cover design for a fast turnaround.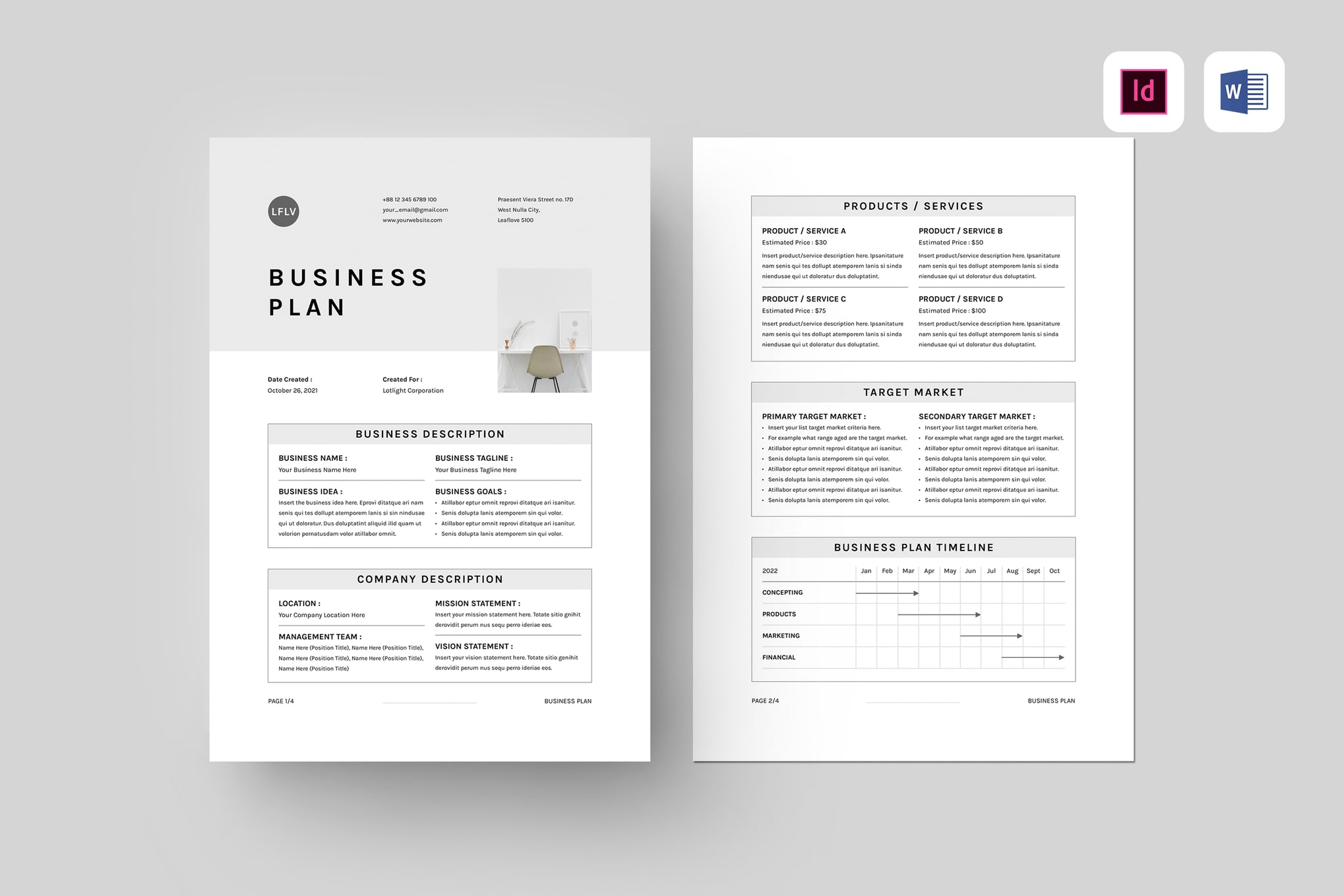 Highlight your company's finances with this extraordinary brochure. This template features 22 custom pages designed with intriguing layout options. Enjoy the trendy design with beautiful colors you can update yourself. Check it out!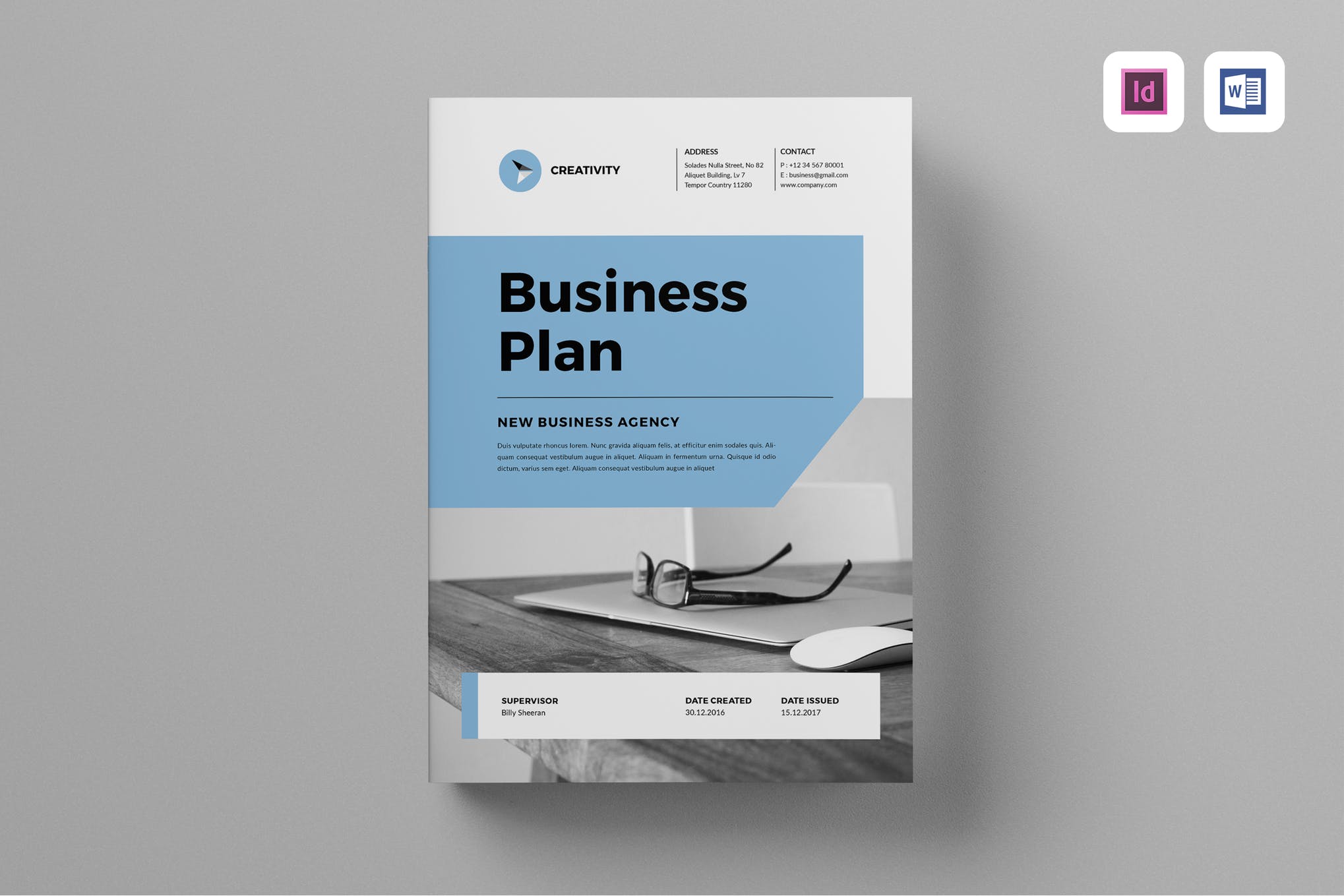 This professional template includes 16 pages originally designed with Microsoft Word. Describe your company's strategy, projections, and services with an effective template available in seven color samples.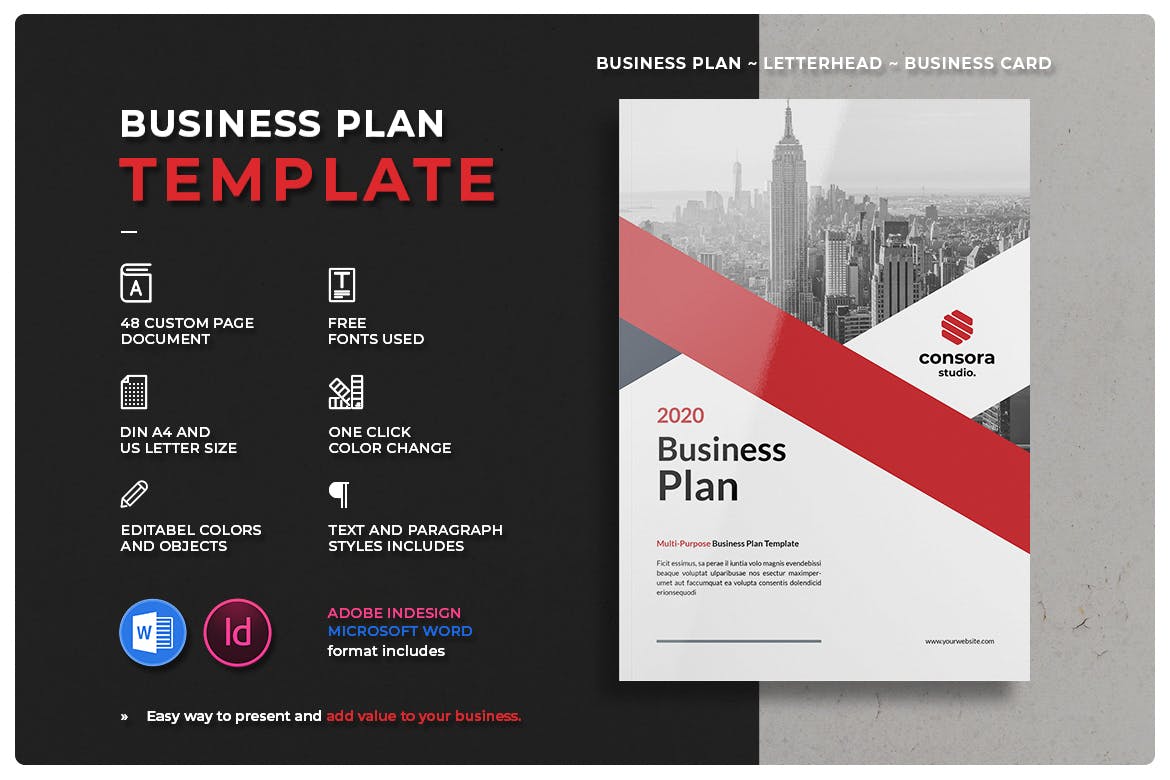 Get started on your next creative project with this minimalist proposal template. Designed for entrepreneurs and business professionals, this template features 24 fully layered pages in high-resolution formats. Easily access text and paragraph styles for a custom look!
Free Business Plan Templates For Word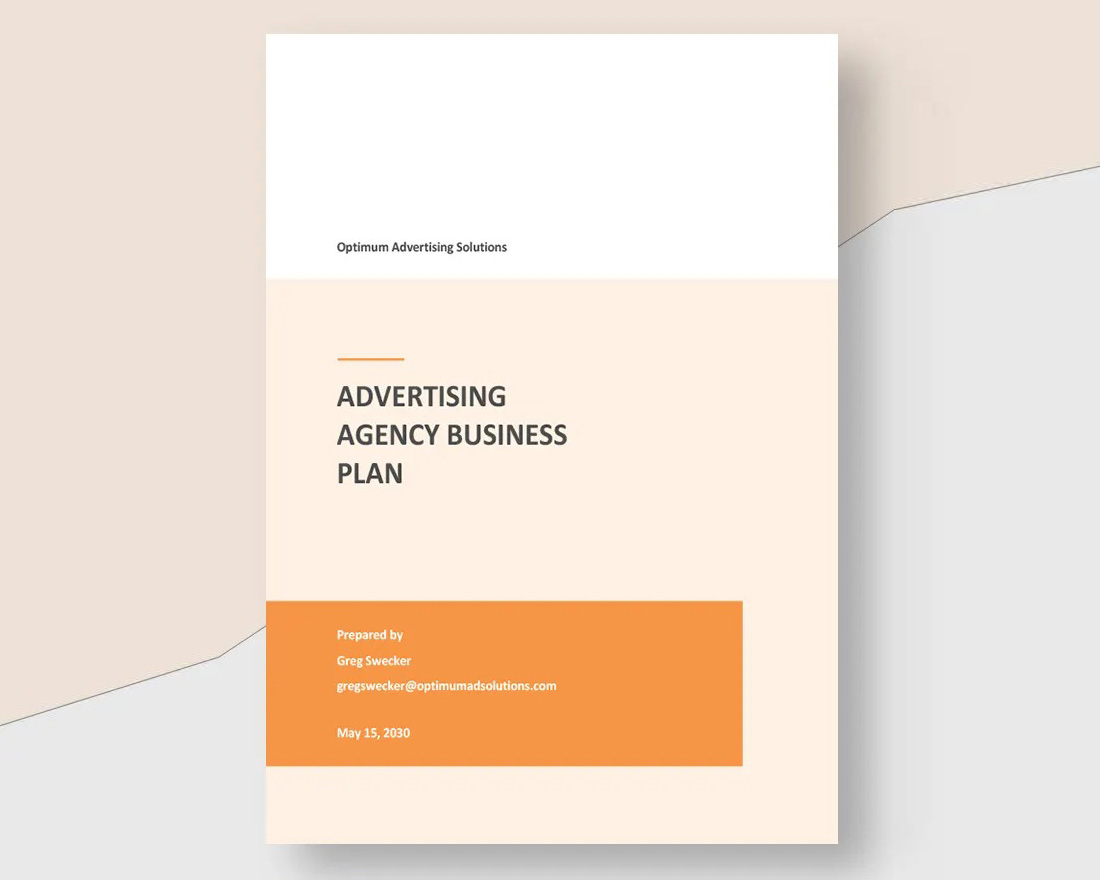 This free business plan template is ideal for making a very basic brochure to showcase your business plan. It's made with advertising agencies in mind. The template is available in MS Word, Apple Pages, and Google Docs formats.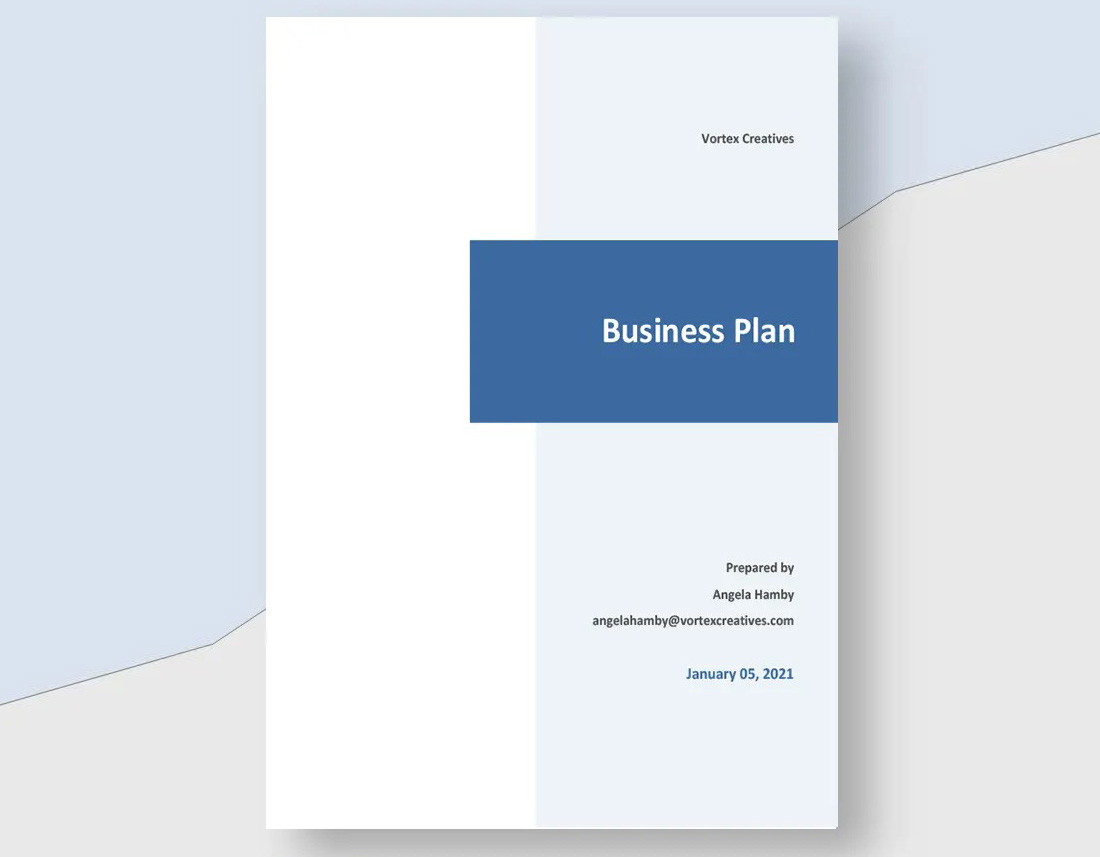 You can make a simple business plan brochure for a small business using this free Word template. It includes all the main page layouts you'll need to cover the important aspects of your business plan.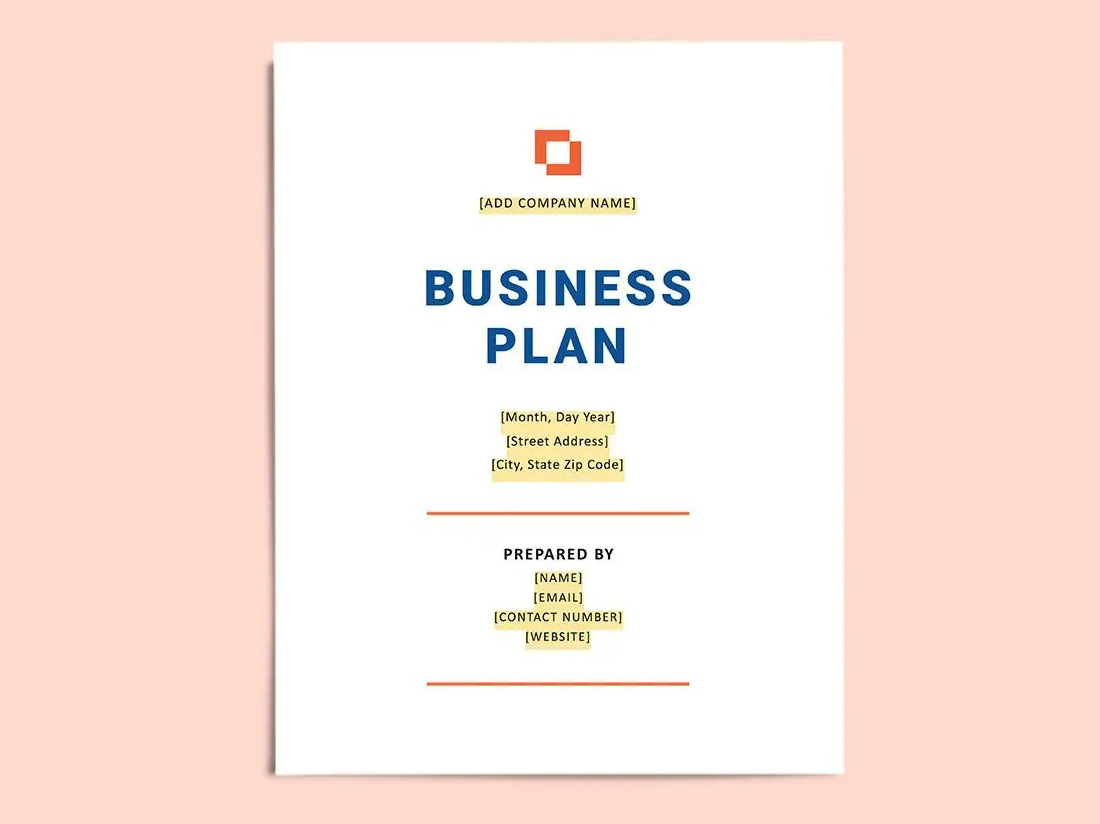 This free business plan template is designed with commercial contractors in mind. It includes several useful page layouts with easily editable designs. The template comes in Word, Google Docs, and Apple Pages formats.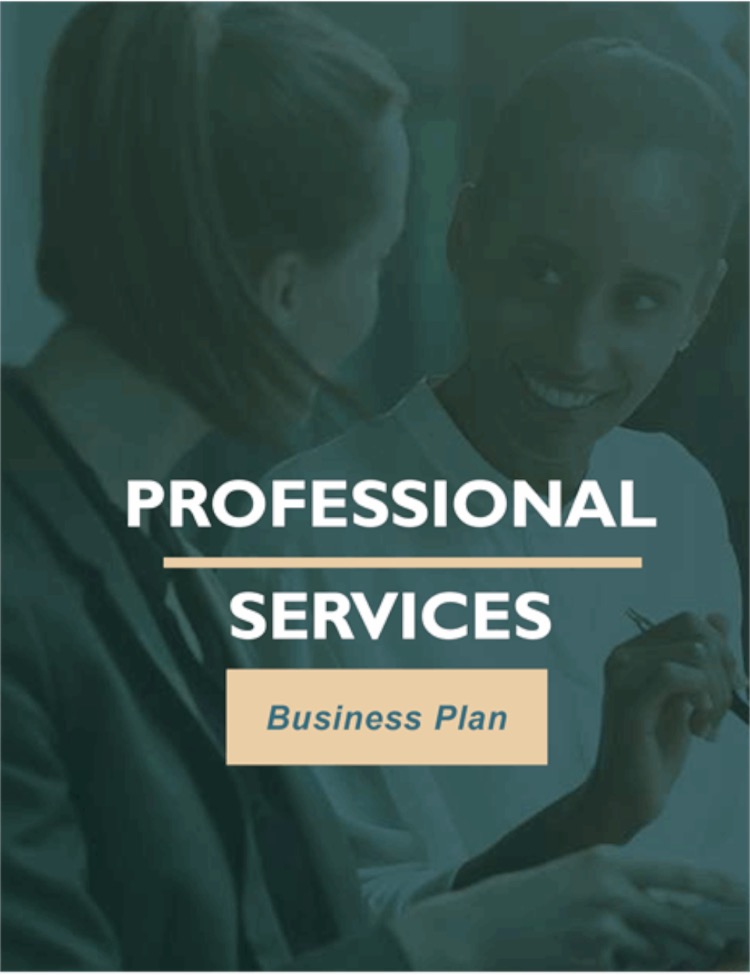 Use this professional services business plan template to help you create a solid plan. This business planning template tells the story of your business's vision and how you expect to achieve success. Use this professionally written business plan template to clarify your plan and to share with it your team, outside investors, and future leaders.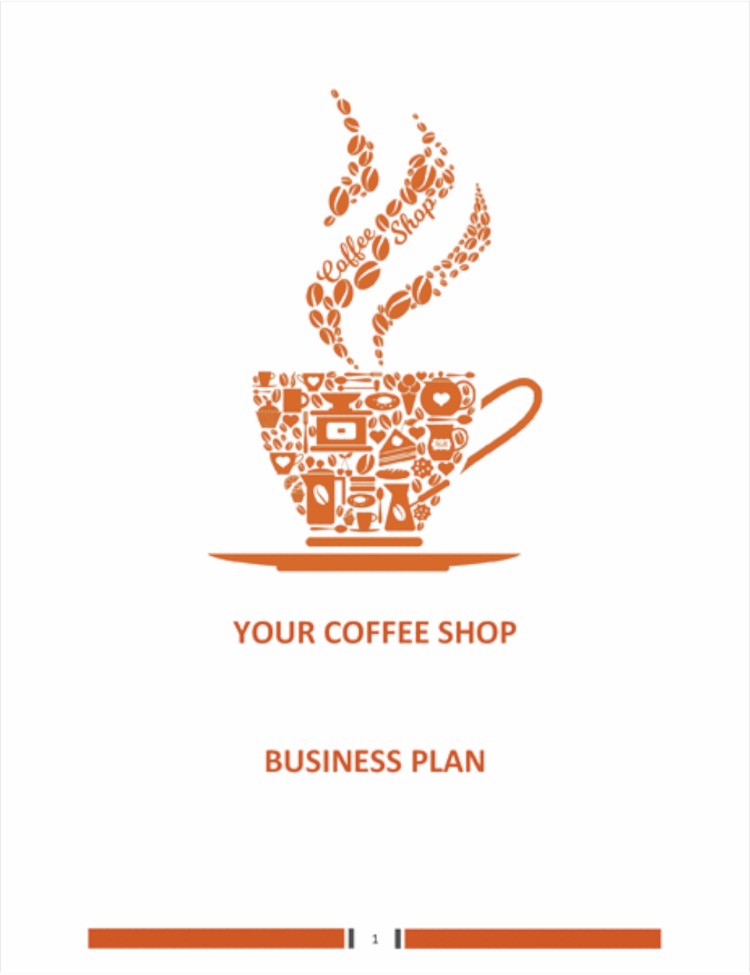 Define and communicate the vision for your business with this business plan template for Word. This business plan template includes guidance on what makes a great plan using a new coffee shop as an example. Fill in this simple business plan template with the details of your business for a stunning plan you can present to your stakeholders and potential clients.