6 Best WooCommerce Dropshipping Plugins in 2022
Dropshipping is one of today's hottest new business ideas that everyone wants to try out. It's not only easy to get started but it also lets you manage your business from home, without even having to own an inventory.
WordPress is a great platform you can use to start a dropshipping store. Especially with the help of the WooCommerce plugin, you can setup a high-quality dropshipping store that looks just as professional as Amazon or eBay.
However, you can't create a dropshipping store using WordPress and WooCommerce alone. You also need a dropshipping plugin to connect your store with dropshipping platforms like AliExpress. In this post, we showcase some of the best plugins you can use to get that job done. Let's dive in.
Why Use WooCommerce Dropshipping Plugins?
Setting up a dropshipping store takes a lot of work. You have to find the best products, import them over to your own store, handle multiple product variants, manage order fulfillment, and much more.
Dropshipping plugins makes all that work so much easier. They integrate with WooCommerce to let you import products from sites like AliExpress, manage inventory, and fulfill orders directly from your website.
The plugins also help offer a better user experience to customers by offering a simpler checkout process, multiple currency options to choose from, and much more.
Top Free & Pro WooCommerce Dropshipping Plugins
These are our top choices for making a dropshipping store with WooCommerce. You'll find both free and premium options to choose from. Have a look.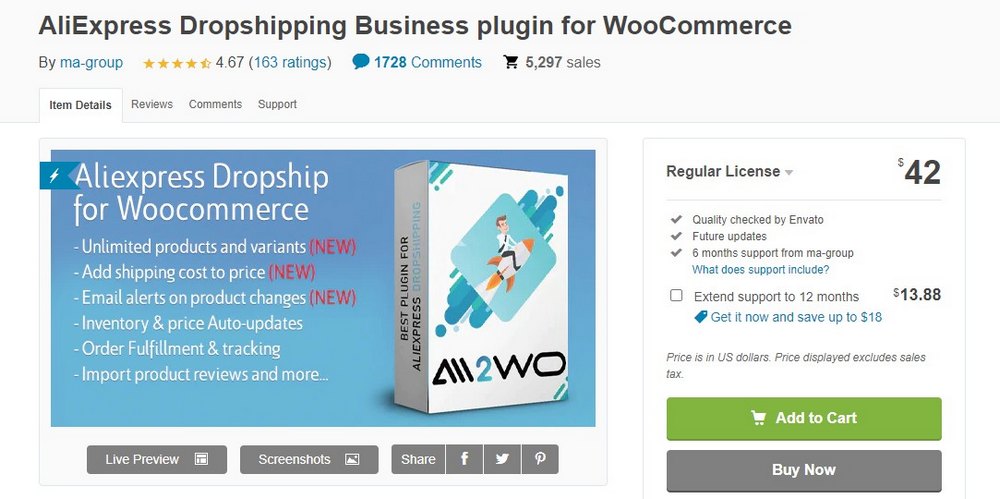 AliExpress is arguably the best marketplace to source your dropshipping products as it offers a wide variety of items in any category you can think of. With this plugin, you can easily integrate AliExpress with WooCommerce to turn your store into a complete dropshipping business.
AliExpress Dropshipping Business, or Ali2Woo, is a dropshipping plugin for WooCommerce. It lets you import products from AliExpress with just a few clicks with product variations, reviews, and all the info attached.
The plugin also helps you manage order fulfillment as well. It's easy to use and understand, even for beginners. And there are many other benefits to using it.
Main Features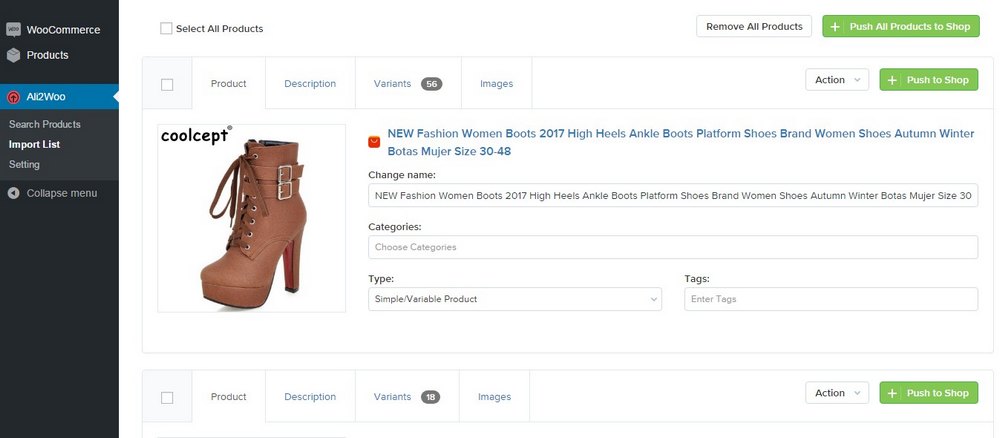 Allows you to import and sync unlimited products from AliExpress
Create different variations of products based on size, color, and more
Easily fulfill dropship orders and add tracking
Automatically sync your product inventory and pricing from AliExpress
Supports translations and multi-currency pricing
Built-in image editor lets you edit imported product images before publishing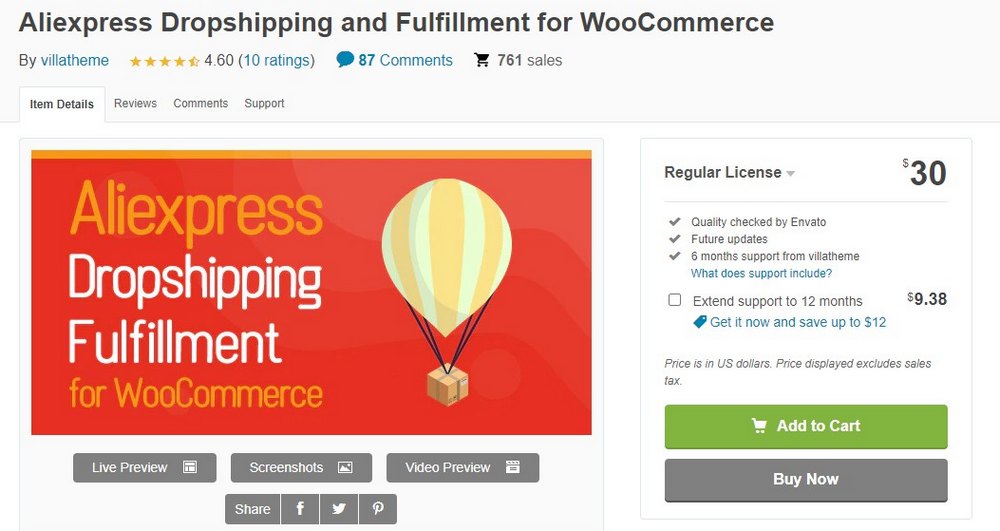 Just as the name suggests, this plugin is another great solution for managing a dropshipping store using WooCommerce. It helps you manage your inventory, shipping, and fulfill orders. In fact, the plugin even allows you to setup automatic order fulfillment and bulk order fulfillment with just one click.
This plugin is very beginner-friendly and has a modern user interface where you can import products, sync product pricing and quantity, as well as an extension for the browser. You can see how it works here.
Main Features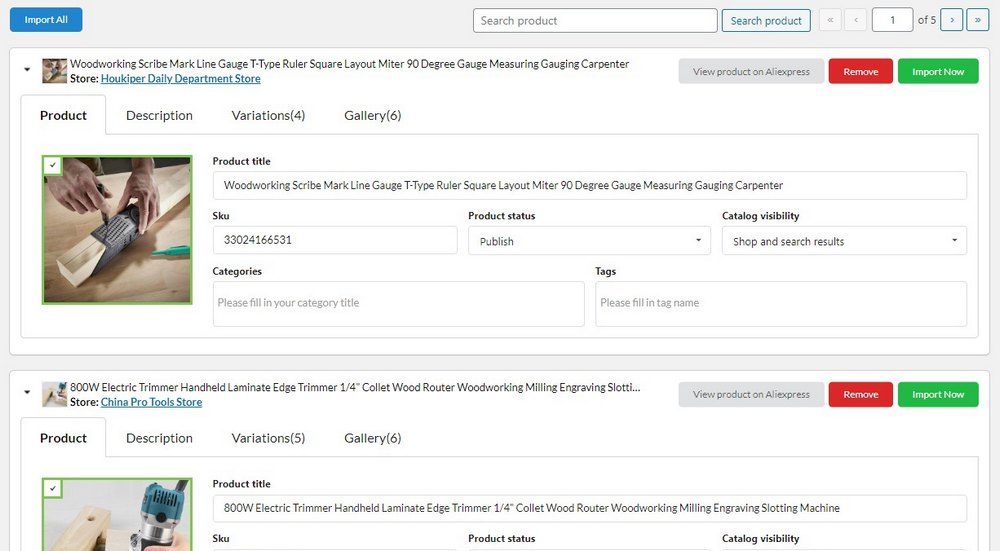 Import single products or entire categories from AliExpress
Sync pricing, product quantity, and manage inventory with ease
Automatically fulfill orders or process them in bulk
Show shipping options and add shipping costs to products
Add multiple variations of products
Ability to import and add unlimited products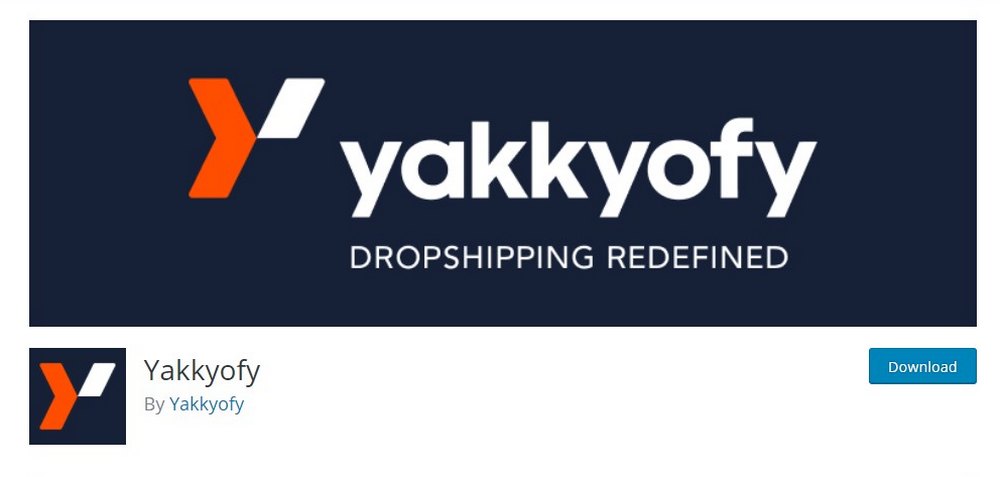 Yakkyofy is the closest thing you could get for a truly free dropshipping plugin for WooCommerce. The plugin is completely free to use, but there's a catch. You can only source products from its own product directory.
Similar to platforms like AliExpress, Yakkyofy is a platform you can use to find dropshipping products and sell them on your own store. It claims to offers products at prices 15% to 50% cheaper than other Chinese marketplaces.
Using the plugin, you can integrate Yakkyofy platform with WooCommerce to find and import products over to your store. You only have to pay for the products you buy.
Main Features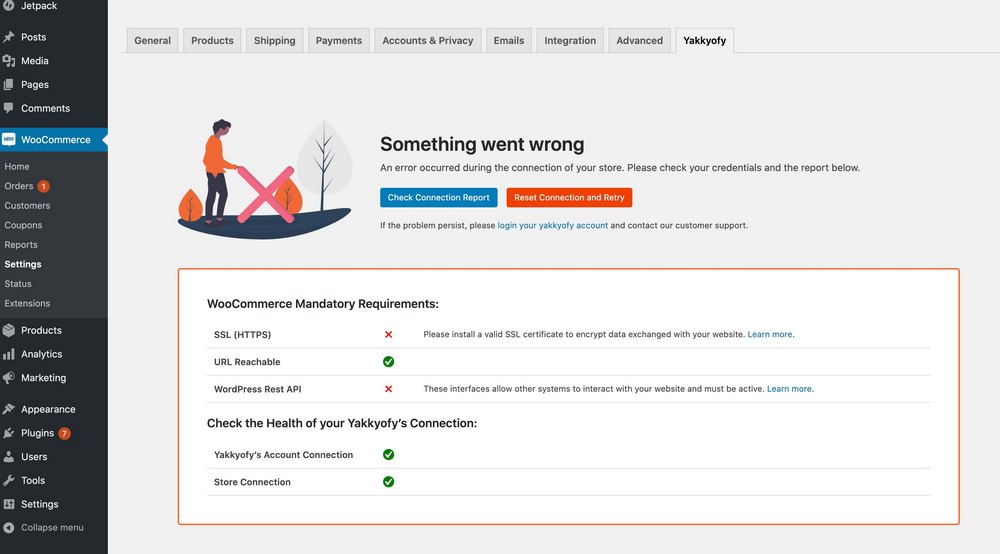 Beginner-friendly and easy to use platform for starting a dropshipping store
Platform and plugins are completely free to use and only pay for products
Handle your orders and fulfillments on Yakkyofy platform
Ability to setup automatic order fulfillment
Sell products on multiple stores including WooCommerce and Shopify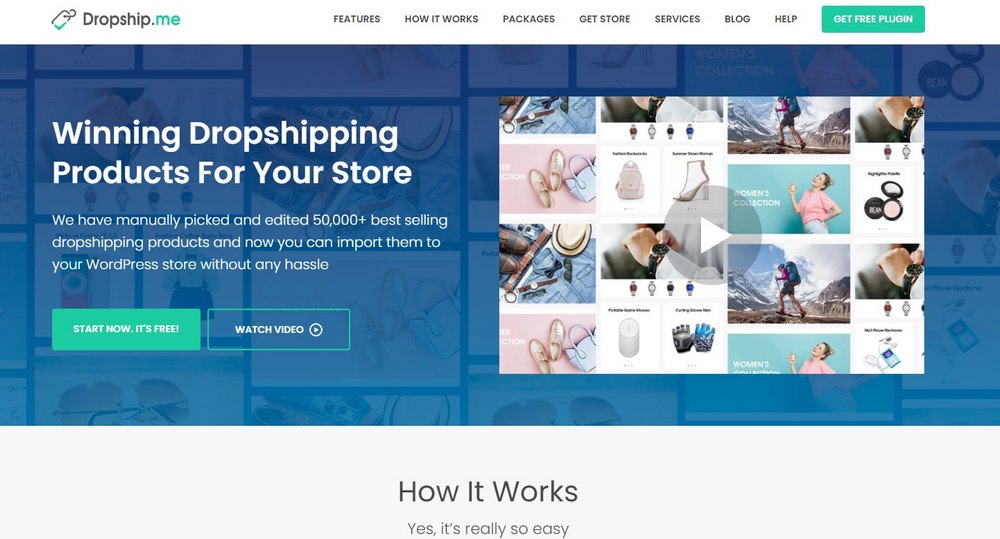 DropshipMe is another free dropshipping plugin you can use to source and sell products from AliExpress. However, it's not completely free.
With the free plan, you can import up to 50 products to your store. And most of the plugin features are limited as well. The free version is great for testing the plugin and see if it's for you.
Pricing for premium versions start at $29 for 100 product imports or $119 for 500 product imports. The good news is it's only a one-time price but you'll quickly reach that product import cap when creating a big store.
Main Features

Beginner-friendly interface and simple setup process
Easily find and import best-selling products curated by DropshipMe
Products are fully optimized with effective titles and clear images for you to start selling right away
Import real product reviews
Find best pricing markup suggestions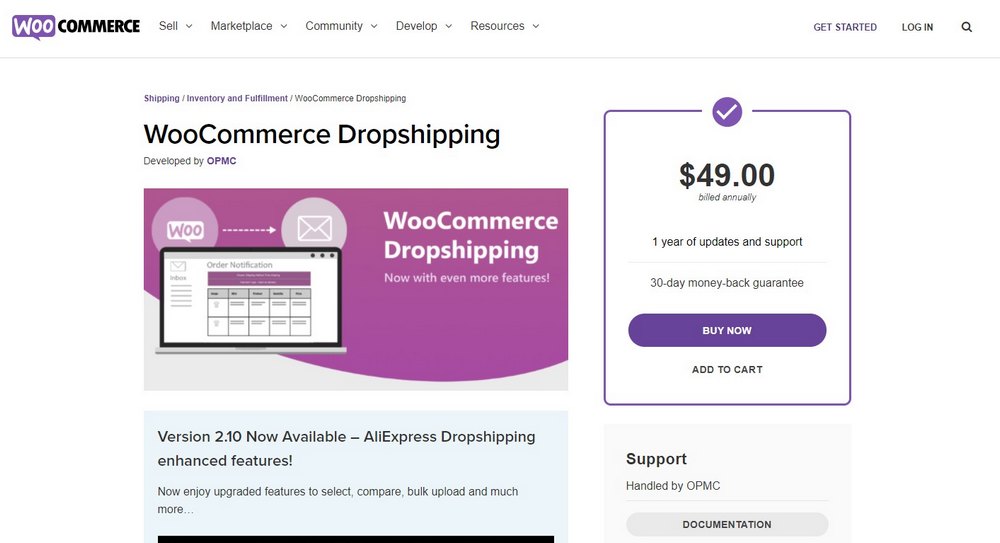 This is the official dropshipping extension for WooCommerce. It's a paid extension that supports both dropshipping and affiliate products. And it seamlessly integrates with your WooCommerce store.
Using this extension, you can import and sell products from AliExpress as well as Amazon Affiliate products. It's quite beginner-friendly and easy to use. The accompanying Chrome extension even makes it easier to find and import products from AliExpress. However, it doesn't have a deeper level of customization options.
Main Features
Ability to import and sell products from AliExpress and Amazon affiliate programs
Use the Chrome extension to find and import products from AliExpress
Easily add and manage dropshipping suppliers for your store
Automatically send notifications with buyer info to suppliers to ship products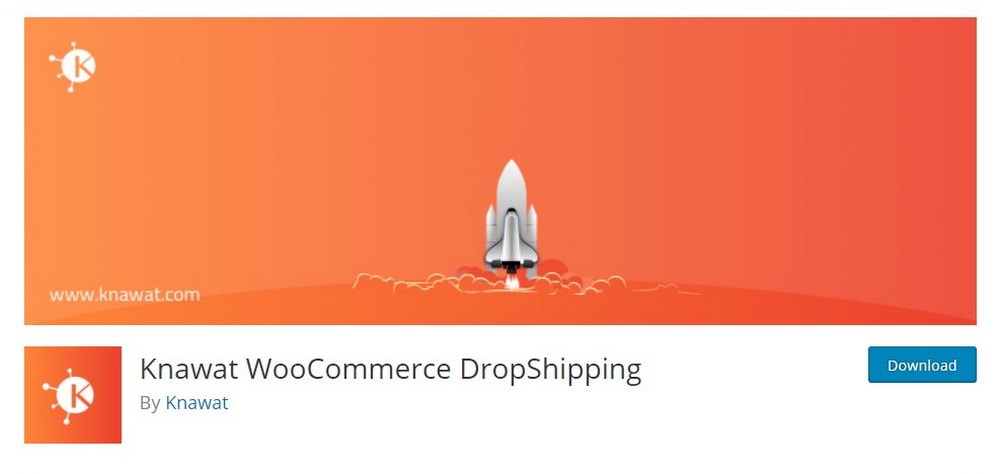 Price: Free / $29 per month
Knawat is a free dropshipping plugin that works similarly to Yakkyofy. The plugin is free to use but you have to source products from its own marketplace. There are also many platform and shipping fees included.
The free plan offers limited features with only 250 product imports along with a $21 fixed shipping rate and a $3.99 pickup order fee. You can switch to a premium plan starting at $29 per month to get up to 1000 product imports and lower pickup and shipping fees. Although it offers a very beginner-friendly environment for users.
Main Features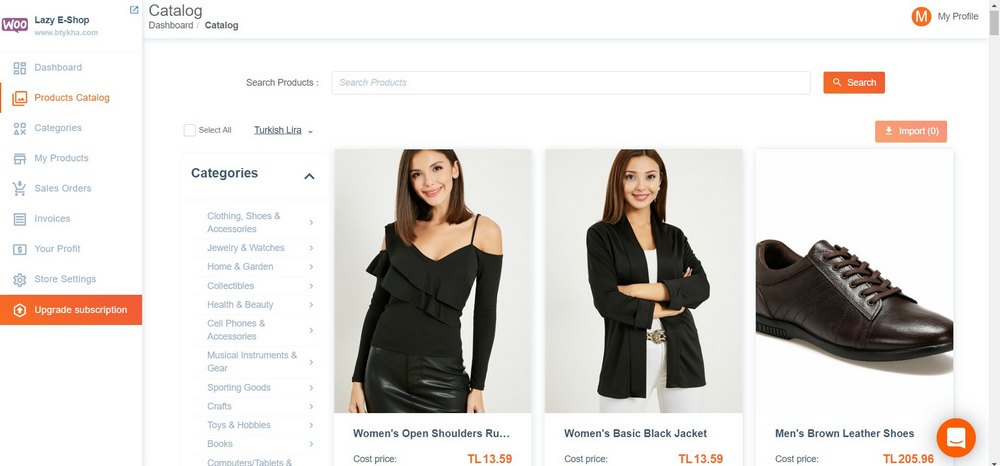 Easily setup a dropshipping store and import products from Knawat directory
Automatically update prices and inventory to keep your store fresh
Fulfill orders automatically with shipment tracking numbers
Knawat handles shipping of products allowing you to ship directly to customers
Pay only after making a sale
Which Dropshipping Plugin Is Best?
Both Ali2Woo and Aliexpress Dropshipping and Fulfillment plugins are perfect for setting up your store. Since they only cost a one-time price, you won't have to worry about monthly subscriptions or having to pay platform fees.
In return, these plugins offer many benefits like unlimited product imports, automatic fulfillment, the ability to import product reviews and images, and much more that will save you a lot of time and money.
Almost all free dropshipping plugins have limitations or hidden costs. We recommend that you avoid using them. After all, you are starting a business so make wise investments that you can benefit from for a long time.
If WordPress is too complicated for you, Shopify is another great platform you can use to start a dropshipping business. Read our how to use Shopify guide to learn how it works.
Looking for WordPress hosting? We use Kinsta. They offer world-class WordPress hosting, built to keep your website fast, secure, and always online.