How To Use Shopify: Ultimate Guide for 2024
E-Commerce is the future of retail businesses. The rapid growth of the industry proves it. If you're also thinking about opening a shop online, there's no better place to start than Shopify.
In fact, global retail eCommerce sales are expected to reach $4.9 billion by 2021. Shopify is one of the few platforms that's taking the lead in this growing industry. Shopify reported total revenue of over $767 million for the third quarter of 2020, a 96% growth from 2019.
Everyone from Instagram influencers to big brands now uses Shopify to sell their products and merchandise.
Getting started with and using Shopify is quite easy. The platform itself is designed specifically for complete beginners. We'll walk you through the process, step by step.
Download hundreds of stunning Shopify themes and templates with an Envato Elements membership. For $16 per month, you have unlimited access to a growing library to thousands of themes, fonts, web templates, graphics, and more.
What is Shopify?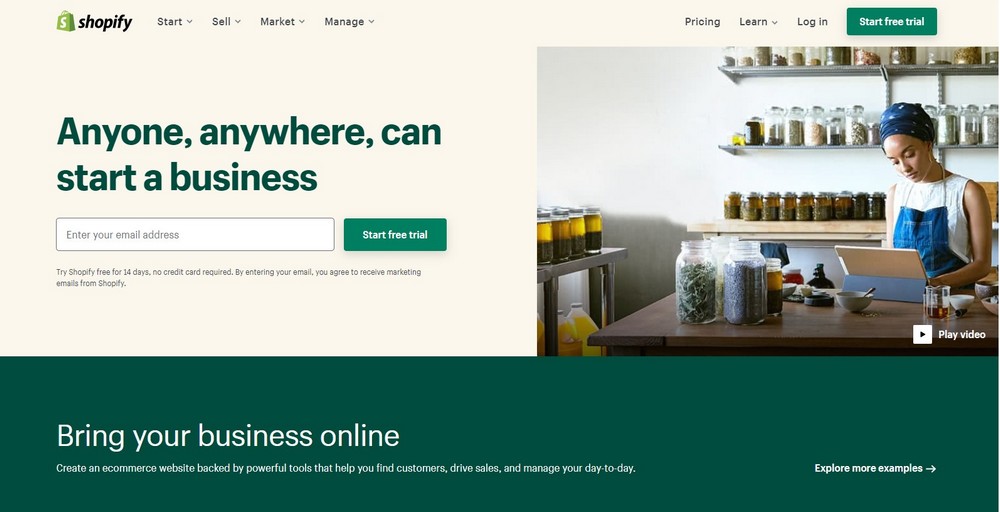 Shopify is a Software as a Service (SaaS) eCommerce platform that provides you with all the necessary tools in one place to build your own store and start selling online.
Shopify has been serving customers and merchants worldwide since 2006 and now it's being used by more than 1 million businesses to sell their products online.
How Does Shopify Work?
One of the biggest selling points of Shopify is its ease of use. Unlike using other website building platforms, Shopify allows you to manage all aspects of your website and the online store in one place.
You can easily create an online store using Shopify with just a few clicks. There are no coding or advanced web design tasks involved.
The platform can be used to sell your own physical products, digital products, dropshipping, and even use as a Point of Sale (PoS) system for selling online products in-person.
How Much Does Shopify Cost?
Shopify pricing starts at $29 per month for the basic plan. This plan is ideal for starting your first store. You can test out the platform using the 14-day free trial.
Shopify also charges 2.9% + 30¢ USD from each sale for processing credit card payments. As well as an additional 2.0% when processing payments using other payment gateways.
Benefits of Using Shopify
Shopify is popular because of the many benefits it brings to small businesses. The followings are just a few of the best features worth mentioning.
Ease of Use
When using Shopify, you don't have to look for web hosting, install software, or connect domain names to setup your store. The platform handles all the technical work for you. You can create a store and start selling in a matter of minutes. As well as manage your inventory, process orders, handle shipping, and taxes all in one place.
Sell on Facebook, Instagram & eBay
Shopify also allows you to easily promote and sell your products through social media platforms. The app integrates well with both Facebook and Instagram. As well as eBay and Amazon.
PoS System
The Point of Sale system that comes with Shopify will allow you to sell your products in person and accept payments using credit cards. It's perfect for offering cash on delivery options. As well as for selling online products at your brick-and-mortar stores.
Supercharge Your Store with Apps
Shopify also has an app store that includes free and premium apps for extending the features of your store. With these apps, you can integrate with third-party services, payment gateways, dropshipping platforms, and more.
How to Start a Shopify Store
Creating a store with Shopify is quite easy. You can get started in a few clicks. Here's how it works.
Step 1: Sign Up With Shopify
Start by signing up with Shopify using the free 14-day trial. It doesn't even require a credit card and you can switch to a paid plan if you're satisfied with the platform.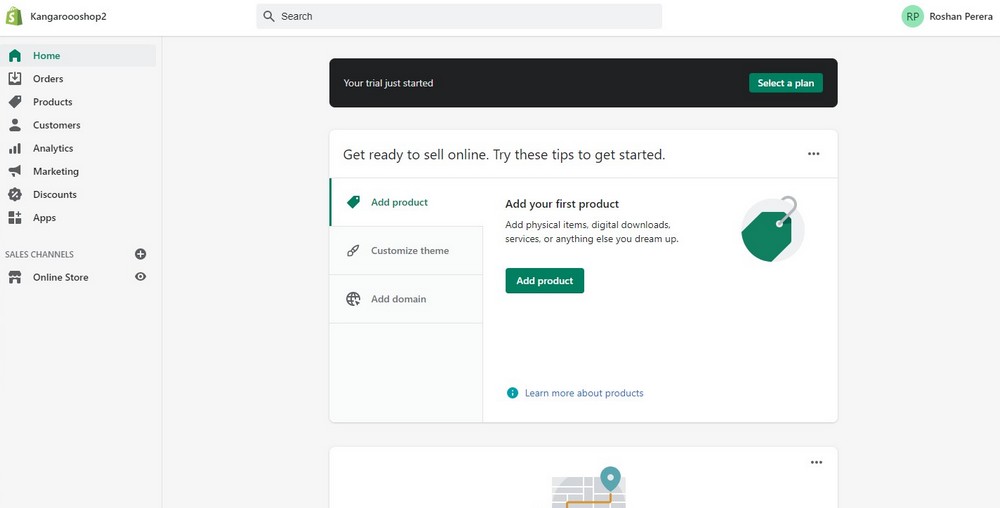 After signing up for an account, Shopify will guide you through a simple step-by-step setup wizard to introduce the platform and its features to you. Simply follow the instructions.
Step 2: Install a Custom Theme
Once you're done with the initial setup process, you can start building your store. The first thing you must do is install a proper Shopify theme to give your store a professional look.
Of course, you can use Shopify's theme library to find a design. But these themes are used by thousands of other shops. If you're serious about your business and want to make your store look unique, you should get a custom theme from a third-party platform.
Check out our handpicked Shopify themes collection for inspiration.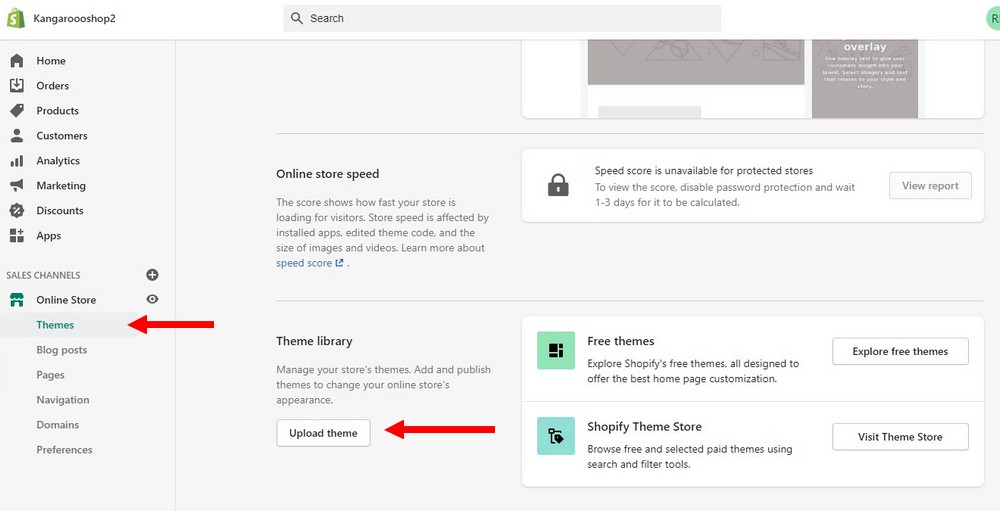 Once you download a Shopify theme, you can install it by going over to Online Store >> Themes. Then scroll down to find the Theme Library section and click on the Upload Theme button to install your custom Shopify theme.
And then you can edit the branding for your store by adding a logo, editing colors, and the layout of the shop.
Step 3: Add Your Products
Now that you have your store setup with a beautiful theme, you can start adding products to your shop.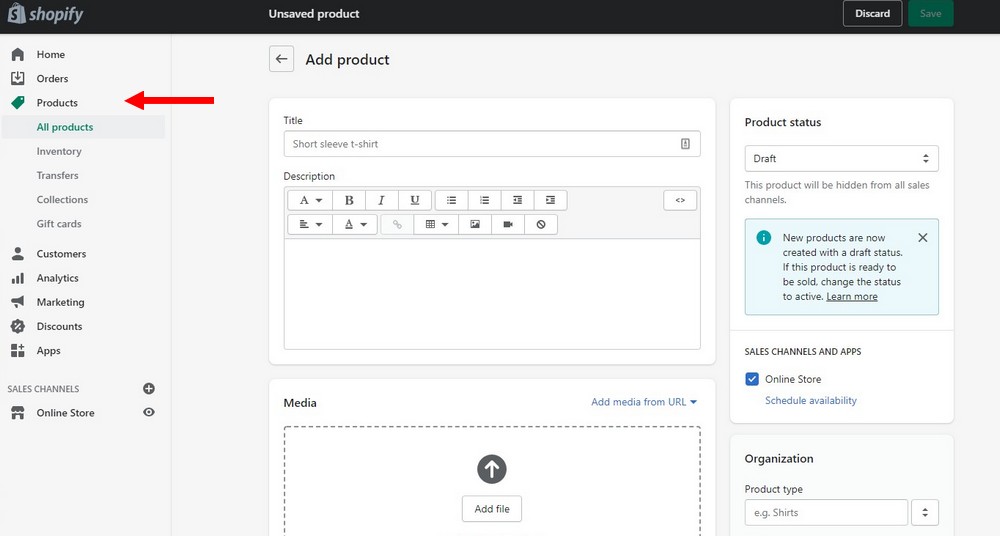 To add a new product, go to Products and click on the Add product button to create a product page. From there, you can add product images, set pricing, write a detailed description, and even add product variants.
You can also create Collections to organize your products on the homepage and manage inventory from this same section.
Step 4: Setup Shipping and Taxes
Don't forget to customize the settings for your shop. Make sure to setup shipping methods and pricing if you're selling physical products by going over to Settings >> Shipping and delivery.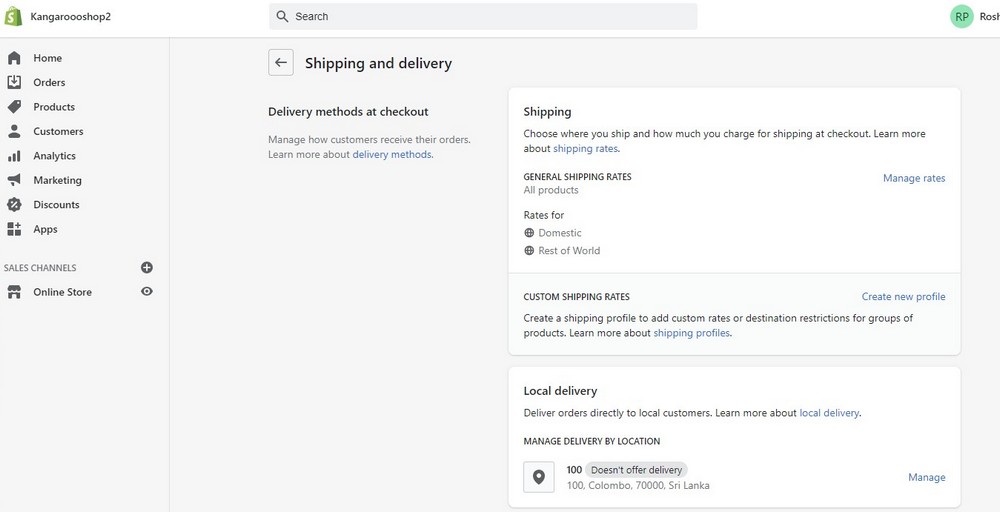 As well as to setup taxes for your products from the Settings >> Taxes panel.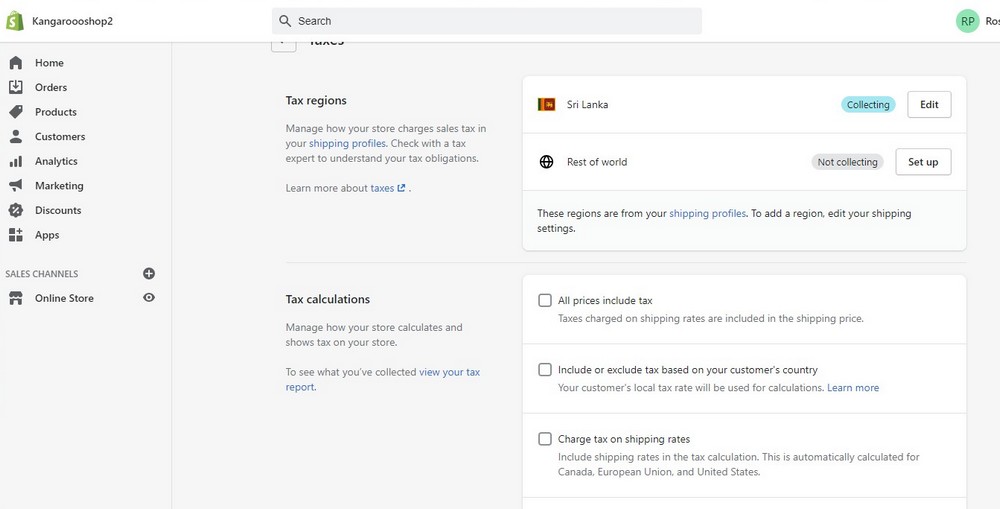 Step 5: Add Payment Gateways
Before you start selling, you need to add a payment gateway to process payments from your customers. To do so, go to Settings and select Payments.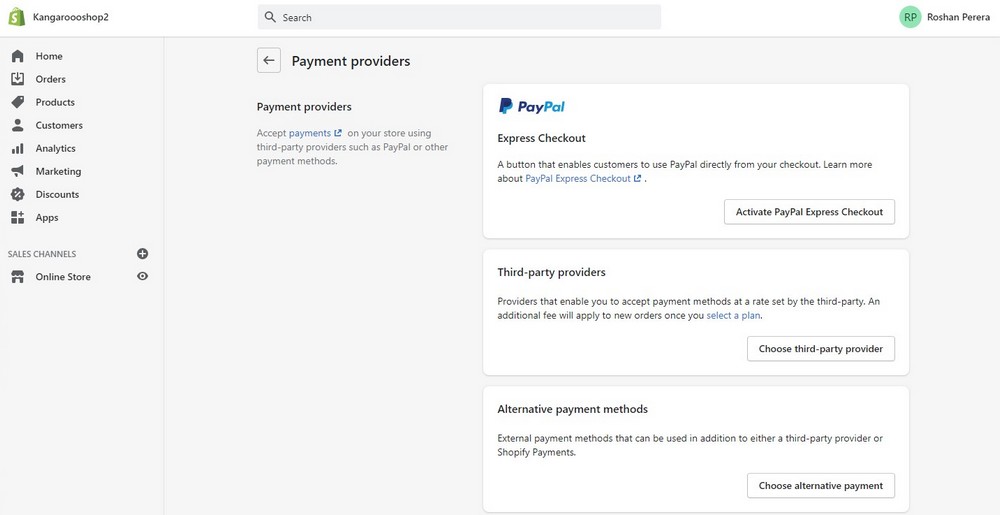 From there, you can connect your PayPal and use third-party payment gateways like Stripe to process credit card payments.
Step 6: Start Selling
You're now all set to start selling. But don't rush to open the store to the public just yet. Run a few test orders, customize the settings, and test your shop and product pages on different platforms to ensure the store looks great on all sizes of screens.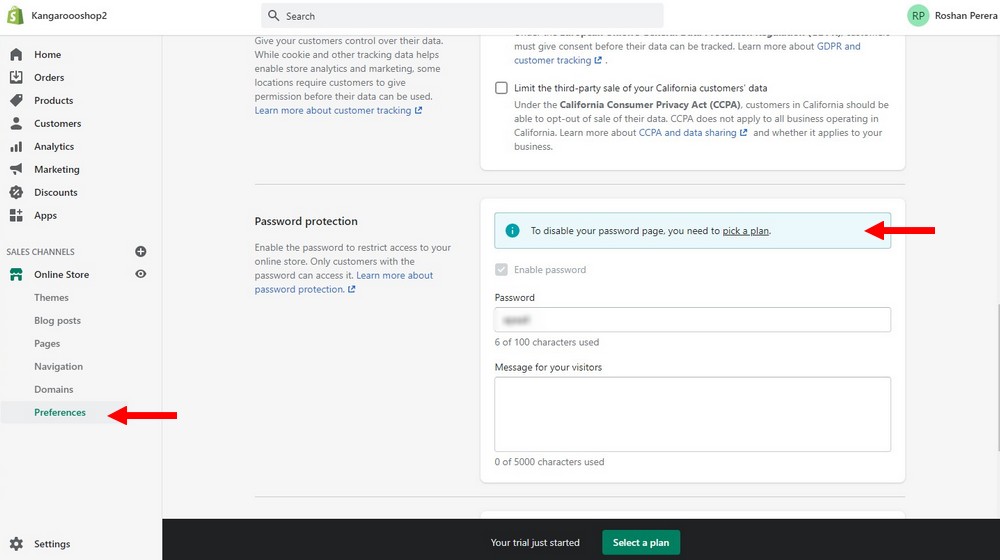 And then, when you're 100% confident, launch your store by selecting a pricing plan and then you can disable the password to open your store to the public.
How to Use Shopify
Now that you have your own store up and running, let's learn how to manage it efficiently while delivering a quality experience to customers.
How to Sell on Shopify
There are several ways to sell on Shopify. You can use the platform to sell your own products and merchandise while targeting audiences on Facebook and Instagram, just as Kylie Jenner did with her first Shopify store.
You can also create a store and integrate it with Amazon and eBay to generate more sales from third-party platforms.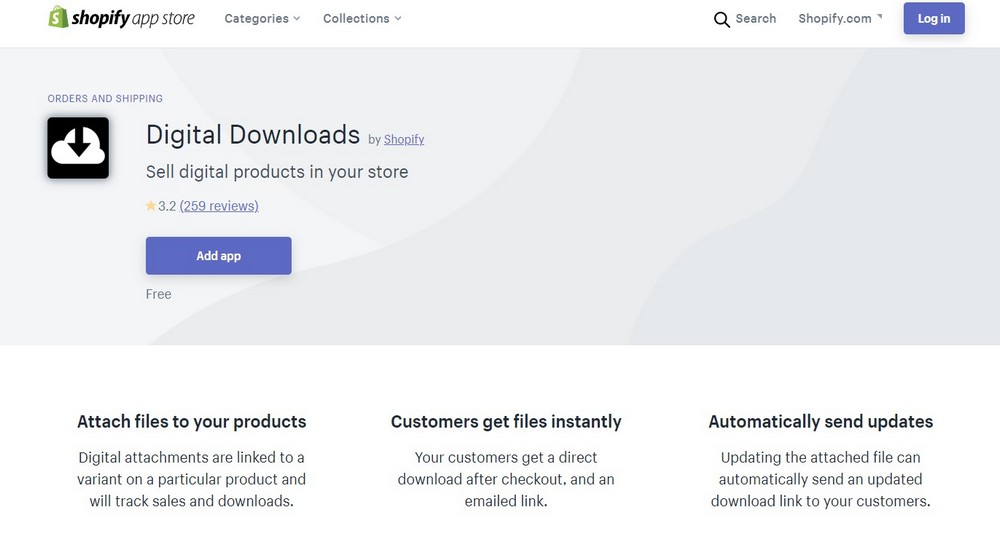 Shopify can also be used to sell digital product downloads. Like eBooks, online courses, films, music, and templates. You can use the Digital Downloads app to set it all up.
How to Fulfill Orders on Shopify
Fulfilling orders is an important part of running an online store. Once you start receiving orders, you need to fulfill them regularly to get the products delivered to your customers.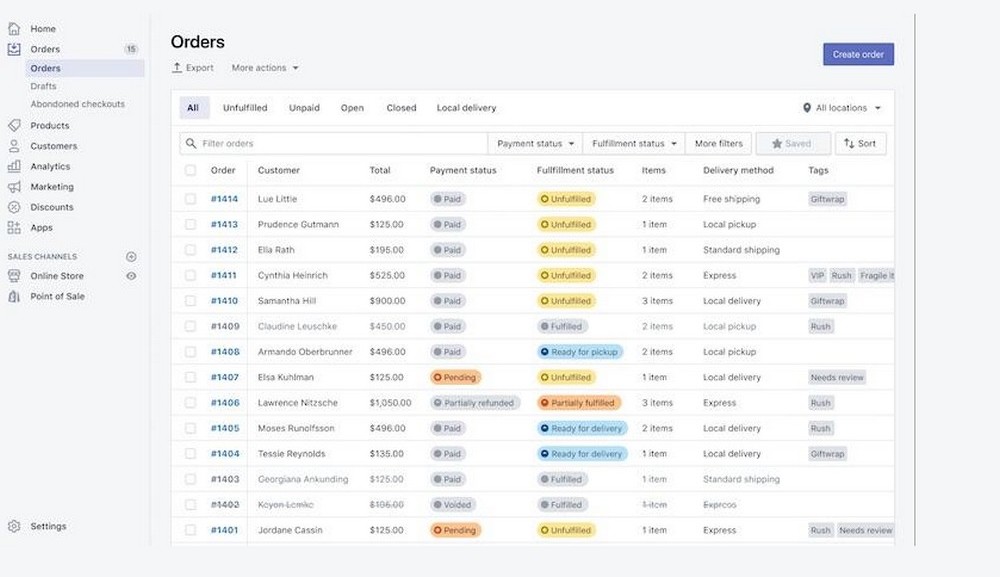 Once you receive an order it will appear on the Orders page. From here, you can check all the details for each order and process them with a few clicks.
Remember to check shipping addresses, payment, and customer details to ensure the order is valid and the product can be shipped to the location.
There are also ways to automate order processing. Read this guide for more info.
How to Customize Shopify Store Design
Learning to customize your store design is important. As your business grows, you'll need to customize the shop layout and add new sections to your homepage to promote new products. This can be done by customizing your theme design.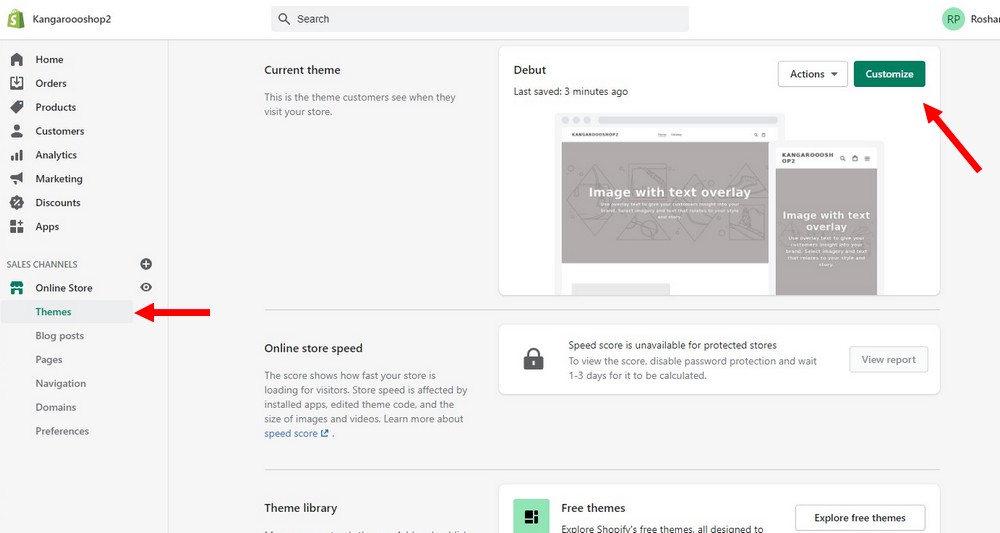 Simply go to Online Store >> Themes and click on the Customize button to get started.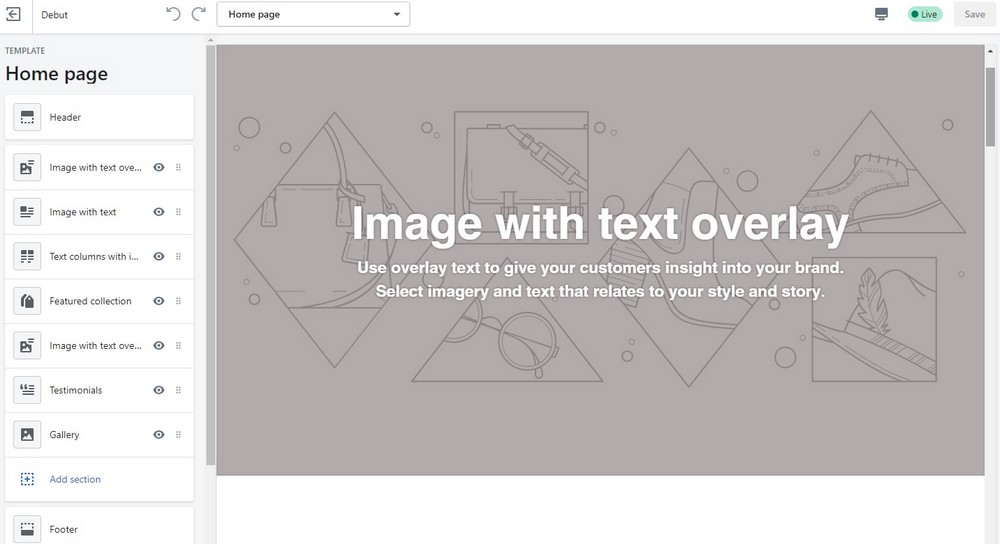 From there, you can edit your store design however you like. Follow this guide for more detailed instructions.
How to Remove Powered by Shopify Tag
Shopify adds a "Powered by Shopify" tag at the bottom of the website on every store you create. While this is completely harmless, it could affect your brand reputation and sometimes make your store look less professional.
Thankfully, this tag can be removed in a few simple steps. Just follow the instructions below.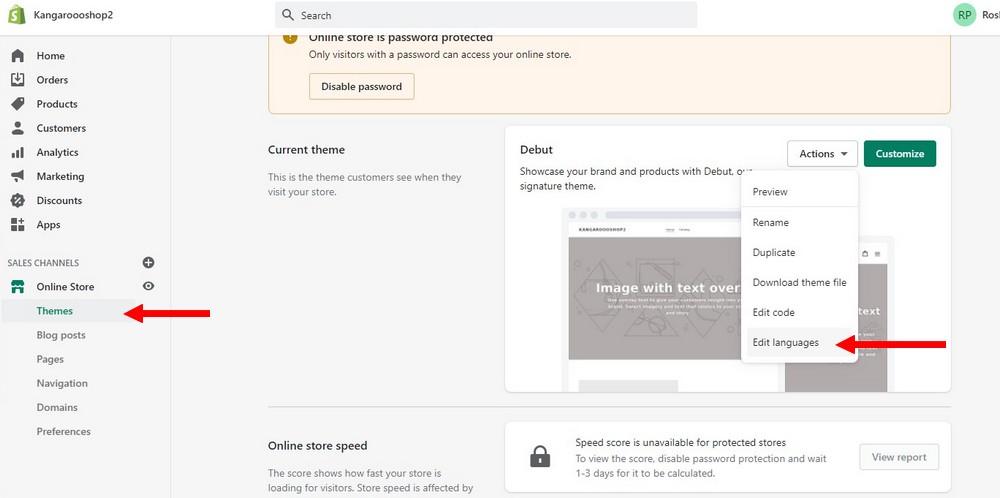 Step 1: From your admin dashboard, go to Themes and click on the Actions button, and select Edit languages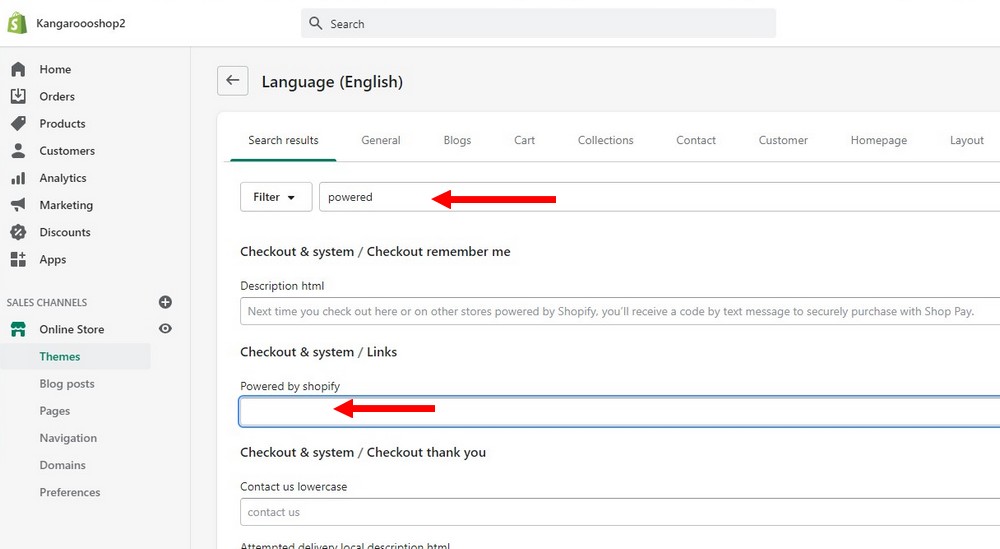 Step 2: In the Filter search bar, type in "powered"
Step 3: Find the Powered by Shopify box and simply leave a space using the spacebar to remove the tag
How to Cancel or Pause Shopify Account
If you want to cancel your Shopify account or even delete your shop completely, Shopify provides two simple methods.
The first method is to Pause and Build option. This method disables your shop's payment processing and other features. But you'll still be able to manage your products and build your store.
When you put your store on the Pause and Build option, you will only have to pay $9 per month.
The other method is to completely close your store. This will cancel your account and you won't have access to the admin dashboard. Although, if you want, you can reactivate your account at a later time by entering your credit card details.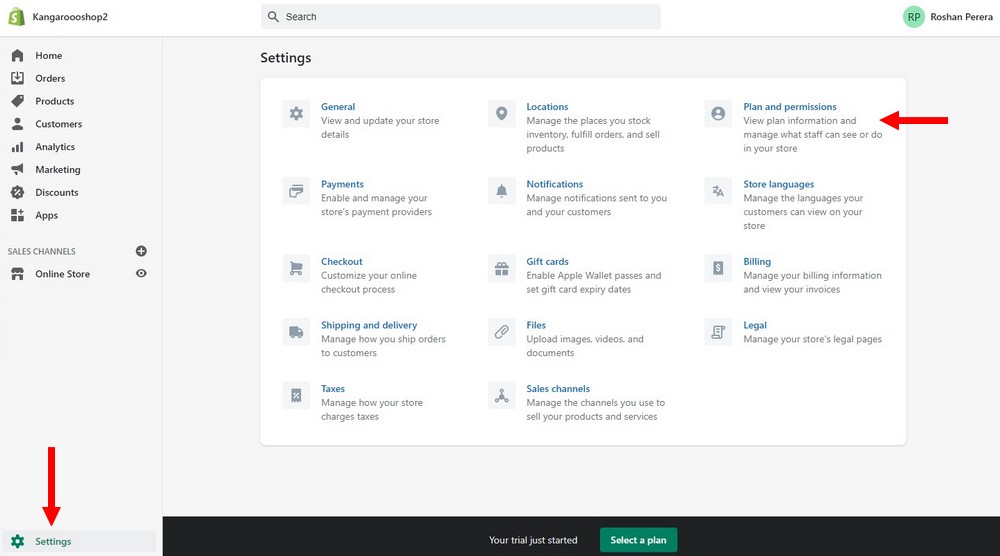 Step 1: Login to your Shopify admin dashboard and go to Settings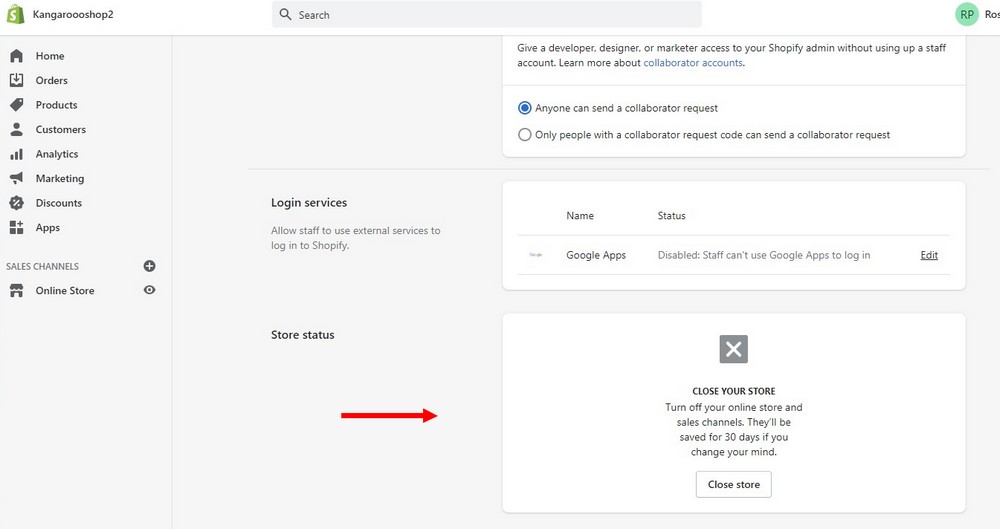 Step 2: Click on Plan and permissions and locate the Store status section at the bottom of the page
Step 3: If you want to pause the account, select the Pause and build option. If you want to close the account, select Sell or close store and then select Close store
Step 4: Agree with terms or enter your password when prompted and confirm your actions.
How To Start A Shopify Dropshipping Store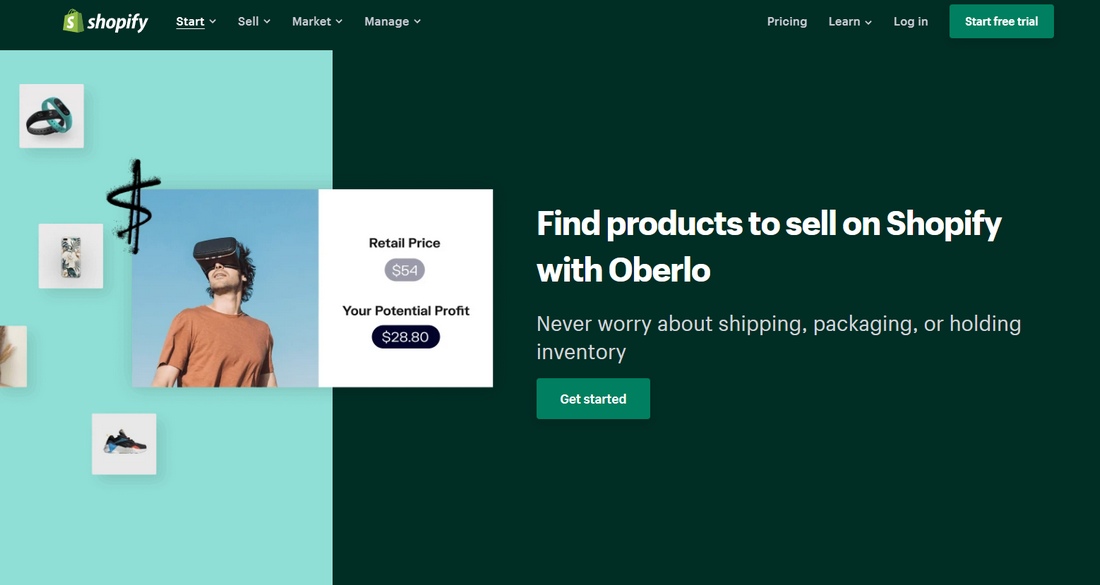 As we mentioned earlier, you can use Shopify to easily setup a dropshipping store to sell dropshipping products online. In fact, Shopify is one of the most popular platforms for dropshipping, mainly because it's so easy to set it all up.
Dropshipping is a very profitable business model. There are many benefits to selling dropshipping products as well. You can start right away without having to develop a product, you don't have to own the inventory, you don't even have to ship the products. And Shopify makes things even simpler.
Here's a quick breakdown of how to dropship on Shopify.
Dropshipping on Shopify is easy. All you have to do is create a store by following the steps we outlined earlier. And then install the Oberloo app.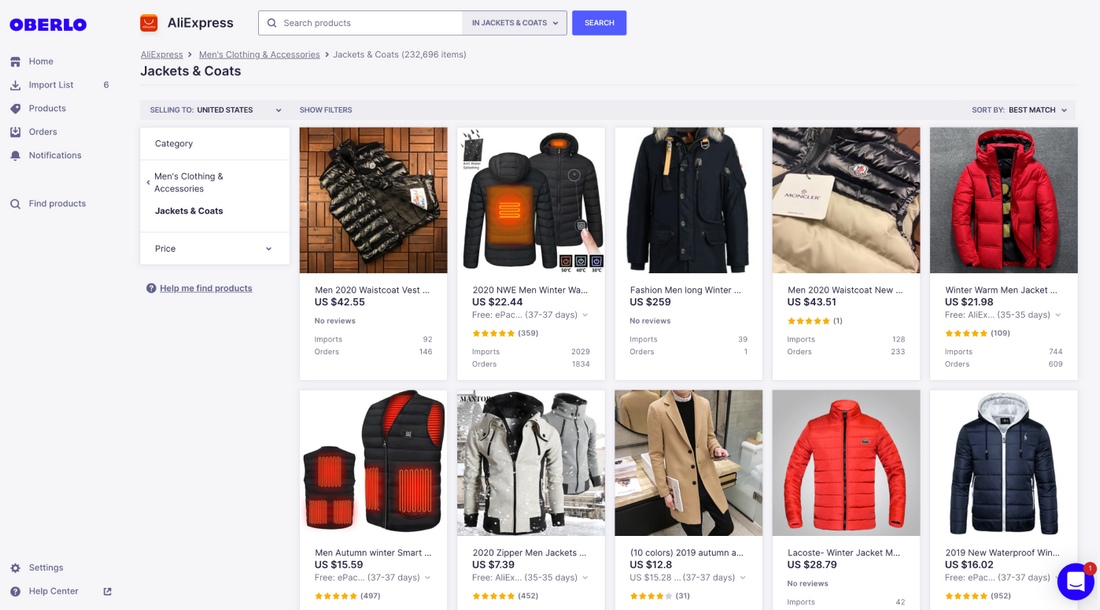 Oberloo is the app that handles everything related to dropshipping. Using the app, you can find dropshipping products for cheap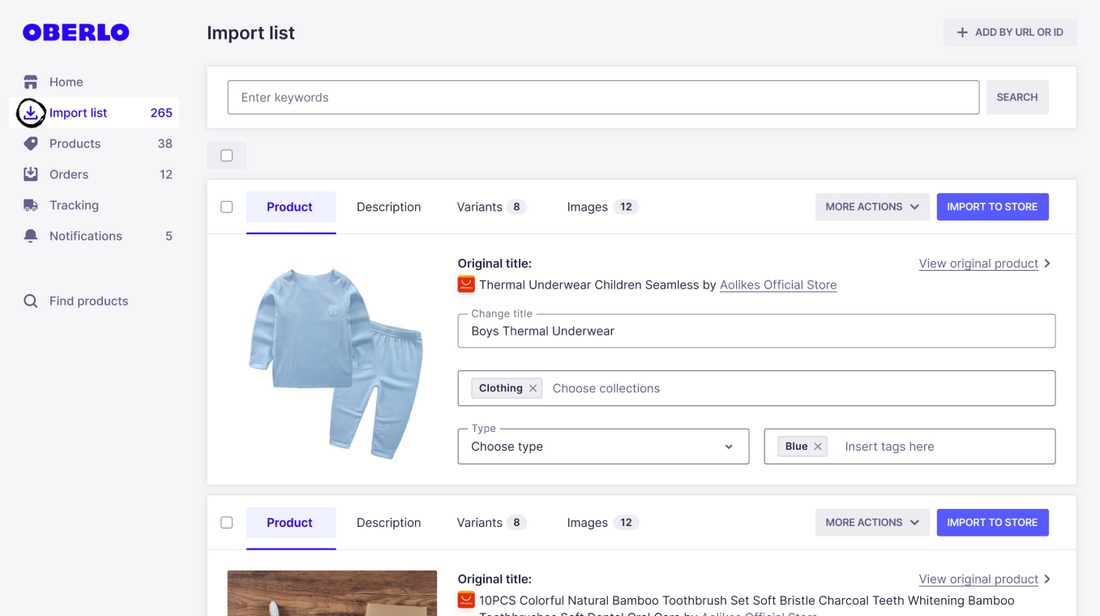 Then you can import the products to your own store with product images, descriptions, etc, with just a few clicks. After that, you can sell and fulfill orders on the fly.
If you're interested, you can follow the instructions in this webinar to get started on setting up a dropshipping store on Shopify.
FAQs About Shopify
The followings are some of the common and frequently asked questions about Shopify. We try to answer them as short as possible.
How Much Is Shopify A Month?
Shopify has a 14-day free trial that you can use to test the platform. After that, you can switch to a premium plan to continue using the platform. Pricing plans start at $29 per month for starting an online store.
There are also $79 a month and $299 a month plans for making stores with big inventories.
How Does Shopify Pay You?
How you withdraw your earnings from the Shopify store depends on the country you're in and the payment gateway you're using.
For example, if you're using Shopify Payments, your earnings can be withdrawn via Shopify Payments. But if you're using PayPal for processing orders, your earnings can be withdrawn from your PayPal account.
How you earn payments from orders also differs based on the country you're in. While orders placed from some countries get processed within 2 days, you have to wait as long as 4 days to get paid when processing orders from some other countries. More info can be found here.
How To Find Shopify Stores?
If you don't have the time to setup a Shopify store by yourself, you can buy one from someone else. Website auction platforms such as Flippa lets you buy pre-made Shopify stores so that you can start selling right away.
What Can You Sell On Shopify?
A great thing about Shopify is that you can sell almost any type of product on the platform. Everything from custom print T-shirts, handcraft products, clothes, beauty products, to electronics can be sold in your store. Shopify even supports selling digital products and subscriptions as well.
How To Add Facebook Pixel to Shopify?
Facebook is one of the best platforms for marketing your Shopify products. With Facebook Pixel integration, you can gain more insights into your audience and create better ad campaigns. Adding the Facebook Pixel to your Shopify store involves a few steps so we'll link to a more comprehensive guide here.