What Is an RTL (Right to Left) WordPress Theme?
Building a multi-lingual WordPress website? Then you may have come across a term called RTL (Right to Left). What does RTL mean? What does it have to do with WordPress themes? Should you worry about it?
No need to panic. We're here to answer all your questions. RTL supported WordPress themes are not difficult to find, but being aware of what it really is and why it's important truly matters, especially when you're preparing to build a new website.
In this article, we'll tell you everything you need to know about RTL (Right to Left) languages and how they affect website designs and WordPress themes. But first, let's figure out what an RTL language really is.
Get everything you need to build your next website with one simple subscription. From $16 per month, get unlimited access to nearly 2 million WordPress themes, web templates, fonts, graphics, and photos.
What Is RTL Language Support?
When we write in most languages, including English, we write from left to right. Much like this paragraph. But, several other languages in different countries, including Arabic, Urdu, Hebrew, Persian, and a few others, are written right to left.
All written things in the countries that use these languages, like newspapers, books, billboards, and even the text on mobile phone buttons are written right to left. It's the only way these people expect and are used to reading. And the same standards applies to their websites.
Simply put, a language that uses RTL script is written right to left and if you're building a website with such a language, you must make sure the site content is displayed right to left instead of the default left to right format that we normally use.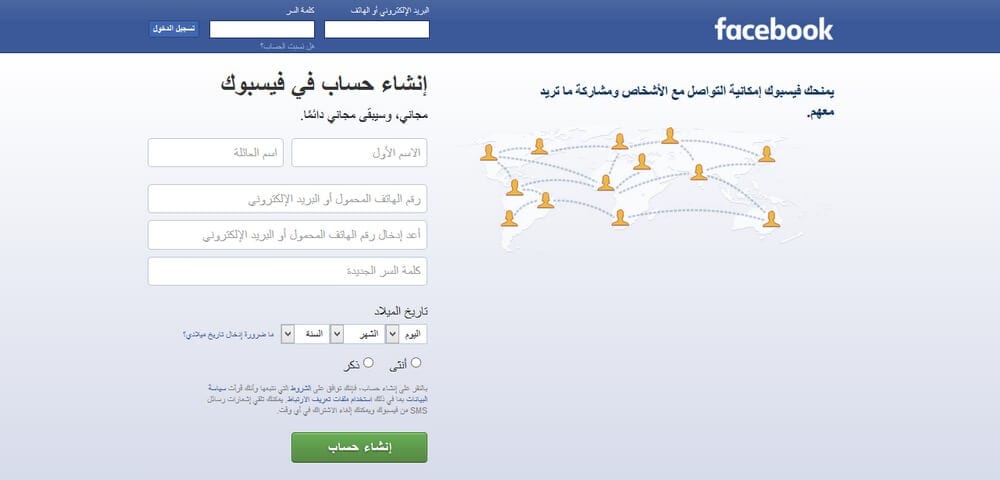 (Example: Facebook.com in the Arabic language)
As you can see in the example above, an RTL website will completely change the layout of the website. It'll be like mirroring or horizontally flipping a website's design. Thankfully, it's easier to build an RTL supported website with WordPress than coding a website from scratch.
When using WordPress to build a website, you can use a theme that supports RTL languages to easily transform your website into an RTL website. An RTL supported WordPress theme will allow you to convert your entire website, not just the text but also the layout, into RTL format.
Why Is It Important?
Can you imagine how frustrating an Arab person would feel if a website in the Arabic language contains a left to right layout where all the important links and buttons on the website are on the opposite side? For them, it'll be like viewing the website backward.
When visiting a website in their own RTL language, these people expect to read it from right to left. Just like how we expect an English language website to be written and displayed left to right. And we expect all websites to be designed that way.
By making sure that you create your WordPress website with an RTL supported theme you'll be able live up to the expectations of your audience in these countries, respect their traditions, standards, and you'll also be able to make a good first impression with your website while living up to your brand and business' reputation.
This is more important when you're building a multilingual WordPress website because most developers who build such websites often forget about RTL languages and also designing the layout to support RTL, not just the text.
How to Find a Theme That Supports RTL
A WordPress theme that supports RTL will have two stylesheets: an ordinary style.css and another named style-rtl.css or rtl.css which is a fully mirrored version of the style.css that turns your website into RTL format.
The good news is that almost all premium (and most free) themes support RTL languages. And there are several ways you can check to see if a WordPress theme supports RTL. The easiest way is to thoroughly read the description on the theme product page.
For example, when viewing a WordPress theme on a reputable marketplace like ThemeForest, you'll see a description of the theme detailing all of its features and functions. This description often states whether or not the theme has RTL language support. Also, if a theme is compatible with the WPML plugin, then it clearly supports RTL. Another way to check is to contact the theme seller and ask them directly if their theme supports RTL.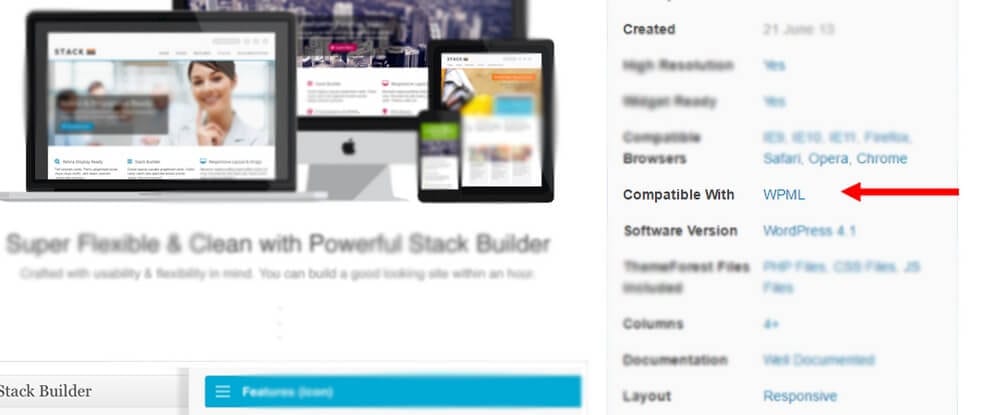 If all this sounds a bit too overwhelming, you can check out our handpicked collection of the best RTL WordPress themes to find a great WordPress theme that's guaranteed to support RTL to build your new website.
How to Enable RTL in WordPress
Most WordPress themes (especially premium themes) supports RTL languages. It's possible that a theme you already own also supports RTL. It's only a matter of enabling it through WordPress.
After making sure that your theme supports RTL, you can follow these steps to enable it on your WordPress website:
Login to your WordPress dashboard.
Navigate to Settings > General
Change the Language into your preferred RTL language.
Hit Save.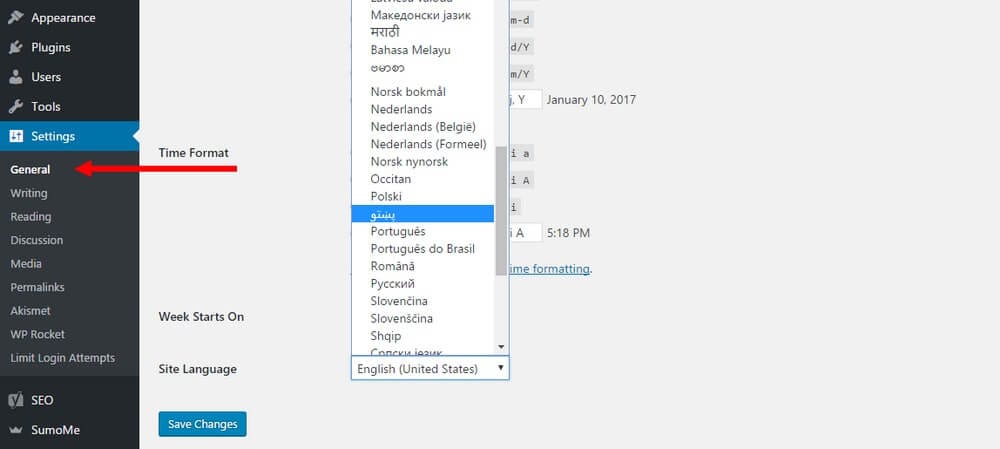 If your selected theme supports RTL, WordPress will load its RTL stylesheet to make your website RTL. This will change the layout of your entire website, including the admin dashboard. If you don't see any changes, then your theme probably doesn't support RTL.
You can also use a plugin like RTL Tester to test your themes and plugins for RTL compatibility. If you'd also like to set your admin dashboard language to English, you can use the English WordPress Admin plugin.
Using the WPML plugin will also make things much easier when creating the text and content for your website that supports both RTL and LTR layouts without having to deal with a lot of technical details.
Conclusion
Making sure your website appeals to all audiences in all countries is extremely important when you're building a multilingual website. Otherwise, your website will end up sending the wrong message about your brand or business to international audiences.
And remember, you should find a theme that not just supports RTL languages, but also has a clean responsive design with easily customizable features as well.
So, take the necessary steps to make sure the theme you're about to buy is compatible with RTL languages. And build a website that attracts all audiences!