What is a Mega Menu? (With 10 Creative Examples)
The only method we had of exploring a website used to a small menu with navigational links to archives and categories. This changed for the better when the drop-down menu came to be. And then came the mega menu.
Today, most news websites, online stores, and eCommerce websites would be incomplete without a mega menu. Even the biggest retail websites, such as Amazon and eBay wouldn't be such a success without help from their mega menus.
What is a mega menu, exactly? Should you use a mega menu on your website? How can you install one in WordPress? Keep reading to find the answers.
Get everything you need to build your next website with one simple subscription. From $16 per month, get unlimited access to nearly 2 million WordPress themes, web templates, fonts, graphics, and photos.
Why Use A Mega Menu?
When building a large website with multiple categories and subcategories, a mega menu can do wonders to improve the user experience.
Simply put, a mega menu is a drop-down menu with multi-level expansions that lets you pack your website's entire navigation into a single menu. A mega menu allows visitors to reach even the deepest sections of a website through the main menu.
In addition to improving user experience and web usability, mega menus also help generate more sales, increase conversions, and keep your visitors browsing your website longer. As Jakob Nielsen explains it, "by helping users find more, they'll help you sell more".
So, what kind of websites can best benefit from a mega menu? Let's find out.
5 Ways to Use a Mega-Menu
A mega-menu can be beneficial for many types of websites. Even if you have a small magazine blog, you can use a mega-menu to your advantage to offer a better user experience to your visitors.
Here are just a few ways you can use a mega-menu to your advantage.
Create an extensive mega-menu for online retail stores
Make a categorized menu for fashion stores
Showcase topics and categories in blogs and magazines
Create advanced menus for corporate websites
Feature rooms and accommodations in hotel websites
1. It's A Must-Have For An Online Store
An online store, no matter how big or small it is, is a platform that offers many products under multiple categories and subcategories. An ordinary navigational menu can't offer the best user experience in such cases.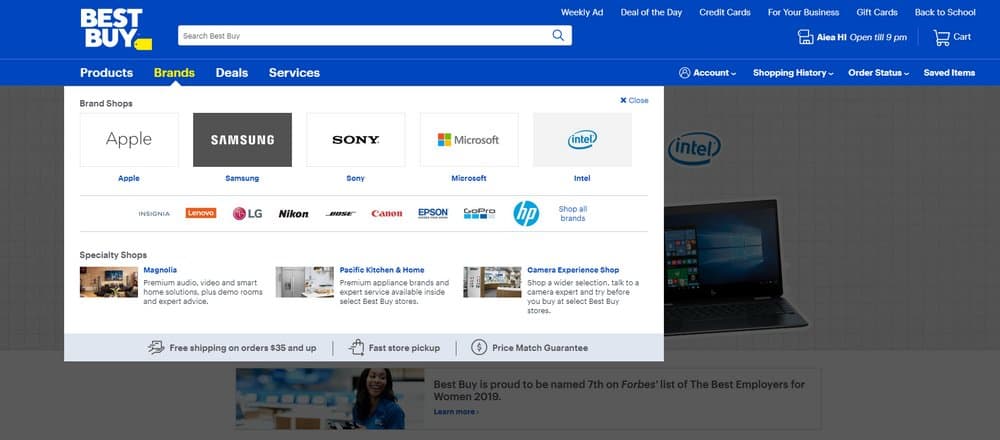 A massive retail store, such as Best Buy, knows this best. If it weren't for their versatile mega menu, users would have to search for every item they want to buy. Instead, the mega menu directs shoppers to the right category to continue shopping.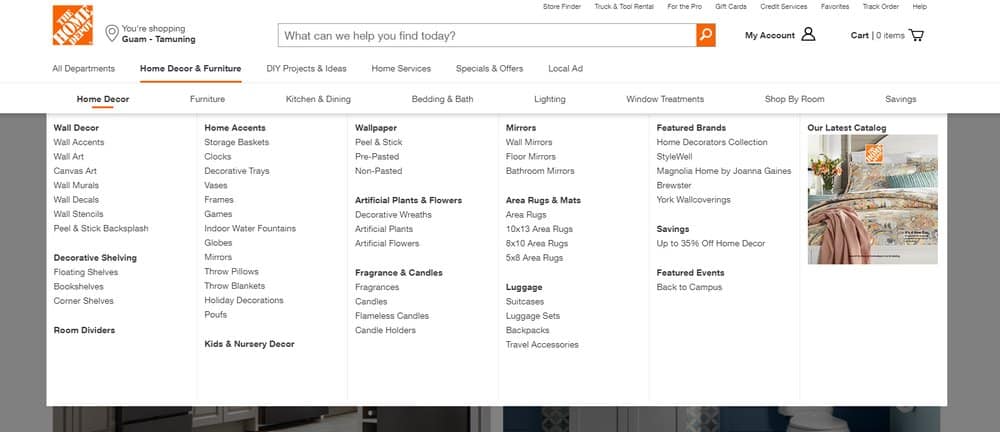 Home Depot online store also has a creative mega menu with deep navigation options.
2. For Fashion And Clothing Stores
Fashion store websites are one of the most difficult platforms to build. Mostly because each item on a fashion or a clothing store usually come in many different sizes and choices for different genders and ages.
For example, an online shoe store that offers a single product in many types of styles and brands should use a mega menu. A mega menu can offer a smoother and a simpler way for the users to browse shoes in different brands, types, and sizes directly from the menu.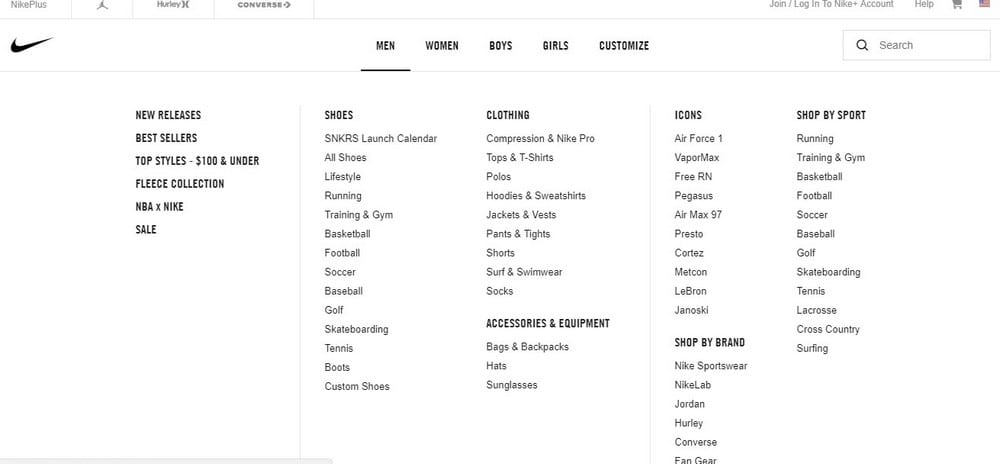 You can see it in action on the Nike website's mega menu.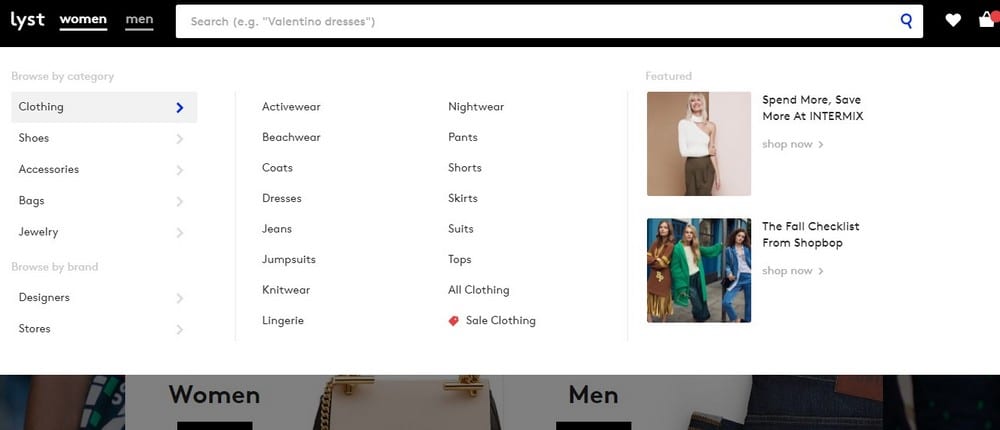 The Lyst website also utilizes a wonderful mega menu navigation system that showcases all their categories in one place.
3. For Blogs And Magazine Websites
While a simple menu is more than enough for small and niche blogs, when it comes to magazine and news websites, a mega menu can offer a much better user experience.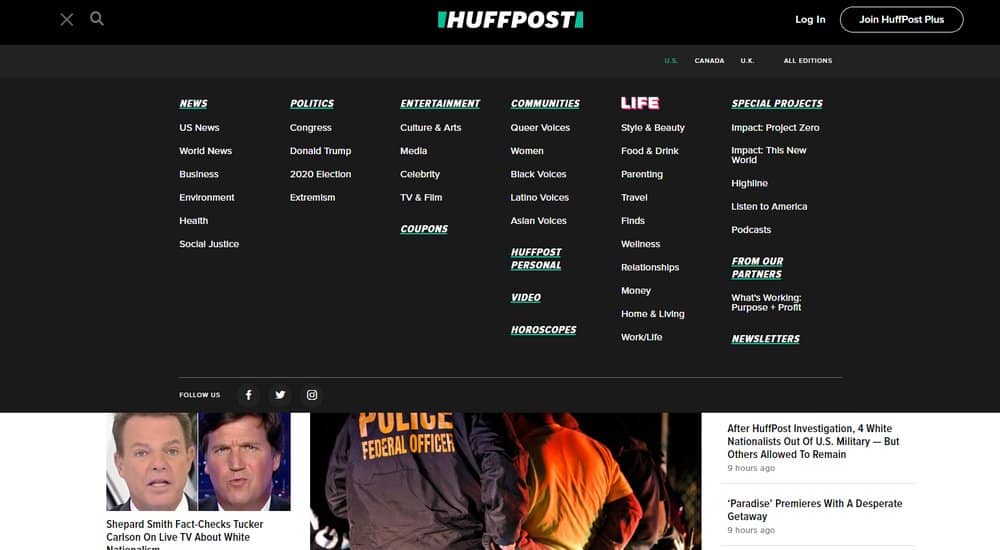 For a news blog such as Huffington Post, which feature dozens of categories and topics, a mega menu is the best approach for making their news archives easier to browse.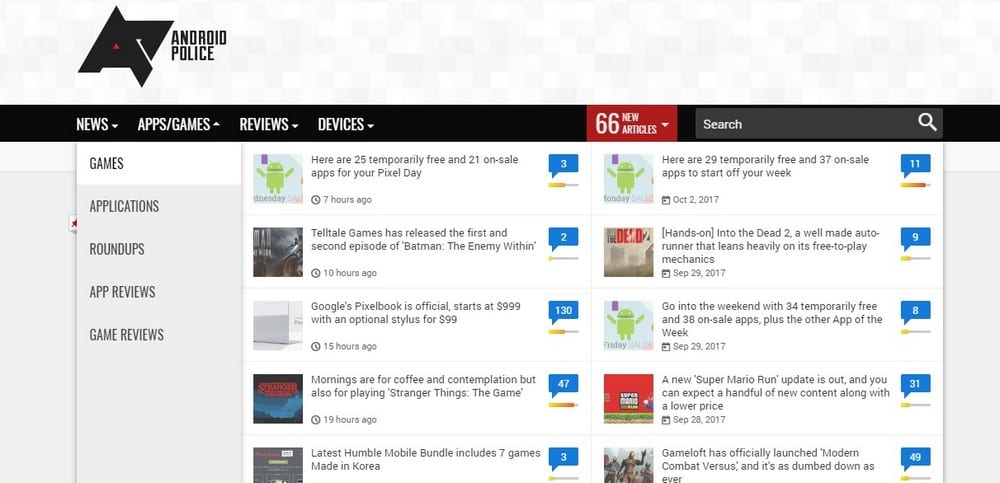 Even niche blogs, like Android Police, have found ways to make proper use of a mega menu to make their sites even cooler.
4. For Corporate And Startup Websites
Corporate websites used to have boring and terrible web usability designs. But, not anymore. Many companies are now slowly adopting latest design trends, including the popular mega menu systems.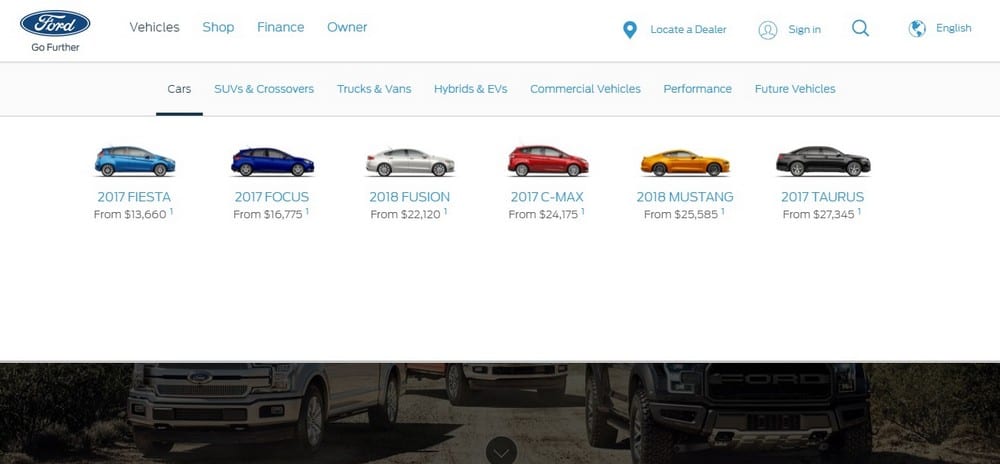 Ford's main website features one of the most creative mega menus we've seen. For each vehicle category, Ford uses a picture of the cars they have in store with the price tag. This makes browsing their vehicles collection a time-saving experience.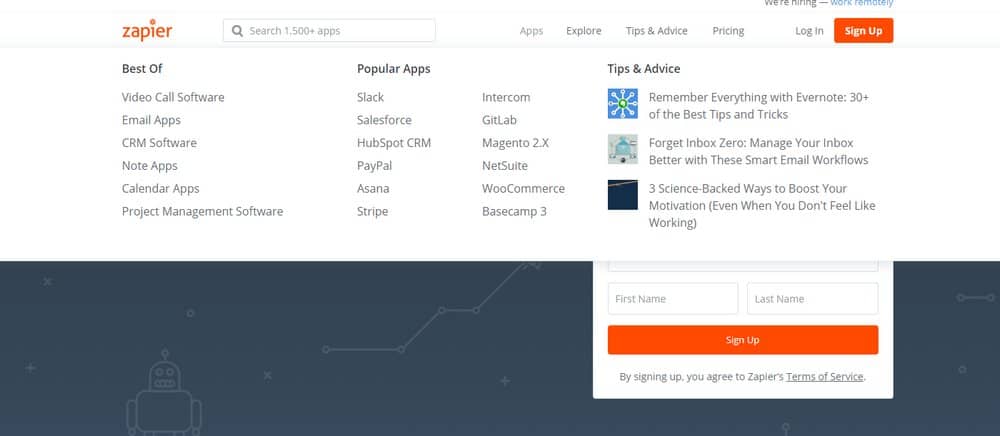 The Zapier website also has an extensive drop down mega menu.
5. For Hotels And Restaurant Websites
A mega menu can be a great choice for hotel and restaurant websites as well. Showcasing the different types of rooms, leisure activities, and meal plans will be much easier with the help from a mega menu.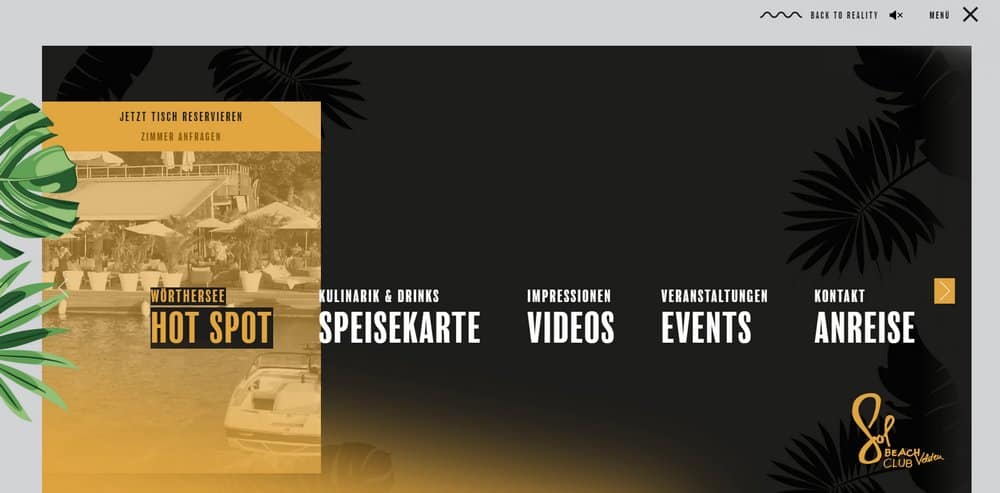 The SOL Beachclub website has a very creative mega menu with beautiful images to highlight its selection of events and utilities.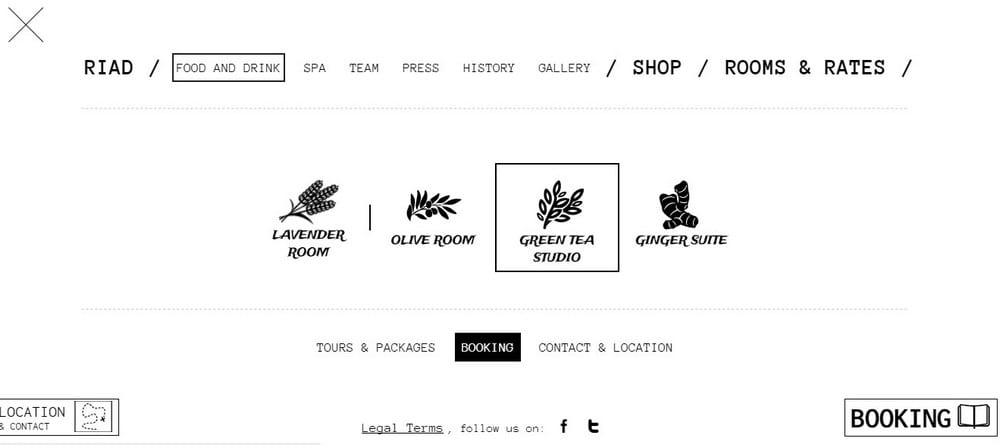 Riad is a popular restaurant website that also uses a creatively designed mega menu.
Best Mega Menu WordPress Plugins
Want to install a mega menu on your own website? Well, thanks to WordPress, you can get a mega menu without having to write code or even hiring a web developer.
The easiest way to get a mega menu is to simply upgrade one of the best mega menu WordPress themes. It will be cost-effective and you will have a fully-functional mega menu that blends well with the design.
If you would rather keep the existing theme, you can install a mega menu with a WordPress plugin. Here are few plugins you should check out.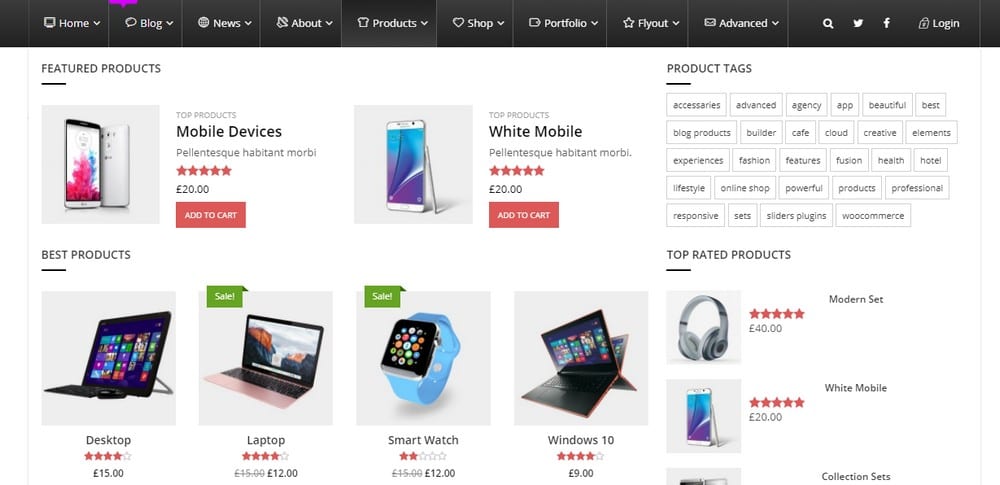 Mega Menu Pro is a multipurpose mega menu plugin that comes with 12 pre-designed menu skins and in both vertical and horizontal modes for fitting in with almost any type of a website.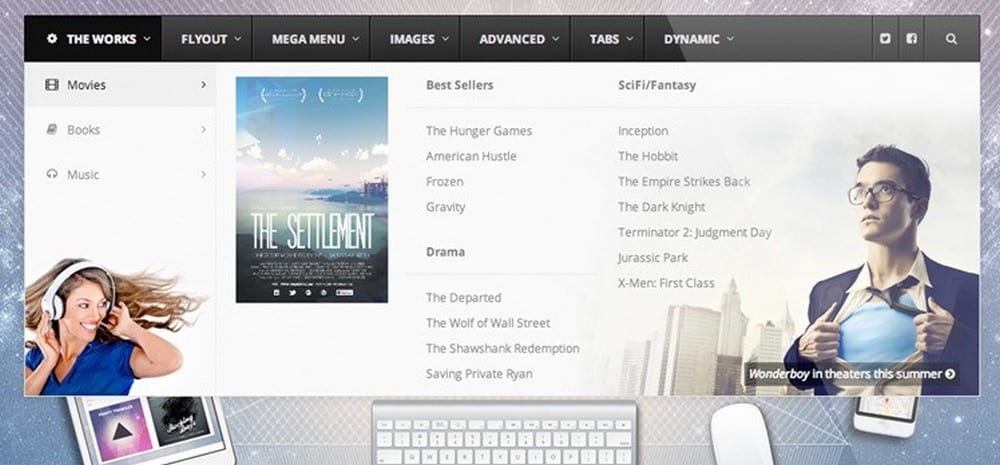 UderMenu is a modern mega menu that comes with a responsive design. It will work great across all desktop and mobile platforms.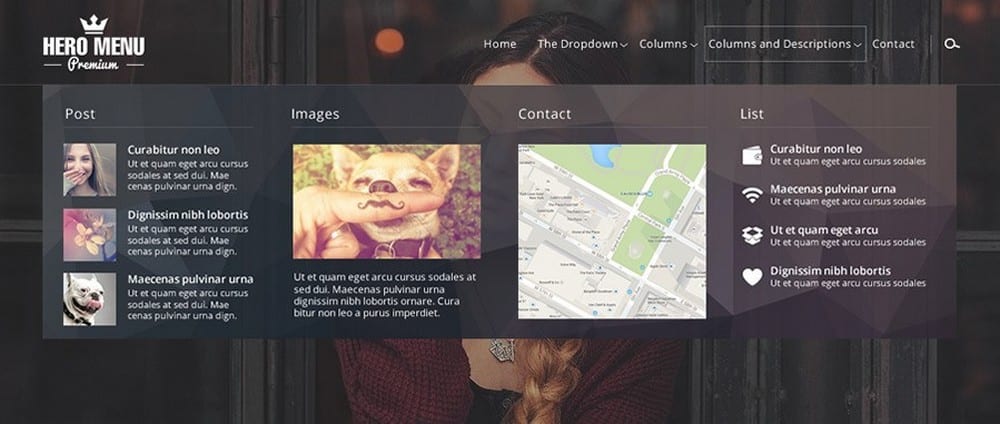 Hero Menu is a mega menu plugin that's ideal for a fashion or clothing store. It comes with built-in support for WooCommerce for showing products inside the mega menu as well.

This plugin is perfect for a blog or magazine website as it comes with support for multimedia content, including YouTube videos.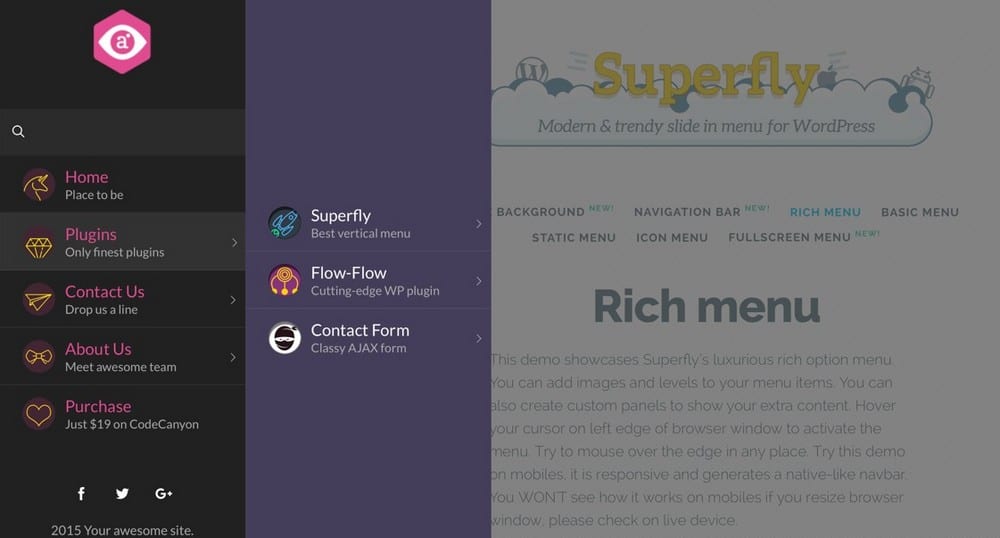 Superfly mega menu sports a stylish design that also supports image backgrounds, icons, and a full-screen mode. It's most suitable for a startup website.
Summary
While mega menus can certainly help improve your website navigation, it's not always a great choice for all types of websites. For example, a mega menu would be unnecessary for a minimalist niche store. Because sometimes less is more.
Also, you need to consider how your menu looks on mobile devices and make your menu has clear and an uncluttered design. Remember to take it all into account when choosing a mega menu for your website.