How to Use WordPress for a Furniture Store
Building an online presence for a business is one of the most important steps that many small businesses often avoid, because of the costs that come along with it. According to a survey, nearly 50% of small businesses don't have a website and only 24% have plans to develop a website in the future.
Creating a website for a startup or a digital service is one thing. But, would anyone care to buy furniture online? As it turns out, yes. There are many furniture stores out there that have made quite a success through their websites and social media promotion campaigns.
We've made our own free Furniture WordPress theme that provides a minimal, modern starting point for your furniture store, homeware shop, or online home brand.
You can use drag-and-drop functionality to build your own free furniture website or store with WordPress, feature stunning pieces of homeware and furniture design, integrate social media, showcase your ideas, share a gallery, maintain a blog, and much more.
Our Furniture theme comes with all the functionality you need to create your own online store with WooCommerce. Add products, organise them into categories, accept credit cards, and manage stock, shipping, and inventory with ease.
It's completely free to download, try out, and customize with your own content. No strings attached!
Download our Free Furniture WordPress Theme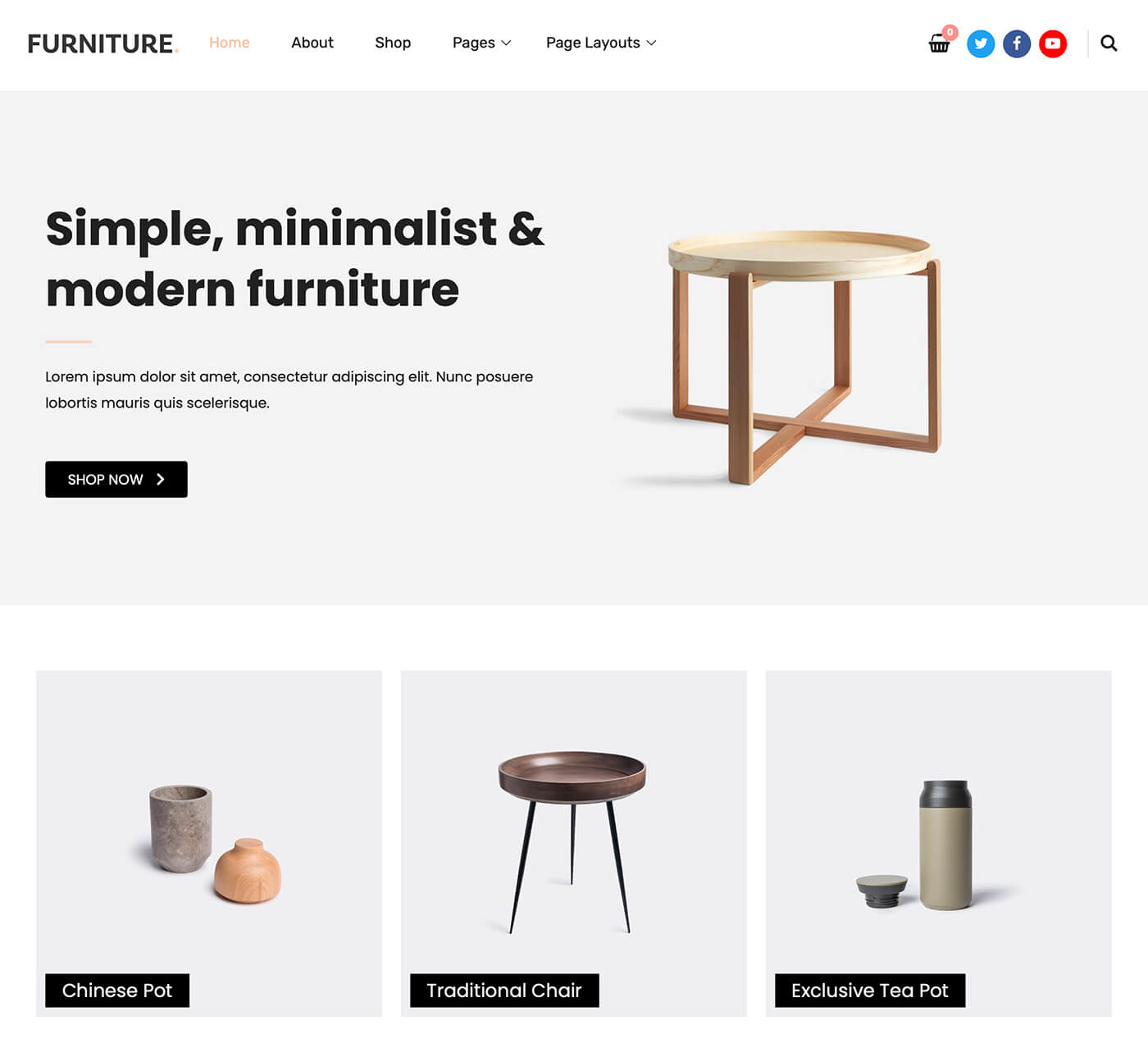 Can You Sell Furniture Online?
We're not talking about Ikea or Wayfair either. Even the small furniture stores have made big bucks with eCommerce websites. Take Poppin website, for example. The store made a name for themselves by focusing on selling office furniture online.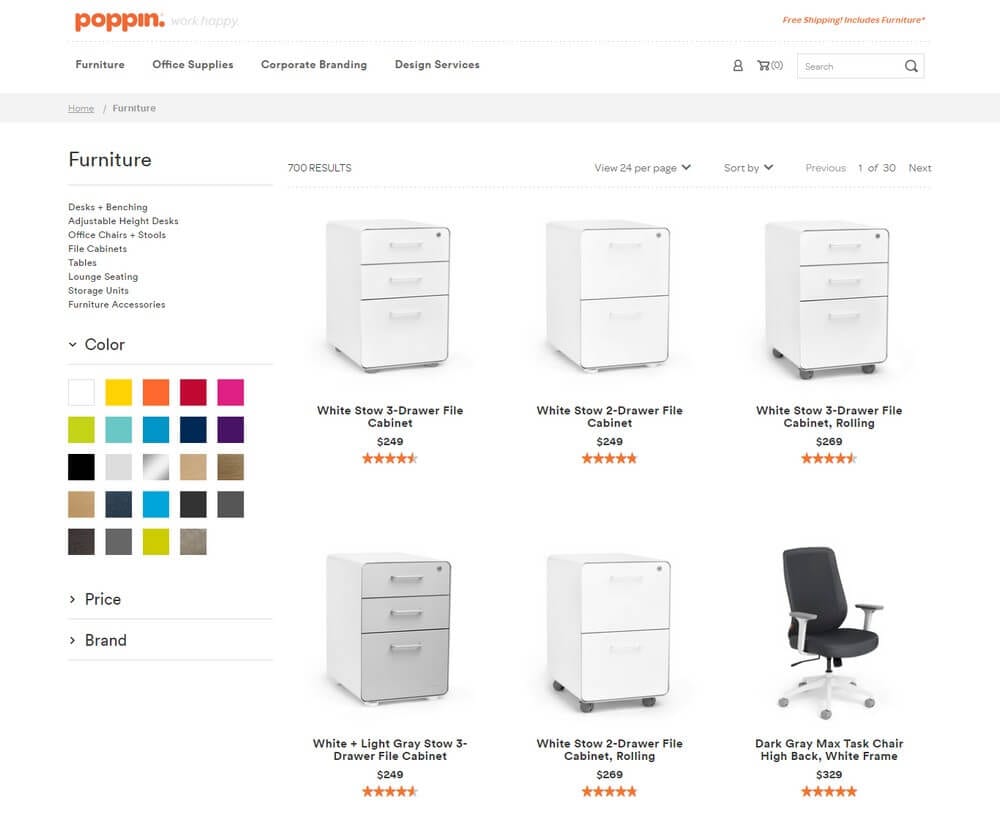 There's nothing you can't sell online these days. That includes furniture as well. People now prefer to save the trip to a local store and get the furniture delivered home instead. You just need to implement the right marketing strategy to get their attention.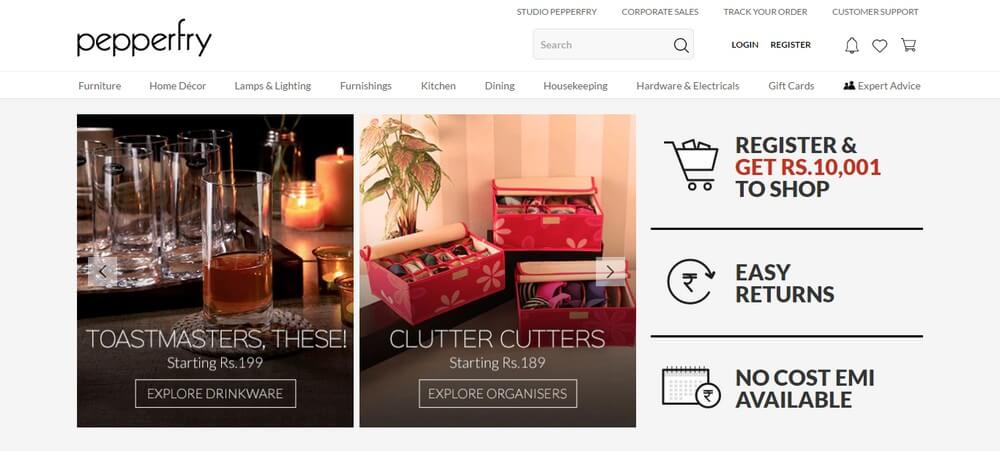 Indian startup Pepperfry took a unique approach to market their hand-crafted furniture and made massive success in the country.
How Much Would It Cost?
Depending on the size of your online store, it could cost you somewhere around $10,000 to $20,000 or even more to build an eCommerce site from scratch.
However, if you're starting small, there's a cheaper alternative to building a great looking online store for less than $100. Using WordPress, you can easily setup a furniture store with an automated online checkout system, all by yourself without having to spend a fortune on web developers. All you need is a domain name, a web hosting plan, and an awesome looking WordPress theme to get started.
Here's how you can build your furniture store.
Step 1: Get A Domain Name And Web Hosting
The first step to building any kind of a website is getting the domain name for your website. You can use your furniture store's name as your domain name. If your name is already taken, you can get creative with your domain name by using a domain like .Shop or .Store instead of .Com.
You can buy a domain name from a site like NameCheap for around $11 a year.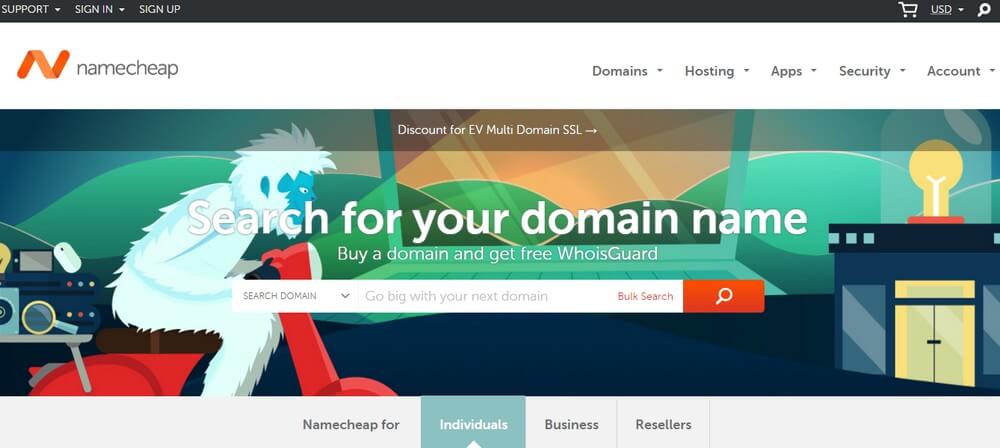 Then you can choose a web hosting plan to setup your WordPress website. Web hosting providers like BlueHost has affordable plans starting at $3.95 a month.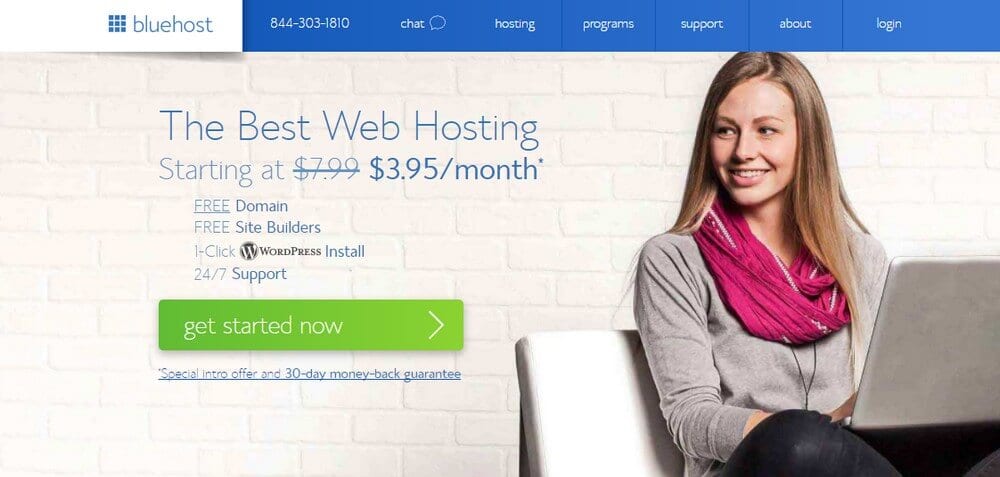 Once you have access to web hosting, you'll be able to install and setup WordPress with just one-click.
Step 2: Find The Perfect Furniture Store Theme
Be very careful when you choose a theme for your WordPress website because there are thousands of free and premium themes available all around the web, but only a few are properly designed with clean code.
Finding a quality theme is not difficult either. You can find plenty of great themes in our hand-picked collection of furniture store WordPress themes.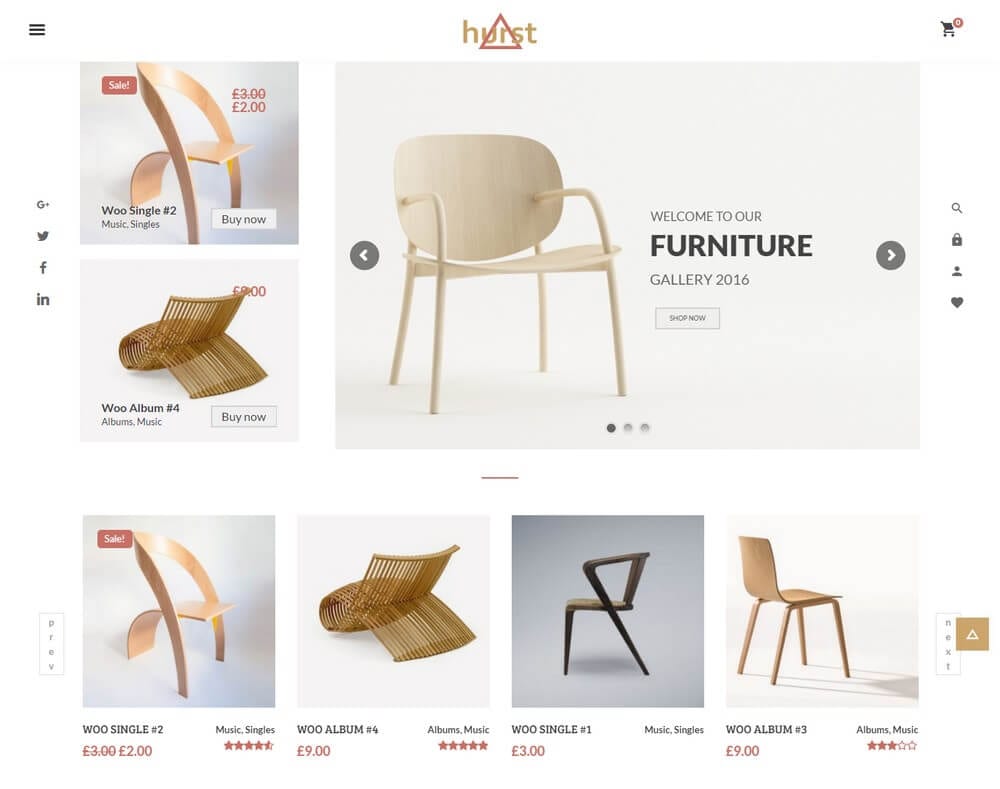 (Example: Hurst WordPress theme)
Here are a few things you should consider before buying a theme:
Clean Responsive Design: Make sure the theme looks great on all types of devices and platforms. It should also have a clean and a minimalist design to highlight your products.
Lots Of Space For Images: You'll be using lots of photos to showcase your products on the website. Find a theme that features more space for images.
Support WooCommerce: In order to setup shop, your theme must support WooCommerce plugin. Check your theme description to ensure it's compatible with WooCommerce.
A Mega Menu: Mega Menus are large menus that allow you to showcase lots of categories without adding clutter to the design.
Shopping Cart & Wishlist: A shopping cart is a must-have for every online store. Adding a wishlist will also help increase your sales and user engagements as well.
Whatever you do, avoid free themes at all costs if you want to build a professional looking website.
Step 3: Setup Shop With WooCommerce
Once you pick the right theme for your furniture store, you can go ahead and start setting up your shop with WooCommerce.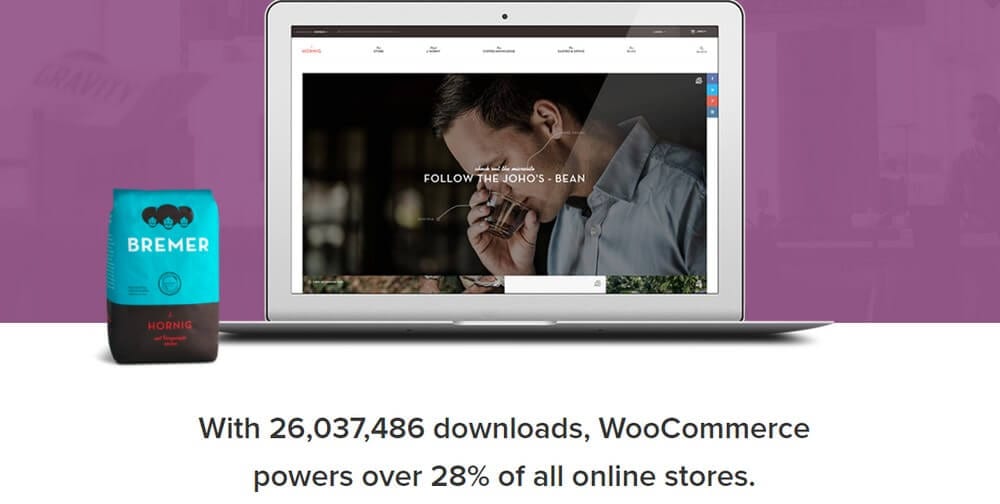 WooCommerce is an eCommerce plugin for WordPress that transforms your website into an online store. WooCommerce comes with its own checkout systems and it supports payment gateways such as PayPal, 2Checkout, and Stripe for processing payments.
After installing the plugin, you can setup your store page and create product pages for your furniture and other items.
Step 4: Start Promoting
Setting up the shop is only the first step to building an online presence for your business. Now you have to promote your business across social networks as well.
You can make this process easier by using a few WordPress plugins to allow your website visitors to easily share your products with their friends and followers.
Install AddThis plugin to add social sharing and follow buttons to your website and product pages. It will make things easier for your visitors to share your furniture on social networks.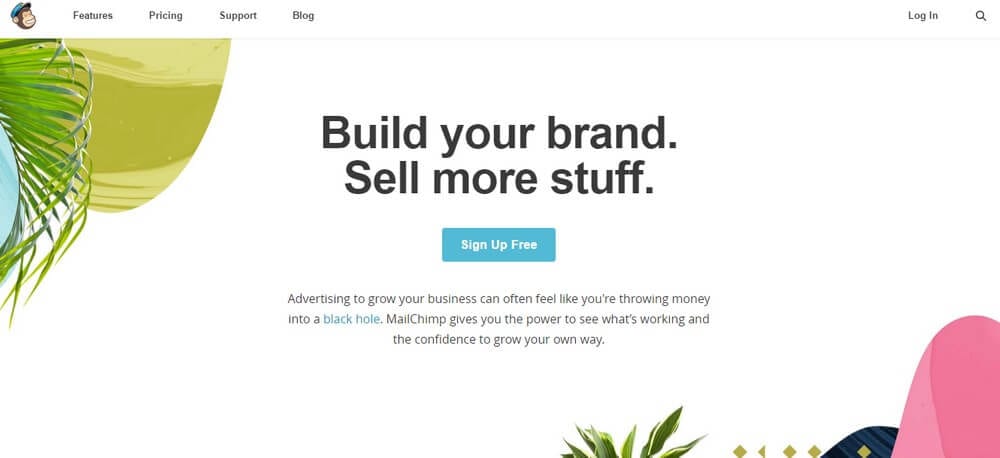 Also, send out automated email responses to your shop members using an email marketing service like MailChimp. Combine it with an email opt-in plugin to get maximum results. OptinMonster is a great plugin you can use to add subscription forms and pop-up messages to your website.
Conclusion
You're all set to sell furniture online. If you'd like to take things to the next level, create a blog in your online store and publish a few great articles to increase your website's search engine visibility.
If you're still looking for inspiration for your new online store, take a look at other beautiful stores and the best furniture store WordPress themes and build a store that goes beyond expectations.