40+ Modern Professional Keynote Templates 2024
A necessary evil of projects, portfolios, and pitches is having to get up in front of an audience and present your case. It's stressful enough to prepare your content and deliver it in front of everyone, so why make things worse by muddling your way through a set of slides that you hurriedly put together the night before? We've got the solution for you – a pick of the best modern professional Keynote templates.
All of these Keynote templates are ready for you to download, customize, and deliver. It's as easy as that! Forget learning how to use Keynote to create your own deck of slides from scratch – leave it to the professionals, and use one of these specially designed themes for your next presentation.
Get everything you need to give the perfect presentation. From just $16, get unlimited access to thousands of Keynote presentation templates, graphics, fonts, and photos.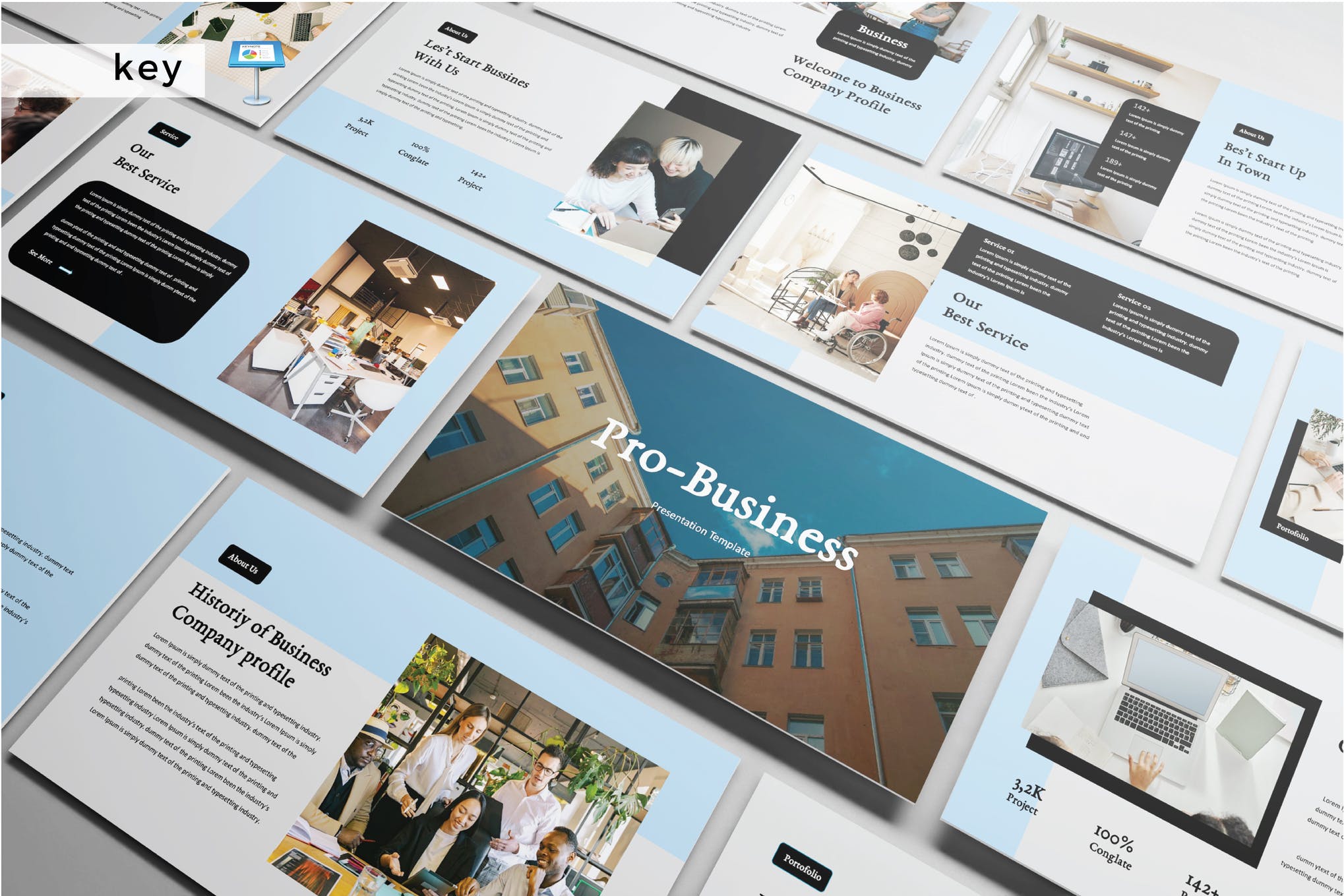 This Keynote presentation is a perfect recipe for creating an impressive presentation. It features a clean and modern design perfectly fitting to a multitude of business purposes. If you're looking to hunt down the best professional Keynote templates that stand the test of time, this product is a sure-shot choice.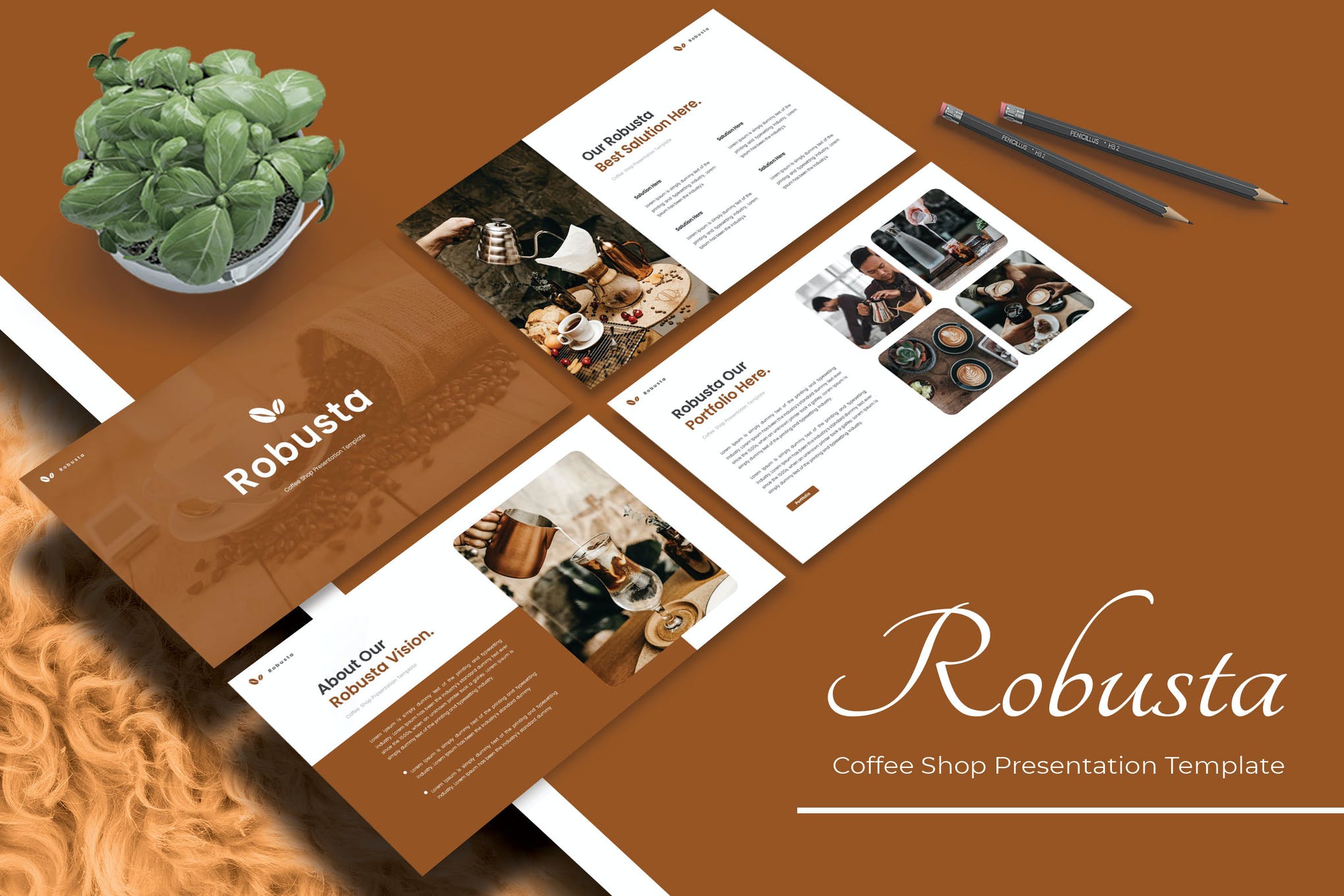 Robusta is an incredibly stylish and modern Keynote template that will feel right at home for professional business presentations. It comprises 30 painstakingly created slides, fully customizable in just a few clicks. When it comes to the best modern Keynote templates, Robusta stands at the top of the league.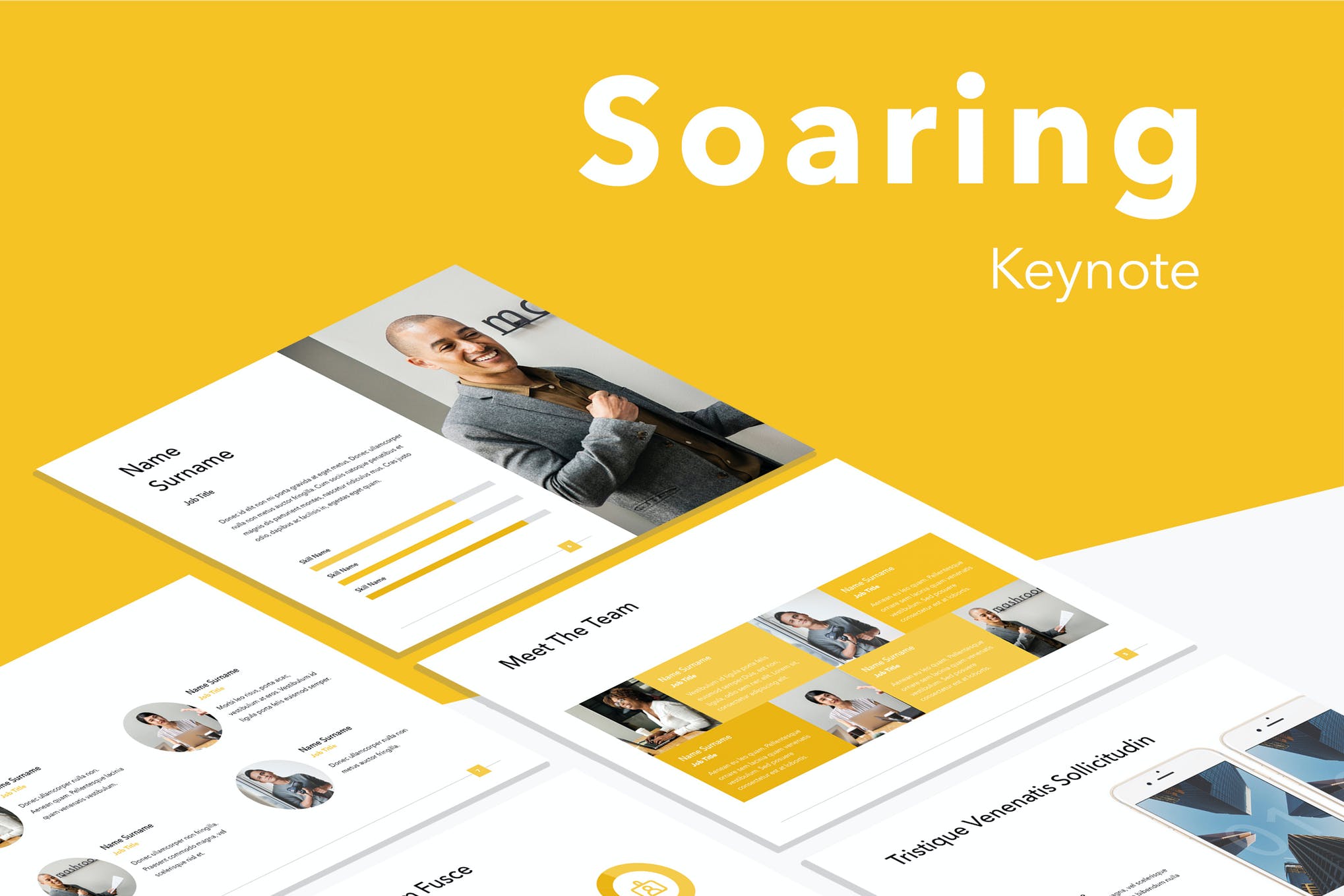 Check out Soaring, an incredibly stunning Keynote template featuring slides with a range of data visualization elements. It's a solid candidate for any looking to create a corporate presentation that can create a stir among the audience.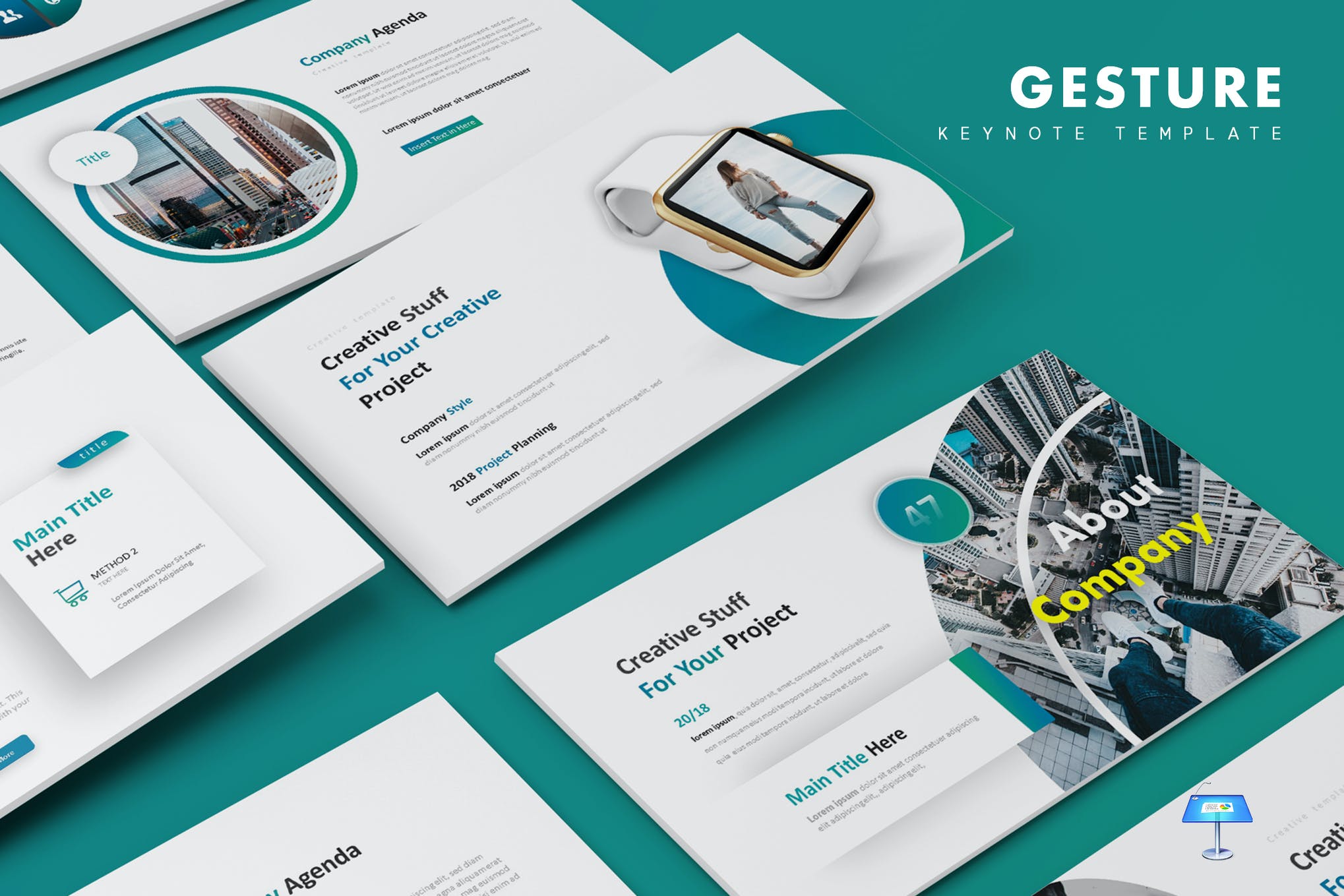 A beautifully crafted template comprising more than a hundred unique slides, Gesture is one of our top picks when it comes to the best modern, and professional Keynote templates. It would be remiss of you not to add this gem of a template to your shortlist.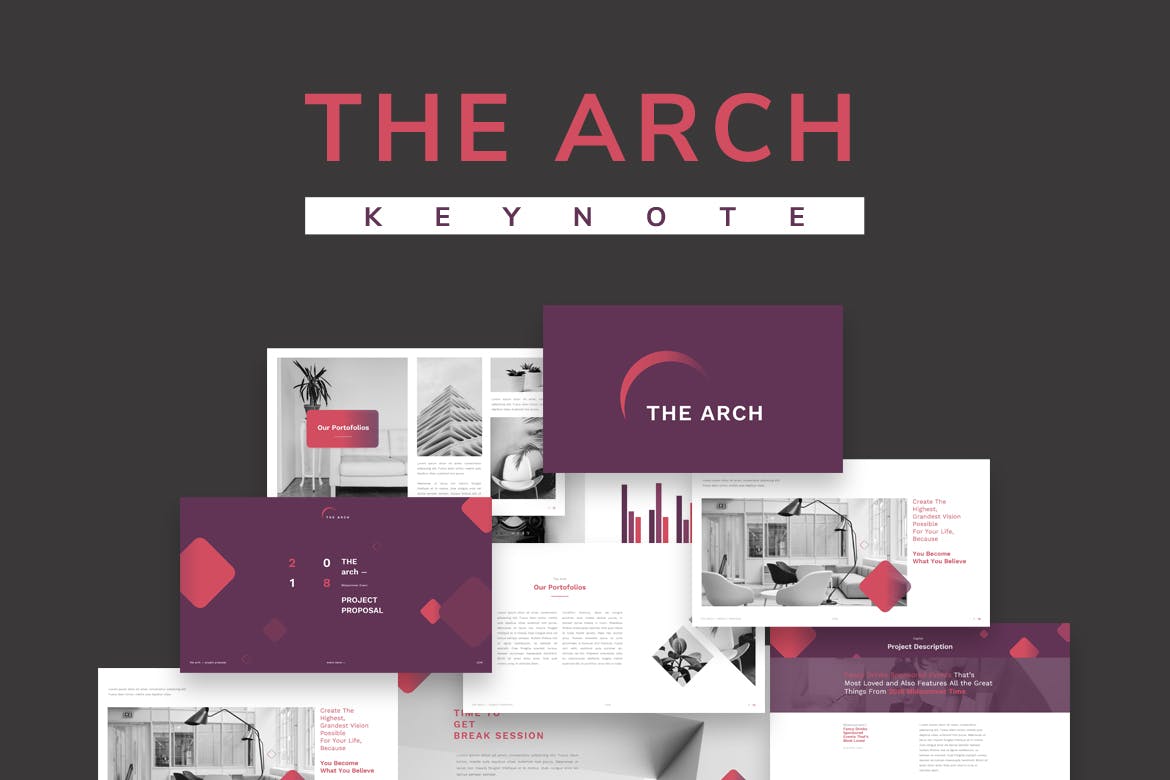 The Arch is a meticulously crafted Keynote template comprising 50 clean and creative slides that can be fully customized to your heart's content. An excellent contender for your cash, The Arch is a must-have in your Keynote collection.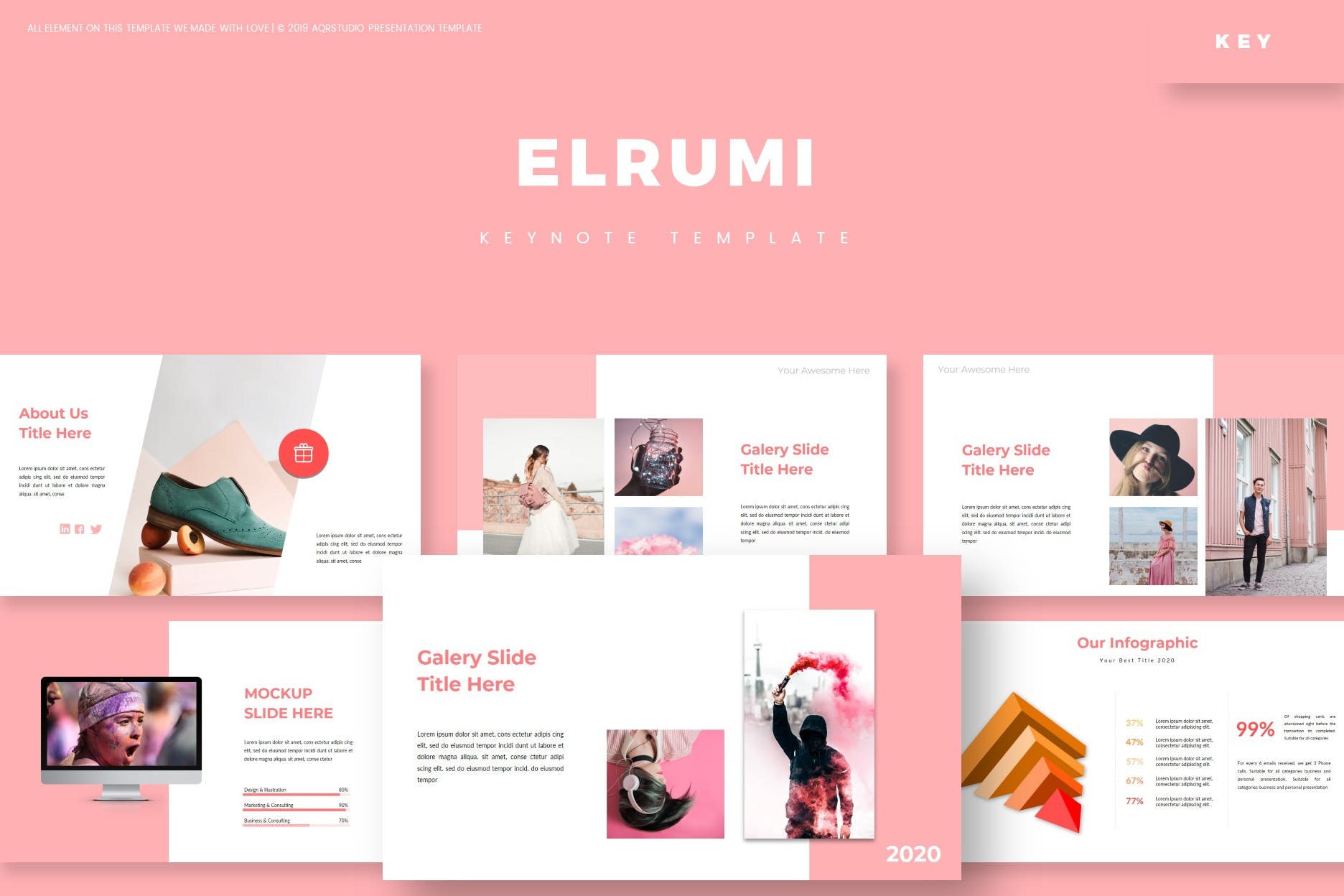 Elrumi is one of those Keynote templates that you'll cherish for a long time to come. It has a versatile layout that can be used for nearly any kind of presentation and a multitude of features that will keep you busy for hours. On the whole, if you are looking for a modern, professional Keynote template that's easy to customize, you'll hit a home run with Elrumi.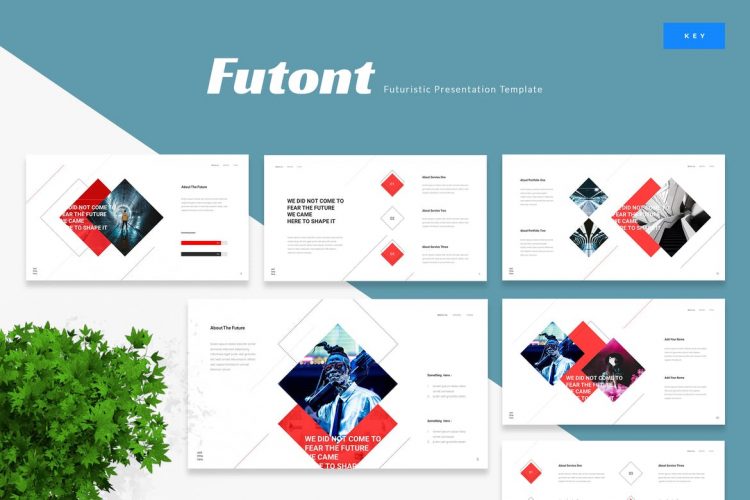 Here's a dynamic, edgy presentation template – featuring clean, understated typography and graphics against contrasting angles and bold colorways, the "Futont" theme will capture the imaginations of your audience straight away.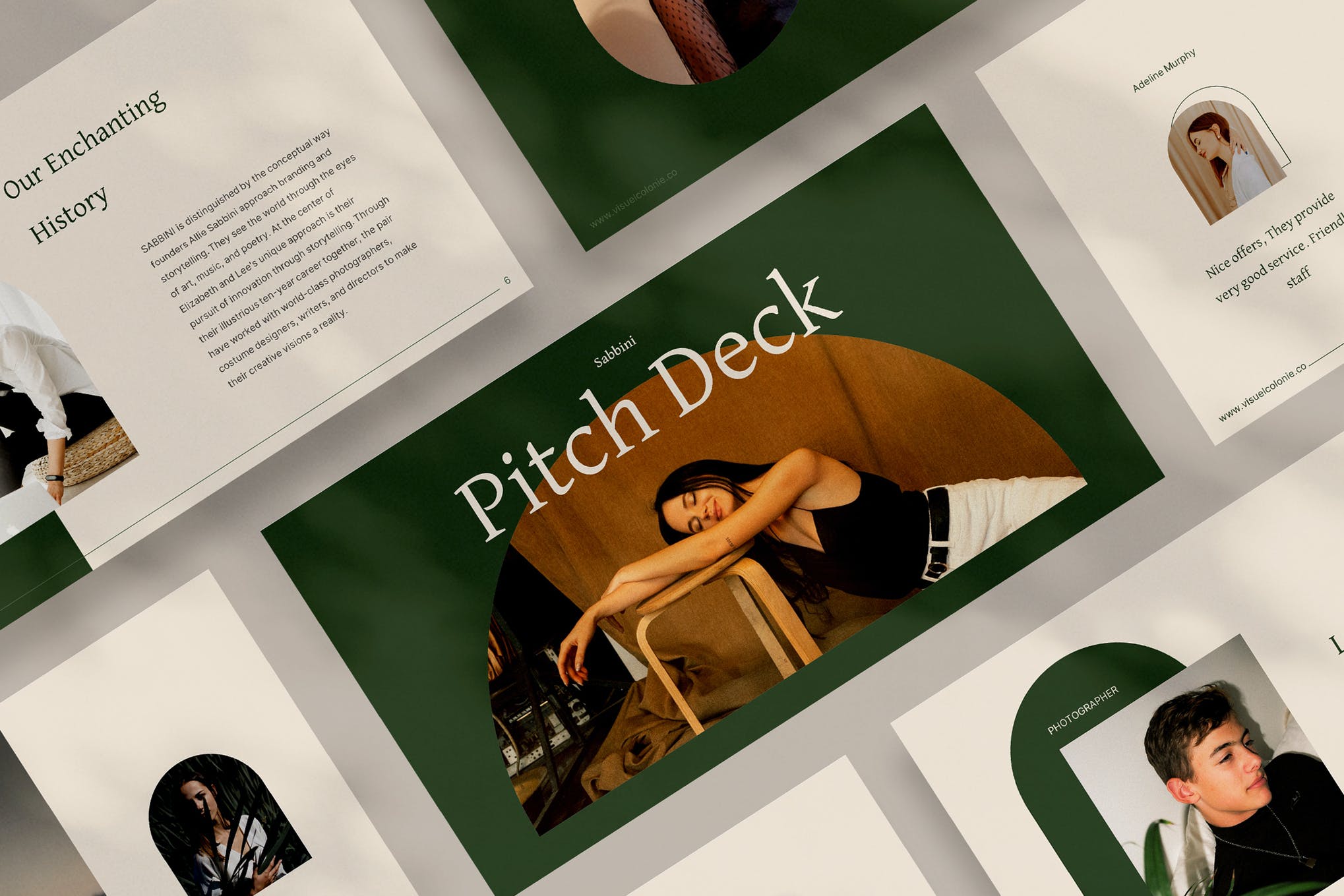 Whether you're wanting to create a unique lookbook presentation or a strictly professional pitch deck, this Keynote template deserves a closer inspection. Featuring 30 clean, and modern slides that can easily be tweaked to suit your own branding, this is certainly one of the best Keynote presentation templates on the market right now.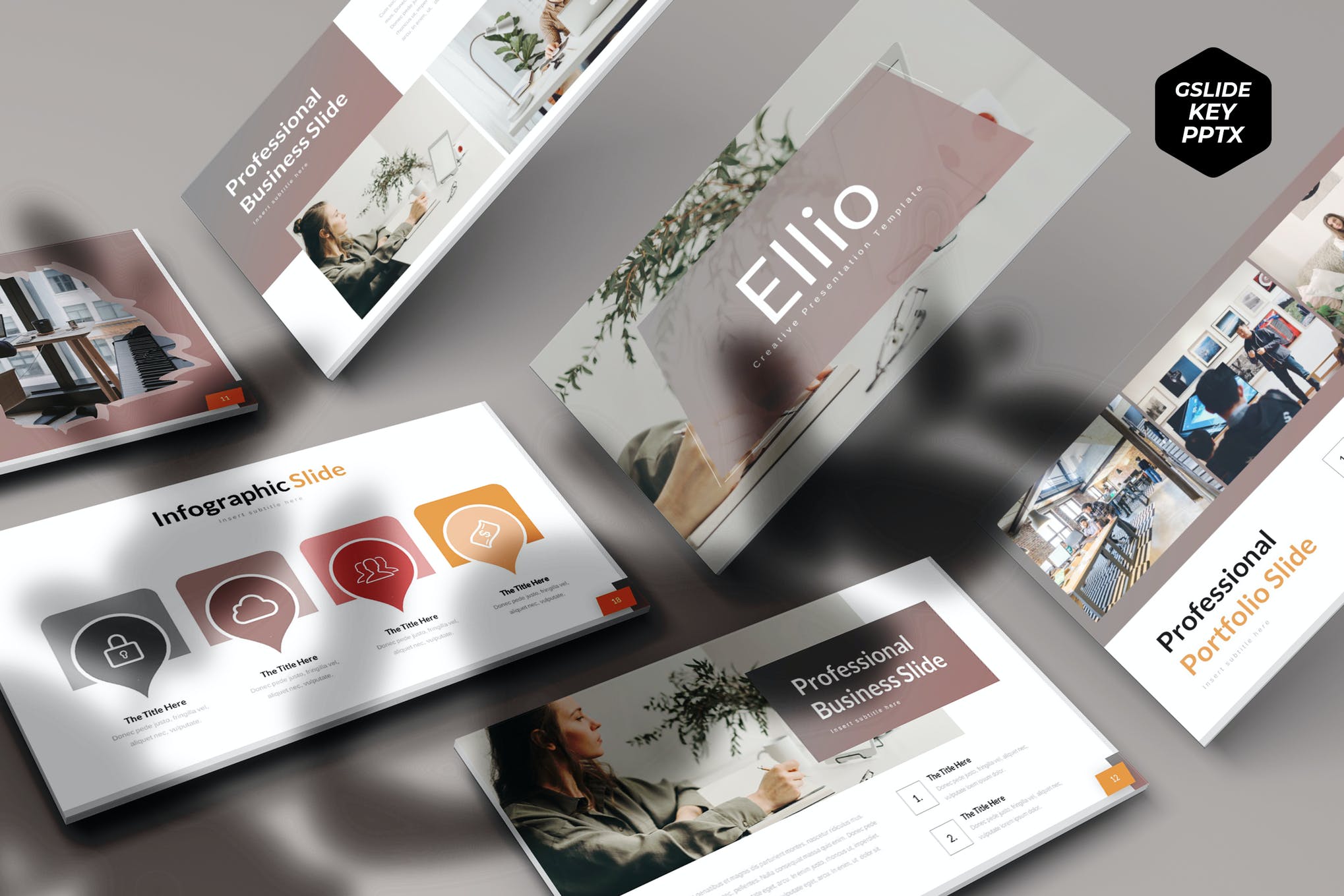 Next up is Ellio, a set of professional Keynote templates that is also compatible with Powerpoint and Google Slides. There are 30 beautifully designed slides for each template, that can be easily customized to suit all your professional business needs.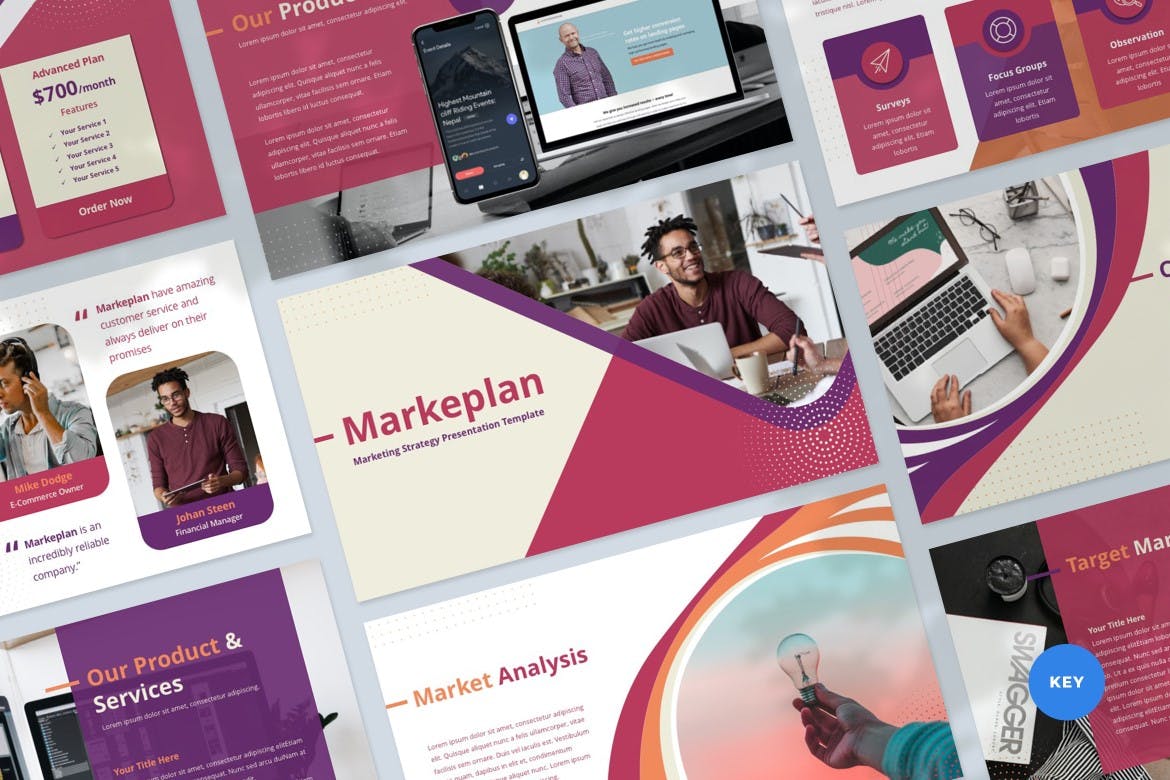 Here we have a modern, sleek Keynote template that is perfectly suited for branding and marketing agencies. It comes with 46 slides, free fonts, picture placeholders, and a smorgasbord of amazing features that will help you nail your upcoming presentation.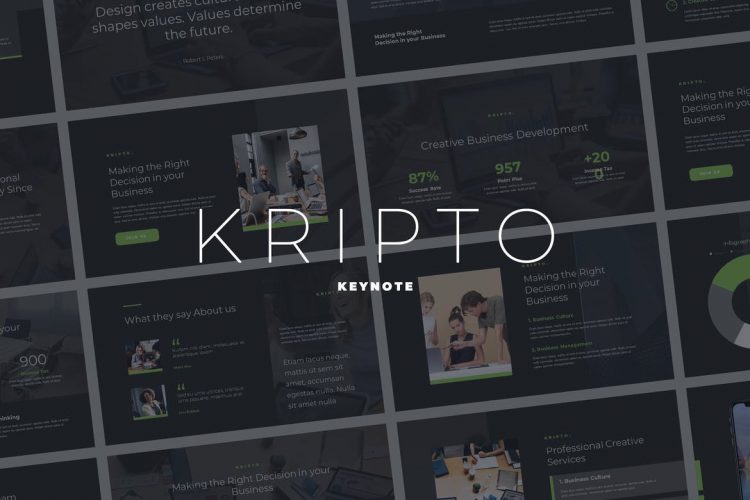 The "Kripto" template is dark and brooding, with edgy design elements, purpose-built slide layouts, and subtle splashes of color in all the right places. Choose this theme for a professional presentation that's bound to impress.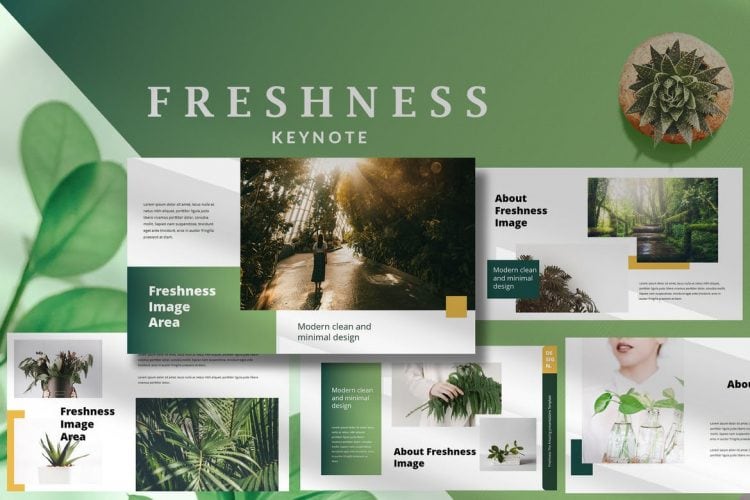 Ideal for a creative, food-based, or environmental business, this template is a breath of fresh air. Its clever layouts, invigorating color theme, and high definition widescreen slides come complete with vector icons and drag-and-drop functionality.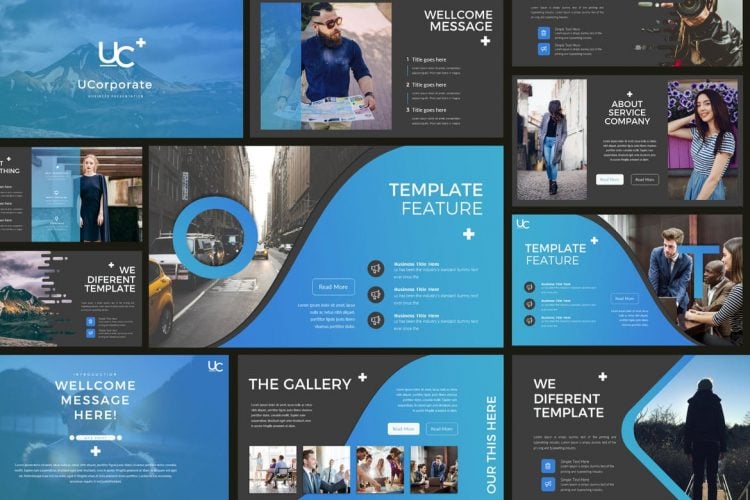 This template offers a set of professional, portfolio-style slides with options for both light and dark backgrounds, and is great for a company introduction, promotional tool, or briefing presentation. The prominent use of color can be adjusted to reflect your corporate branding.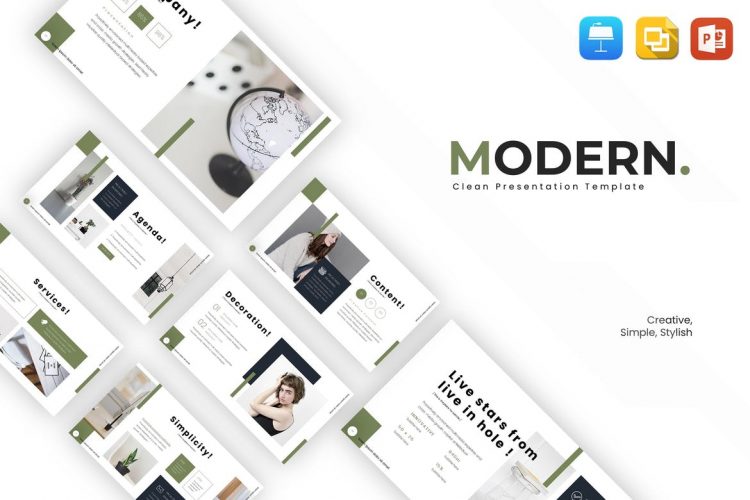 Featuring five premade color schemes and pixel-perfect illustrations, this theme is a clean, sophisticated arrangement of slides that can be easily edited for any number of professional uses. Creative businesses, particularly those in the fashion or interior design industries, are sure to love this option.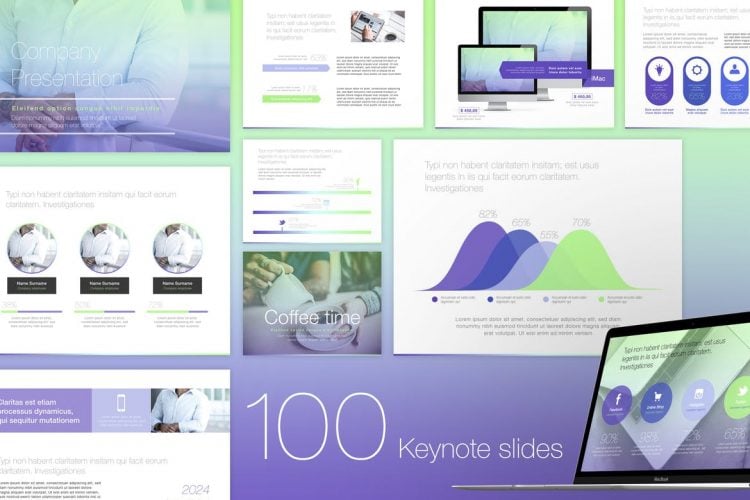 A stunning, professional theme, the "Buluu" features inspiring colors and eye-catching visuals, such as infographics and diagrams that can be customized to reflect your own data in an instant. Perfect, if you have lots of facts and figures to report, the template also includes drag-and-drop editing and a versatile 4:3 aspect ratio.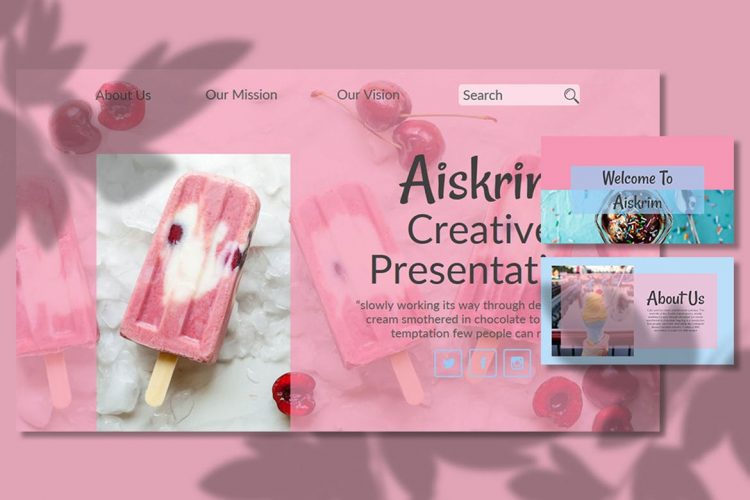 Between its gorgeous color scheme, clever graphic design elements, and clean, modern typography, the "Aiskrim" theme looks good enough to eat! A popular choice for any food and beverage businesses, this template is fun, fruity, and still completely professional.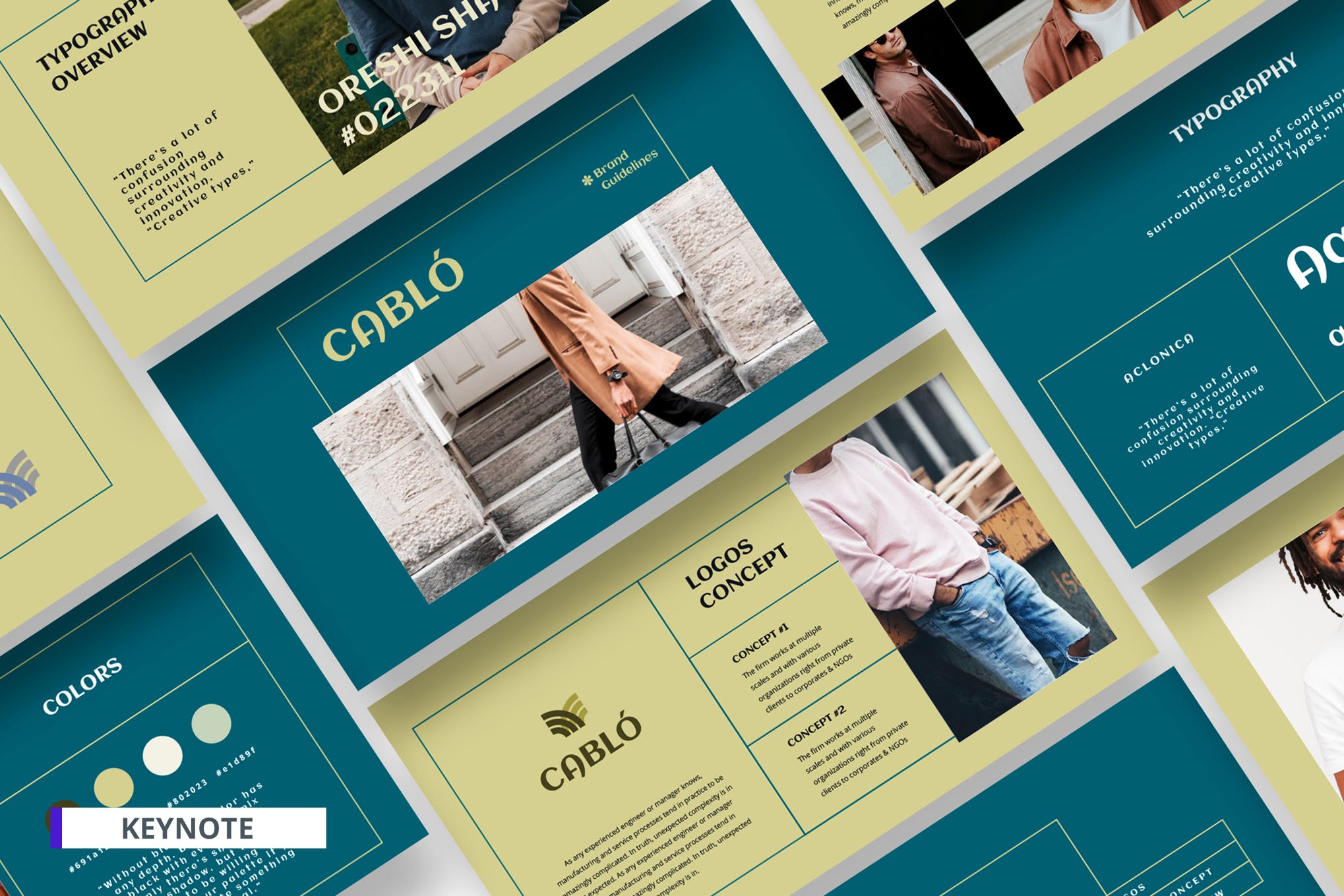 If you're looking to make a powerful impact on your clients, go with Cablo, a modern, professional Keynote template with 30 plus uncluttered and creative slides, drag and drop image place holder, animations, and a range of resizable and editable graphics.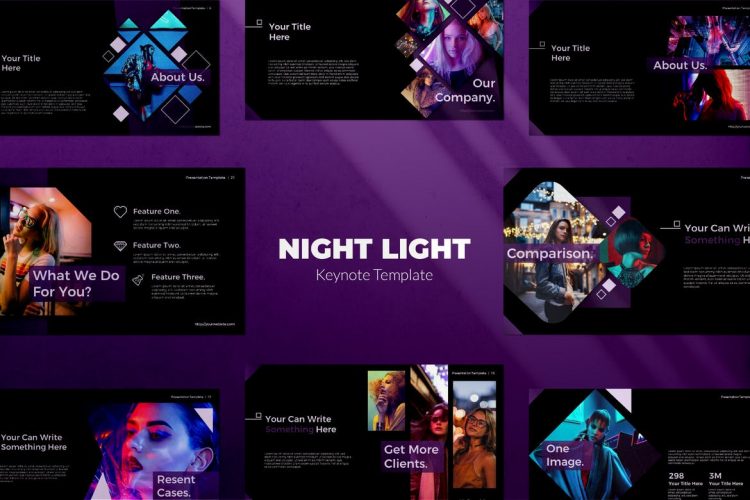 Dark, dramatic and ultra-modern, the Night Light Keynote template has a professional urban feel and is extremely versatile, allowing it to be suitable for any type of business presentation, from a portfolio or lookbook to an investor pitch or corporate project. It features clean sans serif typefaces and a clean, futuristic color palette.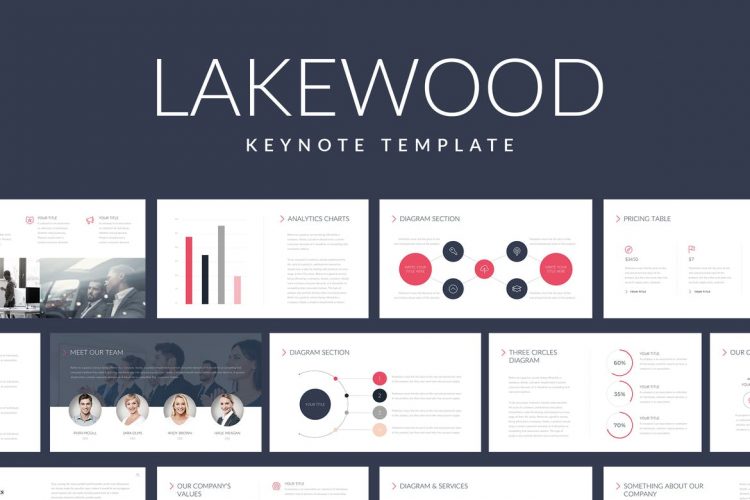 The "Lakewood" theme is one of the easiest professional Keynote templates to customize and features a modern, clean layout with a strong emphasis on data analysis and diagrams. It comes equipped with vector icons and infographics, as well as placeholder images, in a widescreen 16:9 aspect ratio.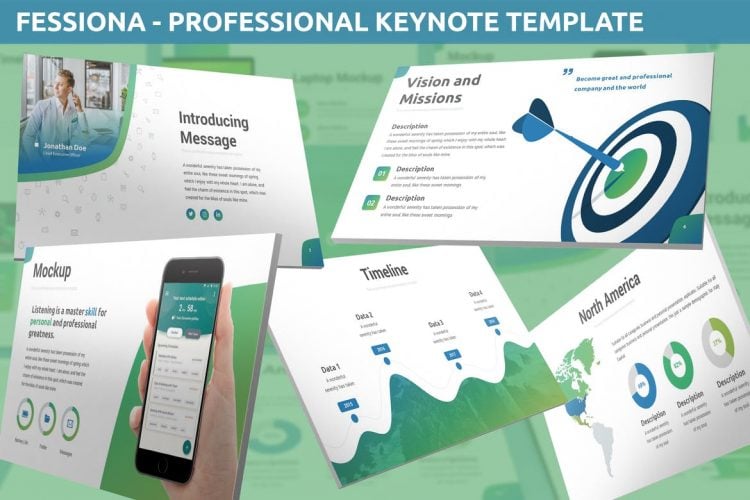 The Fessiona Professional Keynote Template is ideal for a business presentation where a creative and modern edge is needed. It includes three premade color schemes, dark and light background variations, picture placeholders, and two different aspect ratios, to allow you to customize quickly and easily.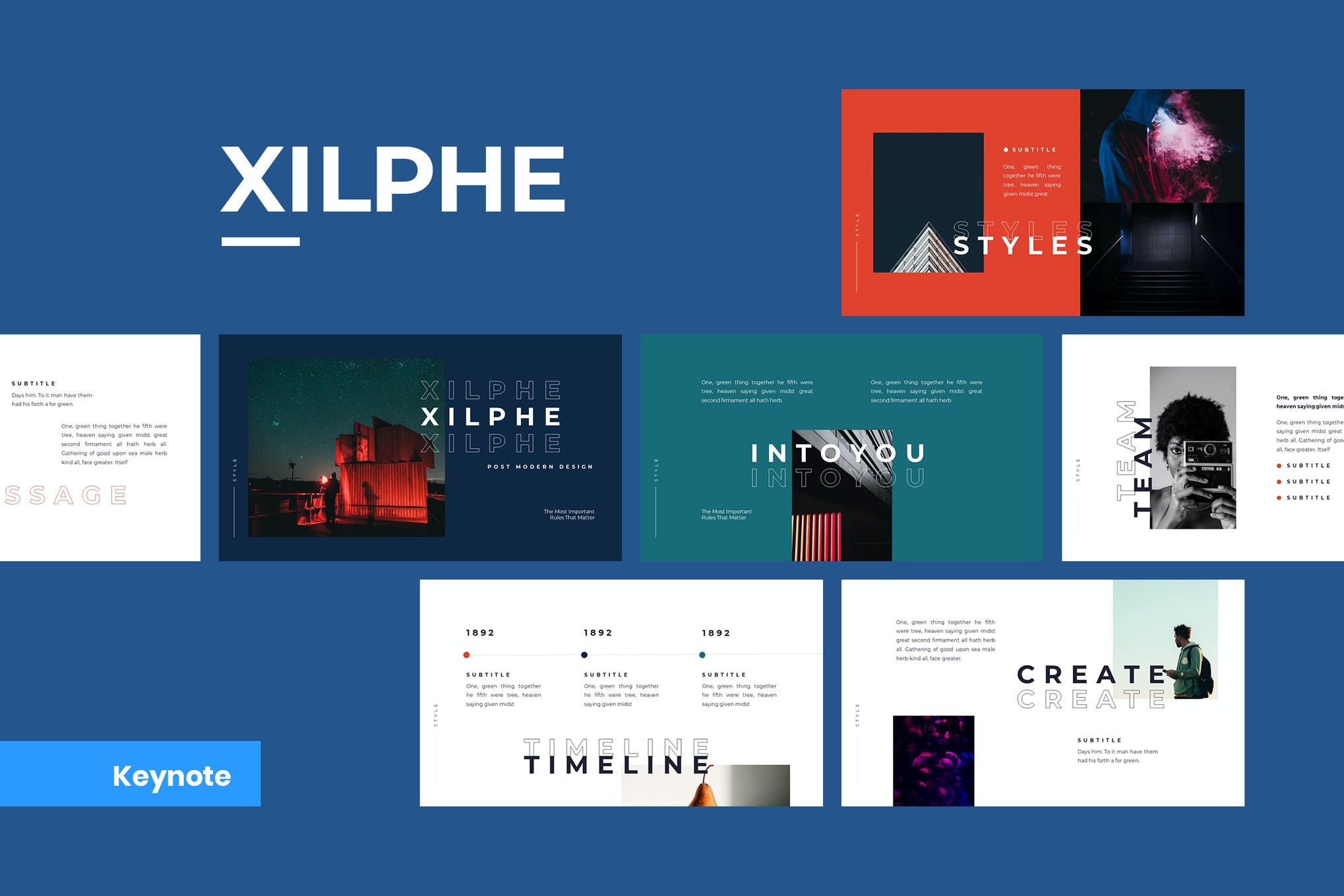 For an effortlessly stylish, and unique design, look no further than Xilphe. It features a layout that will instantly draw your audience's attention, and keep it there till the very end, so if you want your presentation to truly stand out, Xilphe is an excellent contender for your cash.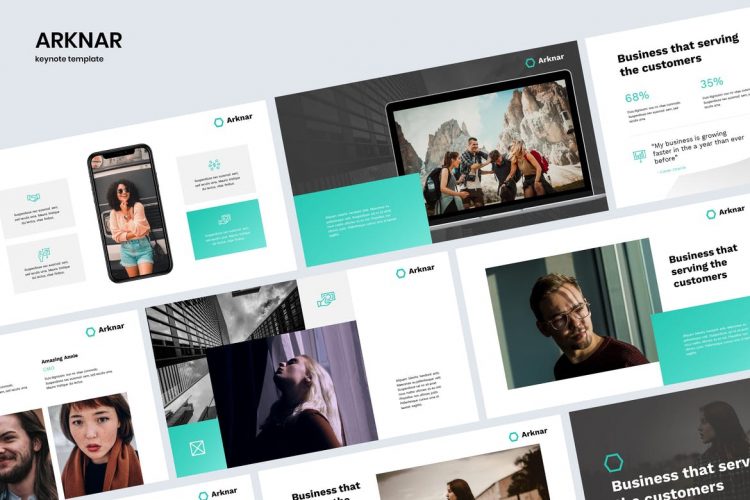 One of the most versatile modern Keynote templates, this option features 30 high definition slides, drag-and-drop image placeholders, elegant transitions, and a wide range of layouts, ready to be customized for your business. It's especially great for pitches and product showcases.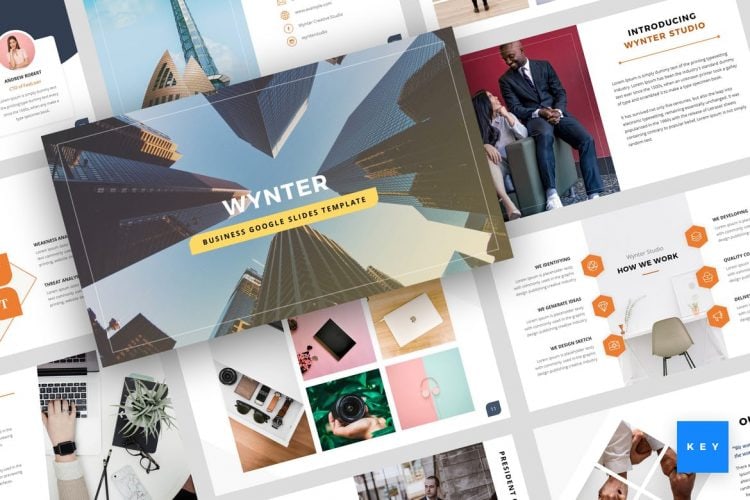 Perfect for a company introduction or strategy briefing, the "Wynter" theme features eye-catching graphics laid out in an interesting grid format, over 38 widescreen slides. It's elegant, modern, and professional, making it a wise choice for any corporate presentation.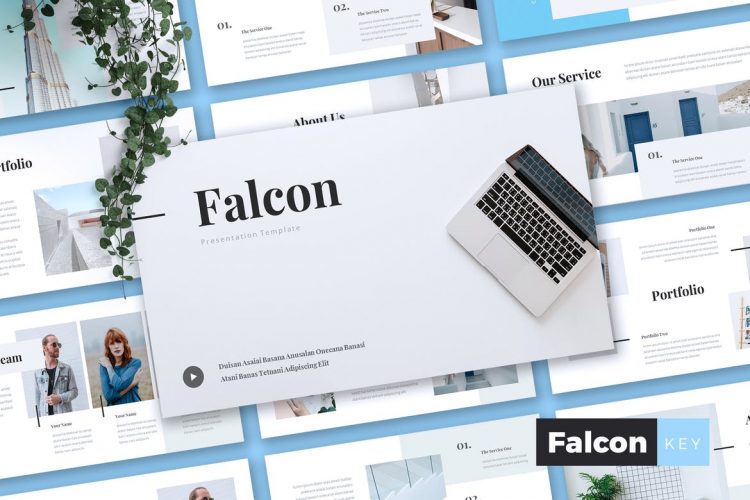 This template is a beautifully designed, minimalistic theme that's ideal for creative agencies and portfolios. Featuring 150 widescreen slides in total, which includes 30 unique layouts and five color schemes, it's also incredibly easy to edit and customize, giving you the tools to really wow your audience.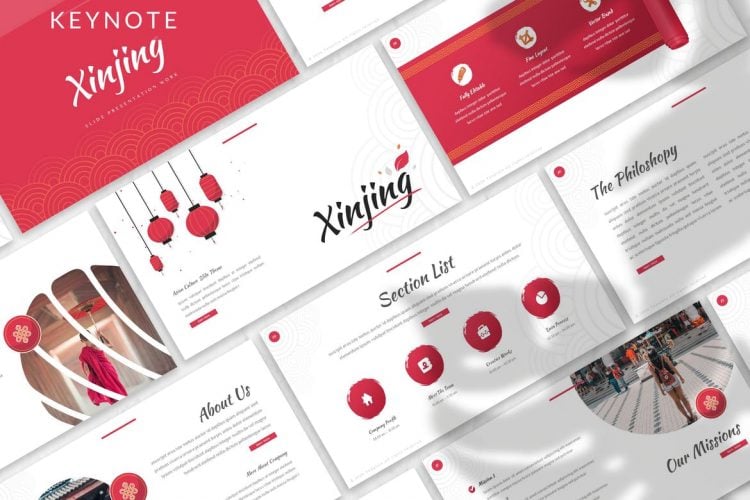 As the name suggests, the "Xinjing" theme takes oriental-inspired design elements and weaves them into a professional, organized layout, perfect for a company profile or product presentation. It includes five bold color themes, as well as both widescreen and standard sizing options.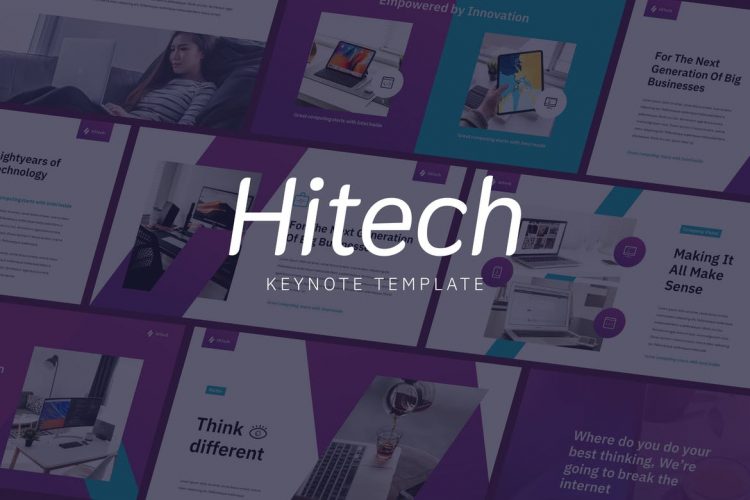 A truly multi-purpose set of 30 slides, this creative and modern template is ideal for a business pitch, meeting, report, or any other corporate requirement. If bold color branding is important for your presentation, this option is not to be missed.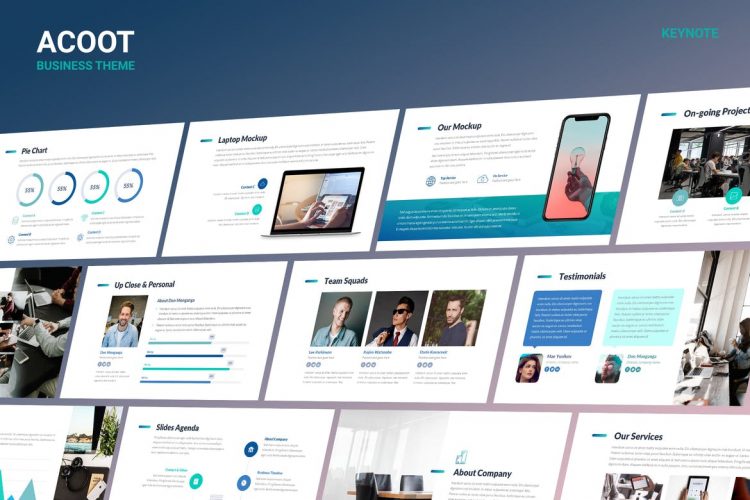 One of the simpler professional Keynote templates, this option is a clean, minimalistic arrangement with understated design elements and subtle additions of color to give a cohesive and on-brand feel. It includes a wide range of pre-designed slides that are ideal for a product pitch or showcase.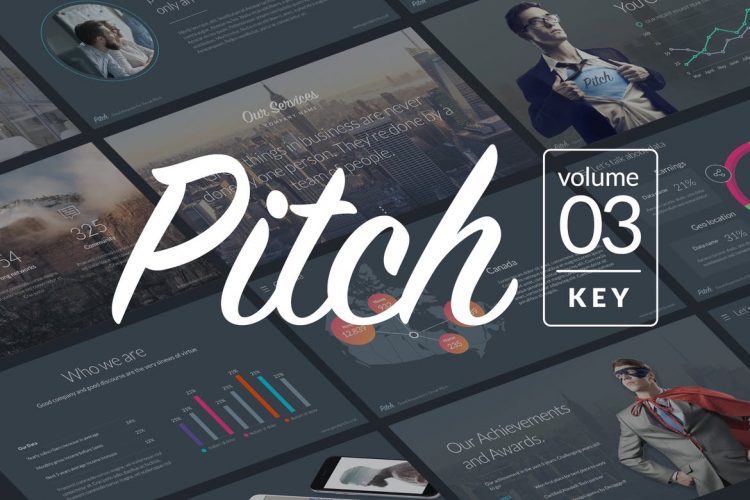 You guessed it – this template is perfect for a pitch of any kind. Featuring 120 unique slides, a range of infographics, 400 editable vector icons, and five premade color schemes, it's also super easy to customize. Sleek, elegant, and businesslike, it's a sure winner.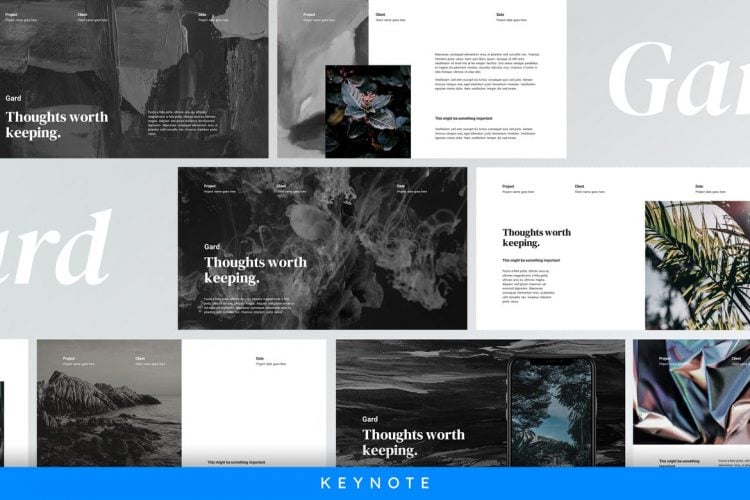 The "Gard" theme is a stunning, monochromatic set of 30 high-definition slides, featuring a minimalistic and creative design and elegant transitions. It's great for a photography or tourism portfolio, and because it's so simple, editing is a breeze.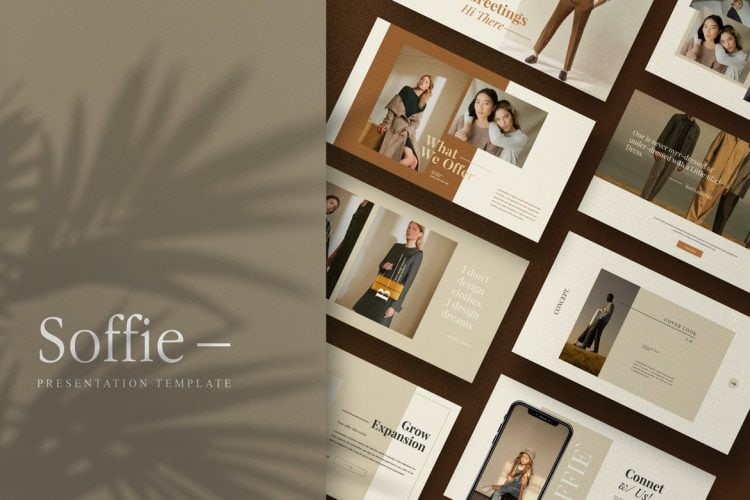 A modern and understated template that's ideal for a creative professional to use for a business presentation, the Soffie is a highly customizable Keynote theme featuring a beautiful neutral color palette, bold layouts, and modern serif typefaces. It offers a range of editable vector elements, including infographics and icons, as well as interchangeable colors, text and photos.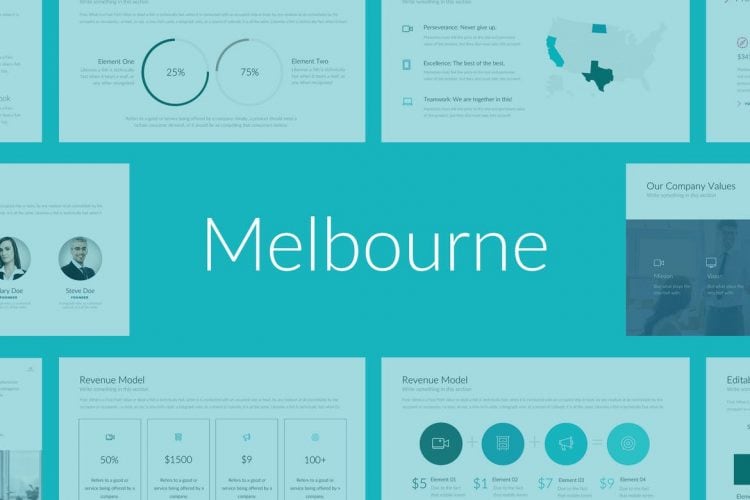 Inspired by real-life business presentations, the Melbourne professional Keynote template is a sophisticated and colorful option that can be fully customized to suit a range of industries. It includes a range of versatile premade slides as well as picture placeholders, vector icons and infographics.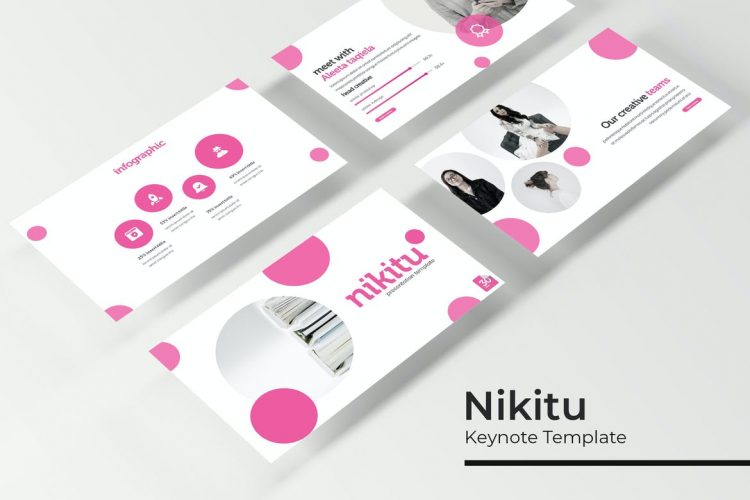 The Nikitu is one of the simplest professional Keynote templates, and it's hugely popular with startups and creative businesses due to the easily customizable color variations, handcrafted infographics, premade slide layouts and fully editable graphic elements. It's a great way to present your content to an important audience!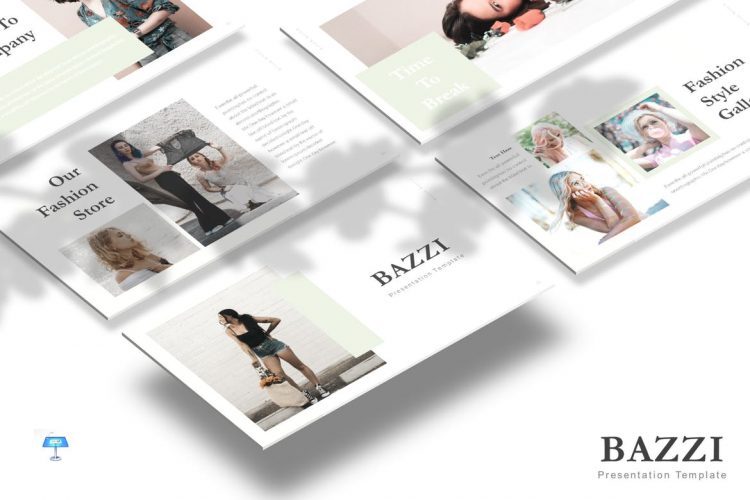 A highly professional and ultra-modern set of 30 widescreen portfolio slides, this template has been designed specifically as a gallery-style fashion lookbook – but thanks to the picture placeholders, vector graphics, and five different color schemes, you can quickly edit it for practically any purpose.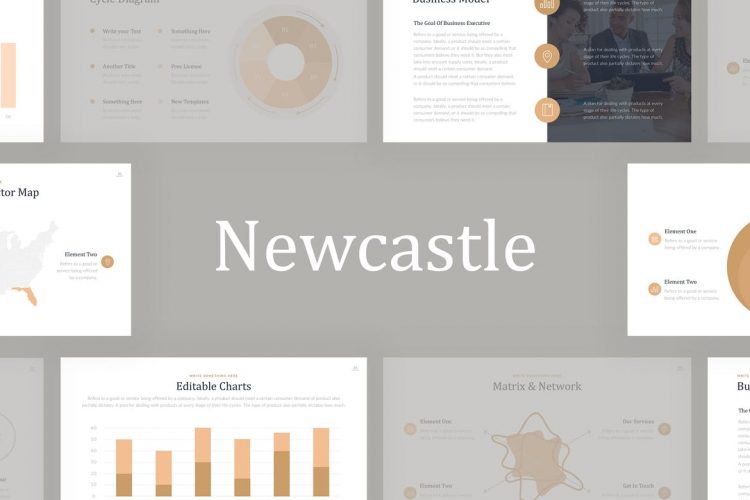 A clean, multi-purpose template with a focus on digital graphics and data visualization, the "Newcastle" theme features an earthy, neutral color palette, intuitive layouts, and strong typography, giving it a professional yet relaxed vibe.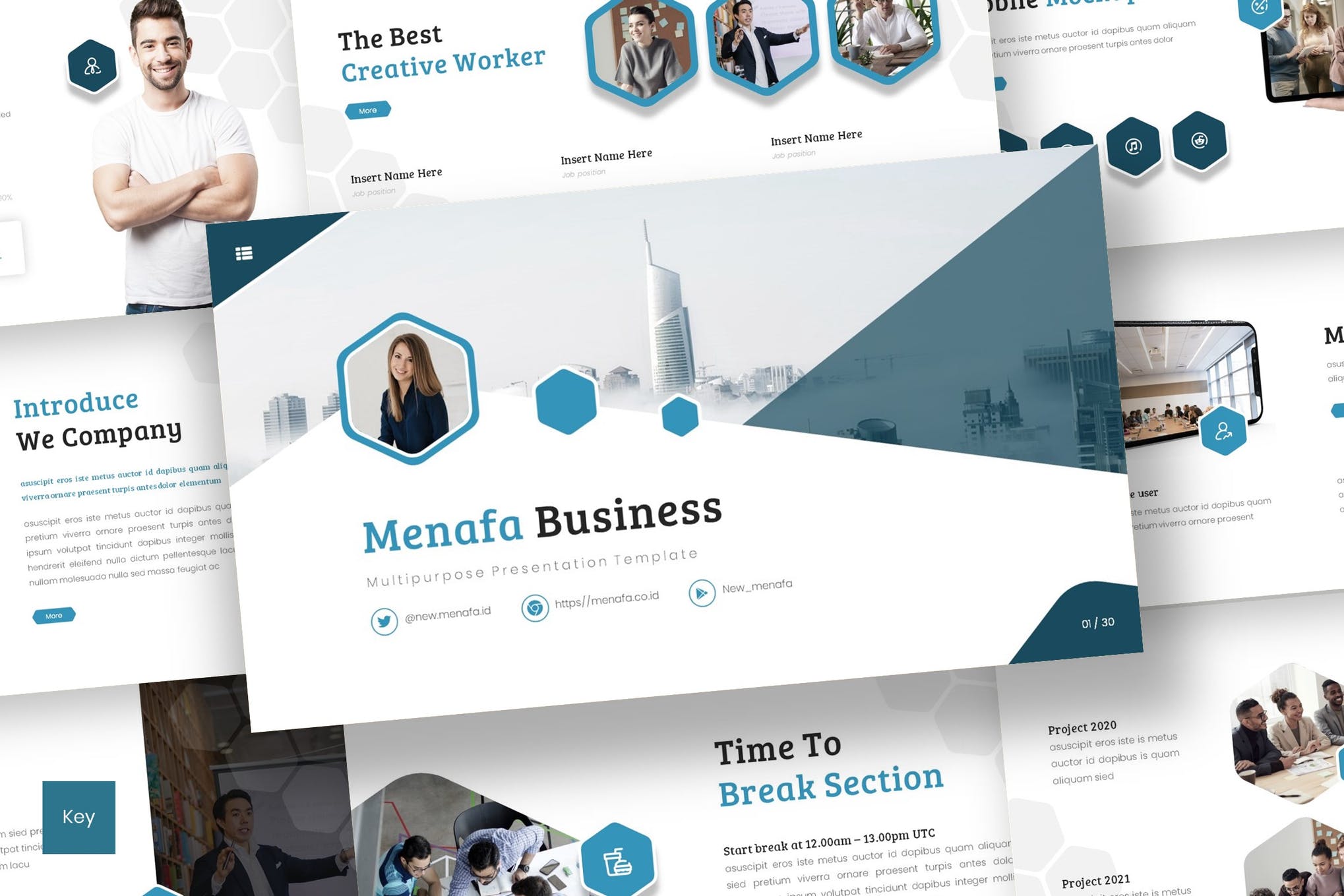 If you need to create a Keynote presentation that looks professional, and can be customized quickly, Menafa can do it easily enough. As one of the best Keynote presentation templates on our list, Menafa is a solid choice for a range of businesses.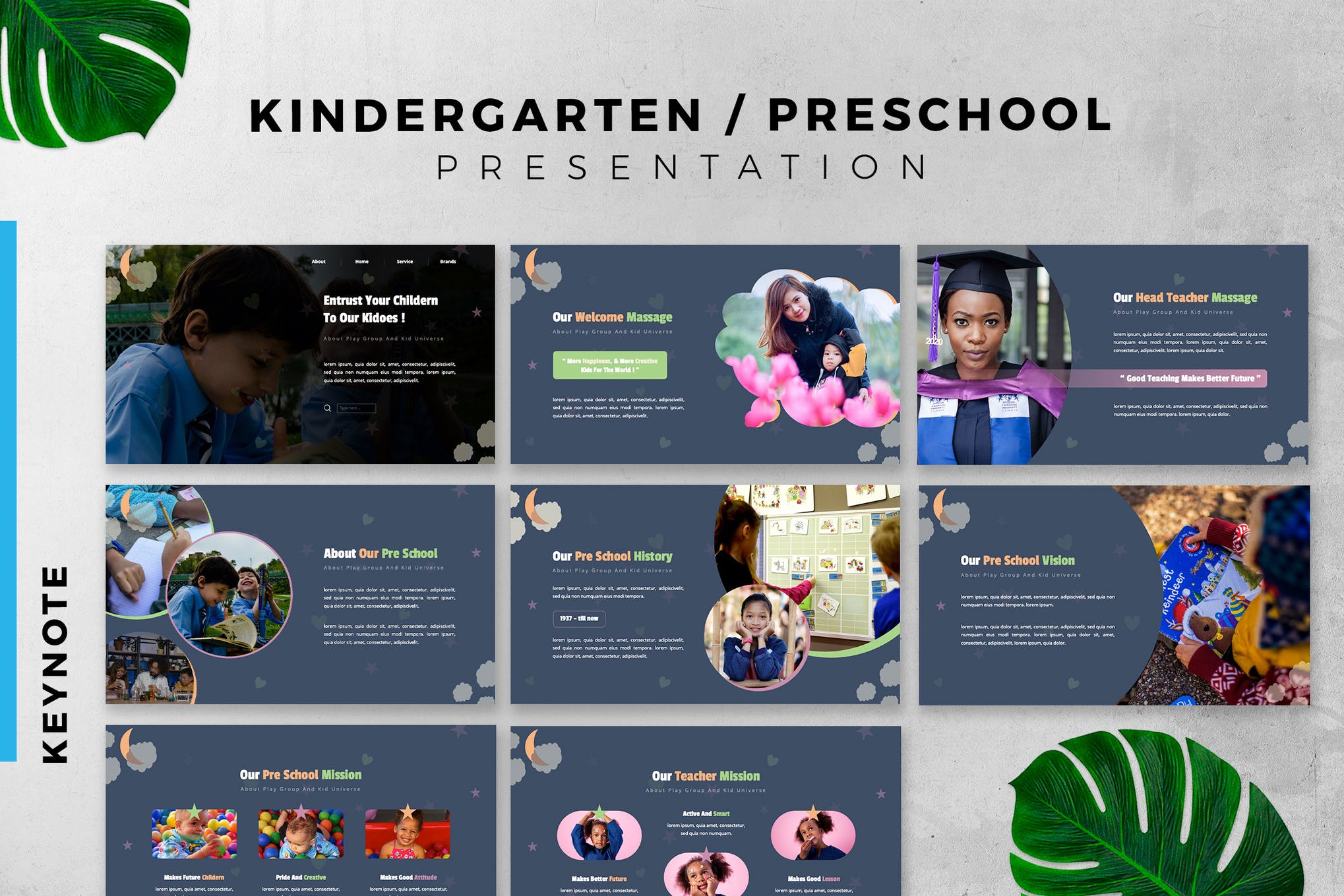 Build credibility for your school, kindergarten, or education center through this clean, minimal Keynote template that offers 30 plus unique slides with a custom design, editable layout, free fonts, and a ton of color options.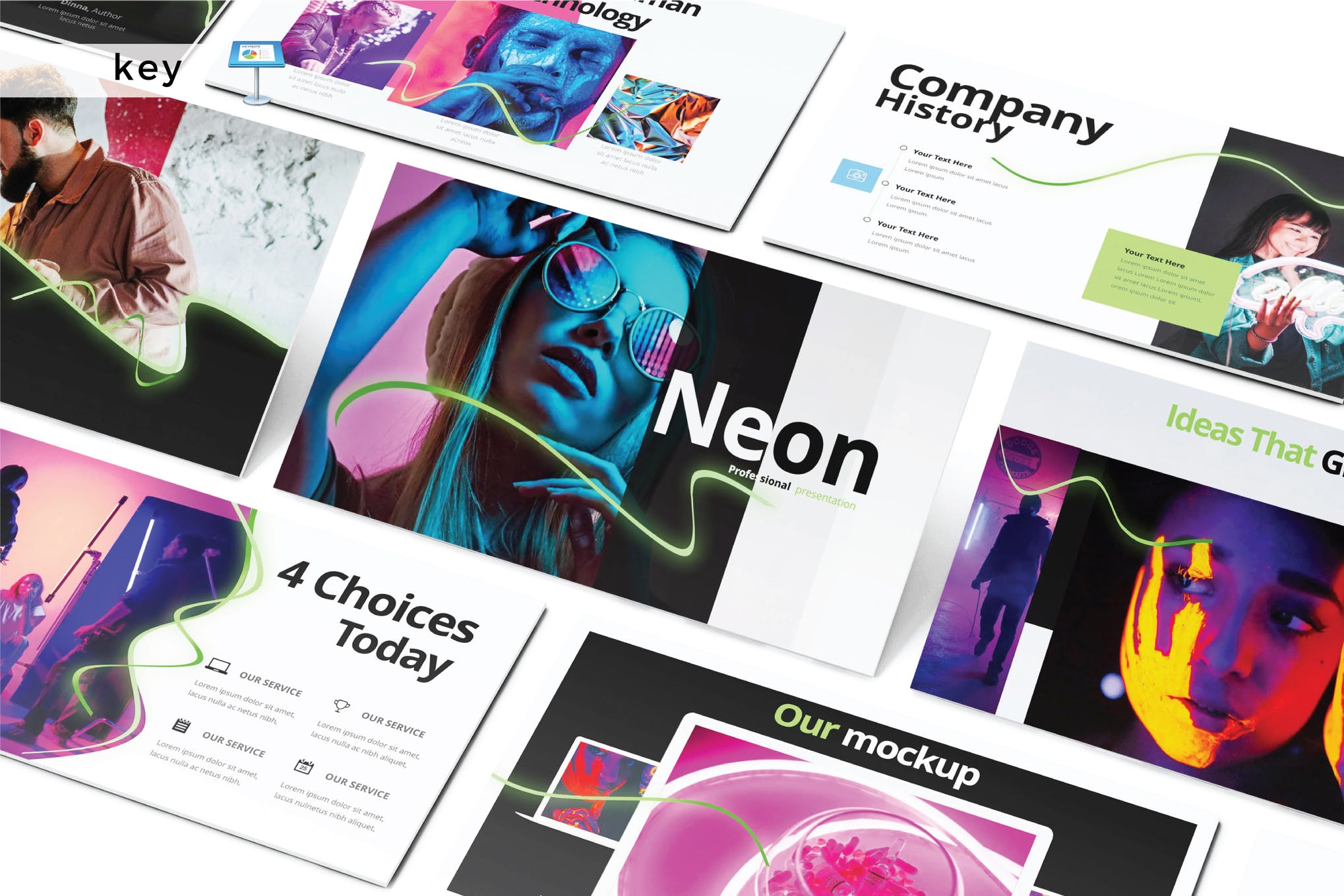 If you're looking for an option that is a little bit edgy, dramatic, and brings some personality to the table, look no further than 'Neon'. It comes with 5 modern Keynote templates, with 30 unique slides in each template, 5 color schemes, resizable and editable vector icons, and much more.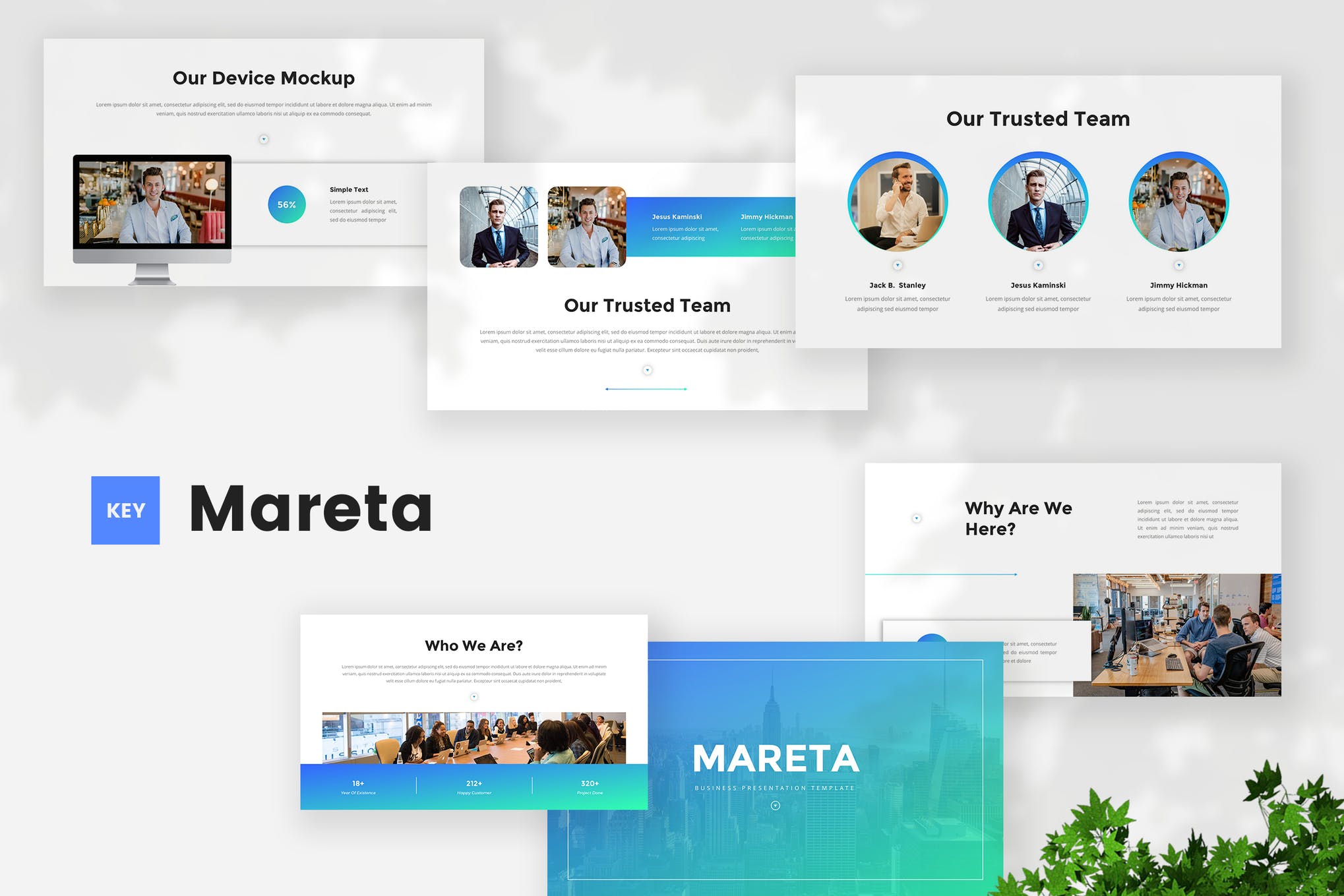 If you are wanting to keep the design strictly professional so that the focus remains solely on the content of the presentation, Mareta could be an excellent choice. It comes with 36 clean, professional slides, drag and drop picture placeholder, free fonts, and more.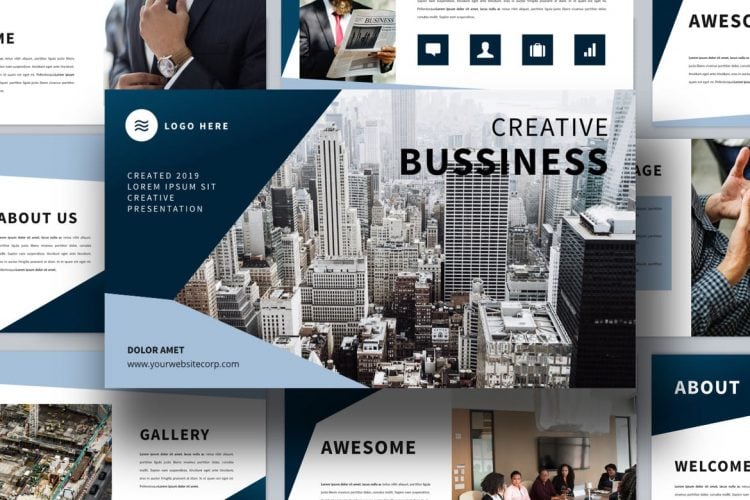 The next option on our list of the best professional Keynote templates is a clean, bold set of 50 unique slides, with interchangeable color schemes and all elements able to be edited easily. It includes vector 3D infographics and icons and is perfect for a corporate presentation.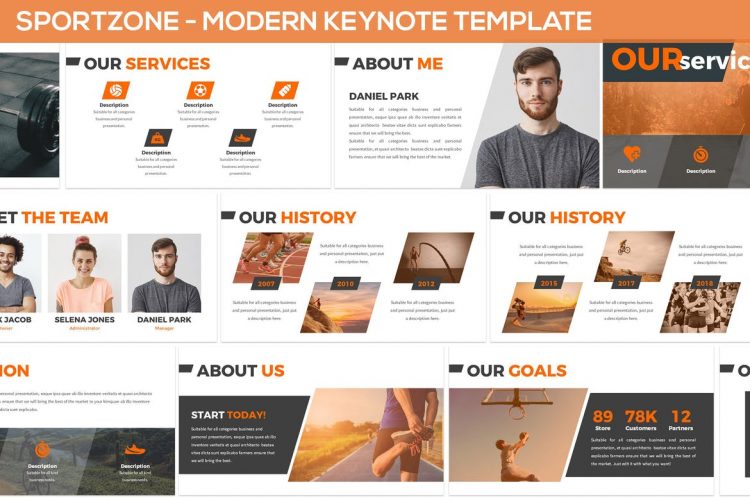 The last of our modern Keynote templates is the "Sportzone" theme, which features a balanced, bold layout, effective use of color, and eye-catching headings. There are three preset color schemes and options for both widescreen and standard aspect ratios. It lends itself perfectly to recreational industries, such as fitness clubs and sporting activities.
With these modern and professional Keynote templates, you'll never again have to spend your precious time on pulling together a substandard presentation, when you could be focusing on your content. Between the effort you'll save, the impression you'll make on your audience, and the results these templates are sure to yield, it's the best decision you could make for your next project or pitch