50+ Best Professional Business Templates for Google Slides 2024
Whatever kind of industry you're in, it's super important that your business presentations are engaging and professional. Of course, it takes a lot of time and effort to put together a set of slides that will truly impress your audience. Luckily, we've done the research for you and have rounded up the best professional Google slides templates for business professionals.
From corporate and clean, to elegant and quirky, there's an option for every kind of business presentation, and they're all incredibly easy to use – you'll be ready to go in no time.
Here are our picks of the top professional business templates for Google Slides.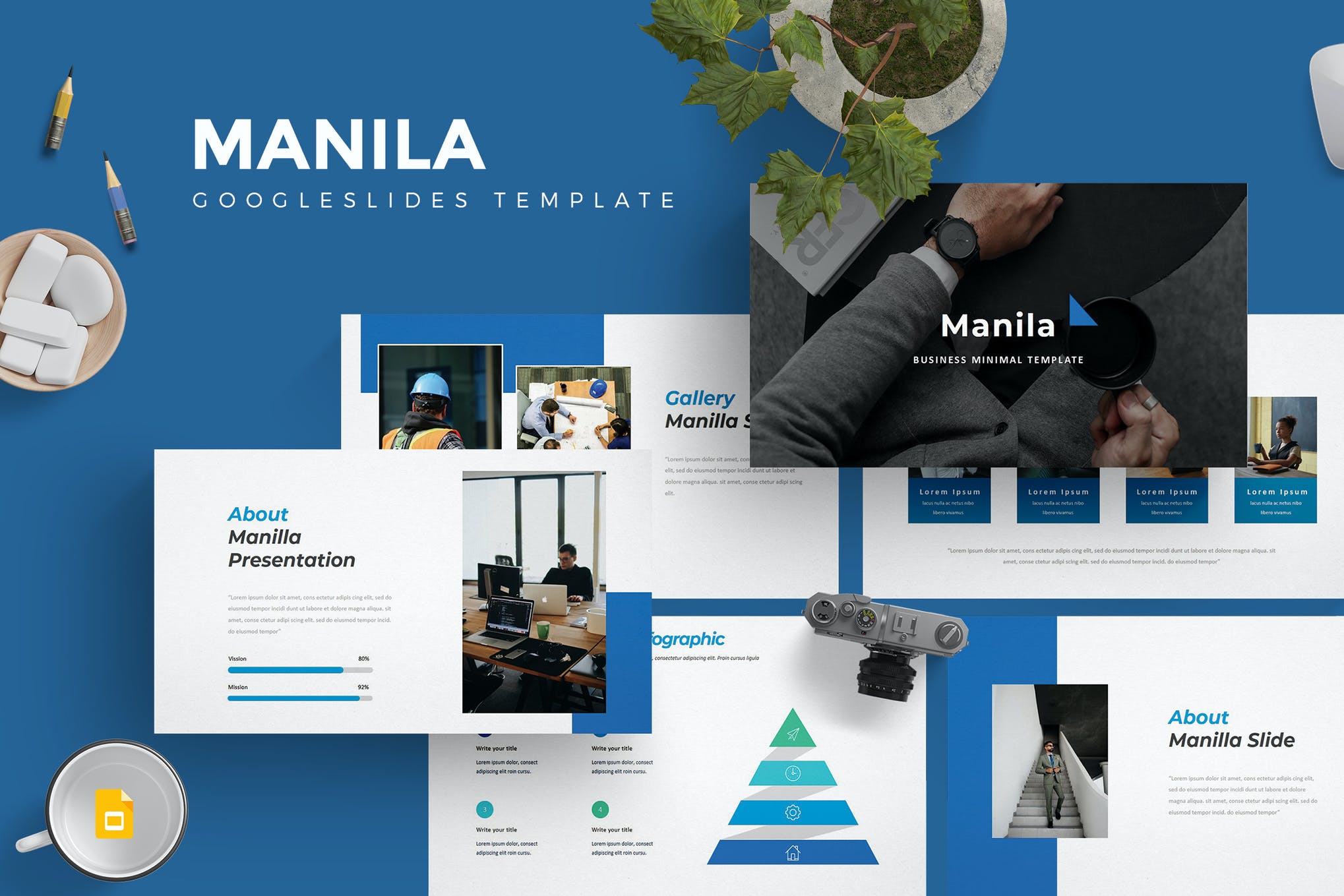 When it comes to the best presentation templates for Google slides, Manila is the real deal. It offers a neat, and modern design perfectly fitting to a large pool of business purposes. We recommend you try Manila for your upcoming presentation and see for yourself why it's on the top of our list.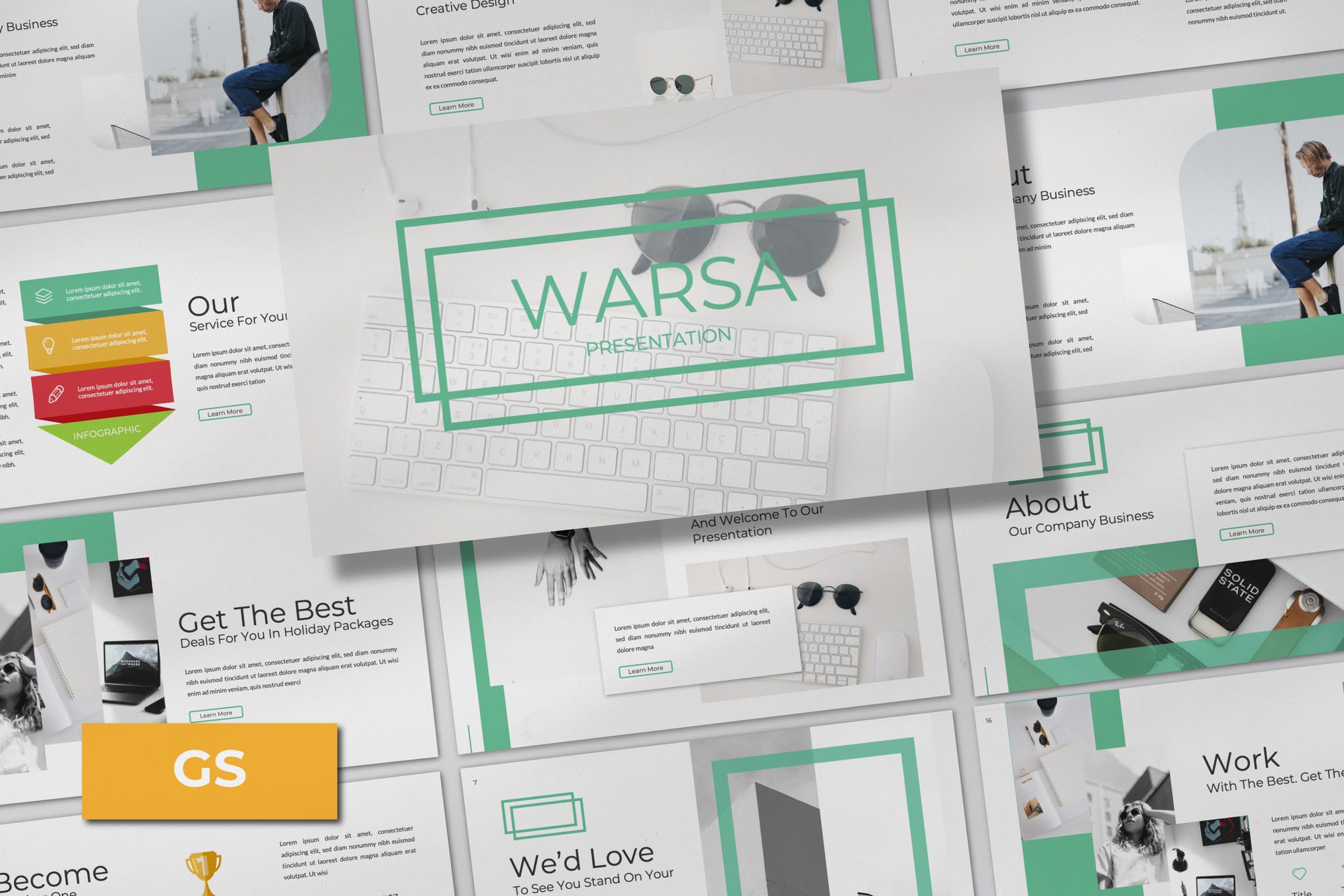 If you are looking for a business presentation with an ultra-modern, and unique design, Warsa is well worth checking out. It features a range of slides that are created with attention to detail, media placeholders, free fonts, and a lot more.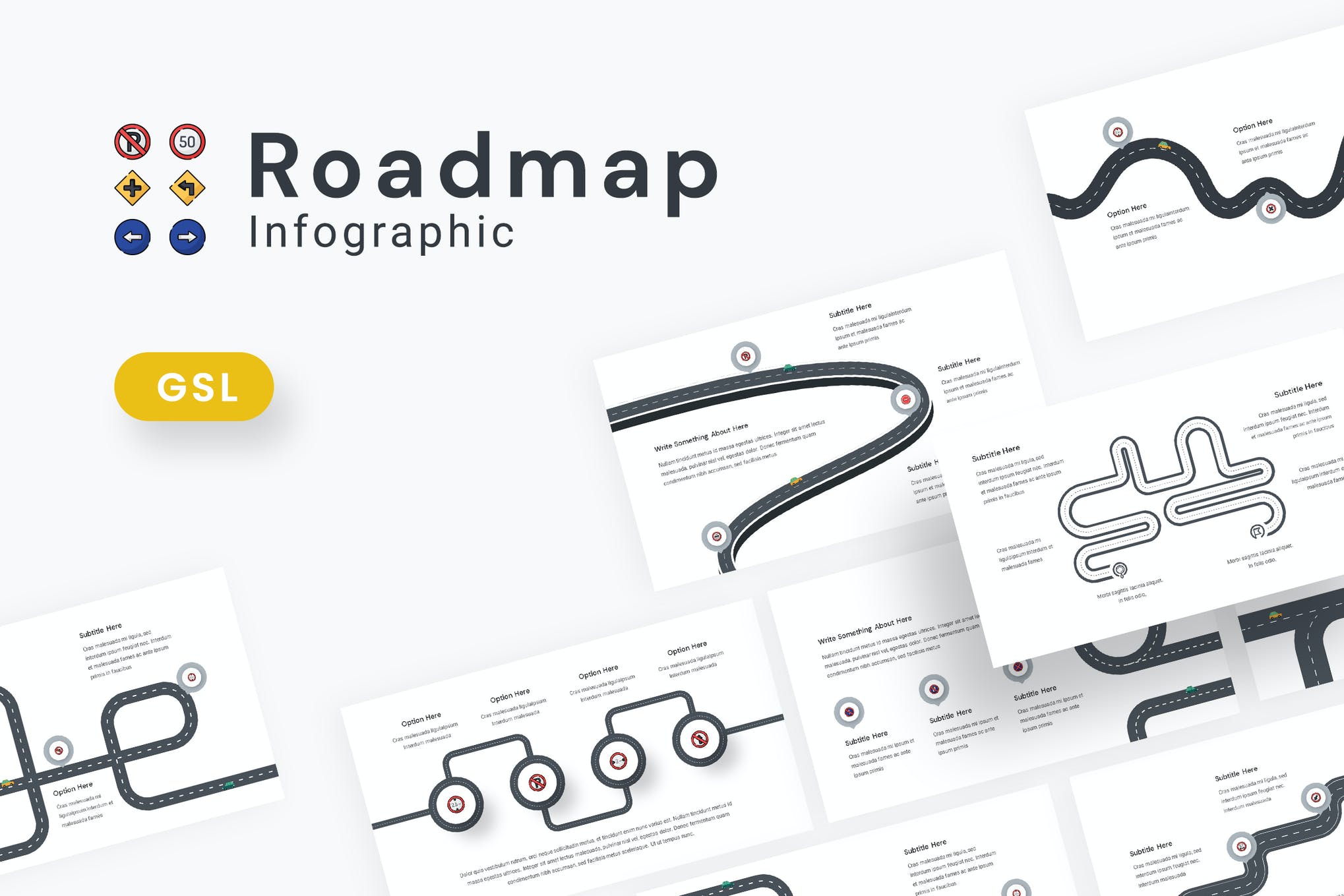 There is no better way to visualize, and share your business strategy with your stakeholders than through a roadmap presentation. This Google Slides template is professional, and eye-catching, and consists of 50 meticulously designed slides for you to customize.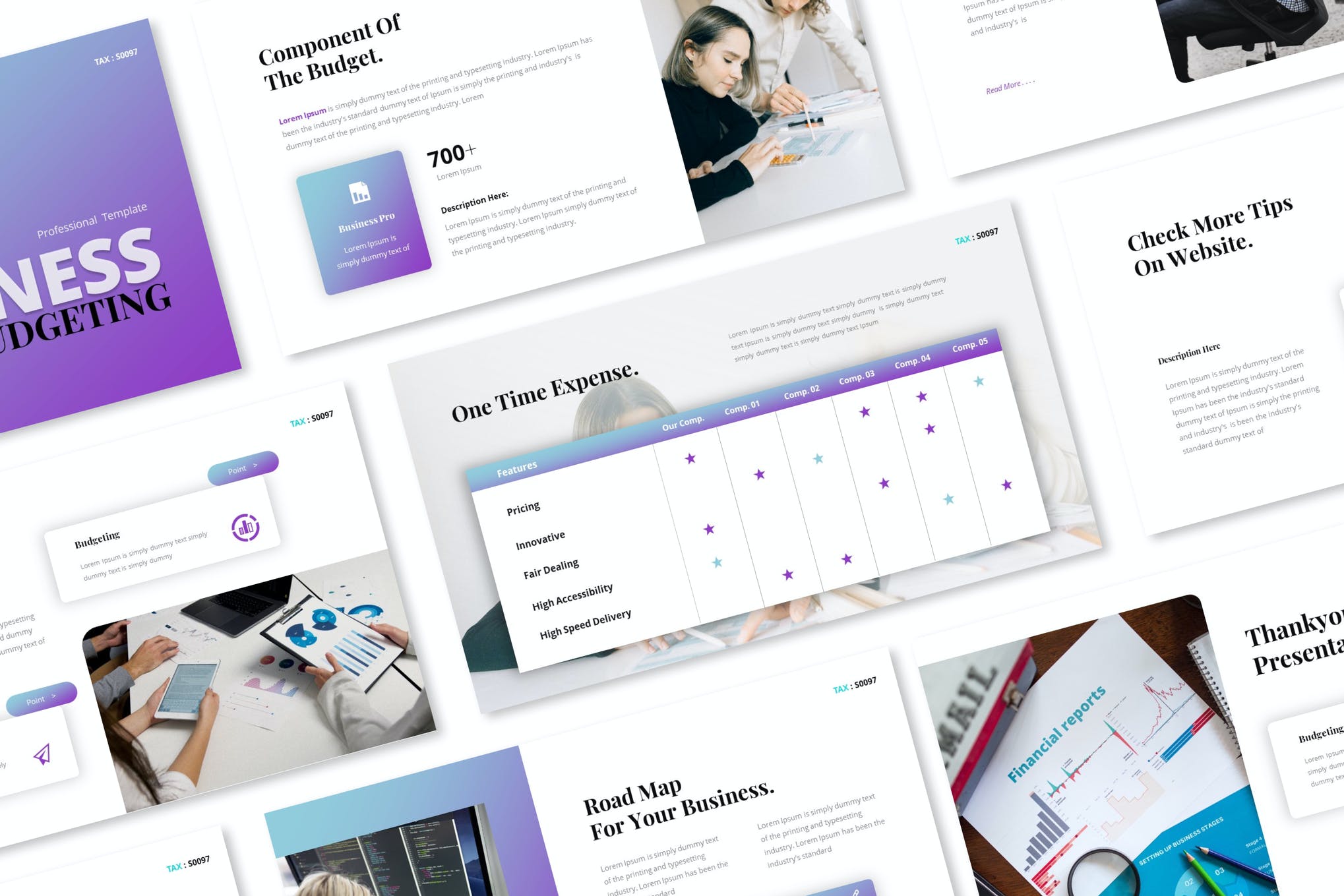 For those of you looking to create a presentation to present the company's budgets in an effective manner, this Google Slides template is right up your alley. It comprises 30 slides, and a range of infographics, helping you achieve your goal with minimal effort.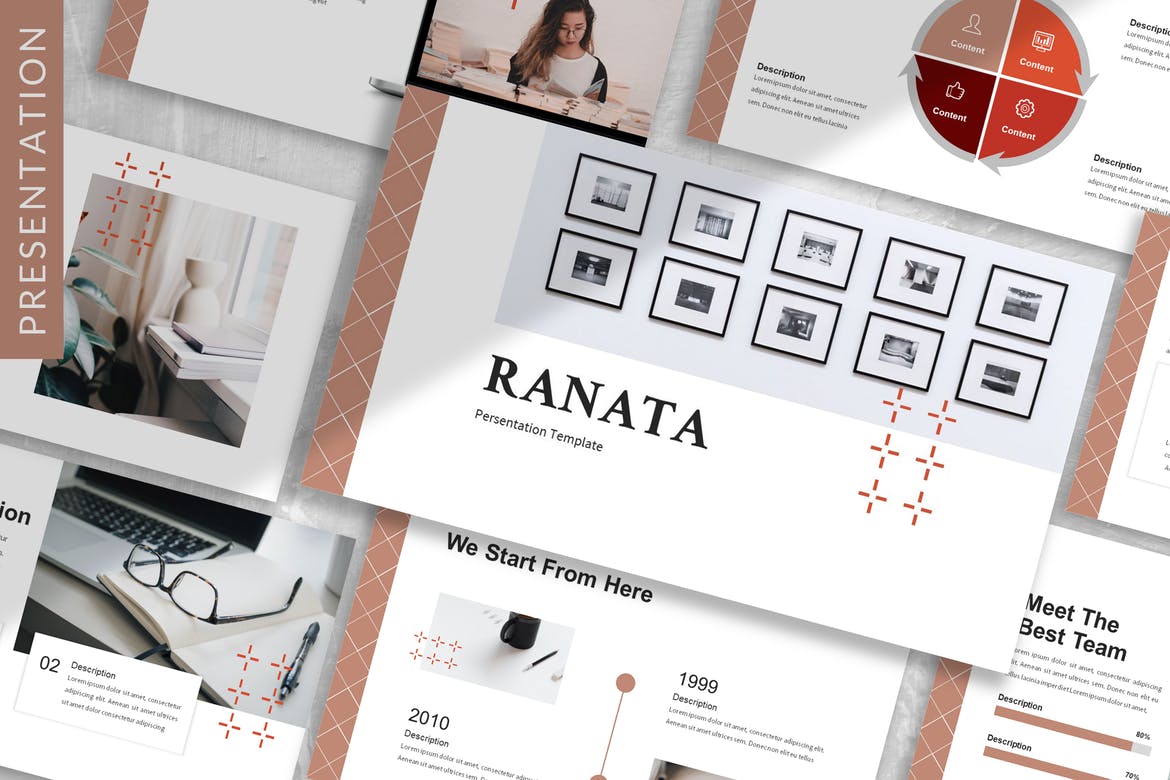 Ranata is a simple and clean Google Slides template for businesses that require a modern and highly professional presentation. It comes with four beautiful premade color schemes, widescreen and standard size formats, picture placeholder functionality, and can be used with Keynote and PowerPoint as well as Google Slides.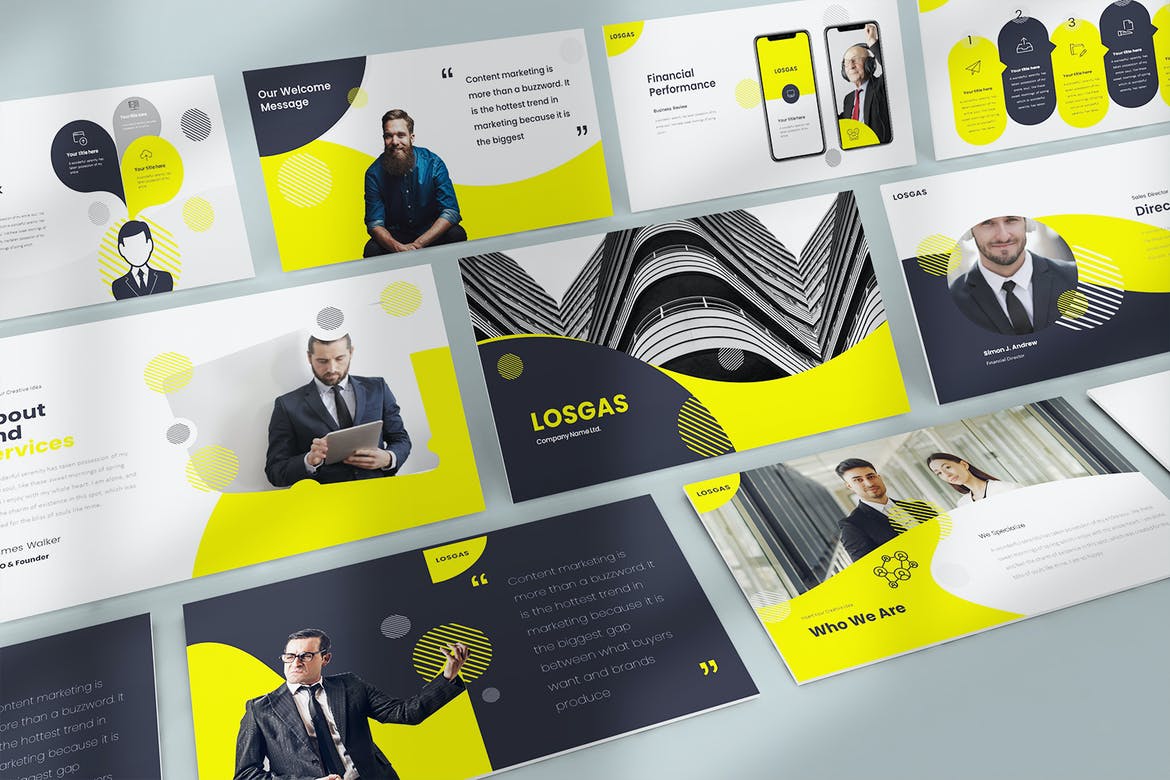 Here we have Losgas, a bright and dynamic collection of 100 unique slides featuring free fonts and customizable vector elements, light and dark template versions, and a super versatile design that can easily be edited to suit a range of business purposes.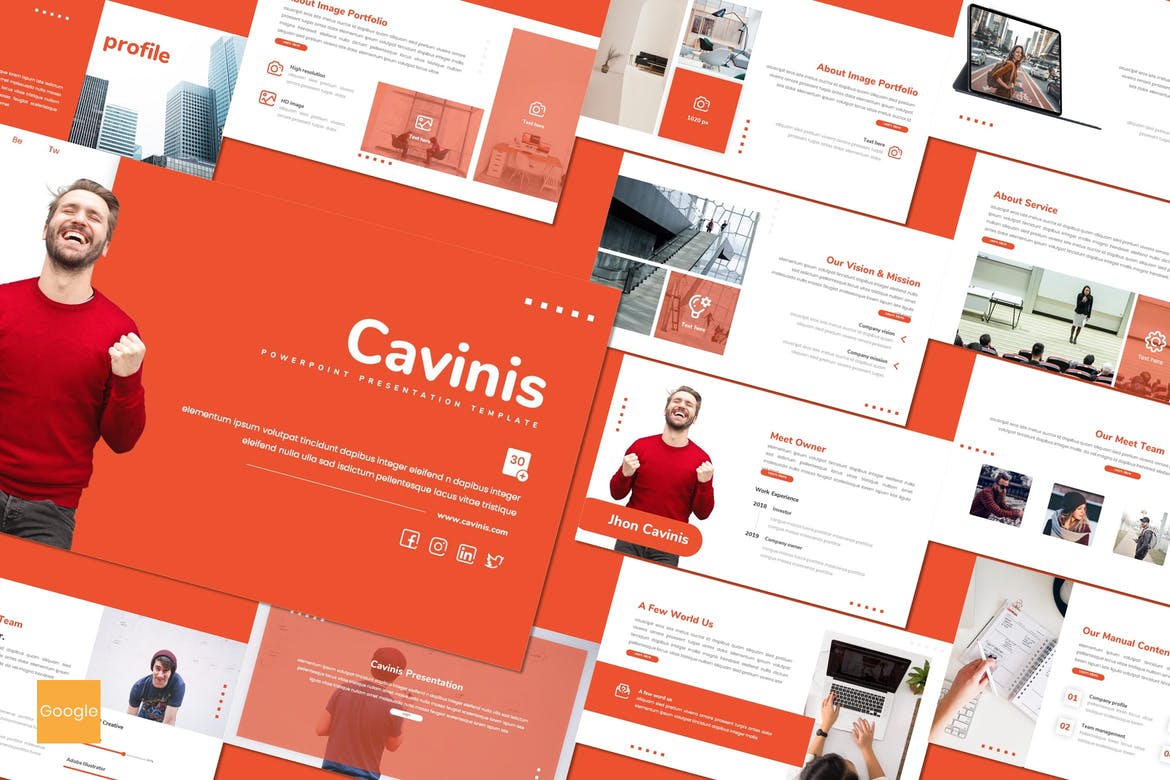 Cavinis is the perfect choice for a modern, technology-focused business or startup company that's looking for a colorful and eye-catching set of slides for an important pitch or presentation. It offers five color schemes and 30 creative and professionally designed slides for you to customize.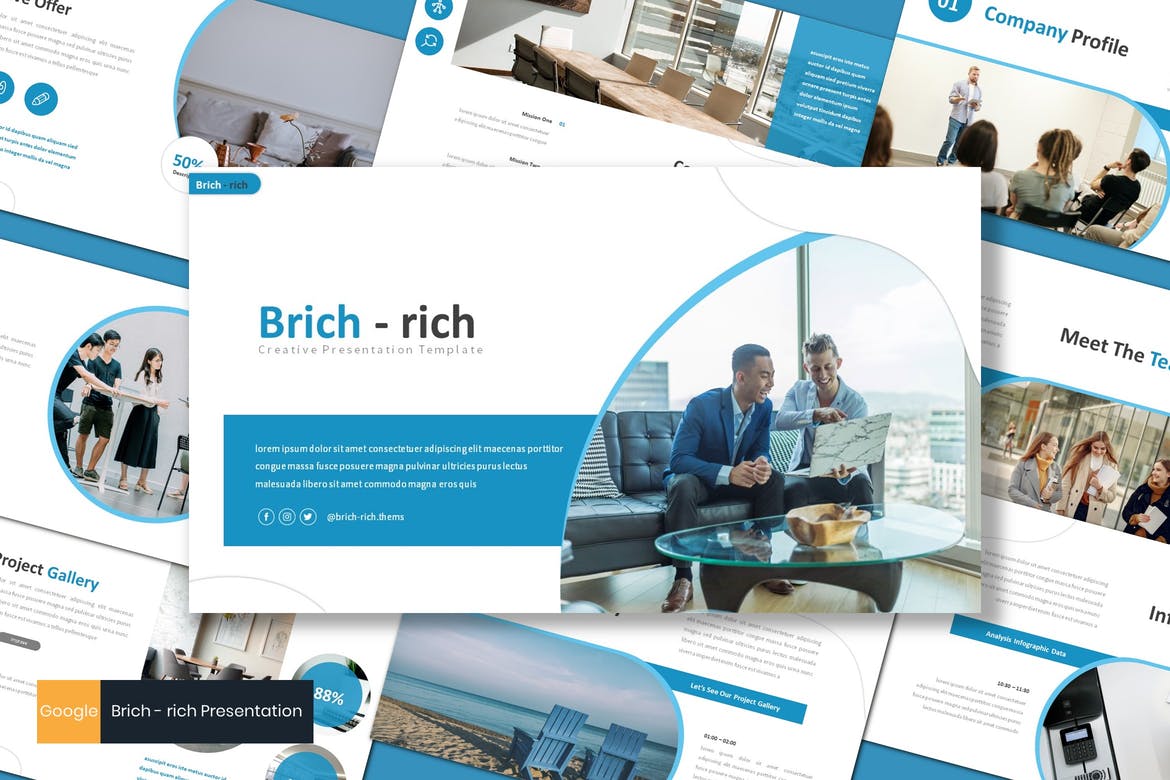 If you're looking for minimally designed, professional Google Slides templates that's suitable for a corporate audience, the Brichrich theme is a great option. This set of 30 modern slides is ideal for any industry and is sure to impress potential investors or clients.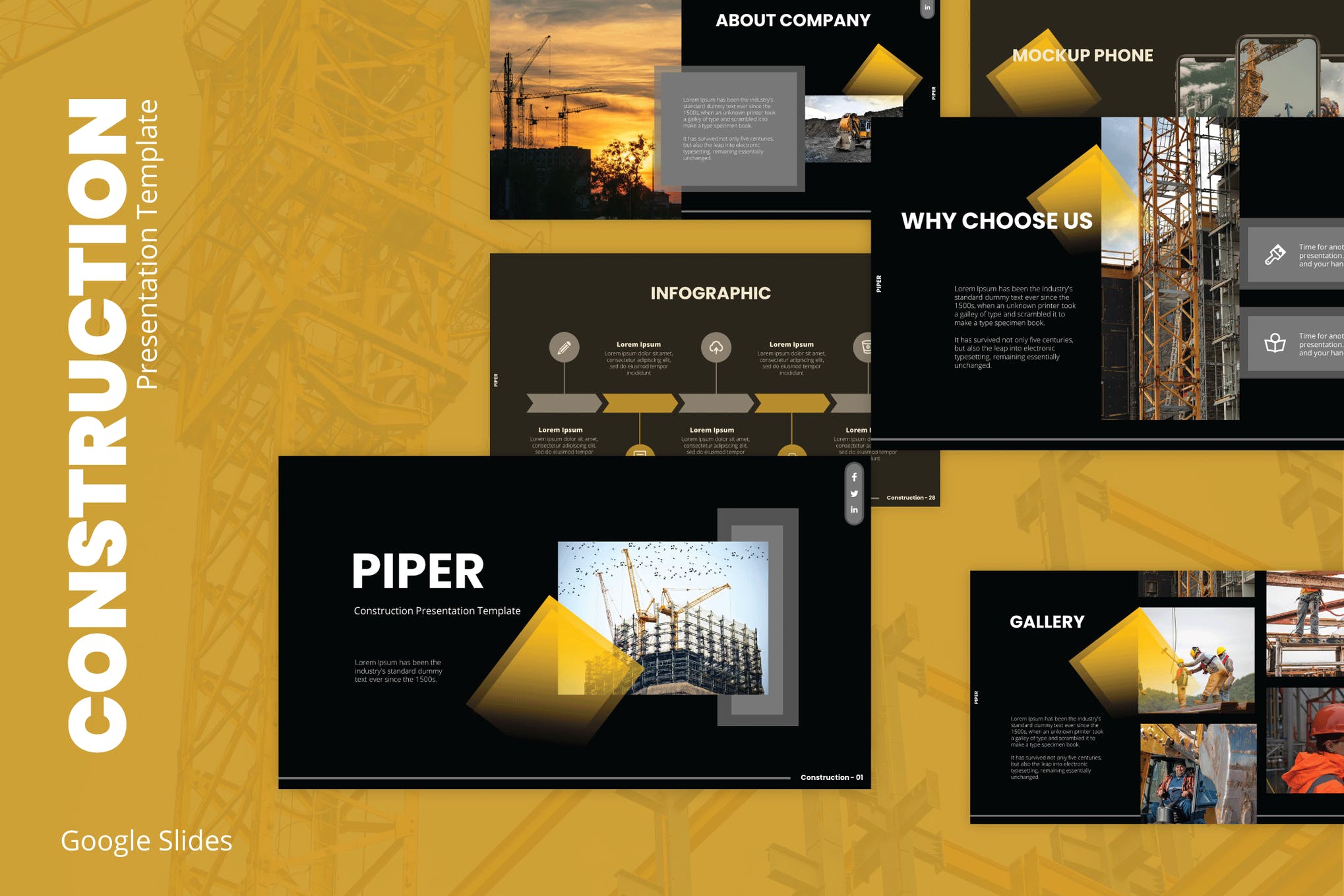 Perfectly suited for construction, and real estate companies, Piper is a clean, and stylish Google Slides template that you'll be hard-pressed to pass up. It features 35 remarkably unique slide designs, with a strong focus on typography.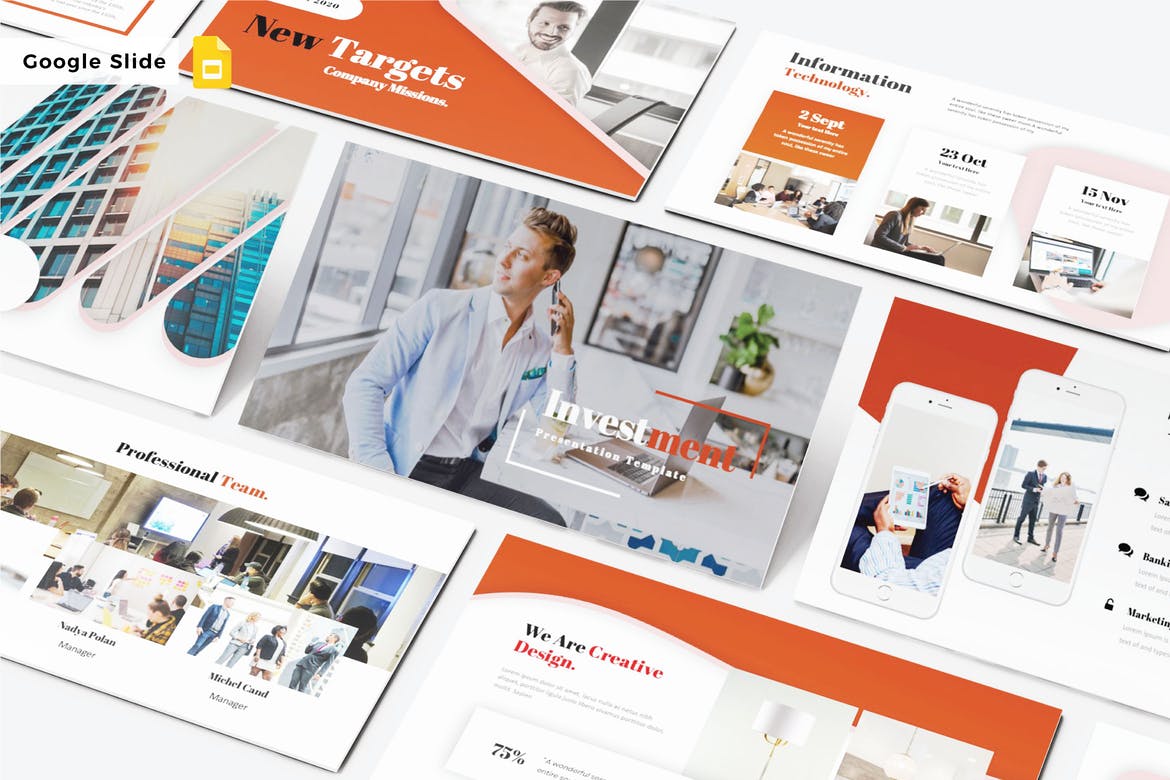 Next up we have a collection of 30 different slide layouts that have been specifically designed for use in the investment and finance industries and offer five different color schemes, image placeholders, fully editable vector elements, and a stunning minimal design.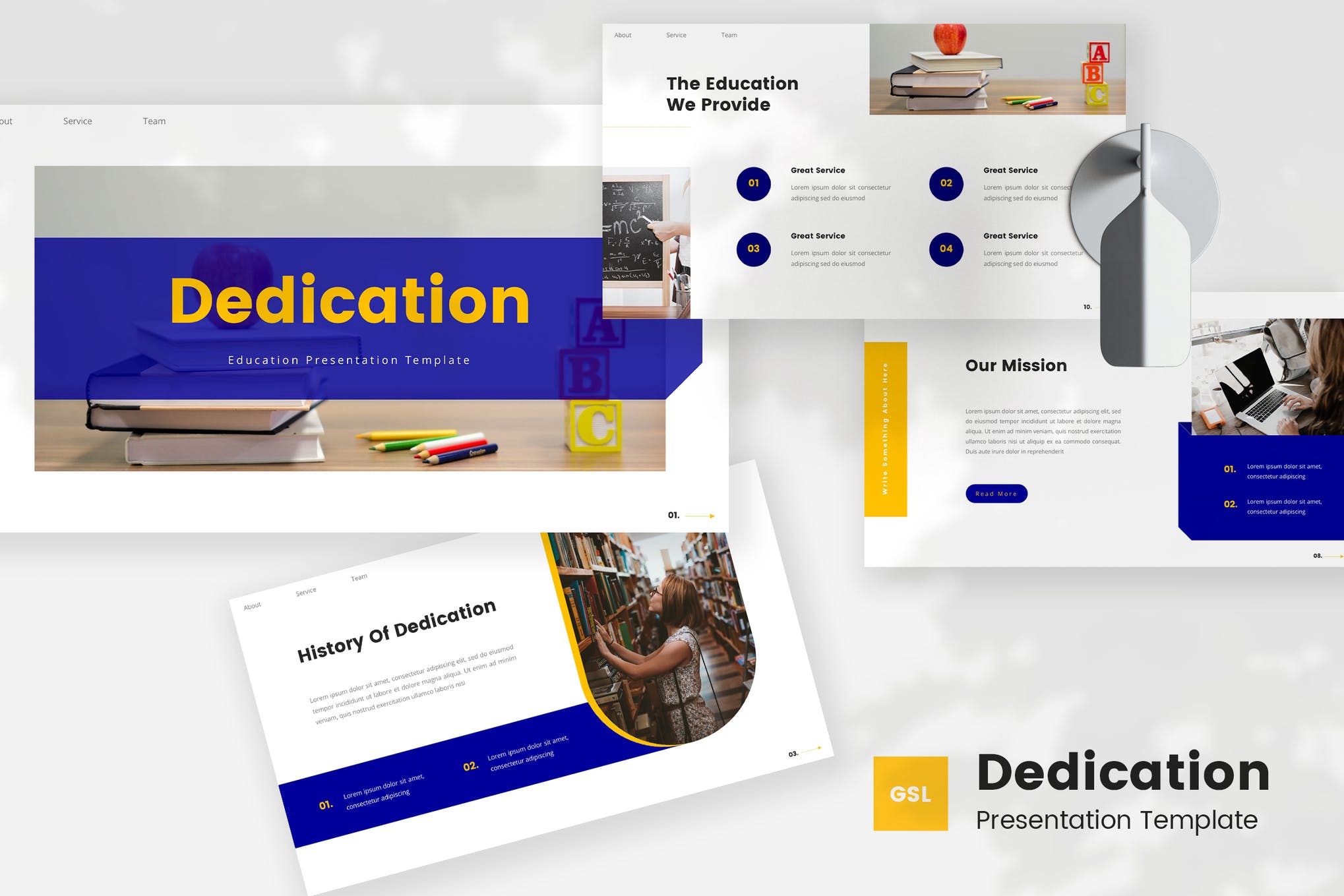 Dedication is a multipurpose template that works swimmingly for nearly any kind of business, or educational topic. It features a neat design, 30 slides, customizable elements, and a lot more; no wonder it's one of the most in demand professional Google Slides templates on the market at the moment.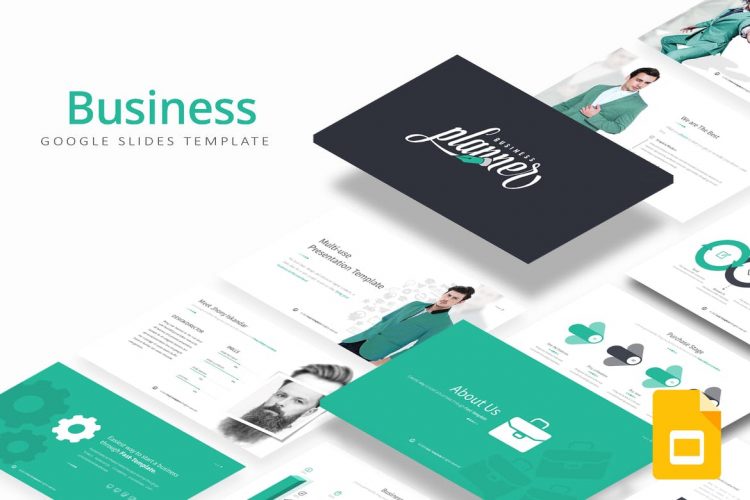 Our next example is a simple yet stunning set of slides with a gallery or portfolio-style format, featuring a clean, coordinated design and effective graphic elements. It comes with 30 unique layouts and five different color options, meaning that the entire colorway of the presentation can be customized with a single click.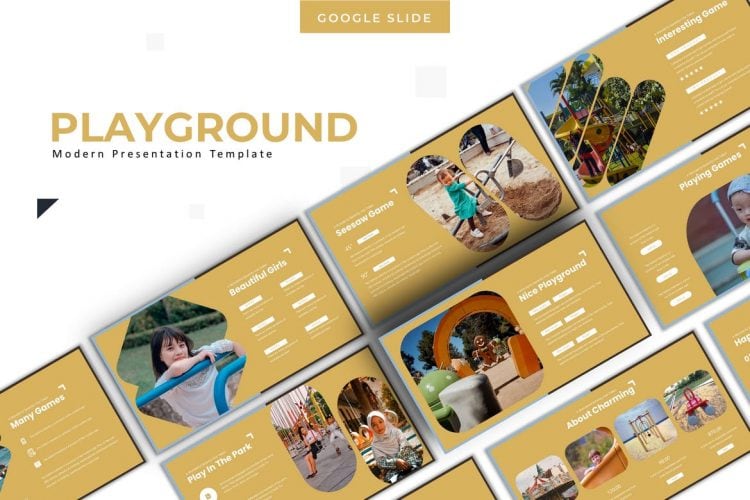 The "Playground" template, as the name suggests, is a fun, yet still a professional set of slides with pixel-perfect graphics, all of which are fully editable. It includes drag-and-drop picture placeholders and is laid out in a portfolio-style format, perfect for winning your next big project.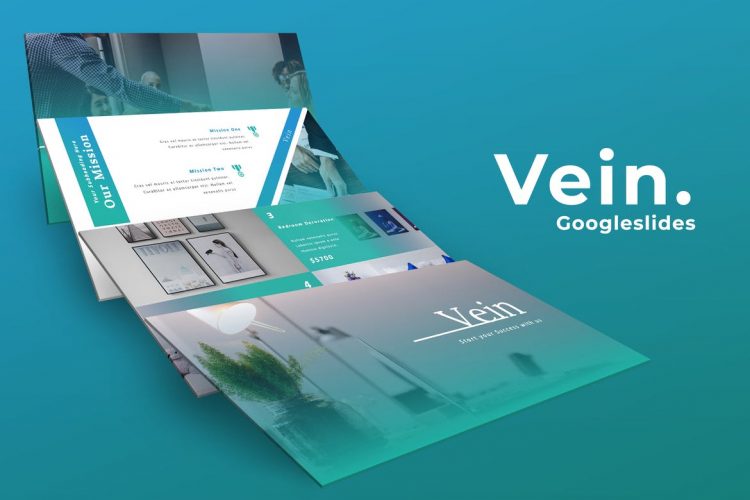 Our next option is a beautifully crafted collection of 50 unique slides, with smooth, elegant graphic design elements and a stylish, professional finish. It's perfect as a product pitch or marketing tool and comes in a 16:9 high definition widescreen format.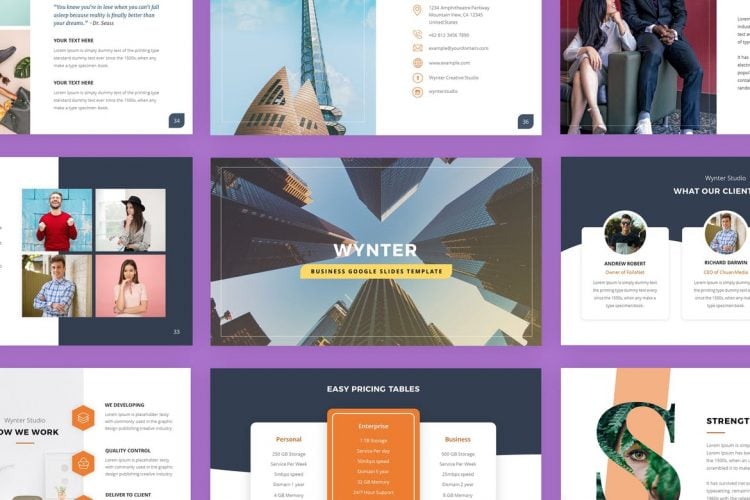 The "Wynter" template is a simple, modern option that features fun colors, clear typography and bold use of graphics and images, with the package including 38 slides and a range of customizable vector icons. It's suitable for practically any professional purposes, particularly for those in creative industries.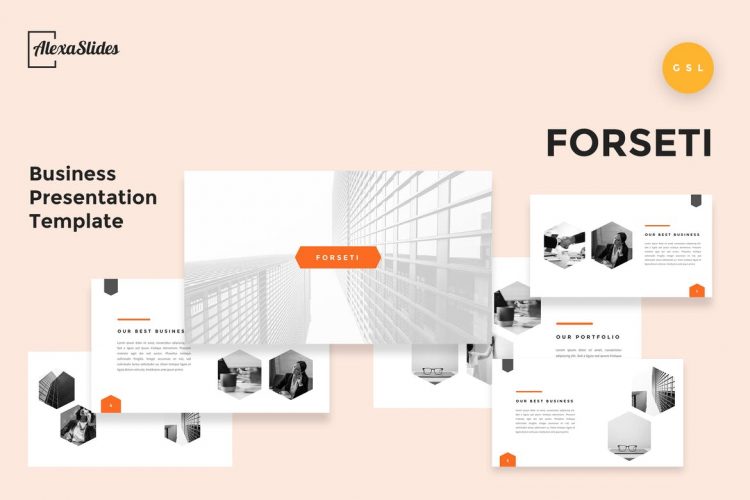 One of the most minimalistic professional Google Slides templates, this option is a clean, simple set of 30 modern-looking slides, and uses a splash of warm, inspiring color to give the presentation a fresh, coordinated feel.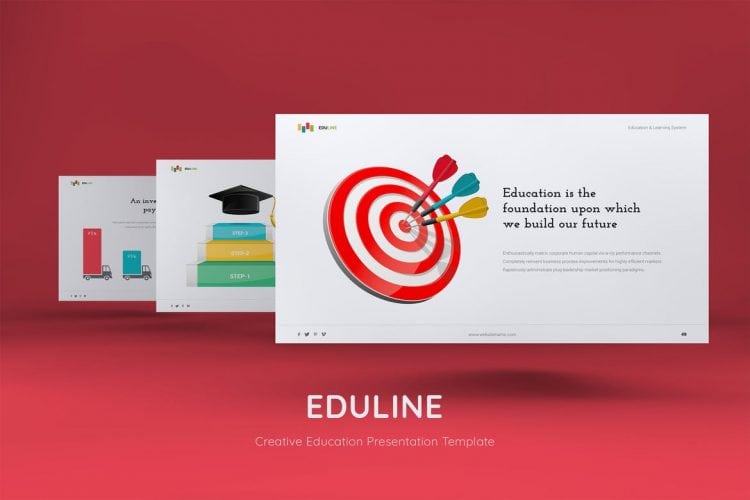 Created specifically for professional presentations in the education field, this template has been built on the back of research by design professionals and features a huge range of graphic elements to easily incorporate into your content and help you deliver a show-stopping presentation.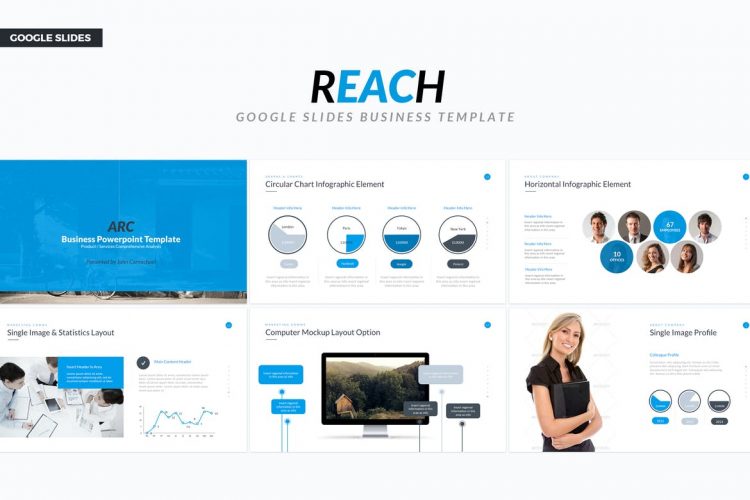 A classic, business-like option, this template features 79 unique slides with two different aspect ratios (standard and widescreen) and three premade color themes. It's incredibly easy to edit, thanks to the placeholder images and no-frills design, and is ideal for presentations in the financial or investment spaces.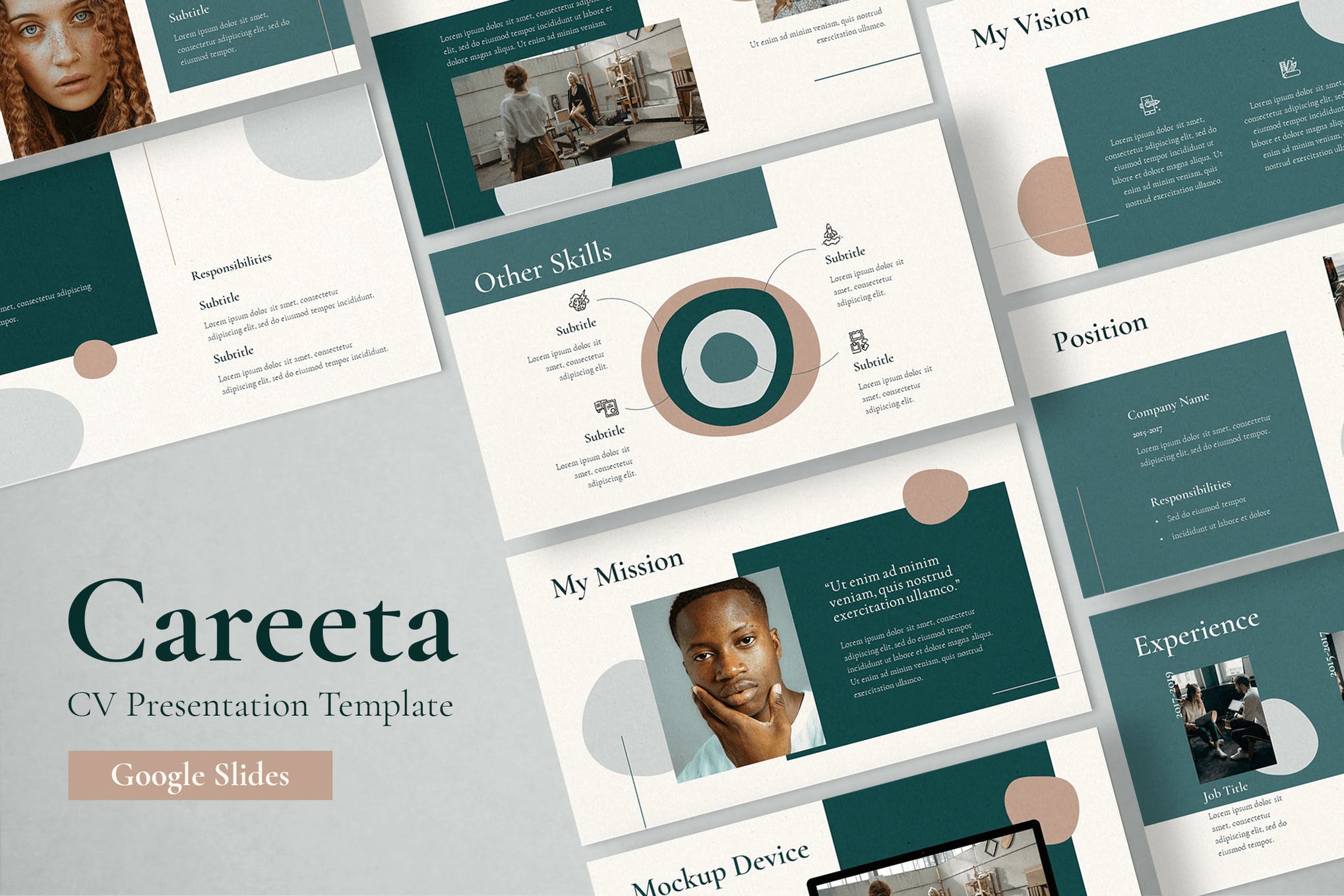 Careeta is a unique Google Slides template that allows you to transform your CV into a presentation. The slides are designed keeping in mind the needs of a job applicant, with a strong focus on showcasing your skills, and experience in the best light possible.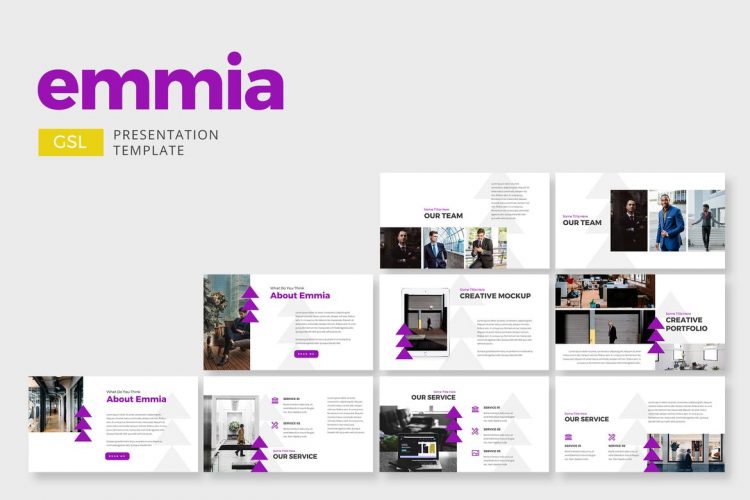 A fun and minimalistic set of 30 slides, the "Emmia" template is easy to customize and includes a wide range of editable vector icons and shapes. It's great for a company introduction, strategy briefing, or as a marketing or promotional tool to secure funding and win projects.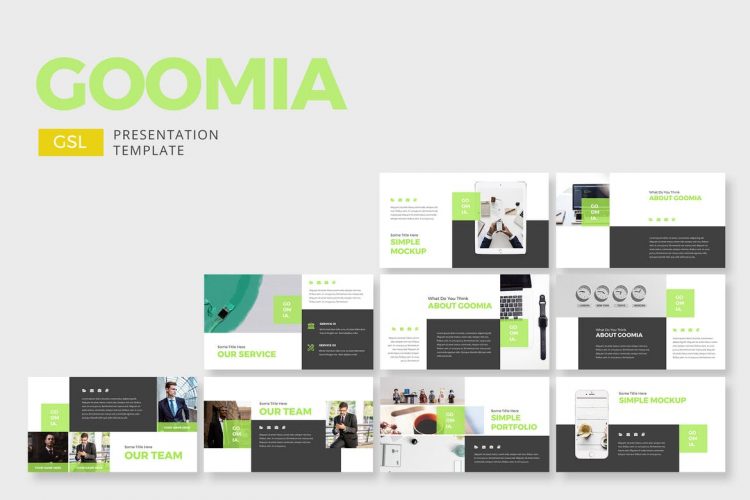 The eye-catching color coordination of these slides and the bold use of strong, angular graphics make the "Goomia" template one of the best business Google Slides templates to use if you really need to make an impression on your audience. The 30 slides are all fully editable and displayed in a 16:9 aspect ratio.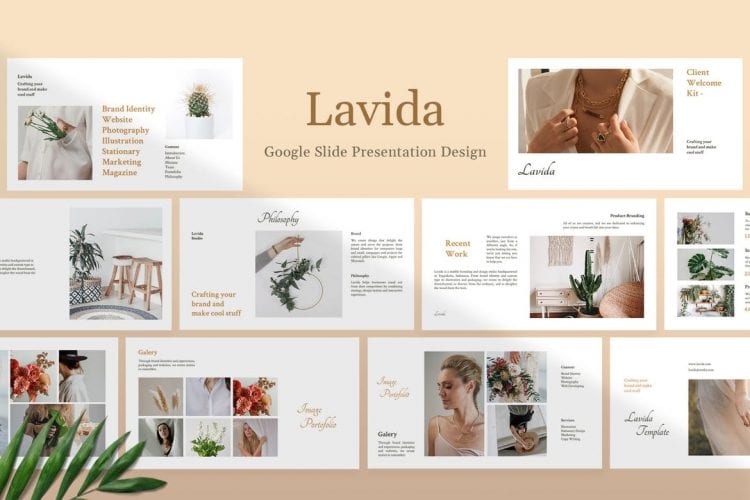 This template is a gorgeous, stylish set of 22 high-definition widescreen slides, and is perfect for businesses in the bridal industry, such as florists or make-up designers. The portfolio format and use of elegant typography, coupled with the subtle use of color, make it a strong choice for any fashion-minded professional presentation.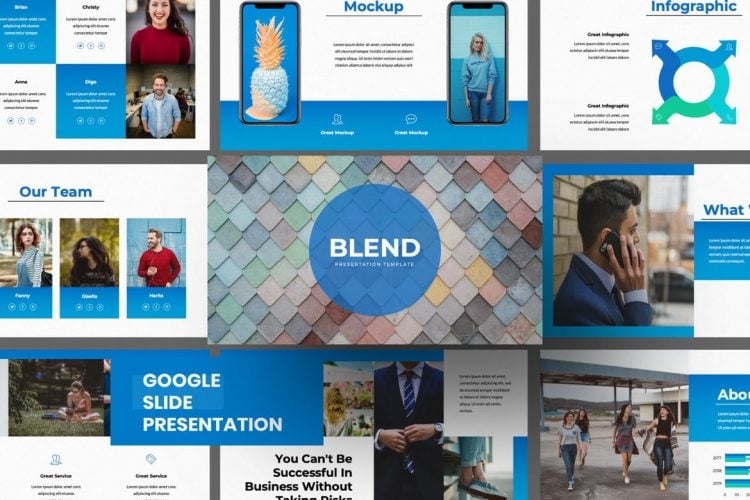 The "Blend" template includes 50 highly professional and ultra-modern slides, with interchangeable colorways and a huge variety of layouts incorporating text, images, infographics, and other design elements. It's also super easy to customize and is ideal for promotional or marketing materials.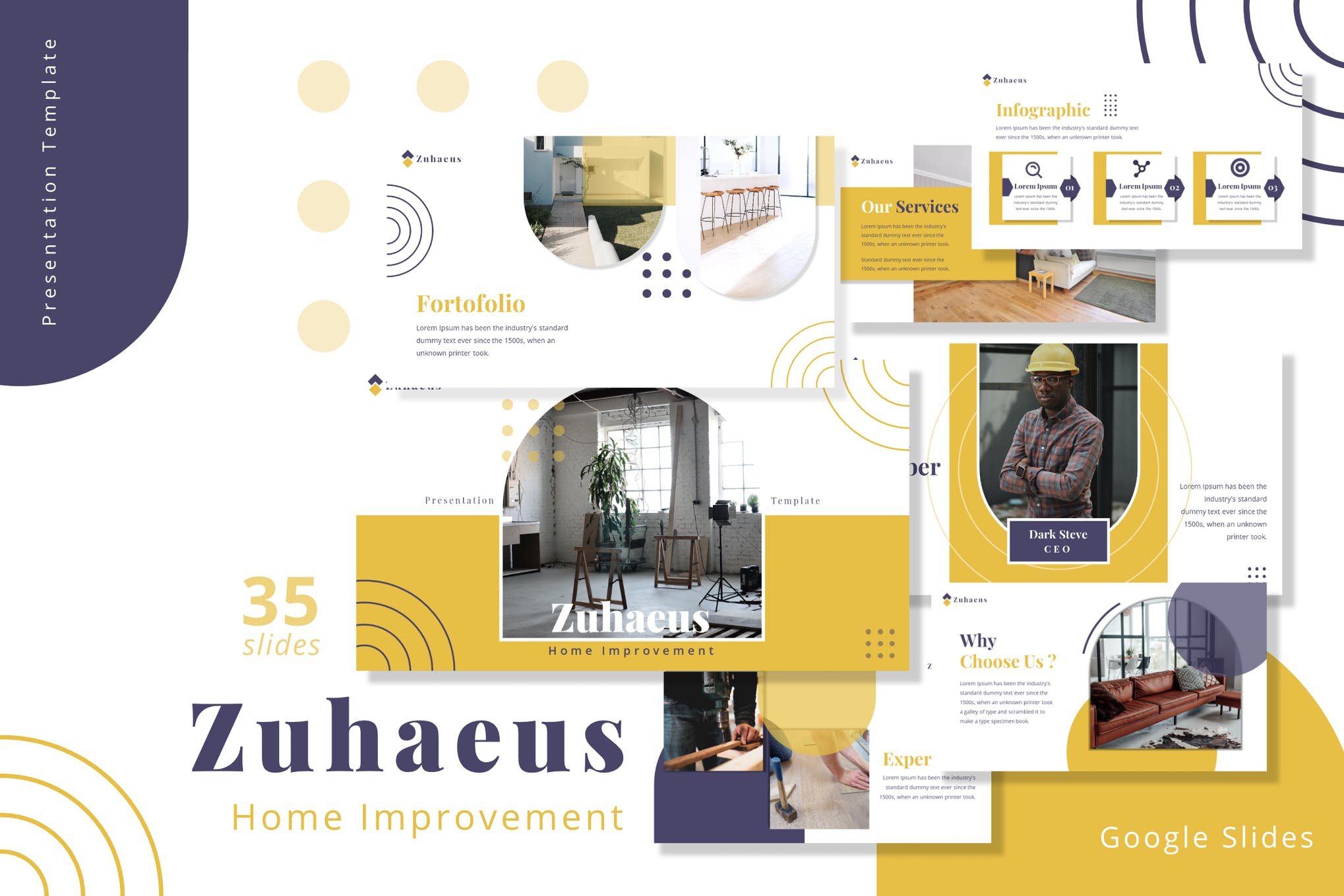 Whether you need a professional Google Slides template for your home improvement business or construction company, Zuhaeus comes in very handy. Featuring a simple, and sleek design, and slides that can be customized to your heart's content, Zuhaeus is a feature-rich template that you'll cherish for a long time to come.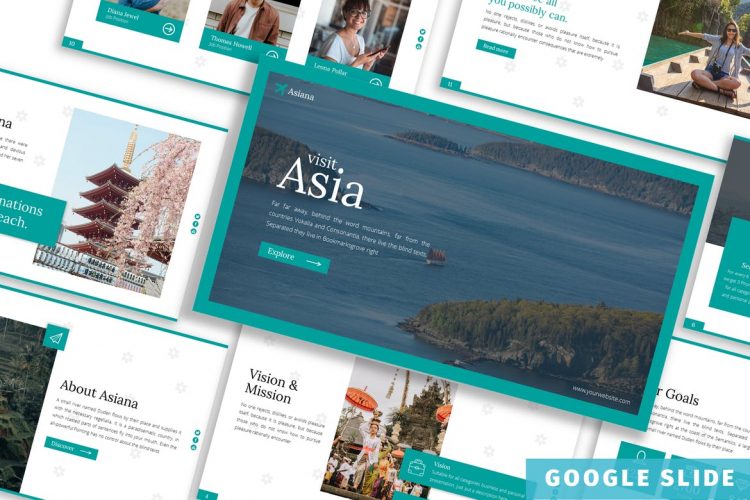 A beautiful choice for any marketing or promotional tool, particularly those relating to travel or event management, the cool, fresh tones and clean, simple graphics of the "Asiana" template will be sure to captivate your audience and sell them on your product or pitch before you even start speaking!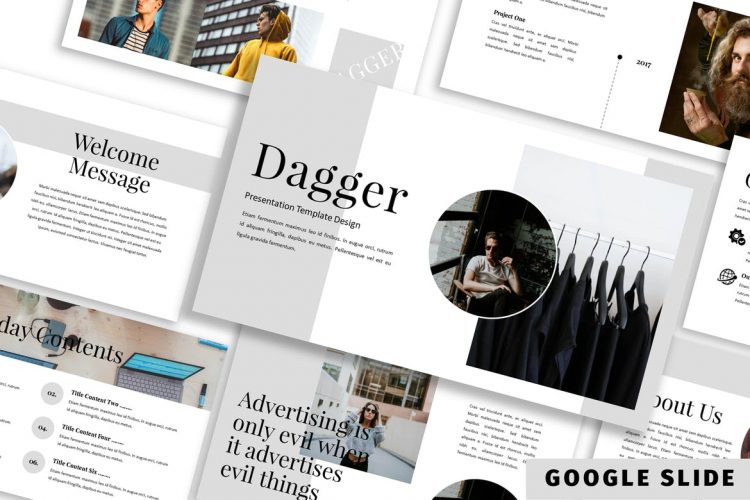 This set of 30 slides, each with five color variations, is a modern, stylish approach to a gallery or portfolio-style presentation, and is perfect for any kind of business – its widescreen format and simple yet polished design lends itself especially well to startups and entrepreneurs.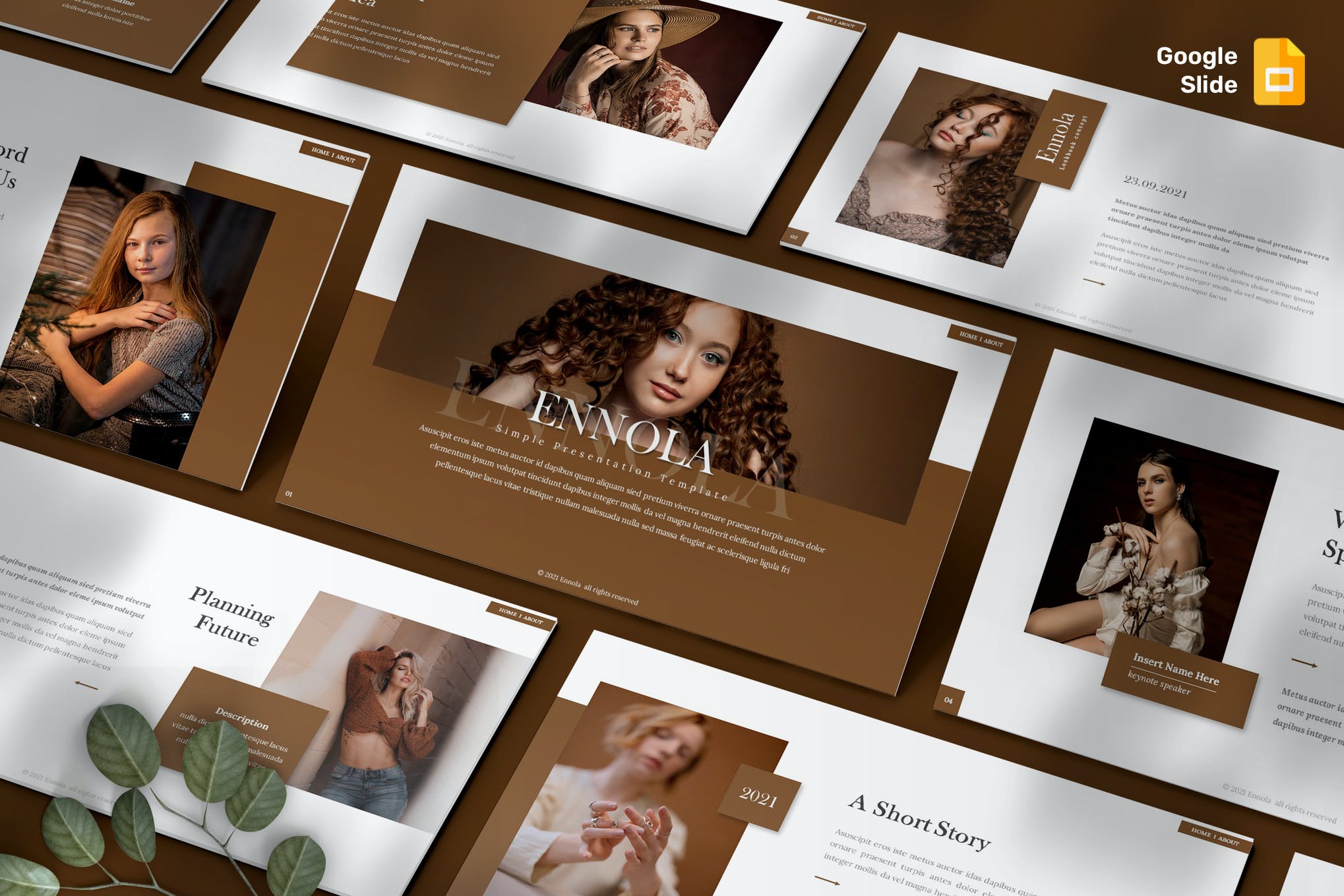 Ennola is a gorgeously designed lookbook template for creatives looking to blend in professional, and chic in their next presentation. It features more than a hundred slides for you to customize, and amazing features that you'll surely have a gala time playing around with.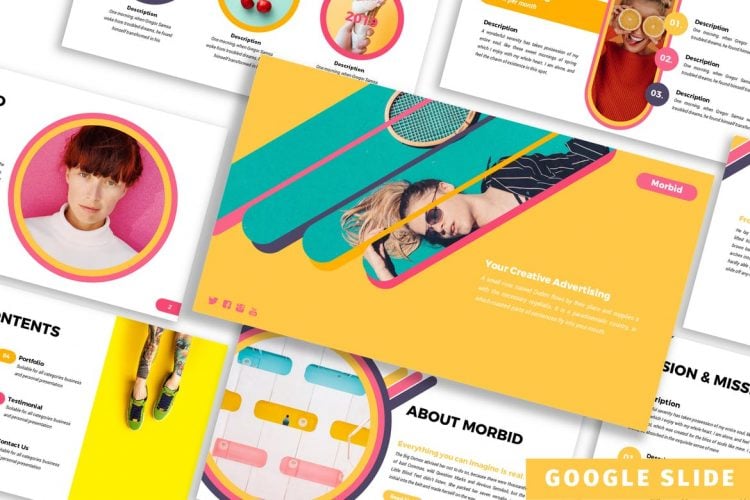 Make no mistake, the "Morbid" presentation template is anything but! One of the most colorful and dynamic professional Google Slides templates, the fun and daring design of these slides, is ideal for creative agencies and those in the entertainment industry.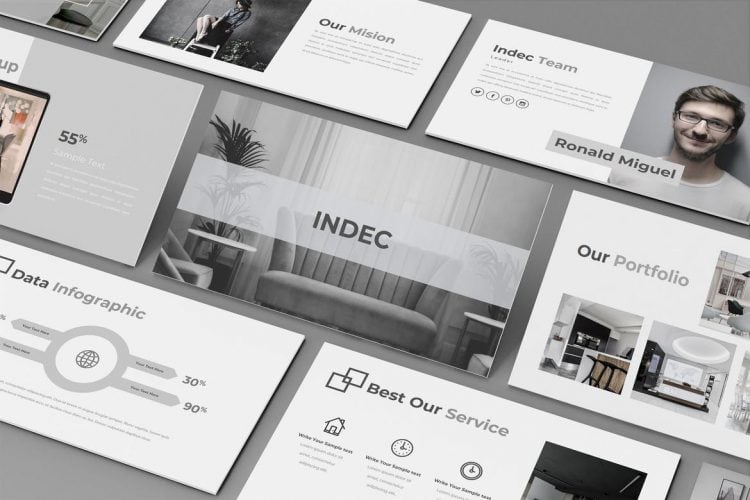 A sleek and elegant set of 46 slides, this template comes in three different color schemes and a 16:9 widescreen aspect ratio. It also includes picture placeholders, as well as fully editable graphic elements, for easy customization. The muted tones and understated typefaces will ensure that your content speaks for itself.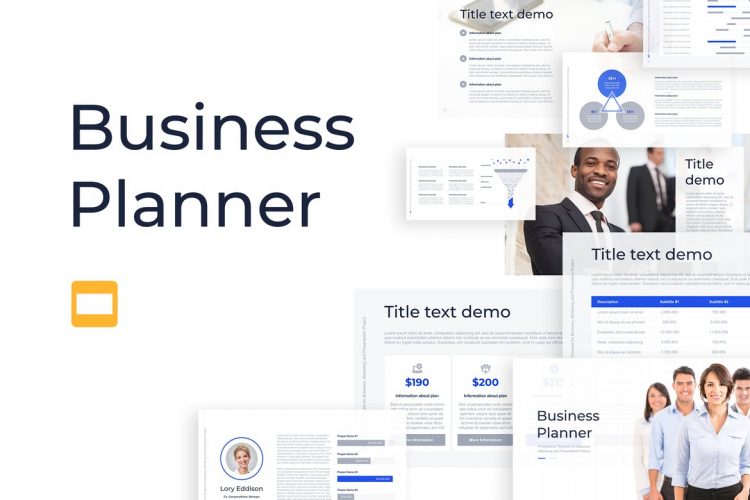 If you're looking for professional Google Slides templates that don't distract your audience from your brilliant project or irresistible pitch, this option is for you. With clean, basic design elements and subtle primary colors, these slides are the definition of a professional business presentation.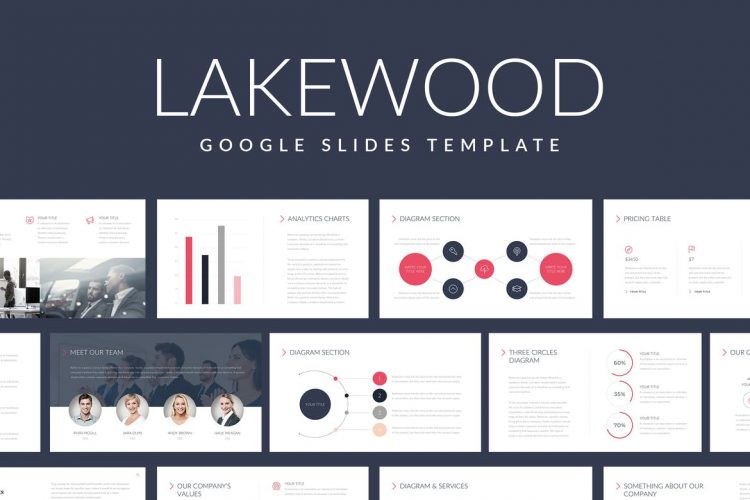 Clean, sophisticated, and undeniably professional, the "Lakewood" template is a popular choice for business presentations in financial industries and is easily adapted to your own corporate colors. It utilizes infographics and analytical text fields to deliver a high volume of information over a relatively small number of slides.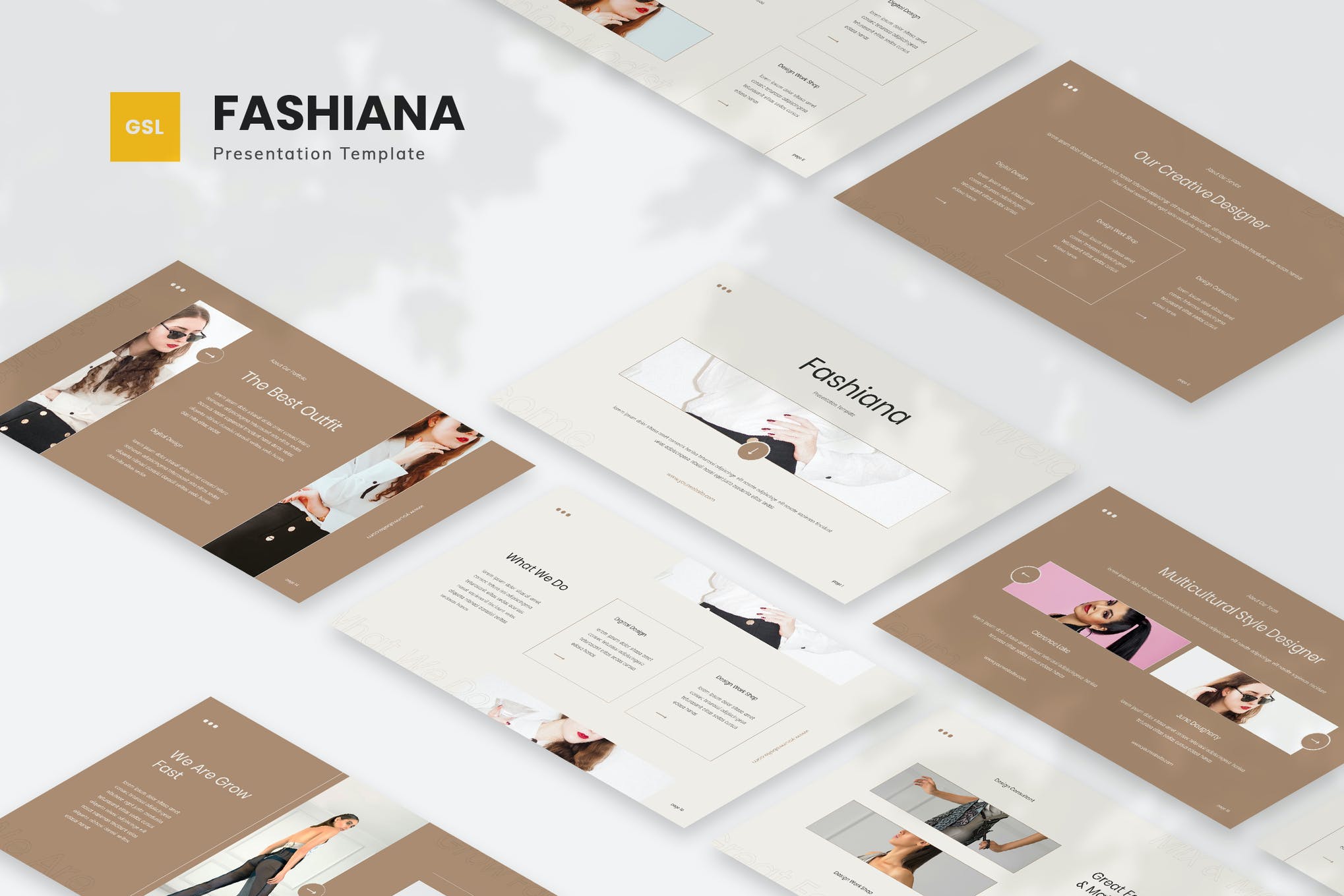 Featuring a simple, and elegant design, Fashiana is a business Google Slides template that utilizes a subtle color scheme, yet manages to bring a unique personality to the table. The theme is ideally suited for fashion businesses but is versatile enough to be used for virtually any other industry as well.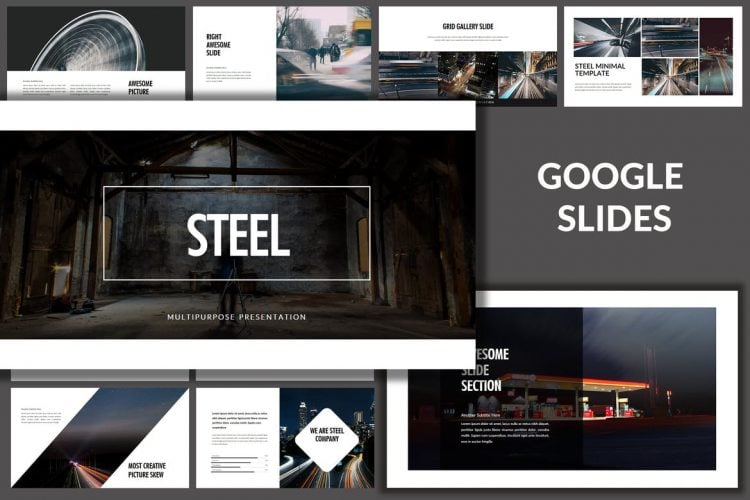 Dark, moody, and dramatic, a presentation using this template will instantly command the attention of its audience. With 47 unique, high-definition slides and a range of vector icons included, it's ideal for construction or manufacturing business purposes.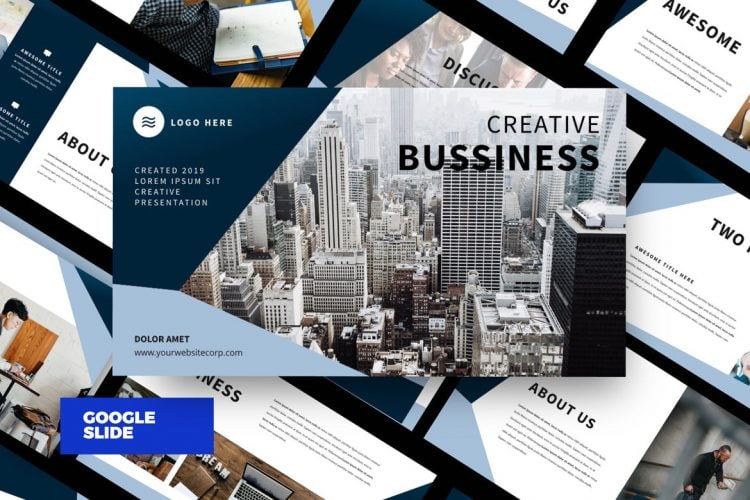 A stylish, minimal, and intuitive design, this template is highly versatile and fully editable, including 3D vector infographics and interchangeable color themes. This modern set of slides is ideal for pretty much any industry and can be easily customized to reflect your own branding.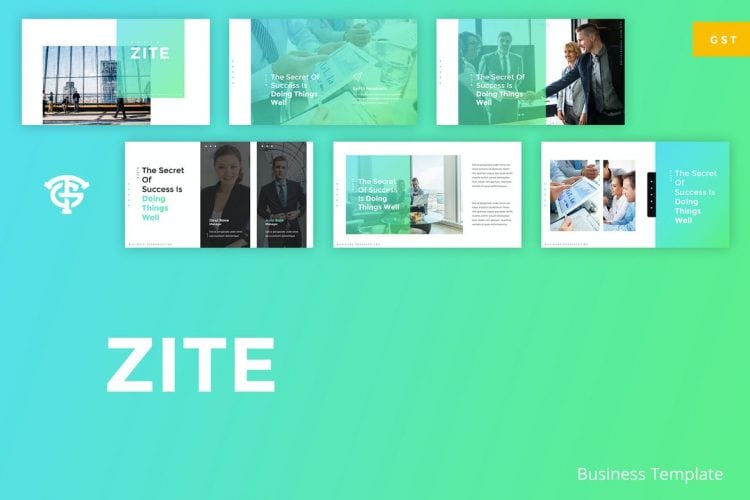 This vibrant and fresh-looking Google Slides template is great for a professional presentation that needs to make an impact! Featuring a creative color scheme, bold minimalist layouts, and a range of customizable vector shapes and icons, it's super easy to edit and comes in a 16:9 aspect ratio.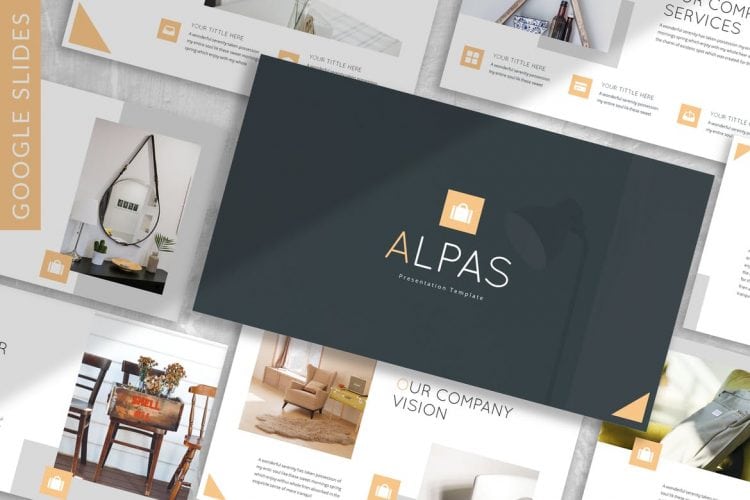 Modern, sleek and easy to customize, Alpas is one of the most versatile professional presentation templates for Google Slides. It comes in three different color schemes, as well as light and dark options and both widescreen and standard formats, and includes picture placeholders for simple editing.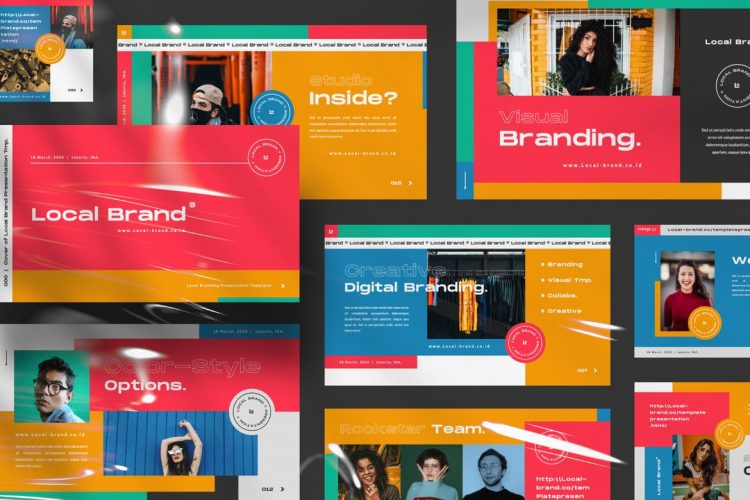 The Local Brand creative business Google Slides presentation template features bold primary colors, futuristic typefaces and interesting graphic elements to create a unique and modern design that can be used across a range of industries. It includes 50 individual slides, all of which are fully editable and easy to customize.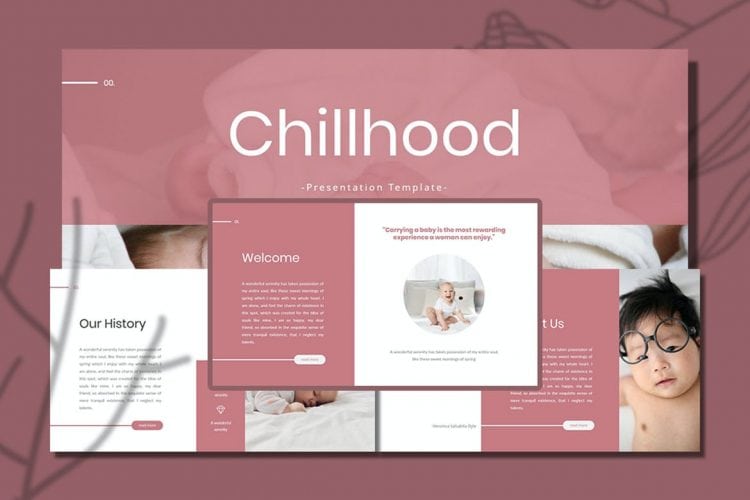 This stunning Google Slides theme is a perfect example of creative minimalism, and is a great option for your next professional presentation. It can be used for pitches, portfolios, company profiles or marketing tools, and comes with fully resizable and editable graphics over 36 unique slides.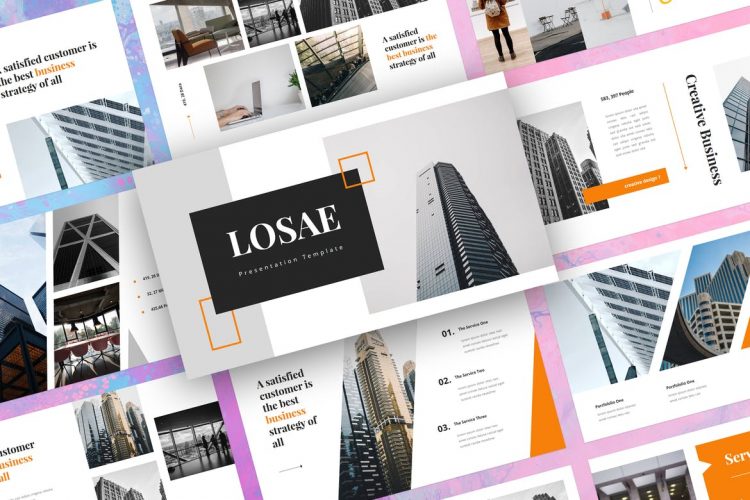 Simple and modern, the Losae professional Google Slides template includes 54 individual slides, each with an array of customizable graphics, high-quality web fonts, picture placeholders and a bold, eye-catching color scheme. It's a particularly great option for a creative agency or marketing firm, and also makes a brilliant lookbook or portfolio template.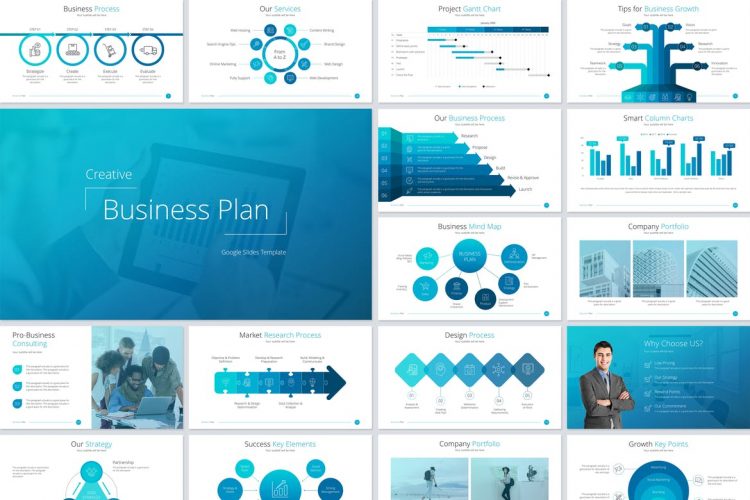 Finally, this template's monochromatic design and clean, modern layouts are perfect for a startup or any business in the technology or communications industries. It includes an incredible 700 slides, featuring a huge range of predesigned formats.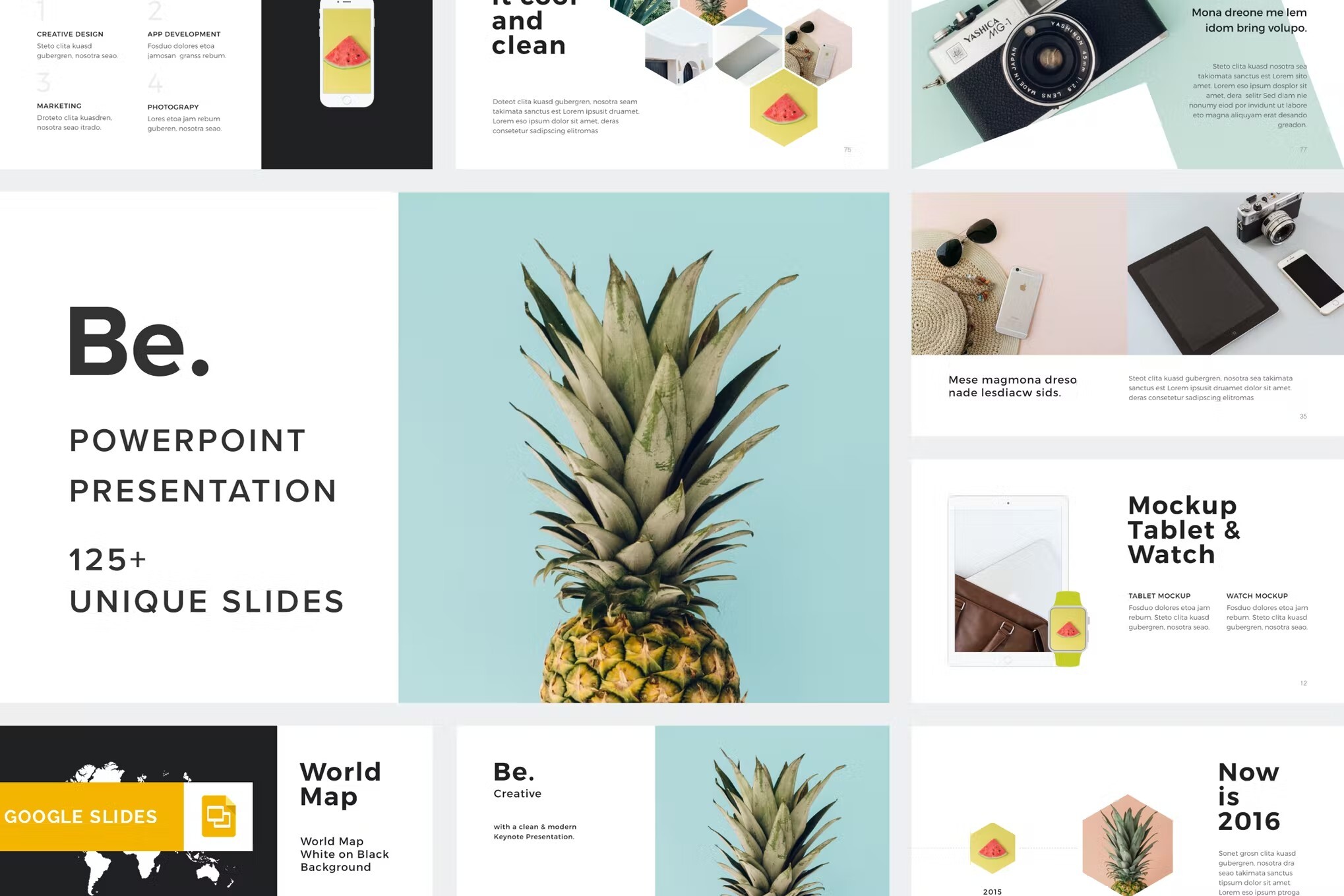 Be is a professionally crafted Google Slides theme that comes in Full HD 1920 x 1080px resolution. It includes over 125 unique slides with drag-and-drop editing. You can easily upload this template to Google Slides and edit them online.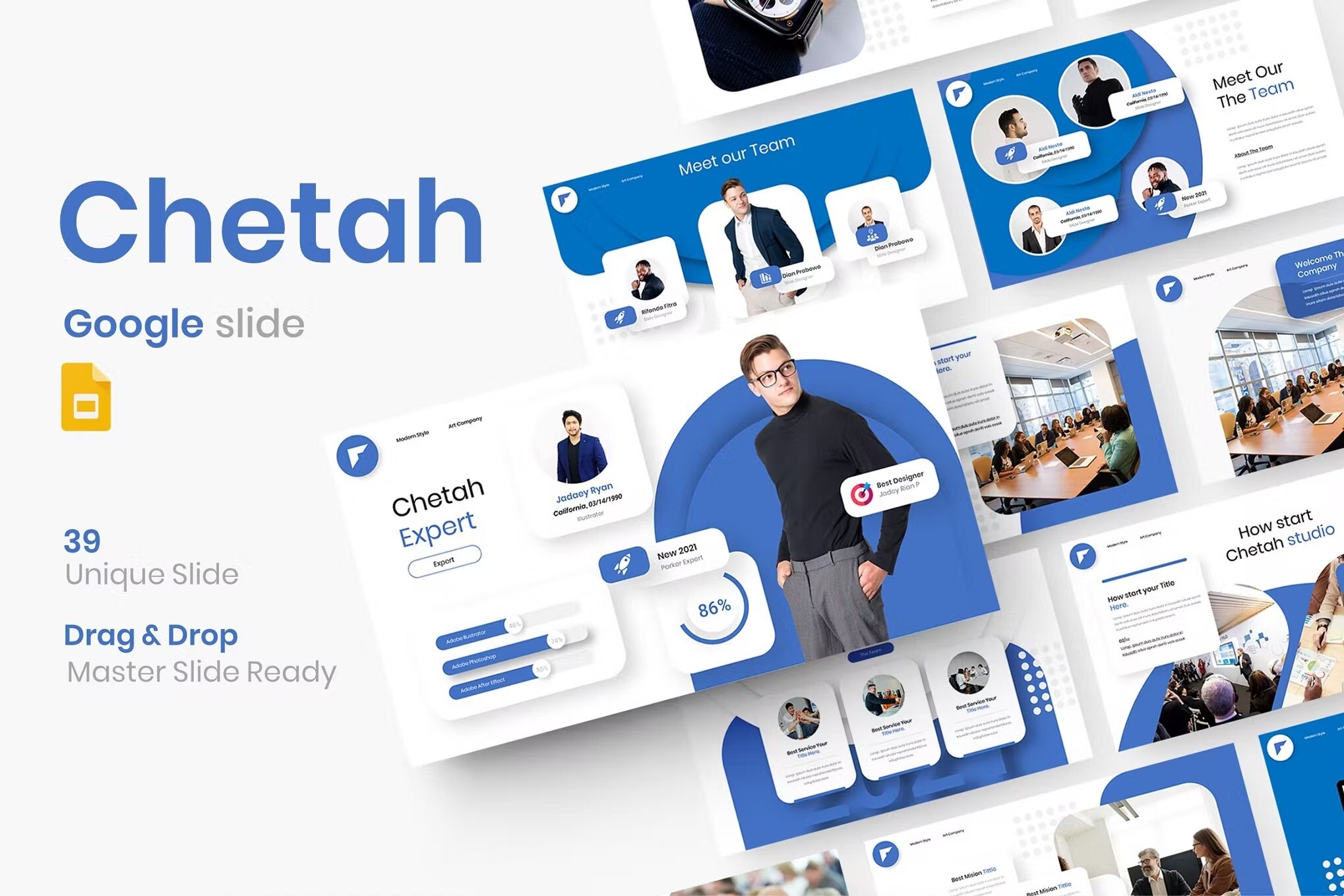 If you're looking for a Google Slides template to design a presentation for your business, this template will provide a fresh start. It features a modern and professional design in all of its 39 slide layouts. The template includes lots of editable vector graphics and master slide layouts.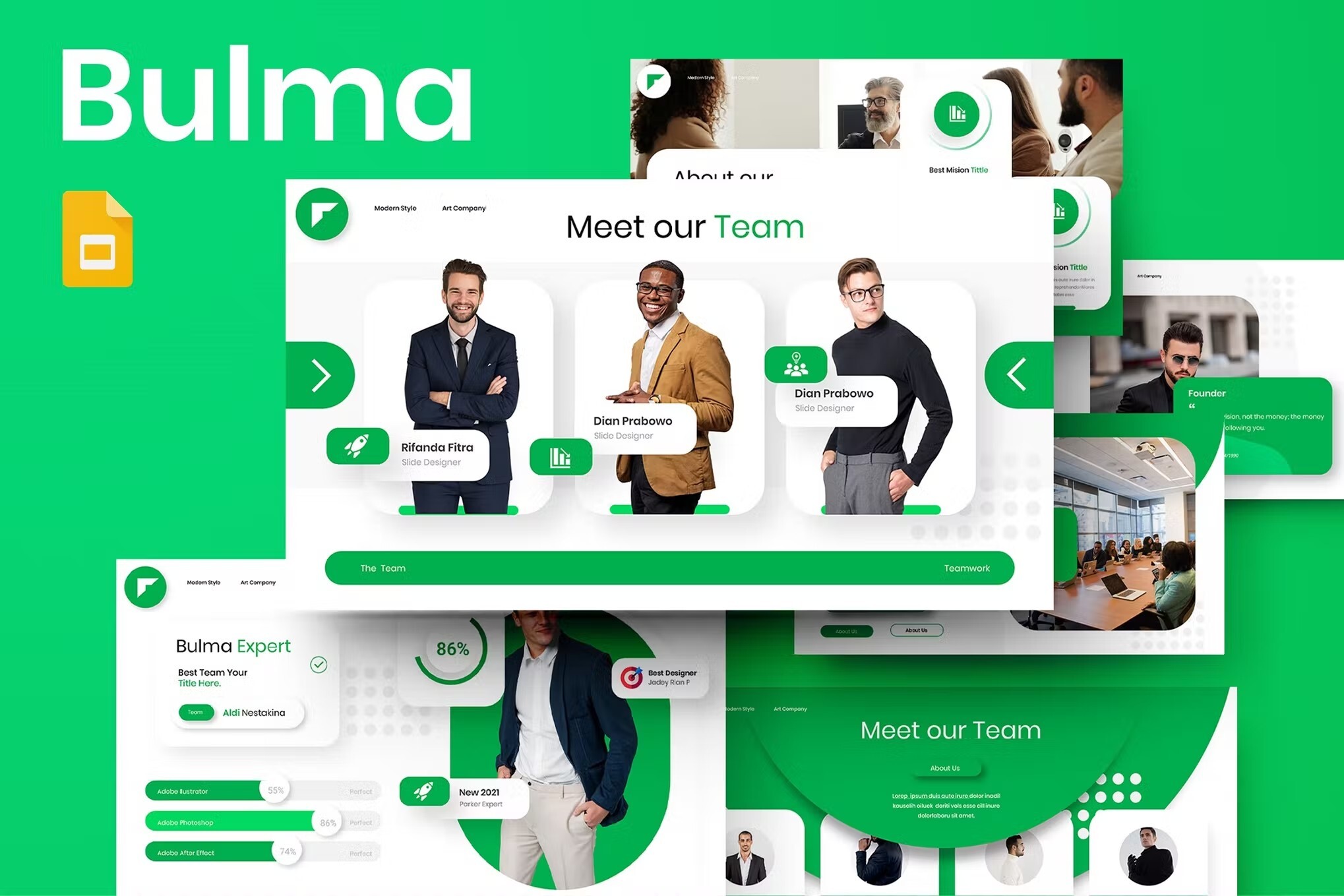 Bulma is another professional Google Slides template made for corporate brands and companies. It's ideal for making presentations for corporate meetings and events. The template comes with 39 slides with fully editable designs and image placeholders.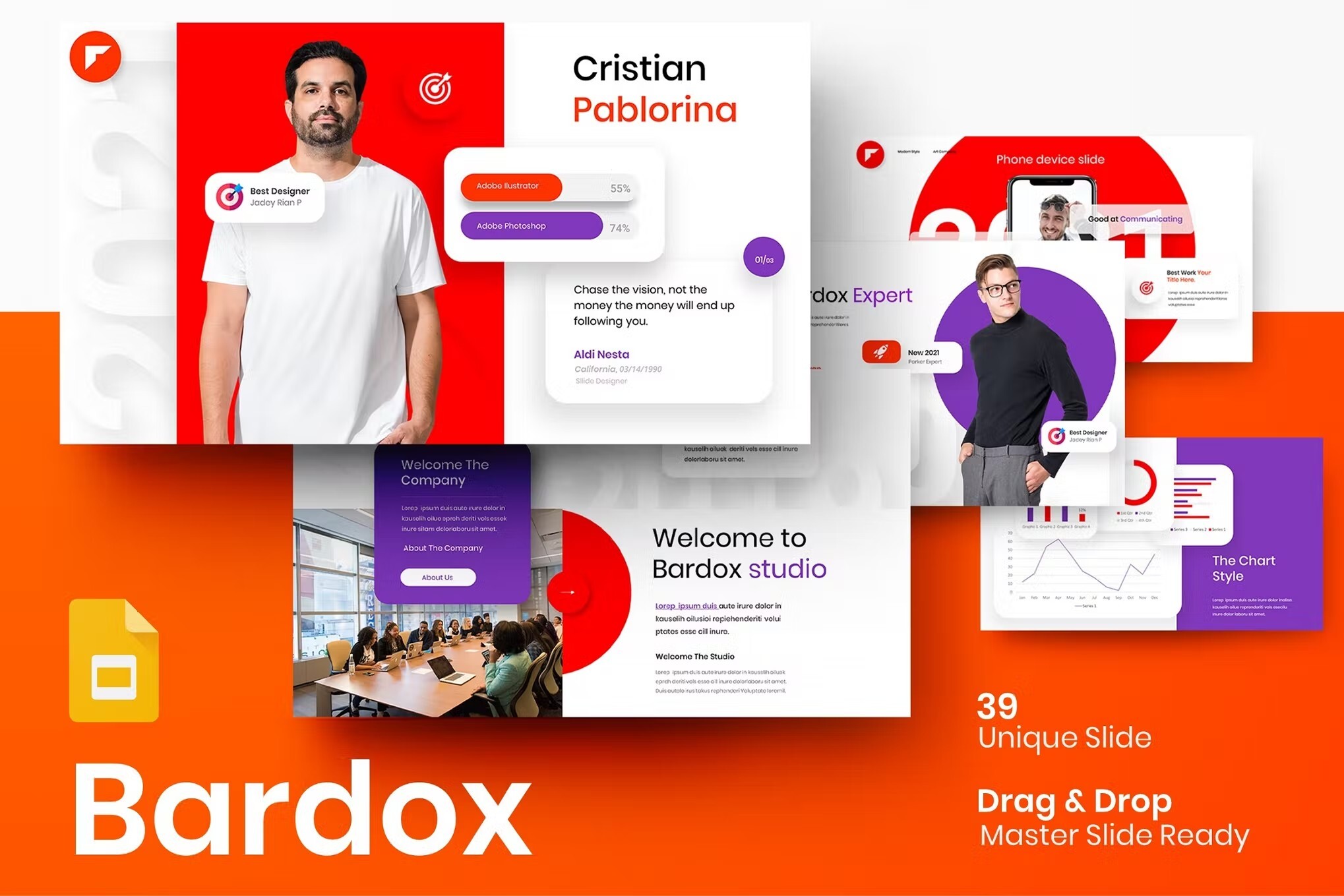 This Google Slides template features a very creative and stylish design that makes it a great choice for agencies and creative brands. The template has master slide layouts that you can use to create your own unique slides. It has a simple drag and drop design as well.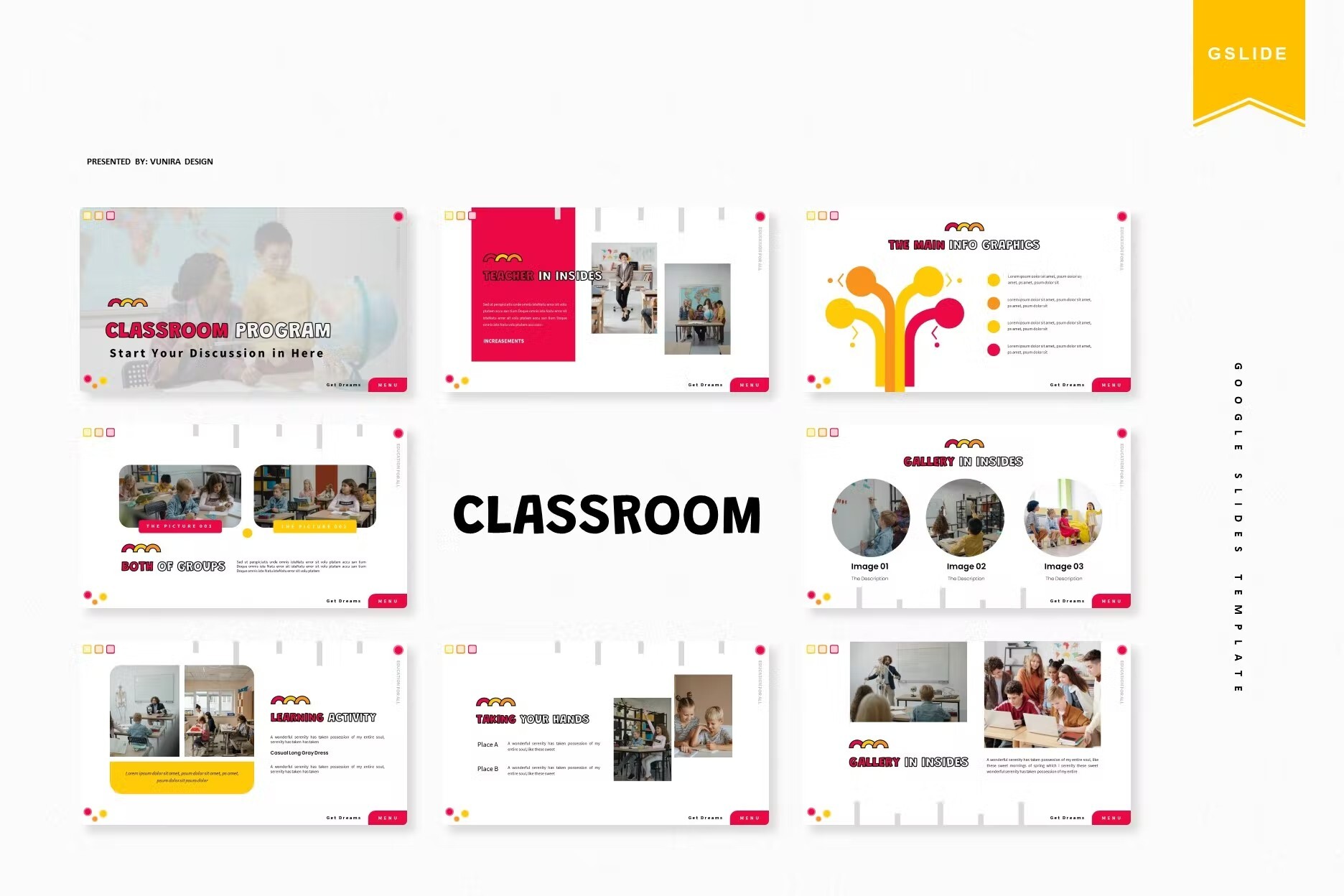 You can use this Google Slides template to create presentations related to educational institutes. The template includes a total of 150 slides featuring 5 pre-made color schemes to choose from. It's great for promoting your learning programs, classes, and other school activities.
Best Free Professional Google Slides Templates
Low on budget and can't afford a premium template? Then try these free Google Slides templates.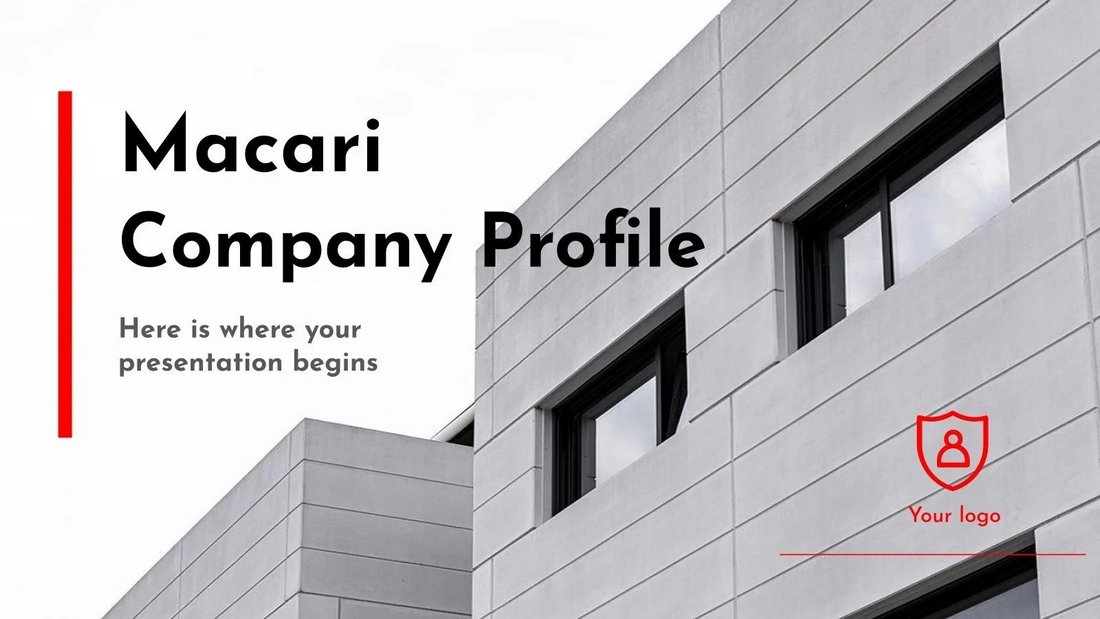 Even for a free Google Slides template, this slideshow has everything you need to design professional presentations for various types of businesses. It includes 39 unique slides with useful layouts for both small business and corporate slideshows.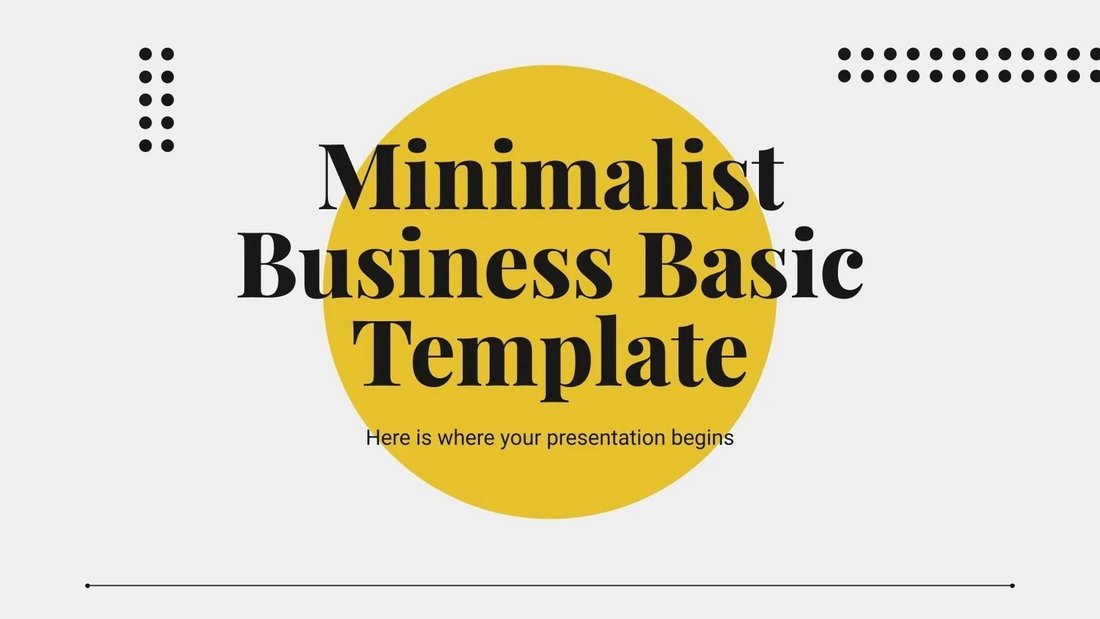 If you prefer using minimalist designs for presentations, this Google Slides template is made just for you. It comes with a bold and clean slide design for modern business presentations. There are 13 unique slides in this template.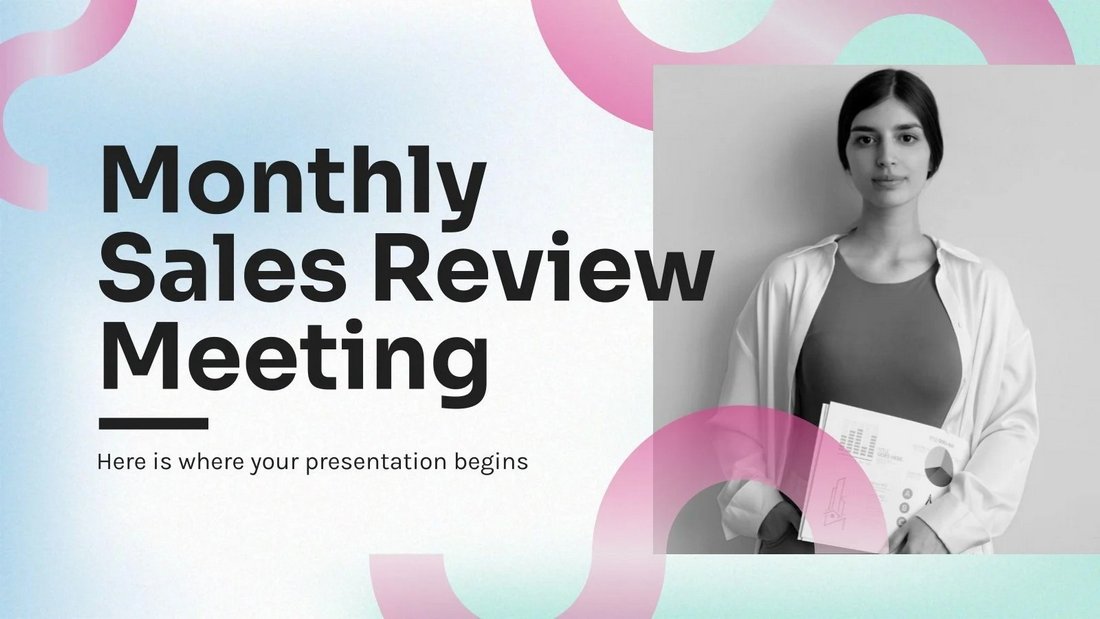 This free Google Slides template is perfect for making presentations for your monthly review and sales meetings. The template has 26 different slides with fully customizable colors, fonts, and images.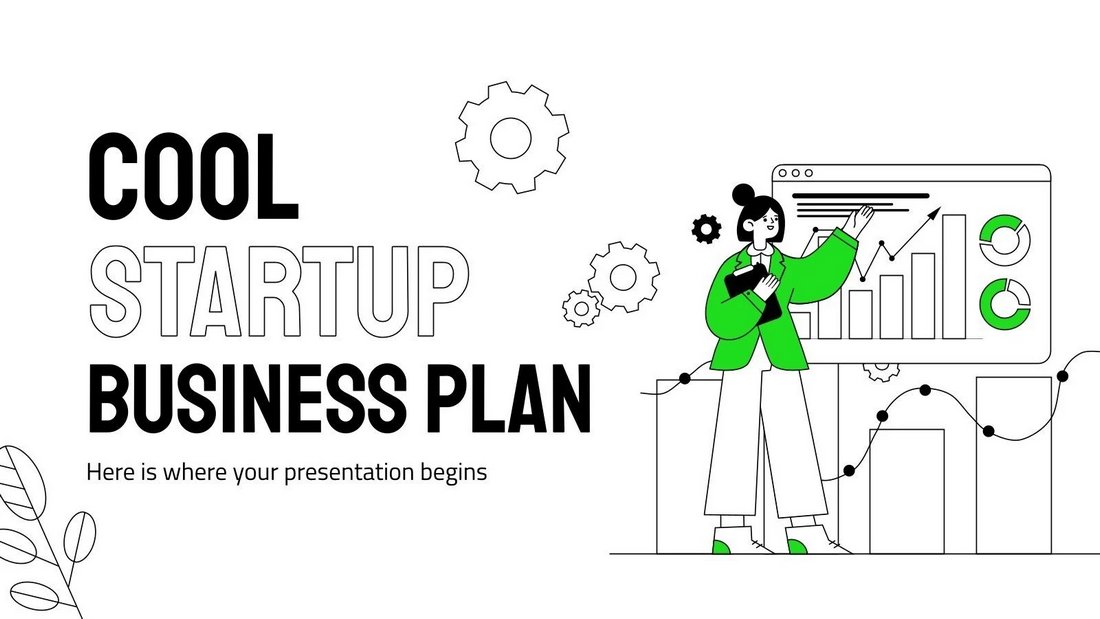 You can use this Google Slides template to design a creative business plan presentation for a startup or small business. It has 37 unique slide layouts full of creative illustrations, colors, shapes, and lots more.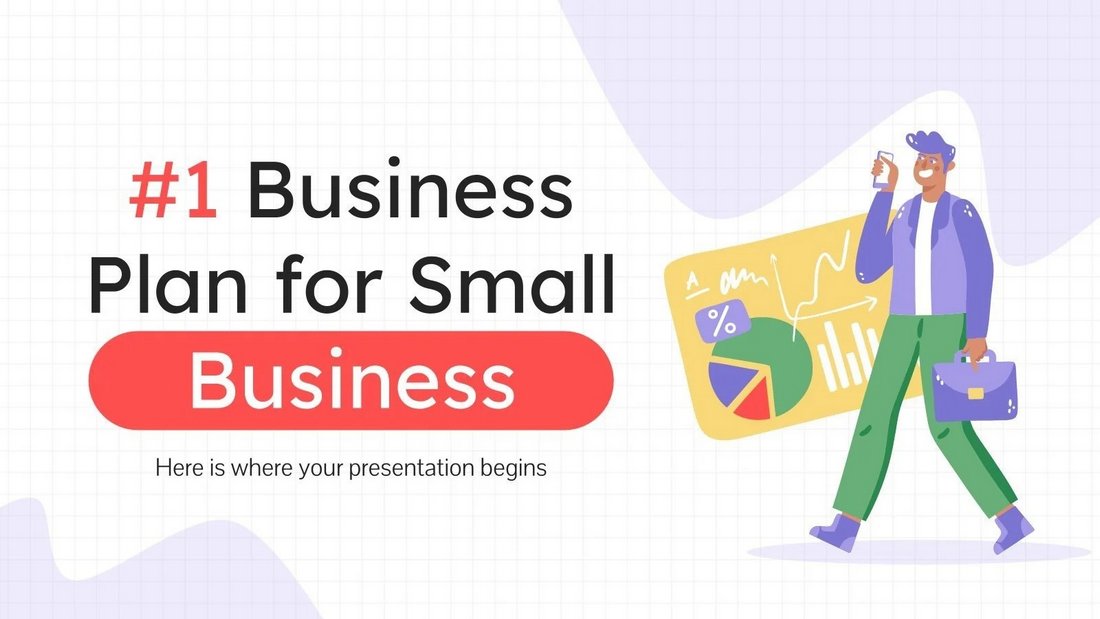 Design a creative and colorful business plan for your brand using this free Google Slides template. It comes with 35 different slides featuring colorful shapes, image placeholders, and illustrations.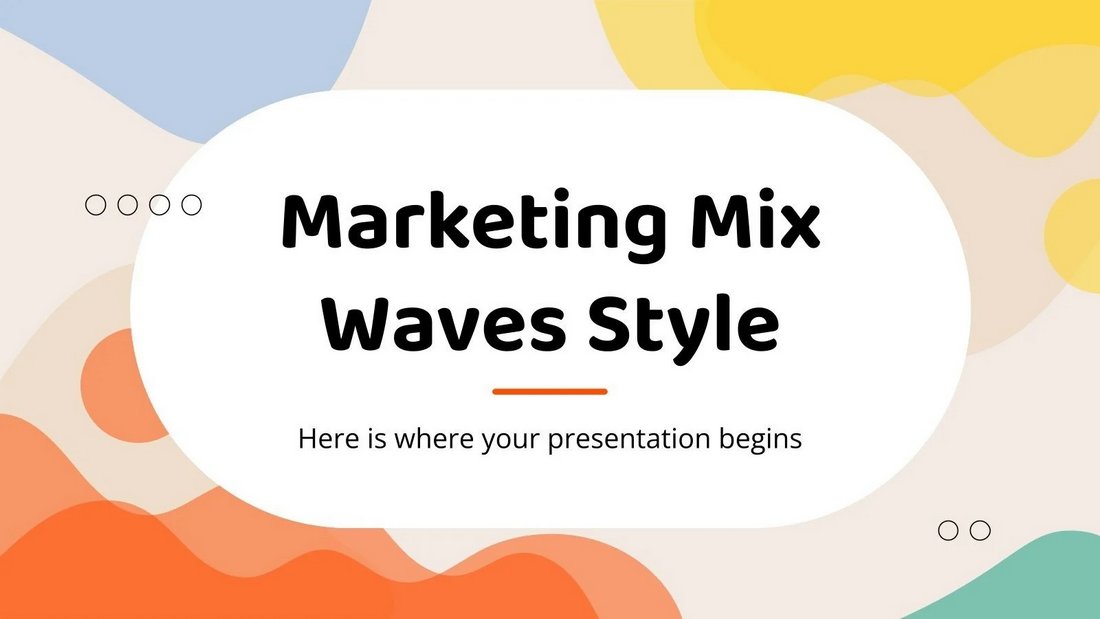 This free Google Slides template includes a set of multipurpose slides. You can use them to design all kinds of marketing-themed presentations. There are 35 unique slides in this template with editable graphs, charts, and more.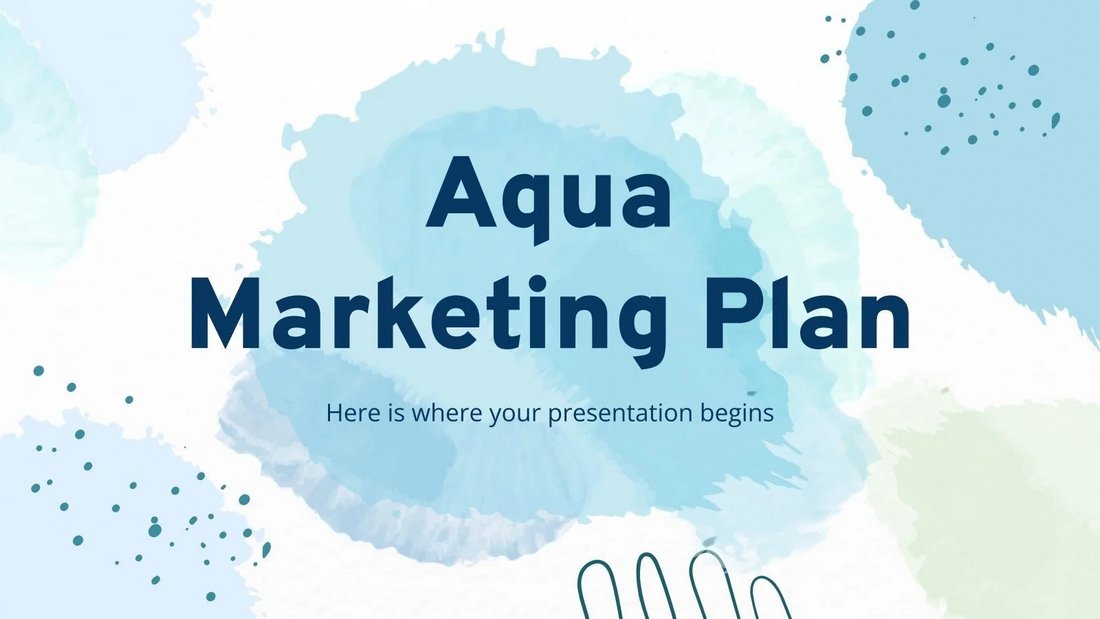 This Google Slides theme features a stylish watercolor design that will surely attract the attention of your audience. It includes 32 different slides with editable fonts, colors, and shapes. The template also comes in five different color schemes.
Now you've got the tools to create a stunning and effective presentation, it's time to get out there and show them what you've got! With this list of the 20 best professional business templates for Google Slides, you'll be able to create the perfect presentation in minutes. Not only will you save yourself a tonne of time and effort, but your audience will be blown away.