25+ Best Landscape Lightroom Presets (For Pro Landscape Photos) 2023
If you are someone who takes landscape pictures, you may have often found yourself wondering how to edit landscape photos in Lightroom. One of the most common Lightroom landscape tips out there for hobbyists and professionals is to get your hands on great landscape Lightroom presets.
Yet finding good options can be a struggle. With the extensive nature of the Lightroom presets market, it's easy to get lost in a long list of other preset styles, and wasting valuable time you could be out taking new and exciting landscape pictures.
It's, for this reason, we've decided to compile a list of premium landscape Lightroom presets, as well as some free options making sure to cover all of the landscape picture styles you could never encounter.
With our list of the best preset options out there right now, never again will you be stuck wondering how to edit landscape photos in Lightroom.
Get everything you need to supercharge your Adobe Lightroom workflow. From just $16, get unlimited access to thousands of Lightroom presets, Photoshop actions, templates, graphics, fonts and photos.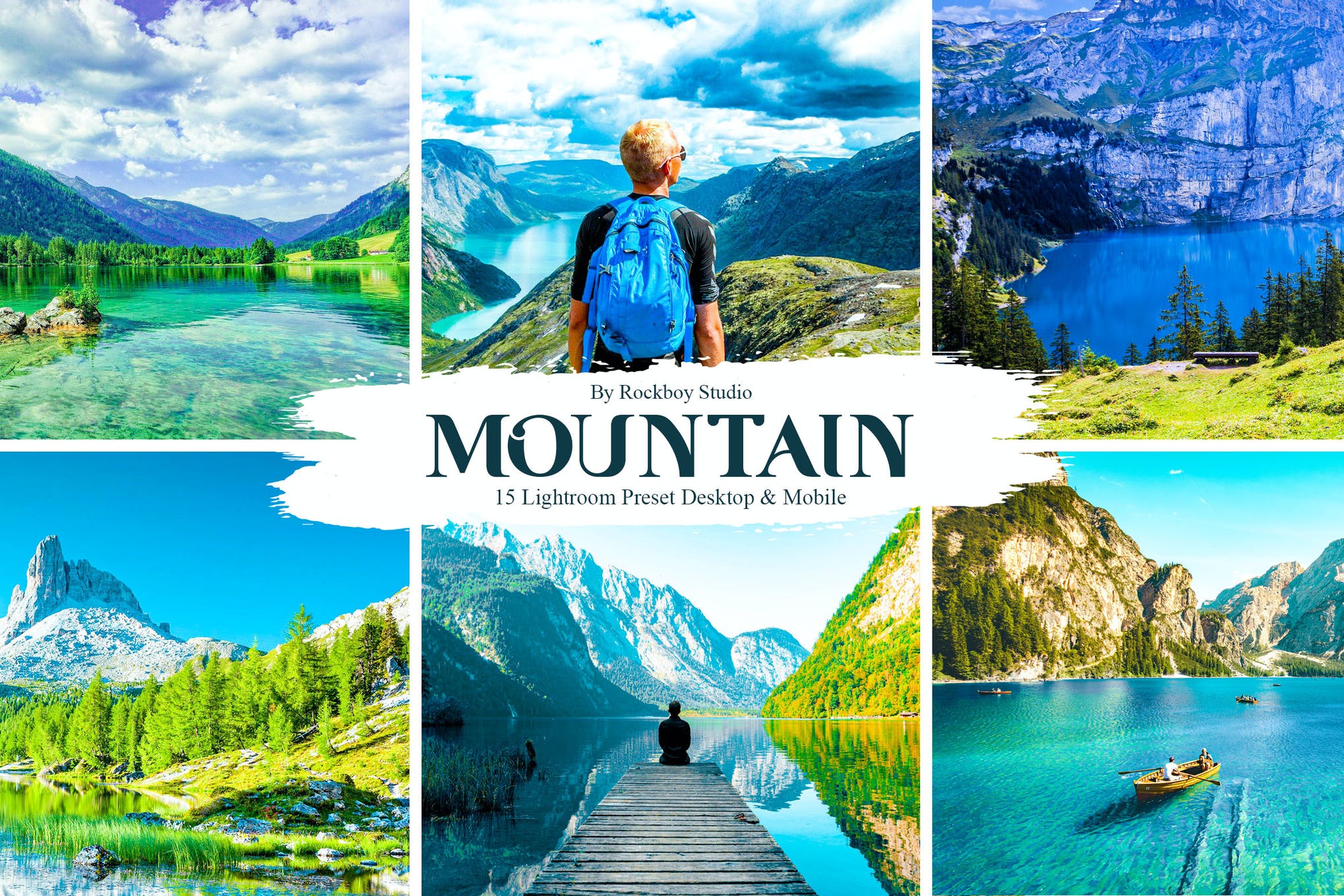 Here we have a collection of fifteen outstanding Lightroom presets that will transform, and take your mountain, trees, flowers, rivers, clouds, oceans, and other nature scenes' photography to next level. It's an excellent contender for your cash if you are looking to get you hands on the best landscape Lightroom presets.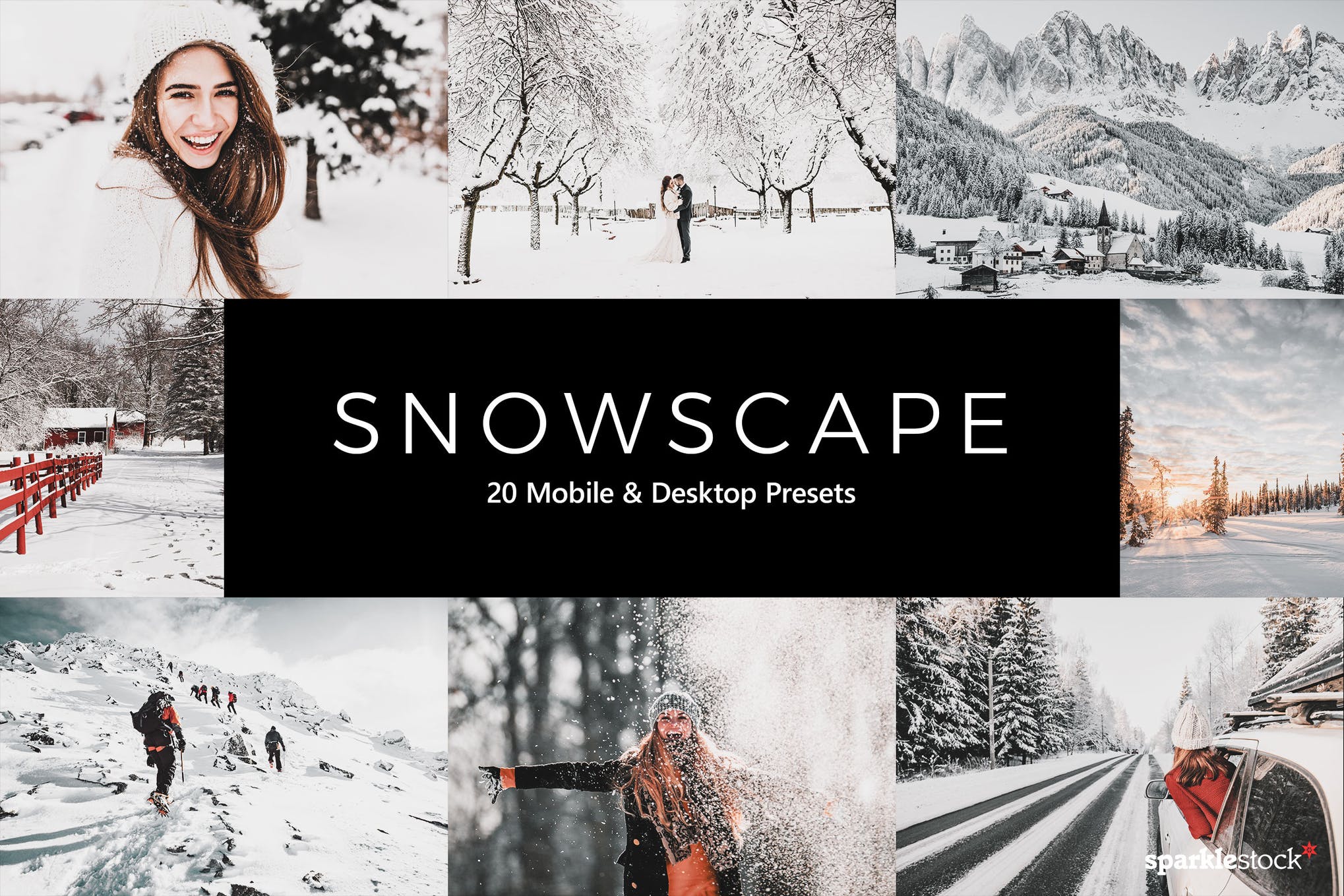 In this bundle, you'll receive twenty Lightroom presets that will bathe your pictures in snow, and give them colder, and wintery tones. It's an spectacular collection of landscape lightroom presets; it would be remiss of you not to take a closer look at this truly impressive product.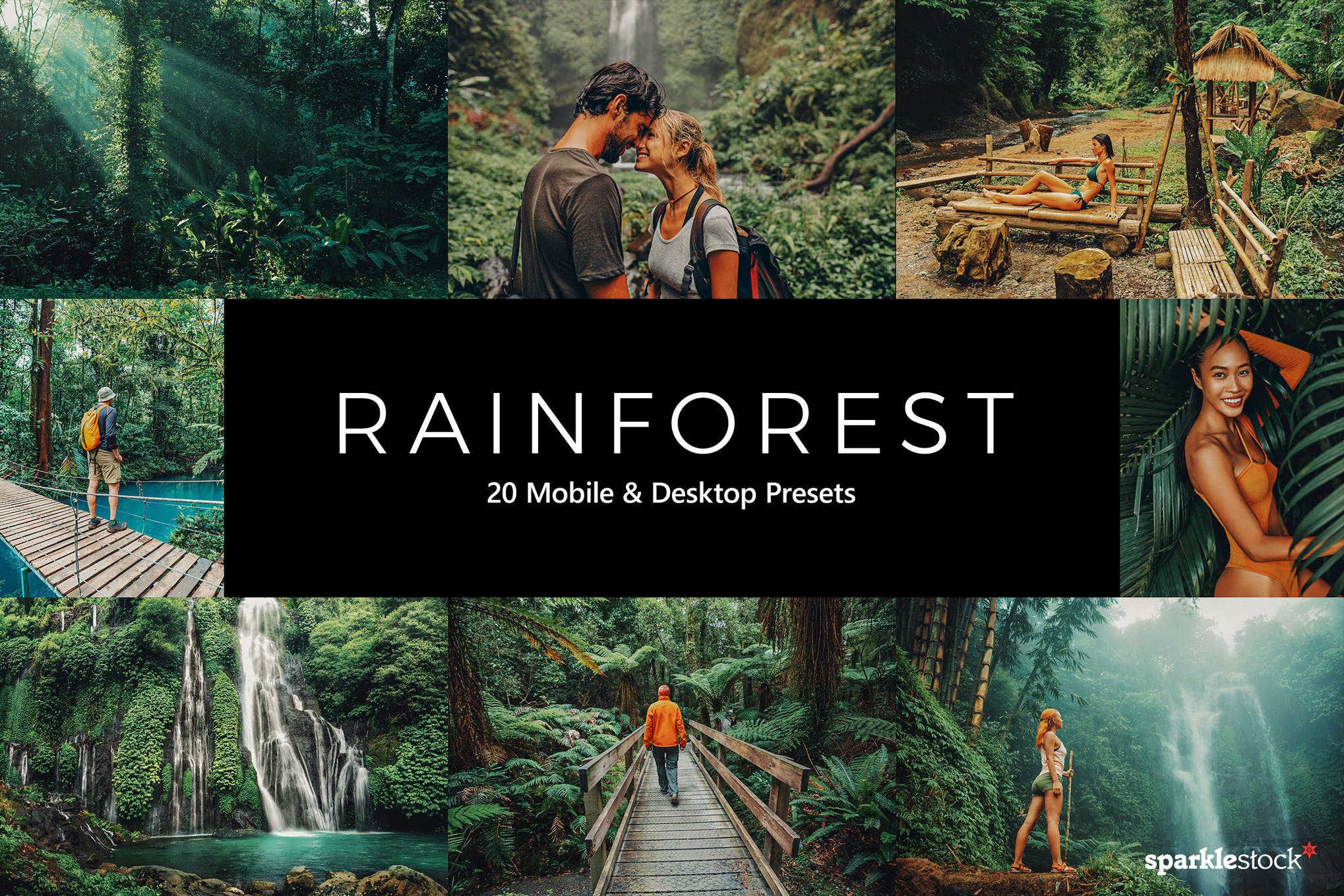 An ideal choice for Instagram influencers, and travel photographers, this collection of twenty Lightroom presets will elevate your images with lush greens, and warm oranges in just a few easy clicks. With this product in your toolkit, you will never stuck wondering how to edit landscape photos in Lightroom.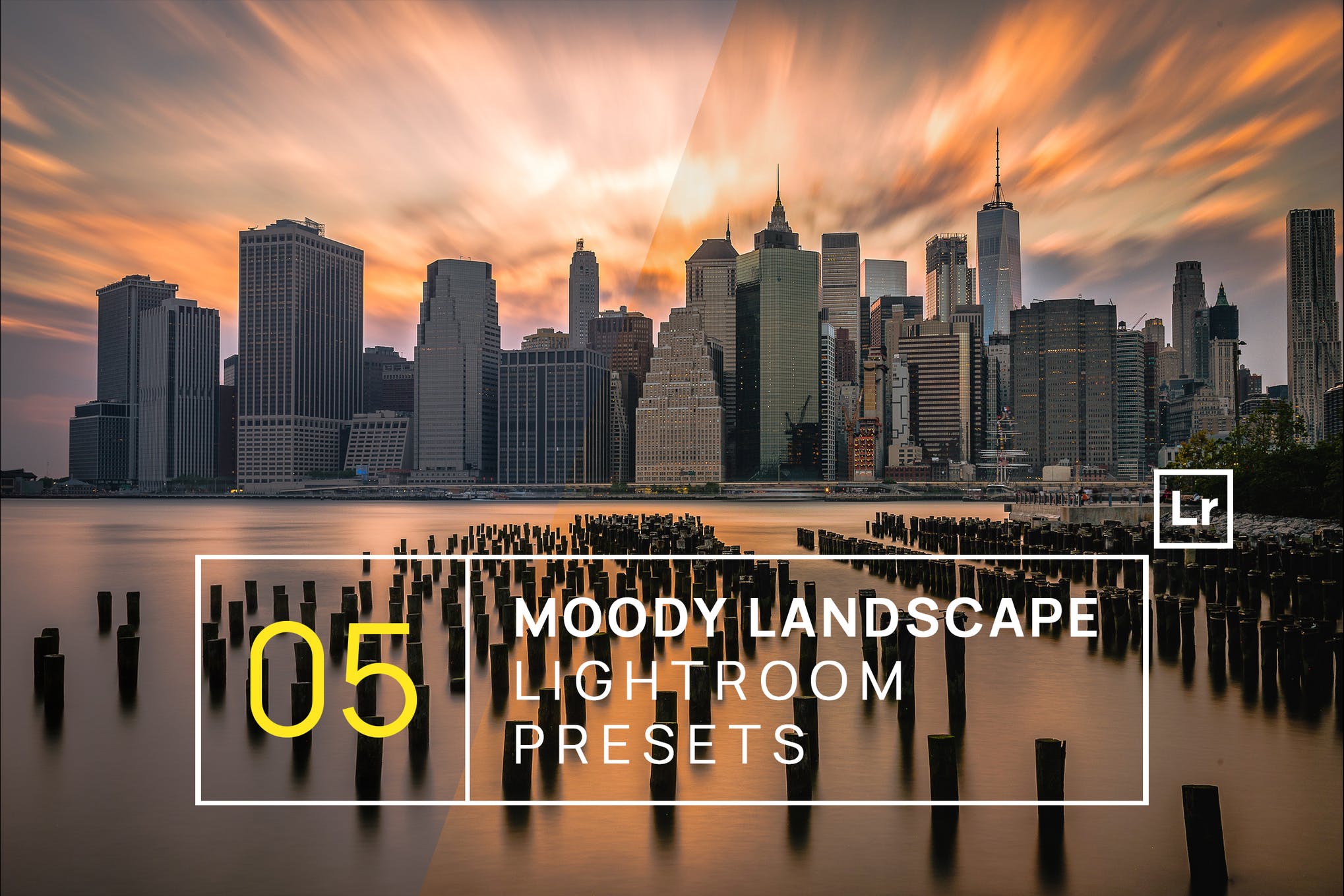 Bring a professional moody touch to your landscape pictures with the Moody Landscape Lightroom preset collection. A range of expertly crafted Lightroom presets, providing you with six different iconic deep contrast styles that will make any landscape picture a beautifully rendered masterpiece.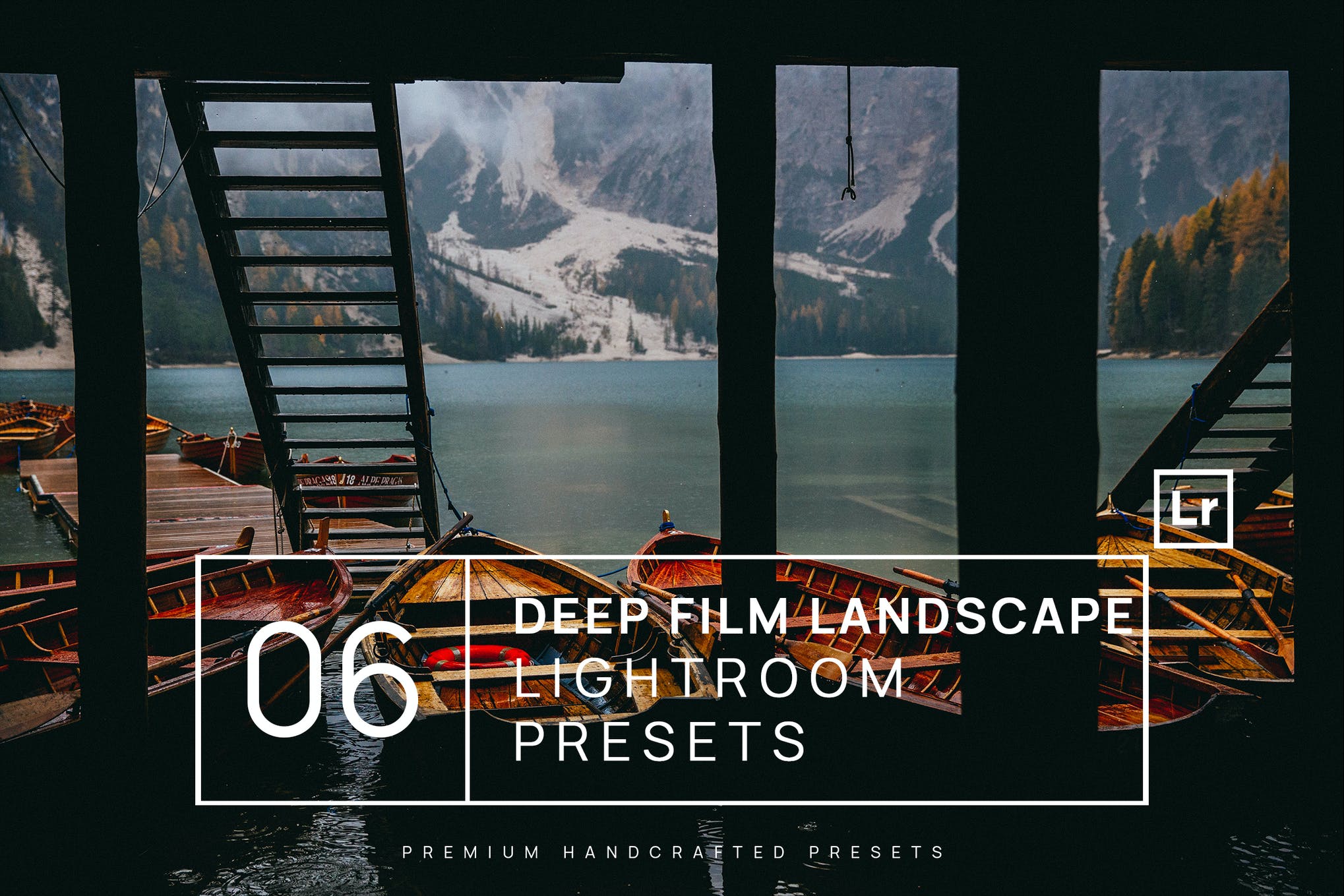 The Deep Film Landscape Lightroom preset collection manages to strip away harsh light saturation, and bathe your pictures in an Analog film style. A beautiful collection of six different presets, each tailored for different shot styles. This package is supported on both desktop and mobile devices.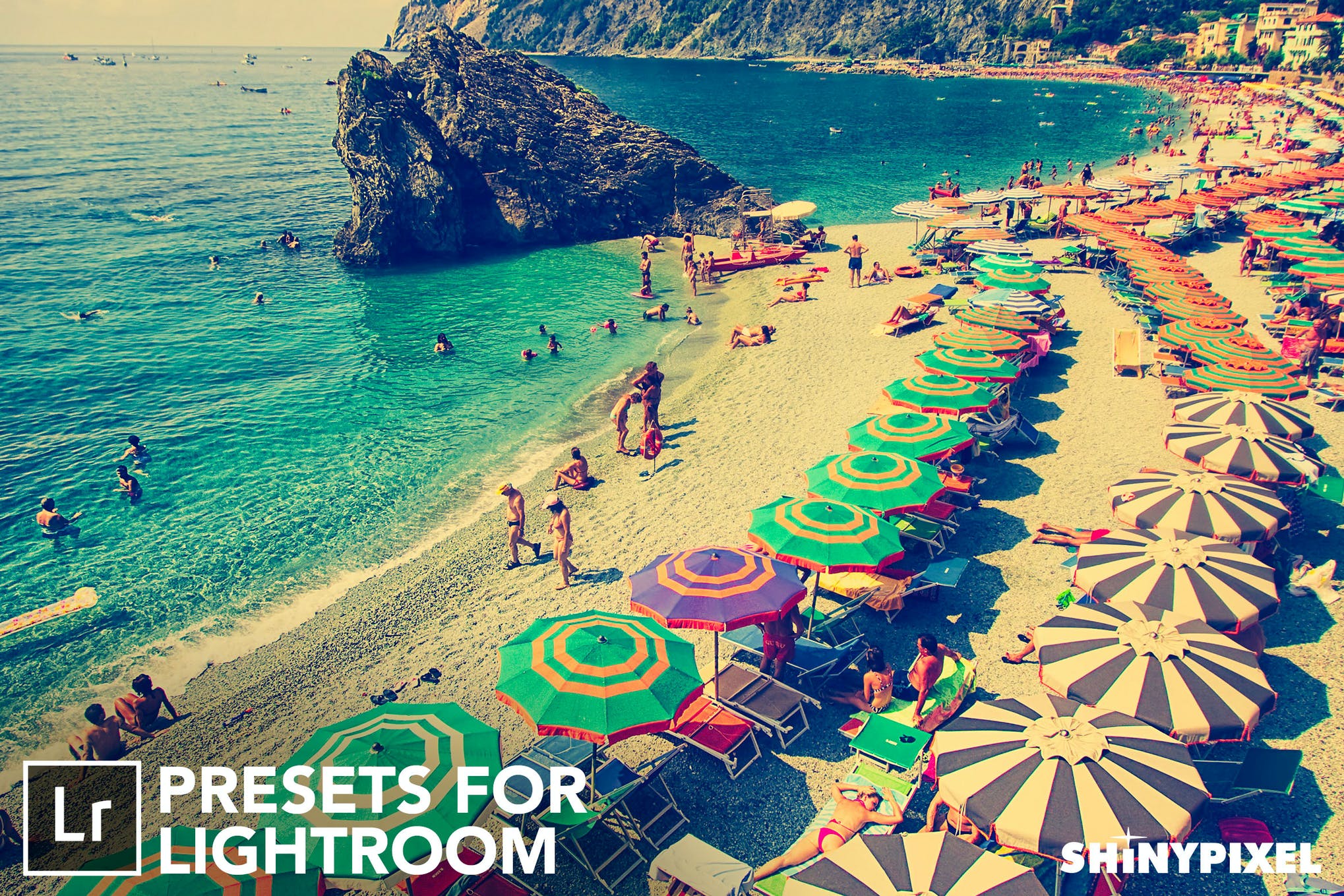 The Cross Processing Lightroom preset collection is a more unique take on traditional landscape preset styles. It provides the aesthetic of your pictures being developed from the film, with the iconic color dripping style that we've come to expect from Analog film development. A great option for those photographers looking for a vintage style.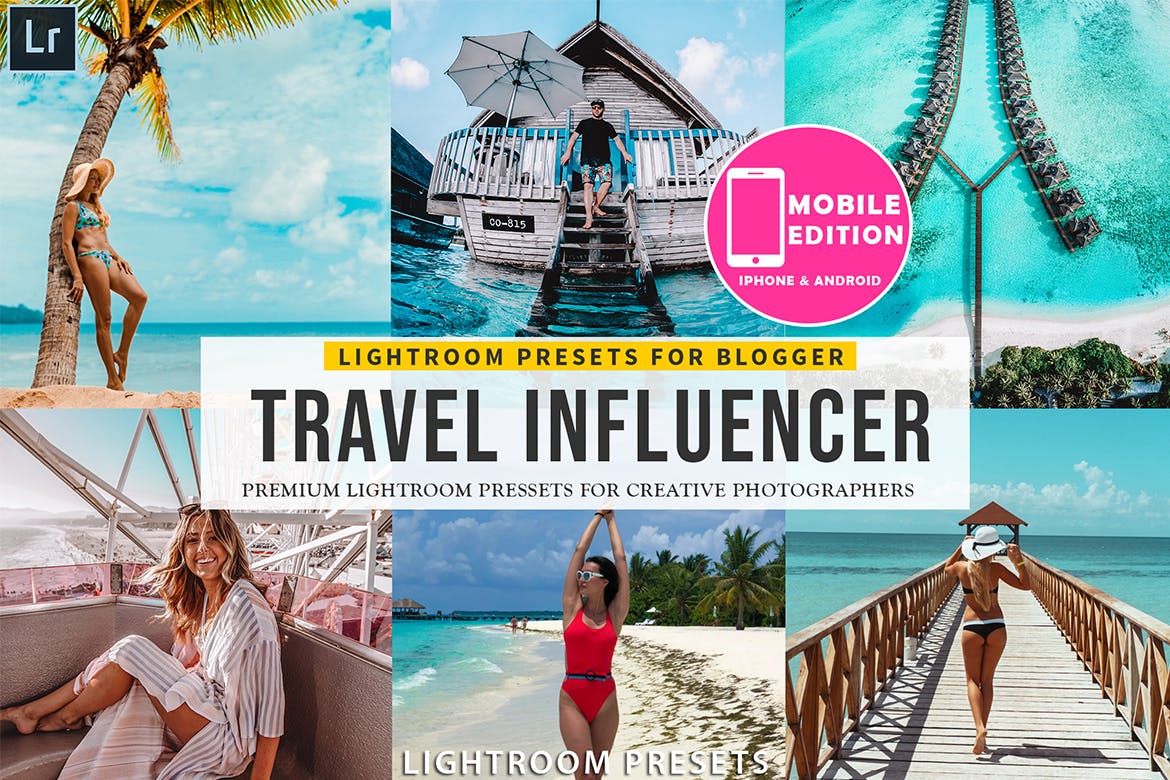 The Travel Influencer Lightroom preset collection is an assortment of presets designed for social media use. Providing you with a range of simple, yet captivating styles that is sure to catch people's eyes, and make your travel pictures absolutely stunning.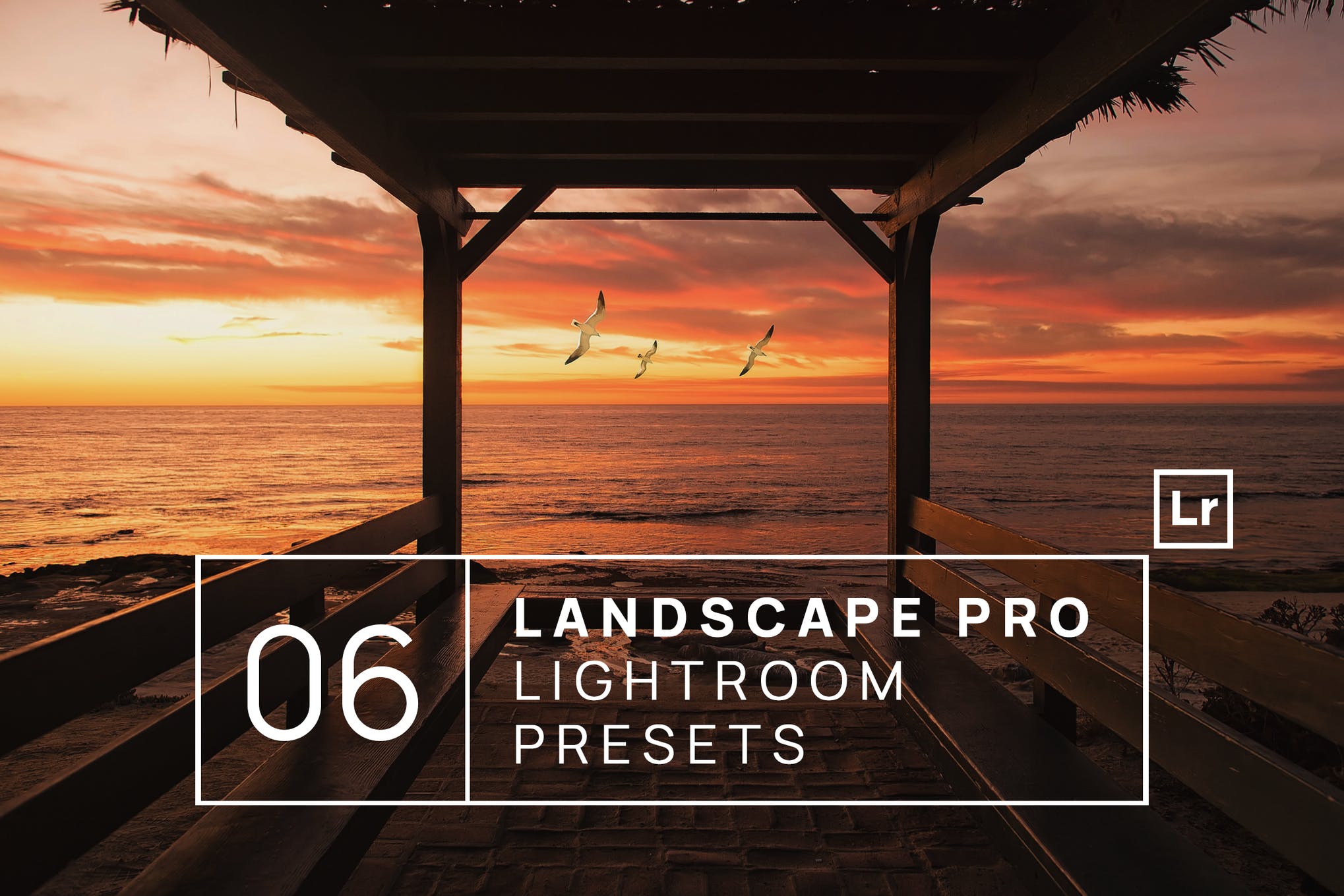 The Landscape Pro Lightroom preset package is a more traditional style of landscape rendering. It provides you with a range of trendy and modern styles to apply to your landscape pictures. Each preset in this six preset collection is designed for different lighting environments, ensuring you always have a preset ready for any shot.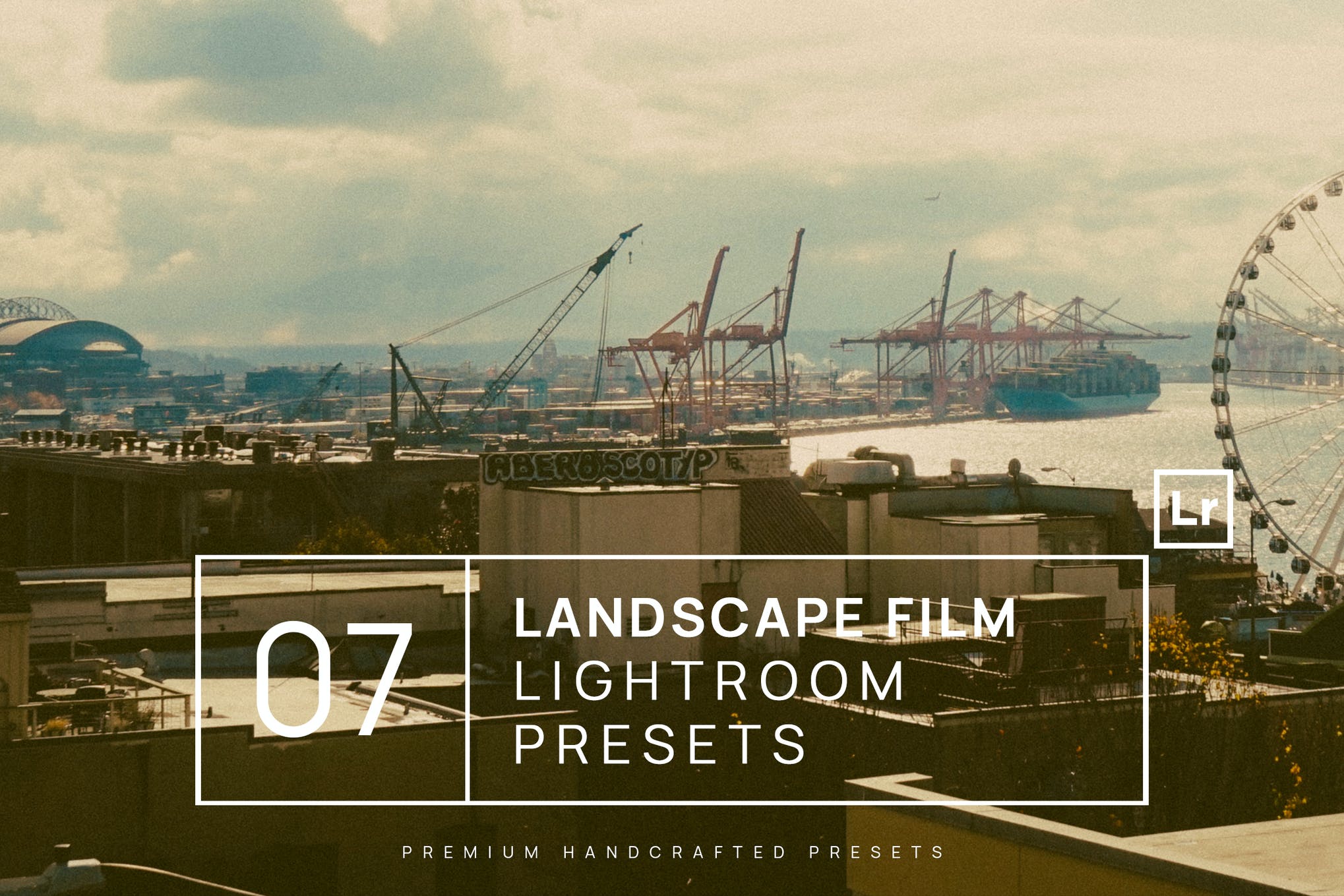 Bring the classical old-style film look to your landscape pictures with the Landscape Film Lightroom preset package. A range of seven presets all designed to apply a vintage filter to your pictures, and make them look like something out of a picture book from the '80s.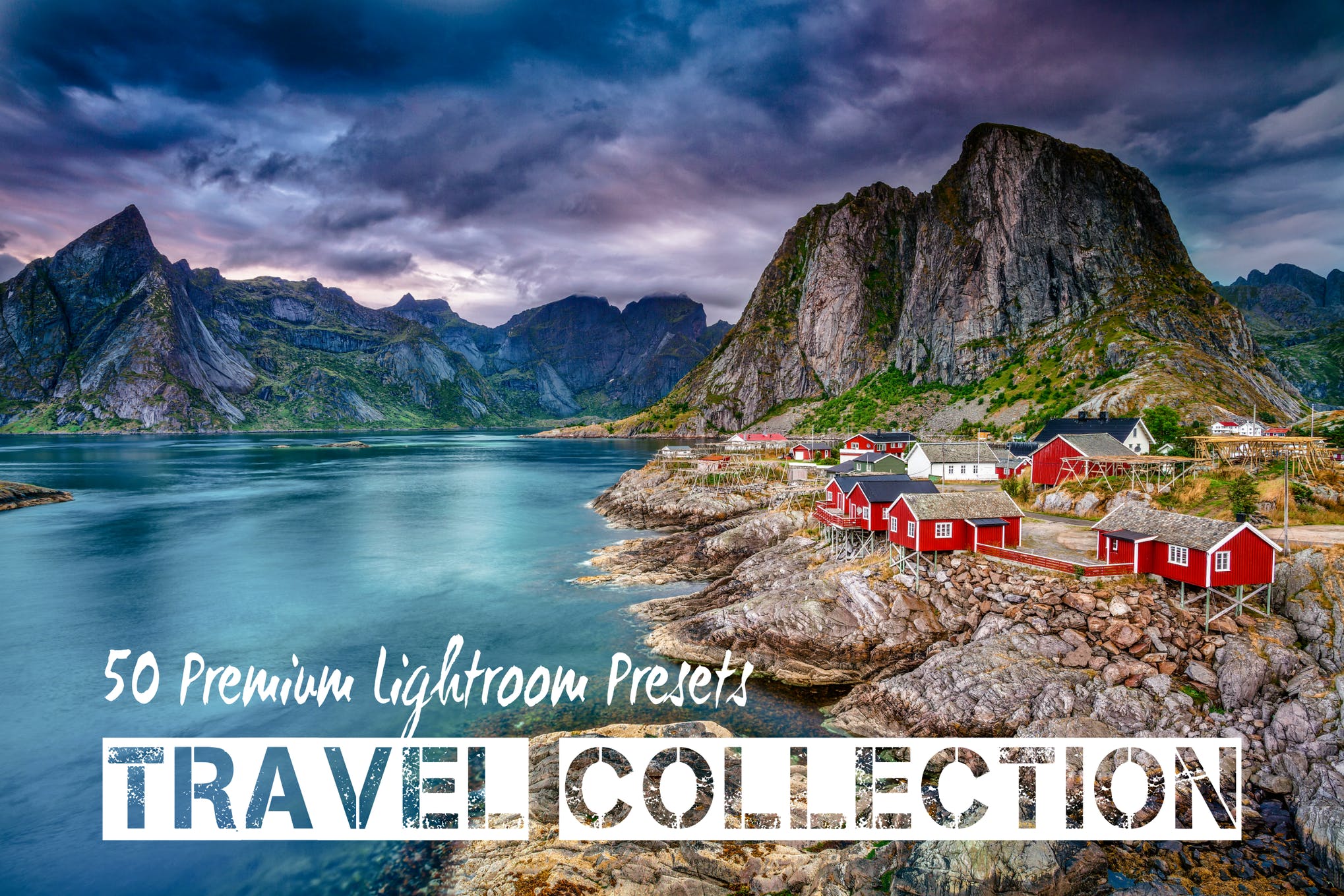 The PRO Landscape and Travel Lightroom Preset package is a collection of vibrant and stunning minimalistic landscape lightroom styles. Each helping to bring out the natural color in a shot, and create a captivating canvas that is sure to impress.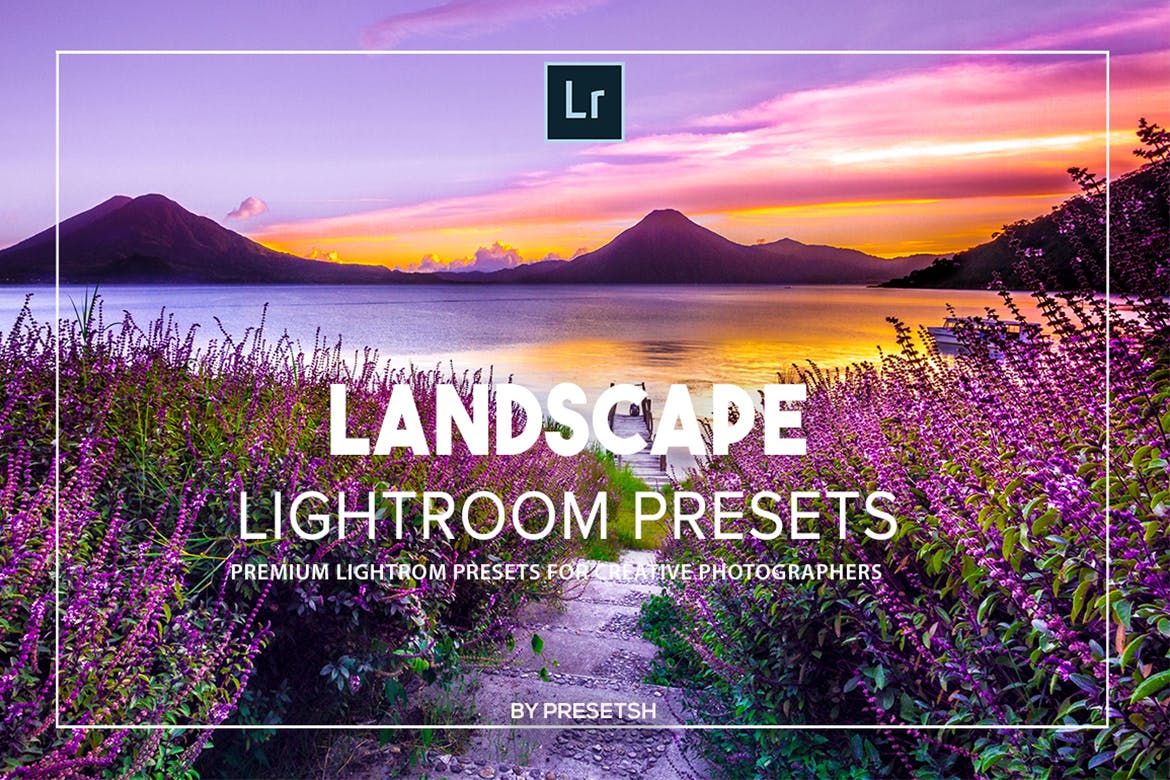 This Landscape Lightroom preset collection is a more minimalistic, yet still effective, Lightroom approach. It helps to sharpen up your landscape pictures, and balance color saturation and contrast across the picture. There are fifteen presets to choose from, each using a slightly different minimal approach.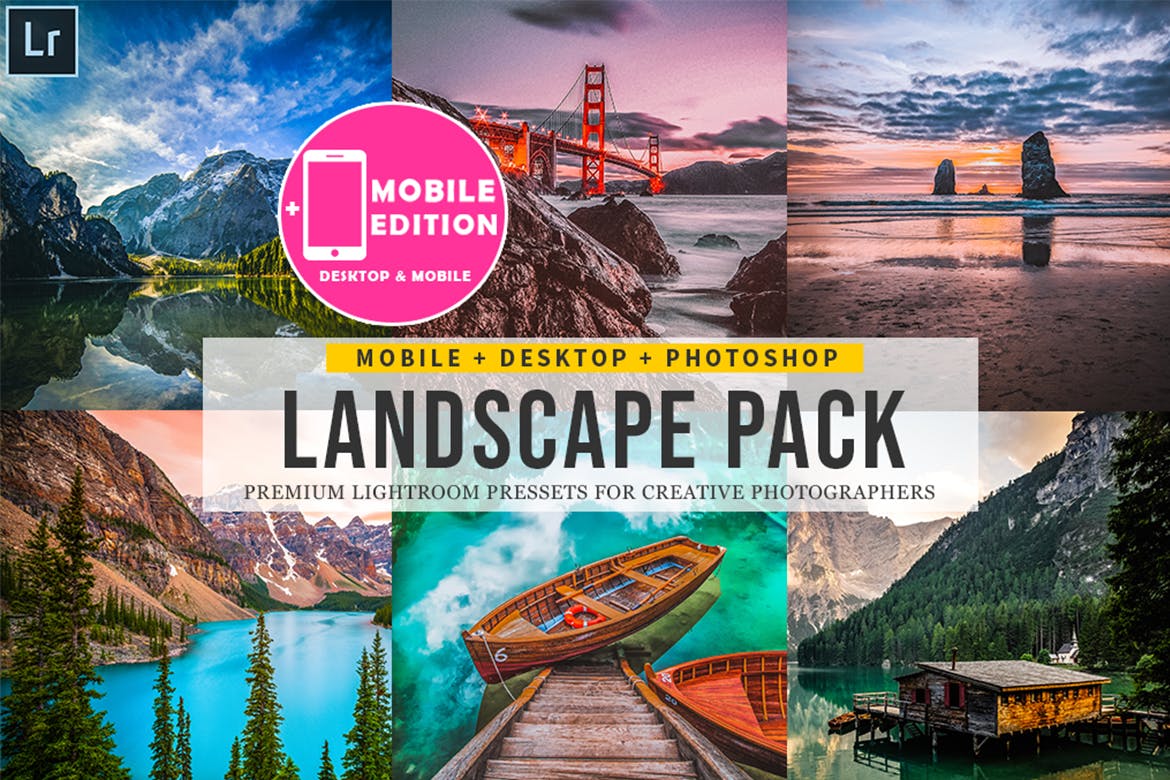 If you're looking for a more complete Lightroom preset collection for landscape shots, then you can't go wrong with The Landscape Pack. A massive collection of preset styles that provides you with endless options to touch up your beautiful landscape photos.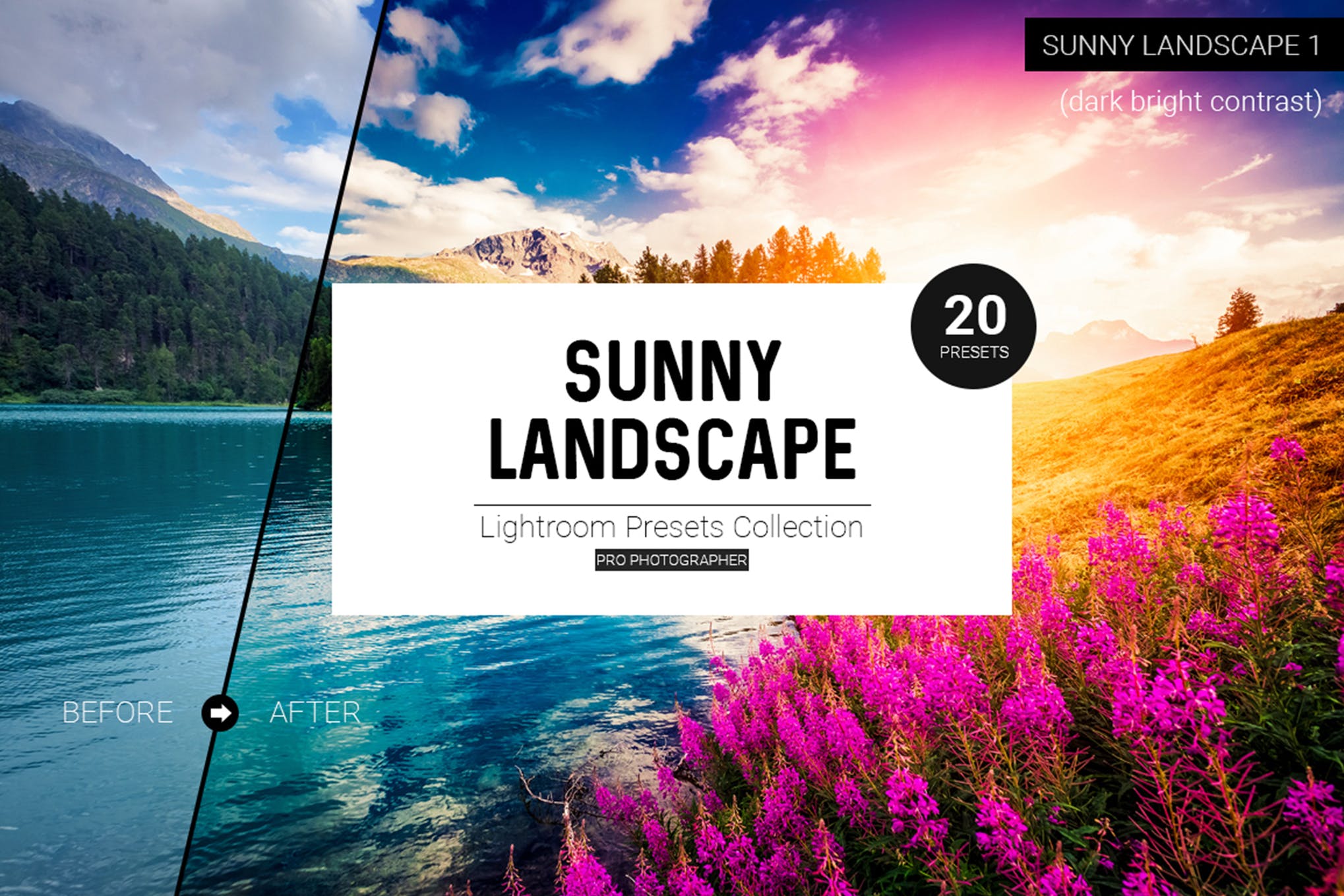 Taking landscape pictures with harsh light sources can be a nightmare, and often take away a lot of the detail from a shot. Thankfully, with the Sunny Landscape Lightroom preset collection, you won't have to worry about that anymore. Each preset helps to balance out harsh light and improve picture quality.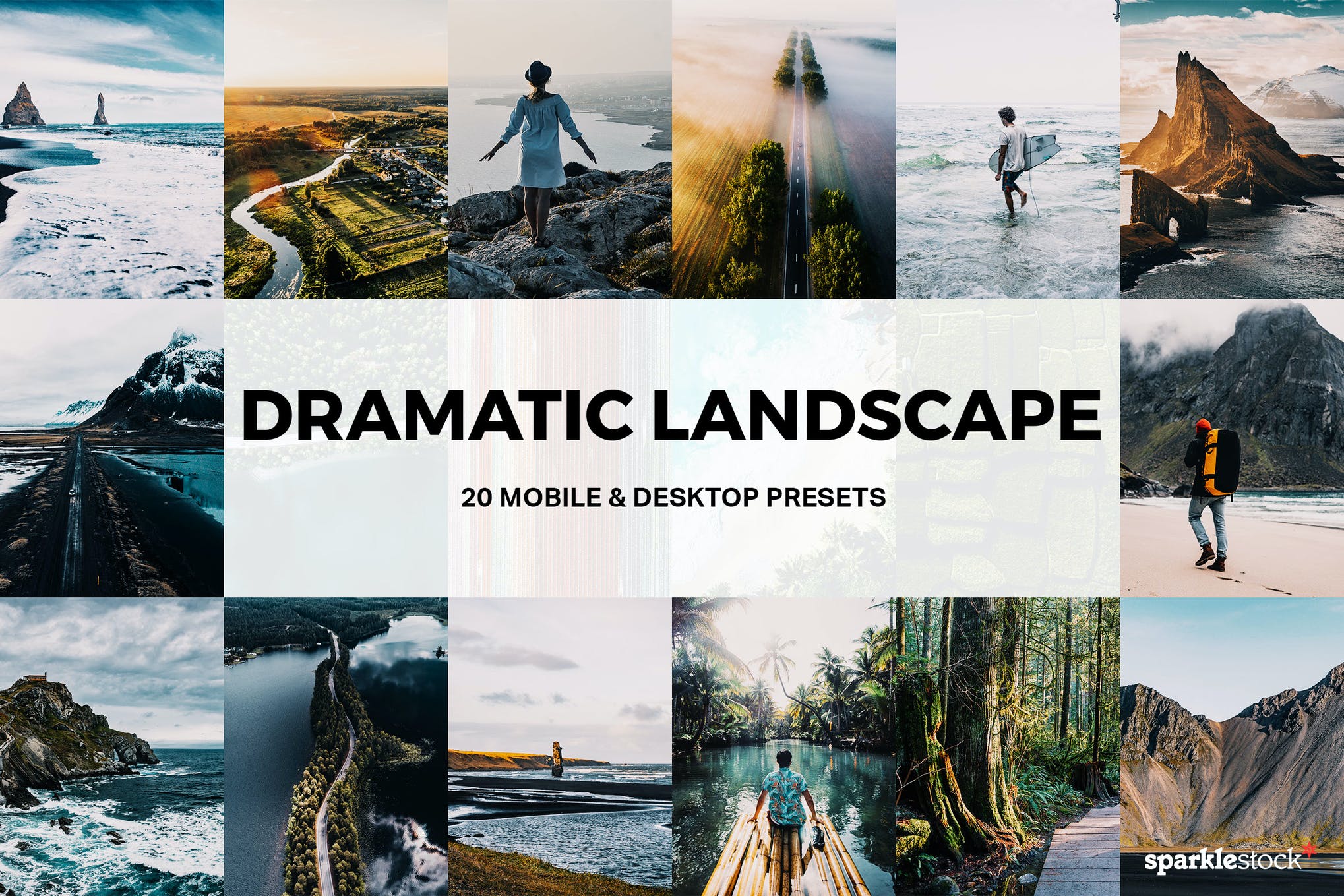 Bring a more dramatic style to your landscape shots with the Dramatic Landscape Lightroom preset collection. A range of twenty different presets, all helping to tailor a stunning and dramatic deep contrast style over your pictures.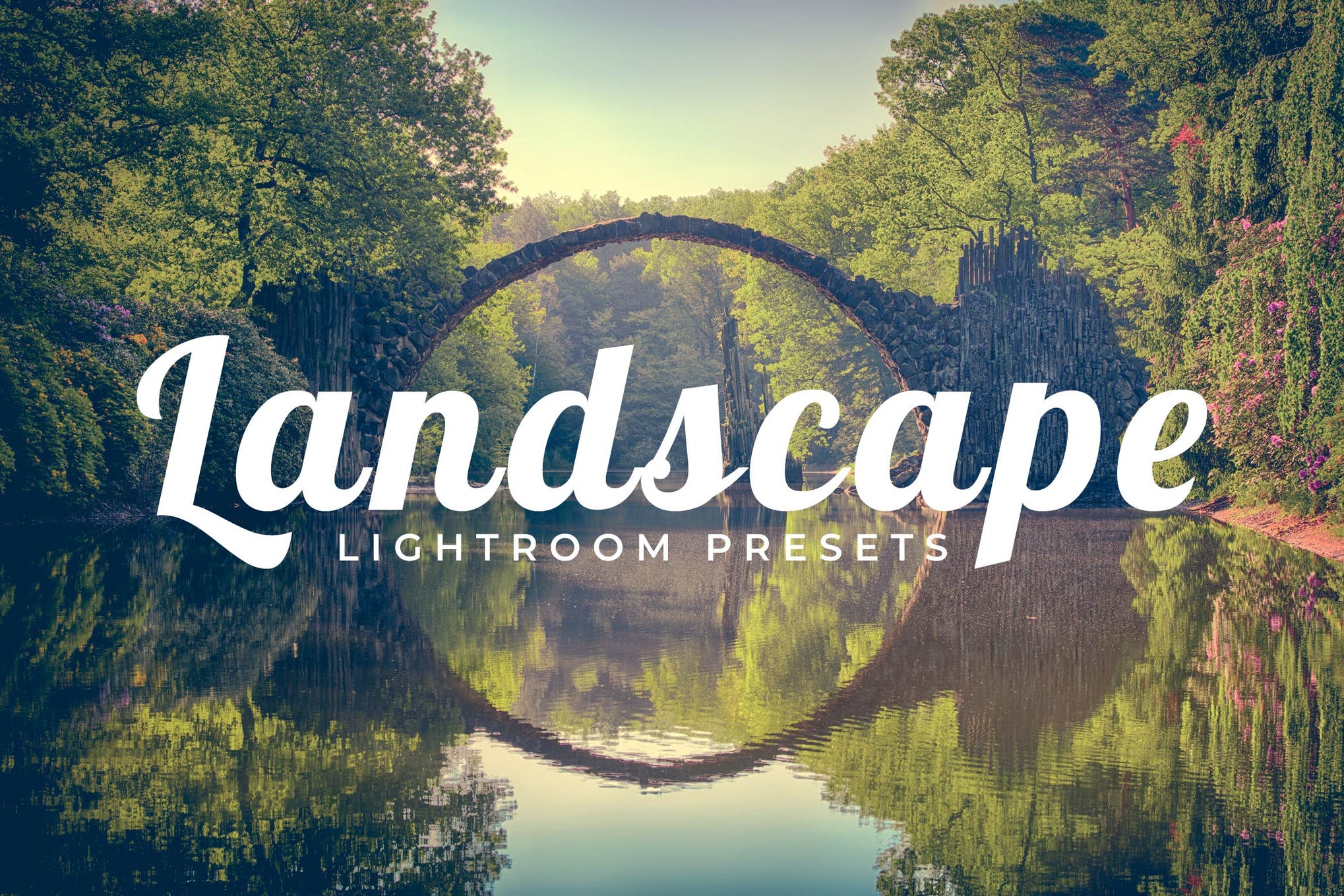 This Landscape Mega Collection is a massive range of over one hundred different Lightroom presets, all tailored towards landscape photography. If you're picky about which presets to use, then you'll find no shortage of options within this collection.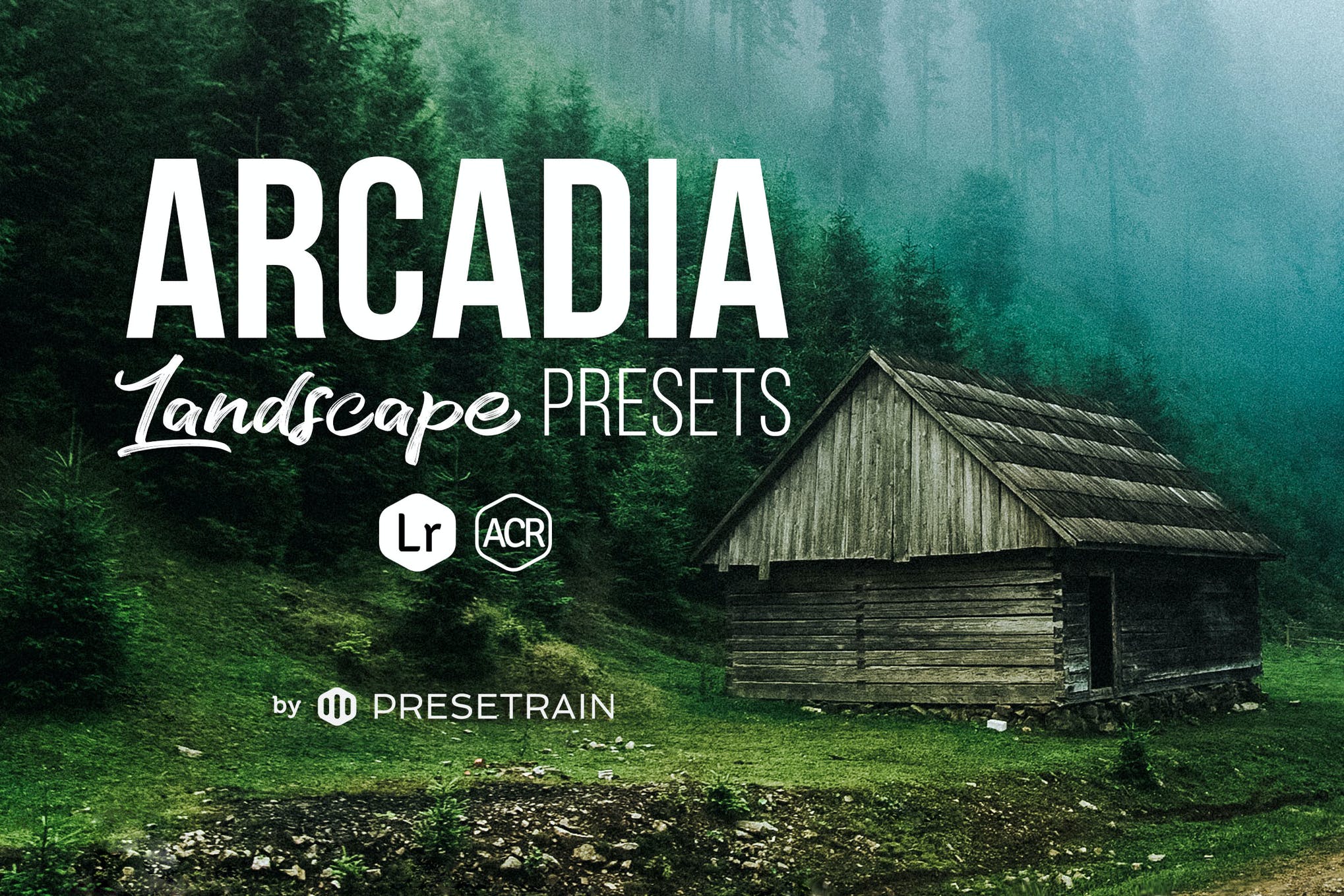 Want to bring a more whimsical style to your pictures? Then the Arcadia Landscape preset collection is what you're looking for. Helping to bathe your pictures in softer light sources, cutting out harsh color saturation, and balancing contrast for an impressive finish.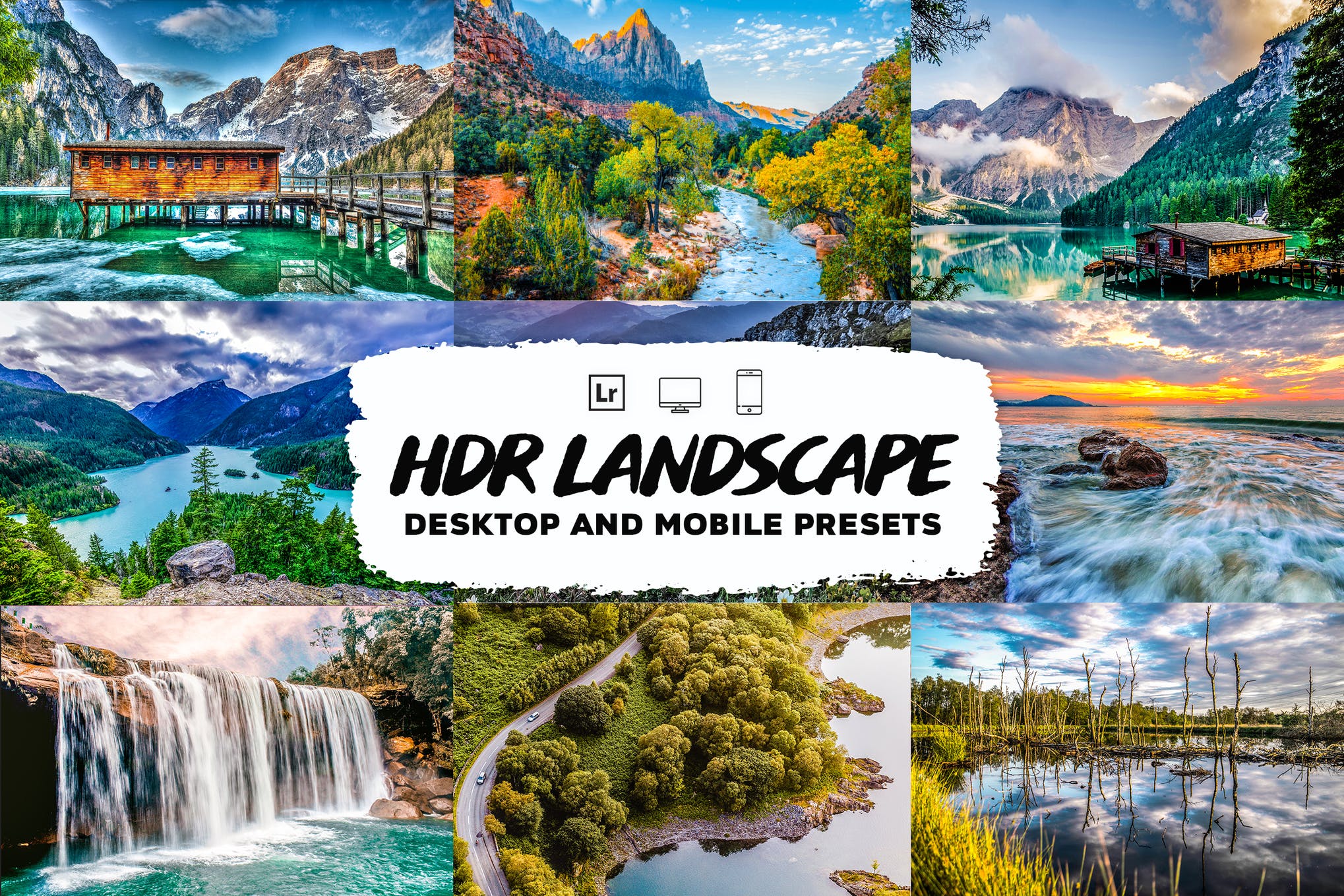 Bring the iconic HDR aesthetic to your pictures with this collection of HDR Landscape Lightroom presets. A great option for those looking to tailor a more high-fidelity style to their landscape photos. The package provides a wide range of styles, each designed around the HDR effect.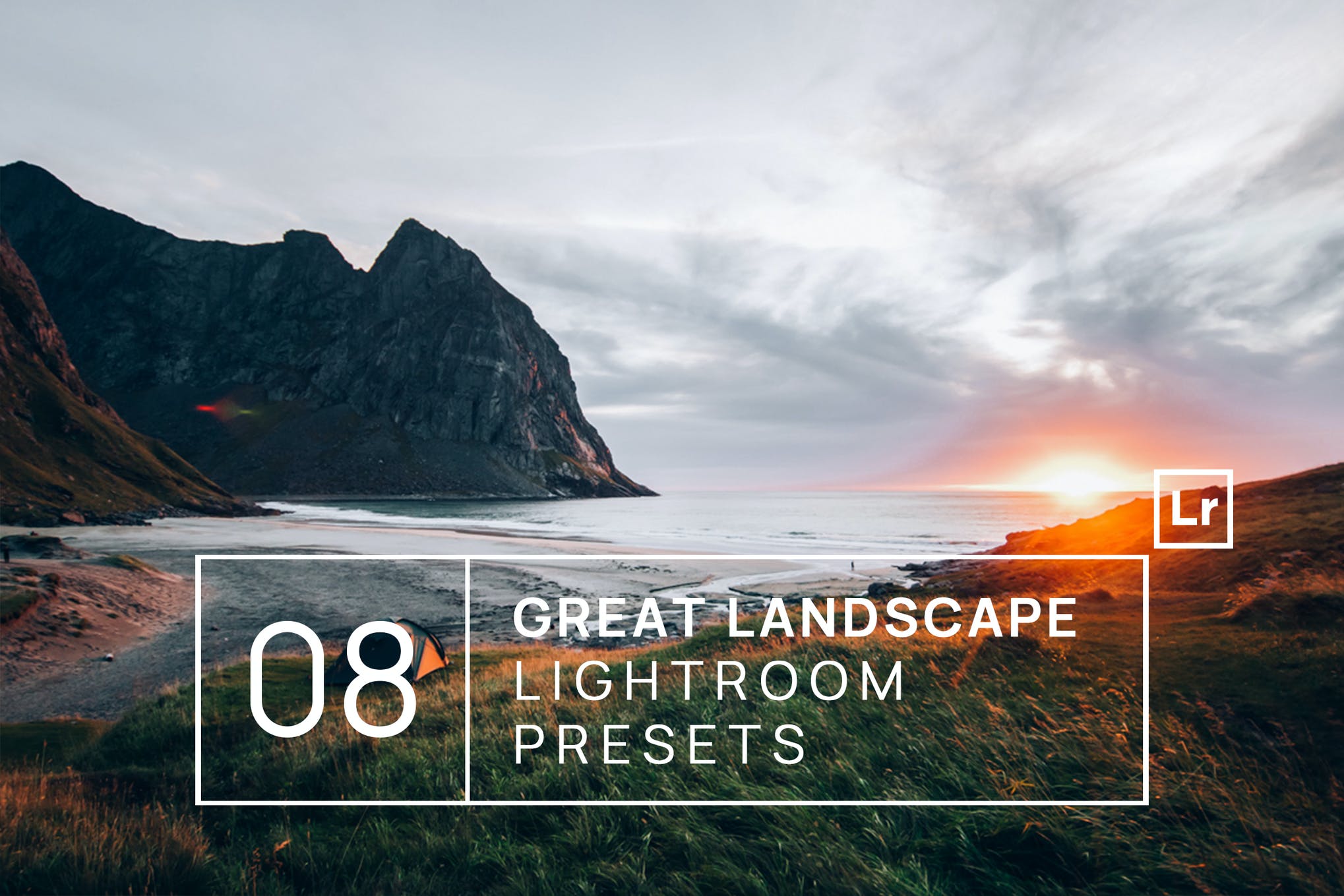 The Great Landscape Lightroom preset collection is a much more straightforward style of Lightroom preset. It provides a range of detail touch-ups, color balancing, and contrast tweaks to help your pictures look more detailed. Whilst not the most specific package on this list, these eight presets manage to create beautiful styles with only a few simple clicks.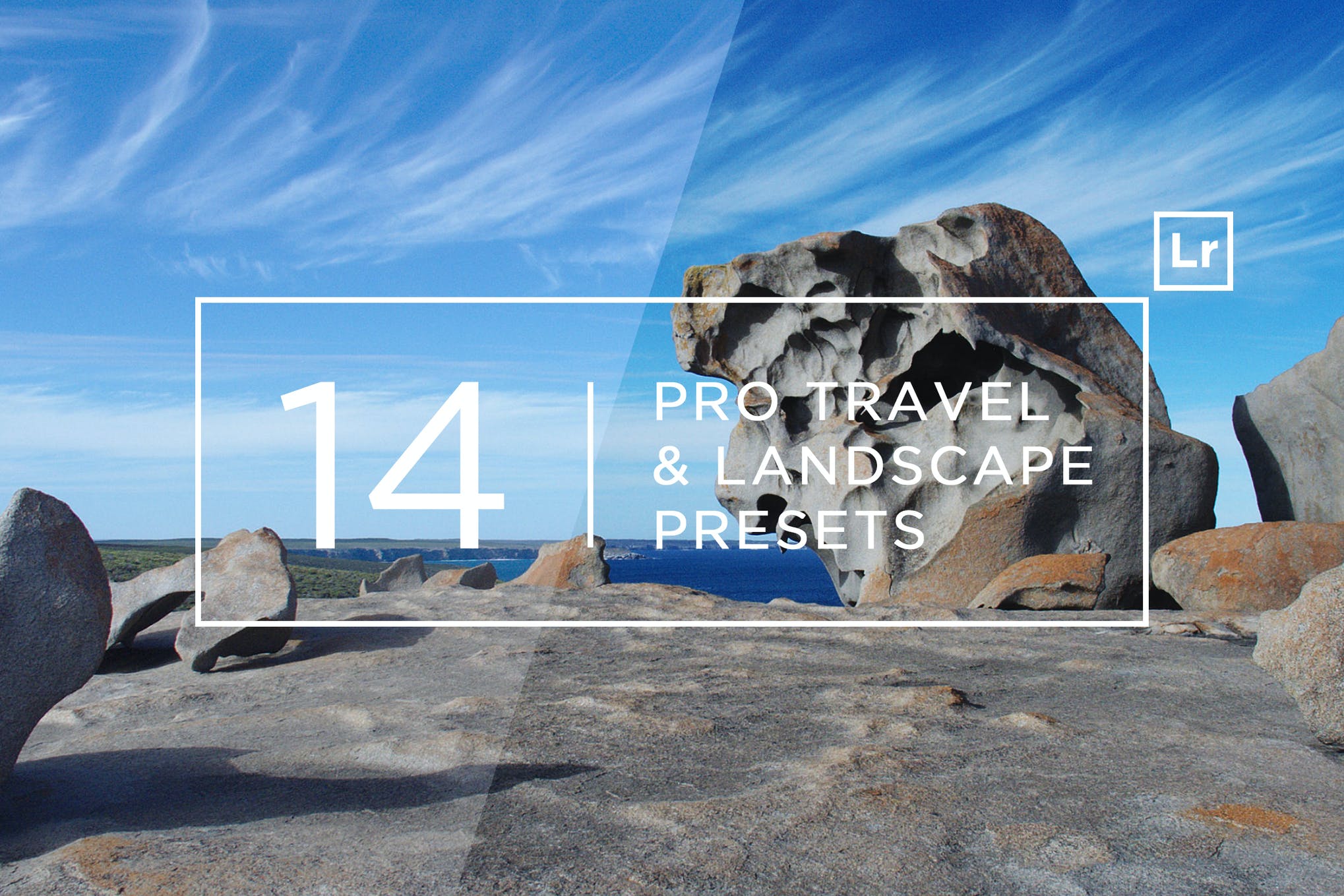 Bring out even the smallest detail in every shot with the Pro Travel and Landscape Lightroom collection. A range of fourteen different Lightroom preset styles, all helping to enhance picture quality, and balance out any harsh color saturation that takes away from the beauty of your shots.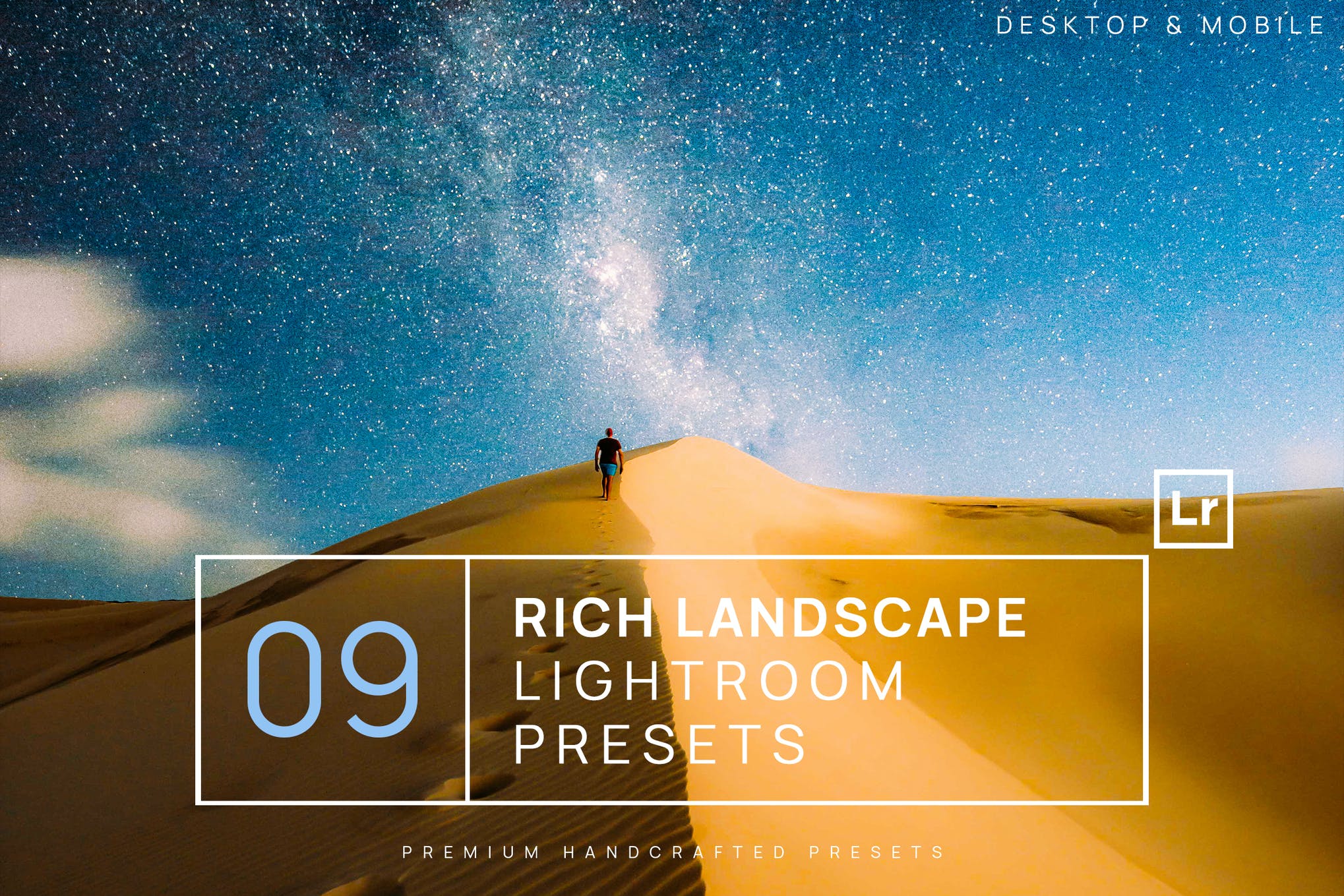 The Rich Landscape Lightroom preset package is a collection of nine different presets, all tailored by professional photographers. Each preset is designed to make colors more vibrant, and dull out any harsher colors from taking over the screen. A great option for professionals and hobbyists alike.
Free Landscape Lightroom Presets
Whilst traveling the world will surely cost you a pretty penny, that doesn't mean getting your hands on some great landscape Lightroom presets has to be. Let's take a look at some free options you can enjoy.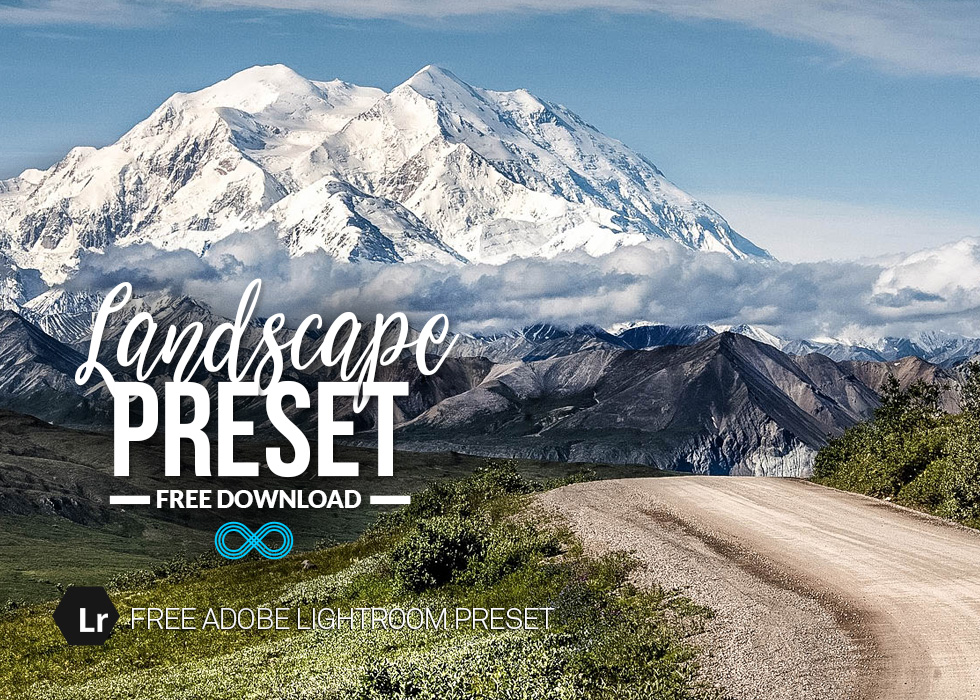 If you're looking to hunt down the best landscape Lightroom presets for free, this freebie is well worth checking out. It will make your landscape shots stand out by intensifying the overall tone, enhancing, and fine tuning the details in the photograph.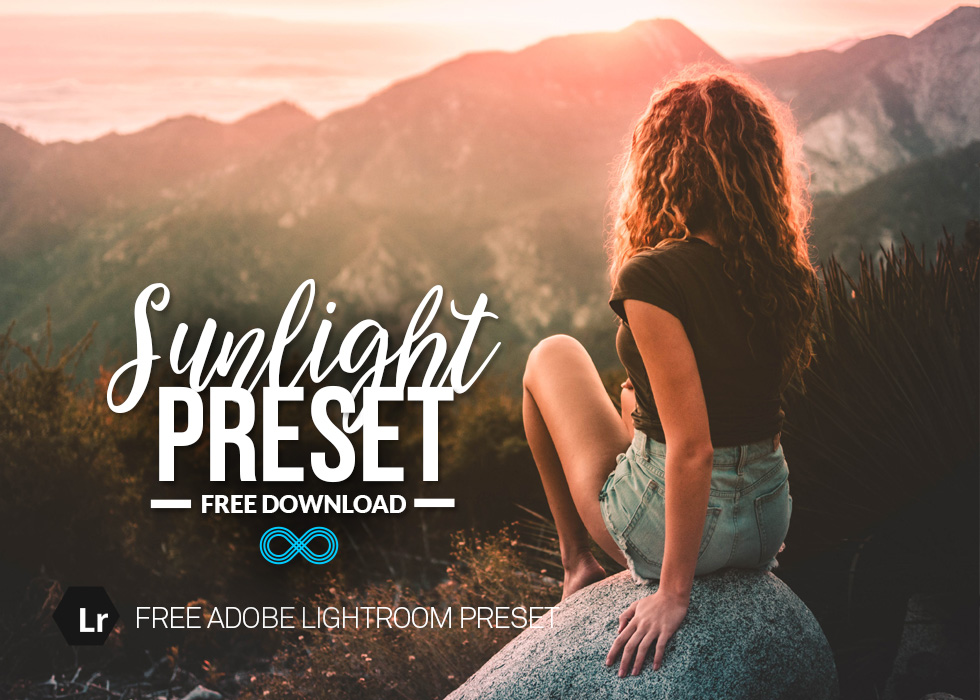 If you are tired of reading Lightroom landscape tips for beginners on the internet, it's time you finally edit your very first photograph. Use this free preset to give your natural light portraits a warm, and rich look quickly and efficiently.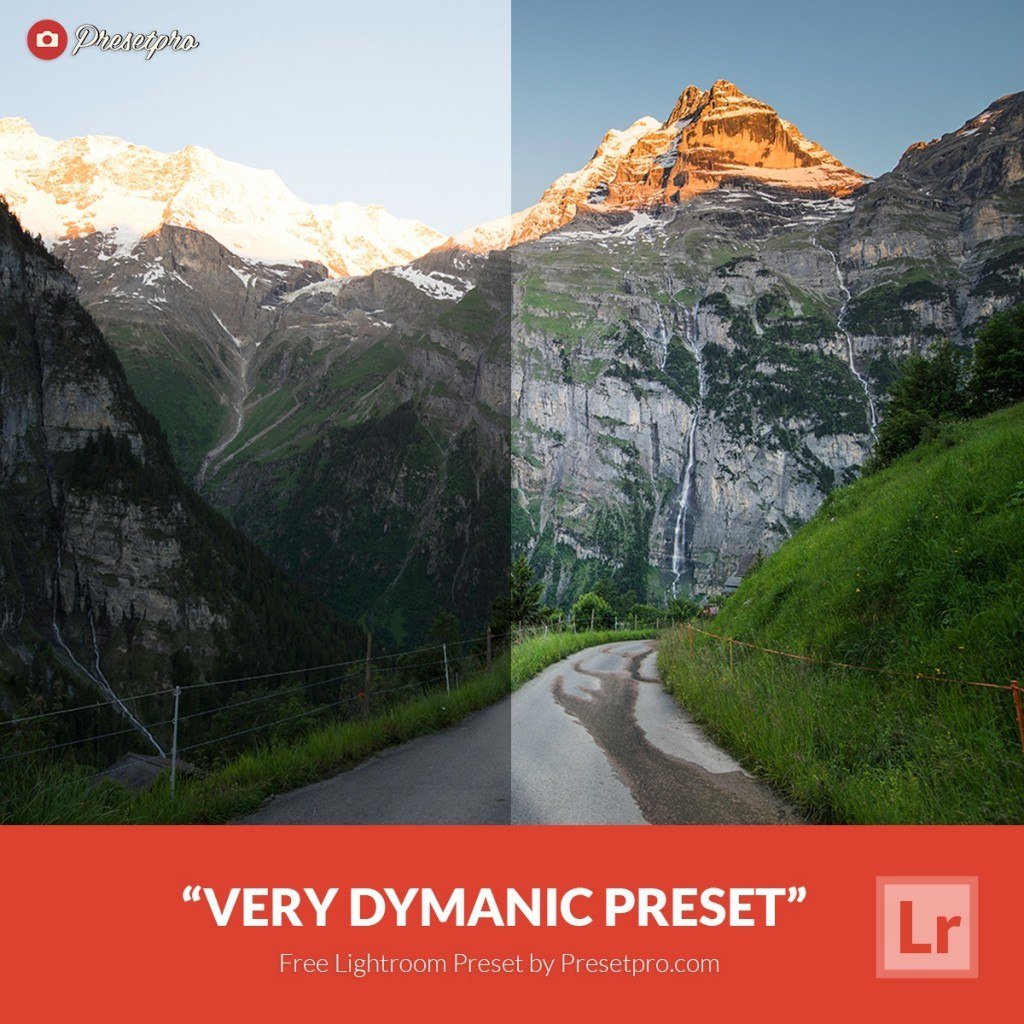 The Very Dramatic Landscape Lightroom preset is a deep contrast approach to your landscape shots. Yet despite this, it also manages to bring out the finer color details that often get lost in wide-angle landscape shots. A great option for a wide range of shot styles, and skill levels.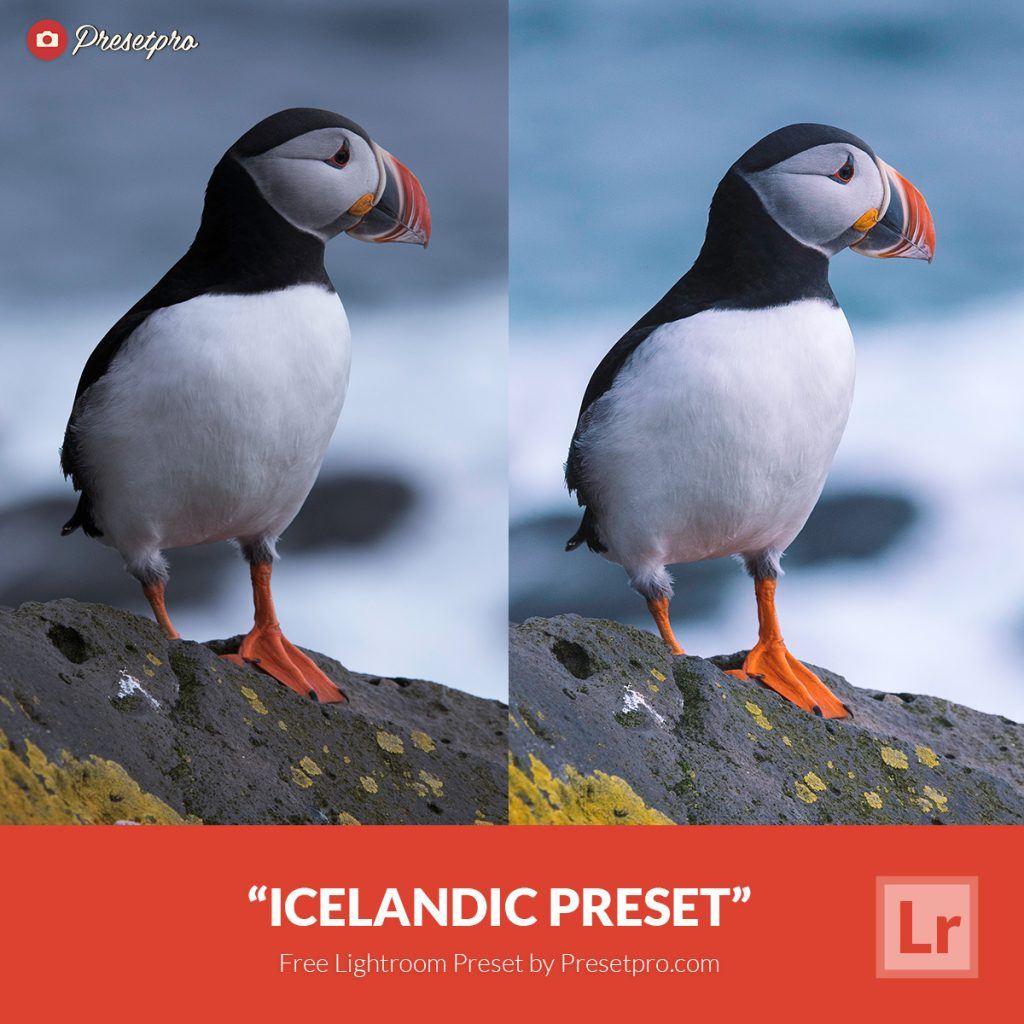 Landscape shots with snow can be a nightmare, as it manages to reflect a lot of unwanted light back at your lens. Thankfully, with the Icelandic Lightroom preset, you can cut down on that harsh light, and bring out even the smallest icy details in every photo.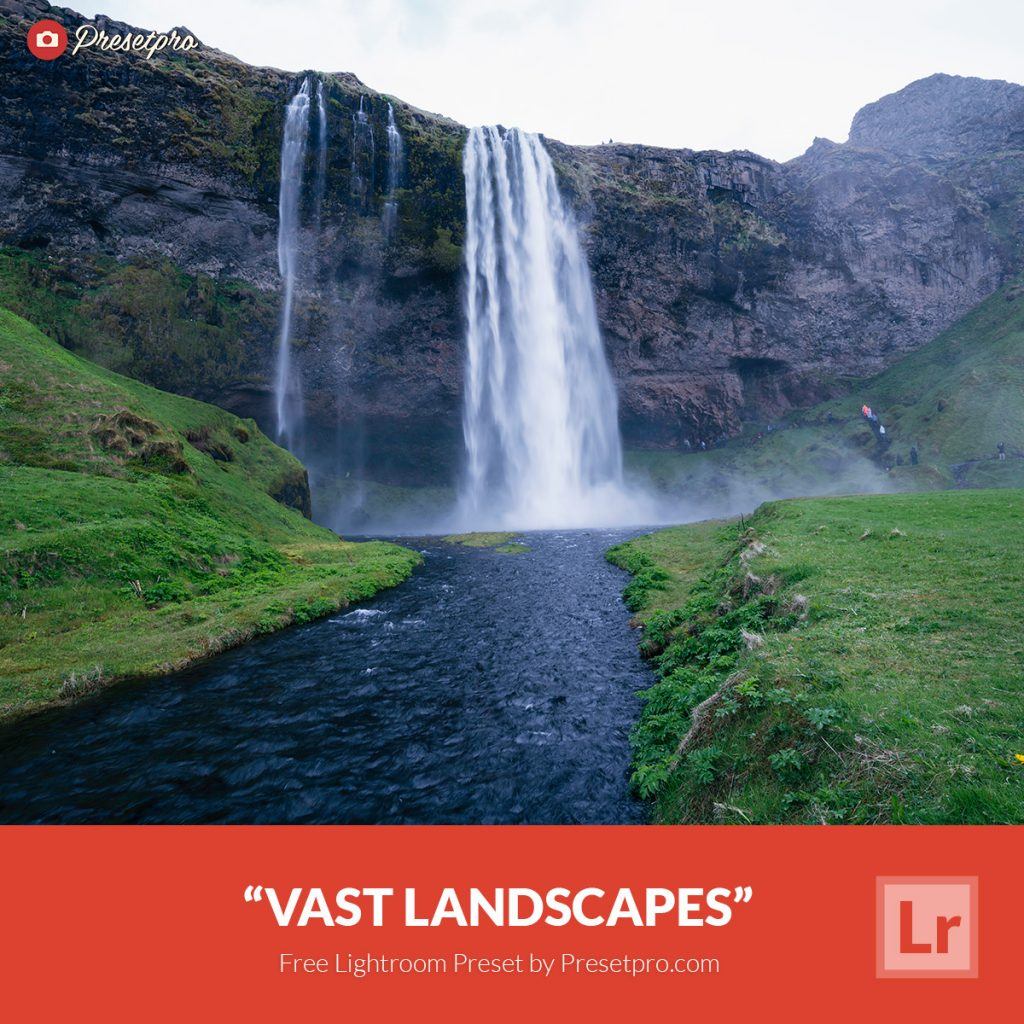 The Vast Landscapes Lightroom preset is not the most advanced option on this list, but it takes a proven approach to enhance landscape shots with a lot of detail. A great option for beginners looking to dabble in landscape Lightroom presets.
Make Every Landscape Shot A Masterpiece With These Presets!
Whilst getting up on that mountain, or finding the perfect beech to take a great landscape shot may be an adventure, finding a great landscape Lightroom preset doesn't have to be. With these presets under your belt, you're ready to touch up all of your photos with a few simple clicks.