How To Edit Sidebar & Homepage in WordPress
One of the first things you should do after setting up your WordPress website and installing a theme is to customize the homepage design.
It's the only way you can personalize your website design and ensure it stands out from the crowd.
In this guide, we'll show you a few methods for editing the homepage design. As well as to edit and customize the sidebar in WordPress.
Editing the homepage design of your WordPress theme doesn't require any expert coding skills or web design knowledge. You can do it using built-in tools and plugins. Here's how.
With Wix, you can create better websites with mobile-responsive templates, seamless drag & drop, and unlimited customization. Sell your products or services, start a blog and make smart decisions with clear analytics.
Designing a great-looking website using WordPress is much easier thanks to pre-made WordPress themes. It only takes a few clicks to install and setup a theme design for a WordPress website.
However, there's a downside to using popular WordPress themes as they are used by thousands of other websites. If you, like most other people, use the theme's default homepage templates, you will put your website at risk of looking exactly like another website.
Imagine using a popular WordPress theme to make a website for a church. And then finding out that a casino is using the same theme on their website.
A situation like that could completely harm the credibility of your establishment or business. And hurt your brand reputation beyond repair.
We're not telling you to stop using themes. Not at all. WordPress themes are what makes the software so amazing. Use them, but make a few customizations to the homepage design so that your website looks different from other sites that use the same theme.
How to Edit the Homepage in WordPress
Editing the homepage design of your WordPress theme doesn't require any expert coding skills or web design knowledge. You can do it using built-in tools and plugins. Here's how.
Method 1: Use the WordPress Customizer
The customizer is the built-in tool in WordPress for editing the theme design. It allows you to make changes to your homepage and preview the changes live before publishing.
Most modern WordPress themes allow you to fully customize your website design using the WordPress customizer.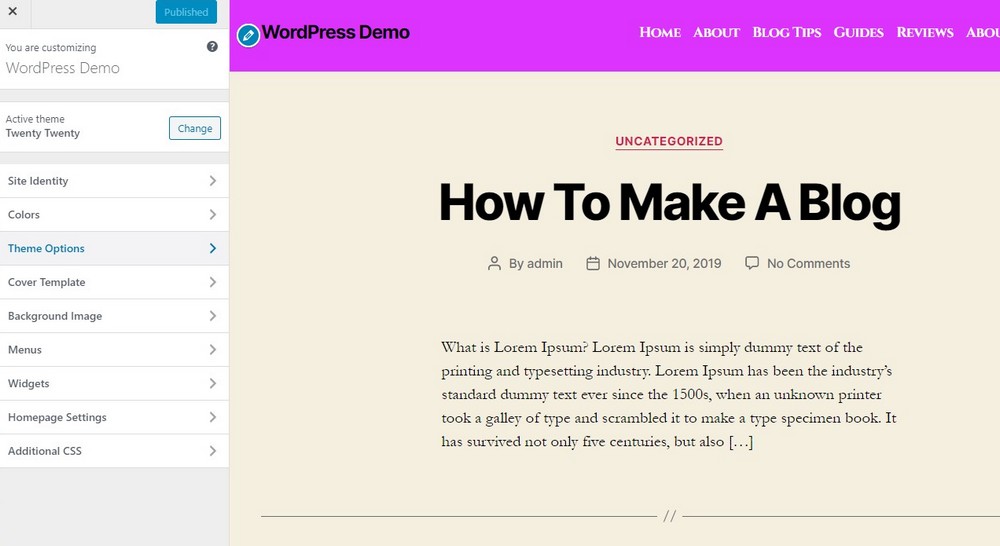 Simply head over to Appearance >> Customizer to access the tool. And you'll be able to make all kinds of changes to your theme from there. Like changing the colors, fonts, header layouts, and even add custom CSS styles of your own.
Method 2: Use the Theme Options Page
Some WordPress themes come with their own dedicated theme options pages where you can customize the main features of the theme homepage design.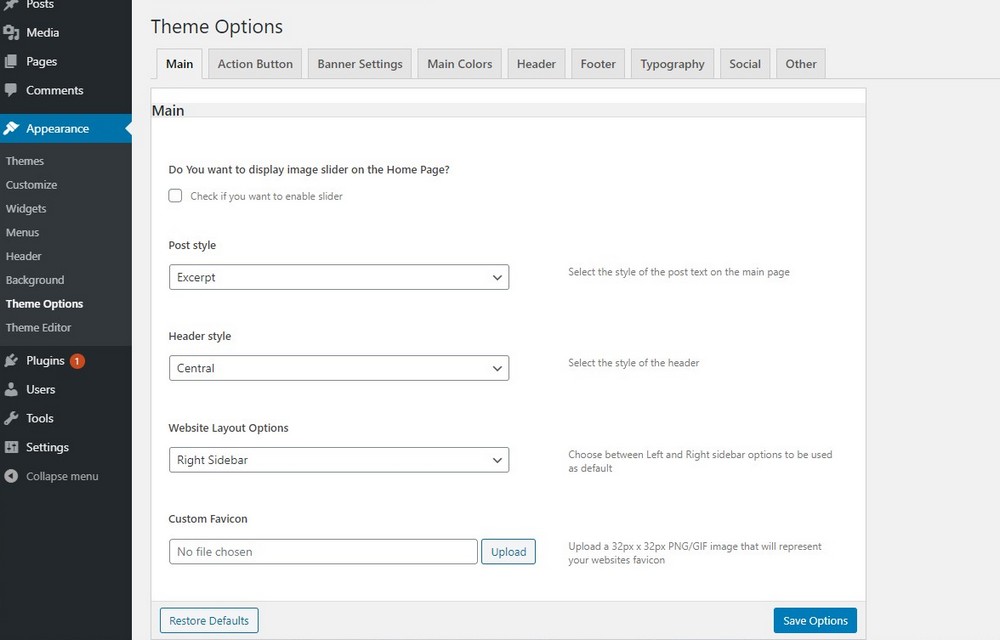 The location of this theme options page and the number of options available will be different for each theme. If you can't find this page in your theme, check the documentation or contact its developer.
Also, keep in mind that most modern themes don't use dedicated theme options pages anymore.
Method 3: Use a Page Builder Plugin
The most effective way to edit and customize your homepage is to use a page builder plugin. Page building plugins allow you to change the layout of your homepage content and even rearrange its sections using a drag and drop editor.
The most popular page builders such as Elementor, WPBakery Page Builder, and Page Builder by SiteOrigin are supported by most WordPress themes. You can use them to even completely redesign your website homepage using templates.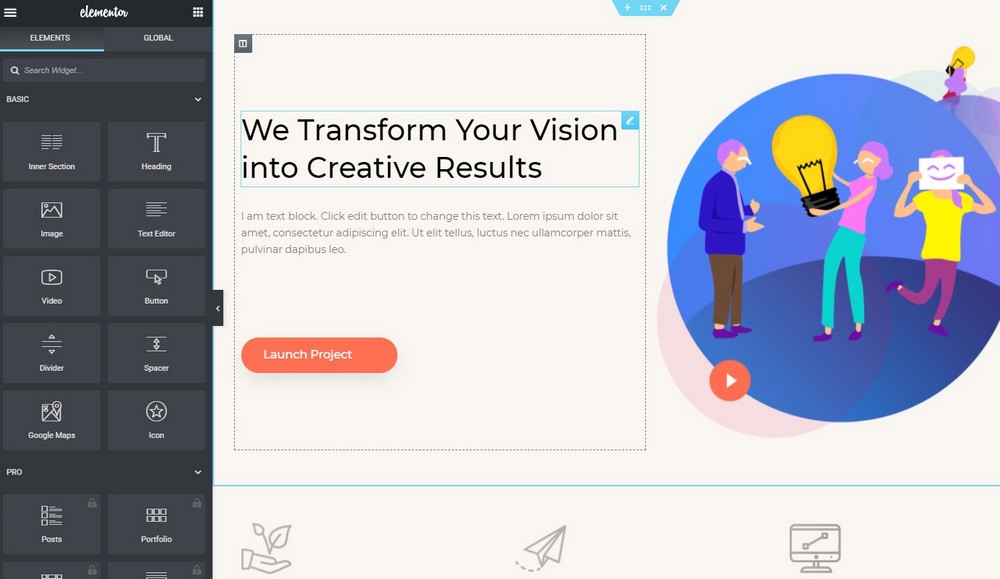 All you have to do is install a page builder plugin, create a new page in WordPress, and craft your homepage design using the WYSIWYG editor. Then you can set the custom page as your homepage in the Settings >> Reading section.
A more convenient way to use page builders is to use a theme that's built with one. See out Elementor WordPress themes collection for examples.
How to Edit the Sidebar in WordPress
If you have a blog or magazine website with a sidebar area, you can use it to your advantage to promote your blog content, advertisements, and even get more subscribers to your email list.
You can edit the sidebar using WordPress widgets. Here's how you can customize the sidebar area to add new widgets.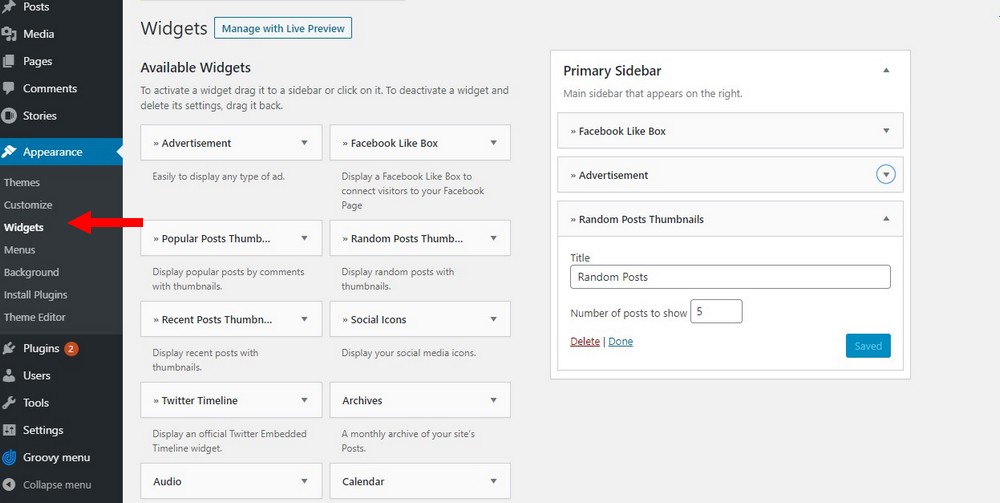 Login to your WordPress admin dashboard and go to Appearance >> Widgets.
Then find the primary or blog sidebar of your website. And simply drag and drop widgets to the sidebar area. You can also move the widgets in the sidebar area to rearrange the order of the widgets.
5 Useful WordPress Sidebar Plugins To Try
Another great way to edit and customize your WordPress sidebar is to use third-party plugins. These are just a few of the great plugins you can use to transform your sidebar area.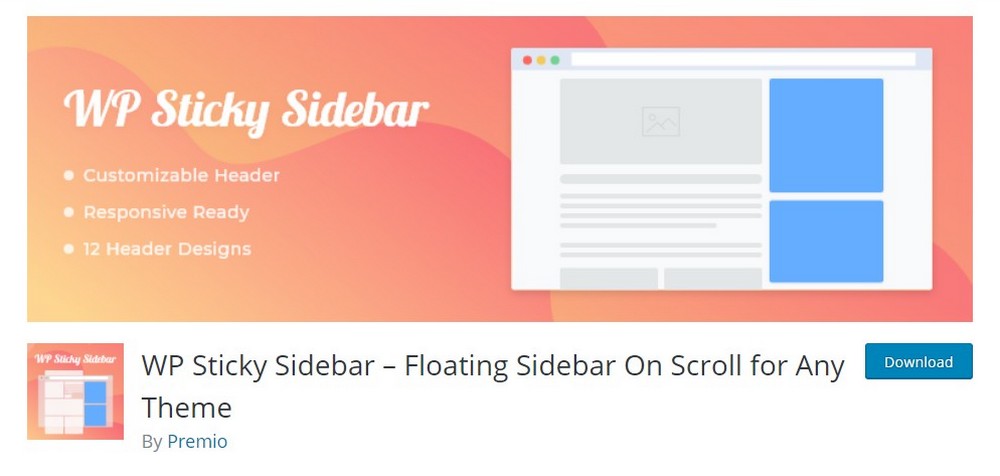 If you write long and detailed posts where users have to scroll down a long way to read the article, the sidebar will be less effective as it disappears when scrolling down. This plugin solves that problem by making your sidebar area stick to the top. This means the sidebar will stay visible no matter how far you scroll down.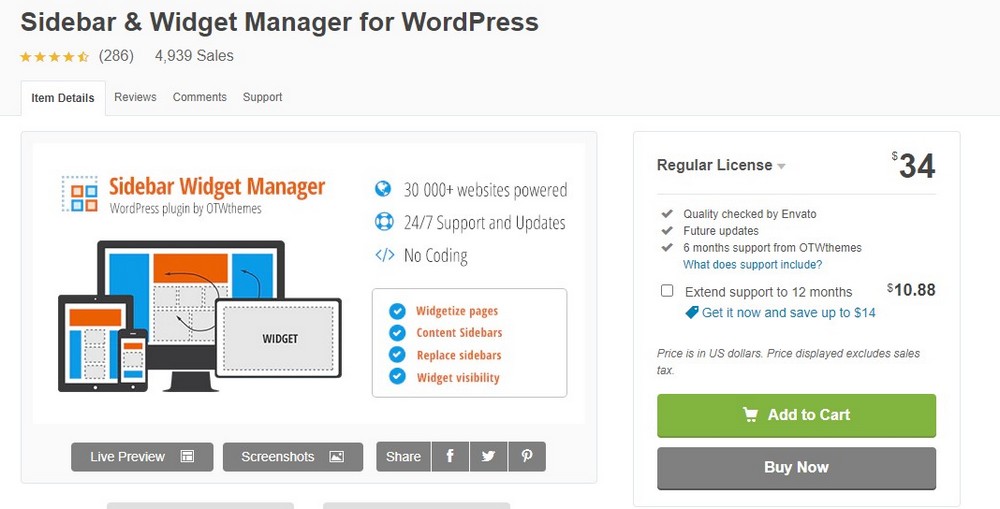 This is a useful plugin you can use to create custom sidebar areas and even replace the old sidebars with new ones. For example, if you want to show different sidebars for specific pages of your website like product pages and landing pages, this plugin will help you get that job done. It also has many other great features too.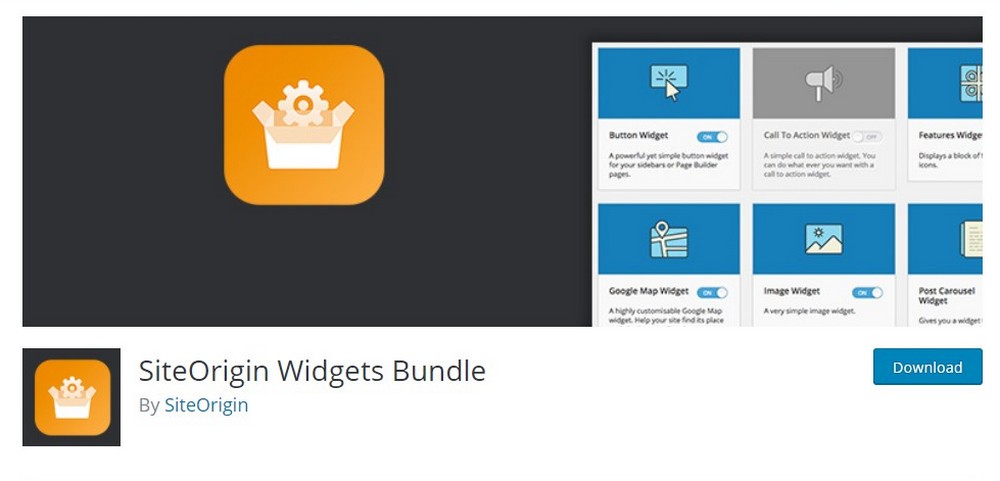 SiteOrigin Widgets Bundle is a collection of useful widgets that you can use in your sidebar as well as in your custom homepage designs that you create using the SiteOrigin page builder. It includes many great widgets like a call to action widget, social media buttons, video widgets, Google maps, and much more.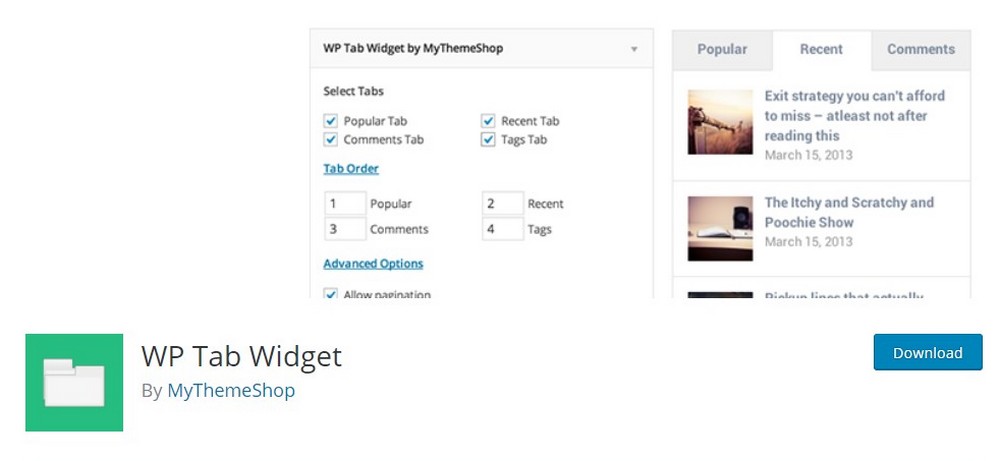 Showing your most recent and popular content in the sidebar is a great way to get more views for your blog posts. As well as to reduce the bounce rate by getting visitors to spend more time on your website. WP Tab is a great widget you can use to create a popular posts widget for your website sidebar. It features a tabbed design for switching between popular and recent posts as well as comments.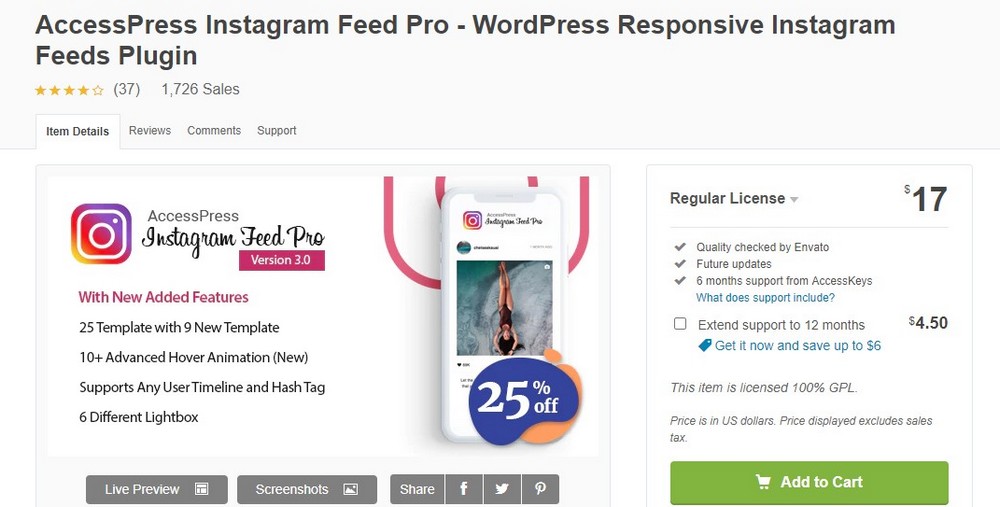 Many bloggers, especially travel bloggers and influencers, love showing off their Instagram feed on the blog. It helps drive more people to your Instagram account and boost the follower count as well. This plugin will allow you to setup an Instagram feed widget for your sidebar with just a few clicks.
Conclusion
Hopefully, these methods will help you personalize your website design to look unique and more effective.
Also, a great way to design a unique website is to pick a theme that's used by fewer websites. Downloading themes from niche marketplaces and theme bundles is a good place to start. Hint: We also have our own exclusive themes bundle. It includes more than 60 premium themes for the price of one.
Looking for WordPress hosting? We use Kinsta. They offer world-class WordPress hosting, built to keep your website fast, secure, and always online.