How to Add an Event Calendar to Your WordPress Website
Whether you have a hotel website, charity, educational, gym, or spa website, an events calendar is a must-have feature for almost all types of business websites.
Many different businesses host special events to attract more customers and visitors. Having an events calendar page on your website will help promote these events further by reaching new audiences online.
If you still don't have an events page on your website, now is the best time to add one. In this guide, we'll show you two easy strategies you can use to add an events calendar to your website and then we'll guide you through the installation process, step-by-step.
Let's get started!
Get everything you need to build your next website with one simple subscription. From $16 per month, get unlimited access to nearly 2 million WordPress themes, web templates, fonts, graphics, and photos.
What Is An Events Calendar?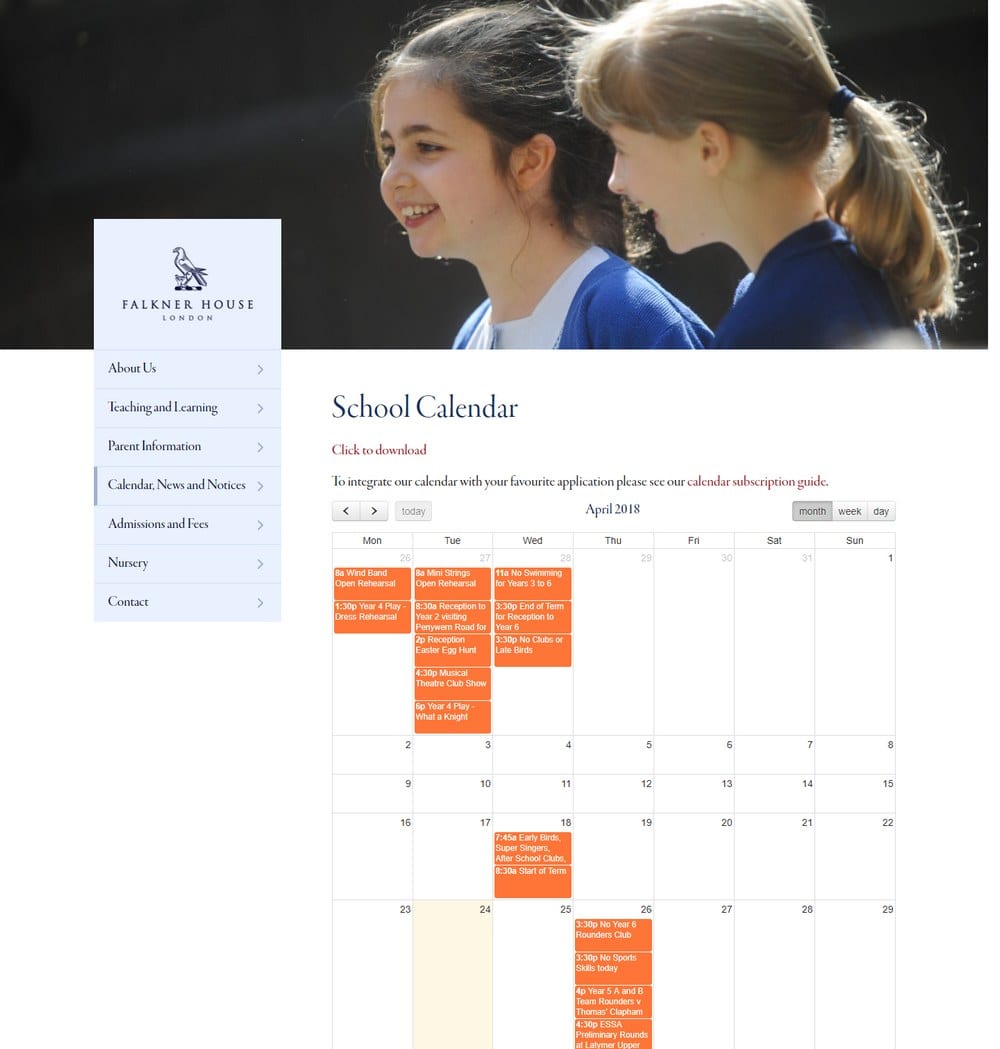 An events calendar is a section that you can add to your website to showcase the upcoming events related to your business or company. It usually looks just like an ordinary calendar where you can highlight the special events month by month, except this events calendar will be fully interactive.
A WordPress events calendar works much easier than other types of website calendars. With WordPress, you can easily edit your events calendar from the admin dashboard to add and remove events from your calendar. No web design or coding experience required.
Different Types Of Events Calendars
Different businesses use events calendars differently. Some even use calendar plugins to let users book appointments to special events as well. Depending on the plugin you choose for your website, you can bring that type of functionality to your own website as well.
Here are some of the ways business websites use events calendars.
Hotel events calendars: Almost all hotels supports seasonal events and activities such as hiking, skiing, biking, beach parties, DJ events, etc. A website events calendar helps promote these events to the public.
Charity, Health, and Fitness events calendars: Hospitals, clinics, spas, and fitness centers often have special events like blood drives and special fitness programs. And they use events calendars to highlight those events.
Travel and Flights events calendars: An events calendar is a must-have for a travel or flight-related This helps to highlight upcoming special tours and flights so that customers can easily find an event they like to join.
Schools and Coaching events calendars: Schools and colleges often host different types of events each month. Setting up an events calendar on your school website allows the students to keep track of the upcoming events.
Why You Should Add One To Your Website
Your website acts as a hub of information that your customers use to learn more about your business and services. An events calendar allows your website visitors to easily explore and discover upcoming events so that they can look forward to specific events.
For example, you can link to your events calendar website page from your Facebook or Twitter so that people can learn about your upcoming events and visit your business during these events. Maybe even run a Facebook ad campaign promoting your events page.
An events calendar will also help your business website to be more discoverable on search engines. If you do your SEO right, your events page will get ranked well on Google for related keywords and search phrases.
2 Best Ways To Add An Events Calendar
WordPress makes it extremely easy to add an events calendar to your website. Whether you're starting a brand new site or want to add an events calendar to an existing website, it can be done in a few simple steps.
There are two ways you can add an events calendar in WordPress.
Get An Events Calendar Compatible Theme
Getting a pre-built WordPress theme with an events calendar is the best way to approach if you're looking for a simpler solution.
By using an Events Calendar compatible WordPress theme, you won't have to try out different calendar plugins to find the best option or spend hours trying to customize the calendar design to match your theme.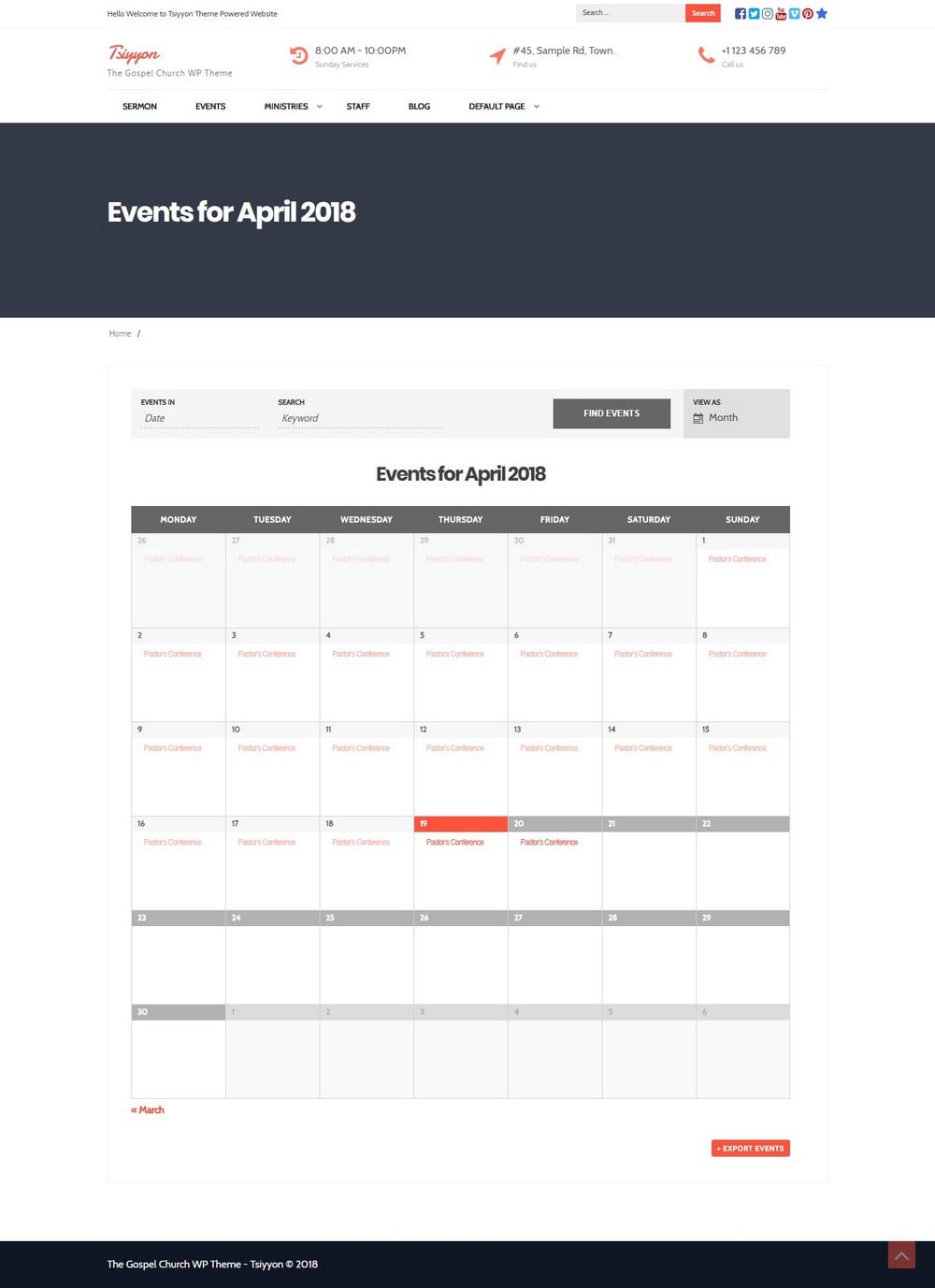 (Example: Tsiyyon WordPress theme)
These themes often come bundled with a premium events calendar plugin so you won't have to spend money on buying a plugin either.
Install A Plugin
If you already have a website with a great looking theme and don't want to upgrade to a new design, then using a plugin is the next best approach you can use.
We recently did a comparison of the best WordPress calendar plugins you can use to add events and a scheduling system to your website. Check it out to learn more about the different types of events calendar plugins available on WordPress.
Depending on the type of business website you have, you can pick a plugin that supports the right features and functions like search functions, ability to view by monthly, weekly, and detailed view of event items.
How To Install The Events Calendar Plugin
Once you pick a calendar plugin that fits your business, you can follow its instructions to install the plugin on your website.
To show you how it works, we're going to use a popular free WordPress plugin for the demonstration. Although, most events calendar plugins works pretty much the same way.
Step 1: Install The Events Calendar Plugin
We're using the Events Calendar plugin for the demonstration. It's one of the most popular events plugins on WordPress with over 600,000 active installs.
First, log in to your WordPress dashboard. Go to Plugins >> Add New and search for the Events Calendar plugin.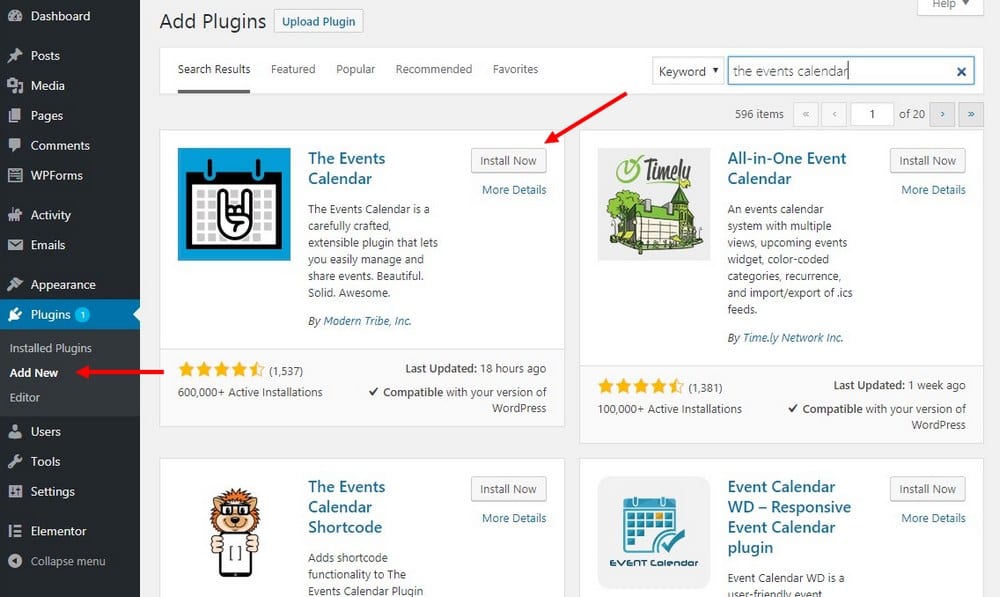 Then, click on the Install button. Once the installation is complete, click Activate.
Note: If you're installing a premium plugin that you've purchased from a different marketplace, use the Upload Plugin option to install your downloaded plugin file.
Step 2: Add Categories And Events
After installing the plugin, it will add a new section to your admin dashboard called Events.
Go to Event Categories page under this section to add categories to your calendar.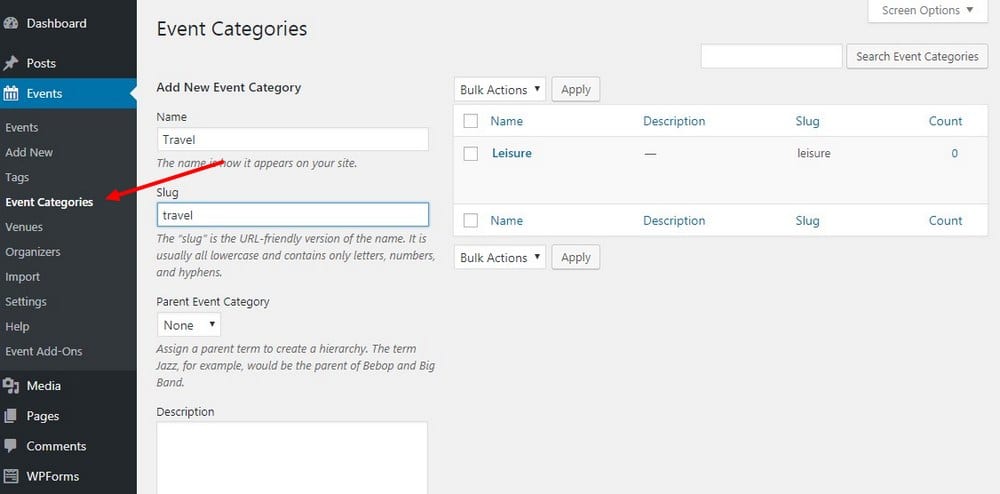 You can also go to Venues and Organizers pages to add specific information related to your events.
Go to Add Events page to add new items to your events calendar.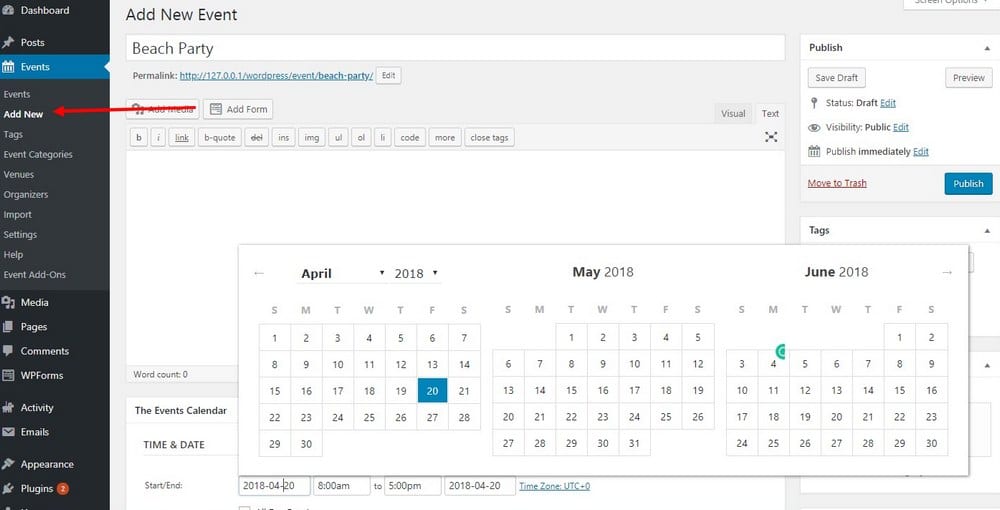 Here you can add more information related to the event, add start and end dates, include an address, Google Maps, and more.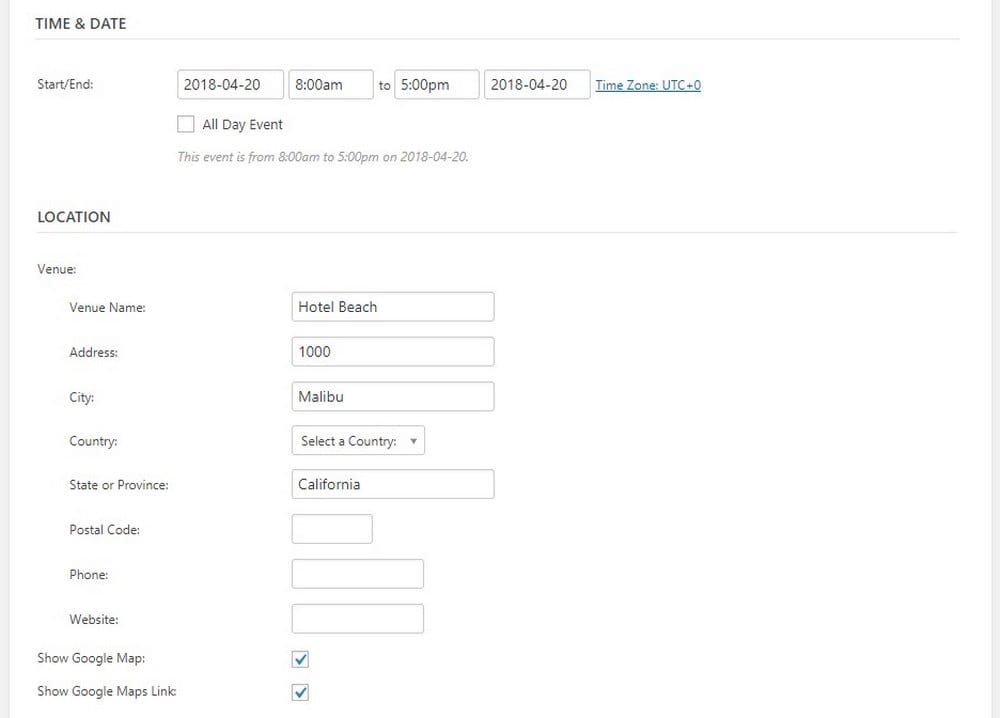 After adding all the information, hit Publish to add the event to your calendar.
Step 3: View The Events Calendar
To view the events calendar page, simply add /events at the end of your website URL (eg: www.yourwebsite.com/events). Or you can visit via the link on the admin toolbar on top of the screen.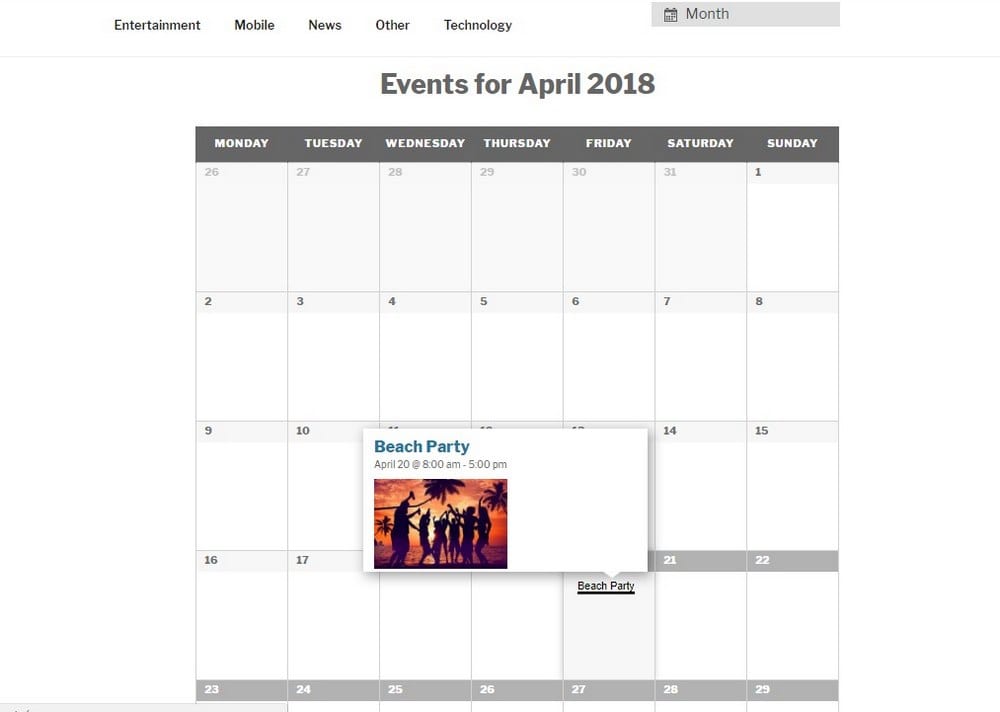 Hovering over an item on the calendar will view more information related to each event.
Clicking on an event will open a new page showing all the detailed info with the Google Map location of the event.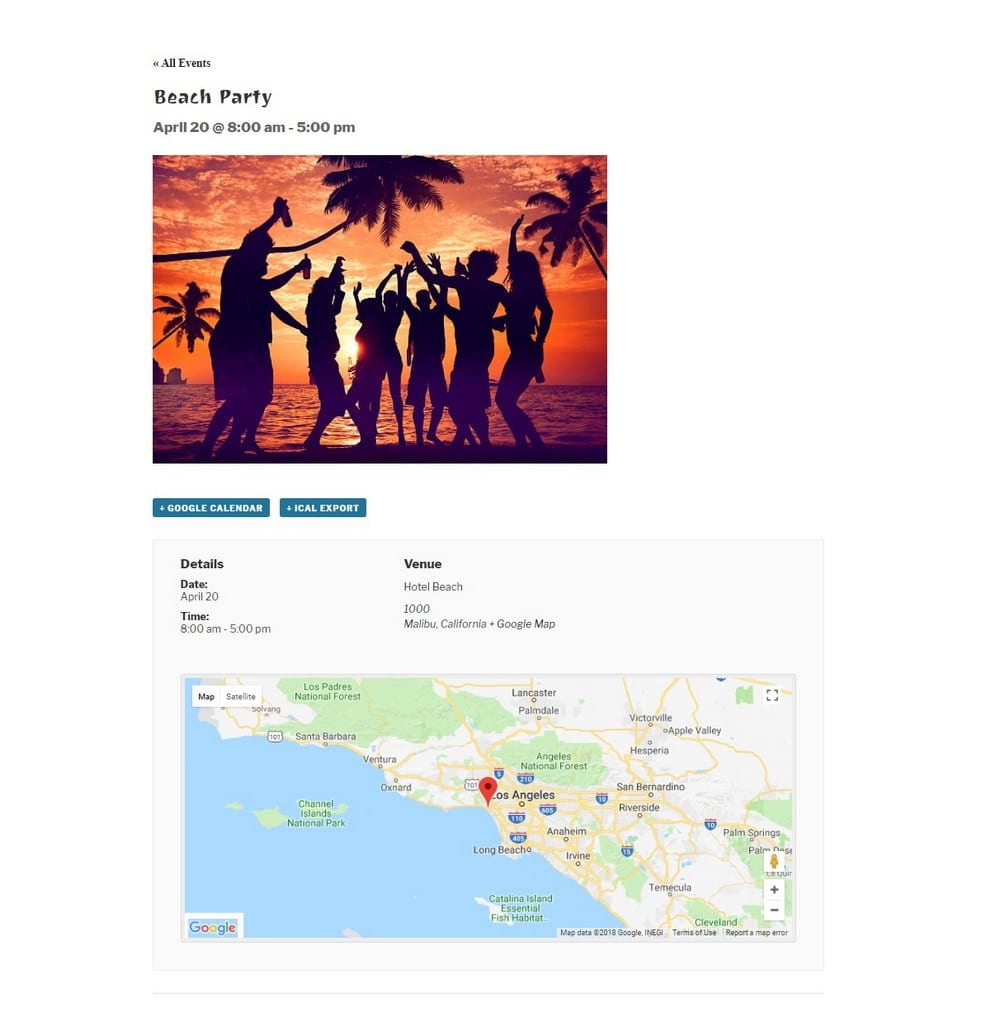 The free version of the Events Calendar plugin doesn't support shortcodes. If you want to add an events calendar to a specific page, you'll have to purchase the pro version of the plugin.
Wrapping Up
Picking the right events plugin for your website can be a challenging task. Because you not only have to find the best plugin with the necessary features but it also has to match with your current theme design.
The easiest approach is to get a WordPress theme that already comes packed with an events plugin. If you're in the market for a new theme, be sure to check out our collection of the best events calendar compatible WordPress themes to find inspiration.