3 Free Simple CMS Alternatives to WordPress
WordPress is popular for a reason. It's the most flexible and beginner-friendly content management system available today. That's why more than 29% of the websites on the Internet trust and rely on WordPress for their business.
While WordPress can be used to build almost any type of a website, there are times that you might want to look for an alternative CMS to build certain types of websites.
Maybe you're looking for a simple and lightweight CMS without any complicating features and installation procedures to build a personal blog. Or you're trying to avoid popular platforms for security reasons.
Thankfully, there are plenty of simple and lesser-known alternatives you can choose from to set up a simple website without too much trouble.
In this post, we'll show you 3 of the best CMS alternatives to WordPress you can find today. These CMS options are not only easy to use but they are free to download. Have a look.
Get everything you need to build your next website with one simple subscription. From $16 per month, get unlimited access to nearly 2 million WordPress themes, web templates, fonts, graphics, and photos.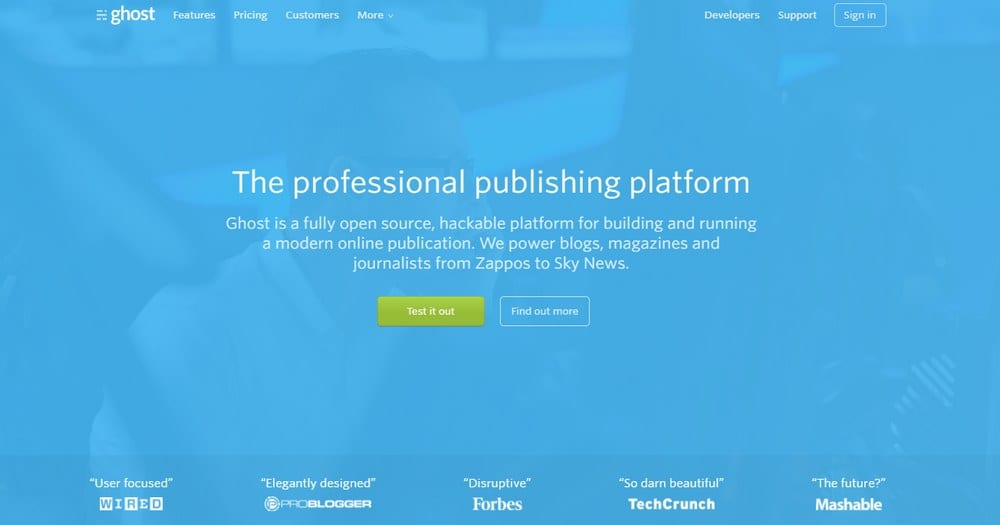 If you're a writer looking for a minimalist platform to write blog posts without any distractions, then Ghost is the perfect CMS for you.
Ghost is an open-source blogging platform best for creating small and personal blogs. Since its launch in 2013, more than 1.2 million websites now gets powered by Ghost. Mozilla VR Blog, Tinder Blog, DuckDuckGo Blog, and the Cloudflare Blog, are some of the most popular websites that use Ghost for content management.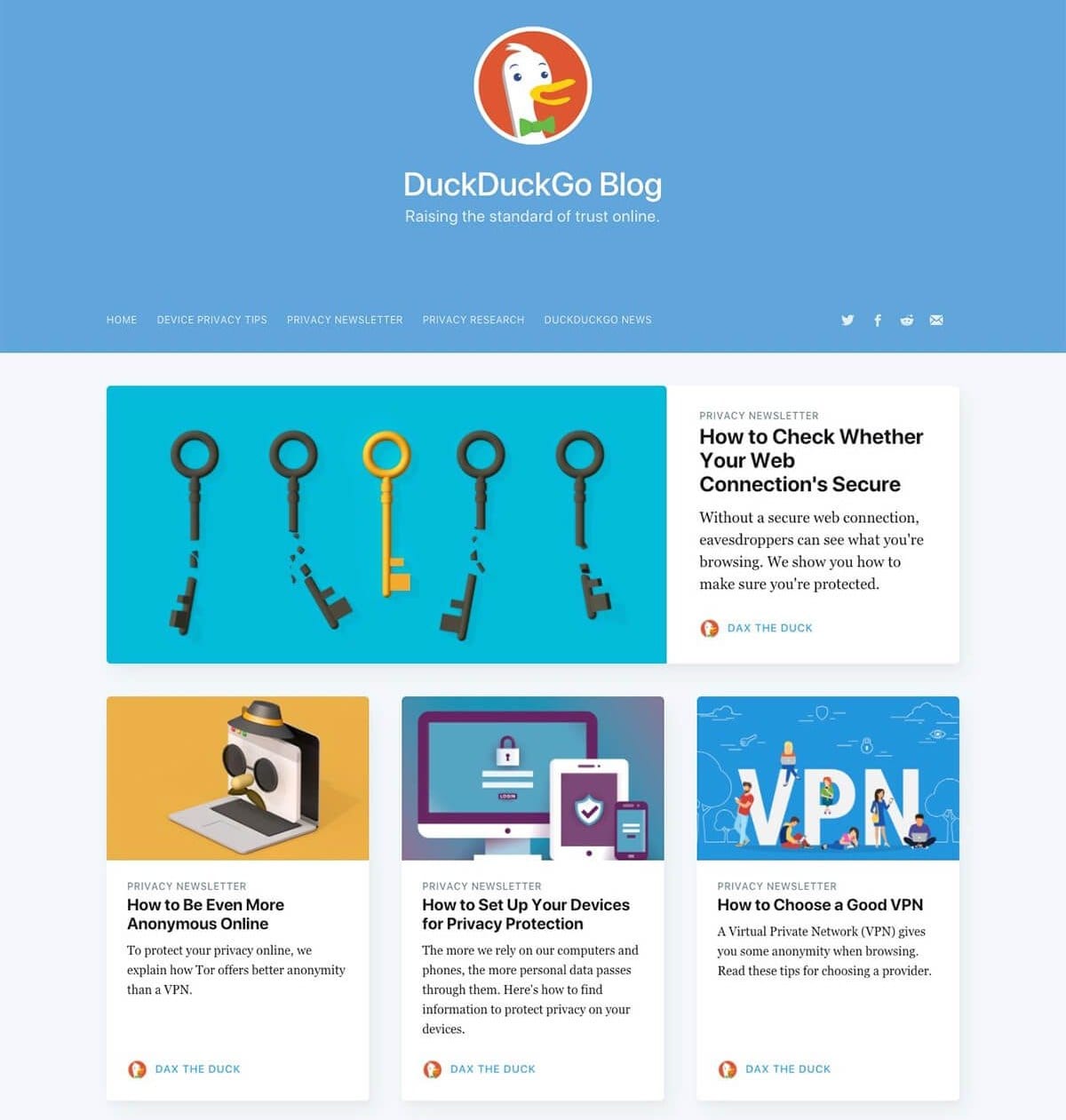 Simplicity is the main feature of Ghost. It prioritizes on minimalism and gets rid of the complicating user interface options so that you can focus on what matters the most: Writing the articles.
Main Features
Minimalist markdown editor for writing blog posts.
Beginner-friendly user interface.
Ability to add more author roles, schedule blog posts, and easier content management.
Integrated support for AMP for mobile optimization.
Built-in SEO with automatic meta, canonical tags, and sitemaps.
Benefits Of Using Ghost
One of the main benefits of using Ghost is that it's much faster than WordPress websites since it comes without any bloatware.
Ghost is also easier to manage thanks to its minimalist user interface which allows you to easily manage your blog posts, categories, and images from one place.
Downsides To Using Ghost
When it comes to customizing and personalizing your blog design, Ghost offers very few options. While you can change colors and add logos, you can't make any advanced changes to your Ghost blog design without having to edit its code.
You can change the design using a pre-built Ghost theme, but those are hard to find. Even the Ghost's own marketplace has less than 30 premium Ghost themes.
If you're planning to monetize your blog with ads, then Ghost is definitely not the best solution as it doesn't support advertising unless you manually code a design with space for ads.
Pricing
Ghost is an open-source CMS. You can download it and use it on your own for free. However, finding a web hosting service that supports Ghost won't be easy since only a very few platforms support Ghost.
You can also subscribe to a Ghost premium plan to host your blog on official servers. Their pricing plans start at $19 per month.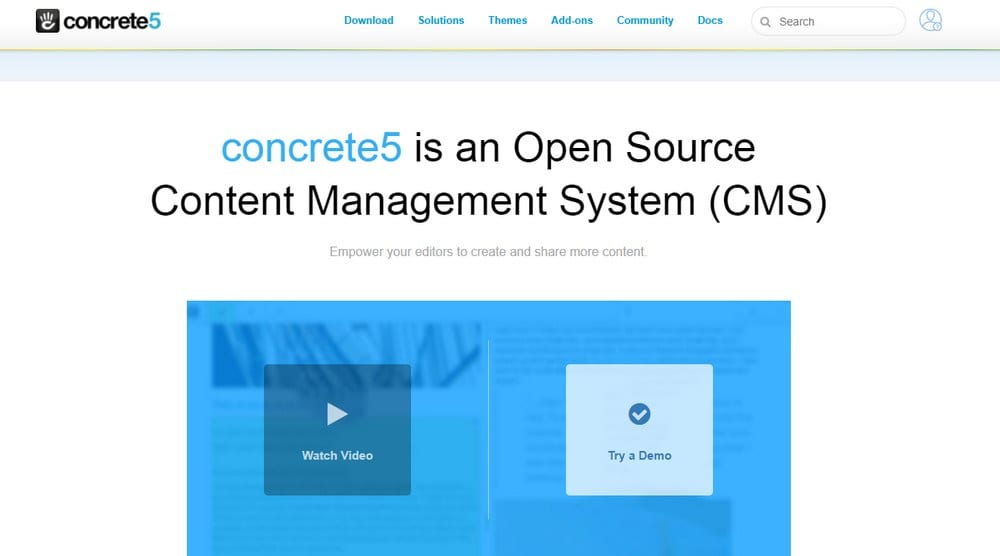 Concrete5 is alternative to WordPress that's also more complex and advanced than Ghost. This CMS is built for designers and developers in mind.
Officially released in 2008, Concrete5 is now being used to build all types of websites from blogs to business websites, eCommerce stores, government websites, online magazines, community forums, and much more.
Over 760,000 websites get powered by Concrete5, including Cambridge University Press, Mini UK website, Philippines Airlines website, Switzerland Government website, and more.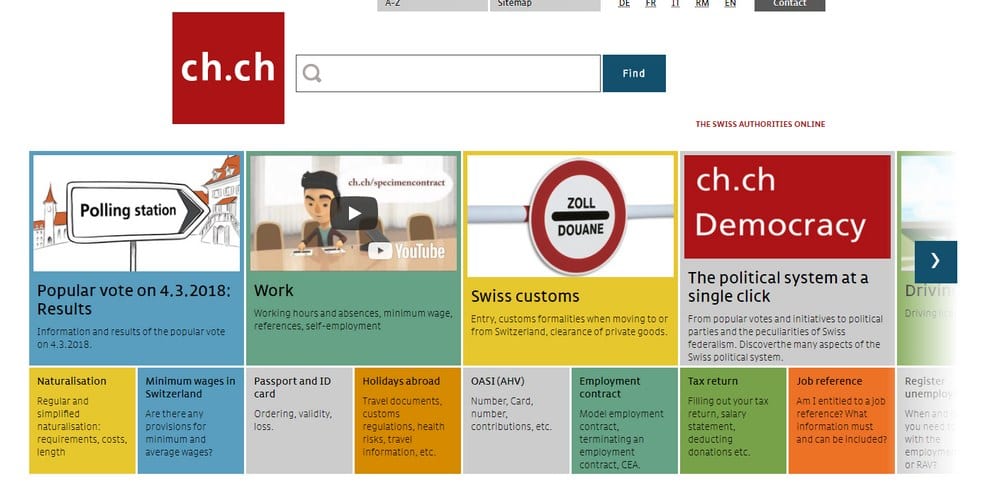 Concrete5 is a CMS that focuses on design more than blogging and writing as it comes with a WYSIWYG (What You See Is What You Get) editor, which allows you to customize the design and edit the content of your website directly on the pages.
Main Features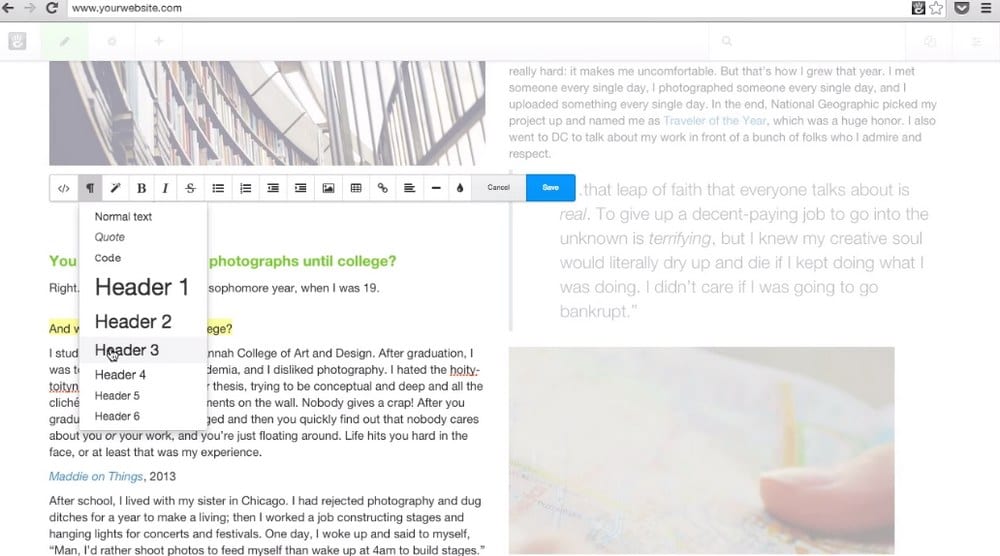 WYSIWYG in-context editor with drag-and-drop.
Easier to customize website design.
Mobile-optimized layout.
Ability to extend features with Add-ons.
Optimized for SEO and social with meta tags, XML sitemaps, and social buttons.
Comment systems, form validation, surveys, and other marketing tools.
Benefits Of Using Concrete5
The WYSIWYG editor is the biggest benefit to using Concrete5. This means that you can directly write your blog posts or edit the text on your homepage without having to go through a back-end editor and having to publish every change you make.
The CMS is also great for beginners who have no experience in customizing a website design. Concrete5 gives them the freedom to edit and make changes with the simplicity of using a page builder, just like Wix and Squarespace but with much more freedom and room for customization.
Downsides To Using Concrete5
Much like Ghost, Concrete5 is also not quite a popular CMS in the web hosting space. There are no options available for installing Concrete5 with just one-click. You'll have to manually install it on your server.
The CMS comes with a limited set of over 100 themes for customizing the design, most of which are free to download.
Pricing
Concrete5 is completely free to download and use. You can also set it up with a managed web hosting plan starting at $30 per month.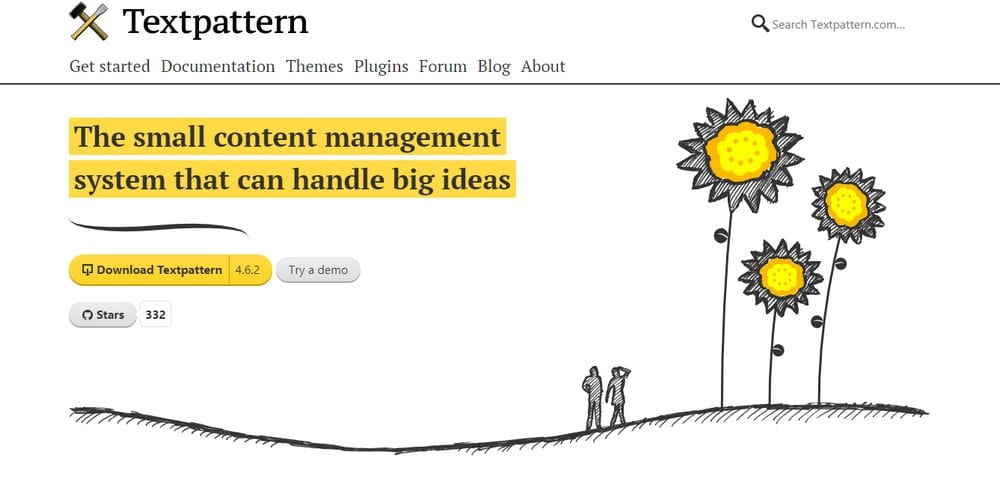 Blogging doesn't get more minimalist than this. TextPattern is the ultimate CMS for simple bloggers and minimalists. Weighing in just under 2Mb, TextPattern is a lightweight CMS for setting up personal blogs.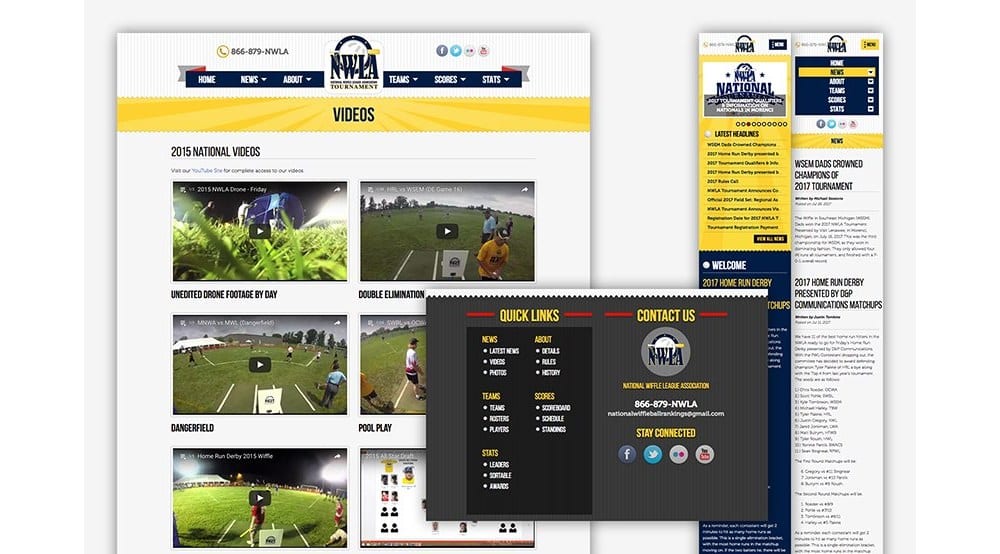 First released in 2003, TextPattern is still considered as one of the most beginner-friendly CMS software for setting up blogs. The entire design of its user interface and editor is built with simplicity for offering a faster and easier way to blog.
Main Features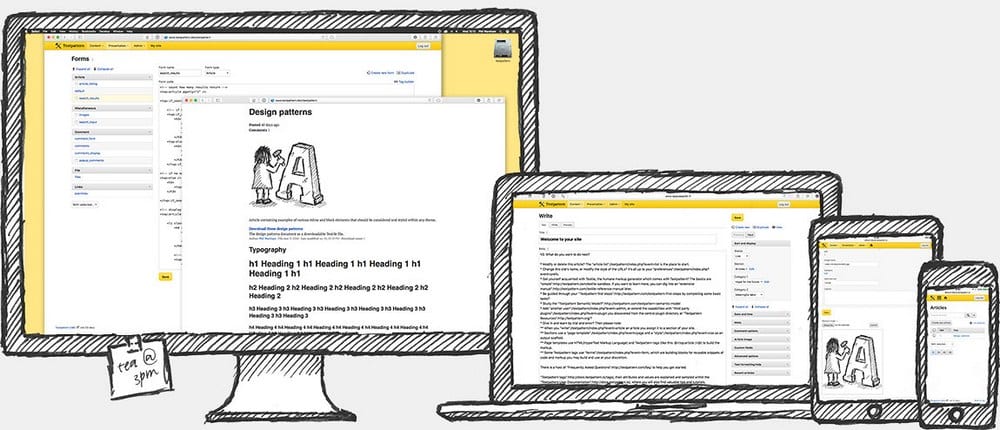 Fast and lightweight for offering the best performance.
Simple and beginner-friendly user-interface.
Support for over 40 languages.
Admin templates.
Add more features with
Benefits Of Using TextPattern
The extremely lightweight design of the TextPattern CMS makes it much faster and responsive than WordPress. You can also customize the admin user interface with custom designs to personalize the CMS to your preference as well.
TextPattern is also developer-friendly. Web designers and coders can build themes and blogs using the CMS to make their own creations with less effort. Thanks to its library of plugins, adding more functions is also quite easy.
Downsides To Using TextPattern
While you can customize both the admin interface of the CMS and the front-end design using pre-built themes, there are only very few options available. Installing and customizing these themes will also require a little bit of web design knowledge.
TextPattern is a simple CMS that can be hosted on almost any web hosting platform. You just need to login to your server and extract the TextPattern.zip file in the web root and create a MySQL database to begin the installation. Of course, this means you'll need a little bit of experience setting up websites and using  FTP clients.
Pricing
TextPattern is an open-source project and it's completely free to use. However, you'll have to find a web host and set it up for yourself.
In Conclusion
Overall, WordPress is a much better solution to starting a blog or a website. You can choose from thousands of premium WordPress themes for setting up a WordPress blog and instantly setup hosting with just one-click to get started on building your website right away. There are also thousands of plugins you can use to extend the functionality of the website as you need it.
However, for those of you who appreciate simplicity and minimalism, Ghost, Concrete5, and TextPattern are much better alternatives, especially for beginners with minimum experience in web design.