35+ Best Free Annual Report Template Designs 2023
Putting together an annual report can be an extremely time-consuming task, from compiling all of the required facts and figures to writing interesting and informative content to proofreading and editing – and that's before you've even started thinking about the design of your report!
Luckily, we're here to make that part easier for you, with a range of free annual report templates for a variety of editing programs that you can download and use straight away. We've also included a selection of premium annual report templates from Envato Elements, which include advanced features and extensive customization options that will help you really impress your readers.
Without further ado, let's take a look at the best annual report template designs from professional designers across the web.
Get everything you need to supercharge your work projects, business proposals, reports, and more. From just $16, get unlimited access to thousands of professional business templates for Microsoft Word, InDesign, Photoshop, and more.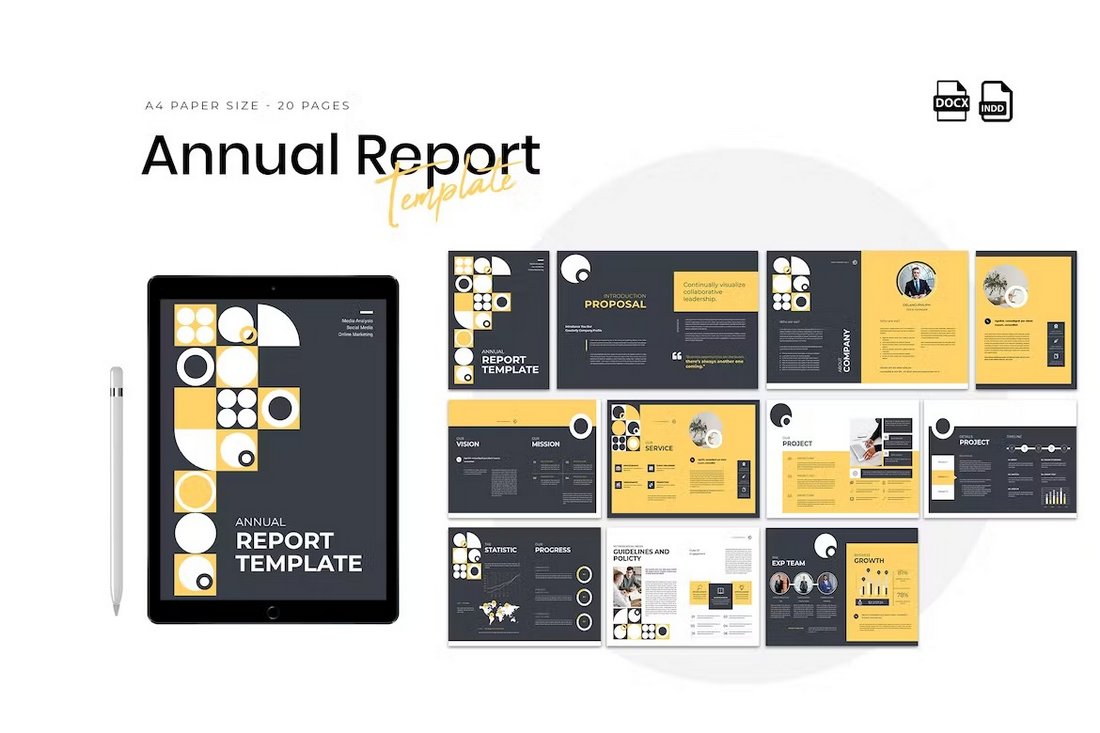 This is one of the best annual report templates on our list. It features a modern design filled with stylish geometric shapes spread throughout the pages. And it has beautiful layouts for showcasing your content. The template includes 20 pages and comes in Word and InDesign formats.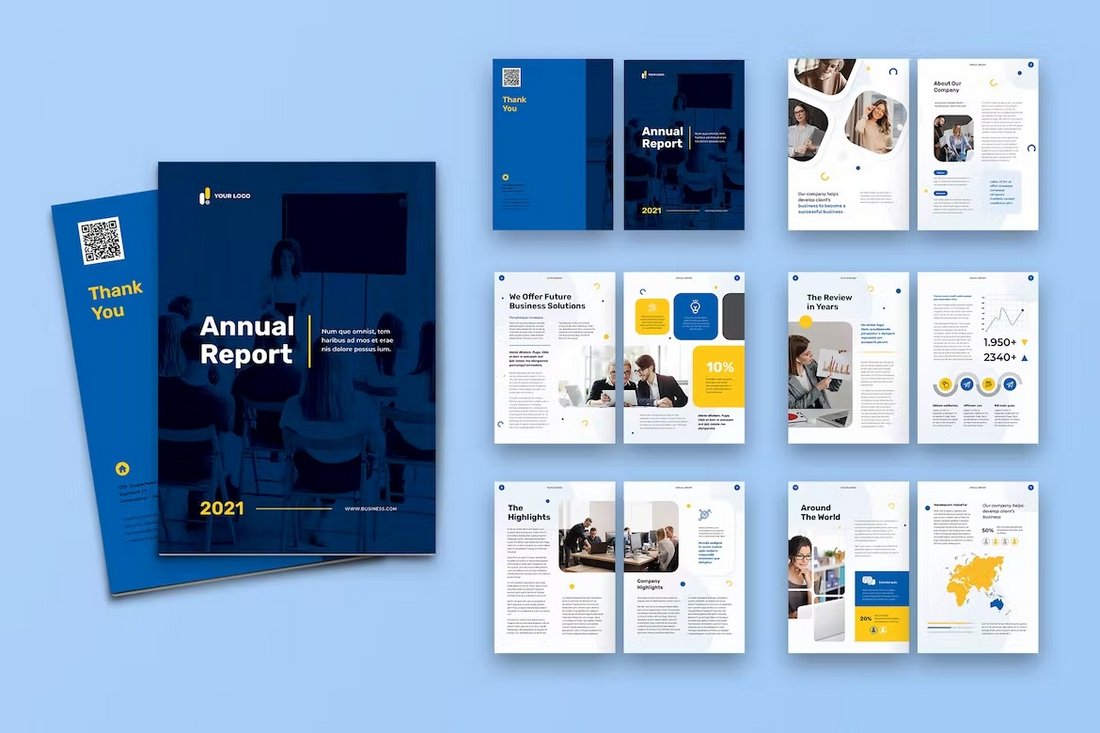 If you're looking for a brochure template with a clean and modern design, this InDesign template is perfect for making your annual report. It features minimal yet creative page layouts with unique content arrangements. There are 12 unique page designs included in the template.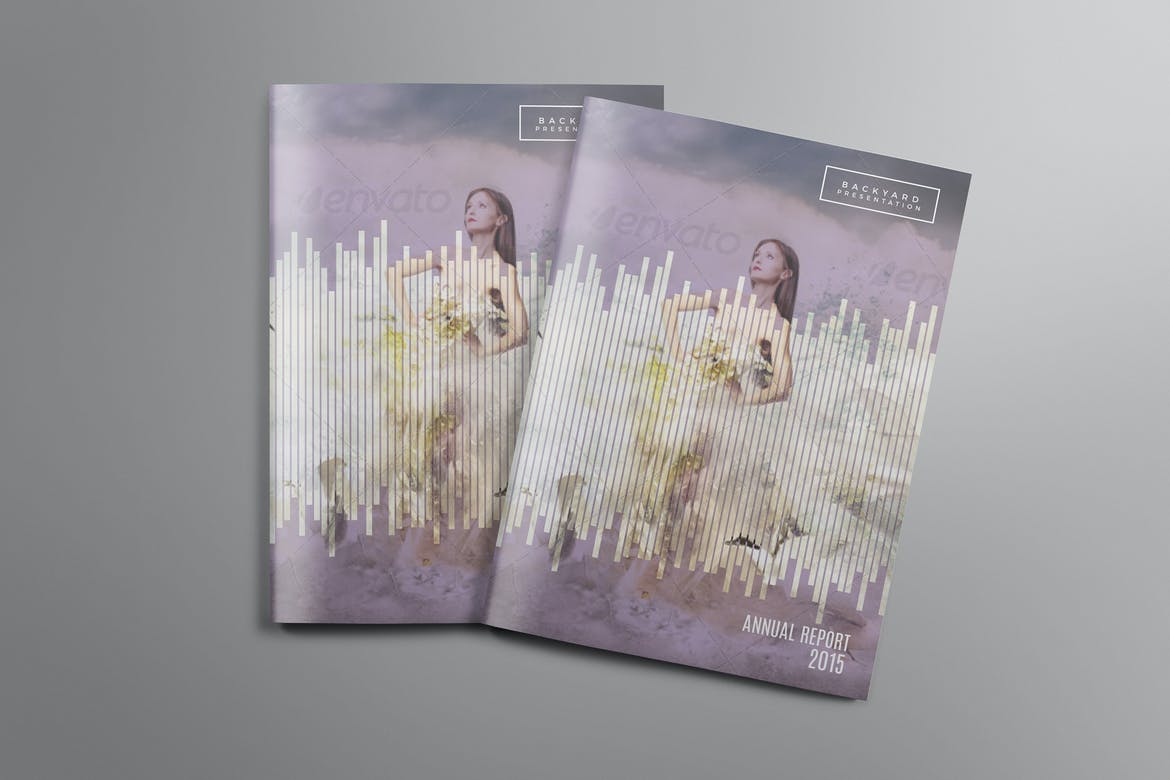 Let's start off with a selection of premium annual report templates from Envato Elements, beginning with this stunning modern design that's compatible with InDesign and features 36 professionally designed pages that are fully editable and easy to customize. It comes with vector graphics and a fully layered structure.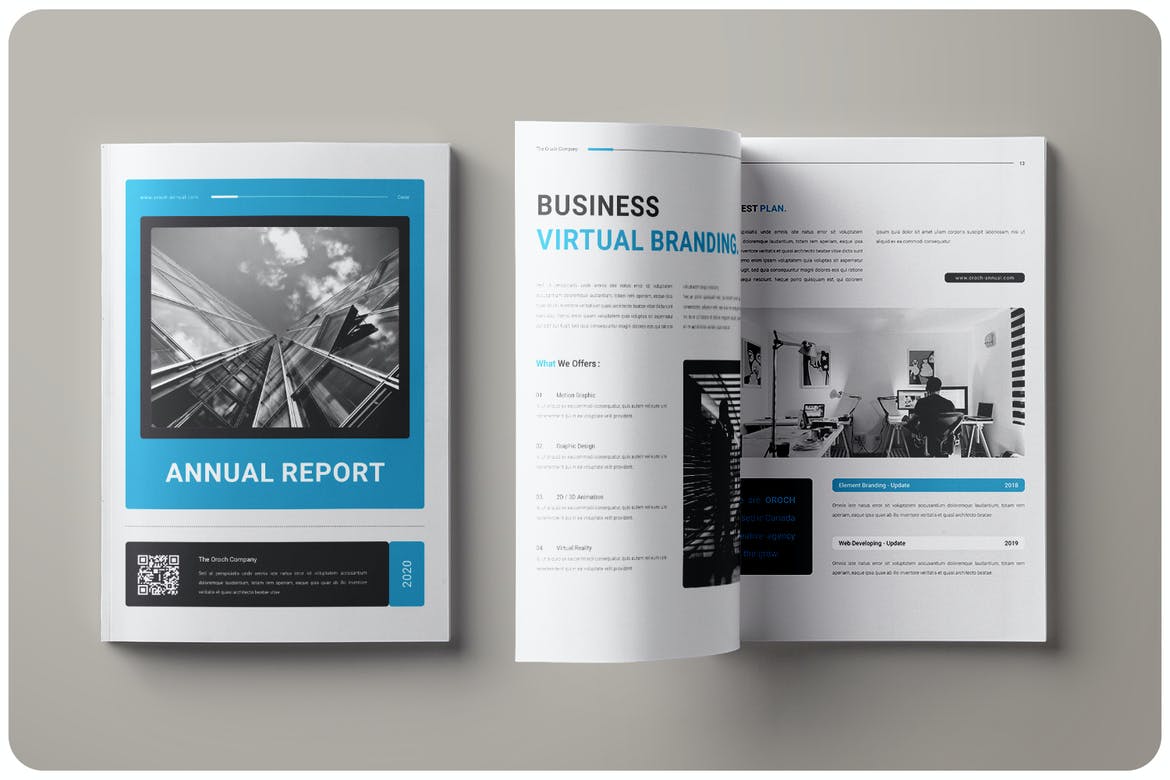 Perfect for a new professional services firm with a focus on technology, this editorial style annual report template offers a series of 16 unique pages with US Letter and A4 size formats, plus paragraph and character styles and a grid-based layout to make editing a breeze.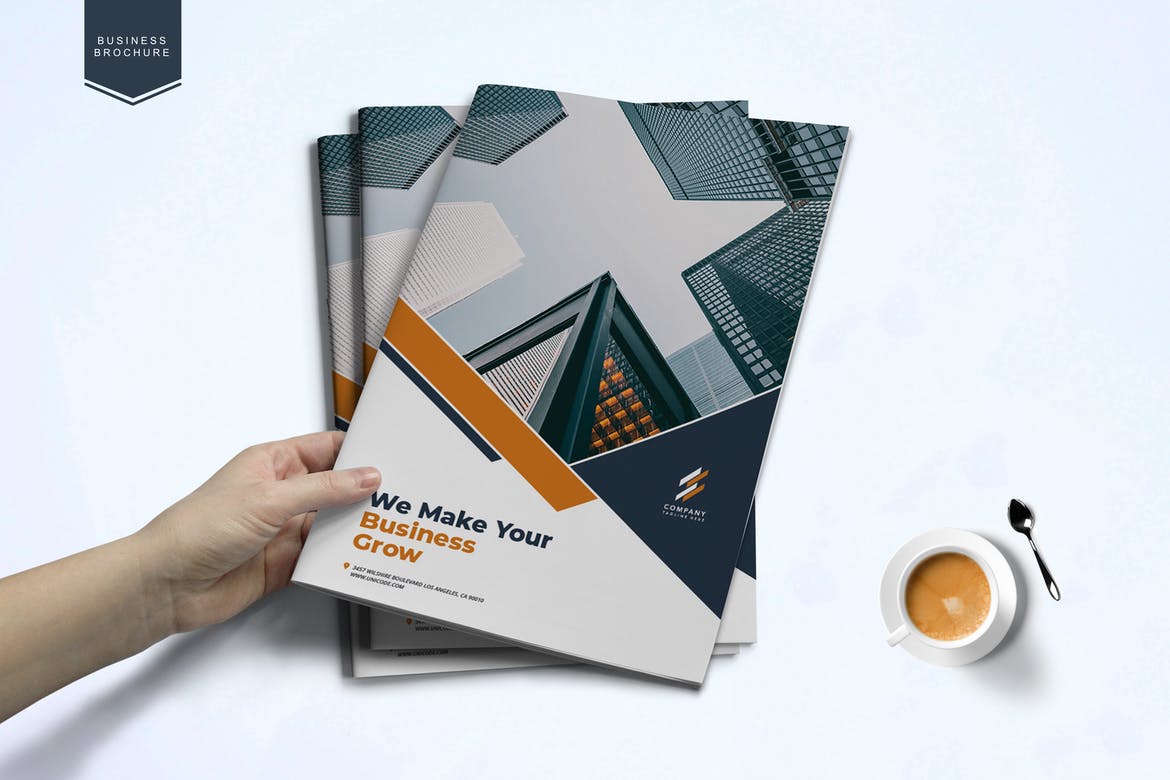 Next up in our selection of the best premium and free annual report templates is this classic option from Envato Elements, featuring a conservative yet eye-catching use of graphic elements to help you represent your brand and 12 unique pages with clean and highly versatile layouts.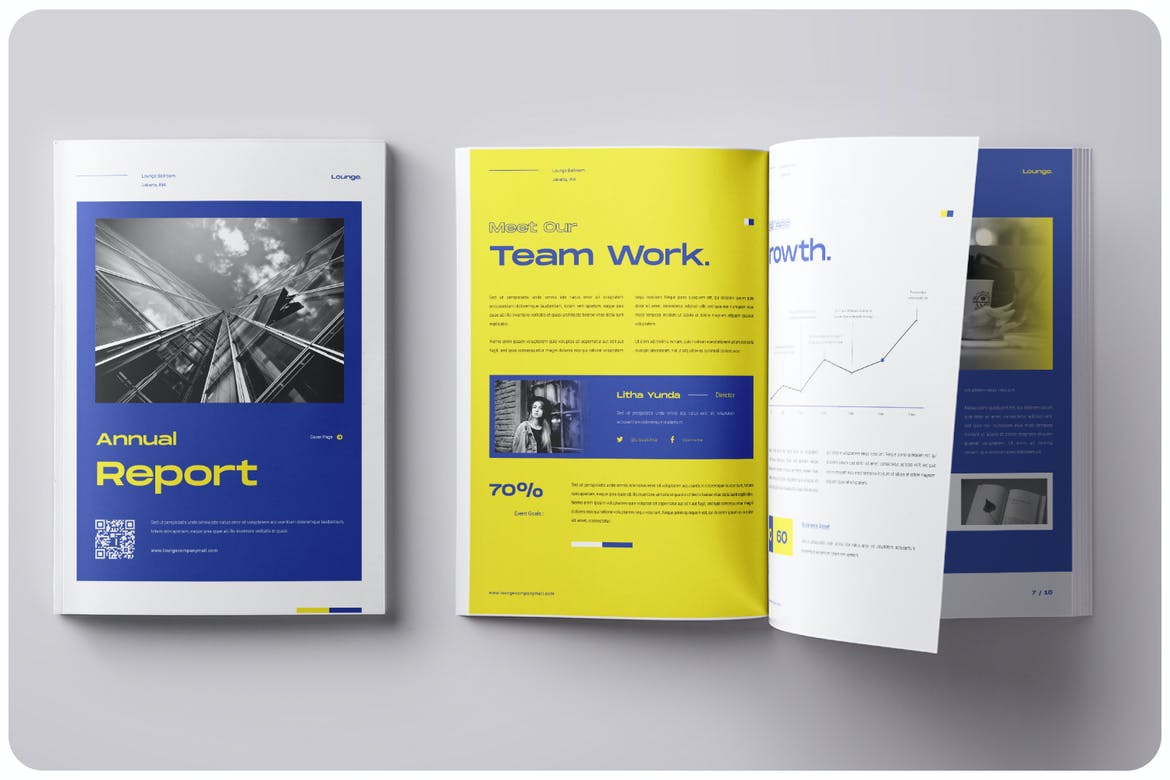 If your company motto is "go bold or go home", then this bright and colorful annual report template for Adobe InDesign might be the perfect fit! It features a funky yet professional design which can be fully customized to suit your brand and offers 16-page layouts for you to mix and match.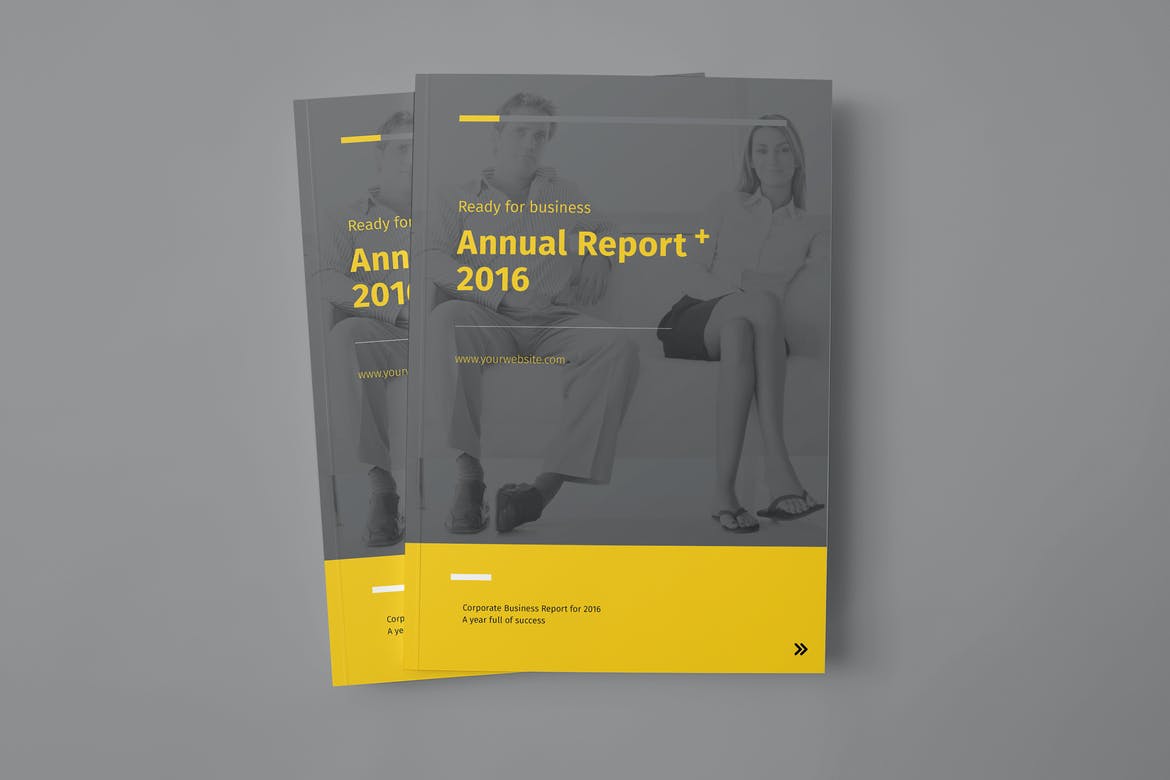 Next up we have a highly professional annual report template that's perfect for a corporate business, particularly in the finance and insurance industries. It comes with a total of 44 unique pages, each with a layered design featuring high-quality vector elements and a 300 DPI resolution.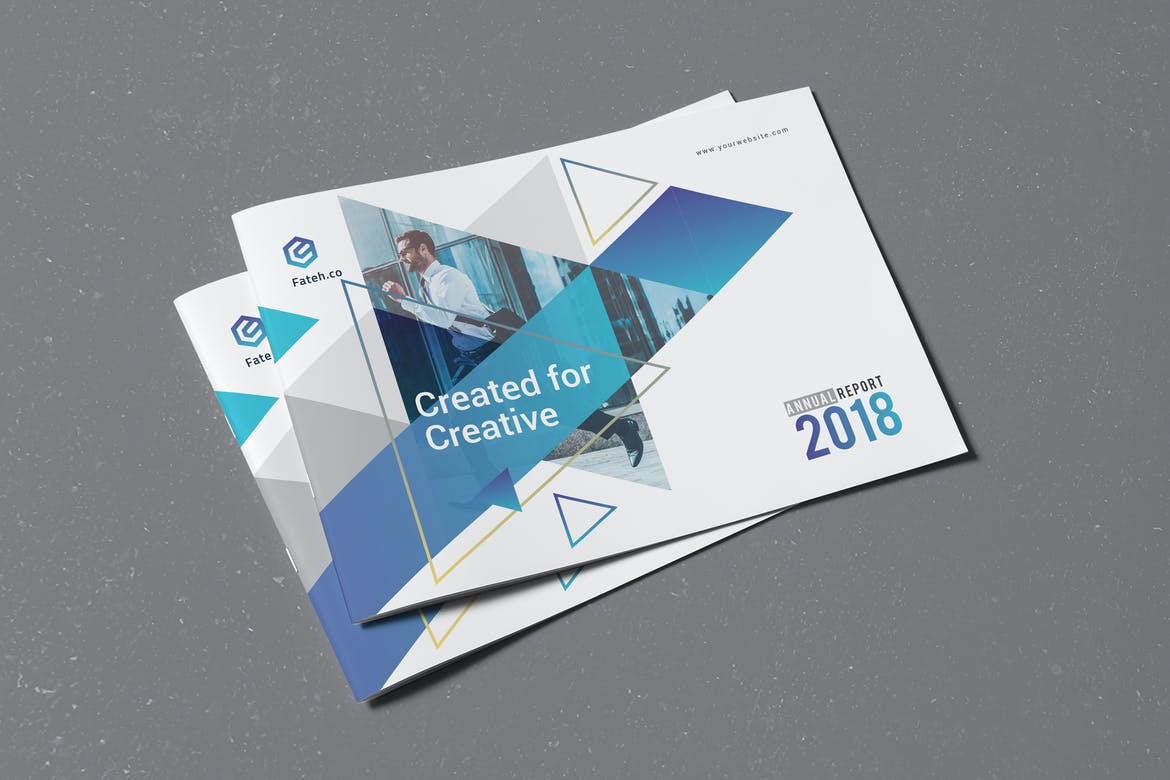 Looking for something a bit different, but still needing to keep your annual report tidy and professional for a corporate audience? Consider this landscape format template, featuring 24 beautifully crafted pages with paragraph and character styles and interchangeable color options.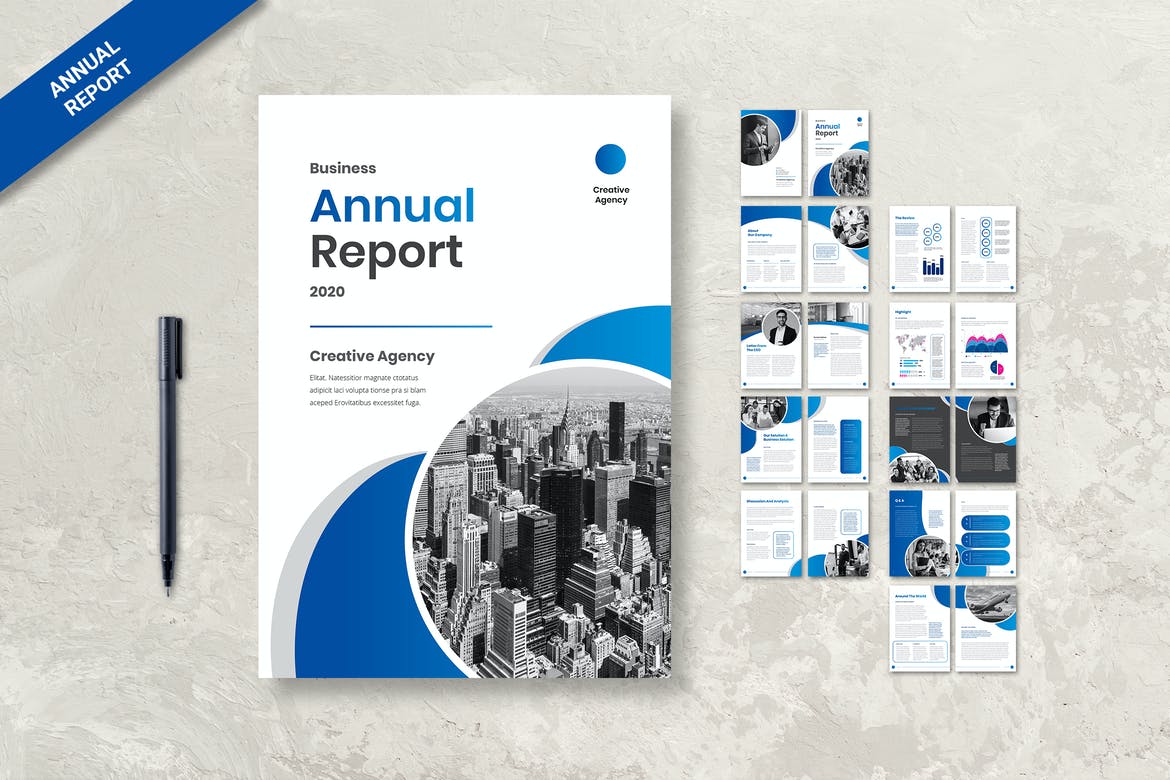 Another premium option that's suitable for large businesses in a professional services industry such as accounting or law, our next annual report template offers 20 unique A4 size page layouts with well-organized layers and free fonts, as well as a print-ready 300 DPI resolution.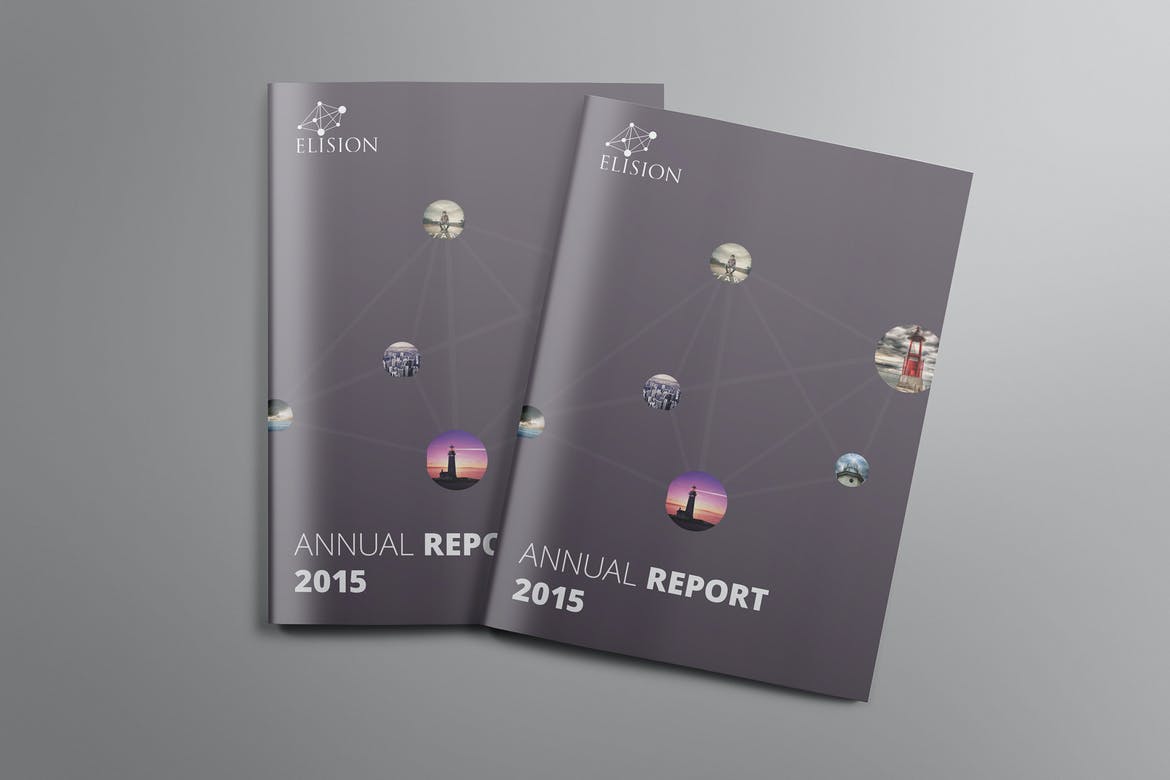 Ideal for professional corporate firms and small creative businesses alike, this multipurpose annual report template for InDesign features a stunning design across 34 unique pages, all of which are fully editable and ready to be customized with your own content. You can also change the color scheme in a single click.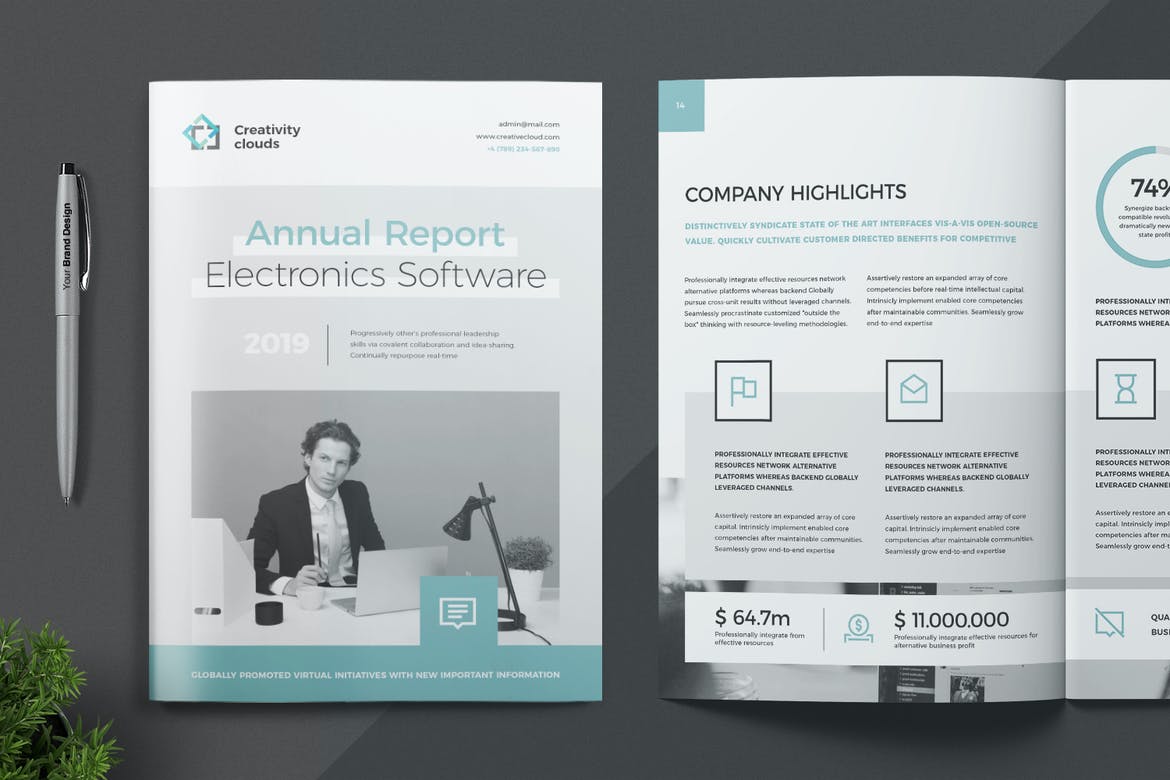 Searching for the perfect annual report template for an electronics or software company? You're in the right place – here we have a modern and well thought out booklet offering 20 pages which adhere to a functional grid-based layout, and come with free fonts and two sizing formats to choose from.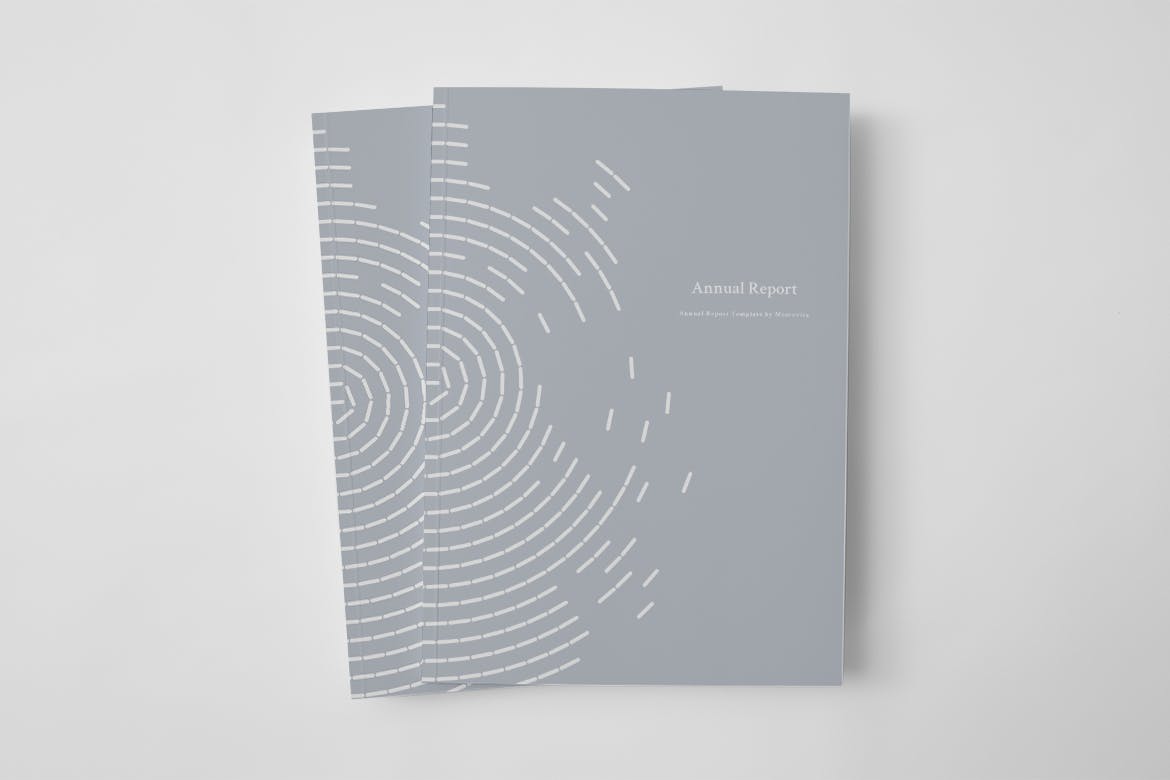 Next in our lineup of the best annual report templates is this monochromatic 28 page report that includes both InDesign and PDF formats, and features a 12-column grid-based layout, automatic page numbering, easily edited color palette, and separate layers for text, images, and graphics.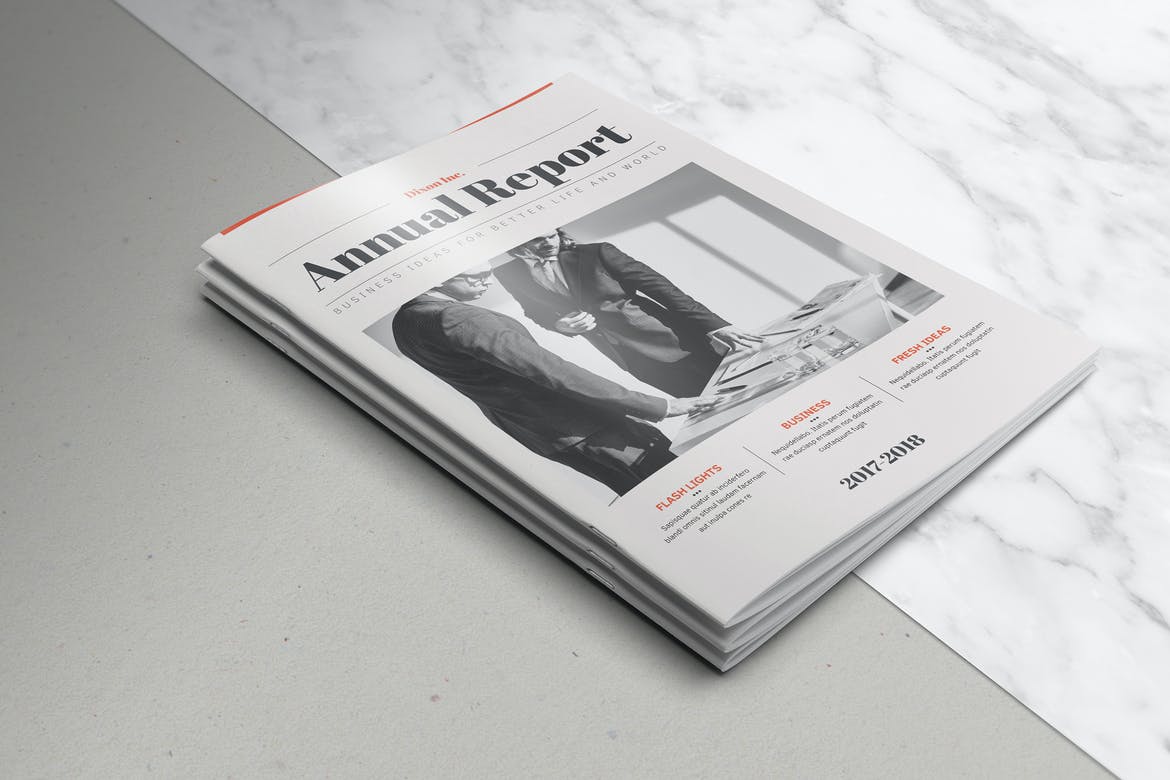 Looking to add a touch of vintage class to this year's annual report? Our next template features a clean, vintage-inspired design that's almost reminiscent of a classic print newspaper, and offers 16 pages with fully editable graphic elements and a fresh, functional layout.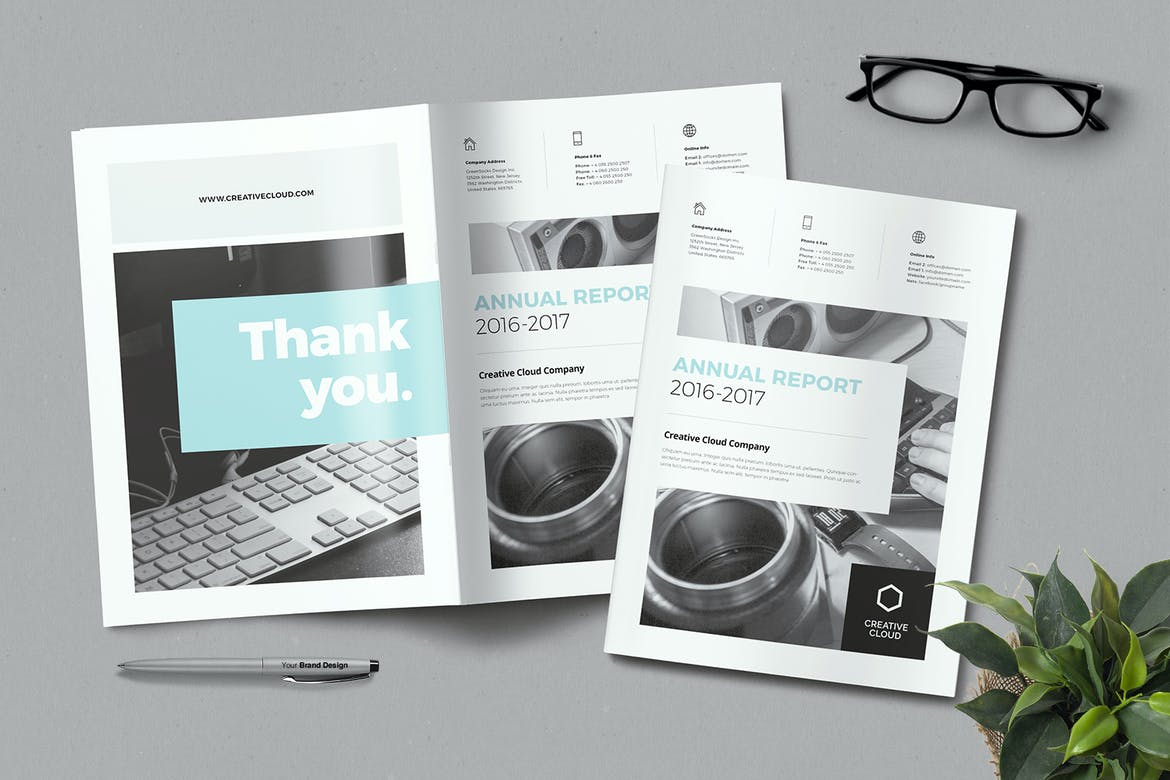 Next up is this gorgeously designed annual report template for InDesign that offers an ultra modern aesthetic that can be customized easily to suit your company's brand and color scheme. It adheres to a simple grid-based layout, making it super easy to navigate, and includes 18 unique pages.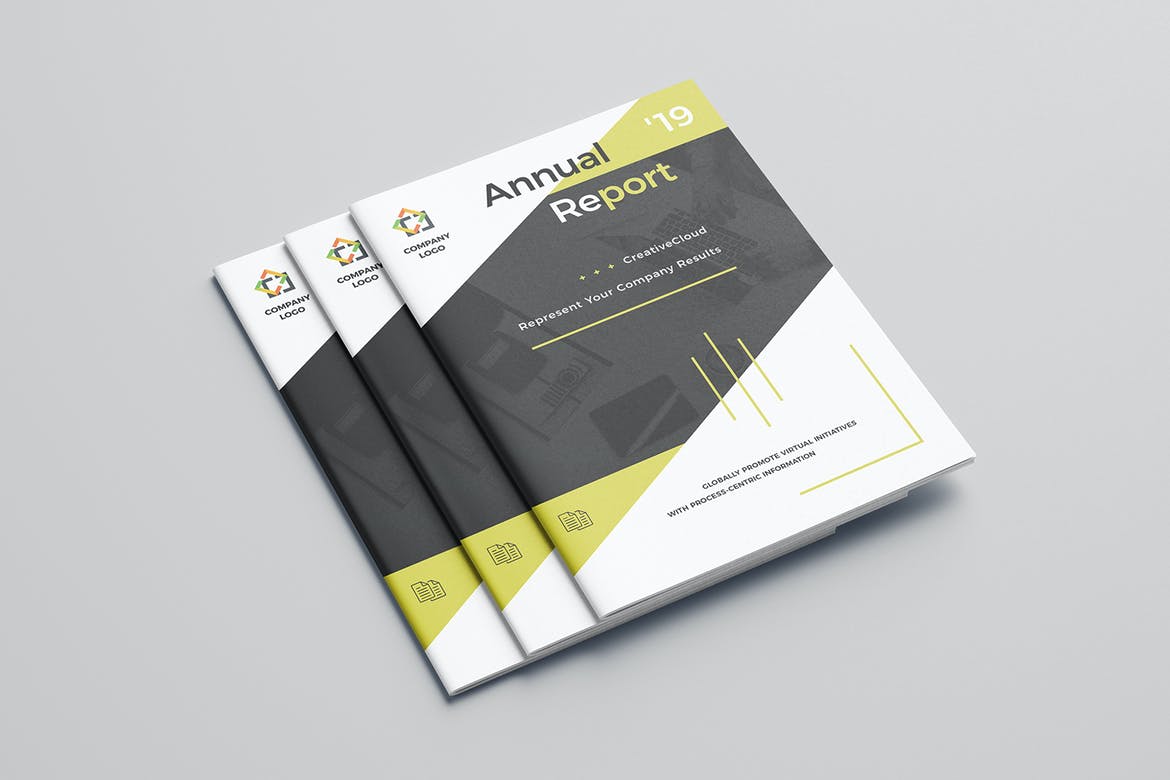 Not wanting anything too fancy for your annual report template? This classic design offers 20 clean and modern pages with traditional design elements that can be customized to reflect your brand, but are also simple enough to be left as they are, making it the perfect choice if you're short on time!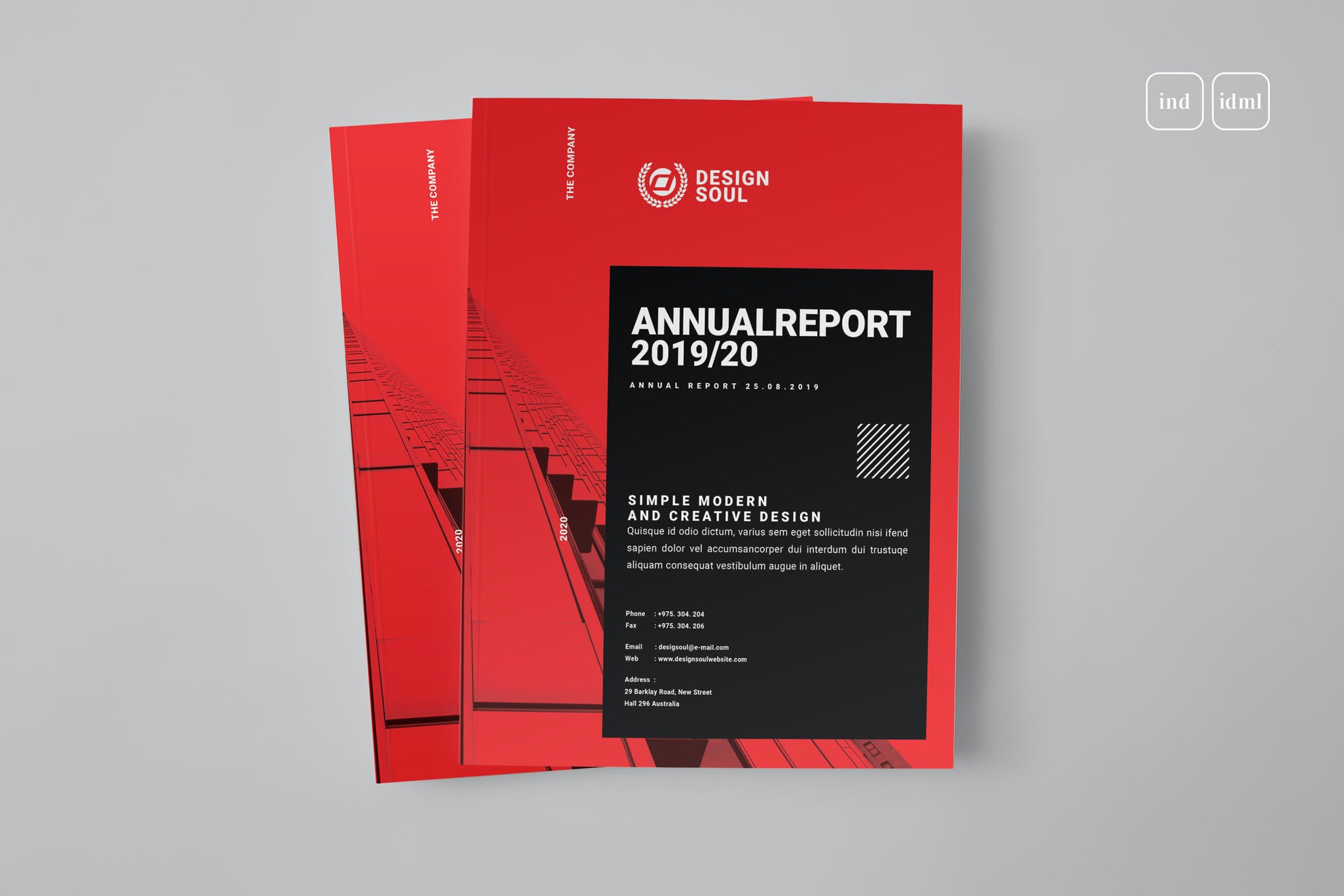 This Annual Report Template is the most elegant for your business and industrial use. Annual Reports represent your company highlights through the proceeding year. This Clean Template is easy to customize with your desired choice. Color and text are fully editable and resizable.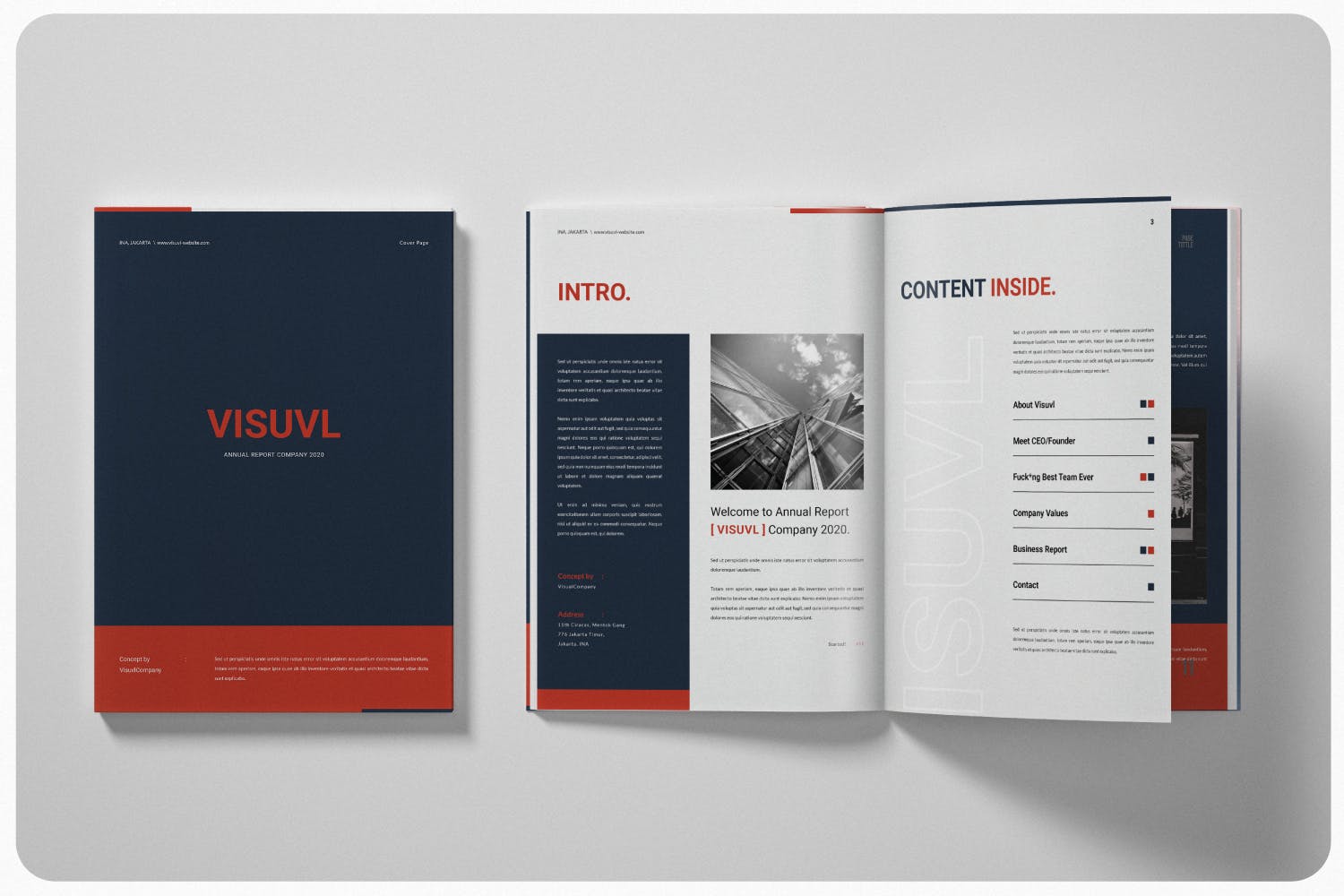 The document/template and designed in both A4 (297×210mm) and US Letter (8.5×11"). It's divided into the first part with photos and narrative to provide all the interesting information about the company and the second part, contains the financial details with graphics for a visual result.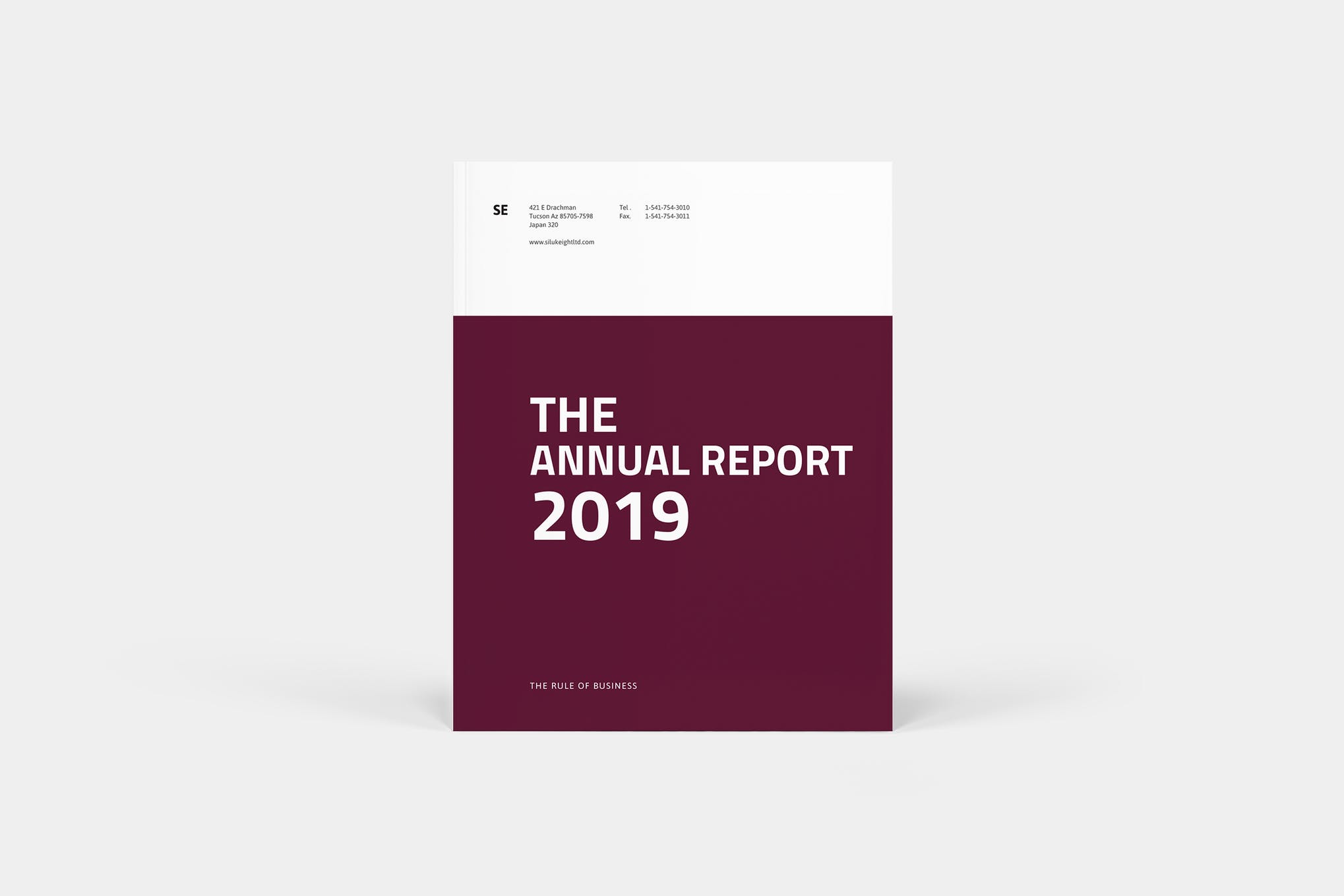 Annual Report is clean, modern, and professional with strong typography that makes your report look professional. It's created in Adobe InDesign with 36 pages of documents with two paper sizes including US Letter and International A4.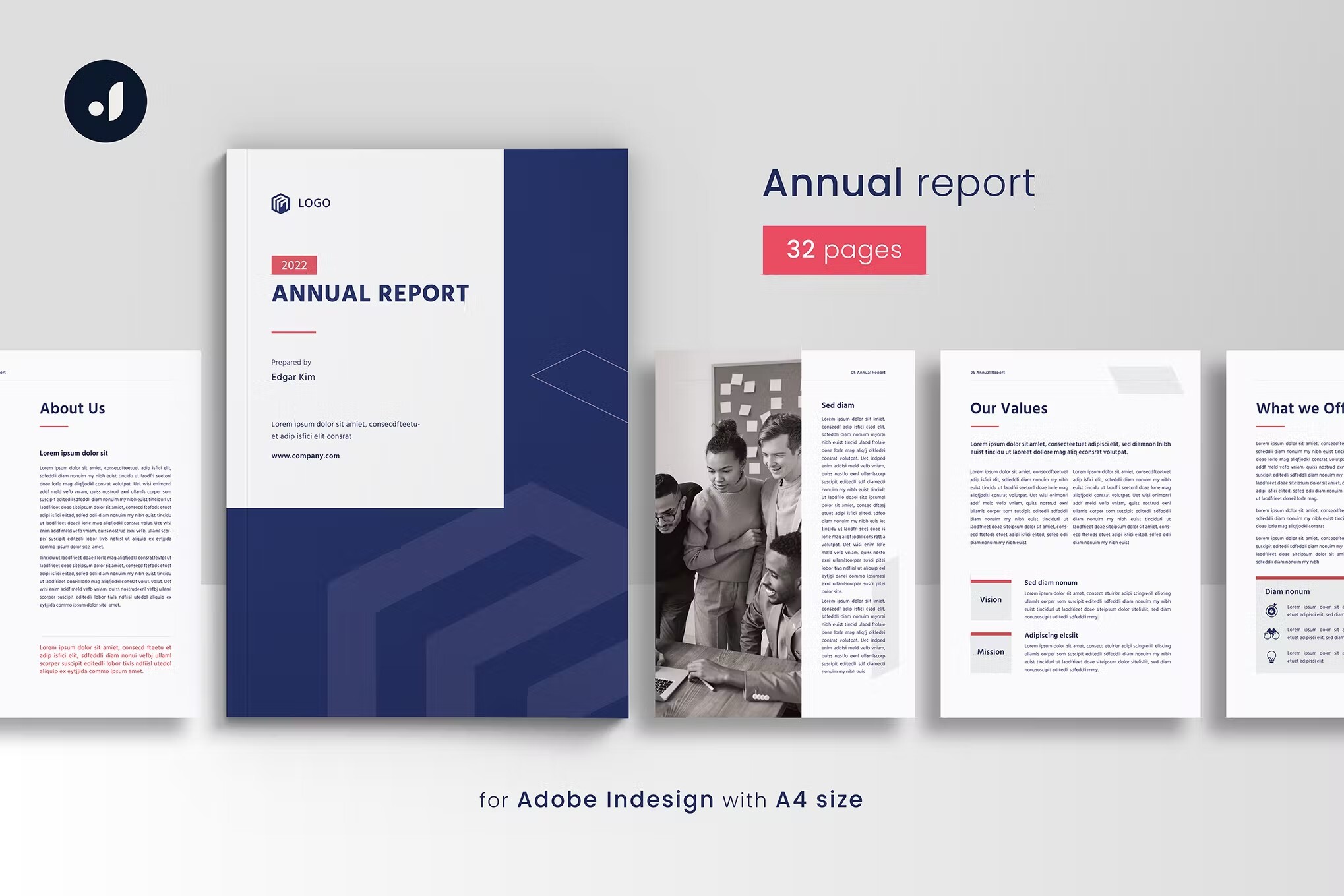 This is a high-quality annual report template that can also be very well used as a magazine, proposal, e-book, and company brochure. If you choose to spend your hard-earned cash on this product, be rest assured that you won't get disappointed.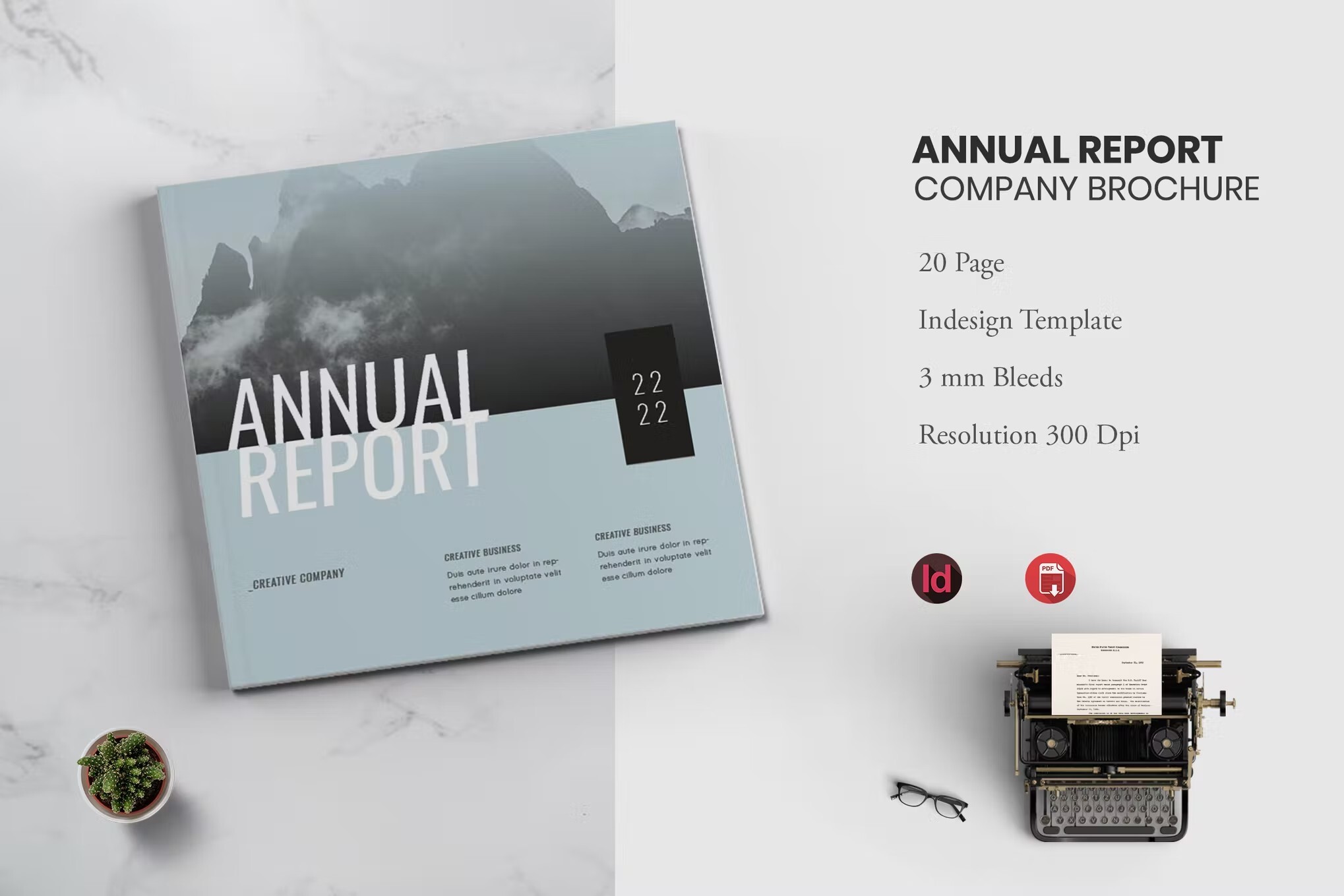 If you're looking for an ultra-modern, and unique annual report template, the above-featured product is the best bang for your buck. it features a square design, 20 custom pages, 300 DPI, CMYK color space, 3mmbleed, free fonts, and so much more. Grab it now.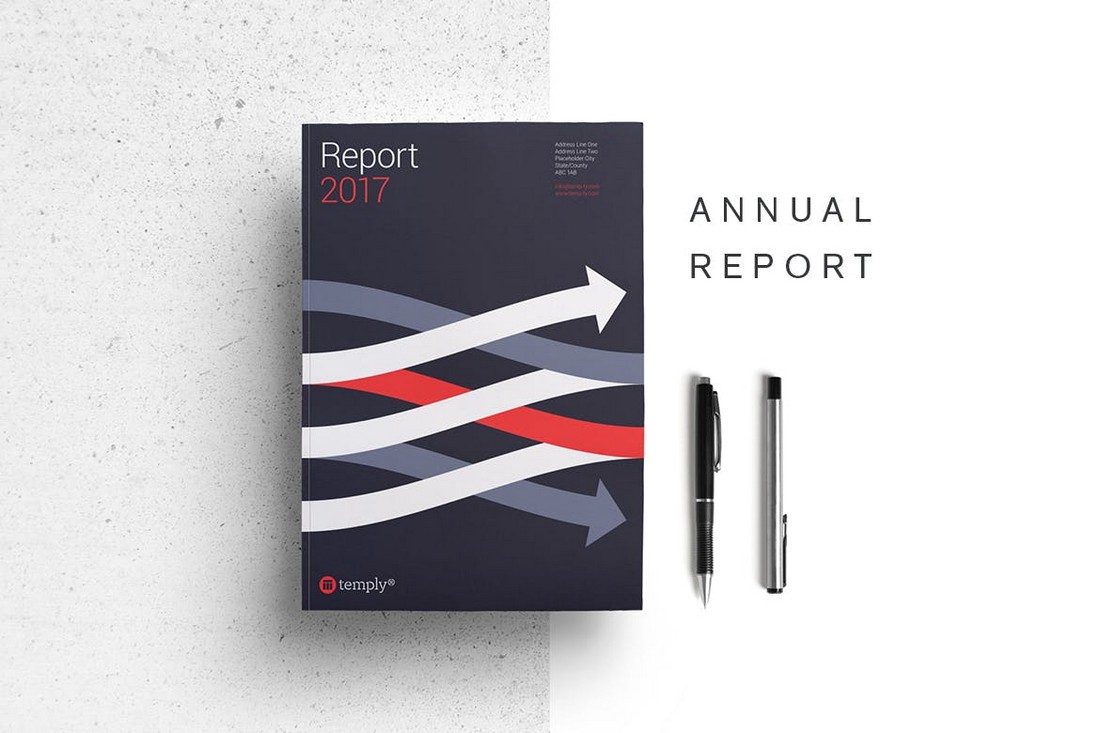 Another modern annual report template with a multipurpose design. This template comes with 28 different page layouts you can use to craft various types of annual reports. The template is compatible with InDesign CS4 and higher.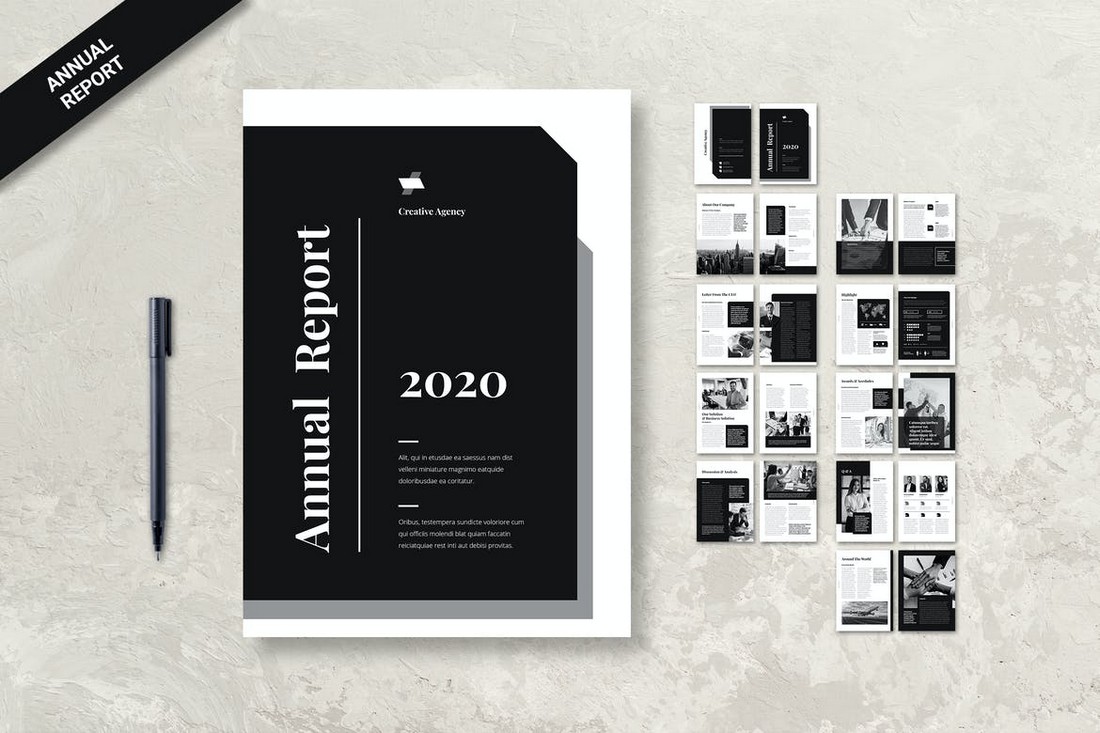 If you're looking for an annual report with a minimal design, this template will come in handy. It features a simple black and white page design for making professional annual reports. There are 20 pages in A4 size.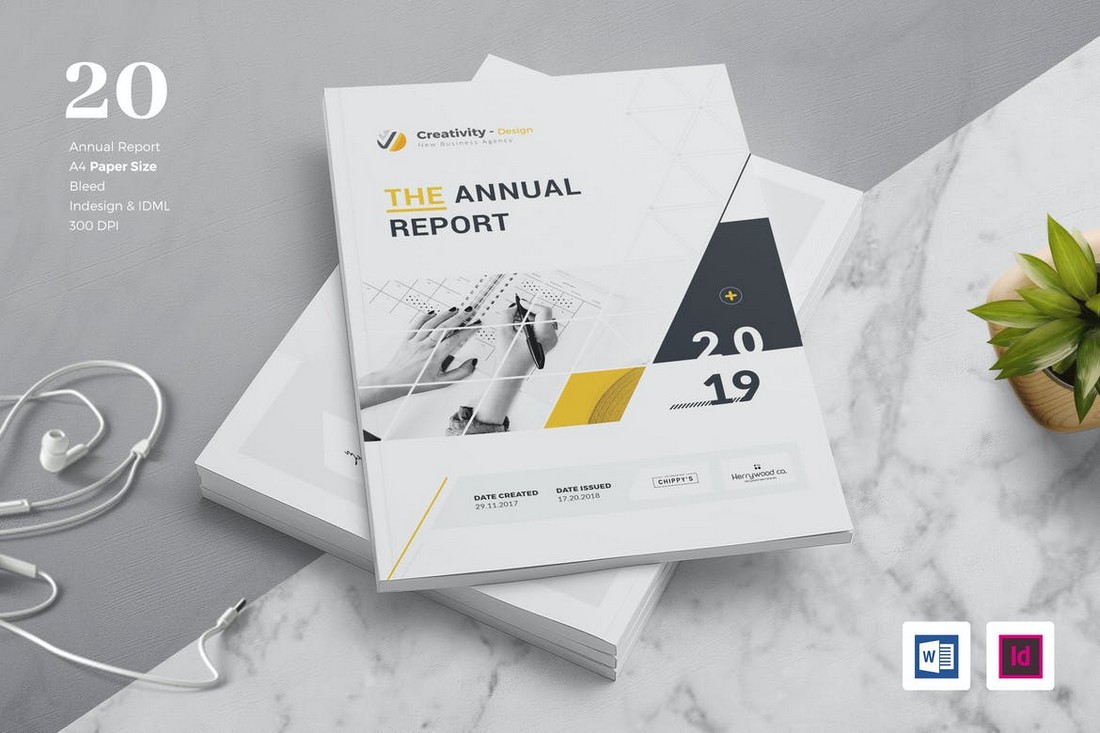 You can easily edit this template using either MS Word or InDesign to make a professional-looking annual report. It comes with 20-page layouts with paragraph styles, formatting, and editable colors.
Free Annual Report Templates
And now, let's move on to a range of free annual report templates from a variety of web sources!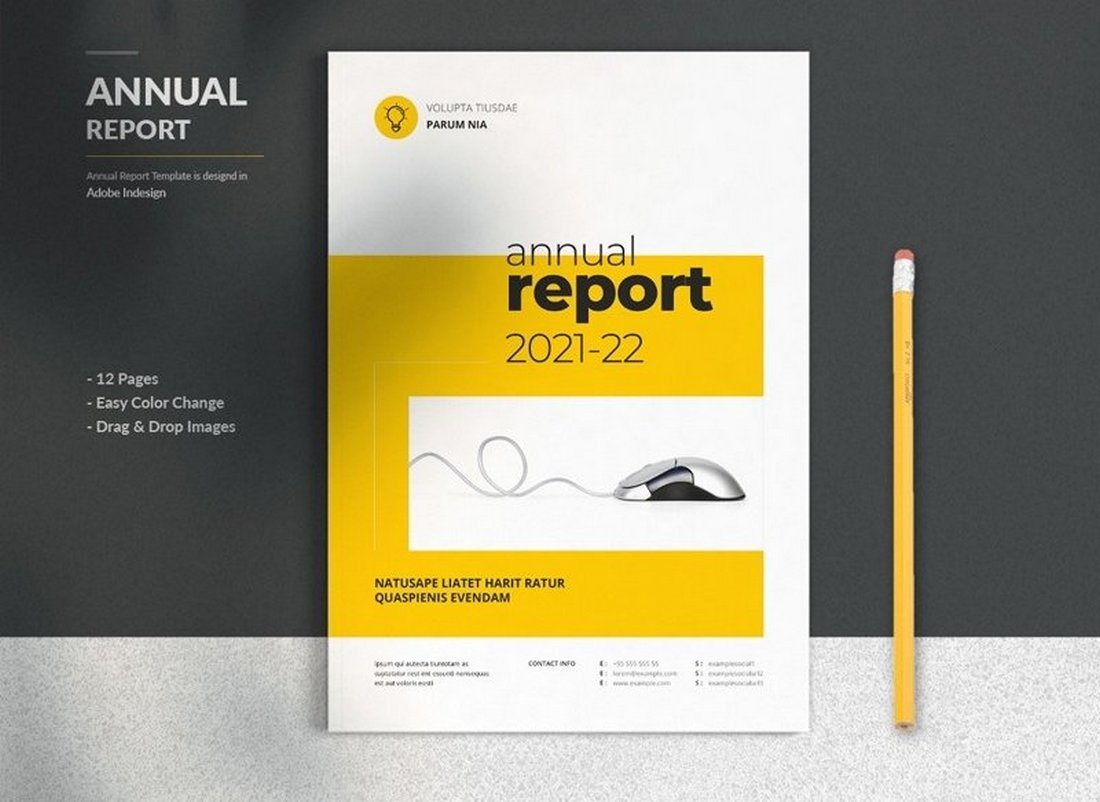 You can download this InDesign template for free to design a professional annual report brochure for your business. It includes 12 unique pages with fully customizable designs. You can easily change the colors and fonts too.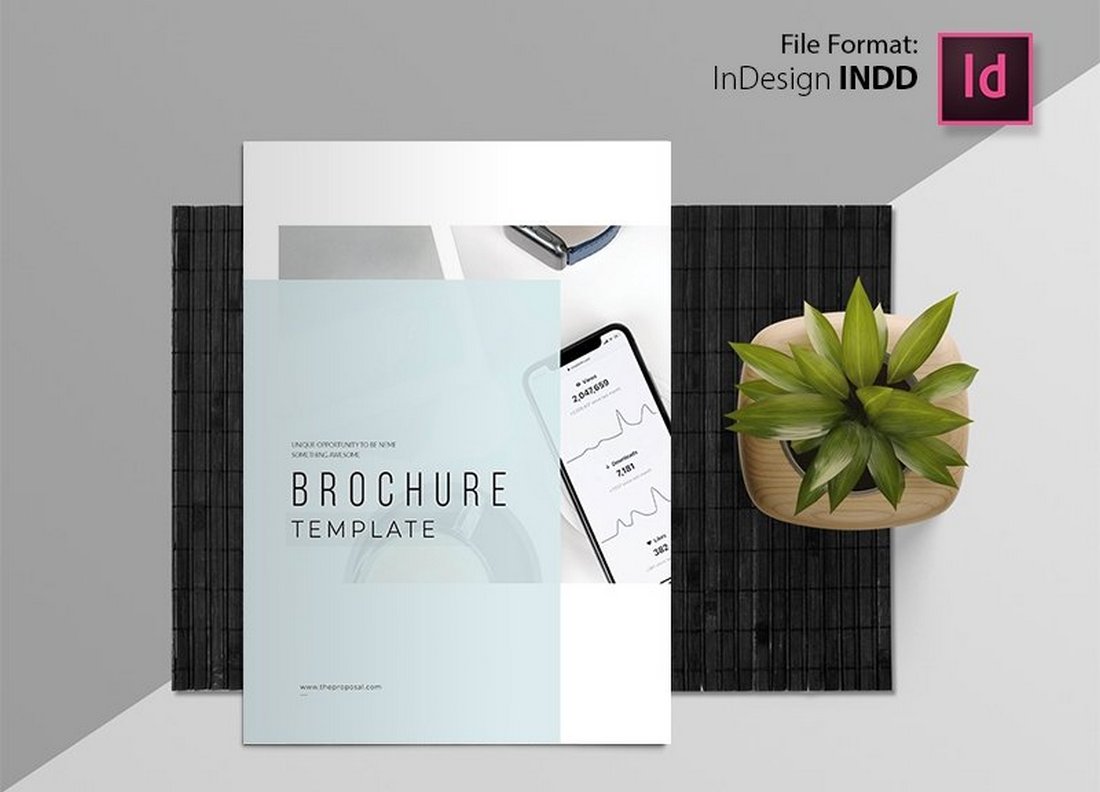 This is a multipurpose brochure template you can use to craft not just annual reports but all kinds of documents for your business. It includes 14 page layouts in US Letter size. The template can be customized with InDesign CS5 or higher.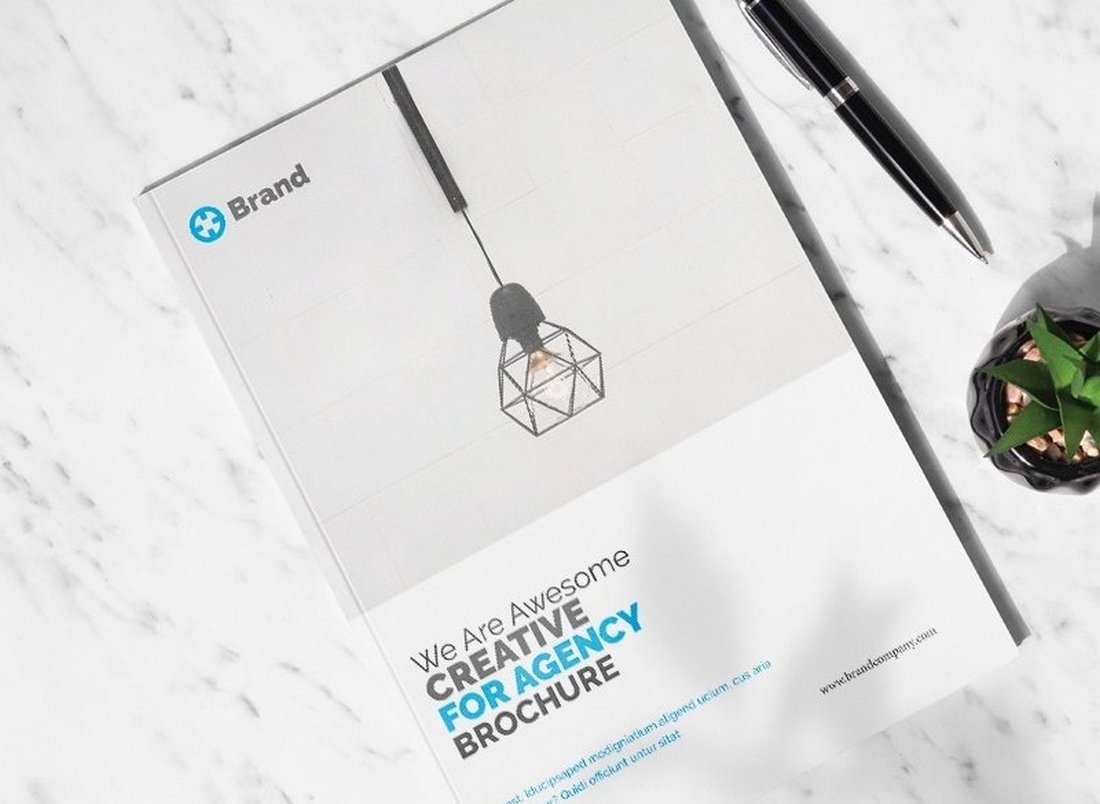 Another free InDesign brochure template with a minimal and simple design. It has pages with clean layouts where you can add as much or less content as you like. There are 16 page designs in the template in A4 size.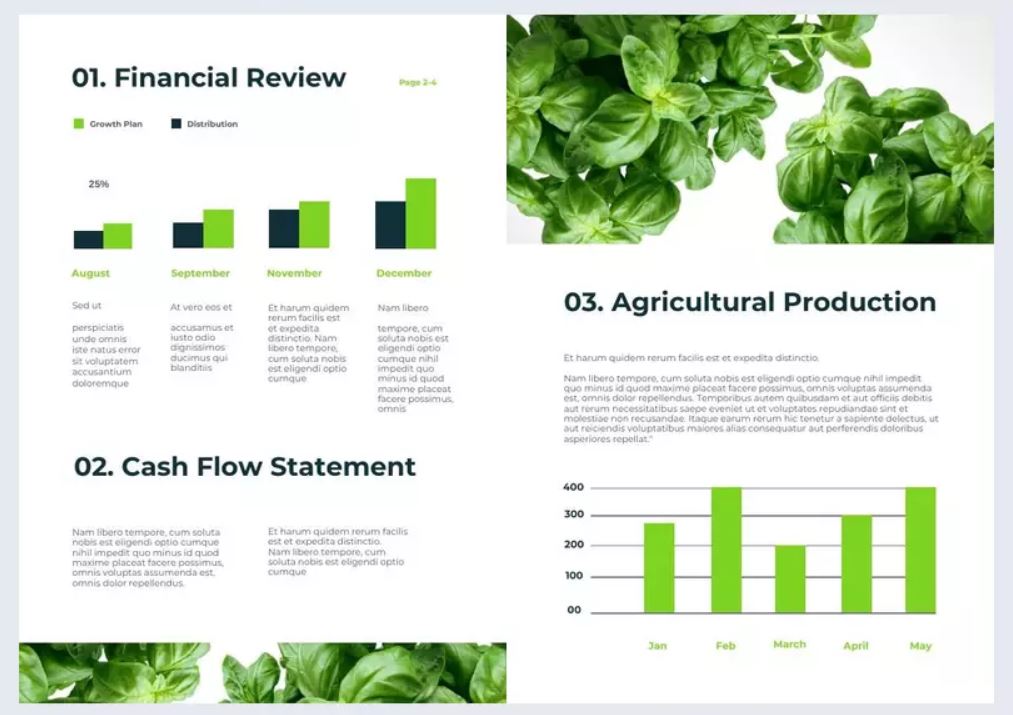 We'll start with this stunning green and white design that's ideal for any environmentally friendly or nature-focused company, available to download for free from Flipsnack.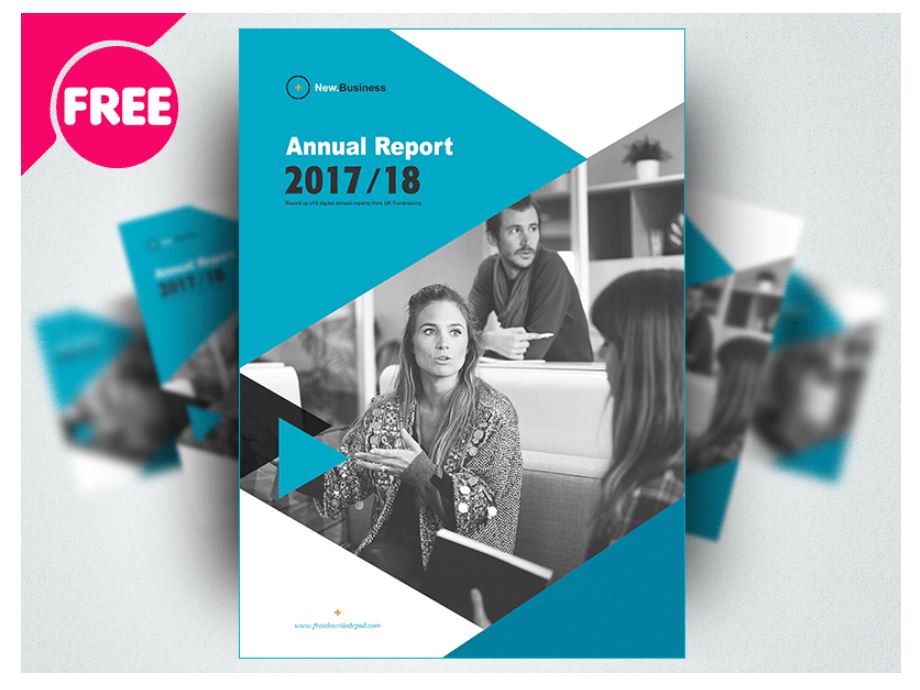 This amazing turquoise themed PSD annual report template is a high quality and engaging option for any growing company to present their yearly financials to their stakeholders. It comes with a versatile A4 size format and separate layers for text, images, and background elements.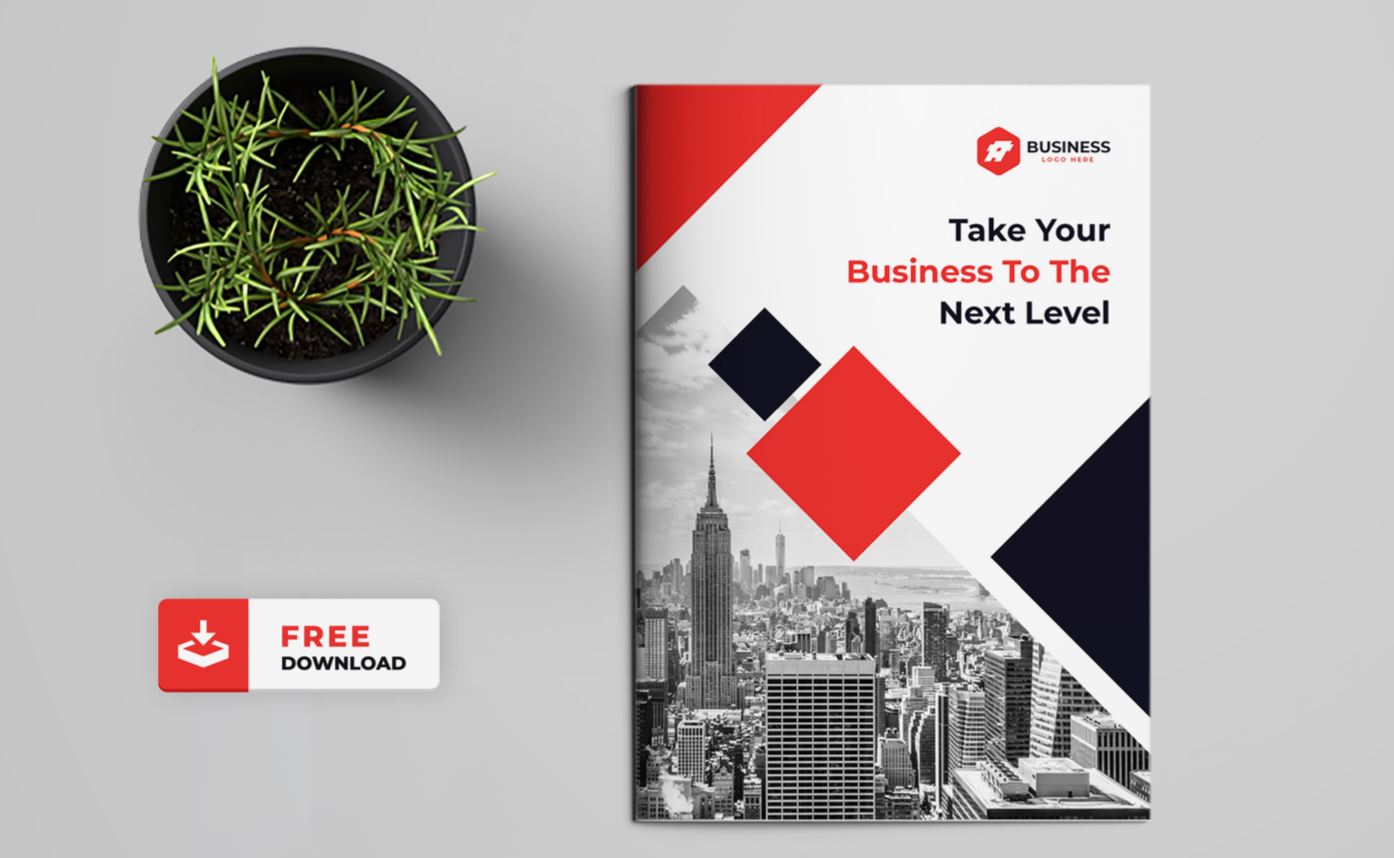 A professional business that wants to build a strong reputation requires a strong sense of brand and a distinctly corporate feel, and that's exactly what this super modern and well-designed template can help you achieve. You can download it for free from Behance.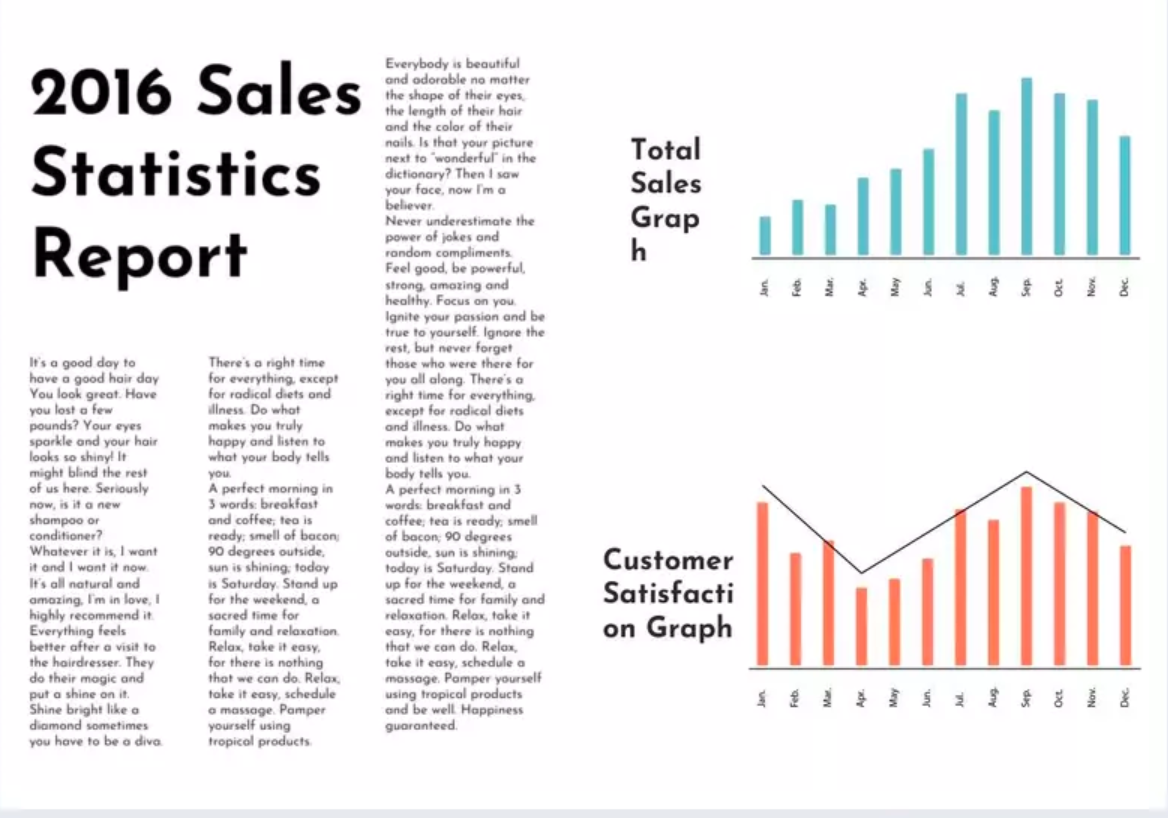 Our next free annual report template has been sourced from flipsnack and offers a beautiful orange themed design with a stylish, modern layout that's ready to be populated with your own information in just a few clicks. This annual report template is perfect to present statistical data and get the office buzzing about your excellent work.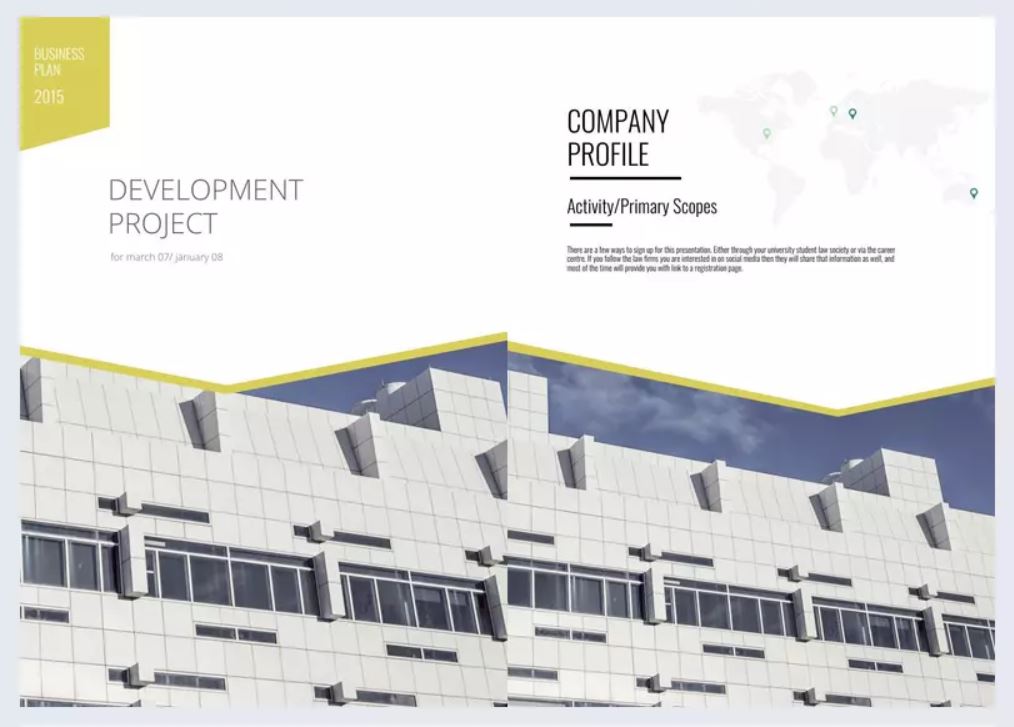 Ideal for any company in the construction or logistics industries, our next annual report template features a heavy use of images and complementary colors combined with modern sans serif typography for a polished and businesslike finish. It's available as a free download from Flipsnack.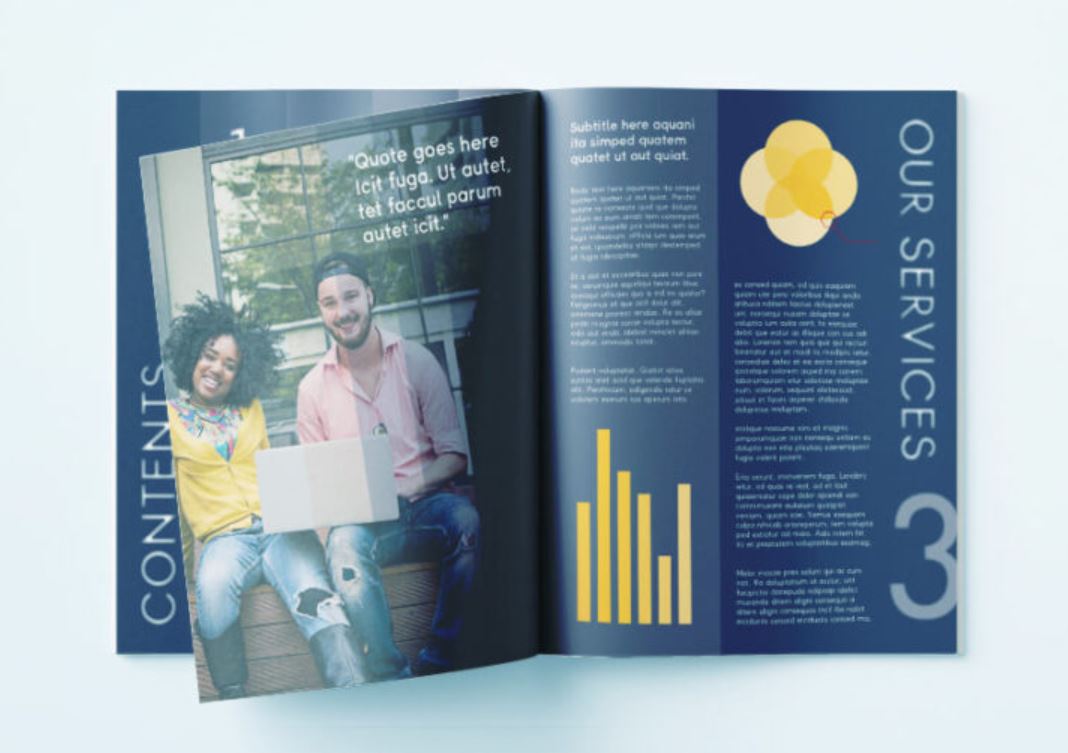 Featuring a modern color scheme and a wide variety of elegant page layouts, this free annual report template for InDesign has a stylish and professional look that can easily be adapted to serve as an annual report for a company in virtually any industry. Grab this free download from InDesign Skills.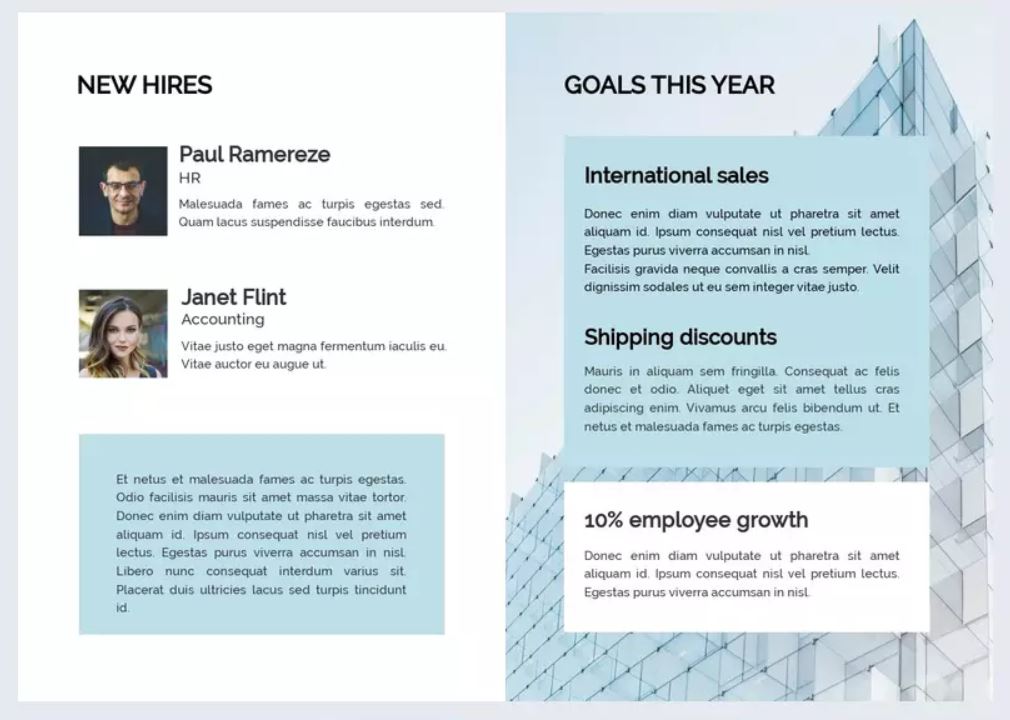 Another brilliant option from Flipsnack, here we have an elegant annual report template design featuring a stunning muted color scheme and cleverly arranged graphic elements for a functional yet unique look, ideal for any forward-thinking business.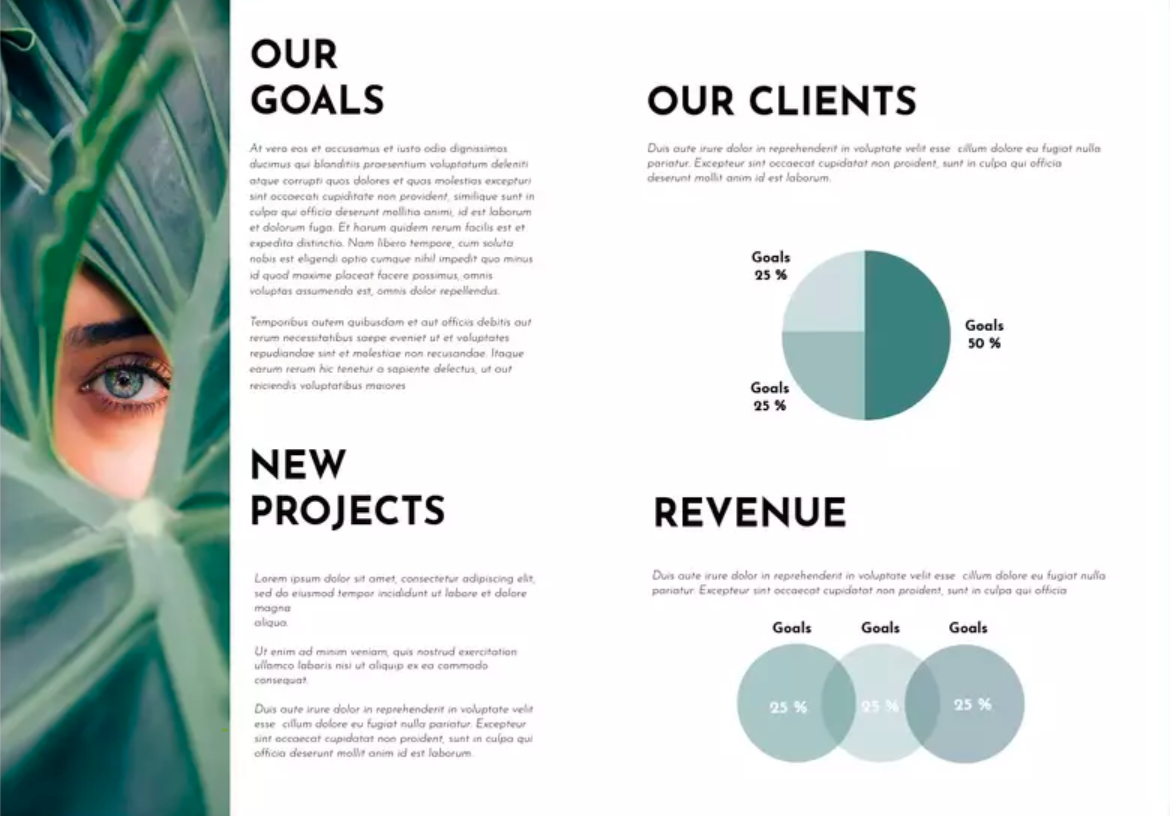 Next up is a professionally designed annual report template for Word that has been thoughtfully put together to help you present your content and pictures in a clear and intuitive manner. It's available to download for free from Flipsnack; customize this classy template with your own information and win your boss' confidence.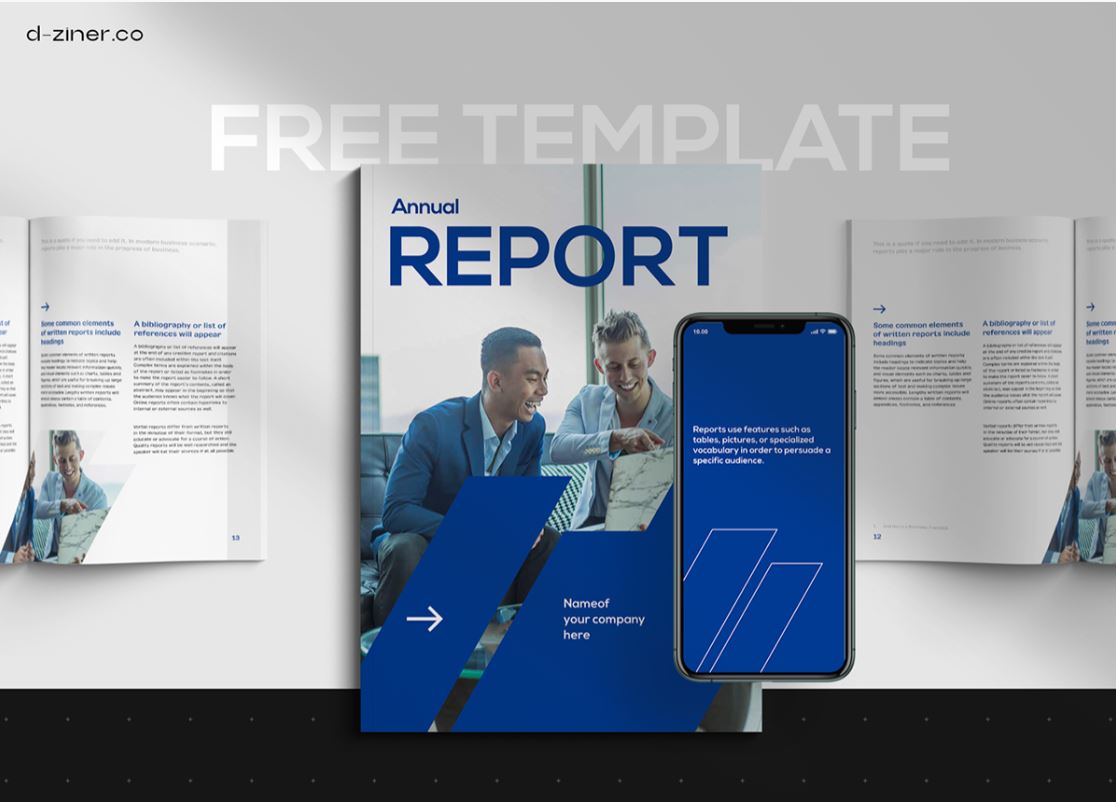 Looking for a free annual report template that's been custom made for a company in the financial and banking sectors? We've got the perfect solution! Offering a bold yet classy color scheme and professional grid-based layout, this template is available as a free download from Behance.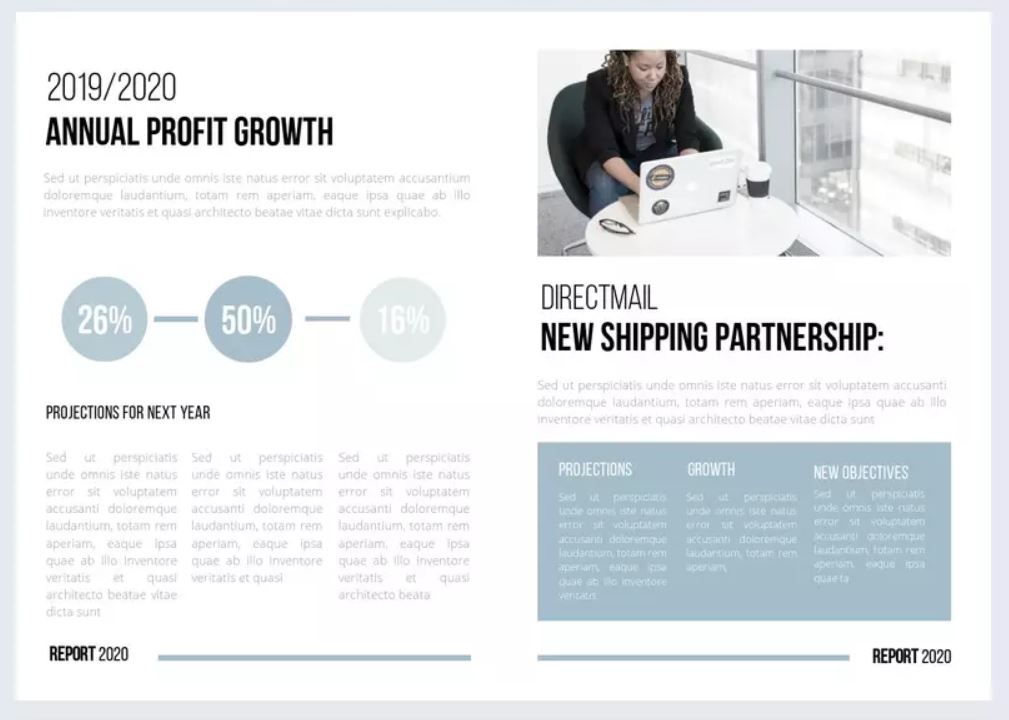 Next in our lineup of the best free annual report templates is this free download from Flipsnack that offers a simple yet effective way to convey your facts and figures to your stakeholders, and is super easy to customize – no design skills required!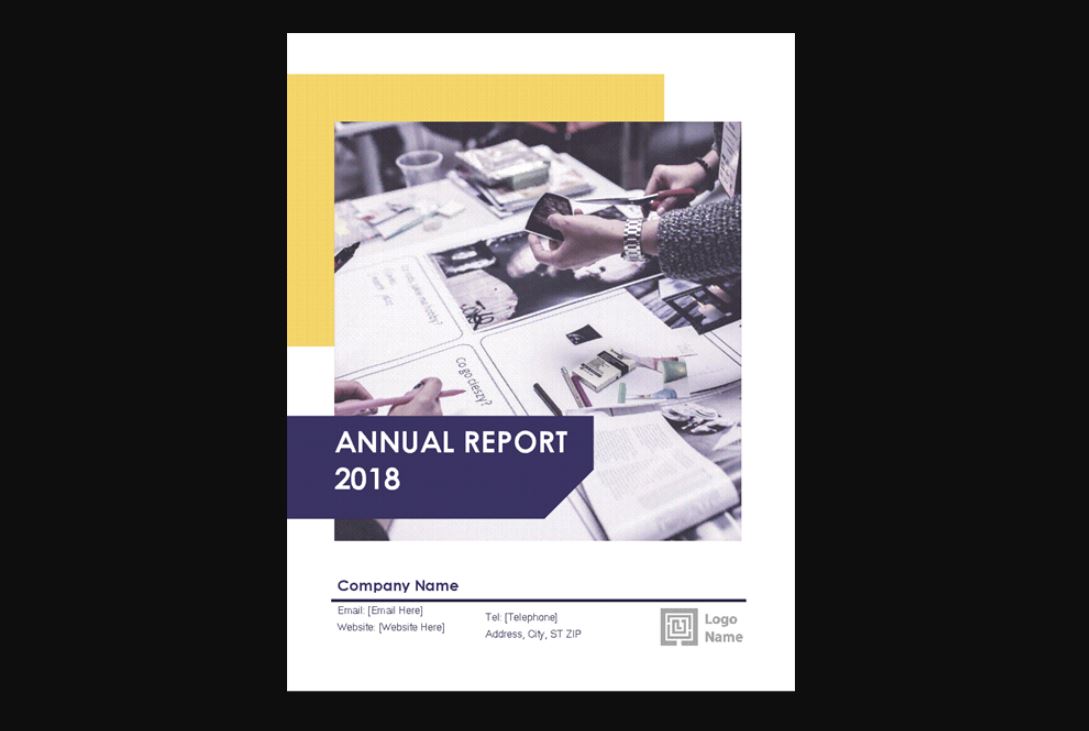 Wanting to keep things simple and appeal to the masses? Stick with a traditional approach and choose this classic yet fully customizable annual report template for Word, by downloading it for free from the online Microsoft Office template library.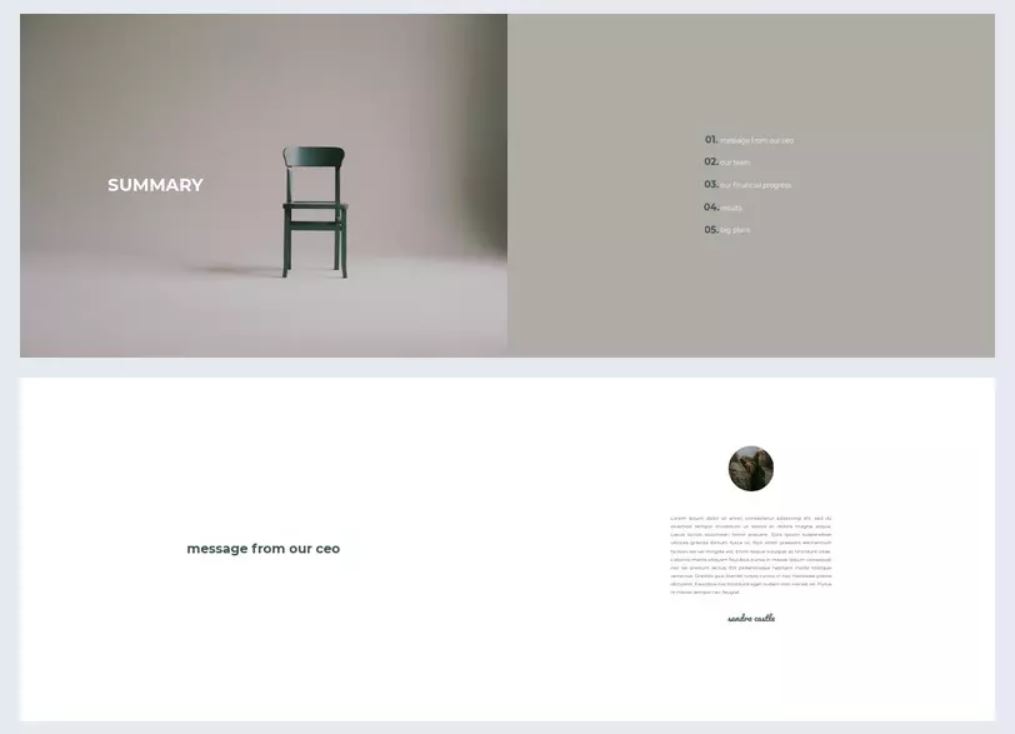 Last but not least, we have this stunningly simple option from Flipsnack that offers a minimal design and muted, earthy color scheme, as well as a range of infographics and other elements that you can customize with your own data. As far as free annual report templates go, this one is one of our favorites!
And there you have it – some of the very best free annual report templates that will save you a whole lot of time, and are bound to impress even the harshest of critics!