30+ Best Figma Wireframe Templates (Wireframe UI Kits + More)
Today, we have a collection of Figma wireframe templates for you. If you use Figma to design websites or mobile apps, these wireframe kits are a must-have resource in your toolkit.
Figma is a graphics editor loved by all types of designers. Especially since it's free and works across platforms, even directly on the browser, Figma was an instant hit among both graphic and UI/UX designers.
Another great thing about Figma is its ability to import and use third-party templates. These templates allow you to get a head start in your projects and work more efficiently.
This collection of Figma wireframe templates is filled with such resources. When using these wireframe kits, you'll notice a big improvement in your workflow. Grab a template from below and see for yourself!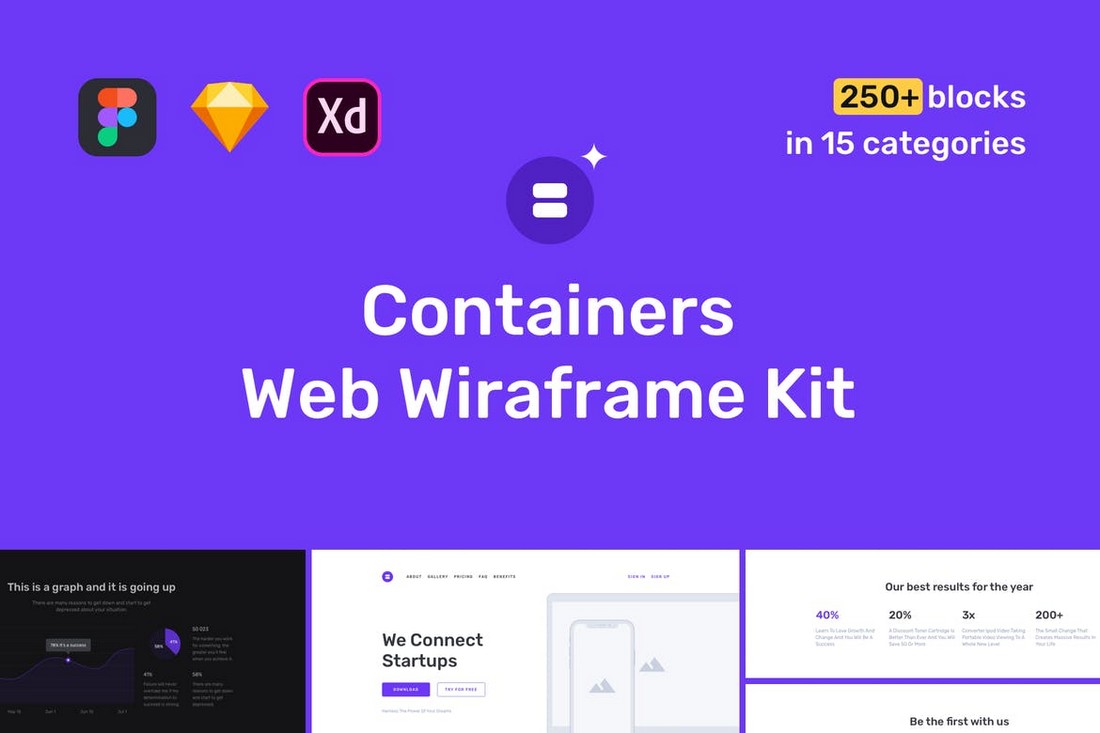 Containers is a massive collection of UI elements for designing website wireframes. This bundle includes more than 250 content blocks in 15 different categories. Simply put, it has every kind of block you need to design any type of website wireframe. As a bonus, you also get 2 pre-made landing page templates and 5 mockups as well.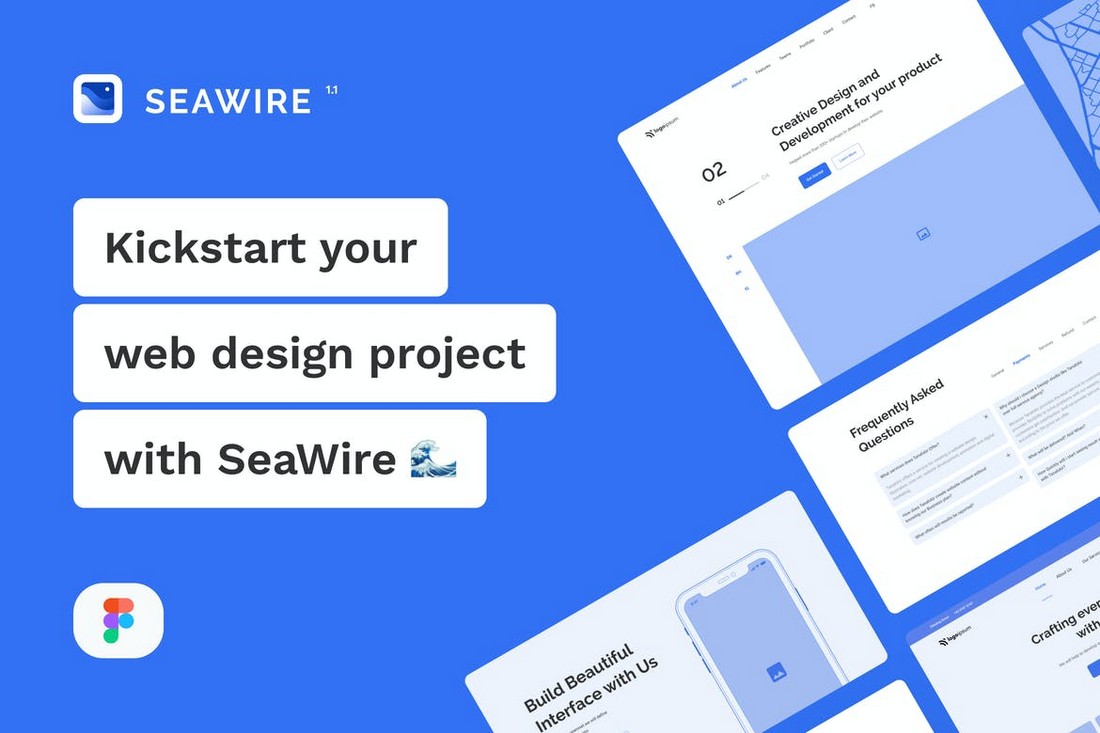 Seawire is another Figma wireframe UI kit for crafting website layouts. This wireframe kit features a much cleaner and minimalist layout that's ideal for making landing pages and one-page websites. There are 6 pre-made landing page templates in this pack that consists of 200 content blocks in 15 categories.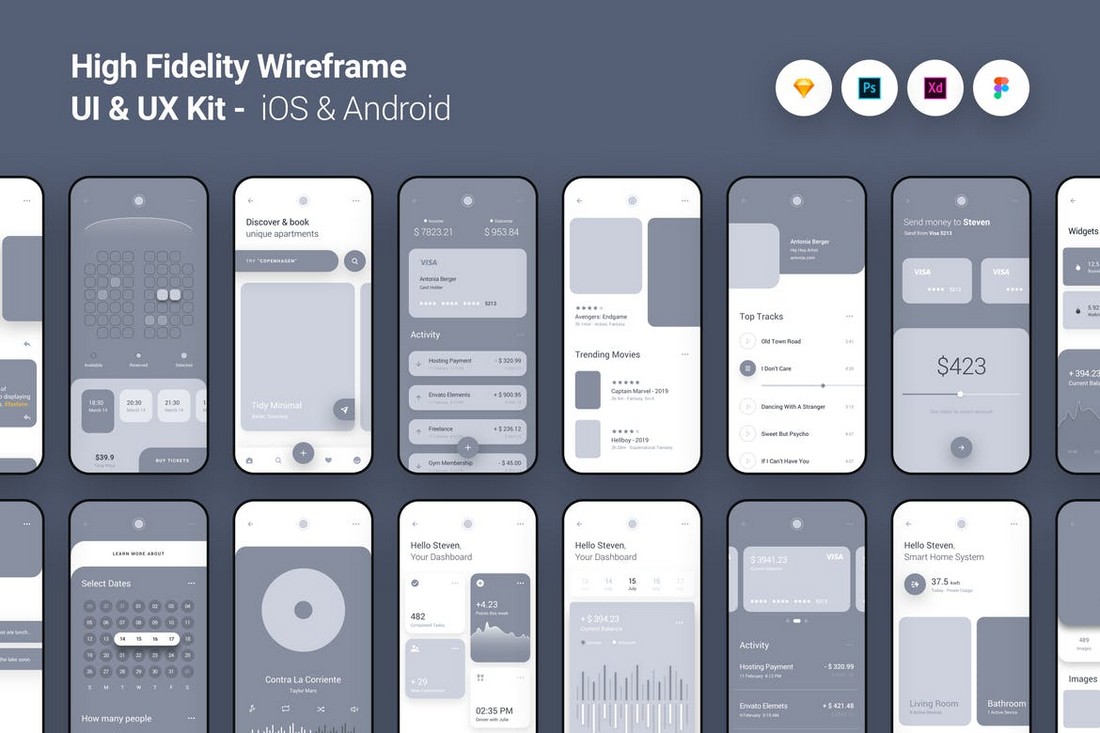 Working on an iOS or Android app design project? Then this mobile wireframing kit is made just for you. It comes with a huge collection of app screens and components for designing both Android and iOS apps. There are mobile wireframes in 7 popular categories that are fully scalable and customizable.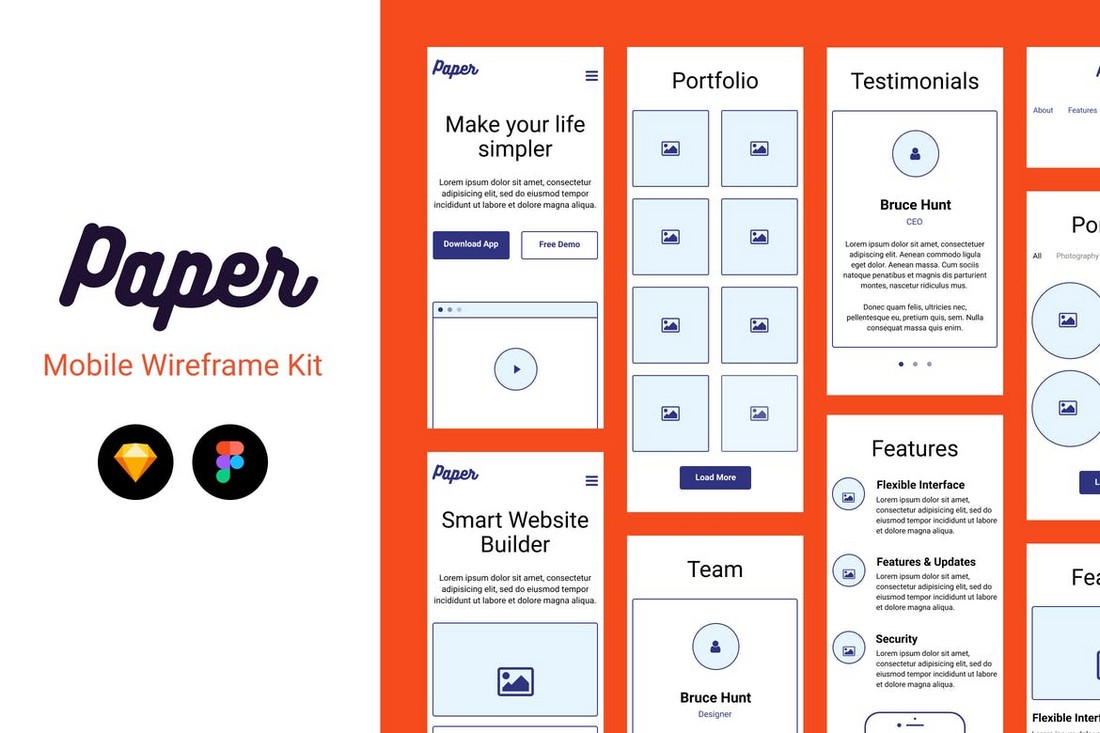 Paper is a simple Figma wireframing kit for crafting mobile website layouts. This UI kit has all the sections you need to design mobile-first website designs. There are components available in 10 different categories. And you can customize each template using Figma or Sketch.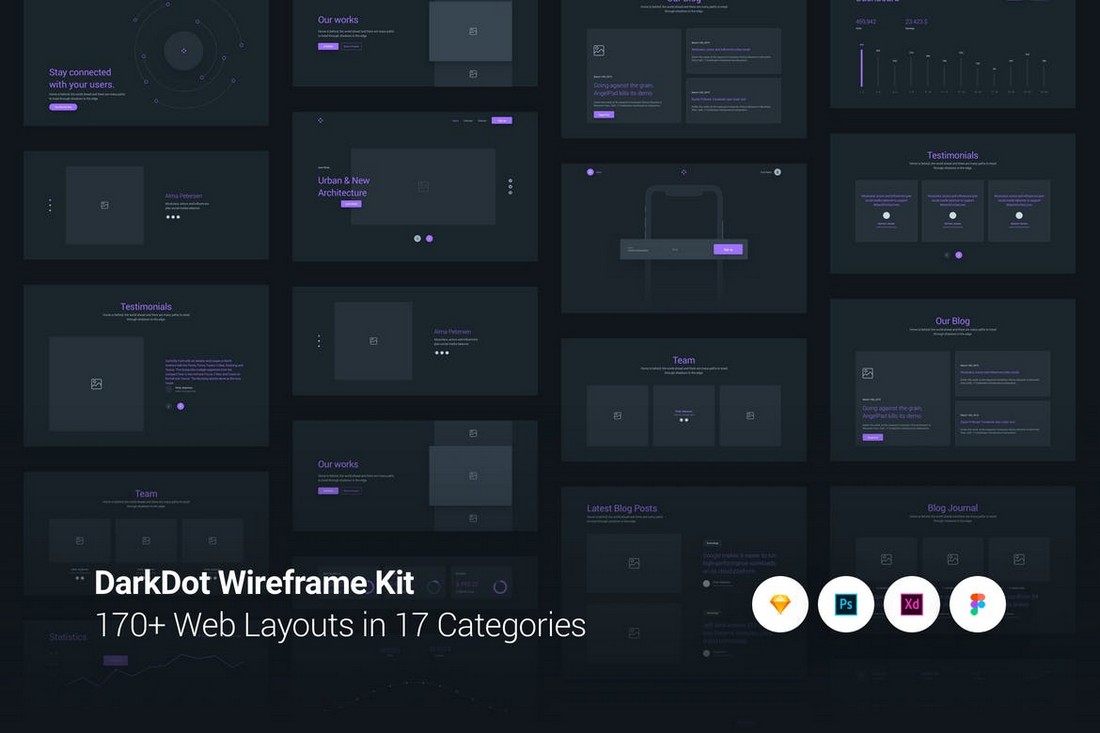 Dark layouts are now an essential part of a web design project. If you want to design a website with a dark theme, this wireframing UI kit will come in handy. It includes more than 170 different web layouts in 17 categories. It also uses the Bootstrap grid layout as well. You can craft various types of landing pages with this UI kit.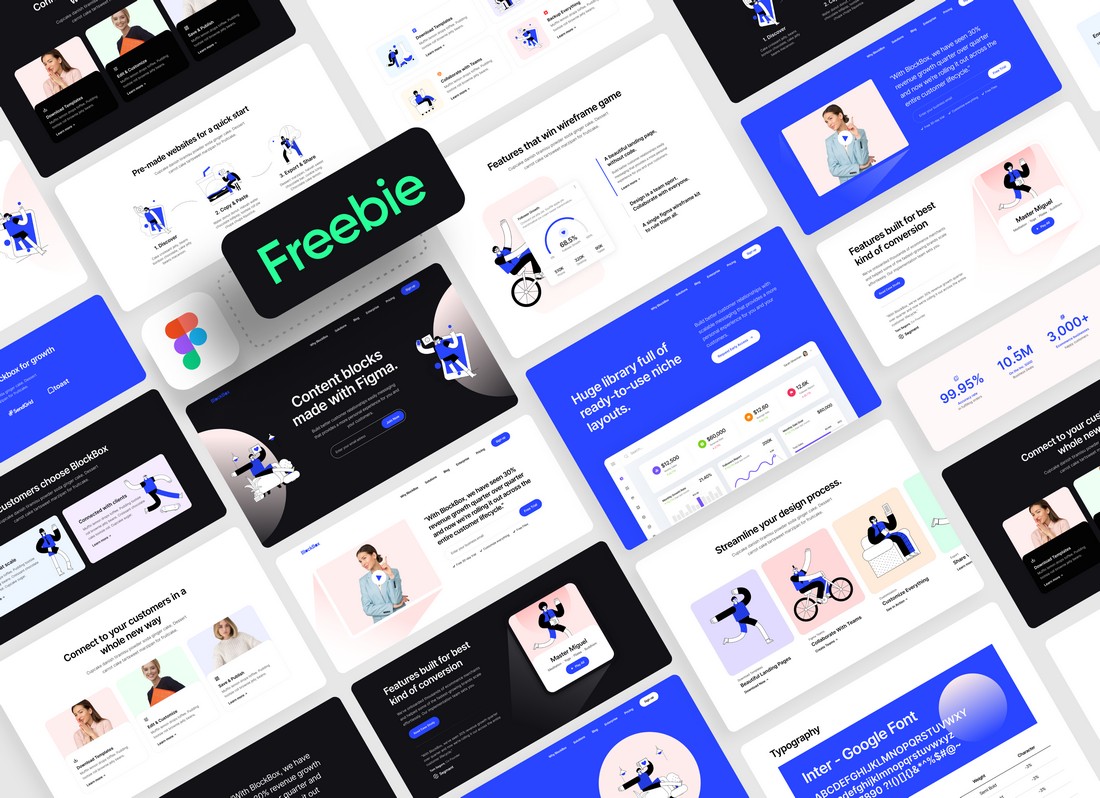 This is a free website wireframe kit that features multiple styles of headers and content blocks for making beautiful business websites. Each template can be easily customized to your preference as well.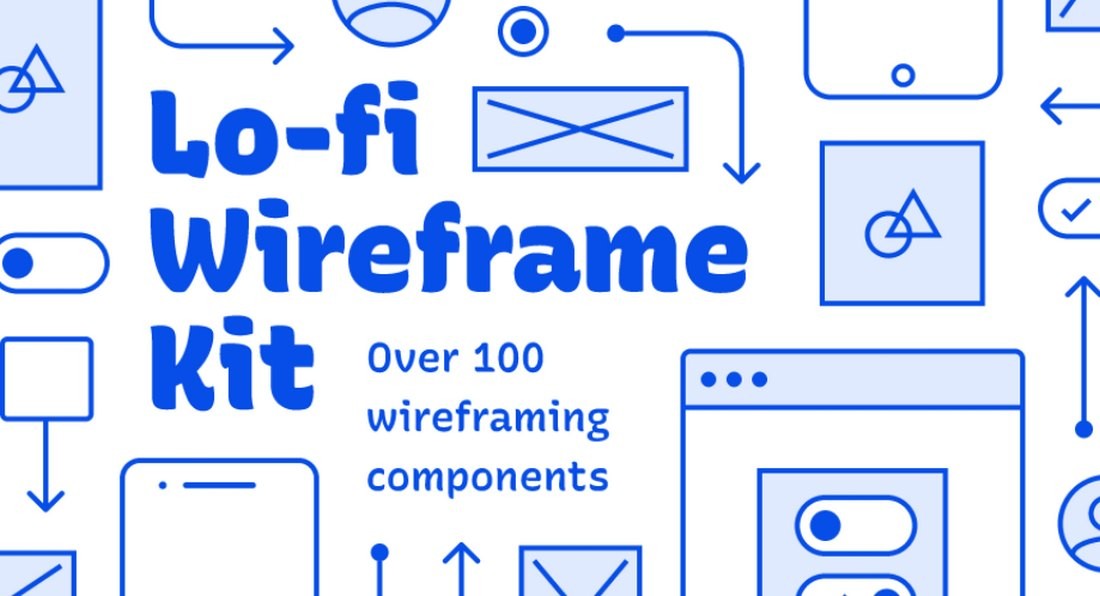 If you're a fan of low-fidelity wireframe kits, this Figma template pack is perfect for you. There are 100 templates included in this bundle featuring various components for both mobile and desktop designs.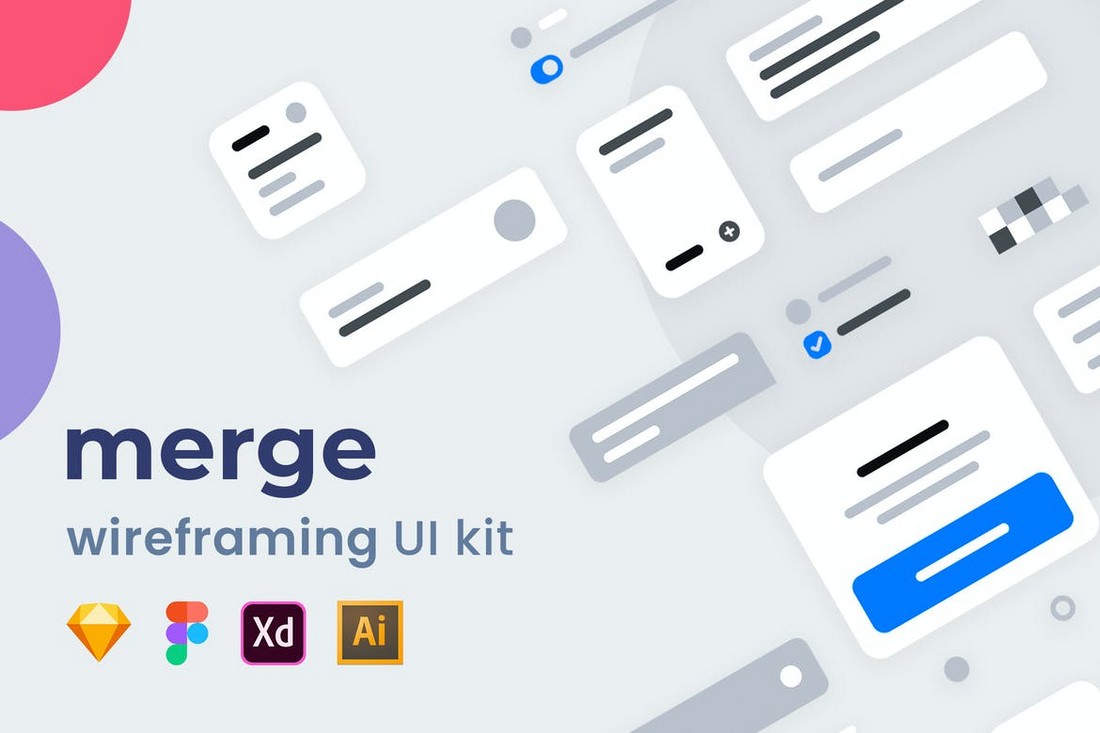 Merge is a wireframing kit that includes a big collection of UI components with multipurpose designs. There are 185 unique UI components in this pack that can be used to create various wireframes. In addition, you can choose from 36 pre-designed wireframe templates to customize as well.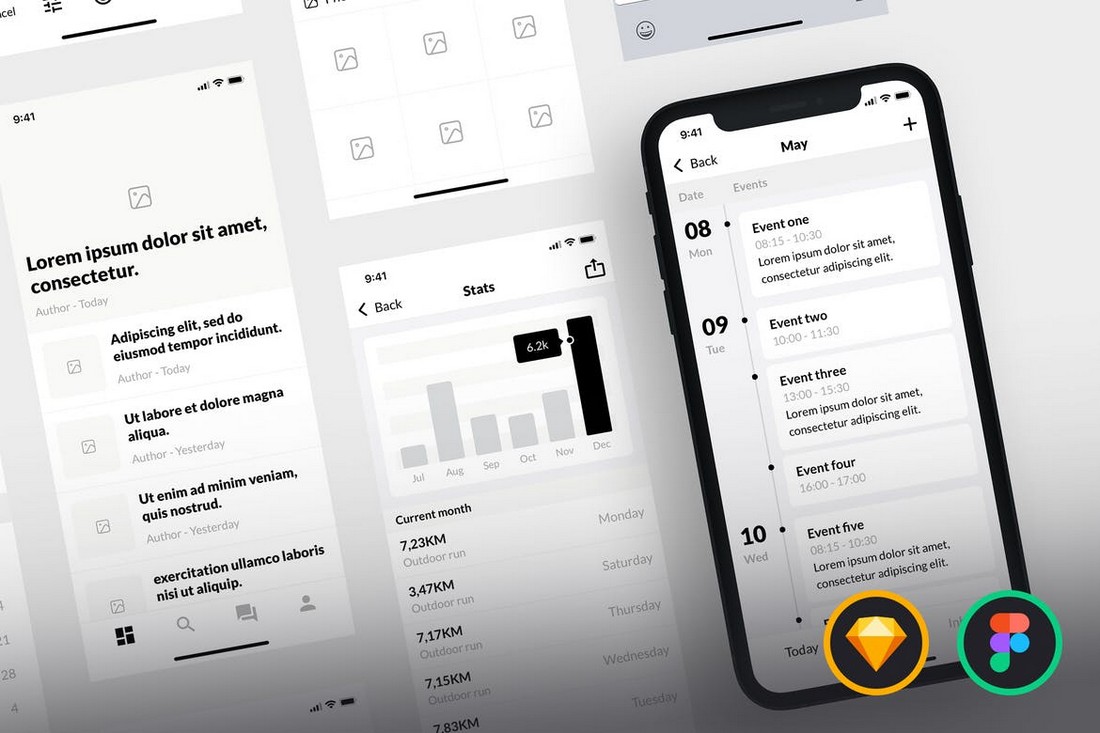 This bundle of Figma wireframe templates is specifically designed for making iOS app designs. You get more than 90 different mobile screen templates that are designed with modern iPhones in mind. The wireframes come in both Figma and Sketch file formats.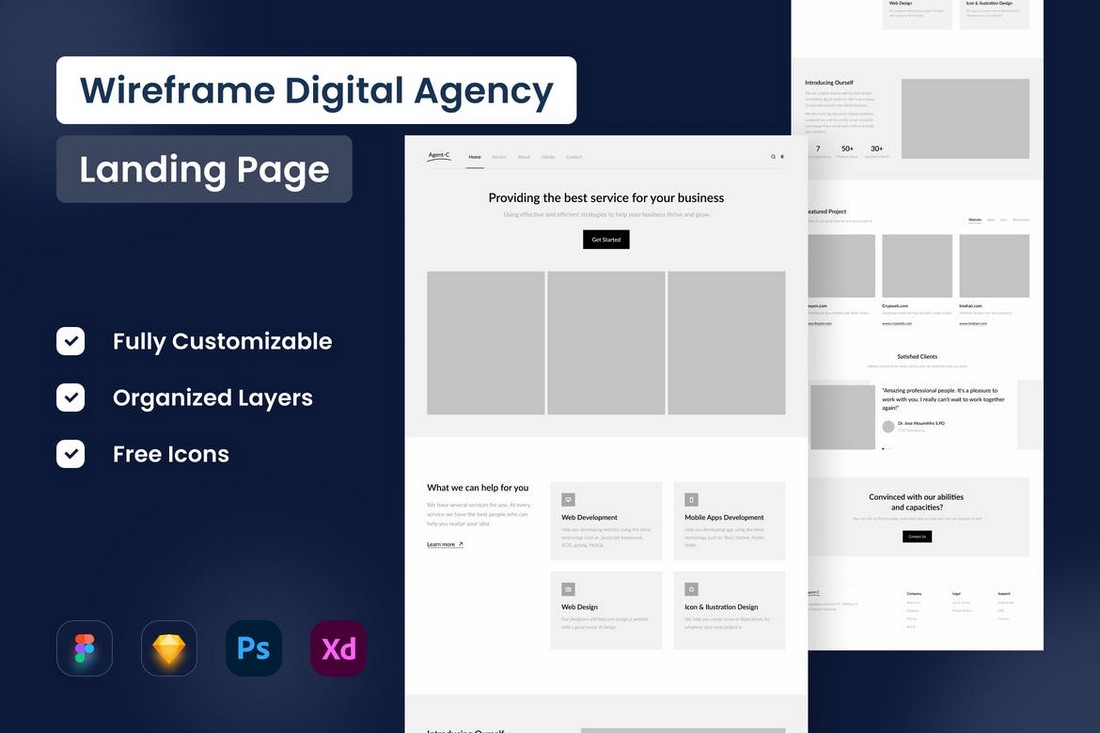 If you're looking for a simple wireframing kit for designing a website landing page, this Figma template kit is for you. It features a complete landing page template kit for designing websites for digital agencies. The template is fully customizable and comes in multiple file formats.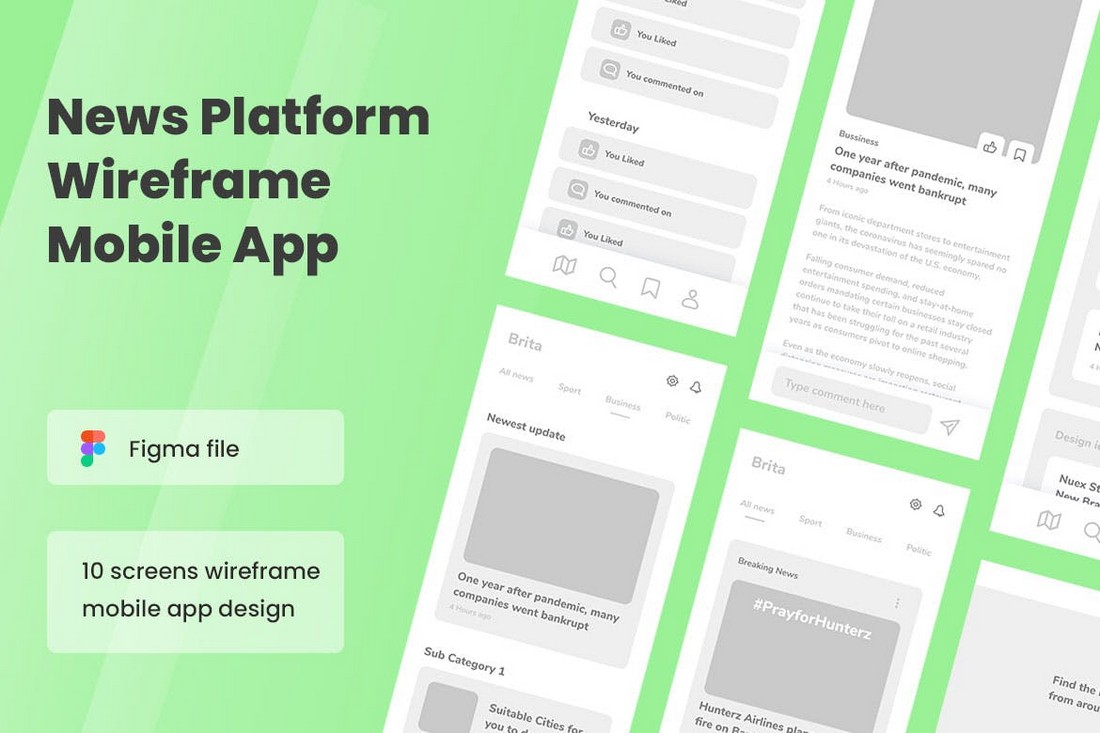 Designing a fully-responsive and modern mobile app for a news website won't take much of your time when you have this wireframe kit at your side. It features 10 unique mobile screens for designing wireframes for news and blog magazine app layouts.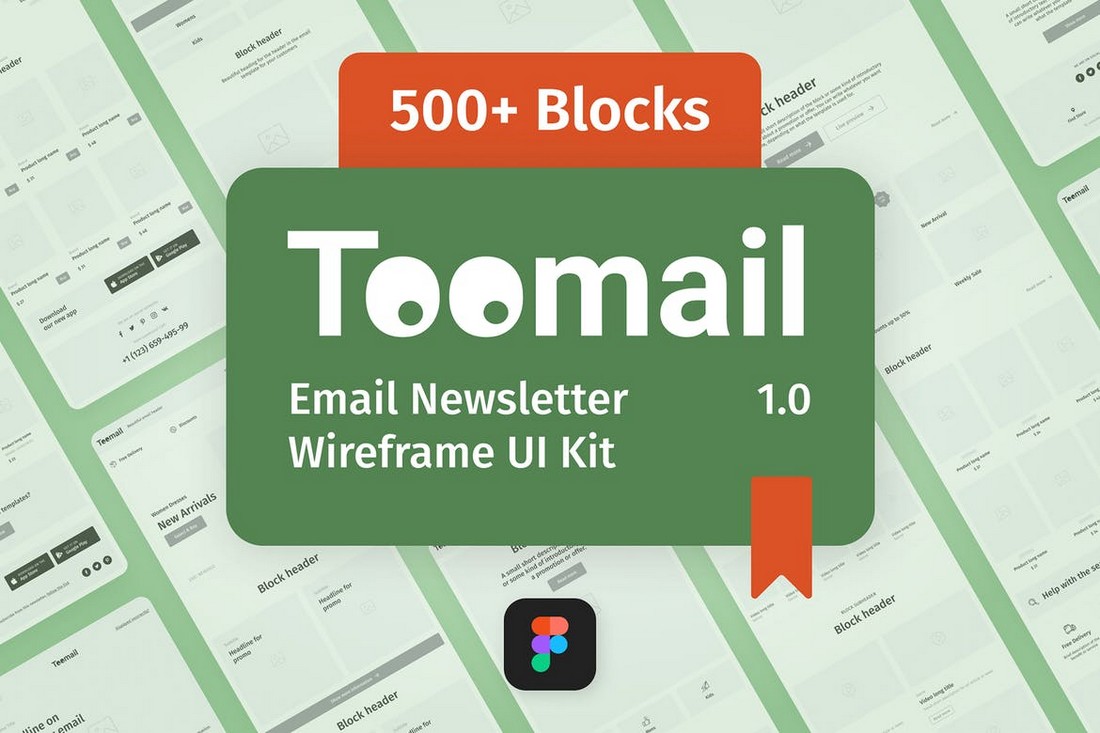 This is a different type of wireframing kit that will surely be useful to marketers. It includes wireframe templates for designing effective email newsletters. The template kit includes over 500 different content blocks and 15 pre-made templates for crafting all kinds of newsletters for various purposes.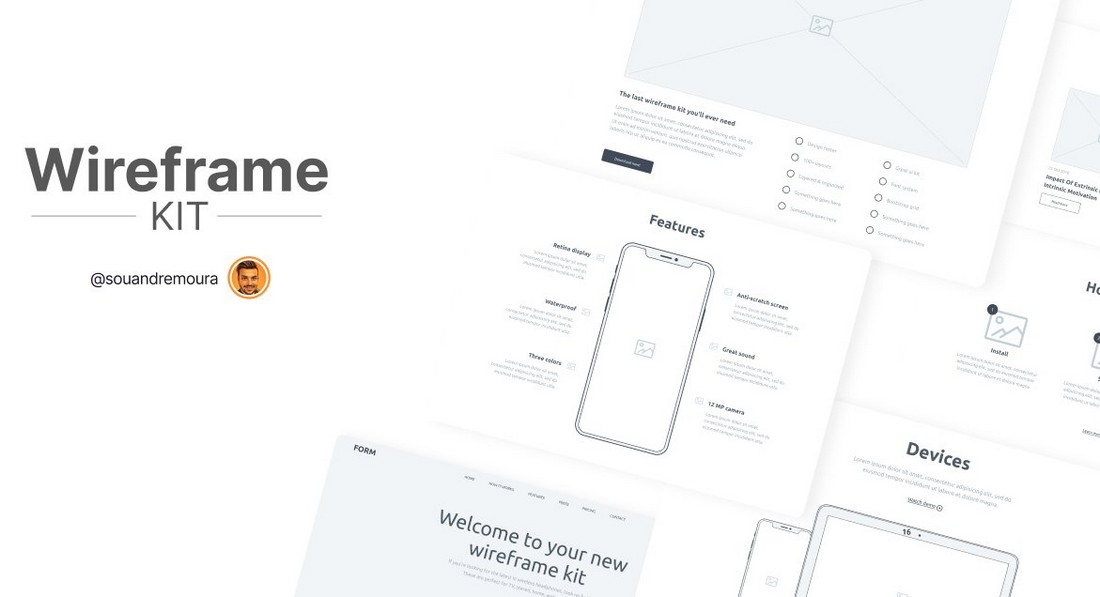 This free Figma wireframe kit is a great choice for outlining website designs without too many visual elements. There are multiple content blocks in this UI kit for making modern landing pages and websites.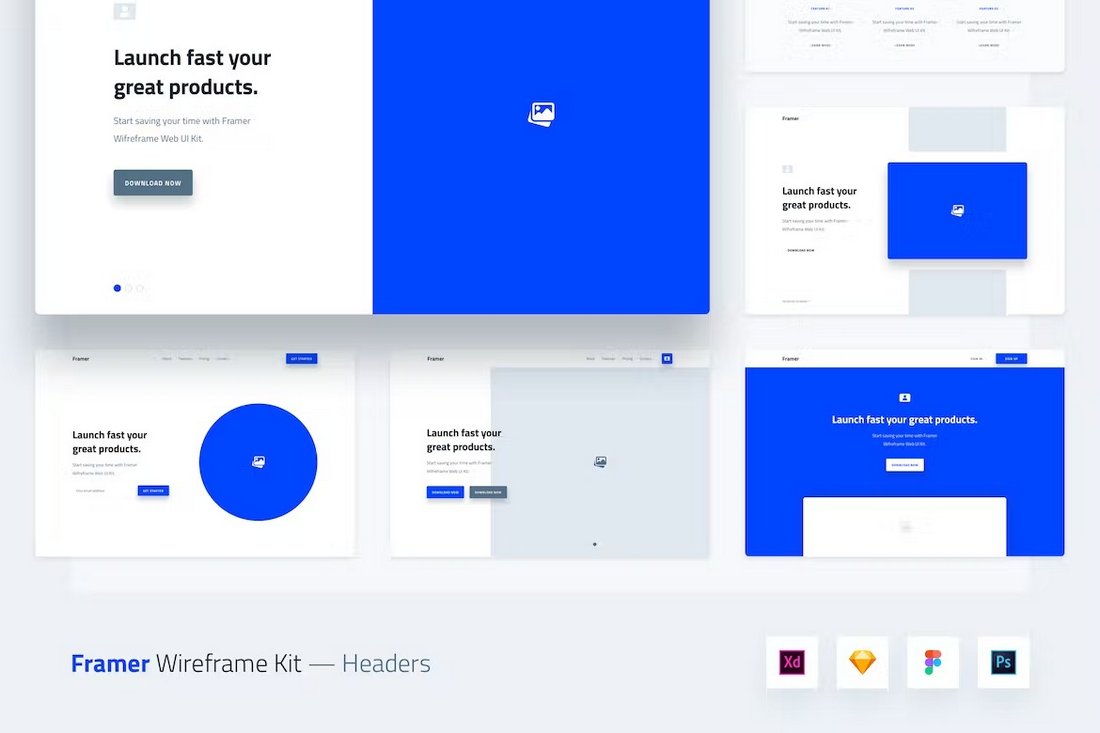 Framer is a wireframe kit you can use to design the perfect header for your website layouts. It includes several modern header layouts with fully customizable designs. The templates are available in Figma, Sketch, Photoshop, and Adobe XD formats.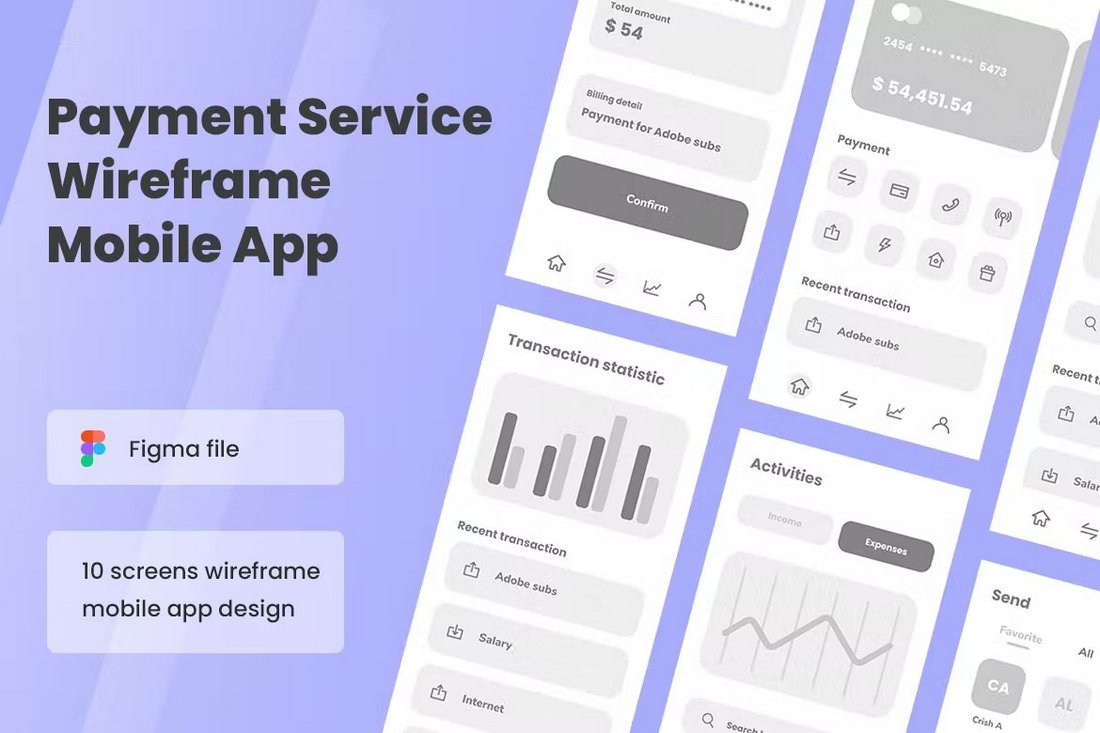 This is a complete mobile app wireframe kit for making payment service apps. It includes 10 mobile screen layouts with organized layers and editable elements. You can use it to add payment and wallet sections to other apps too.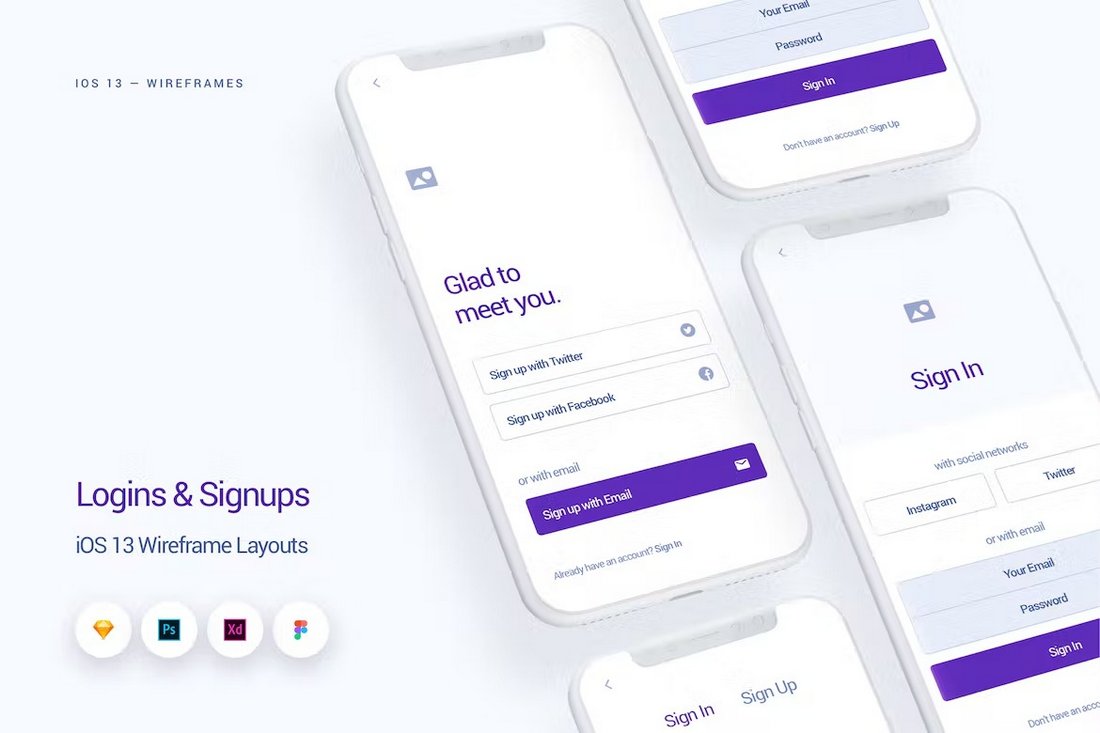 Login and signup screens are an important part of every mobile app. This Figma wireframe kit includes several different login screen layouts that are ideal for iOS apps. The templates are available in multiple file formats.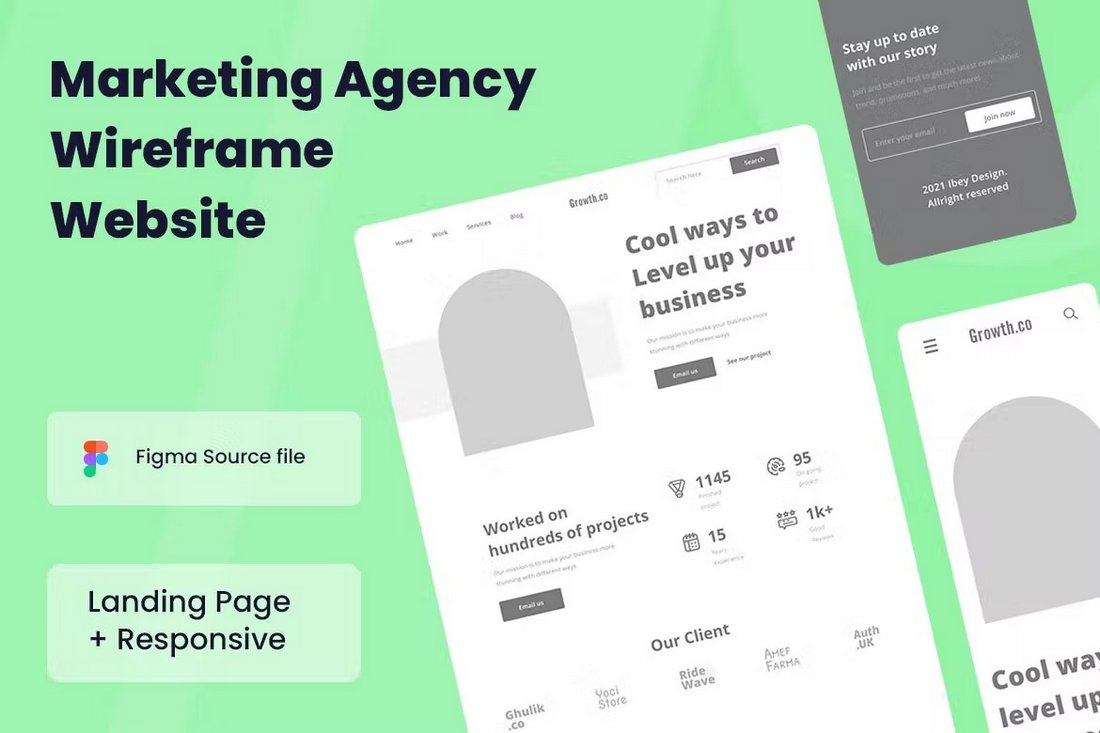 You can use this wireframe kit to design a website or landing page for a marketing agency. The template features a fully responsive design with multiple sections to showcase services, clients, teams, and more.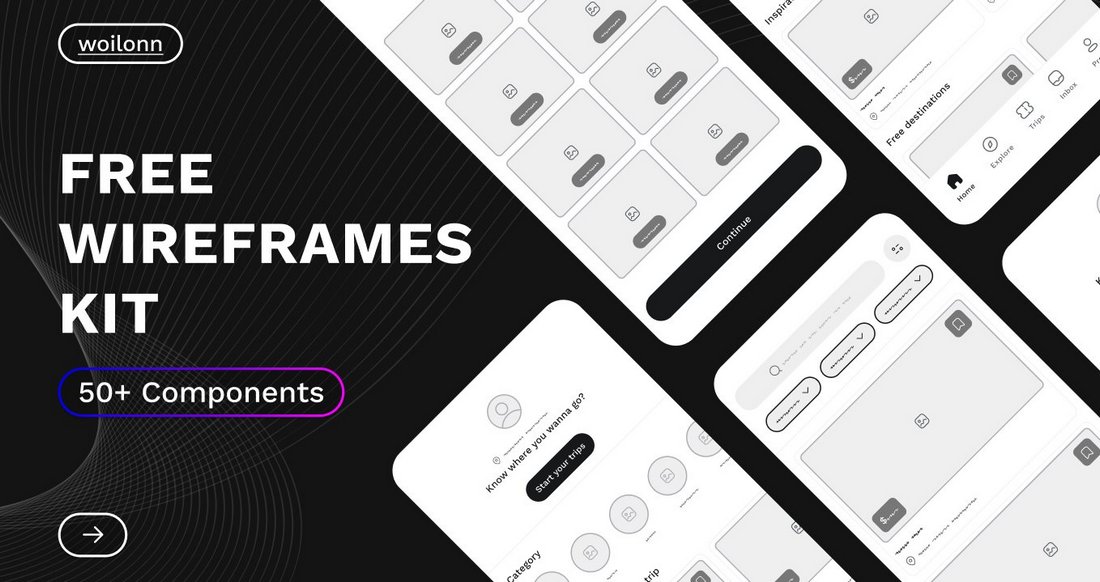 This free Figma wireframe kit has more than 50 different components. You can use them to design your own unique mobile app wireframes without effort. It includes variants and example layouts as well.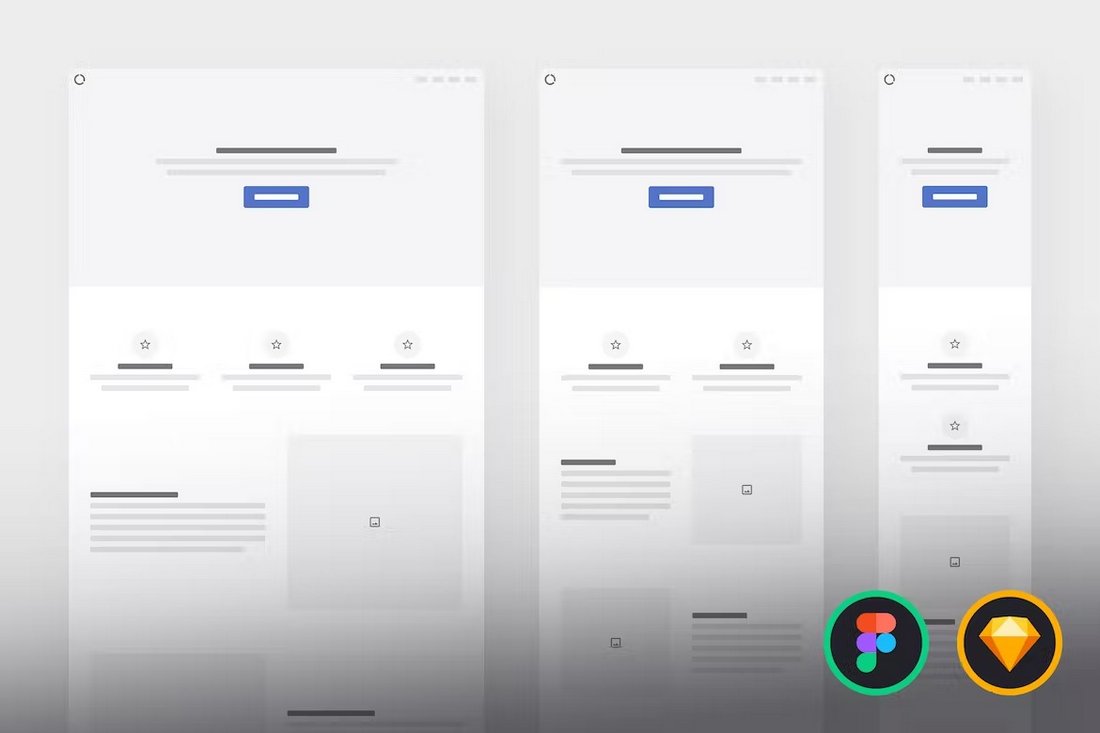 Easily design responsive websites with this Figma wireframe kit. It features a clean and simple design. But offers a clean canvas for you to get started on your own website design projects.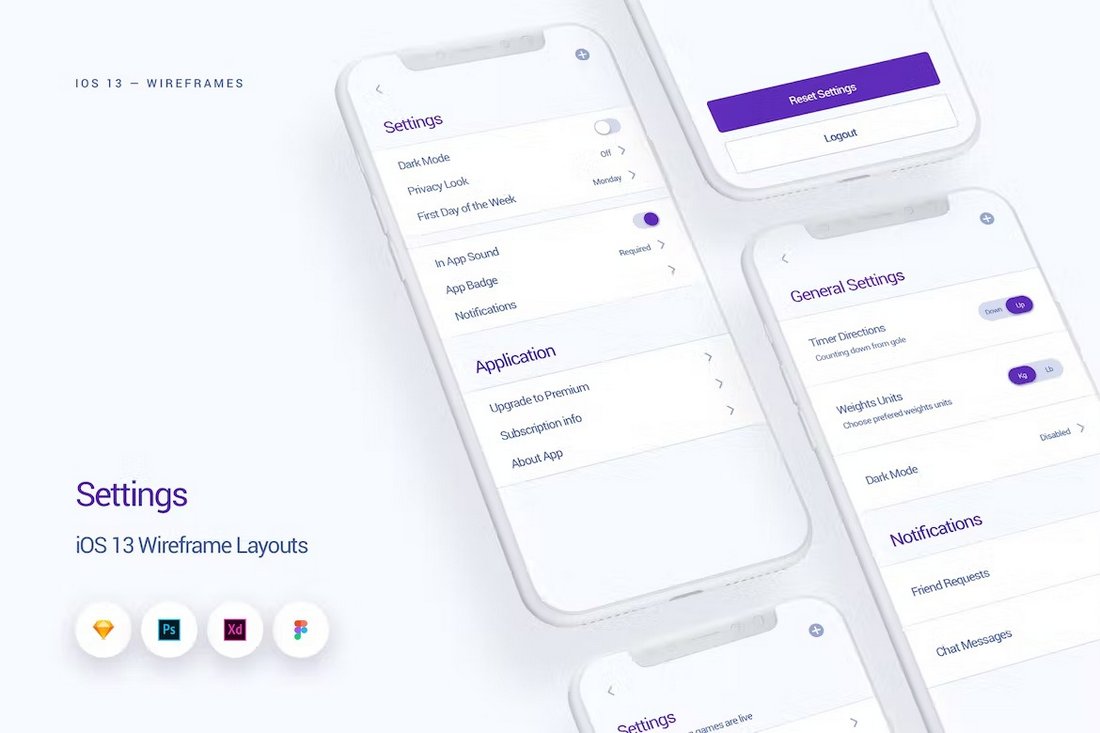 You can use this Figma wireframe kit to design the settings screens for your mobile apps. It features iOS-themed screens for different parts of the settings and options pages. The templates are fully customizable.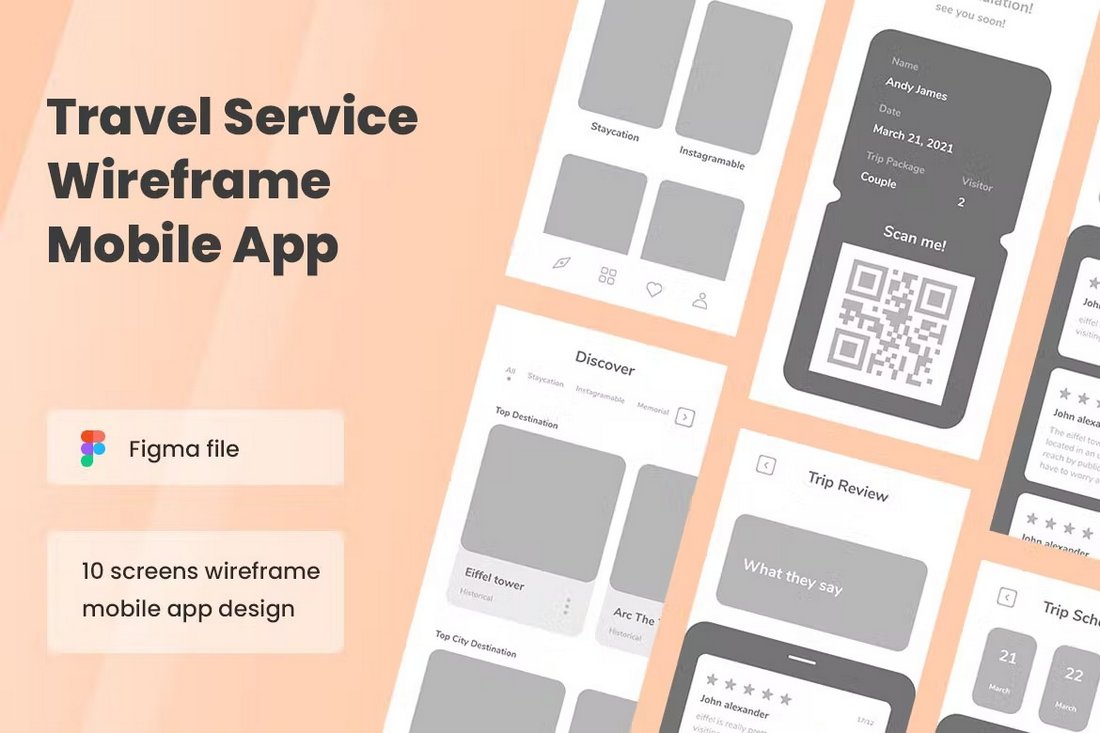 This Figma wireframe kit is most useful for designing travel-related mobile apps. It includes 10 different mobile screen layouts that are essential for making a travel service mobile app. Each template features organized layers and free fonts.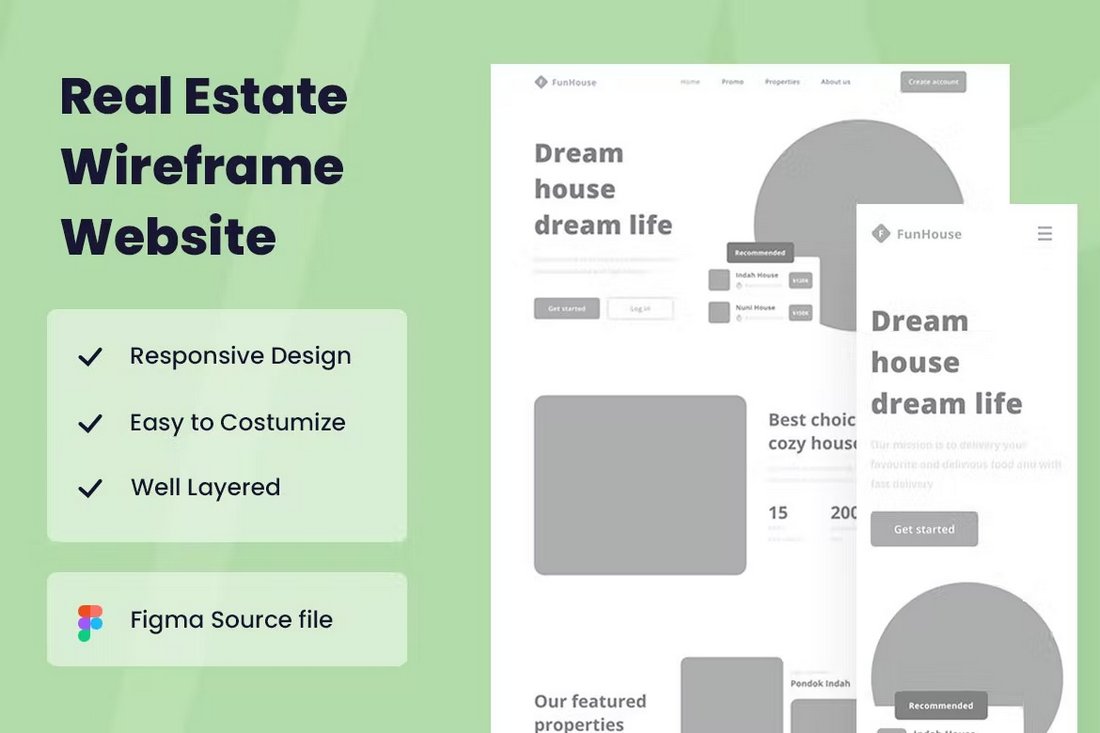 Design the perfect website for a real estate agency with this Figma wireframe kit. This template includes wireframes for both mobile and desktop versions of the website. Along with many different sections for showing off properties, services, agency teams, and much more.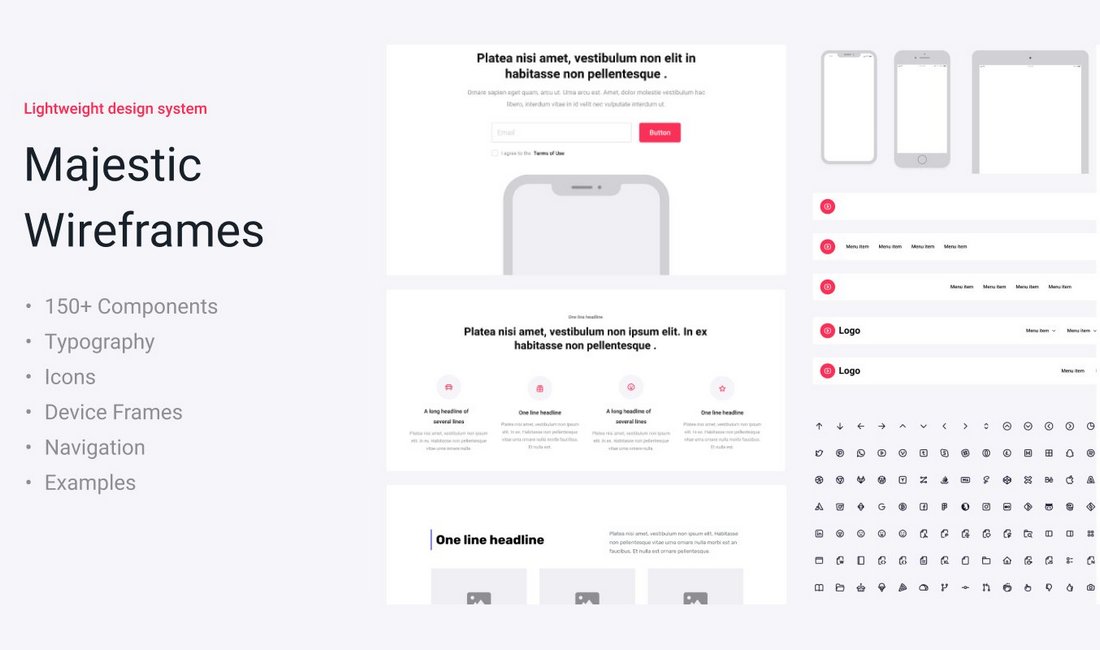 Majestic is a free Figma wireframe kit that comes bundled with more than 150 different components. It includes icons, device mockups, typography, and more. This kit is ideal for website frameworks.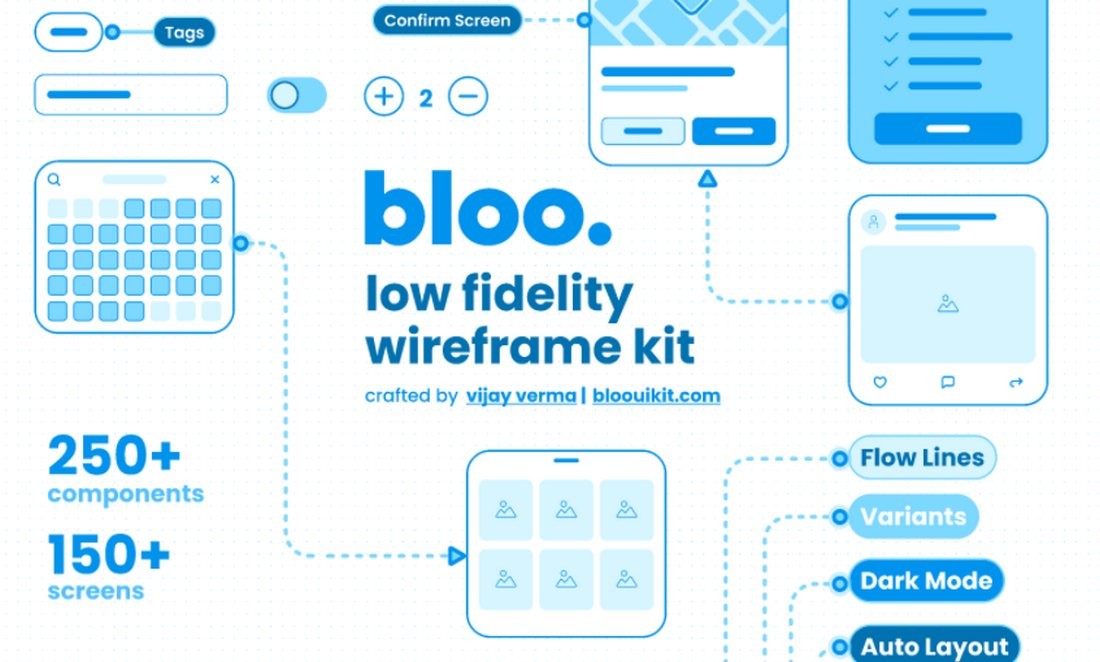 Another huge bundle of low fidelity wireframe templates for Figma. This bundle includes more than 250 components with 150 mobile screen templates and over 10 flowchart designs. All are completely free to download.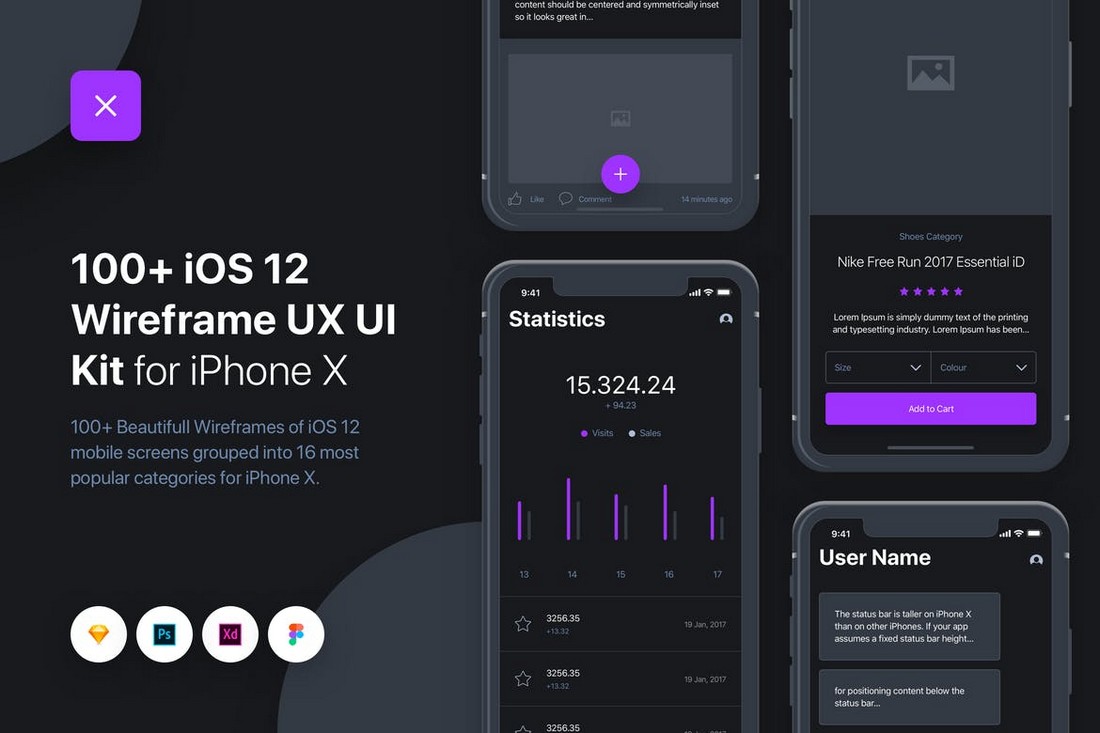 This is a mobile UI wireframing kit made for iOS app UI and UX designers. The bundle has everything you need to craft all kinds of app layouts. There's a total of over 100 wireframe templates that are available in 16 different categories. They feature dark and minimal designs and come in Figma, Sketch, Adobe XD, and Photoshop formats.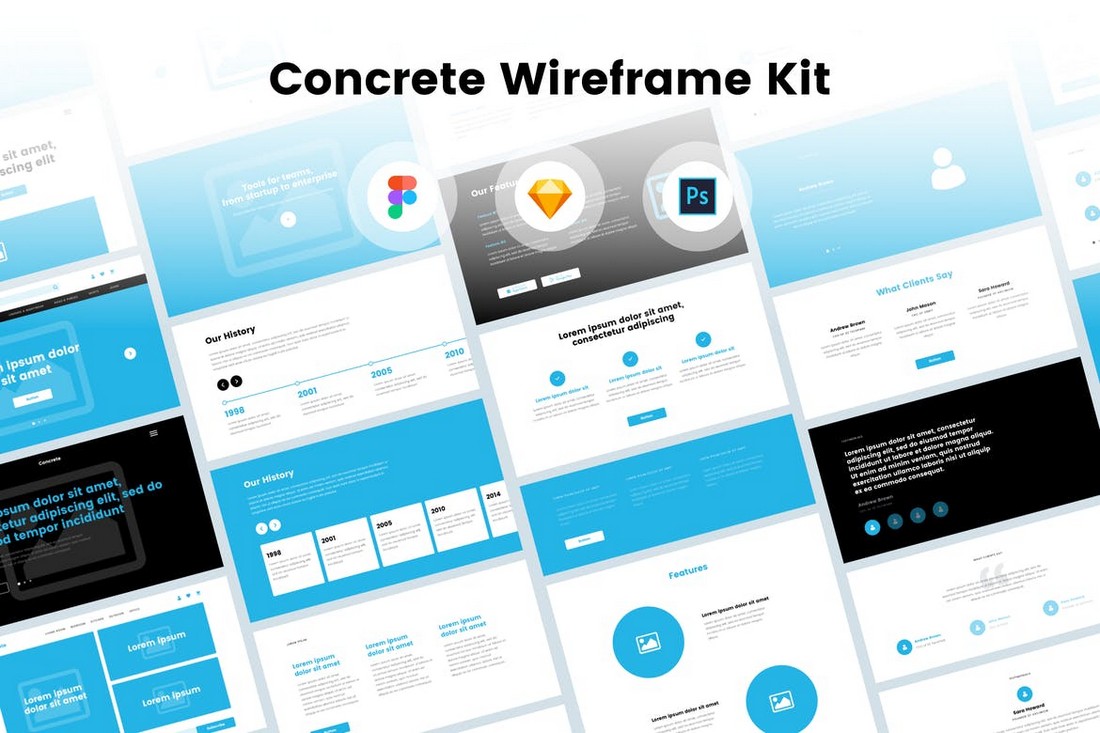 Another useful website wireframe kit for Figma. This UI kit features 90 different content blocks you can use to design landing pages for digital agencies, SaaS startups, and other businesses. The templates are available in 10 categories.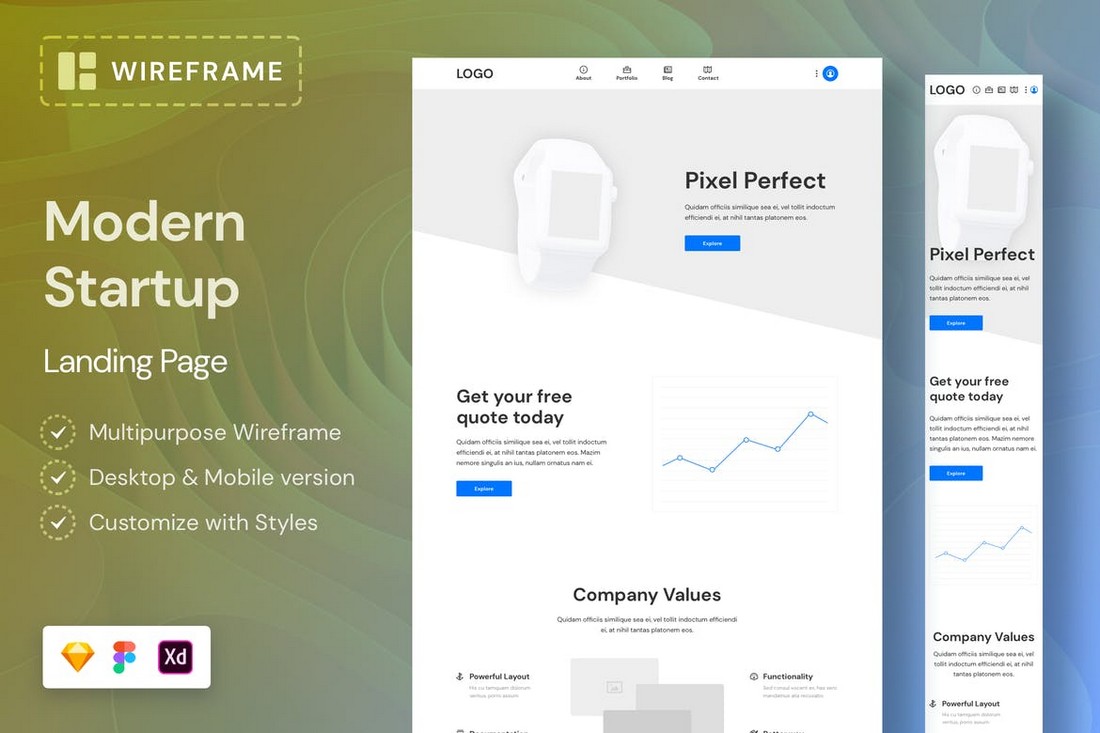 With this wireframe template, you can easily design a landing page for a SaaS startup or a product landing page without effort. It includes both the desktop and mobile versions of a complete landing page wireframe design. The template is compatible with Figma, Sketch, and Adobe XD.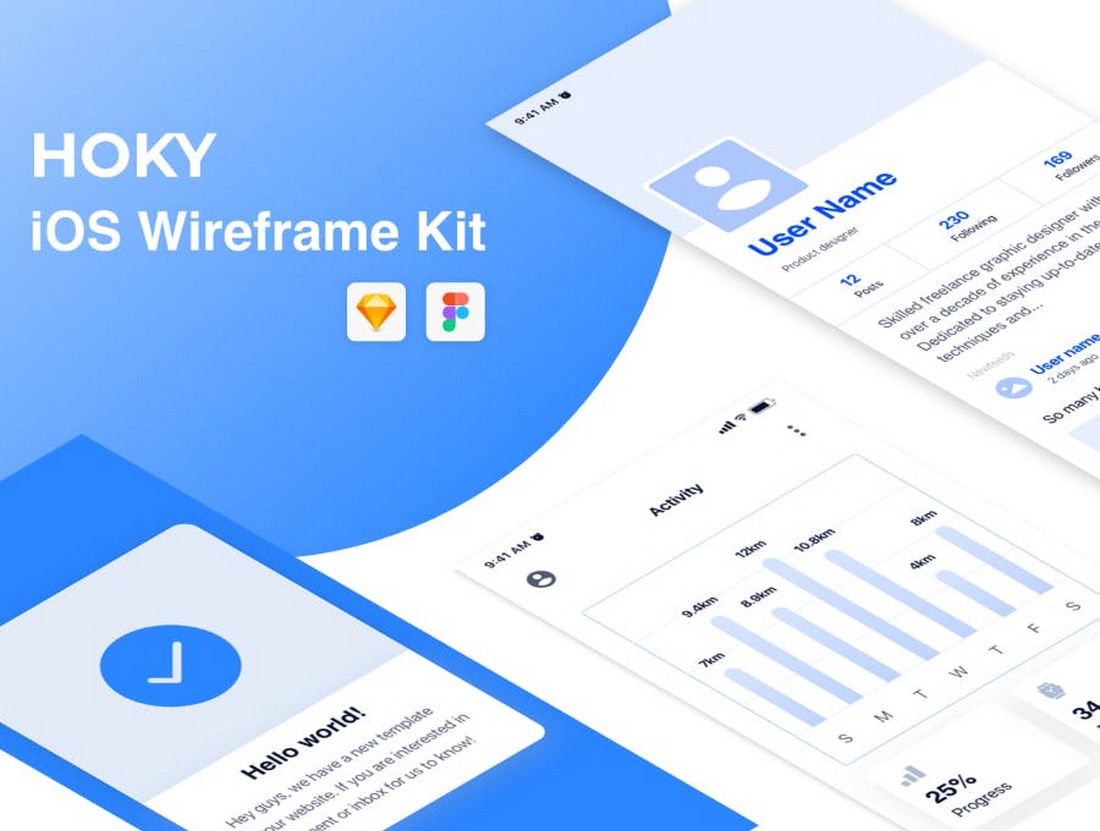 Another Figma wireframe kit for mobile UI designers. This pack features 80 mobile screen templates in 9 different categories. There are screen templates for everything from user profiles to shopping carts, map navigation, forms, and much more. The templates are available in multiple file formats as well.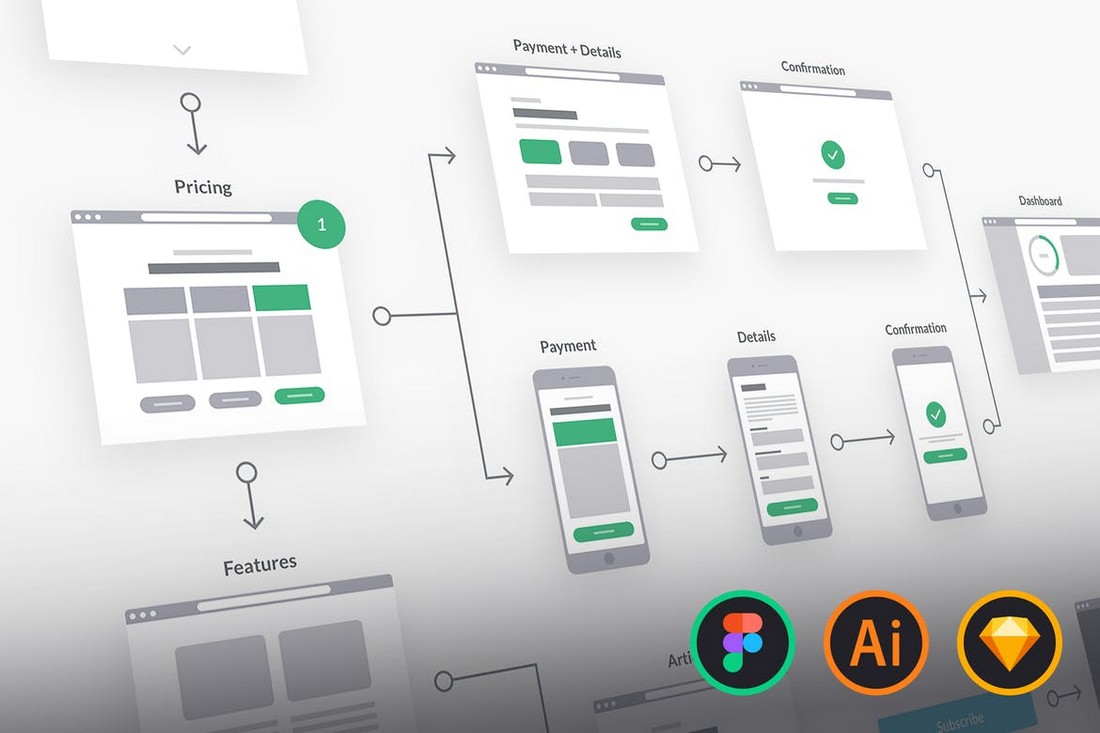 Flowcharts are a part of every UX designer's workflow process. This bundle of flowchart cards will serve you well. It includes more than 290 different flowchart cards featuring iOS designs, icons, and multiple button styles. The templates are very print-friendly too.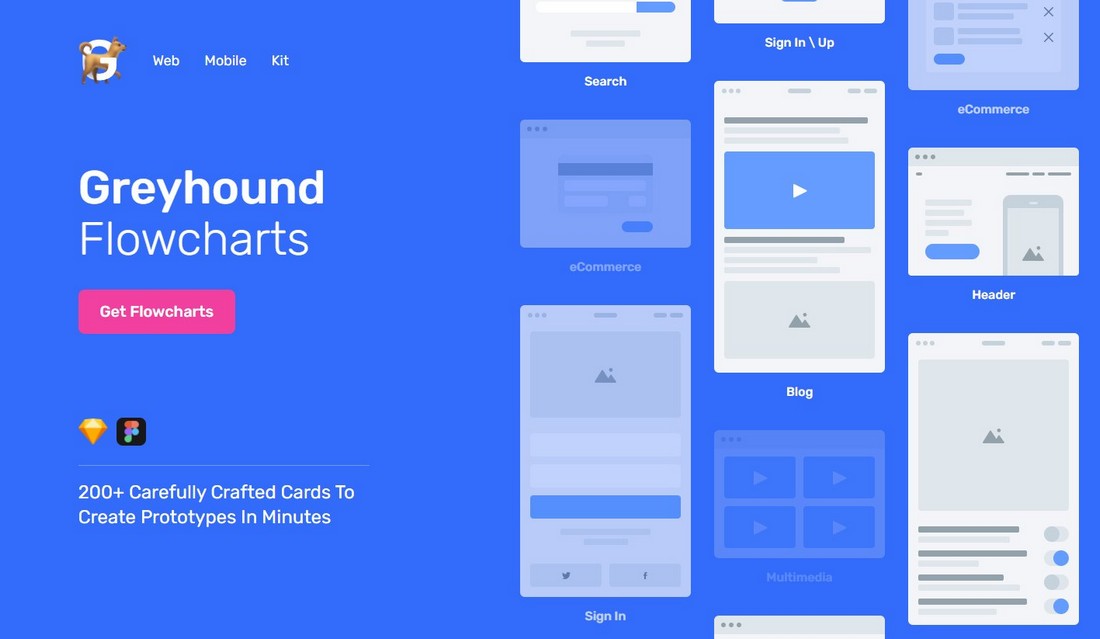 Greyhound is a free resource you can use to design and download Figma flowchart templates. This website gives you access to over 200 flowchart cards for designing wireframes for both mobile and desktop platforms.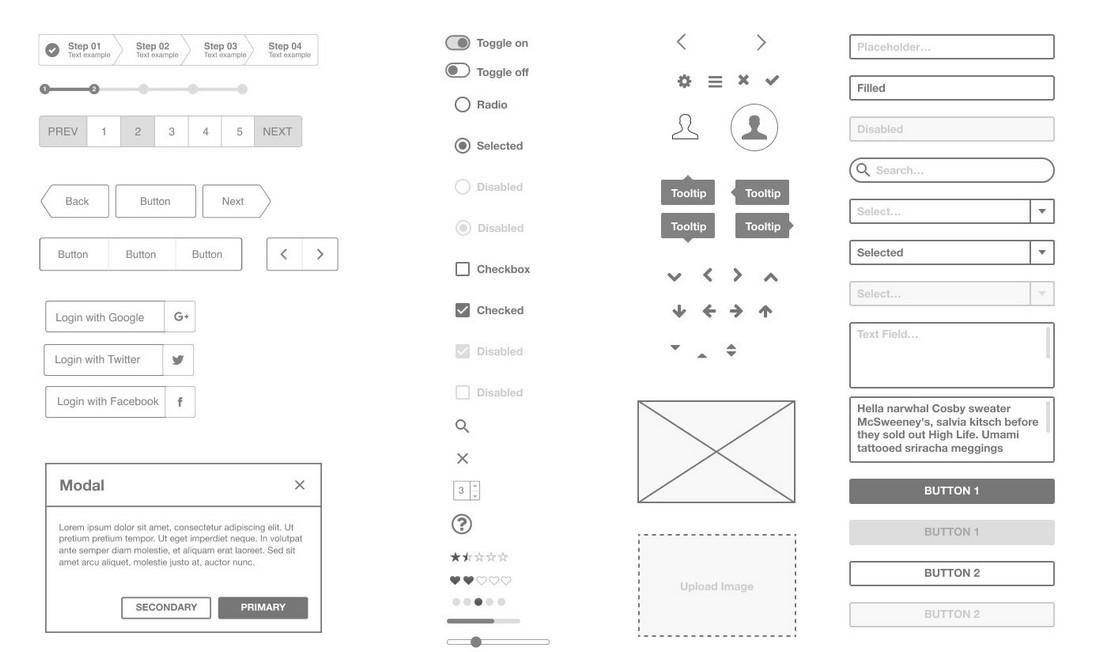 Another simple and minimal UI kit for designing web and mobile wireframes. This Figma template kit features lots of useful UI elements and components for crafting simple design layouts. And it's free to download.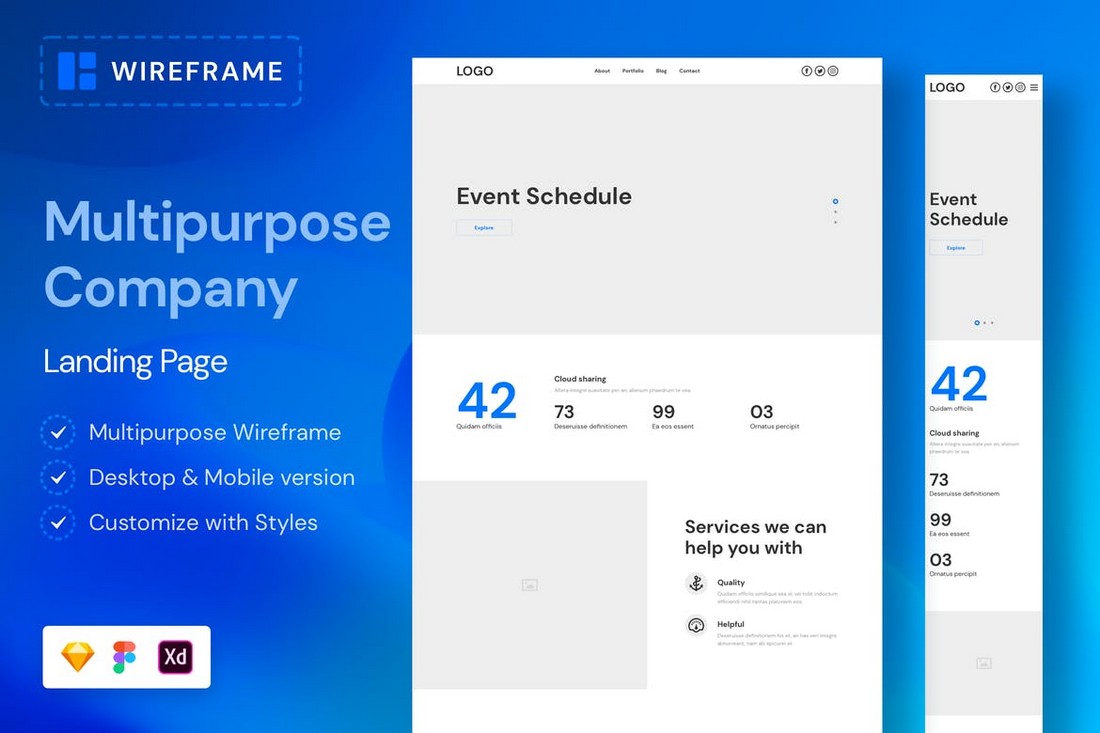 Whether you're designing a website wireframe for a corporate business or a digital agency, this Figma template will help you craft an effective design with ease. The template has a multipurpose layout that you can customize to create different types of websites, including landing pages for business events.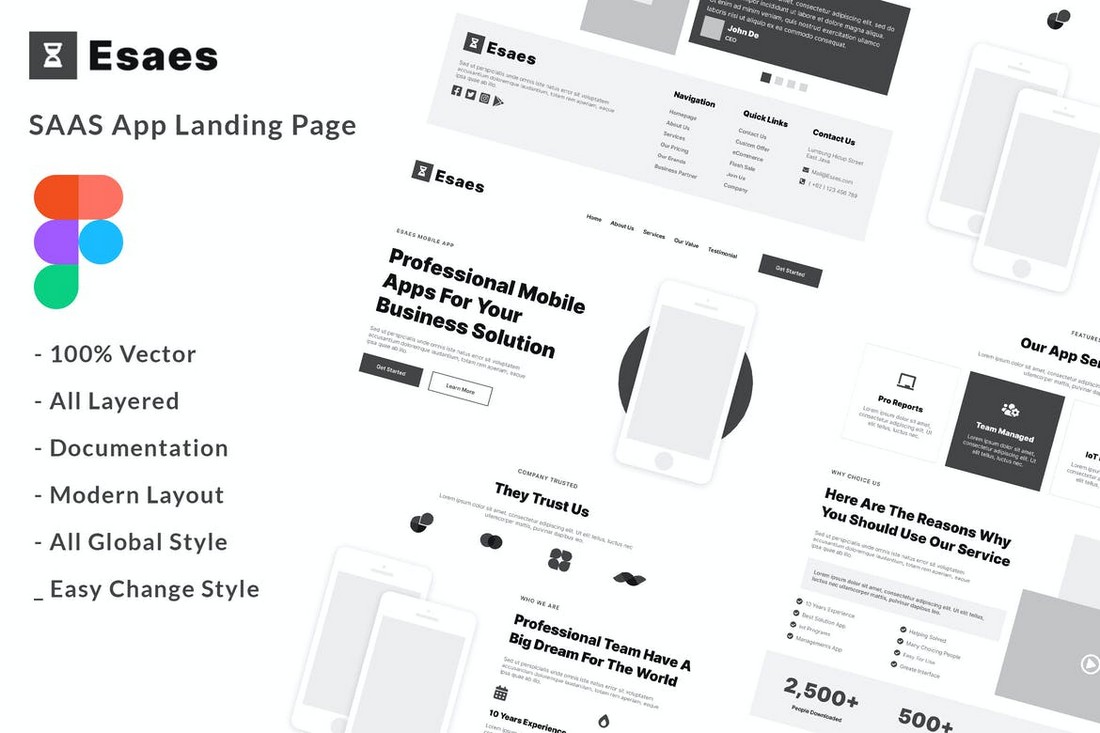 This wireframe kit features simple black and white designs for making minimalist landing page wireframes for SaaS businesses. The template comes in full vector format, allowing you to edit, scale, and customize it however you like.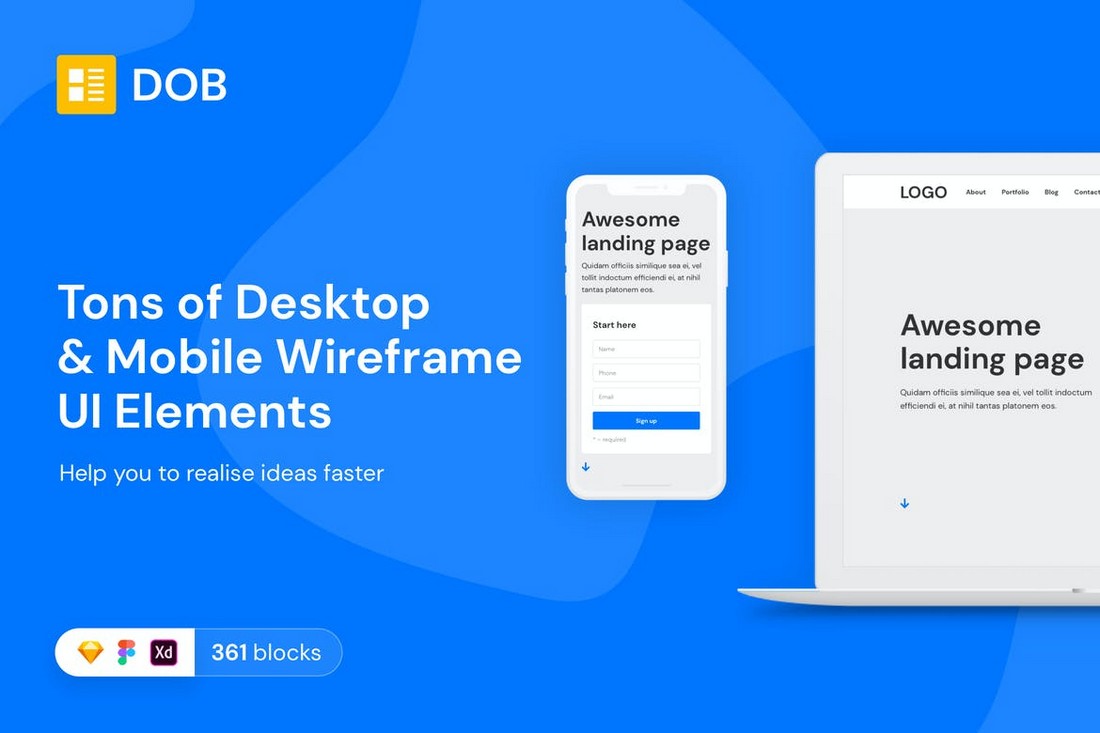 This bundle has a mixed collection of wireframe components. The multipurpose approach of this UI kit makes it useful to both web and mobile UI designers. The bundle includes over 360 content blocks for mobile and desktop designs. The templates come in Figma, Sketch, and Adobe XD formats.
How To Wireframe in Figma
Wireframing in Figma is much easier than most other UX design tools. The best part is you can easily convert your wireframes into prototypes directly from Figma as well.
To get started wireframing in Figma, we recommend that you use a wireframe UI template kit (pick one from the list above). These UI kits provide you with even the tiniest components you need to design wireframe designs, like buttons, icons, forms, and content blocks.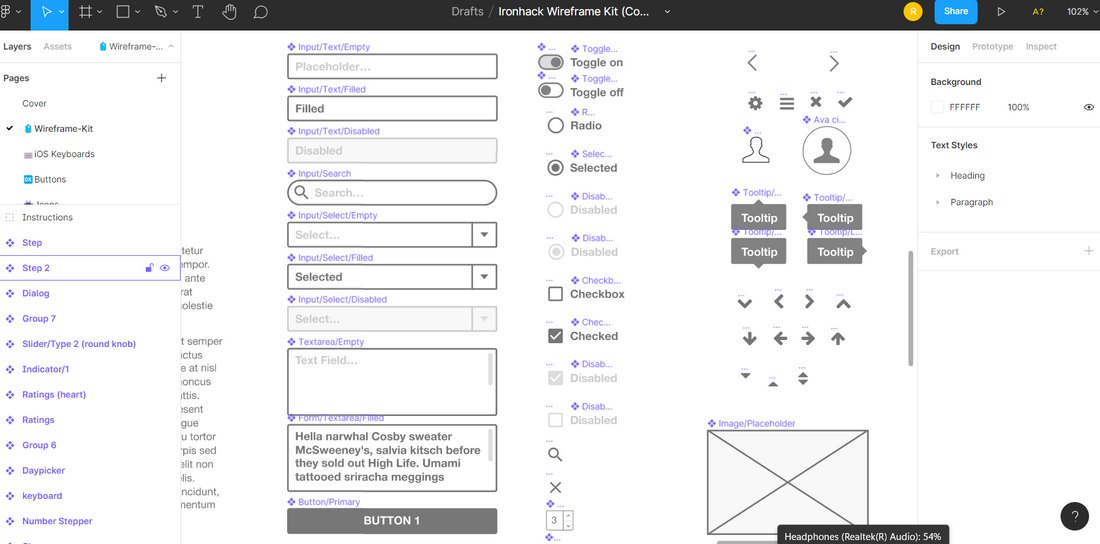 Once you find the right Figma UI kit, you can open it in the app and start customizing the pre-made templates. Or you can duplicate or use the components to create custom wireframes of your own.
Since we can't cover a complete step-by-step wireframing guide here, you can watch this YouTube tutorial to learn the basics of wireframing in Figma.