25+ Best Figma Email Templates (Figma for Email Design)
Emails have become a staple of the business world. Companies use emails to gather and nurture leads, communicate with customers and clients, and relay important information to coworkers. While some marketing agencies leave employees to their own devices when crafting emails, others have adopted email templates.
Email templates have helped agencies and marketers become more efficient, make fewer mistakes, and improve lines of communication. Templates even reduce stress and improve customer satisfaction. If you want to grow your business, consider using email templates.
Our selection of Figma email templates is useful when marketing services to clients. Or when assisting your clients with their email marketing campaigns. Just add your company details, messaging, and images to these ready-to-use Figma email templates. Then you're ready to send out your email marketing campaigns to your customers or clients!
Read on.
This email template features a modern and stylish layout for making newsletters and promotional emails for fashion and retail stores. It has template designs for both mobile and desktop versions. And includes lots of different sections for showcasing products. The template comes in Figma, Photoshop, Illustrator, and Adobe XD formats.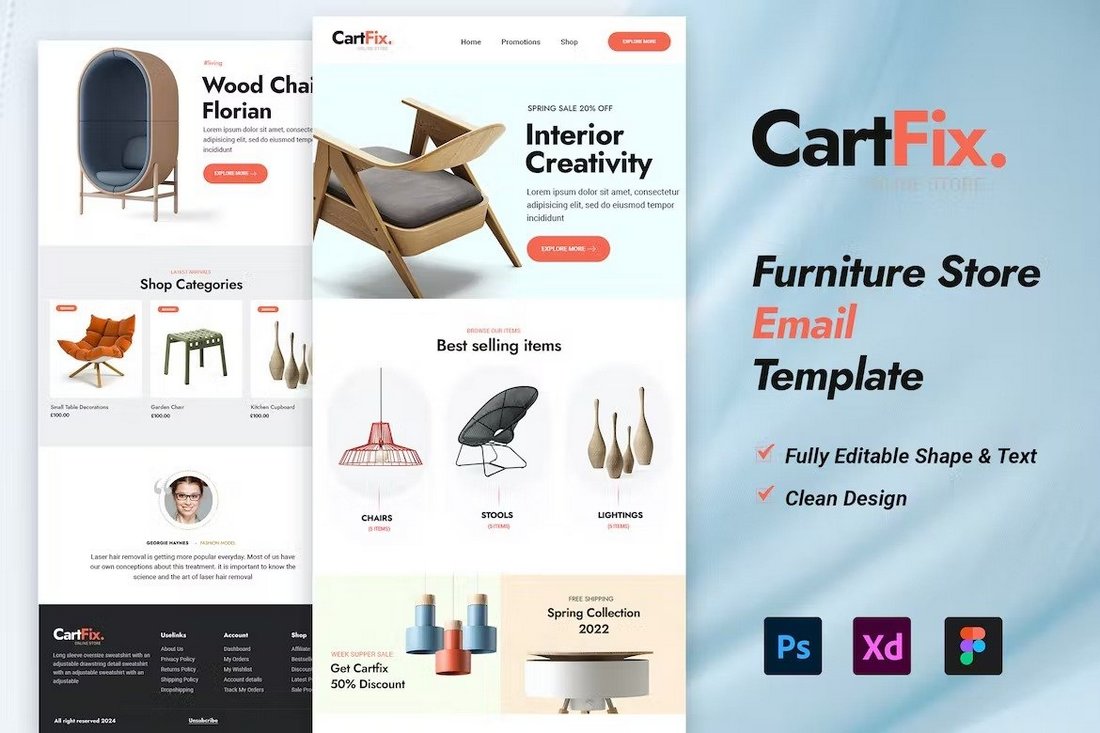 This Figma email template has the perfect design for making email layouts for interior design and furniture stores. The template comes with several different sections for showcasing different categories of products. You can fully customize it to change the text, images, and graphics. It's also available in multiple file formats.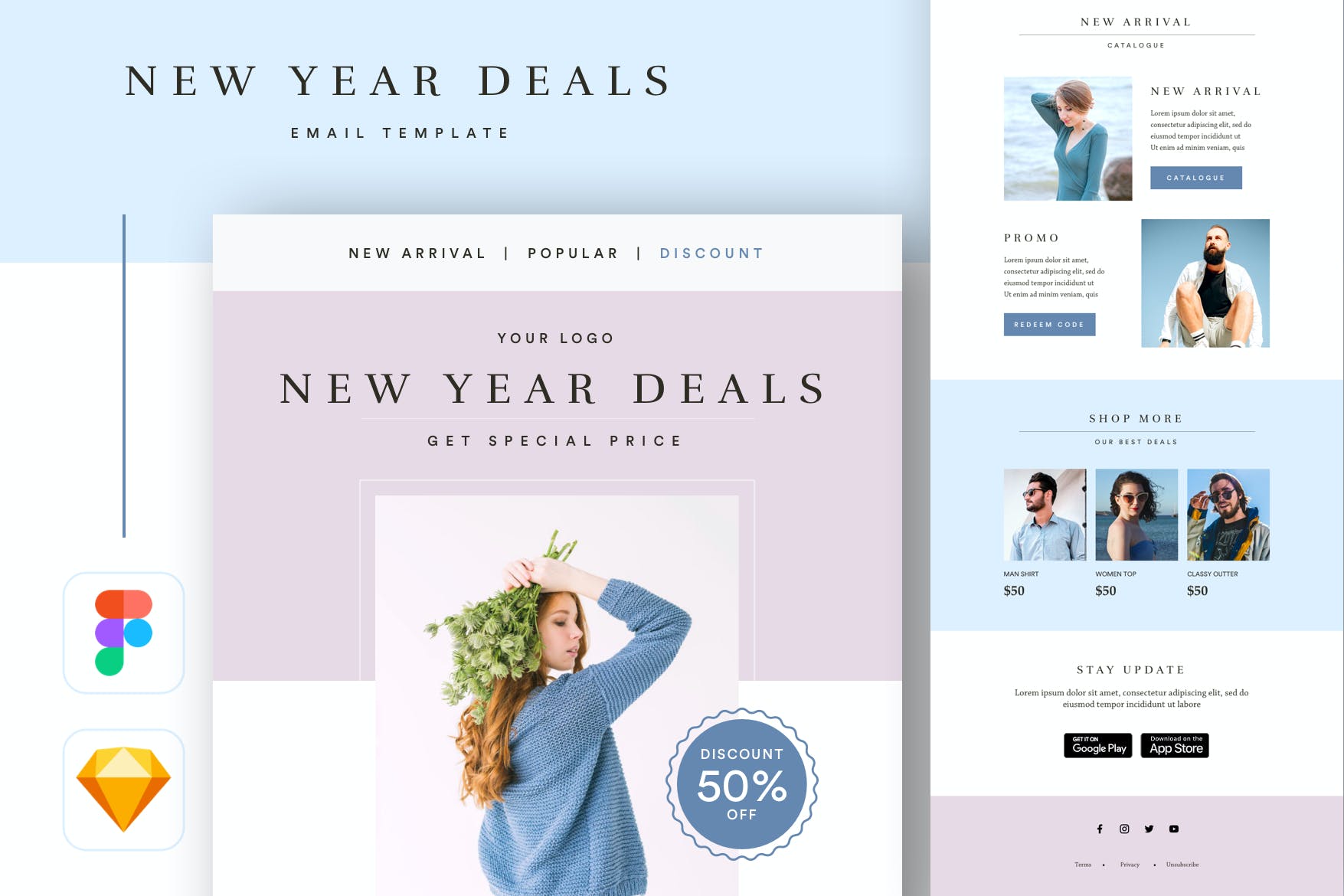 If you're wondering how to use Figma for email design, you must get your hands on this clean, and modern newsletter template ASAP. This is a fantastic email template for your promotional needs and can be edited to suit your specific requirements in under a minute.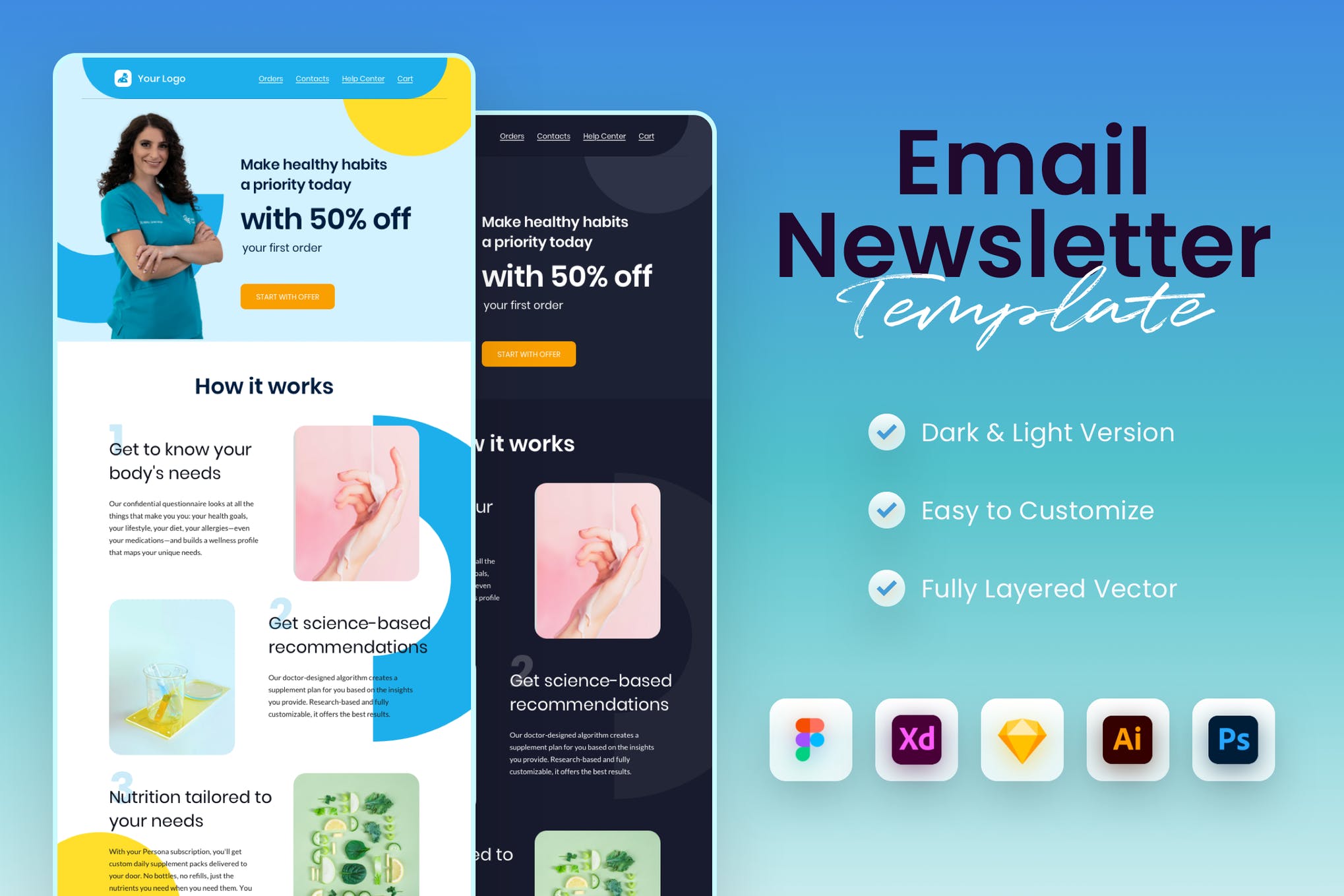 This is a perfect template for any business looking to create a minimalistic, and professional email newsletter. It comes in light and dark versions and can be personalized in Figma, Sketch, Adobe Photoshop, and XD. This Figma email template comes packed with free fonts.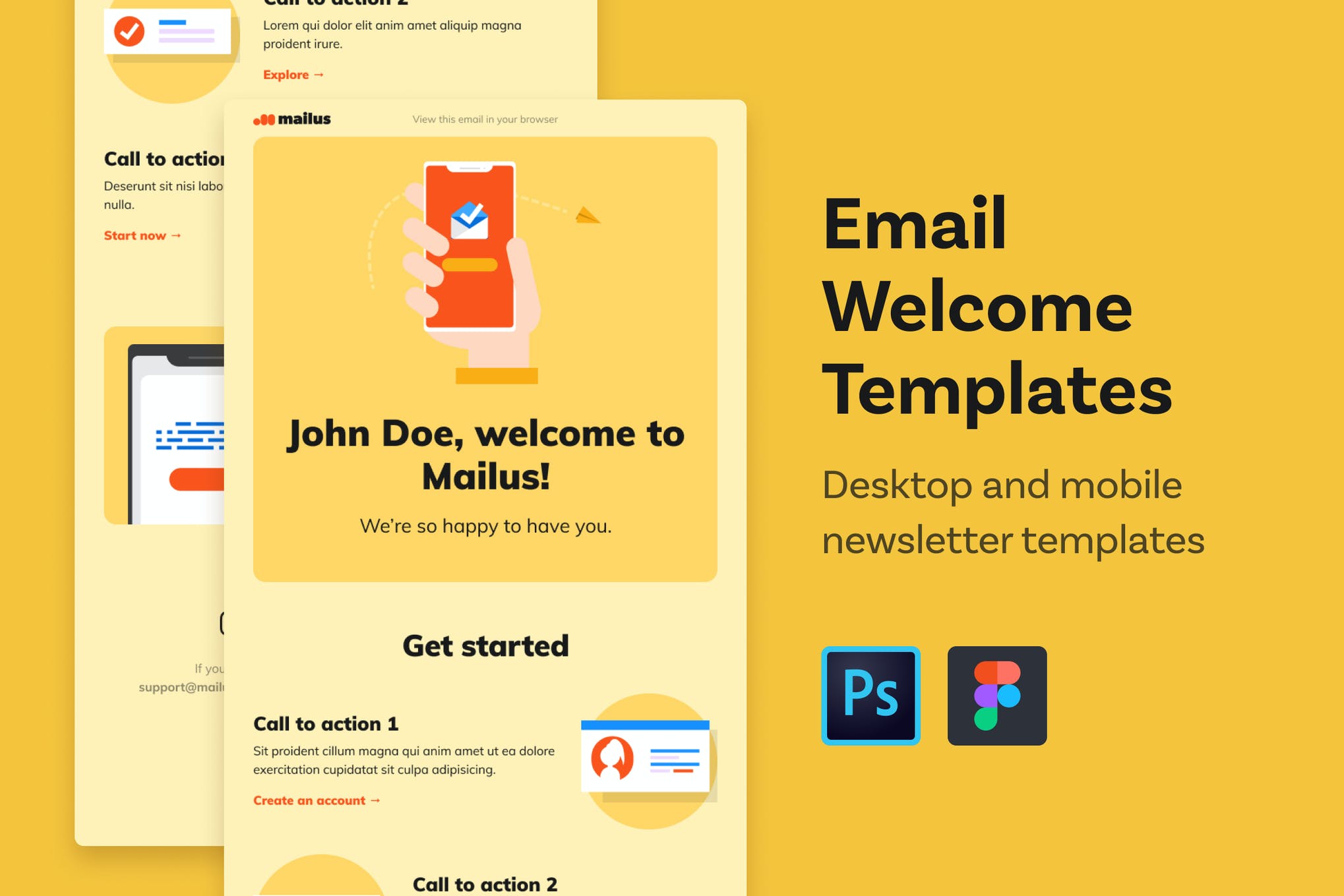 If you're a business wanting to welcome customers and encourage them to use your services, this email template is right up your alley. Available in both Figma and Photoshop versions, this template will help your emails look ultra-modern and stylish.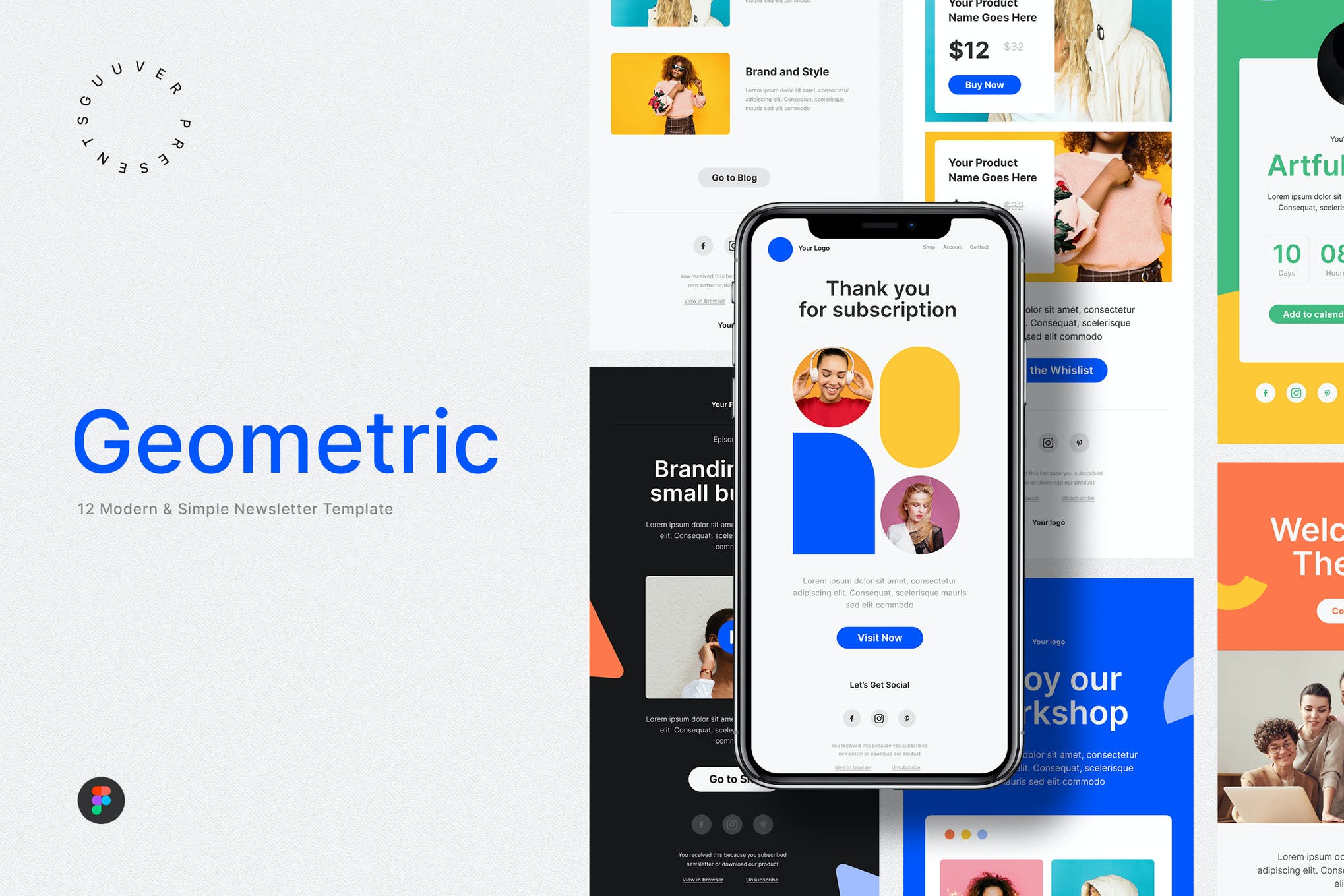 Make your email marketing stand out with this geometric newsletter template for Figma. It provides you with 12 layouts, well-organized layers, free fonts, and easy customizability. It's one of the best Figma email templates, and you should definitely add it to your shortlist.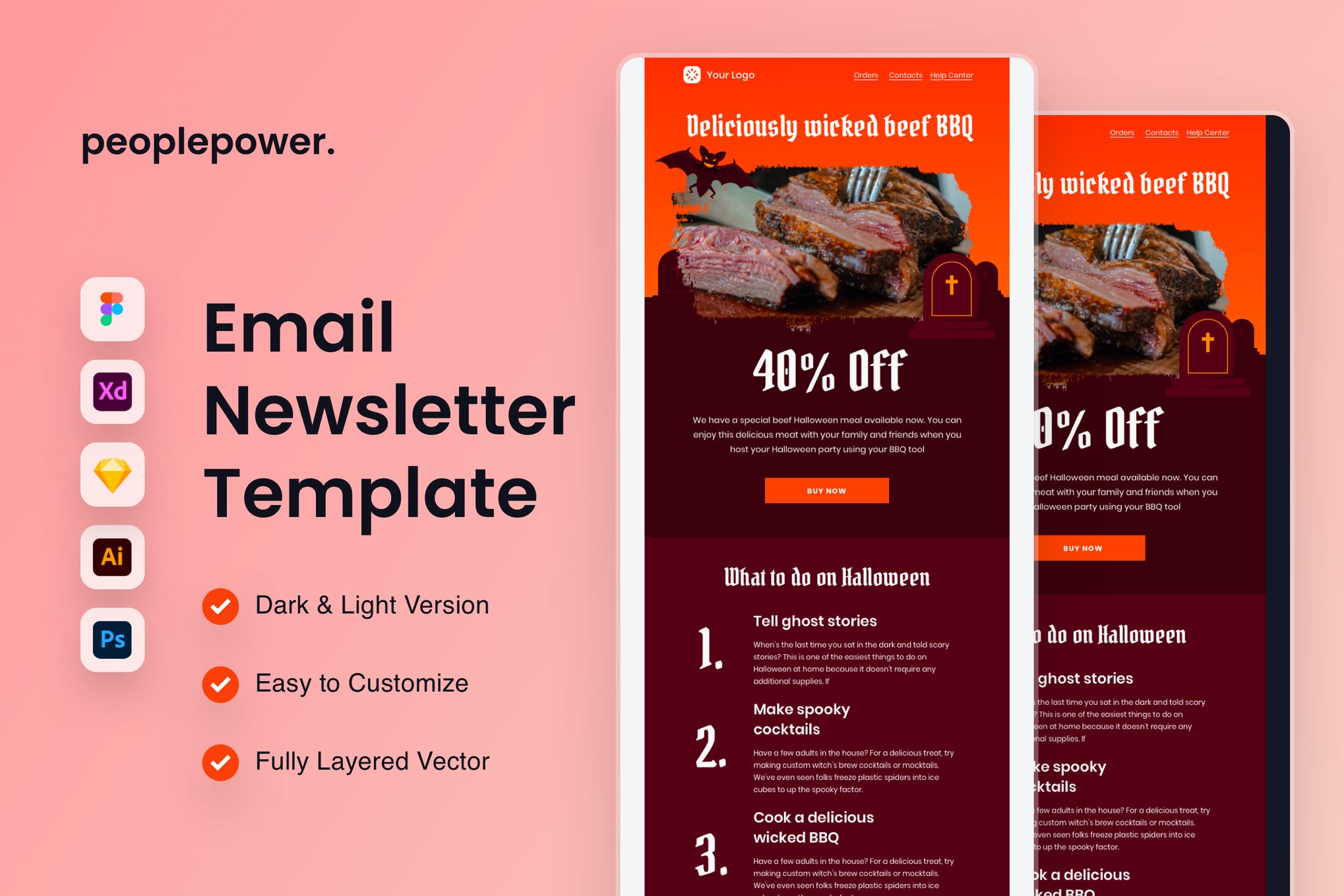 The next option on our list of the best Figma templates for email design is this stunning newsletter that will help your business reach potential clients, and drum up sales. It has an eye-catching color scheme and a super cool design that can be fully customized to your branding.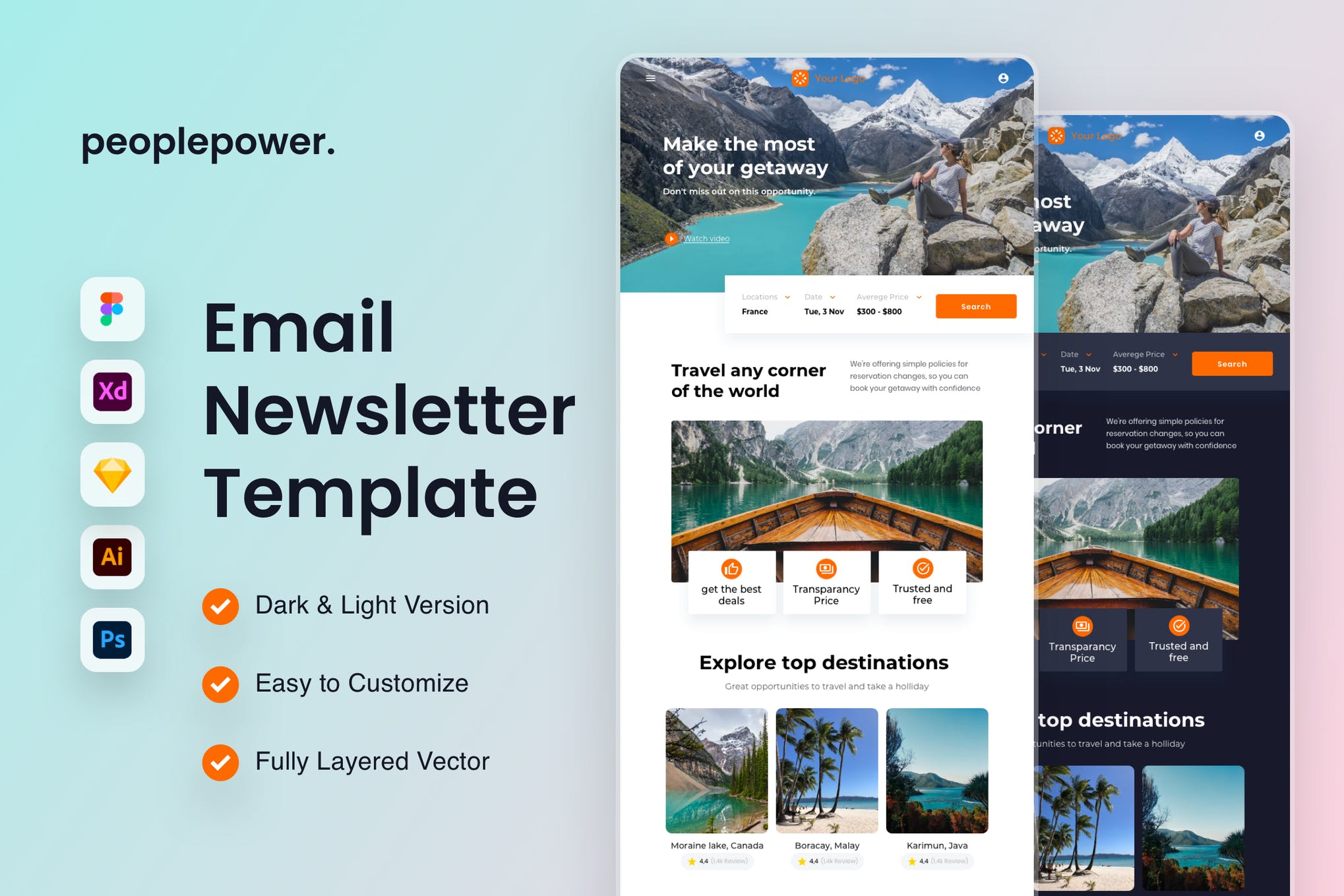 If you're looking for a great email newsletter template for Figma, the above-featured product is a good place to start. It will help you promote your tours and travel business around the world, and is extremely easy to personalize. Using Figma for email design has never been simpler.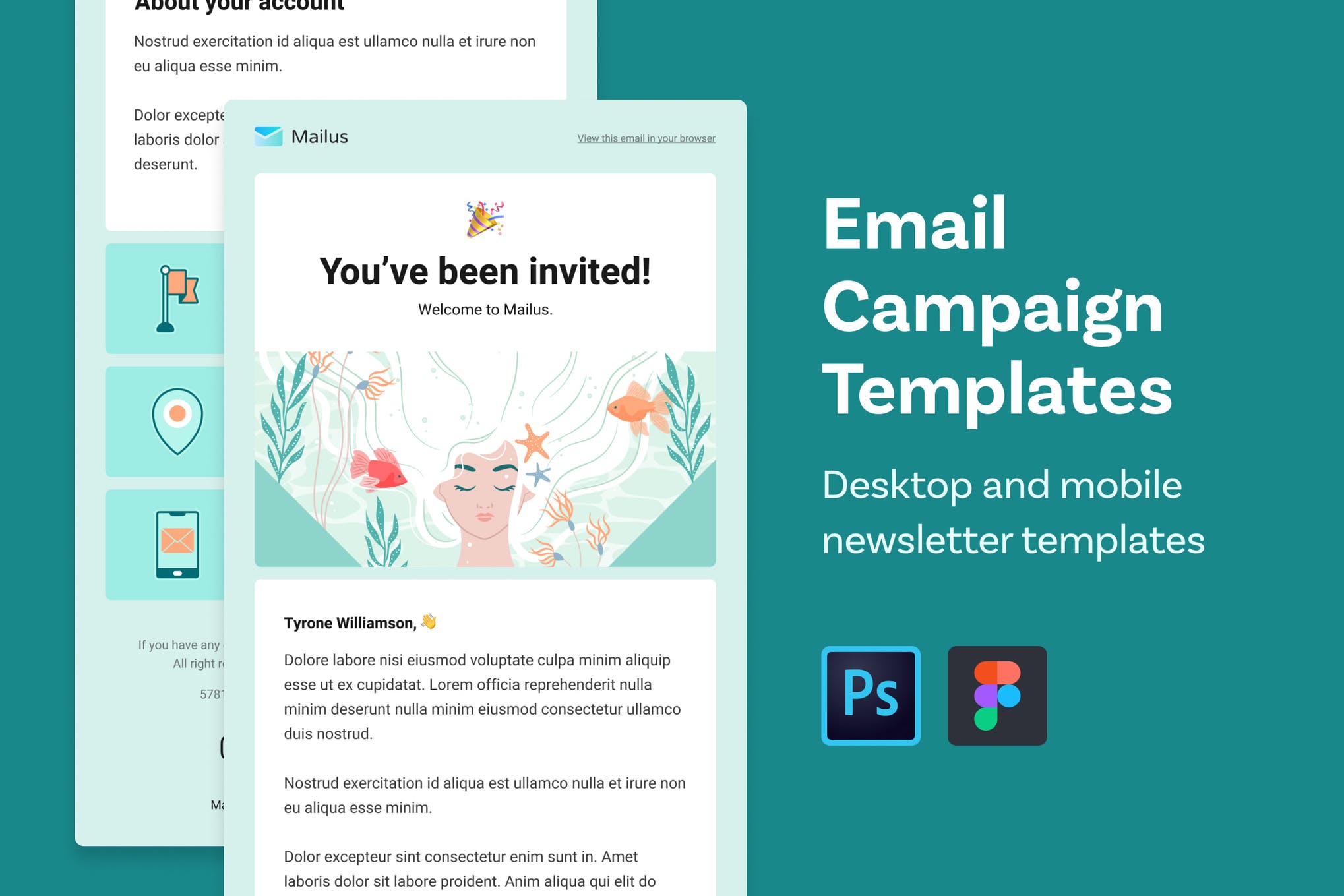 Guilty of letting leads and customers slip through your fingers? Use this set of Figma email templates that will help you market effectively to your target demographics, strengthen ties with existing customers, and boost sales. Add these Figma templates for email design to your collection, and never again miss out on a customer.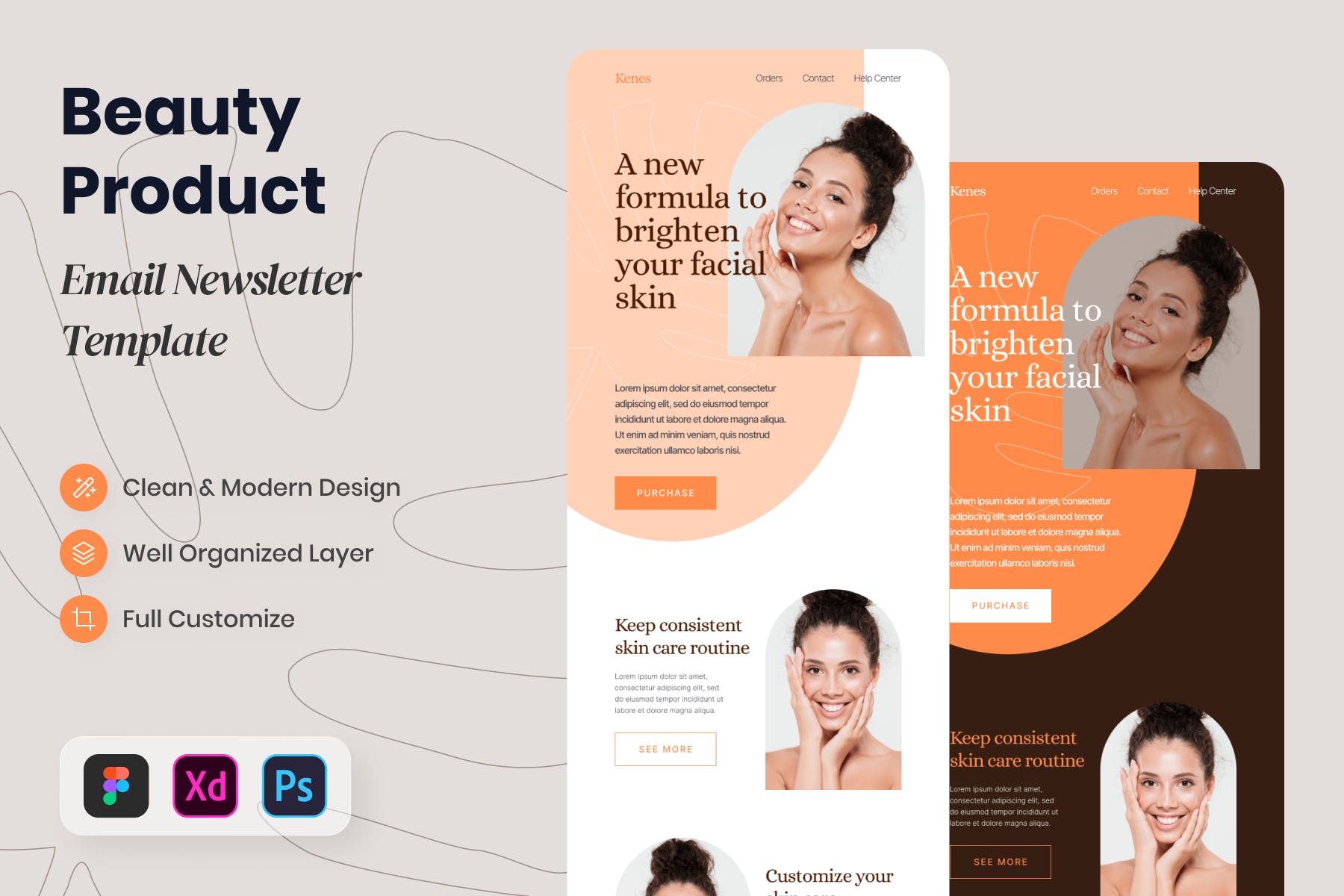 Kenes is an eye-catching Figma email template that will help you create a newsletter for fashion, and beauty businesses. It takes just a couple of minutes to customize the layout, colors, pictures, background, and text to your needs.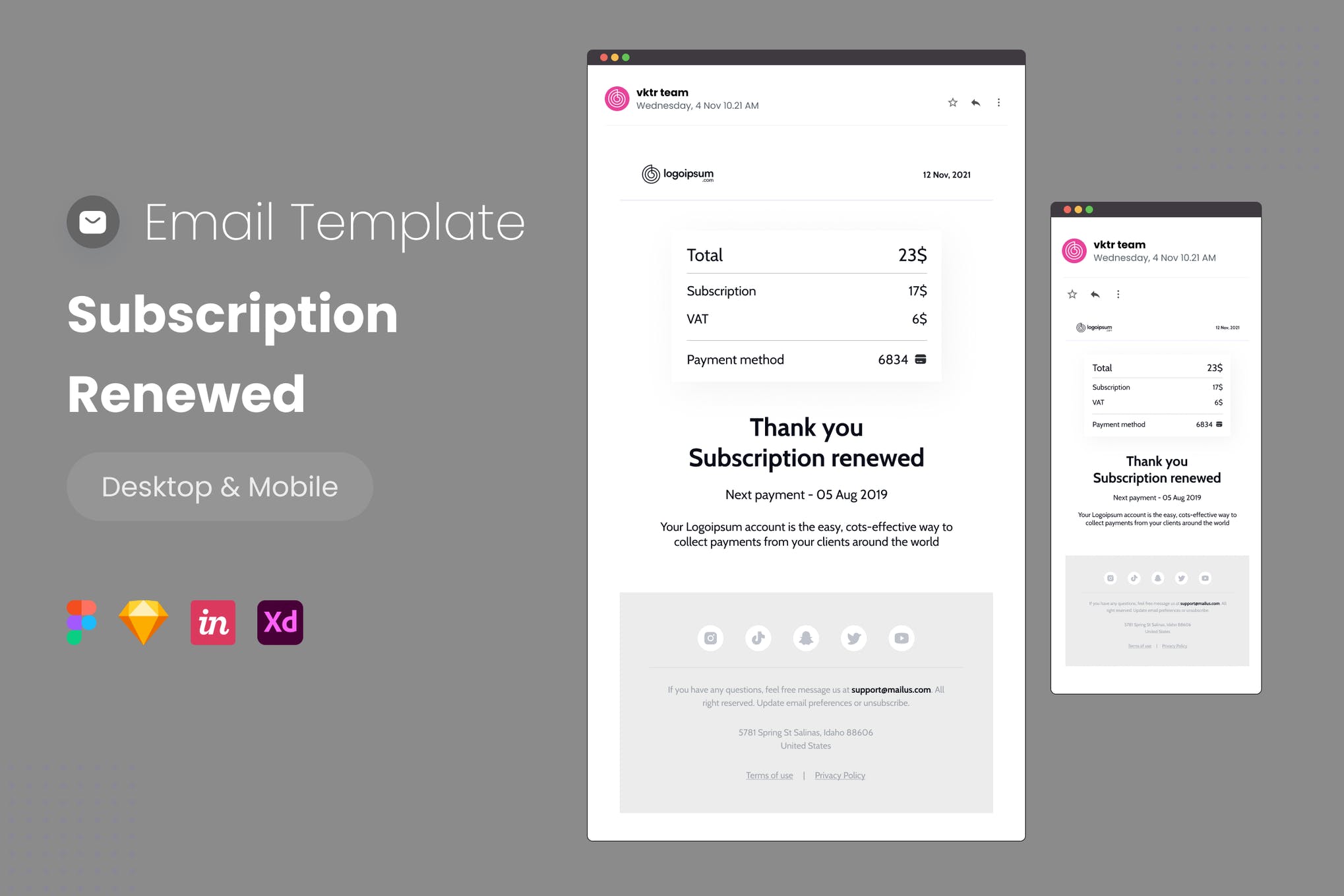 You'll find a lot of free Figma templates for email design available on the internet, but only a few matches up with this creative option. This subscription renewal template is truly impressive and can be easily customized to fit a style that's fit for your business.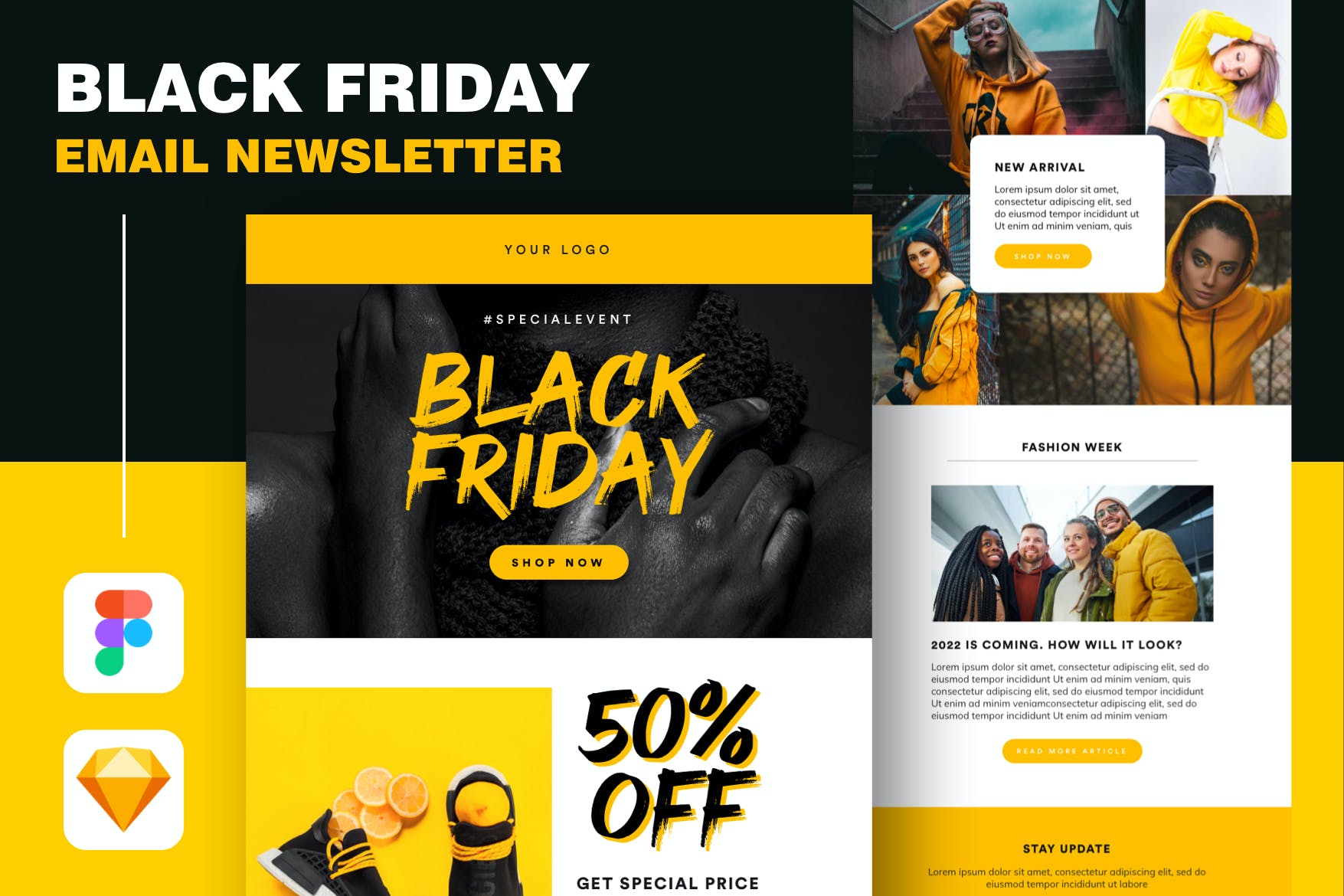 One of the best Figma email templates out there, this newsletter is perfect for promoting a sale right around the corner. It has a really modern, and attractive design that will draw your subscribers' attention in an instant. Grab it now.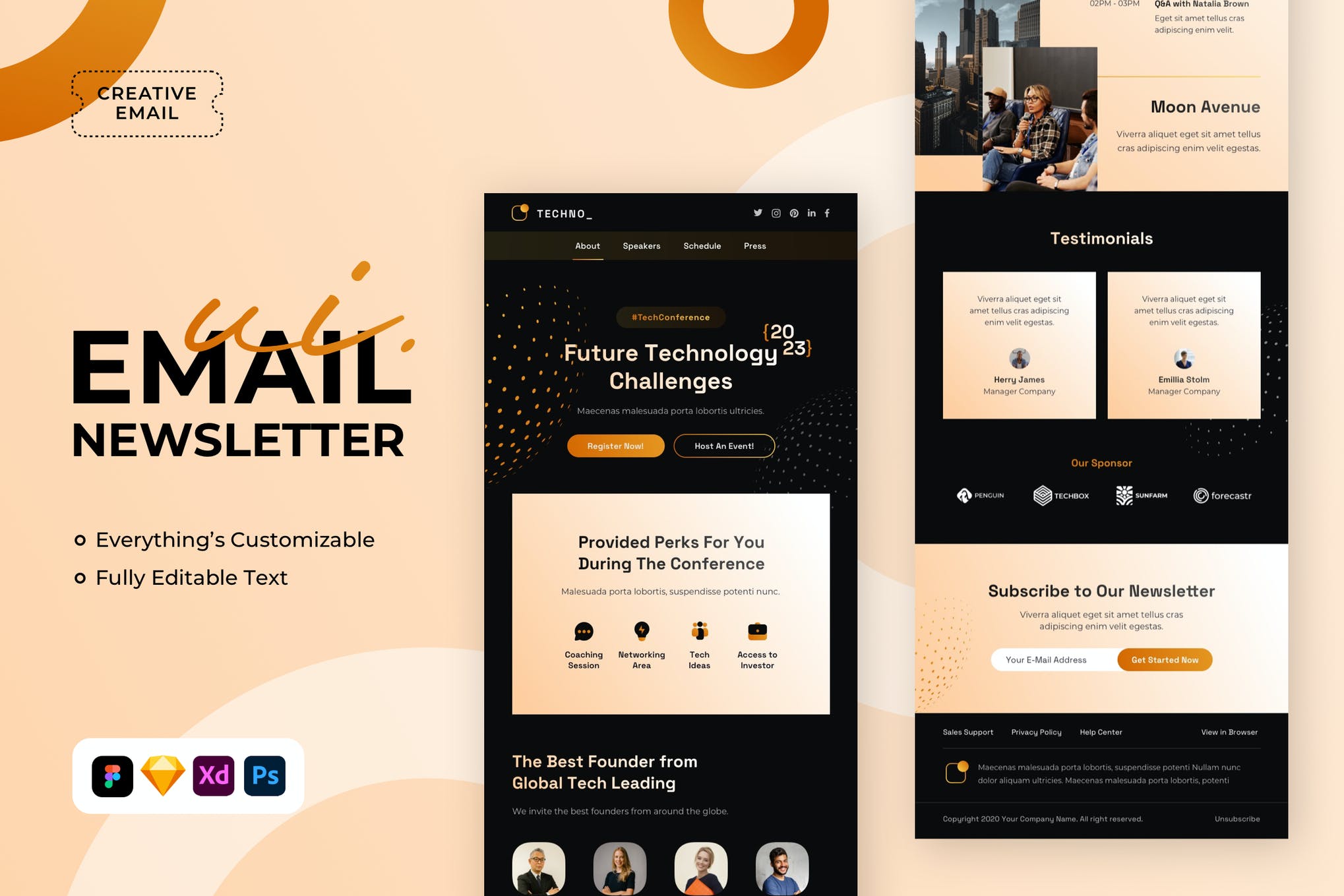 This email template for Figma features a stylish design and tasty typography that will surely draw your recipients' attention and keep it there for a while. It can be used by creative businesses looking to achieve a trendy and chic email design.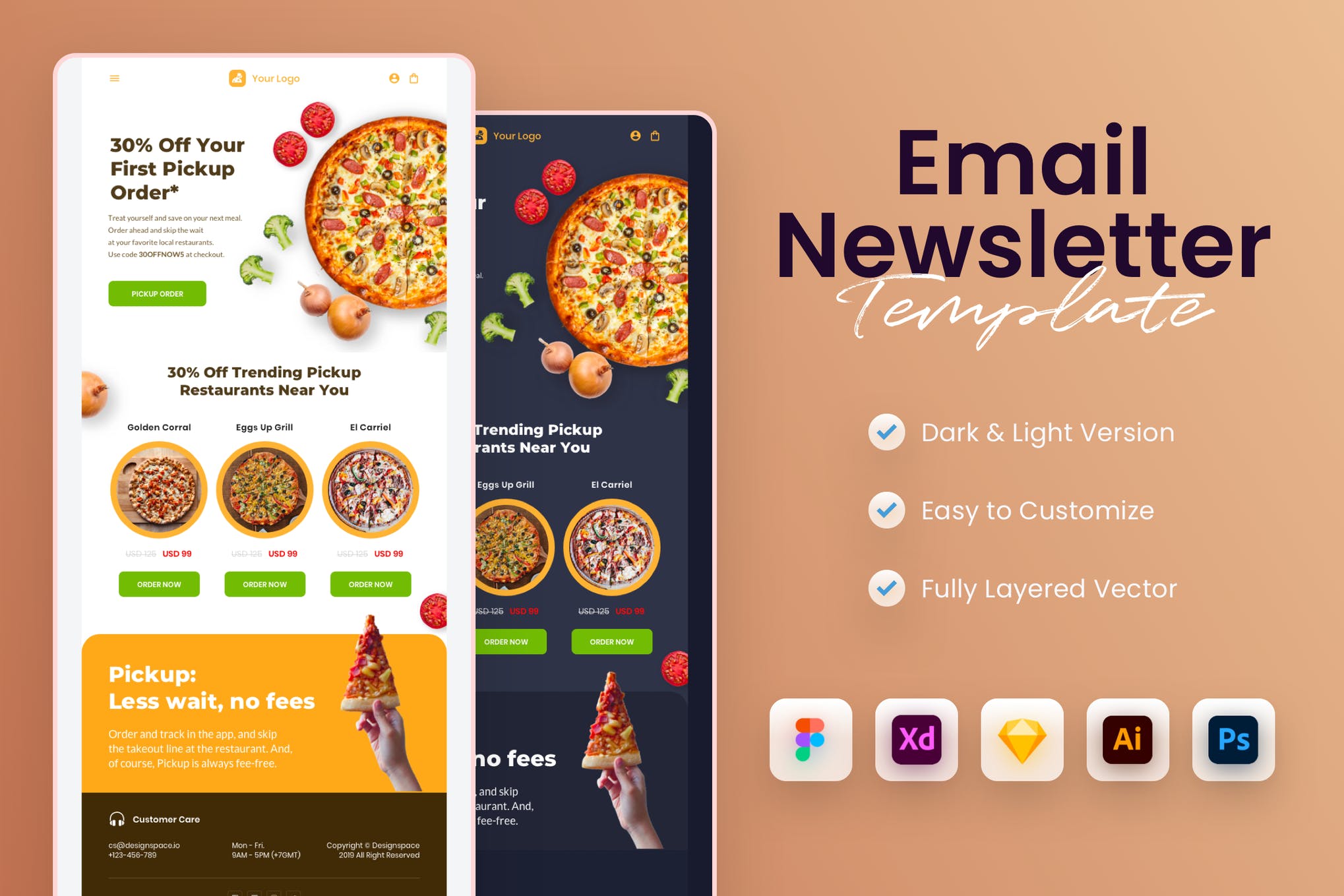 Consider this Figma email template if you truly want your newsletter to stand out from the pack. It's a fantastic choice for promoting restaurants, cafes, and other food outlets, but is versatile enough to be used for virtually any business or industry under the sun.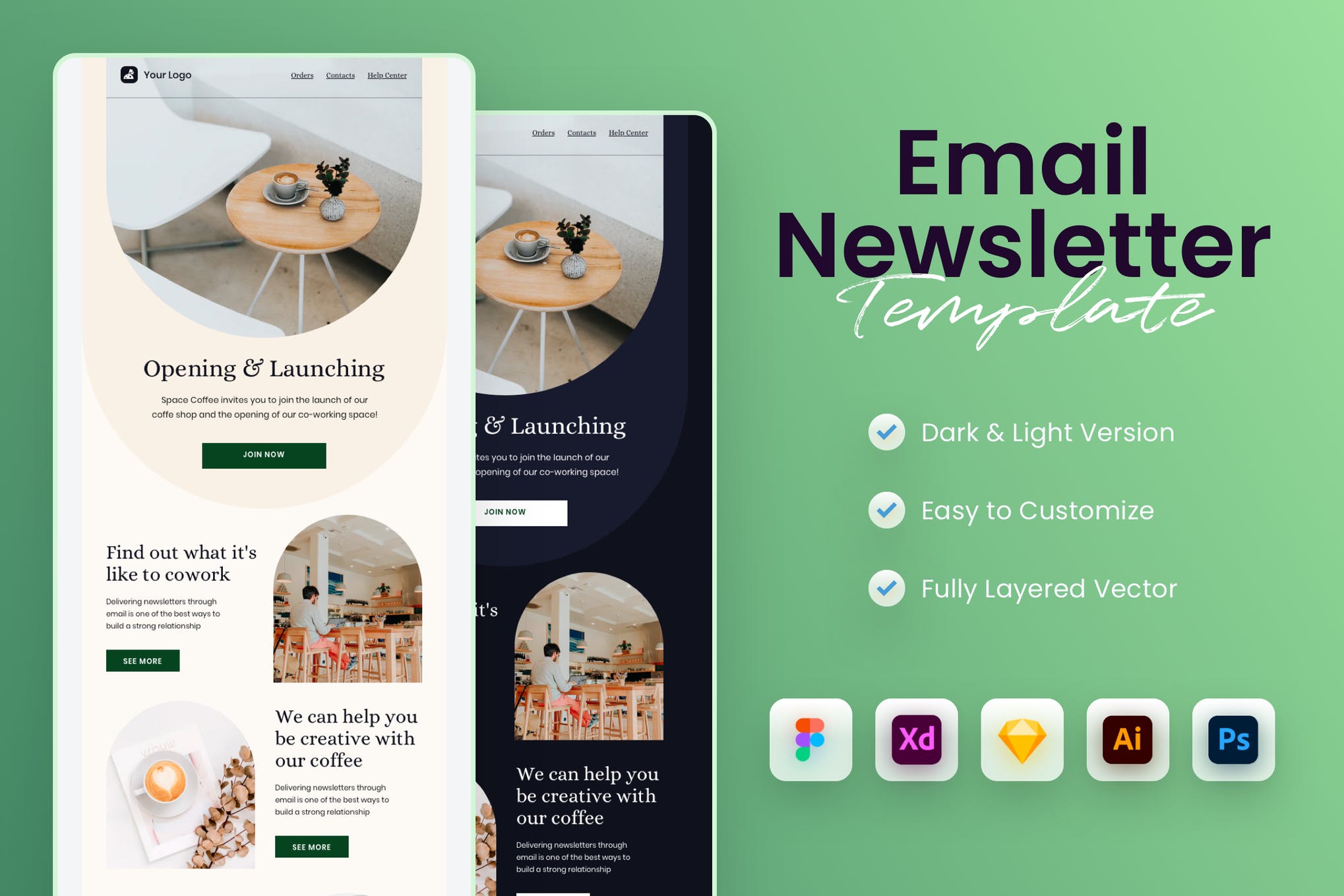 Here we have a clean, and modern email newsletter template that provides your recipients with all the pivotal bits of information about your business. It's one of the best Figma email templates on our list, and we wholeheartedly recommend you try it out.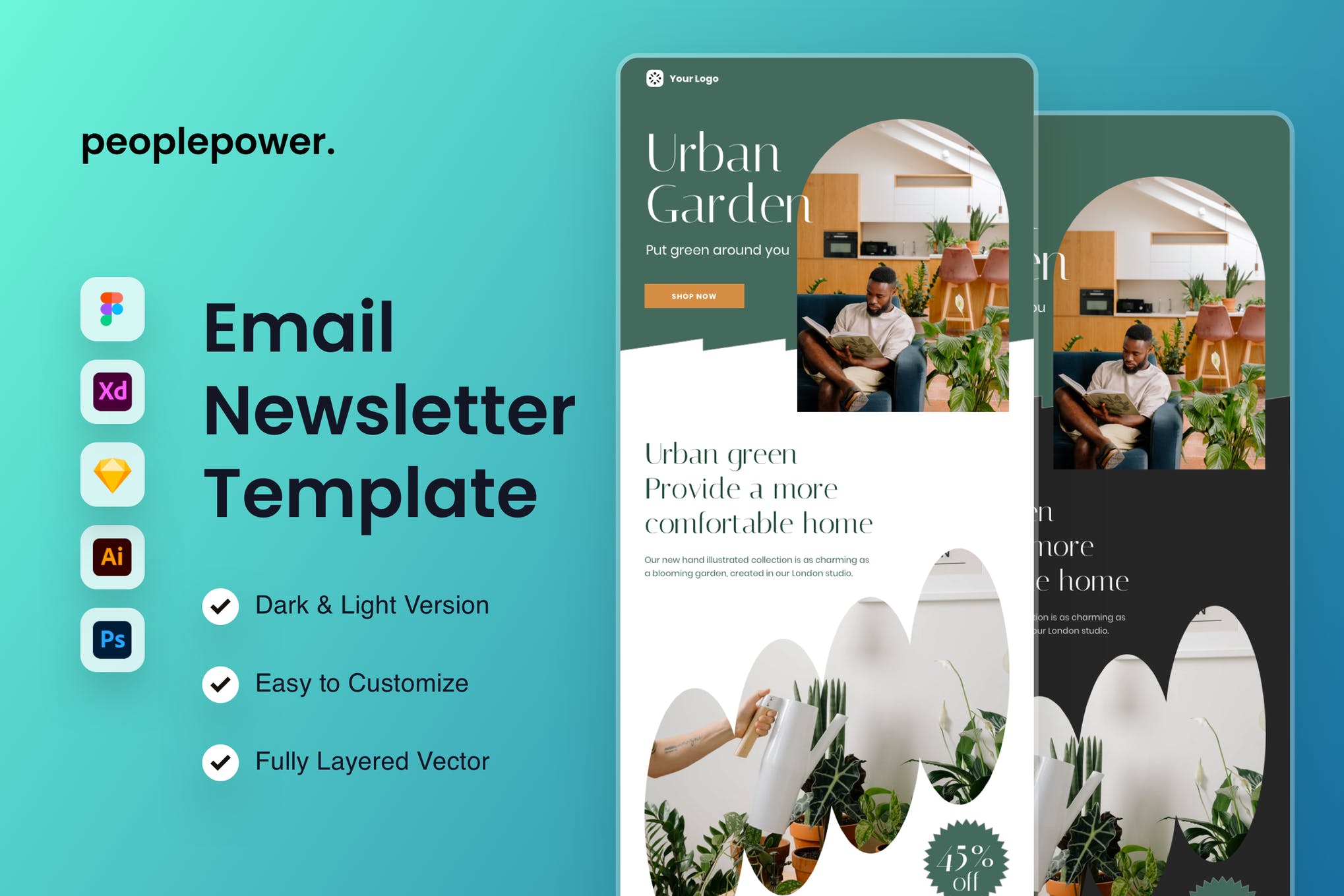 Get your hands on this Figma for email design template, and showcase your products and services to prospects in the best way possible. This template can become the basis of all your email marketing campaigns; it would be remiss of you not to take a closer look at this incredibly remarkable option.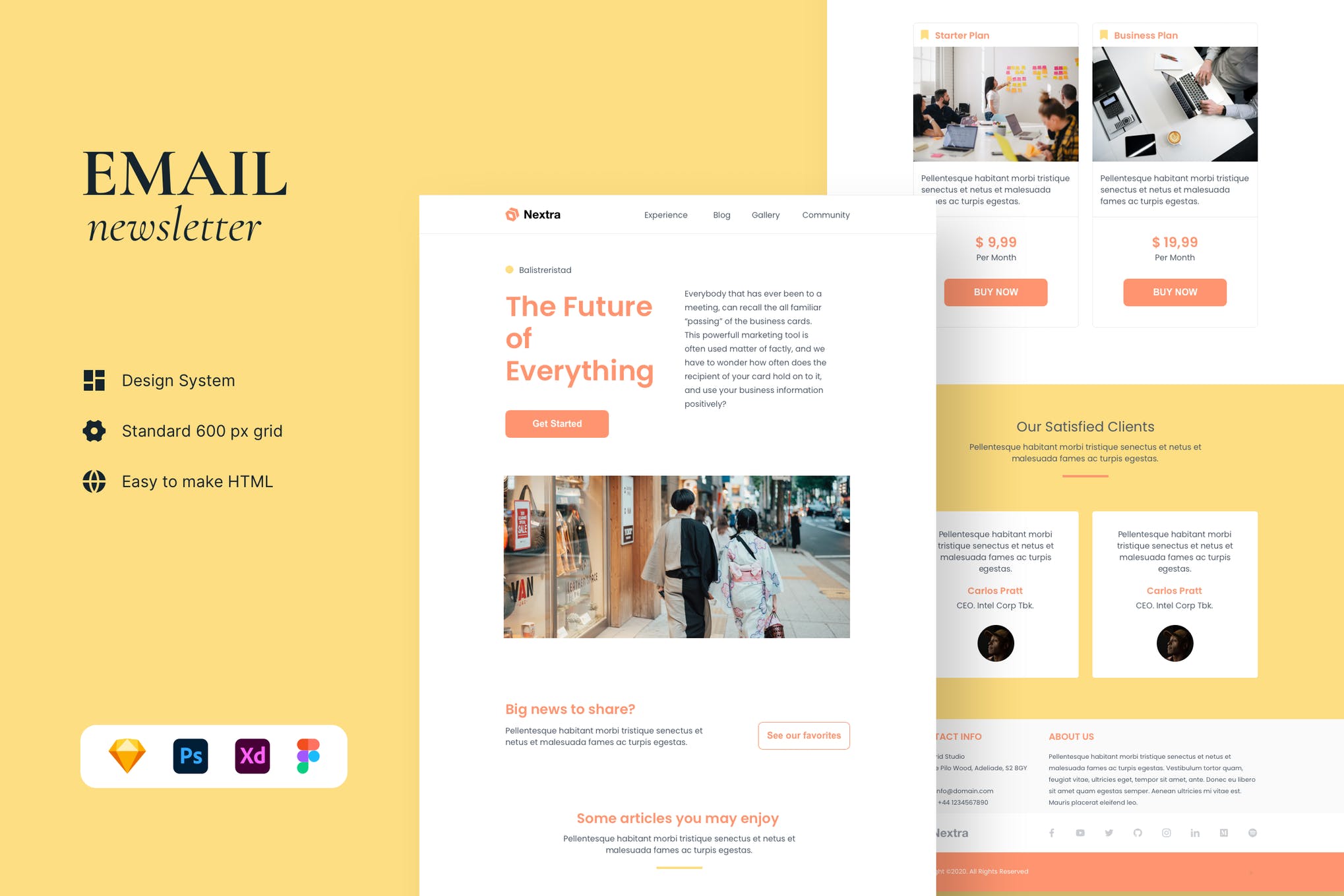 Modern, clean, this Figma email template is a multipurpose option that various businesses can use for their marketing campaigns. It will help you design a customer-centric newsletter in just a couple of minutes; don't hesitate to take this template for a spin.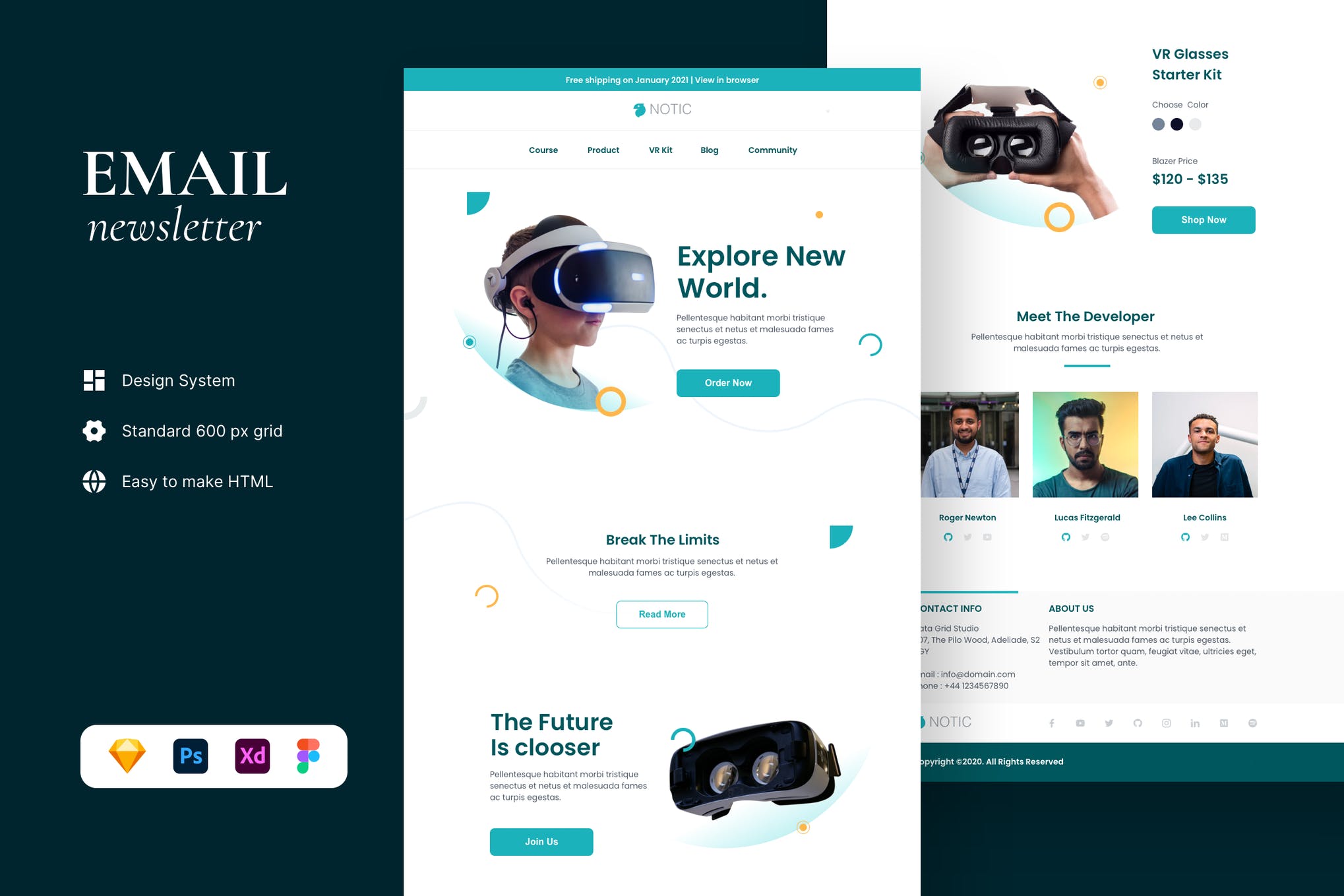 This newsletter template will provide you with a good starting point to build an email marketing campaign that drives results. When it comes to the best Figma email templates, this product stands at the top of the league. We absolutely love it, and you'll know why once you check it out yourself.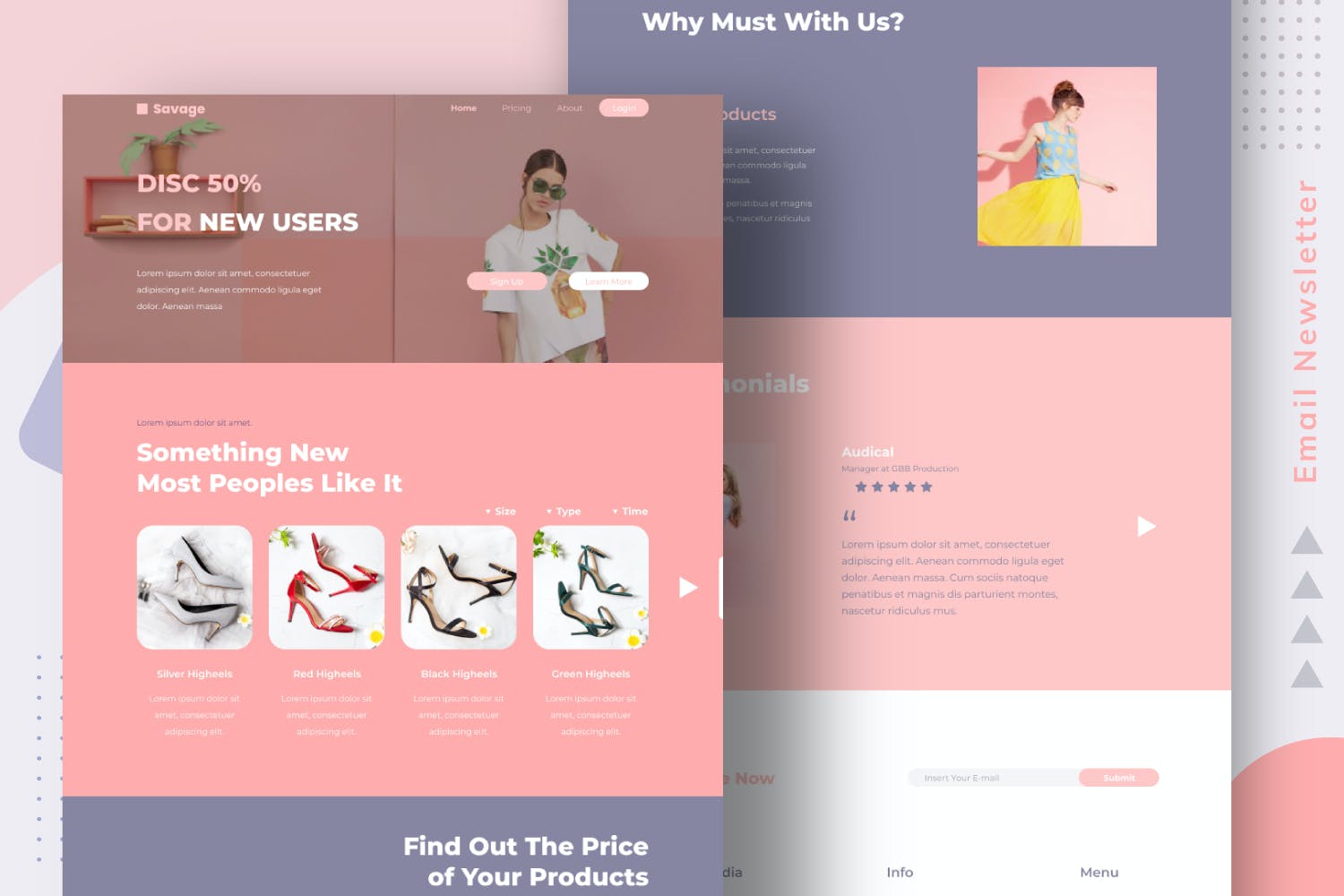 have you still not found the perfect Figma for email design template for your business? Check out this effortlessly stylish newsletter template that will help you conduct your online business marketing strategy in the best way possible.
Free Figma Email Templates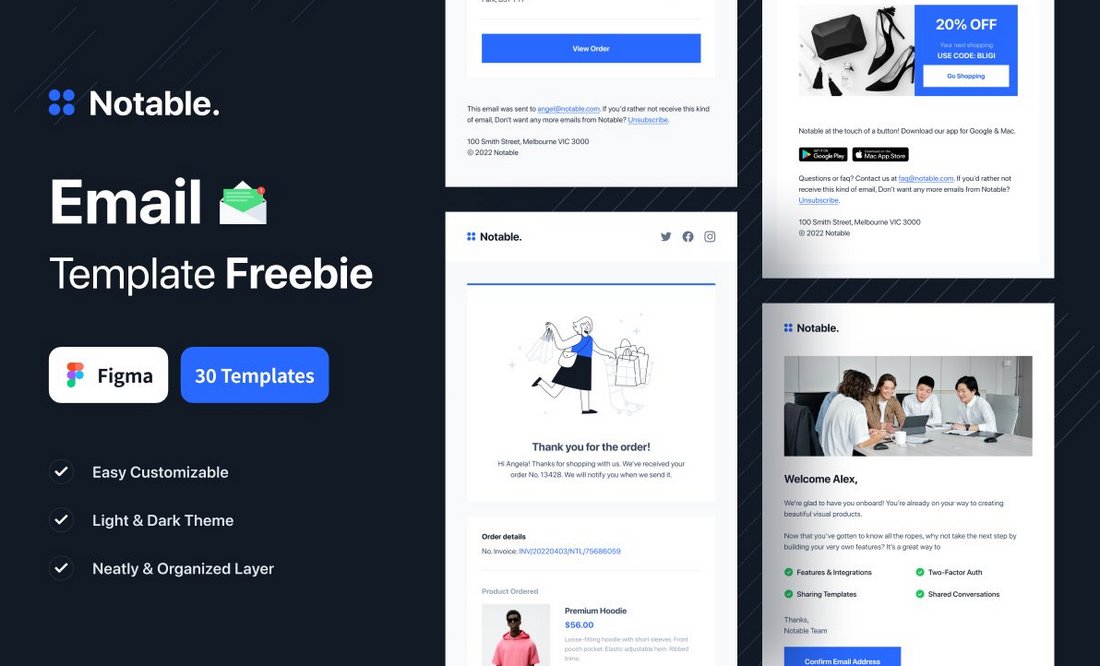 This is a free Figma email template that comes with a modern and elegant design. This template has a very professional look that makes it a great choice for business and startup emails. It's available in light and dark themes as well.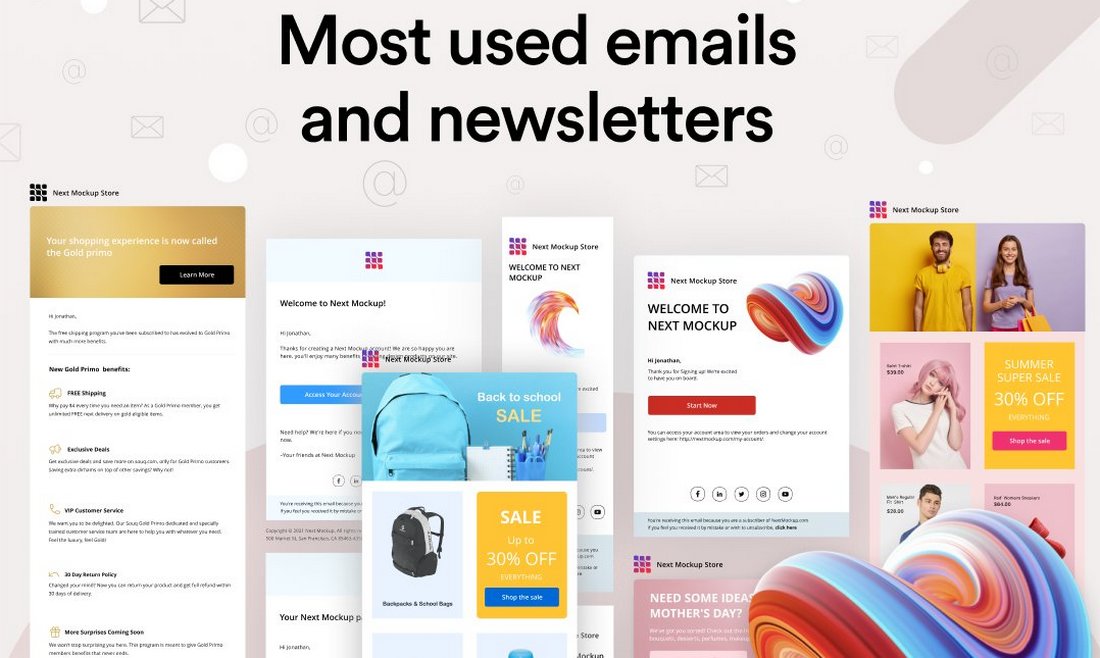 This is a big collection of email templates for Figma. It includes 9 different email templates you can fully customize in Figma to create various types of promotional emails and newsletters. All of them are free to download.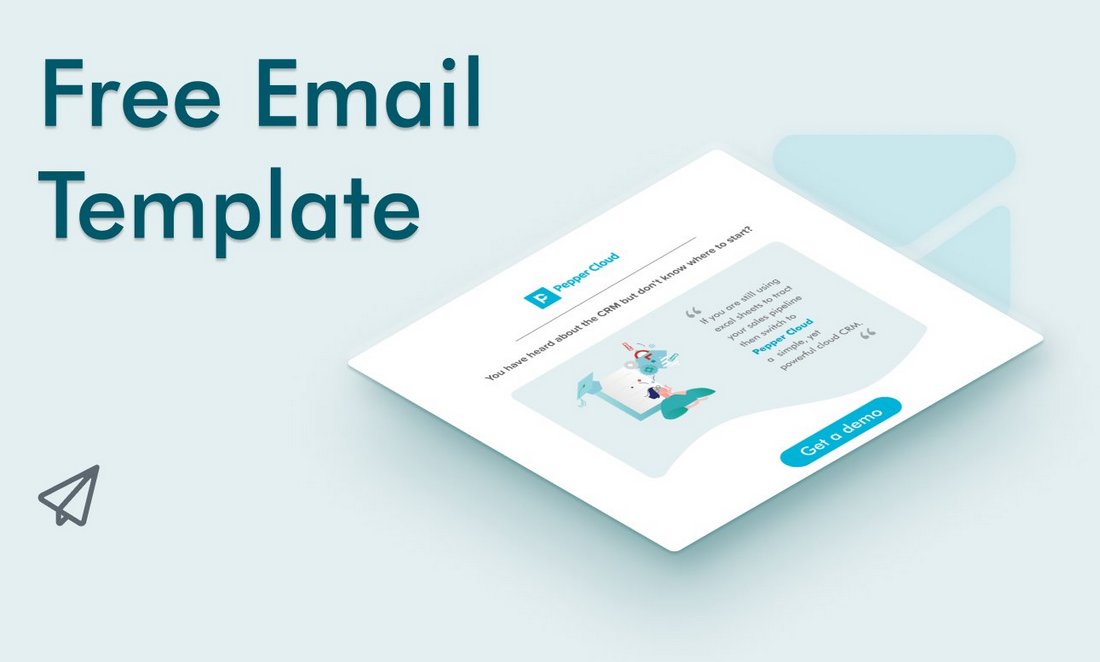 This free Figma email template comes with a very simple and clean design. It's ideal for making a basic welcome email for your subscribers. You can also customize it to change colors, fonts, and more.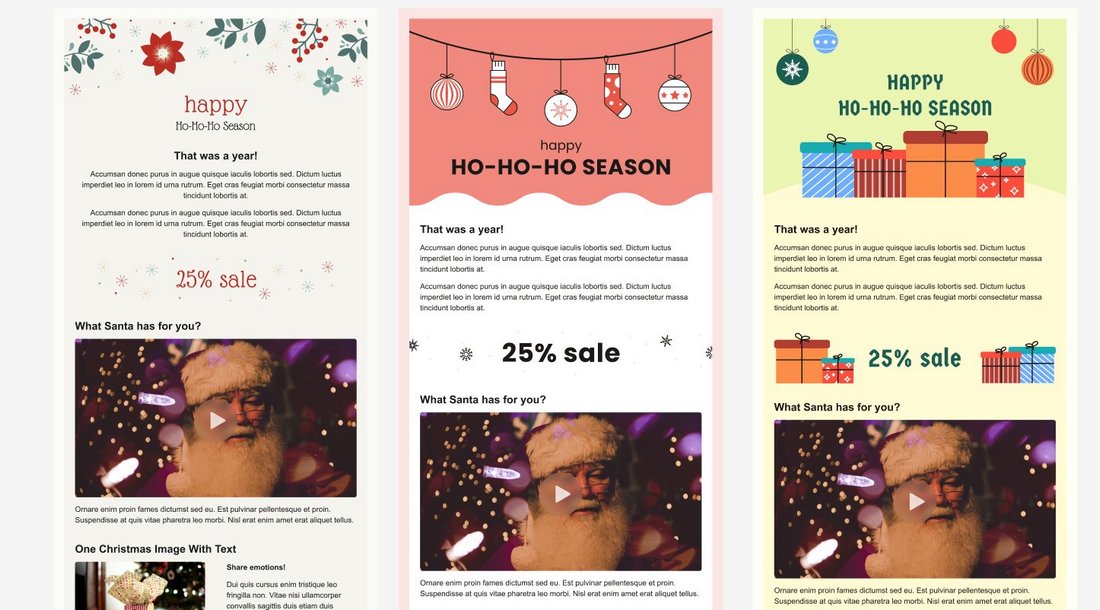 If you want to design a seasonal email to promote your Christmas-themed offers and products, this free Figma template kit will come in handy. It includes 3 different Christmas email templates with HTML versions.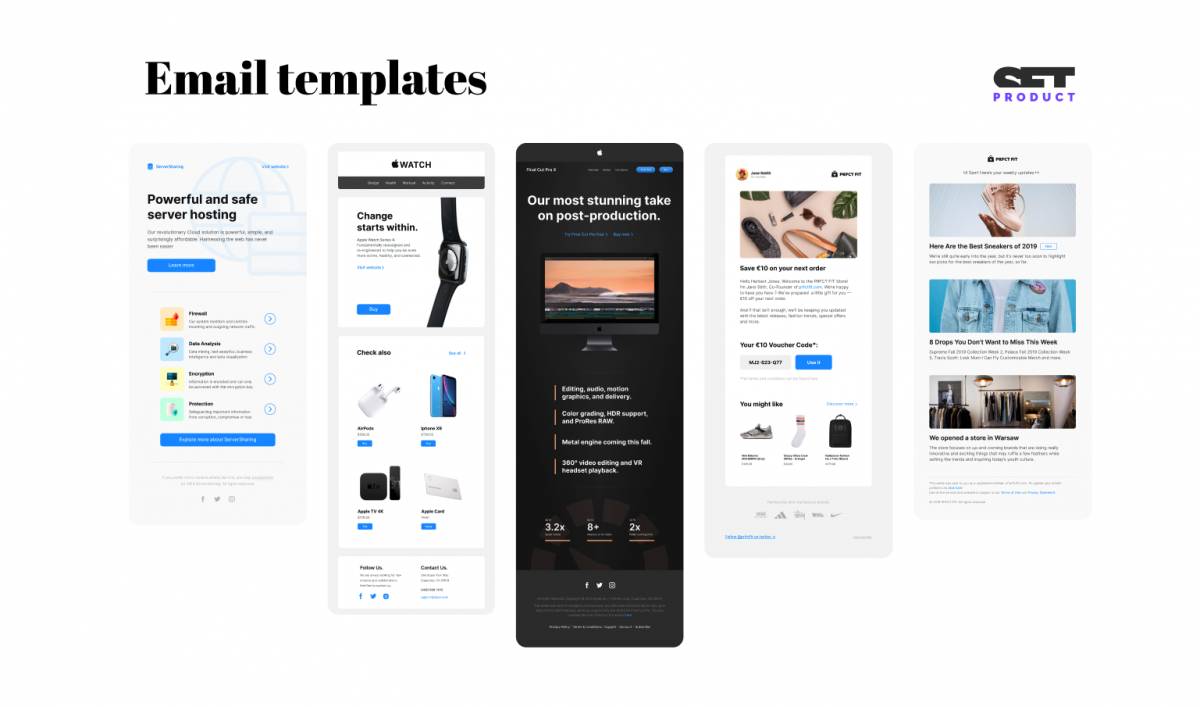 Packed with a range of pre-designed modules that are super easy to customize, this Figma for email design template will help you create the perfect newsletter for e-commerce businesses. It's a fantastic resource available for free download.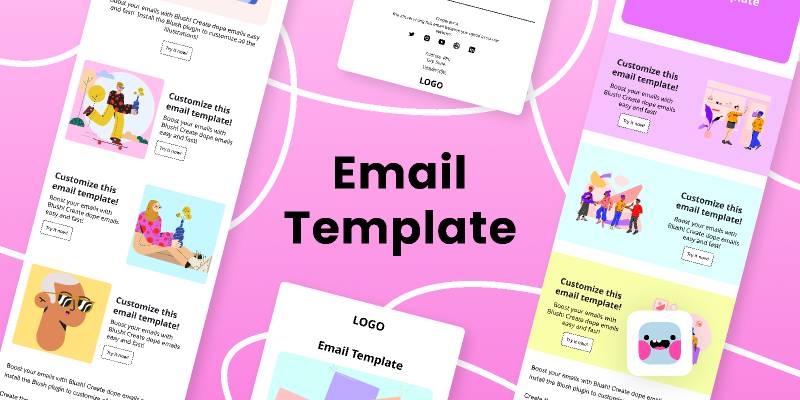 If you're looking to add free Figma email templates to your collection, this option is well worth checking out. It features a stunning design, interesting use of colors, and typography, plus offers a surprising amount of creative control in your hands.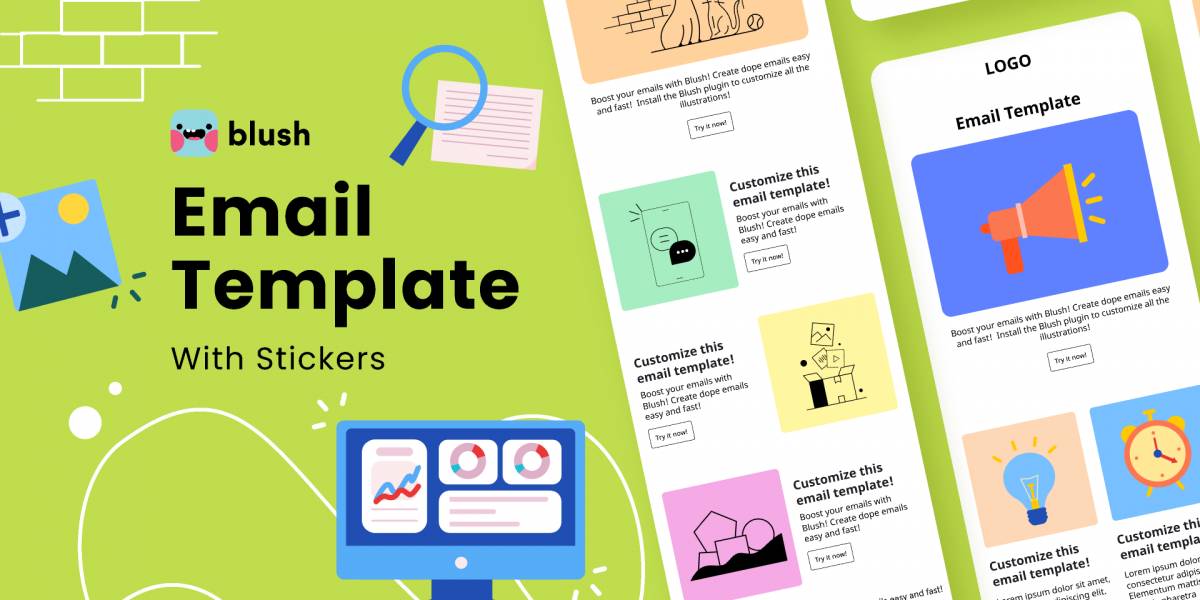 Fancy a unique, and creative free Figma template for email design? The above-featured item is worth considering. It provides you a range of layouts to choose from; just pick the one that you like better, play around with the elements until you get the desired results.