40+ Creative Resume Templates with Unique Designs
Your resume is the first thing a prospective employer sees, hears or knows about you, and it can often be your only chance to get a foot in the door, so make it count and use a creative resume template with a unique design that employers can't help but notice!
Of course, crafting a professional and interesting CV design takes time, not to mention the fact that there are so many different elements to consider – color schemes, layouts, typefaces, and many more! Unless you're a professional CV designer, how are you supposed to know where to start?
Thankfully, we've recruited the help of some actual professional CV designers who've come up with these modern resume templates for you to download, customize, and then use to help win your dream job! Keep reading for a list of resume templates with unique designs for every professional.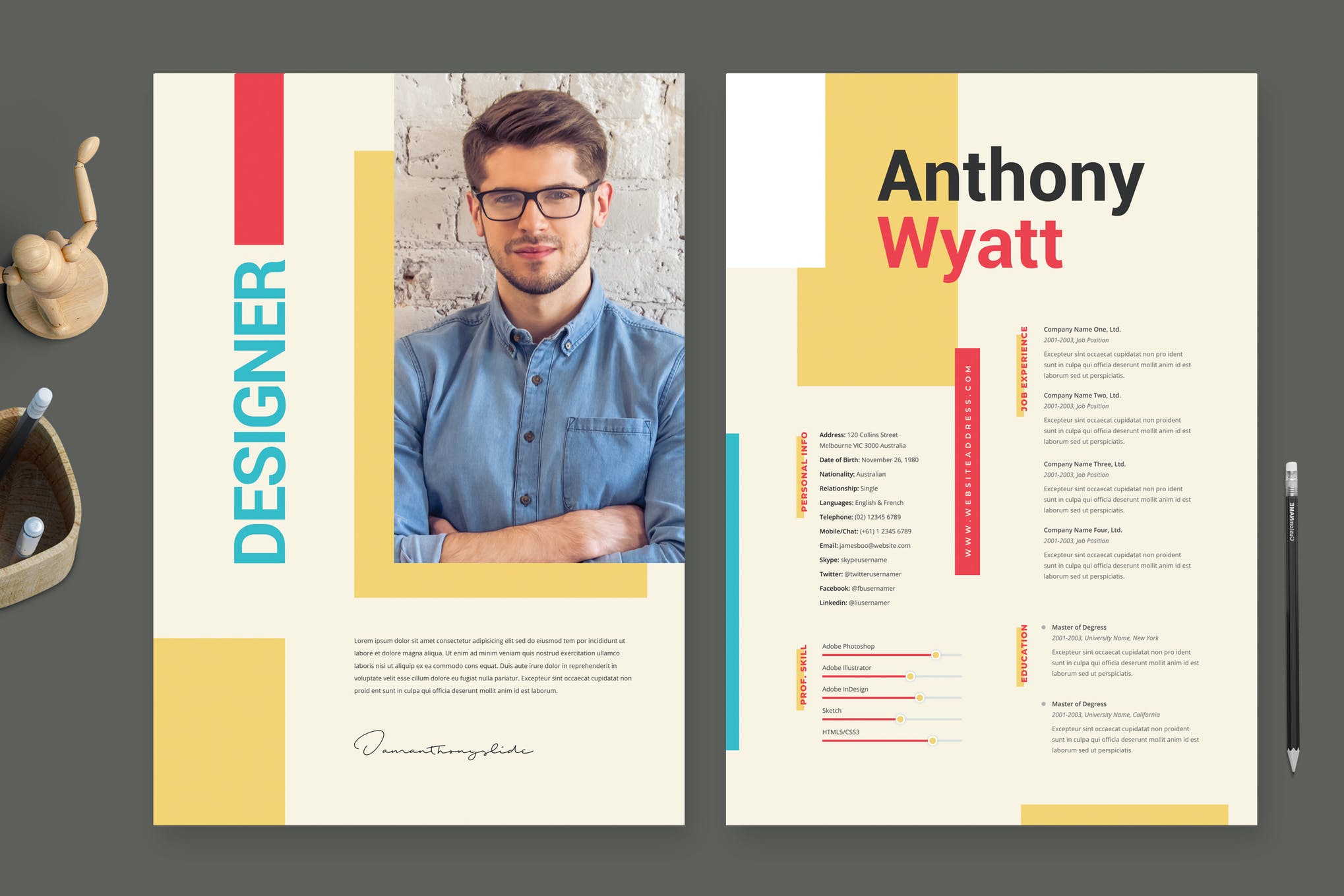 If you're in a creative field, then you need this resume template that has been specially designed to help creatives excel in their job application process, and provides a simple-to-follow template design that will be a breeze to fill out.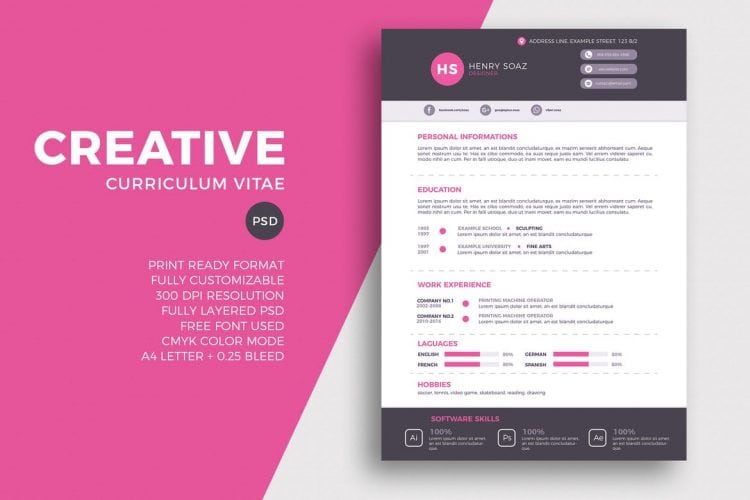 A bold yet still professional-looking option, this template features the use of basic color blocks in bright hues and contrasting tones to really stand out. In a 300 DPI print-ready format, the colors will render well in both print and digital media, and the full layering allows for extensive customization.
Want to add a softer touch to your resume design? Then perhaps this modern yet minimal resume template is what you're after. Whilst this template design may seem simple, there are strengths to this approach. It provides you with an easy-to-read and well-organized format that doesn't waste the time of your next employer.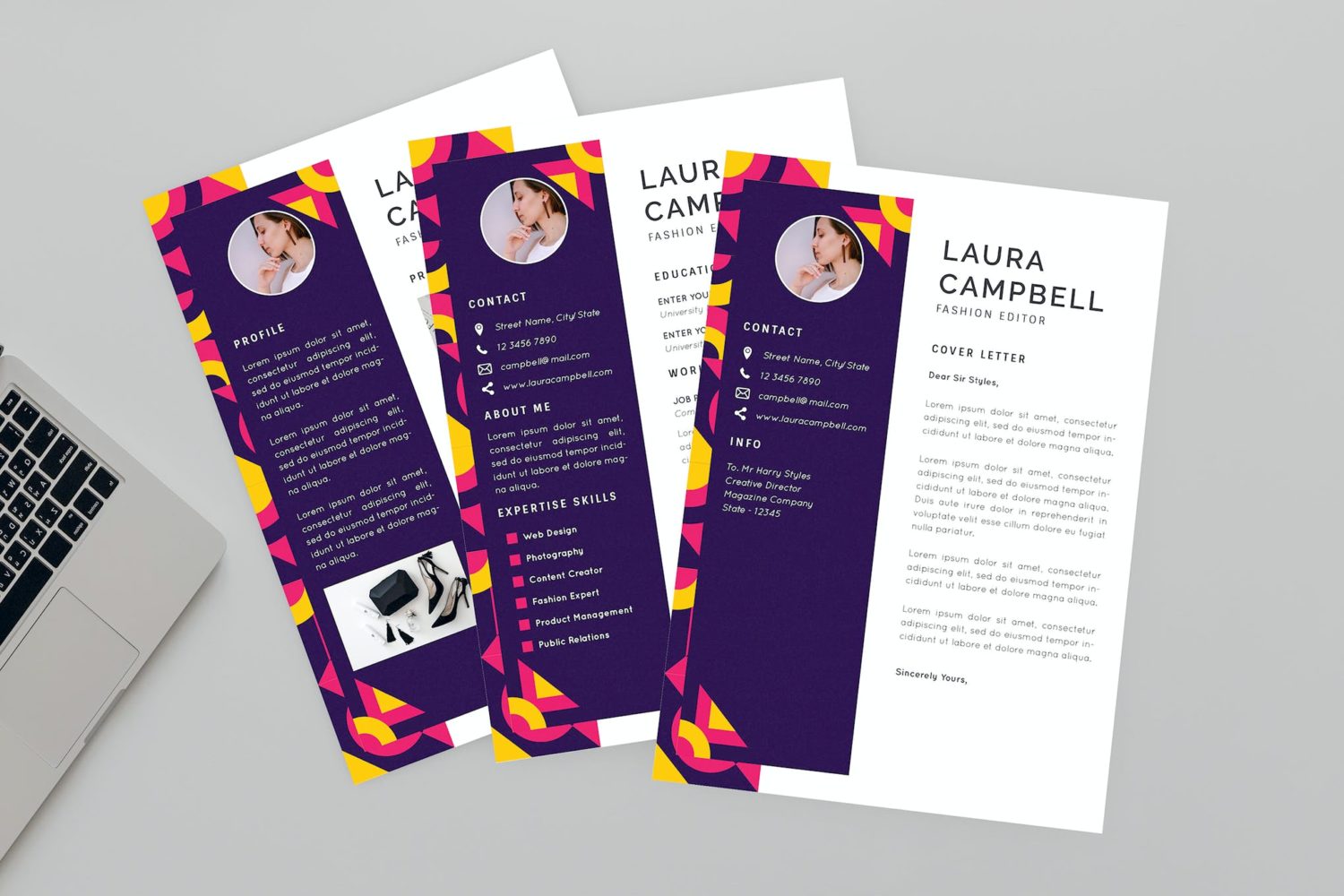 A fun, playful choice, the Laura Fashion creative resume template features a unique layout with a bold, funky color scheme and eye-catching graphics to really help your application stand out against the crowd! It can be used for any industry, but definitely lends itself particularly well to designers and forward-thinking creatives.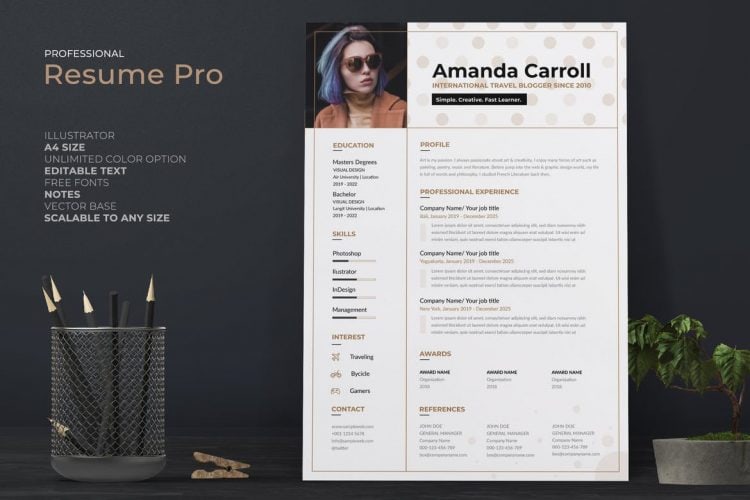 Featuring polka dots, neutral colors, and an organized layout, the next of our creative resume templates is a winner for any kind of creative professional, such as an interior designer or architect. It includes layers and vector graphics, and the colors and fonts can easily be customized to suit your own personal brand.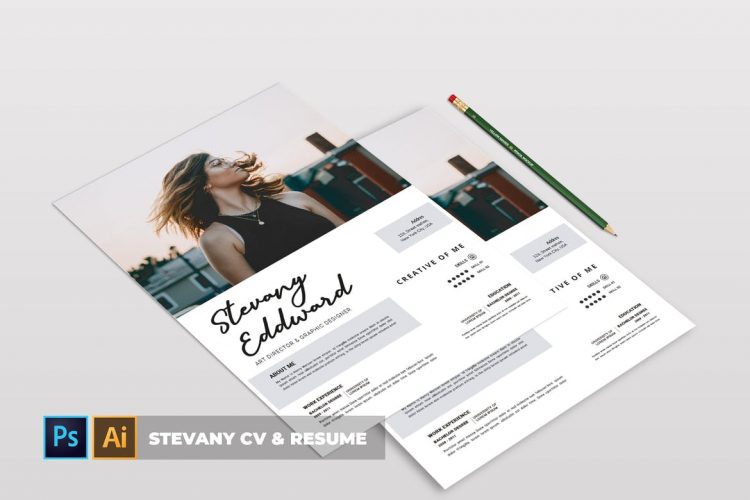 If you need your resume to emphasize a photo or particular piece of work, consider the beautiful Stevany template, which features the use of an image taking up almost half of the page! It also uses a signature-style script font for the main heading, giving it a charming, artistic, and personal vibe.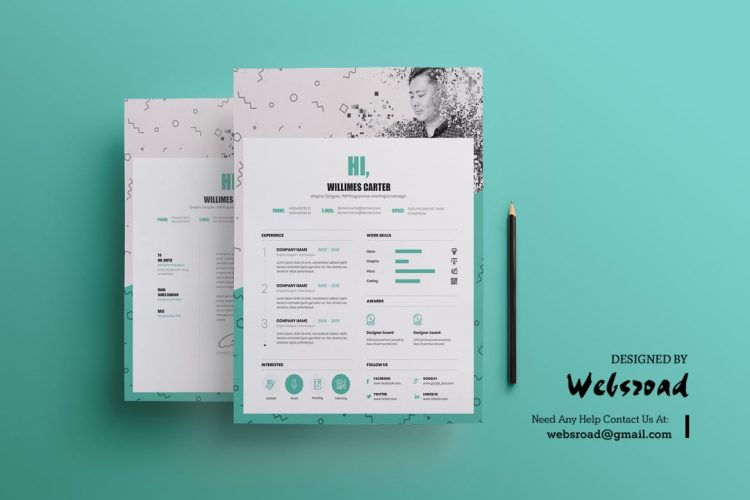 This is a modern CV template with a twist. Featuring a bold teal color scheme and playful background graphics, the Willimes resume template is a fun way to capture your next employer's attention. Every design element is perfectly balanced, giving it a professional and polished look.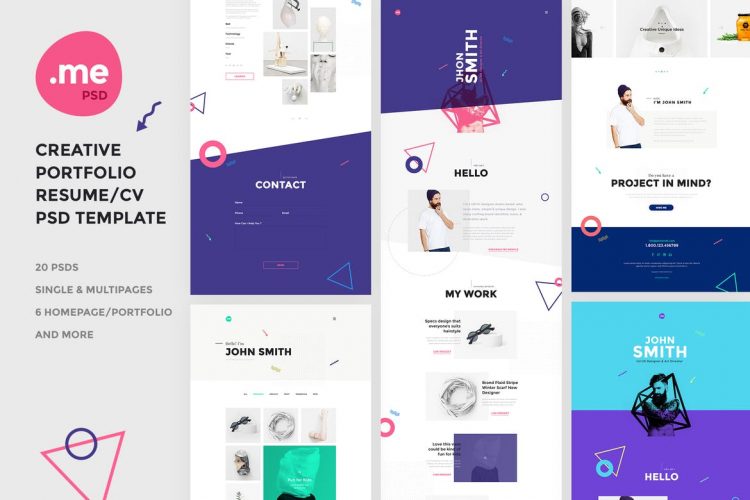 The next of our creative resume templates is a truly unique design, featuring effective use of colors and negative space, combined with edgy, geometrically inspired graphics. This is a great option for graphic designers, programmers, or webmasters.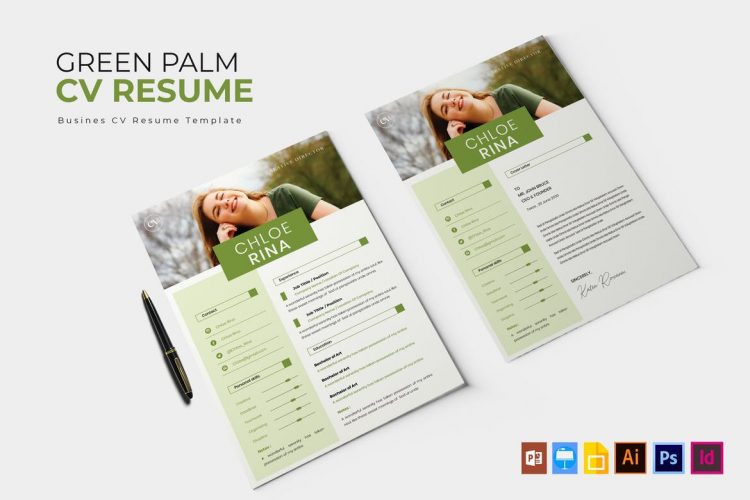 The Green Palm is one of the best creative resume templates for an environmentally conscious professional! While the color scheme can be changed, we think the original green theme is particularly stunning, and the concise, minimal design gives the template a highly professional and modern look.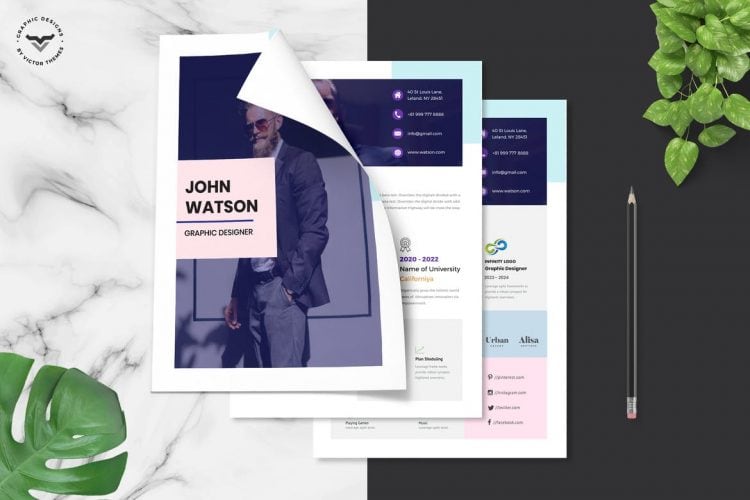 As far as portfolio resumes go, this 100% vector, 300 DPI template, is a strong contender. Featuring well-organized layers and fully editable graphic elements, it can be customized completely to suit your professional style.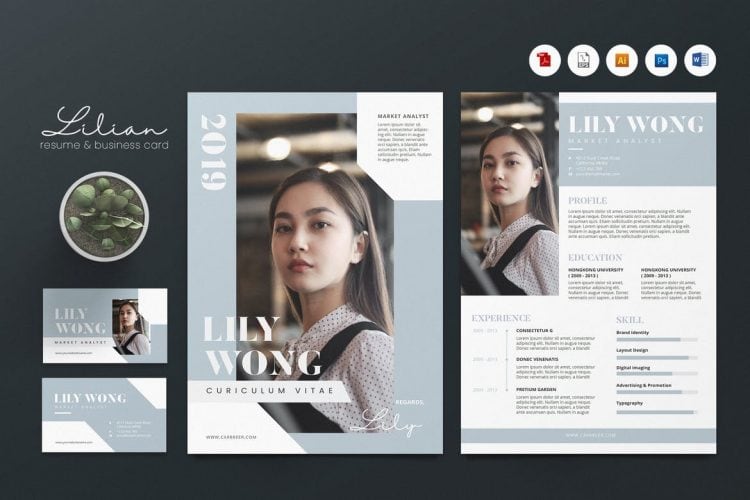 The Lilian is one of the best creative resume templates for writers, graphic designers, or those in the fashion industry. It's a clean, modern design with beautiful pastel colors, light fonts, and a visually appealing layout, and it even comes with a matching double-sided business card!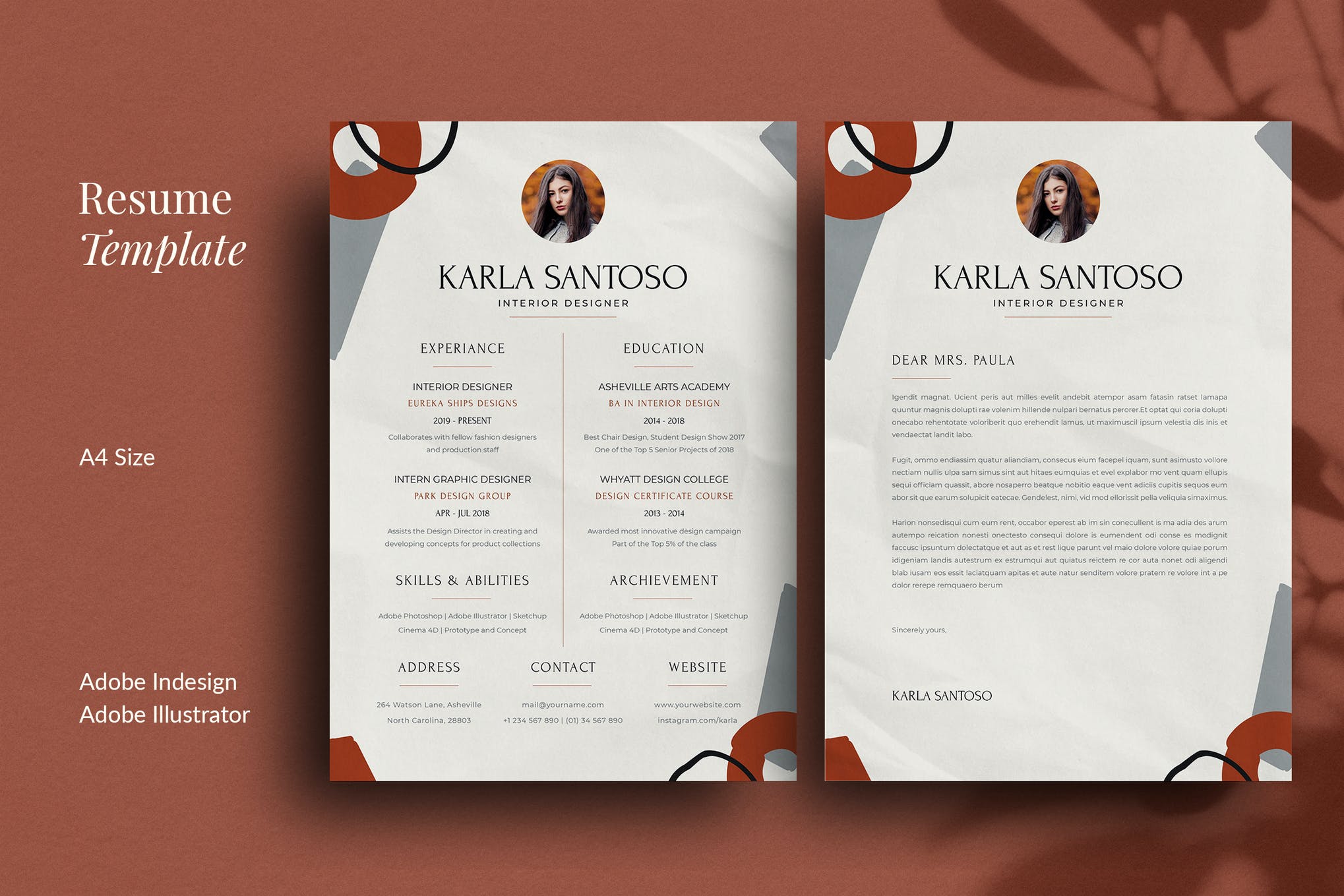 Want to add a professional touch to your next resume? Then you must check out this fresh and neat template that is fully customizable in Photoshop. It uses a headshot design and mixes it with a polished aesthetic that's hard to pass up.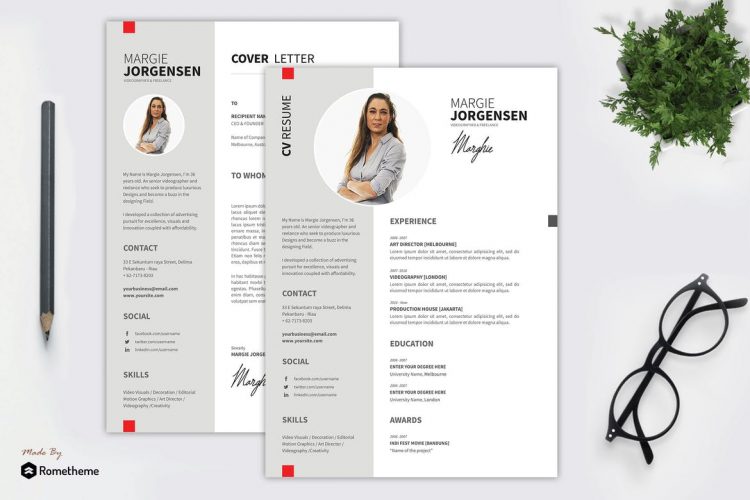 This smart resume template includes pages for both a cover letter and a CV, and can be fully customized – move sections around, change the fonts, colors, or icons, add or remove elements, or simply keep the original design! It's clean, professional, and condensed, with room to add all of your key selling points.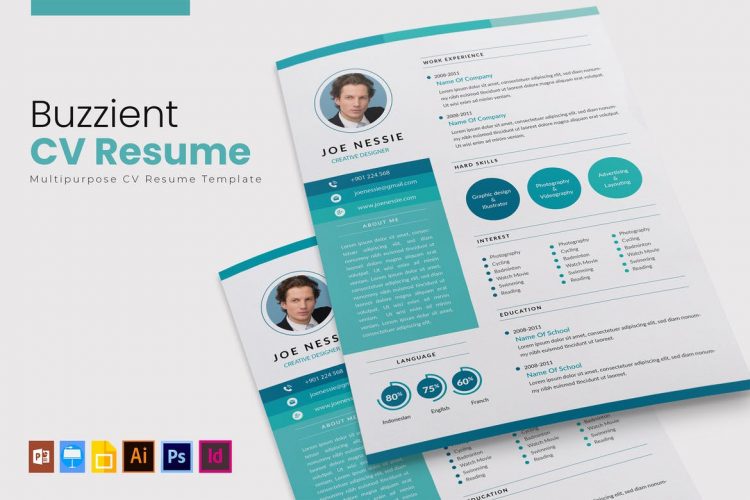 A stylish monochromatic template, the Buzzient resume features bold use of color, which can be changed to suit your own preferences – but the original blue is certainly effective! With paragraph-style text fields and small, clean font choices, it's a great choice if you have a lot of words to try and fit in.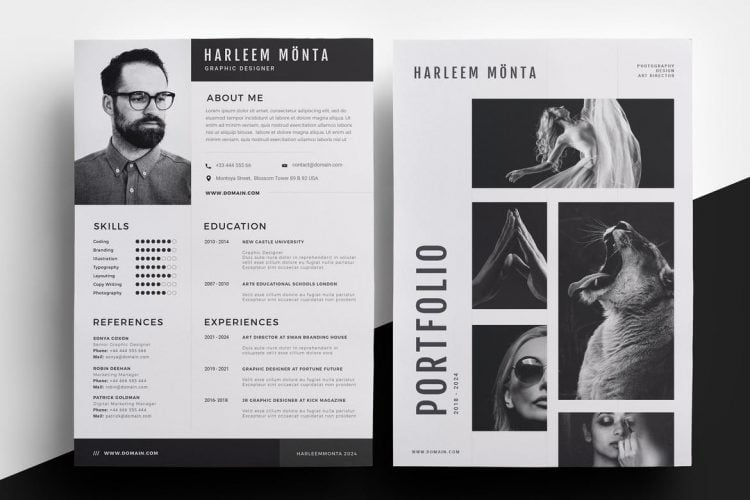 Perfect for a photographer or graphic artist, the Harleem template is a grayscale portfolio-style resume that uses clean, minimalist design elements to really showcase your work. If you choose to include a splash of color, it uses a high-quality CMYK color space, so you can still be assured of a professional finish.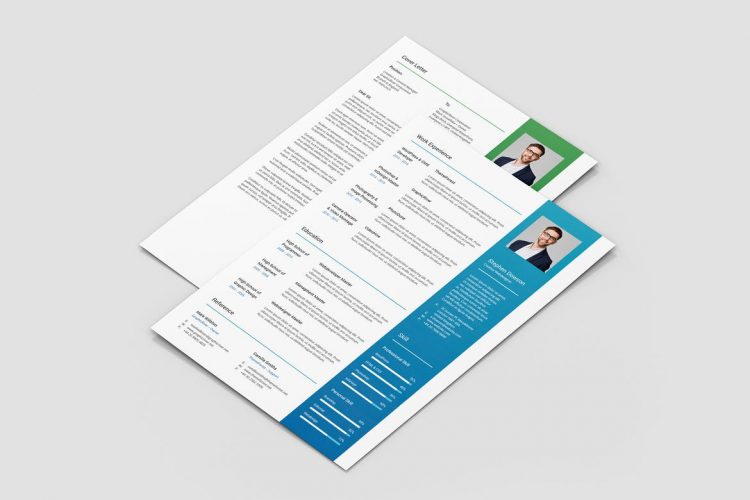 Featuring a resume and cover letter, the Gradient template uses a single block of color to draw attention to your skills, and comes in four different color themes, with the ability to customize further with your own colors. The fully vector graphic elements are all layered for a clean, pixel-perfect result.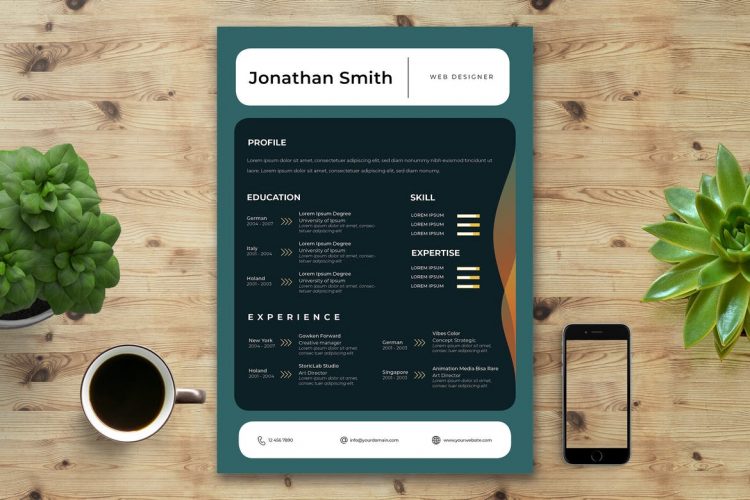 The Jonathan is a truly unique resume template in the way it utilizes simple, light fonts against a dark background, and curved lines and edges to contrast with the perfectly straight border. Sure to grab the attention of any prospective employer, this template is particularly appropriate for video game designers or IT professionals.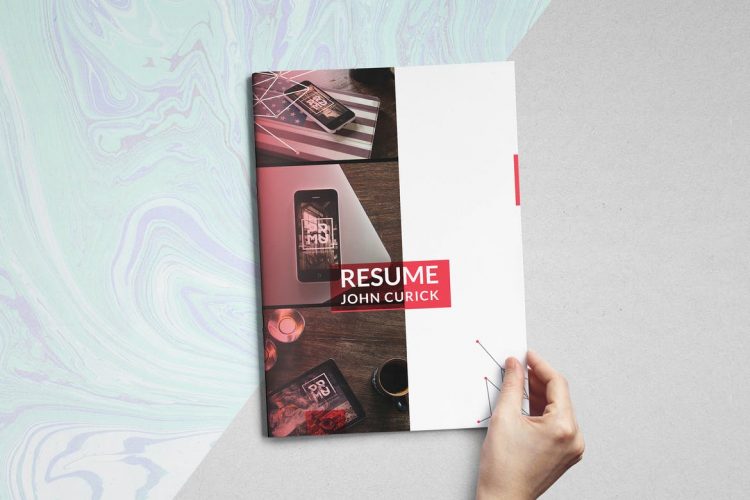 A gorgeous, modern portfolio-style resume featuring color coordination and a high resolution of 300 DPI, this template is perfect if you need a lot of space to show off your work! It includes ten pages, so there's plenty of room to play around and customize using the layered vector graphics.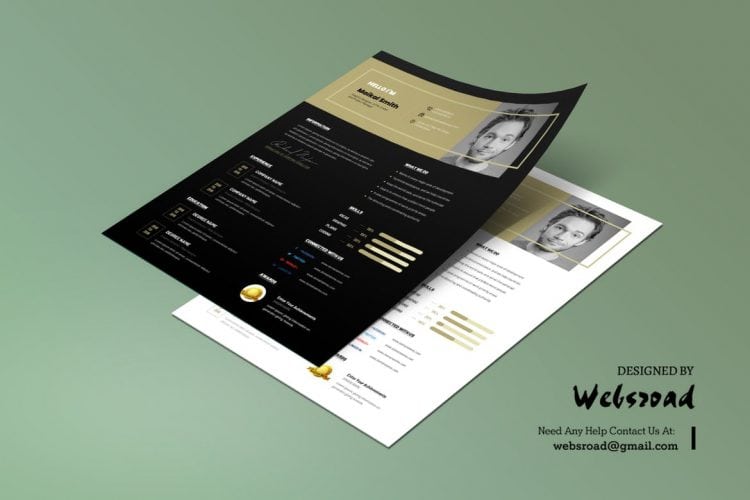 Featuring a stunning black and gold color scheme, this brilliant resume template and cover letter combination is a concise and modern way to design your CV. It has an effective timeline graphic for you to use for your previous work experience, and every element is consistent with the overall aesthetic of the document.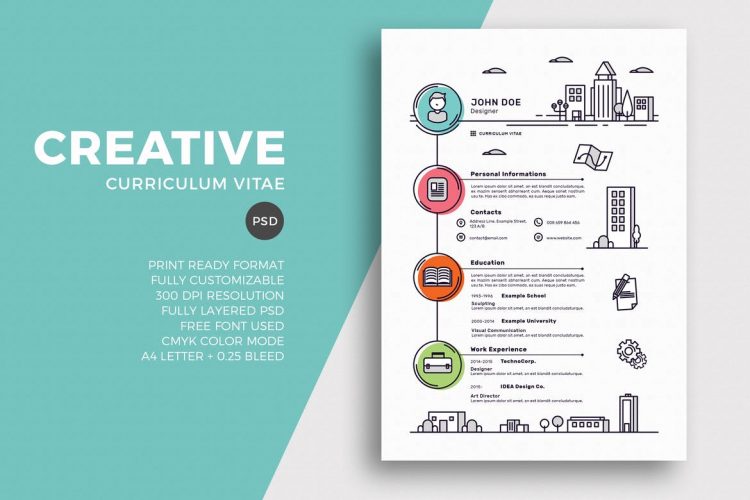 One of the most creative resume templates on our list, this option features cartoon-style images and bright colors to jump out from the pile and ask to be considered! It's a bold and daring choice, but for those in more progressive or relaxed industries, it's a sure-fire way to land an interview.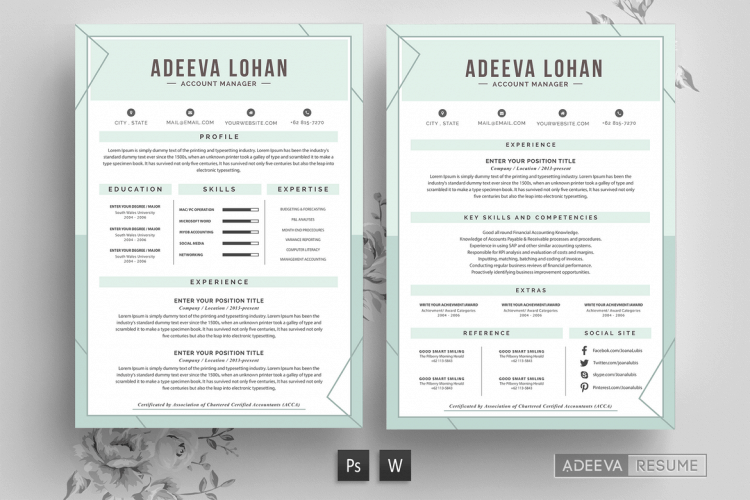 The elegant Lohan resume template uses a symmetrical layout, neutral pastel colors, and subtle graphic effects to make an impact. It looks brilliant as a single page CV, but can also be used for multiple pages. The contrasting typefaces add a bit of interest to the text paragraphs, and even these are center-aligned to create perfect balance!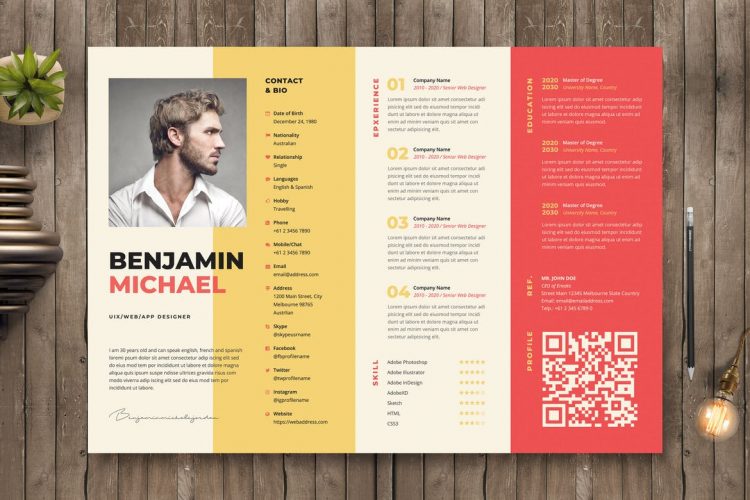 The first thing you'll notice about this eye-catching resume template is the bold use of color panels to divide the page into four parts. The second thing you'll notice is that it's in landscape orientation! You can either use this design as a classic single-page resume or fold each section into a concertina-style layout.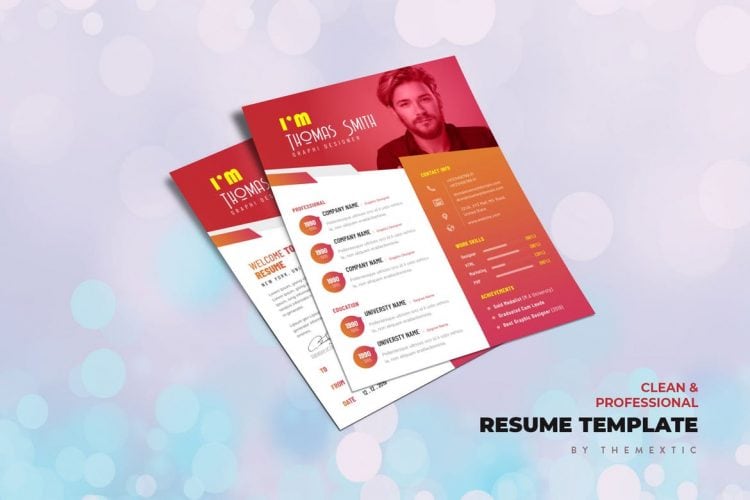 There's a lot going on here, from the many different fonts to the bold, sunset-inspired colors, but this creative resume template links each element together with a retro theme. It's best used for a professional in the entertainment industry.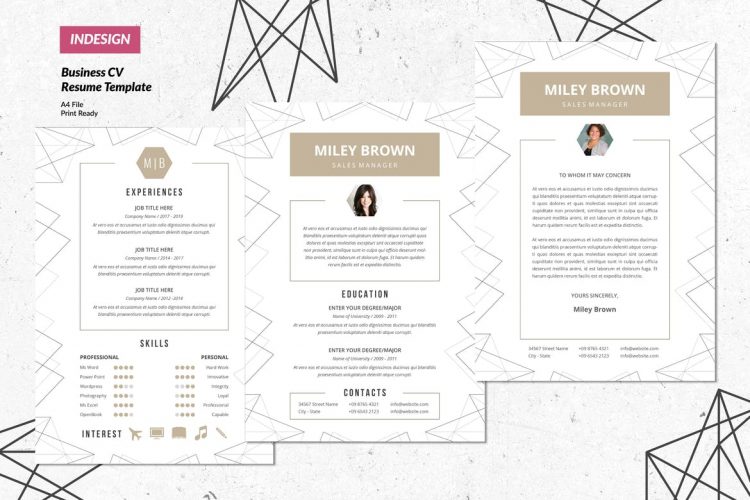 A clean, modern iteration of a classical-style CV with a geometrical-inspired twist, featuring earthy colors and a perfectly symmetrical layout. This resume template will appeal to the creative perfectionist who doesn't want a boring design!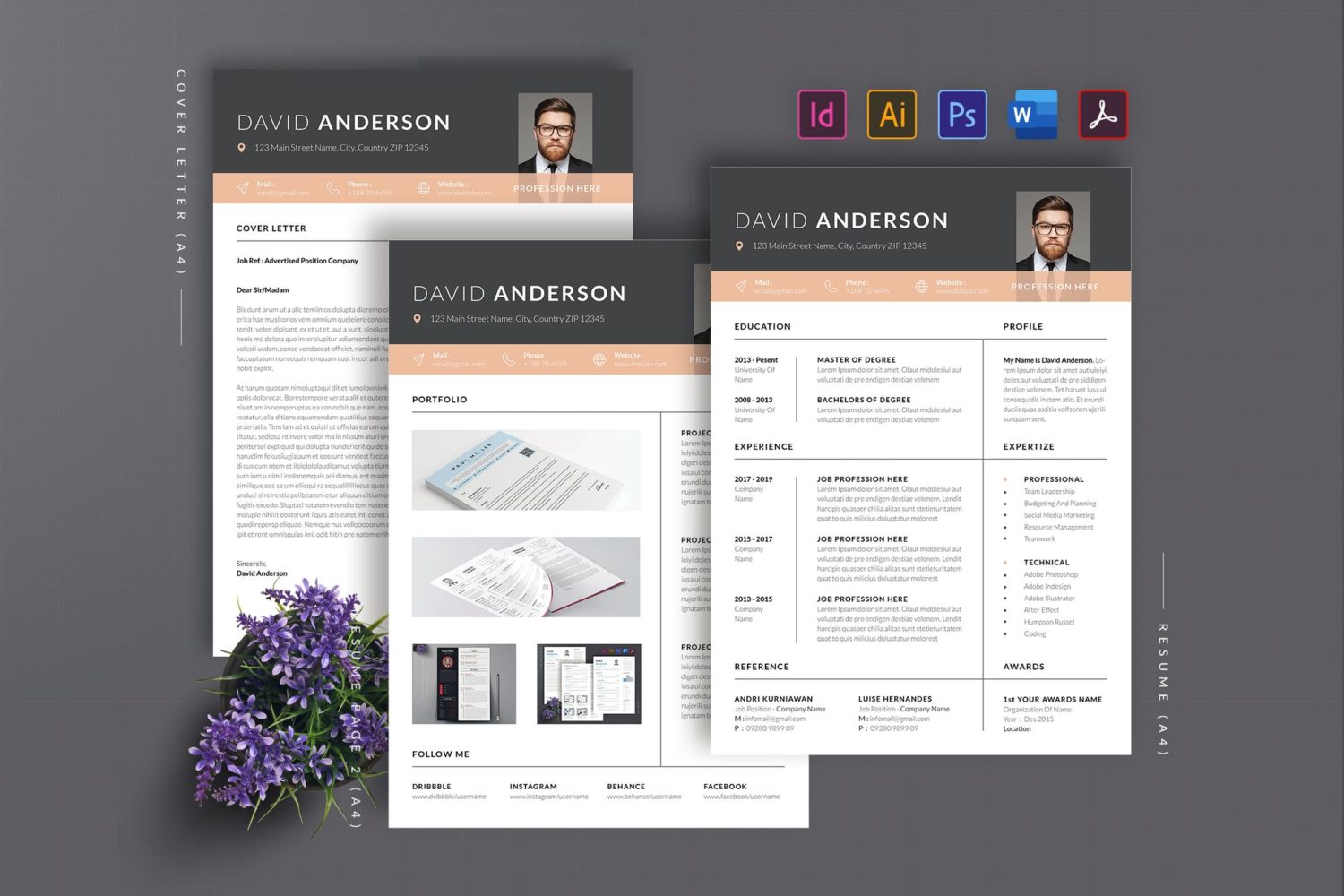 The Creative Forest resume template has a stunning and unique design featuring a sleek, modern color scheme, strong typographic structure and a compact, user-friendly layout that allows you to emphasize your best professional qualities and highest achievements, as well as including a photo if you wish.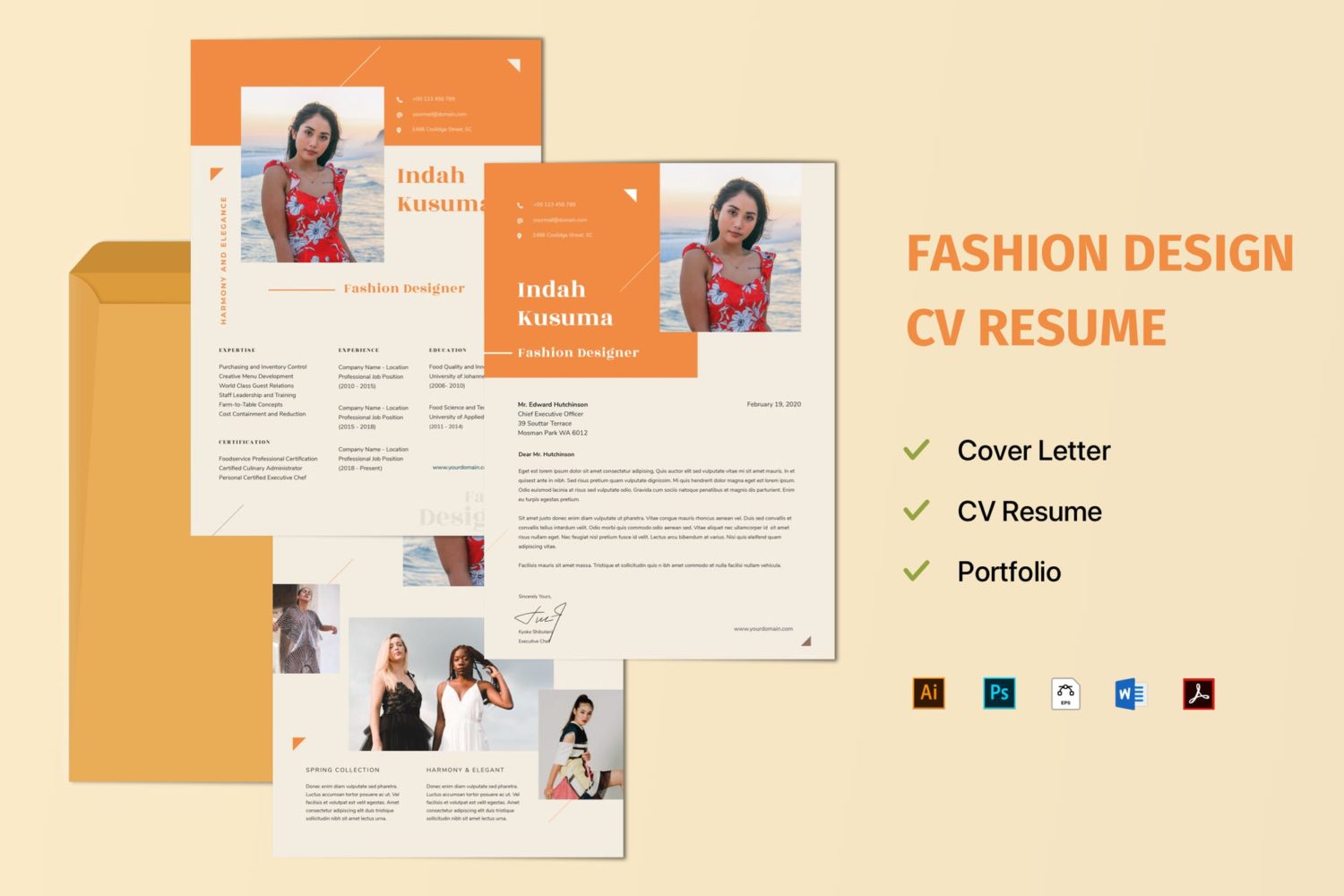 For a bright, fun pop of color, this zesty CV and resume template is a brilliant option. Its modern design and creative layout allows you to tell your story in a compelling and engaging way, and can easily be customized to suit any kind of industry or profession.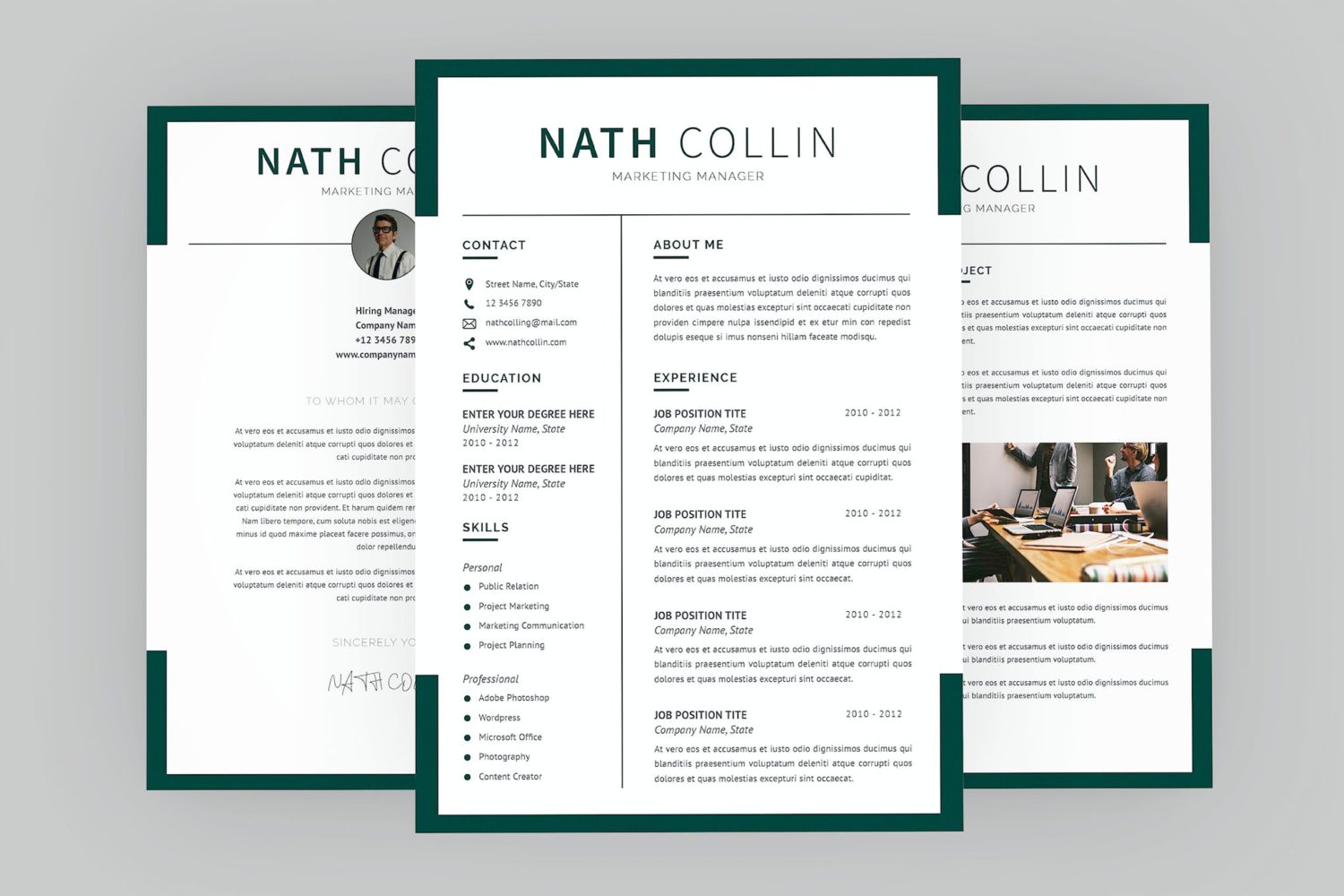 Simple, modern and subtly unique, the Nath Marketing creative resume template features an asymmetrical grid-based layout, strong use of lines and clean, bold sans serif typography, making it perfect for a corporate or high level professional. It's fully layered and comes with complete documentation.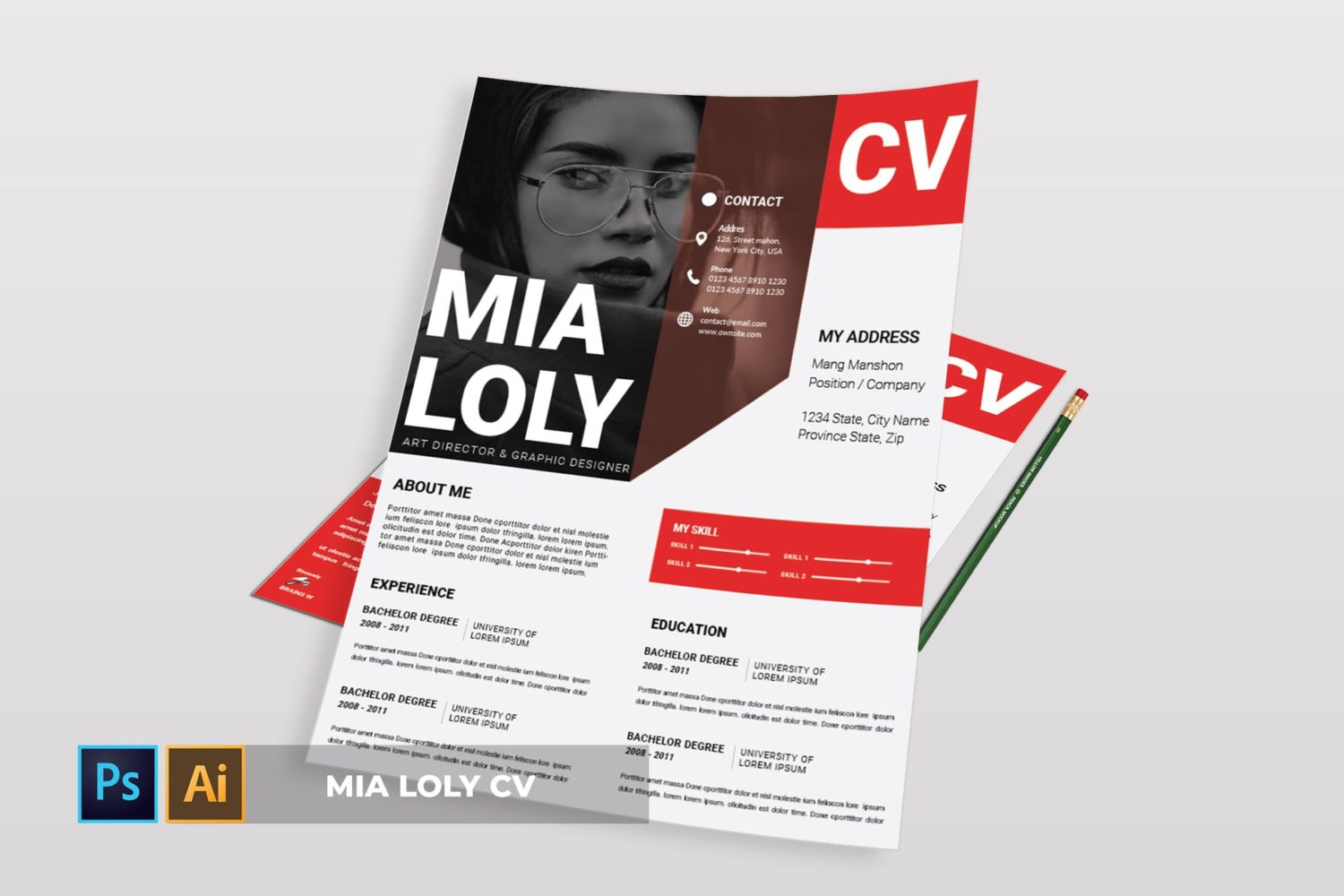 This sophisticated option is a bold choice that's bound to get noticed by your next employer. It features two unique pages, each of which offers a stylish layout against a clean, modern aesthetic, as well as an image placeholder to really help your resume make an impact. The layered vector graphic elements make it super easy to edit and customize.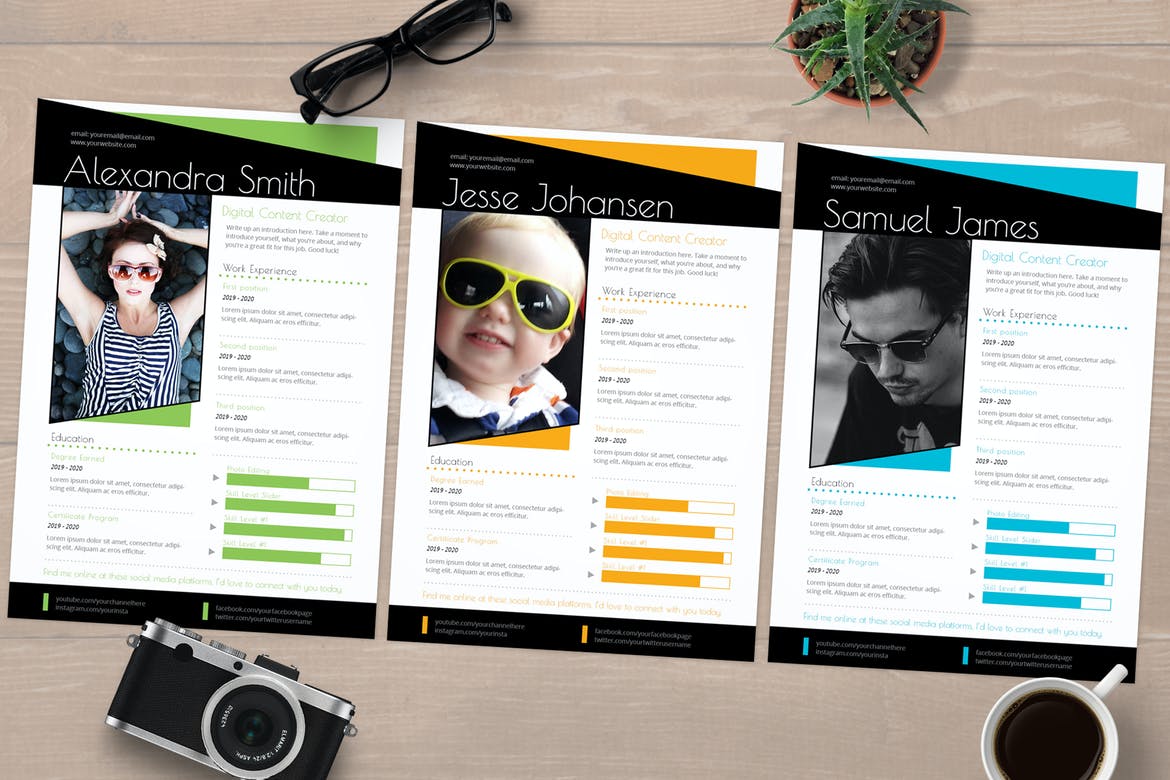 If you're wanting to include a pop of color in your resume template, consider this stunning option that features funky typography and three awesome premade color schemes to help you stand out from the crowd. Each element is organized in a separate layer, and this template also includes free fonts and a PDF help file.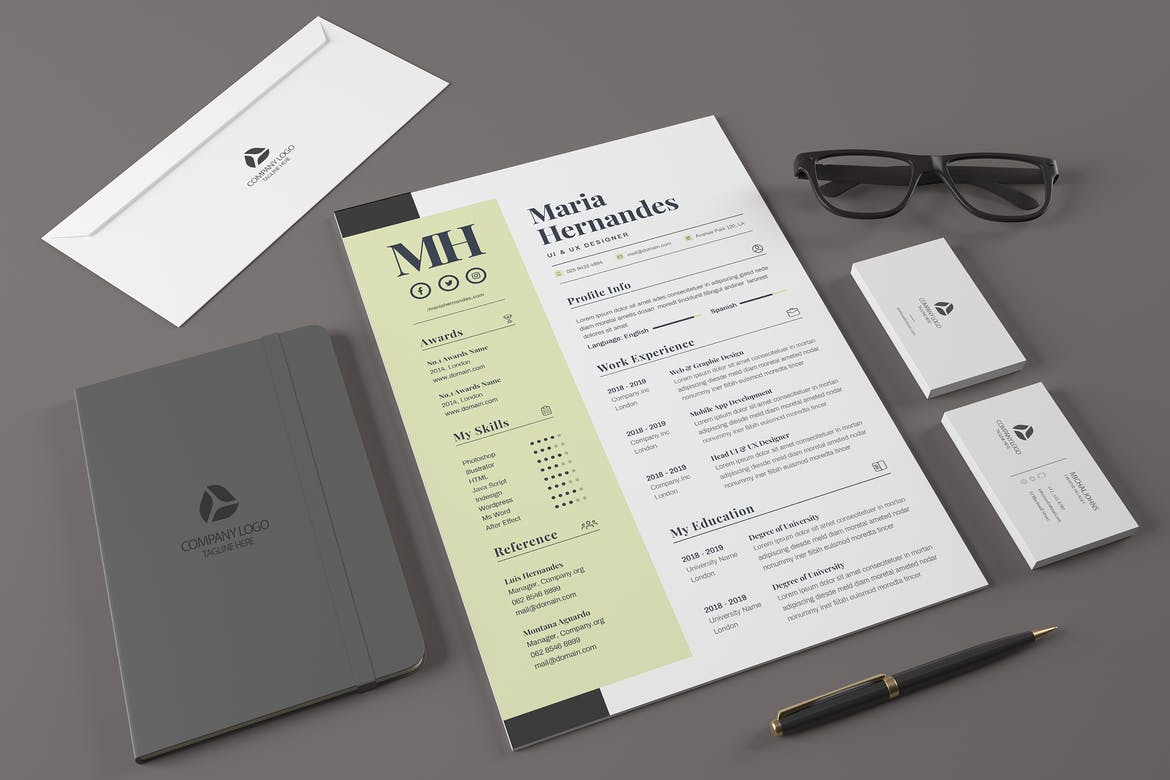 This lovely minimal resume template for Adobe Illustrator comes with a professional and creative design that features a solid block of color to help you showcase your skills and awards, and comes with a corresponding cover letter template as well as free fonts and high-quality vector graphics.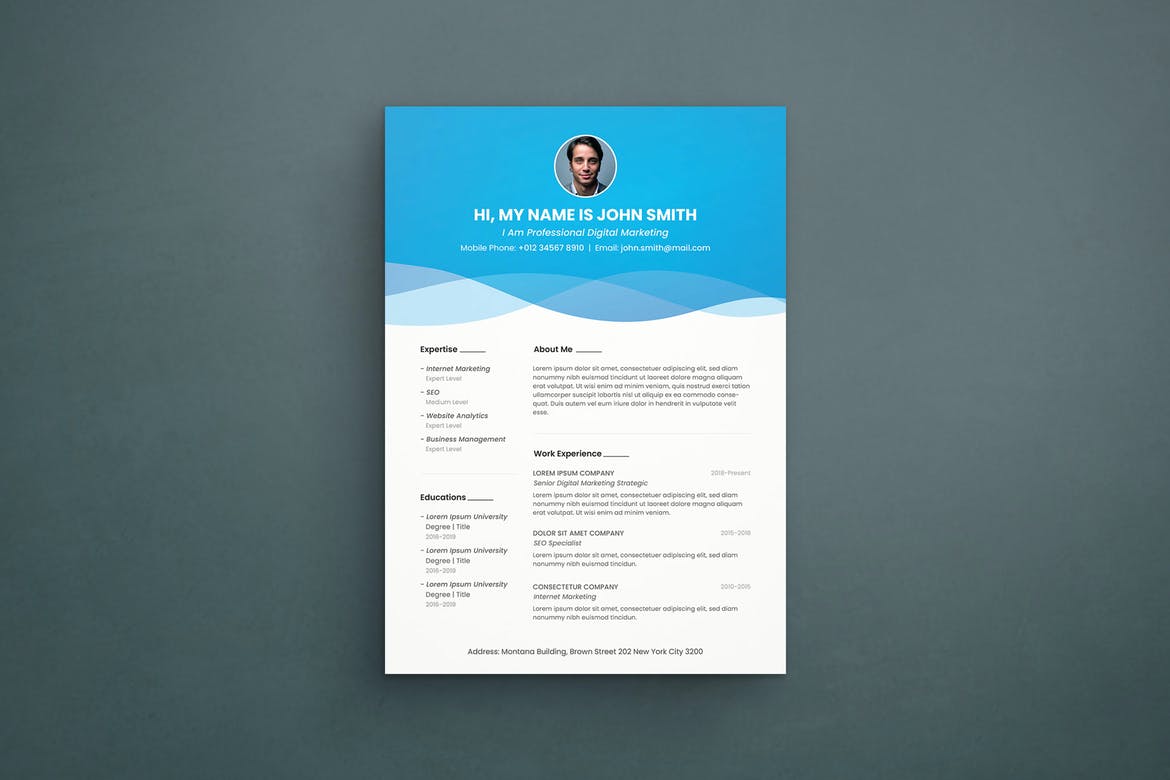 Next up we have a bright and bold creative resume template featuring a wave-inspired geometrical design that's sure to grab any potential employer's attention. It's compatible with both Illustrator and Photoshop and offers well-organized layers with fully editable text, colors, and images.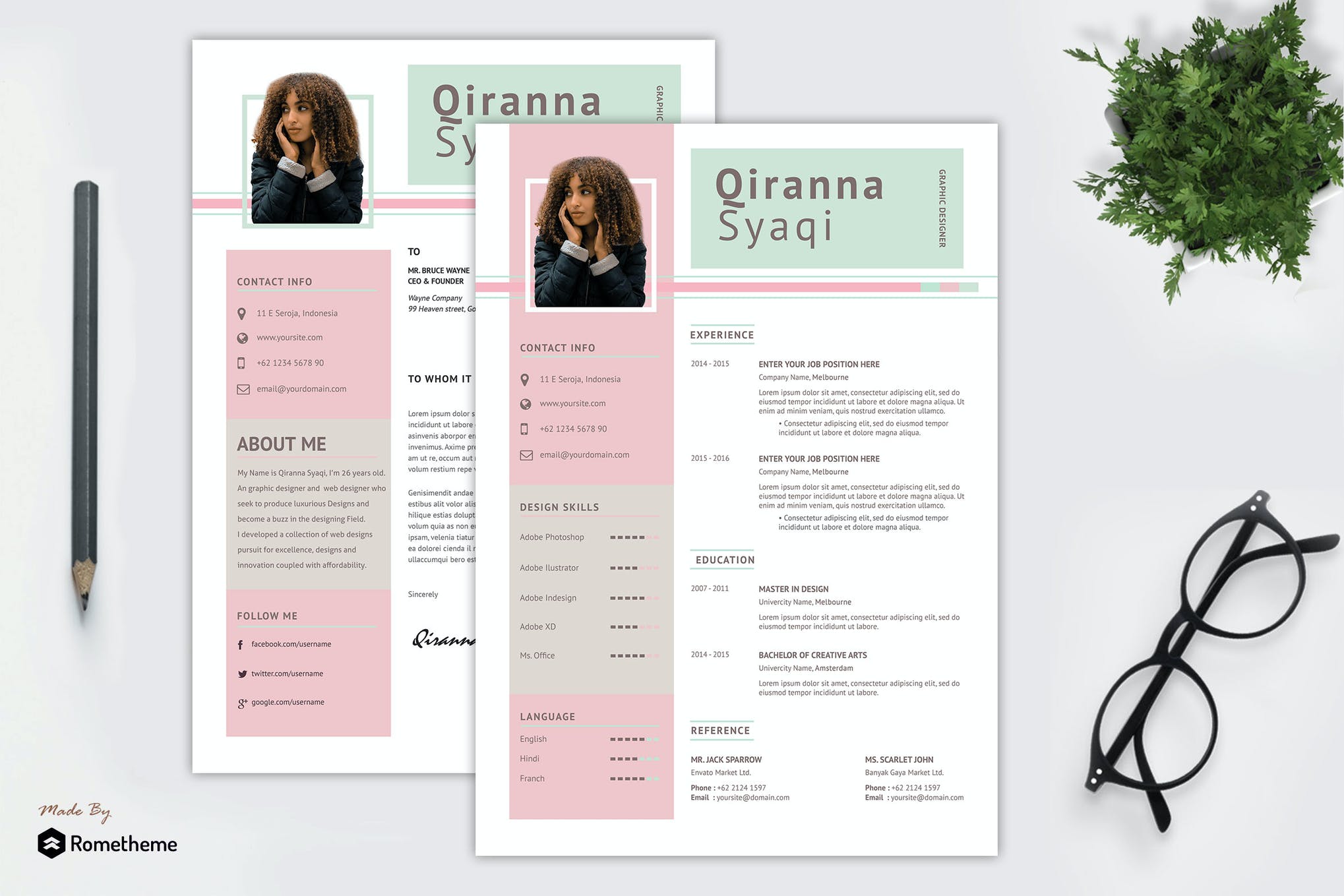 Next in our list of the best creative resume templates is Qiranna Shaqi that uses a mixture of professional design, and an unprecedented color scheme perfect for creative industries. The result is a captivating resume aesthetic that will surely help you stand out.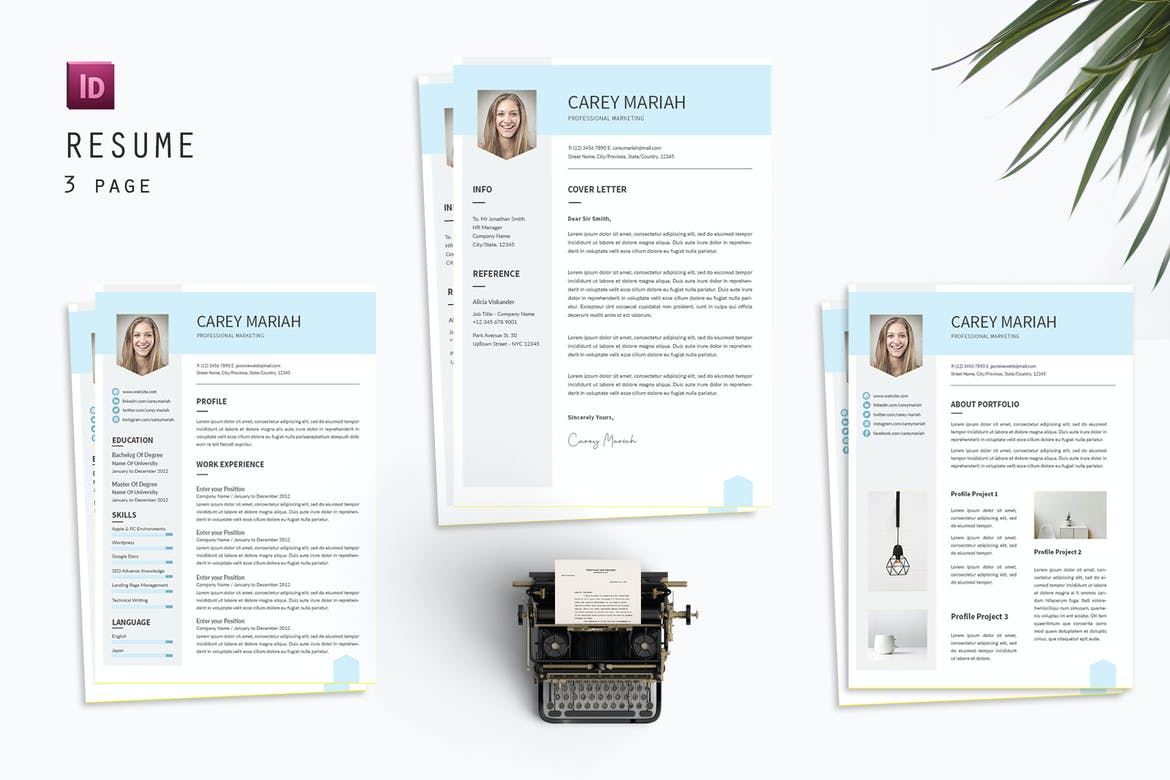 Carey is a delicate and modern resume template that's perfect for a professional in the design field and comes with a 300 DPI resolution and a print-ready CMYK color space with a 3mm bleed. The file is fully layered and can be edited using InDesign versions CS4 and above.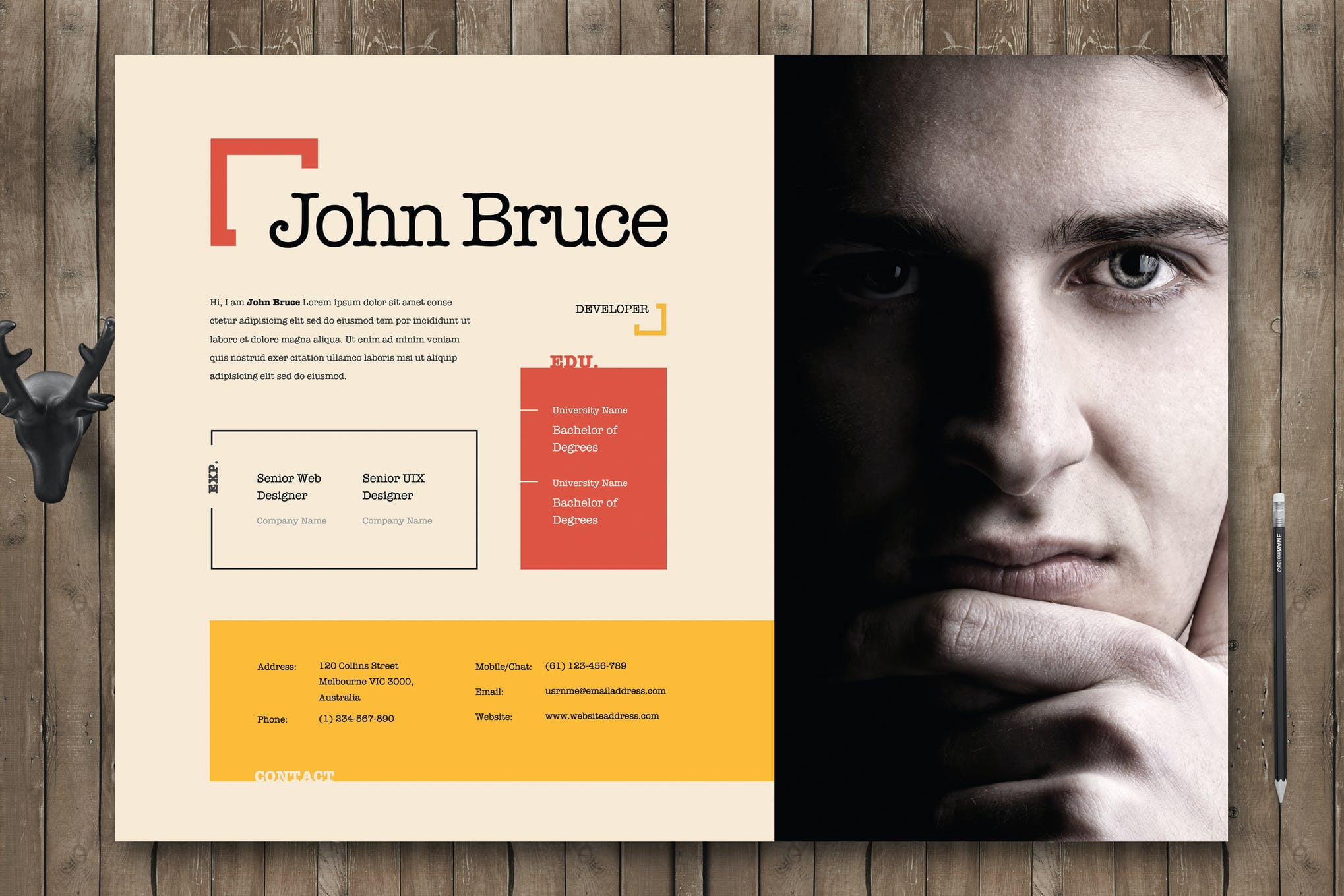 Need something a little more unique for your resume? This retro Photoshop template uses a beautiful color scheme, and a range of stylized heading options to help you stand out. Perfect for almost any job position, and is well equipped to get you that interview. One of the most creative resume templates out there!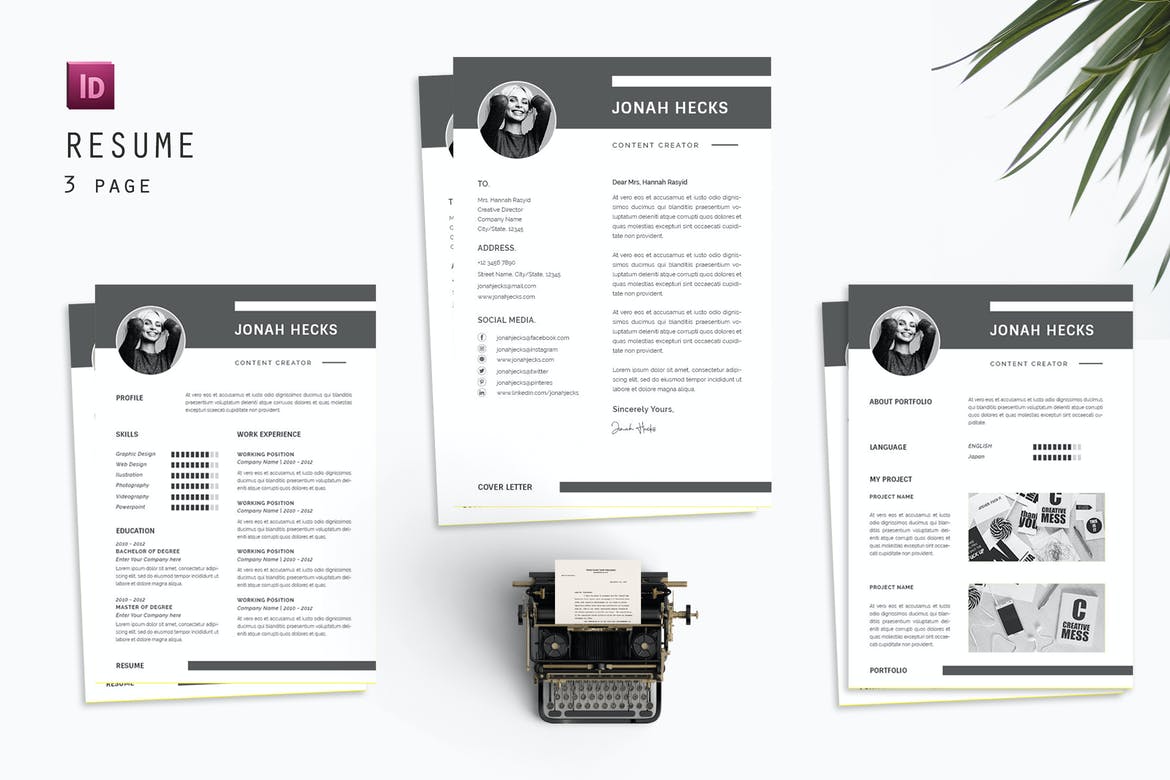 The next in our lineup of creative resume templates is Jonah, a simply monochrome option that features creative typography and contrasting geometrical elements to create an eye-catching look. It features three-page layouts, including a cover letter, and is compatible with InDesign versions CS4 and above.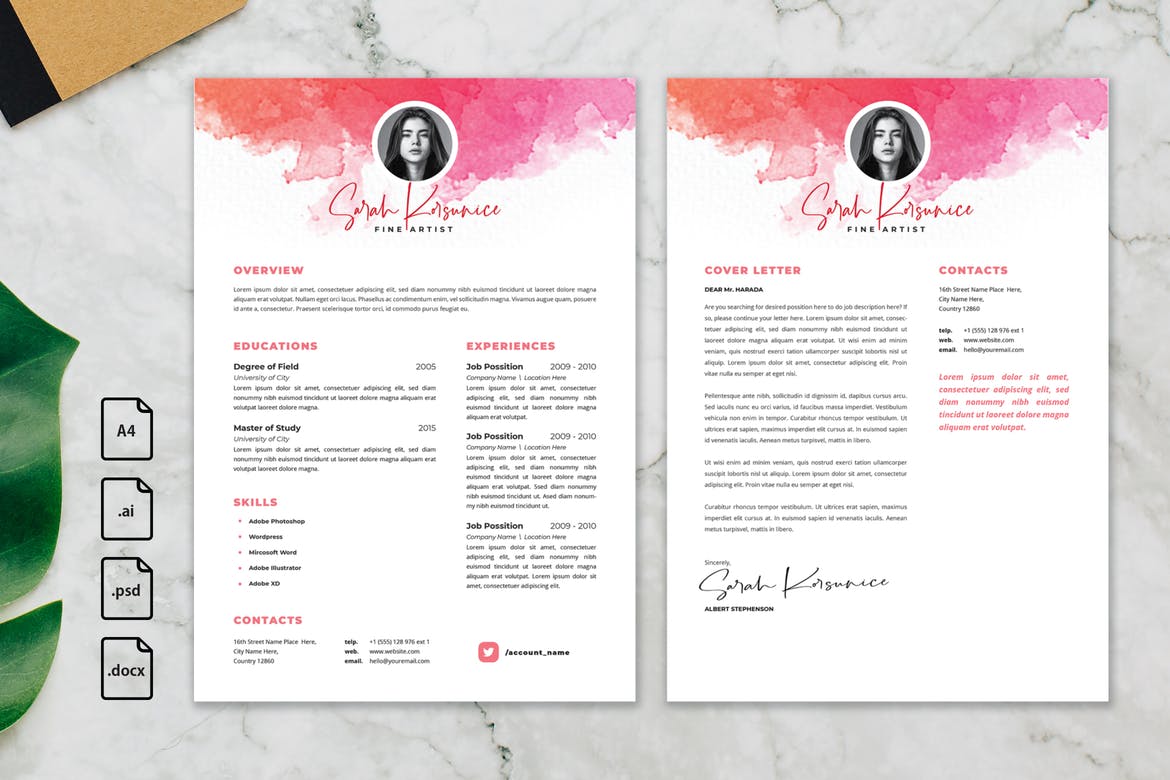 The next of our Photoshop resumes to be featured is a stunning premium template from Envato Elements that offers elegant watercolor-inspired design elements and a beautifully cohesive color scheme. It includes a matching cover letter template and a range of pixel-perfect vector shapes to help you customize.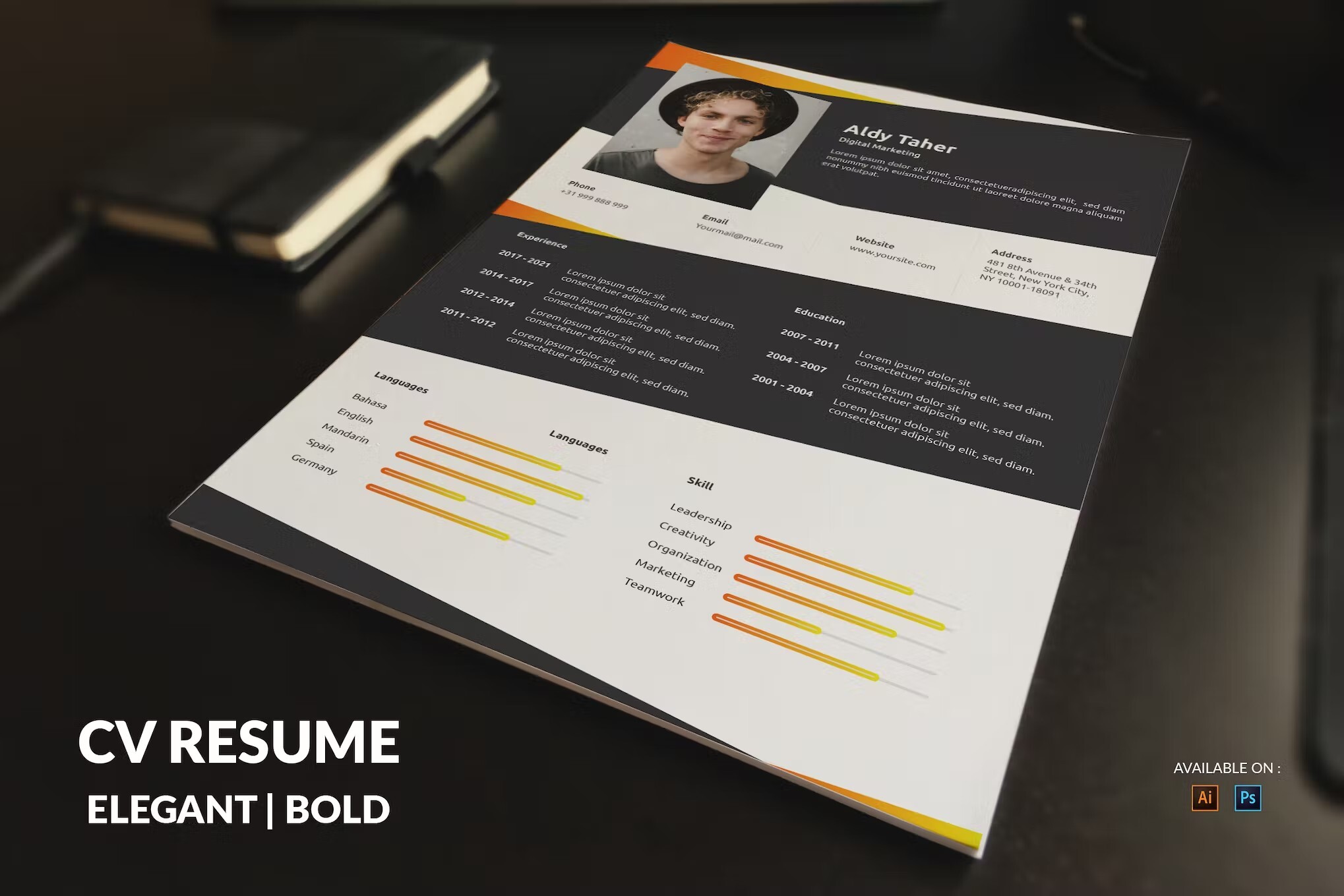 Check out this simple yet elegant PSD resume template that will instantly draw your employer's attention, and get him curious to read more. It features a colorful design that is very easy to customize according to your liking.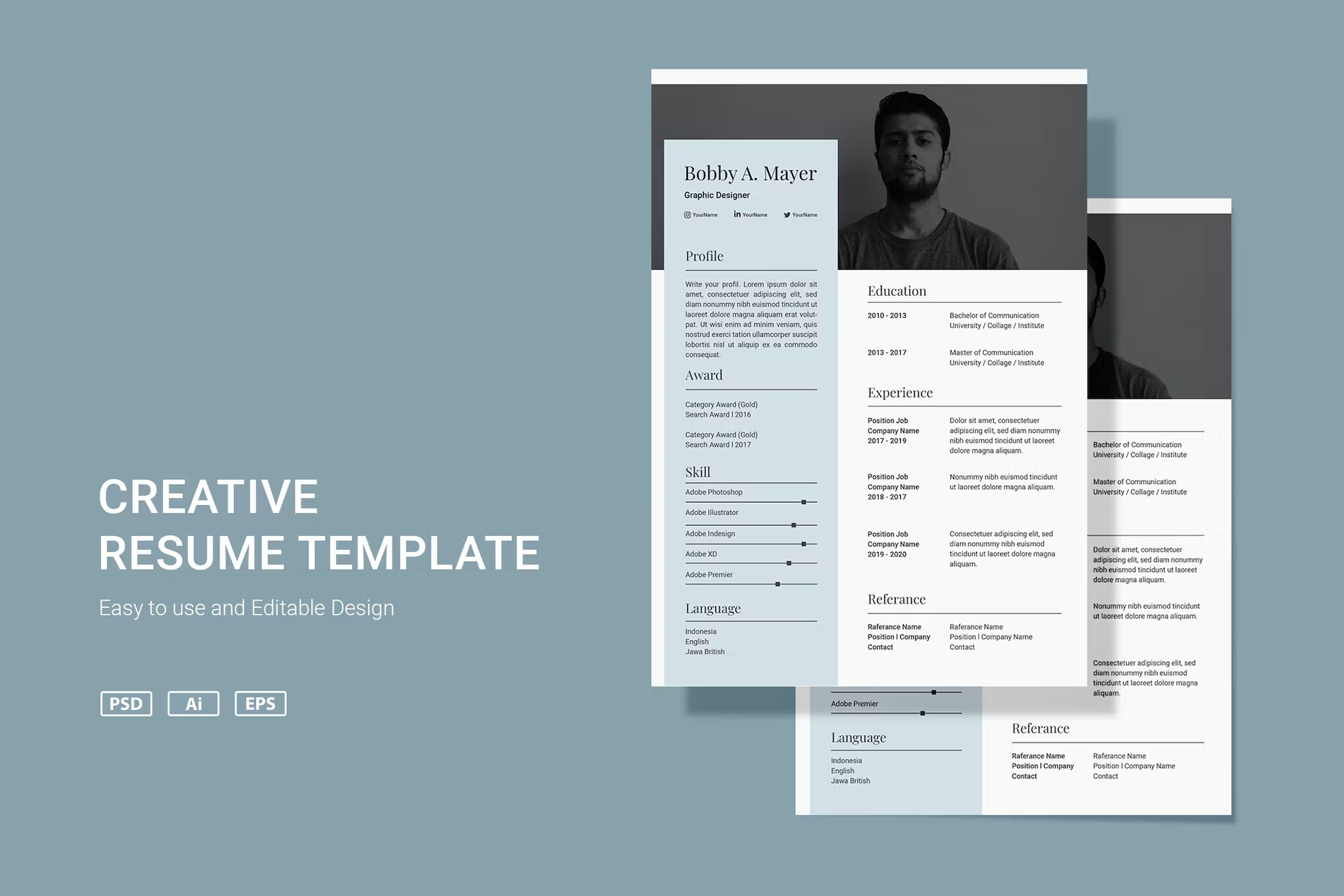 This creative resume template for Photoshop features a well-organized and fully layered file with high-quality vector graphic elements and a 300 DPI resolution for a professional-looking finish. It's super easy to customize using Photoshop or Illustrator.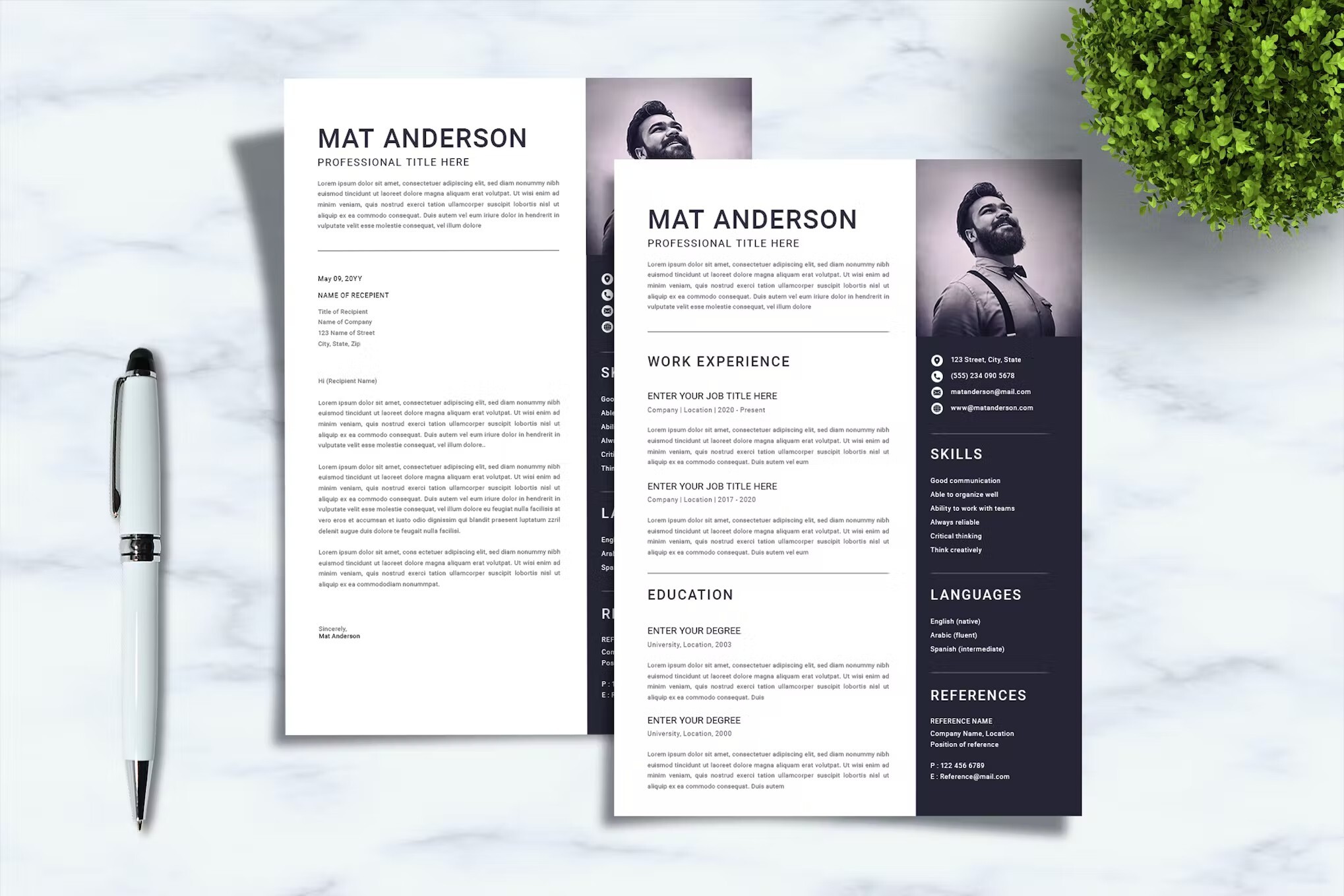 The best resumes should speak for themselves, and this stunning minimal template will help your CV stand out without distracting from your impressive experience and qualifications – it features smart objects and vector graphics plus free fonts and a versatile two-page design.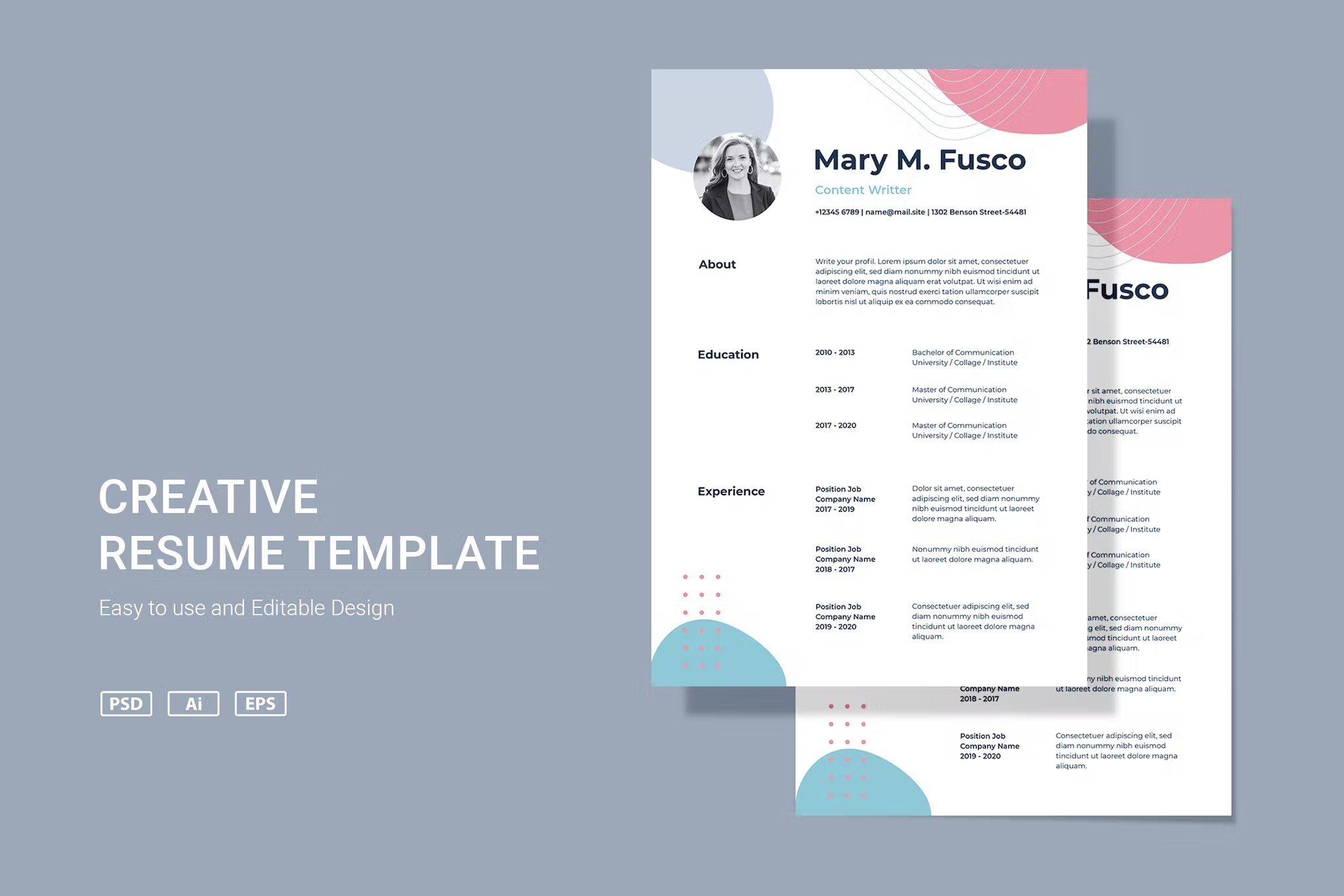 Featuring a colorful abstract design that's sure to help your CV attract the attention of your next employer, this awesome resume template for Photoshop features a range of fully customizable vector graphics and an easy to edit layout, plus a link to download the relevant fonts.
So, there you have it- the best creative resume templates with unique designs, and each one is an effective and memorable way for you to make that all-important first impression on your next prospective employer. No matter your industry, profession, or personal style, each of these options can be customized and used to help you land your next role!