25+ Best Business Project (+ Sales) Report Templates 2021
There are many different ways to deliver your project or sales reports to your stakeholders, but there's no denying that print design is one of the best methods to ensure an enthusiastic and engaged audience. That's why we've rounded up a collection of the very best business report templates for sales and projects of all kinds, compatible with Adobe InDesign, PowerPoint, and Keynote, for your next important business report.
We've chosen a range of both premium and free templates, and have included a variety of styles and aesthetics for you to choose from to ensure that whatever business or industry you're in, you'll be able to find a template that suits your needs perfectly.
Get everything you need to supercharge your work projects, business proposals, reports, and more. From just $16, get unlimited access to thousands of professional business templates for Microsoft Word, InDesign, Photoshop, and more.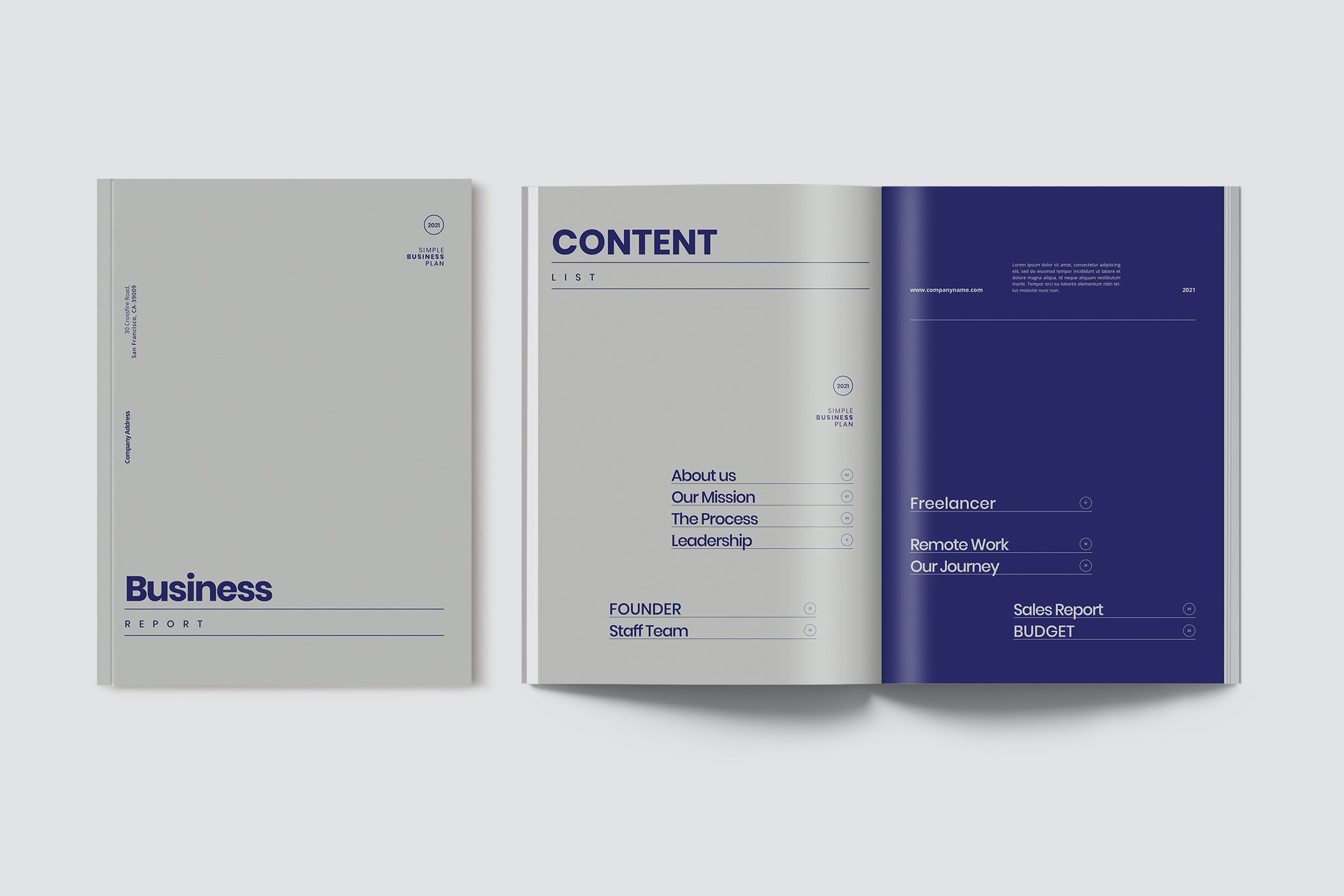 Looking for a clean and gorgeous business report template with a touch of elegance on every page? Check out this 24 page, fully-layered template compatible with Adobe InDesign and Microsoft Word and perfect for all your business, corporate, or start-up needs.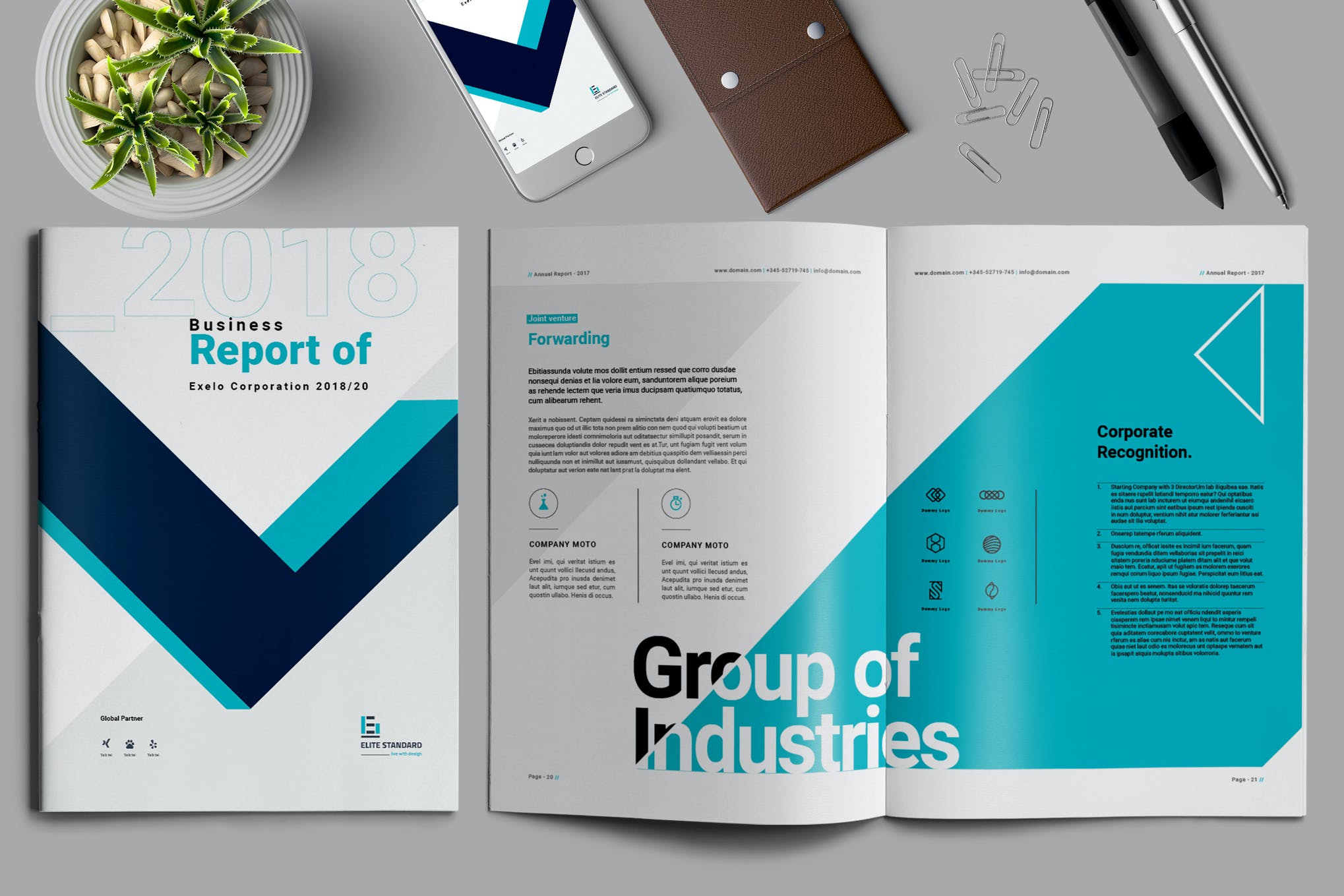 Here we have a clean, uncluttered, and professional project report template that is sure to make a statement. It comes with 36 unique page designs, free fonts, different text styles, and two sizes. Not to mention the smooth and hassle-free customization.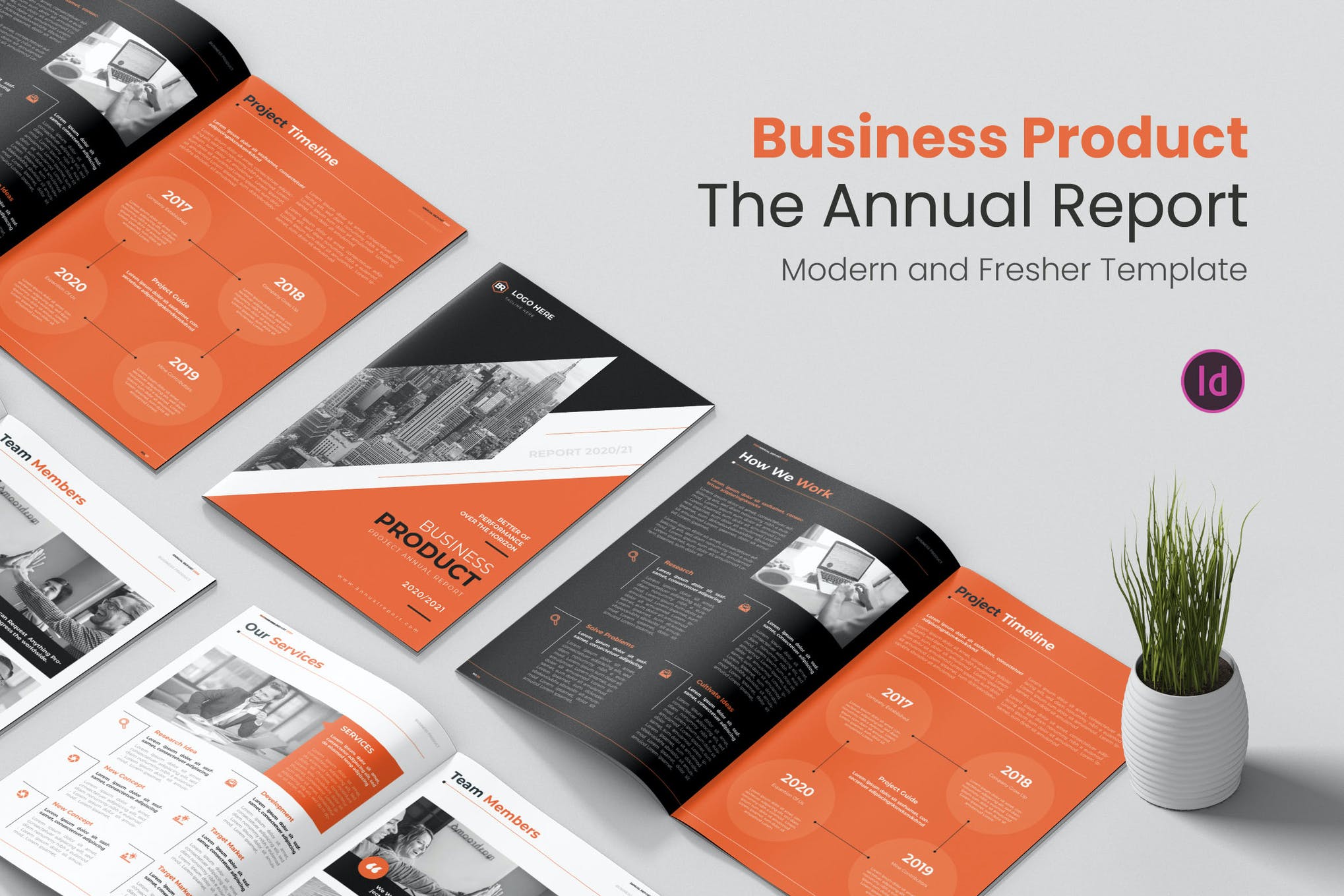 Wanting something stylish and eye-catching? This beautiful project report template has got potential to meet your needs. It offers 12 pages, CMYK color mode, editable graphics, and virtually everything that you'd expect in a professional company report.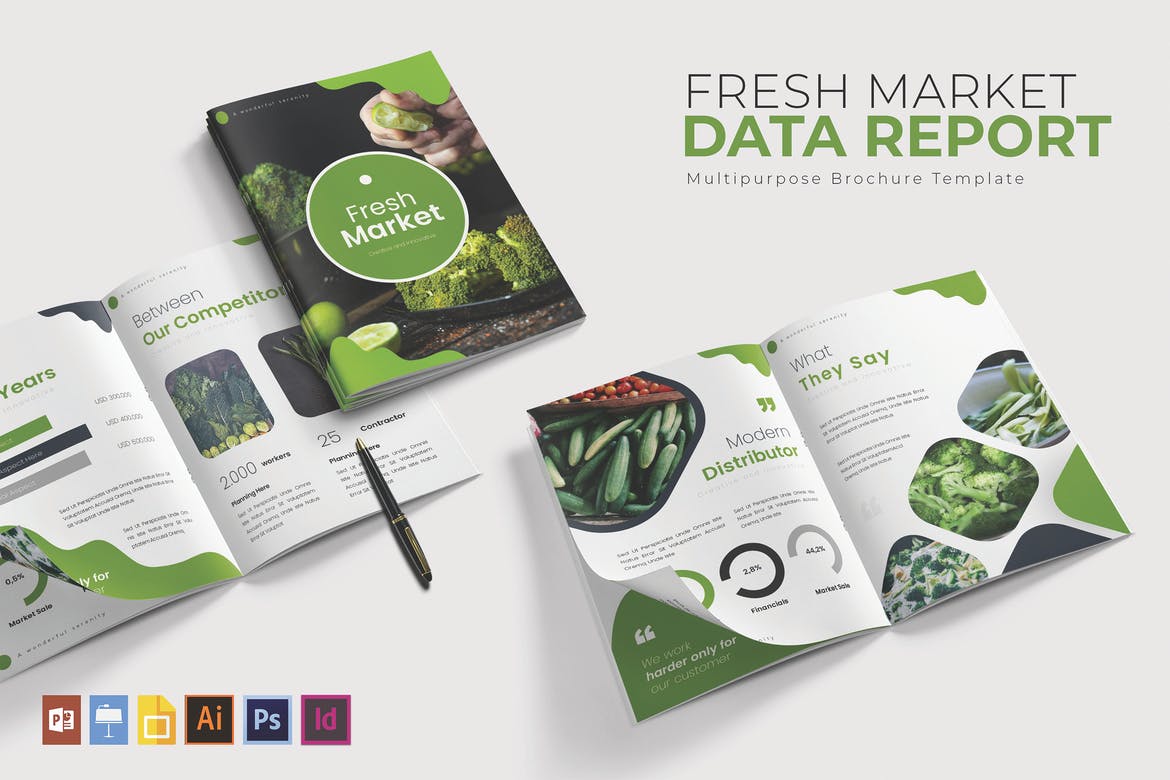 Featuring a fresh green color scheme, our next project report template is a great option for a fresh farm vegetables and fruits delivery organization! It features a clean and modern layout with paragraph styles and built-in free fonts, and a range of vector icons and infographics for you to customize with your own data using InDesign, Photoshop, Powerpoint, or keynote.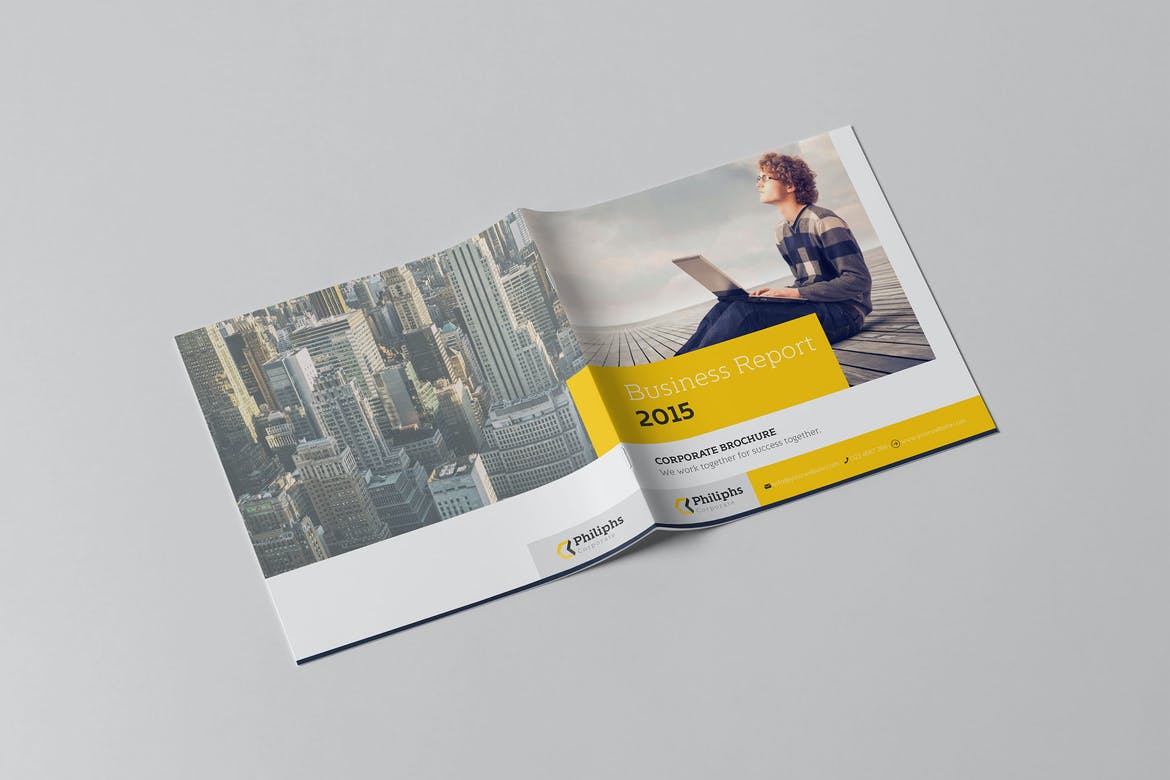 Next up we have a highly versatile sales report template for Adobe InDesign that comes with a cheerful yellow color scheme, 20 gorgeous page layouts, print-ready 300 DPI, square orientation and a variety of free fonts, infographics and vector elements that you can use to jazz up your report.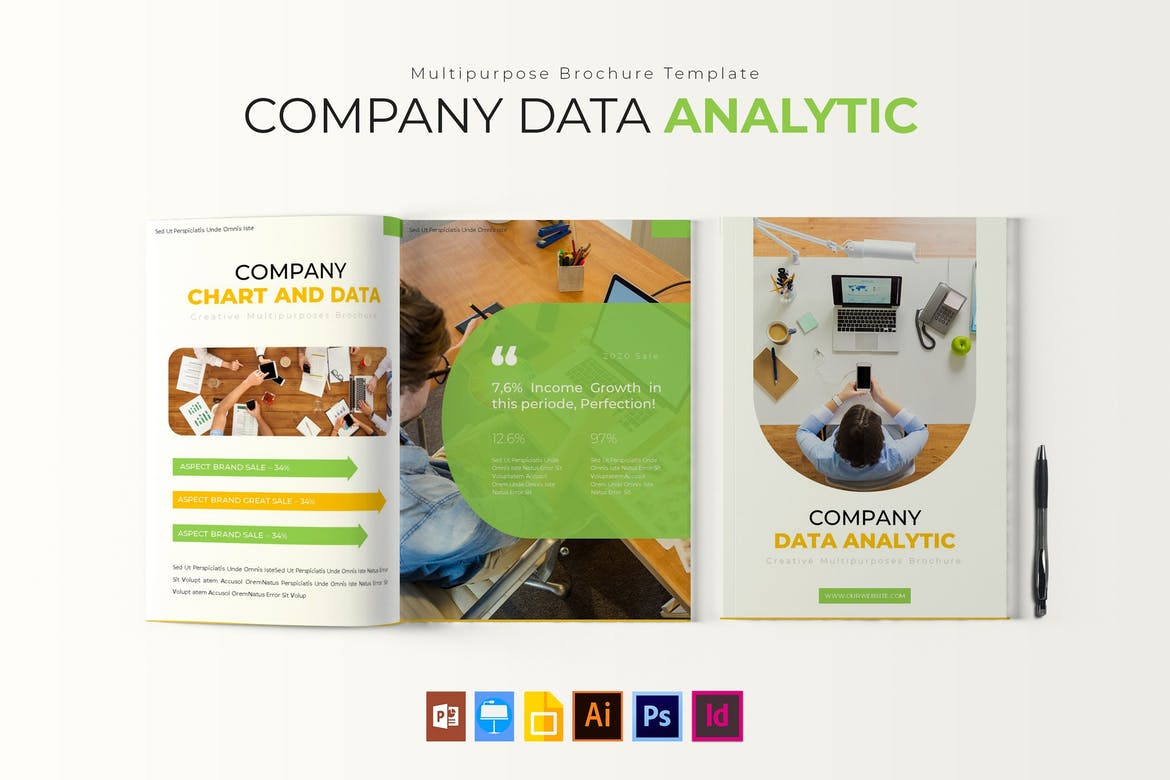 Perfect for displaying all those less-than-exciting stats and financials in an exciting and eye-catching way, this elegant and stylish business report template offers unique page layouts with image placeholders, fully editable colors and graphic elements, plus a range of high-quality vector icons and infographics.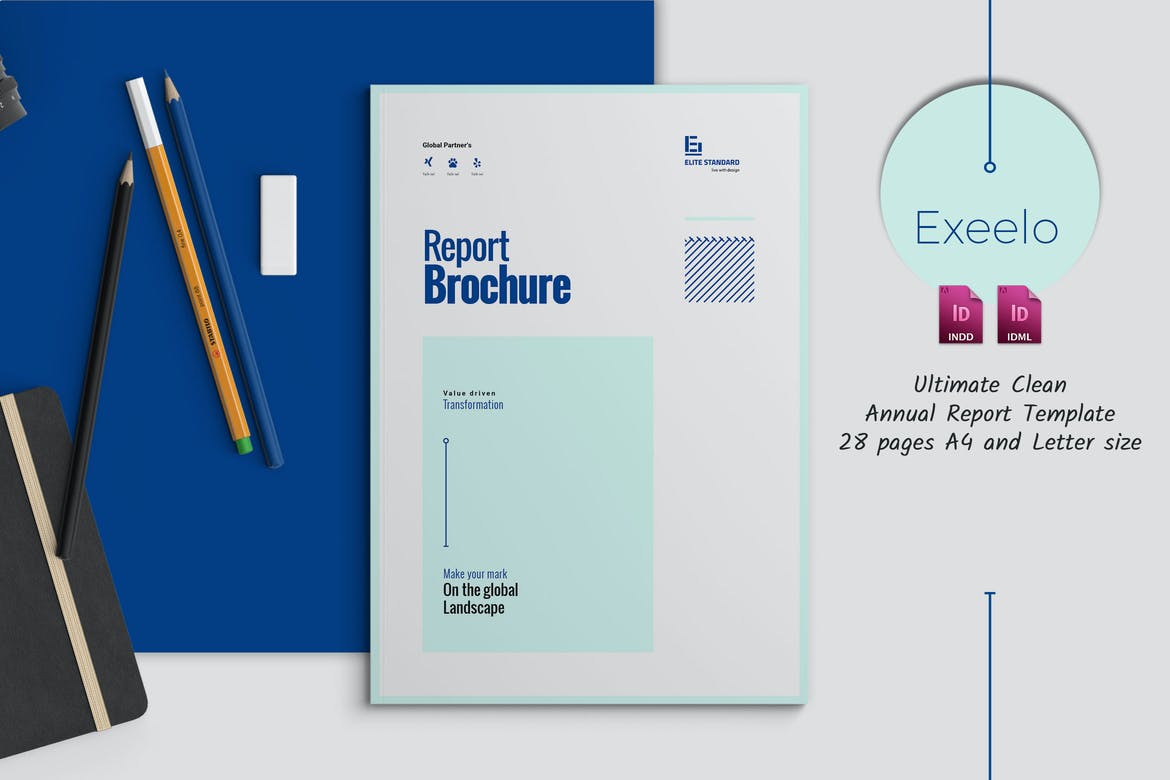 Next in our selection of the best business project and sales reports is the annual report template for InDesign, featuring 28 purpose-made pages in A4 and US Letter sizes that will make preparing your next report incredibly simple. It offers paragraph and character styles and comes with a helpful user guide.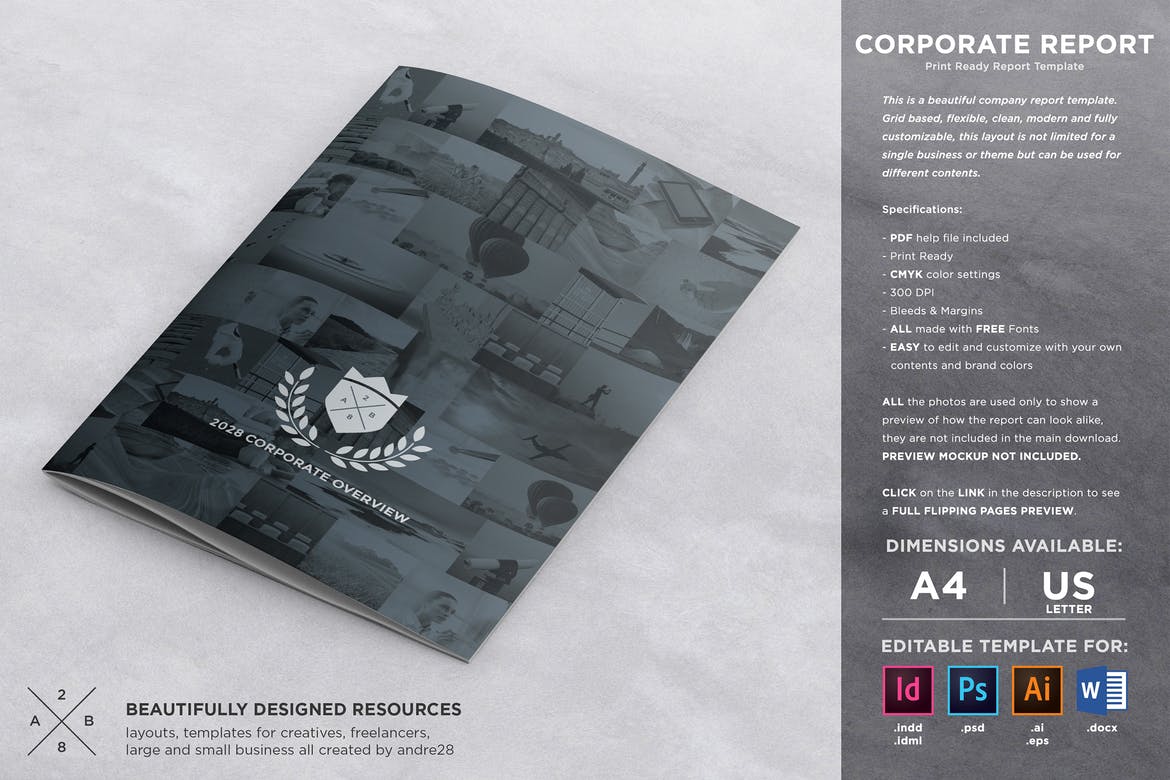 If you're wanting a simple yet engaging way to present your next important business project, look no further than our next template for InDesign, Word, and Photoshop. It offers 12 tasteful pages, bleeds and margins, easy to customize brand colors, and clean, modern fonts that are perfect for a corporate presentation.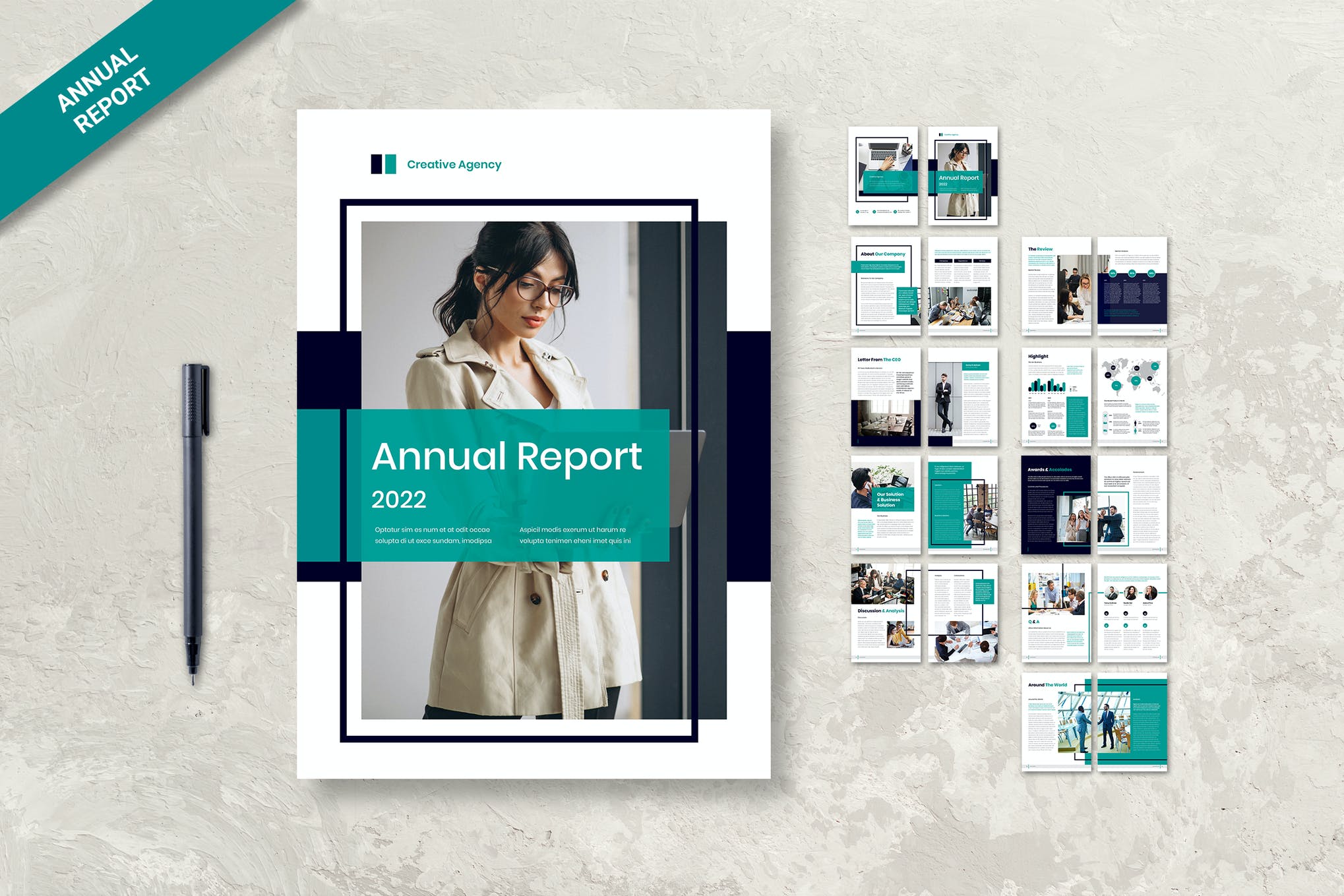 Next up is this beautiful download that features 20 unique, multipurpose pages that can be used for a project proposal in virtually any industry, come with a range of infographics, and is compatible with InDesign.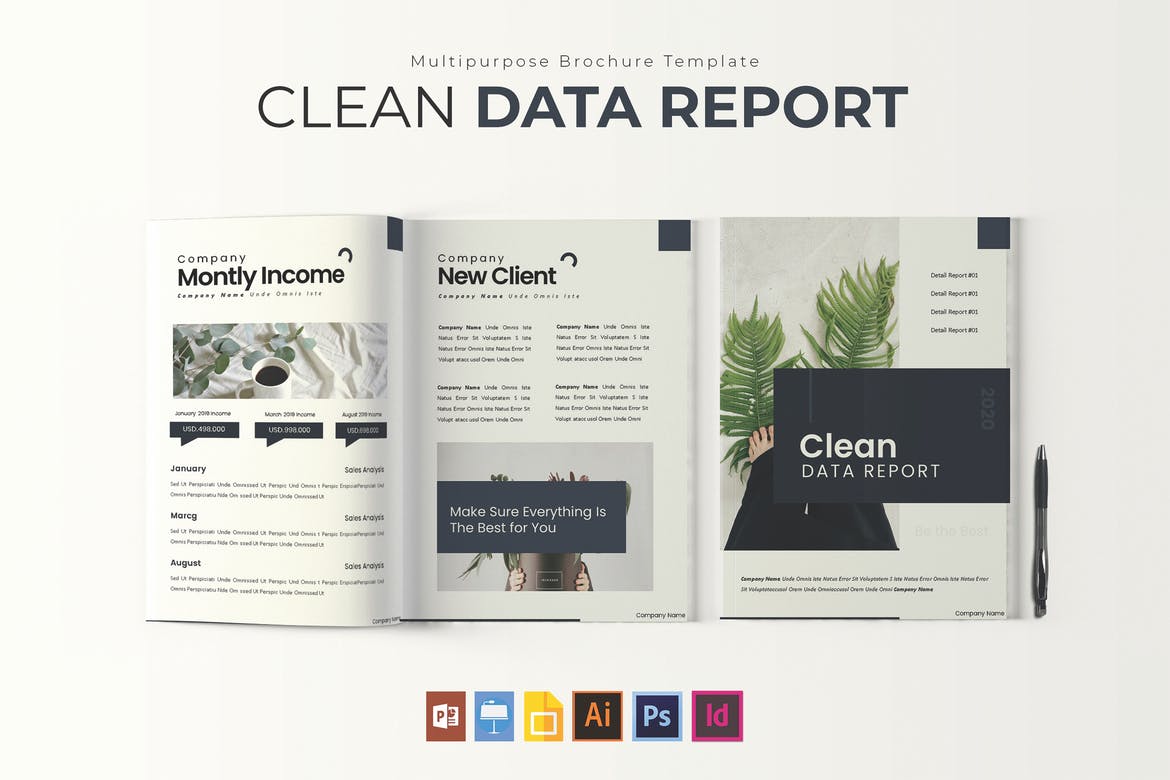 Next up, we have a sales report template that's been purpose-built with marketing and sales KPIs in mind! It features a professional layout, free fonts, paragraph styles, image placeholders, and fully-layered vector elements that can be edited using Keynote, PowerPoint and InDesign.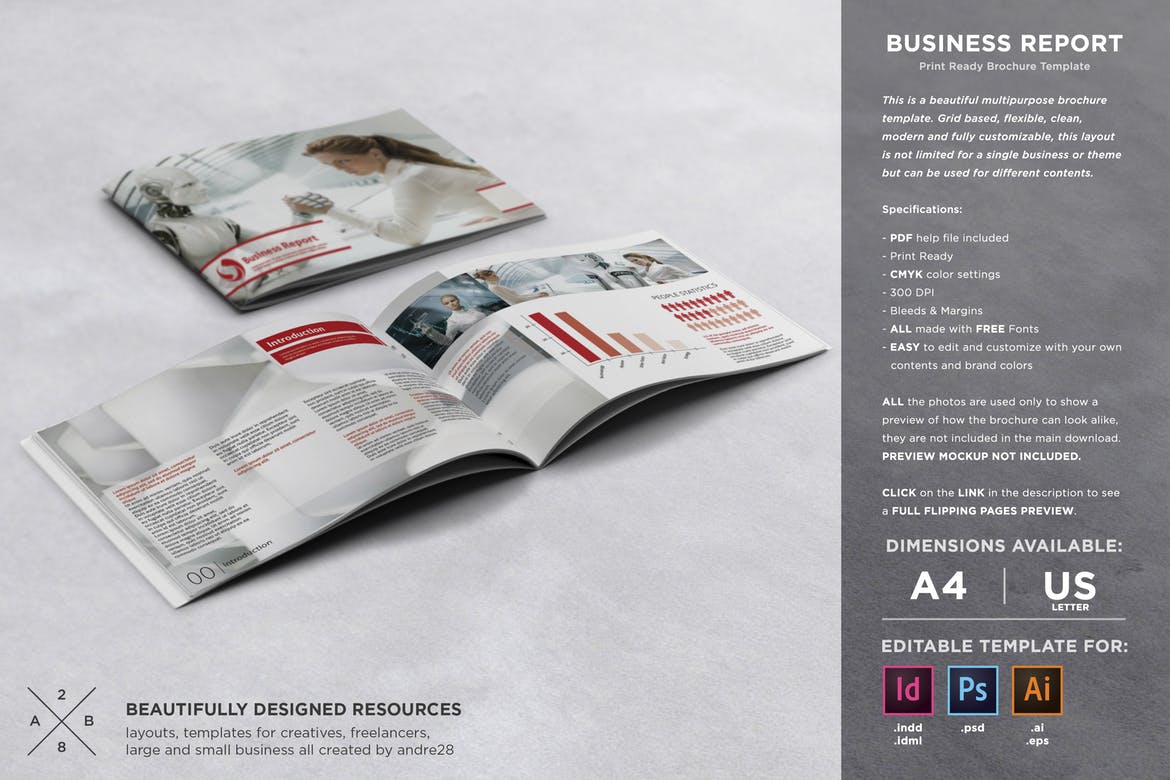 Another great choice if you're looking for a beautiful and modern sales report template, here we have a collection of 14 stunning pages with a variety of color schemes to choose from and a stylish grid-based layout. It's fully compatible with both Photoshop and InDesign.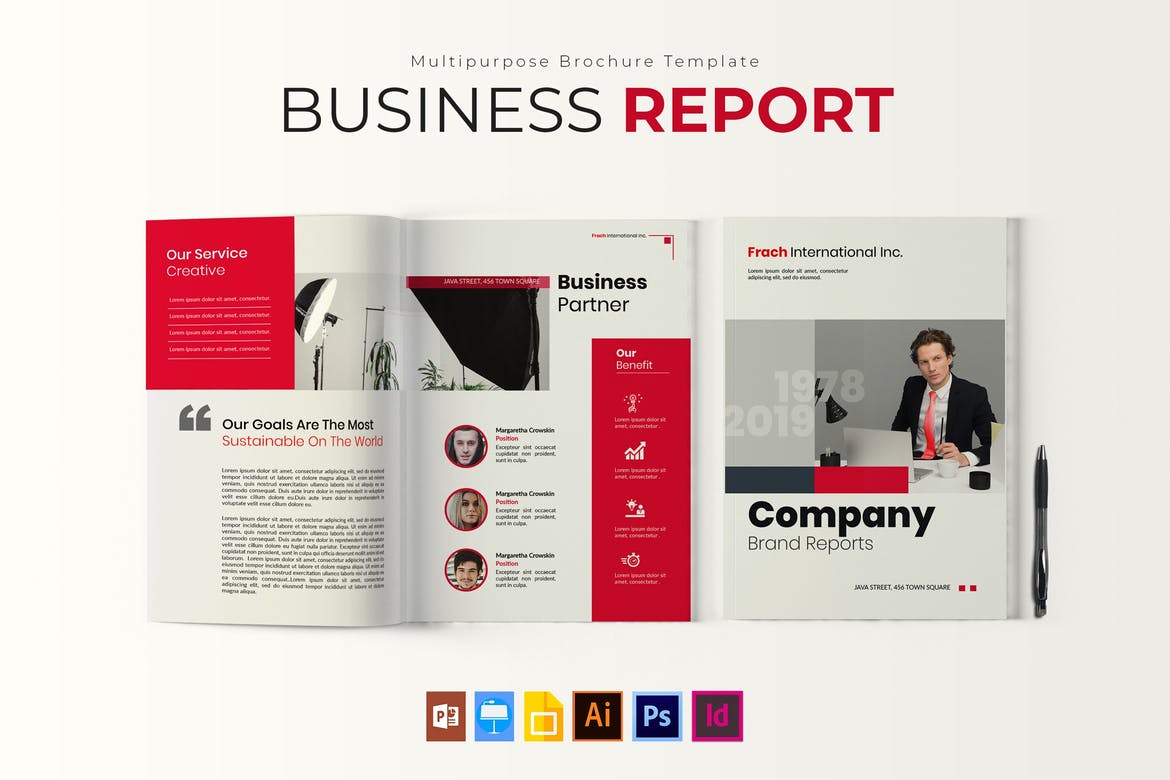 You'll be seeing red (in a good way) with our next business report template, which offers a contemporary layout with paragraph styles, CMYK color mode, A4 page size, and picture placeholders for seamless editing. This template is compatible with PowerPoint, Google Slides, and Keynote.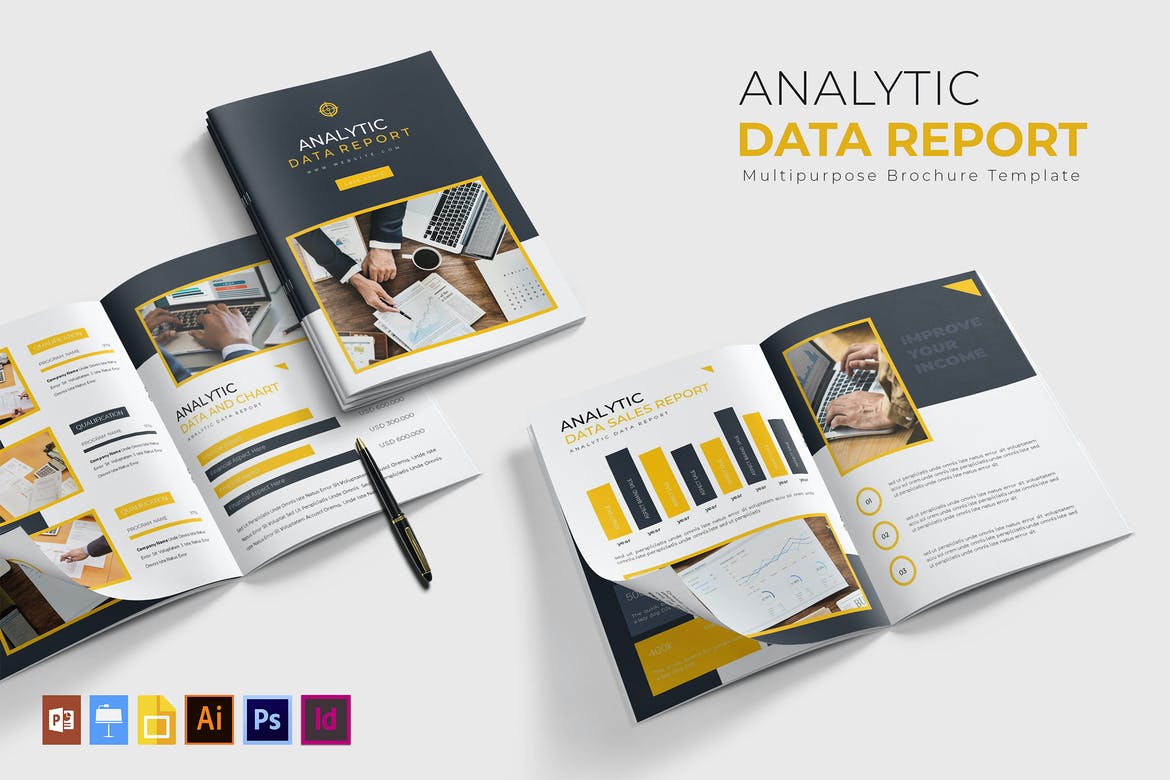 Here we have a template for Keynote that is the perfect option for a business in the finance industry to use for an important report presentation. It comes with multipurpose page layouts in a neat, modern design with ample room for both text and images, plus free web fonts and fully customizable graphics.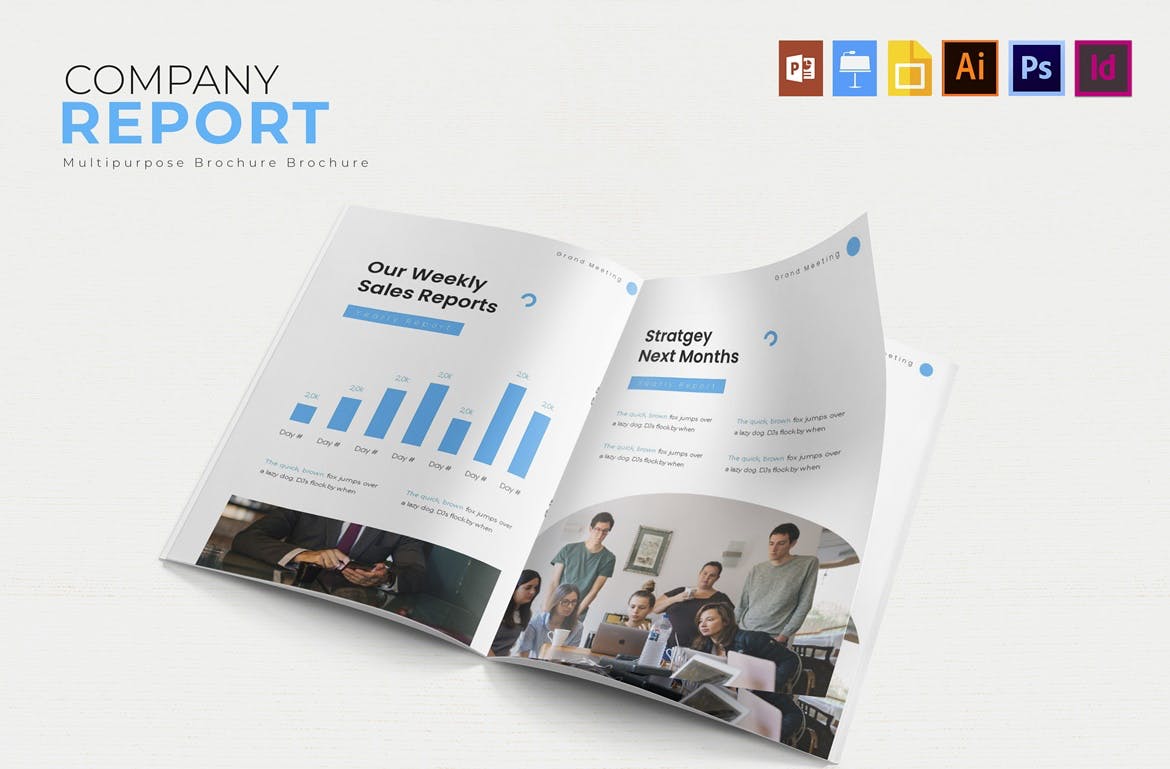 Our next business report template is perfect for a sales presentation in any corporate or professional environment and features a winsome blue color theme, fully editable vector graphics, image placeholders, and free fonts. You can use this template with Keynote, Google Slides and Photoshop.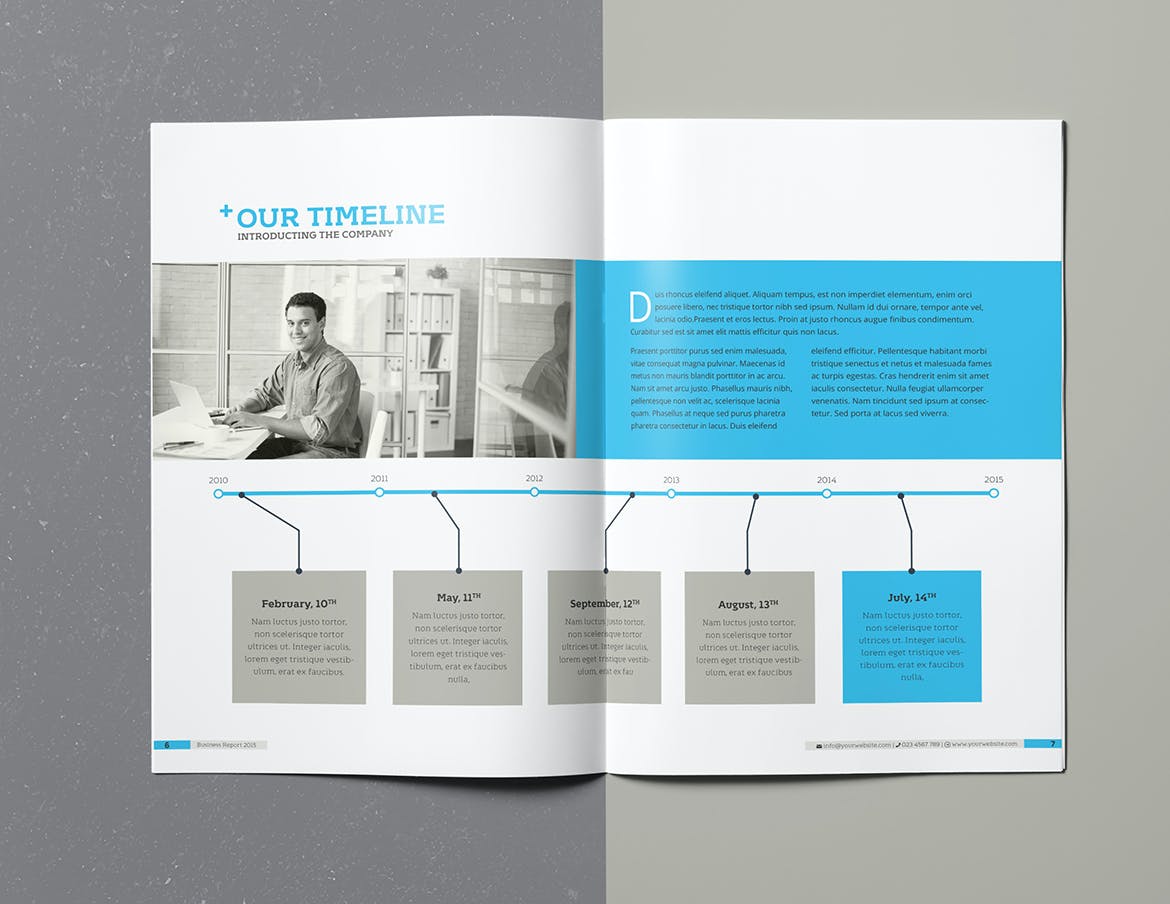 Our next business project report template is a multipurpose collection of 20 clean, modern pages that features a range of versatile layouts, each with customizable color themes, A4 page size, free fonts and picture placeholder functionality. It's compatible with Adobe InDesign.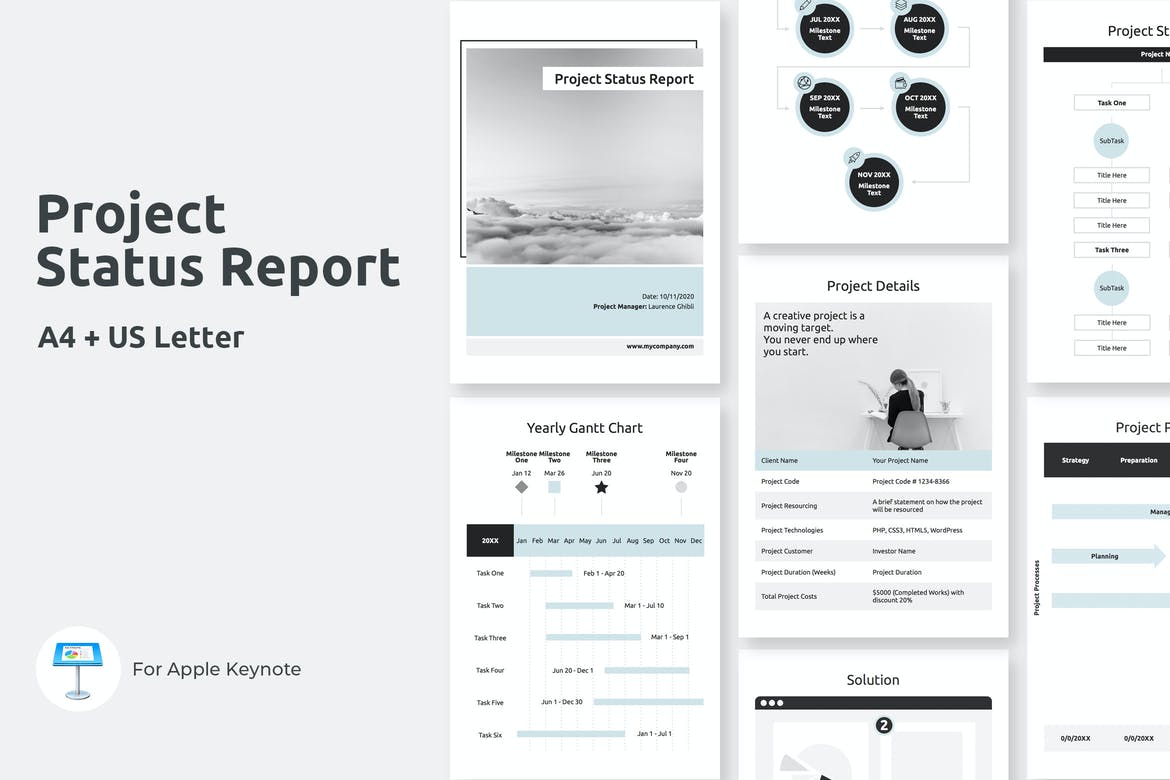 Next up, we have a unique Apple Keynote template that features an attractive layout with A4 and US Letter size options. It's the perfect template to use for a detailed report on your next project and features a range of stunning premade page layouts with clean, modern design elements.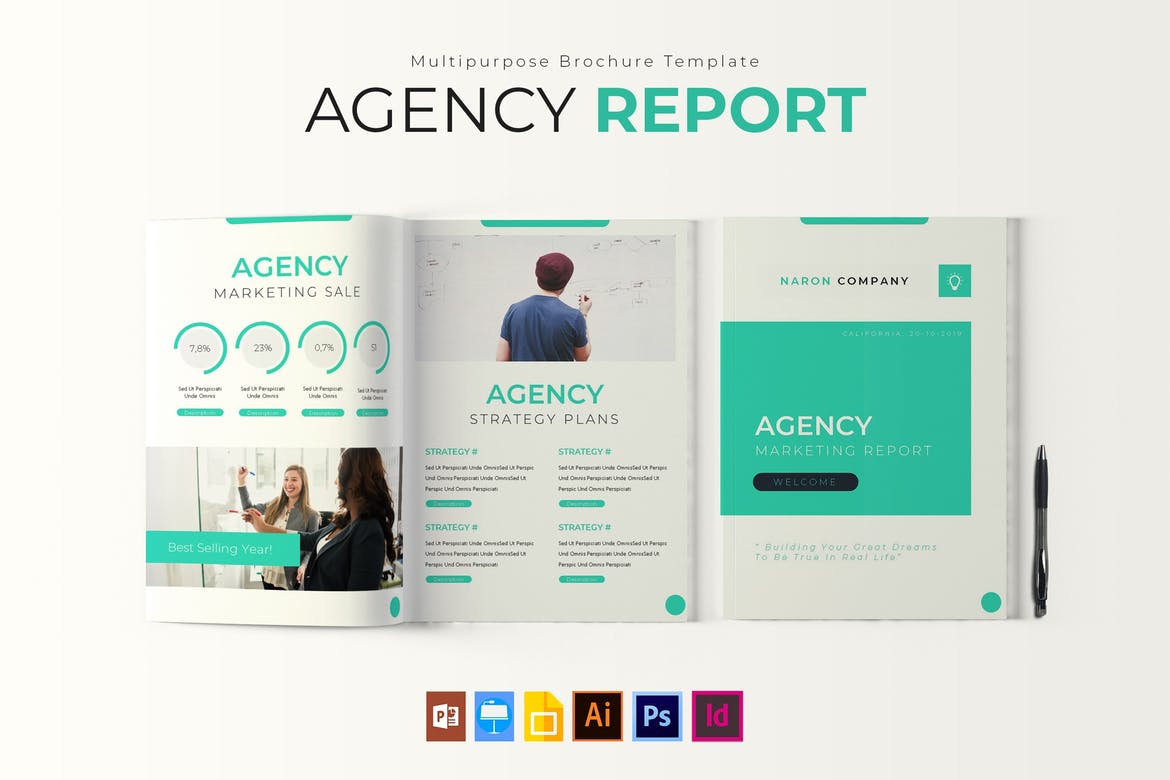 If you're searching for a super professional InDesign and Keynote template to use for an agency report that's sure to impress your stakeholders, consider this template that offers clean, modish page layouts with a beautiful green color scheme, plus free fonts, image placeholders and vector graphics to help you customize.
Here we have a truly versatile option for virtually any business to use as a project or sales report template. It's fully customizable using indd, PSD and keynote, and features nice-looking page designs along with A4 size format, free fonts and editable charts and infographics.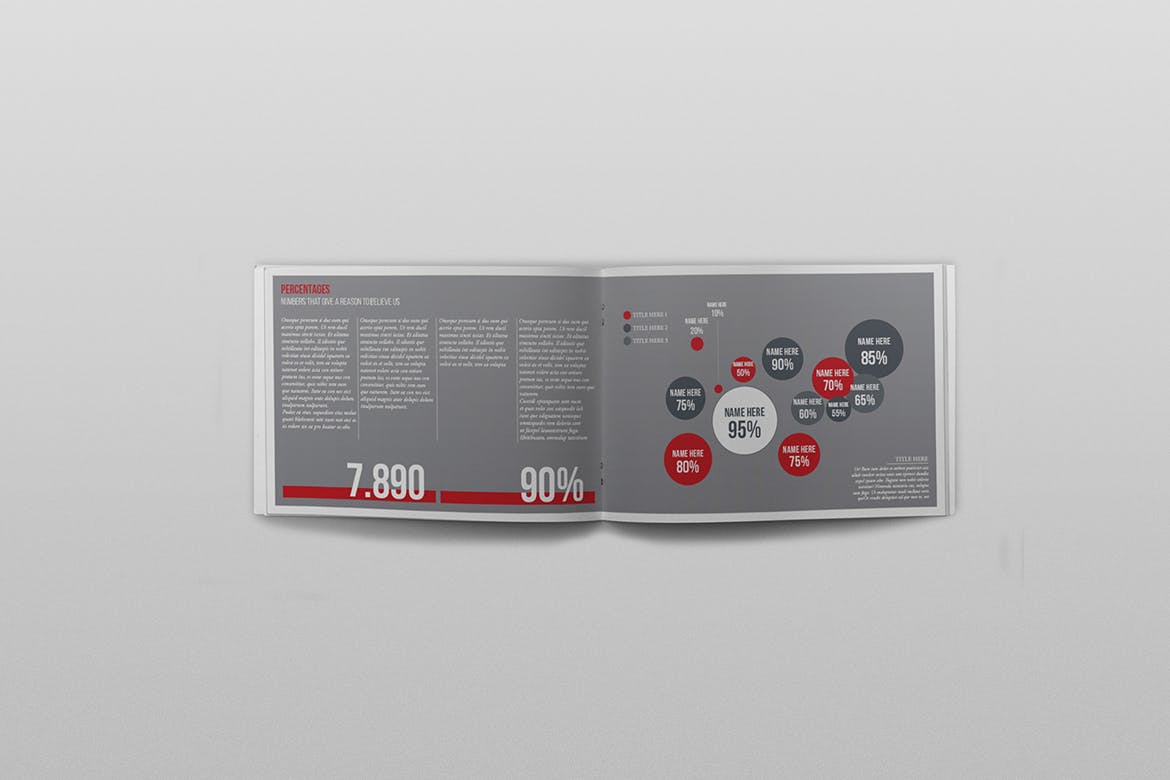 Next up is a simple yet effective series of 14 pages that can be edited using Adobe InDesign to suit a professional or corporate setting. It features A5 and US half letter sizes and a wide range of infographics that are ready for you to populate with your own information, as well as free Google fonts.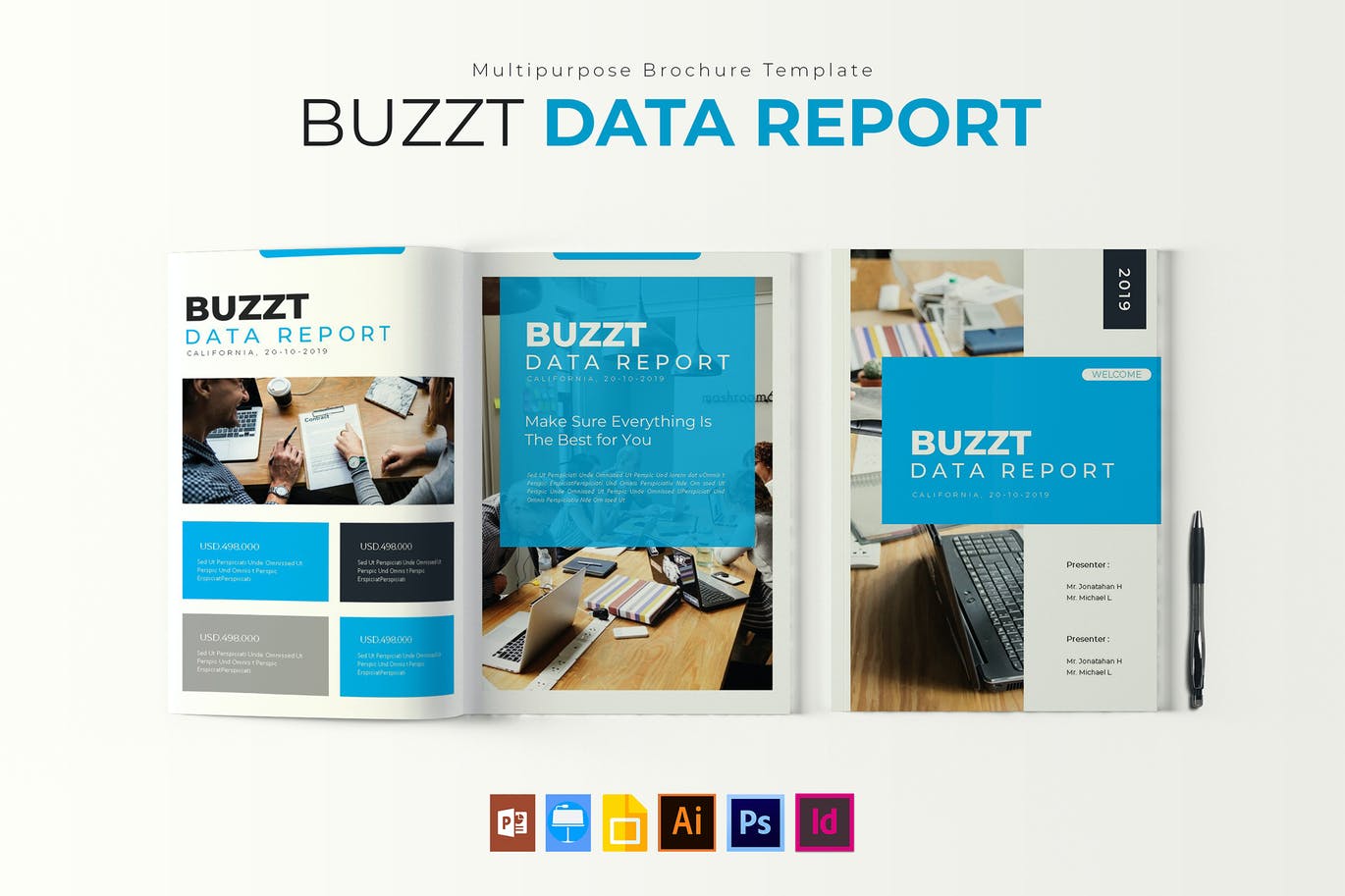 Our last premium business report template from Envato Elements is the Buzz template, offering appealing pages with ultra-modern design elements and high-quality vector graphics that you can customize using Keynote and InDesign to suit pretty much any industry or business type.
Free Business Report Templates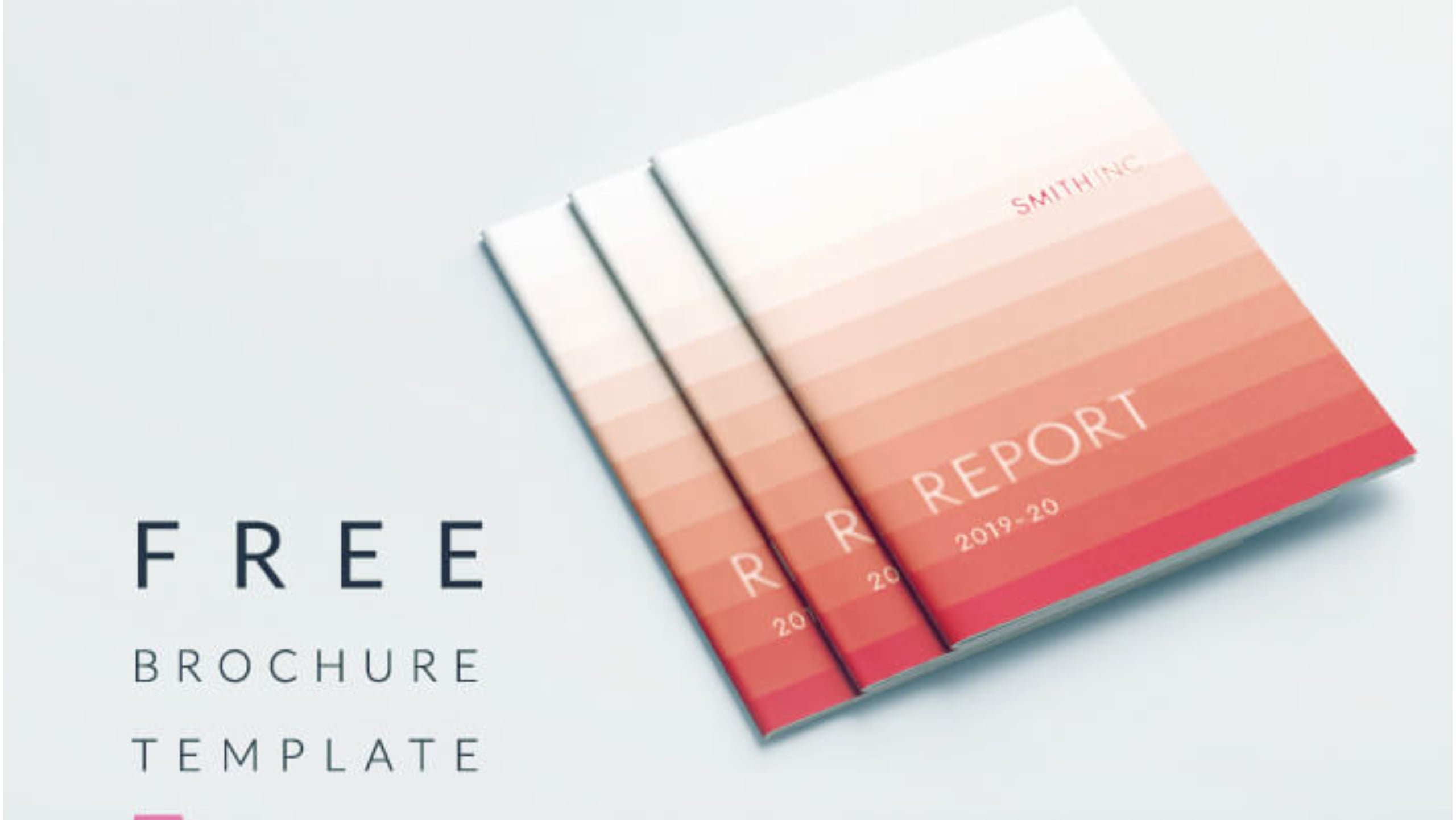 The first of our free sales project report templates is this simple and professional design that offers fully customizable text, a clean and neutral layout, stylish and modern typography, print-ready CMYK swatches, and so much more.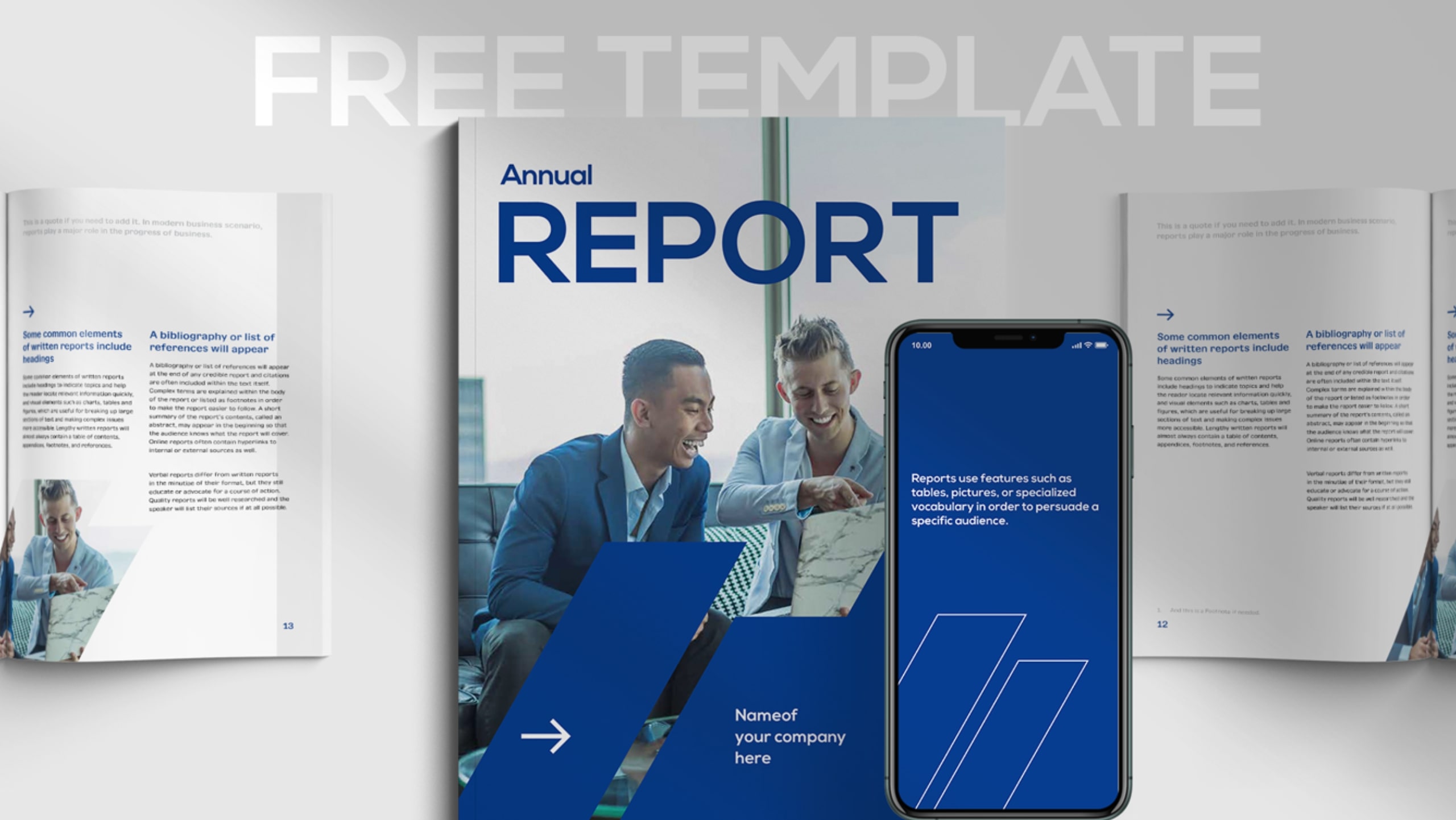 Here we have a super elegant and formal business report template in Word format, available as a free download. This template includes unique page layouts that can be easily customized to suit your brand identity.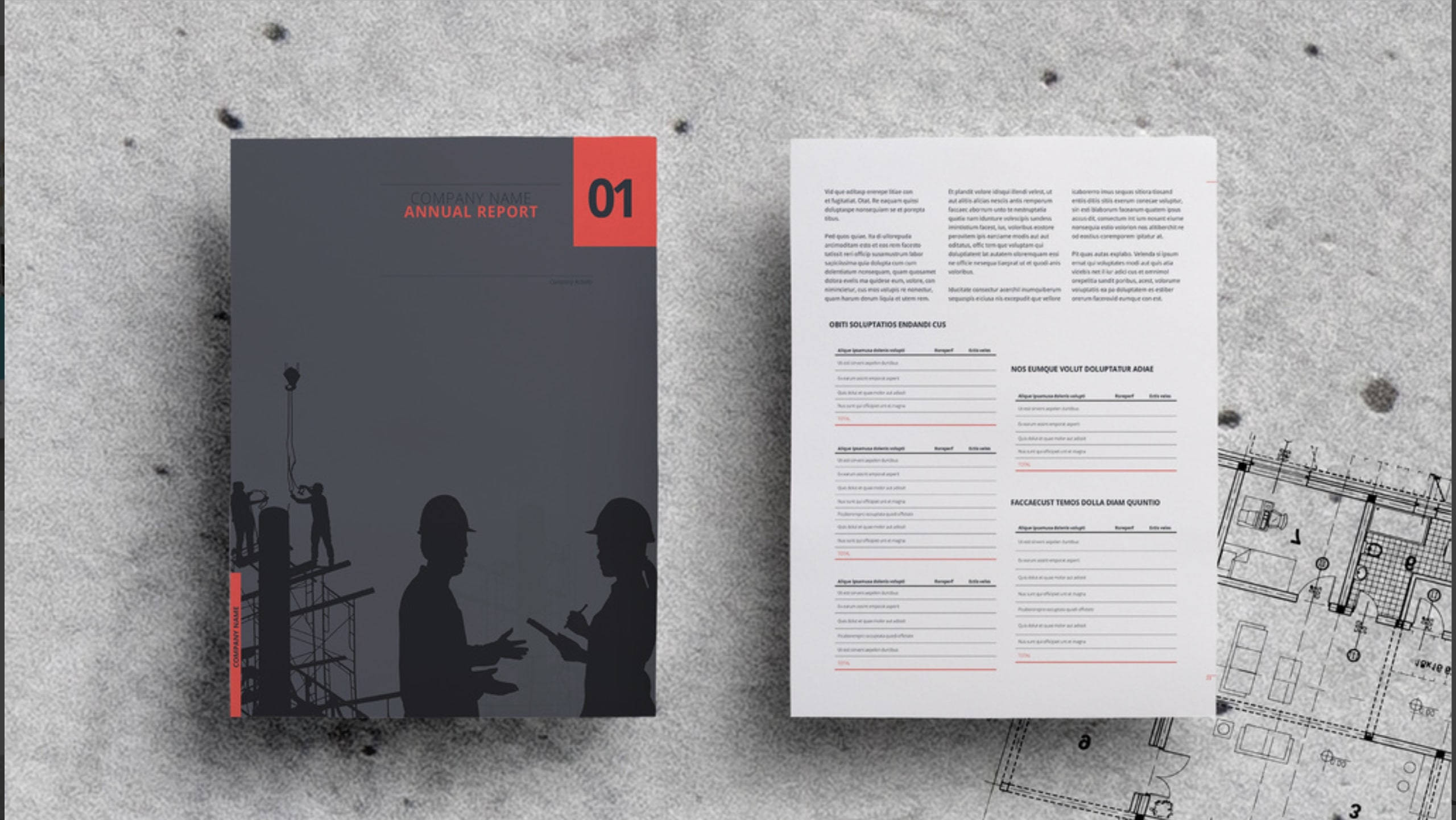 If you're wanting a minimal and professional business report template to document your monthly sales data, this beautifully-crafted report design is your sure-fire bet. The best part? It's available for free download.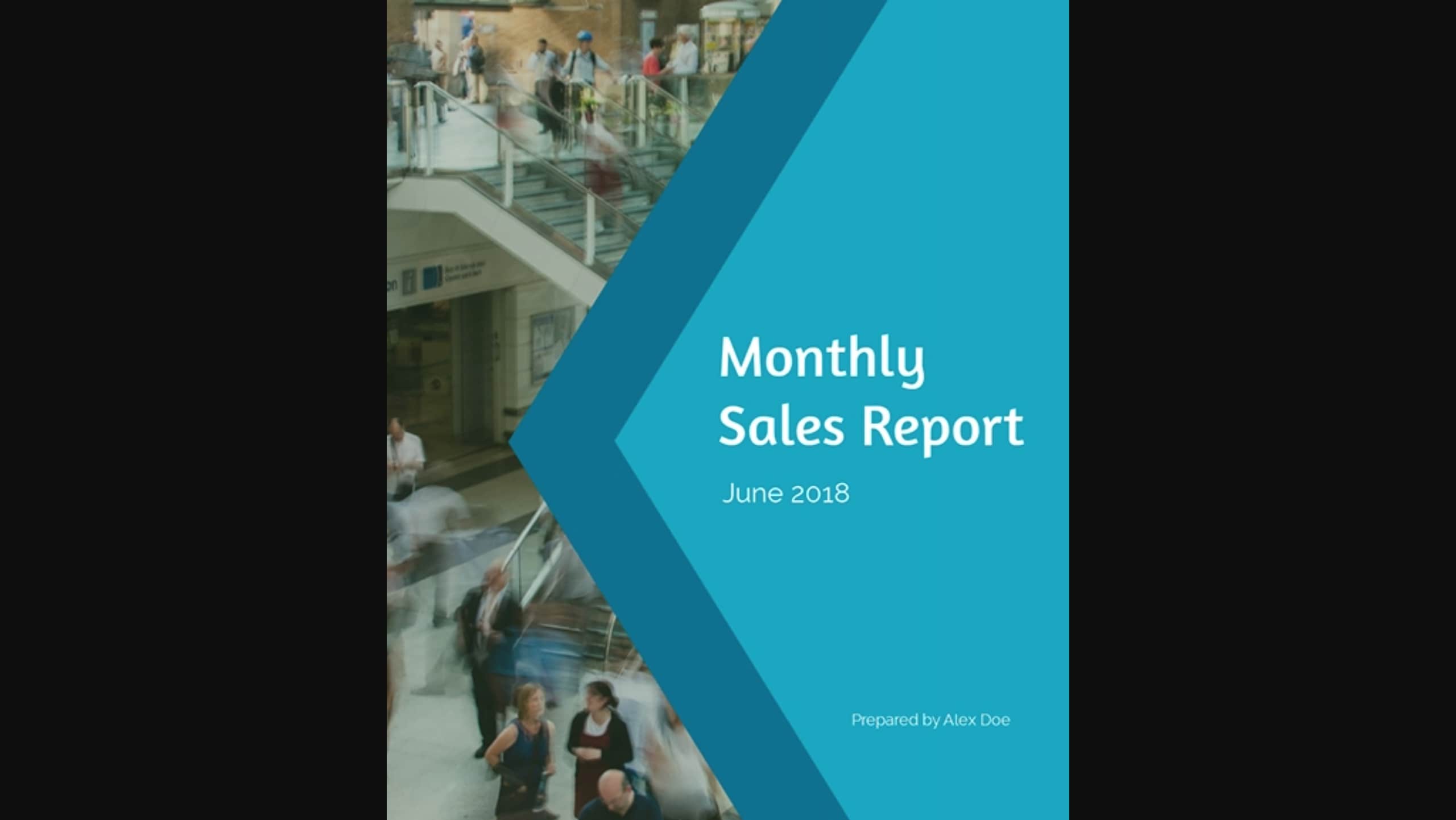 Personalize this modern and sophisticated monthly sales report template with your own information, images, and brand colors, and download the free version in JPG format. A good-looking template that is sure to make an impression.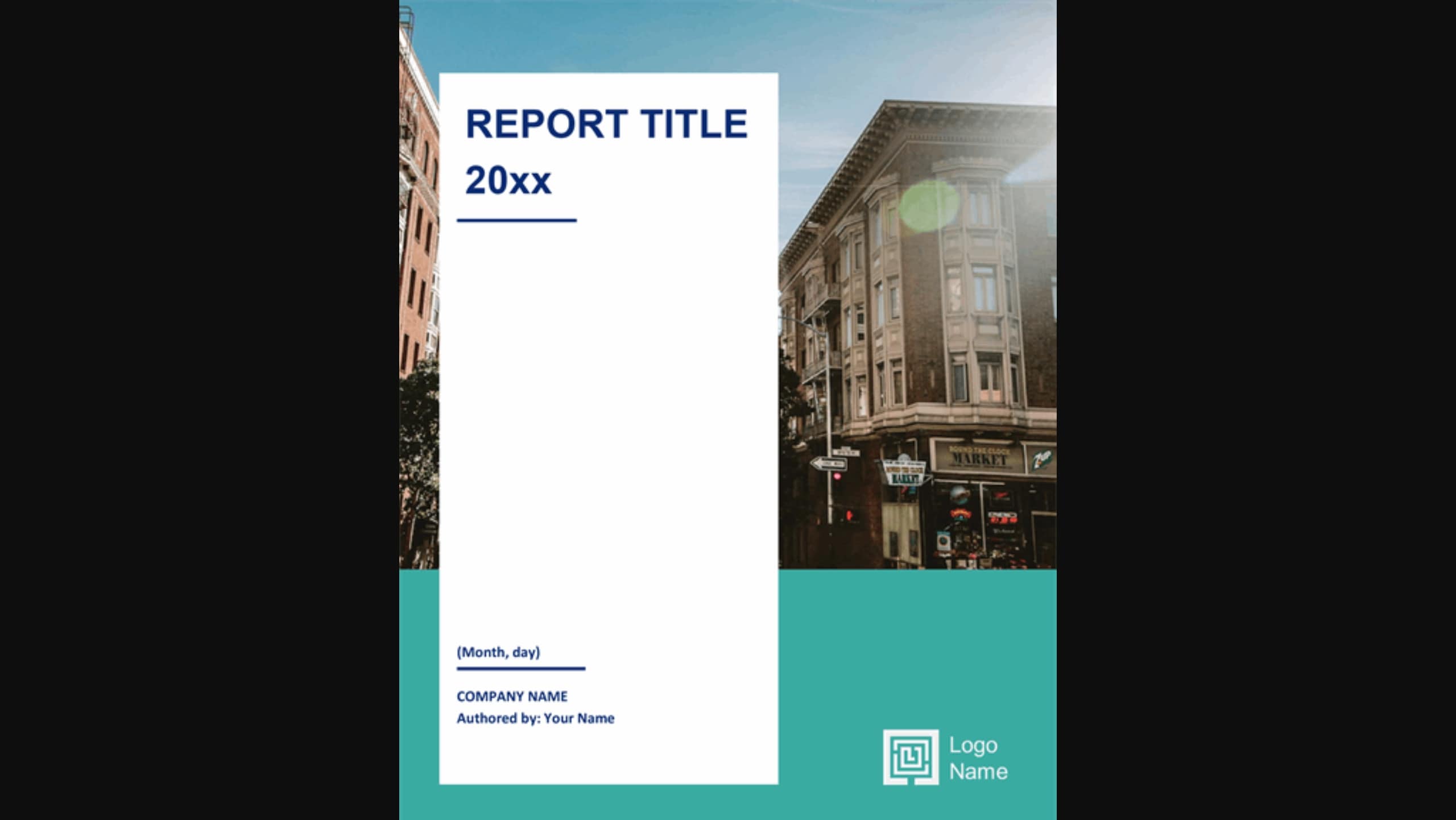 Last but not least, we have this simple yet eye-catching sales report template featuring a versatile design aesthetic, editable text, and other elements. You can download this beautiful template without spending a penny.
And there you have it – a selection of premium and free business report templates for all kinds of purposes, from sales to project presentations and everything in between. And best of all, they can be customized to perfectly suit your needs, giving you a truly impressive result!