Big Cartel vs. Shopify: Which Platform Is Best for Artists & Creators?
Every artist dreams of generating passive income by selling art and designs that they create. And today, we'll help you pave the foundation to making that dream come true.
Whether you're an artist, designer, illustrator, or influencer, there are many ways you can make money online selling your crafts. But, finding the right platform to sell your products is the key to selling more and earning more.
When it comes to selling stuff, Shopify is one of the first names that comes on top of a Google search. Shopify offers everything you need to sell all kinds of products online. Then there are smaller and lesser-known platforms like Big Cartel that offer specifically designed solutions for niche groups like creators.
So which platform should you use to sell your products as an artist? Is Shopify worth investing in as it offers multiple ways to sell products? Or should you go with Big Cartel since it has a free plan?
Let's find out.
Download hundreds of stunning Shopify themes and templates with an Envato Elements membership. For $16 per month, you have unlimited access to a growing library to thousands of themes, fonts, web templates, graphics, and more.
What is Big Cartel?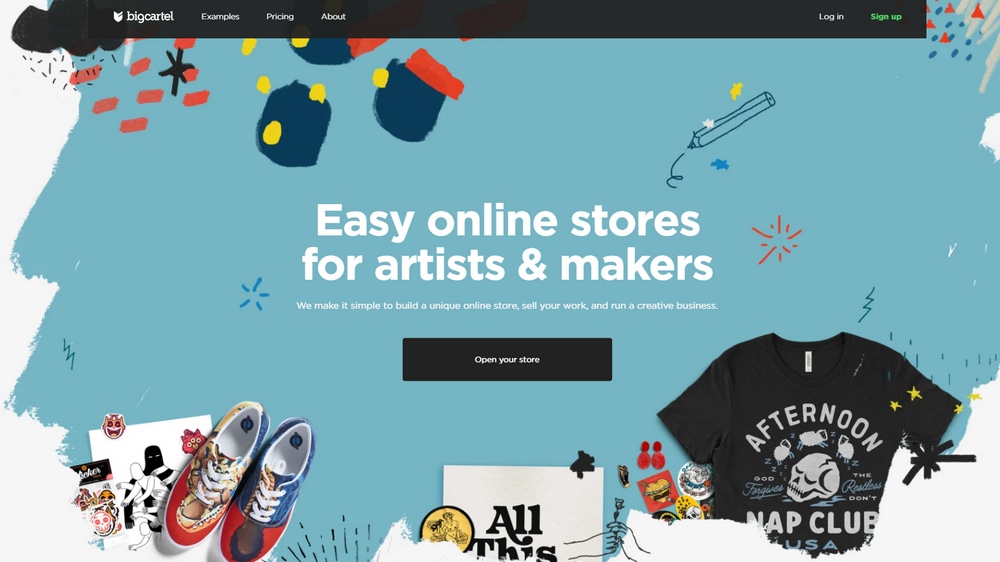 Big Cartel is an eCommerce platform that offers a set of features and facilities quite similar to Shopify. Using Big Cartel, you can setup a shop, upload your products, and sell on multiple platforms.
Even though Big Cartel may sound like a new platform, it's been around since 2005. Unlike Shopify, Big Cartel's mission is to stay small and offer a great experience to individuals, creators, and artists.
Big Cartel provides you with a complete all-in-one solution for setting up your own shop online and selling your hand-crafted items as well as digital products. The platform is perfect for creators, especially since it offers a free plan.
Of course, there are other benefits to using Big Cartel as well.
Sell Digital and Physical Products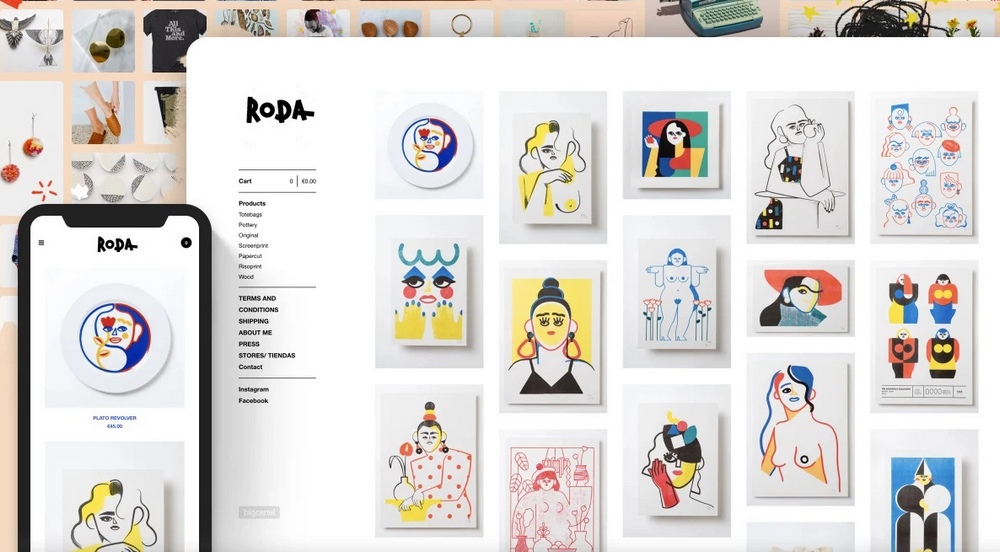 Big Cartel supports many different types of products. Whether it's a custom T-shirt, posters, mugs, or even a digital download of an eBook, you can sell almost anything using the platform.
The only downside is that you'll need to integrate some third-party apps to sell specific types of products and they will have additional pricing attached to them. For example, you'll need Printful integration ($9.99 per month) to sell print-on-demand products. Or Pulley ($6 per month) to sell digital downloads.
Create Your Own Personalized Online Shop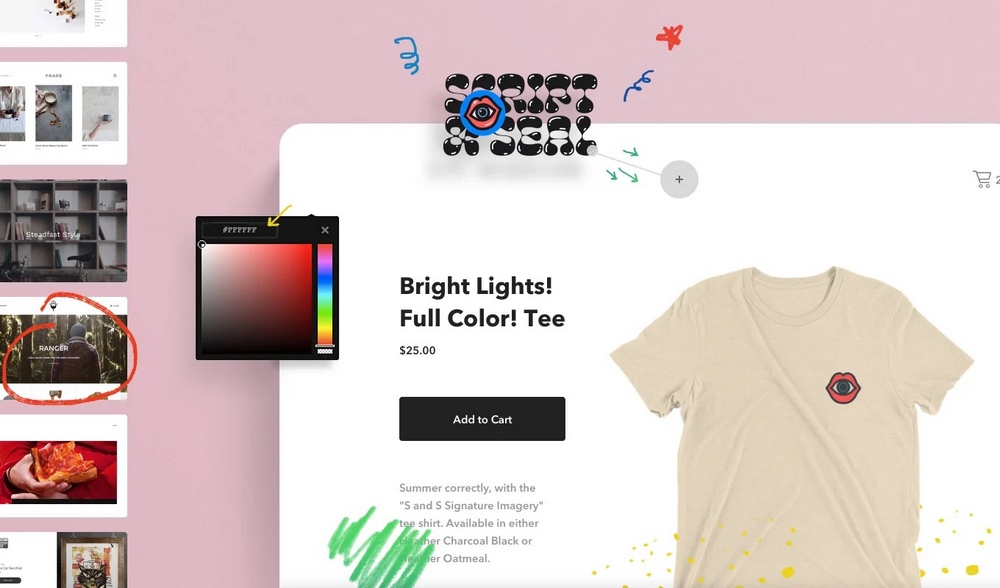 Even if you're using the free plan to setup a shop in Big Cartel, the platform gives you several different ways to customize your store to give it a personalized look and feel. You can even use a custom domain name for your store, for free.
Of course, with premium plans, you'll get more ways to customize the design, including the ability to customize theme code.
Sell Online or In Person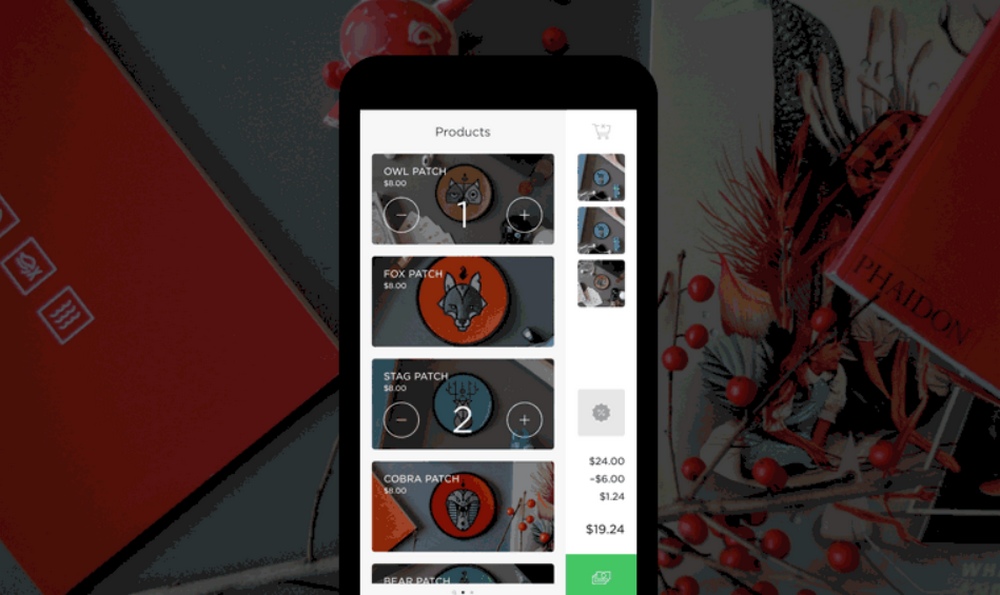 With Big Cartel, you don't need fancy PoS (Point of Sale) machines or card readers to sell in person. You can sell using your iPhone or Android app. Next time you're at an event selling posters and the customer doesn't have cash, you can accept payment with their credit card or PayPal using the Big Cartel app.
Lots of Third-Party Integrations
Big Cartel also offers many different third-party app integrations for extending the features of your store. It even offers Zapier integration.
In addition, you can integrate your store with Facebook, Instagram, Google Analytics, and more to generate more sales.
A Generous Free Forever Plan
Above all else, its generous free forever plan is the best part of Big Cartel. As an artist who earns with commissions, you often can't afford a monthly subscription just to maintain a store. With the free plan, you can use Big Cartel to start your store without having to break the bank.
Pros of Using Big Cartel
Very easy to setup and offers a beginner-friendly experience
Ability to sell physical and digital products
Run promotions and offer discounts
Sell products in-person
Completely free plan to sell up to 5 products
There are no platform fees for selling on Big Cartel. You only pay the processing fees for PayPal or Stripe
Cons of Using Big Cartel
Offers a niche experience, mainly for artists and creators
Lacks advanced options for customizing a store
Does not support third-party theme designs
Pricing Plans
Big Cartel has several pricing plans for creators of all sizes.
Free Plan is perfect for artists who want to experiment with an online store. It lets you sell up to 5 products for free and you can even connect a custom domain
$9.99 per month Plan is best for rising artists for selling multiple products. You can sell up to 50 products or variations. And it includes inventory tracking, the ability to add multiple product images, and Google Analytics too
$19.99 per month Plan is for established artists and creators. You can sell up to 500 products with this plan. And it comes with lots of other benefits.
What is Shopify?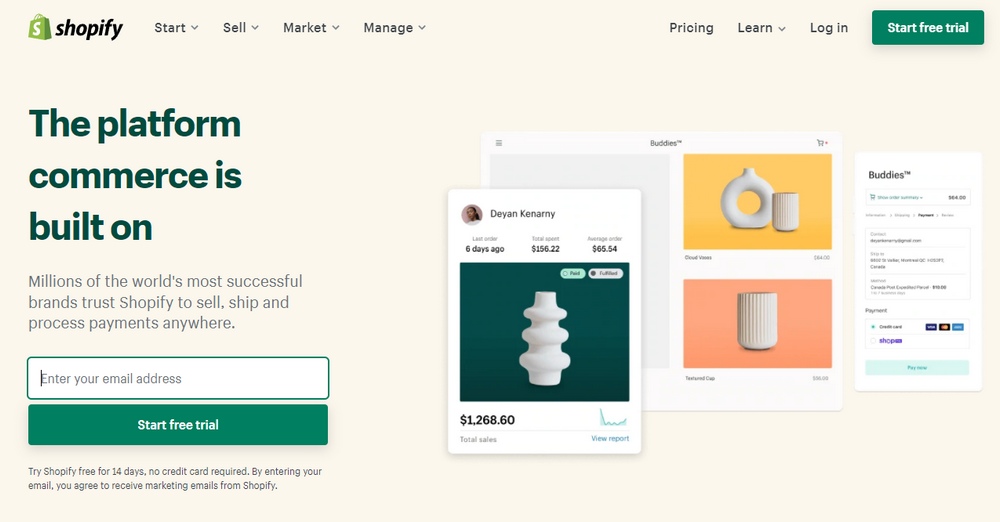 Shopify is arguably the most popular and biggest eCommerce solution available today with over 1.75 million merchants using the platform to sell all kinds of products. In the first 6 months of 2021 alone, Shopify has generated over $79 Billion in sales.
Shopify is used by all kinds of people to sell various products online. Even celebrities like Kylie Jenner started their empire on Shopify. The platform is now home to influencers, creators, dropshippers, and even small businesses. With Shopify, you can sell, fulfill and ship physical products more easily.
In comparison, Shopify is much bigger than Big Cartel in every way. So it's most suitable for established creators who want to scale their business and sell more products.
Sell All Kinds of Products Online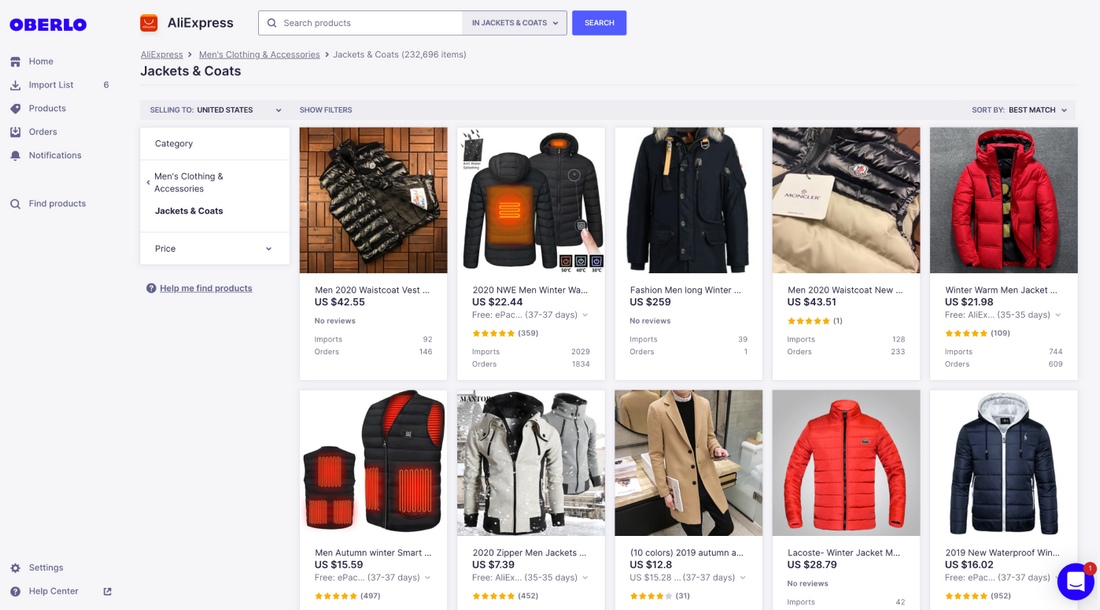 Similar to Big Cartel, you can sell all kinds of digital and physical products on Shopify. In addition to print on demand, DIY products, and digital downloads, Shopify even lets you sell digital subscriptions.
However, unlike Big Cartel, you don't have to pay additional fees to sell digital products or print on demand products on Shopify.
Customize Design with Third-Party Themes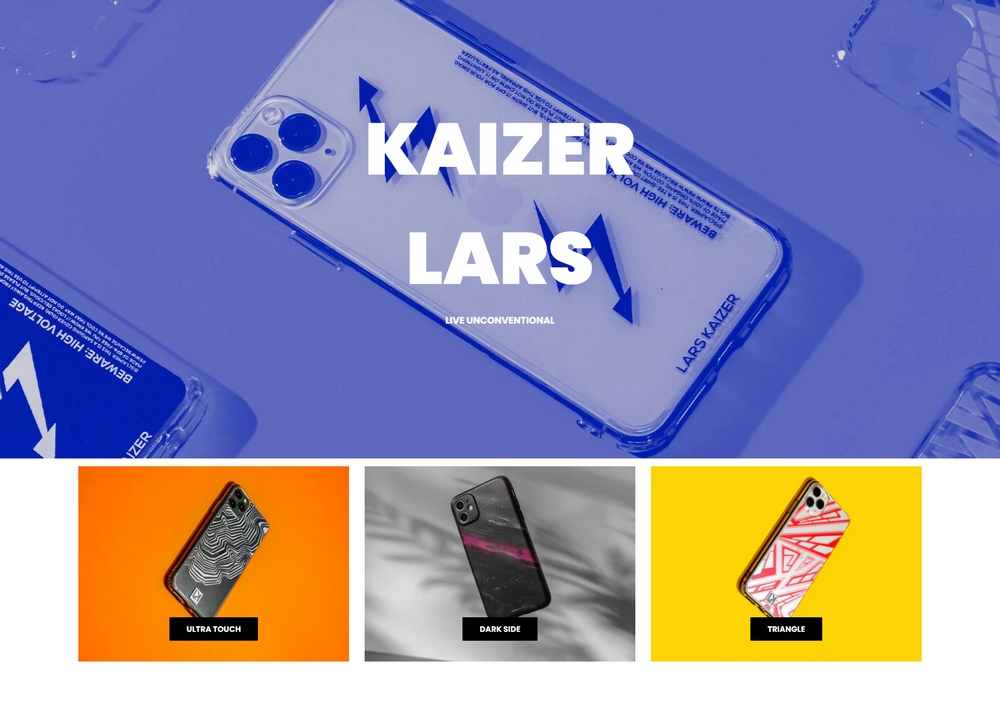 Shopify offers various ways to build and customize your own online store, like Mysterio Shopify theme. But the most useful feature is the ability to add theme designs from third-party marketplaces.
If you want to create a unique online shop that stands out, you can get custom Shopify themes from ThemeForest to create better-looking shops without having to code.
Sell On TikTok, Instagram, and eBay
Shopify can be integrated with multiple platforms and social channels to sell your products on multiple websites. This will boost awareness, bring more traffic, and generate more sales.
You can connect Shopify with Instagram, Facebook, TikTok, eBay, and more.
Built-In Marketing Solutions
Setting up a store is only the first step, you also have to plan your marketing and run promotional campaigns to sell products. Shopify has several great features for that.
With Shopify Email, you can send up to 2500 emails per month to notify your customers of sales and promotions. You can also easily integrate your products with Facebook Ads to sell products more effectively.
Shopify Payments
Shopify also has an in-house payment processing service called Shopify Payments. Using this service, you can process payments from your customers at much cheaper rates than using PayPal or Stripe.
Also, when using Shopify Payments, you don't have to pay a platform fee.
Pros of Using Shopify
Lets you sell all kinds of digital and physical products
Add unlimited products to your store
Sell on multiple sales channels
Sell products in person using the PoS app
Supports over 130 different currencies
Cons of Using Shopify
Does not have a free plan
Has a 2% platform fee charged from each sale on top of the fees charged by your payment processor
Pricing Plans
Shopify does not offer a free plan. But there's a 14-day free trial you can use to test the platform. Then you can switch to one of the premium options.
Lite: This plan costs $9 a month and it lets you sell your products on social media platforms or your personal website. But it doesn't give you a Shopify store
Basic: At $29 per month, this plan gives you access to all the basic features of Shopify with your own store and the ability to sell unlimited products
Shopify: At $79 per month, this plan lets you bring in more staff members with shipping discounts and more discounts in payment processing rates
Advanced: At $299 per month, this plan offers highly discounted platform fees and payment processing fees.
Shopify vs Big Cartel: Which Platform Should You Use?
Both Shopify and Big Cartel have their own unique traits and benefits. But, as a creator, you should look for a platform that fits in with your requirements and, more importantly, your audience.
Overall, Big Cartel is great for all types of artists and creators for selling a few products online. You can easily connect with Instagram to sell your products on social media. It has no platform fees. And there's a free plan for getting started with zero investment.
If you're an established artist who wants to build a big store with an extensive inventory, you should consider using Shopify. It offers more ways to scale your store. It supports more payment options. And it doesn't require using premium extensions to sell digital or print-on-demand products.
In conclusion, start with Big Cartel if you're new to selling art online. And then switch to Shopify when you want to grow your store.