45+ Best YouTube & Video Gallery WordPress Themes 2023 (Free + Premium)
Creating your own video publishing website has never been easier. Thanks to this collection of the best YouTube and video gallery WordPress themes, you'll be able to have your new website up and running in no time at all.
Whether you want to create your own video gallery website to display your best content or you'd rather launch your own YouTube-style community video portal, the right theme can take care of everything for you. With a varied selection of stylish designs to choose from, these video-friendly WordPress themes are well suited to a range of projects.
However, these themes aren't just about good designs. Each option in this collection of video gallery and YouTube themes has an impressive list of features. From the ability to accept video submissions from your visitors to a full suite of community and interactive features, you certainly won't be restrained by a lack of functionality with these themes.
Are you dreaming about your own YouTube channel, but don't know where to start? Logaster prepared recommendations and examples which will help make your channel recognizable. We'd recommend you read this piece on how to create a logo for your YouTube channel as a good starting point!
As well as all the useful video-related features, you'll also see that these themes include some of the best tools and functionality found in other more general themes are included. Depending on the theme, this could be a drag-and-drop page builder, a powerful slideshow tool, a detailed set of theme customization options, and compatibility with the leading WordPress plugins. At least one pre-built website demo comes as standard with all of these themes, although many include multiple designs for you to choose from.
Regardless of how you want to use video content on your website, the WordPress themes in this collection have much to offer. Plus, our tips on how to embed a YouTube video in WordPress and tips for building a YouTube website can help you get off to a great start!
How to Embed a YouTube Video in WordPress
Embedding a YouTube video in a WordPress post or a page is fairly simple, thanks to oEmbed discovery. oEmbed was introduced to the platform in WordPress 4.4. It allows you to turn any YouTube URL into an embedded video.
If you're using WordPress 4.4 or a newer version, you can easily embed a YouTube video in a post or page by simply copying the URL for the video and pasting it into the body of the content. Then WordPress will automatically convert the link and embed the video in your post.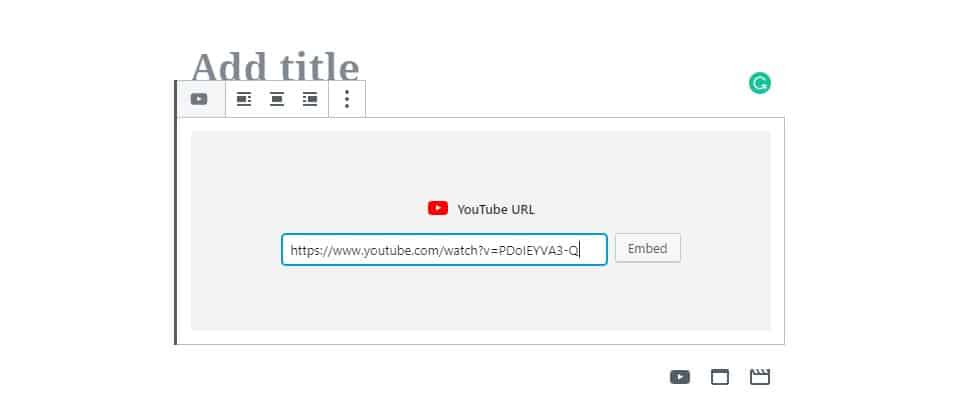 The new Gutenberd editor also has a YouTube block and you can use it to embed YouTube videos as well.
If you're using an older version of WordPress or want to embed a video with custom dimensions, you can do so by copying the embed code manually. Here's how it's done.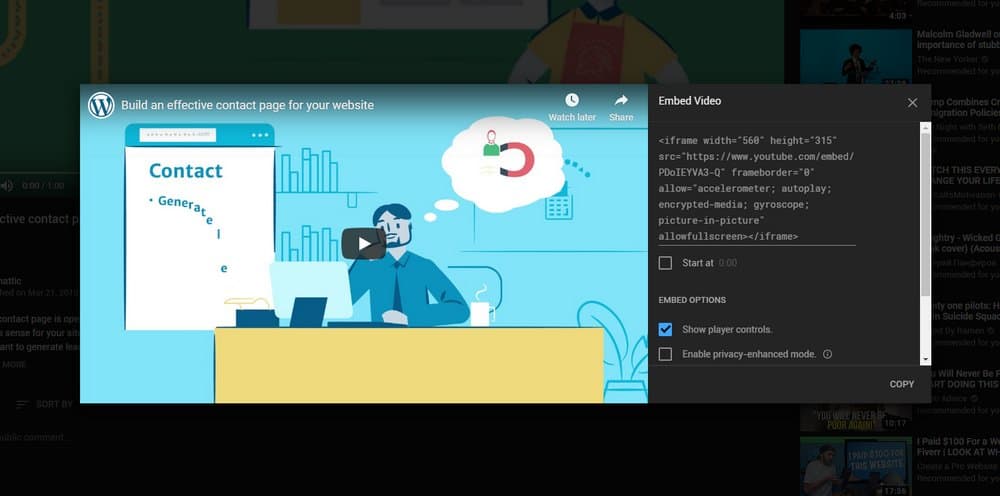 Go to the YouTube video page you want to embed
Click on the Share button and choose Embed
Copy the iFrame code
On the WordPress post editor, switch to the Code Editor (or Text) tab
And paste the iFrame code where you want the video to appear
When using this method, you can also adjust the width and height of the video embed manually to change the size of the video as well.
5 Tips for Building a YouTube Website
If your making a site that heavily relies on YouTube content, here are a few useful tips that you should follow.
1. Use a YouTube Optimized Theme
When you embed a YouTube video on your website, it needs to pull data from YouTube each time a user loads your website in order to show the embedded content. As you can imagine, this can create longer loading times depending on how many videos you have embedded on your website.This is why you should use a YouTube optimized WordPress theme. These themes are optimized for effectively showing YouTube content.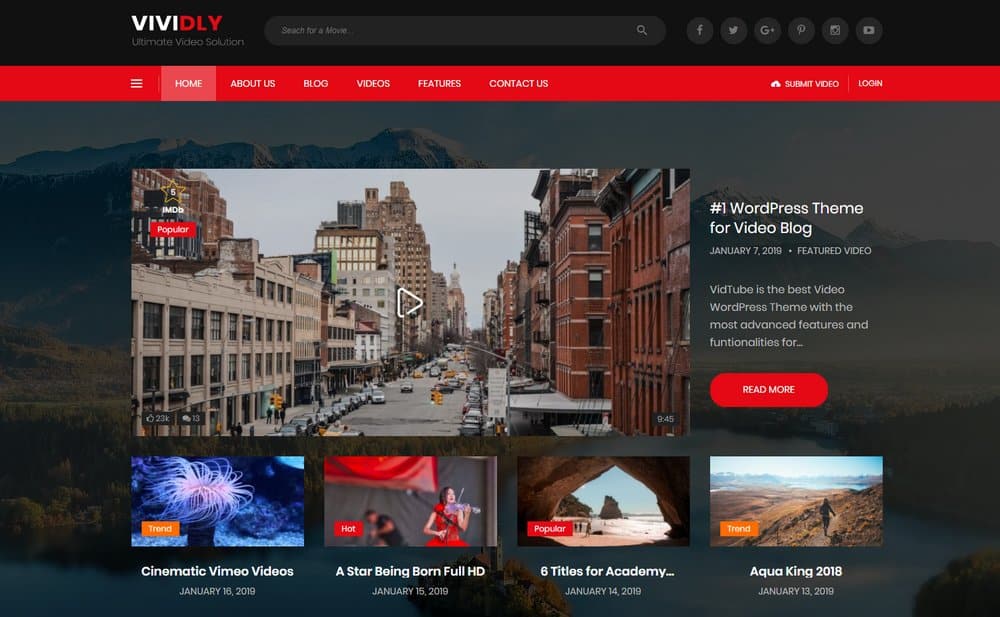 For example, YouTube-friendly themes often lets you embed videos on the homepage. But, instead of embedding the video directly the theme pulls the thumbnail of the video from YouTube to show a static link on the homepage. Only when you click on the link the video opens in a modal window and start playing.
Which creates a very lightweight and fast loading experience.
2. Use Custom Thumbnails
If the YouTube video you're embedding doesn't have a good thumbnail, you can add a custom thumbnail from WordPress to make the video look pretty on your website.
Most YouTube WordPress themes like Vividly support this feature by default and makes it much easier for you to create a professional video website design, even if you don't own the videos you embed.
3. Create Video Galleries and Albums
If you're planning on creating a videography website with video galleries and albums or an online learning platforms with video categories and course videos, you'll also need to create video gallery posts.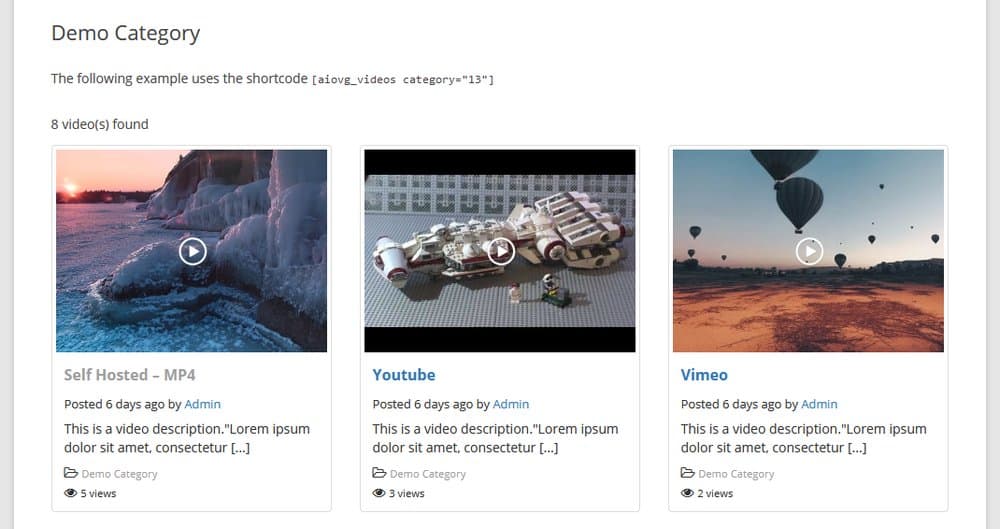 While premium YouTube WordPress themes include built-in features for creating video galleries, if your current theme doesn't have this feature you can easily add it using a free plugin like All-in-One Video Gallery.
4. Built-In Video Player and Features
YouTube's embedded player usually work smoothly everywhere, but your website should also have other features to offer a better experience to your users.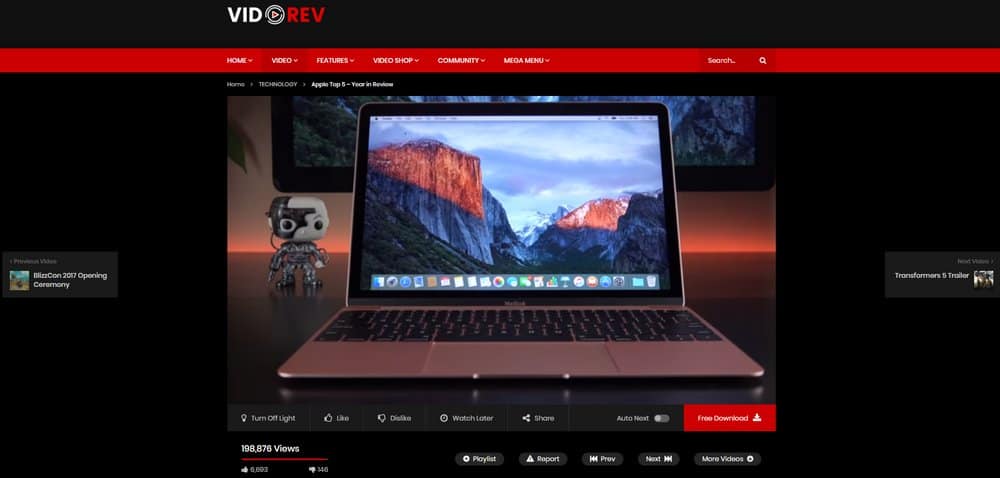 For example, you can add a theater mode to your website to allow users to view videos in a distraction-free environment, add options to skip videos in YouTube video playlists, display view counts from YouTube, and more.
5. Consider Using a Dark Design
Videos look better in dark theme designs. Even YouTube recently introduced a dark theme for its user interface to offer a smoother viewing experience.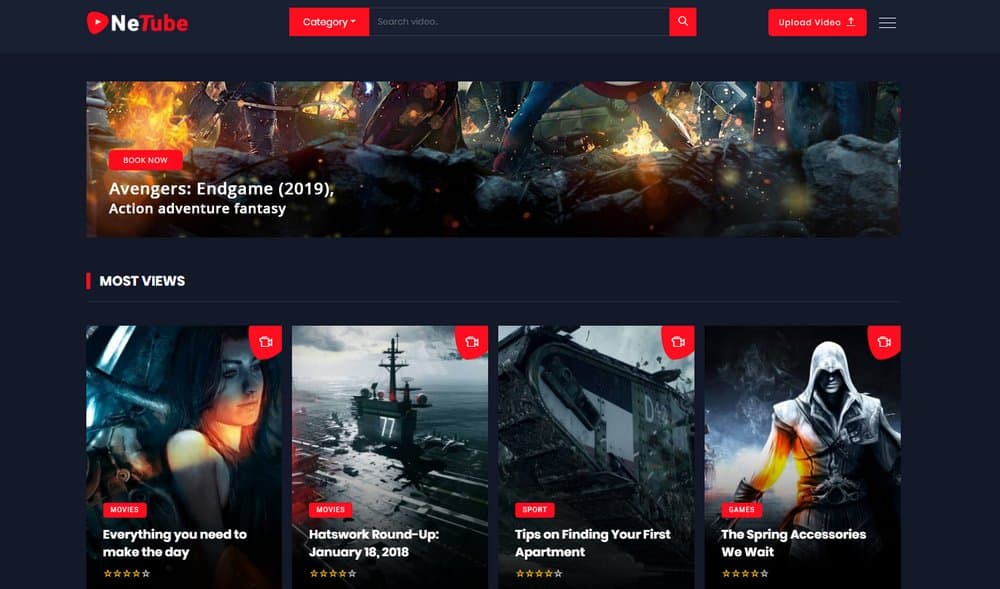 Consider using a WordPress theme with dark background design to effectively highlight your videos and create an enhanced theater-like experience.