20+ Best WordPress Themes for Podcasts 2022 (Free & Premium)
Setting up a website is a great way to build brand awareness for your podcast. Use our collection of the best WordPress themes for podcasts to find inspiration.
Podcasting is one of the most popular and effective methods of building brand awareness. Some have even turned their podcasts into profitable income streams as well. If you're planning on starting a podcast or already have one, you should consider building a website to promote your podcast.
Having a website for your podcast can bring many benefits, including the ability to have a landing page to drive your listeners to learn more about you and drive. And be more discoverable on search engines to drive visitors from your website to podcast. Or even to make things easier for more sponsors to find your podcast.
You can easily set up a podcasting website using WordPress without having to break the bank. In this collection, we're featuring some of the best WordPress themes you can use to build an effective podcast website. These themes are fully compatible with all the popular podcasting plugins and allow you to easily embed your podcast episodes even from external sources.
5 Tips For Building A Website For Podcasts
When using WordPress to build a website for your podcast, there are a few features and options you need to watch out for, especially when picking a theme, to make the website more effective.
1. Support For Podcasting Plugins
One of the best things about WordPress is the ability to extend the features of your website with third-party plugins. When it comes to podcasting websites, there are plenty of useful plugins you can use, like Blubrry and Libsyn, which makes things easier for you to host your podcasts and see download stats with ease.
However, you should keep in mind that not all WordPress themes support these plugins. When picking a theme for your podcast, be sure to check for plugin compatibility to see if it works with your favorite podcasting plugin.
2. Support For External Embeds
When podcasting, you'll also use external platforms to host your podcast episodes, like SoundCloud and Bandcamp. These platforms let you to easily embed your audio files on websites using script code, allowing you to save hosting space and reduce server load.
It's up to you to decide whether to use a podcasting plugin like Blubrry or use Bandcamp to host your episodes. As long as your WordPress theme supports these platforms, you'll be good either way.
3. Effectively Designed Archive Pages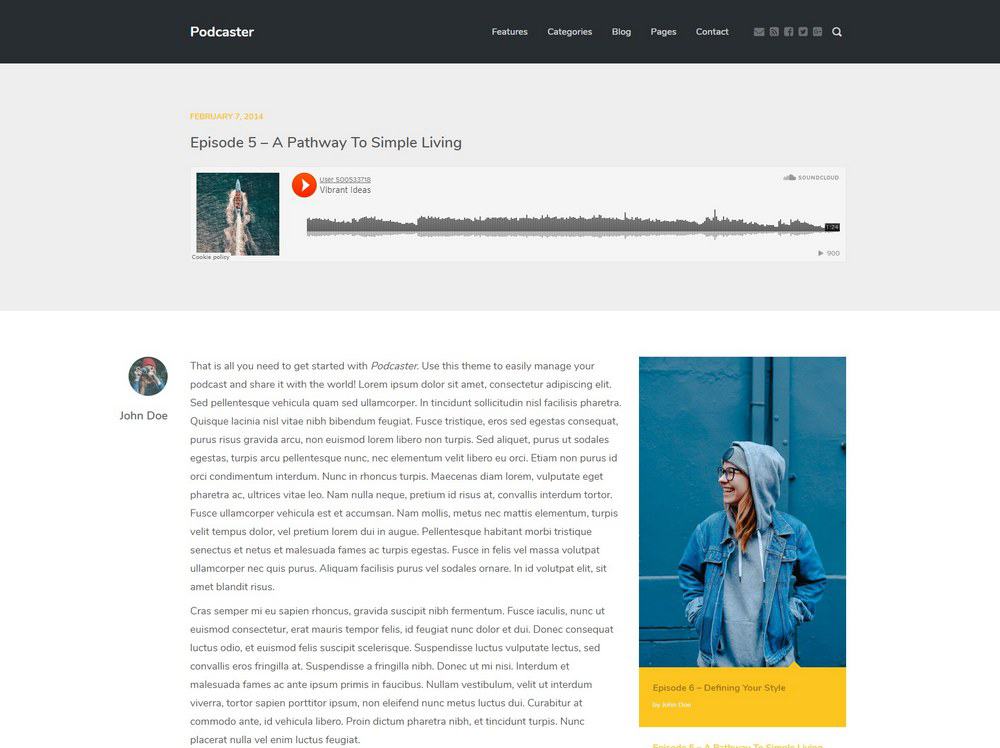 Podcast websites are similar to having a blog. In fact, you even create a blog post for every podcast episode you create to include a round-up of your episodes, include links to references, a transcription, downloads, and more.
Having a properly designed archive page will make this entire process much easier and allow visitors to browse your podcast episodes easier. It should include an easy to explore design, easily searchable, and better embedding designs.
4. Include Call-To-Actions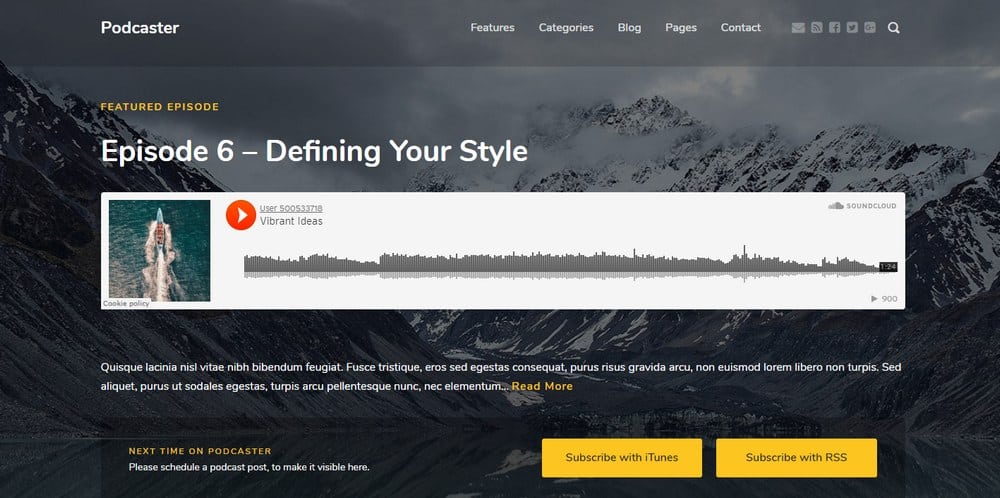 It's very important to include a call-to-action on your website to drive visitors to take action and to convert your website visitors into subscribers. After all, that's the main purpose of your website.
Make sure to include call to action buttons on your website to encourage visitors to subscribe to your podcast on iTunes or subscribe with RSS.
5. Powerful Audio Player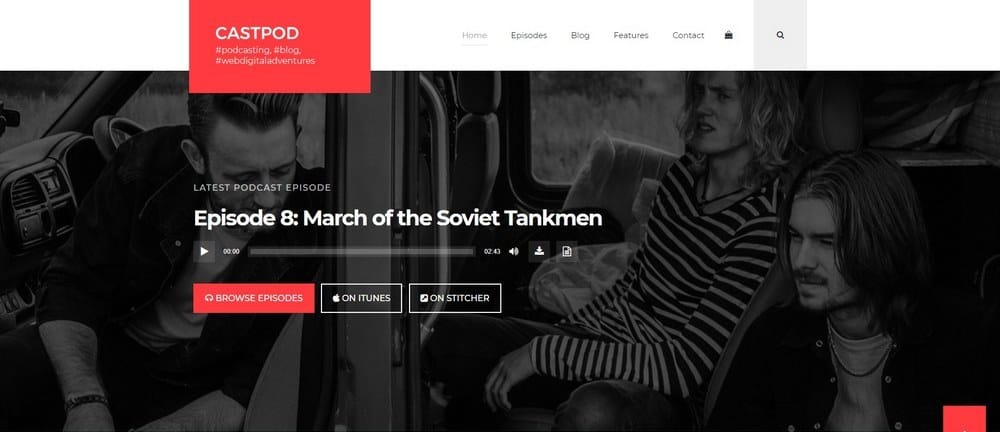 Including a smooth and effective audio player is probably the most important feature of a podcasting website. It's how your visitors will be able to listen to your episodes on the website. Most podcasting WordPress themes have built-in audio players. You can also use a plugin to improve the player interface and functions.
You don't have to worry about this if you're planning on embedding episodes from a third-party platform like Basecamp.