With the best WordPress review themes, creating a reviews website with a high-quality design that will be taken seriously by your target audience has never been easier.
We've previously shared a guide on how to create a review website with WordPress. So in this collection of the best WordPress review themes, we'll introduce a selection of templates and tools that can turn a regular WordPress website into a fully functioning reviews resource.
Among these themes, you'll find a range of options for publishing reviews in many different industries and areas of interest.
The best themes here give you the option of allowing your visitors to sign-up and either share their own reviews on your site or rate and review the content you've published. Depending on which theme you choose, you could be able to create custom criteria for your reviews and define how the ratings are presented.
As well as the reviews functionality required to be included in this collection, many of these themes include multiple website demos and a good selection of pre-built content and templates for the pages of your website. Some options also include page builder tools that make it easy to customize this content and create your own page layouts and designs from scratch.
Whether you're looking for a stylish and efficient way to publish your own personal reviews online or you want to create a community driven hub for reviews and news in your area of interest, this collection of the best WordPress review themes will help you launch your project.
Bucket - Magazine-Style WordPress Review Theme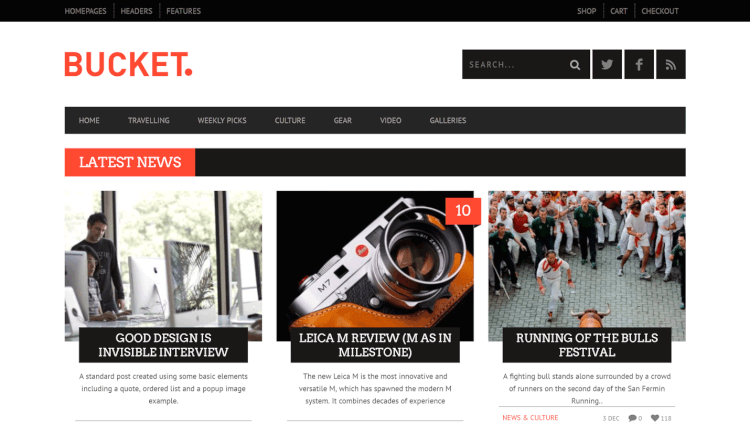 Bucket is a digital magazine-style WordPress theme with a modern design featuring a large homepage slider. Thanks to the integrated reviews system, Bucket more than deserves its place in this collection of the best WordPress review themes. If there's anything about this theme that's not quite right for your website, the included drag-and-drop page builder is on hand to help you carry out any customization work.
NewsCore - Magazine and News WordPress Review Theme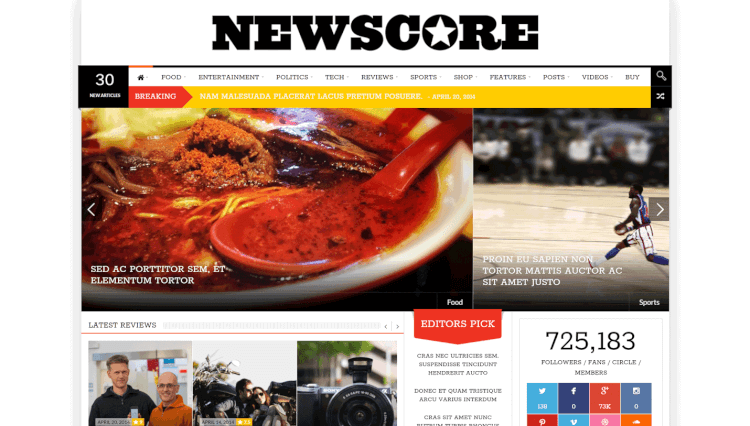 NewsCore has three homepage designs and a drag-and-drop page builder tool to help you create the perfect review website with WordPress. To ensure your reviews do a good job of engaging with your readers, there are multiple page templates and layouts to choose from as well as a selection of custom widgets for upgrading your sidebars and footer areas.
LifeMag - News and Magazine WordPress Review Theme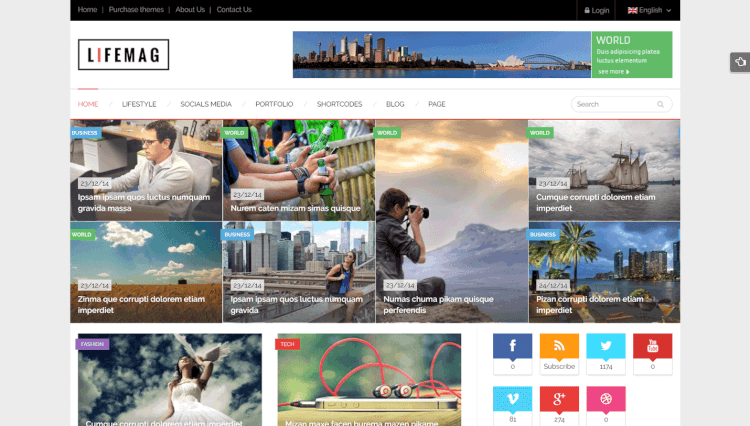 LifeMag gives you multiple layouts to choose from, covering the homepage design, header arrangement, and other presentation aspects of your reviews website. You can also choose from the selection of color skins or create your own through the theme options control panel. Monetizing your site is easy too, thanks to the multiple ad slots and AdSense support.
Jannah - Magazine and Blog WordPress Review Theme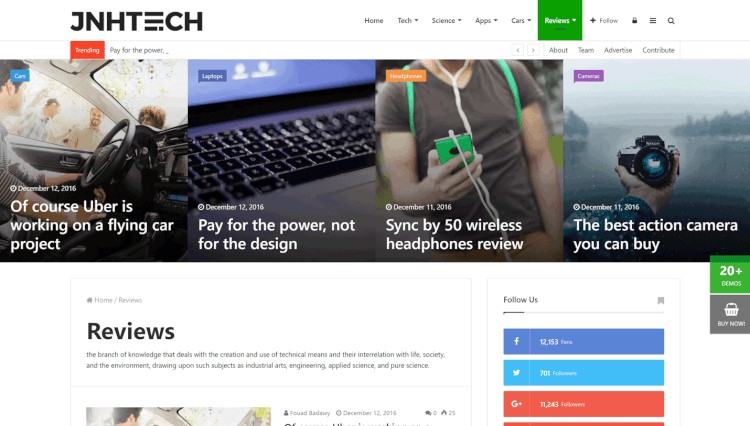 Jannah is another stylish news and magazine WordPress theme with a strong review publishing component. Jannah has good support for a range of third party plugins including WooCommerce, BuddyPress, and bbPress, therefore no matter what type of website you want to create, from ecommerce stores to social networks, Jannah and its review publishing features could be a good choice.
PressMagz - Editorial News and Magazine WordPress Review Theme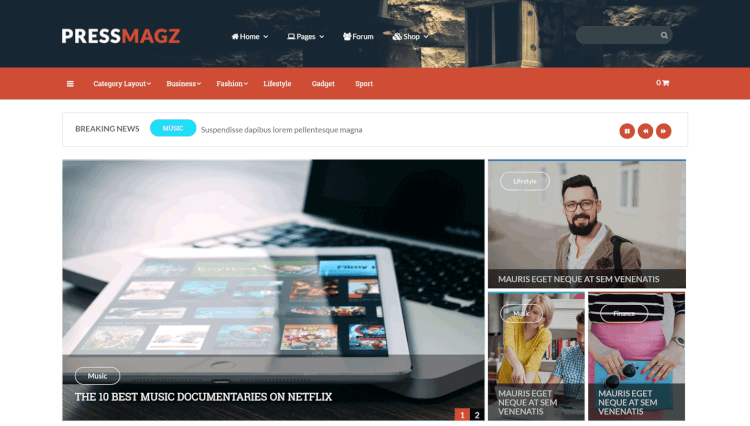 PressMagz is ideal for creating a range of different types of content-focused WordPress websites. No matter how you choose to use this versatile theme, you should have no trouble publishing informative reviews on your website. With the customizable review features of PressMagz, you can ensure your reviews have the right look for your audience.
Newspread - Magazine and Newspaper WordPress Review Theme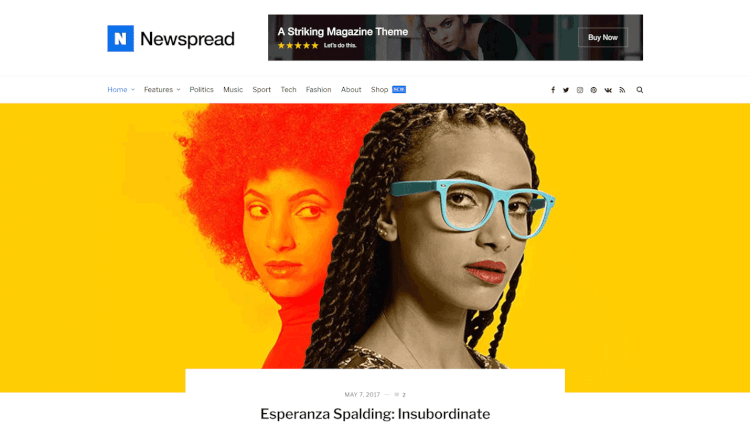 Newspread can be used to create news, magazine, and blog websites that have the ability to publish professional-looking reviews. As well as a stylish design, the Newspread WordPress review theme also features plenty of customization and monetization options. Getting started is easy too, thanks to the one-click demo importer tool.
Sun - News and Reviews WordPress Theme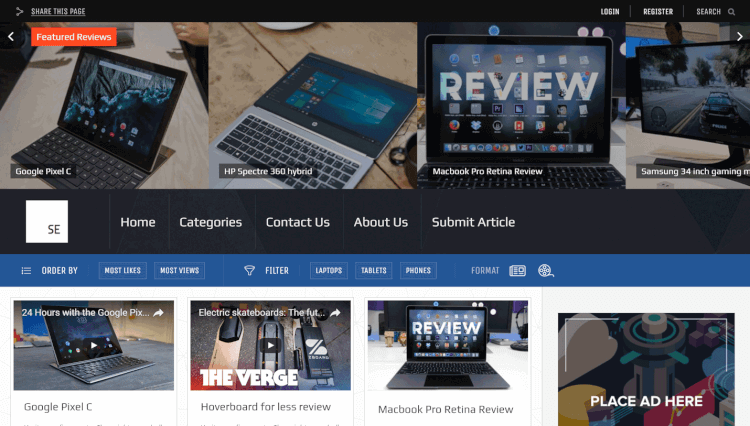 Sun makes it easy to publish reviews regardless of whether you're running a blog, news, magazine, or any other type of WordPress website. The premade layouts of the Sun theme all offer a good amount of originality, without being too unique that they might confuse your visitors. If there are any aspects of Sun you'd like to change, there's a good chance you can do so through the theme customization panel.
Huber - Multi-Purpose WordPress Reviews Theme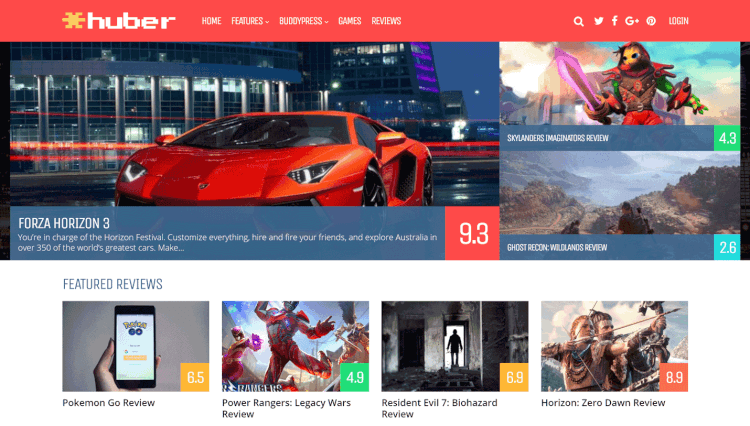 Huber has all the features you'd expect to find in the best WordPress review themes. Whether you want to publish all the reviews yourself or give your visitors the ability to submit reviews through the front end submission forms, Huber makes it possible. When setting up your website you get to choose from a range of different reviews and rating systems, making this a flexible option.
Viper - Multi-Purpose Reviews WordPress Theme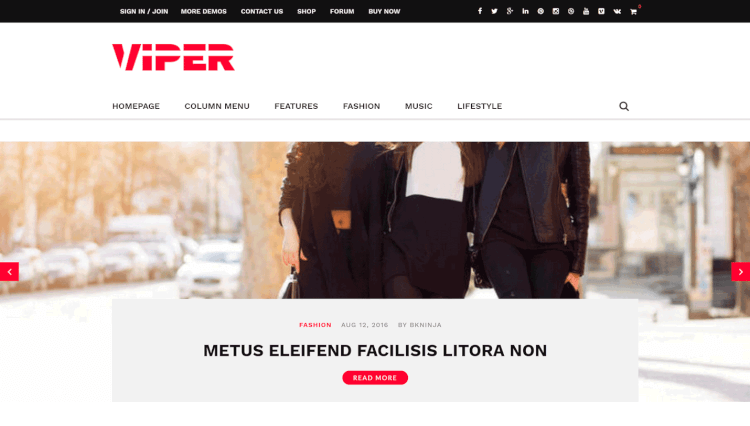 Viper is a multi-purpose WordPress theme that has plenty to offer anyone building a reviews website. As well as the library of pre-made content and layouts, you can customize most aspects of your website through the theme options control panel or the included page builder tool. You'll also find full WooCommerce support for selling products online.
WP Portal - Reviews Portal WordPress Theme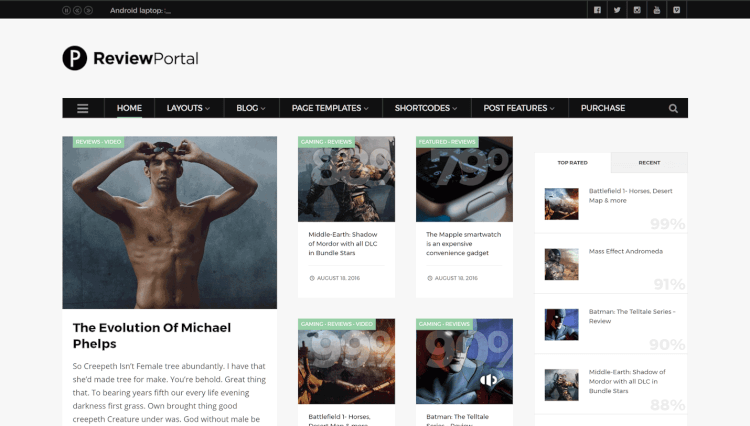 WP Portal has been designed to help you create a professional looking news or magazine style website. Bloggers could get a lot of use from this theme too. Among its many features is its review publishing tool, helping WP Portal earn its place in this collection of the best WordPress review themes.
Maga - Custom Reviews WordPress Theme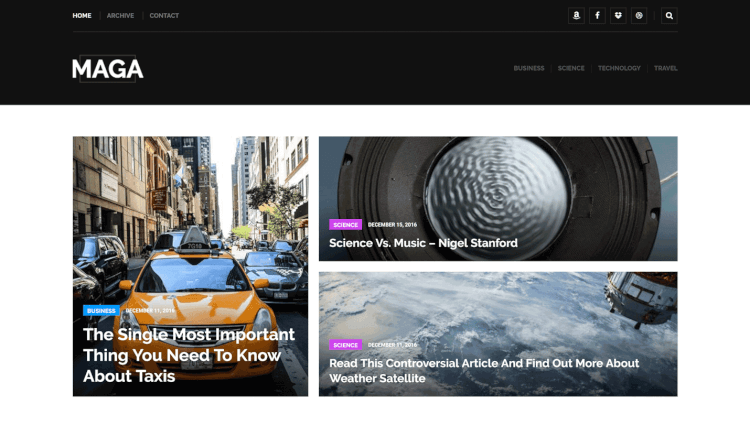 Maga is a WordPress reviews theme with a modern and minimal design. As well as giving you an easy way to add reviews to your blog or build a WordPress website that's entirely focused on publishing reviews, Maga gives you the ability to mix and match its different components to design a custom reviews site.
Gamez - Games and Movie WordPress Review Theme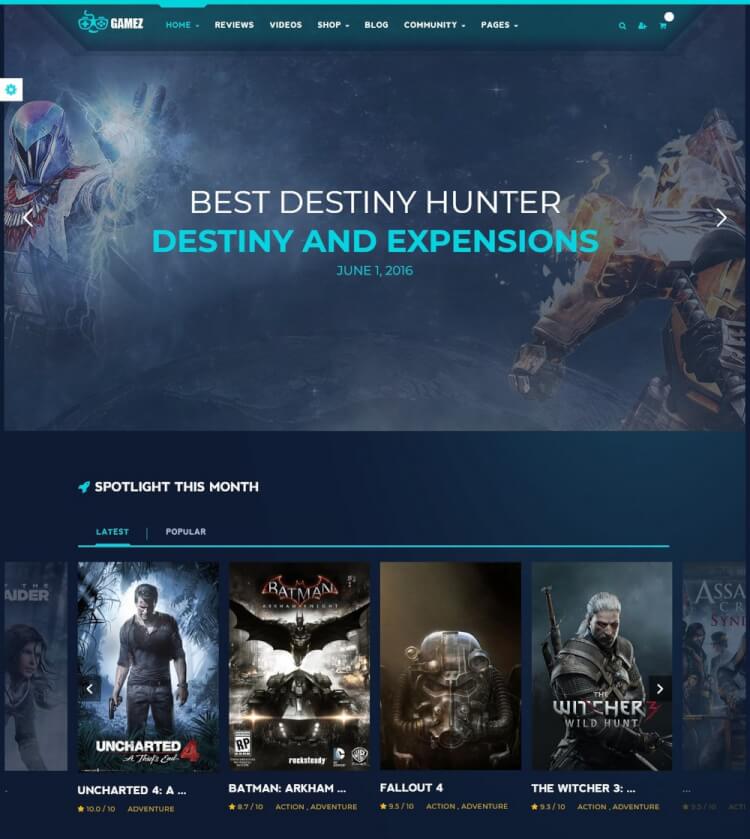 Gamez version 2.0 has recently been released, making it one of the most up to date options in this collection of the best WordPress review themes. As the name suggests, websites that are reviewing video games will find the most value from this theme. However, if you're publishing content in a similar niche, such as films or TV, Gamez could work just as well.
Apemag - Magazine and Reviews WordPress Theme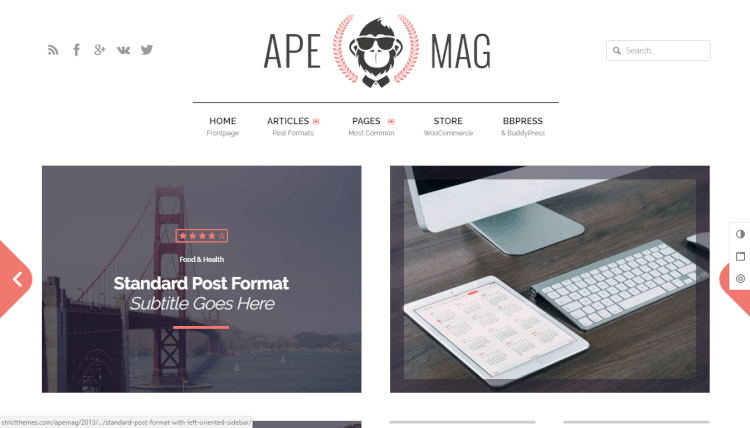 Apemag is an ad-optimized WordPress magazine theme with an integrated reviews system. Due to this, you can not only let your readers rate and leave other feedback on your content but you can also publish your own original reviews. Furthermore, as Apemag has been built for monetization through adverts, everything you need to start generating revenue from your reviews site is included.
Top Magazine - News and Magazine WordPress Review Theme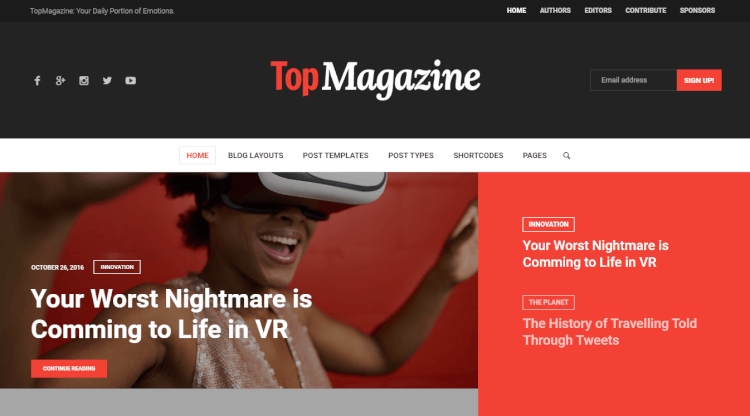 Top Magazine is a WordPress theme that will help you create a content rich website on a range of topics. Every time you publish a new article or review on your site, you'll have a selection of high-quality templates to choose from to ensure each piece of content has the right look and feel. Thanks to the advanced review functionality, you'll easily be able to define how reviews are handled on your site.
RoProfit - Affiliate-Friendly WordPress Review Theme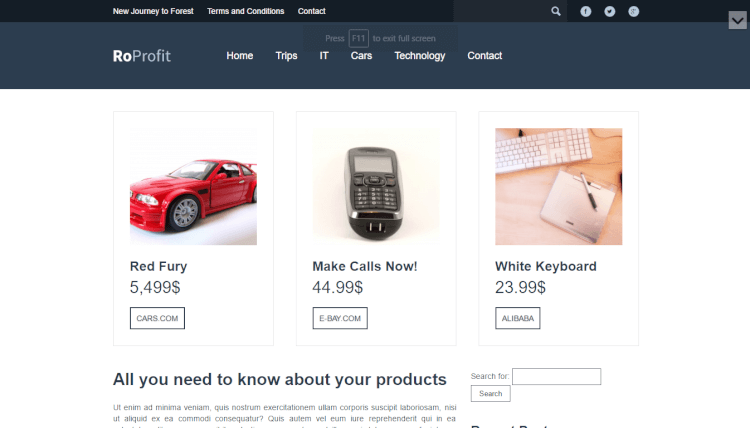 If you want to create a review website, then RoProfit from the ThemeIsle team is ready and waiting. The design of this WordPress review theme is best described as minimal. Thanks to this, there'll be little to distract your visitors from your main content and the reviews you've published. When it comes to monetizing your reviews website, RoProfit includes all the functionality you'll need to generate a profit using affiliate links.
PowerMag - Review and Magazine WordPress Theme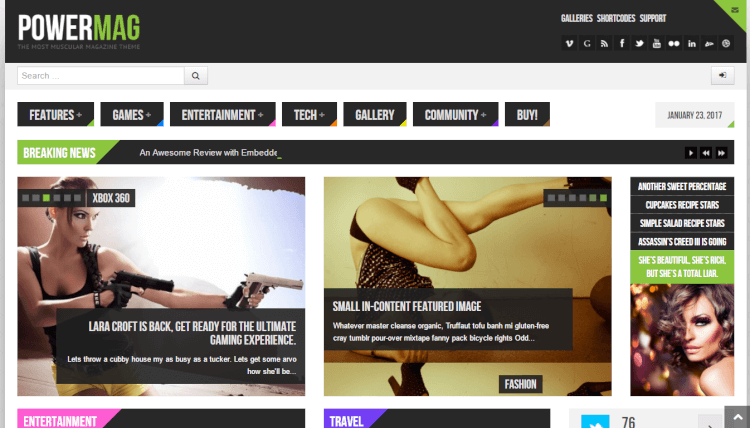 PowerMag includes all the features you'd expect to find on a professional reviews site. After activating this theme on your WordPress website, you'll be able to publish stylish reviews with high-quality presentation effects. Thanks to recent updates, PowerMag looks even better on smartphones and tablets, ensuring your website will be easy to use for the growing number of people accessing the internet on mobile devices.
SiteBox - Responsive WordPress Reviews Theme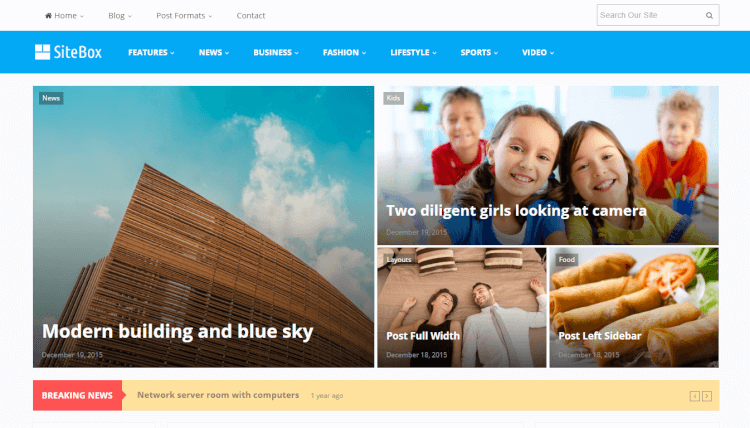 SiteBox and its selection of pre-built layouts, templates, and other demo content, will help you launch a WordPress-powered reviews site in no time at all. Thanks to the full-width design and layout of this theme, you'll be able to take full advantage of your visitors' screens to ensure they can see any many reviews as possible.
Steam - Magazine and Reviews WordPress Theme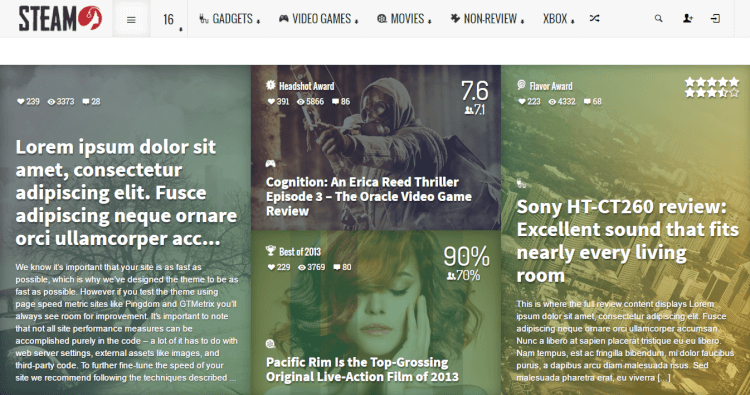 Steam is a reviews and magazine WordPress theme that's been designed for websites publishing new content on a regular basis. Steam uses MegaMenus and other navigational aids to help your visitors find their way around your growing list of articles and reviews. When it comes to publishing reviews and other content, you can use the integrated page builder tool to ensure your articles have the right look.
TrueReview - Felxible WordPress Review Theme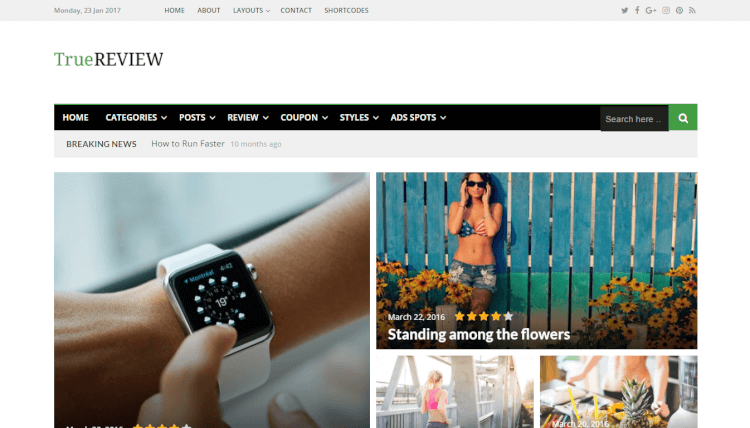 TrueReview lives up to its name by providing you with all the features that are required to build a professional reviews website with WordPress. Publishing reviews and discount coupons on your website is very straightforward, thanks to the pre-built templates and back-end functionality of TrueReview. No matter what type of reviews you want to publish, this theme can be easily adapted to match the topic of your site.
BookRev - Book Review WordPress Theme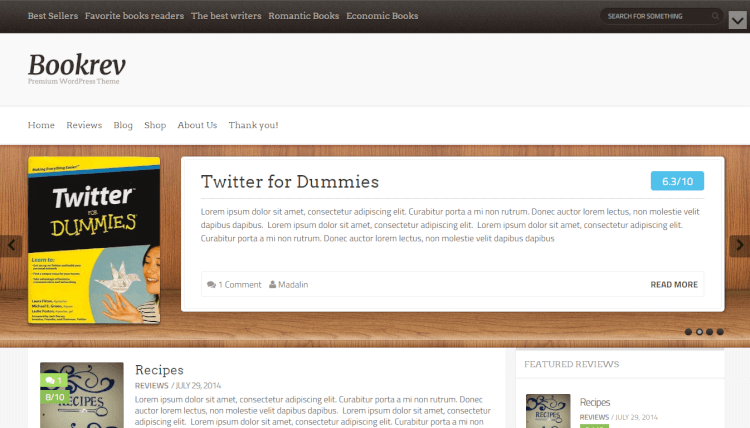 BookRev has been designed to help you start a book reviews website with WordPress. Not only can you easily publish reviews on your website when using this theme, but thanks to its support for the WooCommerce plugin, you can just as easily list items for sale. Both physical products or digital downloads are supporting, giving you plenty of ecommerce options. The design of this WordPress review theme is worth checking out too.
ReviewPro - Magazine and Reviews WordPress Theme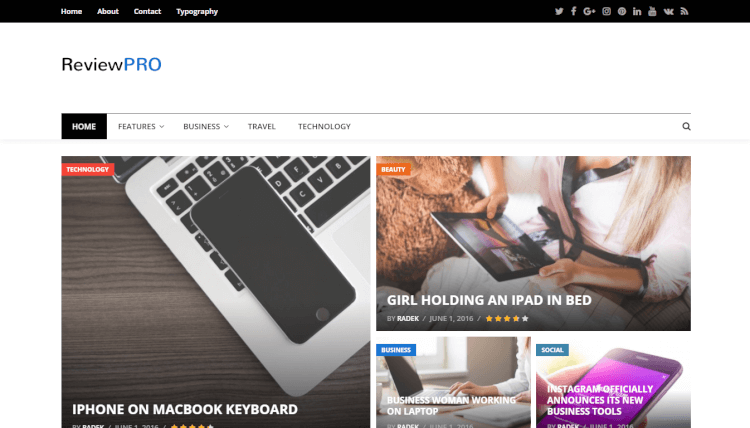 The ReviewPro WordPress theme is ideal for both review website and discount coupon sites. However, no matter what type of content you want to share with your audience, you shouldn't have a problem with ReviewPro. As well as the content publishing tools, you'll also have a content slider, social sharing buttons, custom widgets, and a fully set of theme customization options to work with.
MegaMag - News and Reviews WordPress Theme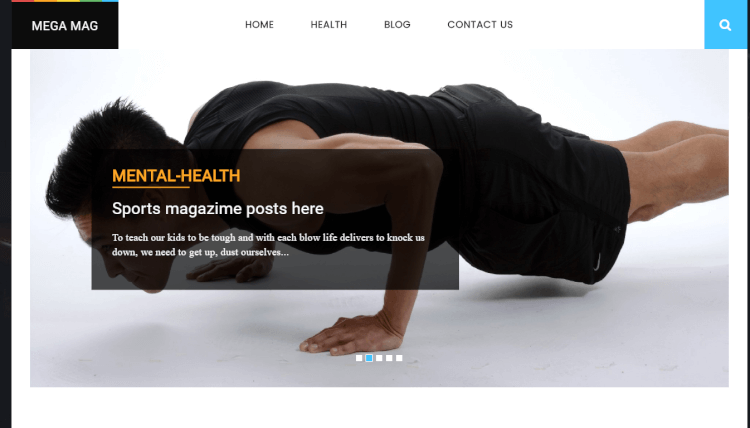 MegaMag is an ambitions theme that aims to cater for almost any type of review website. There's a good selection of homepage variations to choose from when setting up your site. However, you're not limited to the pre-built content, thanks to the inclusion of the premium drag-and-drop Visual Composer page builder plugin.
Reviews - Product and Service Review WordPress Theme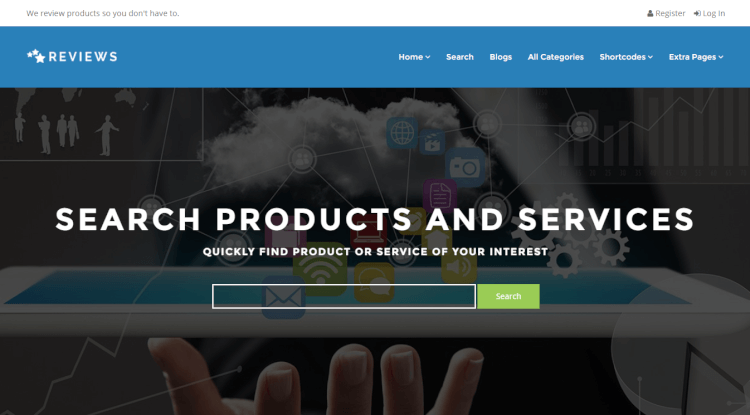 Reviews has everything you need to start your own product and service reviews portal. Thanks to the built-in functionality of this theme, your visitors will easily be able to start sharing their comments and feedback on the entries in your reviews directory. To ensure your reviews site is easy to navigate, this theme is packed with layouts, tools, and widgets to help you organize your content efficiently.
The Review - Multi-Purpose Review WordPress Theme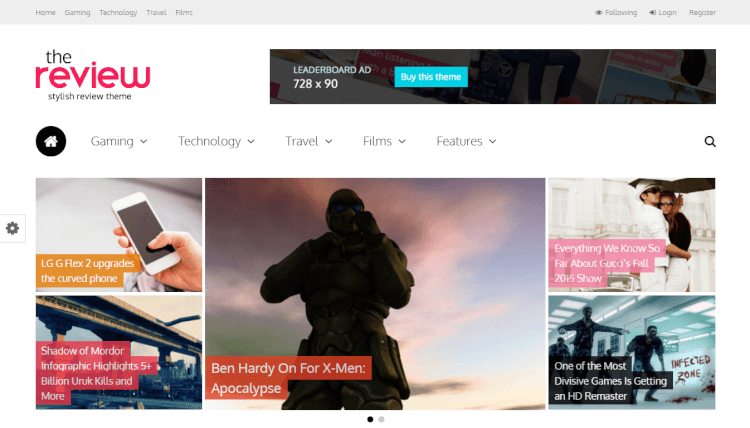 The Review is a feature-packed WordPress theme that should impress anyone who wants to publish reviews on their website. Whether you're writing detailed reviews of products, services, and experiences or you simply want to let your readers have their say on your content, this theme will provide you with plenty of options.
Gauge - Multi-Purpose WordPress Review Theme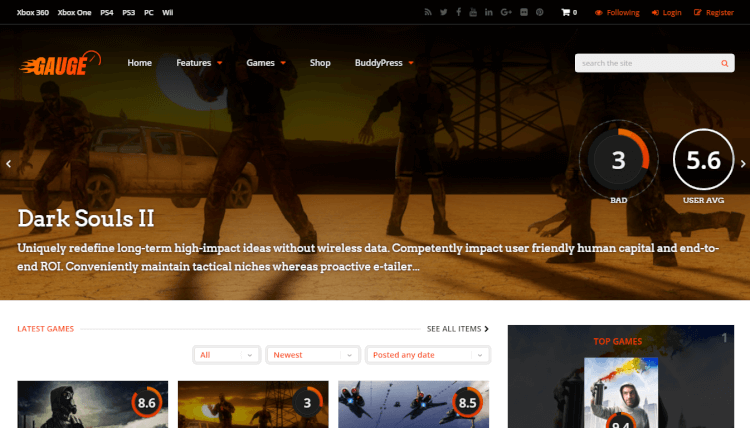 Gauge is a powerful multi-purpose WordPress review theme that has remained a popular choice since its initial release a few years ago. The integrated review system allows you and your visitors to leave detailed ratings on your site's content, while the library of layouts should cover a wide range of different projects. Thanks to regular updates, Gauge can hold its own amongst the best WordPress review themes of 2017.
Magellan - Video News and Reviews WordPress Theme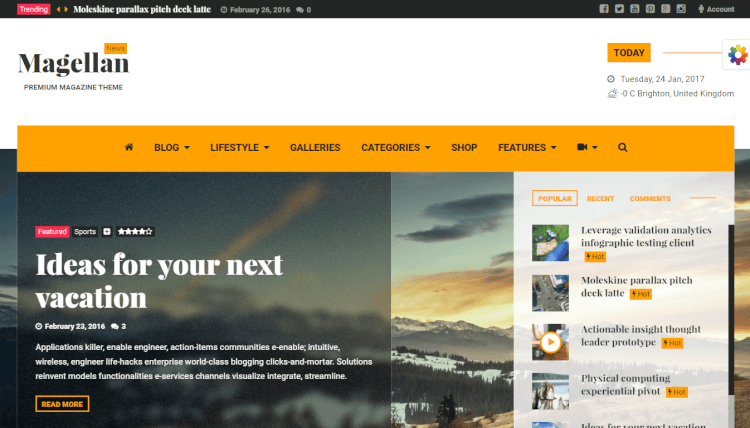 Magellan has been designed for news and reviews sites, especially those that feature video content. Therefore, if you're looking for a theme to help you publish and share your video reviews and news-related content online, this could be just the theme you need. To help you get the right look for your reviews site, there's a selection of layouts, each with their own theme and topic of focus.
Puzzles - Review and Ecommerce WordPress Theme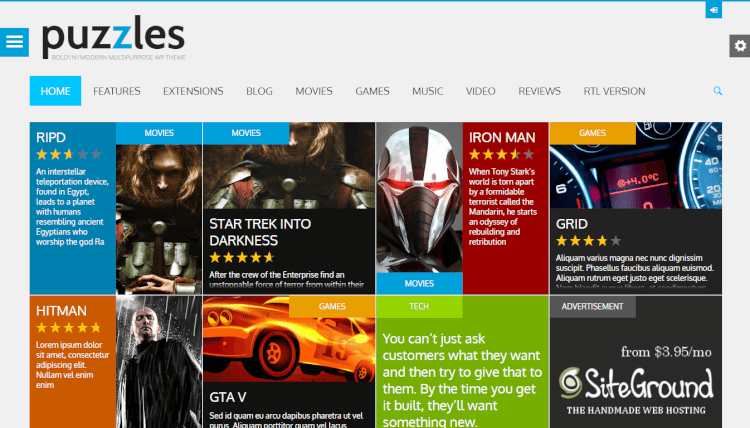 Puzzles gives you lots of options when it comes to publishing reviews on your WordPress website. Whether you or your audience will be submitting ratings and scores of products and other items, the Puzzles theme can help. In addition to the review functionality, other reasons to consider this theme include a good set of customization controls, full WooCommerce compatibility, and BuddyPress and bbPress support for adding extra interactivity to your site.
Moview - Film and Review WordPress Theme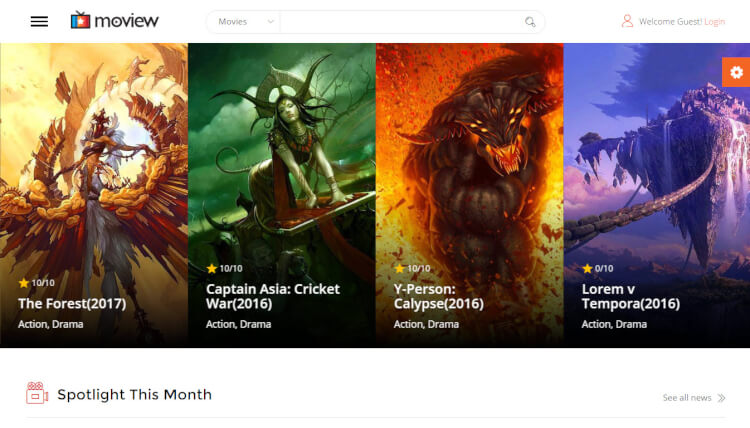 Moview is perfect for creating an IMDB-style TV and movie reviews website with WordPress. The default homepage layout is certainly attention grabbing and it shouldn\'t take much effort to draw new visitors into your website. Thanks to the support for the bbPress and BuddyPress plugins, if they like what they see, your visitors will have no trouble signing up and sharing their thoughts on your content.