45+ Best Price Comparison WordPress Themes 2023
Building a price comparison website with WordPress starts with choosing the right theme. Thankfully, this collection of the best price comparison WordPress themes will provide you with everything needed to launch your website.
Interested in how to do price comparison with WordPress? Some of these themes have been created specifically to help you build a price comparison website. Others have price comparison features built into their core functionality. Therefore, whether you want to create a site where people can see the latest deals from a range of sources, or you want to launch a store where your customers can easily compare your projects, the best price comparison WordPress themes in this collection can help.
When browsing this collection, you'll notice that some of these themes have a generic, general-purpose design that can be used for a wide range of projects. There's also a good selection of purpose-built themes for comparing the prices of technology, food, cars, and other types of items.
However, as the best price comparison WordPress themes all have a good selection of customization tools and settings, repurposing any of these options shouldn't be a problem. Some themes include powerful drag-and-drop page builder tools like Visual Composer, while others feature a detailed set of customization options which let you personalize all aspects of your site. If you find your theme of choice doesn't include a page builder tool, don't let that put you off as there are plenty of free and commercial plugins of this type to choose from.
If you have products or items you want to compare, these price comparison WordPress themes will help you build the right type of website. And our tips for making a great price comparison website should come in handy too!
What is a Price Comparison Website?
Price comparison is a feature commonly seen in online retail stores and service websites. This feature allows users to compare different versions of a product to find the best options with the highest value.
There are also websites that use this feature as its own business model. These price comparison websites showcase products from different vendors to help customers find a better deal.
For example, a laptop being sold on Amazon can sometimes be found on Best Buy for a cheaper price. A price comparison website makes it easier to compare these two vendors in the same place.
This is also the same strategy used by million-dollar startups like TripAdvisor and Booking.com to help people find deals on different services like hotel rooms, vehicles, airline tickets, and more.
4 Tips for Making Great Price Comparison Websites
WordPress makes it much easier to build price comparison websites thanks to powerful eCommerce plugins and easily customizable theme designs.
Here are a few tips to help you make a more effective price comparison website.
1. Pick a Design That Fits Your Niche
There are many different types of price comparison websites you can build with WordPress. You can make websites that compare deals on electronics, hotels, car insurance, home loans, real-estate, and many more. Whichever website you build, it's important that you pick a theme design that fits your niche.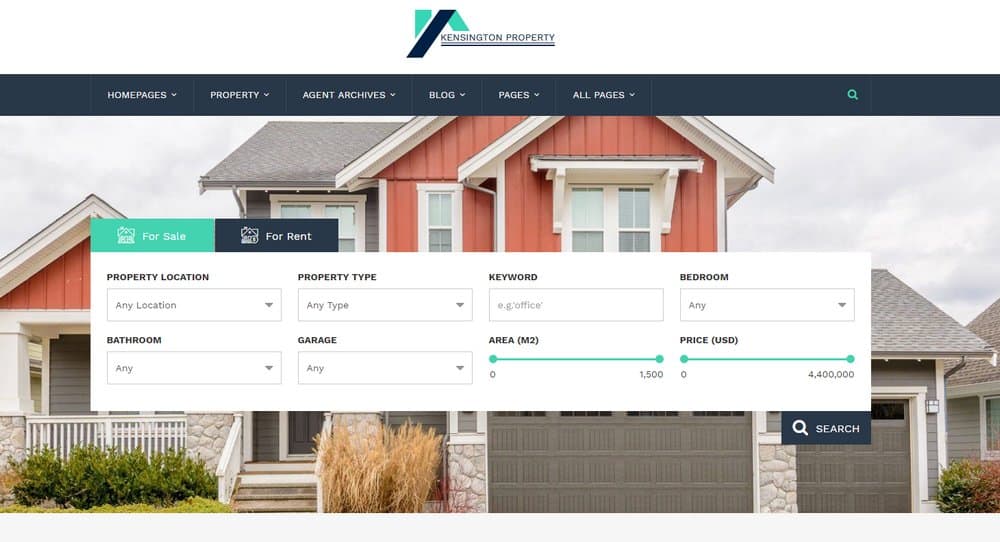 Different price comparison websites have different features. For example, the product page design of a hotel room comparison website is not the same as the product page of a car insurance comparison website. Explore different styles of designs to find the right layout for your niche.
2. Let Users Compare Product Features
One of the main reasons people use price comparison websites is to find better versions of products and services that are worth the price. In fact, often times users want to see the differences between the product features rather than compare prices.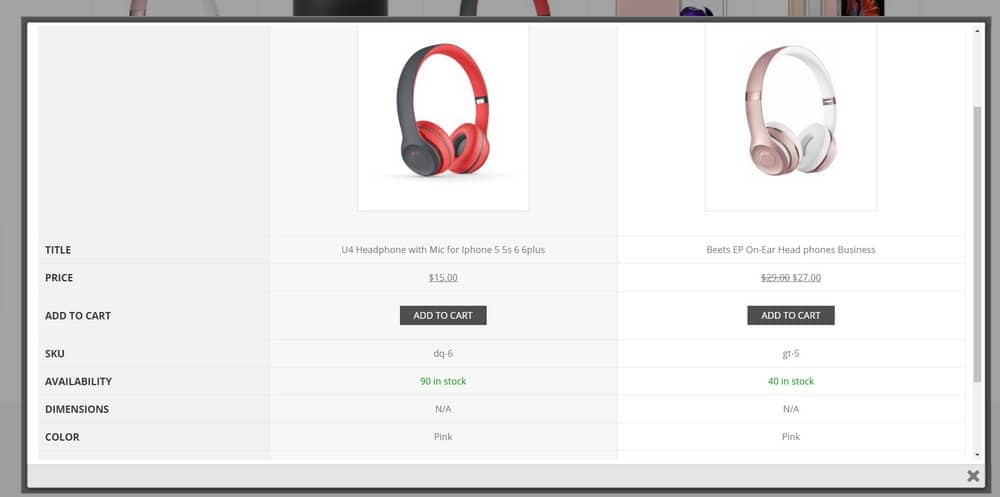 Apple does this well on its website by letting users compare different versions of iPhones in one place. This allows users to see what kind of features and specifications differ from one device to another. You can add feature comparisons in your website to offer a more convenient way of comparing products.
3. Help Users Make Easy Decisions
A price comparison can sometimes be confusing if there are no visual elements to help users easily find the differences between the products and prices.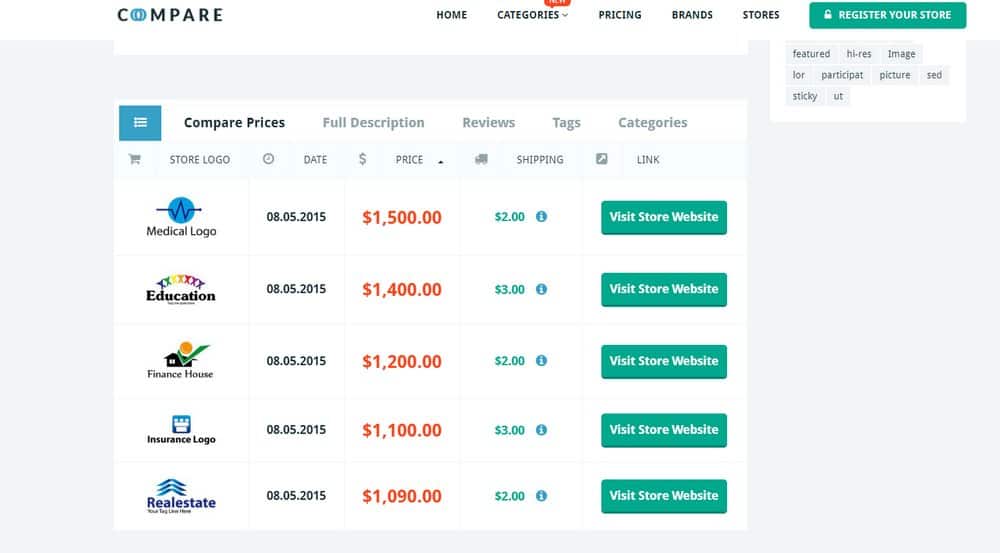 Highlighting the compared prices and features with color codes can improve the process of decision making for the customers. Adding more information like shipping costs, discounts, and coupon codes will also help people pick the right products as well.
4. Add Multivendor Support
If you're building a price comparison website for retail products, you'll need to find a WordPress theme that supports multivendors. These themes will allow you to include multiple product variations from different vendors for comparing prices.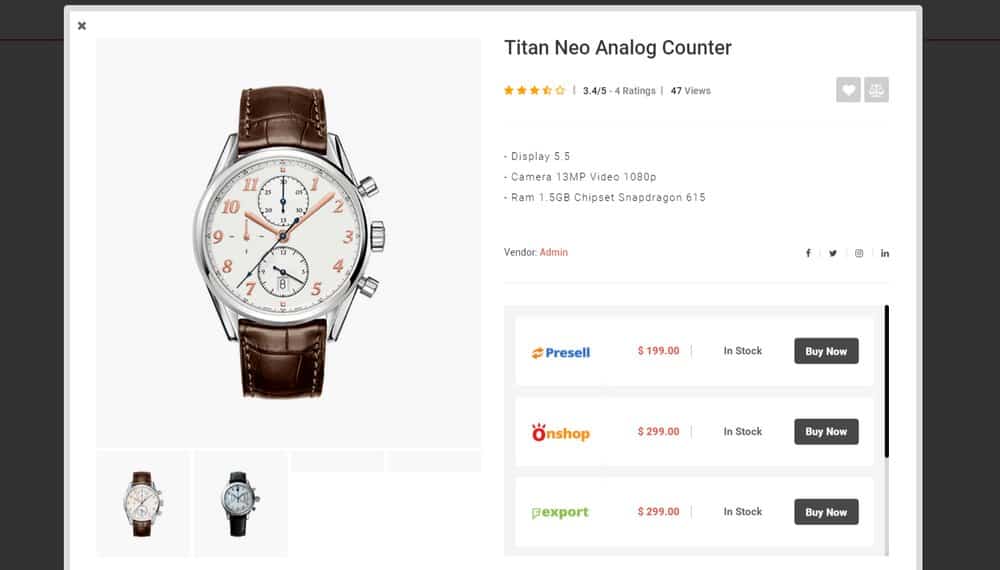 WordPress plugins such as Dokan makes this process much easier by allowing you to setup multivendor marketplaces like Amazon and eBay without any coding.