30+ Best Jewelry WordPress Themes 2022 (Free & Premium)
Find the best jewelry WordPress themes to help you create a stylish website to share or sell your jewelry online.
Whether you want to create an online store or build a website to show off your jewelry collection and creations, this selection of the best jewelry WordPress themes will provide you with plenty of inspiration. Thanks to the powerful WooCommerce plugin, creating an e-commerce store with WordPress has never been easier. By choosing a WooCommerce compatible theme from this collection, you'll be able to create a professional online jewelry shop in no time at all.
If your goal isn't to create an online shop, and you simply want to make a jewelry blog or a website to display photos of your favorite items, you'll also find plenty of good options in this collection.
The best themes here feature many useful templates and layouts for displaying your photos and text in style. If you want to add stylish galleries and slideshows to your website, explore the theme demos and look for options that include the right kind of photo presentation options.
If you really want to give your jewelry website a custom look, seek out a WordPress theme with a page builder tool. This will give you an easy way to customize the theme's demo content as well the ability to design your own page layouts from scratch. And don't forget to check out our tips for making an attractive jewellery website as well!
5 Tips for Making Attractive Jewelry Websites
Making a luxurious jewelry website is not an easy job. Use these tips to make sure your jewelry website lives up to expectations.
1. Use a Dark Theme
A dark color theme is usually the best choice for luxury brand websites and especially for jewelry website as dark backgrounds allow the jewelry to be highlighted more effectively.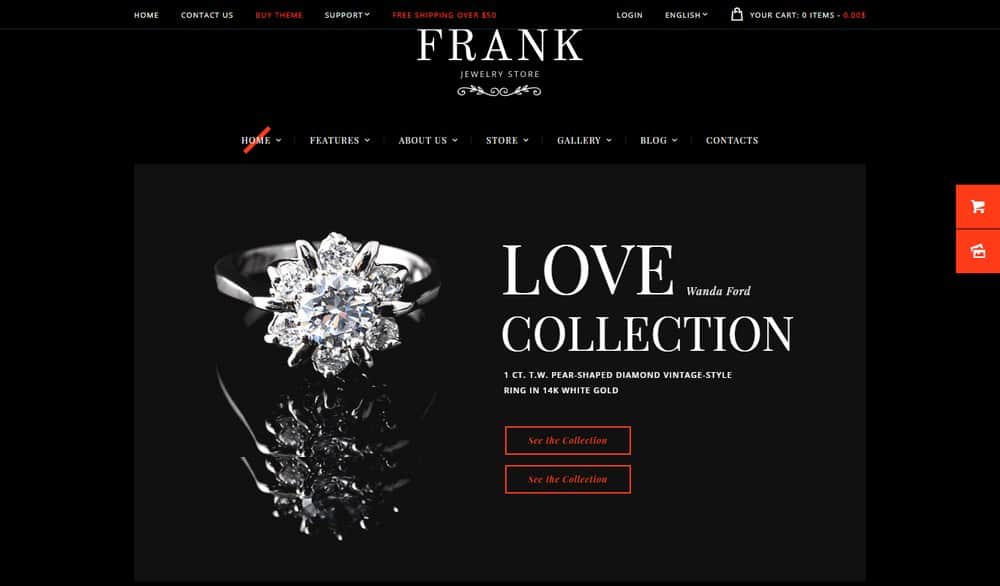 The black color is also the color that represents wealth, luxury, and authority. Using a theme that supports dark color schemes will help you influence your audience and come across as a professional establishment as well.
2. Create a Minimal Content Layout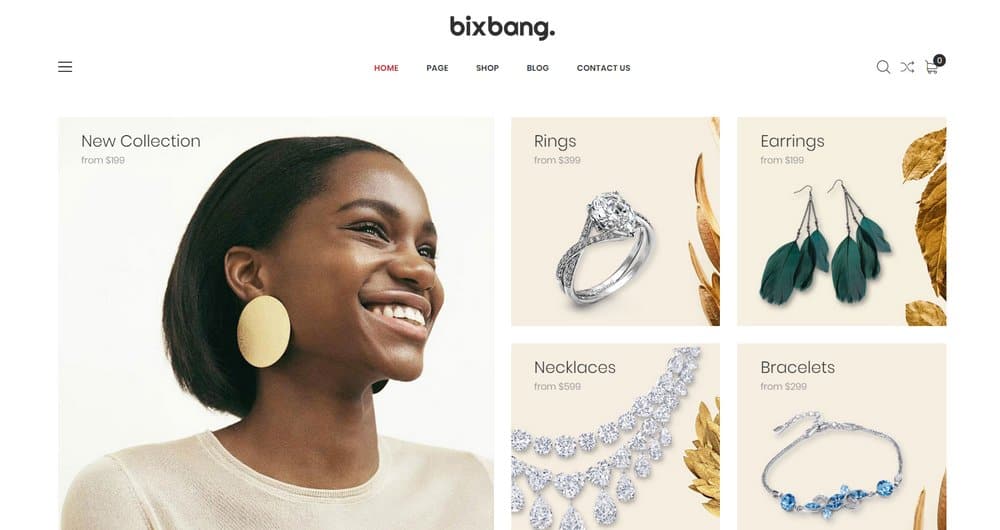 When showcasing jewelry on your website your main goal is to get your potential customers interested in your product catalog. Instead of showing all the products you have on the homepage, attract the customer's attention by showing a curated collection of the best products you have and then direct them to specific categories.
3. Show Off Products Using Images
When it comes to jewelry shops and websites, there's not a lot you can talk about except for showing off the products you have and wow the customers.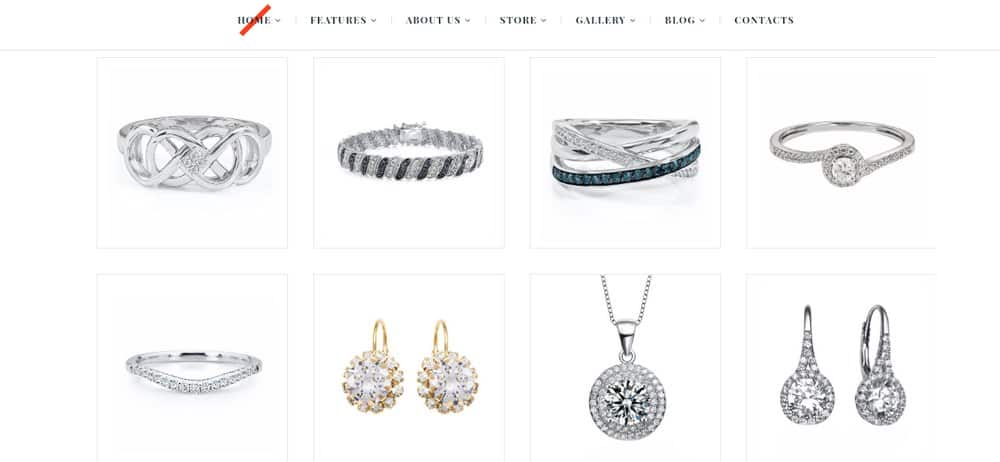 The best way to achieve this goal is to use large and high-resolution image previews of your products on the website. Also, make sure that the images fit in smoothly with your theme color scheme as well.
4. Add Call to Actions
A jewelry website should also include simpler navigation that guides users through your product collections. Adding call-to-action (CTA) throughout your website is also a great strategy for encouraging users to explore more of your website.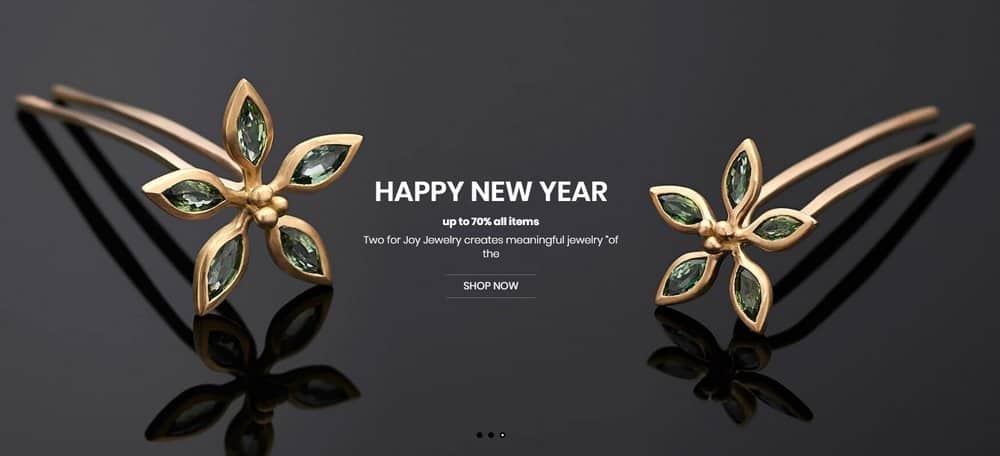 For example, adding buttons for viewing product galleries is an effective way to get more views for your product galleries and eventually drive sales.
5. Setup a Shop
Everything is sold online these days. It doesn't matter if you're selling niche handmade jewelry or luxury gold products, you should setup an online store on your website to let customers order products at the comfort of their homes.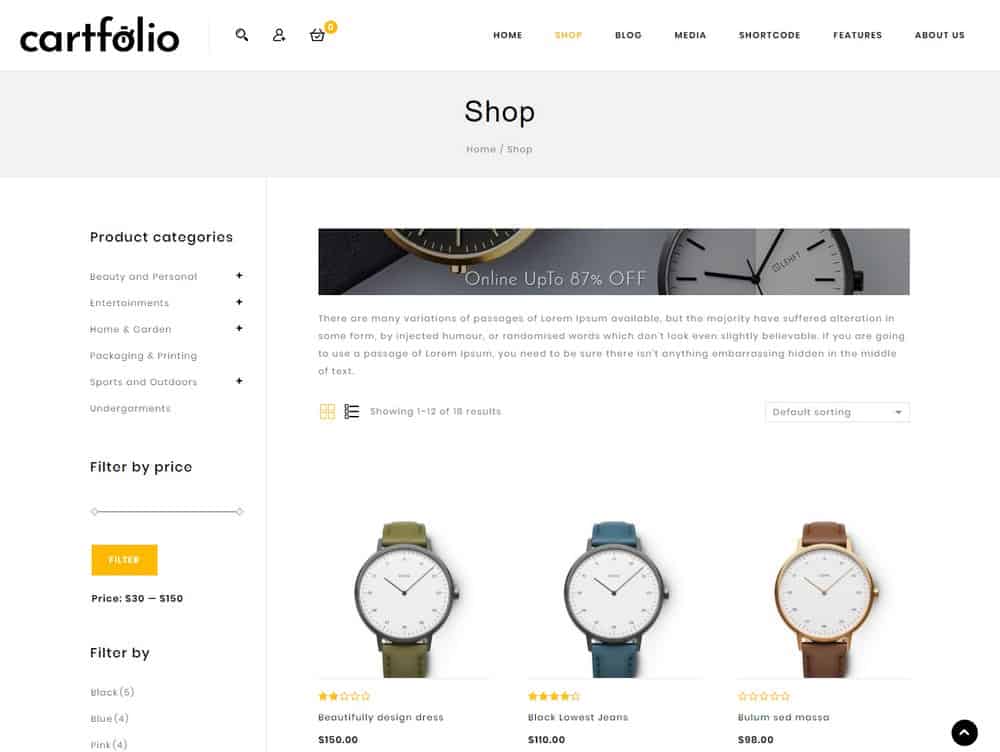 Make sure to get a WordPress theme that supports WooCommerce to easily setup a complete online shop to sell your products safely and more effectively.