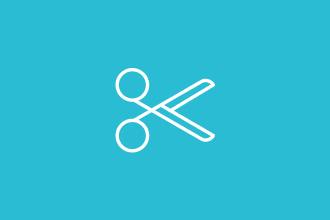 Creating a professional website for your hair and beauty business has never been easier thanks to this collection of the best hair salon WordPress themes.
Having an online presence is an integral part of running a successful hair salon. However, in this day and age, no longer will any old website do. Your website should be thought of as an extension of your hair salon and a powerful tool that can help grow your business. We've previously shared some tips on how to make a hair salon website with WordPress, but it all starts with a great theme.
When choosing a theme for your hair salon, you should consider the type of audience its design will appeal to, and then whether that demographic is the type of clientele you are hoping to attract to your business. Just because a theme has an eye-catching design, it doesn't mean it's the right choice for your project.
Once you've established the type of look and feel your theme should have, it's time to start thinking about features and the purpose of your website. Some of the best hair salon WordPress themes in this collection provide you with everything you need to start taking bookings online, collecting payments for services, and even selling products online, directly from your website. If you want to grow your business by adding an online store to your portfolio, then many of these themes can make that happen.
However, some themes in this collection are better suited to more modest projects. For some hair salons, a simple website that merely displays a few photos, the salon opening hours, and the location of your business may well be enough. If that applies to your website then all of the themes here can be minimized to meet your needs.
Other features to look out for include a good set of customization options, a page builder tool, slideshow plugins, and of course, a mobile-friendly design. By taking the above into consideration, you'll be able to find the perfect hair salon WordPress theme for your business.
Hair Salon WP - Flexible Hair Salon WordPress Theme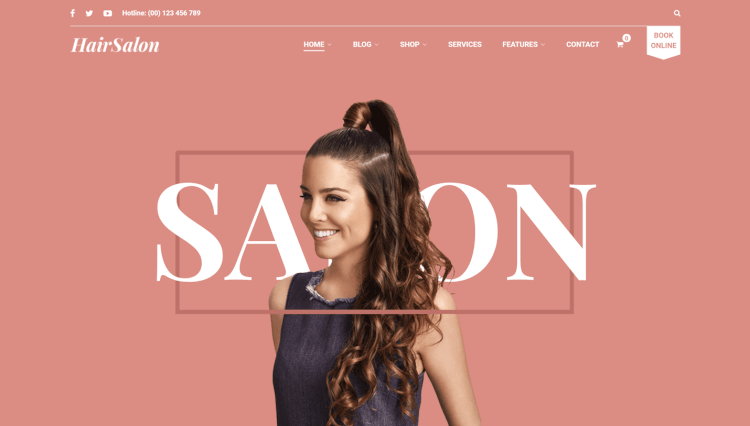 Hair Salon WP has three homepage demos, giving you a choice of designs for your hair salon WordPress website. However, thanks to the included drag-and-drop page builder tool you can easily customize any of these layouts to better meet your needs. With endless customization options available, Hair Salon WP is ideal for creating a unique website.
Beauty Pack - Hair Salon WordPress Theme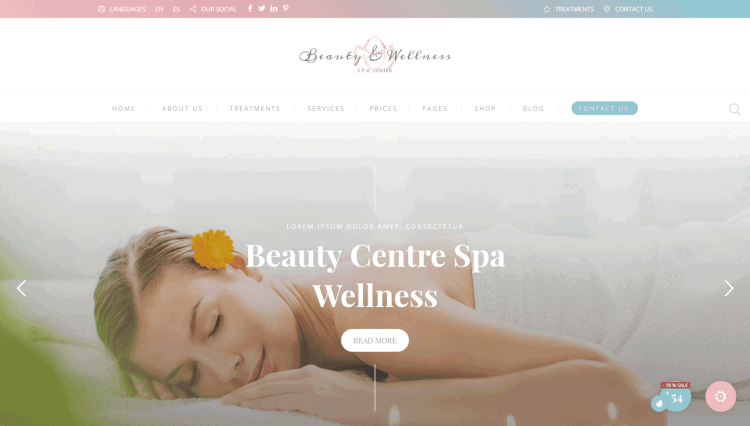 Beauty Pack includes an impressive set of components to help you build the right website to promote your hair salon online. The different demos and page layouts give you a varied set of choices when it comes to assembling your website. Adding an online shop to your hair salon website to sell products is easy, thanks to the good level of WooCommerce support.
Alissa - Spa and Hair Salon WordPress Theme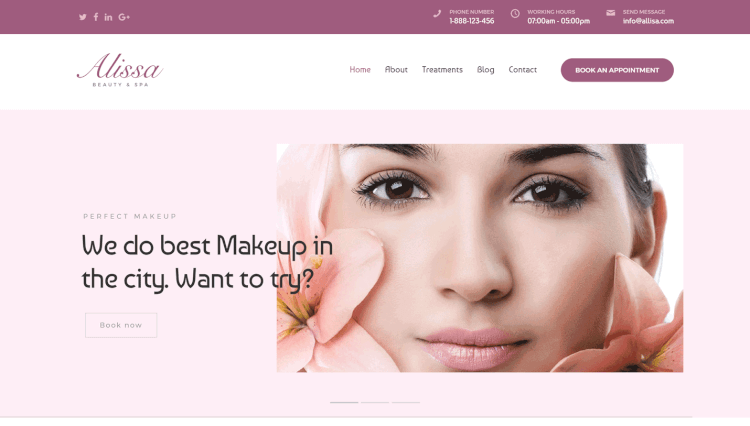 Alissa is a wellness and beauty theme that's ideal for creating hair salon websites with WordPress. The stylish design of Alissa will help convey a high-quality image to your audience, helping you attract the right sort of clients. The online booking tool can also help you turn more of your website visitors into customers.
Balanced Spa - Hair Salon WordPress Theme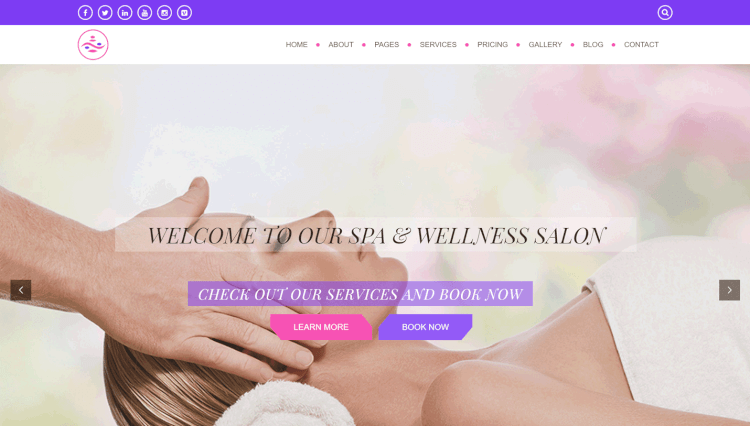 Balanced Spa and its one-click demo importer tool will help you launch your WordPress hair salon website with ease. Like many of the best themes in this collection, Balanced Spa includes a drag-and-drop page builder tool as well as many other customization features and settings. Whether you just want to get the job done as quickly as possible or you'd like to create a custom website, Balanced Spa could be a good option.
Insignia - Multi-Purpose Hair Salon WordPress Theme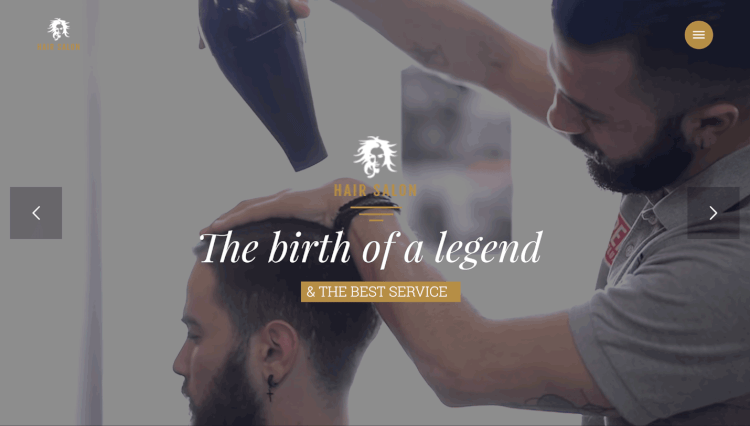 Insignia is a multi-purpose WordPress theme that includes a pre-built hair salon website demo. When setting up your website, you can mix and match the different components from the 20+ demos. Alternatively, you could simply use the hair salon demo and carry out some light customization work through the theme options control panel. Either way, this is a highly flexible feature-packed WordPress theme.
Amaryllis - Beauty WordPress Theme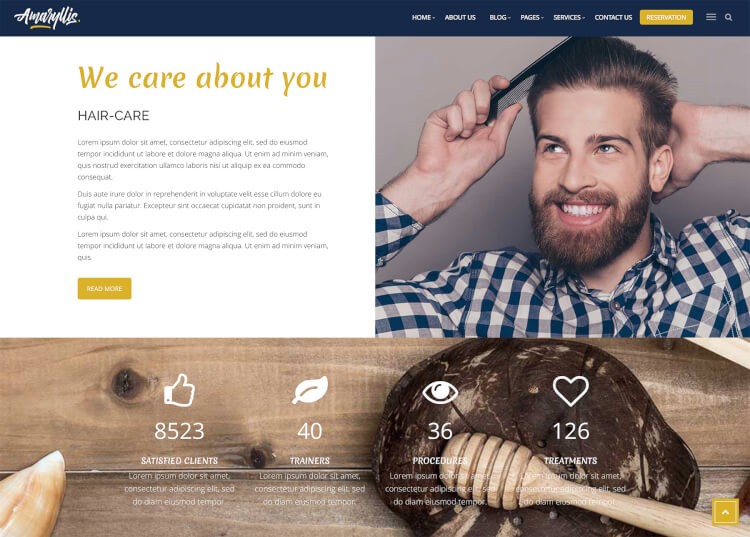 A beautiful theme, perfect for a hair salon (or beauty or spa business). It comes with dozens of features and options for laying out your site, all with stunning defaults. Perfect for running a marketing website, blog, and booking system — all in one simple WordPress setup. It uses the Redux framework theme options panel to make it super-easy to customise.
SALON - WordPress Theme for Hair & Beauty Salons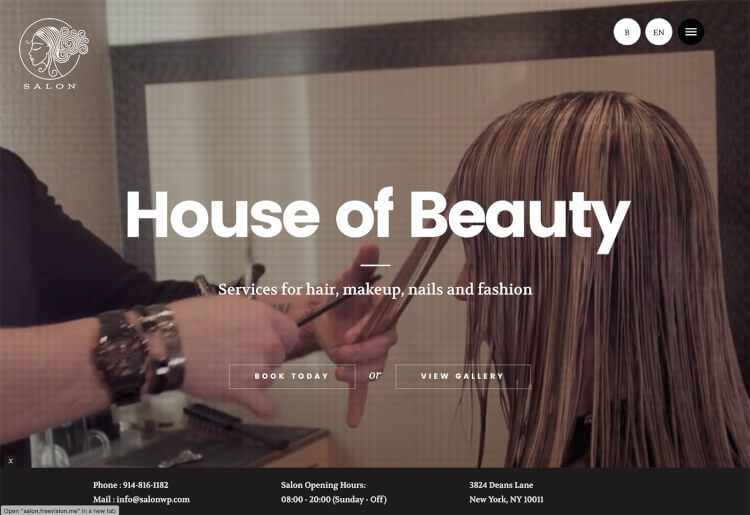 A classy and elegant theme, Salon is mainly designed for hair and beauty salons that need a stunning website set up fast. It's built to give customers the information they need, fast — a sticky contact information bar, eye-catching visuals, and price lists. You can also add your staff, and easily showcase your services. The theme is designed as a full-screen one-page concept, but can be used for a multi-page website as well.
Modis - Salon & Barber WordPress Theme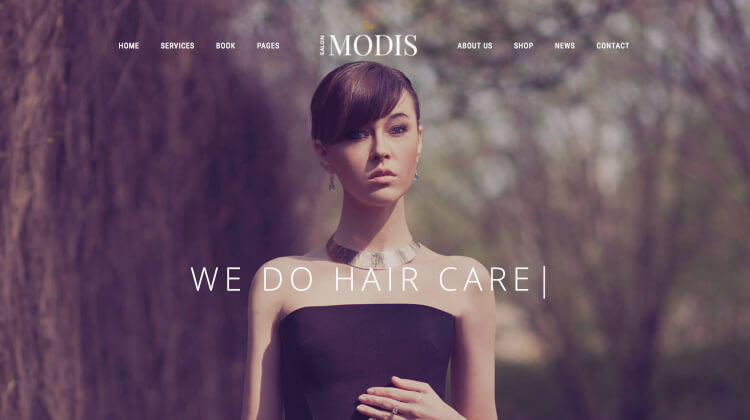 Modis is perfect for anyone looking to start their on beauty or healthcare website. This premium theme includes a couple of advanced features such as a menu-card, and tiled gallery page for treatments, products more. It's easy to combine galleries, blog posts, and pages to create the perfect site for your business. It's fully responsive, so works well on tablets, phones, and computers.
Kendall - A Stylish Theme for a Hair Salon & Spa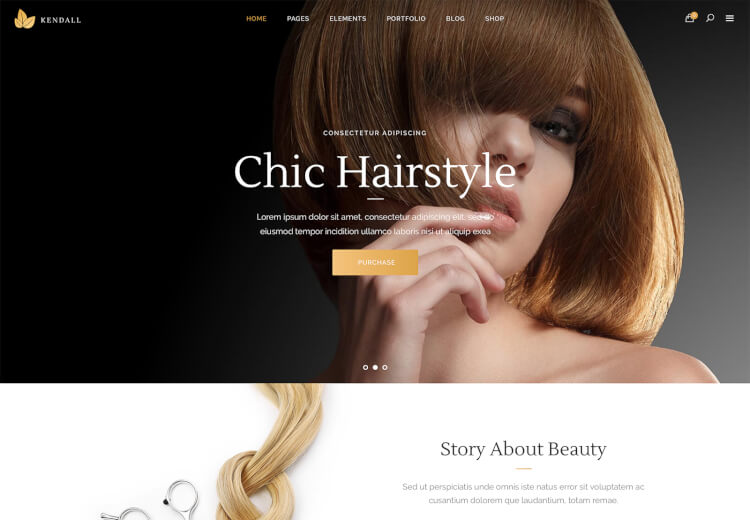 Packed with different homepage layouts and styles, Kendall is a really versatile option. It's easy to use with no coding knowledge, and comes with twelve different homepage options that are easy to import as a demo and get started fast. You can add a price list, videos and photos of your hair salon or spa, and also feature your team. (As well as handling reservations!)
Neo Cut - Hair Salon WordPress Theme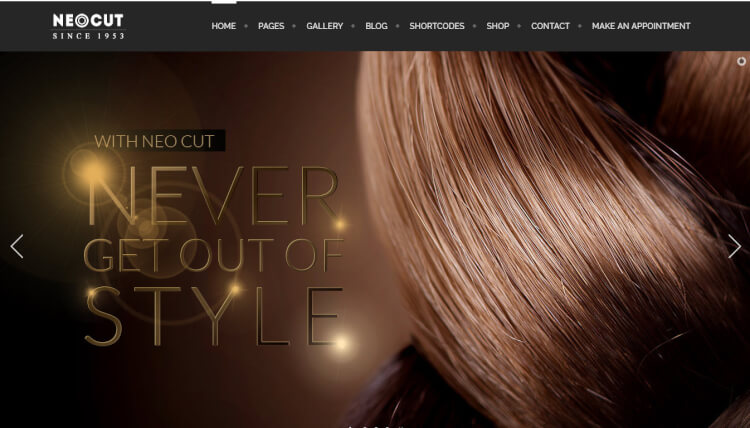 Neo Cut is one of the newest hair salon WordPress themes in this collection. If you select this theme for your hair salon website, you'll have four different homepage designs to choose from. You'll also be able to accept bookings online, sell products from your site, and use Google Maps to display directions to your salons.
Trueman - Barbershop and Hair Salon WordPress Theme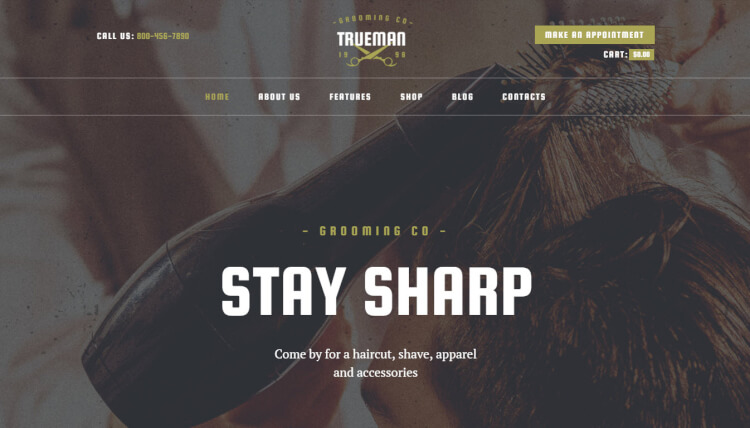 Trueman is primarily a barbershop theme. However, it's also ideal for creating a hair salon website. As well as the impressive design of this hair salon WordPress theme, you'll also be able to share photos of your work in the portfolio section, publish the profiles of your team, and display the details of your services.
Hair Beauty - Hairdresser WordPress Theme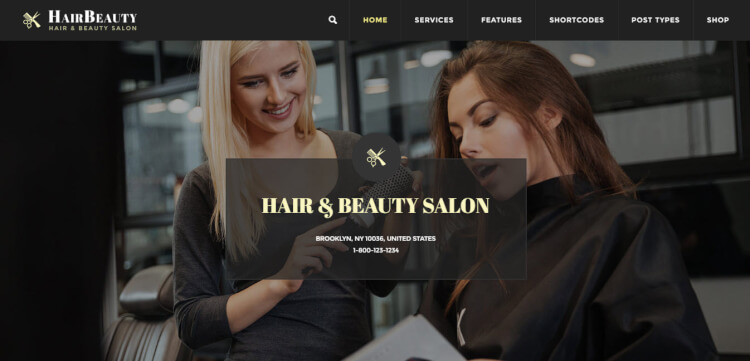 Hair Beauty is another flexible option in this collection of the best hair salon WordPress themes. Hairdressers, barbers, makeup artists, and even tattoo parlor websites can be quickly created with this theme. Thanks to the library of page layouts that make up this theme, adding a portfolio, blog, or online shop to your website is straightforward with Hair Beauty.
Coiffeur - Hair Salon WordPress Theme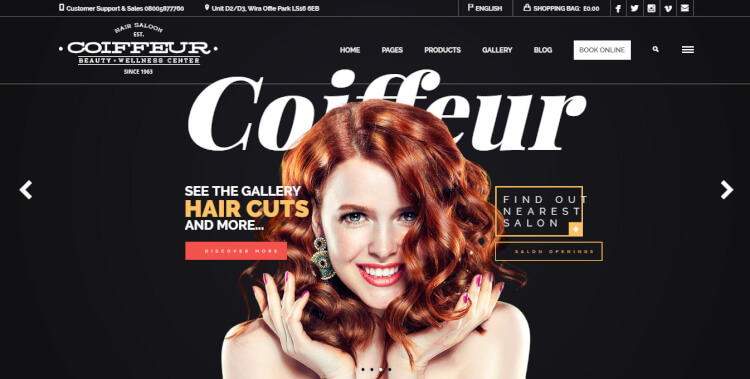 Coiffeur is a well-established WordPress hair salon theme that's been regularly updated since its first release. This means that if you choose Coiffeur for your hairdresser website, you'll be getting a tried and tested theme that also features the latest design trends and styles. With a large homepage slider and plenty of content layouts, you shouldn't have any trouble building your website with Coiffeur.
Hair Salon - Barber and Hair Salon WordPress Theme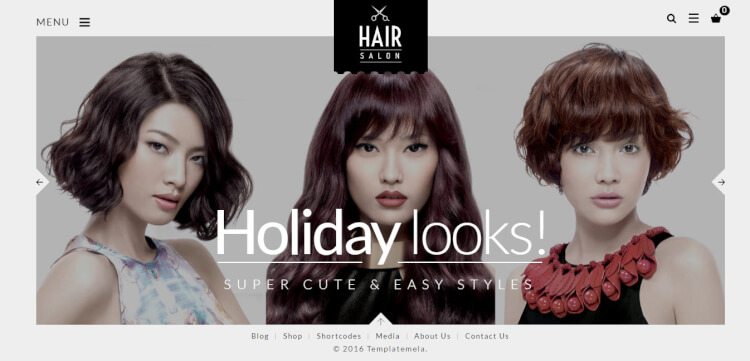 Hair Salon is packed with all the features you'd expect to find in the best hairdresser WordPress themes. To help you get your website up and running, this theme includes a great selection of pre-built content, including a full-screen slideshow for your site's homepage. In fact, there are six homepage designs to choose from, as well as a wealth of customization options to make use of.
Hairdresser - Hair Salon WordPress theme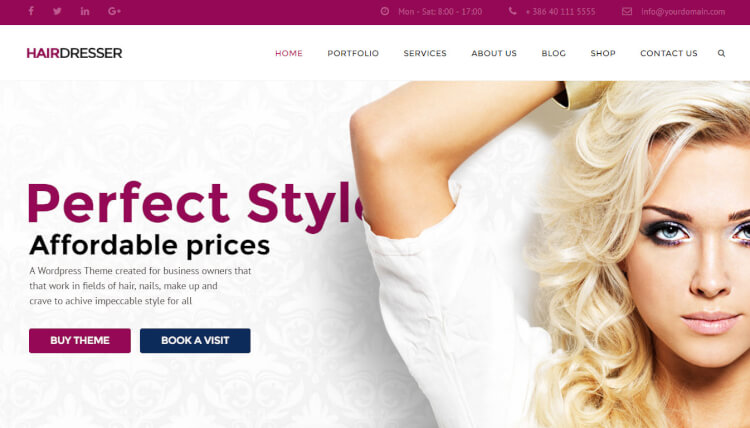 Hairdresser is packed with customization options and tools, making this one of the most flexible hair salon WordPress themes. With the Visual Composer page builder plugin included in the package as well as a detailed theme options control panel, the Hairdresser WordPress theme will appeal to those who want to create an original website for their hair salon.
CutsNStyle - Hair Salon WordPress Theme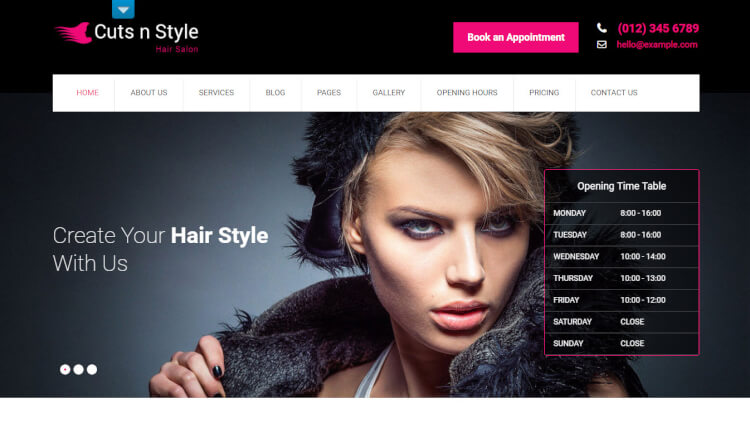 CutsNStyle is a fully mobile-friendly hair salon WordPress theme, helping to ensure your target audience can visit your website, no matter what device they're using. Additionally, this hair salon theme has many features that will help promote your business. This includes a timetable and opening hours publishing tool, a services template, a stylish gallery section, and an online booking form.
WS Hair - Ecommerce Hair Salon Wordpress Theme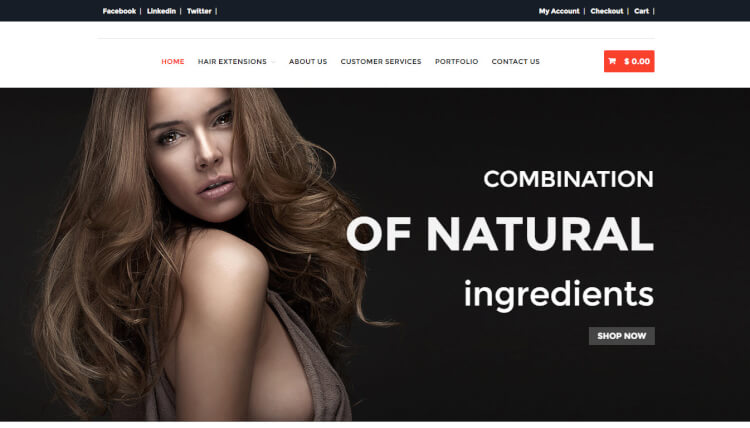 The WS Hair WordPress theme is a great option if you're looking for a way to sell your hair-related products and services online. Thanks to the support for the WooCommerce plugin, you can easily collect payments online for the items you want to list. This could include gift vouchers, upfront payments for bookings, and physical products such as hair care goods.
Beauttio - Beauty WordPress Theme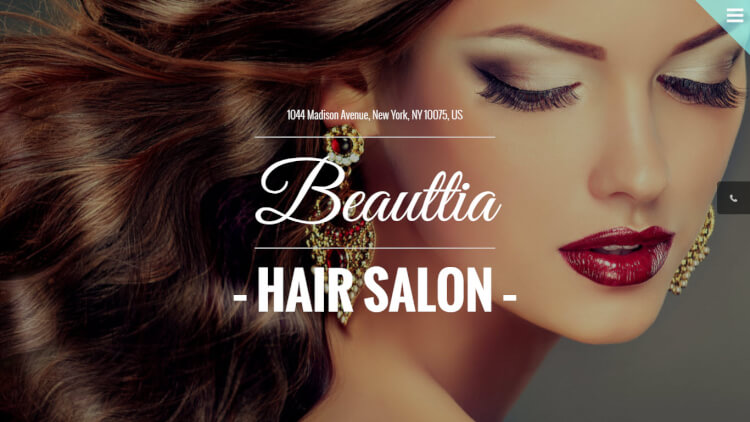 Beauttio has a design and style that's perfect for promoting your hair salon to high-class clients and patrons. The full-screen homepage image space gives you the perfect opportunity to display a high-resolution photograph on the front of your website. The fly out menu gives your website an extra layer of sophistication, helping it to stand out from the competition.
Salon - Full-screen Hair Salon WordPress Theme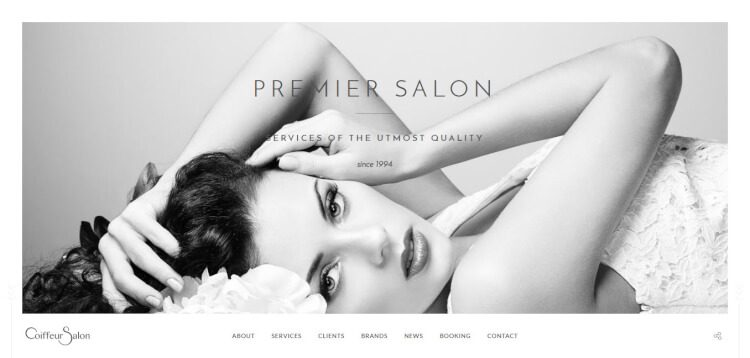 Salon from Evalanee Labs is a full-screen hair salon WordPress theme with a classic design and appearance. The default homepage layout features many different modules and sections, giving you a good opportunity to showcase the services on offer from your salon and the reasons why your visitors should book an appointment.
LT Spa - Hair Salon Wordpress Theme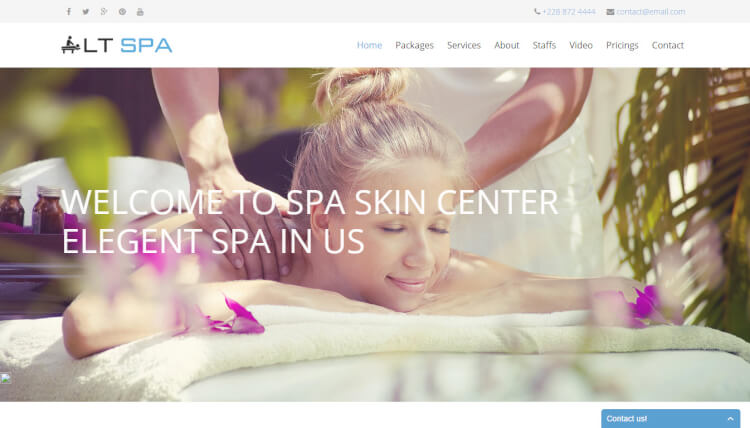 The LT Spa WordPress theme makes use of the popular one-page layout for its homepage design. As your visitors arrive at your hair salon website, they can be greeted with a full-screen slideshow that displays the most enticing images from your business. As LT Spa has been built around the Layers site builder tool, you can easily customize the templates that make up this theme.
Beauty Center - Hair Salon WordPress Theme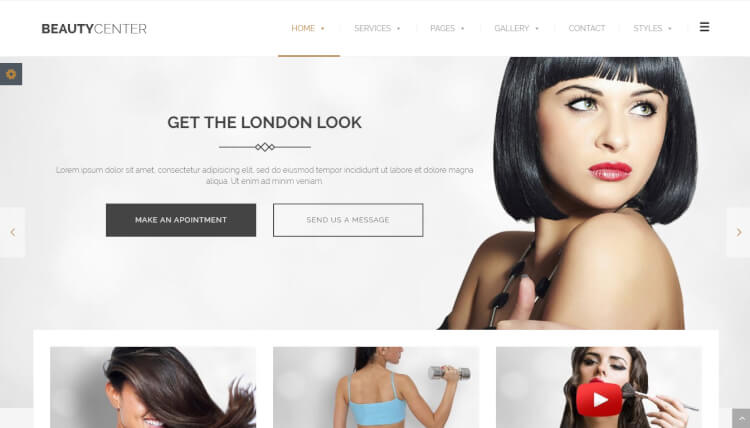 Thanks to its widgetized homepage layout, you can quickly and easily reorganize the modules that are displayed on the front page of your site when using the Beauty Center hair salon and spa WordPress theme. When setting up the inner pages of your hair salon website, this theme gives you a good selection of templates and layouts to work with.
Beauty - Hair Salon and Nail, Spa WordPress Theme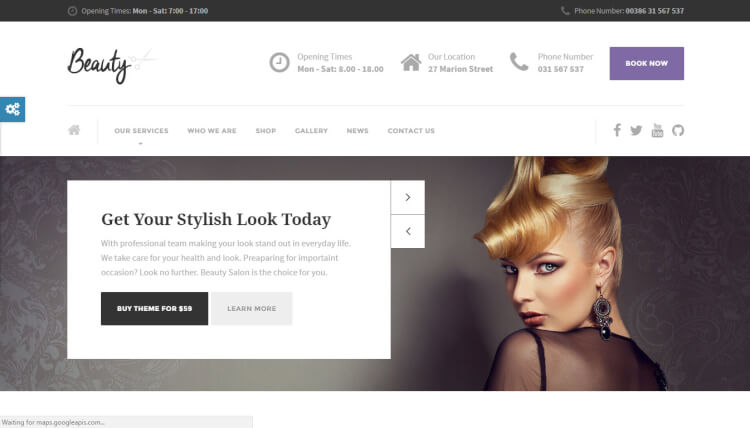 Beauty is another popular hair salon WordPress theme that has been regularly updated and improved. This theme is something of a multi-purpose tool for creating business websites in the health and beauty sector. However, it has a great selection of hair salon-focused features and templates. With positive reviews from many users, Beauty is certainly a theme with a good reputation
HairLoom - Barbers and Hair Salon WordPress Theme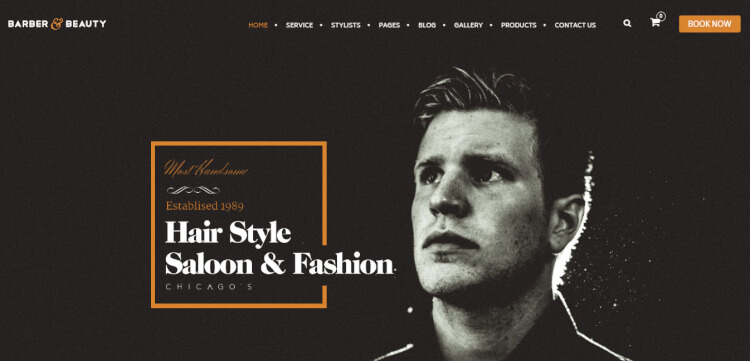 The demo of the HairLoom WordPress theme is setup perfectly for barbershops. However, if you want to create a more feminine hair salon website then HairLoom is still a good option. Thanks to the intuitive customization controls and integrated drag-and-drop page builder tool, you can quickly swap any of the demo images with your own content, while also adjusting the colors and other design-related settings of your site.
Beautyou - Spa and Hair Salon Wordpress Theme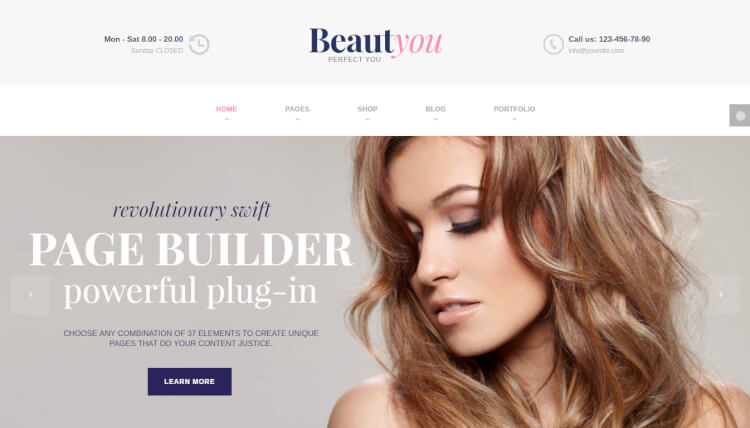 The Beautyou theme has a useful selection of website demos that cover a range of businesses in the health and beauty industry. Among the options is a well-designed hair salon demo that will help you get your new website online with as little effort as possible. To ensure your website is useful as well as attractive, this theme includes an online booking tool and range of other features to help you promote your business online.
Terra Atma - Spa and Hair Salon WordPress Theme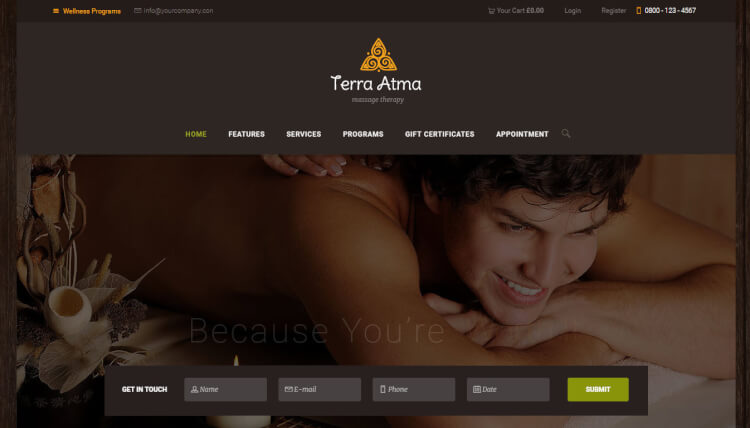 Terra Atma has been built to help you create a relaxing online space for your hair salon or another place of wellness and good health. Almost every aspect of this hair salon theme can be customized, helping you to match its appearance with the branding of your business. Thanks to the selection of shortcodes, you can easily insert a wide range of elements into your content.