We've collected the best Google AdSense WordPress themes, all of which have powerful support built-in for Google AdSense to help you generate revenue!
What is Google AdSense?
Google AdSense is a simple, automated way to serve relevant adverts on your website. Text, images, videos, or interactive ads — you name it. By dropping a small snippet of code into your theme, you can automatically serve up relevant, targeted ads to your readers.
If you're a run an online blog, magazine, or content website, hooking it up to Google AdSense can be a great, quick way to generate some advertising revenue.
Can't I Add This to Any Theme?
Absolutely. If you're happy delving into your theme's code, you can add an advertising slot anywhere, on any theme (whether that's a leaderboard ad, sidebar ad, or something else). Our guide on how to integrate Google AdSense with a WordPress theme is a good starting point!
But if you're not particularly savvy with HTML code, or don't want to mess with your theme, it's best to track down a theme that already comes with AdSense support built in. We're here to help!
Every theme featured in this collection already has everything you need to integrate Google AdSense. There's a simple setting (or a few) that allow you to drop in your ad code, to quickly get started. No code, no fiddling around! Enjoy looking through the collection, and we hope you find one of these Google AdSense WordPress themes fits your needs!
Newspaper WordPress Theme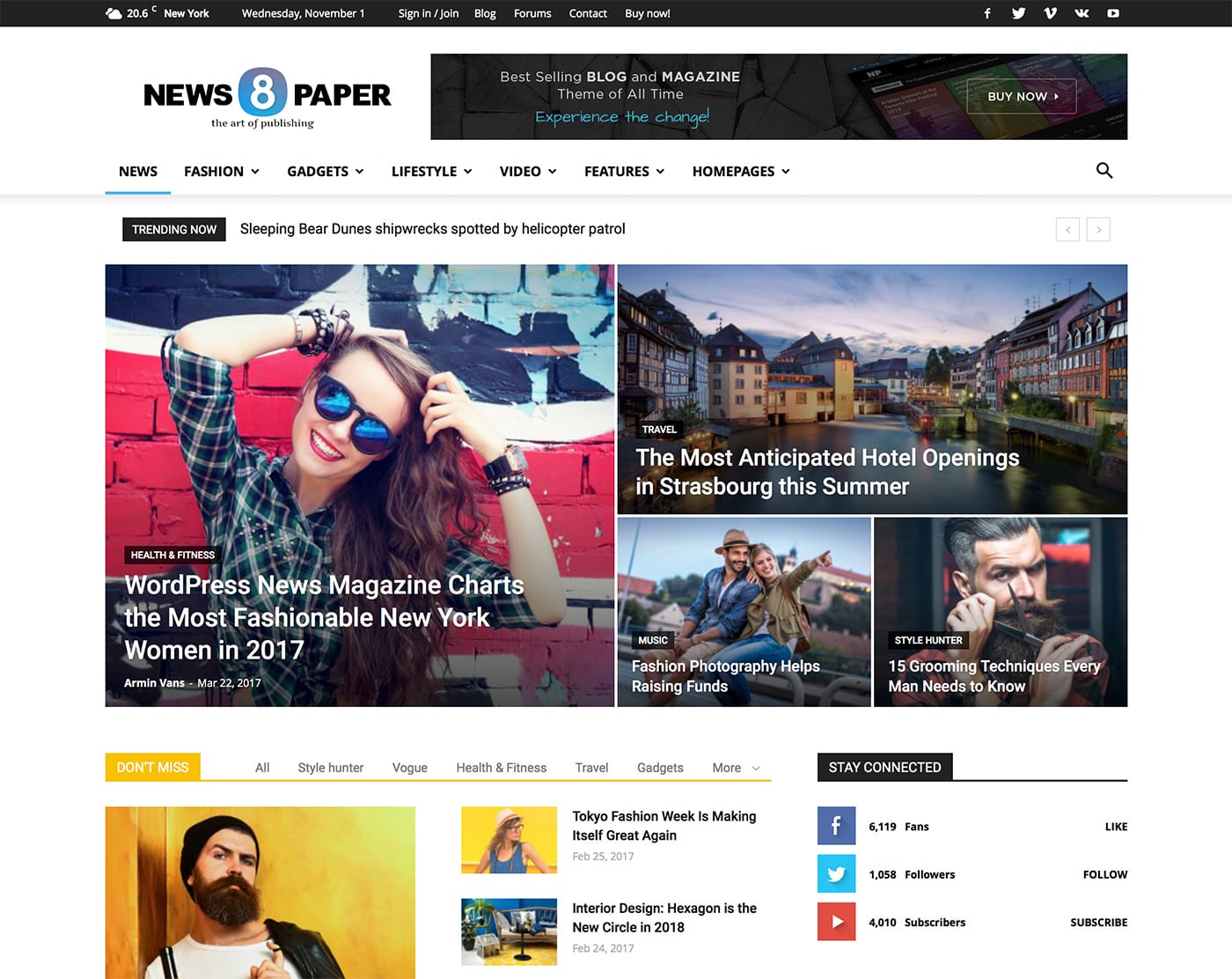 Newspaper is the best-selling News WordPress theme of all time. Perfect for news, magazine, and publishing sites, Newspaper Theme is excellent for making money with ease. It supports responsive AdSense ads, but also non-AdSense and HTML banners. You get 18 ads spots to use, a live front end page builder and compatibility with most of the popular plugins.
ActiveBlog - Personal Blogging Google AdSense WordPress Theme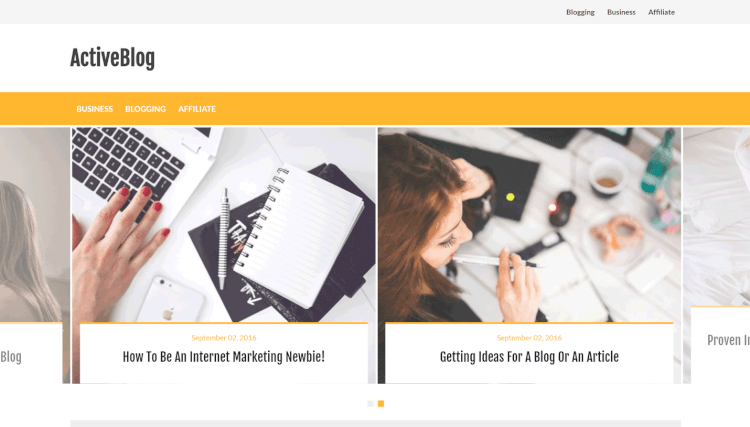 ActiveBlog is a Google AdSense optimized WordPress theme for personal bloggers. When it comes to making money online and monetizing your WordPress website, ActiveBlog has lots of ad locations to make use of. Tweaking your website for the perfect look and improved conversion rates isn't a problem either, thanks to the customization features of the ActiveBlog theme.
Mellany - Google AdSense Blogging WordPress Theme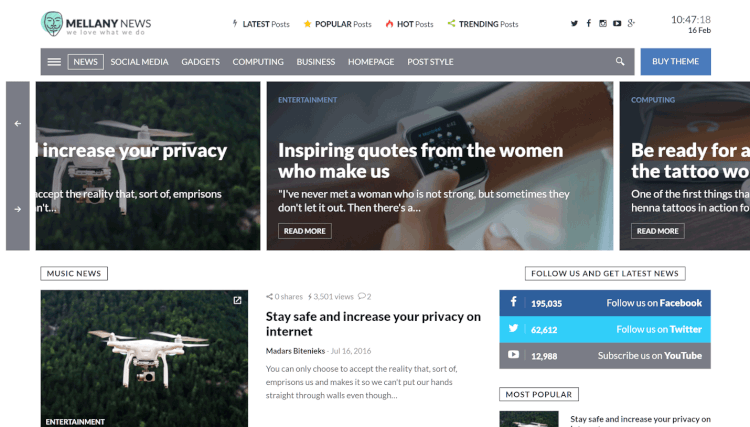 Mellany is another Google AdSense WordPress theme that's been built for bloggers and magazine website owners. As well the all the ad locations and settings, Mellany features a varied set of customization options. As this theme is fully mobile responsive, you'll be able to monetize your traffic, no matter what device is being used to access your site.
News24 - News and Magazine Google AdSense WordPress Theme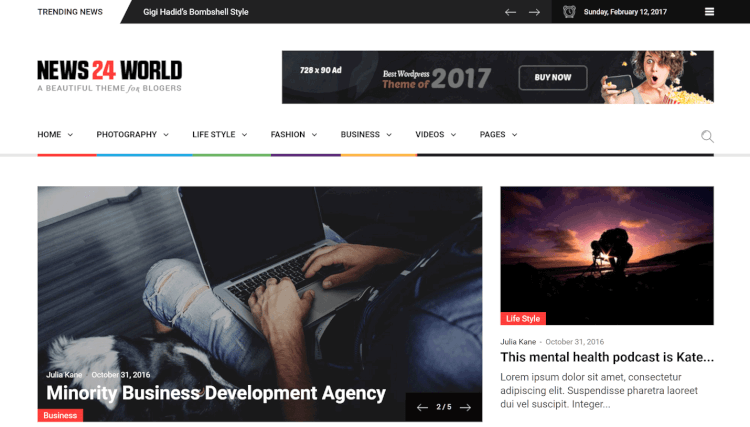 News24 is a modern and fast loading WordPress theme for bloggers, online newspapers, and magazine websites. Thanks to the theme options and WordPress Customizer settings, personalizing your site is easy. Once you've taken care of site design, you can use the Google AdSense features to monetize your content.
ionMag News WordPress Theme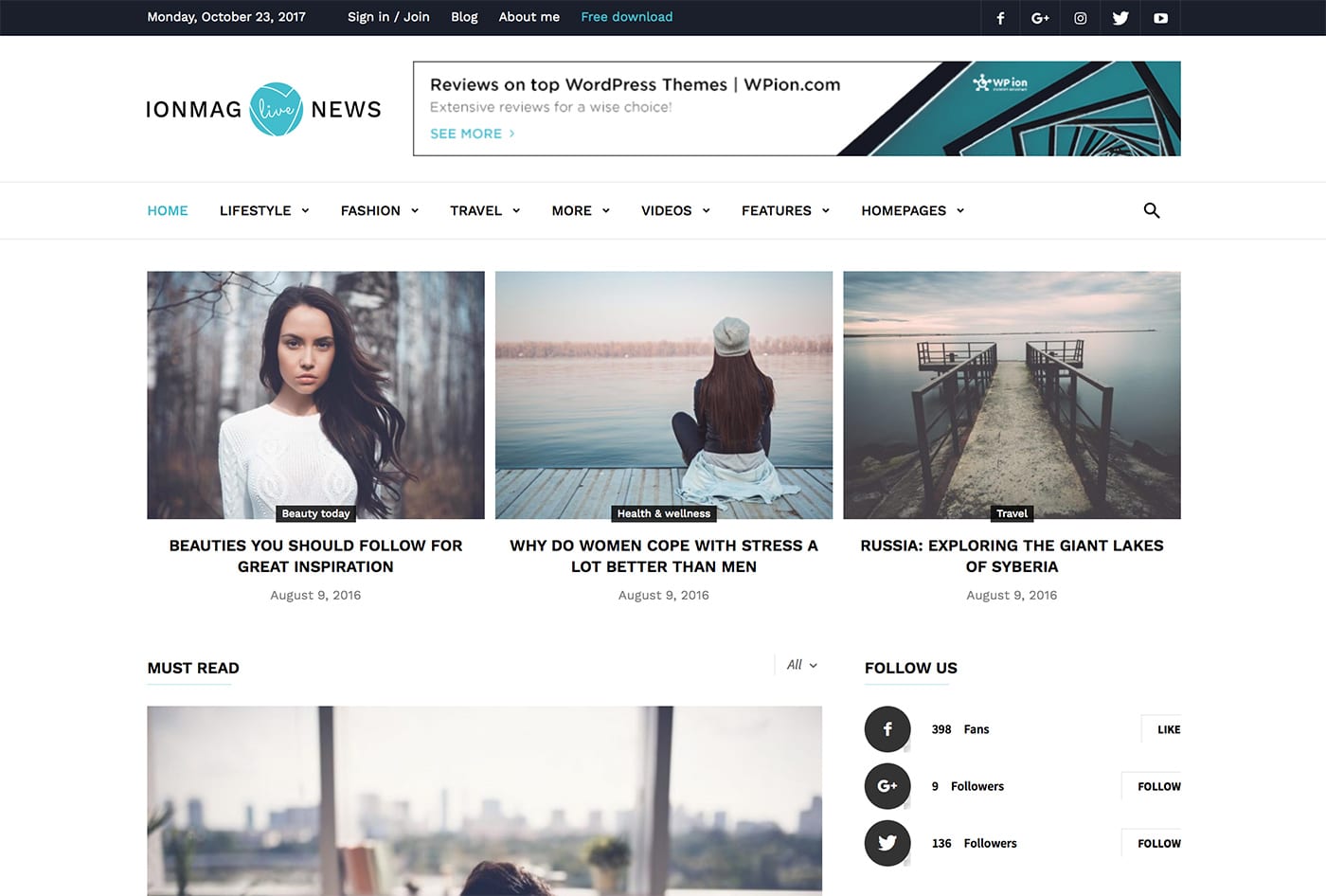 Specially developed for blog, news and magazine industry, the ionMag WordPress theme is an excellent choice. Easy to use for monetizing your website, with over 20 dedicated ads areas, this template is Google AdSense ready, while also supporting HTML banners and non-AdSense adverts. ionMag integrates a live page builder, premium features, and is compatible with the most popular plugins.
Peflican - Newspaper and Magazine Google AdSense WordPress Theme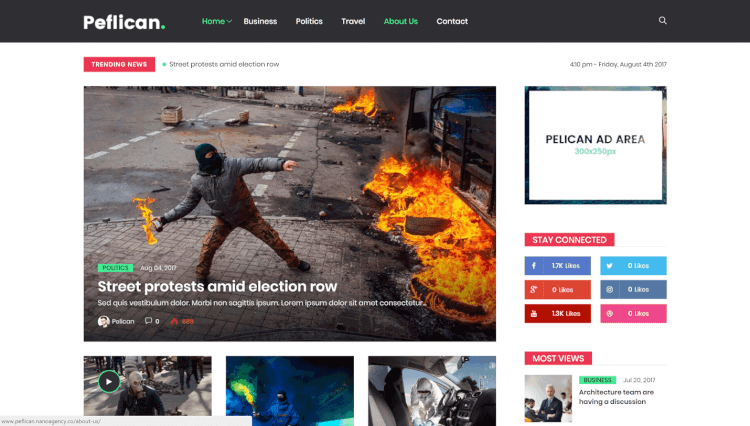 Peflican aims to be easy to use while still giving you lots of control over the design of your WordPress website. Although this is a news and magazine WordPress theme, Peflican should work equally well for bloggers who'd like access to a rich library of content templates for their articles and blog posts. The advert widgets make it easy to display Google AdSense content on your WordPress website.
Nerubian - Blog and Magazine Google AdSense WordPress Theme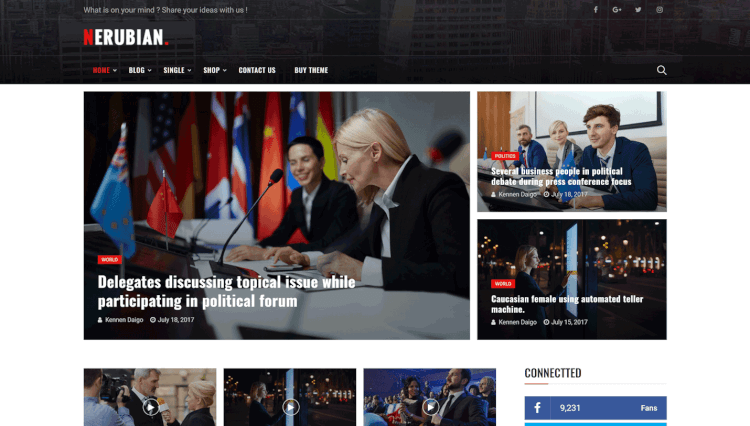 Nerubian is a feature-rich Google AdSense WordPress theme for creating news websites and blogs. Your choice from the three homepage designs can be easily imported into your WordPress website in just a few clicks, leaving you to explore the customization options in order to personalize your new site. Thanks to the Google AdSense support, you shouldn't have any problems monetizing your website with the Nerubian theme.
Cairo - Newspaper and Magazine Google AdSense WordPress Theme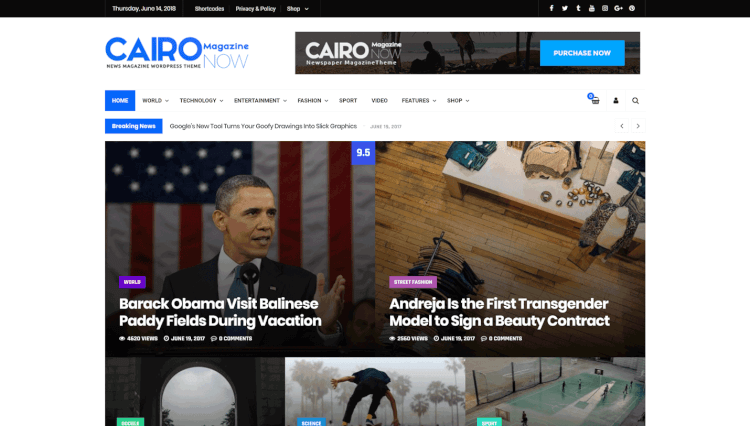 Cairo is another WordPress magazine and news theme for creating content-rich websites that are monetized using services like Google AdSense. As well as all the article layouts and content templates, Cairo includes the powerful WPBakery Page Builder plugin – previously known as Visual Composer – to give you full creative control over the appearance of your website.
Hydra - Responsive Blogging Google AdSense WordPress Theme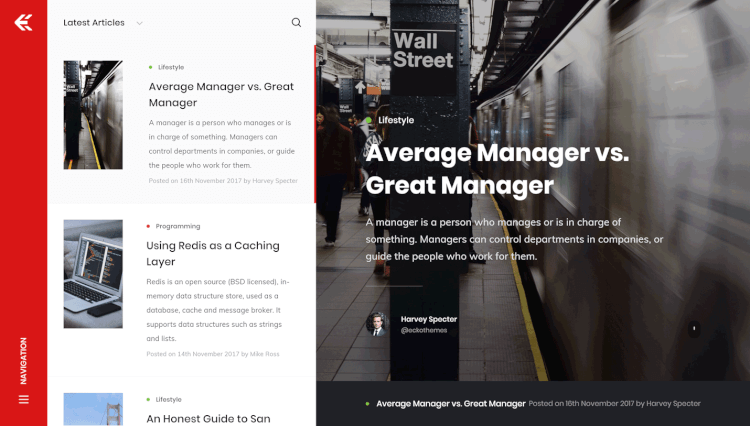 Hydra is a responsive blogging theme that makes it easy to display adverts on your WordPress website. As well as the custom widgets that include a Google AdSense ready option, the Hydra theme is highly flexible, giving you lots of scope for customizing your blog. This theme also has lots of positive reviews from users, making it a good option to add to your shortlist.
PantoGraph - Online Newspaper Google AdSense WordPress Theme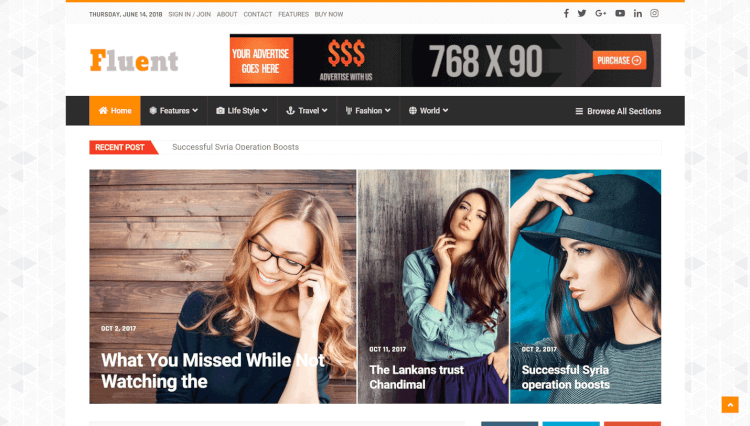 PantoGraph is an online newspaper and magazine WordPress theme that gives you plenty of opportunities to display Google AdSense and other adverts on your website. The huge selection of homepage layouts and templates for the inner pages of your site make it likely you'll find a design that's right for your project with the PantoGraph Google AdSense WordPress theme.
Koala - Blogging Google AdSense WordPress Theme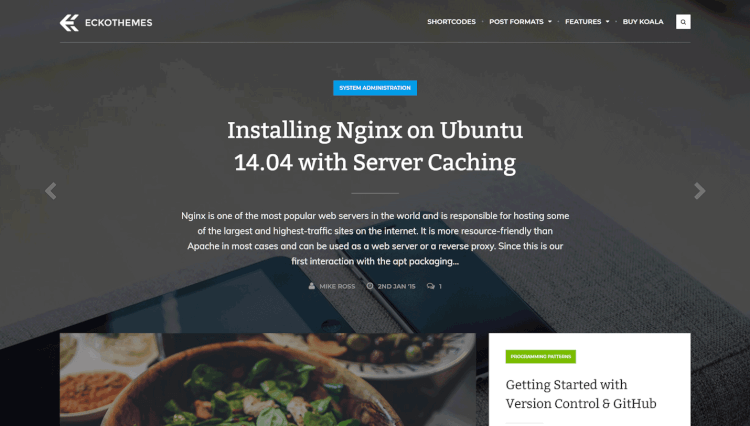 Koala will help you create a range of websites that can easily be monetized with Google AdSense. Thanks to the selection of widget areas and custom widgets, you get a wide range of options when it comes to deciding where to place the adverts on your website. If you're looking for a highly flexible theme, Koala could be the best Google AdSense WordPress theme for your project.
Flow News - Magazine and Blog Google AdSense WordPress Theme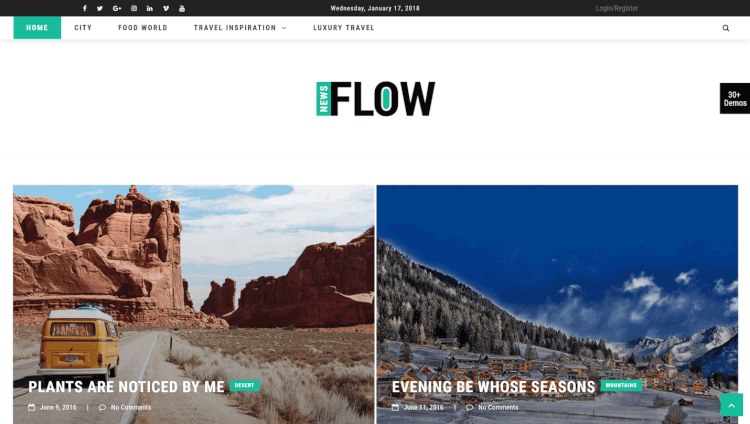 Flow is a stylish and modern news and magazine-style WordPress theme that's also a good choice for bloggers. With lots of space for displaying Google AdSense and other adverts around your website, Flow is also a good candidate for anyone who wants to monetize their blog in this way.
Worldblog - Google AdSense Blog and Magazine WordPress Theme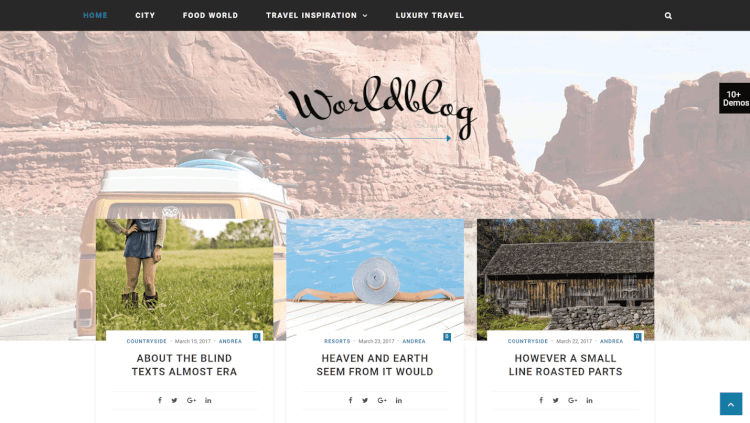 Worldblog has 10 website demos to help you launch your news, magazine, or blog with as little effort as possible. Once the demo content has been imported, you can use the custom widgets and selection of sidebars and footer layouts to choose exactly where the Google AdSense and other adverts are displayed on your site.
Durja - Minimal Blogging Google AdSense WordPress Theme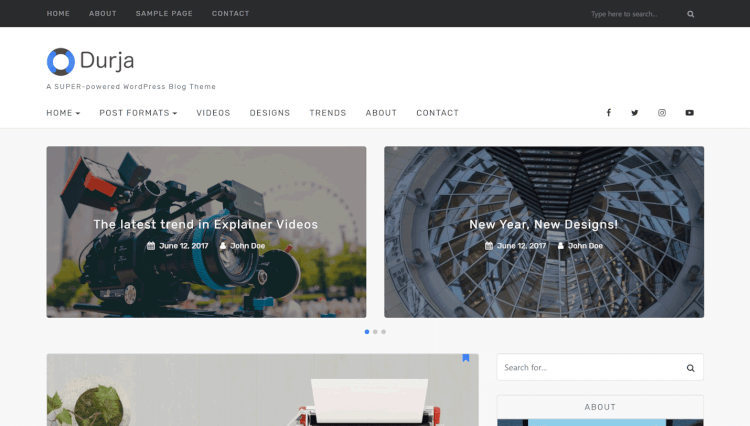 Durja is a Google AdSense WordPress theme with a minimal design that's perfect for bloggers. As well as the Google AdSense enabled advertising display locations, you can also use the theme options and settings to customize the design of your website. Other features like built-in social sharing buttons, multiple navigation bar layouts, custom widgets, and a fully responsive design make this one of the most exciting Google AdSense themes in this collection.
Videoly - Video Google AdSense WordPress Theme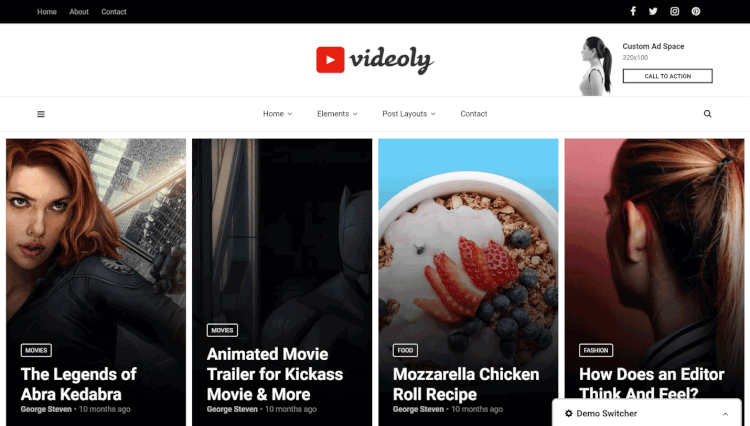 Videoly will help you create a WordPress website that's packed with video content and monetized with Google AdSense. To help you ensure your video website has the right look, Videoly includes nine homepage variations. Furthermore, each of the pre-built layouts can be customized through the WordPress Customizer tool and the Visual Composer page builder plugin. As this is one of the best Google AdSense WordPress themes around, you can easily display adverts throughout your website.
Admania - Affiliate and Google AdSense WordPress Theme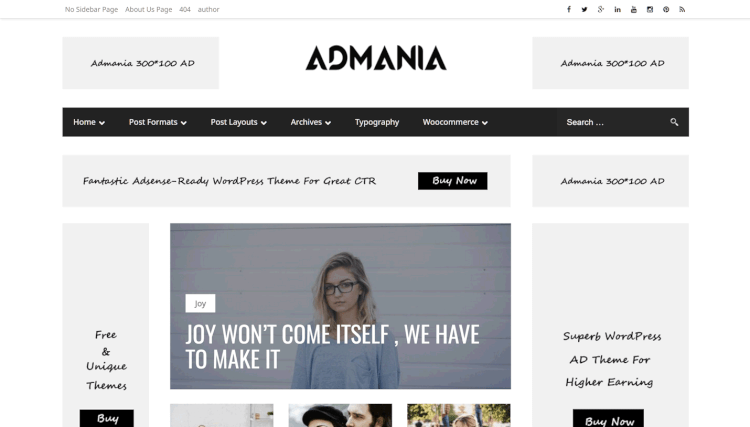 Admania is optimized for both pay per click adverts and affiliate links, making it one of the most versatile options in this collection of the best Google AdSense WordPress themes. To help you achieve the highest conversion rates possible, Admania includes a front-end layout builder tool, giving you the ability to design the perfect layouts for your content.
Wise Mag - Magazine Style Google AdSense WordPress Theme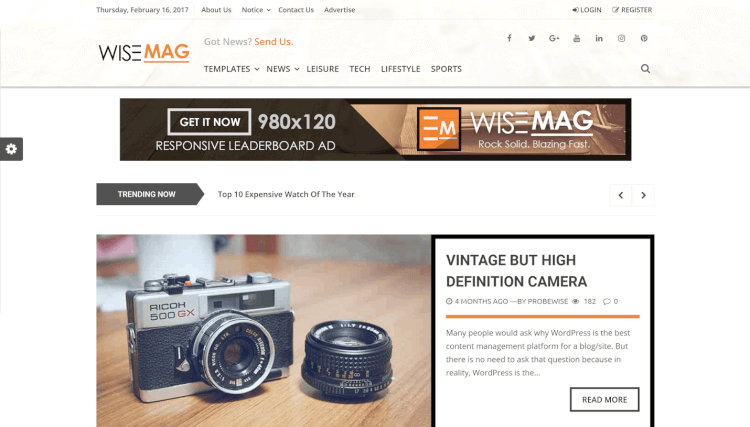 Wise Mag is a fully mobile responsive Google AdSense WordPress theme that is also ready for monetization with affiliate marketing. To ensure your website complies with the terms and conditions of Google AdSense, Wise Mag includes a pre-built disclaimer notice. As well as the stylish design, you'll also have plenty of ad locations to choose from.
Epira - Magazine Google AdSense WordPress Theme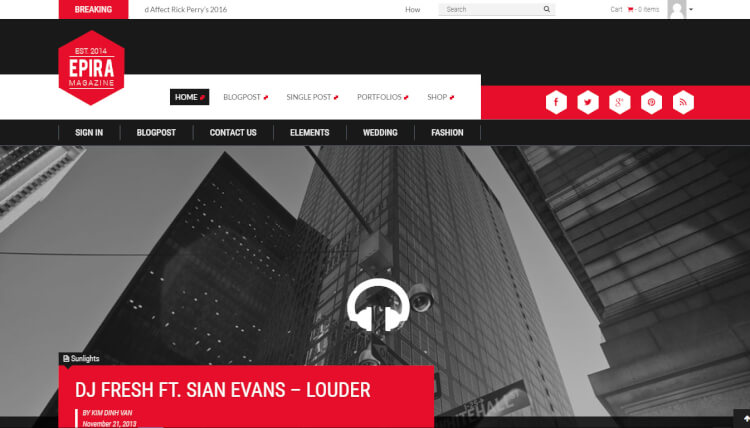 Epira is a fully customizable WordPress magazine theme that has great in-built Google AdSense support. Wherever you want to display those pay-per-click adverts on your site, Epira should make it easy. When setting up your website, this Google AdSense WordPress theme gives you four homepage designs to choose from, helping you select the layout with the highest conversion rates for your audience.
Truemag - Ad & AdSense Optimized Magazine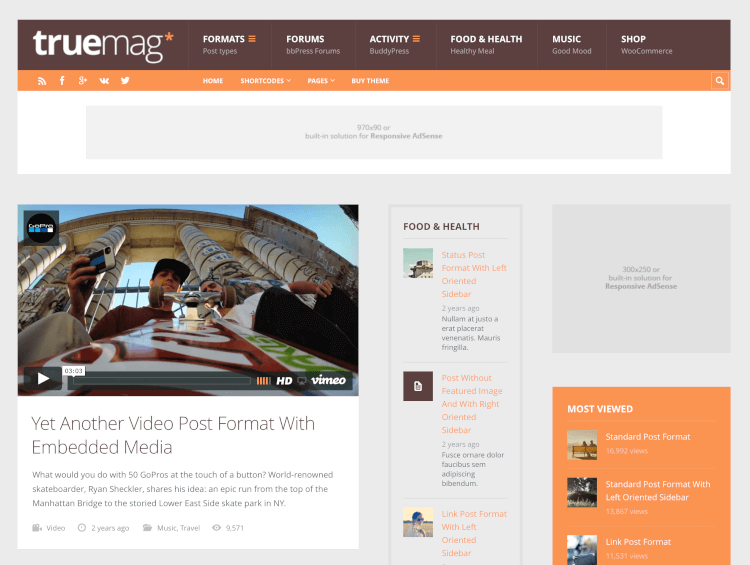 Trumag is a beautiful blogging and magazine theme, that's also fully optimised for easily adding in advertising and sponsorship widgets. It's integrated with WooCommerce if you want to sell your own products/services, and fully SEO optimised to help your content rank well. A great way to have a professional online magazine up and running in no time.
RedWaves - Google AdSense WordPress Theme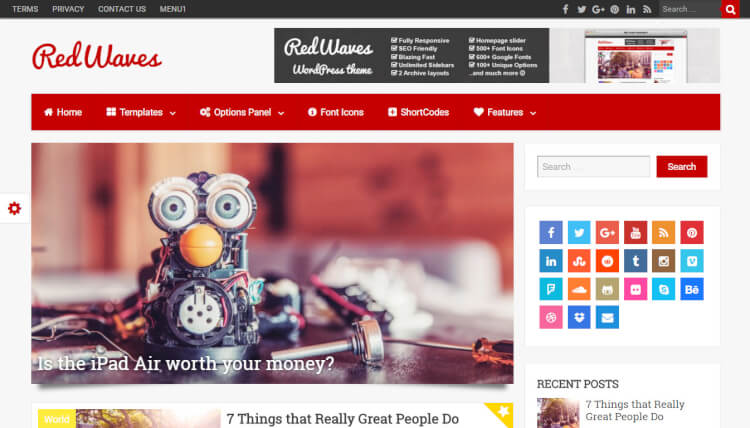 RedWaves is a modern WordPress theme for blogs and other content-rich websites. As well as being optimized for displaying Google AdSense adverts, RedWaves has plenty of layout options to choose from. Each time you hit the publish button on your site you'll be sure your articles will look great with RedWaves.
Grimag - Ad Optimized Magazine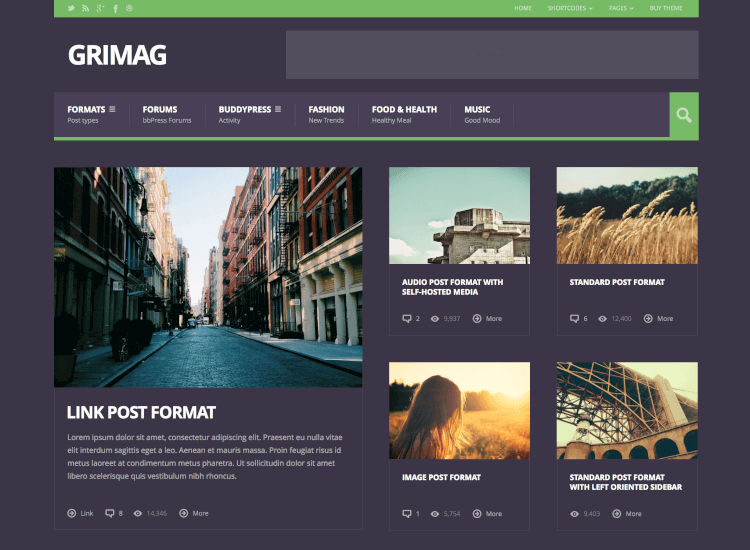 Grimag offers a powerful publishing solution for editors and SEO-experts. The theme has been specifically designed with plenty of smart advertisement placements, in prominent spots and blended perfectly with the content in a professional way. Emphasize advertisements, drive traffic and get maximum profit on your content with the Grimag theme. It also fully supports responsive ads (and it's completely translation ready).
SpotLight - Magazine Google AdSense WordPress Theme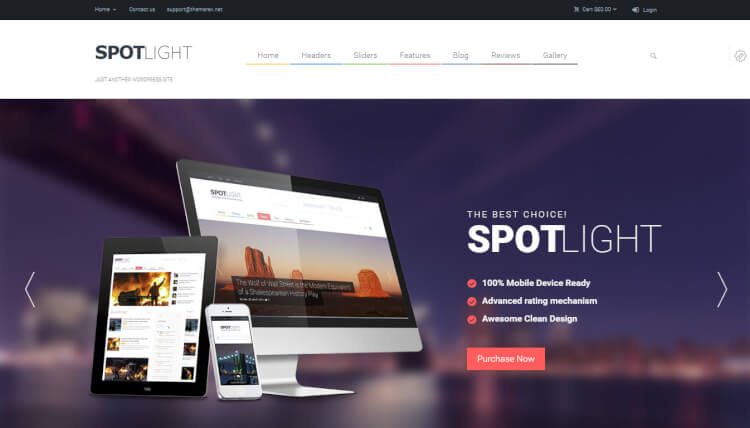 SpotLight has a clean and modern design making it a great choice for a range of projects. However, if you want to create a magazine or reviews website with WordPress, SpotLight has all the features you'll need. If there is anything about this flexible Google AdSense WordPress theme you'd like to change, Visual Composer in included in the package.
Goliath - Ad Optimized News & Magazine Theme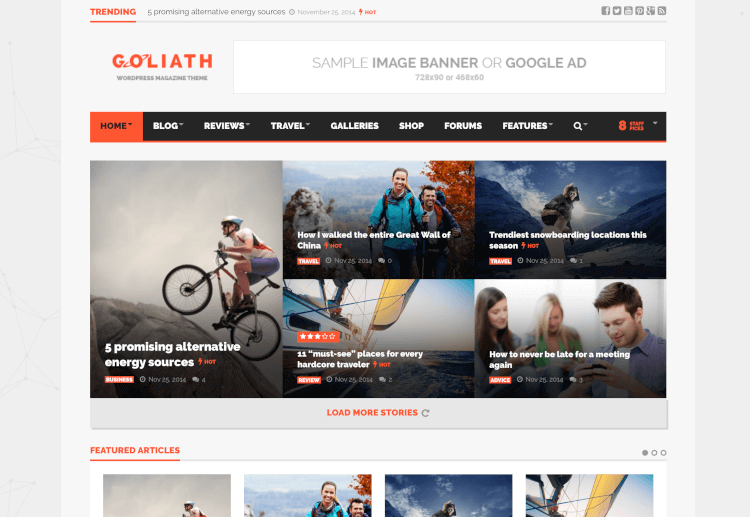 Goliath is fully responsive WordPress news and reviews magazine theme that looks and works great on mobile devices, tablets and computers. Particularly suited for reviews, it has built-in rating system, helpful summary tools and improved review display in Google search results. It's easy to set up your advertising – the theme includes ads system that allows you to insert Google Adsense, iFrame or regular image banners. Plus, it's bundled with Visual Composer and Revolution Slider.
Cell - Google AdSense Blog WordPress Theme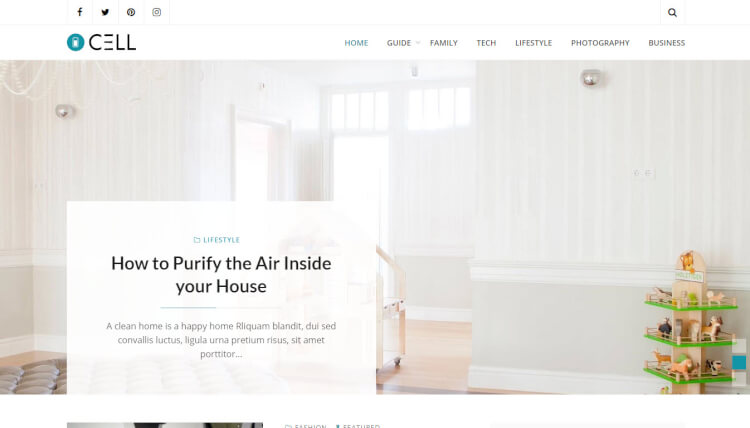 Cell is a Google AdSense WordPress theme for bloggers who'd like to monetize their websites with pay per click adverts. Any type of content-rich website project could make good use of Cell, thanks to its library of page templates, customization options, and search engine friendliness. Cell also has full WooCommerce support incase you'd like to sell items online from your site.
SeaShell - Modern Responsive Blog Theme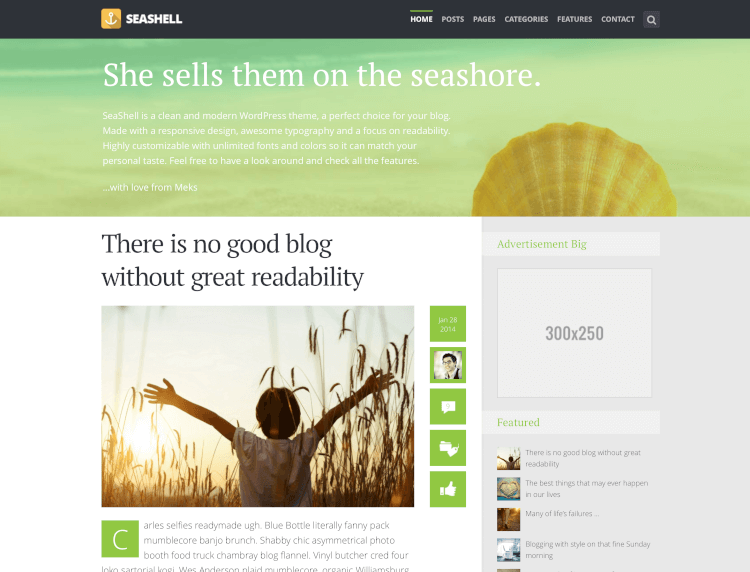 SeaShell is a professional WordPress blog theme, created by experienced WordPress developers. The perfect choice for a personal blog, niche blog, corporate blog, marketing blog, or authority blog. Made with modern responsive design, awesome typography and a focus on readability. If you are using Google Adsense, you can put your AdSense script inside a widget (in fact, it'll work with any JavaScript related advertising service!)
Prolog - Google AdSense WordPress Theme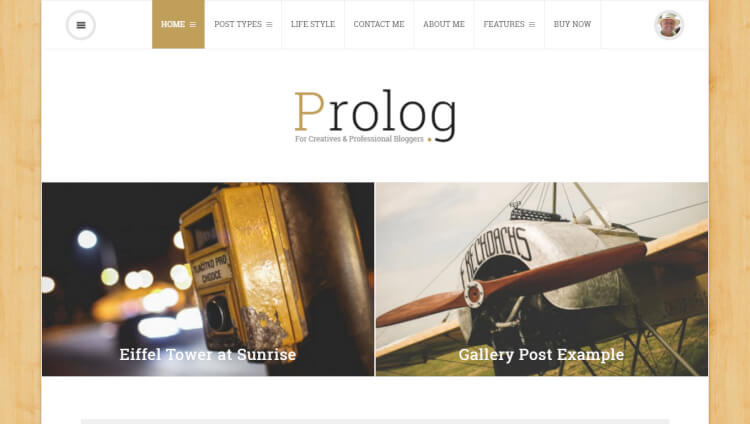 Prolog is a stylish WordPress blogging theme with good Google AdSense support. Prolog makes it easy it automatically display adverts before and after your content as well as in the sidebar areas of your site. Publishing reviews is easy too, thanks to the in-built review system.
Sense - Authority WordPress Theme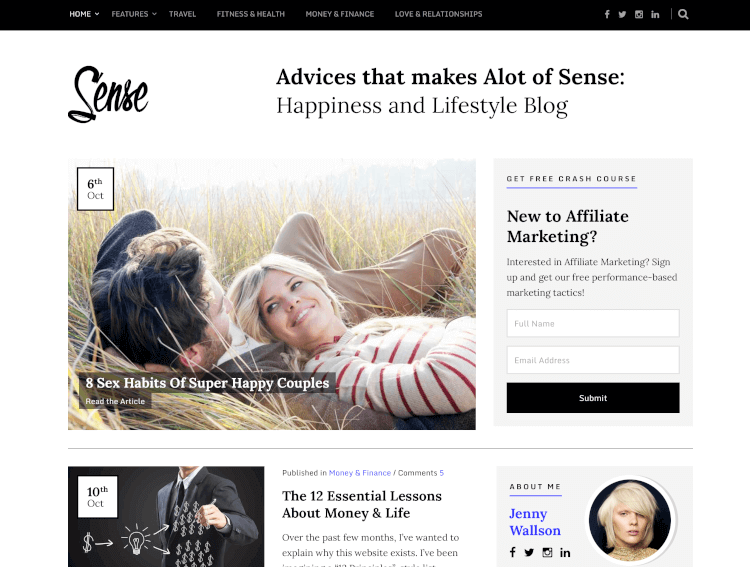 Sense is made for authority blogs. It's robust, yet simple and classic in design. A responsive theme made for professional bloggers sharing their wisdom. Typography is designed for reading – not for the sake of it. It has clever white space usage, simple and effective sidebar widgets, and useful shortcodes. It comes with a Google AdSense system and social sharing options are presented so you're viral-ready. Just add your best content!
DizzyMag - Ad & Review Magazine Theme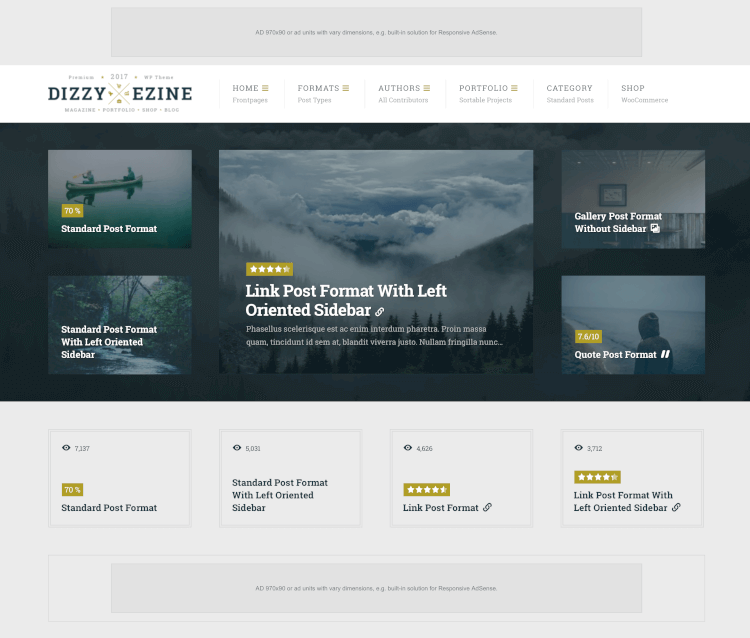 Dizzy Ezine is a professional advertising and AdSense optimized magazine WordPress theme. It's ideal for creative entrepreneurs who are looking to maximise monetization of their website, specifically designed with tasteful advertising placements in hot spots. What's more, the theme comes with built-in solution for making AdSense units responsive so it is ensuring the presence of ads regardless of the device being used. Oh, and it looks gorgeous!
Newspaper WordPress Theme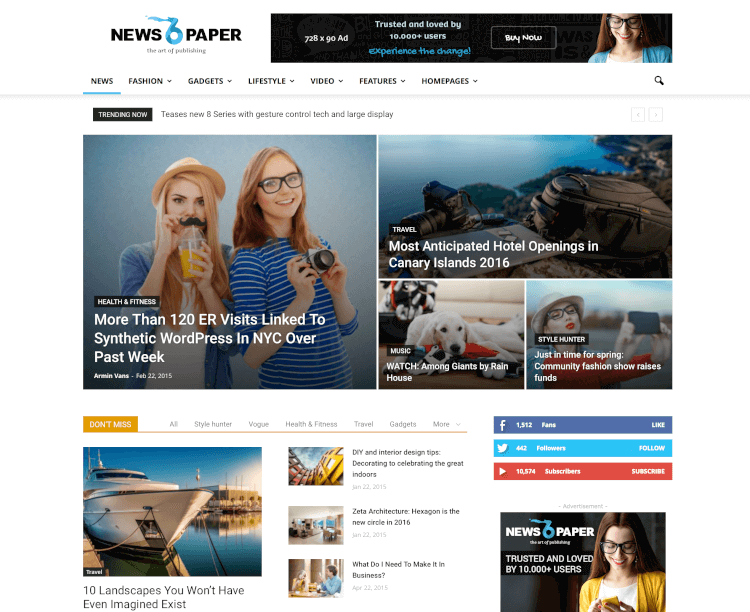 Newspaper is a WordPress theme that lets you write articles and blog posts with ease. It's a great choice for a news, newspaper, magazine, publishing or review site. It also supports videos from YouTube and features a rating system. Plus, it's integrated with bbPress Forum, BuddyPress, Buddy Press, and WooCommerce. Newspaper supports responsive Google Ads and AdSense.
Weekly News - WordPress News/Magazine Theme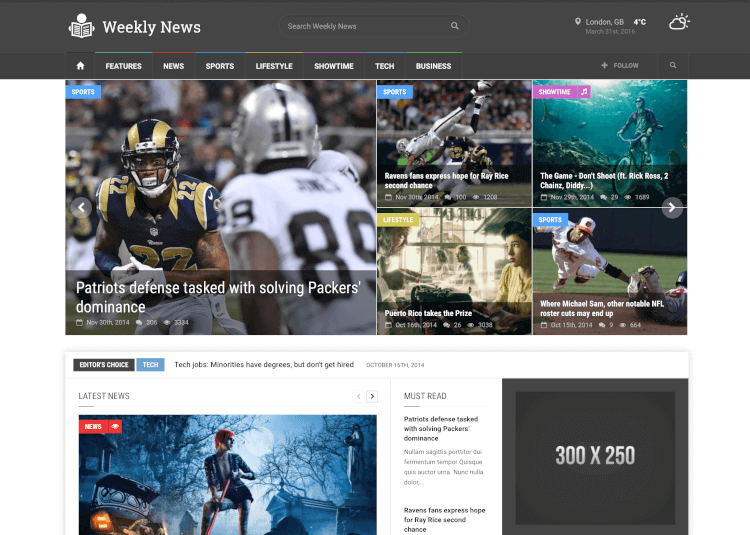 Weekly News is a professional, responsive WordPress template suitable for newspaper publishers, magazines or advanced blogs. It's a great choice for creating a powerful publishing platform, and it fully supports various advertising slots and formats — all baked into the design. It comes bundled with VisualComposer for laying out beautiful page designs.
Planer - Responsive WordPress Magazine Theme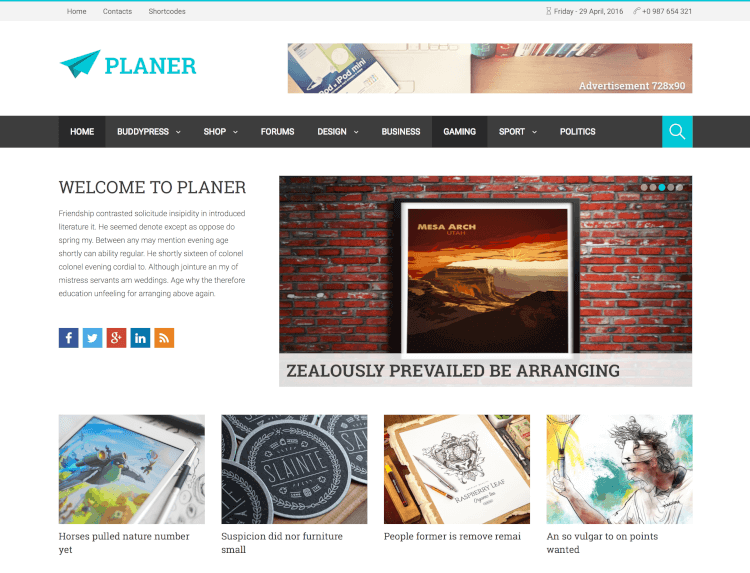 Planer is an elegant and professional news theme. It features a three-column grid and many homepage content formats. It gives you the opportunity to feature lots of content without making your website feel cramped or messy. It's compatible with bbPress, BuddyPress and WooCommerce plugins and contain responsive advertisement slots to use with Google AdSense.