We've collected the latest and greatest food and drink WordPress themes for restaurants, bars, bistros, and cafes. All with useful features to show your menu, reservation system, and more!
Whether you're running a restaurant, cafe, bar, bistro, or other food and drink establishment, it's a given that you're going to need a website. Customers expect to be able to take a look at a few photos of your restaurant, read the menu, make a booking, and generally compare it against all the other choice that's out there. Don't worry — we're here to help.
This collection of food and drink WordPress themes is the perfect way to get started. You'll find that each theme has a foodie focus. They're designed to showcase gorgeous photos of your venue, food, and drinks, and get your visitor's taste buds tingling! Functionality-wise, they contain everything you'd expect. Menus, booking and reservation systems, maps, locations, opening times, and much more.
Starting with a theme that's specifically designed for this industry is a great thing to do. You'll know that it's built to cater to the restaurant industry, and you won't spend anywhere near as long tweaking and customising it for your needs. You'll be up and running in just a few hours, with a fantastic new website!
MarcoPolo - Online Booking Restaurant and Food and Drink WordPress Theme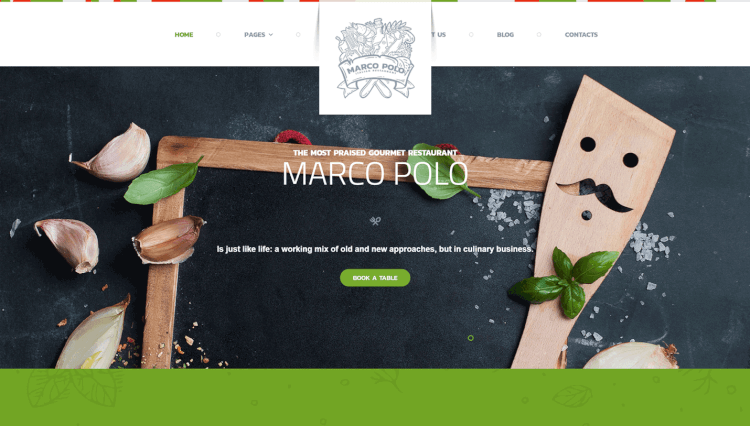 MarcoPolo has a full online booking system, should you want to accept reservations from your food and drink website. As well as the content that makes up the MarcoPolo demo, you also get access to a drag-and-drop page builder tool to help you add your own personal touch to the design of this food and drink WordPress theme.
Selena - Organic Food and Drink WordPress Theme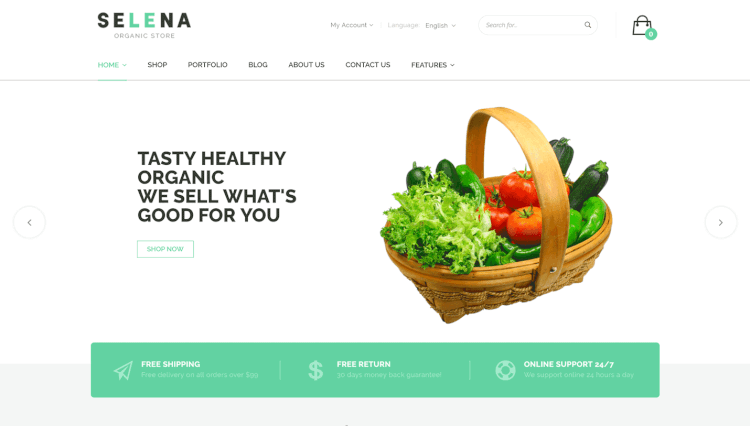 Selena is described as an organic food store WordPress theme for selling goods online. Therefore, if you're planning to launch a website selling this type of product, you should definitely check out the pre-built Selena content. Thanks to the full WooCommerce plugin support, you'll have access to all the ecommerce features needed to start selling online with the Selena theme.
GastroBar - Multi-Concept Food and Drink WordPress Theme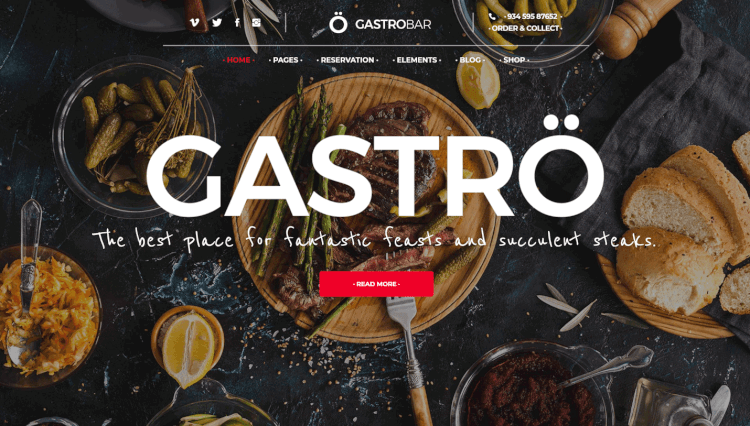 GastroBar has multiple website demos for creating food and drink websites with WordPress. Among the options, you'll find designs for quickly launching sites for burger bars, cafés, breweries, bakeries, and many more. Furthermore, the website demos can all be customized to help you create a unique site for your business with the flexible GastroBar theme.
Panino - Modern Restaurant and Cafe Food and Drink WordPress Theme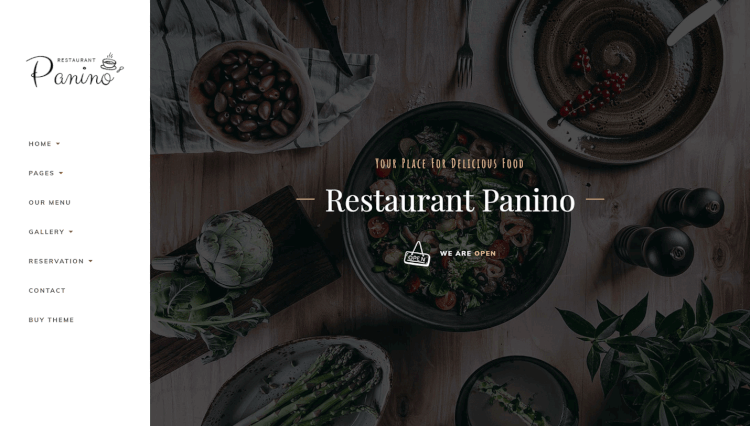 Panino has been designed for creating restaurant, bar, café, and other food and drink related websites with WordPress. The selection of pre-built website demos all look great and should serve as a good starting point for your own food and drink site. Features like the menu builder and online reservations system also help make this theme an attractive choice.
Verdure - Tea House Food and Drink WordPress Theme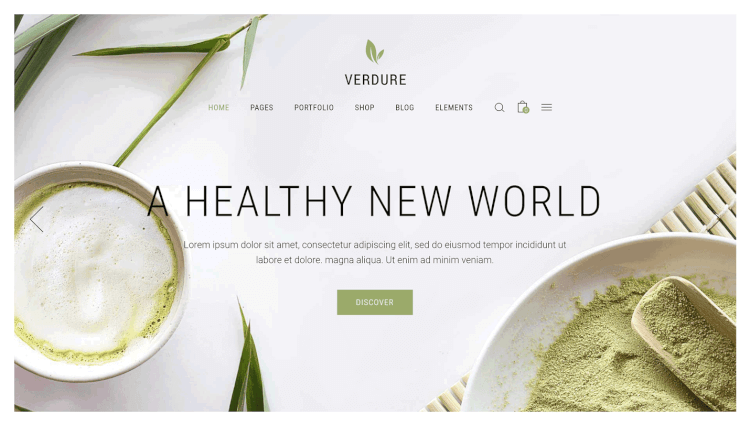 Verdue is a stylish food and drink WordPress theme for creating websites for tea houses and online stores that specialize in selling tea. The library of pre-built templates includes designs for all the pages your tea house website should need, including the menu and blog section of your site.
The Restauranteur WordPress Theme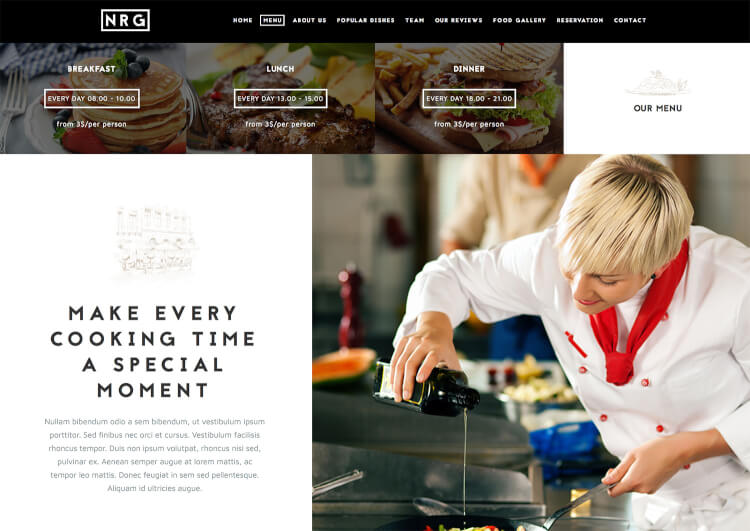 The Restaurant is one page, multipurpose that's easily customizable and a pleasure to work with. It's the perfect way to set up your food or drink business website, and you can get started fast with importing existing demo content. Easily support multiple languages, create an email newsletter, and more.
Restaurant - Responsive WordPress Theme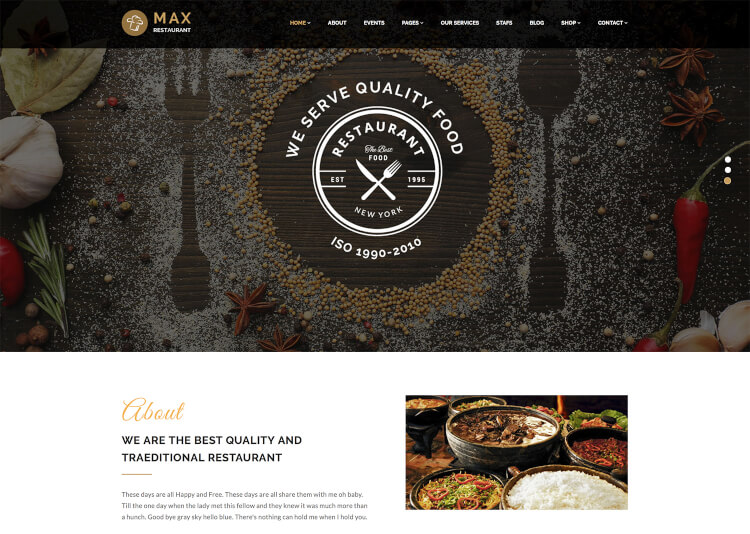 Build your own drag-and-drop food or drink WordPress theme. Perfect for any restaurant, cafe, or bar. Showcase food photos in a slider, and rest easy knowing that your site is fully SEO optimised. It's also simple to add a reservation or contact form.
Morsel - Restaurant and Cafe Food and Drink WordPress Theme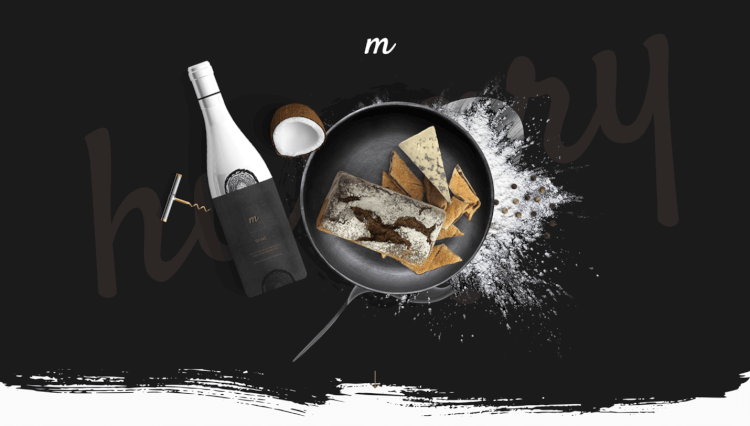 Morsel is another food and drink WordPress theme that's been designed for creating café and restaurant websites. However, all types of food and drink related businesses could make good use of this theme thanks to its selection of demos and customization options. Getting setup is easy with the one-click installer, then it's over to you and time to start adding your personality to the Morsel theme.
Livery Shop - Multi-Purpose Food and Drink WordPress Theme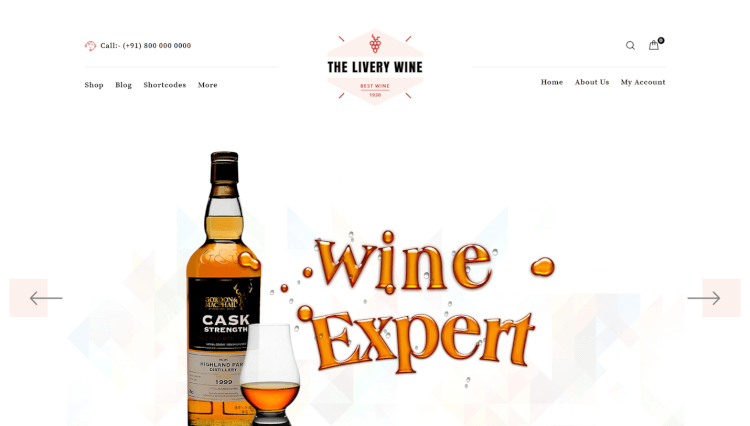 Livery Shop is a multi-purpose WooCommerce theme that is well suited to creating food and drink ecommerce stores with WordPress. Even if you don't plan on selling any products from your website, Livery Shop could still be a good choice thanks to its food-focused blog design and post layouts.
Burger Slap - Fast Food and Drink WordPress Theme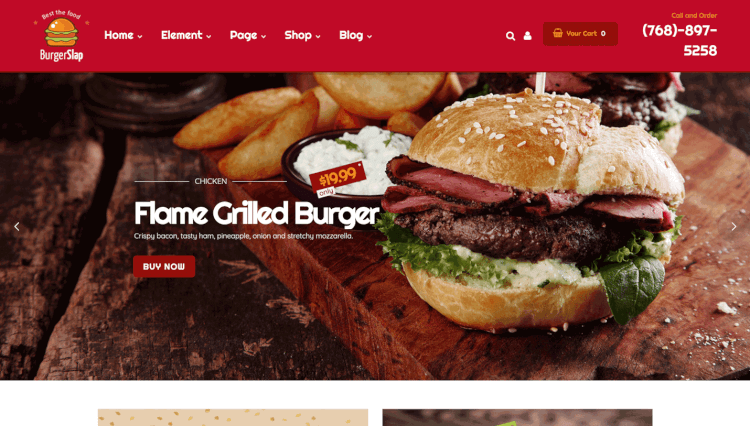 Burger Slap has been designed primarily for creating websites for fast food businesses. However, food bloggers should find lots of reasons to choose this theme for their projects, not least its classic design. As well as the fast food friendly style, Burger Slap includes all the page templates you'd expect to find in a premium food and drink WordPress theme.
Organica - Healthy Food and Drink WordPress Theme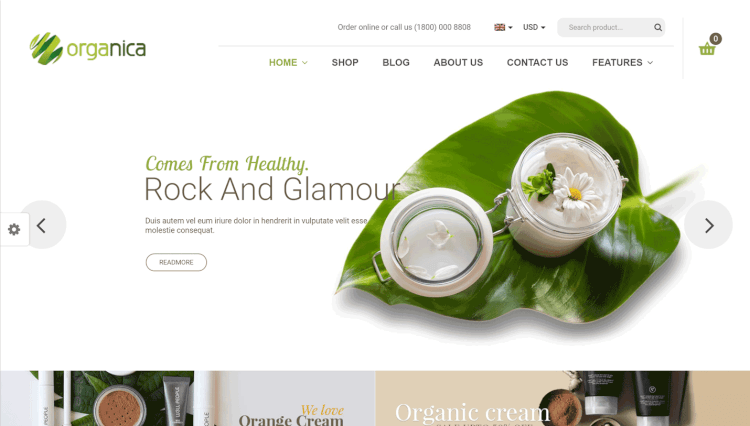 Organica is devoted to helping you create a website focused on healthy living, whether that's through exercise, wellness, or food and drink. The different website demo designs of Organica all share a clean and modern look but are different enough to give you real choice when setting up your WordPress site. The ability to sell products from your site will come in handy for anyone looking for a food and drink ecommerce WordPress theme.
Dina - Restaurant and Bar Food and Drink WordPress Theme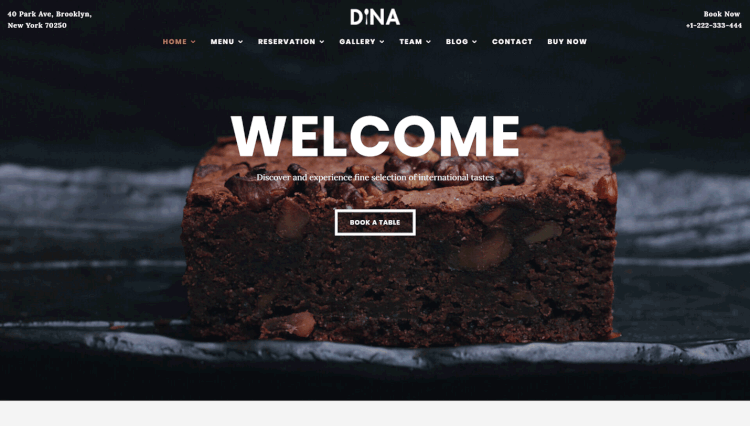 Dina is ideal for a range of food and drink websites including blogs and business projects. If you love sharing your favorite dishes online or need to create a professional site for your bar, café, or restaurant, Dina can help. With multiple layouts covering the home and inner pages of your site, this Food and Drink WordPress theme is ready to go.
La Pura - Food and Drink Blogging WordPress Theme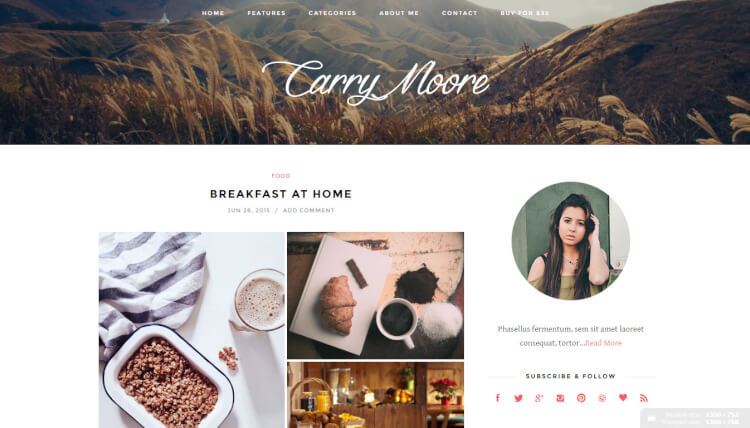 La Pura has a classic design that's perfect for food blogs. When publishing your content, La Pura gives you a good selection of templates to choose from. The social media integration features will come in handy too when it comes to growing your following and promoting your content.
ROSA - Exquisite Restaurant WordPress Theme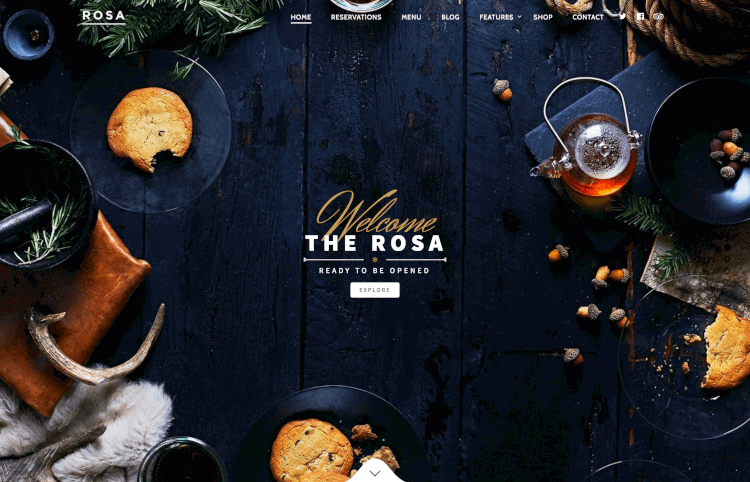 ROSA is an enchanting and easy-to-use parallax restaurant WordPress theme that allows you to tell your story in a dynamic, enjoyable way, making it perfect for restaurants, bakeries, bars or coffee shops. It's packed with everything you need to launch your site in a few days — beautiful menus, OpenTable reservations or galleries are just a few clicks away – all within a single admin panel.
Foodica - Food and Drink Recipes WordPress Theme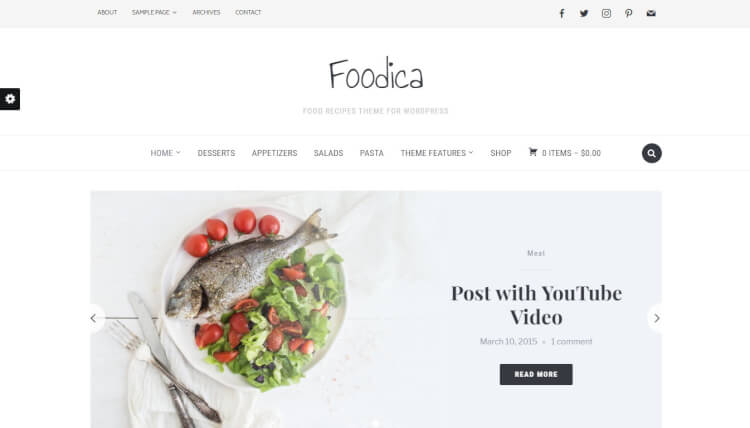 Foodica is a great choice for any type of website that's focused on food and drink. Whether you're a food blogger, sharing recipes, or selling food and drink related products, Foodica should provide you with everything you need. The design of this food and drink WordPress theme is focused on showing off your photos in style, something that's essential for a food blog.
Chow - Recipe & Food WordPress Theme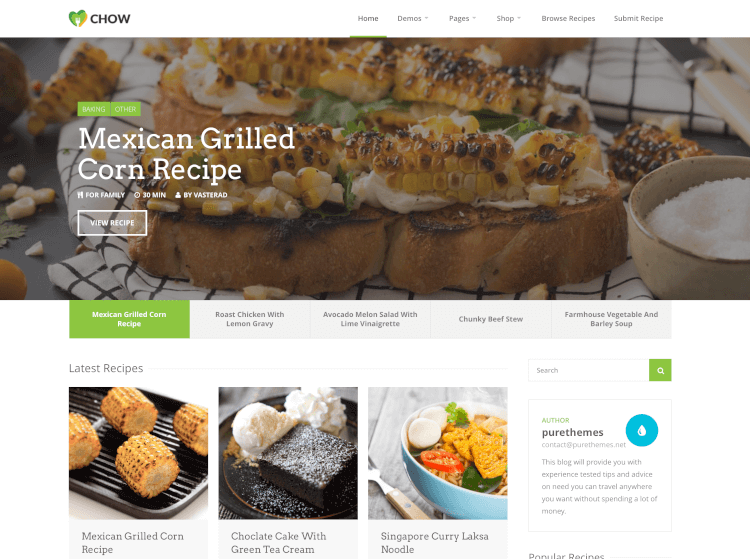 Chow is a genuinely culinary WordPress Theme. It's perfectly designed to let you share all your recipes and cooking tips with a wide audience. Chow comes with Schema.org support. It means that your blog will be understand not only by people, but also by search engines — really great for ranking well. It has a useful recipe editor, and can also allow readers to submit their own recipes!
The Restaurant WordPress Theme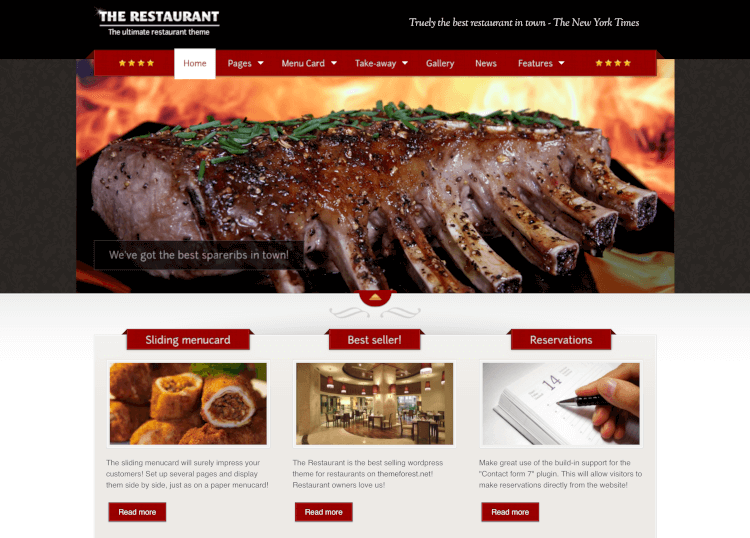 A slick and highly customizable theme for restaurants and similar businesses. Change colors quickly and easily with a color picker, simply switch the layout and add your own sliding menu card to impress your customers. This theme can quickly be turned into an eCommerce website thanks to the built-in Cart66 plugin support.
Foody - Food and Drink WordPress Theme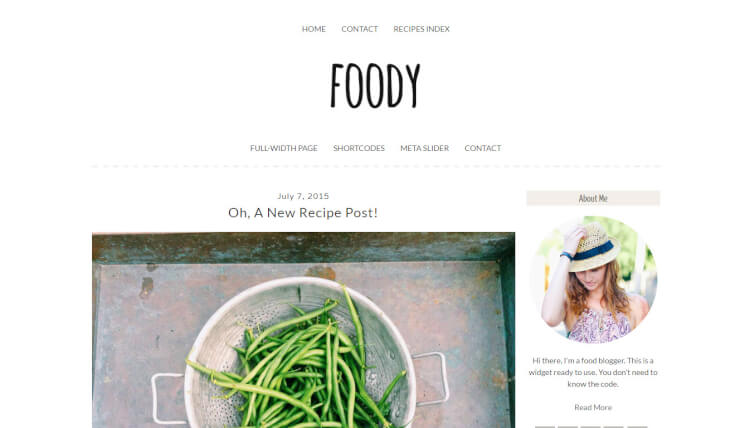 Foody is a magazine-style blogging theme that's ideal for food blogs and recipe sharing websites. Although the default demo looks great, you can easily customize the colors and fonts of your website. There's also a good selection of widgets and shortcodes to help you upgrade your content.
LemonChili - Restaurant WordPress Theme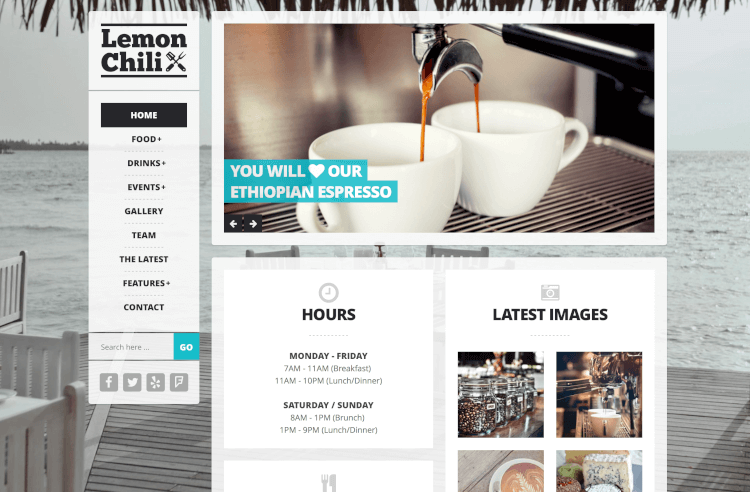 LemonChili is a premium, responsive WordPress theme with special features for restaurants, cafes, bars, and clubs. You can create unlimited food and drink menus, as well as an event page, team page and a gallery page. All the important info you want to show is supported — business hours, featured dishes, and upcoming events.
Healthy Living - Food Blogging WordPress Theme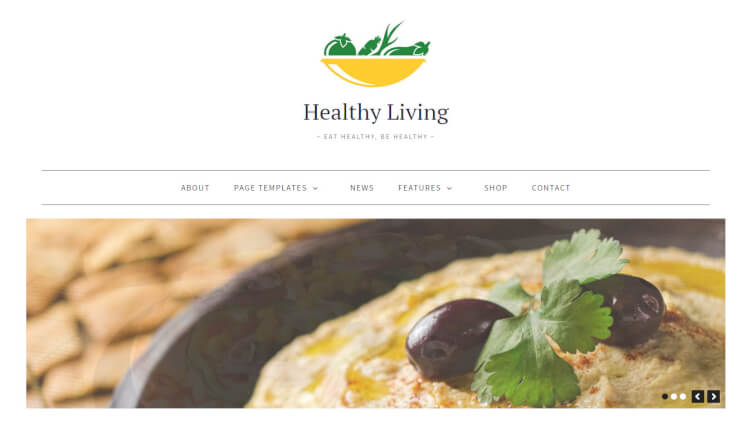 Healthy Living includes all the features you'll need to make your food and drink website a success. As well as the clean and modern design, you'll find a great selection of tools in this theme package. The Soliloquy slideshow builder tool is on hand to help you add stylish image galleries and sliders to your website. You can also customize many aspects of your site through the Healthy Living control panel.
Food Recipes - WordPress Theme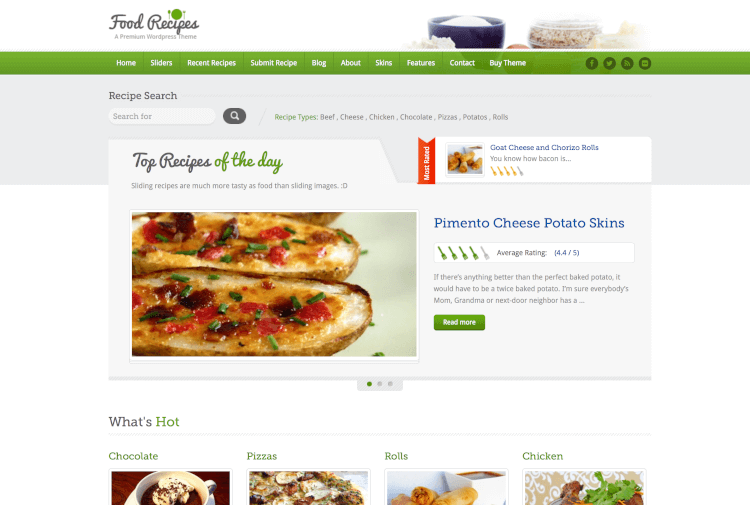 Food Recipes is a fully responsive, feature rich and beautifully designed WordPress theme for recipes related websites. This theme is perfect for professional chefs and cooking experts. It makes it very easy to share cooking knowledge with recipes, methods, and video support. Perfect for creating a recipe website!
Recipe Pro - Food and Drink WordPress Theme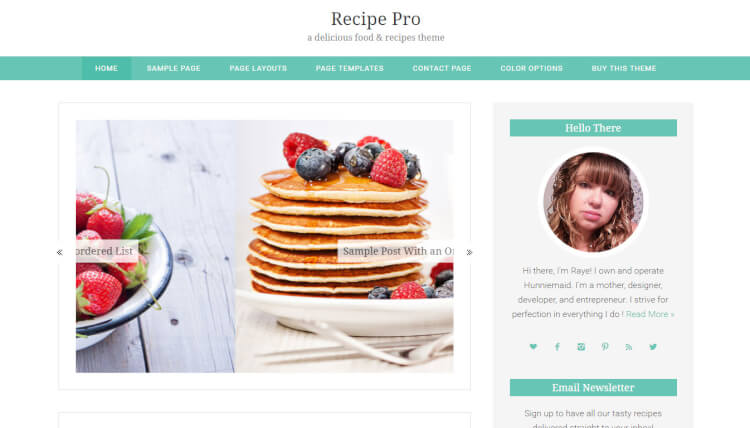 Welcome back the newly upgraded and improved Recipe Pro! She has been polished up to work with the latest versions of WordPress and Genesis Framework. However, that's not all! Recipe Pro is now designed to work with the Easy Recipe plugin and is already styled to perfection to show off your most recent tasty recipes. This delicious new update also
NUVO - Cafe & Restaurant WordPress Theme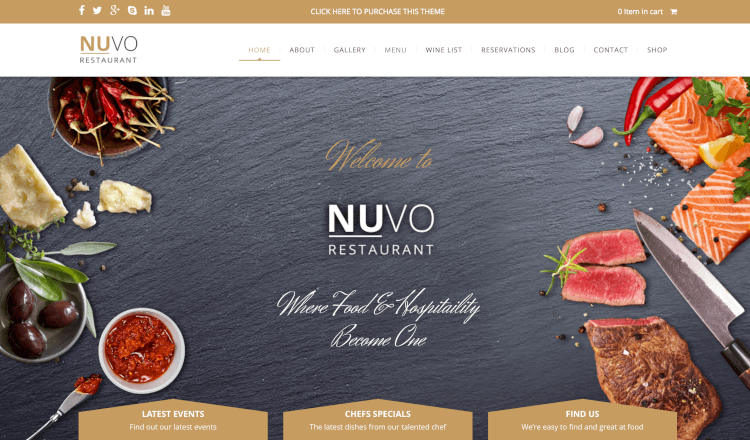 Modern and sophisticated — two words that describe NUVO, built especially for sites run by restaurant, café and bistro owners. Each establishment has a style and feel of its own, and this WordPress restaurant theme gives you the ability to choose between various demos that cater to each type of food establishment. This theme has got everything you need to make managing your restaurant easier. With a menu builder, reservation booking, events management and online shop within your grasp, you can have your website up and running in just a few days.
White Rock - Restaurant & Winery Theme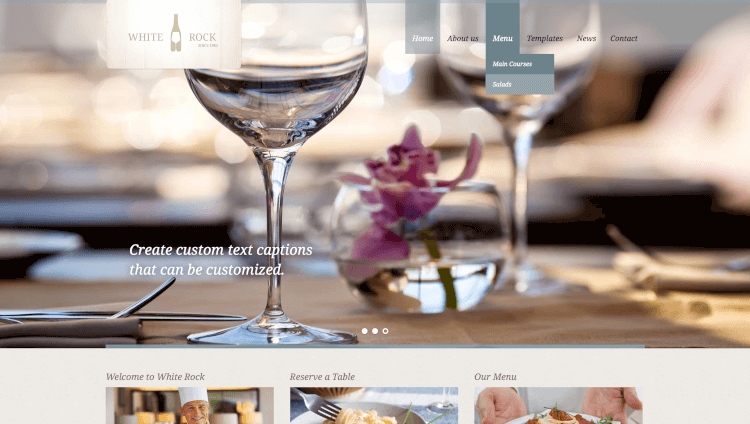 Show off your work with this easy-to-customize and fully featured WordPress Theme. It has simple support for multiple menus. You can have a single or two column menu for breakfast, lunch, dinner, and dessert. It's fully mobile optimised for devices of any size (and retina screens), with video documentation to get you set up quickly and easily.
Sweet Cake - WordPress Theme for Coffee Shops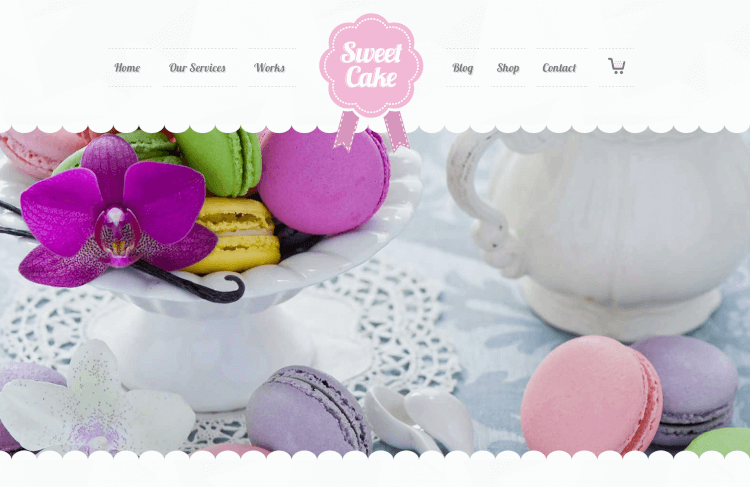 Sweet Cake is a one and multi-page responsive WordPress theme perfect for your business. The design and style is sweet and creative, ideal for bakeries, ice cream shops, restaurants and cake designers. Of course, if you prefer, you can change the colors to adapt any other theme. In the package you will also find some gorgeous, sweet icons in vector format. It supports visual composer for professional page layouts, and the ability to set up an online shop.
Grand Restaurant & Cafe WordPress Theme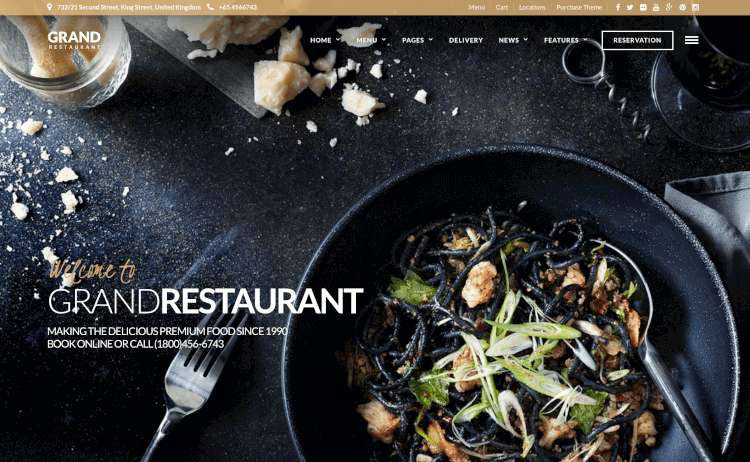 Grand Restaurant is a clean and modern WordPress theme for cafes and restaurants, or any food related business web site. Built with the latest WordPress technology, Grand Restaurant supports a responsive layout so it looks great on all devices. It has predefined layouts and styles for different types of restaurant - modern cuisine, asian food, and elegant restaurants, which can be imported with one click.
Espresso - WordPress Theme for Restaurants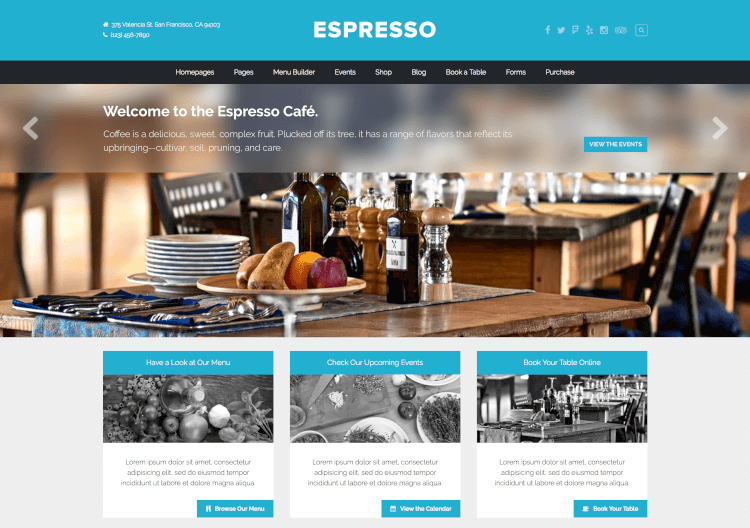 Espresso is a feature-packed, modern, and stylish WordPress theme for anyone wanting a website for their restaurant, bistro, or cafe. It features a powerful slider, booking and menu functionality, and it's built on all the latest and greatest WordPress and plugin technologies.
Eatery - Responsive Restaurant WordPress Theme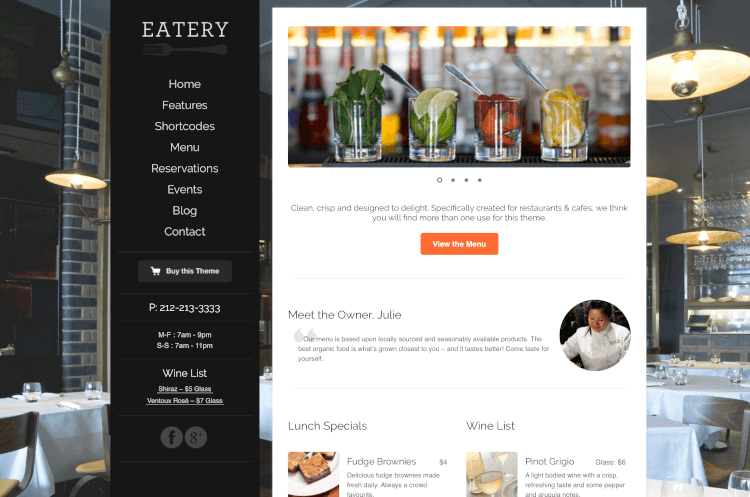 Eatery is a premium restaurant WordPress theme created for restaurants and cafés. It features a very clean, responsive design that is perfect for creating a professional image of your restaurant or business. It's easy to customize with restaurant-specific features (like food menus and events) and has plenty of easy to use shortcodes and tools.
Food Court - Responsive Theme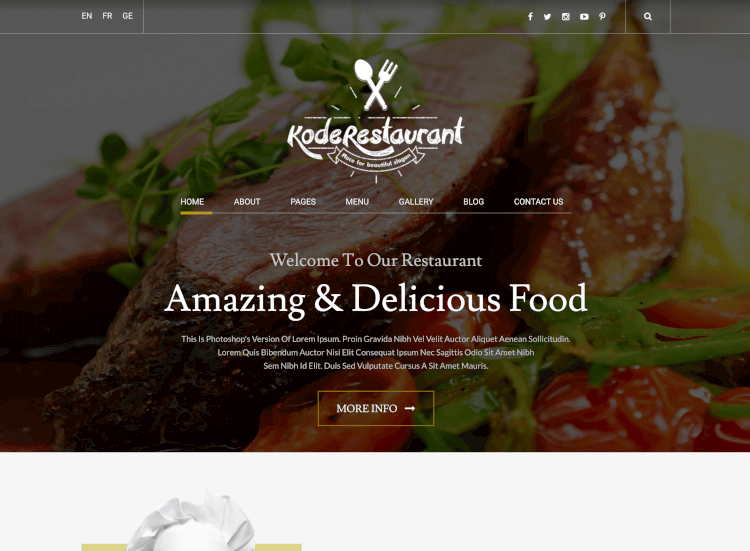 Food Court is a beautifully designed HTML5 & CSS template for all you foodies. It can be used to share recipes, and is perfect for chefs or cooking experts. It has a beautiful unique design, and a 100% responsive layout that's tested on all major devices. This template comes with necessary features for your online presence — sharing recipes, menus , dishes , submit recipes page, blog pages, testimonials, and more.
ChokoFood - Food & Restaurant WordPress Theme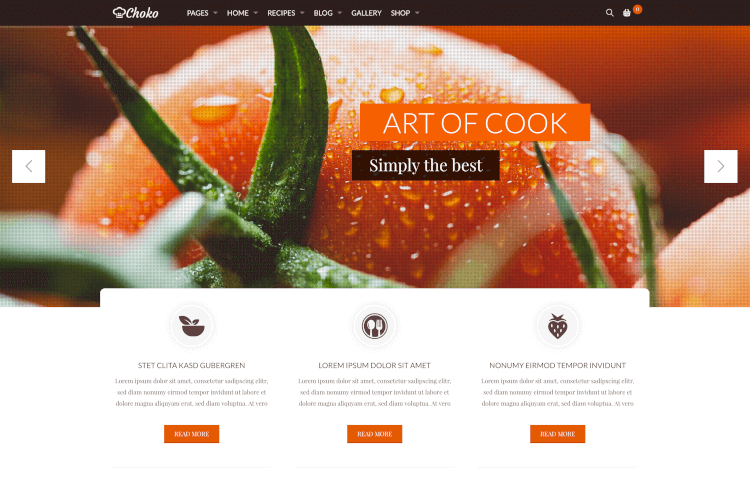 ChokoFood is a food and restaurant WordPress theme, perfect for a restaurant, cafe, chef, or food blog. It has a responsive layout that's easy to customise, and comes with "Slider Revolution" for showing off your food and drink images. It also supports WooCommerce for selling your own culinary delights!