65+ Best DJ WordPress Themes 2023 (Free & Premium)
WordPress is the perfect choice for creating a DJ website. By choosing one of the options from this collection of the best DJ WordPress themes, you won't have any trouble creating the right website for your project.
In this collection of the best DJ WordPress themes, you'll have plenty of options to choose from for your new website. And coupled with our tips on how to find a great DJ WordPress theme, you should have your website set up in no time.
Whether you want to create a simple website to promote yourself as a DJ or take things to the next level and build a DJ agency website with WordPress, this selection of themes can help.
In fact, despite all being great choices for a DJ website, these themes can also be used for a wide range of music-related project. Many of these themes include built-in audio players that are ideal for showcasing your latest mixes or productions.
Promoting your upcoming events is easy too with the best DJ WordPress themes. You can also share the latest photos and videos from your gigs and shows. Many of these themes also feature full WooCommerce support. This means that selling items from your site is very straightforward. With the option to sell audio files and other digital downloads as well as physical products from your DJ website, you suddenly have another income stream to accompany your bookings.
While the features of these themes vary, one thing they all have in common is their stylish and modern designs. By choosing one of the best DJ WordPress themes from this collection, and reading through our tips for building a DJ website, you can ensure that your website has the right look and feel to help enhance your musical career.
5 Tips for Building a DJ WordPress Website
Building a website for a DJ is a bit different than making a website for other types of musicians and bands. A DJ's website needs to have not only a certain style of design but also require certain aspects that are unique to a DJ's website.
1. Make It Easier To Stream Your Music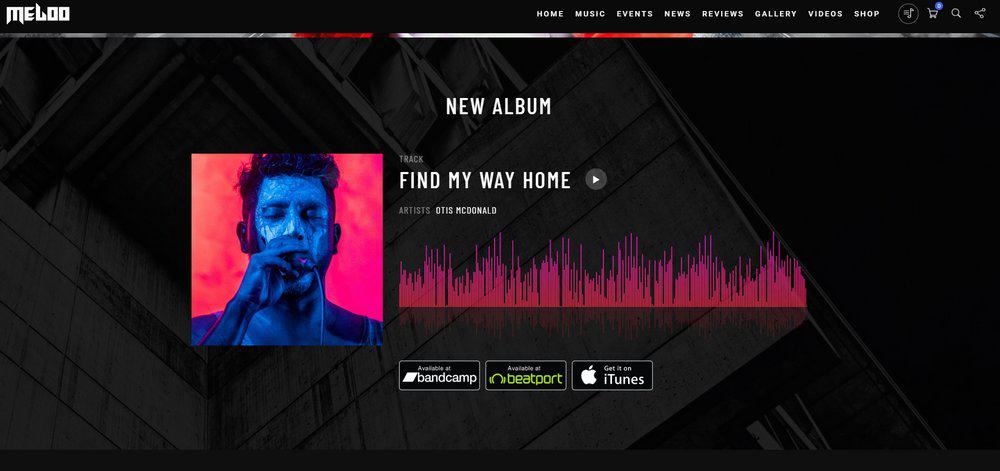 The ability to stream music directly on the website is a must-have feature for any website made for a musician. And there are several different ways you can integrate streaming on your website.
You can either use a WordPress theme with a built-in music player to offer a smoother streaming experience or you can find a theme that supports embedding from third-party sites such as SoundCloud and Bandcamp.
You can also find WordPress themes that support background audio which allows you to automatically play a music track on the background while users browse your website. Just keep in mind that it might annoy some people.
2. Showcase Your Upcoming Events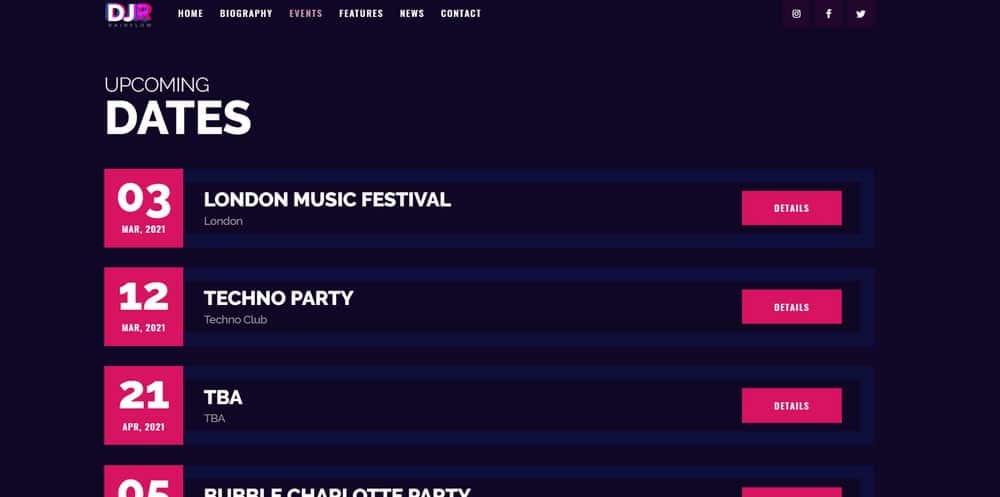 Once you attract visitors and fans to your website and wow them with your awesome music, the next step is to inform them of your upcoming DJ events.
This is why you need an events page or a section on your homepage to showcase all of the upcoming events. Most DJ WordPress themes are compatible with popular events calendar plugins, which will allow you to easily update your website with upcoming events.
3. Integrate Online Booking/Tickets System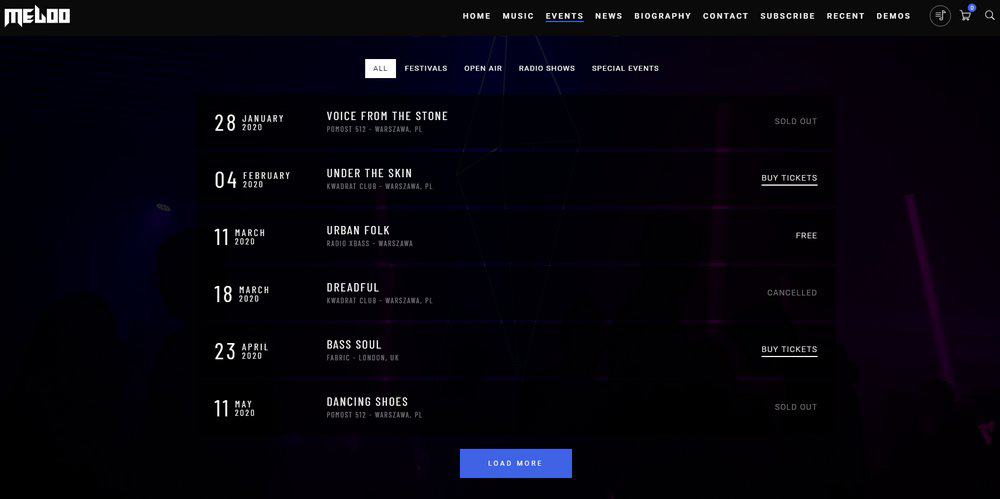 One of the many useful features of WordPress is the ability to integrate eCommerce systems with your website. Thanks to free plugins such as WooCommerce, you can easily integrate payment gateways on your website to effectively sell tickets to your DJ events or even allow clients to book sessions online.
4. Setup Shop To Sell Merchandise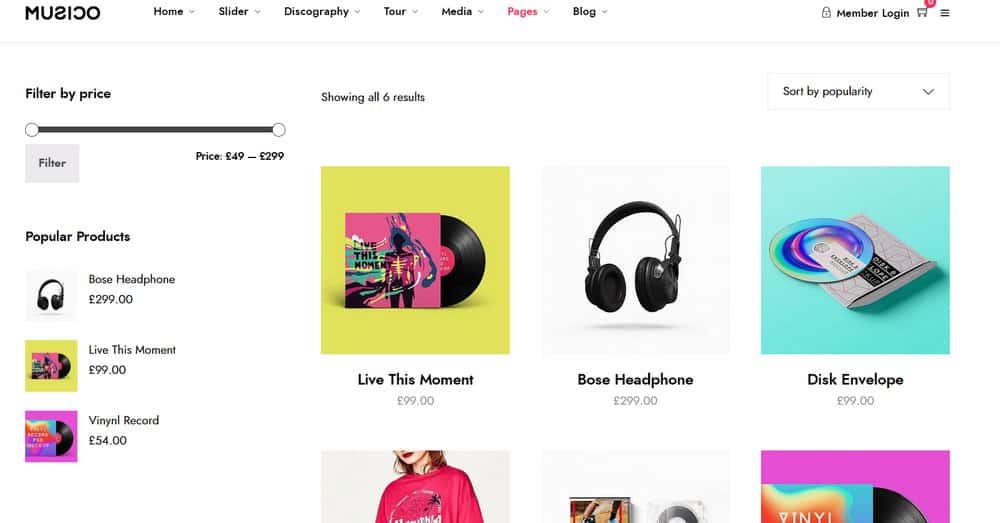 If you've picked the right DJ WordPress theme, you'll also be able to setup a shop on your website to directly sell your music, albums, and merchandise to your fans.
This is a great way to monetize your website and even create an additional income stream. You can also use your shop as a landing page to direct your fans to buy merch when promoting your products on social media.
5. Use Call To Actions To Get More Clients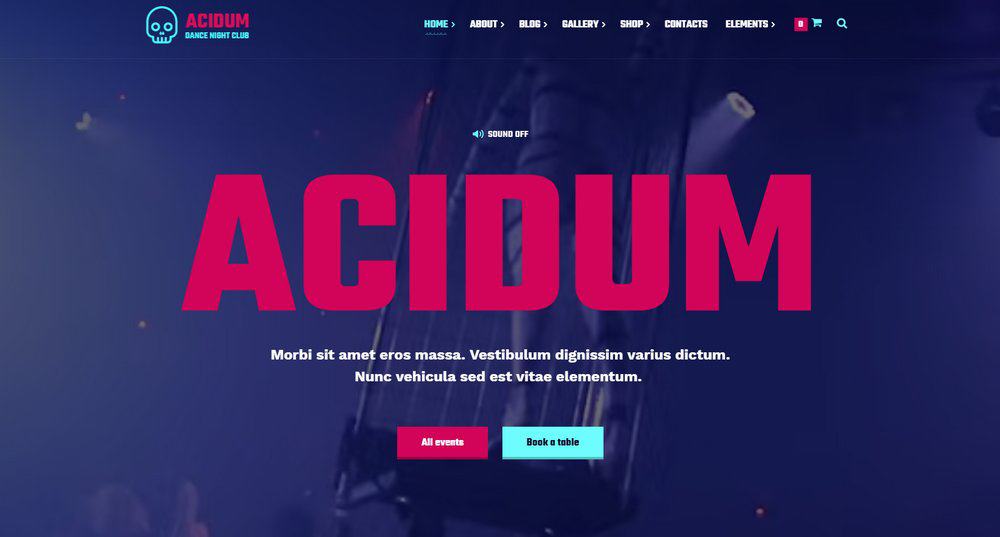 The header section of your DJ website can also be used effectively to accomplish many tasks with the use of call to actions, such as to direct visitors to buy your albums on iTunes, stream your music on Spotify, or even to direct clients to your contact page to encourage them to contact you or schedule a session.
You can also spread these call to actions throughout the design to get more attention to specific parts of your website.