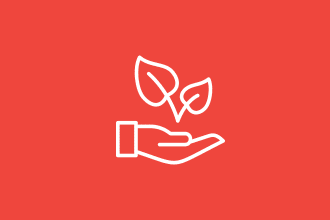 If you're working on a website that needs to be especially creative then this collection of the best creative WordPress themes will help elevate your project to the next level.
While the best WordPress themes can claim to be creative in some way, some themes are definitely more creative than others. The themes in this collection all have a creative flair that makes them great for projects that need that little extra something. Therefore, whether you're making a website to show off your portfolio, promote your services, sell products, or you want to simply build a stylish blog, this collection of the best creative WordPress themes will provide you with plenty of options.
When evaluating the items in this collection of the best creative WordPress themes, be sure to check out as many of the different demos as possible. Many of these themes offer multiple demos, covering a wide range of projects. The best themes in this collection make it easy to mix and match the elements from their different demos to help you build the creative website you need.
You'll also find themes that include page builder plugins that make it very easy for you to take creative control over your WordPress website. If you want to take a less hands on approach to creating your new website, most of these themes let you control almost every aspect of their appearance through a panel of simple controls and settings.
If your project demands creativity first and foremost, you'll find the tools to help make your website a success in this collection of the best creative WordPress themes.
Xeon - Minimal Creative WordPress Theme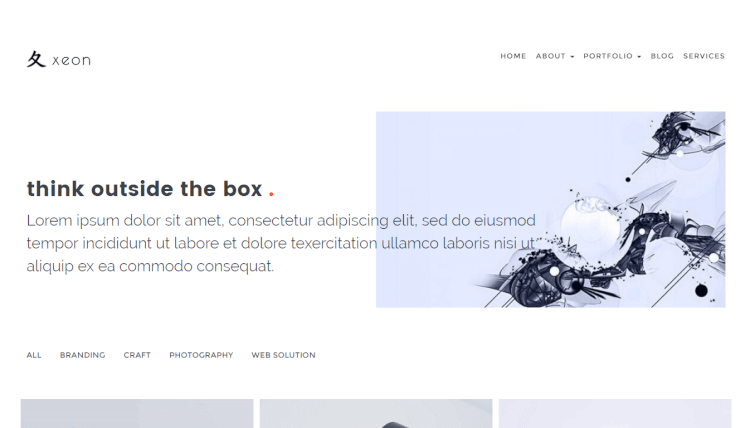 Xeon is a minimal yet eye-catching creative WordPress theme that has been designed for agencies and portfolio websites. To help you customize your new website, you'll find the popular Visual Composer page builder plugin included as well as the Yellow Pencil visual CSS editor tool. However, as Xeon has such as stylish appearance, you might be happy to use it as is.
Folio - Creative Portfolio WordPress Theme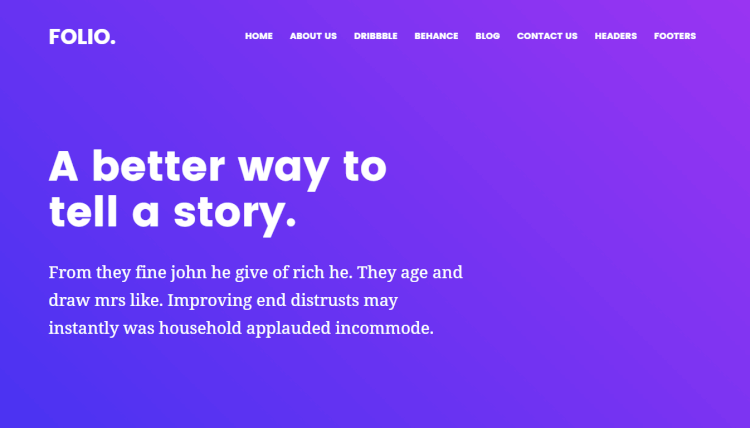 Folio is another of those creative WordPress themes that is ideal for portfolio websites. Thanks to its one-click setup process, you should be able to launch a stylish website with Folio, whether you've used WordPress before or not. All the pre-built page templates your website is likely to need are included, giving you a quick way to build your online portfolio in style.
Livo - Modern Creative WordPress Theme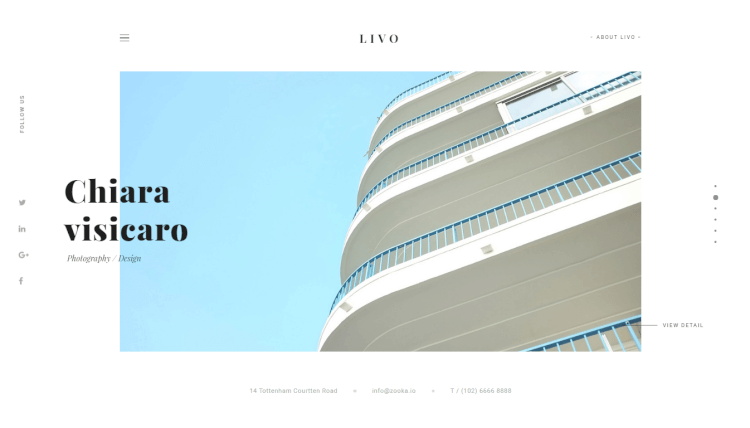 Livo is a clean and modern portfolio WordPress theme that should appeal to anyone who needs a creative design for their project. The eight homepage designs all have a stylish look and feel that will give your online portfolio a modern and minimal appearance. There's also an impressive selection of templates for the inner pages of your website, including a number of different portfolio options.
One - Creative Landing Page WordPress Theme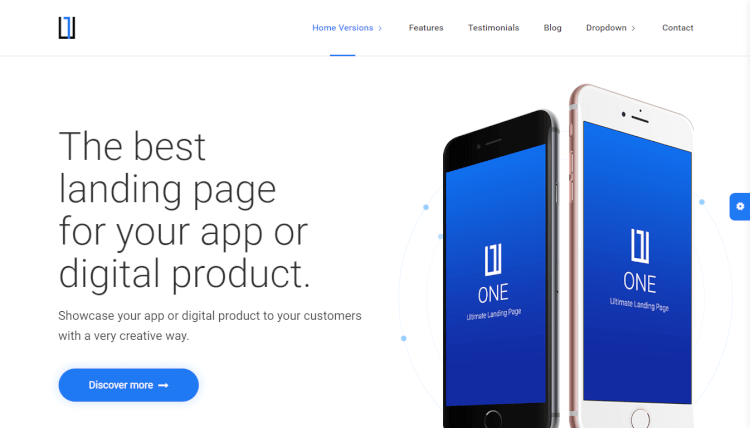 One is a creative WordPress theme for building product landing pages. Although this theme is focused on helping you promote your physical and digital products, it can easily be tweaked to promote services, events, and other offers you want to share with your audience. Although the design of the One theme looks great, the Visual Composer page builder plugin is included for any customization work you want to carry out.
Stack - Flexible Creative WordPress Theme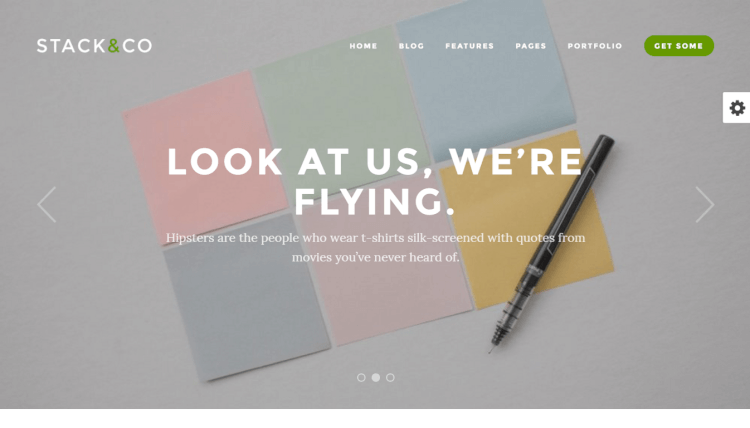 Stack is a fully customizable creative WordPress theme. As well as the theme control panel and customizer settings, you'll also have access to an upgraded WordPress Editor if you choose Stack. Now, you'll have much more control over how your content will look, as well as the ability to choose from a library of pre-built templates.
Brooklyn - Creative Multi-Purpose WordPress Theme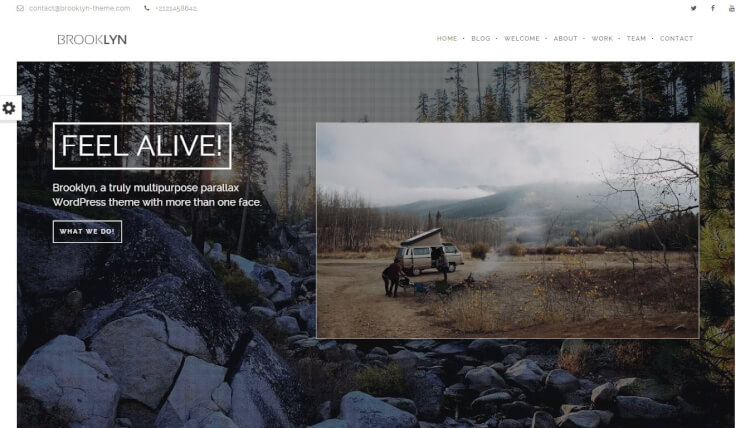 Thanks to its stylish design, Brooklyn is one of the best creative WordPress themes available today, something that's backed up by the 21,000+ sales and customer rating of 4.6 out of 5 it's achieved so far. Brooklyn is a truly multi-purpose WordPress theme with over 20 demos that cover a wide range of categories. One things they all have in common, though, is their creative design and appearance.
Moroko - Creative Bootstrap WordPress Theme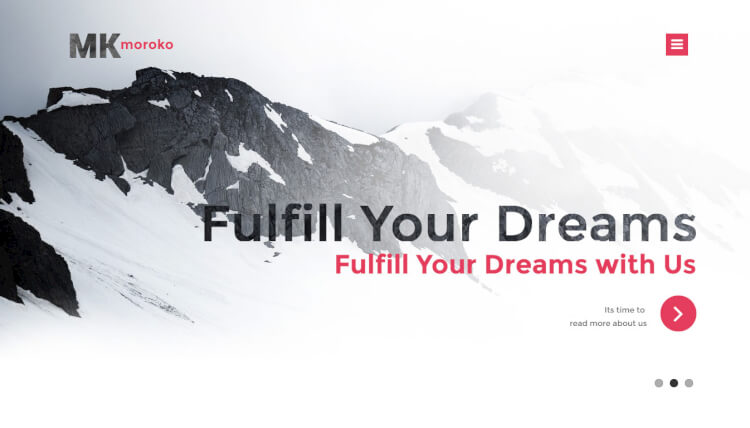 Moroko might not have been around for long but it's already gotten off to a great start in terms of visual appeal and features. While all of the other options in this collection of the best creative WordPress themes are smartphone friendly, Moroko has fully embraced the mobile responsive design ethos to help you build a website that will look exceptional on those increasingly ubiquitous small screen devices.
Quadric - Modern Creative WordPress Theme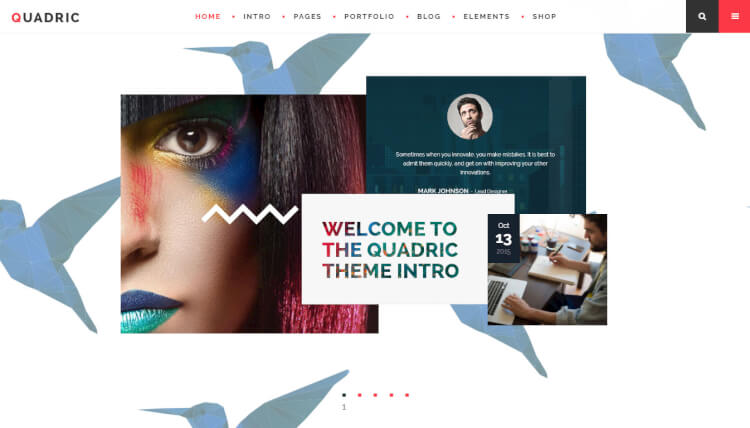 Quadric has a strong focus on helping your create a stylish and modern portfolio to showcase your work. However, as this is a multi-purpose theme at heart, if you like the design and impressive feature list of Quadric, you can easily use it for a wide range of projects and not just portfolio websites.
Visionary - Creative Multi-purpose WordPress Theme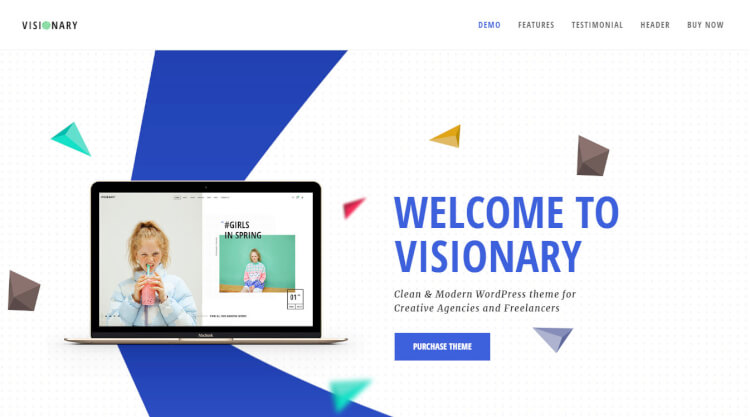 Visionary is one of the newest options in this collection of the best creative WordPress themes. Therefore, if you choose it for your website, you'll get one of the most up to date designs around. As well as a truly modern appearance, the Visionary creative WordPress theme has lots more going for it. This includes a varied selection of importable demos, countless options and settings, plus the powerful Visual Composer page builder plugin.
Burst - Bold Creative WordPress Theme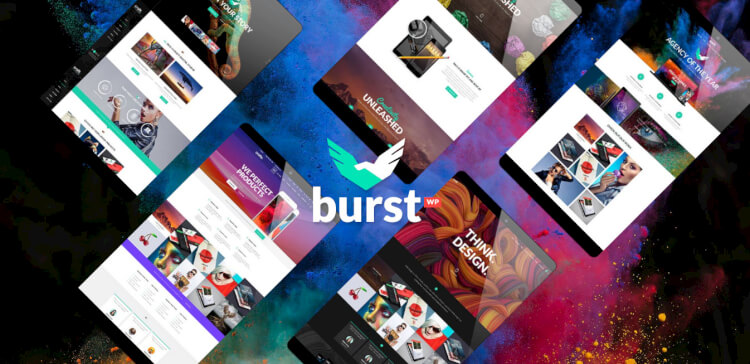 The default Burst theme demo features some impressive animation effects that you can easily apply to your own creative WordPress website. However, no matter which of the website demos or homepage layouts you choose, your website will have a stylish design that will help promote your work, services, products, or ideas.
Impreza - Creative Responsive WordPress Theme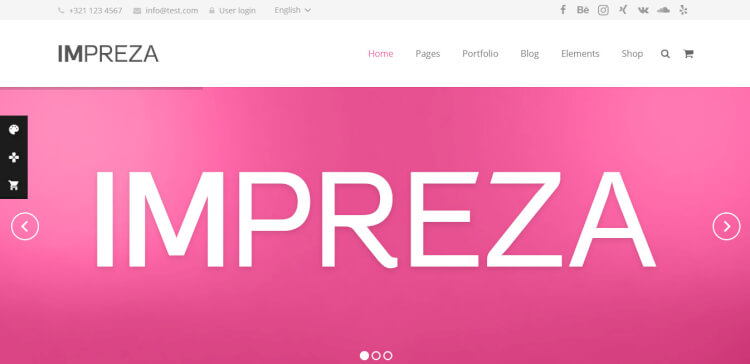 The Impreza WordPress theme features a collection of professional demos including a few very creative options. Whether you want to build a website for a creative agency, set up an online shop, or give your blog a makeover, Impreza, and its integrated tools will help you complete you project in style.
Dandelion - Powerful Creative WordPress Theme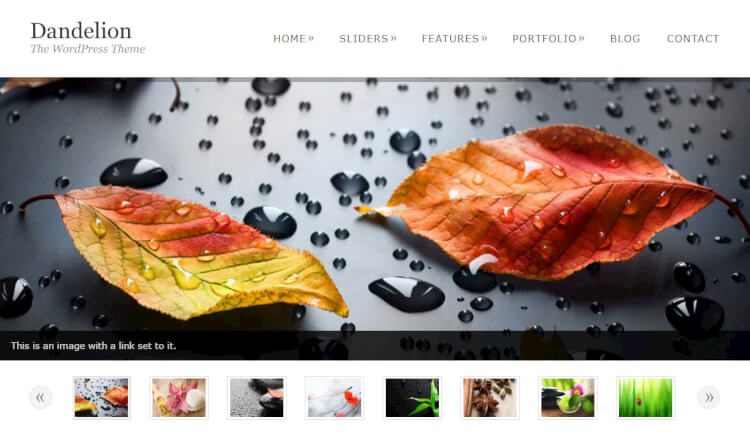 Thanks to its elegant design, Dandelion can easily be used to build a creative WordPress website. This theme was actually first released in 2010 but it's been updated and improved ever since. If you're looking for a well-maintained option for your website, Dandelion is one of the best creative WordPress themes you'll find.
Story - Creative Responsive Multi-Purpose Theme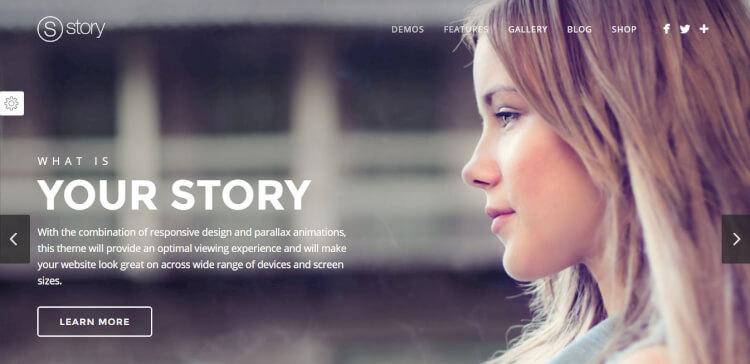 Story is packed with website demos and whichever one you choose you'll be well on your way to having your own creative WordPress website. With a stylish design, Story is a great choice for publishing your portfolio online, promoting your agency, or even creating an ecommerce store to sell your work. If you're looking for the best creative WordPress theme then Story should definitely be on your shortlist.
Oshine - Creative Multi-Purpose WordPress Theme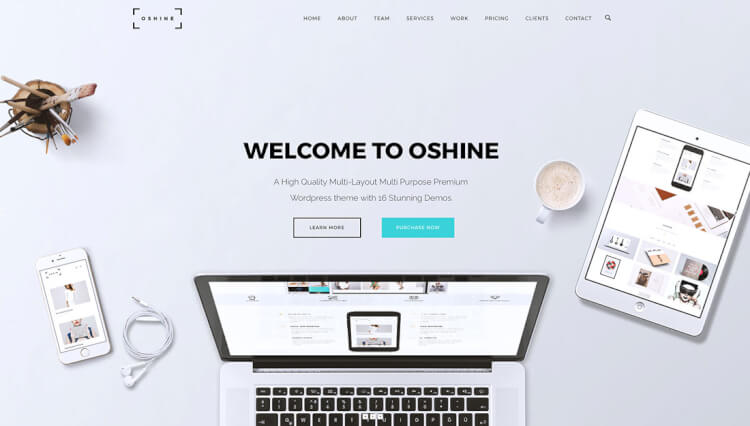 Oshine has a creative website demo for every occasion, so no matter what type of website you're building, this theme is worth a closer look. If you want to customize your website further, then the integrated page builder is on hand, while the detailed theme control panel gives you plenty more creative options.
907 - Creative Parallax WordPress Theme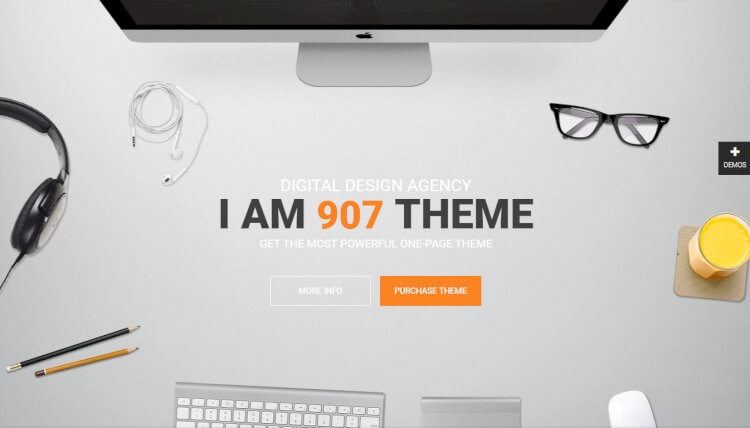 The impressive design of 907 helps earns it a place in this collection of the best creative WordPress themes. Now on version 4, the 907 multi-purpose theme is now packed with even more creative website demos. From fitness and freelancer to agency and app website demos, the 907 theme provides you with plenty of creative options when setting up your new website.
Uncode - Creative Multi-use WordPress Theme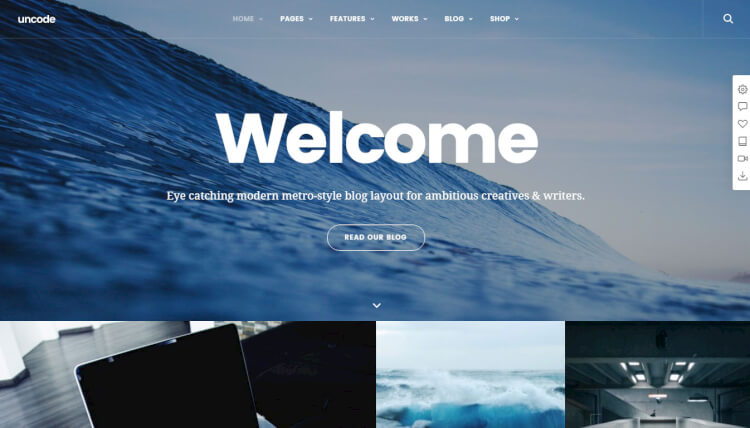 Uncode might be relatively new in the world of creative WordPress themes but it's already clocked up an impressive number of sales and positive user reviews. Each of the 30+ creative website demos can be imported in just a few clicks, giving you a flexible foundation for your project. Through the customization options and integrated Visual Composter page builder tool, you can easily modify the way your website looks and works.
SCRN - Creative Single Page Portfolio Theme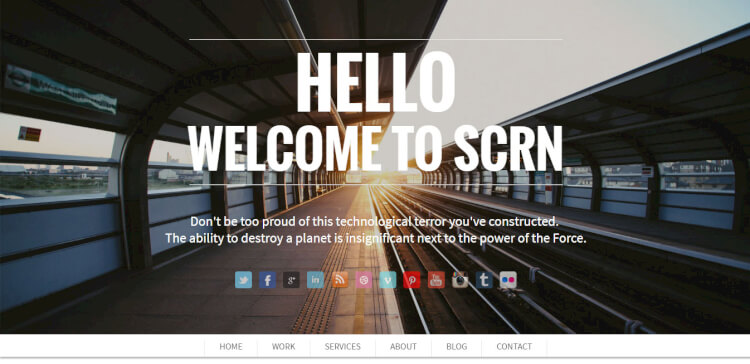 SCRN is a creative WordPress theme that makes great use of the one-page website format. As your visitors scroll down the homepage, they can view the latest work from your portfolio, find out about your services, check out an optional pricing table, and explore the most recent posts from your blog. This all helps to make SCRN one of the best creative WordPress themes for freelancers and agencies.
Yin & Yang - Creative WordPress Portfolio Theme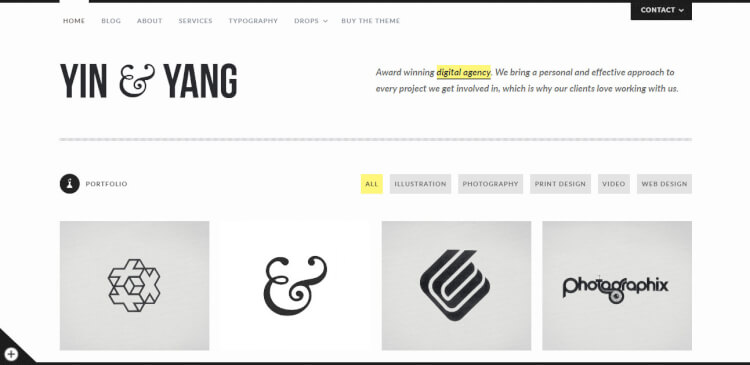 Yin & Yang has been made for creative agencies looking for an off the shelf solution that can help them transform their WordPress websites. Instead of offering you multiple website demos, Yin & Yang does one thing and does it well. This means that this is one of the easiest and quickest options for building a website in this collection of the best creative WordPress themes.
Elision - Multi-Purpose Creative WordPress Theme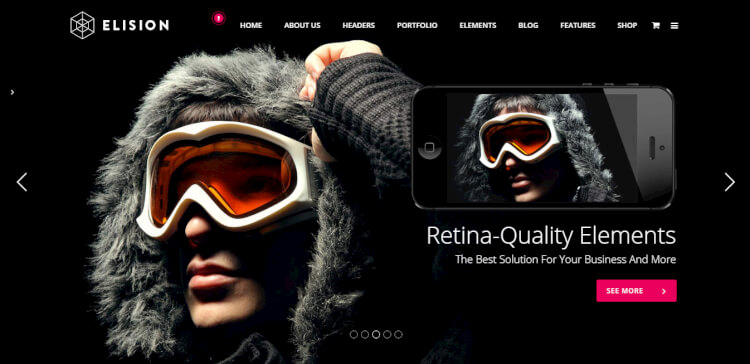 Elision is a fully configurable WordPress theme that provides you with plenty of creative options. The optional video background slideshow gives you a great opportunity to catch the attention of your visitors, while the selection of portfolio layouts make it easy to present your work in the right way. If you're working with video, this is one creative WordPress theme you should definitely explore further.
Visia - Responsive One Page Creative Theme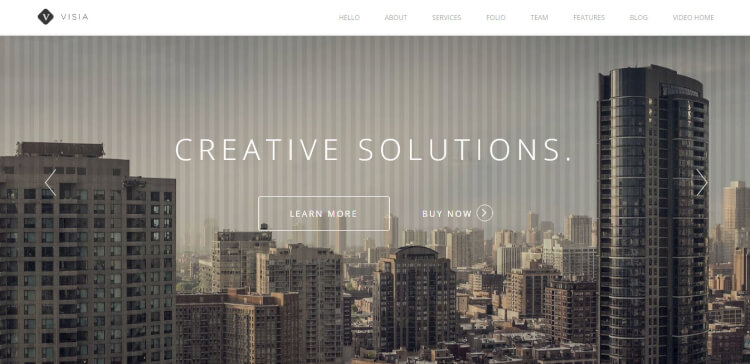 Visia will help you quickly build a creative website to display your work or promote your services online. After you've used the one-click demo import process to setup your website, you can then start adding your own content to populate the creative homepage design and portfolio templates with your best work.
Hazel - Multi-Concept Creative WordPress Theme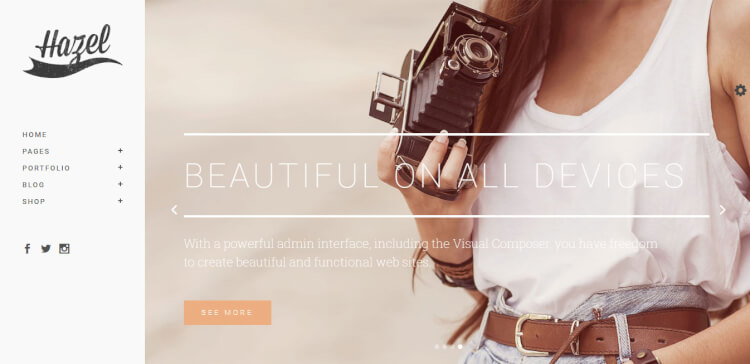 As well as giving you 35 complete website demos to choose from, Hazel also makes it easy for you to combine their features to create your own custom website design. Each of the Hazel demos has their own look and feel, but their ability to display images with style is something they all have in common.
Sonic - Multi-purpose Creative WordPress Theme
Thanks to its collection of 15 demos and over 70 pre-made pages, the Sonic theme will help you get your creative WordPress website online in no time at all. To ensure your website has all the necessary elements, Sonic also features a library of shortcodes that can be used to insert a varied selection of modules into your content. With full support for the WooCommerce plugin, Sonic makes it easy to sell items from your creative website.
Bone - Creative Agency Portfolio WordPress Theme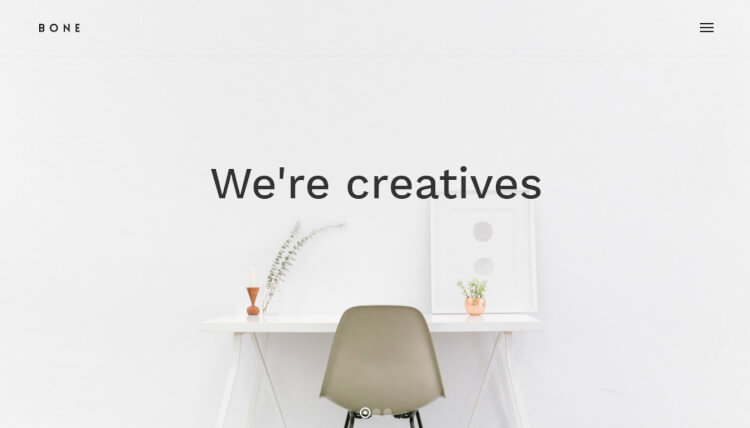 Bone is one of the newest options in this collection of the best creative WordPress themes. The design of Bone is best described as minimal, clean, and elegant. So if that sounds like something that matches your vision, then Bone and its stylish collection of page templates could be just what your project needs.