6 Killer Features in the Best Creative WordPress Themes
We talk about being creative and doing creative work all the time, but what does the word "creative" mean, really? Put simply, it's all about creating things using your imagination and original ideas.
Creativity can be applied to everything you create, especially with the websites and blogs you build. Whether you're building a WordPress website for a client or setting up a blog for yourself, you should always make your websites look and feel creative. It's the only way to set yourself apart from the millions of other blogs and websites out there.
Of course, sometimes you don't have to design it yourself to make a website look creative. When using a WordPress theme, for example. There are thousands of WordPress themes already created by creative-minded web designers. All you have to do is buy a theme and install it on your blog to make your website look creative. Sounds easy enough, right?
It's easy to get lost in a sea of beautiful WordPress themes. Lucky for you there's a way to spot creative WordPress themes without getting lost.
But first, you need to understand what makes a WordPress theme creative. In this article, we'll show you some of the key features that you'll notice in the best creative WordPress theme, making it easier for you to quickly find a great theme for your next website.
Get everything you need to build your next website with one simple subscription. From $16 per month, get unlimited access to nearly 2 million WordPress themes, web templates, fonts, graphics, and photos.
Big Bold Headers
Your website's header, or the top-half of the website, is the first thing your visitors see when they arrive on your website. That's why your website header has to be fully equipped to grab their attention instantaneously.
A big and a bold header is the perfect way to show your creativity to your audience.
A great header is designed with just the right mix of a beautiful background and a font. There's nothing fancy about it. It's plain and simple. And that's what makes it creative.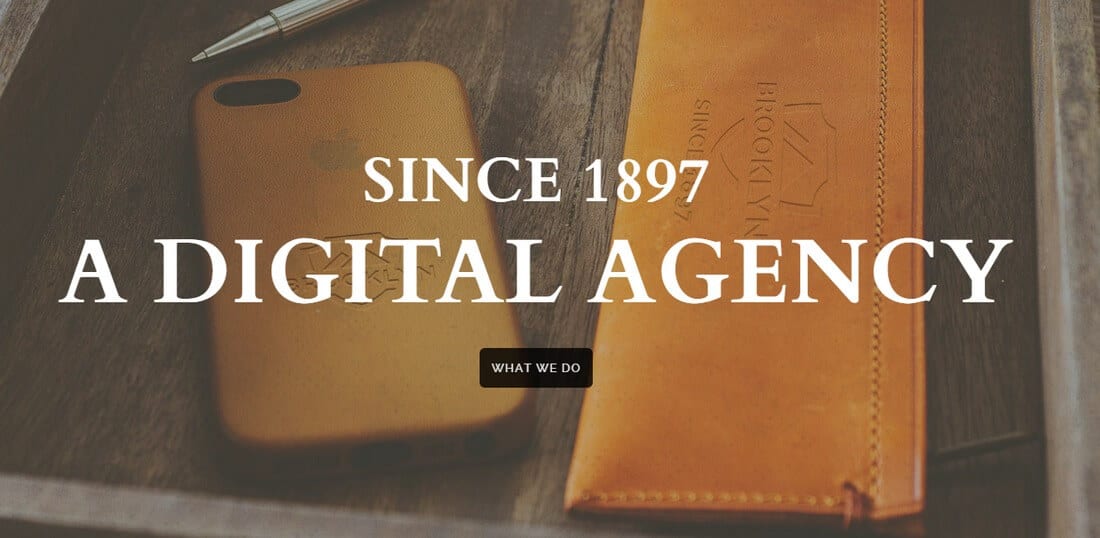 The Brooklyn multipurpose WordPress theme is one of the few multipurpose themes that comes with a lot of creative elements and features. One of them is its selection of beautiful and bold headers.
Minimalism
"Less is more." – Ludwig Mies van der Rohe.
Sometimes, you can say a lot with just a couple of words. And when it comes to website designs, minimizing the amount of information offered to your visitors is the best way to help them recognize your brand more easily and clearly.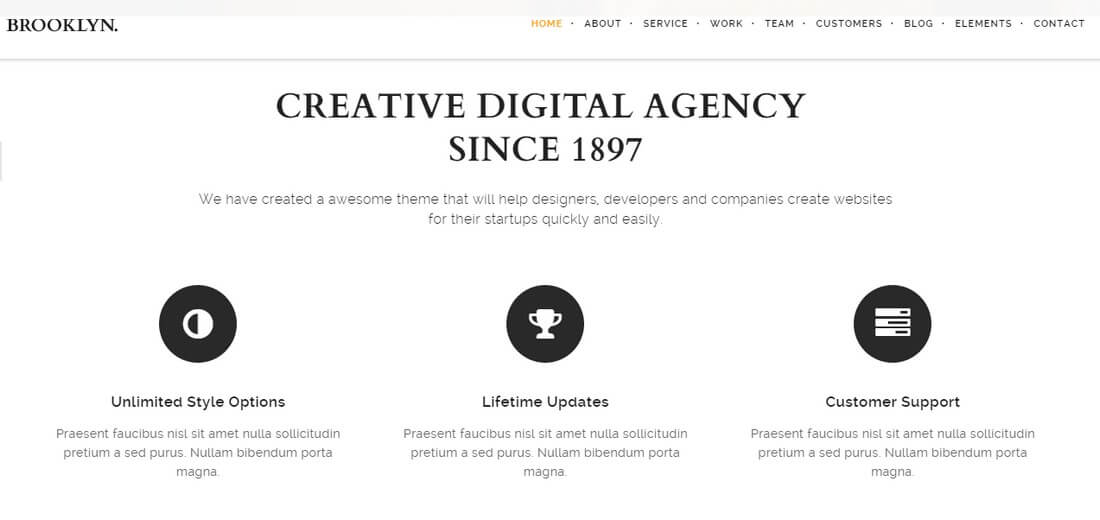 Minimalism not only makes your websites look creative, but it also helps you avoid causing information overload and take your audience on a journey throughout your website.
A creative WordPress theme should always contain less contextual information, not more!
Soothing Typography
Typography is an important part of a website design. Choosing the right font for your website interface could actually increase your conversion rates. Because a font is what makes your website's content easy on the eyes and readable.
Finding a great font is easy. There are thousands of them out there. But the difficult part is finding the perfect matching pair of fonts for your headers and body text.

You can spot a great theme and tell if it's designed by a professional designer by just looking at its font combination. There aren't many themes out there that get typography just right.
Plenty Of Whitespace
"Design is as much an act of spacing as an act of marking." – Ellen Lupton, designer and author.
In the early days of the Internet and web development, web designers tried to stuff as much information as they can into the homepage because businesses believed it's the best way to get their message across to the visitors. It's not the same anymore.
Today, designers use a lot of whitespace and a small amount of information to design effective websites.
Don't think of whitespace as space left unused. Try to think of it as something that gives more focus to your text, graphics, images, and other content on your website. It's what brings your visitor's attention to the important parts of your website.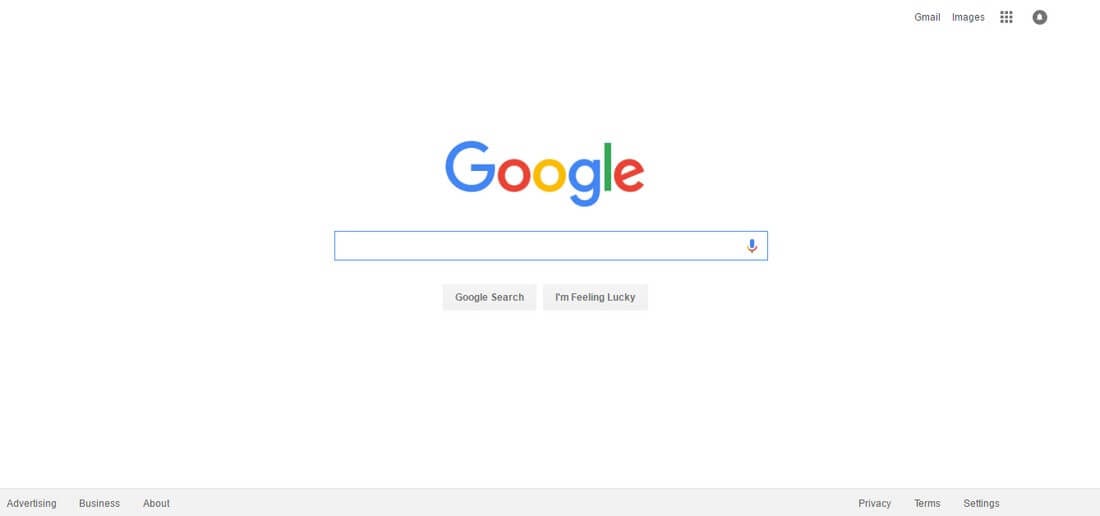 Take Google's homepage, for example. Look how much whitespace Google has used to bring attention to its search box. It's that simplicity that made Google the most-used search engine on the Internet.
Subtle Animations
Website animations are tricky. Some people love it and some hate it. Mostly because some websites take things too far by stuffing the website with too many animations that make the entire user experience pure hell.
Although, there are websites that wow the audience with animations. A little bit of animation on your WordPress theme is not a bad thing at all. In fact, it could make your brand look more creative in the eyes of your audience and make them feel entertained at the same time.
There are great WordPress themes out there that use animations to add more value to the entire design. It's easy to spot them. Only remember to watch out for website loading times.
Perfect Color Combinations
No more than two colors. And three if you really have to.
It's sort of like a rule among designers to use only two colors in a design. Or three colors if it's really necessary. Using the same colors across a website design helps you to keep persistence throughout the website and show professionalism.
Using too many colors will only confuse your visitors and you'll give them wrong impressions of your brand.
According to the psychology of colors, there are certain colors that are able to evoke specific emotions in humans. For example, the color purple is known to evoke creative, imaginative, and wise emotions within us.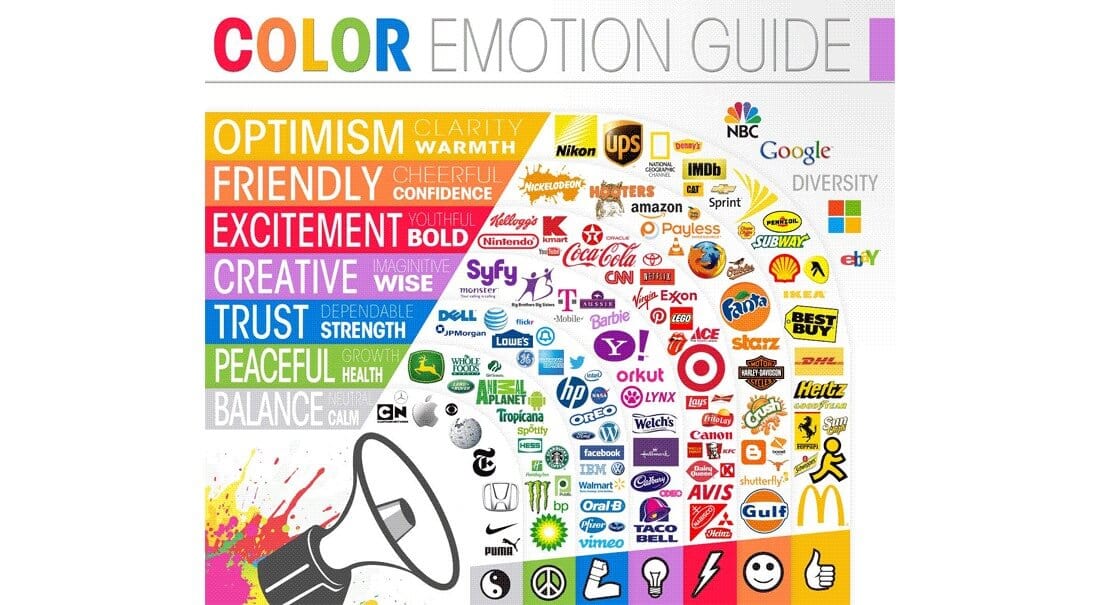 So, you shouldn't pick colors at random for your website theme. Most WordPress themes will allow you to easily customize colors, but there are some themes that you can't fully customize. Watch out for those themes and try to find a creative theme with a great combination of colors.
If you're lucky, you'll be able to find a great theme with all these features packed into one multipurpose theme. Just be sure to keep your eyes and your imagination wide open.
Or, you can check out our hand-picked creative WordPress themes collection and save some of your valuable time.
Looking for WordPress hosting? We use Kinsta. They offer world-class WordPress hosting, built to keep your website fast, secure, and always online.