5 Best WordPress Registration & Login Plugins Compared
Whether you're building a membership website, premium blog, or making a membership area for an online store, having a modern, elegant, and properly functioning registration and login system is the key to growing your user base. To help you find the right plugin, we're going to compare the best registration plugins to see which plugins are most suitable for your website.
One of the easiest ways to add a user registration system to your website is to use a third-party WordPress plugin. Of course, you need to make sure these plugins work well and offer great user experience as well.
Let's dive in!
Why Use User Registration Plugins?
WordPress has a built-in user registration system that allows you to let people sign up with your website. With this system, you can build a user base where people can register with your blog to publish their own posts, curate their own products on your eCommerce store, make an exclusive membership group, and much more.
However, the default registration system that comes with WordPress is flawed and quite frankly, doesn't look great!
With a third-party registration plugin, you can fix all the issues of the default registration system and even add more features to it. For example, with a good WordPress registration plugin, you'll be able to design your own login forms, add payment gates to sell memberships, make the registration process more secure, and much more.
Top WordPress Registration Plugins
There are several different user registration and membership plugins available on WordPress. Most of them come with expensive yearly and monthly subscription models.
We searched for better and more affordable options and found a few great plugins you can either buy for a one-time price or use for free to set up a better registration system on your website.
We narrowed the list to 5 great plugins.
Let's take a closer look and see what kind of functions and features these plugins have to offer.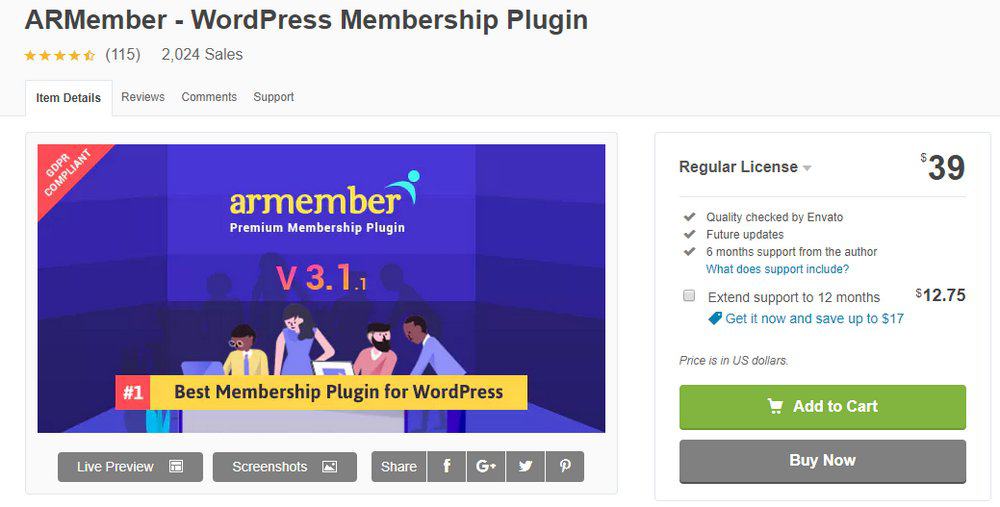 Best Feature: Built-in social login, security, & content restriction
Price: $39
ARMember is an all-in-one membership plugin for WordPress you can use to setup any kind of a registration system on your website, whether it's for a premium membership website, online shop, or a subscription website.
Even though the plugin can be purchased for a one-time price and receive lifetime updates for free, it offers some amazing features that makes it a great alternative to some of the expensive subscription-based membership plugins out there.
Main Features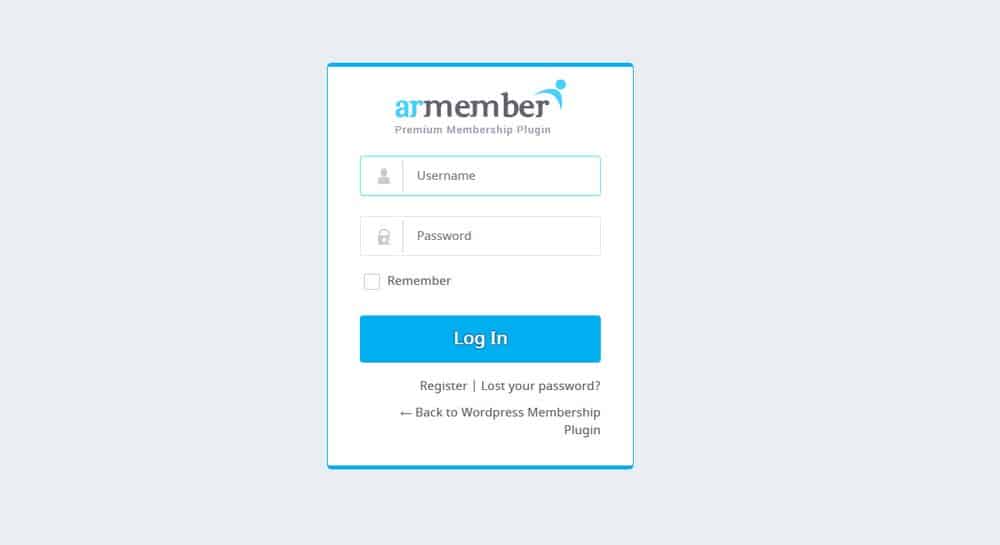 Partial Content Restriction: You can create content gates using ARMember to show part of your blog post or page and ask to login or register to view the rest.
Social Login: Let users signup using their social accounts, including Facebook, Twitter, and others.
WooCommerce Subscriptions: You can also integrate payment gates to sell memberships with WooCommerce integration.
Elegant Form Designs: The plugin comes with several unique and beautiful form designs with customizable modal forms as well as embed forms.
Built-In Security: ARMember will offer security options for keeping your website safe, including banning of users, IP restriction, hiding admin panels, and more.
Email Service Integration: You can integrate the plugin with services like MailChimp, AWeber, and more to grow your email list.
bbPress Integration: The plugin also supports BuddyPress and bbPress integration for making a more advanced community.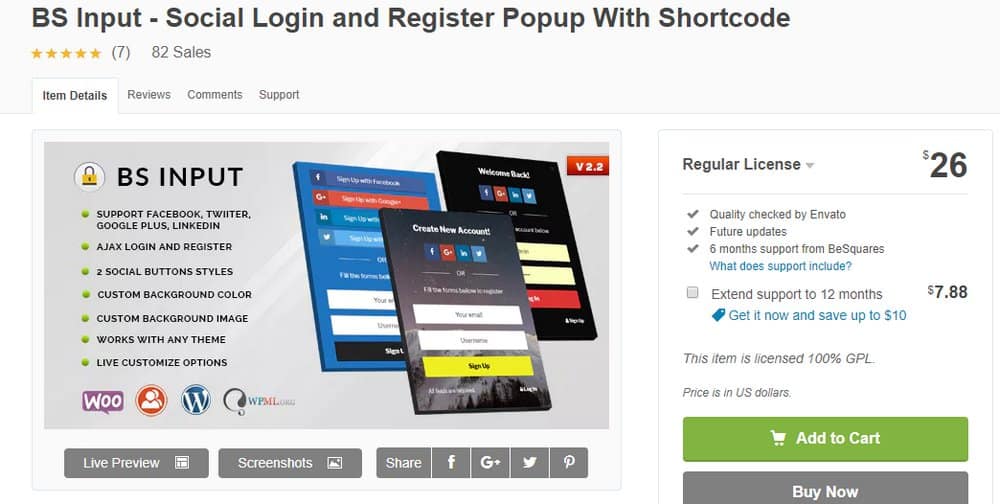 Best Feature: Social login & register popups
Price: $26
BS Input is a simple and easy-to-use register and login plugin for WordPress that does its job quite well. It lets you integrate social login systems to let users register with your website using their social networking accounts.
The plugin integrates perfectly with WooCommerce and BuddyPress to let you create a more convenient login system for your membership website.
Main Features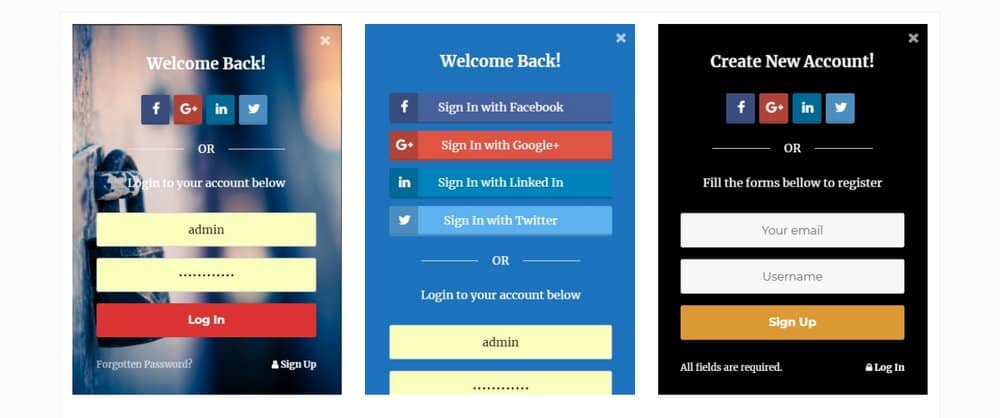 Social Login: The plugin supports Facebook, Twitter, and LinkedIn login options.
Popup Login Forms: BS Input lets you choose from 6 different animation styles to customize the pop-up of the login form.
Customizable Form Design: The login form design can be easily customized to change colors, backgrounds, and more.
Optimized For Speed: It also includes caching for social login and register links to optimize the plugin to offer the best performance.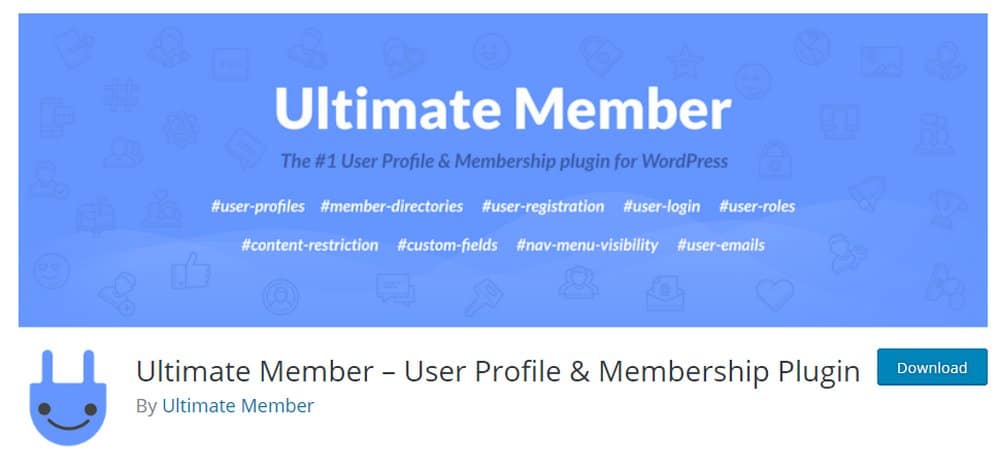 Best Feature: Drag and drop form builder
Price: Free
Ultimate Member is a great free plugin you can use to setup a simple user registration and login system on your WordPress website. The free versions of the plugin offers beautiful form designs and includes enough features for you to setup a functional registration system.
The plugin also offers paid add-ons, which you can buy to add other features like creating private content, adding payment gates, social login, and WooCommerce integration.
Main Features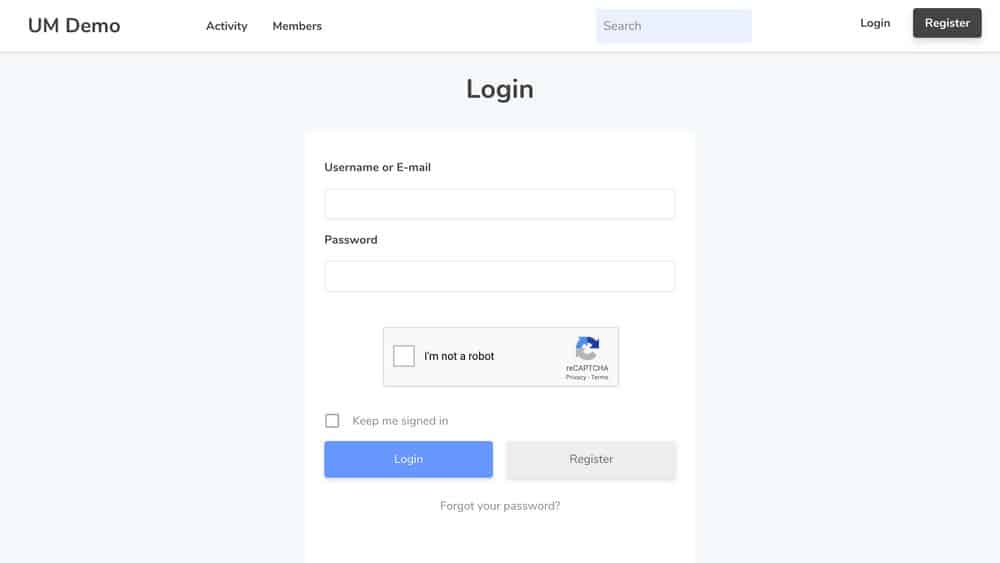 Form Builder: With the easy to use drag and drop form builder, you can create a unique form of your own for user registrations.
Custom Fields: You can also add multiple custom fields to collect more data from user registrations.
Custom User Roles: Create custom roles to set for new users.
Content Restriction: You can also create a basic content restriction system using the plugin as well.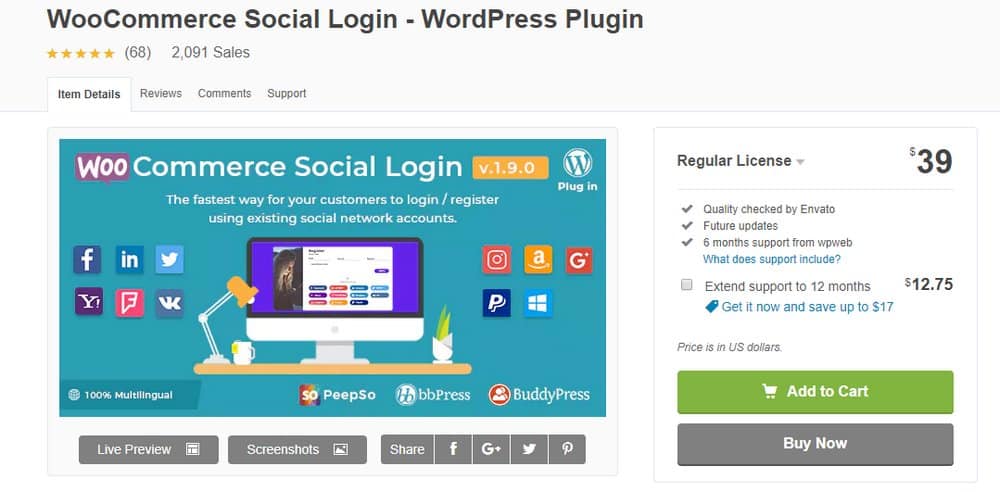 Best Feature: Social login and registrations
Price: $39
This simple and useful registration plugin allows you to setup a registration system for your online store to let users signup for your shop using their social profiles.
The plugin works as a standalone extension to offer a better registration and login system for platforms such as WooCommerce, PeepSo, BuddyPress, and bbPress.
Main Features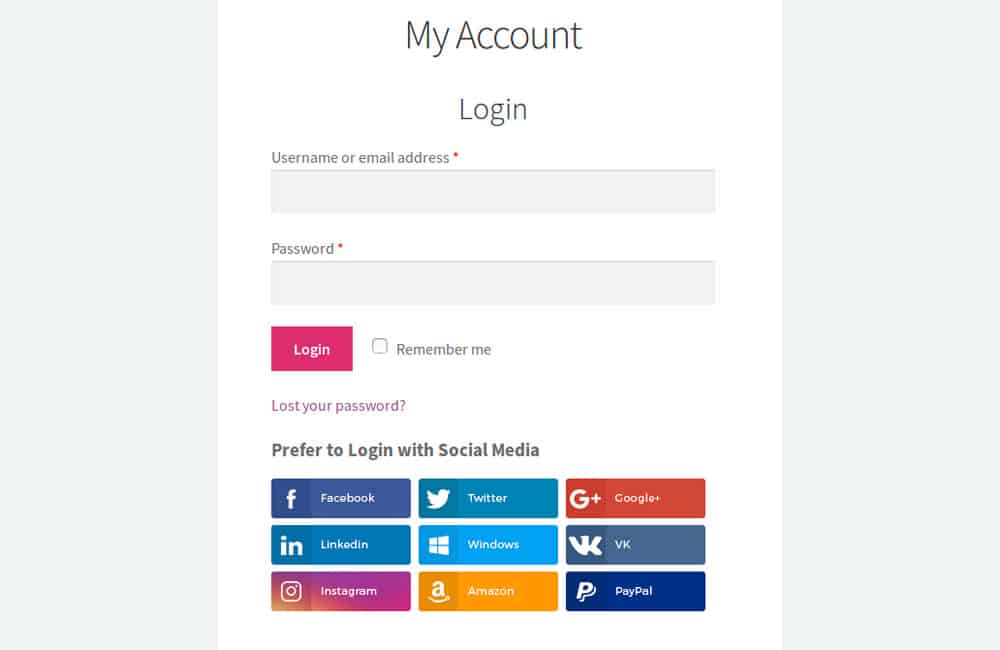 Social Login System: The plugin supports all major social networks, including Facebook, Twitter, VK, Instagram, and more.
Third-Party Integrations: It also works well with other plugins such as WPML, bbPress, and BuddyPress.
Easy Integration: You can embed registration and login forms anywhere using the plugin, including on your checkout forms.
Automatic Updates: Unlike most other premium plugins, you don't have to manually update this plugin. It can be updated directly from WordPress dashboard.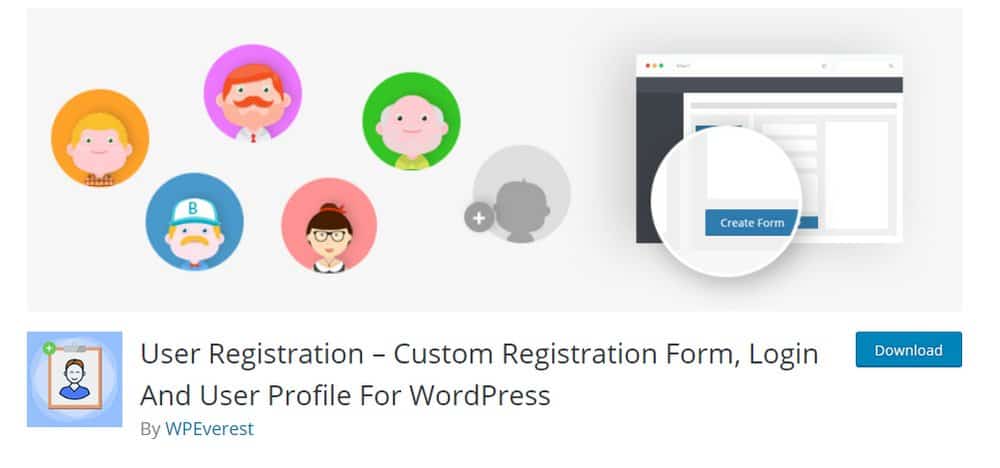 Best Feature: reCaptcha & email notifications
Price: Free
User Registration is one of the oldest and most popular registration plugins available on WordPress. It comes with several useful features and functions that allow you to create simple and functional registrations forms for your website.
While the plugin is great for making a basic registration system, it features a slightly outdated form design.
Main Features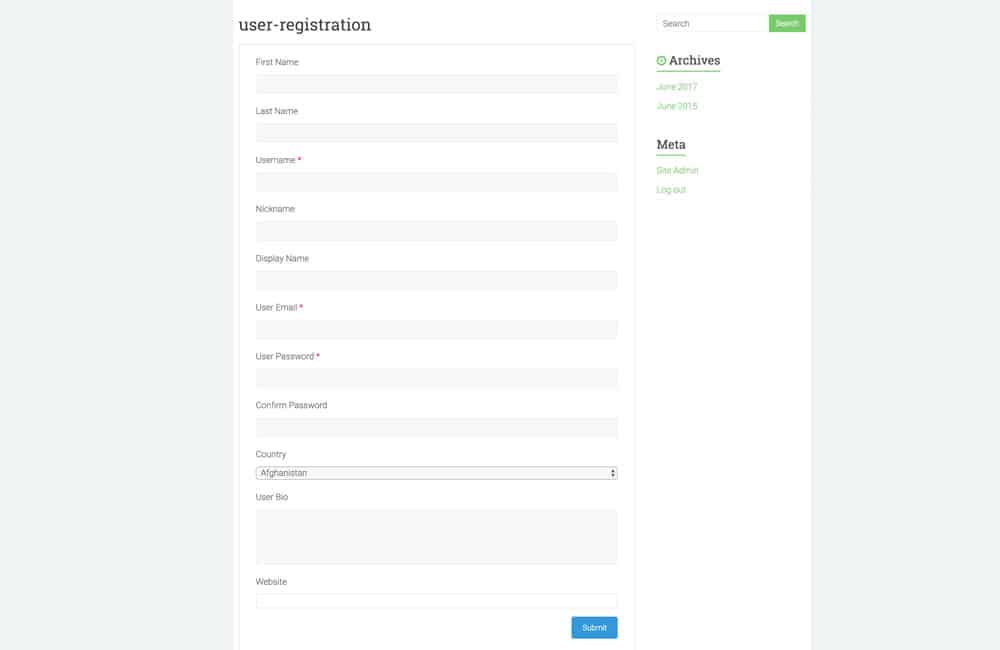 Unlimited Forms: You can create as many forms as you like using the plugin for free of charge.
Custom Fields: The plugin also lets you add custom fields using its drag and drop editor to create extensive registration forms.
reCaptcha Support: With Google reCaptcha integration, you can prevent bots from spamming your website.
Email notifications: You can also setup email notifications to send you and your users notifications and confirmation emails.
Which Registration Plugin Should You Use?
As an all-in-one membership plugin that allows you to not only setup and manage user registrations but also integrate other useful functions like content restrictions, ARMember is a great solution that's worth more than its price.
If you're short on budget and looking for a basic solution to make a simple user registration system, the free Ultimate Member plugin will be more than enough for you.
Building a better and safer environment for your users to register with your website is your responsibility. Make sure to pick a plugin that offers the best features that help you achieve that goal.
Looking for WordPress hosting? We use SiteGround. Their managed WordPress hosting is fast, powerful, and secure. Prices start from $3.95 per month.