8 Best WordPress Podcast Plugins 2021
Podcasting is one of the biggest and fast-growing mediums of communication we've seen in recent years. According to a Nielson study, 50% of the US homes are now fans of podcasts.
But, don't be too quick to give up on your WordPress blog just yet. You can still use your blog to your advantage to promote your podcast. And get more subscribers and listeners by ranking your podcast episodes on Google.
If you're thinking about starting a podcast or already have one, uploading and sharing your latest podcast episodes on a blog can be quite beneficial to grow your audience.
Today, we bring you a list of the best WordPress plugins you can use to make that process a lot easier. These plugins will definitely come in handy when uploading and sharing your podcasts on the blog. Especially for those of you who are beginners to podcasting.
Why Use a Podcast Plugin?
The main purpose of a WordPress podcast plugin is to upgrade the default audio player in WordPress into something better and more convenient. Podcasting plugins come with improved audio players that allows your blog readers to easily stream your podcast episodes.
The other benefit is to be able to connect your blog with your podcast hosting site and feeds. Like from iTunes, SoundCloud, or Google Podcasts.
Most podcast plugins will even help grow your channels by promoting subscription options for each of your podcast channels as well.
Needless to say, if you want to promote a podcast on your WordPress blog, you need a podcasting plugin.
Here are some of the best WordPress podcast plugins for creating a smooth podcasting website.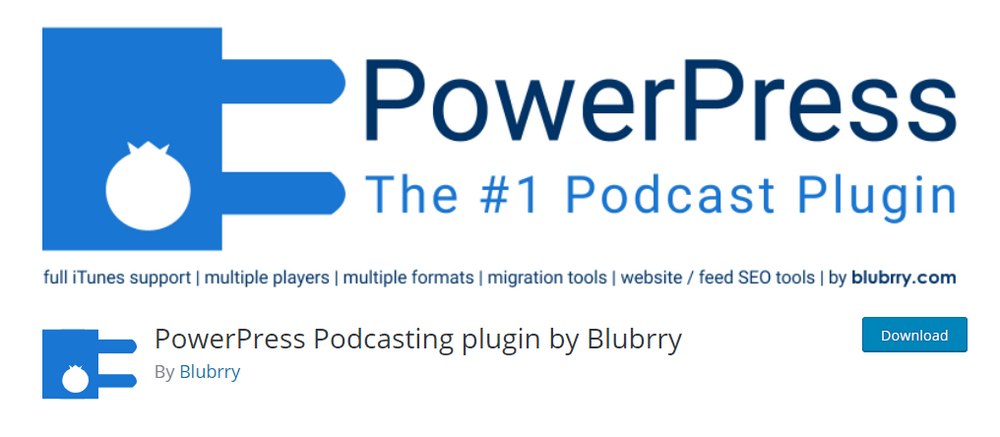 PowerPress is one of the most popular podcasting plugins on WordPress with over 60k active installs. Mainly because it offers many great features for the very low price of free.
PowerPress is part of Blubrry, a service that offers podcast hosting and analytics. Of course, you can use the plugin without using their paid services. And it integrates with Apple Podcasts (iTunes) and Google Podcasts as well.
Best Features of This Plugin
Built-in HTML5 media player that supports both audio and video
Supports integration with Apple Podcasts and Google Podcasts
Tools for promoting your podcast platforms
Easily optimize podcast episodes for SEO
Ability to manage multiple podcast channels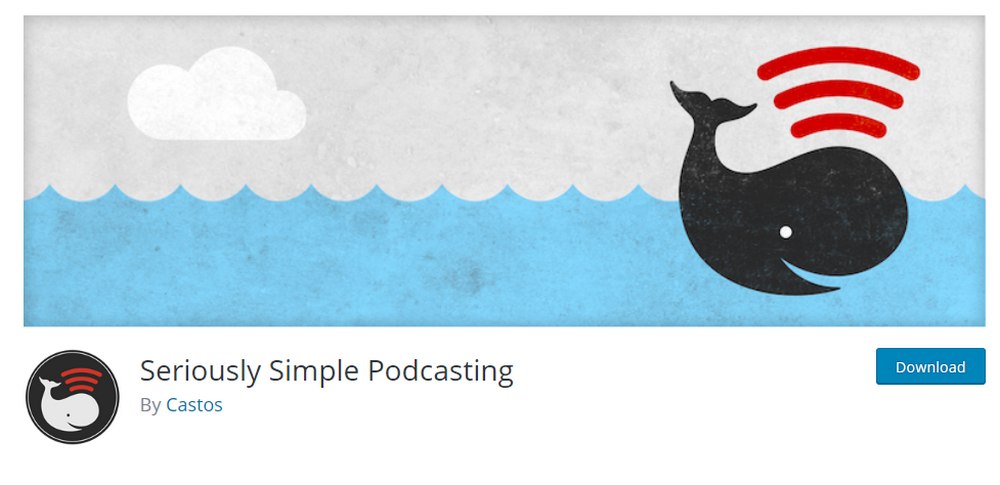 Just as the name suggests, Seriously Simple Podcasting is actually a simple free WordPress plugin that allows you to easily share your podcast episodes in blog posts.
The plugin is also designed to work with its own podcast hosting platform called Castos. It also works with RSS feeds for podcast platforms such as iTunes and Stitcher.
Best Features of This Plugin
Simple and easy setup process is ideal for beginners
A smooth and innovative media player that supports audio and video
Free add-on lets you gather stats related to your podcasts
Compatible with Stitcher, Google Play, and Stitcher
Supports shortcodes for embedding podcast episodes anywhere on your site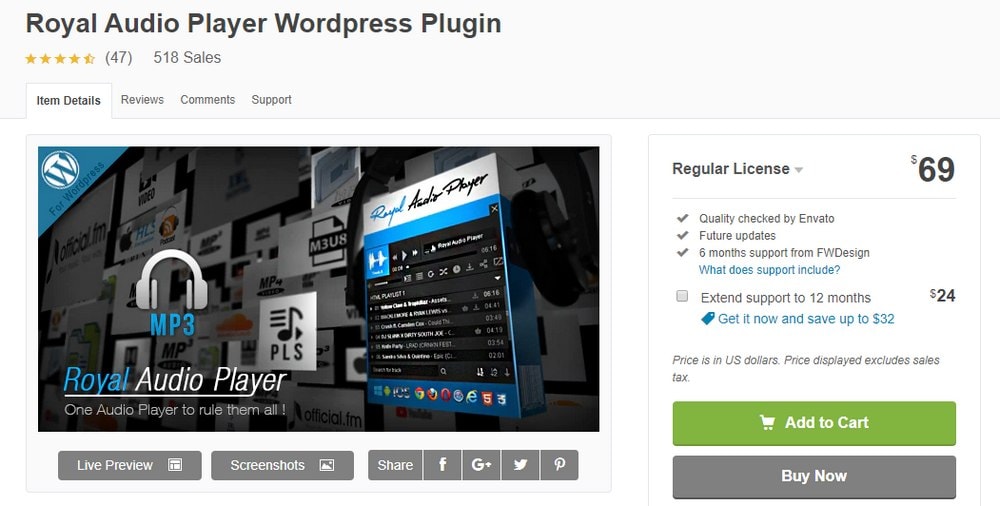 All free podcasting plugins have some sort of a catch. You either have to join their hosting platform. Buy add-ons. Or have limited features. Sometimes it's best to just pay a one-time price for a premium plugin and get access to all the features. Rather than being frustrated with free plugins.
Royal Audio Player is a premium plugin. It has a one-time price and offers all future updates for free. For this price, it gives you all the necessary tools you'll need to manage your podcast in WordPress.
Best Features of This Plugin
Modern audio player supporting audio files as well as video
Fully responsive design across mobile and desktop devices
Compatible with various podcasting platforms, SoundCloud, and YouTube
Track statistics with Google Analytics
Multiple player skins to choose from including light and dark themes
Optional download, share, shuffle, and playlist buttons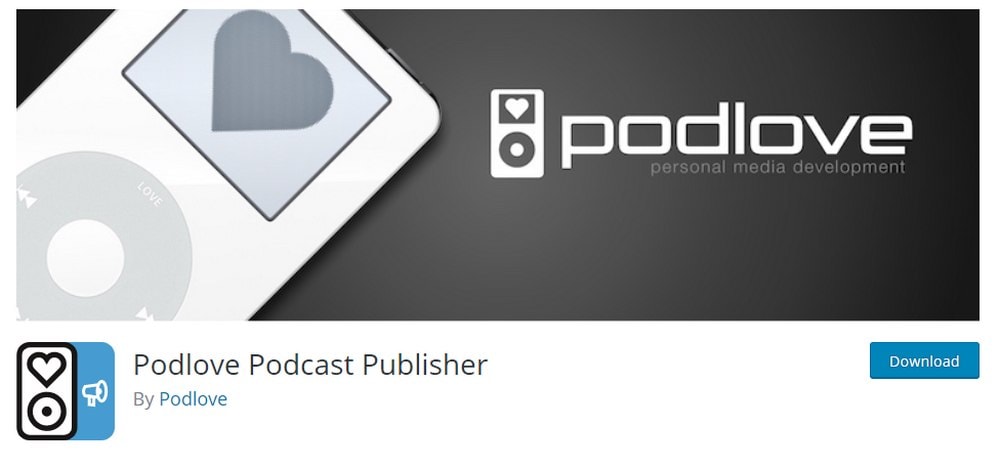 Podlove is a free podcasting plugin for WordPress that includes several basic features you can use to setup and manage your podcast on your website.
A great thing about this plugin is that it's completely free to use. No gimmicks or hidden charges. However, it only supports self-hosted podcast files. But it's fully compatible with feeds from platforms like iTunes and others.
Best Features of This Plugin
Easy to setup and beginner-friendly interface
Beautiful audio player design with playlists
Supports feed integration with iTunes and other podcasting platforms
Compatible with both audio and video podcasts
Detailed analytics on podcast statistics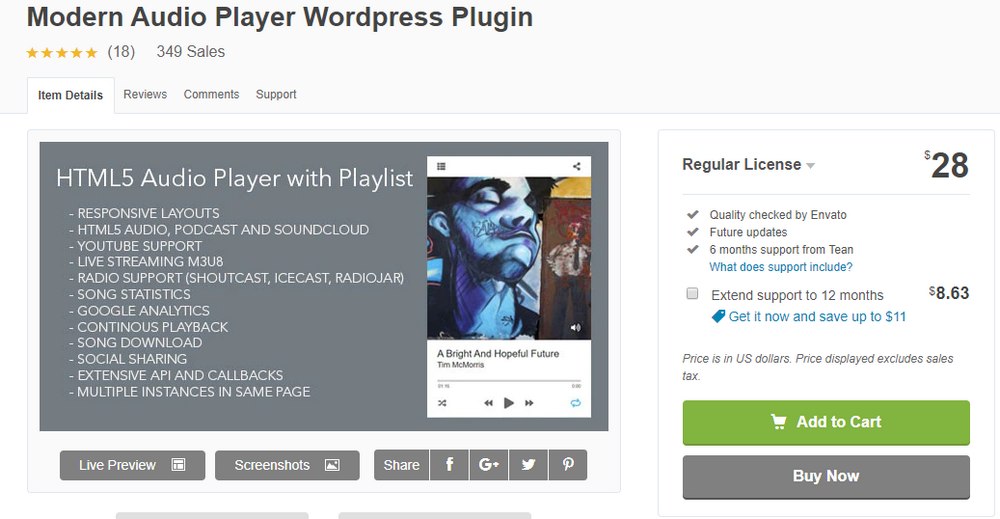 Modern Audio Player is another premium WordPress podcasting plugin. This plugin includes plenty of support for all major podcasting platforms via RSS feeds as well as the ability to host files on Google Drive and Amazon S3.
Being able to stream audio files from cloud storage alone makes this plugin a very useful option for podcasting. Especially for saving a lot of money otherwise spend on podcast hosting sites.
Best Features of This Plugin
Beautiful and modern media player with mobile responsive design
Supports RSS feeds for iTunes and SoundCloud as well as Radio streaming for Shoutcast and Icecast
Ability to stream media files from Google Drive and Amazon S3
Get detailed statistics on downloads, playtime, and more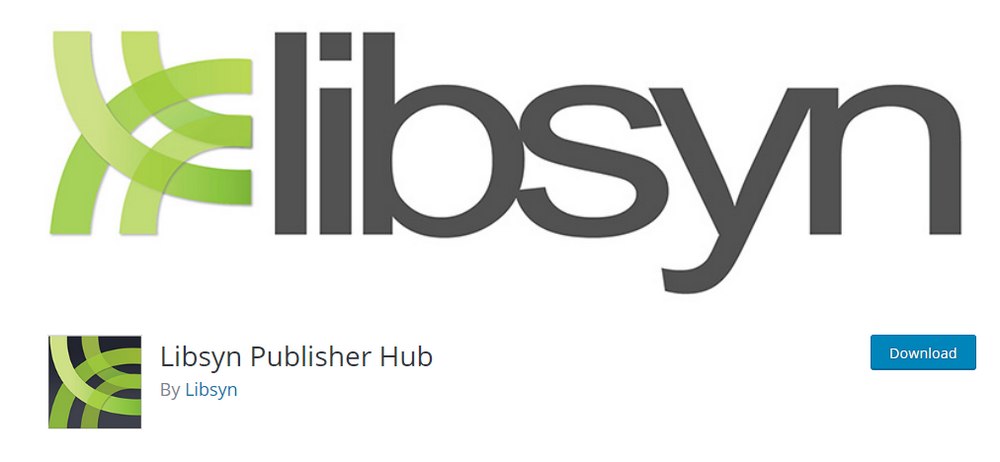 Libsyn Publisher Hub is the WordPress companion plugin for the Libsyn podcasting platform. While the plugin is free, you'll need a Lisbyn subscription to use the service.
Libsyn is a podcast hosting platform. It has price plans starting at $5 per month for 50mb of monthly storage. Or $40 per month for 800mb of storage.
This platform is ideal for serious podcasters who want to monetize the podcast episodes and get episode feeds on multiple platforms.
Best Features of This Plugin
Beginner-friendly platform for an all-in-one solution for podcasting
Easily connect feeds with Apple Podcasts, Google Podcasts, Spotify, and more
Flexible monetization tools with subscription and opt-in models
Android and iOS apps for managing your podcast on-the-go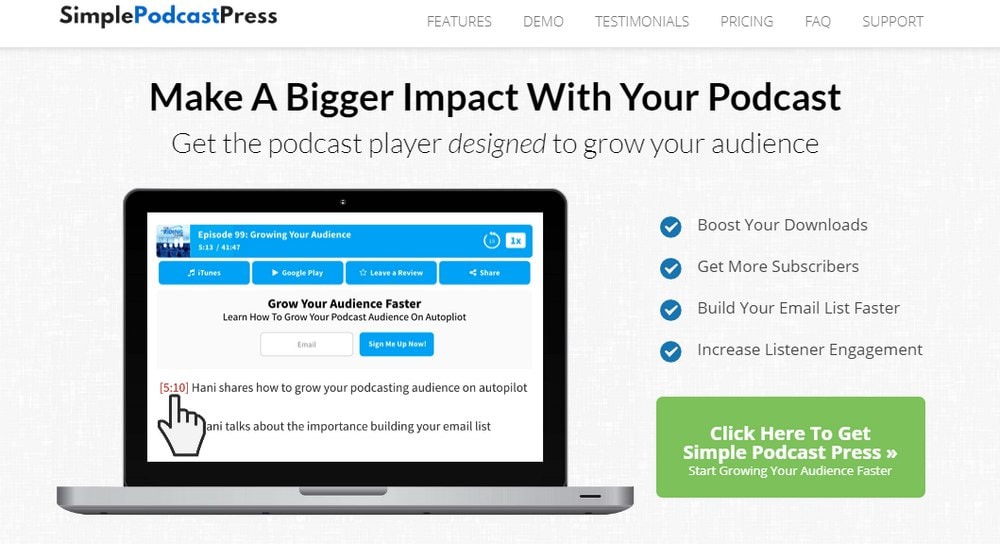 SimplePodcastPress is a premium WordPress plugin for podcasting. It costs $97 for using the plugin on a single website and offers 1 year of updates.
The plugin comes with a modern audio player that can be embedded anywhere on your website. And includes useful features like the ability to include timestamps and gather statistics.
Best Features of This Plugin
Modern and customizable media player with support for time stamps
Compatible with SoundCloud, iTunes, PodBean, and more
Create playlists and transcripts for each episode
Automatically import and show iTunes reviews for your podcast
Create one-click tweets from transcripts to get more social shares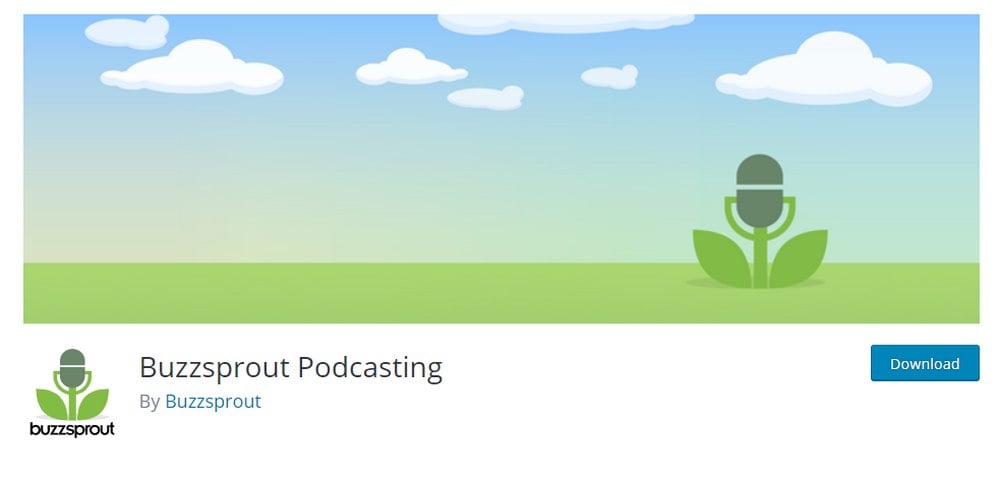 Price: Free / $12 per month
Buzzsprout is a podcast hosting platform. And this is the companion plugin you can use to easily embed your podcast episodes in WordPress blog posts and pages.
Buzzsprout has a free plan that offers 2 hours of content uploads per month. But the files are stored only for 90 days. For $12 a month, you get to keep your files and have 3 hours of content uploads per month. And it doesn't support annual payments either.
Best Features of This Plugin
Easily host and distribute podcast episodes
Lets you choose from HTML5 and Flash players
Get detailed statistics on podcast downloads and play times
Compatible with iTunes and FeedBurner
Which WordPress Podcasting Plugin is Best?
Modern Audio Player is arguably the best option you can use to manage your podcast episodes in WordPress. This plugin is affordable and supports all major podcasting platforms. And includes all future updates for just one price.
PowerPress is the best free alternative you can try. Even though it has limited features and compatibility, the plugin offers much better tools than most other free plugins available on WordPress.
In Conclusion
When using podcasting plugins, you'll also be able to import feeds from your podcasting platforms onto WordPress and publish them as blog posts. Keep in mind that some plugins automatically publish each podcast episode as a new blog post.
If you already have a populated podcast with lots of episodes, this may create lots of blog posts and spam your blog feed. A good rule of thumb is to create and publish blog posts for each episode manually.
Feel free to explore our blog for more tips. And check out our exclusive themes bundle to get access to over 60 premium themes for the price of one.
Looking for WordPress hosting? We use Kinsta. They offer world-class WordPress hosting, built to keep your website fast, secure, and always online.