5 Best WordPress Events Plugins Compared
An events page is a must-have feature for almost every business and professional website. It's an effective way to keep your audience up to date on your important and upcoming events.
Whether you have an agency website, hotel website, music band website, or even a public speaker website, having an events section on your website will allow your fans and customers to easily find more details about your events schedule.
WordPress plugins make it easier to setup an events page on your website. In this post, we take a look at some of the best and easy to use WordPress events plugins to find a solution that's most suitable for your business.
Why Use Events Plugins?
An events page or an events calendar is a useful part of a website that can be beneficial to many different types of websites. For example, a musician or a band can use an events page to showcase their tour dates on the website, a public speaker can showcase upcoming conferences, or a startup website can use an events page to showcase their roadmap for product updates. The list goes on.
When using a WordPress events plugin to create an events page, it makes things much easier for you to manage the events calendar and easily update it without having to worry about coding or web design. Thanks to their beginner-friendly admin dashboards, you'll be able to easily add new events and edit old events without the help from your tech support team.
Top 5 WordPress Events Plugins
Unfortunately, there are very few free events plugins available in the WordPress directory. Most of the free plugins we came across were regularly updated but they had outdated designs that will never fit in well with modern websites.
Instead, we found a few great premium plugins with affordable price tags. No monthly subscriptions, just a one-time payment for lifetime access. Here they are.
Let's see what kind of features these plugins have to offer.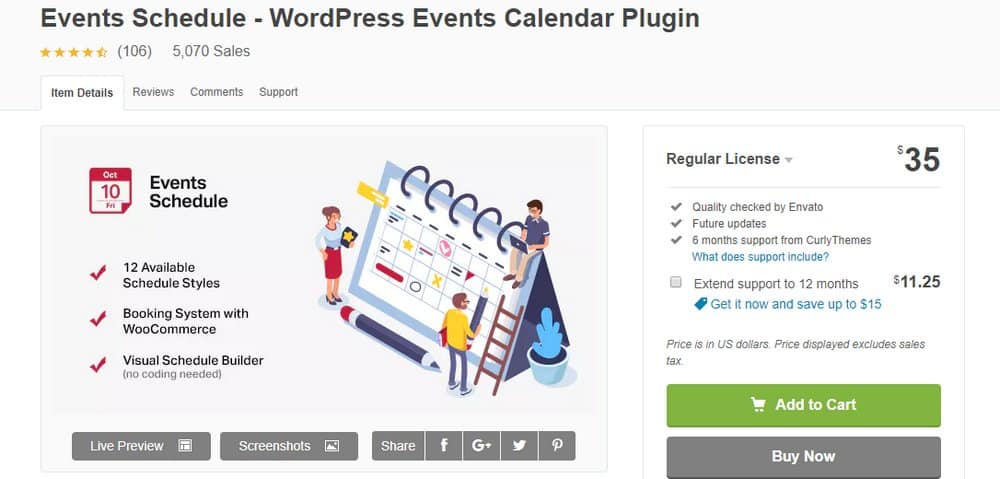 Best Feature: Built-in booking system
Price: $35
Powered by reactive Javascript, Events Schedule is not only a lightweight WordPress events plugin but it also features a set of beautifully designed layouts with advanced customization options.
This plugin lets you design all kinds of events sections with the ability to choose from 12 different schedule styles. It also comes with a built-in booking system, and fully integrates with WPBakery page builder. This plugin can handle everything from event calendars, weekly event schedules, timetables, and so much more.
Main Features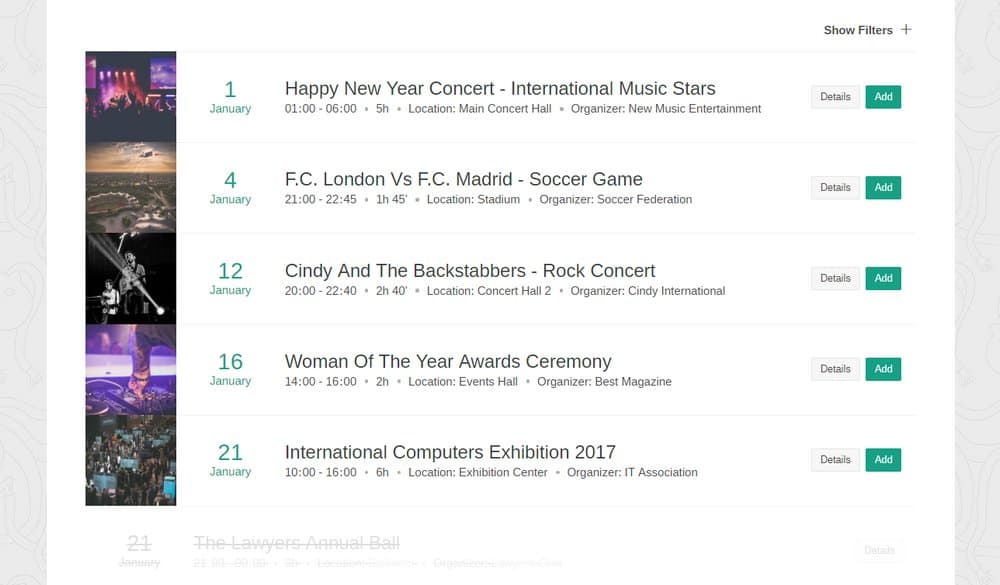 12 Unique Styles To Choose From: The plugin lets you design different styles of events pages with monthly calendars, vertical events sections, timetable designs, and more.
Built-In Booking System: You can allow visitors to directly schedule and book tickets for events directly from the events section.
WPBakery Page Builder Integration: With support for the drag and drop page builder, you'll be able to build unique events pages with ease.
Unlimited Color Options: Customize the design to fit your website.
CTA & Popups: You can also include call to action buttons in your events section and let people learn more about each event with a simple popup window.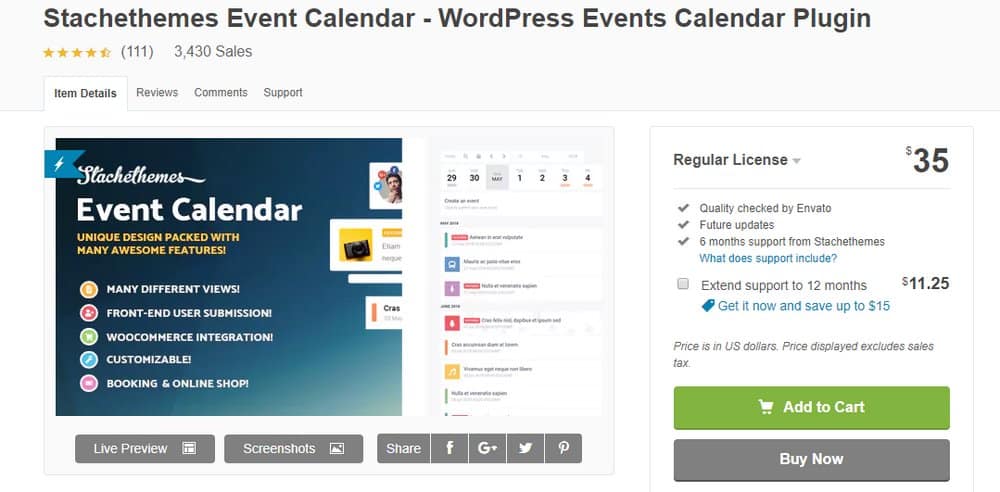 Best Feature: Easily create dedicated event pages
Price: $35
The Event Calendar plugin developed by Stachethemes is a popular events plugin that comes packed with features for making more effective events sections.
While the plugin allows you to create all kinds of events sections with month, weekly, daily views, map views, and more, it's most suitable for making a full event page dedicated to showcasing your upcoming events. It also comes with a front-end user submission form, which will allow you to collect information from visitors after booking an appointment.
Main Features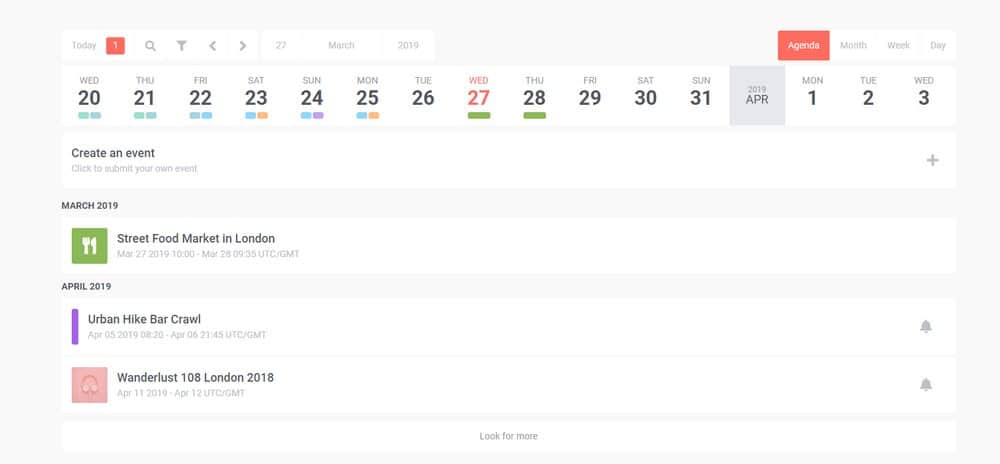 Create Dedicated Events Pages: The plugin makes it easier to create dedicated events pages with beautiful designs.
Customizable Views: You can create events sections with monthly, weekly, daily views as well as grid, agenda, and box layouts.
User Submission Form: It's easier to collect more information with the customizable user submission form.
Built-in Booking System: Let customers easily book appointments and buy tickets directly from the events page.
Auto-Updater: No need to manually update the plugin, you can update it with just one-click.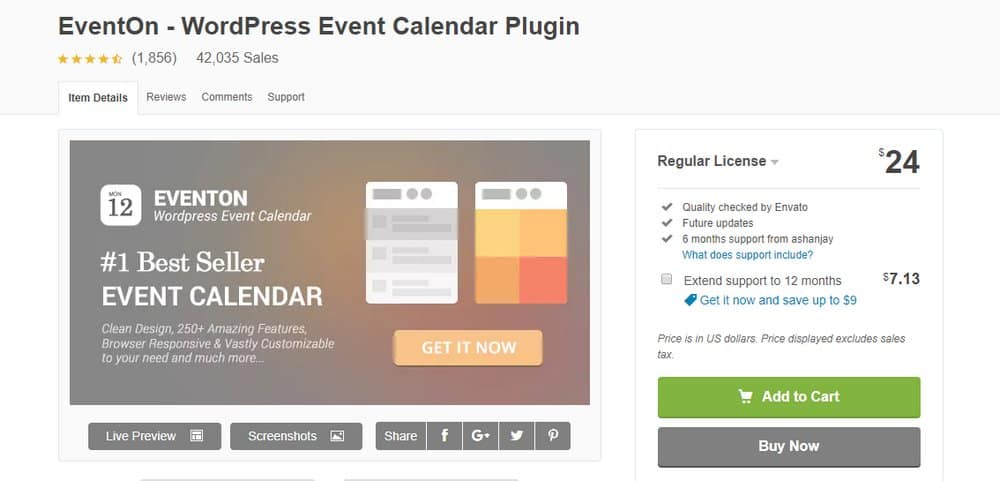 Best Feature: Repeating events system
Price: $39
With more than 42,000 sales and an average of 4.4 star rating, EventOn is one of the highest rated events plugins available on WordPress. EventOn is a lightweight, but a complex event calendar plugin that comes with simple and minimalist design.
The plugin boasts more than 240 features for customizing and optimizing the events section to your preference. The best feature is the repeating events system, which will be quite useful to many types of businesses for scheduling recurring events.
Main Features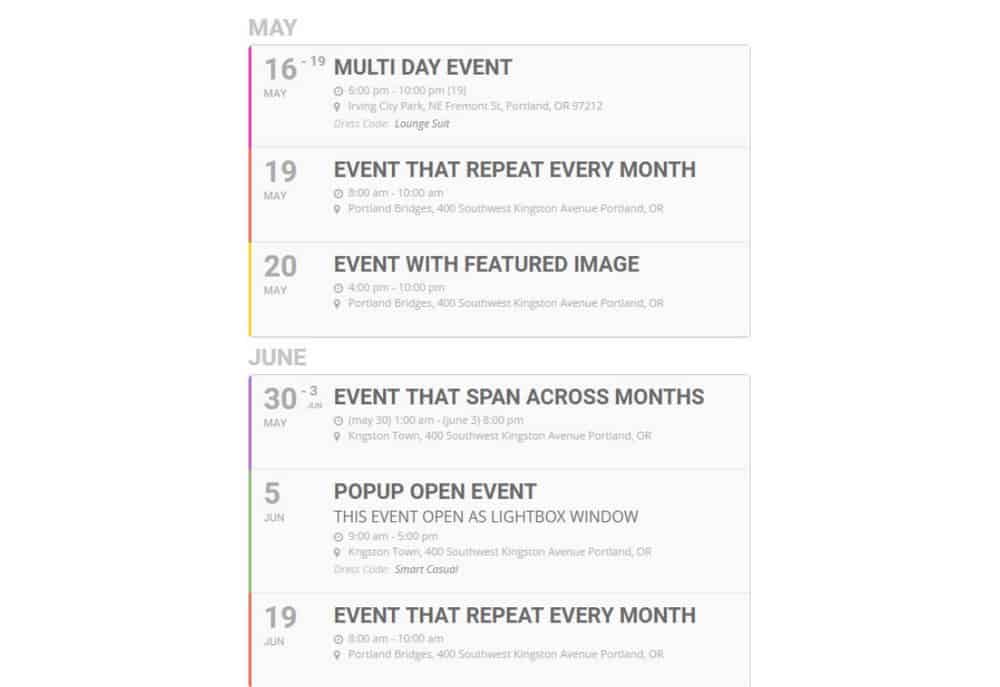 Highly Customizable Design: EventOn features a sleek and minimal design that can be customized to include just the right information and view the events calendar to your preference.
Repeating Events: This system lets you create repeating events with daily, weekly, or custom repeat schedules.
Slide-Down Events Pages: Simply clicking on an item on the events calendar will expand a details section to let users learn more about an event.
Add-Ons: The plugin supports 2 add-ons for selling event tickets and event submission forms. These are sold separately.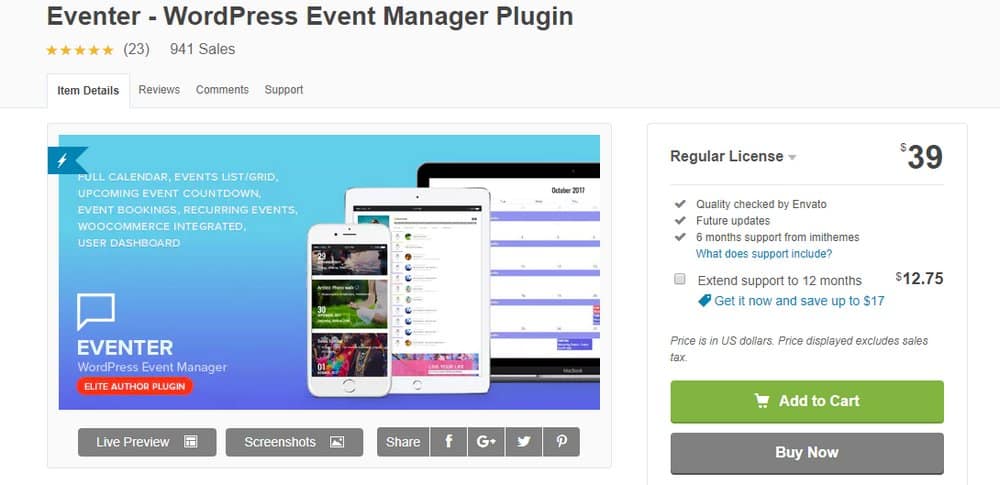 Best Feature: QR Codes system
Price: $24
Eventer is an events plugin made for advanced users. It comes with more than 20 different styles of events and includes all the necessary features you'll need in an events plugin.
In addition to its calendar, list, and grid layouts, Eventer also supports WooCommerce integration for setting up event bookings and even supports repeating events.
Main Features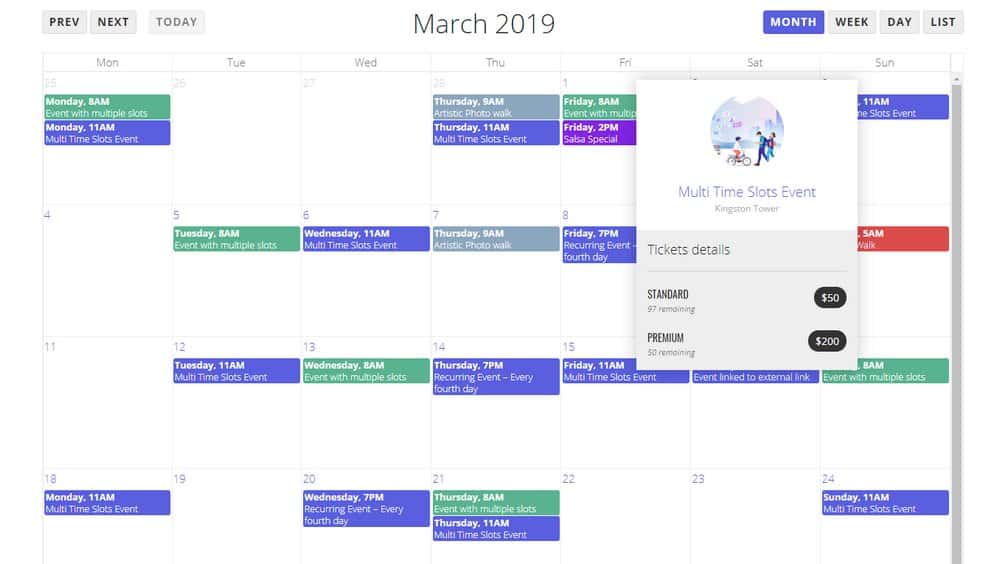 Customizable Layout Styles: With lots of designs to choose from, you'll be able to create any kind of an events page for any website with the plugin.
WooCommerce Integration: Setup and sell tickets for events directly from your website.
Event Registration Forms: Make it easier for users to register for events.
QR Codes System: The plugin automatically adds QR codes to events, making it easier to process tickets at events.
Repeating Events: Create recurring events.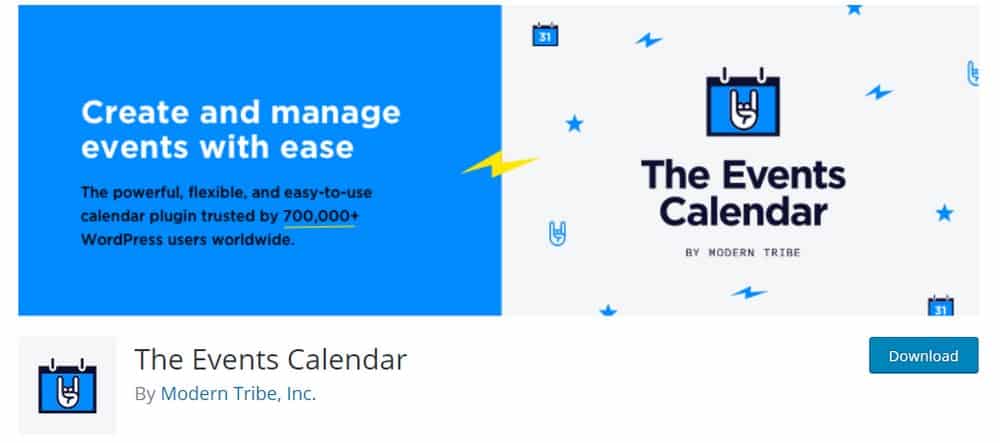 Best Feature: Export to Google Calendar and iCal
Price: Free
The Events Calendar is the most popular free WordPress events plugin available in the official plugins director with more than 700,000 active installs. This plugin is ideal for setting up a simple events page for a small business or personal website.
If you don't mind the slightly outdated calendar design, this free plugin is more than capable of creating a functional events page with event list, daily, and monthly views. It also supports Google Calendar and iCal exporting as well.
Main Features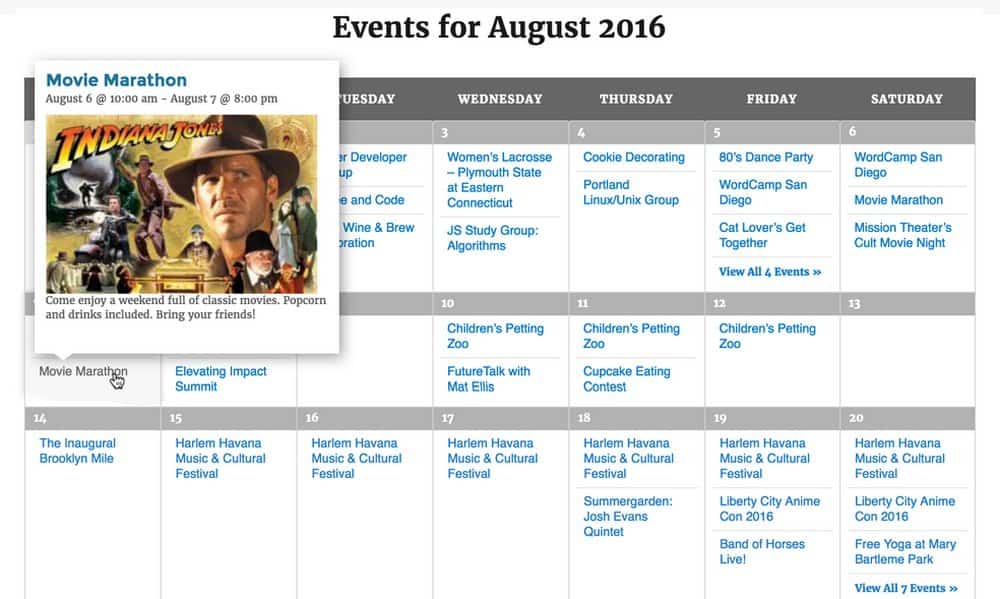 Beginner-Friendly Interface: The plugin admin interface is quite easy to use and you can create events with just a few clicks.
Upcoming Events Widget: With the widget, you can display the upcoming events in your sidebar or footer area.
Fully Responsive Design: The events designs feature responsive layouts optimized for mobile and supports caching as well.
Google Maps Integration: Let people find event venues easily with Google Maps.
Which Plugin Should You Use?
All of these plugins will help you create an effective events section on your website quite easily. You should choose a plugin depending on the type of events page you're designing and the type of website you have.
Especially, the Events Schedule and Eventer are both great options for adding a high-quality events section. The beginner-friendly interface and the shortcodes systems of the plugins let you easily design and embed events calendars anywhere on your website.
If you're working on a professional or a business website, we would advise against using free events plugins for their outdated designs.
Looking for WordPress hosting? We use Kinsta. They offer world-class WordPress hosting, built to keep your website fast, secure, and always online.