5 Best WordPress Chat Plugins Compared
Live chat support is a must-have feature. Not just for online businesses, but for all kinds of websites. It's one of the most efficient ways you can engage with your customers in a direct way.
Usually, adding a live chat system to a website requires a web development team and a big budget. But, thanks to WordPress plugins, you can actually set up a fully-operational live chat system on your website all by yourself.
In this post, we take a closer look at some of the best WordPress chat plugins that come with effective and easy to use features. Let's dive in and take a look.
Why Use A Chat Plugin?
Imagine visiting a website or a blog. And after browsing this site for a while you have a few questions about the product or the service they're selling. Usually, in a situation like this, you then have to find the contact page on this website, load a few more additional pages to find the pre-sales contact email, and type a long email just to find the answers.
Even after all this effort, it will take hours and sometimes days before you get a reply from the support team. But with a live chat system, your customers can ask questions immediately no matter which page they're on. It also improves the customer experience by directly engaging with your customers as well.
With WordPress, you can set up a chat system with just a few clicks. Some chat plugins will even allow you to set offline modes, and bots that can track active visitors in real-time and initiate sessions with them.
Top WordPress Chat Plugins
There are many great chat plugins available on WordPress. However, most of them require you to pay a monthly subscription fee to use the plugin. Why should you pay for a service just to have the ability to engage with your own customers?
For this list, we picked the best chat plugins that you can use for free or get at a one-time price and use forever without any limitations. Here's our pick.
Let's see what these plugins are truly capable of:
Best Feature: Unlimited use on unlimited websites
Price: $75
Live Chat Unlimited is a premium plugin that's sold over 7,500 copies with an average rating of 4.3 stars. The plugin offers plenty of great features and functionality that makes it stand out. A useful feature that the plugin allows you to use it on unlimited domains, making it perfect for web developers for building live chat systems for clients.
Live Chat Unlimted also has a sleek and smooth user interface design that makes it easier for customers to chat with operators. It also supports multilingual plugins such as WPML and Polylang.
Main Features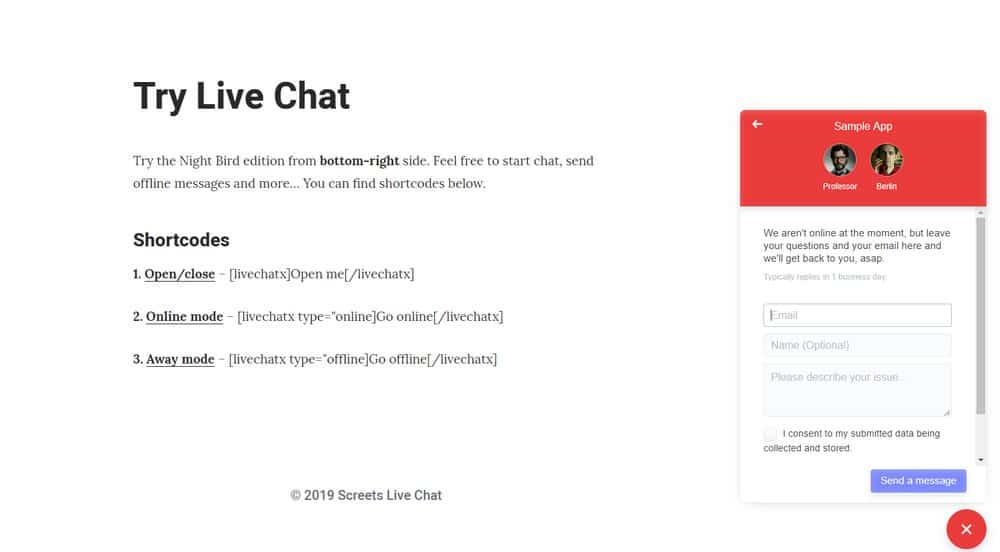 Chat With 100 Customers: The plugin is so powerful that it allows you to have 100 chat sessions with customers at once.
Lightweight Design: The chat system works in iFrame and works without affecting website performance.
Unlimited Use: You can use the plugin on unlimited domains for as long as you want without any additional fees.
Email Notifications: Get notified by email when a new visitor is online.
Multilingual Support: Ability to translate chats in different languages.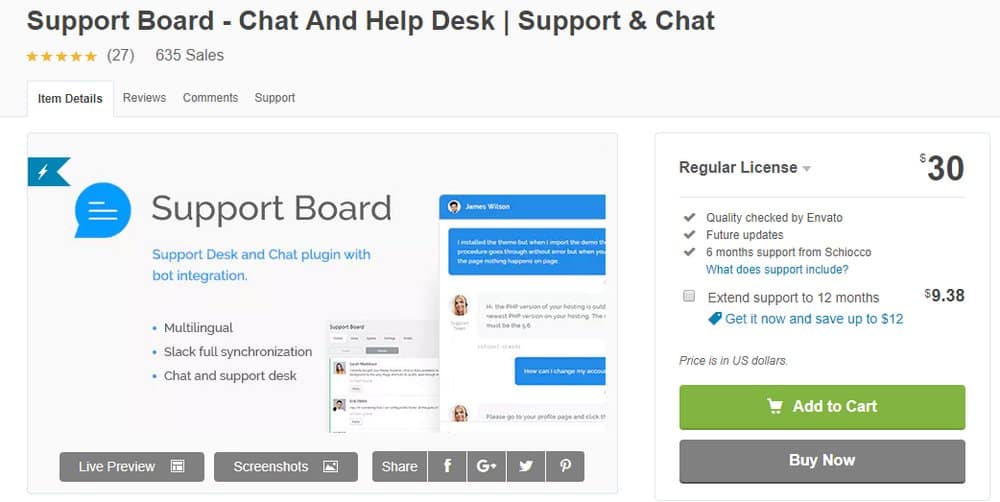 Best Feature: Bot integration
Price: $30
Support Board is a powerful WordPress chat plugin most suitable for eCommerce and business website for offering both live chat and customer support systems. The plugin comes with many useful features such as Slack synchronization that allows you to chat with customers directly from Slack.
However, what makes this plugin stand out is its ability to setup a Bot to chat with your customers for you. With the Dialogflow integration, you can integrate a bot with the chat system to have the bot answer the most basic questions asked by customers.
Main Features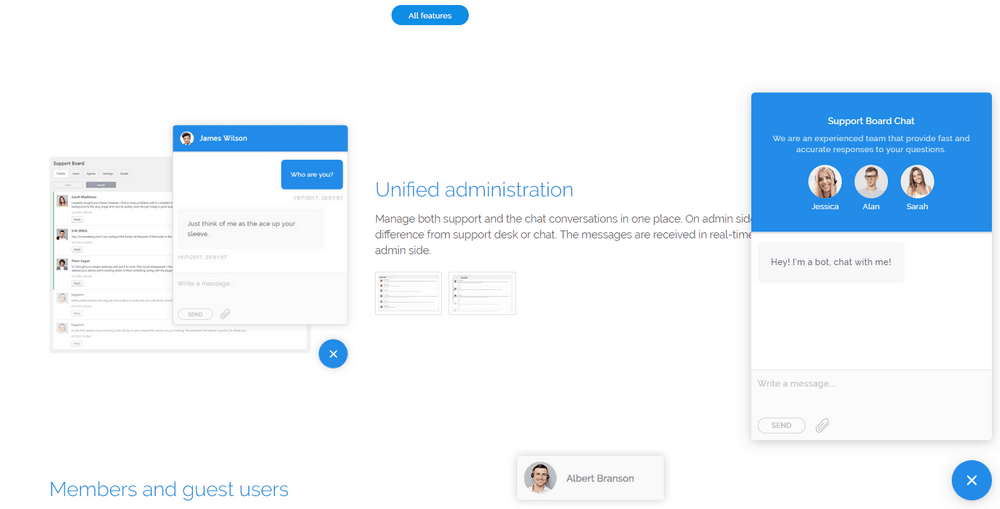 Chat & Support Desk: Use the plugin to chat with customers in real-time and setup a system to offer customer support in live chat.
Bot Integration: Setup a bot to handle the live chat for you and send immediate replies to questions.
Slack Synchronization: Sync chats with Slack to reply to customers directly from Slack in real-time and have your chats archived.
Multilingual Support: Translate your support board to many different languages.
Sleek Design: The plugin's chat system features a beautiful and modern design.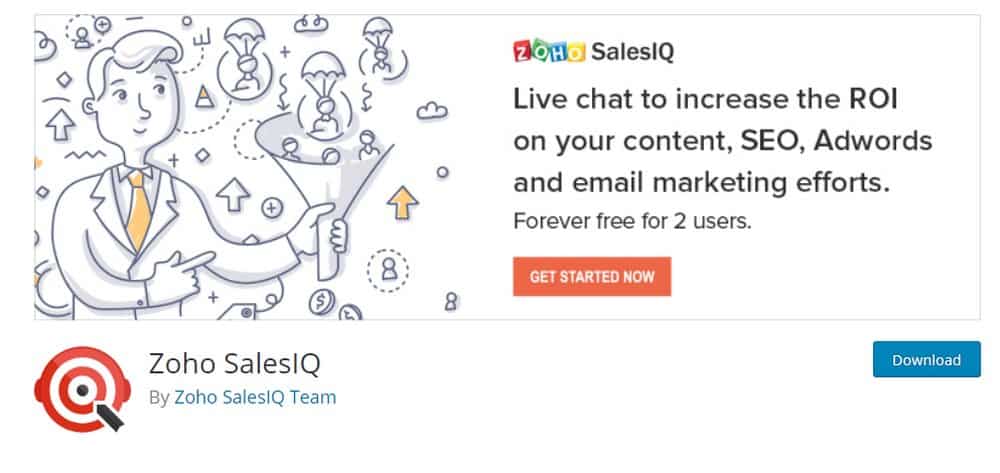 Best Feature: Track visitors in real-time and initiate chats
Price: Free
Zoho Sales IQ is one of the best free chat plugins on WordPress. The free plan offered by the plugin allows you to have 2 operators and engage with 5K visitors and have 100 chat sessions every month.
What makes this plugin unique is that it allows you to easily track your website visitors in real-time and initiate chats with users who are about to make a purchase. This way you don't have o wait for customers to open a chat and you'll have a chance to convince a customer to buy your product.
Main Features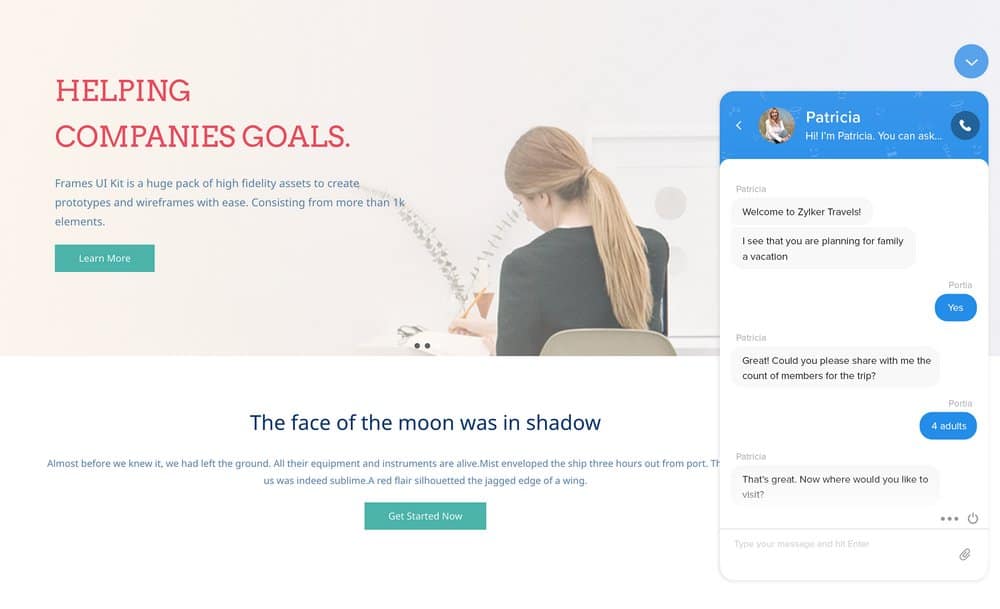 Track Visitors: Using the plugin you can track your website visitors in real-time and see how they browse your website.
Initiate Chats: No need to wait for customers, you can initiate a chat with a user once they land on your pricing page to have a conversation.
Templates: Keep chat templates to easily answer the most common questions.
Offline Mode: No need to stay online all the time, even if you're offline you can have customers leave their email so that you can answer their questions later.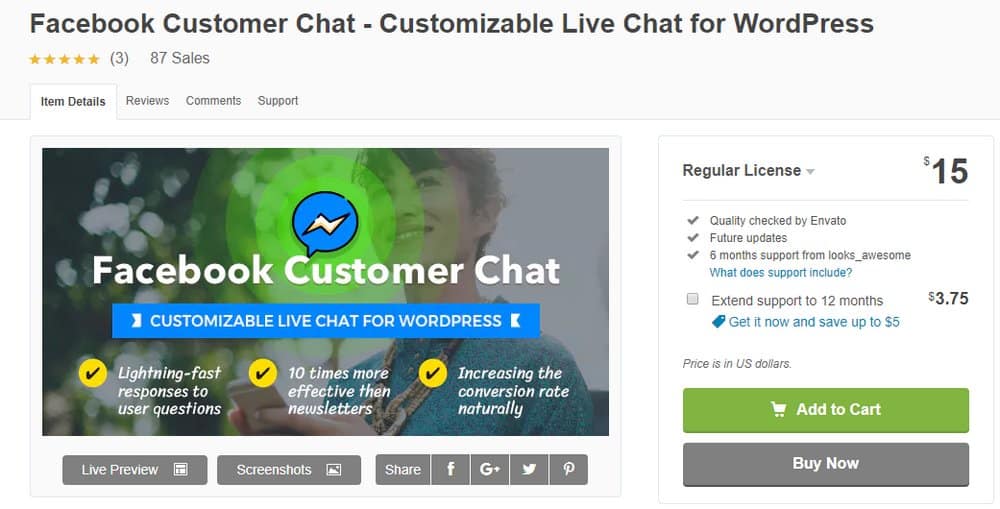 Best Feature: Integrates directly with Facebook Messenger
Price: $19
Facebook Customer Chat is a simple yet convenient WordPress chat plugin that allows you to integrate a live chat system powered by Facebook Messenger. This allows you to take full advantage of the features offered by Messenger, including bots and autoresponses.
This also makes it easier for you to engage with your customers on social media without having to rely on emails or having your previous discussions getting lost in the live chat.
Main Features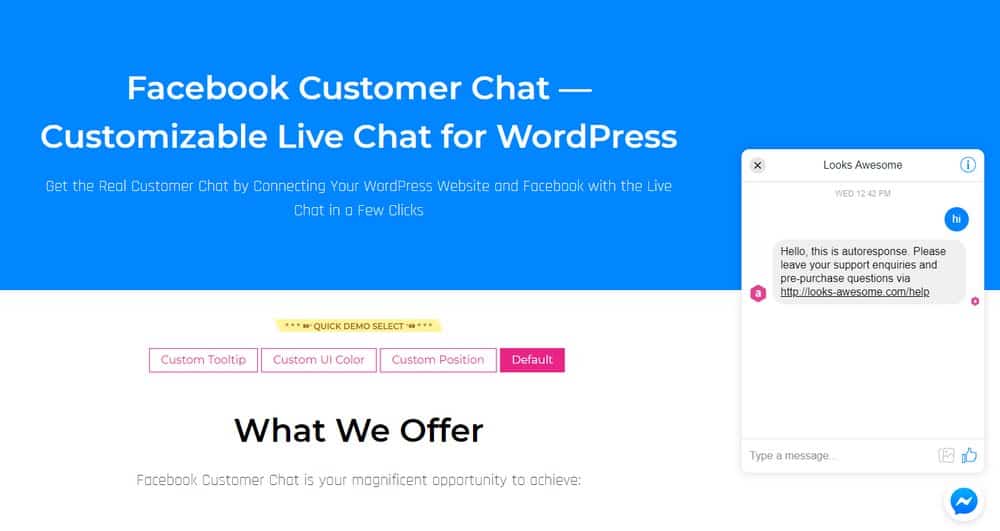 Facebook Messenger Integration: Easily integrate your website chat system with Facebook Messenger
Sleek Design: Beautiful & customizable design offers a seamless experience to users.
Autoresponses: Ability to set Facebook Messenger autoresponses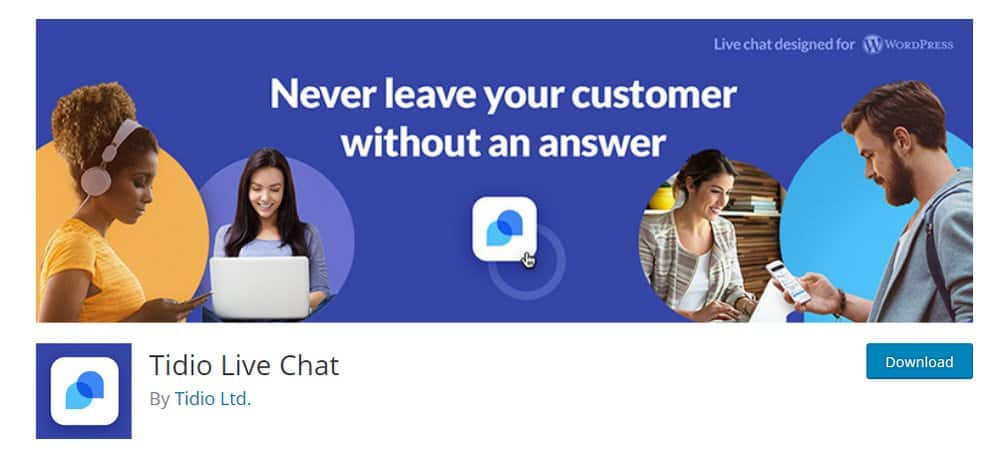 Best Feature: Integrate bots and Messenger
Price: Free
Tidio Live Chat is actually a premium plugin that also offers a very limited free plan. This plugin was worth mentioning in the list for its amazing set of features, including the ability to setup bots and integrate with Facebook Messenger.
When you install the plugin and register with a Tidio account, you'll get a free trial of the premium plan. Once the trial is over, you can downgrade to the basic free plan, which comes with limited features and you can use it forever.
Main Features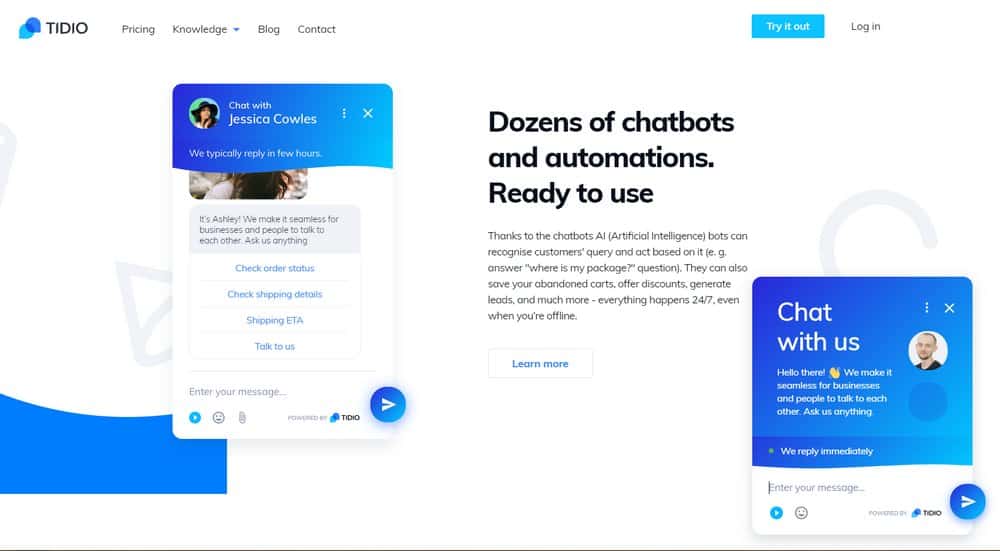 Integrate Messenger: Tidio chat system can be integrated with Facebook Messenger to handle your chats on the social networking platform.
Beautiful Design: Tidio has one of the most beautiful chat interface designs we've seen on a WordPress chat plugin.
Track Visitors: You can also use the plugin to track users and export visitor data collected with Tidio.
Quick Replies: Have chat templates to reply to customers instantly
Third-Party Integrations: Integreate with other apps such as MailChimp, Google Analytics, and more.
Which Chat Plugin Should You Use?
When looking at long-term benefits, especially with the ability to manage unlimited customers and its ease of use, the Live Chat Unlimited plugin is arguably the best option you can use to setup a live chat system on your website that can serve customers for a very long time without having to pay monthly fees.
If you have a smaller website or low on the budget and looking for a free alternative, Zoho Sales IQ is the best choice for you. Even though most of its free features are limited, it's much better than the features offered by the Tidio Live Chat free plan.
Your website's chat system is an investment you make to offer a better user experience to your customers. Make sure the choices you make reflect on that vision.
Looking for WordPress hosting? We use Kinsta. They offer world-class WordPress hosting, built to keep your website fast, secure, and always online.