8 Best WordPress Carousel & Slider Plugins (Free & Premium)
There is so much you can do with a good WordPress slider plugin. You can use it to promote your products, highlight your best clients, showcase your portfolio, and more.
Today we take a closer look at some of the best slider and carousel plugins you can use on your website to attract the attention of your audience and even boost sales.
Our top picks include both free and premium plugins. Keep reading to find out which slider plugin is best for your website.
What is a WordPress Carousel Slider Plugin?
In web design, a slider or carousel is mainly used to showcase multiple objects in a more entertaining way. While sliders and carousels have much in common they serve different purposes.
Sliders are the go-to choice for showcasing images. And they are commonly used to design website headers as well.
Carousels are used for showcasing blocks of content, like blog posts or WooCommerce products.
With a WordPress carousel or slider plugin, you can easily create slideshows and embed them on your website without having design or coding knowledge.
How to Use Them
Different types of websites use sliders and carousels in various ways. You could use a slider plugin to:
Create an interactive hero section for your website
Show off the best products of your online store
Showcase your portfolio to attract clients
Show your best clients and client testimonials
Highlight product features
Promote your business services
And much more
Top WordPress Carousel & Slider Plugins
There are many WordPress slider and carousel plugins out there. We handpicked the best of the best for this list. Some plugins even allow you to create both sliders and carousels. Let's have a look.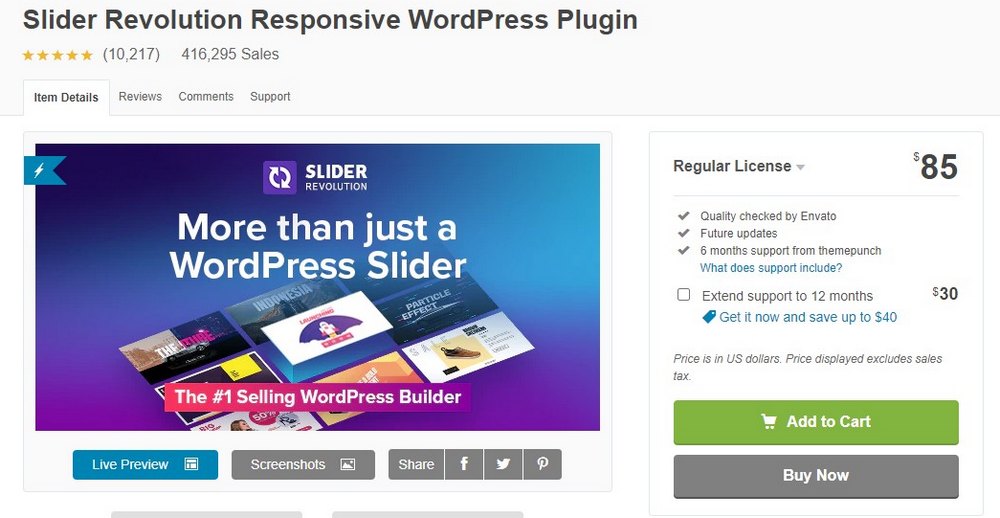 With more than 7 million users, Slider Revolution is the ultimate WordPress slider plugin available right now. This is one of the highest-rated plugins on the CodeCanyon marketplace and it's used by lots of theme developers as well.
Slider Revolution can be used to create both carousels and sliders. It's also capable of creating various types of slideshows, hero sections, and product showcases with incredible special effects and animations.
The easy-to-use visual editor is what makes Slider Revolution so popular as it allows both beginners and experienced users to build any type of slideshow with zero coding knowledge. You can even use it to create entire websites.
Best Features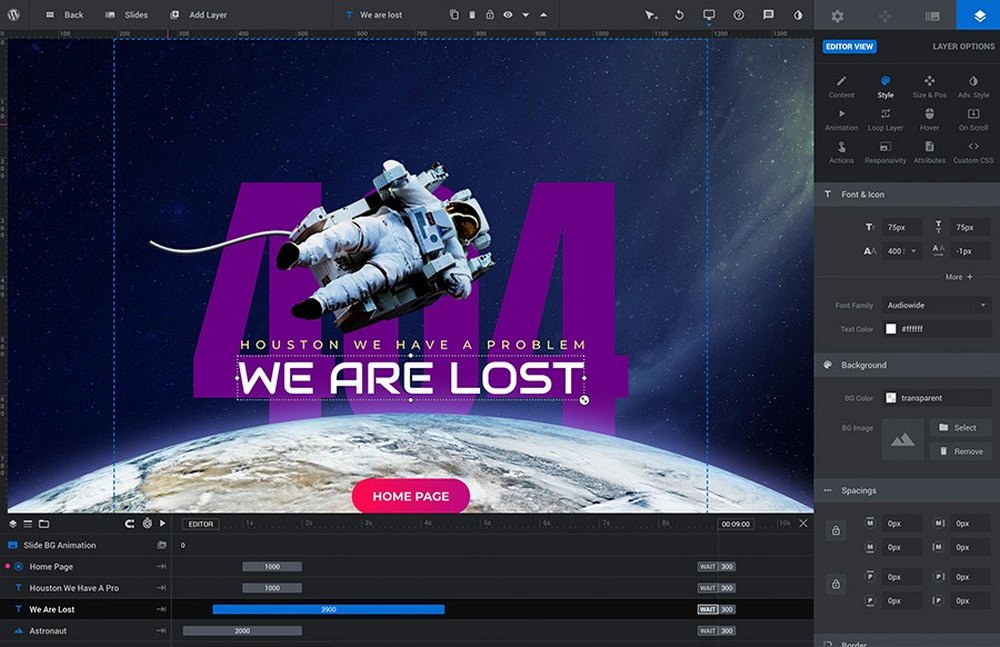 Choose from more than 200 pre-made slideshow templates
Use the visual editor to create, edit, and customize your slideshows
Add mind-blowing visual effects to your slides
Includes more than 20 add-ons for extending features
Access to a library of 2000+ media assets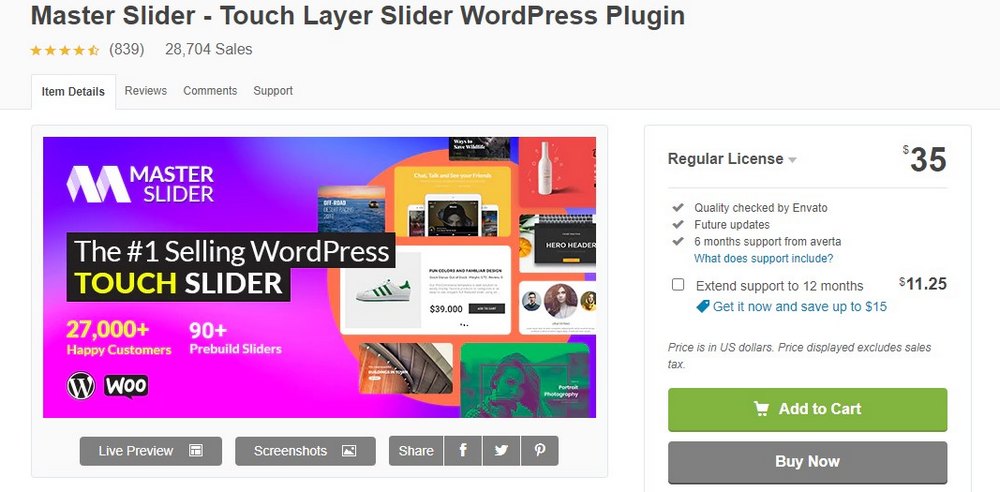 Master Slider is another great premium plugin you can use to easily setup slideshows on your website. While it's not as sophisticated as Slider Revolution, this plugin offers some impressive features.
The fluid touch navigation supported slider system is what makes this slider more attractive. It supports swipe gestures better than most other slider plugins for creating mobile-friendly experiences.
Master Slider also comes with a visual editor that makes it much easier to create and edit sliders as well.
Best Features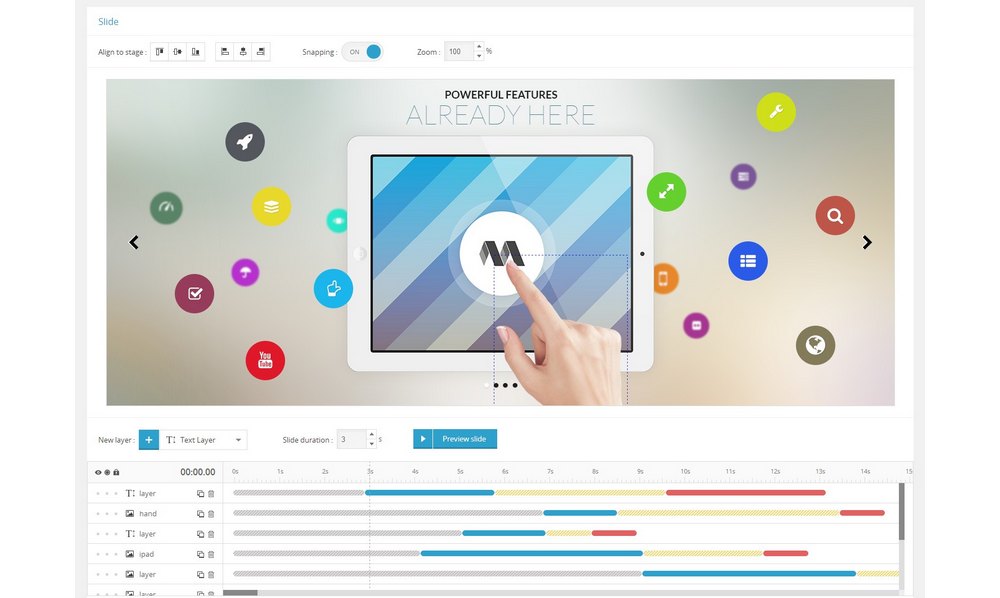 Create mobile-friendly sliders using a visual editor
Choose from more than 80 pre-made slideshow templates
Create slideshows with YouTube and Vimeo videos
Supports integration with WooCommerce and page builders
Make carousels from posts, categories, and more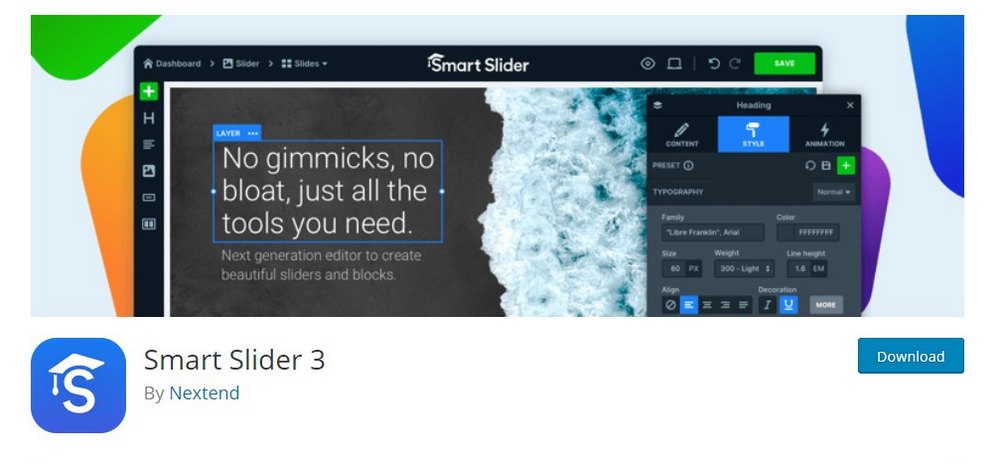 Smart Slider 3 is the closest thing you could get to a free Slider Revolution alternative. It offers some amazing features, like the ability to create slideshows with layers, a visual editor, and much more with the free version of the plugin.
Of course, most of the best features of the plugin are locked behind the premium version, like access to more pre-made templates, animations, and WooCommerce integration.
However, the free version has all the necessary features for creating simple slideshows for images, hero sections, and services showcase sections.
Best Features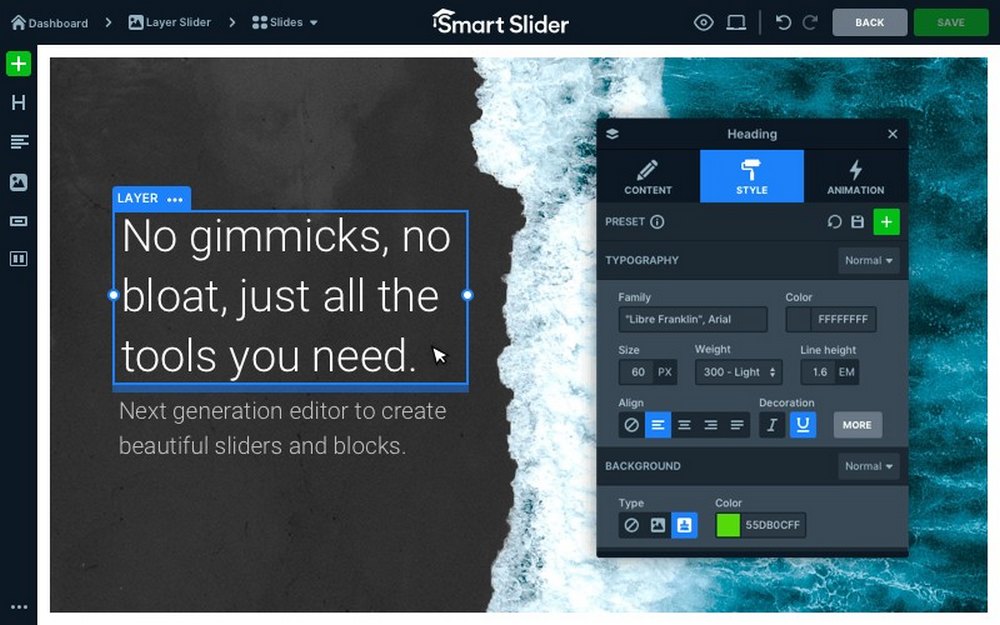 Create beautiful slideshows and carousels using a live editor
Easily customize the design of sliders using drag and drop interface
Optimizes images for fast-loading slideshows
Duplicate slides by copy-pasting design and styling to new slides
WooCommerce integration and animation effects available in the pro version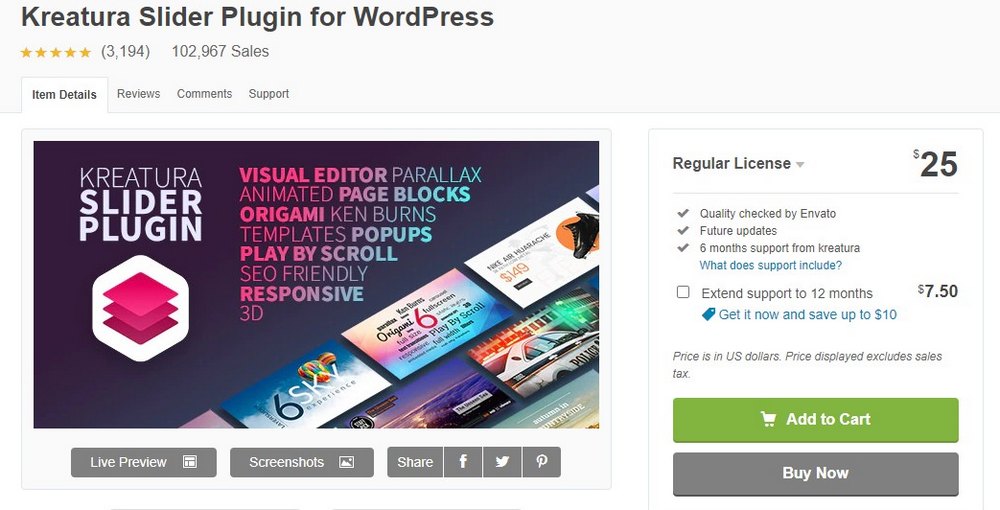 Kreatura is a slider plugin that's most suitable for business and agency websites. It offers a wide range of slider templates with eye-catching animations to interact with your audience.
In addition to the sliders, the plugin also allows you to setup popup messages to promote your products or grow your email list.
You can also use it to design hero sections, landing pages, and craft features sections with parallax effects.
Best Features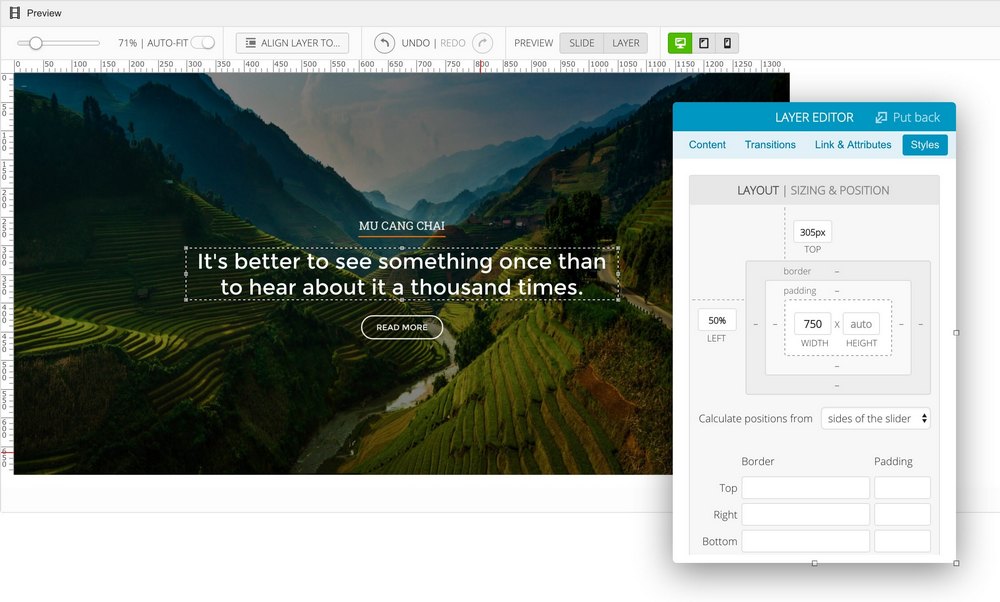 Design sliders and carousels using a beginner-friendly editor
Create popups to promote sales and grow email lists
Choose from over 120 slider templates and 90+ popup templates
8 different layout modes, 7 layer types, and over 200 slide animations
Ability to create post carousels, mixed content sliders, and more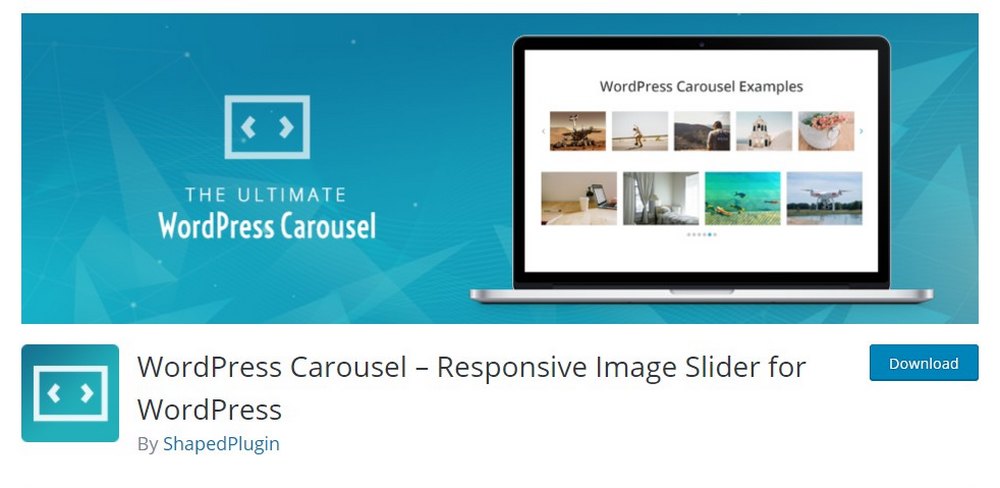 Price: Free / $39 per year
Just as the name suggests, WordPress Carousel is a simple plugin you can use to setup a basic carousel on your website. You can use it to create image, post, video, and product carousels with ease.
The free version of the plugin offers limited features and most of the best functions, like templates, lightbox, and WooCommerce integration, are only available in the premium version.
Although, it offers enough features for creating a simple carousel to showcase your clients, client testimonials, or brand logos.
Best Features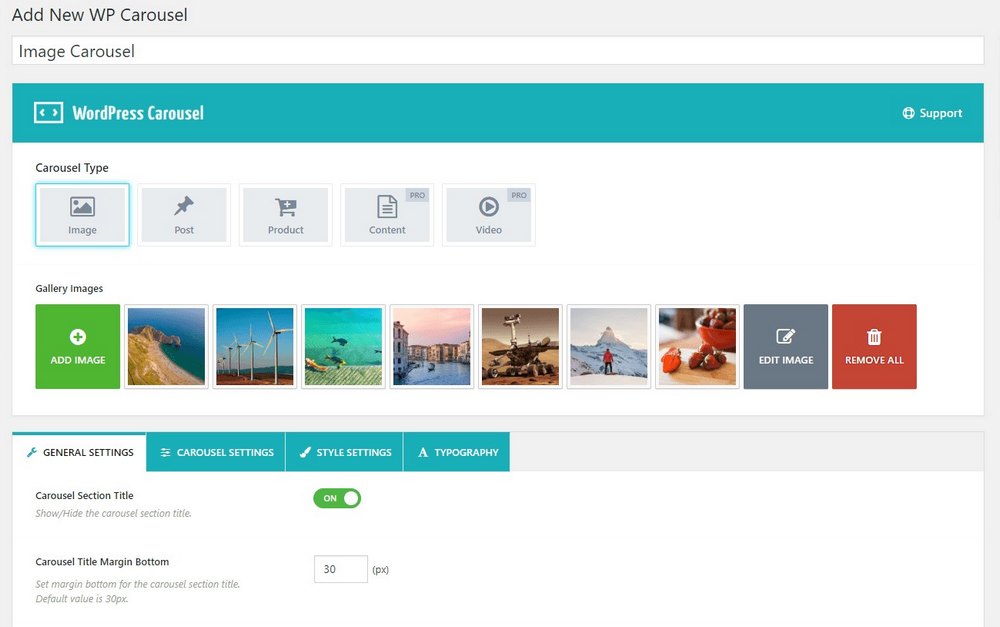 Easily create simple image or post carousels
Use it to create YouTube, Vimeo, Dailymotion video carousels
Completely mobile-friendly and supports touch gestures
Customize carousels with different options like autoplay, infinite loop, and more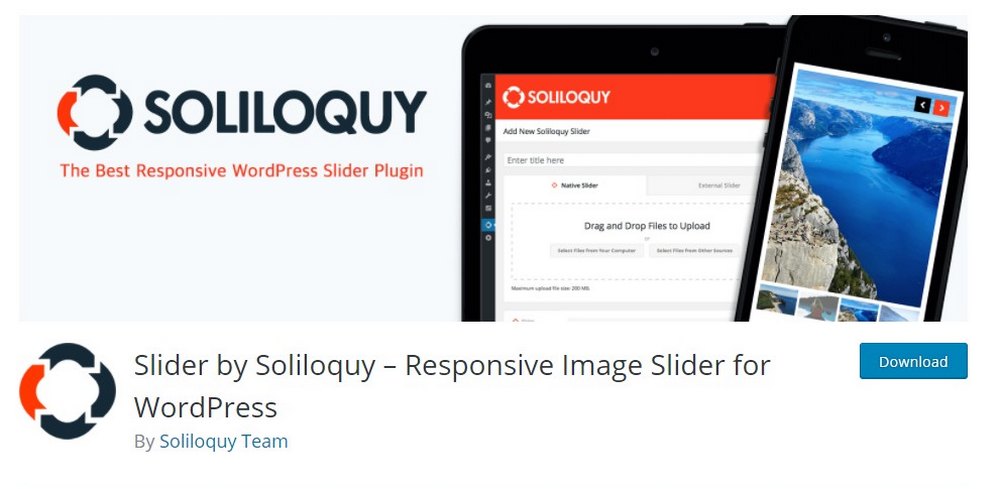 Price: Free / $17 per year
Slider by Soliloquy is another great free slider plugin you can use to setup basic slideshows on your website. This plugin is ideal for photographers and creative professionals for showcasing their work.
The plugin features an old-school editor with basic drag and drop functions for crafting slideshows. While it's not as advanced as other slider plugins, it gets the job done.
The premium version of the plugin brings more useful features like a lightbox, WooCommerce integration, and Instagram sliders.
Best Features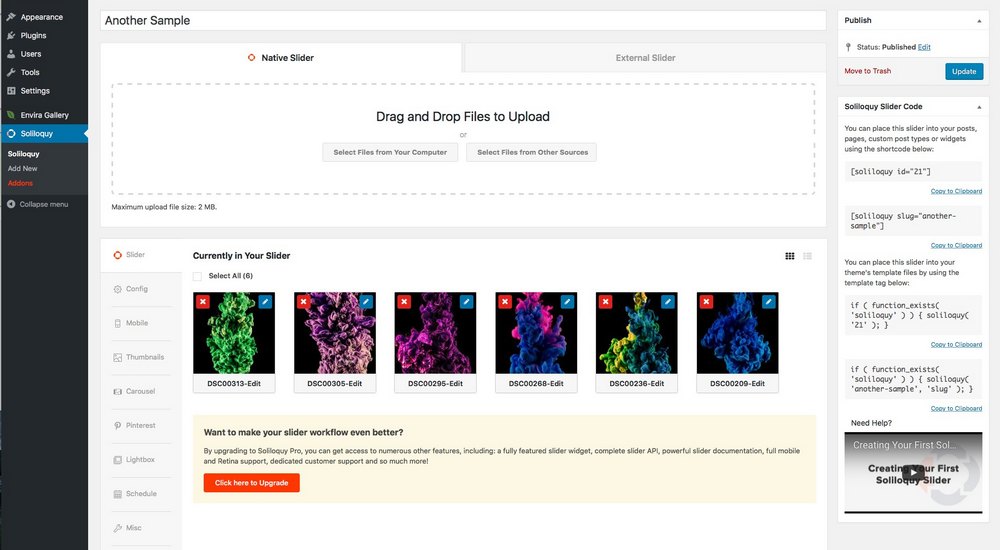 Create basic image slideshows with lightweight designs
Choose from pre-made slider templates
Fully responsive and mobile-friendly slide layouts
Premium add-ons for third-party integrations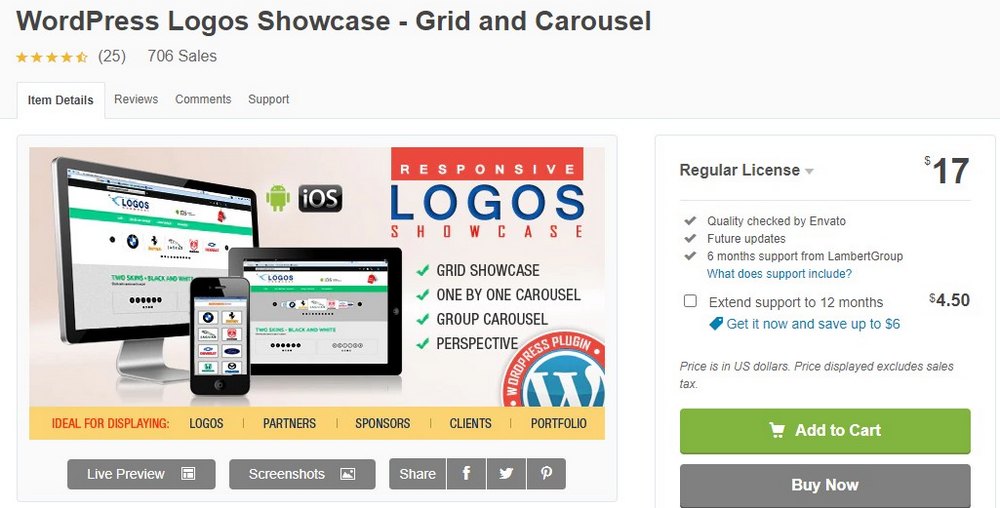 Sometimes you just need a simple plugin without the bloat that does just one job perfectly. This plugin is just like that. It just does what says in the title and that's it.
WordPress Logos Showcase is a plugin you can use to create carousels to showcase your clients, partners, and brand logos on your website. It offers all the right features for creating a logo showcase that looks more professional.
The plugin supports both grid and carousel layouts. It also features support for touch navigation.
Best Features

Create professional carousels to showcase clients
Choose from multiple styles of carousel designs
Fully responsive and compatible with touch gestures
Add external links to each slide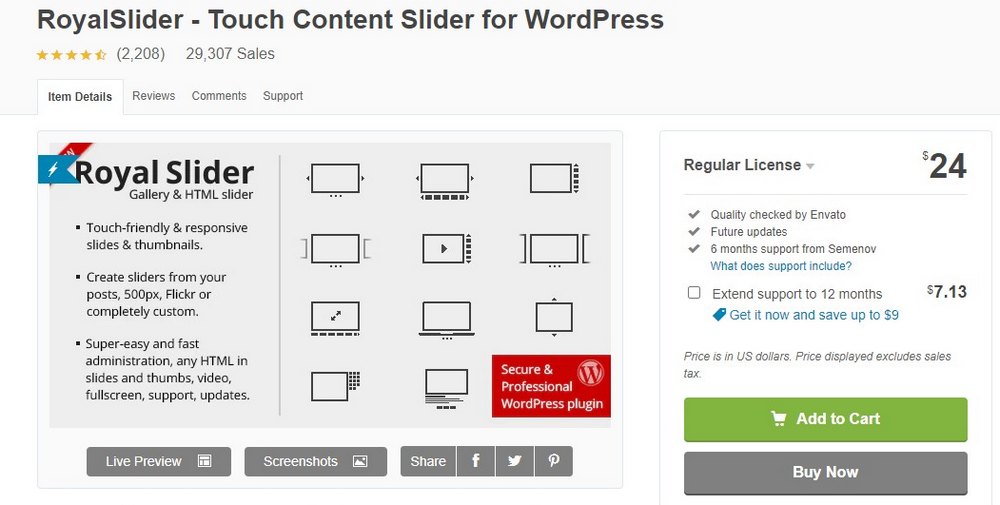 RoyalSlider is a WordPress slider plugin that specializes in content sliders and carousels. This plugin allows you to create slideshows to showcase various types of content, including posts, videos, images, WooCommerce products, and more.
The plugin even supports creating slideshows using content from Flickr, 500px, and other platforms. It's also very developer-friendly as it lets you style the slides using your own HTML code.
Best Features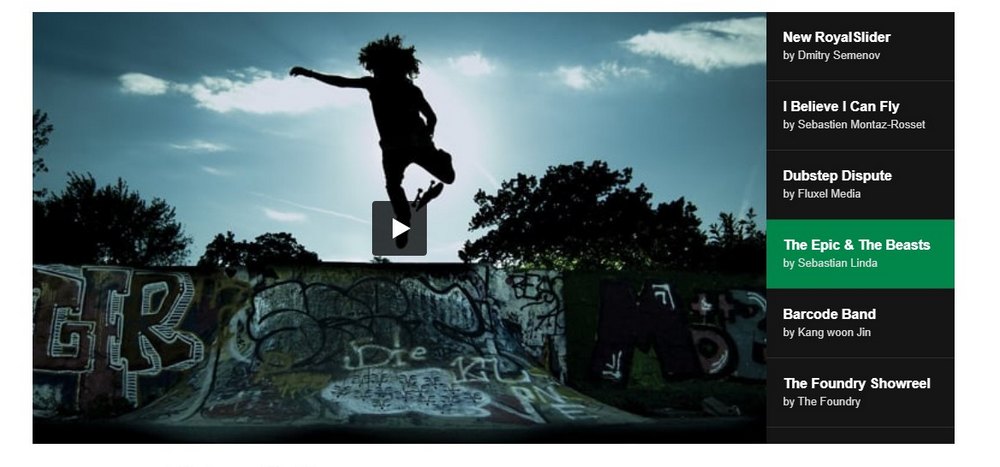 Create any type of content carousel or slideshow
Supports YouTube, Vimeo, Flickr, 500px, and other platforms
Choose from 4 different designs that can be customized with CSS
Compatible with mobile touch and swipe navigation
Lightweight design with lazy-loading for creating fast slideshows
Which Carousel Slider Plugin is Best for You?
Slider Revolution is still the best slider plugin available on WordPress. As an all-rounder plugin, Slider Revolution works great for creating all kinds of sliders, carousels, website hero sections, and product showcase sections. You can't go wrong with this plugin.
If you can't afford Slider Revolution, a good free alternative is the Smart Slider 3. It has a very easy-to-use visual editor that allows you to craft sliders that looks and feels modern.
Of course, most free plugins don't include advanced features so if you want to promote WooCommerce products and create complex slideshows with animations, you'll have to invest in a premium plugin.
You can also use WordPress themes with sliders to easily build a website that looks great. These themes also come bundled with premium slider plugins as well.
Looking for WordPress hosting? We use Kinsta. They offer world-class WordPress hosting, built to keep your website fast, secure, and always online.