WooCommerce Alternatives: 8 Best Options to Consider
Building an eCommerce business is a process that involves a lot of decisions. Choosing the right eCommerce platform to build your online store is one of the most important decisions you have to make at a very early stage.
There's no room for mistakes. You have to make the right choice in your first try because all the other decisions you make, including picking a design, uploading products, and integrating payment processors, will depend on the eCommerce platform you choose.
Of course, most developers and entrepreneurs try to choose the most obvious solution. Especially when building a WordPress-powered website, the most obvious choice is WooCommerce. But, is it the right choice?
Well, maybe, but maybe not. In fact, choosing WooCommerce for certain types of eCommerce websites isn't always the best decision, and there are actually several great WooCommerce alternatives you can use to build a better functioning eCommerce website.
In this post, we take a closer look at 8 of the best eCommerce platforms you can use instead of WooCommerce.
Get everything you need to build your next website with one simple subscription. From $16 per month, get unlimited access to nearly 2 million WordPress themes, web templates, fonts, graphics, and photos.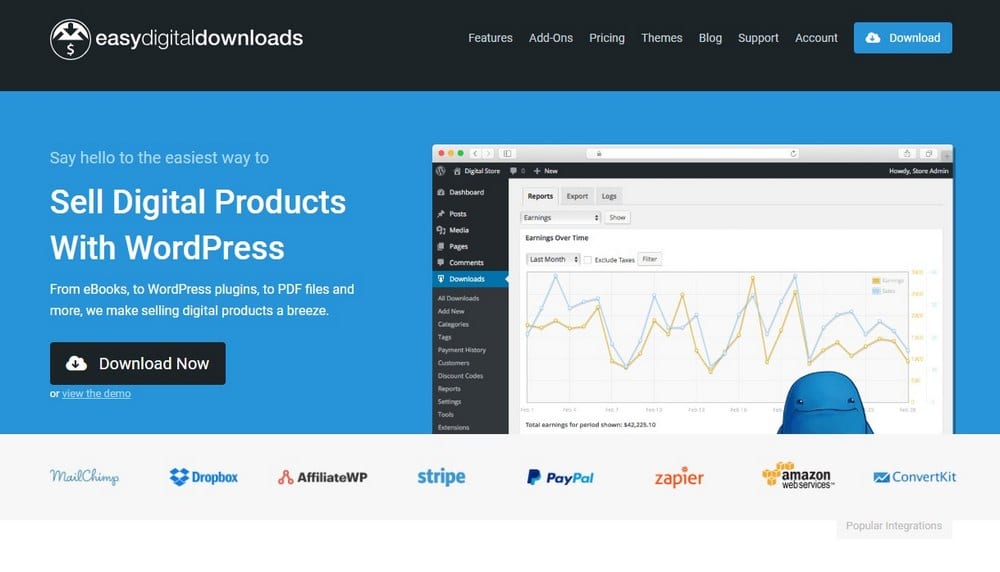 Price: Free
Best For: Selling digital products
Easy Digital Downloads is one of the most popular eCommerce plugins available on WordPress with over 60,000 active installations. While the plugin can't be compared with some of the functions of WooCommerce, EDD excels at many other areas that WooCommerce can't compete, like its file downloads system.
Main Features
Sell digital products with file downloads system
A complete shopping cart experience
Track downloads and gather data reports
Create file access control panel for customers
PayPal, Amazon Payments, Stripe, and other payment gateways
Why Use It?
If you're planning on starting an online store to sell digital products, like eBooks, software, apps, graphics, and songs, Easy Digital Downloads is a great plugin you can use to set up a store without too much bloatware or having to spend money on expensive add-ons.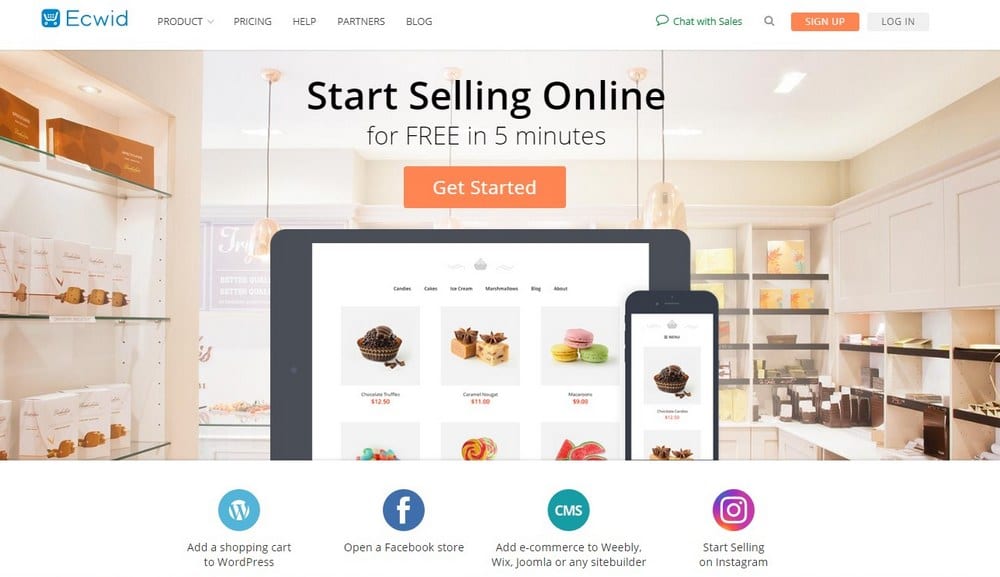 Price: Free
Best For: Selling physical & digital products
Ecwid is a complete online shopping cart system that allows you to create a store and sell your products on WordPress as well as Facebook and Instagram. With Ecwid, you get to create your own shop on the cloud for free and embed your store and its products on your WordPress website using its easy-to-use plugin.
Main Features
Complete cloud-based shopping cart system
Easily integrates with WordPress
Sell products on Facebook and Instagram
Supports Tumblr, Weebly, Squarespace, and other platforms
Manage shipping and taxes in one place
More than 40 different payment options to choose from
Why Use It?
Ecwid is a great platform for beginners for setting up a simple store to sell products on social media or to sell their own products online. The free plan of Ecwid doesn't include any transaction or platform fees and lets you integrate your store with WordPress quite easily with up to 10 products.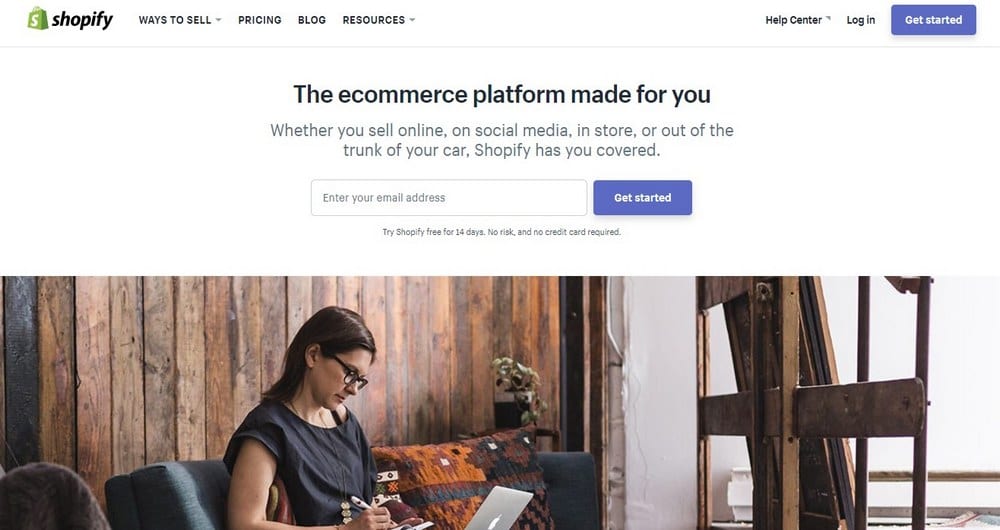 Price: $29 per month
Best For: Selling physical, digital, and dropshipping products
Shopify is arguably the most beginner-friendly and versatile eCommerce software available today. Even though it doesn't directly integrate with WordPress, the platform itself offers all the features and functions you need to build a professional online store with just a few clicks.
Main Features
Beginner-friendly user interface
Design and build an online store without complications
Built-in tax, shipping, and payment management
Sell on Instagram, Facebook, eBay, and Amazon
Plenty of apps and themes to choose from
Easily setup dropshipping stores
Why Use It?
Shopify is truly an all-rounder platform you can use to build any kind of an eCommerce store to sell both digital and physical products. The platform even offers plenty of third-party apps and integrations for selling dropshipping products as well. Unlike WooCommerce, the Shopify apps easily integrate with stores and are much cheaper as well.
Shopify also comes with a Lite plan at $19 per month which you can use to sell products on Facebook and Instagram.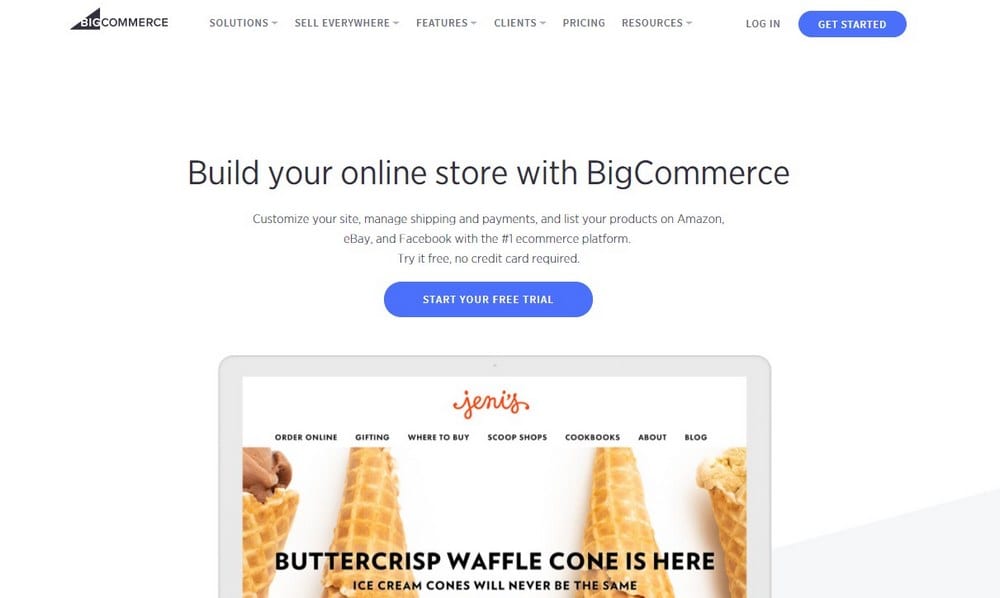 Price: $29.99 per month
Best For: Selling physical & digital products
BigCommerce is a powerful eCommerce platform that's most suitable for setting up online retail shops and large enterprise stores. The platform mainly targets large sellers by offering a set of tools and systems that make things easier to manage large inventories and customers.
Main Features
Unlimited hosting for managing and selling lots of products
No transaction fees
Ability to integrate stores with Amazon and eBay
Sell and manage orders from one dashboard
More than 40 integrated payment gateways
Why Use It?
BigCommerce offers plans with unlimited bandwidth and staff accounts for hosting lots of products. And it doesn't charge any transaction fees. The only downside is that it includes annual sales limits for each of its pricing plans.
However, BigCommerce brings many features that you have to spend a lot of money on other platforms to get, like Apple Pay integration, ability sell on Amazon and eBay, and more.
BigCommerce also has a WordPress plugin in the works for integrating your store with websites as well.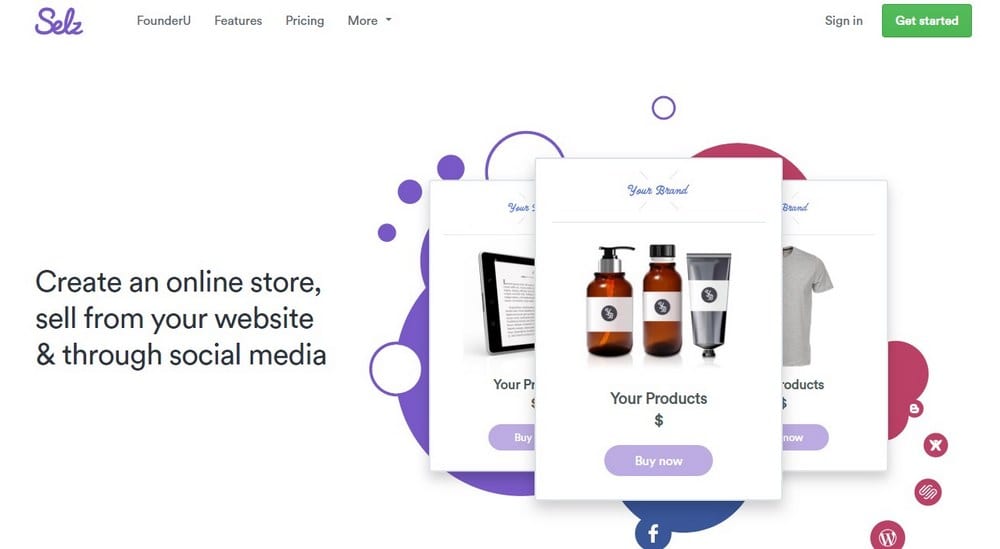 Price: Free
Best For: Selling digital products
Selz is a growing eCommerce platform that comes with an attractive free plan for setting up a small store for selling your own products online. Selz works as an independent app but it offers a WordPress plugin for easily embedding your products on your WordPress blogs and websites.
Main Features
Beginner-friendly interface
Easily embed buy buttons and products
Same-page payment processing
Built-in payment gateway with Selz Pay
Easily manage and fulfill orders
Third-party app integrations
Why Use It?
The Selz free plan limits your store to only 5 products. However, it's a great option for testing the waters of eCommerce or selling your own digital products like eBooks. Selz paid plans start at $17 per month and it lets you host unlimited products.
While Selz can be used to sell physical products, it's more suitable for selling digital products, especially because of its embed system which you can use to show products anywhere on your WordPress website and process payments without redirecting customers to third-party websites.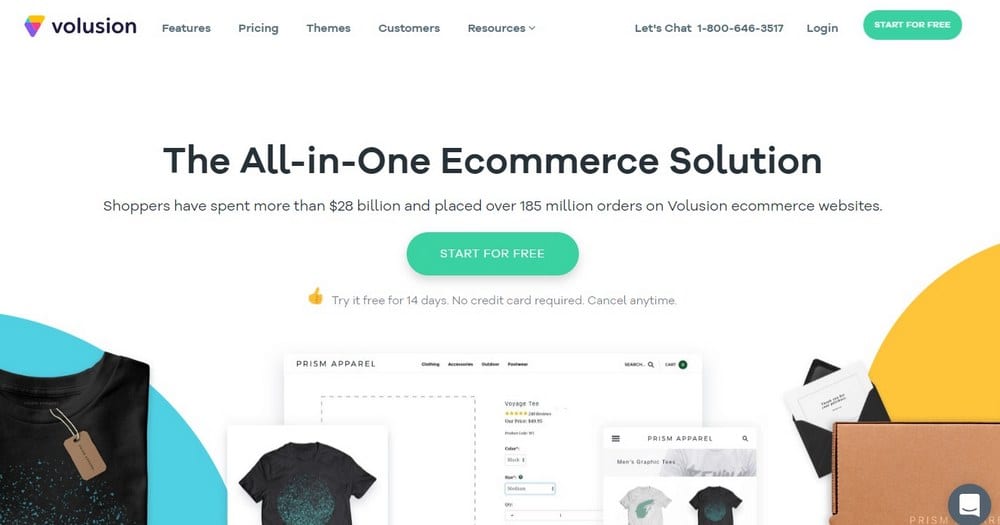 Price: $29 per month
Best For: Selling digital & physical products
Volusion is a fairly new player in the eCommerce market. Similar to Shopify and Selz, Volusion also works on the cloud and lets you setup an entire store online and manage it from a single dashboard.
Main Features
Beginner-friendly user interface
Manage products and orders from a single dashboard
Integrated barcode generator
Amazon Pay, PayPal, Stripe, and other payment processors
A CRM for managing sales and customers
Why Use It?
Volusion comes with some interesting features that make it quite unique, like its vendor codes system, recurring pricing, and barcode generator. The platform is great for a beginner since it makes things easier to manage an online store in one place.
The only downside is, just like BigCommerce, Volusion also has an annual sales limit for each of its payment plans.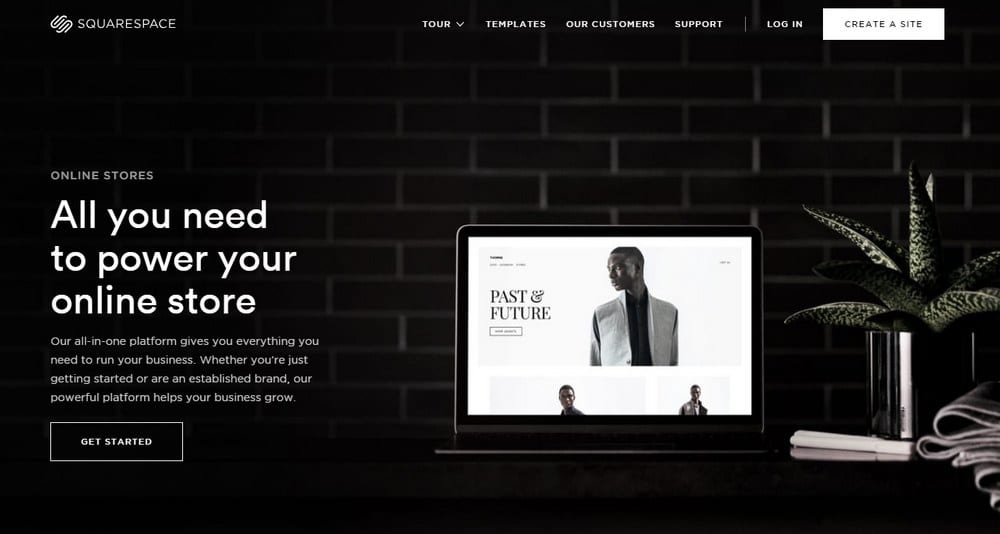 Price: $12 per month
Best For: Setting up single product websites
When talking about building websites online, we can't ignore Squarespace. The platform is now the go-to choice for many entrepreneurs for quickly setting up a simple website for selling single products and making landing pages.
Main Features
Easy to build websites and stores
Unlimited bandwidth and pages
Built-in checkout system and analytics
Supports Apple Pay, PayPal, and credit card payments
CRM for managing customers
Why Use It?
Affordability is one of the main reasons to choose Squarespace over the other platforms. With Squarespace, you can setup your store, add a custom domain, and use built-in checkout system, all for a single price.
Although, Squarespace is not a suitable choice for big eCommerce sites and retail stores since it doesn't offer flexible sales and order fulfillment systems.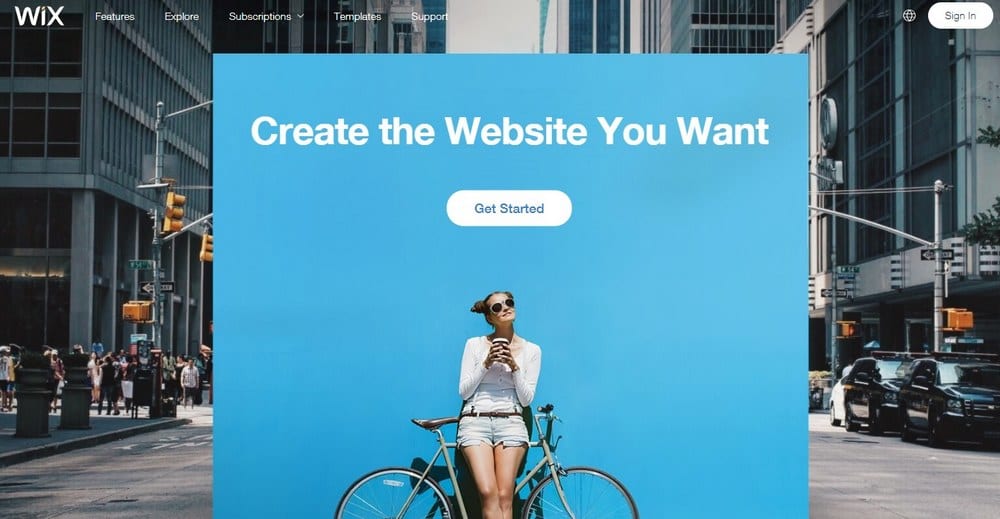 Price: $4.50 per month
Best For: Setting up single product websites
Wix is the biggest competitor to Squarespace. In many ways, Wix does every function of Squarespace a little bit better. Wix offers a powerful editor which is more flexible for building websites and even includes Wix Code, which gives you more freedom to build your own websites and stores with advanced designs.
Main Features
Flexible and beginner-friendly website editor
More than 500 templates to choose from
Wix Code for building advanced websites
Coupons and discounts system
PayPal, credit cards, and offline payment options
Manage tax and shipping
Why Use It?
Wix is much more flexible than Squarespace and offers plenty of useful features at an affordable price. If your goal is to setup a website to sell a single product or build a small store, then Wix is worth your consideration.
The $4.50 per month plan will show Wix brand ads on your website. You can get rid of it by switching to $8.50 per month plan.
Which Platform Is Best?
Choosing an eCommerce platform actually depends on the type of products you're looking to sell and the type of website you're building.
If you're planning on setting up a self-hosted website to sell digital products like eBooks, stock photos, and graphic templates, then using Easy Digital Downloads with WordPress is the best option for you.
However, if you're looking for a simpler solution to sell your products using a beginner-friendly platform or to start a dropshipping business, then Shopify will offer plenty of tools and features to make things much easier for you.
Other platforms also have its own unique features that make them suitable for different types of eCommerce businesses. So, make sure to give them a try and choose wisely.