Website Flipping: How to Buy and Sell WordPress Websites for Profit
If you're looking for a new business idea to invest in, website flipping is one of the great strategies you can get started right away.
The best thing about website flipping is that you can start with whatever amount of money you have. Whether it's $500 or $5,000 in your pocket, there are various types of websites you can buy and sell for a profit.
If you follow the right strategies and techniques, you could end up with huge profits. In fact, blogs are now being sold for $500,000 and even millions of dollars.
If you ask any person who sold a website, they'll tell you that you don't have to be an expert to sell websites. Keep reading and we'll show you how you can get started with website flipping.
What is Website Flipping?
First things first, what is website flipping? Well, it works just like house flipping. You buy a website, develop the site a little, maybe upgrade the design with a premium theme, and then sell it for profit.
It's a simple process but it involves a little bit of work. Much like flipping a house, you have to develop and improve the site before selling it. That could take some time. But there are ways you can speed up that process as well, like outsourcing.
Is it Profitable?
Can you really make money from buying and selling websites? The short answer is Yes! There are many people who are professional website flippers. They do this for a living.
Some folks were able to turn their $1,000 into $92,000. Some even make $1,000 a month selling starter websites.
It's actually a lot like investing in real estate.
How to Buy a Website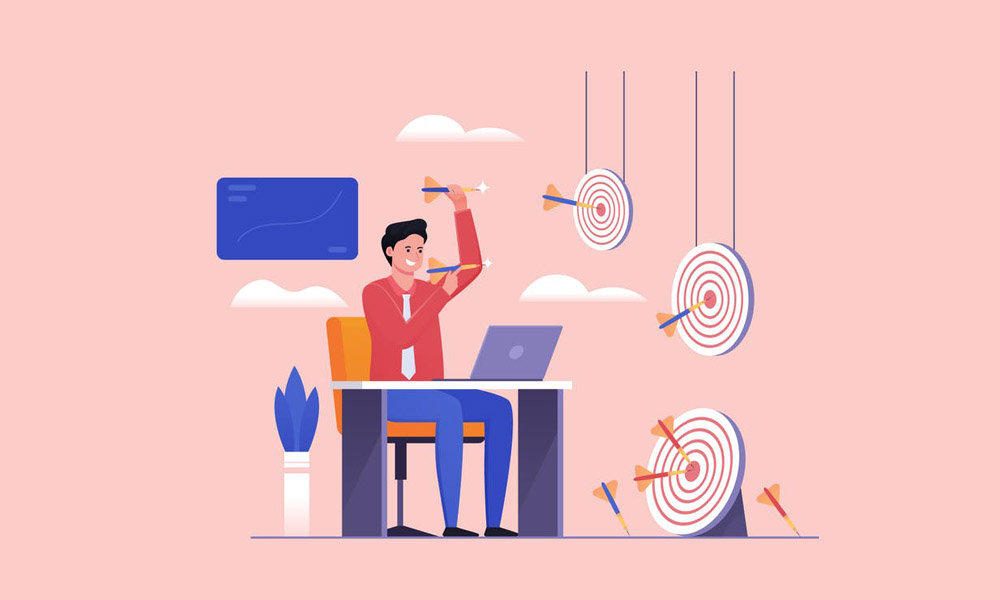 Buying websites is quite easy. But, you need to be very careful and there's a process you need to follow.
While you can directly reach out to sites and ask if it's available for sale, the best practice is to buy websites through a broker. These broker platforms allow you to safely buy websites and make the transaction with minimal risk.
However, choosing the right website to buy is completely up to you. You need to do your own research and analyze the stats to find the right website in the right niche to buy.
Starter vs Established Websites
There are two types of websites you can buy. You can buy starter websites. These are sites that are brand new or only a couple of months old. They often don't generate any money. But they are really cheap. You could buy one for around $200-$300.
Or you can buy established websites that are already generating steady monthly revenue. These sites can be a bit more expensive but offer more opportunities to grow.
How to Figure Out the Price
A general rule that most people use when selling websites is to calculate the yearly revenue of the website and multiply it. Most websites these days sell for 5 to 10X multiple of their yearly revenue.
The thing is, with the right formula, you can grow a site to make more money. So if you see the potential in a website, don't be afraid to make a good offer.
5 Things to Check Before Buying a Website
Start your research process by following this checklist.
Find a Profitable Niche
When exploring a marketplace, you'll find all kinds of website that claims to be making thousands of dollars in revenue. You need to figure out if this niche is profitable and if it's in a niche with growing popularity.

You can do this by using Google Keyword Planner. Enter a keyword to this tool and it will show you how much money businesses are spending to show ads for this keyword on Google. The higher the bidding price the better.
Then go to Google Trends to see the popularity and trends for the keyword. You can see how your topic has performed in the last 12 months or even the last 5 years. This will help give you an idea of whether a website is on the right track.
Check the Quality of Traffic
The next step is to check the traffic stats. See if the site is generating a steady stream of traffic each month.
More importantly, see where this traffic comes from. If it's generating organic traffic from search engines, the site is in a healthy state. Although some website owners also generate traffic from other forms like ad campaigns and social media.
The countries where the traffic comes from are also important as well as the devices they use. When monetizing a site, especially with ad networks like Google AdSense, the ad revenue is determined based on the source of the traffic.
How Does the Website Make Money?
If the website you're about to buy is already generating revenue, make sure to find out which methods the site uses to earn money.
Is it using an ad network? Or selling affiliate products? Or have its own product like a membership or online course?
Sites that are built around communities are often good investments. This gives you an established user base that is already loyal followers. Selling new products to such an audience will be much easier.
Analyze SEO Quality
Also, remember to do an SEO audit of the website to see how well the site and its pages are optimized for search engines.
You can use an online tool like Ahrefs or a free tool like Ubersuggest to get a simple evaluation. These tools will also show you if there are opportunities for you to target more keywords and improve SEO. That's usually a good sign that will allow you to easily grow the site.
Email Lists and Social Media Channels
Most websites these days have email subscribers and followers on social media. Check to see if your website seller is transferring the email lists and social accounts with the sale.
This is important because some websites, especially eCommerce sites, usually use social media as the main platform for bringing in customers.
How to Sell a Website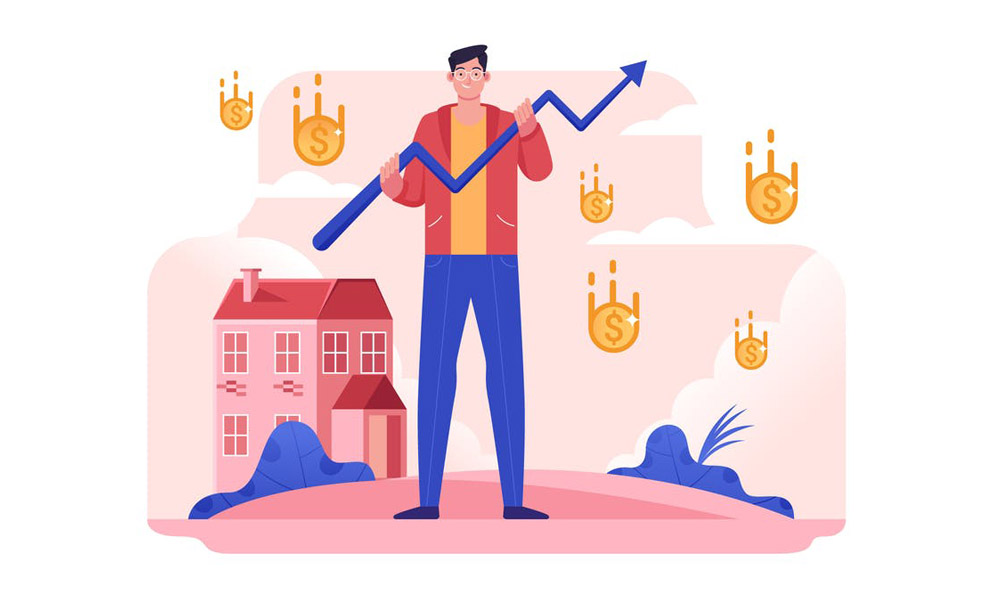 So what do you do after buying a website? How do you develop the site before selling it for profit?
Now comes the hardest part. To sell a website for profit, you need to get the website to an even better state than it was when you bought it.
This involves updating the site design, improving SEO, adding more content regularly, and growing the emails lists.
Of course, you can always outsource some of these tasks to freelancers to get the work done more quickly. Or do it yourself. Sites built with WordPress are quite easy to manage.
How to Prepare Your Site for Selling
Here are a few things you can do to develop your new site before selling.
Update the Website Design
Most websites that go on sale have outdated designs. So the first thing you should do after buying an old site is to update the design, preferably with a modern layout.
If the site is built with WordPress, you can easily switch to a brand new WordPress theme. You can do it yourself without having to hire any developers.
Check out our WordPress themes collection for inspiration.
Find new Keyword Opportunities
You can never really run out of keyword ideas. Do some keyword research to find new keywords, long-tail keywords, and key phrases that are related to the website niche. And optimize and update existing pages with these new keywords. Also, start producing new content around new keywords as well.
Develop a Blog
If the website has a blog, add new content. If not, create a blog and start publishing more content. The blog is also a great platform for SEO and bringing in organic traffic. You can also create funnels through blog articles. The important thing to remember is to stick to a schedule.
Try Different Monetization Strategies
Once your site starts receiving more traffic, you can experiment with new monetization strategies. Try using different ad networks, promote new affiliate products, get the word out for sponsorships, host ad campaigns, and more.
Your goal is to increase the revenue of the website so that you can get a higher valuation when selling the site.
Best Marketplaces for Buying & Selling Websites
Now that you have your site developed and ready to sell, you can look for a good broker site to sell the website.
These are some of the popular platforms you can use to buy and sell websites.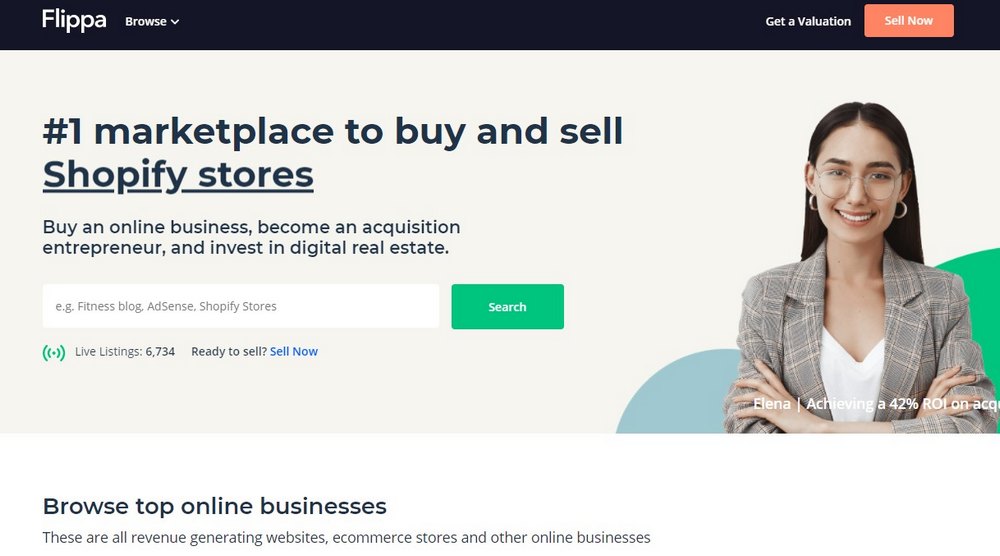 Flippa is one of the most popular marketplaces for buying and selling websites. In addition to starter and established websites, Flippa also includes listings for blogs, eCommerce shops, Shopify shops, and even mobile apps.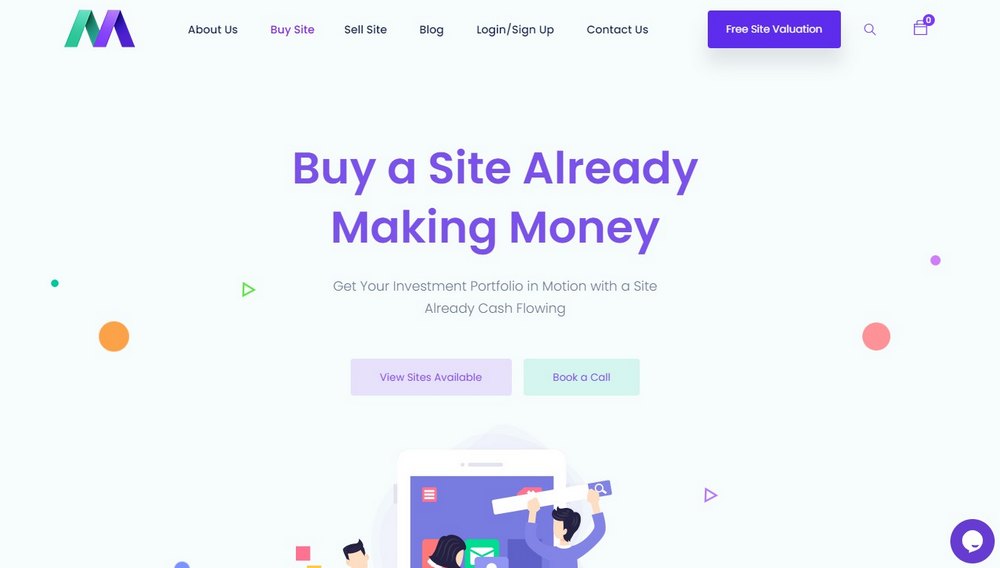 Motion Invest is another good platform for buying and selling websites. The site even offers a free valuation service that will help you figure out the right price to sell your website or blog.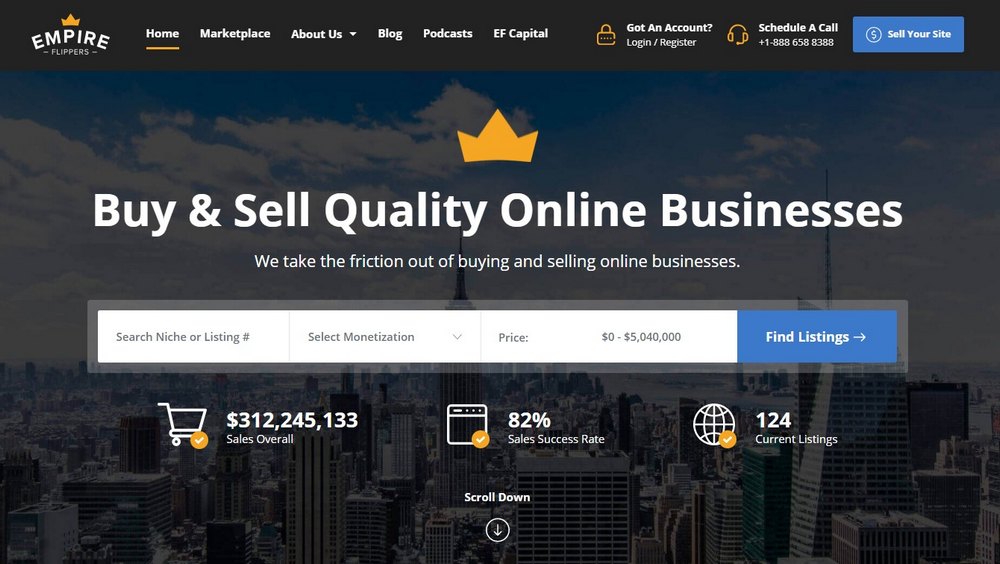 Empire Flippers has a big marketplace that gets updated regularly with new listings for websites. It's a good place for buying well-established websites that are already making a stable income.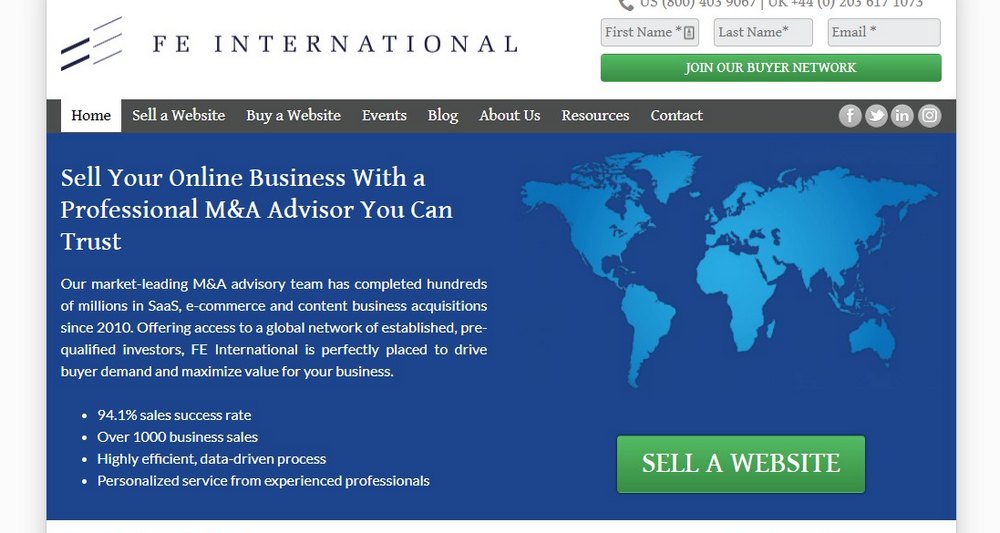 FE International is a reputable broker that handles both buying and selling requests. They offer you access to a network where you can buy and sell established websites. The websites being sold here are quite expensive.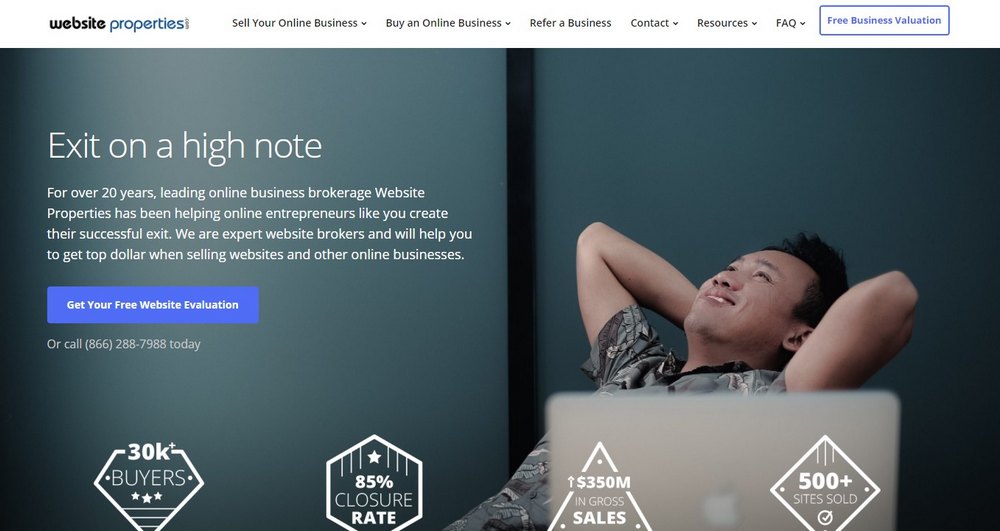 You can find lots of websites and domains on sale in the Website Properties marketplace. It includes starter and established websites at different price ranges. You can also sell your site using the platform as well.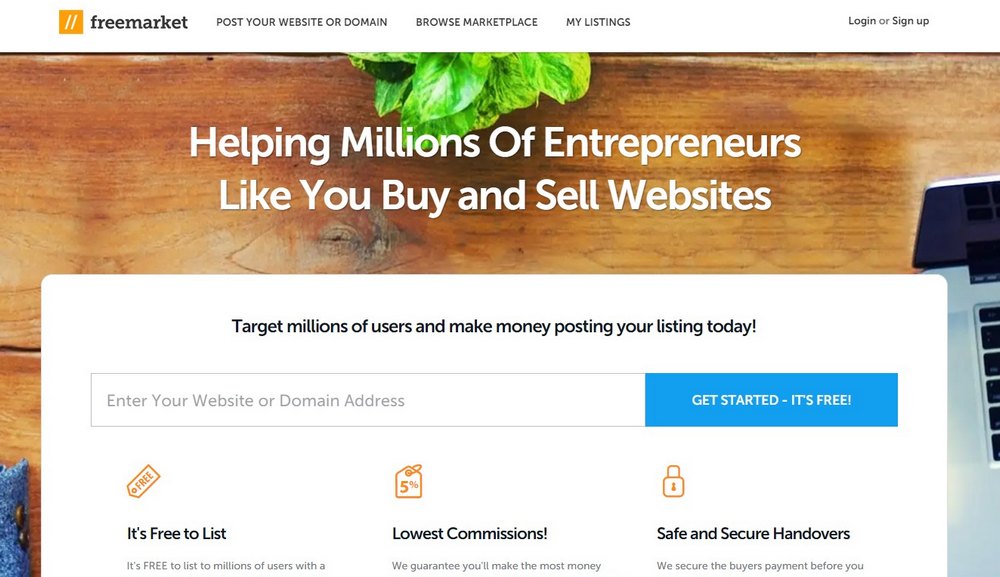 Just as the name suggests, Freemarket is a platform where you can list your websites for free. As a result, this site has a huge list of websites for sale at cheap prices. However, finding quality offers will be quite a challenge.
In Conclusion
Website flipping will bring in high profits but it will also involve risks. You need to be brave enough to take a chance on a website, have the dedication to develop it, and take advantage of opportunities to make a profit from it.
We encourage you to learn more about website flipping. Ask around on forums for advice from people who have done it. Above all, don't be afraid to take a risk or fail.
Looking for WordPress hosting? We use Kinsta. They offer world-class WordPress hosting, built to keep your website fast, secure, and always online.