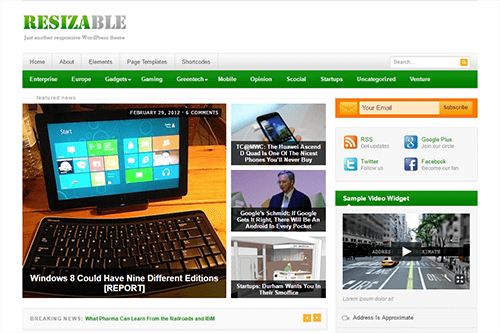 Introducing Resizable
Creating a mobile friendly magazine-style website isn't always straightforward. But with Resizable and its fluid layout, things just got a whole lot easier.
Thanks to a homepage design that's ideal for highlighting your featured content, as well as multiple locations for displaying adverts, you'll be able to attract more readers and increase ad clicks with Resizable.
Multiple Content Layouts
Thanks to the varied selection of layouts this theme includes, you'll always be able to present your content in the best way.
With layout options covering a range of different content and sidebar configurations, as well as multiple column and grid layouts, you'll have plenty of choice with this theme.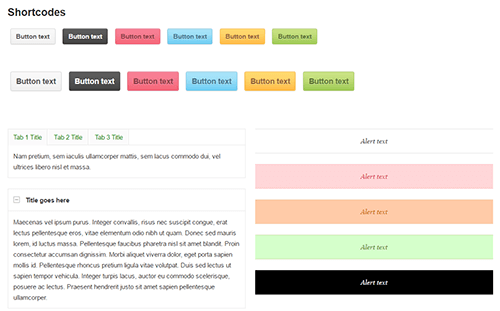 Library of Shortcodes
Use the integrated library of shortcodes to quickly insert a range of useful elements into your content.
With multiple button styles, tabbed content areas, messages boxes, and a selection of column layouts to choose from, you can easily upgrade your content at the touch of a button.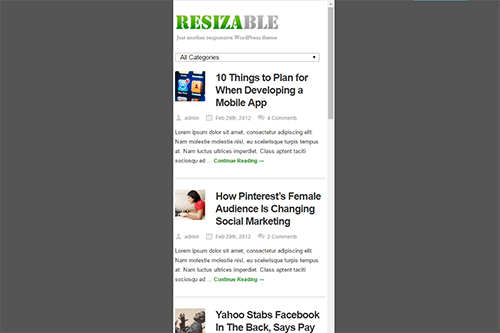 Custom Widgets
This theme contains multiple custom widgets to help make the sidebars and other widgetized areas of your site more interesting and interactive.
With featured content widgets to help your site generate more page views, to social media widgets that will encourage more sharing, this theme gives you plenty of options.