How To Create Sliders & Carousels With Smart Slider 3
Adding a slider or a carousel to a website is one of the best practices for designing attractive websites. If you're looking for a way to add a slider to your WordPress website, we have an easy solution you're definitely going to love.
Statistics show that 32% of websites have a slider or a carousel on the homepage while 68% of websites have static headers. Which means, adding a slider to your website will definitely help you stand out from the crowd.
Luckily, WordPress makes things much easier for users to add a slider to a website without coding or any web design experience. Smart Slider 3 is one of the best WordPress slider plugins you can use to get that job done.
In this review, we take a closer look at this plugin to show you how to use it to create a slider in WordPress. Let's get started.
What Is Smart Slider 3?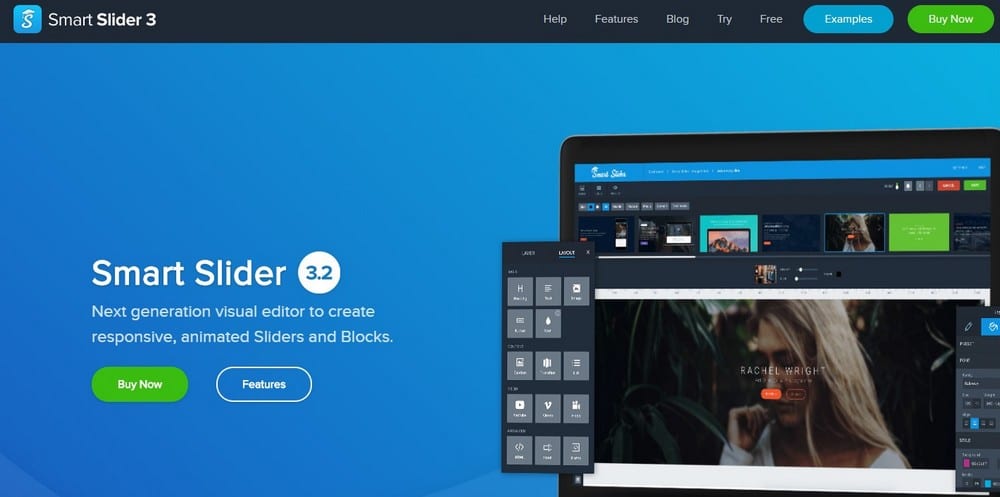 You can find plenty of free and premium plugins for setting up a slider for a WordPress website. But, most of them often arrive bundled up with their own issues like the lack of browser compatibility or slow loading times. Smart Slider is an exceptional plugin you can get if you're looking for the perfect slider plugin.
Smart Slider 3 is the latest version of one of the most popular slider plugins available on WordPress which has been downloaded by over 600,000 people. Smart Slider 3 lets you create carousel slides featuring images, fullscreen sliders, block sliders for creating stylish sections on a website, and showcase sliders for creating image galleries.
Smart Slider 3 also works across all modern web browsers and lets you create fully-responsive slideshows that look great across all types of devices and screens.
Main Features
Smart Slider 3 comes packed with dozens of great features and options. Here are just a few of the best features you get with the plugin.
Drag and Drop Editor
The best feature of Smart Slider 3 is its drag and drop editor that allows you to create and edit sliders using an innovative front-end user interface. You can get started with creating a new slider by simply dragging elements onto the editor. No coding or programming skills required!
Extra Layers With Animations
The plugin also features 11 new layer types for creating many types of slider content. These layers also feature a stunning animations system for adding transition effects to your slides.
Over 100 Pre-Made Slides & Templates
There's no need to create sliders from scratch, you can choose from over 100 pre-made slides and templates available in Smart Slider 3 library to quickly create your own sliders.
Slide Generators
You can connect Smart Slider 3 with different platforms like YouTube, Instagram, Dribbble, Facebook, and 500px to generate slides from content that's already uploaded to your social network accounts.
Multiple Platforms
Smart Slider 3 is available on multiple platforms, including WordPress, HTML, Joomla, and Magento. You can download all versions with the Business or the Unlimited plan.
Automatic Updates For Life
Your Smart Slider 3 plugin will also get updated automatically forever at no additional cost. It's only available with the Pro version.
And Much More
The plugin also features an image optimization feature, image pre-loading, a lightbox, text animations, and more amazing features.
How To Install Smart Slider 3
You can install the free version of Smart Slider 3 by simply searching for it in the WordPress Plugin library. The installation process of the Pro version is different.
Here's how you can install the Pro version of the plugin.
Before installing the Pro version, if you already have the Smart Slider 3 free version installed on your website, go to Plugins and delete the free plugin first. Then you can install the full version. Don't worry your previously created slides won't be deleted.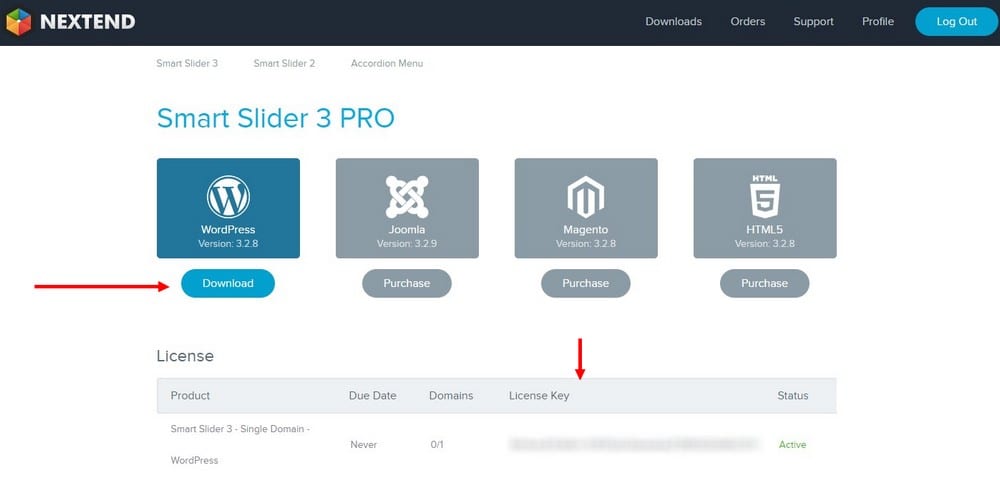 After purchasing Smart Slider 3, you will receive an email with access to your account dashboard. From here, you can download the plugin. And copy that license key while you're at it.

Go to your WordPress dashboard and upload the Smart Slider 3 plugin that you downloaded earlier via the Add New Plugin page. Once it's installed, Activate it.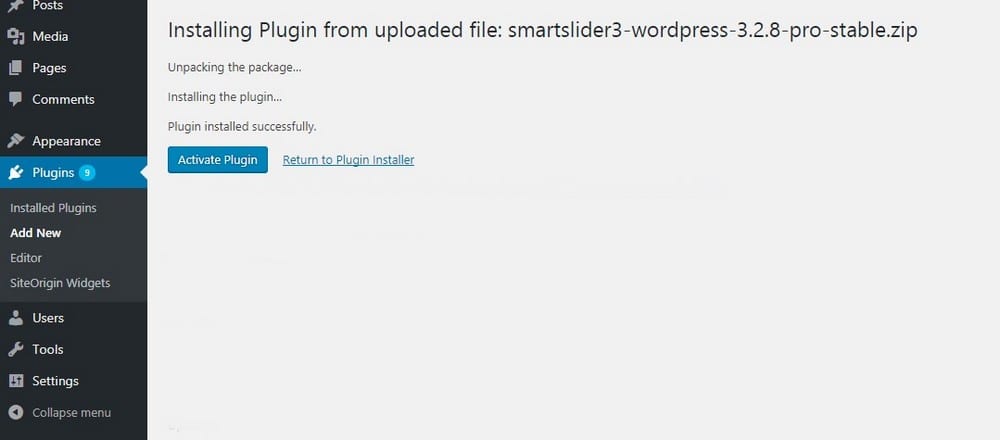 That's it!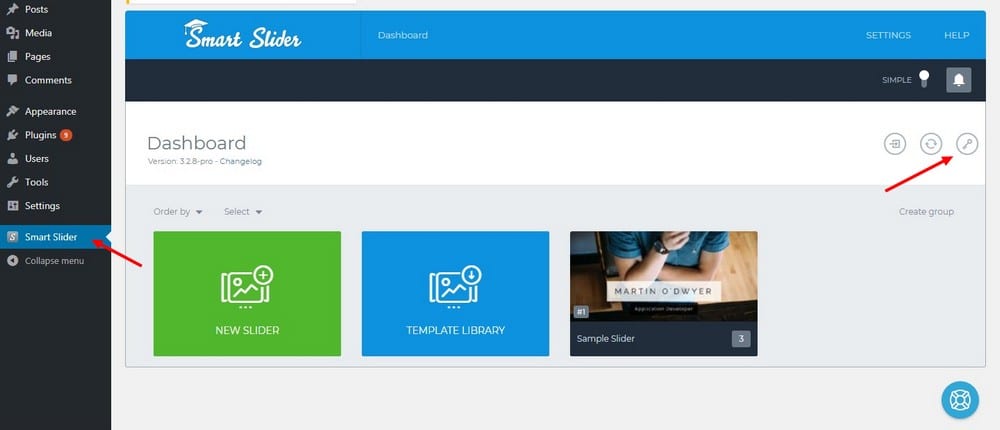 Now you can click on the Smart Slider tab on your WordPress dashboard and visit Smart Slider to create new sliders. First, click on the key icon on the Smart Slider dashboard and paste the license key to activate your copy of Smart Slider 3.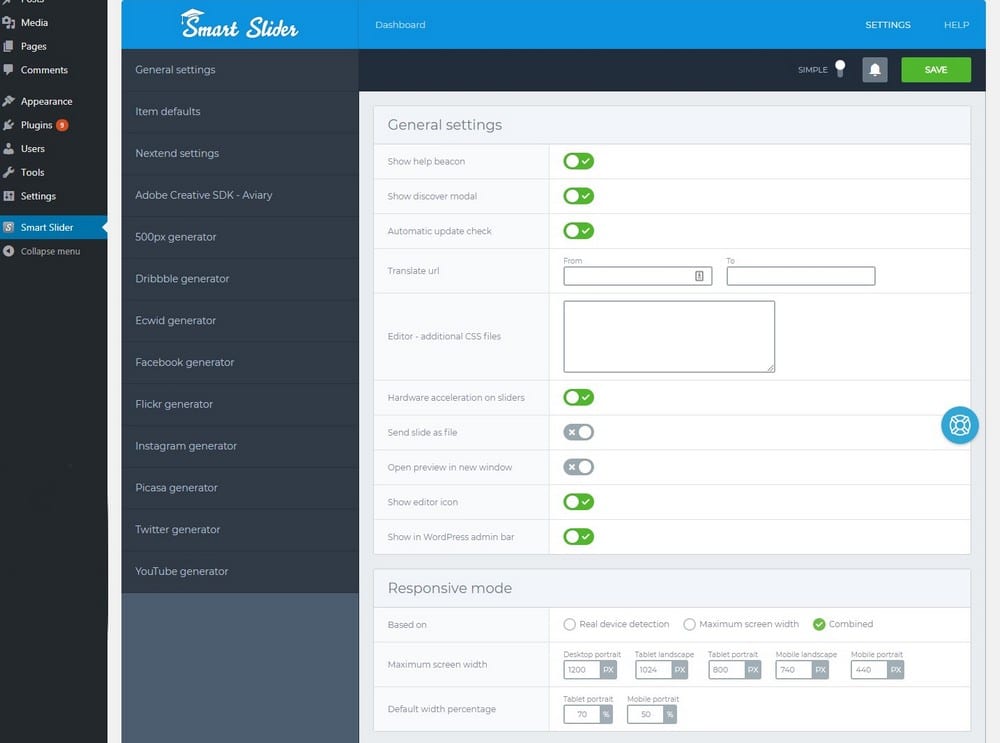 From the settings page, you can customize how your sliders look and behave, like enabling hardware acceleration, changing screen width of your sliders for different device types, and connect your social networks to upload photos.
How To Create A Slider
Now, let's get to the fun part of the review and see how to create a slider using this plugin.
There are two ways to create a slider. You can create one from scratch using the drag and drop editor.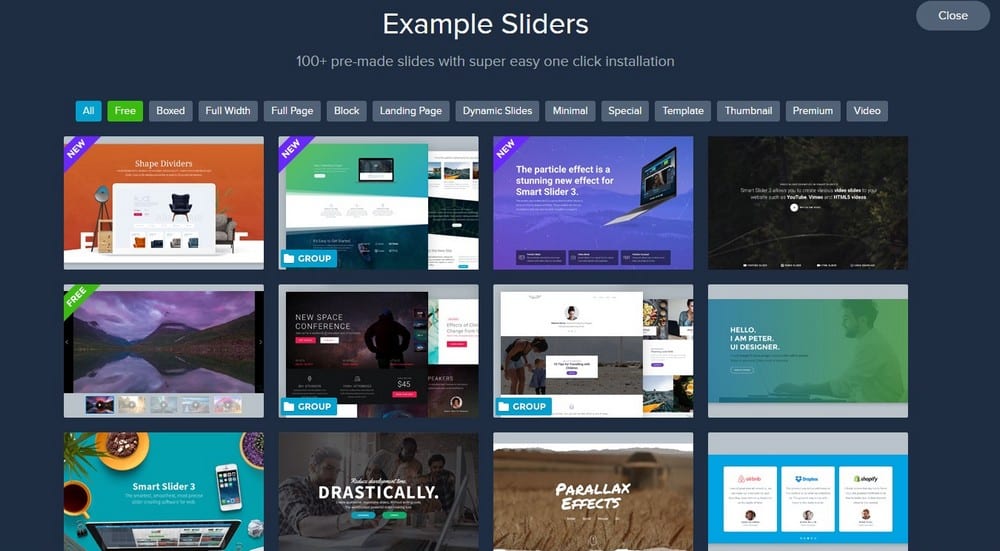 Or, you can create a slider using a pre-made template.
While creating a slider from scratch gives you the freedom to use your creativity to design a slider of your own. Using a template will save you a lot of time and give you a head-start on creating a professional looking slider or carousel.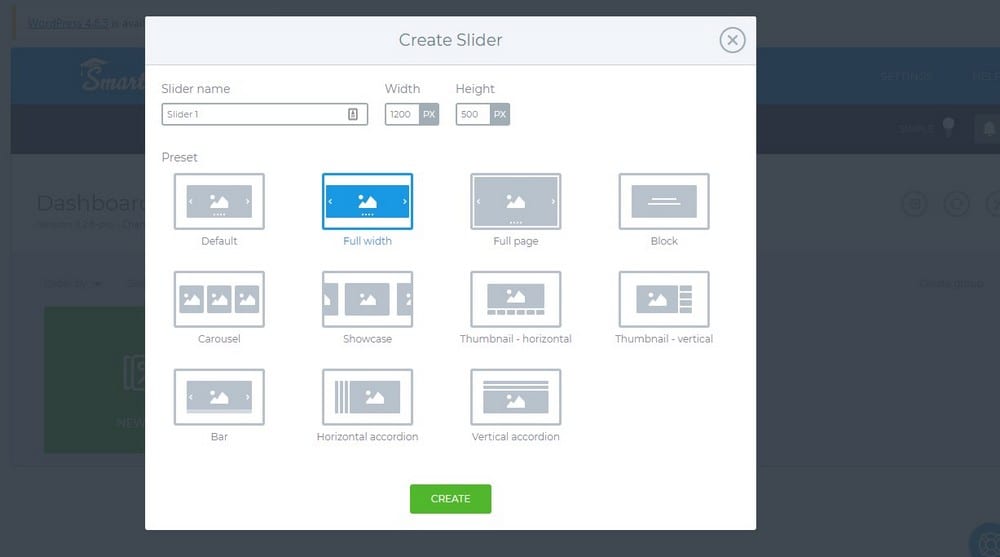 Give your new slider a name, choose its width and height, and then choose the type of the slider you want to create.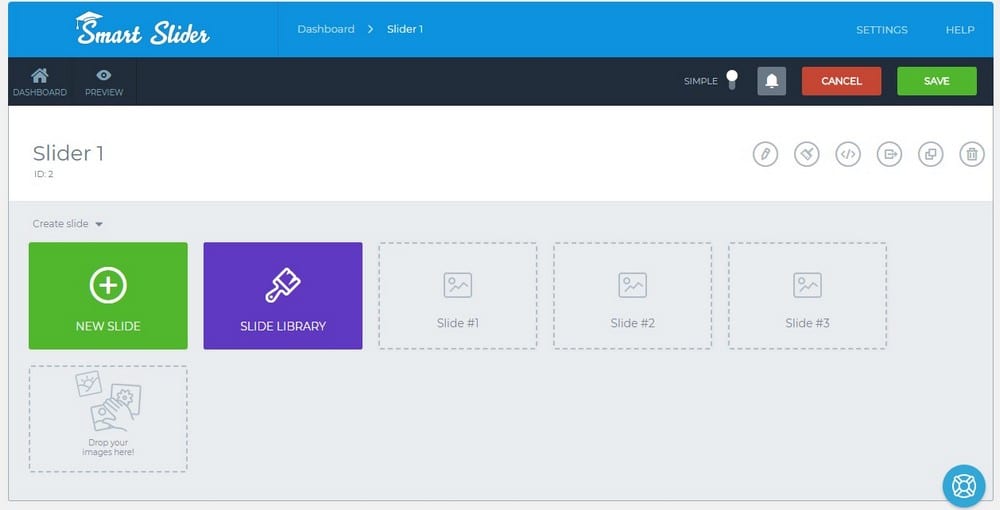 Now you can start creating slides for your slideshow.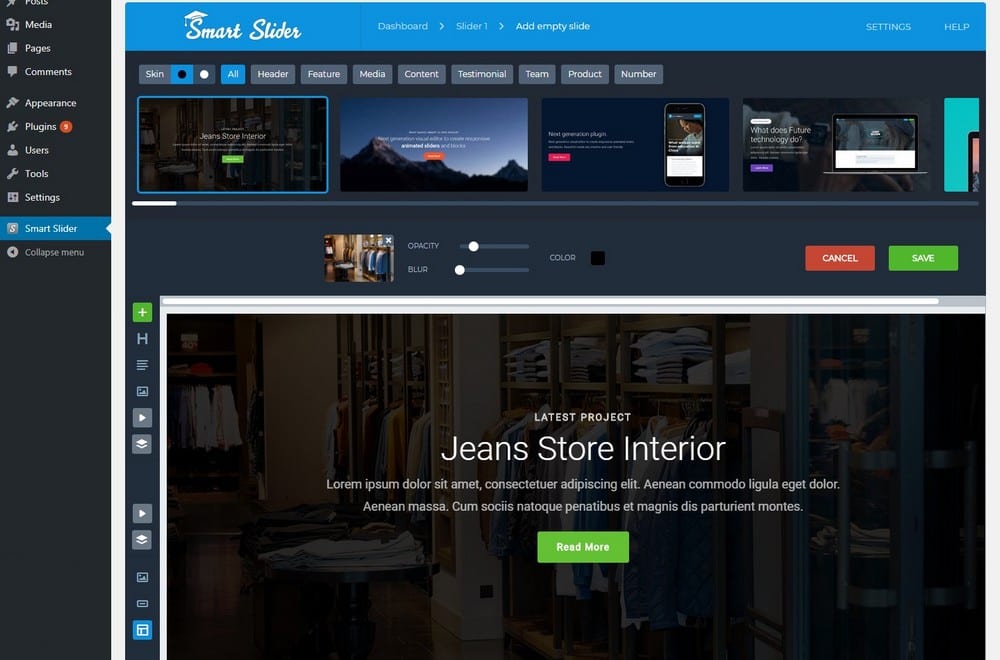 You can browse and choose from over 100 pre-made templates available in the slide library. From here, you can find different types of slides, including slides for headers, testimonials, products, and more.
All you have to do is pick a slide and customize it with your own content.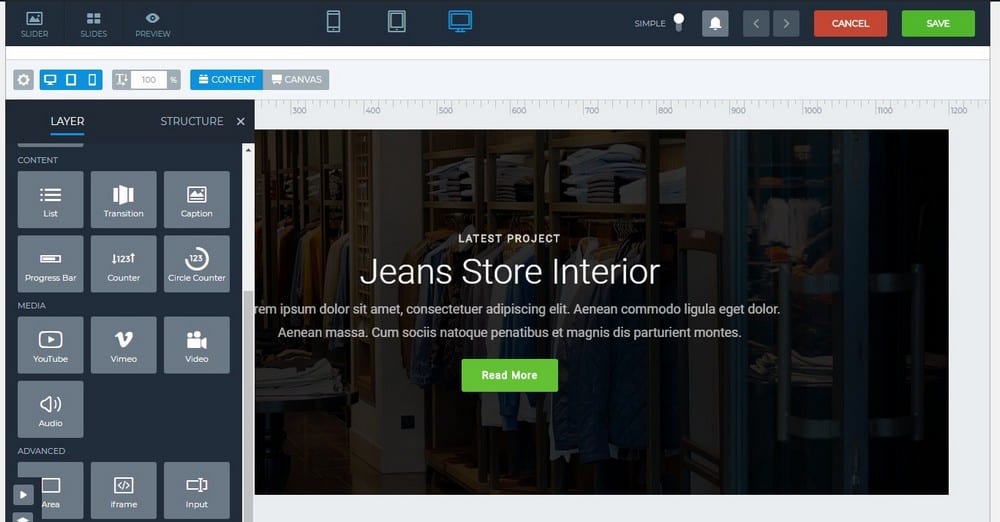 Clicking on the Add Layer button will open up a list of content blocks you can drag and drop to your slider to add new content such as buttons, images, text, videos, and more.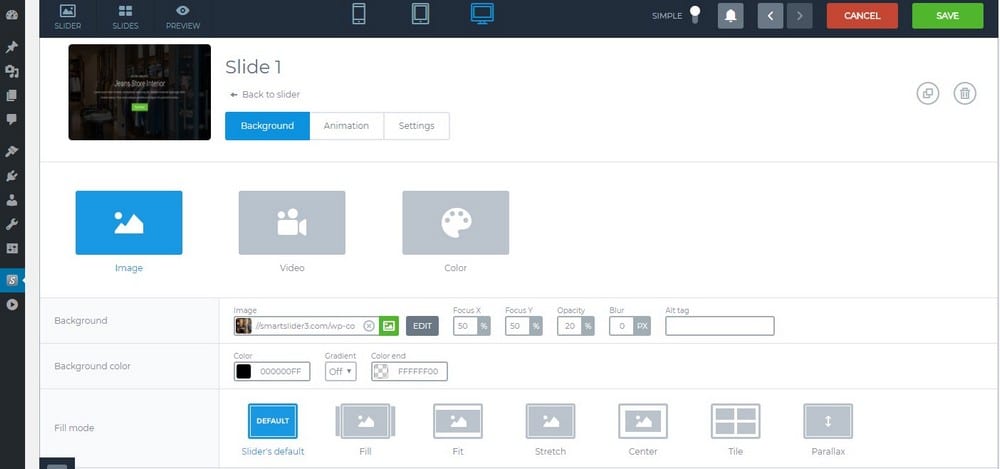 You can also change the background of each slide to use either an image, video, or color.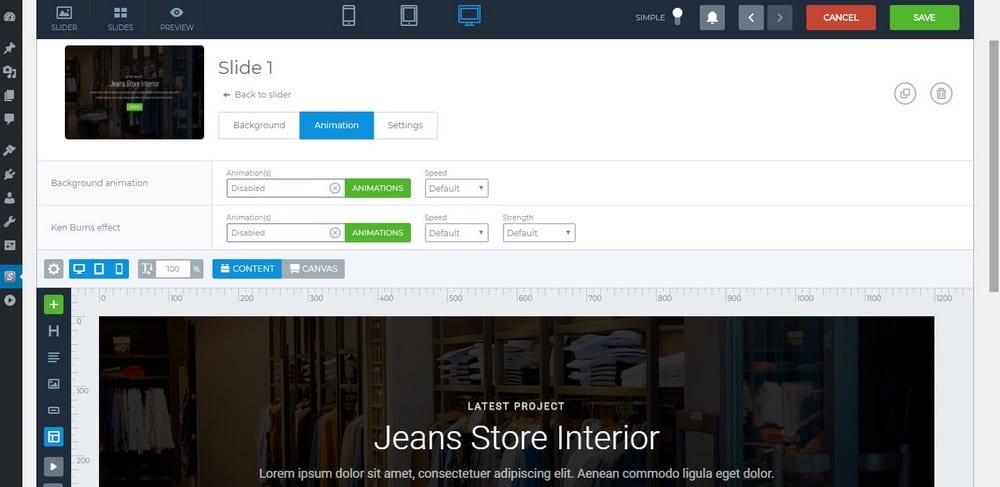 And add animations to create attractive transition effects.

When you're done customizing your slide, hit Save to save the changes. Then you can continue creating more slides to add to your slideshow. Copy the shortcode and paste it anywhere on your website to embed your slider.
Here's an example template in action.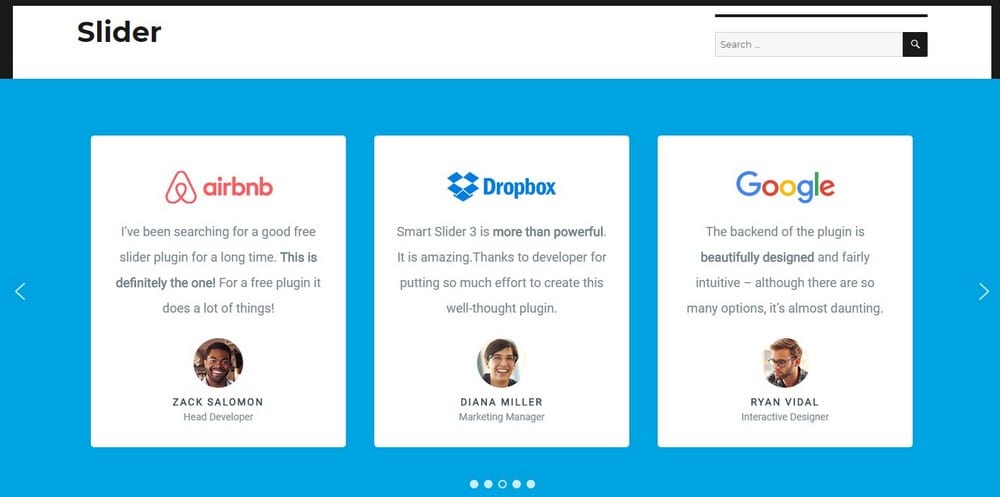 Pricing
Smart Slider 3 has a free version but with limited features. If you want access to auto updates, templates, the slide library, and more, you'll have to switch to the pro version.
Single Domain: $25 for 1 domain license, forever auto updates, 6 months support, 1 platform, and full access to slider and templates library.
Business: $100 for 10 domain licenses, forever auto updates, forever support, all 4 platforms, and full access to slider and templates library.
Unlimited: $200 for unlimited domain licenses, forever auto updates, forever support, all 4 platforms, and full access to slider and templates library.
Should You Buy Smart Slider?
Smart Slider 3 is much more advanced than any other slide plugins available on WordPress today. While it's not the most attractive option for individuals, the plugin can be a great tool for professionals and web designers for creating unique and modern sliders for their web projects.
The good thing is you don't have to take any risks. You can test the plugin using the free version before buying the full version of Smart Slider 3. So, give it a test drive, see if you like it. And let us know what you think in the comments.