How to Redirect a Page or URL in WordPress
Redirecting a website page or a URL is a task that every website owner should be familiar with as it's an important part of maintaining a website.
When it comes to redirecting URLs in WordPress, it's quite easy. You only need a simple plugin to do it.
If you're new to WordPress and want to learn how to redirect a page in WordPress, you're in the right place. In this guide, we'll show you how to redirect a page or a URL in WordPress in a few simple steps.
First, let's understand what a 301 redirect really is and why it matters.
With Wix, you can create better websites with mobile-responsive templates, seamless drag & drop, and unlimited customization. Sell your products or services, start a blog and make smart decisions with clear analytics.
What Is a 301 Redirect?
In short, redirecting a page or URL is mainly about rerouting the traffic that comes to a specific URL to a different page on your website.
For example, if you've decided to delete a page on your website, you can redirect that old URL to show a different page. So when someone visits your old dead URL they'll see a new page instead of the 404 error page.
This is called a 301 redirect, which means the link has been moved permanently. There are also other types of redirections like 302 and 307 redirect. They are used for making temporary URL redirects.
However, the 301 redirect is the most commonly used and accepted method of redirecting URLs and pages.
Why Redirect Pages and URLs?
There are many reasons to redirect a page or URL. As we've mentioned earlier, it can be used to maintain website traffic after deleting a page on your website.
Or if you've decided to change the slug of an article, you can use a 301 redirect to send people who visit the old URL to the new and updated article.
You can also use it to promote products and services. Like redirecting the traffic from a coming soon landing page to the product sales page after launching the product.
Some web developers even use redirection to generate traffic to websites. For example, they buy popular domains and websites that generate traffic and redirect them to other websites.
How 301 Redirects Help Improve SEO
The biggest benefit and the more important reason to setup 301 redirects is to maintain your website traffic. And it has a big SEO benefit as well.
When you delete a page or change the slug of a page that's already indexed by a search engine like Google, it doesn't notice the change right away.
Google will keep sending visitors to that old URL. And when more people get disappointed by the dead link and go back to the search results page, Google will notice it as a negative signal and lower the rank of your page.
Needless to say, it will heavily impact your website traffic and business. Thankfully, a simple 301 redirect can help solve that problem.
Best WordPress Plugins for Redirecting URLs
Creating a 301 redirect or redirecting a page in WordPress is very easy. You can do it using a simple free plugin. There are actually a few great plugins you can use to redirect URLs. Here is a few worth mentioning.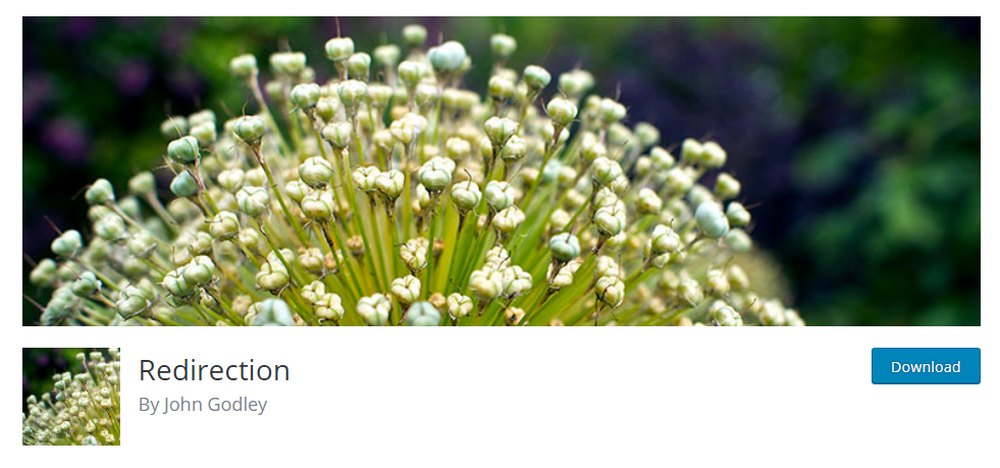 Redirection is the simplest and the most popular URL redirect plugin available on WordPress. It has over 1 million active installs. The plugin has a very simple and easy to use redirect manager where you can manage your 301 redirects and 404 errors.
It also allows you to create advanced conditional redirects based on the login status, the user's browser, and referrer.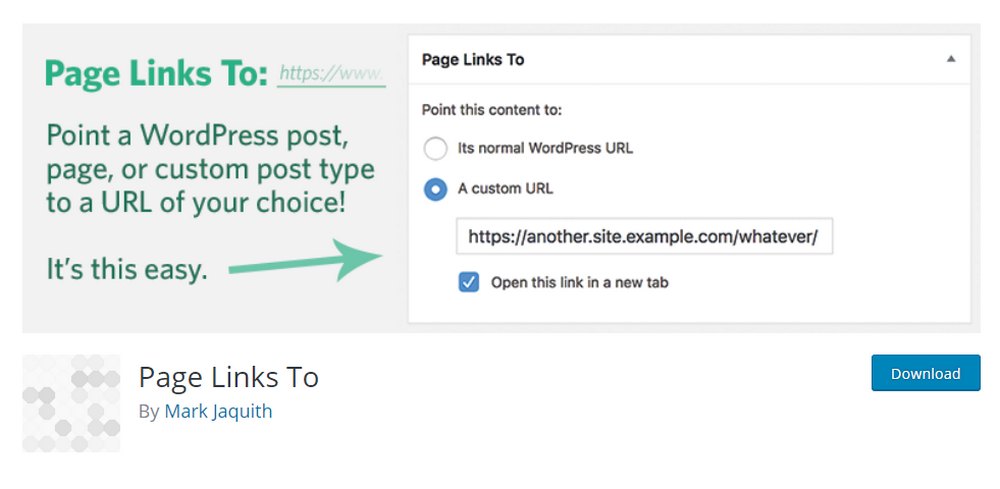 Page Links To is a different type of redirection plugin that allows you to temporarily redirect traffic coming to a specific page or post to a different URL. In short, it's a 302 redirection plugin.
The plugin even allows you to create redirects to other resources outside your website. For example, you can use it to link to a product on a different website and make it appear in your own shop.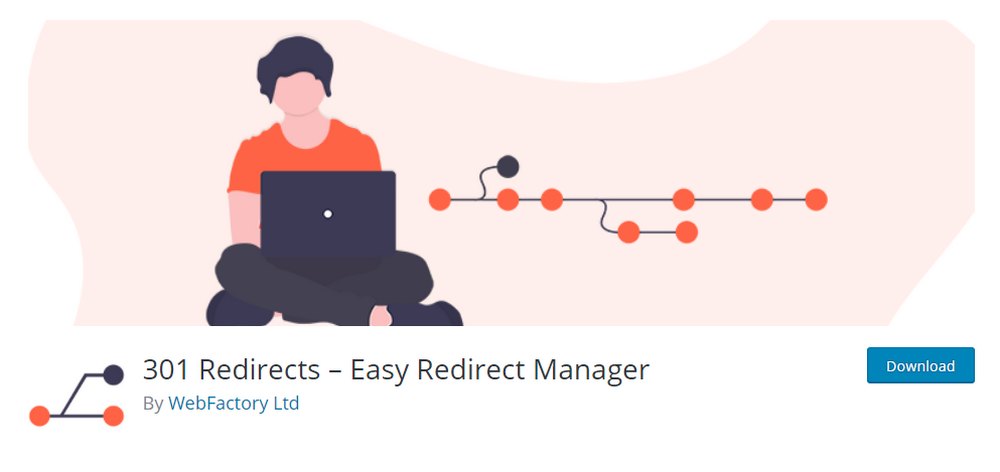 This plugin is an all-in-one redirection tool that lets you create and manage all kinds of 301, 302, 307 redirects in WordPress. It even comes with a simple user interface for managing the redirects.
The plugin supports creating redirects for pages, posts, custom posts, archives, and more. This plugin even supports the popular translation plugins, if you use translated URLs.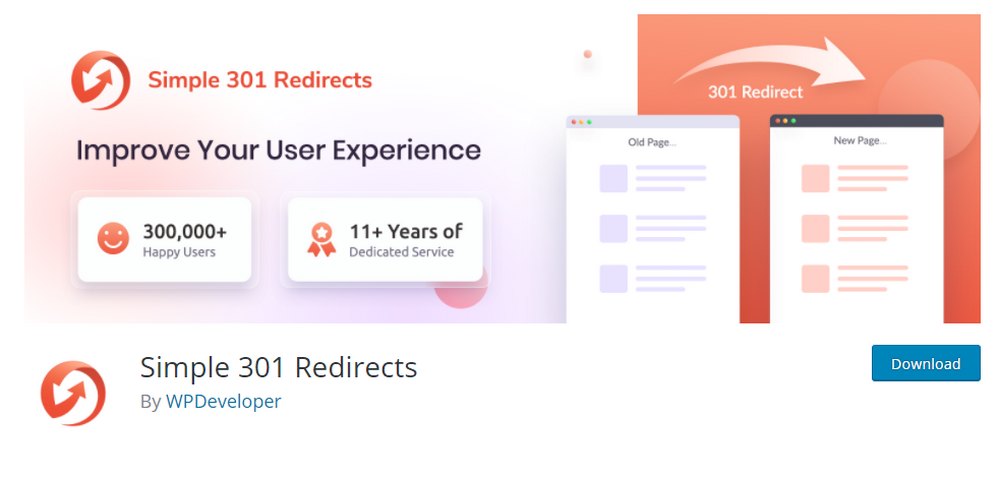 Just as the name suggests, this is a simple free plugin you can use to create basic 301 redirects. It's very beginner-friendly and allows you to setup 301 redirects with just a few clicks. The plugin is also completely free to use.
How To Redirect a Page in WordPress
Now, let's get to the fun part of creating a 301 redirect. For this demonstration, we're using the popular free plugin, Redirection. But feel free to use any plugin you like.
Step 1: Install Redirection Plugin
Start by installing the Redirection plugin.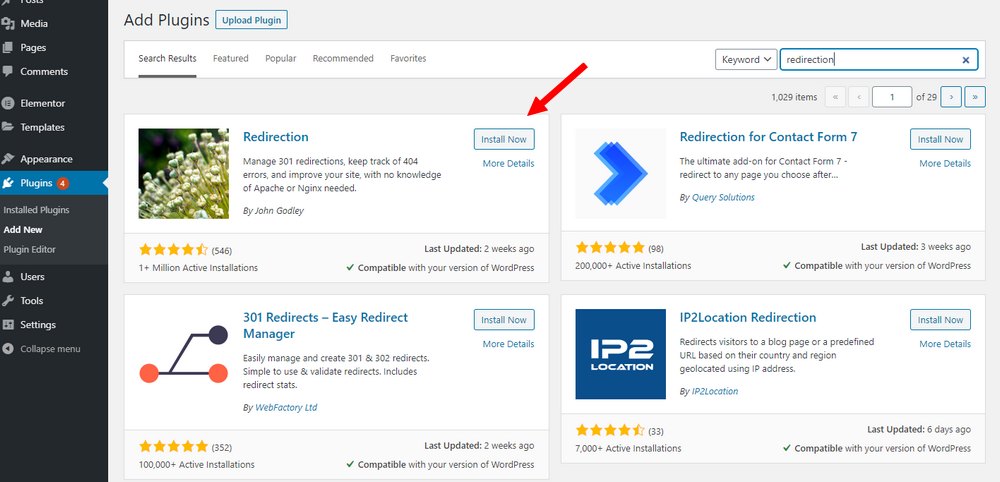 Simply login to your WordPress admin dashboard and go to Plugins >> Add New. Search for the Redirection plugin. Then Install and Activate it.
Step 2: Setup the Plugin
After the installation, go to Tools >> Redirection page.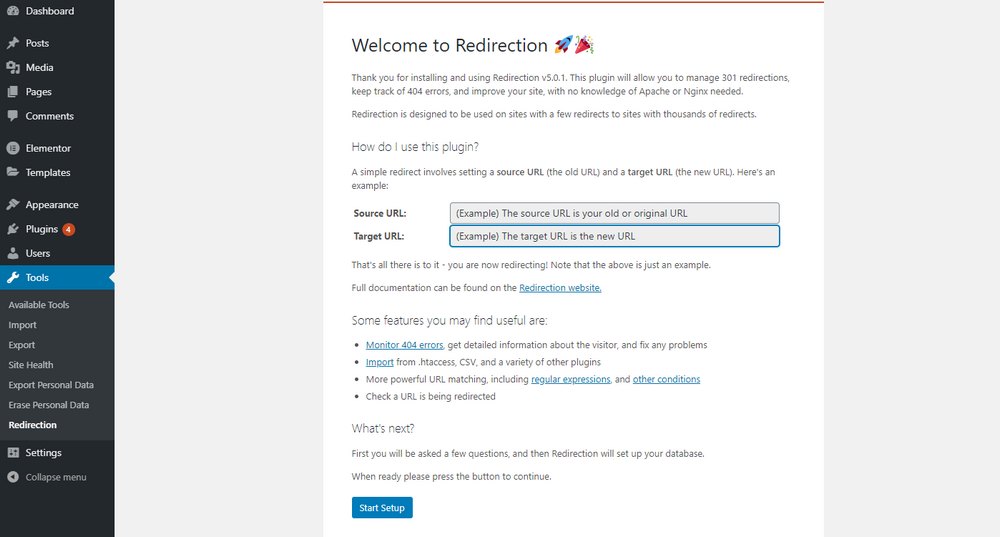 On this page, you'll see an initial setup process to customize the settings of the plugin. It will guide you through the process of creating the redirects.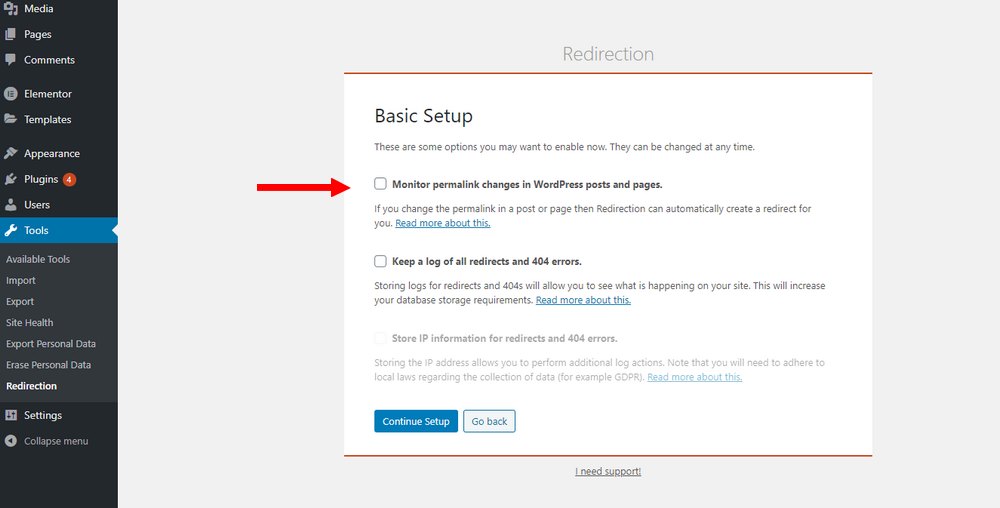 And you can also choose to monitor your permalink changes to automatically create a 301 redirect. It's recommended to enable this option if you have multiple authors on your site.
Step 3: Create Your First 301 Redirect
Once you complete the setup process, you will arrive on the Redirection page.
From here you can create new redirects and manage your old redirects.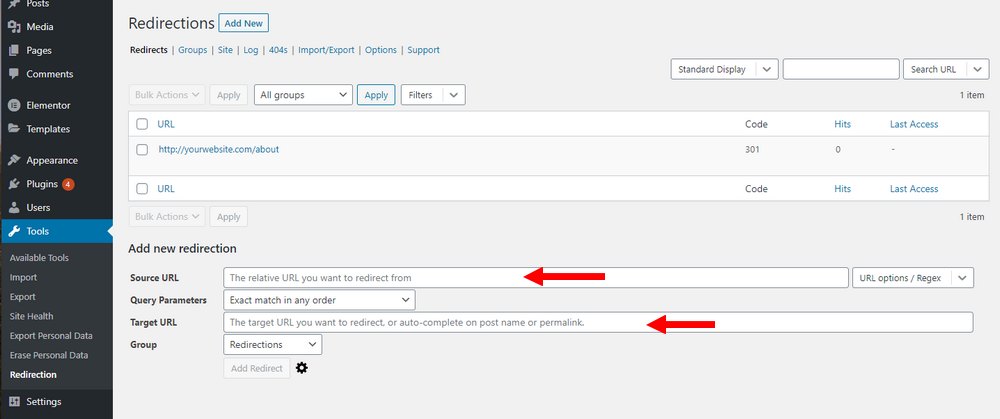 To create a redirect, simply copy-paste your old URL in the Source field and the new URL in the Target field.
Leave the parameters to Exact Match. And use groups to organize the links if you like.
Finally, click on the Add Redirect button to create the 301 redirect. And that's it!
In Conclusion
Whether you're a web designer or just setup your first WordPress website, learning to do a 301 redirect will help you in many ways to maintain and grow your website.
Also, be sure to read our guides on how to edit permalinks and how to fix broken links to learn more about WordPress maintenance.
Looking for WordPress hosting? We use Kinsta. They offer world-class WordPress hosting, built to keep your website fast, secure, and always online.